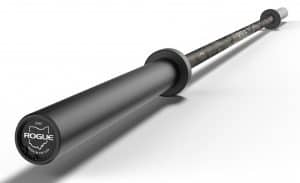 Rogue Fitness makes the best Olympic barbells for CrossFit and powerlifting training.
And now, you can choose a variety of custom colors and design options on these barbells thanks to their new ZEUS | Custom Build-A-Bar ordering page.
How do you get the Ohio Bar or Bella Bar 2.0 of your dreams?
Click to See ZEUS Build-A-Bar Options on the Rogue Website
How does this work?
First of all, they start with two of the most versatile and popular bars – the Rogue Ohio Bar and the Bella Bar 2.0.
Need the ideal Olympic Barbell?
Read our
Olympic Barbell guide
to find out which barbell is right for you.
The Ohio Bar is a rugged bushing bar that is equally at home on the Olympic lifting platform for cleans and snatches, or in the squat rack for heavy back squats, bench presses, and deadlifts. The Ohio bar uses affordable but high quality bushings to ensure an unbeatable combination of performance and quality with minimal maintenance. The Ohio Bar is a 20 kg bar – with a 28.5 mm shaft diameter and made with 190,000 PSI steel.
The Bella Bar is a women's barbell – it's got a 25 mm shaft diameter which is easier to grip for those with smaller hands. It's a bit shorter as well, which means it weights in at 15 kg.
And both bars are made in the USA.
So that's the starting point – Ohio Bar or Bella Bar – but that's not your only choice.
Not by a long shot.
Design a whole gym with ZEUS | Gym Builder
Rogue's ZEUS tool is more than just custom barbells – you can even design the home or garage gym of your dreams. Check it out at
ZEUS | Gym Builder
.
The real fun begins when you pick your custom design options.
First, let's talk about how it's possible to have a custom color barbell.
How do you add color to a barbell? You certainly can't paint it – the paint would start wearing off immediately, especially on the barbell sleeves where the heavy plates are loaded and unloaded constantly.
But you can coat the bar shaft and sleeves with Cerakote – a thin-film ceramic coating that offers amazing durability, protection, and a choice of colors and patterns.
A coating? How's that going to work on the barbell knurl? Well, it's just .001 inch thin. It's so thin it can also be used in firearms (which is where the technology originated) – where tight tolerances are the norm. Knurling is no problem.
Cerakote not only offers color options – it is also a very durable coating that resists corrosion – 2nd only to expensive stainless steel.
The first choice is the barbell shaft color. At the moment there are 12 solid color options, and 2 camouflage patterns – Tek Gray Cam and Woodland Cam.

All the solid color options look pretty sharp, but to be honest if we're gonna design our dream barbell – it's gotta be Woodland Camo for me.

Next, choose the sleeve option. Here you can choose from Black Cerakote or Chrome sleeves.
Because the sleeves are a high-wear area chrome will be your best choice for ultimate durability. But, those black Cerakote sleeves sure do look good, don't they?
Further, you can add custom text to the inside of the black Cerakote sleeves.
Therefore, we'll go with the black Cerakote option.
For the bushing color options, you can choose from Bronze, Black, or Red. Red in particular makes for a nice contrasting option with the black sleeve.
Here's where we are at.
Next, add your custom text to the barbell shaft. You've got up to 18 characters to express your thoughts – so you'd better make it short and to the point.
But, you do get to choose one of three different fonts (typefaces). And you can pick the text color.
Need some ideas? How about these: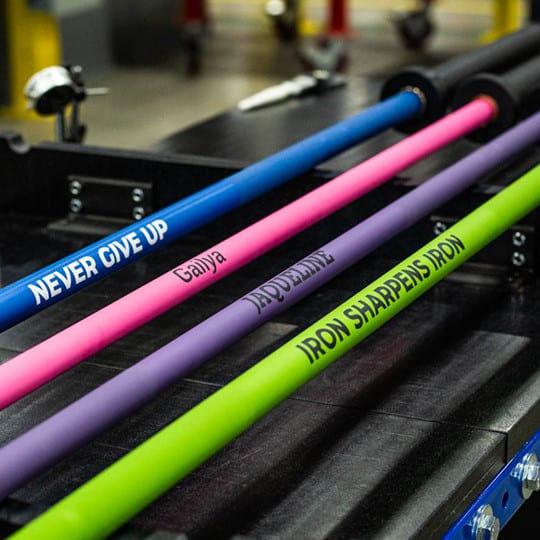 The opposite side of the barbell will have a Rogue logo.

If you chose the Black Cerakote sleeve option you can also select two rows of custom collar text – one on the bottom, one on top.
It will be the same font and color as the shaft custom text.
Here's what we chose.
If you don't want the custom shaft text you can use a custom image – like your gym, school, or company logo, etc.
You can't use images you don't own the copyright to, and there are other restrictions.
But that's still a pretty neat option.
Click to See ZEUS Build-A-Bar Ohio Bar on the Rogue Website
So, there you go.
The Rogue ZEUS Build-A-Bar gives you unprecedented level of customization for your Olympic barbell.
Starting with the rugged Ohio bar and Bell Bar 2.0, you can add a variety of colors, text, and even images to your custom barbell.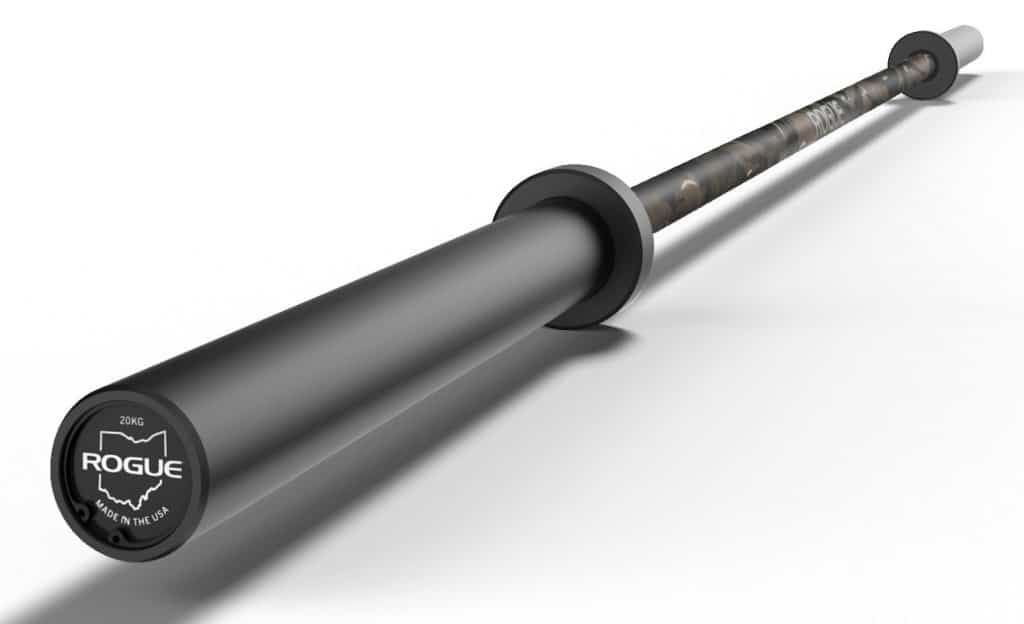 Why Rogue Fitness Products?
We're a
Rogue Fitness
affiliate – so if you order equipment after clicking the links in this article we receive monetary compensation. But that's not why we recommend Rogue. It's because their equipment is tough, durable, well-made, and made in America. Their equipment looks good, and works even better. Their innovative designs and diversity of options make your training better – allowing you to reach your personal goals faster. And that's why we love them.
Photo & Image Credits
All Rogue Fitness product imagery is property of Rogue Fitness, and provided by Rogue Fitness.
Some images were created using Rogue's ZEUS Custom Build-A-Bar order page. You should try it for yourself!
---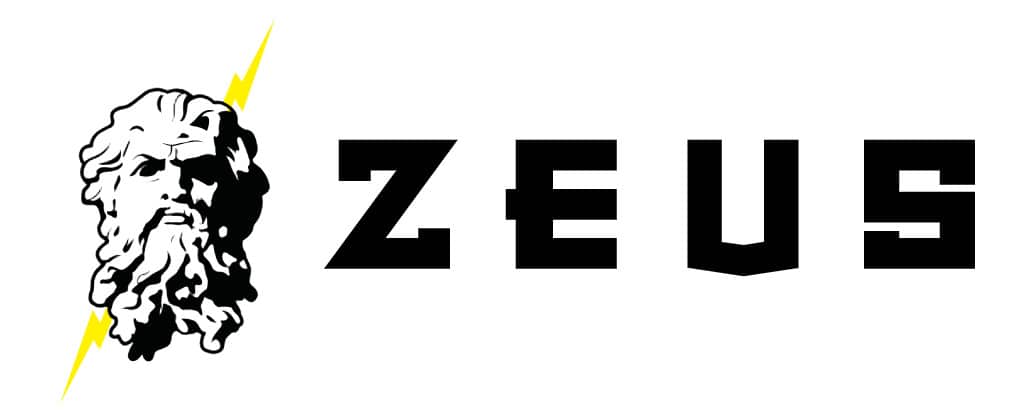 Tim is the founder of FitAtMidlife.com – an avid gym rat for 30+ years, he's a reviewer of many, many shoes – and founder of the Speed Bag Gathering – the world's only gathering of speed bag punching enthusiasts.  See more gym reviews at Tim's YouTube channel.