Looking for more versatile options for the use of space in your garage gym? Check out the new Rogue Heavy Rail. it's a great way to provide storage – or to mount equipment like a "land mine".
If you want to add versatility to your workout and new functionality to your garage or gym wall, the Rogue Heavy Rail is an excellent option. The Rogue Heavy Rail is a 3×3" 11-gauge steel channel devised to mount along the base of a gym wall for a broad spectrum of custom storage and functional training purposes.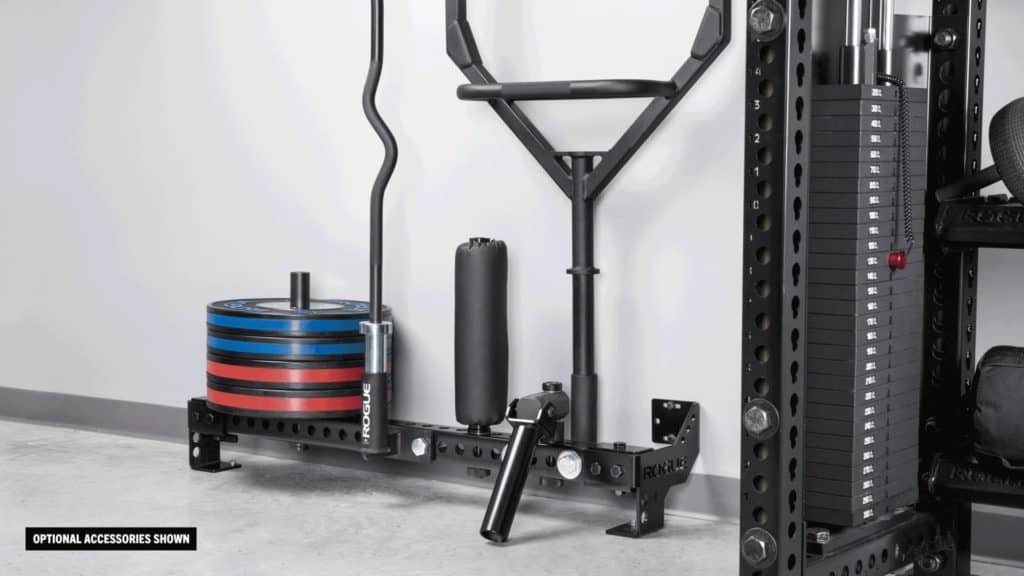 The Heavy Rail comes in two flavors – the "Monster" (like the racks) and the "Monster Lite":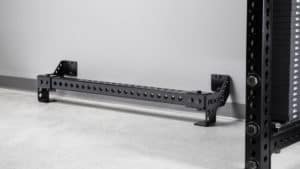 Rogue Heavy Rail - Monster (Black)
Monster, like the rack, is made from 3x3 inch 11-gauge steel tube with 1-inch mounting holes. This unit includes reinforced endplates that secure the tube in two planes with formed washer plates for further strength.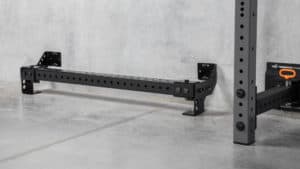 Rogue Heavy Rail – Overview
The Rogue Heavy Rail comes in two versions—the Monster and the M-Lite. The Monster features 1" holes spaced 2" apart, while the M-Lite has 5/8" holes spaced 2" apart. With its 1" mounting holes, the Monster version can accommodate attachments such as Monster Single Bar Holder, Bolt-In Plate Storage, Monster Plate Storage Channel, Monster Attachment Post, Rope Attachment Anchor, and Monster Landmine. On the other hand, M-Lite can accommodate attachments like Landmine, Horizontal Single Bar Holder, Bolt-In Plate Storage, Plate Storage Channel, Rope Attachment Anchor, Rogue MRT, and Mobility Hand.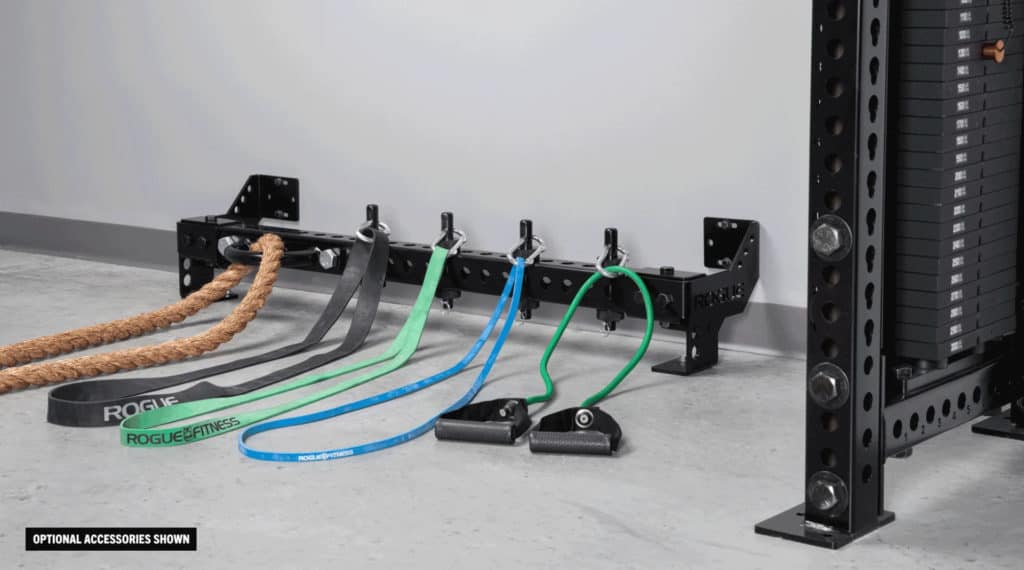 The Heavy Rail is made in the USA using 3×3" 11-gauge steel and 5/16" formed steel plates with a medium gloss powder coat finish and laser-cut Rogue branding. The fortified end plates fasten the tube in two planes with formed washer plates for added structural integrity. Anchor points in the end brackets allow resistance bands and mobility tools, and the steel rail can be used for standing on during calf raises or anchoring the feet on sit-ups.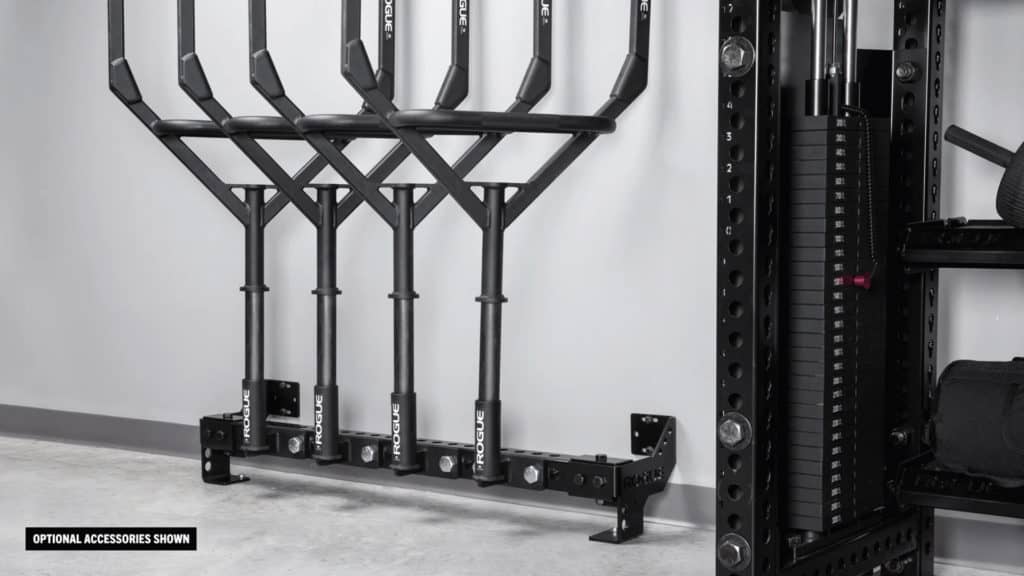 Rogue first designed the Heavy Rail for the training facility of the Columbus Blue Jackets, but it is now available for any gym looking for space efficiency. The Heavy Rail is designed to run horizontally along the base of a wall and has end-bracket mounting points spaced 48" apart for compatibility with any standard 16"-on-center wall studs. Rogue supplies all hardware required for mounting the rail to the wall and floor.
Rogue Heavy Rail – In Summary
That's our close-up look at the Rogue Heavy Rail.
The Heavy Rail provides plenty of unique set-up options, from dual Landmines to side-by-side storage for up to four Trap Bars. It has many compatible attachments and adds new functionality to any gym wall. It has the Rogue quality construction for high-quality performance and benefits that will maximize your space.
Looking for more options? Check out these other great products:
You need a power rack to do serious work in the garage gym – the Rogue RML-590C Power Rack would be an excellent (and colorful) choice.
Keep the stress off your elbows and shoulder joints with the Narrow Multi Grip Camber Bar from Rogue.
More products from Rogue Fitness.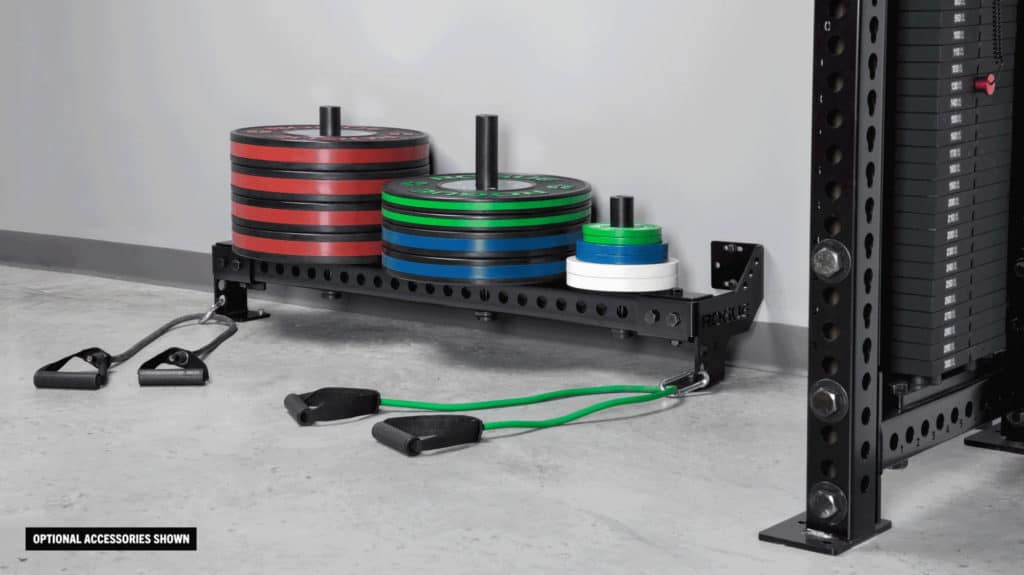 Photo Credits
Product photos on this page are property of Rogue Fitness.
This website is not affiliated or associated with CrossFit, Inc. CrossFit is a registered trademark of CrossFit, Inc.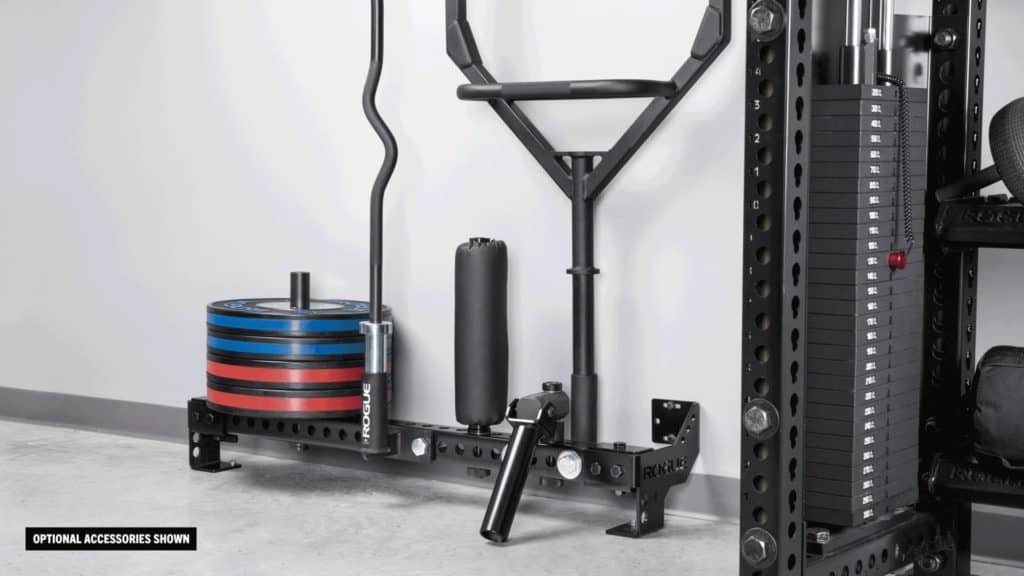 Affiliate Disclaimer
We are an affiliate of Rogue Fitness and others that sell this training gear. If you buy clothing or other training gear after clicking the links in this article, we receive a small commission at no extra cost to you. This helps us to bring you in-depth information and content on these great training products.
Tim is the founder of FitAtMidlife.com – an avid gym rat for 30+ years, he's a reviewer of many, many shoes – and founder of the Speed Bag Gathering – the world's only gathering of speed bag punching enthusiasts.  See more gym reviews at Tim's YouTube channel.