Rogue has been on a roll with new barbell options. here's the newest – the MG-4CN Narrow Multi Grip Camber Bar.
The MG-4NC is well-known because of its narrower frame (7.1" wide vs. 10") and shorter/thicker handles (5" long vs. 6.75" long, 32mm diameter vs. 28.5mm). With this bar, you can choose both the width and angle of the handles, creating a bar that is enhanced for your size and training preferences.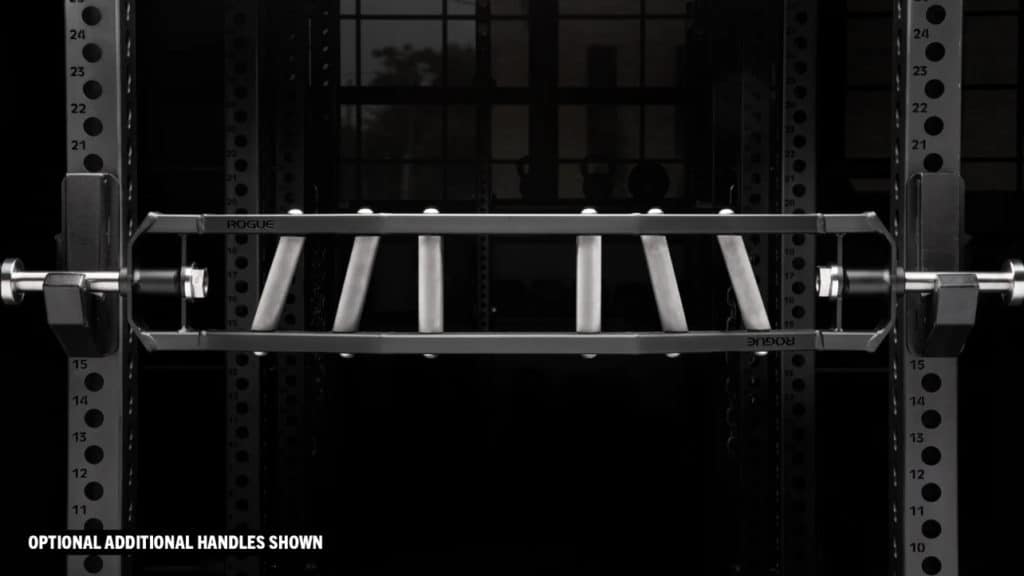 Get it now – only from Rogue:
MG-4CN Narrow Multi Grip Camber Bar – Overview
The cambered 41" frame is made from 1" x 2" 11-gauge steel tubing with 1/4" laser-cut plates and a machined socket and has a depth of 3.5". The frame is finished in the same soft-touch matte black powder coat as Rogue's newly released RM43 line of racks. The cambered shape grants a greater range of motion when using the outer handles on specific movements (such as bench or rows). As the bar's center of mass relative to hand placement is lower, the shape also helps increase stability and reduce swaying.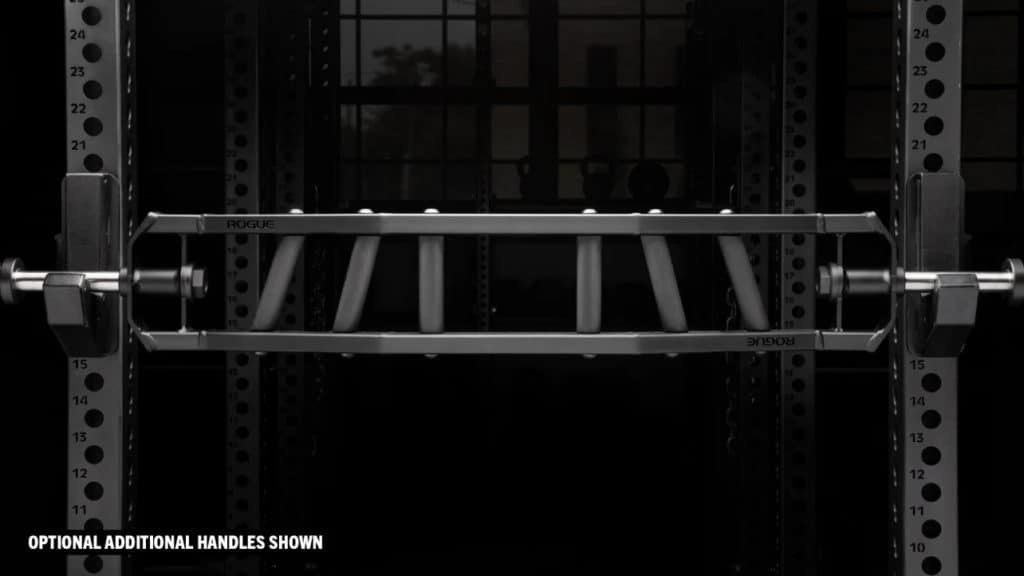 The MG-4CN comes standard with two straight knurled grip handles in your choice of stainless steel or proprietary matte black finish. The handles are comfortably removable because of their threaded design and can be placed anywhere along the bar's 41" long frame, using the included Allen keys for attachment. Rogue suggests the following handle spacing for Angled Handles when pressing: 20-degree: 26″ or 22″ spacing 16 degree: 18″ or 14″ spacing Straight: 10″ or 6″ spacing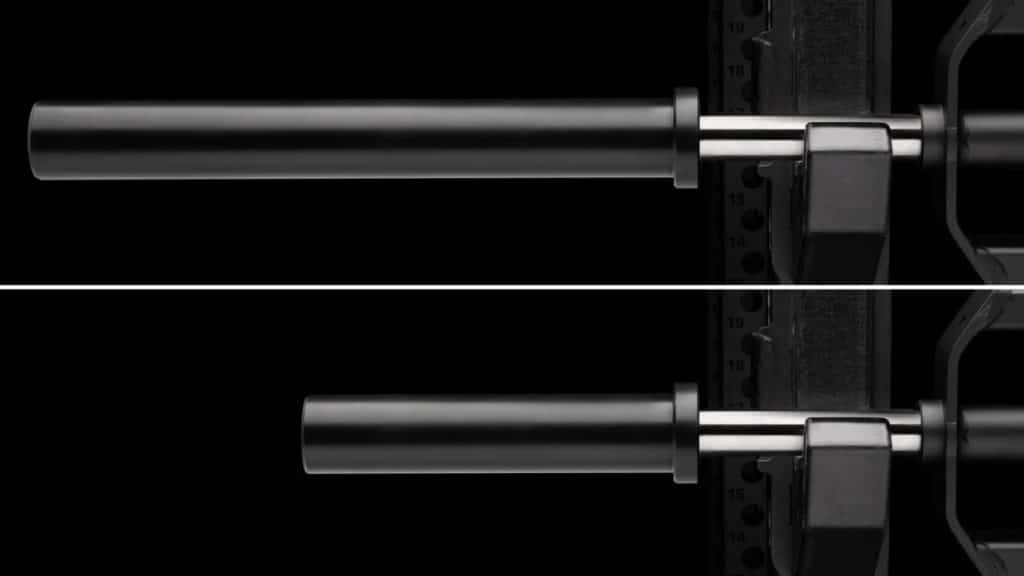 Available in standard (15.5" loadable length) and short (9") variants, the rackable sleeves on the MG-4CN are made using the same construction techniques and elements as the Rogue Ohio Bar to create a smooth rotation. The sleeve shaft attaches to the frame using an interlocking taper, a staple of the machine tool industry for over a century. The conical shape of the shaft is inserted into a conical cylinder and, when tightened with the machined hex nut, makes an incredibly tough joint.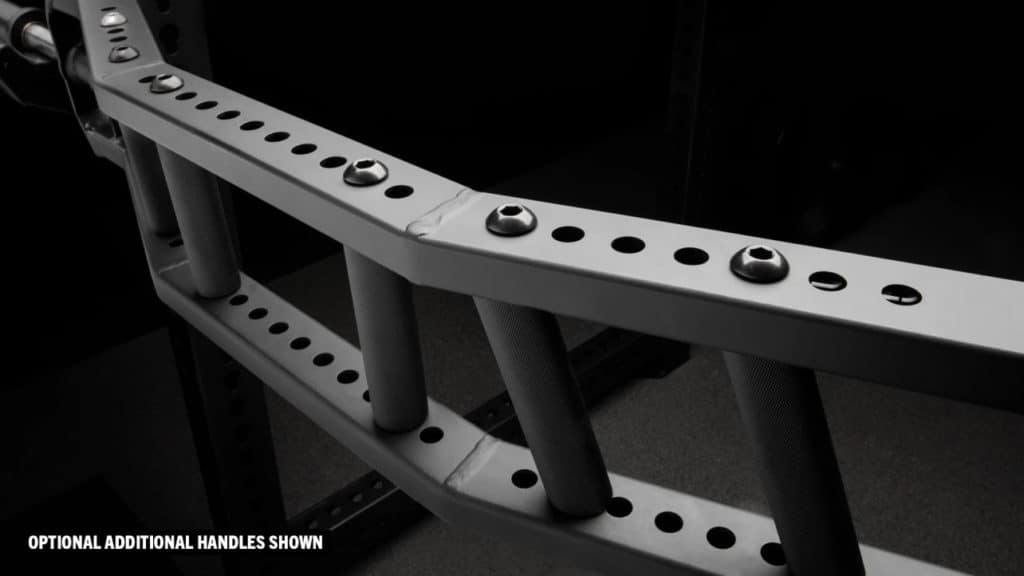 MG-4CN Narrow Multi Grip Camber Bar – In Summary
That's our close-up look at MG-4CN Narrow Multi Grip Camber Bar.
The MG-4CN Narrow Multi Grip Camber Bar helps take the stress off the shoulders when performing squats while still doing squats the same as with a standard bar. The sleeves, handles, and hardware of the MG-4CN are all finished in either stainless steel or Rogue's proprietary matte black finish.
Looking for more options? Check out these other great products:
Rogue also offers the CB-4 38MM Camber Bar.
There's also a New Cambered Swiss Bar from Rep.
More camber bars.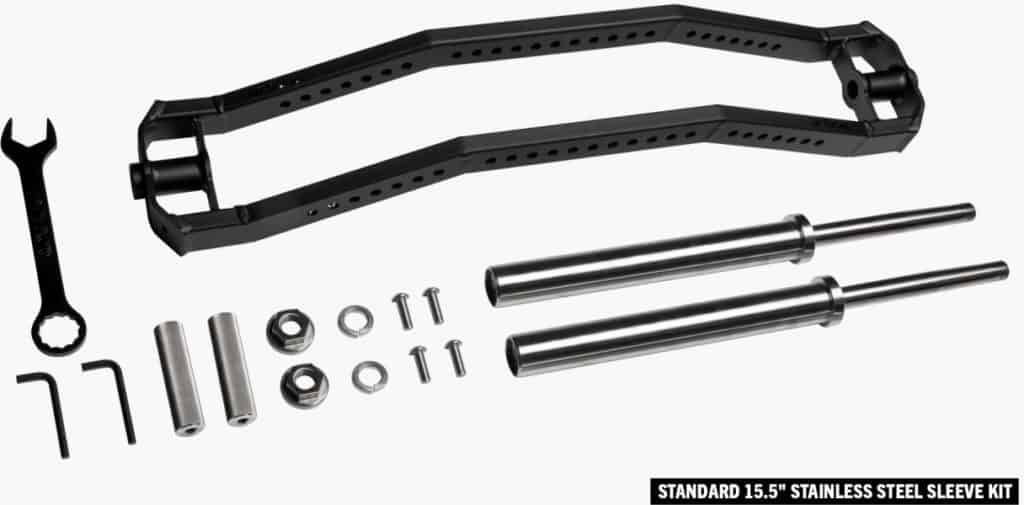 Photo Credits
Product photos on this page are property of Rogue Fitness.
This website is not affiliated or associated with CrossFit, Inc. CrossFit is a registered trademark of CrossFit, Inc.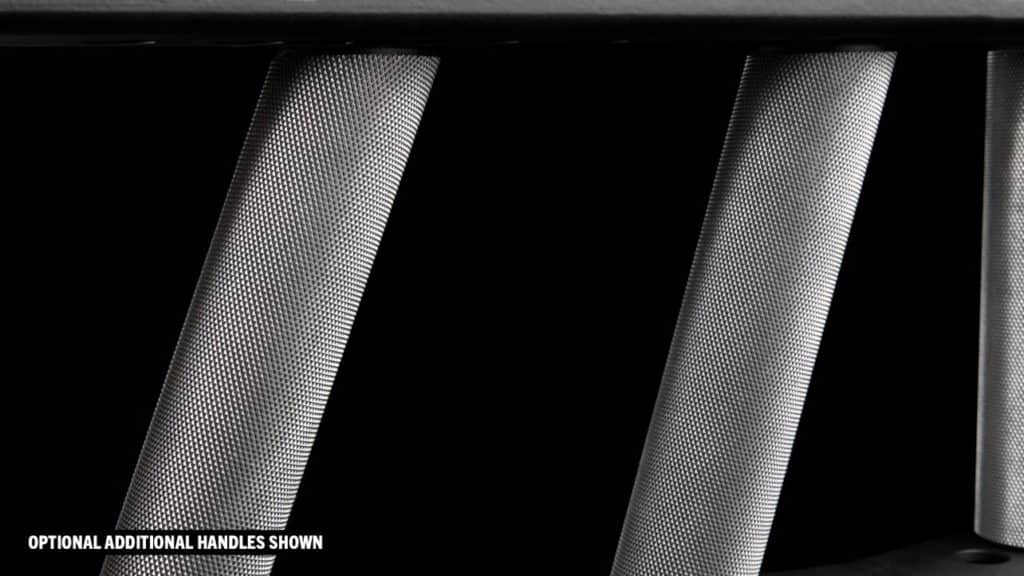 Affiliate Disclaimer
We are an affiliate of Rogue Fitness and others that sell this training gear. If you buy clothing or other training gear after clicking the links in this article, we receive a small commission at no extra cost to you. This helps us to bring you in-depth information and content on these great training products.
Tim is the founder of FitAtMidlife.com – an avid gym rat for 30+ years, he's a reviewer of many, many shoes – and founder of the Speed Bag Gathering – the world's only gathering of speed bag punching enthusiasts.  See more gym reviews at Tim's YouTube channel.