Let's talk about speed ropes – a variation on the jump rope or skipping rope that spins much faster than a regular rope.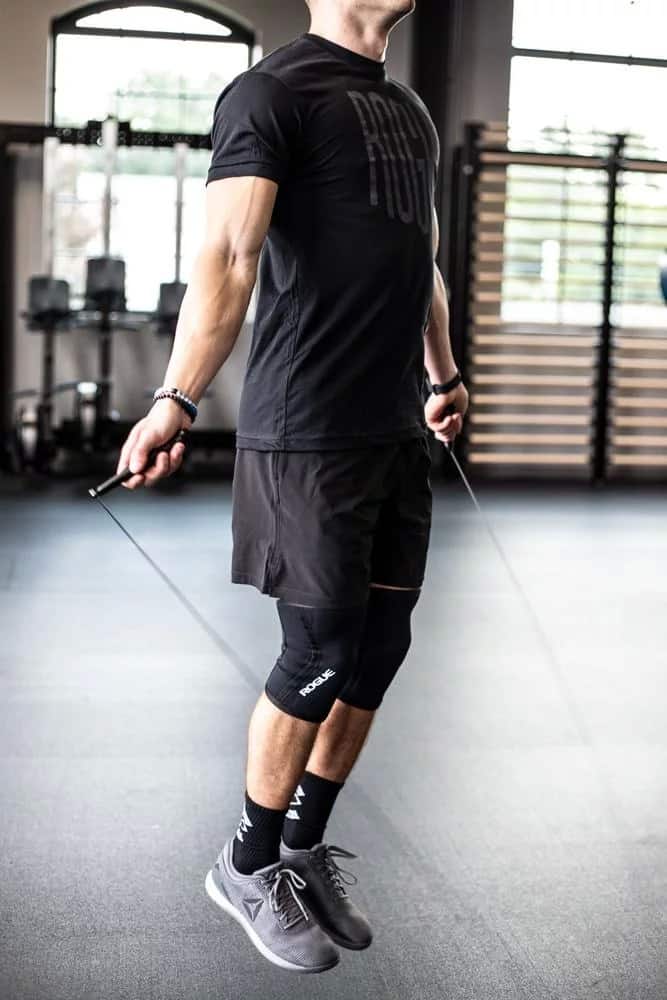 Why a speed rope? The increased speed helps improve coordination and timing.
The super fast spin makes some moves easier – such as the double under or triple under.
But you'll be turning the rope (it's a cable really) more, and jumping more – so a speed rope can also be a great improvement on the endurance building aspects of jumping rope.
In a nutshell it makes jumping rope that much more of an intense (and therefore effective) workout.
We'll look at some options from Rogue Fitness – they have the widest range of speed rope options of any manufacturer.
Struggling to get double unders? Are you struggling to master the double under? The double under is a staple of CrossFit workouts – you have to turn the rope for two complete revolutions for one jump. Guess what makes the best jump rope for double unders? A speed rope! Check the buyer reviews on these items – you'll see lots of newfound success with double unders when people switch to these ropes.
Rogue Fitness SR-1 Speed Rope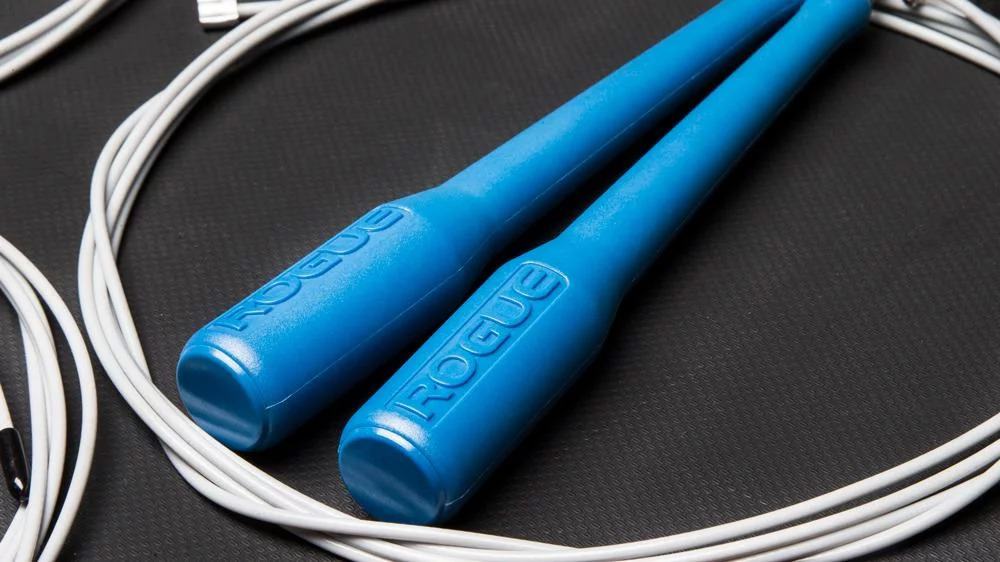 We'll start with Rogue's most affordable speed rope – the SR-1 Rogue Bearing Speed Rope.
The secret to it's speed?
The coated 3/32″ speed cable is part of it. It's not a rope. It's a cable, with a small diameter. That means less air resistance.
And that also means the speed cable is much lighter than a thicker cable.
It's less effort to spin a lighter cable – so you can go faster.
The other part is that this speed rope makes use of ball bearings for a wicked fast spin.
Ball bearings mean an absolute minimum of friction for the moving parts.
Ok, so this rope will spin fast. What else is good about it?
There's a wide variety of color selections.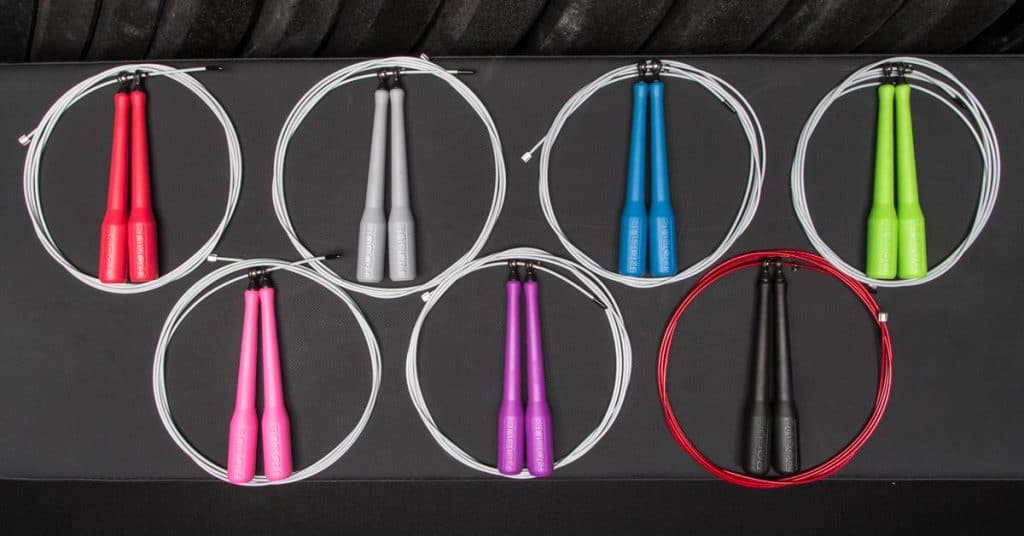 The handgrip part is made from "indestructible glass-filled nylon resin."
But more importantly there is a Short Handgrip option which has a 5.25″ handgrip – which is 1.5″ shorter than the regular model.
There is also a Long Handgrip option as well, if that's what you need.
The handle is 7.5″ in length.
Short Handle Speed Rope vs Long Handle Speed Rope – How To Choose To some degree, the choice comes down to the size of your hands, but that's not the only factor. Speed ropes with a long handle tend to give you more leverage – and you get more speed from every movement of your wrist, while the short handles are easier to grip tighter – because they fit better in your hand.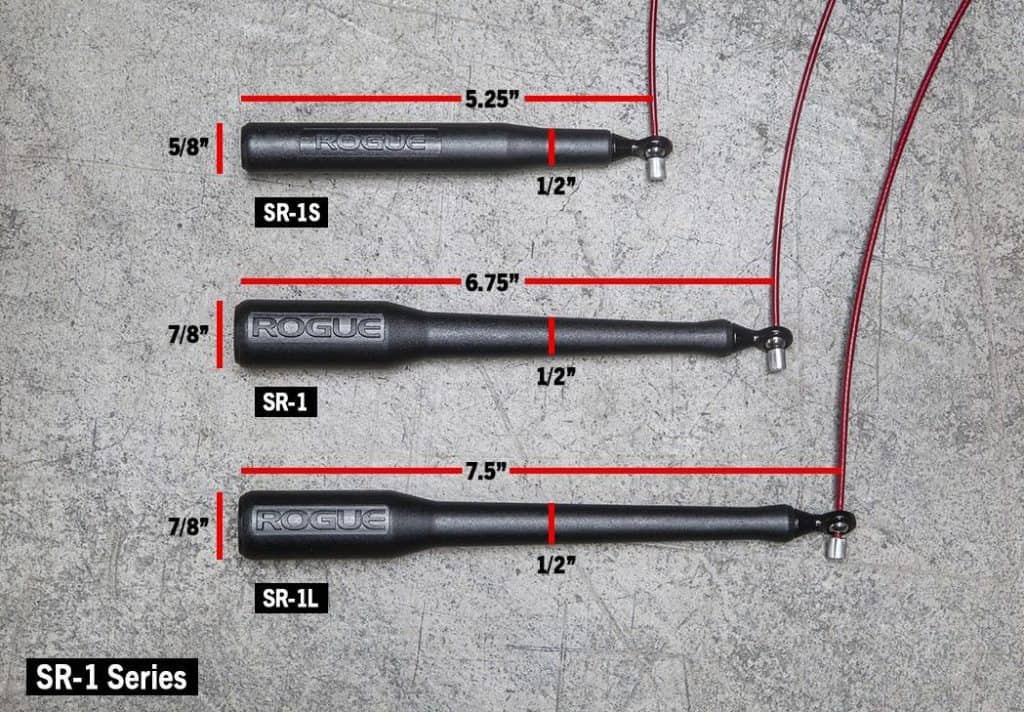 The cable, which will wear out eventually can be replaced, and the cable can be trimmed to size for the particular user.
The standard cable is 10 feet long – with an 11-foot model also available for really tall athletes.
Overall the SR-1 Speed Rope is an affordable, high-quality entry-level speed rope that can help you take your workout to new heights.
Make sure your jump rope is the right length!
Not having much luck with the jump rope? Make sure your rope is the right length. Too short or too long is a show-stopper.
How long should your jump rope be?
Place your foot on the mid-point of the rope, the handles should come up to mid-chest height.
Most of the Rogue jump ropes can be trimmed to the perfect size
Froning SR-1F Speed Rope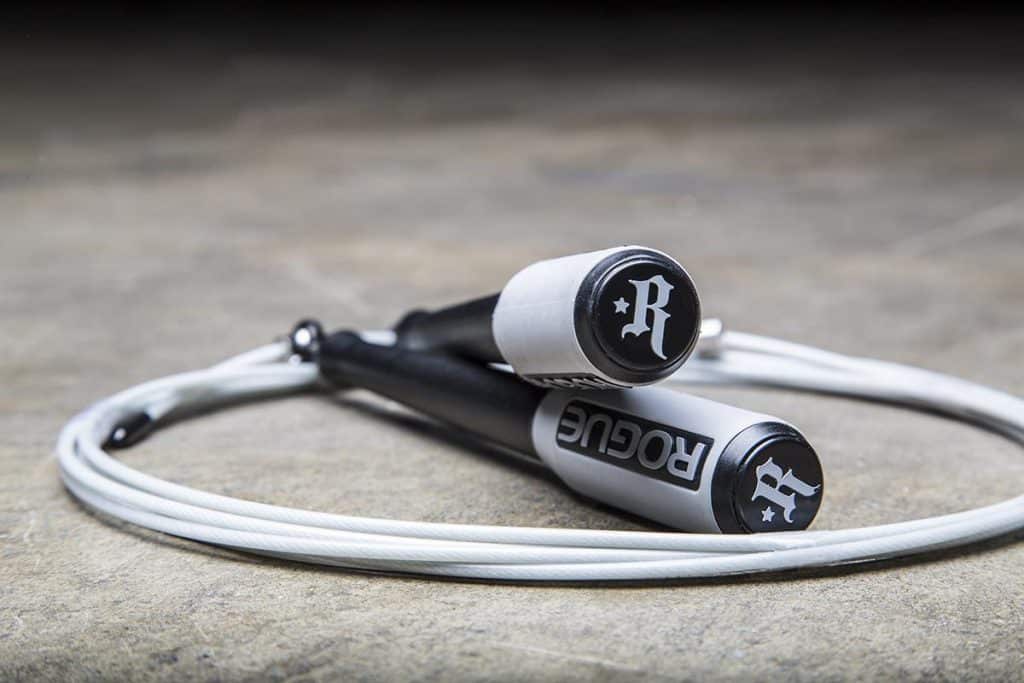 The Froning SR-1F Speed Rope is the Rich Froning branded version of the SR-1 speed rope.
Handle length is 6.5″ with special molded handgrips.
It's branded with the R* logo of Rich Froning – four-time "Fittest Man on Earth".
Otherwise it's all the same specs as the SR-1 series speed rope.
What If a Speed Rope Is Too Fast?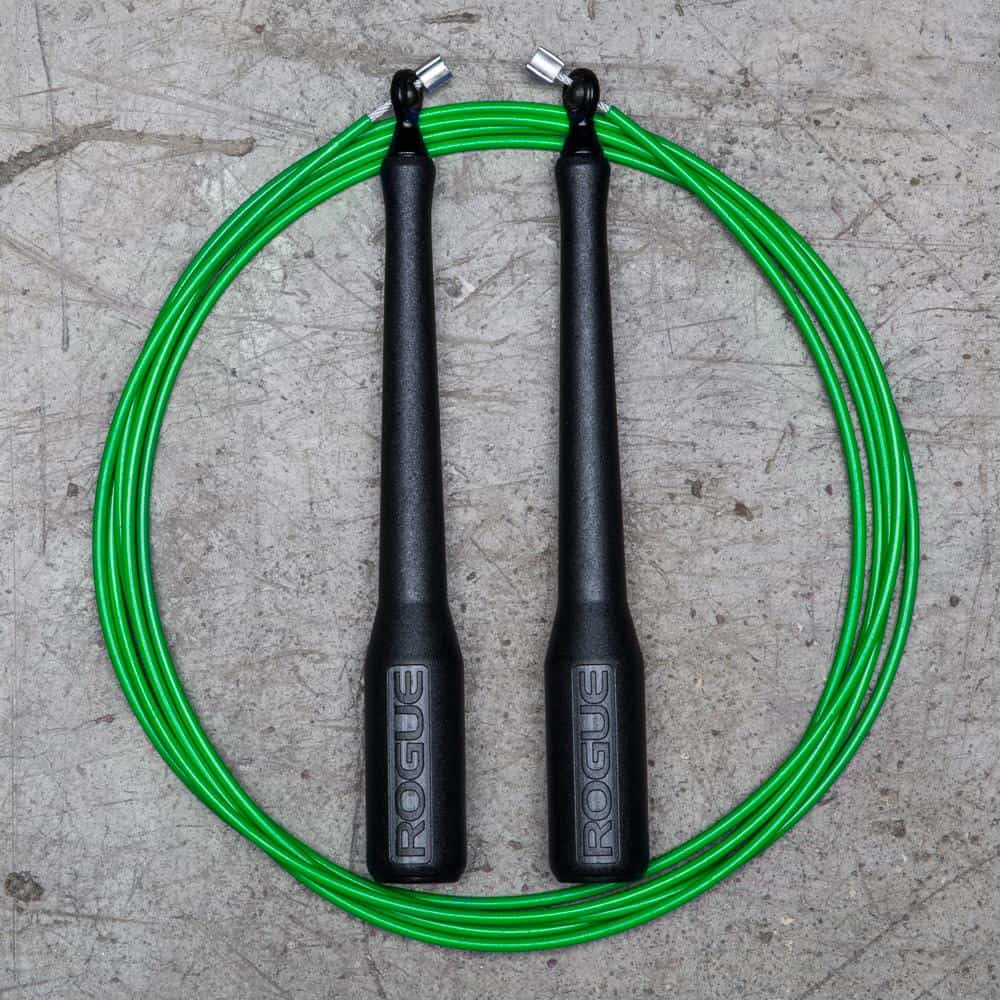 A lightning-fast speed rope may not be the best option for an absolute beginner.
A slower spin and heavier cable or rope can provide the feedback that a jump rope beginner needs.
And for that Rogue offers the Rogue Fixed Length Bushing Speed Rope.
A bushing is another type of load-bearing surface to allow parts to move freely – but it's not as friction-free as ball bearings. So it's gonna spin slower.
Further, the 3.2 mm PVC coated steel cable is 1.1 mm thicker than the cable used on the SR-1.
That means more weight.
More weight on the cable means more work to spin, but more importantly more "feedback" to the trainee.
This model is non-adjustable, so pick the right length for you – and you've got a simple, cheap, but good beginner speed rope.
If you want an adjustable model, take a look at the SR-3 Rogue Bushing Speed Rope.
Same great features but in a model you can adjust to the perfect length.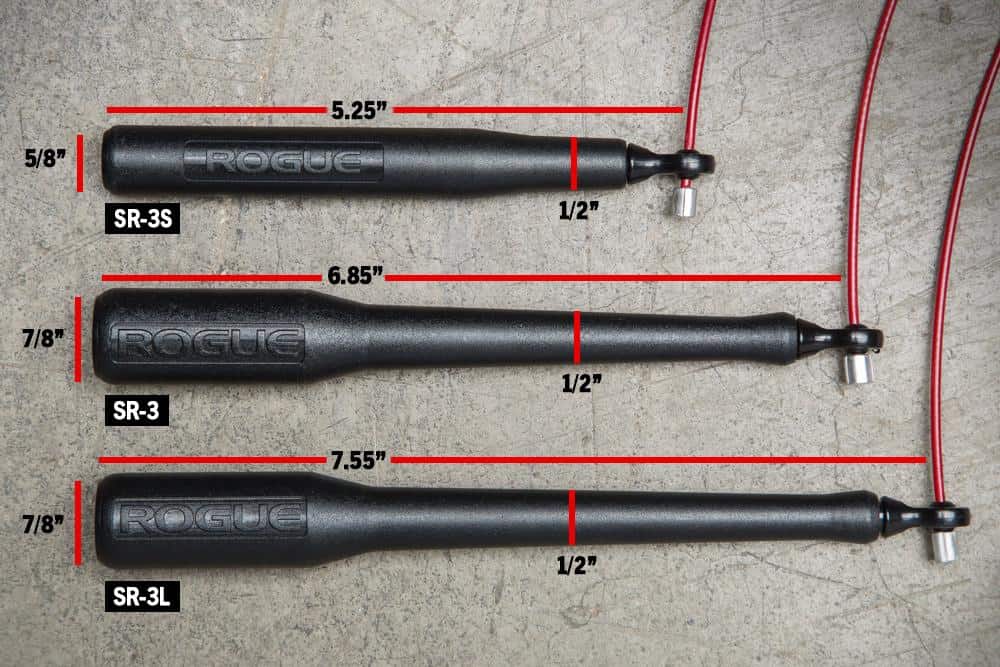 Roque SR-2 Ballistic Speed Rope 2.0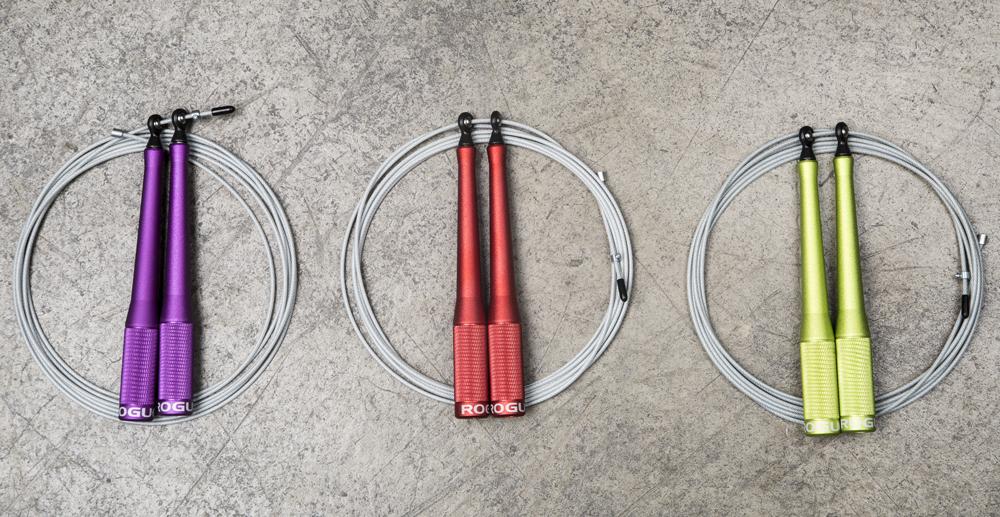 The next step up in Rogue's speed rope arsenal is the SR-2 Ballistic Speed Rope 2.0.
Judging by the name, you'd expect the SR-2 improves upon the SR-1 model, and it does.
The SR-2 uses a similar 3/32″ speed cable and ball bearing system like the SR-1.
But it's got nice grippy aluminum hand grips – featuring a sandblast textured spindle with a fine, knurl-textured grip.
It's available in 2 handle lengths – the standard 6.75″ or the "Short" model 5.25″.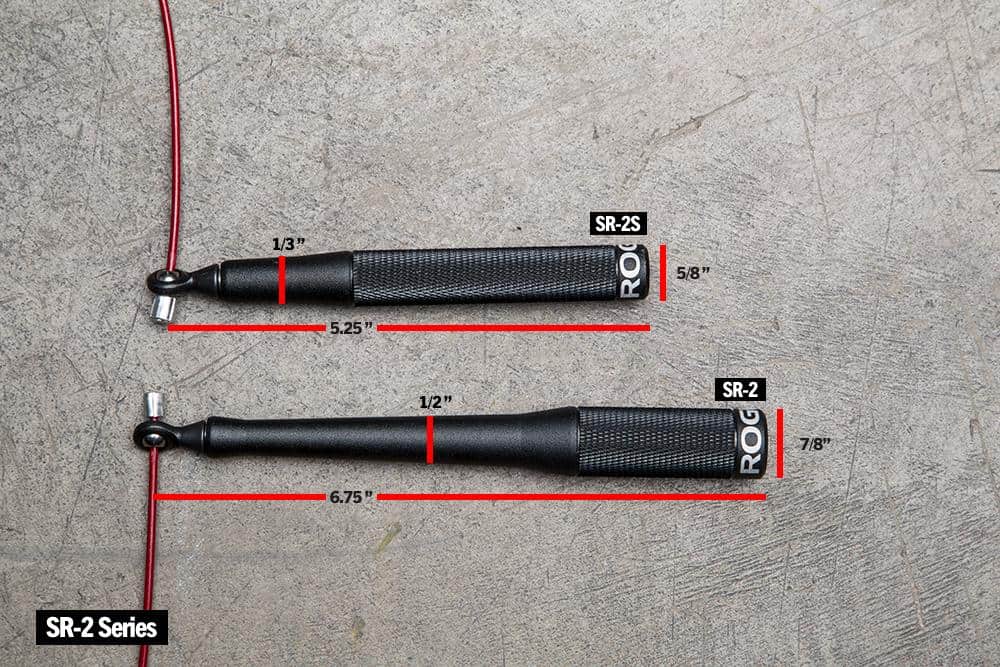 Also available in a variety of color options, and it's made in the USA.
The attraction of the SR-2 is really the handles – look at that knurl.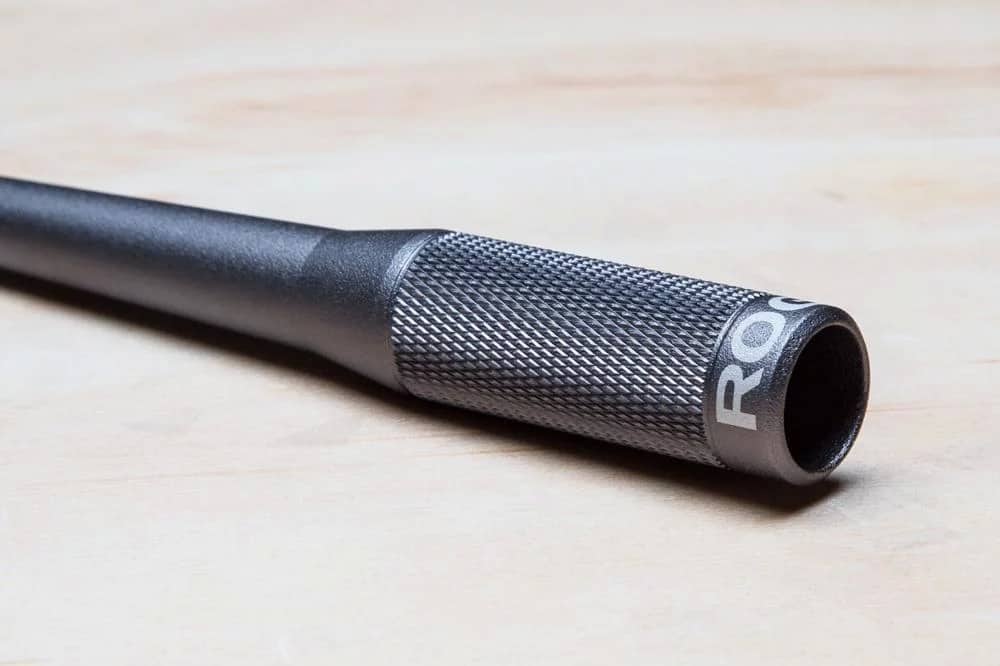 Like the SR-1, there's also special editions.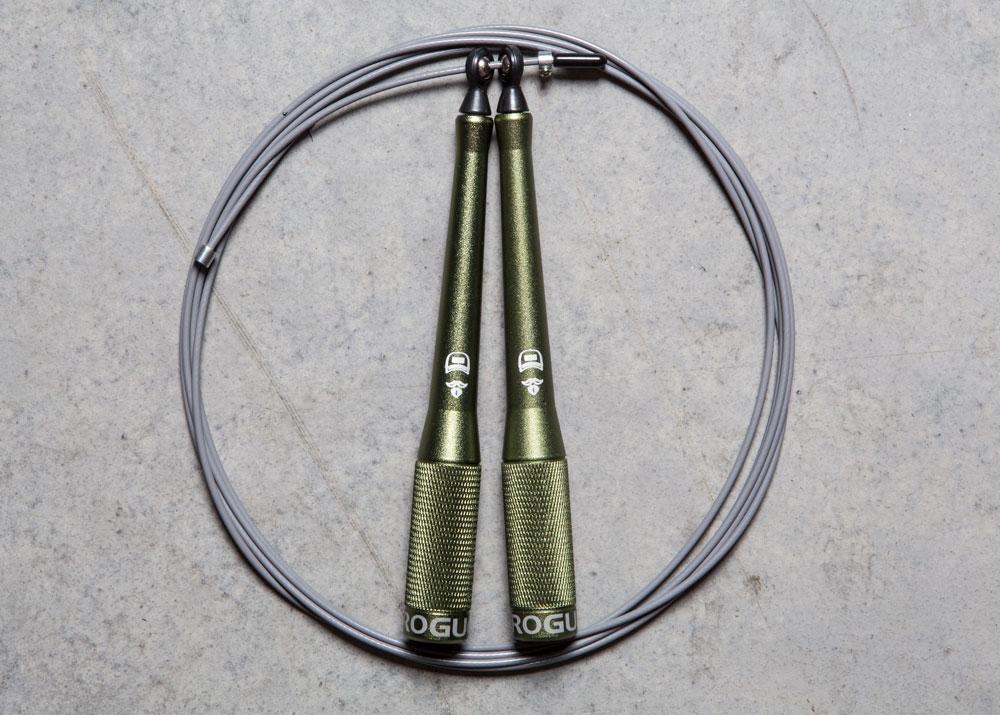 The Bridges SR-2 Speed Rope 2.0 is available in a nice looking anodized Olive Drab color with exclusive etchings of the Josh Bridges "Stache" logo in white.
Other than that – very similar to the SR-2 regular model – aircraft grade aluminum handles, 3/32″ speed cable that is adjustable, and super-smooth ball bearing spin.
Double-Under Tips
Struggling with the double-unders? They make a frequent appearance in CrossFit WODs – like the Open 2019.2 workout – which required 50 double-unders.
Here's some double-under tips, that will work with any rope:
Hold your hands slightly in front of your hips
Keep your elbows close to your body at all times
Jump a few inches off the ground
Spin wrists so the rope passes the feet twice with every single jump
Be sure to keep your torso upright the entire time
It sounds simple – but can be hard to execute.
Having a speed rope will help with the fast rope movement needed.
It is less work to spin a light rope as compared to a heavy rope.
Rogue SR-343 Mach Speed Rope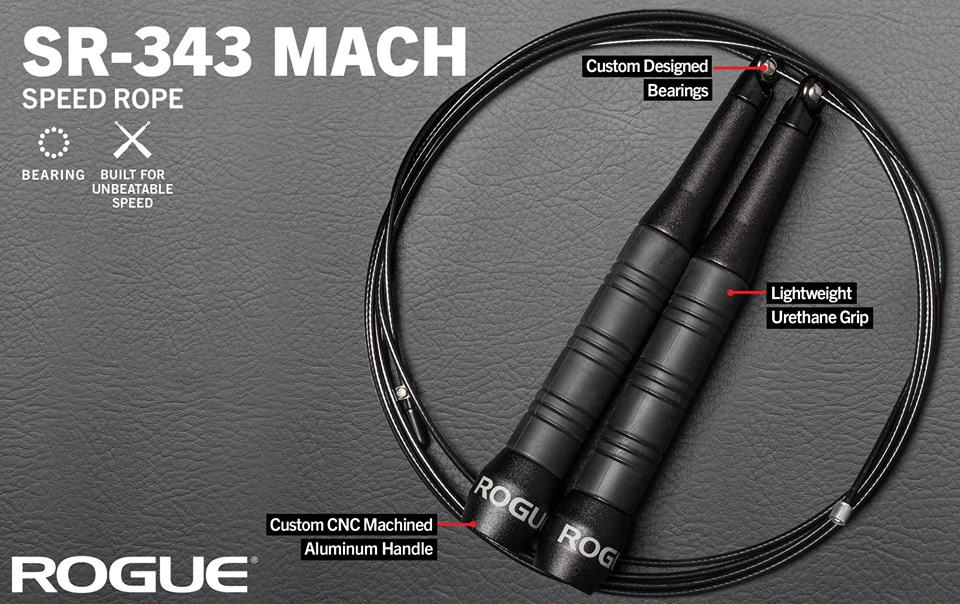 We've saved the best speed rope for last.
And that brings us to Rogue's premium speed rope – the Rogue SR-343 Mach Speed Rope.
Rogue claims this is their most advanced mechanical design for a speed rope.
The SR-343 is made in the USA.
It's got all the great features of the Rogue SR Speed Rope line – replaceable cable, trim to the perfect size, etc.
How do you customize the length? One end of the cable is secured with a set screw. To customize the size simply loosen the set screw, cut the cable to length as desired, and tighten the set screw. You will want to hold on to the small rubber wire cap also.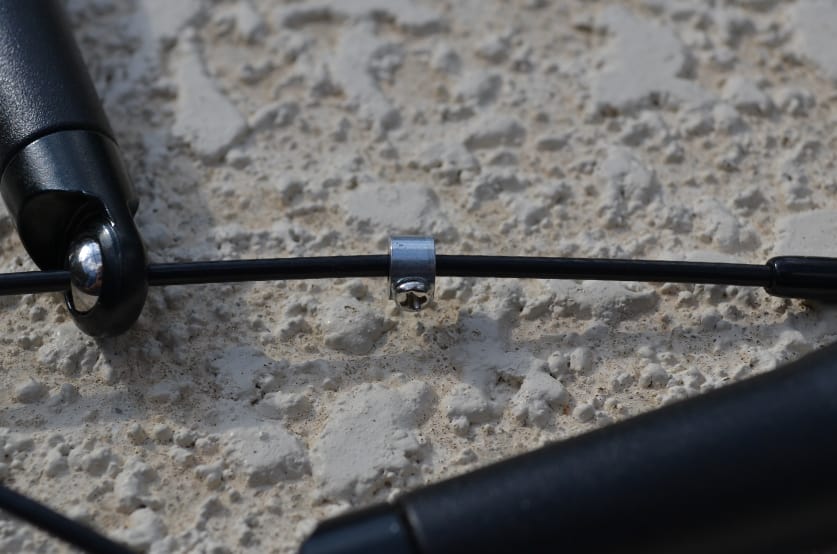 The cable is PVC coated – so you'll need to use this speed rope on forgiving surfaces for best results.
But most importantly, it's got the most speed.
The speed cable is a dense 5/64″ diameter cable – 10% denser than that of the SR-2.
That means even more speed.
The SR-343's speed cable is only 38 grams – or 1.3 ounces. That's as light as it gets.
But the real secret of the SR-343's speed is the custom designed bearings.
They spin up to 10x better than the SR-2.
The bearings on the SR-343 spin so well it was a challenge to get the handles to sit still for that photo of the set screw. The slightest bit of tension in the cable would send the handles rolling away…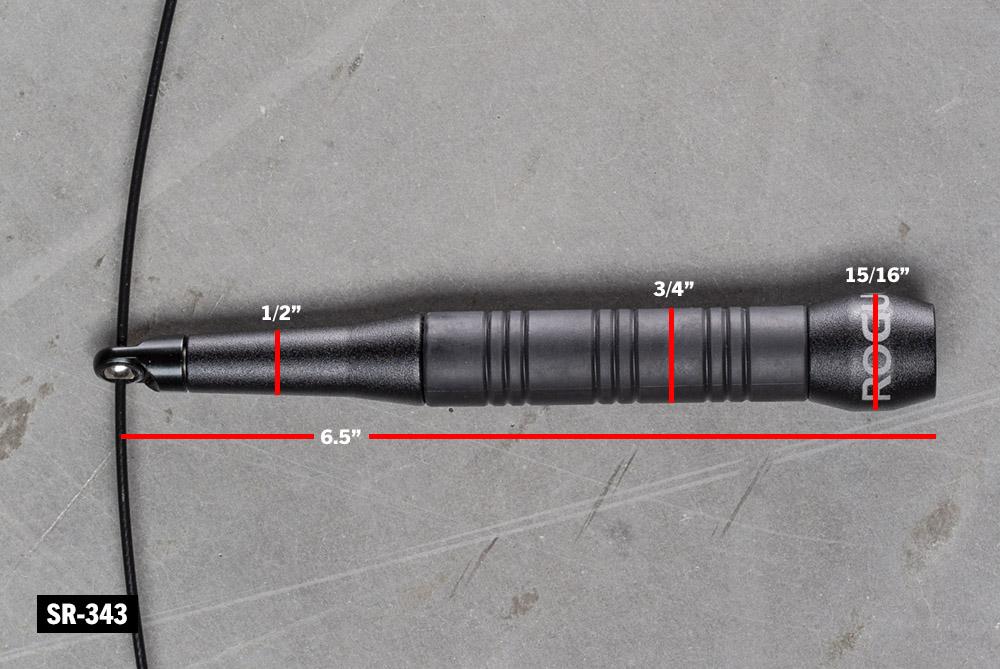 The handles are made from aircraft-grade aluminum, with the addition of a lightweight urethane grip.
The handles are hollow. You will not want to drop them if you can help it, because the finish will scratch easily.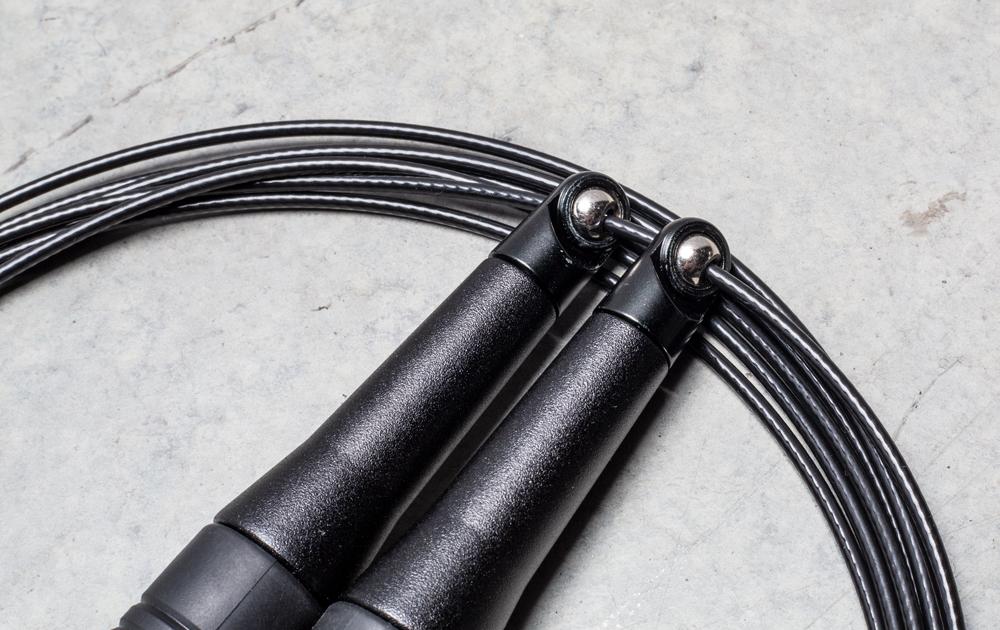 All this advanced technology does come at a price – this is one expensive jump rope.
Compare the price of this to the EVO Speed Ropes (specifically with the Hyper 1.3 oz cable) from RX Smart Gear.
But it is the most advanced, fastest speed rope around.
Don't believe us? Check the user reviews on Rogue's website.
For me personally the Rogue SR-343 made an immediate improvement in my jumping – because it's so light and spins so well.
You DO NOT have to be an expert jump rope user to benefit from this equipment.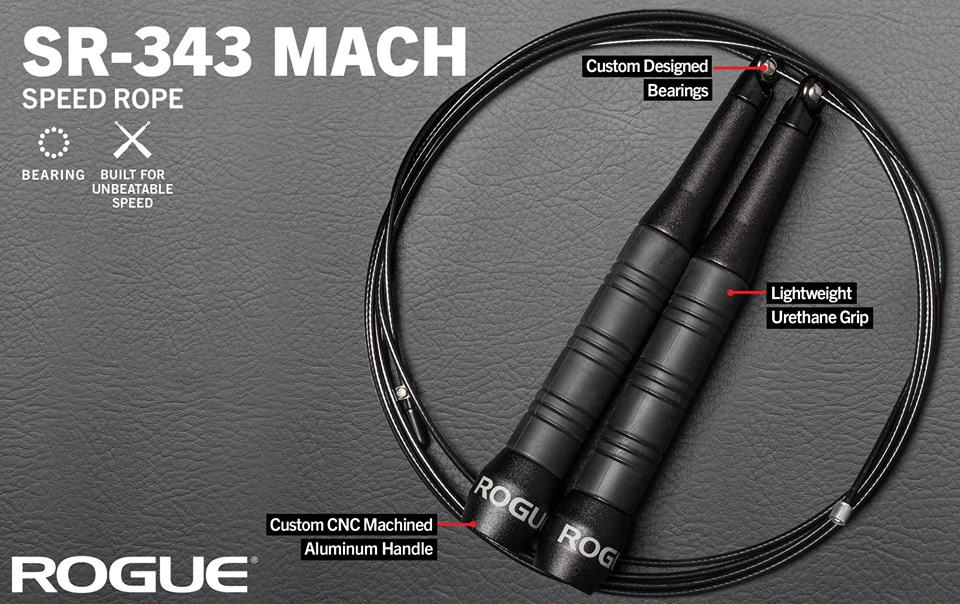 The SR-343 is also available in colors thanks to Cerakote – an amazing thin-film ceramic coating that is tough, durable, and colorful.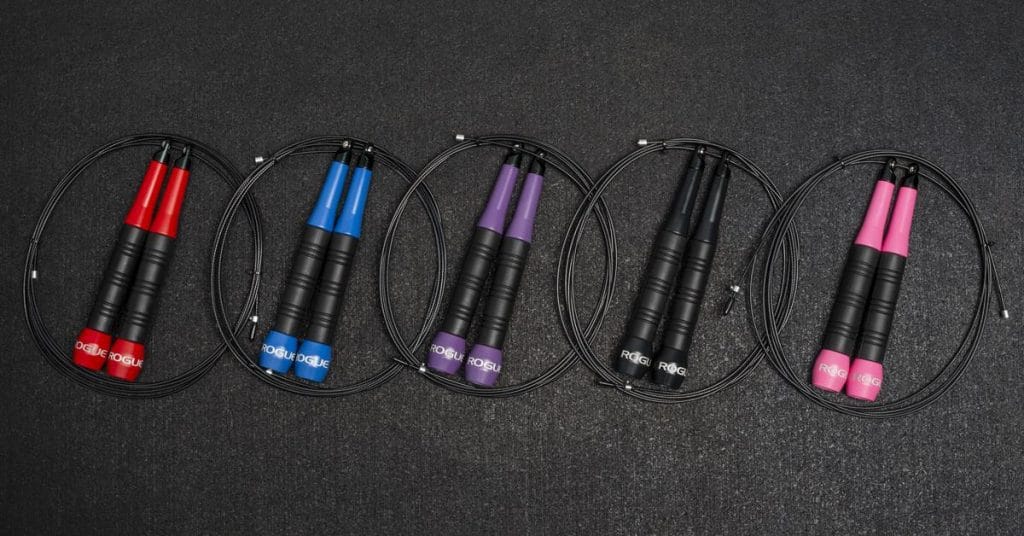 Here's a handy comparison showing many of the options for speed ropes from Rogue:
Rx Drag Rope
Let's do something different – how about a slow and inefficient rope? That's what the Rx Drag Rope is – it will make you work out harder.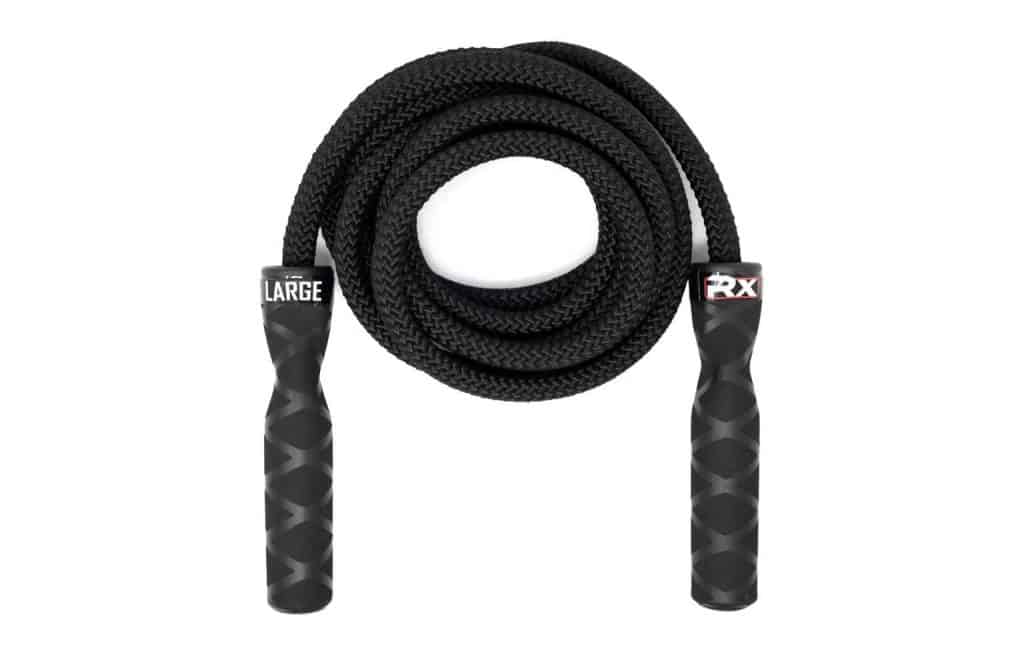 This rope is available in 3 sizes, and while it is a different experience than a speed rope it is a great way to add variety to your workout.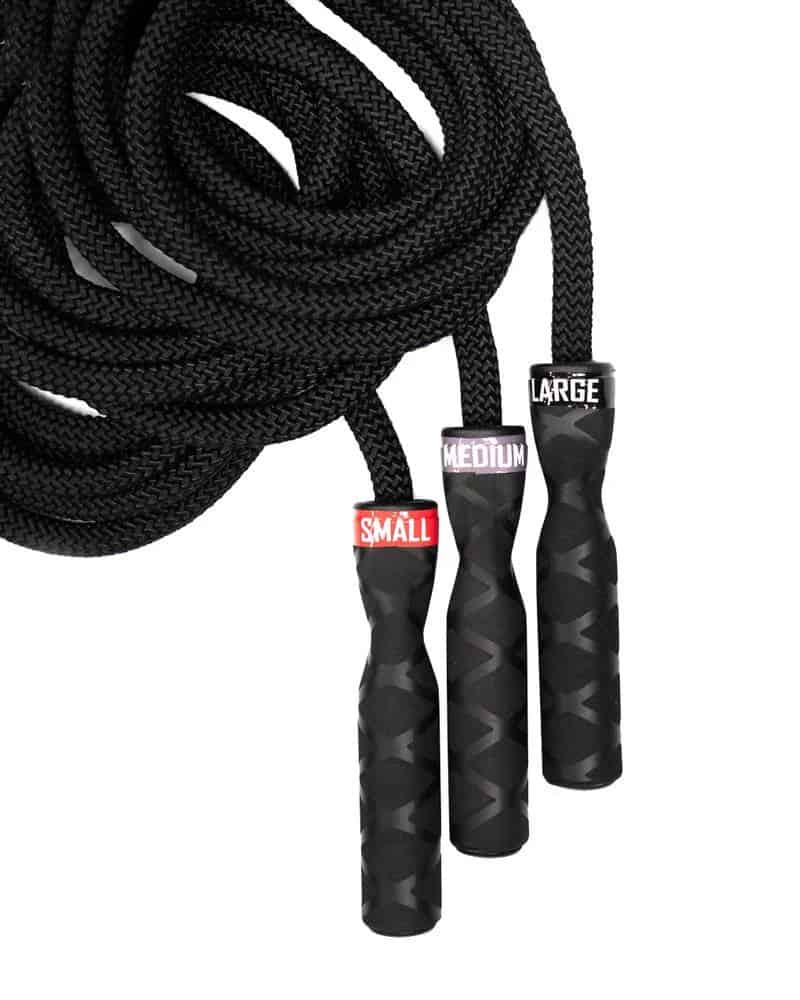 Speed Ropes – In Summary
Once you've gotten the hang of jump rope basics, you can probably benefit by upgrading to a speed rope.
A speed rope will help you perform double unders and triple unders more easily.
But it will also let you work harder, and faster, and to gain more from your training.
Rogue has a diverse set of speed rope options and with the SR-343 Mach Speed Rope has what may be the fastest speed rope money can buy.
Photo Credits
All Rogue Fitness product imagery is property of Rogue Fitness, and provided by Rogue Fitness.
This website is not affiliated or associated with CrossFit, Inc. CrossFit is a registered trademark of CrossFit, Inc.
Tim is the founder of FitAtMidlife.com – an avid gym rat for 30+ years, he's a reviewer of many, many shoes – and founder of the Speed Bag Gathering – the world's only gathering of speed bag punching enthusiasts.  See more gym reviews at Tim's YouTube channel.