Let's compare the new Nano X1 Training Shoe from Reebok directly against the Reebok Nano X.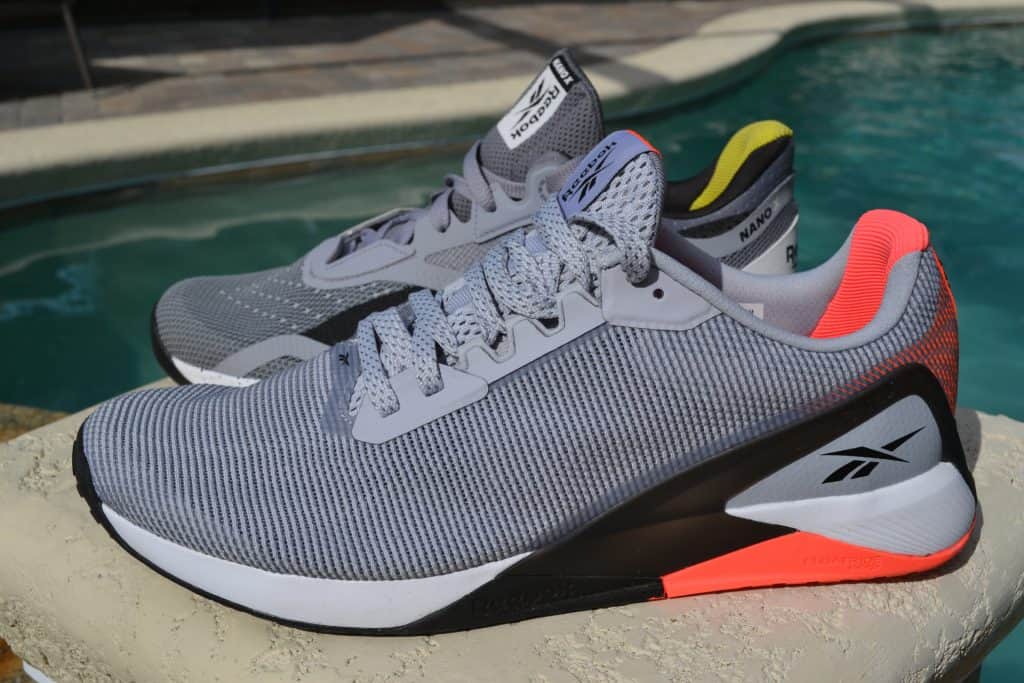 Our review pair has arrived and we've put them through our workout test – side by side with our trusty pairs of Reebok Nano X.
Before we dive into the results, let's review some of the shoes that are available now:
Let's compare these two cross training shoes for CrossFit.
Reebok Nano X1 Versus Reebok Nano X Review – Video Review on our YouTube Channel
Why read when you can watch? Check out this video from our YouTube channel:
That's some in action video of the Nano X1 – but let's dive deeper into all of the details.
Reebok Nano X1 Versus Reebok Nano X – Sizing
Here's my thoughts on size.
The Reebok Nano X shoe runs true to size, just like the Nano X did.
A US Men's Size 11, which is my normal shoe size for most trainers and running shoes, fits perfectly – in both shoes.
The width is excellent, the length is good, and overall these are comfortable.
There's one caveat – the new comfort collar in the Nano X1 does put some pressure on the top of your heel.
Here's a picture that compares the heel of both – notice how the X goes straight up, but the X1 curves inward.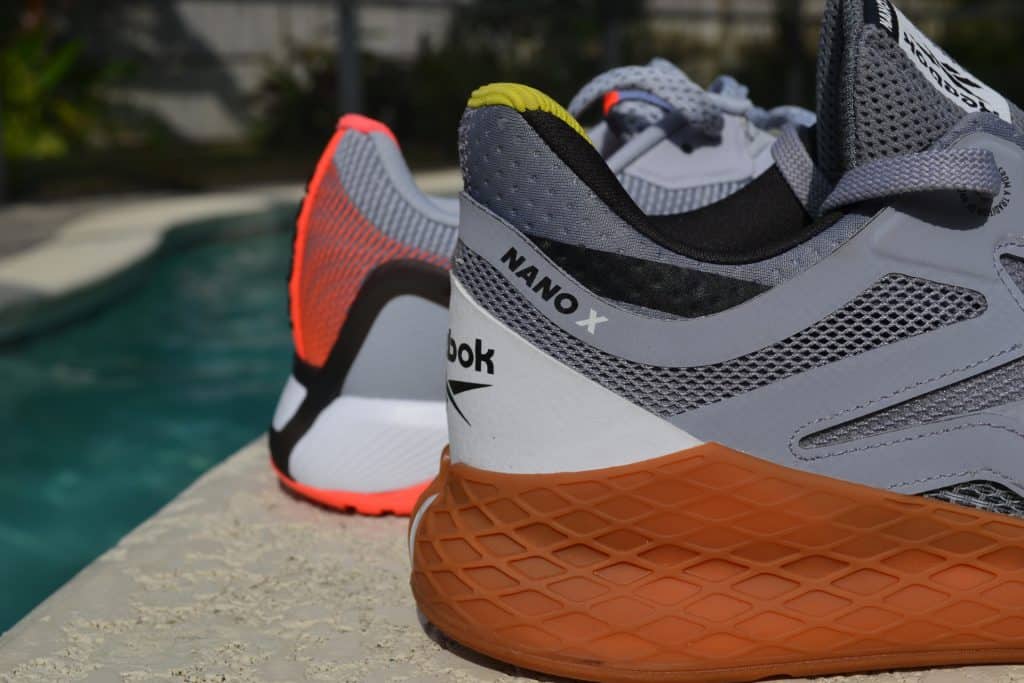 Will this break in over time? I'll provide an update here in a few weeks.
The other big thing we need to address is the optical illusion that the X1 is less wide than the Nano X.
How about width? The Nano shoe has had legendary toe box room in the past. But now the shoe looks to be not as wide?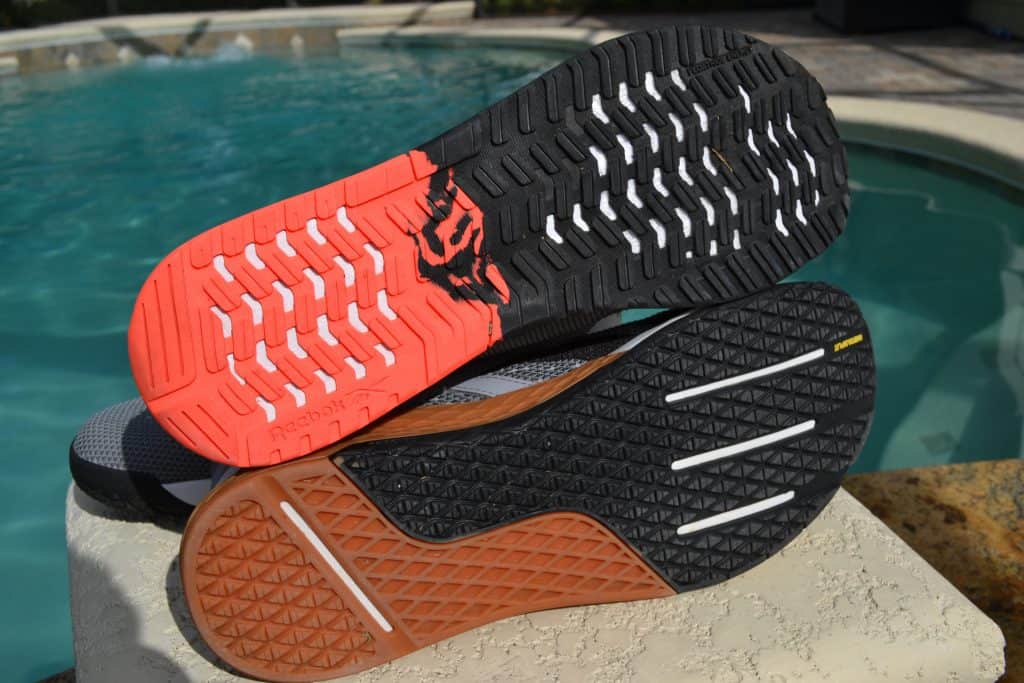 In a nutshell, the outsole is narrower, but not the actual area in the upper that accommodates your toes.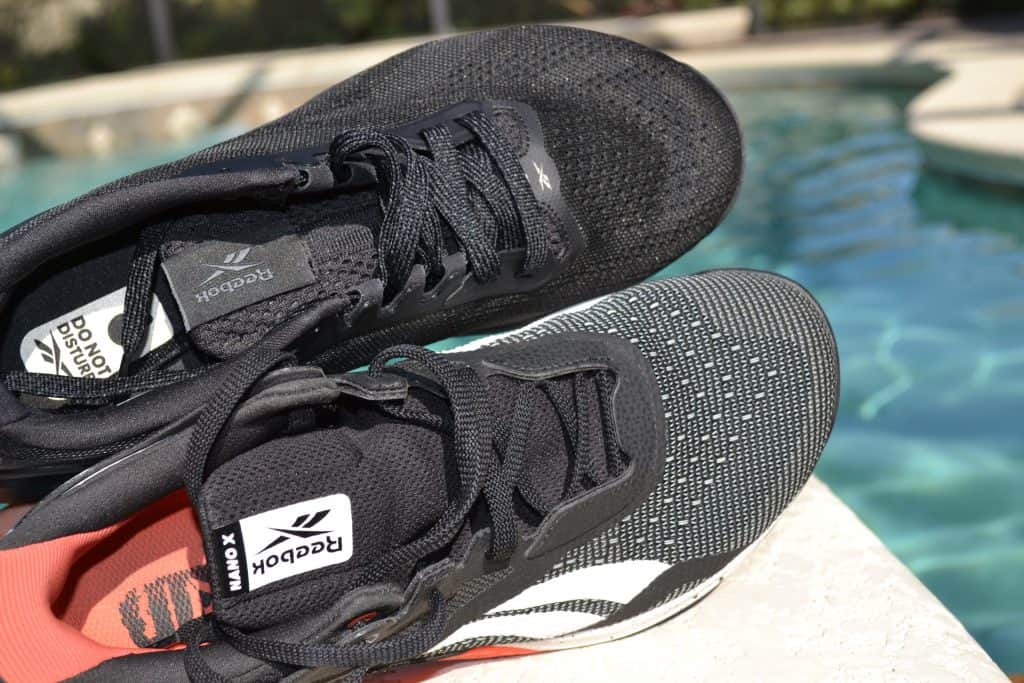 So really, it's sort of an optical illusion. This video explains in detail:
Reebok Nano X1 Versus Reebok Nano X – Overview
Let's switch gears and talk about performance differences now.
There are really 3 big changes with the X1.
It's significantly lighter than the Nano X. This holds for both the knit upper and the so-called Grit upper.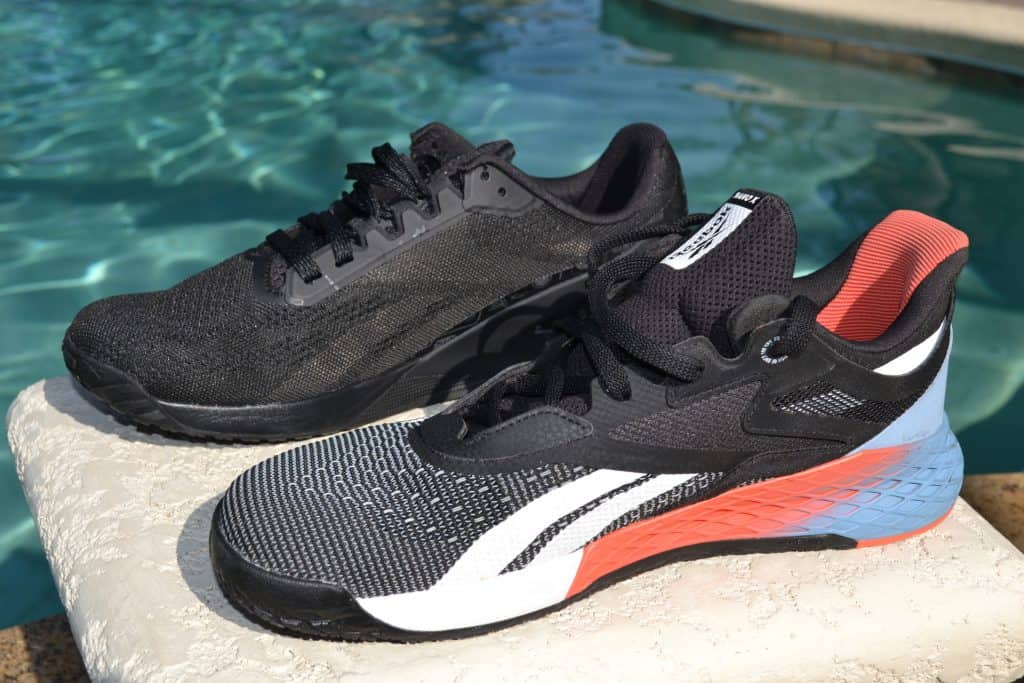 How much lighter is it? A US Men's Size 11 Nano X1 weighs 2 ounces less than a similar-sized Nano X.
Is the Nano X1 as tough and durable? Only time will tell.
It definitely feels less tank-like as compared to the Nano X.
I do recommend you go with the Grit upper, because it's tougher, and it looks better – in my opinion.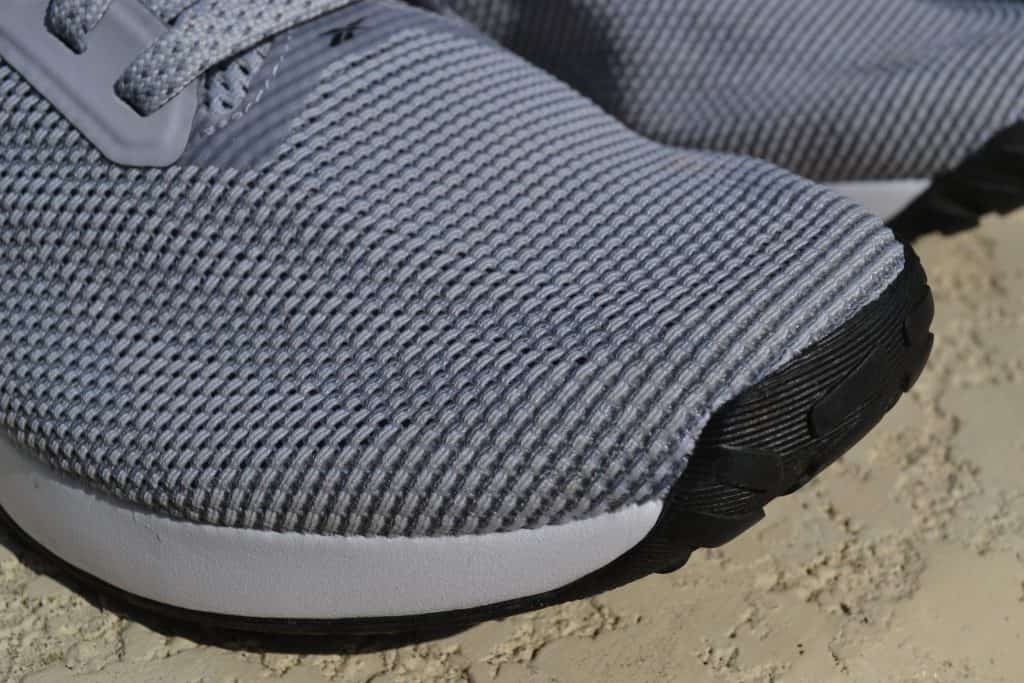 Here's another BIG difference – the X1 actually has some cushion to it.
That's right, Reebok has dropped their Floatride Energy system into the forefoot, and the shoe uses an EVA foam midsole.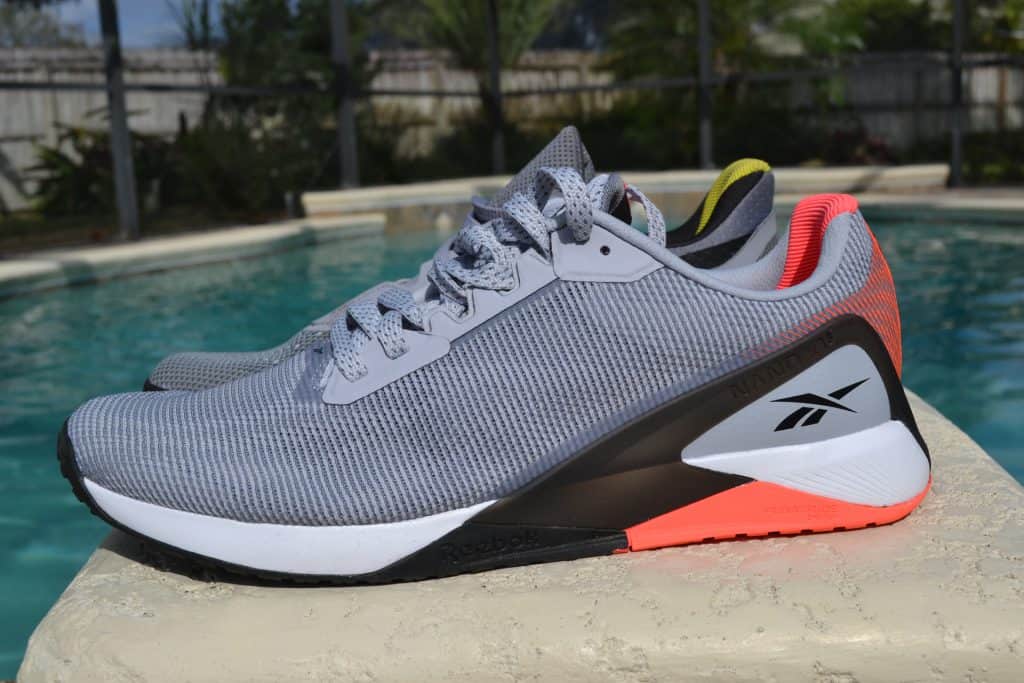 Reebok claimed the Nano X was "runnable" – it wasn't, in my opinion.
It had so little cushion (especially in the heel) that running on any sort of hard surface like asphalt or concrete was quite unpleasant.
Now, to be clear, the X1 isn't a running shoe. It's a cross-trainer.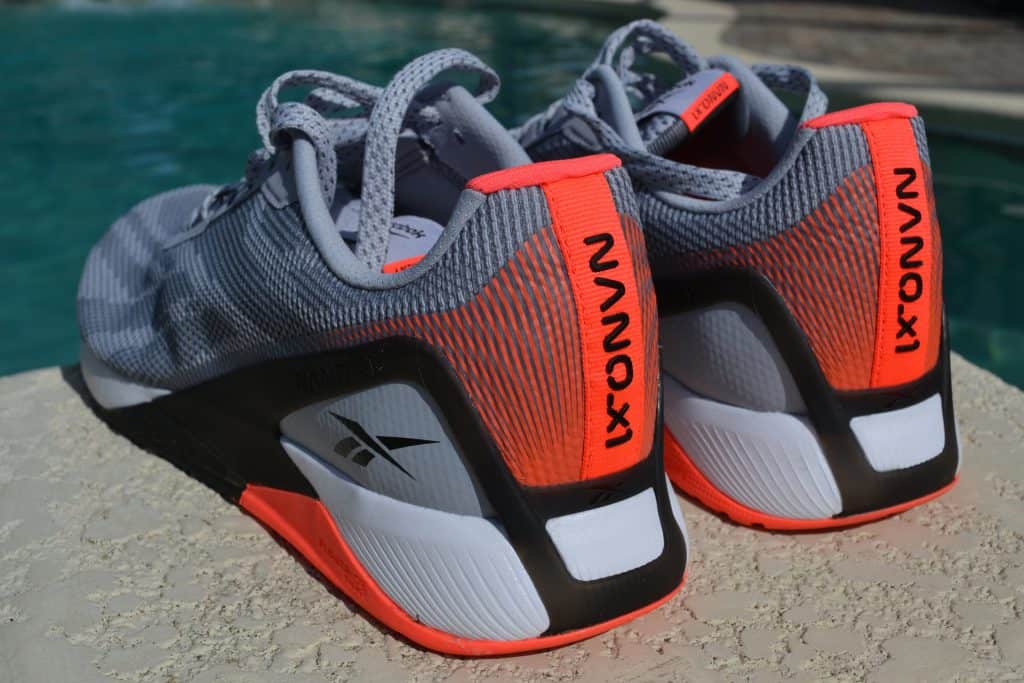 They've added cushion, but they haven't eliminated the ability to lift heavy with barbells (or kettlebells, dumbbells, etc.) in this shoe.
Having said that – the Nano X is more stable under heavy weights. There's just not very much cushion for your foot to sink into.
Here's one thing that you may like about lifting weights in the X1 – it has 7mm of heel to toe drop.
That little bit of extra drop, 3 mm more than in the Nano X, makes it a little bit easier to go deep on a squat.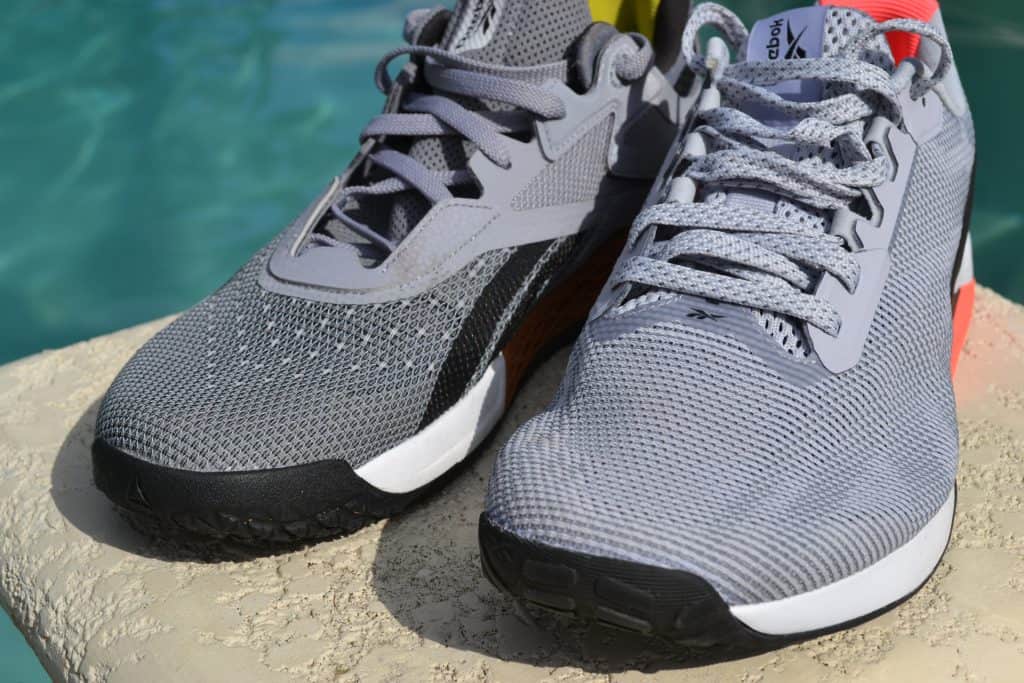 (Or anytime you are lifting the barbell up off the floor.)
That extra bit of drop should help for long-distance endurance too – thinking running or standing all day.
Style counts too.
Ultimately, I think you need to determine – does the shoe fit you well, and how does it look?
(That's something only you can decide.)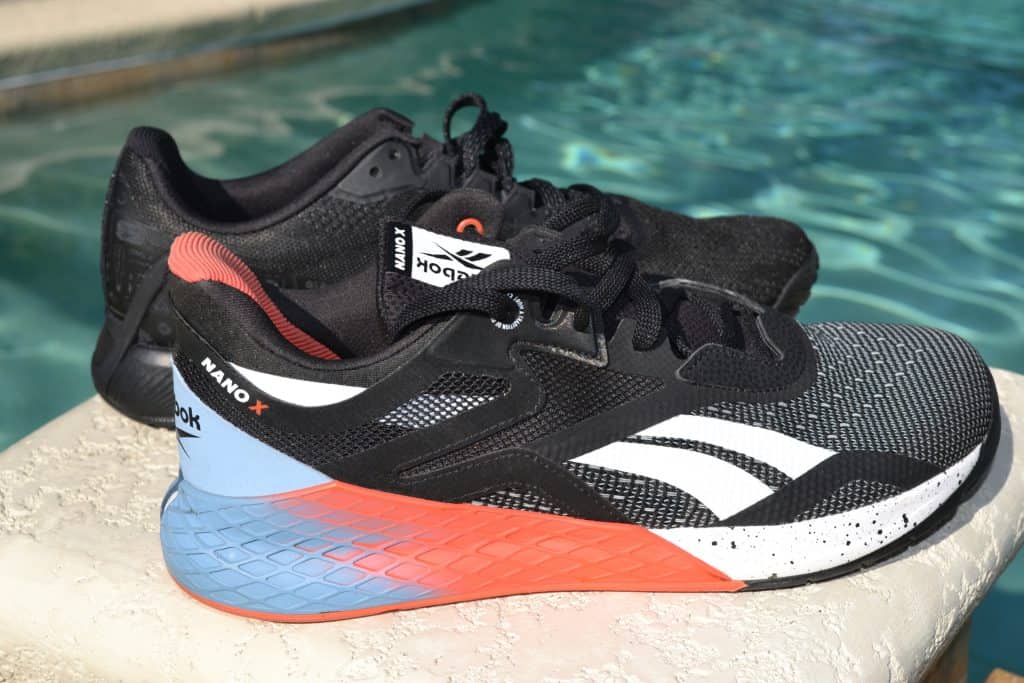 Reebok Nano X1 Versus Reebok Nano X – In Summary
That's our review of the Reebok Nano X1 Training Shoe versus the Nano X.
Reebok has dropped the singular focus on CrossFit, and the X1 will have a wider appeal to fitness enthusiasts.
The X1 is 2 ounces lighter, has 3 mm more of heel to toe drop, and has better cushioning.
Overall, I think the Nano X1 is a better shoe for impact activities and sprinting or running – but you can still lift weights in it.
The Nano X has minimal cushion (and drop) but feels super-stable in heavy barbell lifting.
That all being the case – there's something to be said for style and how well the shoe fits you.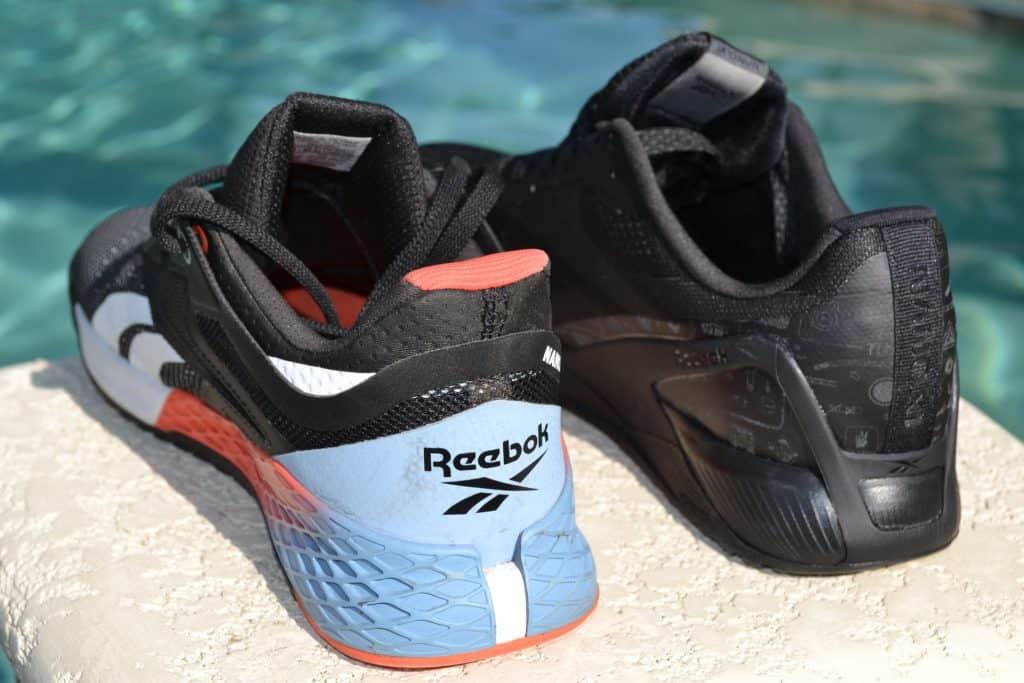 Photo Credits
Some product photos on this page are property of Nike or Reebok.
This website is not affiliated or associated with CrossFit, Inc. CrossFit is a registered trademark of CrossFit, Inc.
Affiliate Disclaimer
We are an affiliate of Reebok and others that sell this training gear. If you buy clothing or other training gear after clicking the links in this article, we receive a small commission at no extra cost to you. This helps us to bring you in-depth information and content on these great training products.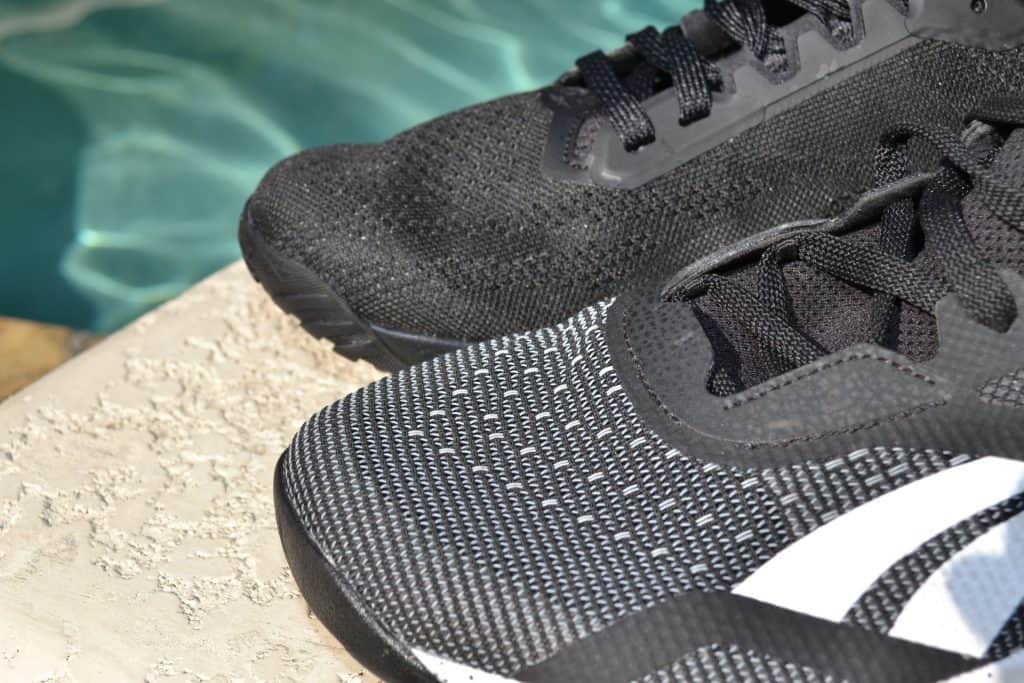 Tim is the founder of FitAtMidlife.com – an avid gym rat for 30+ years, he's a reviewer of many, many shoes – and founder of the Speed Bag Gathering – the world's only gathering of speed bag punching enthusiasts.  See more gym reviews at Tim's YouTube channel.