Rogue has the red-hot
Echo Bike
. Grab one while they last!
Let's review the best barbell storage racks and hangers.
Barbells are some of the essential strength training equipment, and if you are into strength training, you probably have one or two in your garage or gym. Barbells are too precious just to be left on the floor/ground or only be stored anywhere. There are ways to store your barbells properly to avoid damage and keep your garage or gym clean and tidy.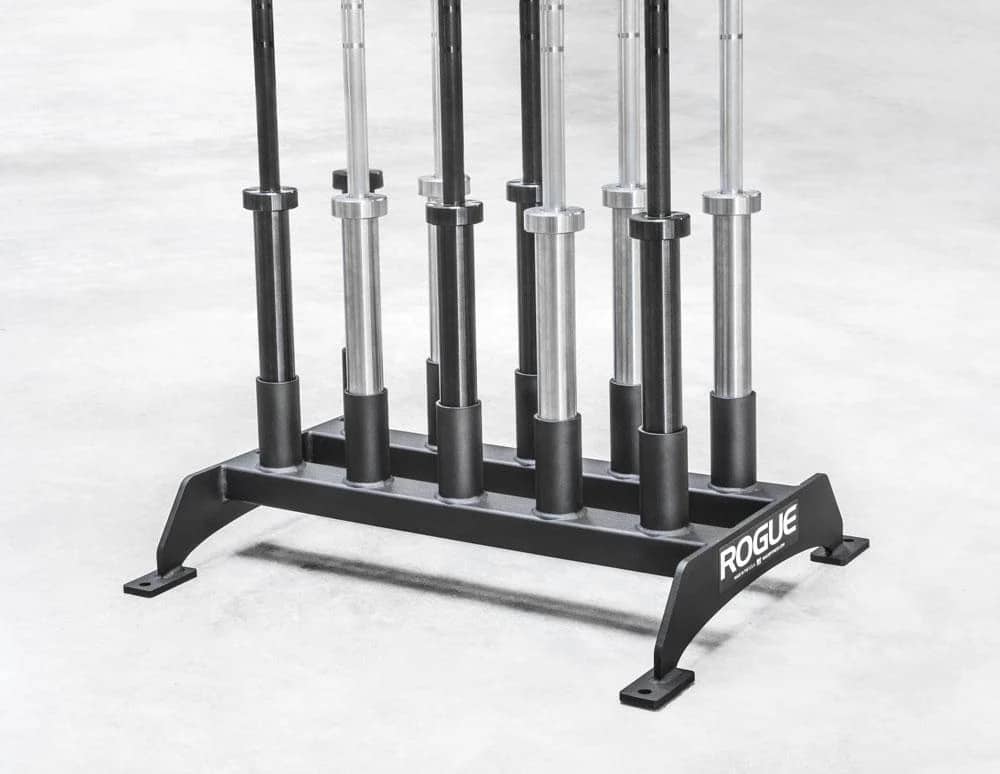 Here's some of the styles we are going to look at:
Barbell Storage – Overview
Whether you want to store your barbells horizontally, vertically, or on the rack, we got you covered. We will show you different racks and storage and how you can keep your barbells out of damage so they can stay in good shape and you can use them for a long time.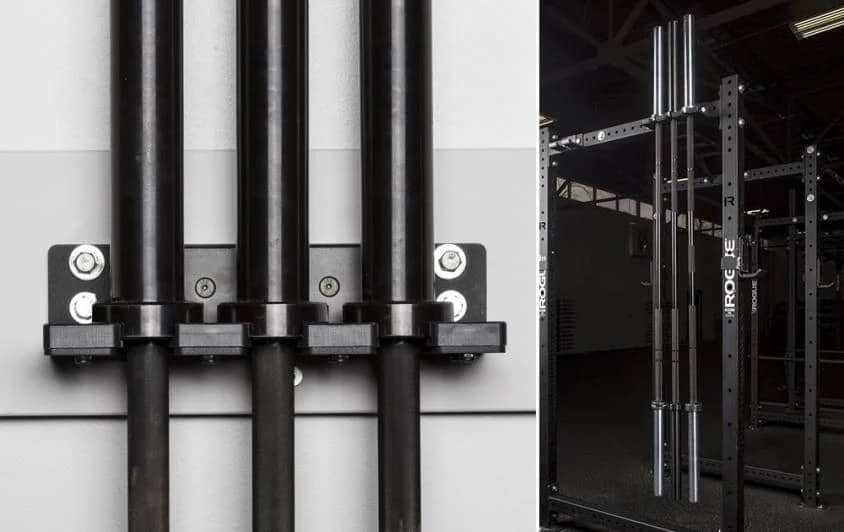 Barbells should be kept in a clean space with moderate humidity. It is also crucial that you keep your bar without weights on it. If you choose to use vertical storage, it is also important to store them gently, not to produce force when shooting your bar into the tube. Also, do not put your bars on anything that produces metal on metal contact.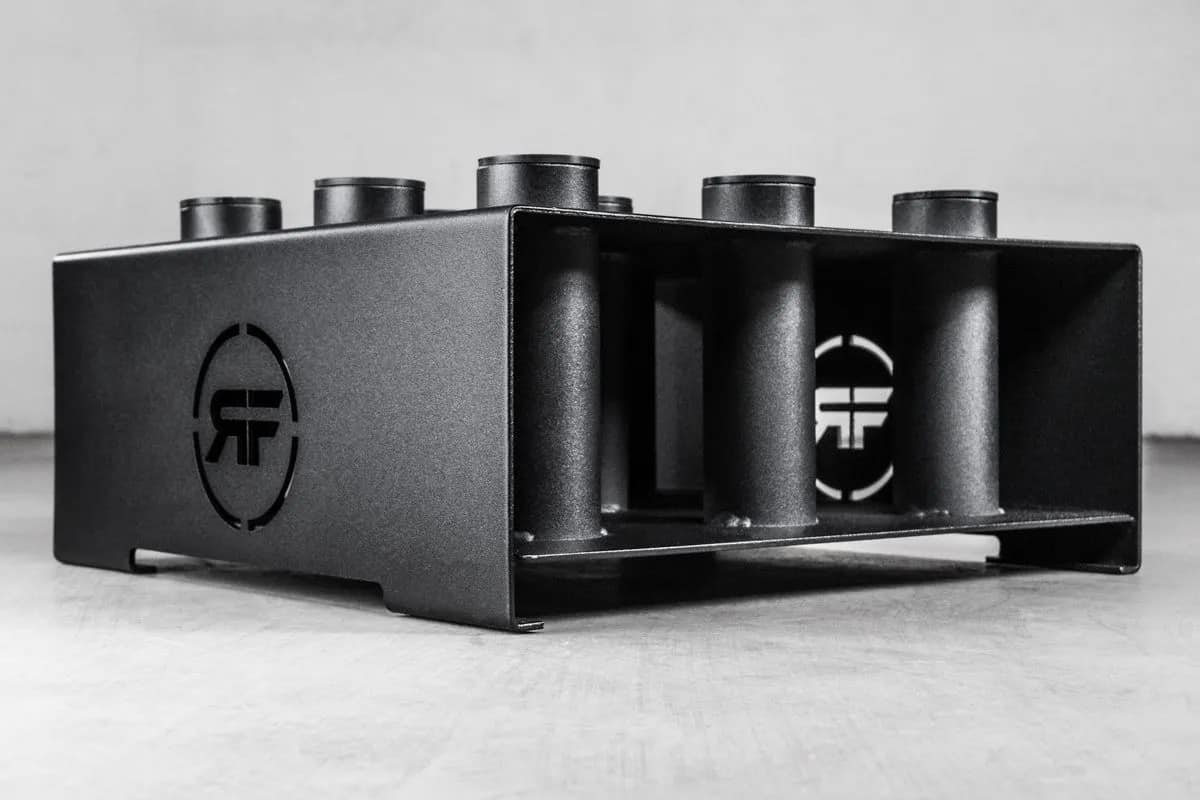 Rogue V2 Gun Rack
You can store up to six barbells with Rogue V2 Gun Rack. It has added a selection of laser-cut UHMW plastic inserts for greater protection. It highlights precision-bent, 7-gauge steel brackets and a distinctive rung design that will assist either the sleeve or the standard weight bar's shaft.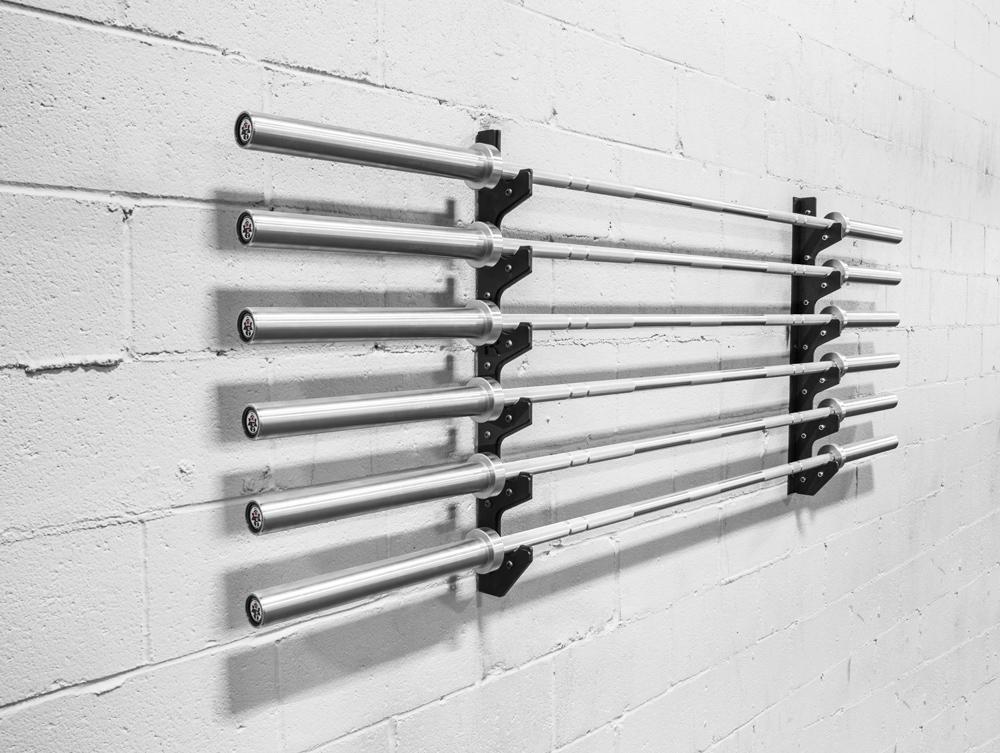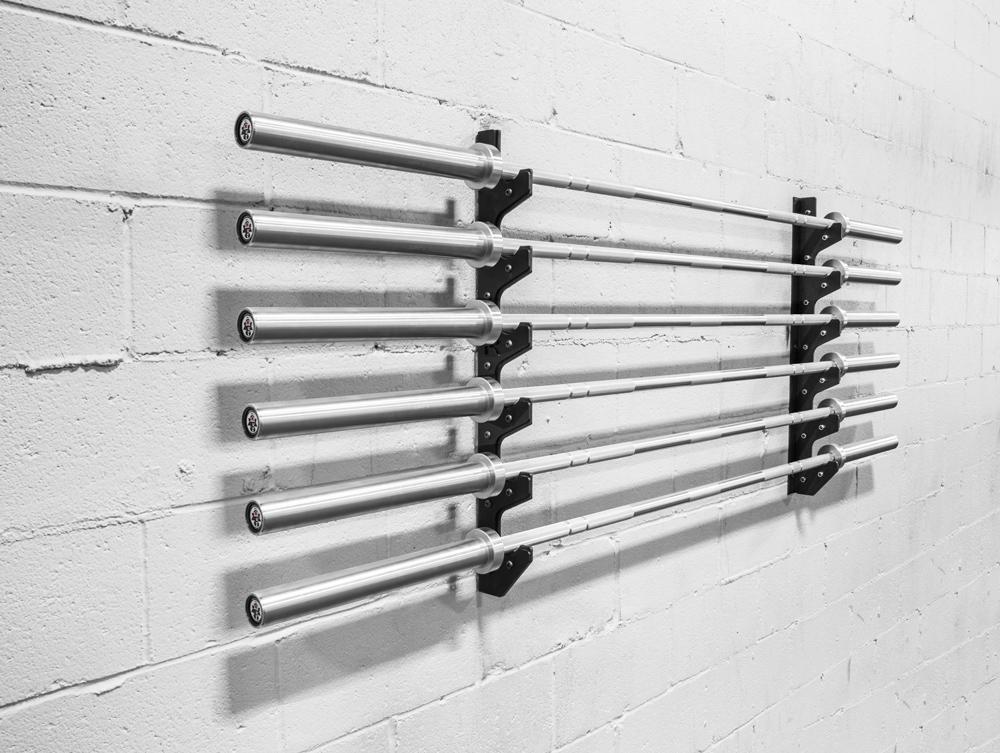 It has a height of 31.75″ weighing 15LB with a length of 5″. It is a horizontal barbell holder and comes in black.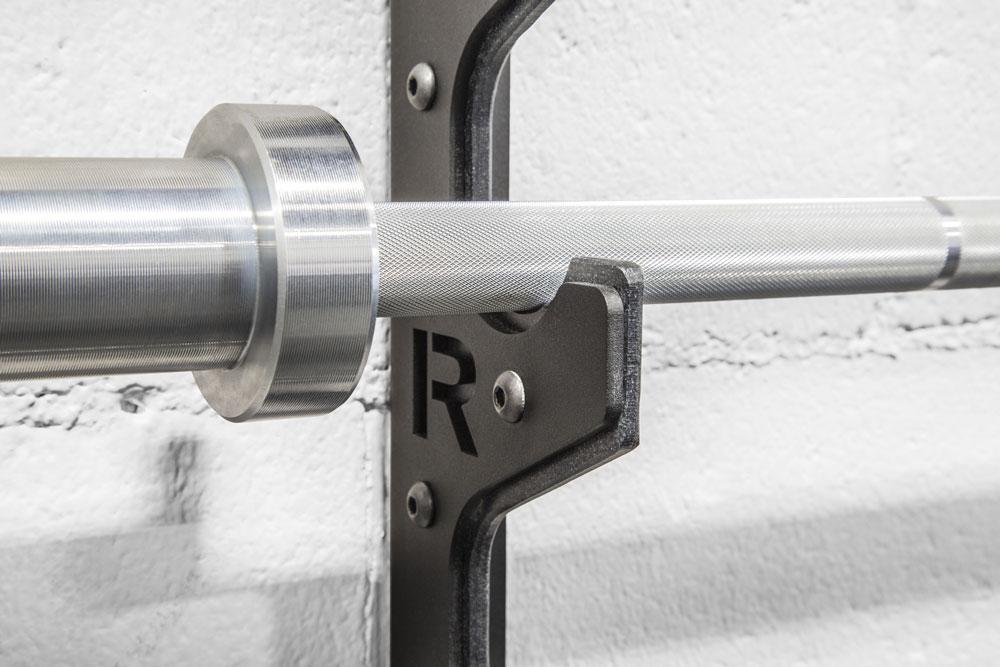 Rep Gun Rack
Rep Gun Rack comes in an 8-bar or 3-bar model. It has a wall-mount design that saves space and keeps your bars organized and out of the way in-between workouts.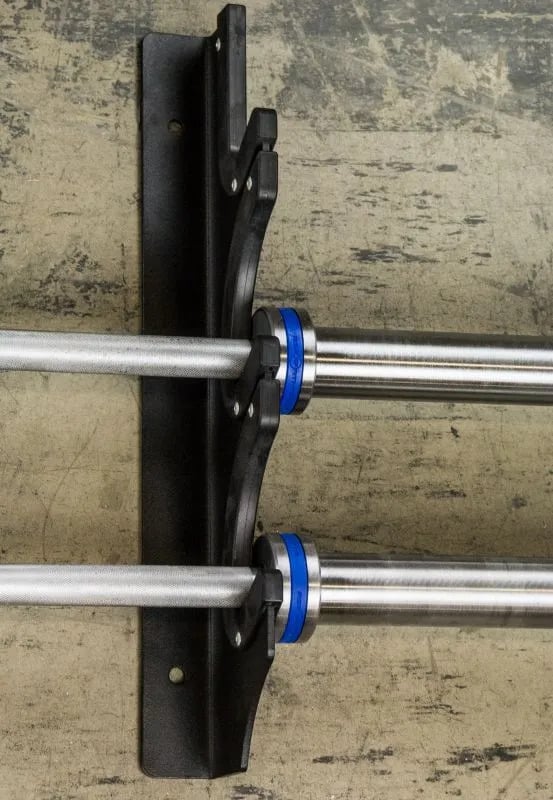 It has protective plastic-lined brackets that protect your bar's finish. The 8 bar is 53″ long while the 3 bar is 20.5″ long, and both have six gauge steel.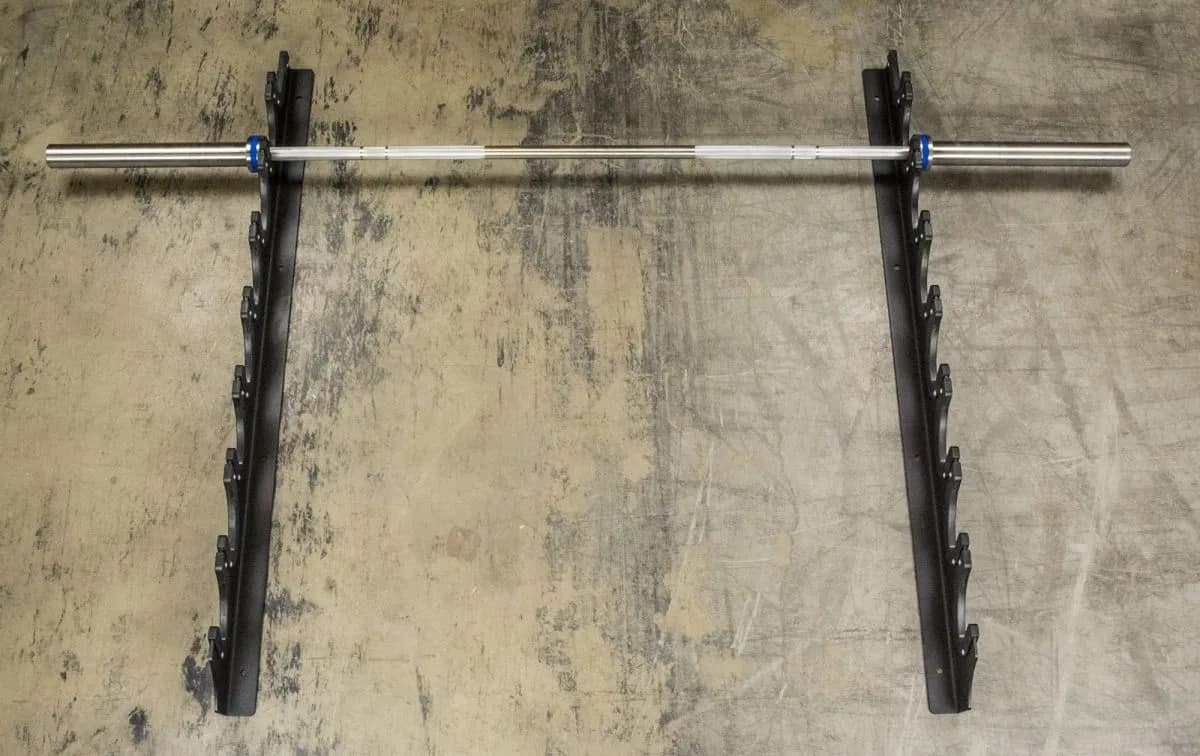 Rogue 3 Bar Gun Rack
Rogue's 3 Bar Gun Rack can be easily attached to any solid wall (concrete, cinder block, wood, etc.), allowing a simple solution for barbell storage and protection. It has optional UHMW plastic liners that can be added for more protection to the knurling of your bars.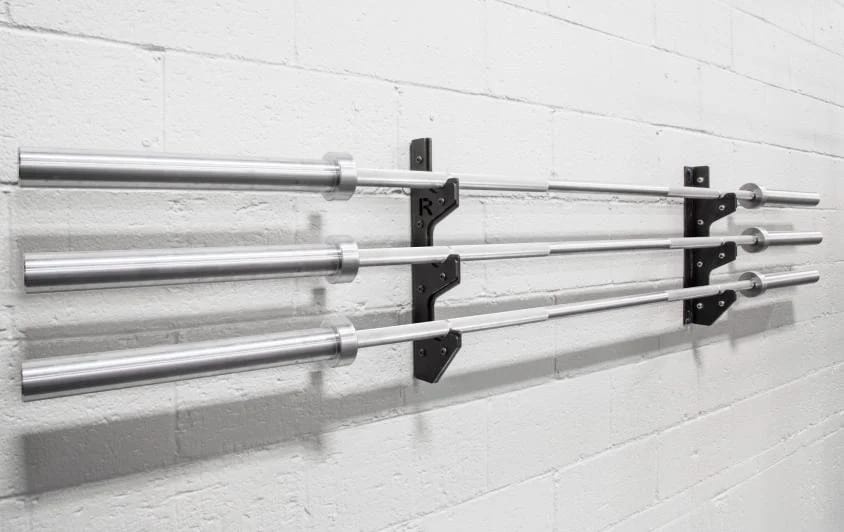 It is a horizontal bar holder with US steel using precision-cut and has 7 Gauge Steel brackets. It has a bracket length of 17″ and a mounting hole diameter of 0.375. The single unit of Rogue 3 Bar Gun Rack can hold three bars.

American Barbell Urethane Gun Rack
American Barbell's Urethane Gun Rack storage can endure different elements and the test of time with its premium urethane coating. It has an exterior metal-free to guarantee maximum barbell protection, especially around the knurling.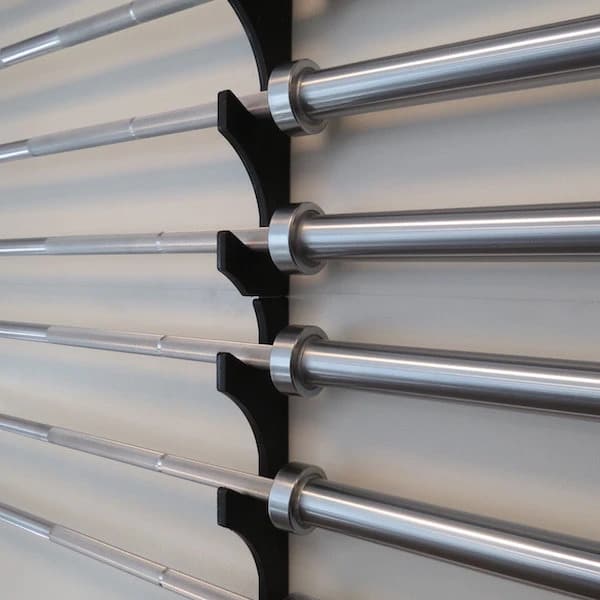 It holds six bars with a very minimalist design. American Barbell's Urethane Gun Rack is a wall-mounted barbell rack. It is assembled from heavy-duty steel and completed in a matte black urethane paint to provide added protection against cracking and scratching.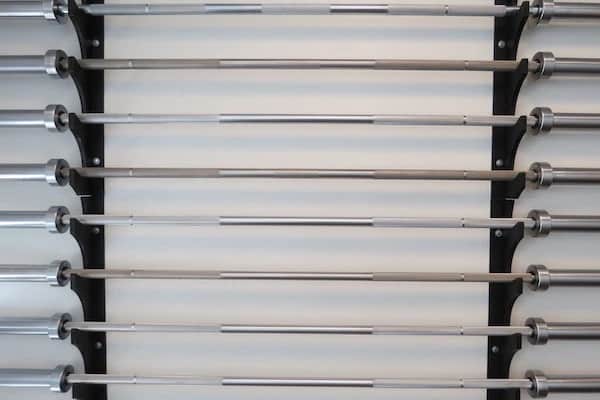 GetRX'd Horizontal 8-Bar Rack
All sides of each bar slot of GetRX'd Horizontal 8-Bar Rack is coated with a plastic sleeve to protect the knurling on your bars. You'll also be freeing up any floor space you may have used from other floor-based bar storage units.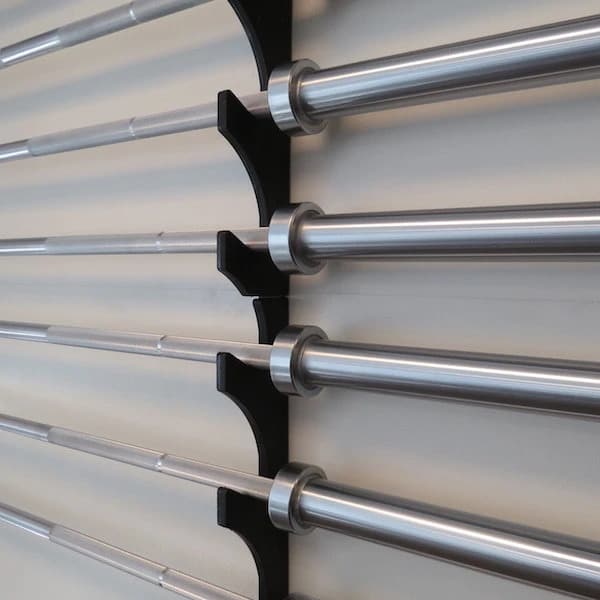 It is a horizontal bar wall rack that can hold eight bars. It includes 16 plastic bar holder sleeves and six concrete bolts upon purchase.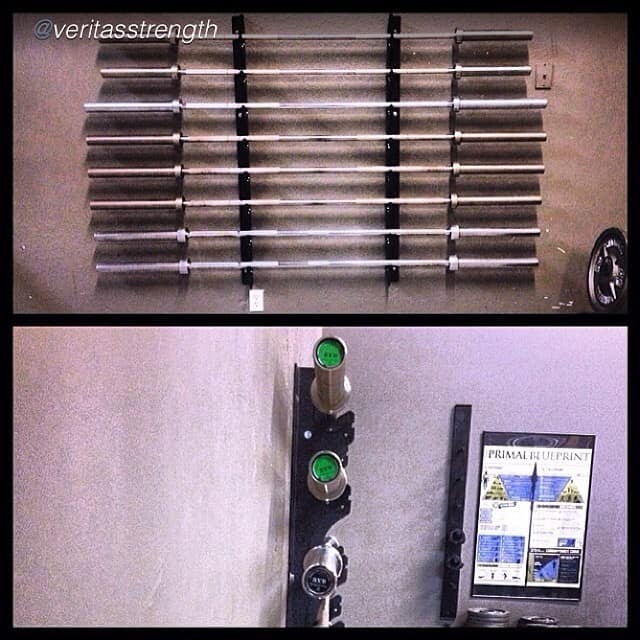 American Barbell 6 Bar Vertical Storage
The American Barbell 6 Bar Vertical Storage Rack is a durable, heavy-duty storage item where you can tightly store your bars in a convenient upright position. The six storage tubes are lined with plastic protectors and rubber bumpers to guarantee that there will be no cuts or wear on the bar sleeve when placing or removing them from storage.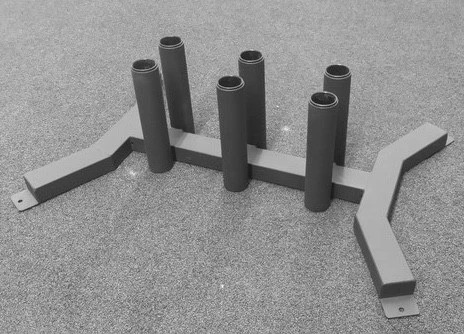 It has a broad base to assure maximum balance even when the rack is fully loaded. It also has a matte black urethane finish to help prevent the unit from damage.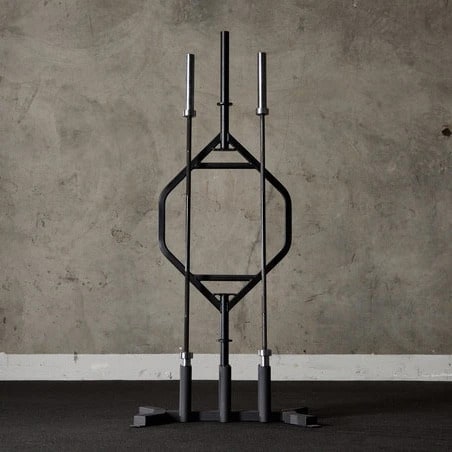 Rep 9-Bar Storage
Rep 9-Bar Storage, as the name implies, holds nine barbells in one storage unit in a minimum amount of space by storing them vertically. It is made with seven gauge steel, weighs a ton, and is made to last.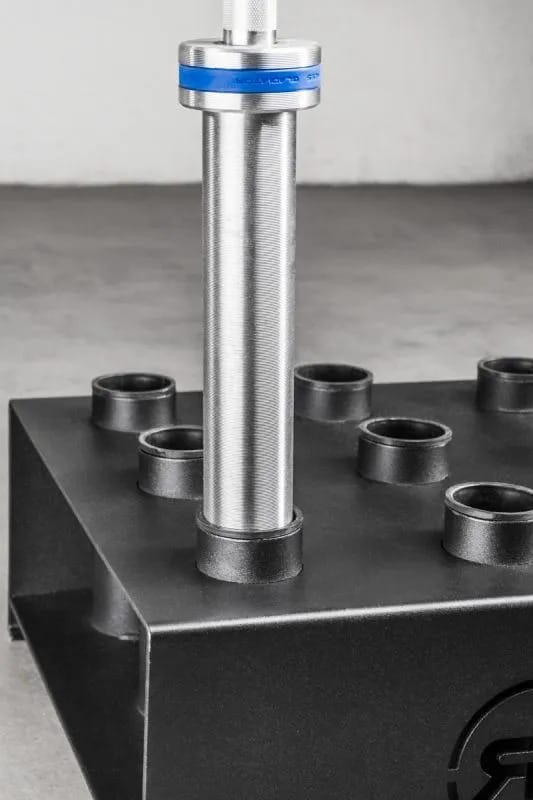 It has protective plastic sleeves inside the bar holders and is designed like a complete tank so bars won't curve outwards. It is 18″ long, 18″ wide, and 7.5″ high.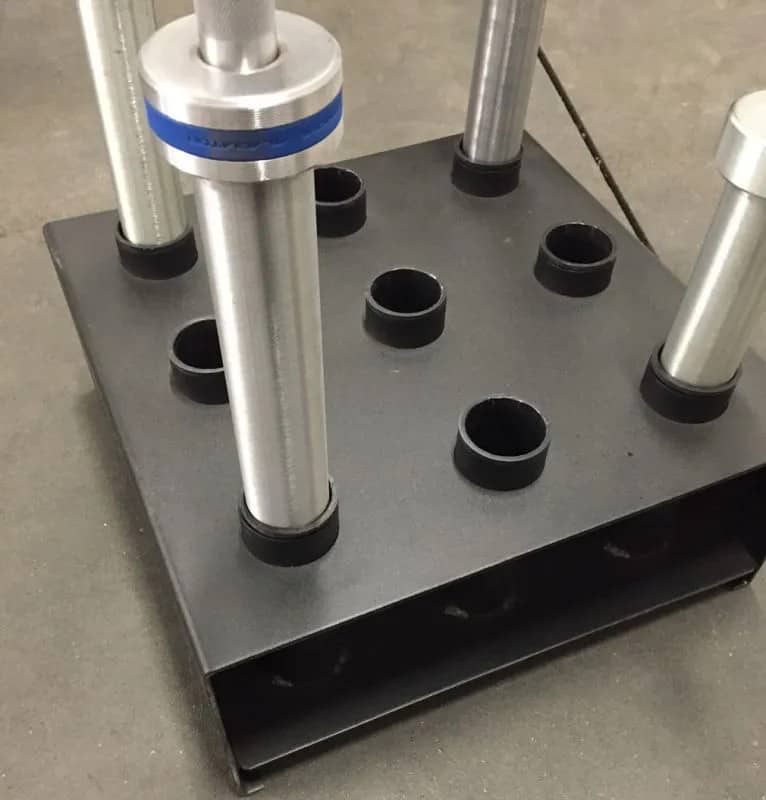 Rogue 10 Bar Holder
Rogue 10 Bar Holder highlights ten individual 2″ diameter tubes, each supported by 2×3" 11-gauge steel. These storage tubes firmly keep most standard Olympic barbells above the ground while blocking any contact or harm to the bar's knurling.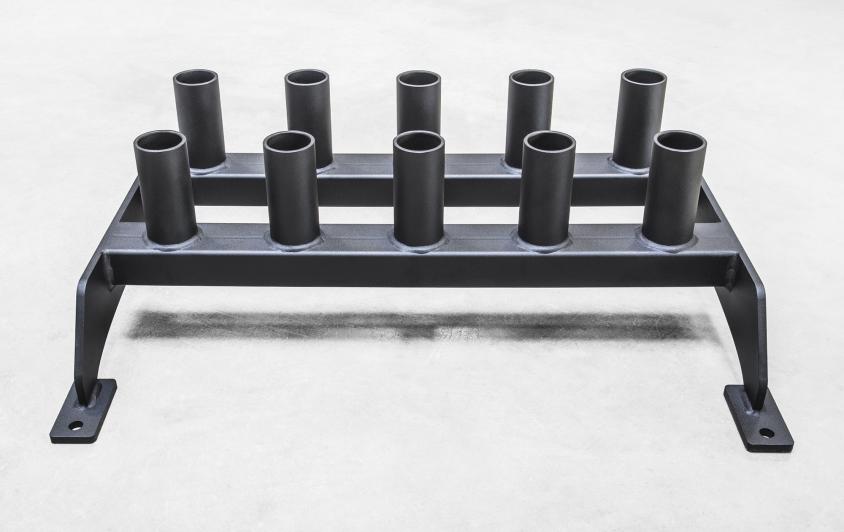 It has a solid frame and 3/8" laser cut steel end plates to assure its stability. Rogue added holes in the Bar Holder's footplates so it can be fastened to the ground should you wish to do so.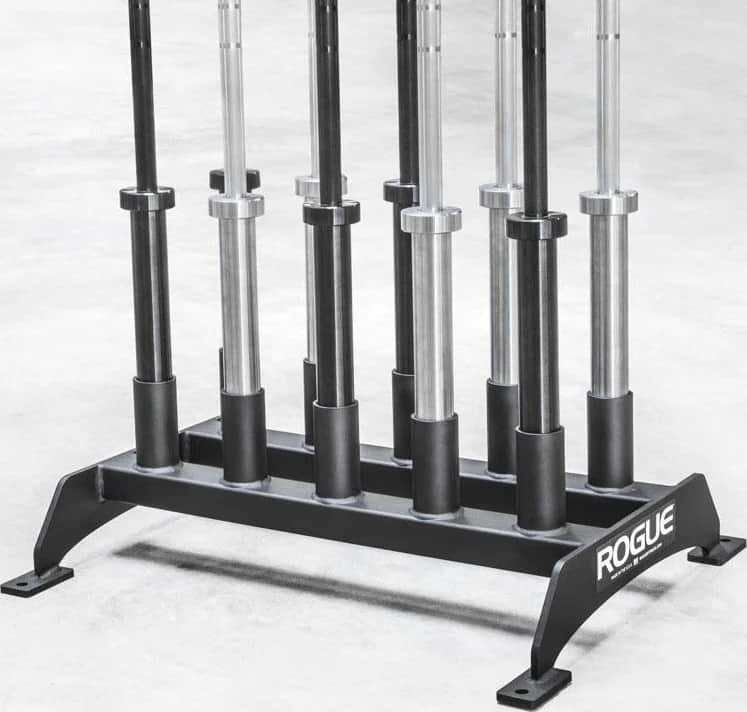 Monster Rack Mount 4 Bar Hanger
The Monster 4-Bar Hanger is a vertical barbell storage attachment created solely for Rogue Monster Series rigs and racks. The hanger has mounting holes spaced 16" on center, making the extension suitable with any of Rogue's 24", 30", or 43" Monster cross members.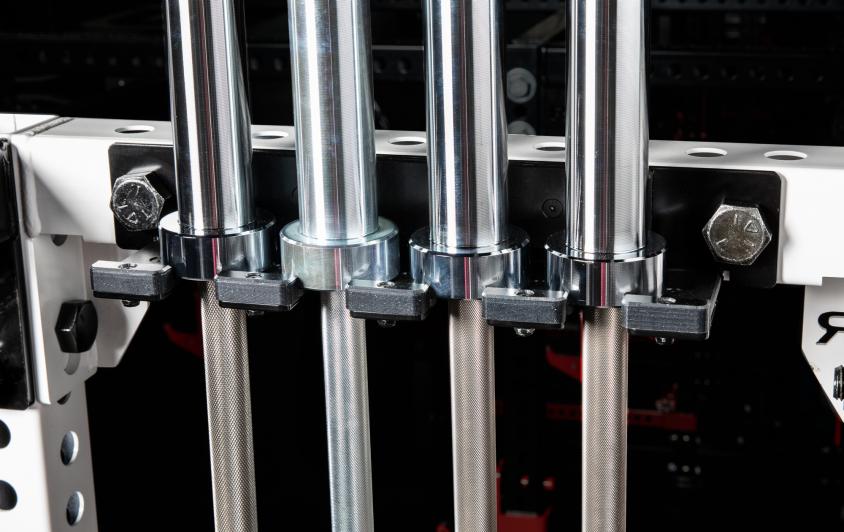 It has black zinc Monster Bolt Assemblies and has protective UHMW plastic linings on the hanger's back and base to preserve your barbell and collars from damage. It also has an additional UHMW on each slot's lip/edge to guarantee balance and preservation of the stored bar.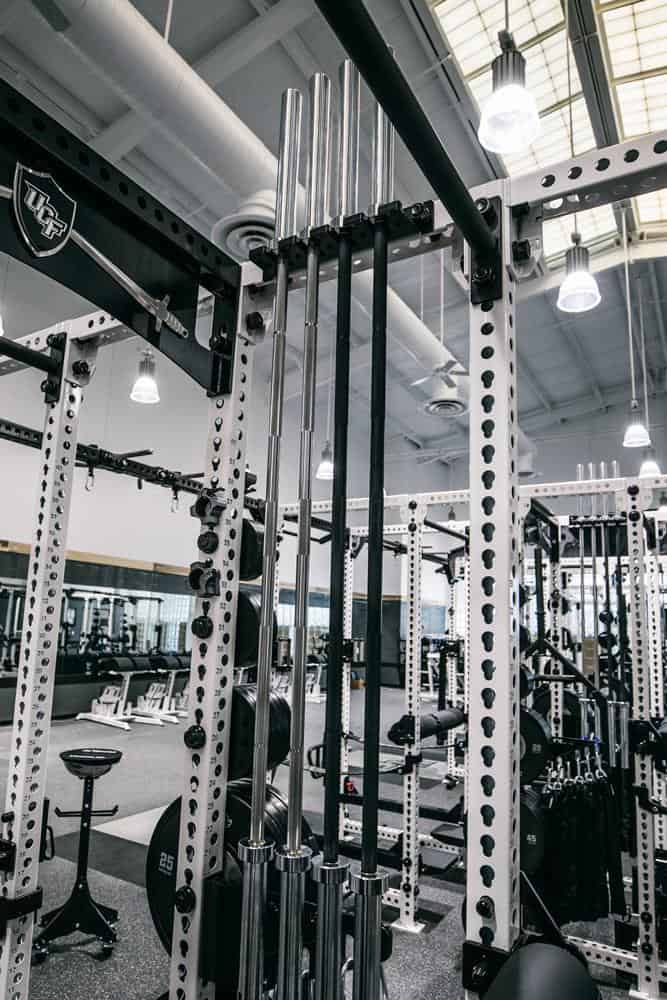 Rogue Vertical Bar Hanger
Rogue Vertical Bar Hanger is different from other vertical bar holders. This unit enables you to set up a wall-mounted or rack-mounted hanger to efficiently put your bars above the ground, lessening the danger of damage during regular stowing and relocation.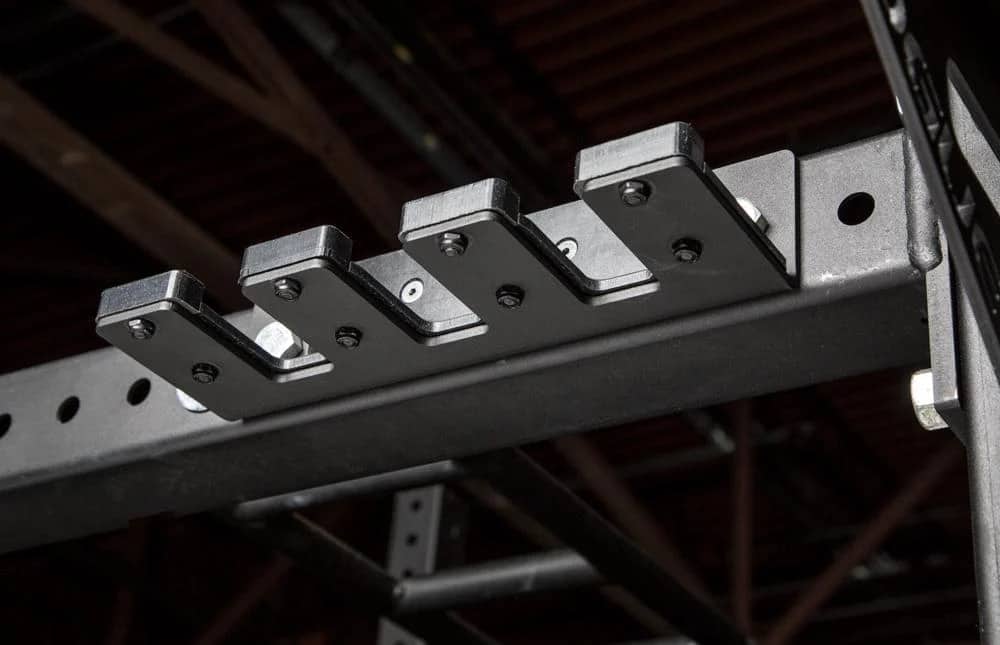 The Rogue Vertical Bar Hanger comes with all needed hardware and is meant for use only with Infinity or Monster Lite Series rigs and racks. It has UHMW lining to avoid any harsh contact with the bar's collar when you set it on the hanger and an extra Protective UHMW plastic layer on the unit's edge to keep each bar balanced and secure when not in use.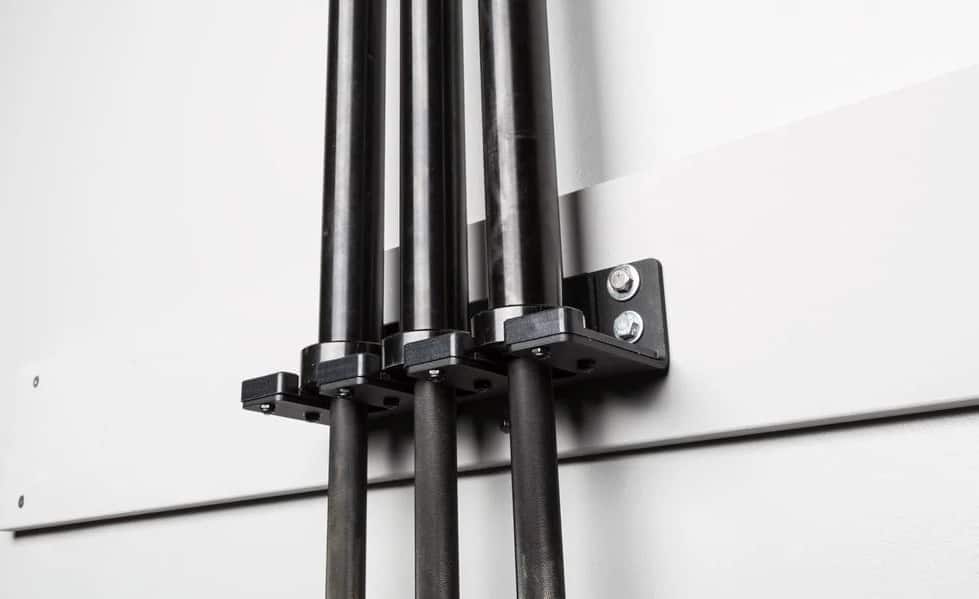 GetRX'd 10 Bar Vertical Rack
The GetRX'd 10 Bar Vertical Rack can accommodate more barbells in less wall space than the conventional wall-mount system. This 36-lb Mounted rack can carry ten barbells and comes with mounting hardware.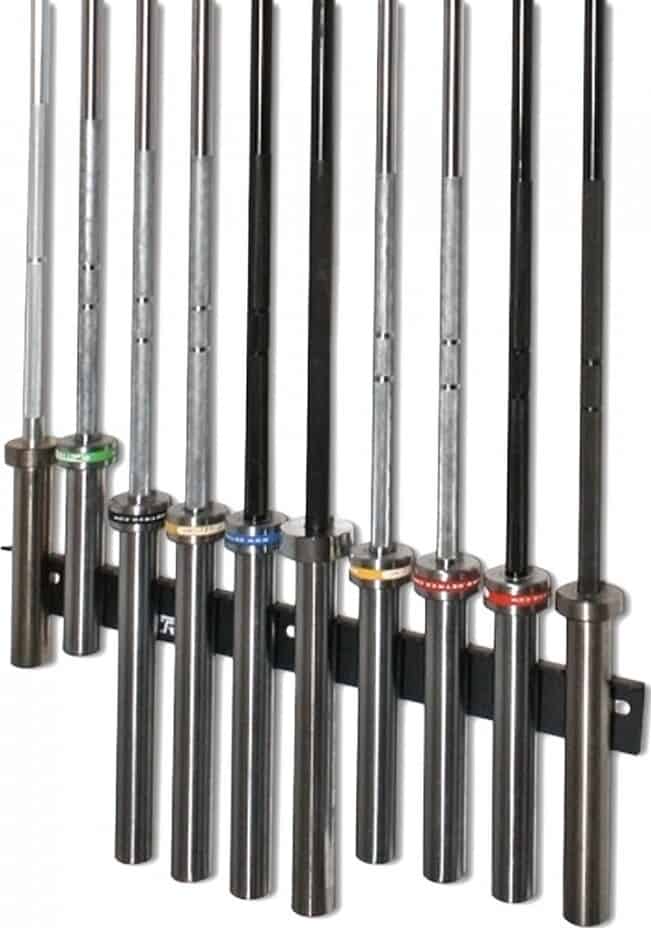 This is a perfect choice if you consider a barbell storage option that doesn't involve floor posts or gun racks. It weighs 36 lbs with a length of 35″.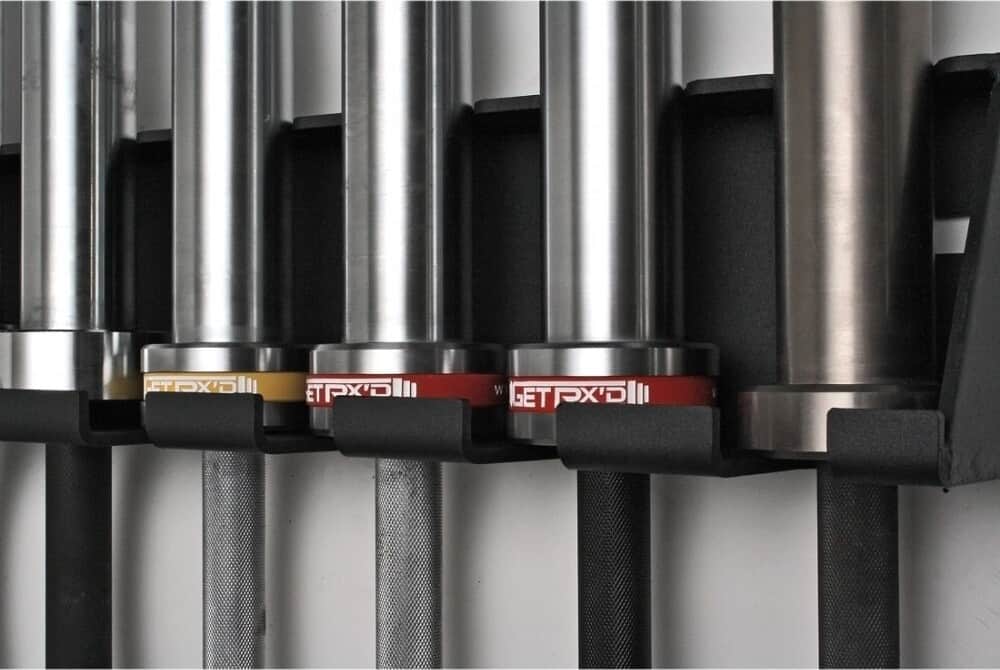 Rogue Monster Single Bar Holder
Rogue Monster Single Bar Holder is mainly created to give you the choice of a vertical mount (recommended on racks and rigs) or horizontal mount (for squat stands). It consists of 1-inch bolts and fasteners, with mounting plate holes 6" on the center.
It should be installed only on the unit's exterior and never directly under the area reserved for pull-up bar use. The 7-inch steel storage tube will operate with most standard Olympic barbells, securing the bar upright and preserving its knurling from unavoidable damage or deterioration.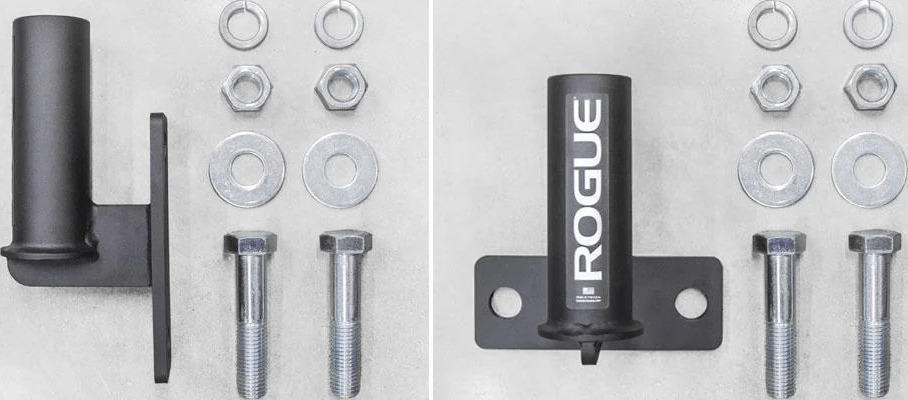 Rogue Monster Lean-To Bar Rack
The Monster Lean-To Bar Rack is a heavy-duty functional barbell holder that offers a single-sided and double-sided format. The single-sided version can firmly hold to 10 standard barbells (or 6 of our TB-2 Trap Bars), while the double-sided version can carry as numerous as 15 standard bars (or 10 TB-2s).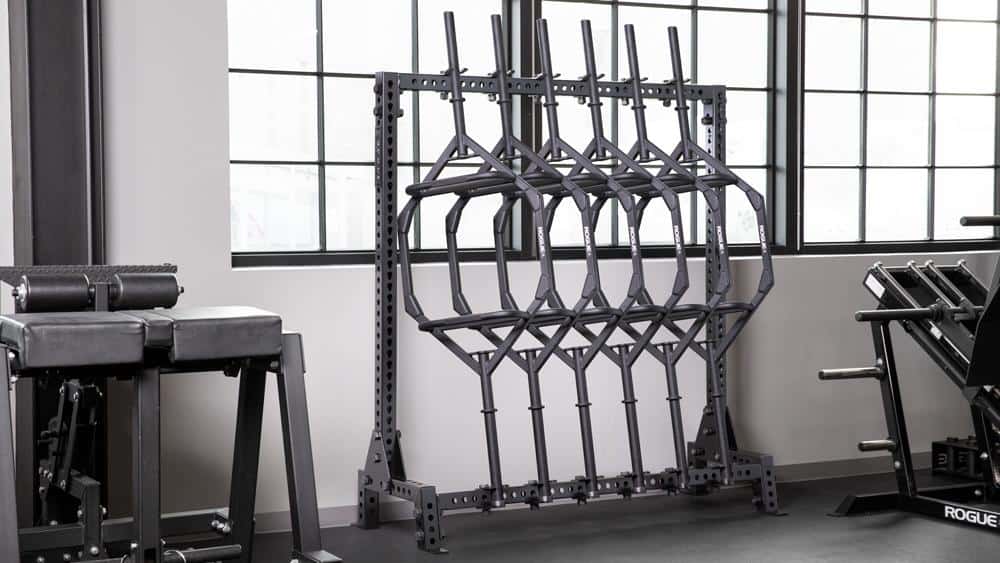 The unit also comes with exclusive barbell socket sets (6 sets with the single-sided version, ten sets with the double-sided option). You can place the socket attachments anywhere you want on the rack and in each direction using the laser-cut 1" holes in each cross member.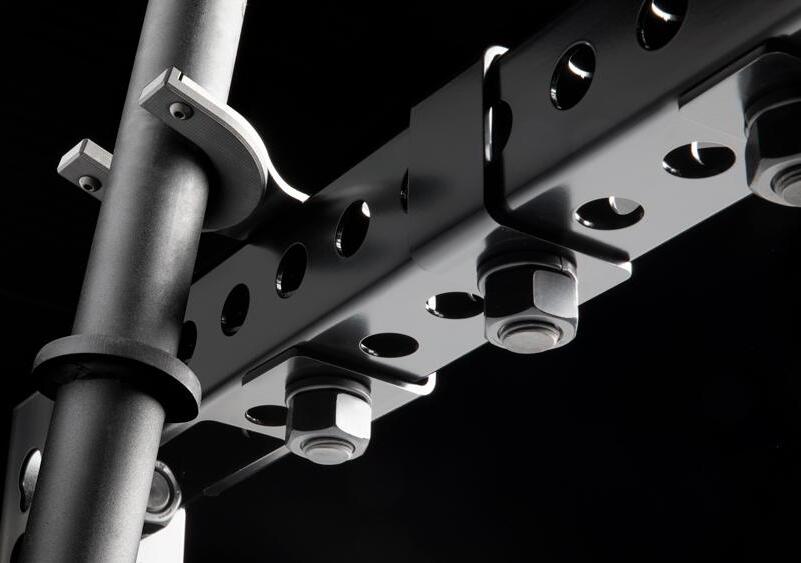 Barbell Storage Review – In Summary
That's our review of Barbell Storage.
Storing your barbells at the right place is not only for keeping your gym or garage tidy and clean but also so you can protect your barbells from damage and premature tear and wear. Whether you choose to have vertical or horizontal storage or prefer to use a rack, having your barbells kept at the right place is the most important thing to consider to make them last and stay in a good condition for a long time.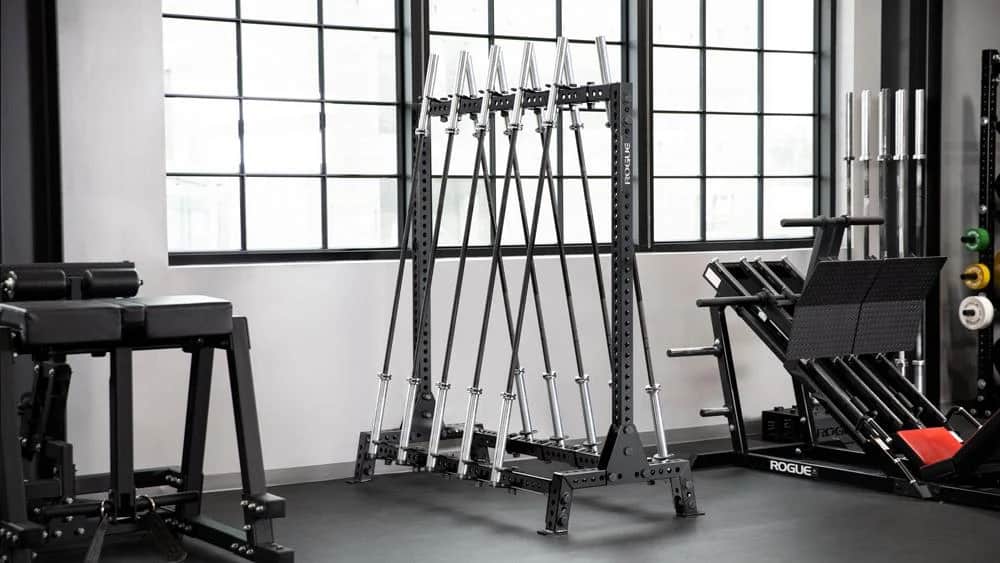 Photo Credits
Product photos on this page are property of Rogue.
This website is not affiliated or associated with CrossFit, Inc. CrossFit is a registered trademark of CrossFit, Inc.

Affiliate Disclaimer
We are an affiliate of Rogue and others that sell this training gear. If you buy clothing or other training gear after clicking the links in this article, we receive a small commission at no extra cost to you. This helps us to bring you in-depth information and content on these great training products.