Let's review the brand new Nike React Metcon Turbo CrossFit shoe from Nike.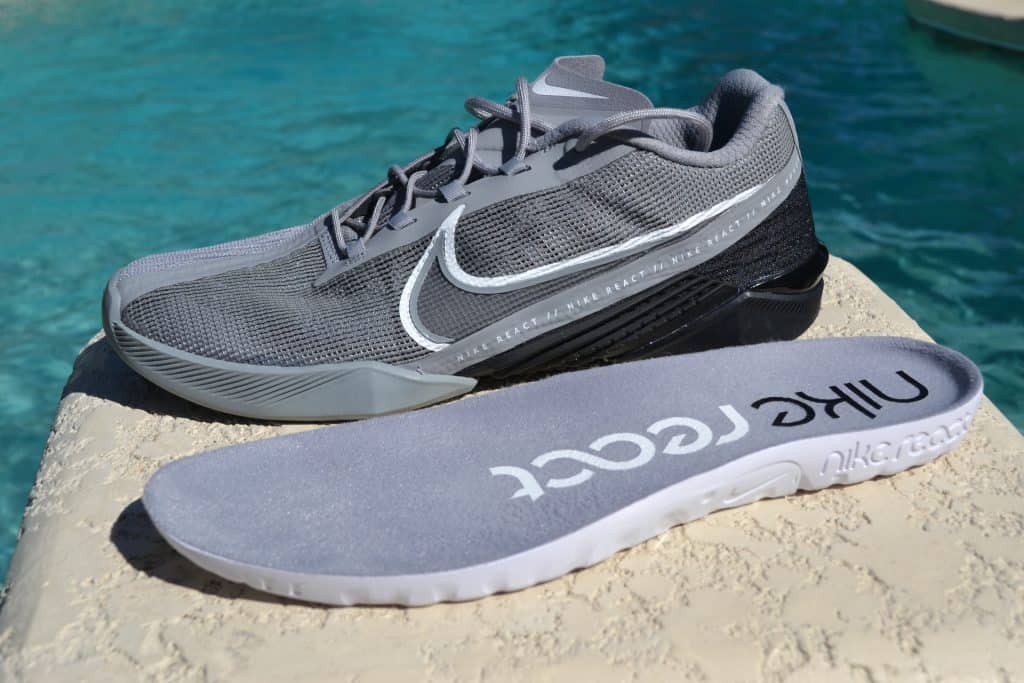 It's available now from Road Runner Sports, and others.
This is Nike's second swing at a cross-trainer that uses the React cushioning system – and it's a big improvement over the original shoe.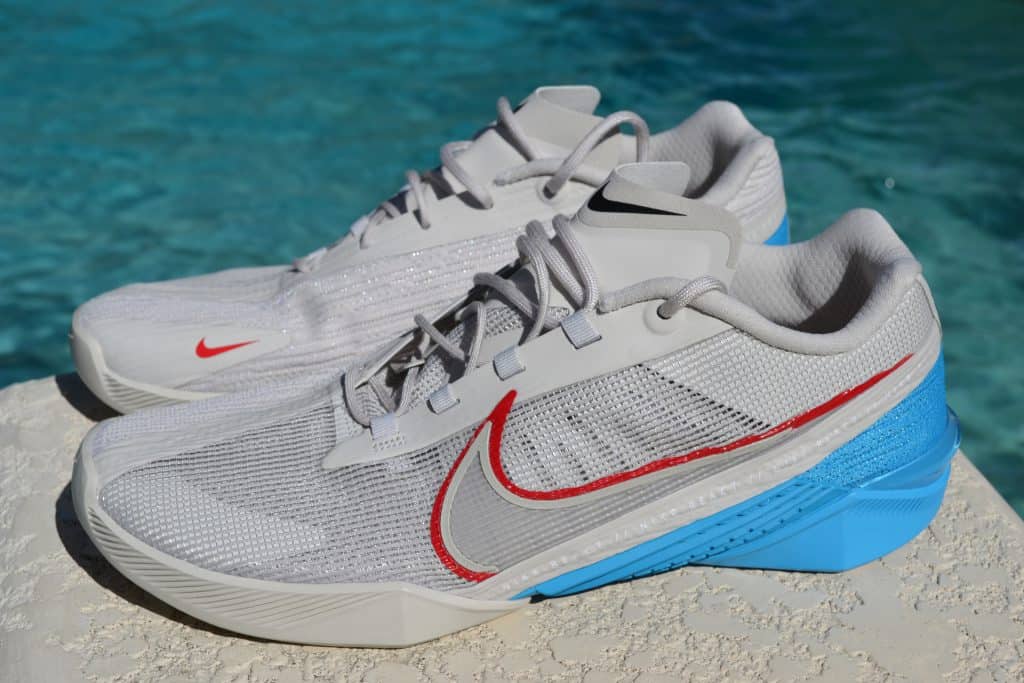 Not only that, but it gives the Nike Metcon 6 a run for its money. We'll give you a complete tour in this review.
Here's some of the styles that are available now: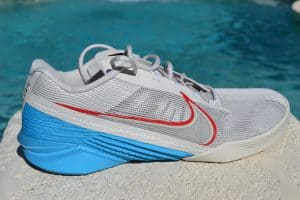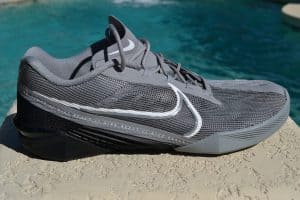 Let's take an in-depth look.
Nike React Metcon Turbo Shoe Review – Video Review on our YouTube Channel
Why read when you can watch? Check out this video from our YouTube channel:
Overall, I'm liking this shoe – it's lighter than the Metcon 6 and it fits me better.
The React foam cushion is good – the only thing missing is the Hyperlifts, and a heel cup.
Nike React Metcon Turbo – In the Gym
How's it work?
It's a great cross-trainer – with some caveats.
The low-drop (4mm) keeps the shoe versatile. The heel which is quite firm, is stable enough for heavy barbell weightlifting (or heavy KBs, or dumbbells, etc.)
The React foam is a subtle improvement over the foam in the Nike Metcon 6.
It's not a ton of React foam – so this change doesn't transform this shoe into a running shoe – it's still a cross-trainer.
These are better for running than the Nike Metcon 6 or the Nano X – but if I was going to go run 5 miles, I'd throw on running shoes – not cross trainers.
Because the collar is taller these work great with Nike's Hyperlifts (which come with the Nike Metcon 5 and Metcon 6).
Whereas with the Nike Metcon 5 and 6 I get heel slippage once I put in the Hyperlifts (which give you an additional 8 mm of drop) – because it is propping your heel up higher in the shoe.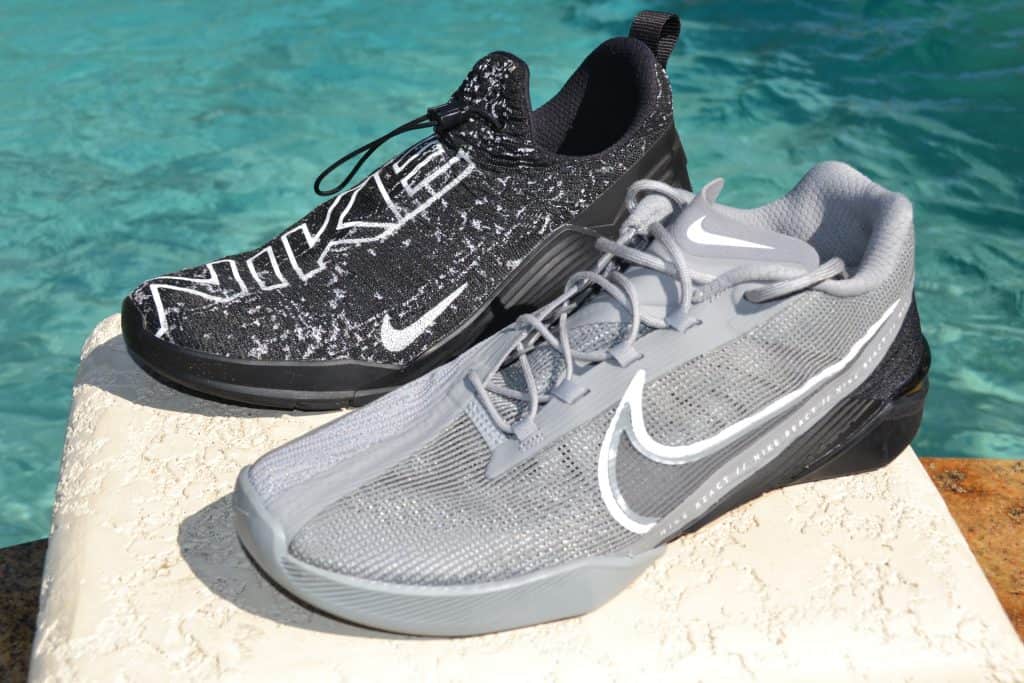 They work great in the Turbo.
But here's the problem – this shoe doesn't come with Hyperlifts.
It would be a slam dunk to recommend this shoe over the Metcon 6 – IF it came with the hyperlifts, but it doesn't.
Overall, I think you'd be pleased with either the Metcon 6 or the Turbo – but if you want the drop flexibility provided by the Hyperlifts, I guess you better go with the Metcon 6.
The only other caveat with the Turbo – because of the unusual midsole and outsole design – the arch support is lacking. It just doesn't provide good support in the arch area of your foot.
Nike React Metcon Turbo – Sizing
How about sizing?
This shoe is narrow.
The Grey pair shown in these photos (and that used in my testing) is 1/2 size up from my normal size.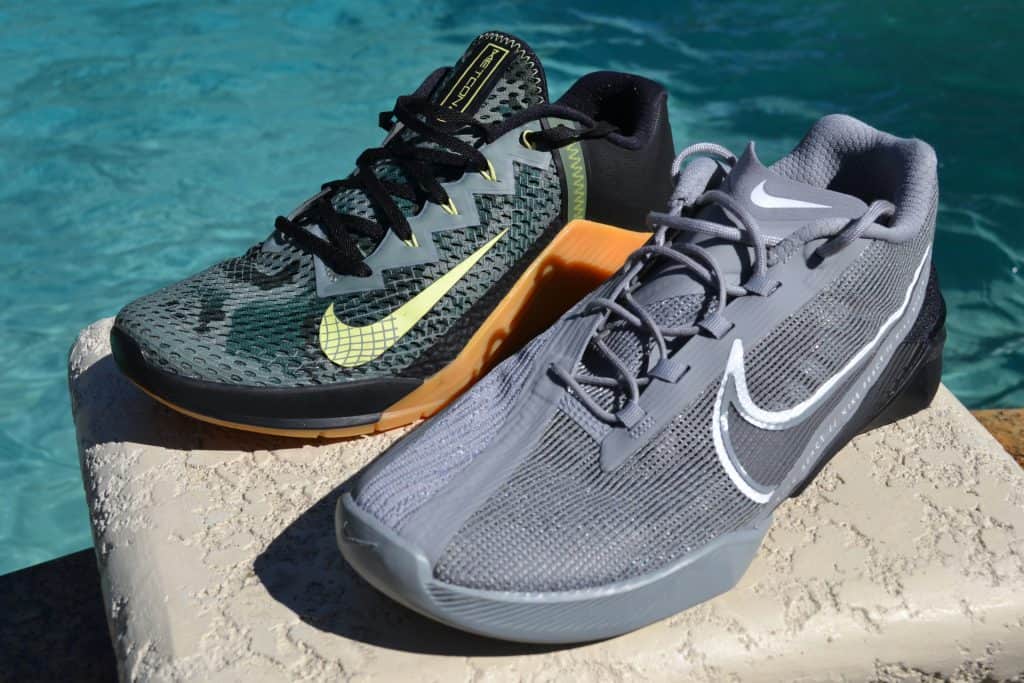 It's a tiny bit long for me, but the width is feeling OK.
This is a Size 11 pair – my "normal" shoe size. It's too narrow, and quite frankly the length doesn't feel great either.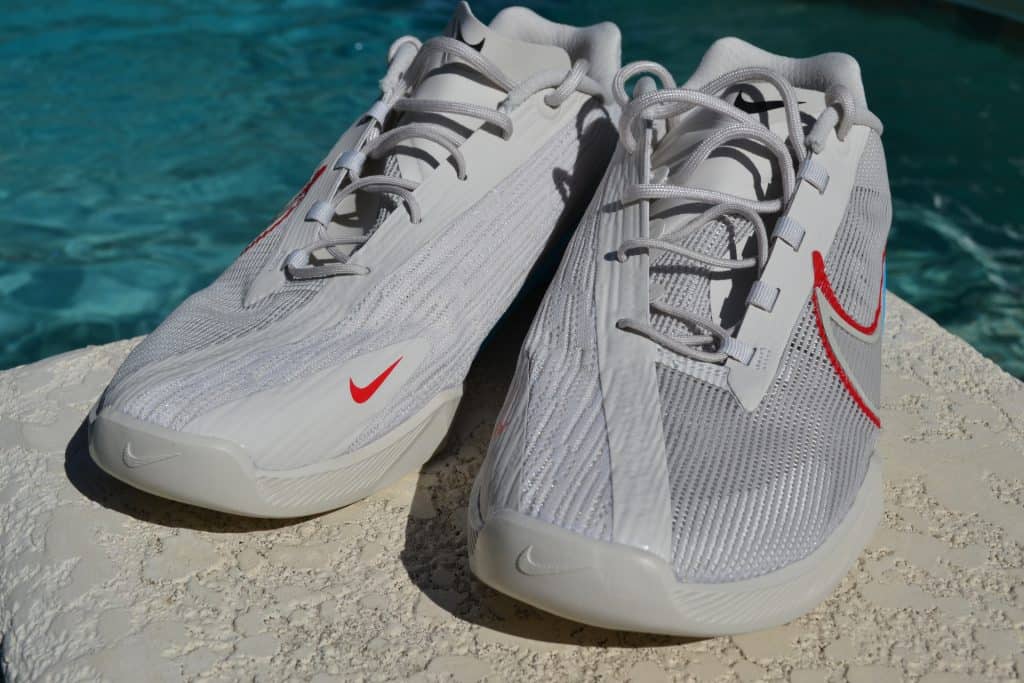 I recommend going 1/2 size up for this shoe.
Here's a video explanation:
Now that we've got sizing out of the way, let's talk about the features of this shoe.
Nike React Metcon Turbo Review – Overview
Let's dive right in – by starting with the most important ingredient – the React foam.
The Metcon shoes typically use a drop-in midsole.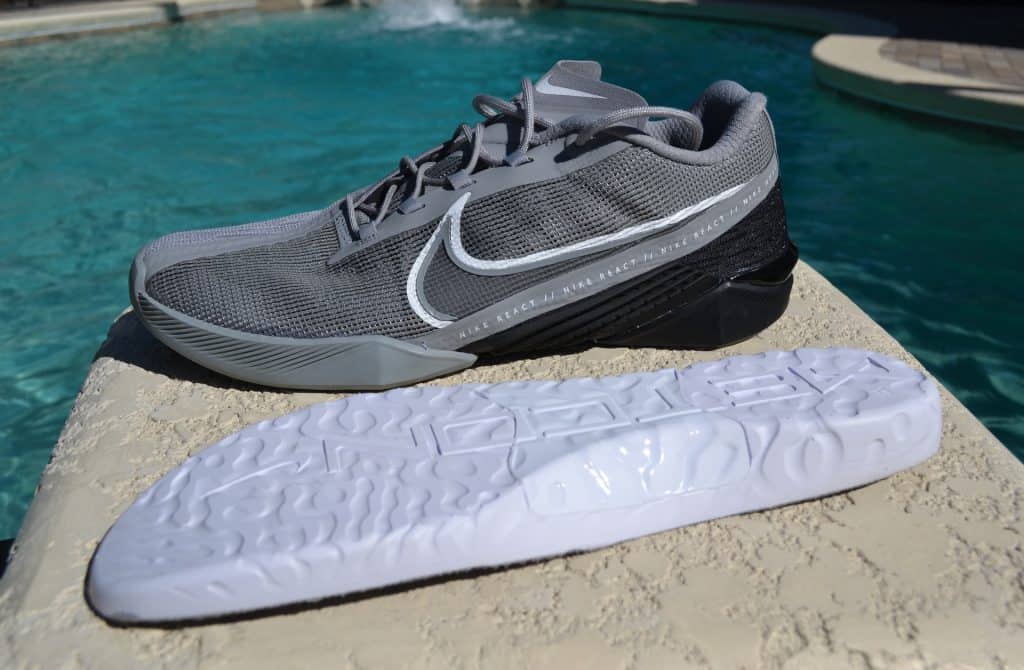 This shoe is no exception, but rather than using Nike's dual-density foam like in the Nike Metcon 6, this shoe uses React foam.
What's React foam?
It is a foam material that Nike formulated to be responsive – and to give you some energy return with every footstep or impact.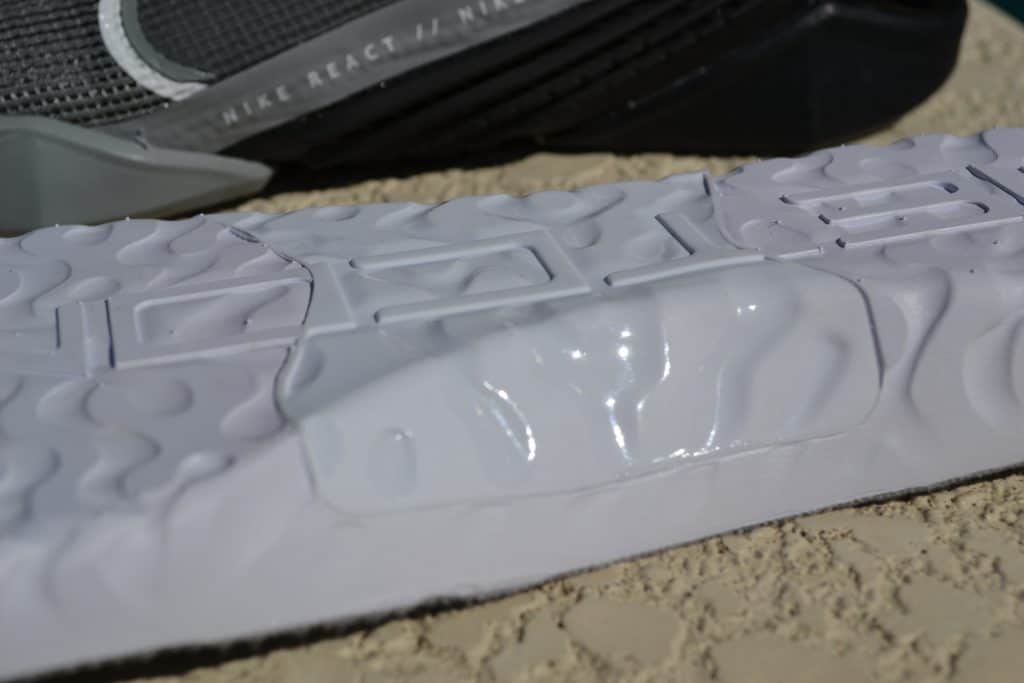 Does it work in a cross-trainer shoe?
Yes, but keep in mind these are not running shoes – even with React foam.
The foam offers a subtle improvement over the regular midsole – but don't expect a full-blown React foam experience.
If you want to experience React foam in all its glory we recommend you go with something like the React Infinity Run Flyknit 2.
But, those running shoes won't be good for lifting weights – nor are they very tough. Those lightweight shoes use a thin and soft upper that can get shredded in a CrossFit WOD style workout.
And that's where these cross-training shoes are different – they are versatile and tough.
Let's take a look at the outsole (or sole) next.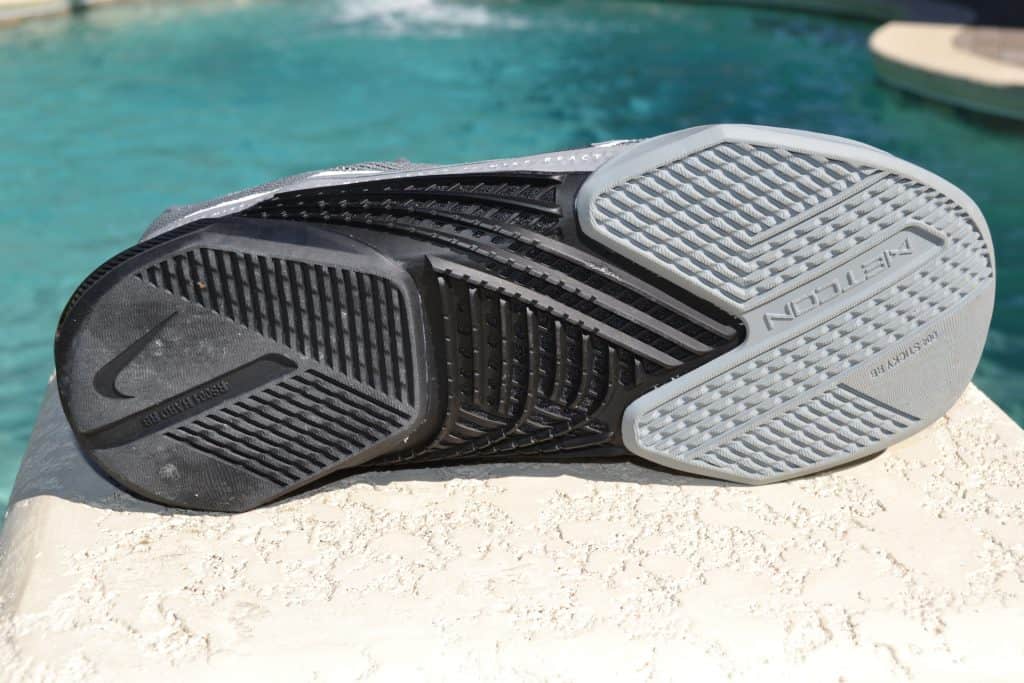 It's flat, it's all-rubber, and it gives good traction on most surfaces.
Nike continues to use two different rubber compounds – RS004 Sticky Rubber up front for improved traction, and RS001 Hard Rubber in the heel for maximum stability for lifting weights.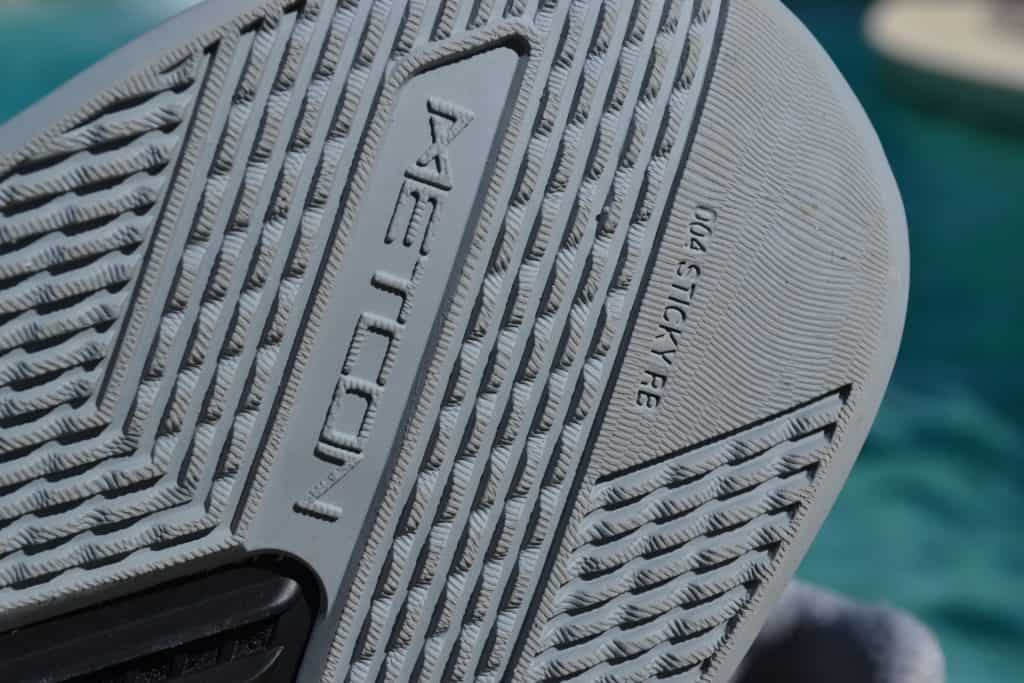 You'll also see that Nike has utilized a diamond-shaped heel for improved lateral stability – and in the forefoot also.
This is a trick borrowed from the Nike Metcon 6.
Let's talk heel to toe drop.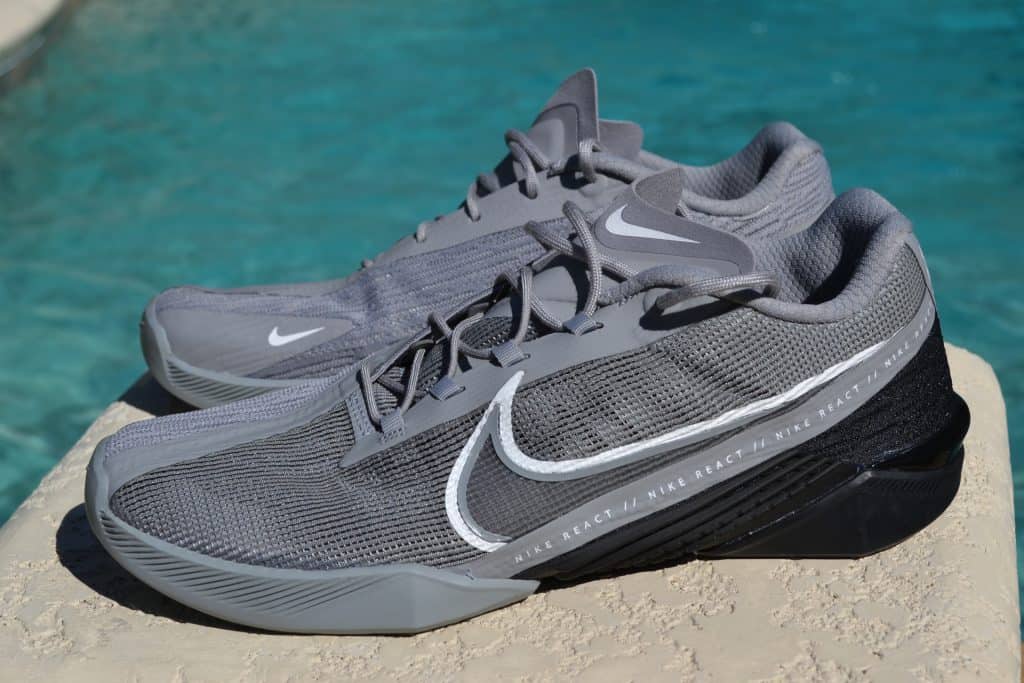 Nike hasn't published a number, but this shoe feels identical to the Nike Metcon 6 – and that means 4 mm of heel to toe drop.
This shoe does not come with Hyperlifts. Hyperlifts are removable, firm, rubber wedges that you can use on the Nike Metcon 6 to increase the drop to 12mm total.
Around back there's a slick TPU heel counter. TPU is a tough, slick type of plastic.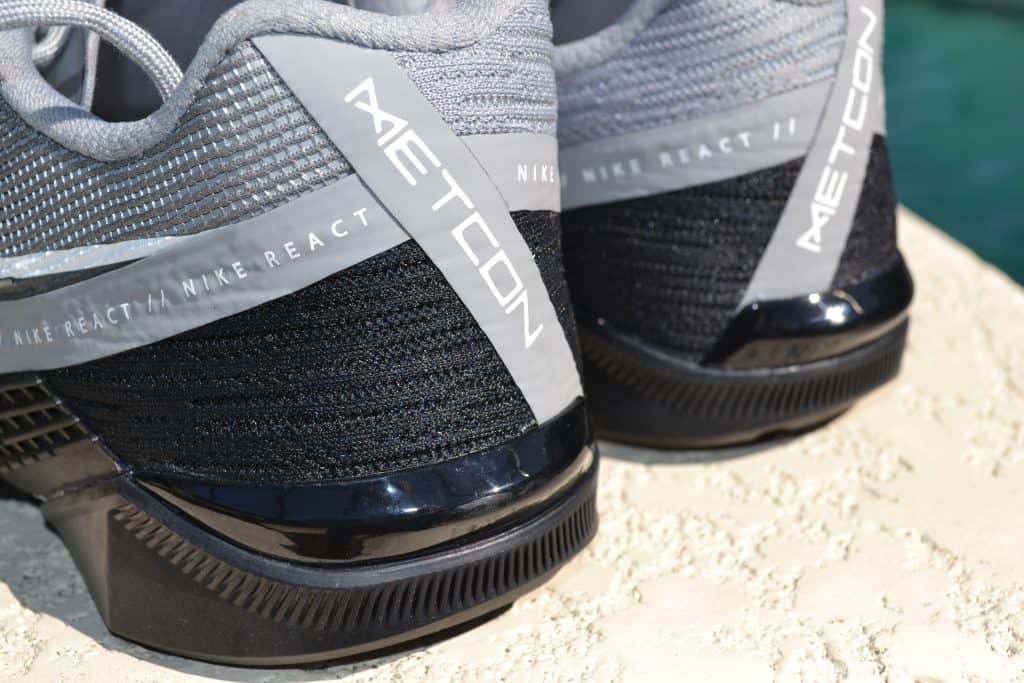 It's shaped such that you'll get a minimum of contact area with the wall when doing Hand Stand Push Ups (or HSPUs).
Nike has gone for a little bit of weight savings in this shoe, and the heel counter is truncated. It's still large enough to be effective though.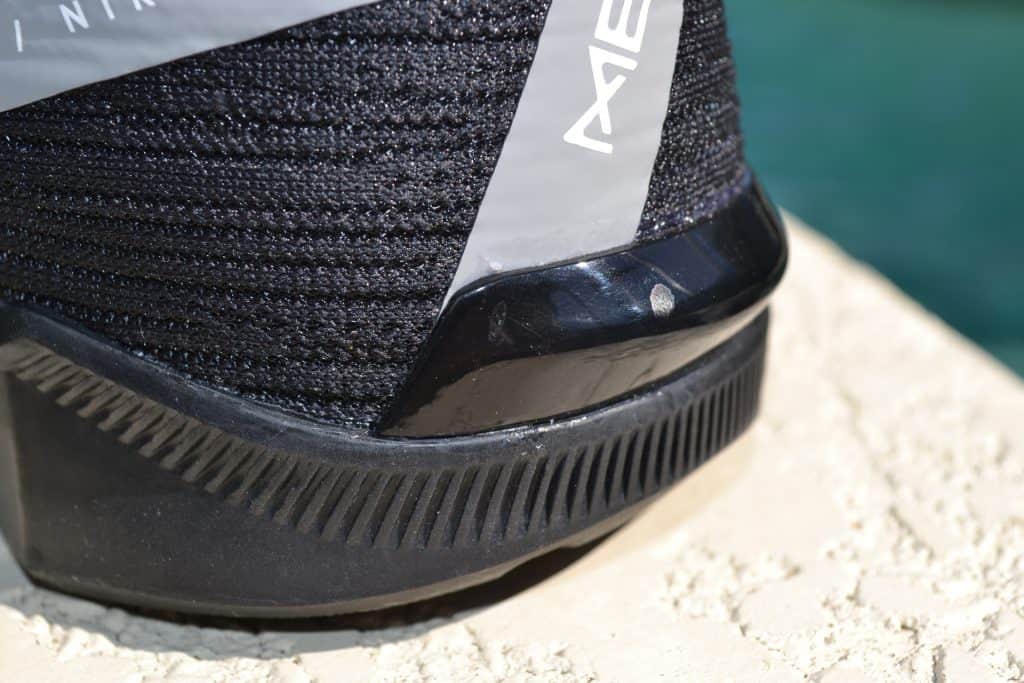 There also appears to be no heel cup inside this shoe. Maybe Nike has done this for weight savings as well, but in any case, it doesn't seem to impact heavy weightlifting negatively (at least in my testing.)
Here's another area where Nike has gone minimal – the rope wrap is where the tough rubber outsole wraps up around the shoe at the midfoot.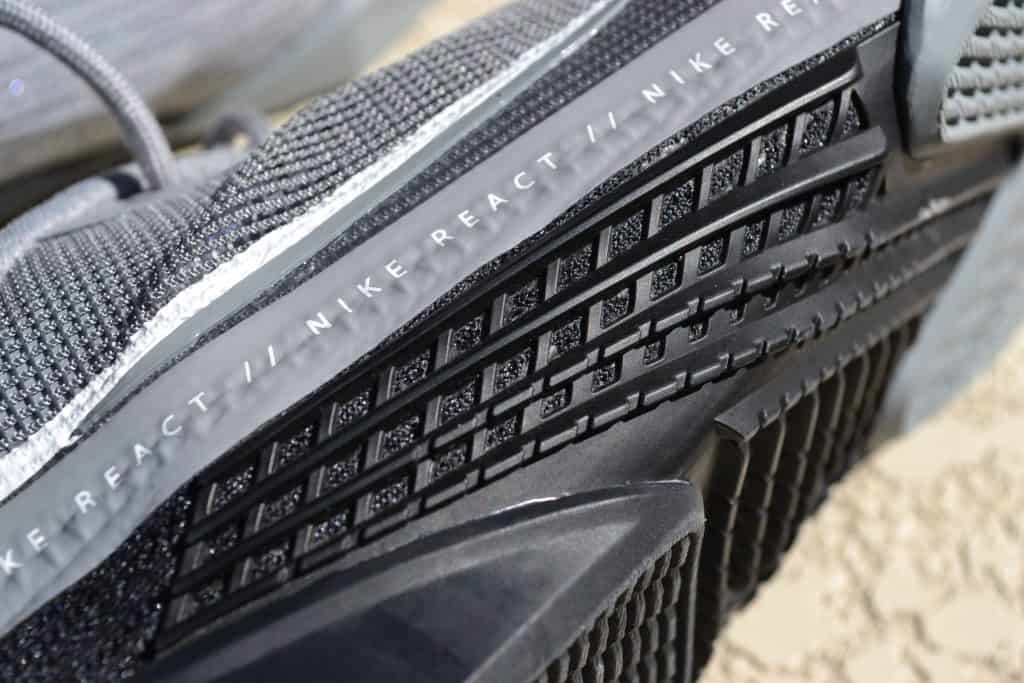 You can see it's using a tread pattern to give you good grip on a rope climb, but that's also going to bear the brunt of the friction from the rope – and help protect the upper.
The rope wrap area isn't as tall as that on the Nike Metcon 6 – and that's OK because it will get the job done with less weight.
The upper is made from a combination of mesh materials.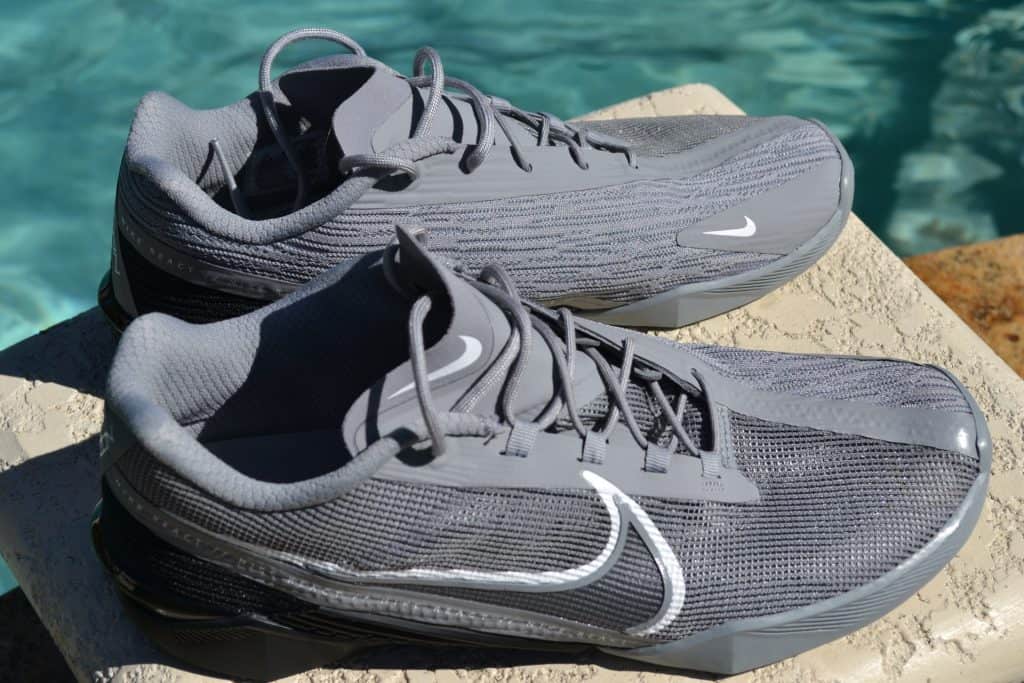 You can actually see a small amount of sunlight shining through – not a lot, just a little – but that's a good indicator that this will be a breathable upper.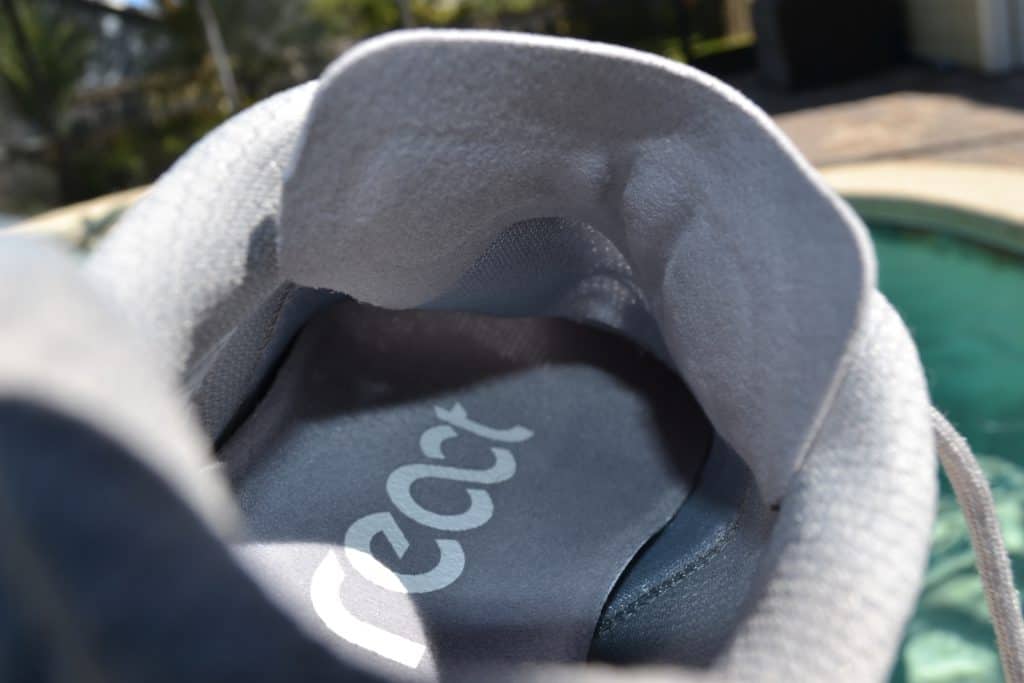 The upper is very comfortable and hugs the top of your foot.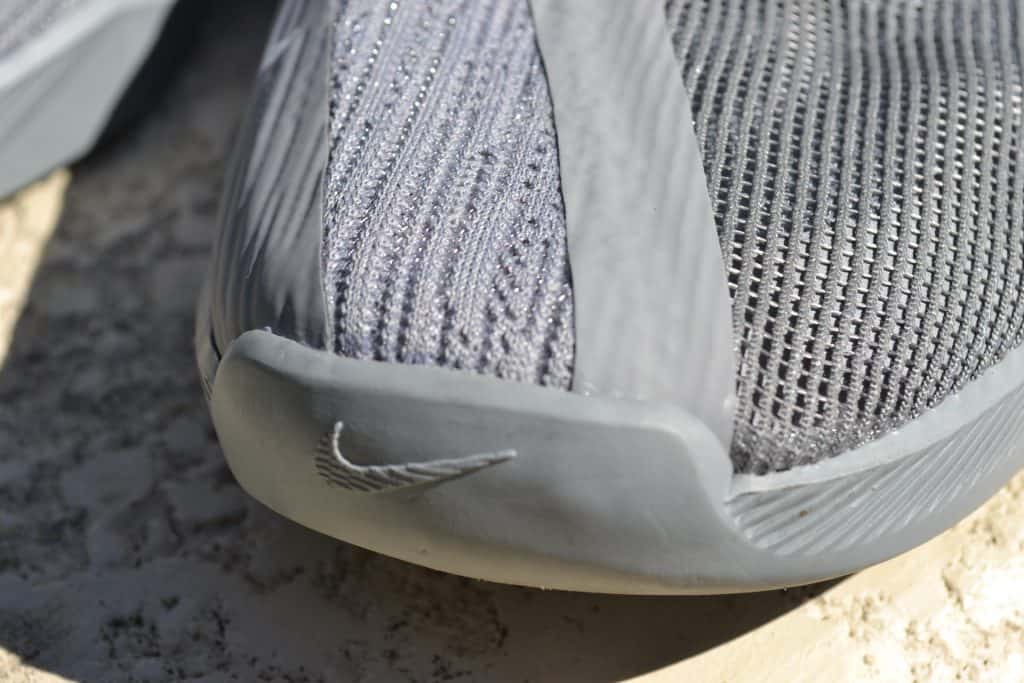 Here we see the regular shoelaces – which is a big improvement over the quick lace system of the previous shoe.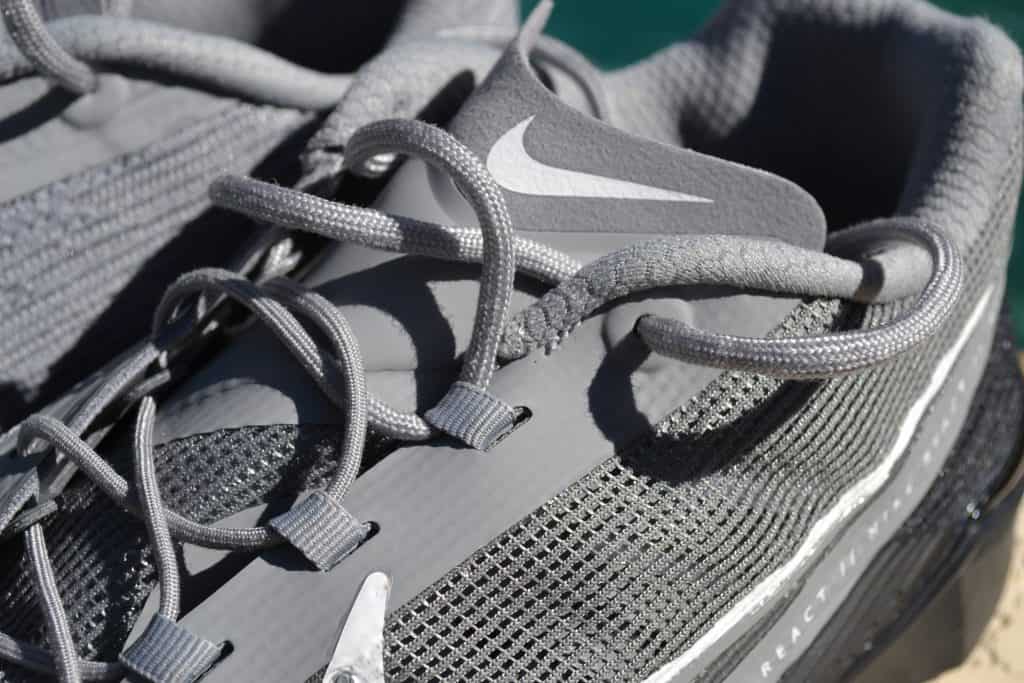 The tongue is thin and minimalistic – but it's also nice and wide. It seems adequate for me.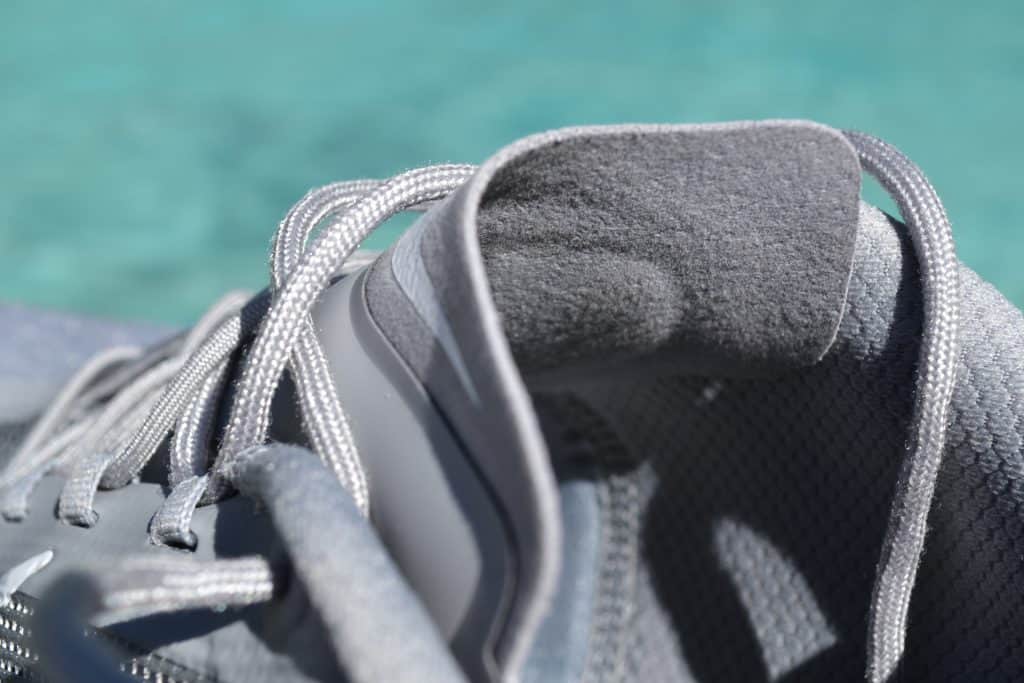 You'll also notice that the collar is higher up (taller) than that of the Nike Metcon 6.
This results in a better, more secure fit in the heel area for me.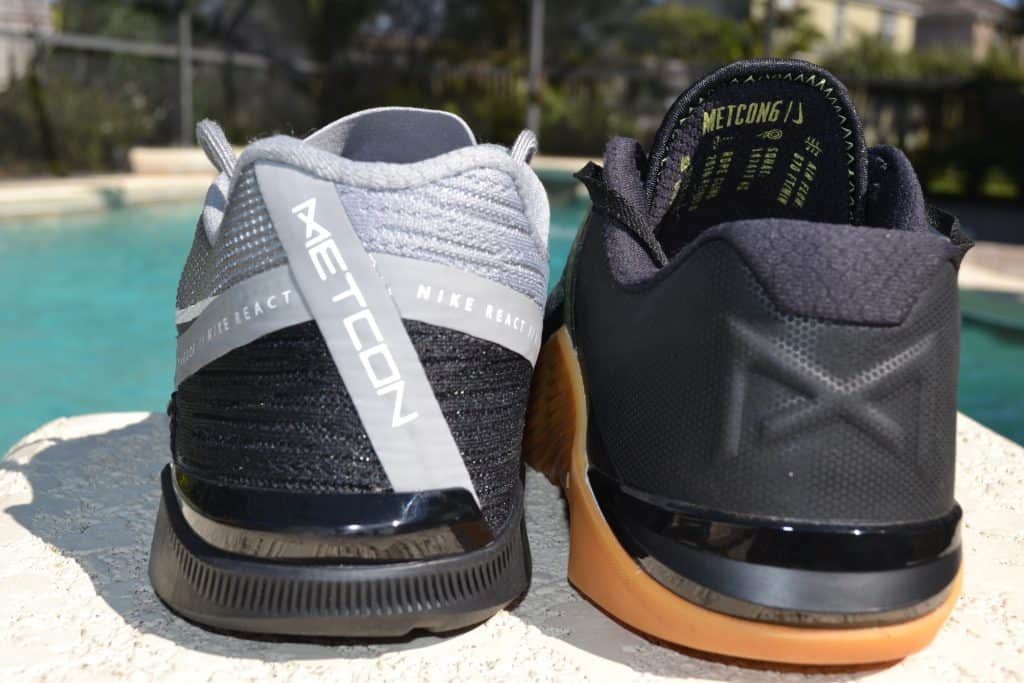 How much does all this weigh? A Men's US Size 11 shoe weighs about 13.1 ounces.
That's not light by running shoe standards, and it is "middle of the road" for a cross-trainer.
Because these shoes are built to be tough – they just aren't going to be as light as a running shoe.
Overall, the fit and feel is excellent – the upper hugs your foot and the taller collar is a bonus for me.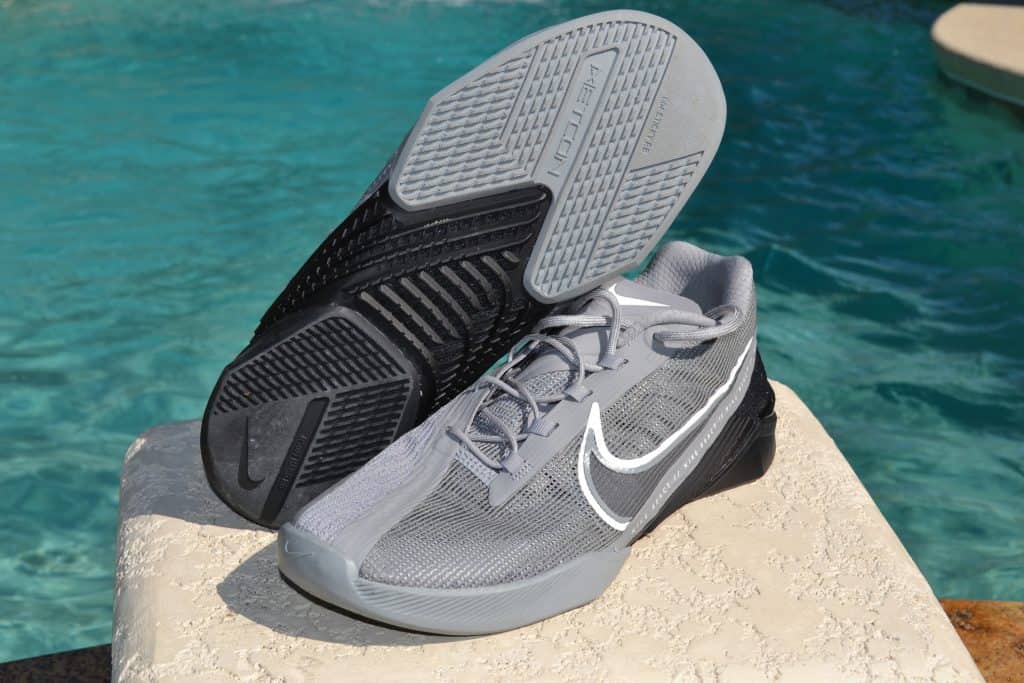 Nike React Metcon Turbo Versus Nike React Metcon (Original)
Here's a few photos comparing this shoe to the original Nike React Metcon.
I didn't like this shoe to be honest.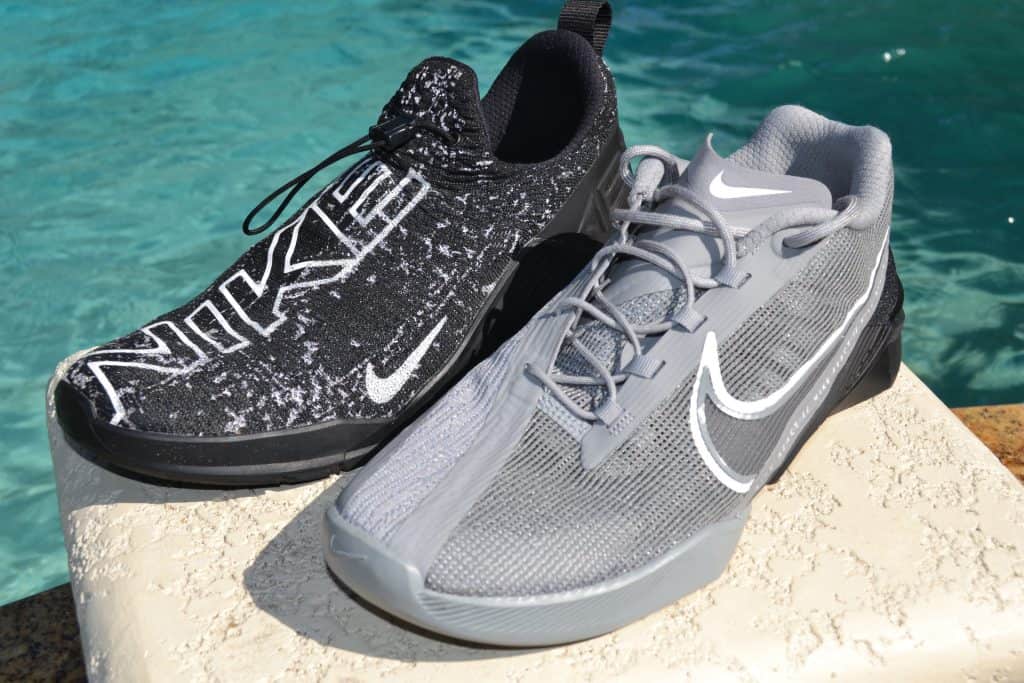 The Forged FlyKnit upper was really not anything like FlyKnit on the running shoes – which is light, stretchy, and socklike.
This upper was heavy and very thick. It was not breathable either.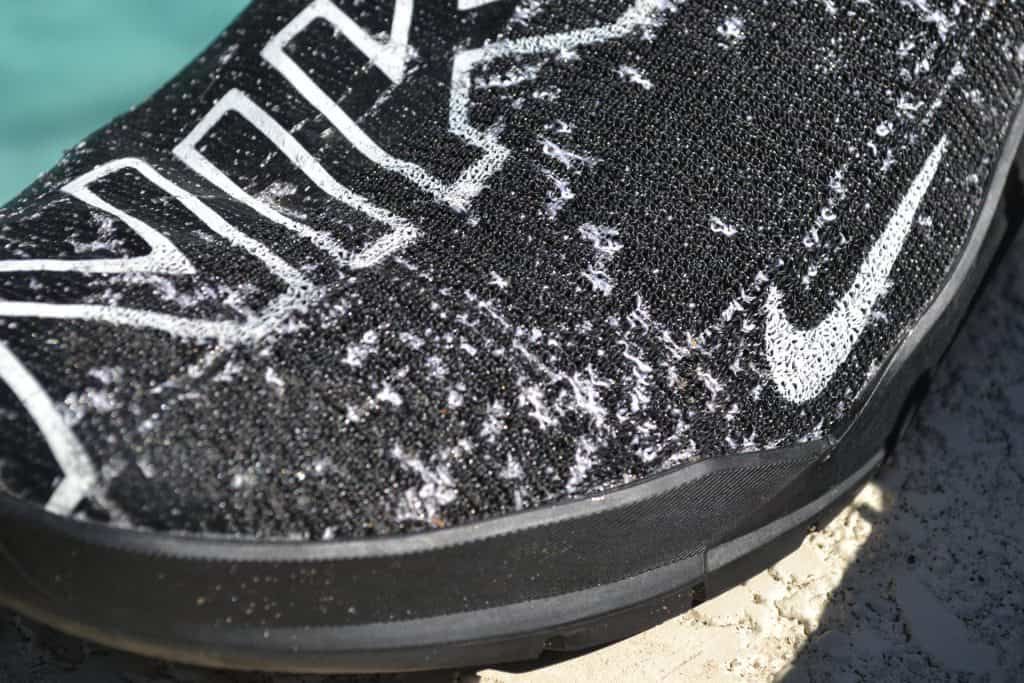 Secondly, there was no escaping the large NIKE text on the shoe. I don't mind a big Swoosh logo – but this text just didn't age well on the shoe.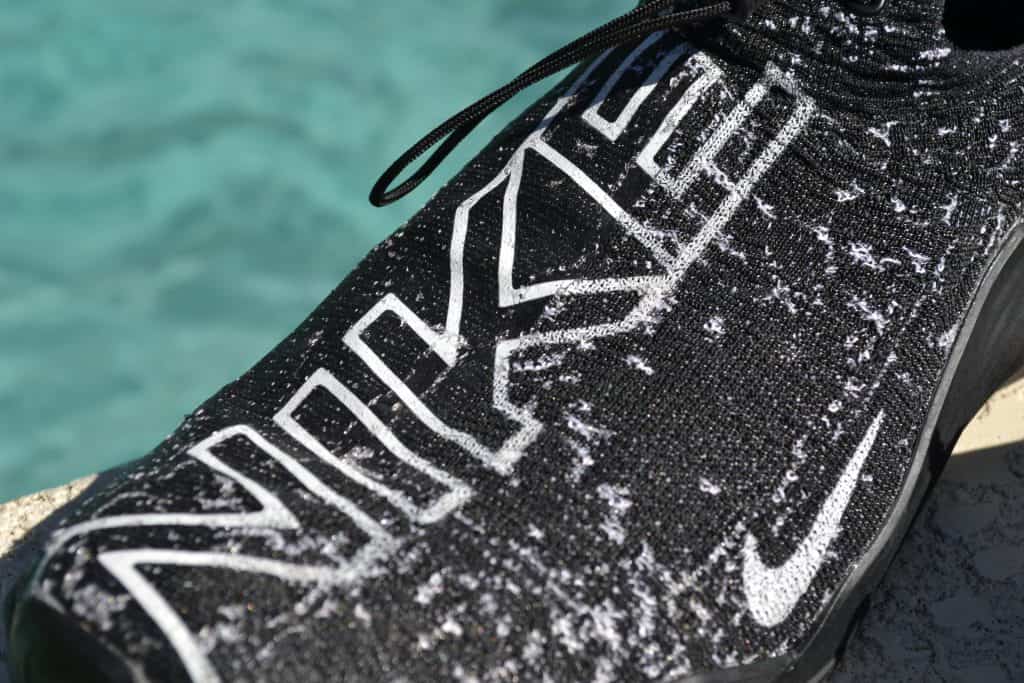 Lastly, the quick lacing system was a disappointment for me. It was not possible for me to get these shoes adequately tight and secure.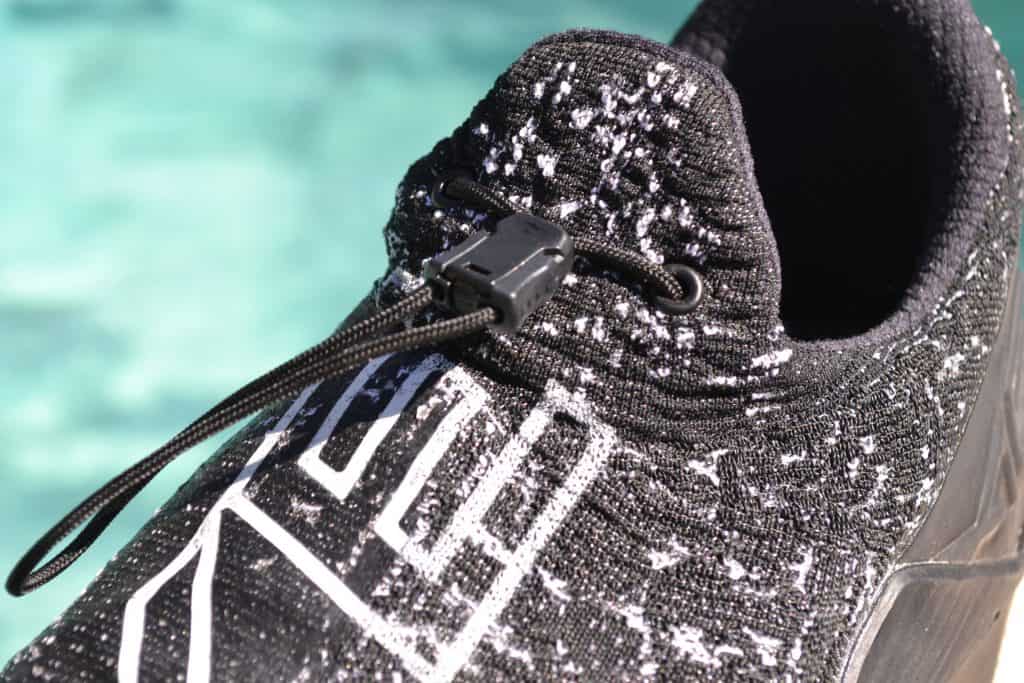 There's really no downside to traditional shoelaces – so why not just use those?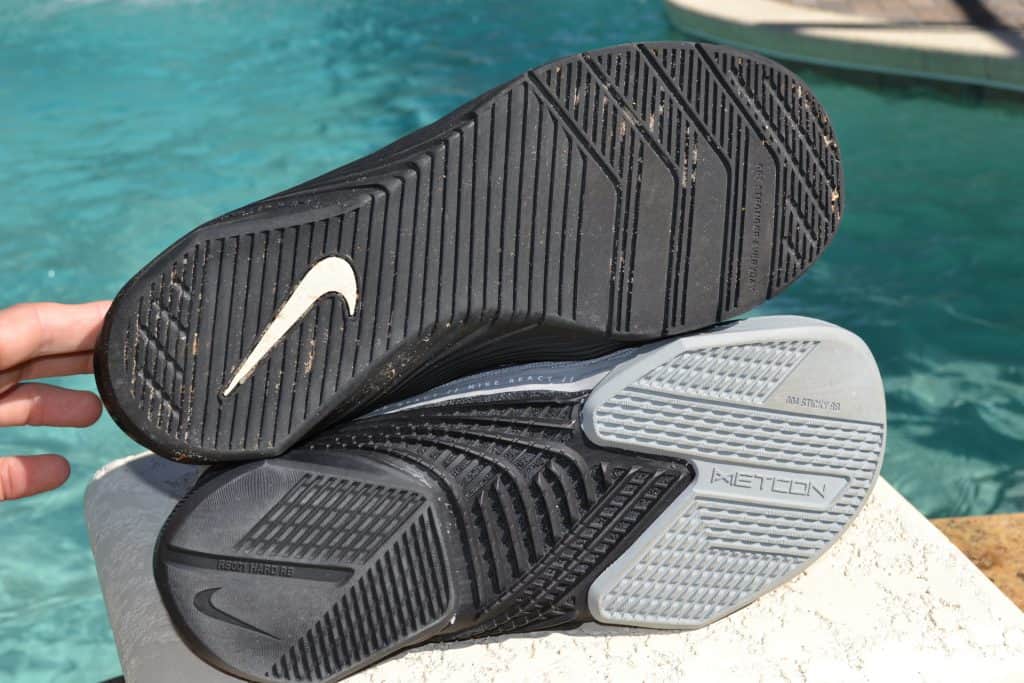 Of course, the good point of this shoe was the React foam midsole.
Notice that this version does not have the stiff plastic arch support.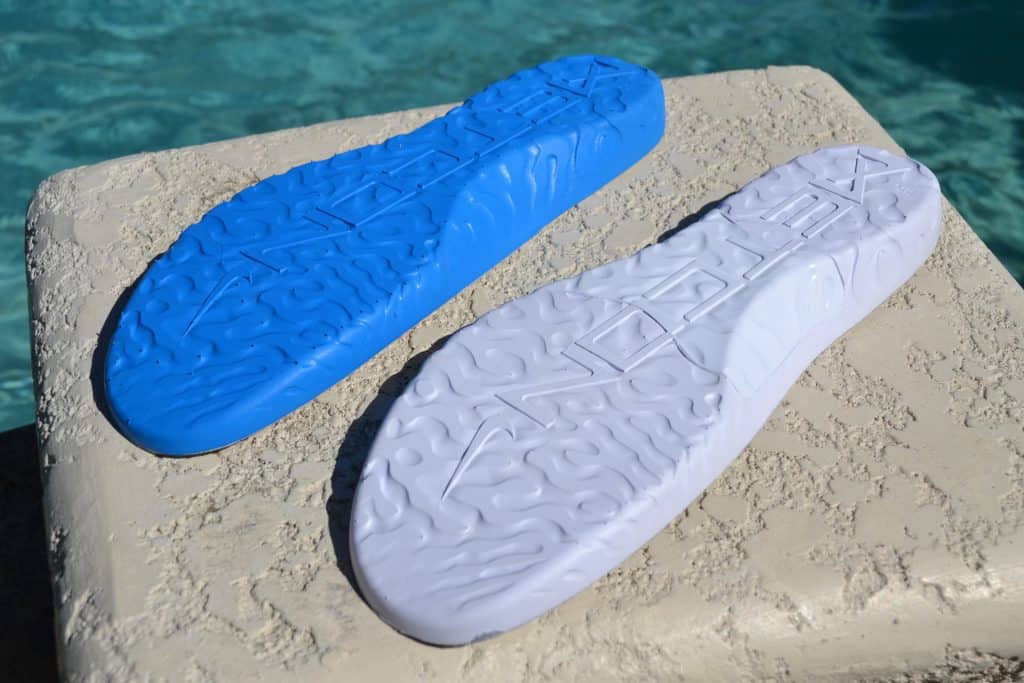 You can find the Nike React Metcon now for a healthy discount, but for all these reasons, I can't say that I recommend it.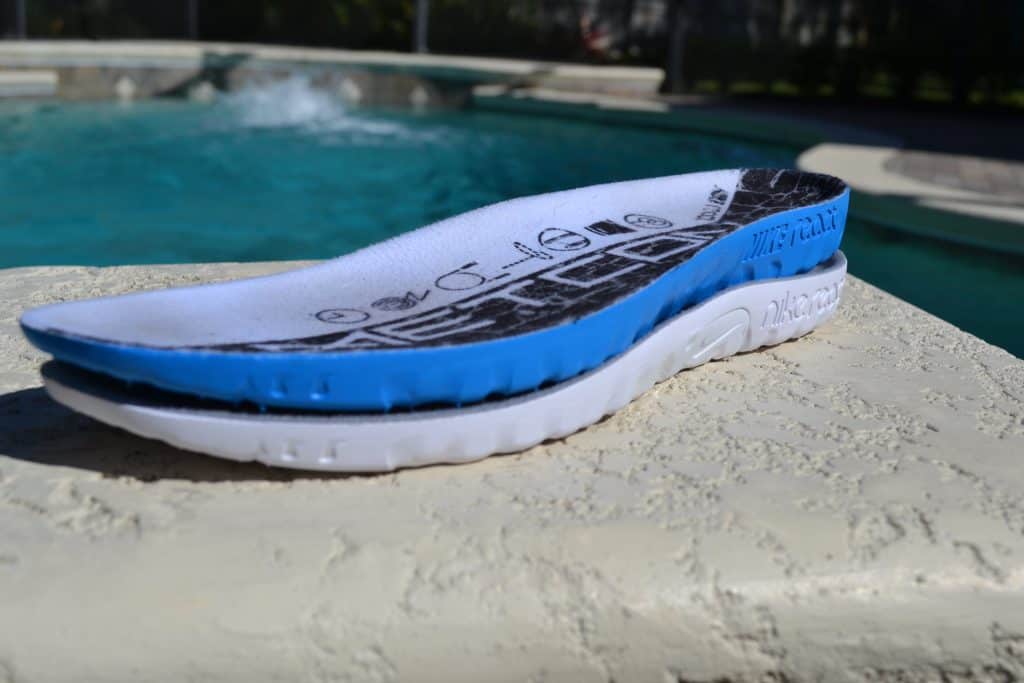 Nike React Metcon Turbo Versus Nike Metcon 6
How does this shoe compare to the Nike Metcon 6?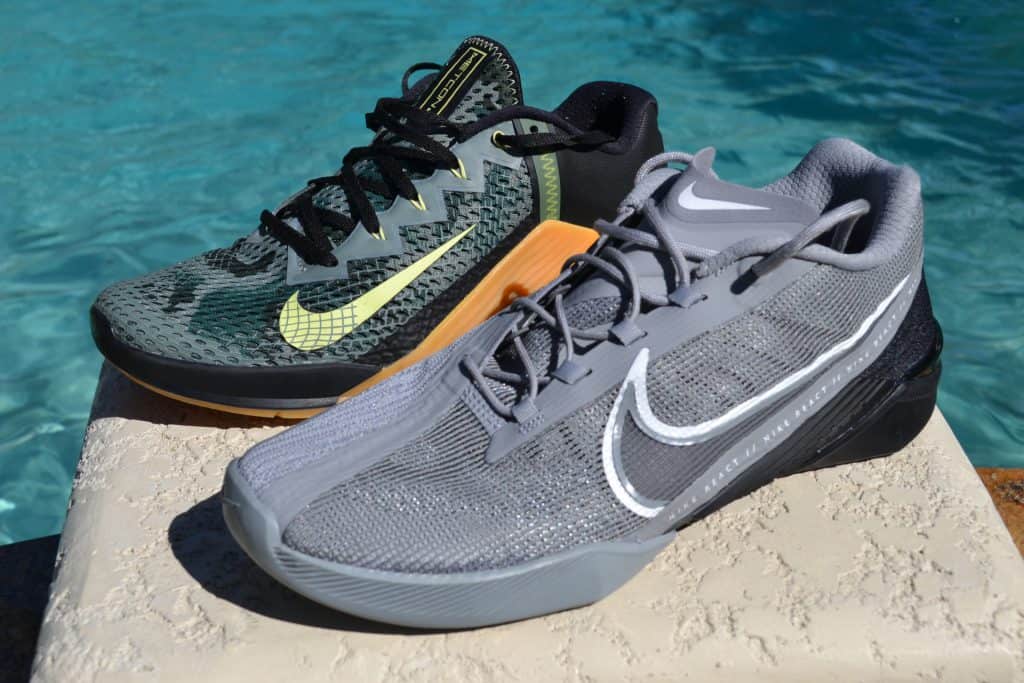 We'll give you an abbreviated comparison here.
The obvious difference is the midsole. The Metcon 6 uses a dual-density foam midsole that has a fairly abrupt transition right in the middle.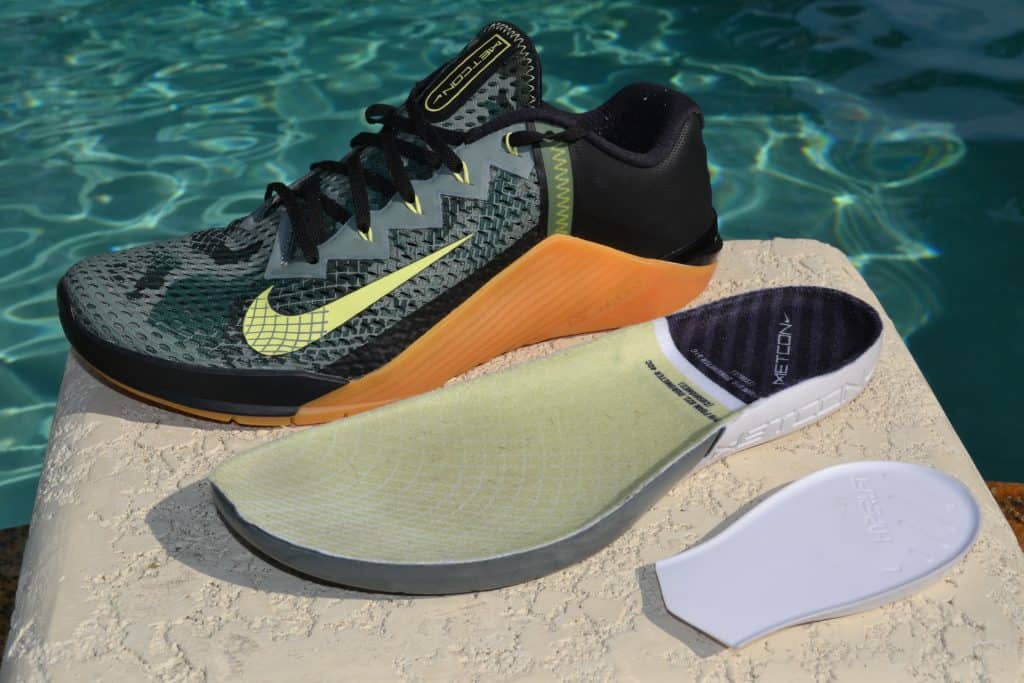 The forefoot cushion is quite soft, and the heel quite stiff. Some people don't care for the abruptness of this.
The new React shoe, even with the plastic arch support, feels more consistent.
The Metcon 6 let's you choose your drop – 4 mm or 12 mm.
You can add these Hyperlifts into the shoe to get an additional 8 mm of heel to toe drop.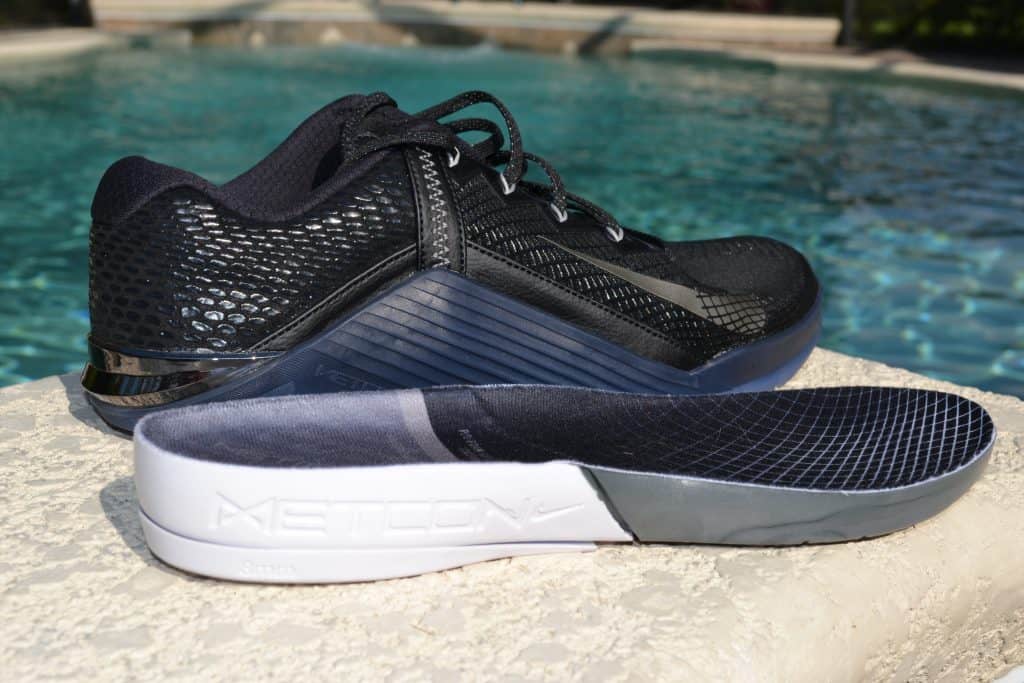 This is a useful feature – having that extra drop helps with squatting motions – including pistol squats, wall balls, and squatting of all kinds.
The Metcon 6 has a super-breathable upper – look at those giant size perforations!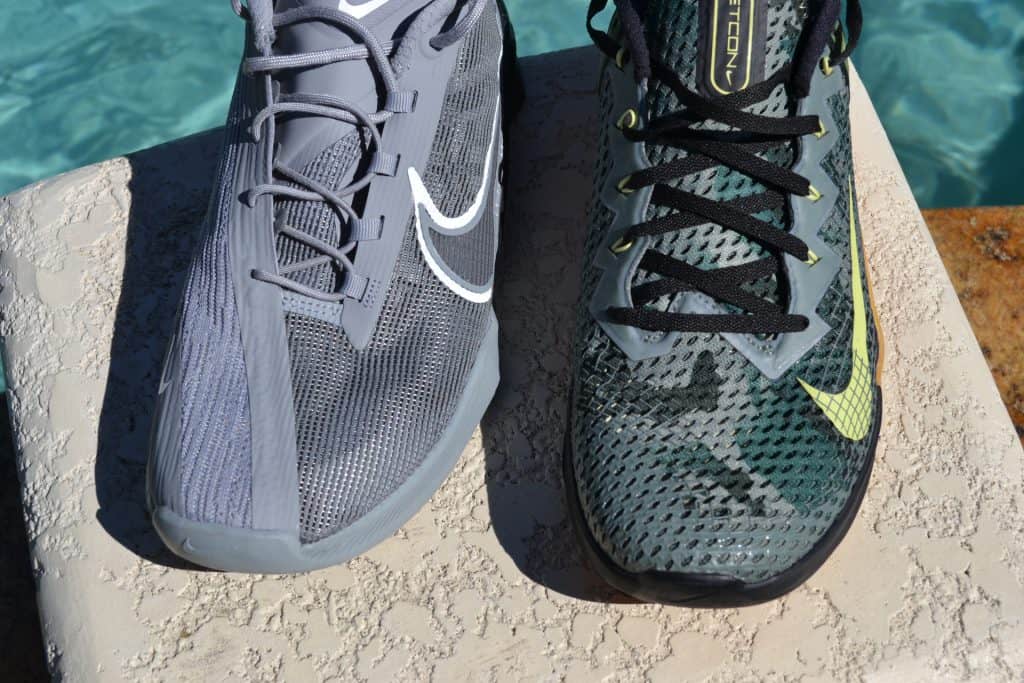 The Metcon 6 has a stiff heel cup inside the heel of the shoe, whereas the Turbo does not.
I honestly can't say I felt a difference in my performance testing though, to be honest.
The Turbo doesn't have the giant rope wrap (But it's probably still adequate.)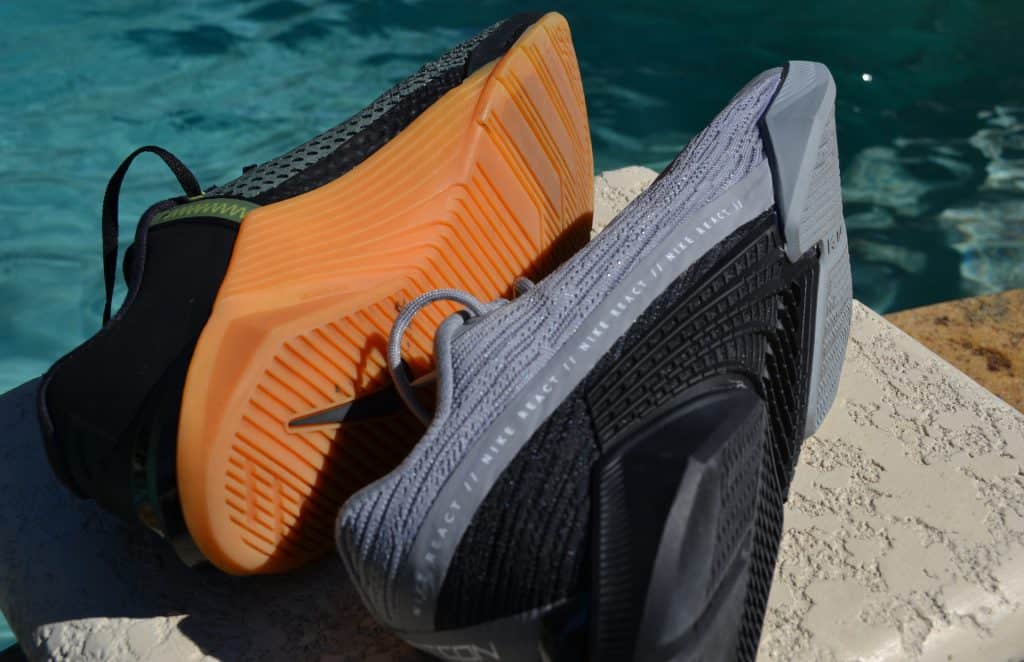 The Metcon 6 is built like a tank and has the weight to show it. A US Size 11 Men's shoe weighs in at 13.9 ounces.
The Turbo is a good .8 ounces lighter.
All things equal, I want lighter rather than heavier.
By the way, the Turbo doesn't feel cheap – it's a quality shoe.
The collar is lower on the Metcon 6 too. It doesn't seem like a lot, but it makes a difference in comfort and fit for me.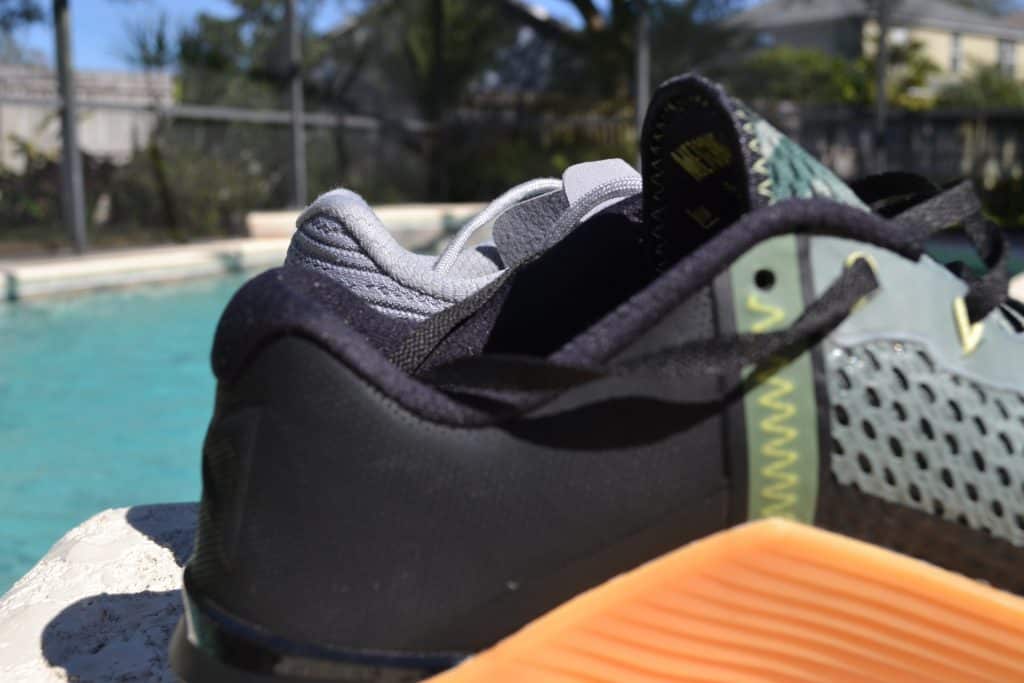 The Nike React Metcon Turbo gives the Metcon 6 a run for its money.
I think it's pretty much just as good – the only real missing feature is the Hyperlifts.
Nike React Metcon Turbo Review – In Summary
That was our review of the Nike React Metcon Turbo.
What's the verdict?
I think it's a winner. They've solved all the problems of the original Nike React Metcon shoe.
This shoe fits well, it looks good, and it works in the gym or box.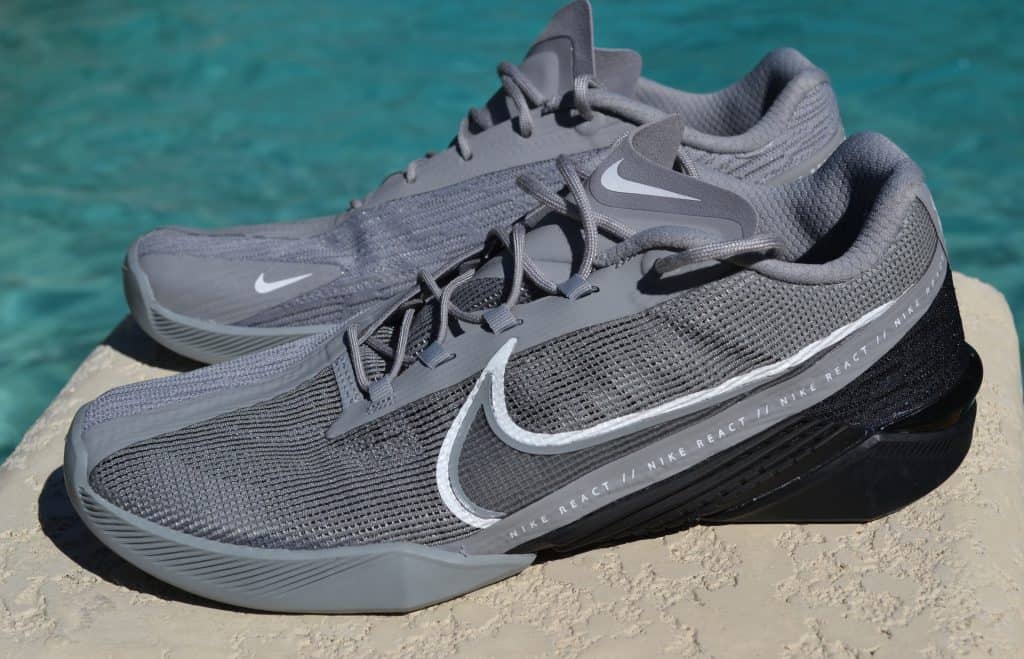 Photo Credits
Some product photos on this page are property of Nike.
This website is not affiliated or associated with CrossFit, Inc. CrossFit is a registered trademark of CrossFit, Inc.
Affiliate Disclaimer
We are an affiliate of Road Runner Sports and others that sell this training gear. If you buy clothing or other training gear after clicking the links in this article, we receive a small commission at no extra cost to you. This helps us to bring you in-depth information and content on these great training products.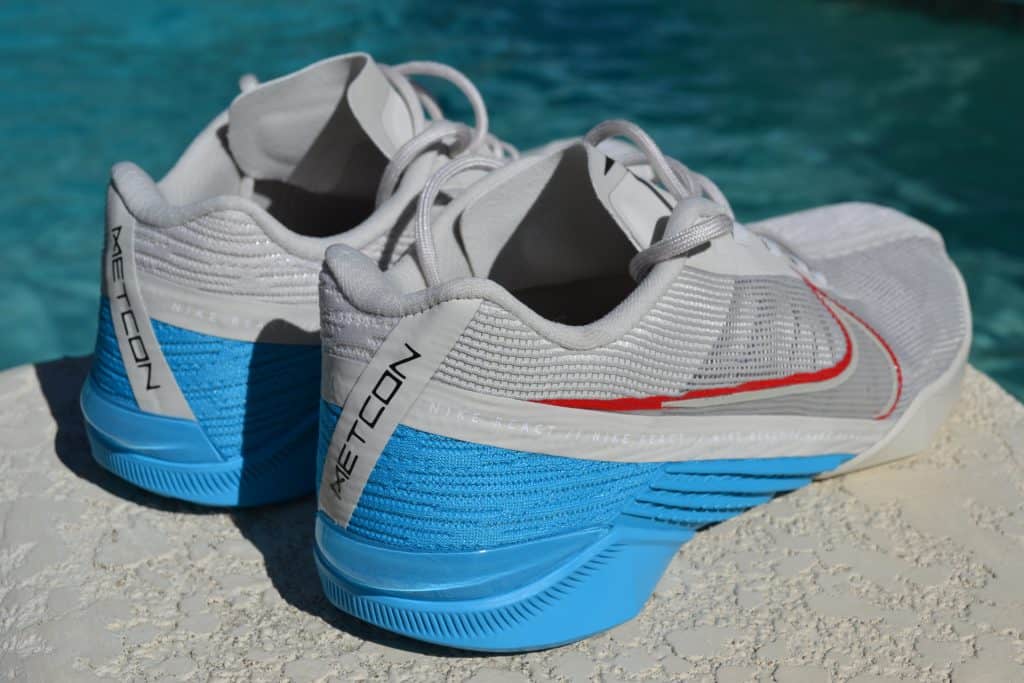 Tim is the founder of FitAtMidlife.com – an avid gym rat for 30+ years, he's a reviewer of many, many shoes – and founder of the Speed Bag Gathering – the world's only gathering of speed bag punching enthusiasts.  See more gym reviews at Tim's YouTube channel.