When purchasing fitness gear, free shipping or shipping discounts can make a huge difference to your budget. Most fitness gear is heavy and bulky and if you pay for shipping it's a considerable expense.
Does Rogue Fitness offer free shipping? The answer is a little complicated. Let's explain.
Rogue has many Daily Shipping Deals that change regularly – but free shipping deals are offered regularly on select products or if you order a certain amount.
See Rogue Fitness Shipping Promotions Now
Free Shipping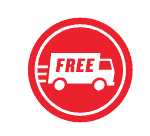 Rogue occasionally offers straight up Free Shipping on certain products. This is only valid in the continental US (the lower 48 states) and excludes expedited shipping requests.
3 Ships Free

What's 3 Ships Free? This is a shipping deal that is offered on a variety of products occasionally. Basically, if you order 3 or more of any of a selected set of products they all ship for free. This won't cover items that are not listed in the list though. Meaning, if you order additional items that are not under that promotion, you will be charged to ship those items only. On the Rogue Fitness website look for any items marked with the "3 Ships Free Item" icon for the promotion.
And as with most all of the shipping deals – this is only valid in the continental US 48 states and excludes expedited shipping requests.
$5K Ships Free

Here's another great way to get free shipping – just order over $5,000 of equipment from the Rogue website. That's a lot isn't it? Yes – but if you are outfitting a whole gym – commercial, garage, or home – you might easily meet this. The caveat on this one is that the items stocked at the Rogue warehouse will be shipped free. If you are ordering something that doesn't ship from the Rogue warehouse, it won't be covered.
Still, if you are buying a major amount of equipment this is a huge benefit.
Buy A Rig And Everything Ships Free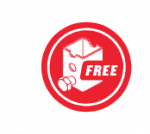 Here's a shipping deal that's going to be great for CrossFit box owners – Buy a Rig and Everything Ships Free. What's a Rig? That's Rogue's biggest fitness equipment racks meant for serious training facilities. Specifically it covers the purchase of any size Infinity Rig, Monster Lite Rig, or Monster Rig. It excludes any other "rig" sold by Rogue. But the good news is that when you buy one of the covered Rigs – all the others items in stock at the Rogue Warehouse that you are ordering with it will ship for free.
And like the other deals – this covers non-expedited shipping to the lower 48 states only.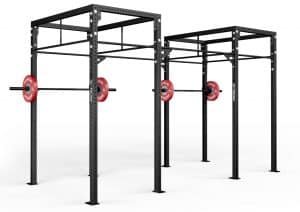 Free Bar Shipping With Purchase of Bumper Set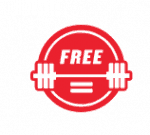 Buying a barbell and set of bumper plates? Then this deal might apply – if you combine a qualifying barbell with a set of qualifying bumper plates you will get free shipping on the barbell. To be clear, that's free shipping on the barbell ONLY, and bumper set means a pretty complete set of bumpers (not just a pair of them). There are quite a few other caveats on this one – certain bars and bumper plates are not covered. If you are interested in this one, we highly recommend you check out the website for the latest info.
Lastly, this one is good for the lower 48 states only, and not valid on expedited shipping requests.
In Summary
Great Birthday Gift Ideas Need a great gift idea for a birthday or for the holidays? Your CrossFit lover would appreciate these gifts for any occasion – birthdays included. Impress them with a thoughtful, useful gift and check out our CrossFit Gift Guide
When buying fitness gear, free or reduced shipping can make a big difference to your wallet. Take advantage of Rogue Fitness' shipping deals when they are available.
You may want to review our article on garage gym barbells, which should also be considered an essential piece of gear for your garage or home gym.
Our guide to
Olympic weight plates
will tell you everything you need to know about bumper and steel plates.
For an outstanding garage gym we also recommend a Glute Ham Developer bench – it's a super versatile piece of fitness equipment.
Why Rogue Fitness Products?
We're a
Rogue Fitness
affiliate – so if you order equipment after clicking the links in this article we receive monetary compensation. But that's not why we recommend Rogue. It's because their equipment is tough, durable, well-made, and a lot of their best stuff is made in America. Their equipment looks good, and works even better. Their innovative designs and diversity of options make your training better – allowing you to reach your personal goals faster. And that's why we love them.
Image and Photo Credits
The Rogue Fitness logo and product imagery on this page is property of Rogue Fitness and provided by Rogue Fitness.
This website is not affiliated or associated with CrossFit, Inc. CrossFit is a registered trademark of CrossFit, Inc.
Tim is the founder of FitAtMidlife.com – an avid gym rat for 30+ years, he's a reviewer of many, many shoes – and founder of the Speed Bag Gathering – the world's only gathering of speed bag punching enthusiasts.  See more gym reviews at Tim's YouTube channel.