Nike's best cross training shoe for 2019 – the Nike Metcon 4 – is still available online via Rogue Fitness.
But, if you want a pair – you'd better get them quick. They are not making them any longer after the launch of the Nike Metcon 5 earlier this year.
The Metcon 4 is an outstanding, light-weight cross training shoe.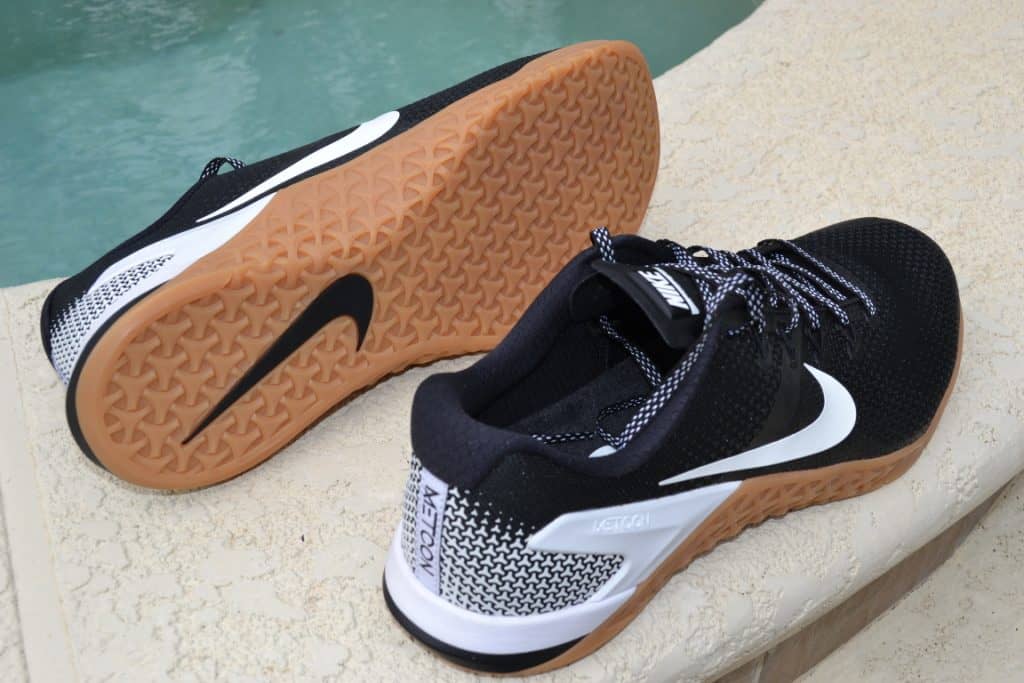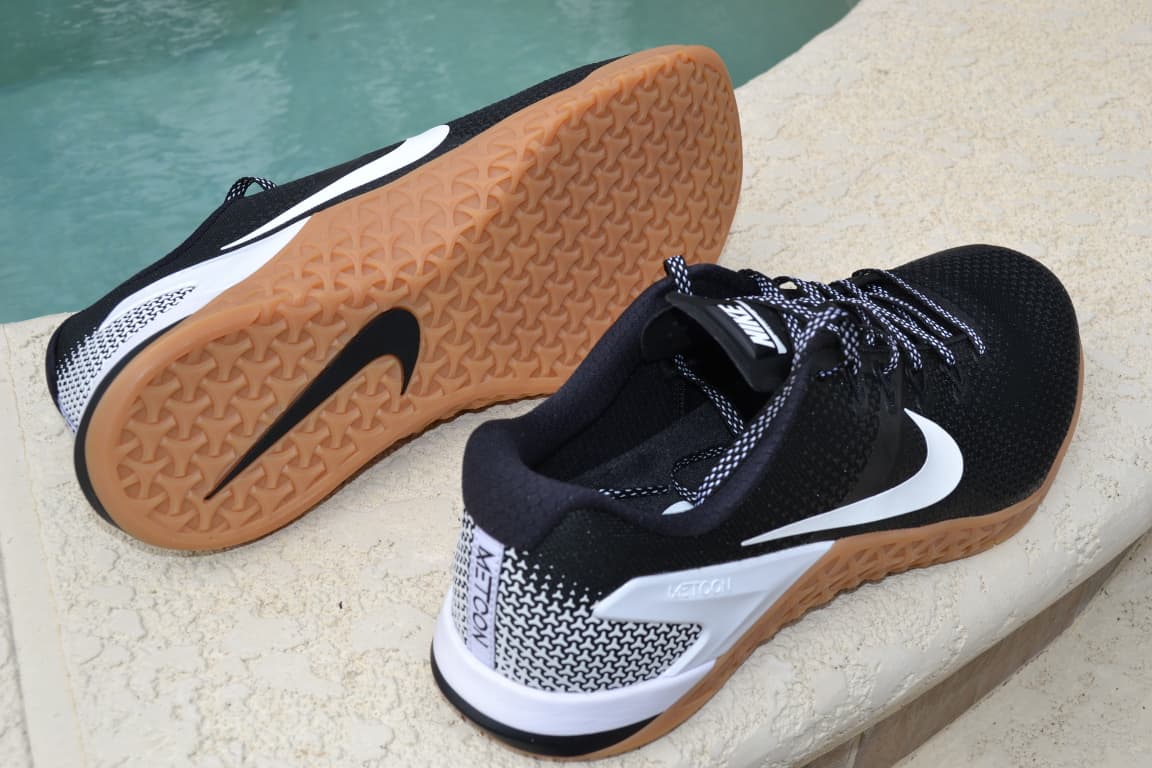 The Nike Metcon 4 is designed to be a CrossFit training shoe.
It is great for lifting heavy weights, jumping, climbing, and running.
How does the Nike Metcon 4 stack up versus the Nike Metcon 3? Let's find out…
But first, here's a sample of some of the styles available.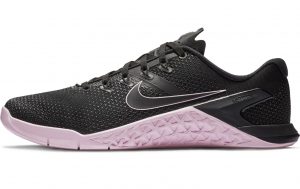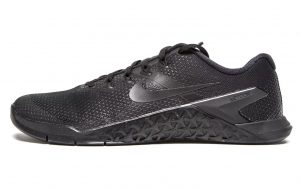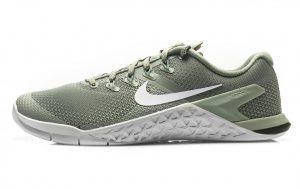 The majority of my workouts in 2017 were done in Nike Metcon 3s – and I love them.
So to set the stage for the new model, let's review what made the Nike Metcon 3 shoe special – and find out what they've improved upon in the new Nike Metcon 4.
But first, a teaser about the Metcon 4…
Nike's premier cross training shoe in 2017 was the Nike Metcon 3. The Metcon 3 is not a pure weightlifting shoe, but rather a durable and versatile cross training shoe that was designed and built for the rigors of CrossFit workouts. Box jumps, rope climbs, sprints, and heavy weight lifting all factor into these workouts – and Nike designed this shoe to work for all those things. And they look pretty darn good doing it.
When Nike designed it's successor – the Nike Metcon 4 – they knew better than to mess with success. They carried over all the great features and made the shoes more durable and comfortable as well. Let's find out how.
Special Features of the Nike Metcon 4
Nike Metcon 4 Release Date
The Nike Metcon 4 cross training shoe is available now via
Rogue Fitness
.
The Nike Metcon 4 design incorporates a lot of features that make that shoe special. First, let's talk about lifting heavy weight. As we discussed in our article on weightlifting shoes, there are a few important points to consider. First of all, running shoes are not appropriate for lifting heavy weight. For big squats and deadlifts there's simply too much cushioning and movement in all the thick padding in the heel and midsole of a running shoe. It's like trying to lift weights on a mattress. And if you've never tried proper weightlifting shoes – maybe you don't know better. But try them once, and there's no going back. And therefore the Metcon 4 (just like the Metcon 3) has a very firm, maximum support heel – for ultra-stability. In this regard it's much like a purpose built weightlifting shoe – which often have solid heels made from wood – or other rigid material. Squishy soles is not a problem in the Metcon 4.
Nike Metcon 4 – Unmatched Style
Not only is the Nike Metcon 4 the best CrossFit training shoe from a functional perspective – it's the best looking – by a long shot.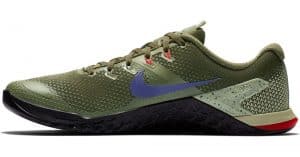 A wide variety of styles and colors are available.
Here's one of the newer colorways: Olive Canvas / Indigo Burst-Black
New colorways (color combinations) are made available on a regular basis. But these are usually offered for a limited time only. So, if you see a color combo you like, you'd better grab it right away.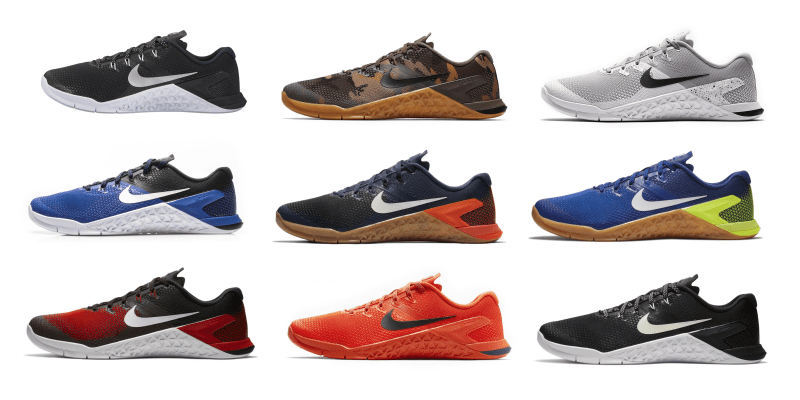 But the problem with a weightlifting shoe is they are so purpose built and specialized you really can't do anything but lift weights in them. And therefore while the Metcon line has a very firm rubber heel that will work for heavy weights, it lacks the extreme heel elevation found in most weightlifting shoes.
That extreme heel elevation is great for minimizing ankle range of motion and helping you get low on a big squat with ease, but it's not good for much else.
In shoe terms "low profile" refers to the difference in height from the heel of a shoe to the toe of a shoe. A low profile (or "low drop") shoe means that the heel and toe height are more even which allows you to land more on your mid foot.
In the Metcon, the offset (heel to toe drop) is a mere 4mm – that's low profile. This equates to more support for more weight under load, but it also means you can jump, run, climb, and cut.
All this means we can manage big weights in these shoes, but still move when we need to.
The Metcon 4 will work great for heavy squats and deadlifts. Most people prefer flat heels (no heel elevation) for deadlifting, and while not ideal for deep high bar squats and other movements related to the Olympic lifts – you certainly can get the job done. It just requires a little more ankle mobility and range of motion. And it's worth it to be able to do a whole lot of other stuff in your Metcon 4s.

So, the Metcon 4 (just like the Metcon 3) can be used for big weights. But there's a lot more to CrossFit workouts – like rope climbs, box jumps, and a lot of fast movement. In shoes, the midsole is designed to provide cushioning and shock absorption. And in the Metcon 4 a drop-in midsole is used for this purpose. For even more flexibility there's molded flex grooves in sole of the forefoot. Why is this? Because with all these dynamic movements you've got to have some flex in the shoe.
Nike Metcon DSX Flyknit 2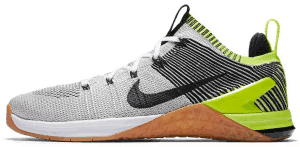 The
Metcon DSX Flyknit 2
is Nike's other cross training shoe in the Metcon line – the biggest difference? It's made from Flyknit – the ultra-lightweight, formfitting, flexible, and breathable material.
The Metcon 4 continues to utilize Flywire technology – these are lightweight filaments that integrate with the laces (you can see them pretty clearly in the photos – they are the white thread-like strings around the laces). These provide structure and support because those filaments run in a criss-cross fashion through the inside of the shoe. It's much like the mid-sole strap you'd see in a weightlifting shoe – but without the mid-sole strap! It really helps lock your foot into the shoe.
Those Flywire filaments look pretty thin and weak though, don't they? They are actually made from Vectran which is a high-performance multifilament yarn spun from liquid crystal polymer (LCP). Pound for pound, Vectran fiber is five times stronger than steel and ten times stronger than aluminum, claims the manufacturer.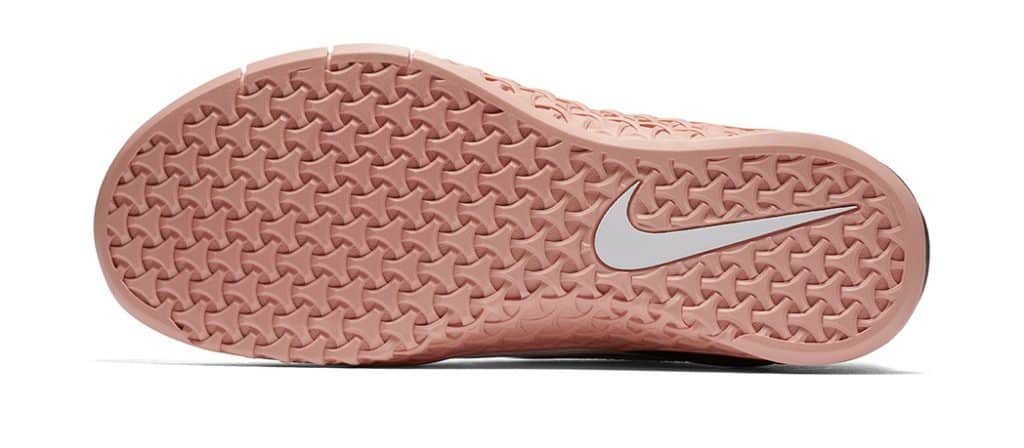 Let's talk about the outsole (or more simply, the sole). We already talked about the molded flex grooves that help with flexibility, but the sole also incorporates sticky rubber in the front, for traction. That last thing you need with a cross training shoe is to have your feet slipping all over the place. And for rope climbs – you'll have great traction as well as durability in these shoes – because the tough but grippy sole material wraps up and around the sides of the shoe in the middle. Great for grip when climbing a rope. And this really helps with durability because with rope climbs that part of the shoe is really going to get torn up if it's not durable.
Some more features – the hard plastic low-profile heel clip helps ensure stability as well. And the uppers are a mesh like material that provide good breathability.
Reebok CrossFit Nano 8 Flexweave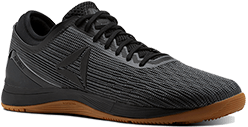 Every body wants to know – what's the best CrossFit training shoe of 2018? It's too early to tell. But we can discuss how the Nike Metcon line compares to Reebok's premier cross training shoe. The
Reebok Nano 8
is built for exactly the same kind of use – a minimal-drop and rigid heel for weightlifting but enough traction and flexibility to run, jump, and cut. It's also a breathable shoe with a secure fit thanks to it's
Flexweave
technology.
Metcon 4 – NOT a running shoe
OK, so the Metcon 4 sounds pretty good. But they are definitely not running shoes. And most people that use them indicate they'll get the job done for sprints and short runs – but shouldn't be used for anything much over 400 meters or so. It should be noted that last year Nike also released the Nike DSX Flyknit 2 model of the shoe – which is lighter, has more midsole cushion, and is better suited to distance running. I haven't tried them. But again, these are not running shoes.
Nike Free x Metcon – The Running Metcon Shoe
The Nike Free x Metcon is a new addition to the Metcon line – it takes some of the best features of the Metcon line and combines them with those of the Nike Free (minimalist running shoe) line. This means significantly more cushioning in both the sole and midsole. This is the shoe you want if you run more than lift – the Nike Free x Metcon. Wrap-around sole for rope climbs, flex grooves, FlyWire, and breathable mesh upper which includes the TPU that makes the Metcon 4 so durable. But specifically for those longer runs its got a soft foam midsole with a firmer carrier, and an inner sleeve for sock-like fit.
If you incorporate more running and less lifting – this is the Metcon shoe for you. It's also more comfortable for all day wear.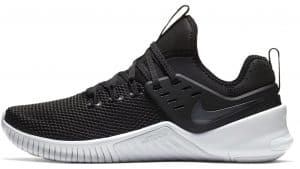 So, that's how Nike carried over all the great parts of the Nike Metcon 3 – to create the Nike Metcon 4. We're going to switch gears now and talk about what Nike has improved upon in the new model.
Nike Metcon 4 – The Next Generation of Nike Cross Training Shoe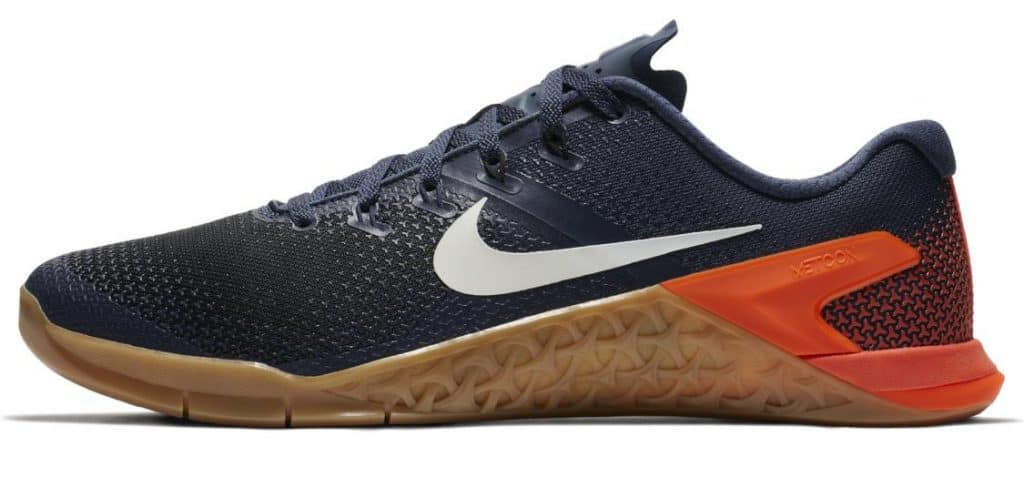 First, we can see these take styling cues from the existing shoe. And it looks great. But let's take a closer look at the performance attributes.
First of all, some important things have not changed. And that's good. For the outsole the allover-rubber tri-star design (which provides traction in all directions) is still there. The 4mm offset is retained as well – and so these are considered very low-profile shoes. And that's good because that's one of the things I love the most about these shoes. The drop-in midsole provides the cushioning you need for high-impact movements. And we can see that the wrap around sole is still in place.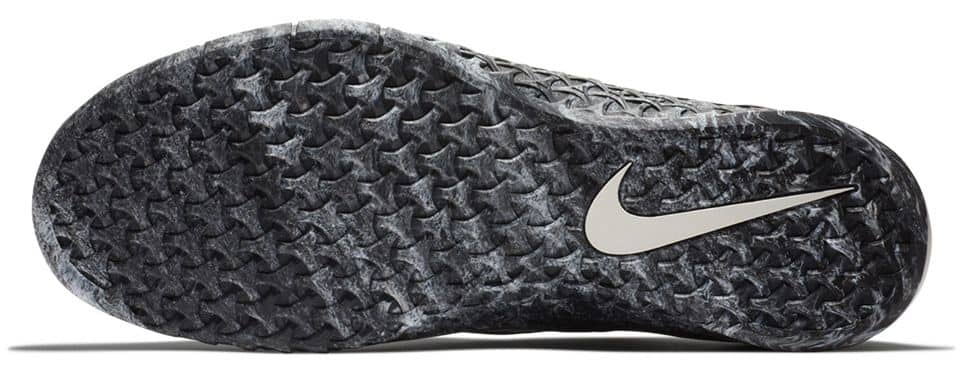 Can I Squat in Nike Metcon 4s? Yes, you can (and should) squat in Nike Metcon 4s. There's no raised heel (4mm heel to toe drop), but the heel, sole, and midsole are rigid and stable enough that you can squat heavy weight (low bar, high bar, front, goblet, etc.) without any instability. Because of the rigidity they also offer great efficiency in power transfer for the explosive Oly lifts (clean, snatch, etc.). There's no raised heel – so you'll need adequate ankle range of motion. But again, these are NOT specialist squat shoes – they are versatile training shoes for a reason – squat, clean, jump, run – they do it all.
Nike claims to have improved even further the durability of these shoes. In the press release, they made mention that CrossFit athlete Josh Bridges has been using these shoes as a sort of pre-production test – and has found them to be amazingly durable. They claim to be using haptic technology on the upper – and this is the biggest update to the shoe. If you look closely you'll see parts of the upper now mimic the tri-star shapes used on the sole. It's rubberized TPU (thermoplastic polyurethane) – it's a hybrid material – a mixture between hard plastic and soft silicone. And so they can utilize this special material in the right size (big or small) in different places on the shoe. And that means the high-wear areas like the toe box and sides can be durable. Meanwhile the regular mesh can be used in other areas for breathability and flexibility.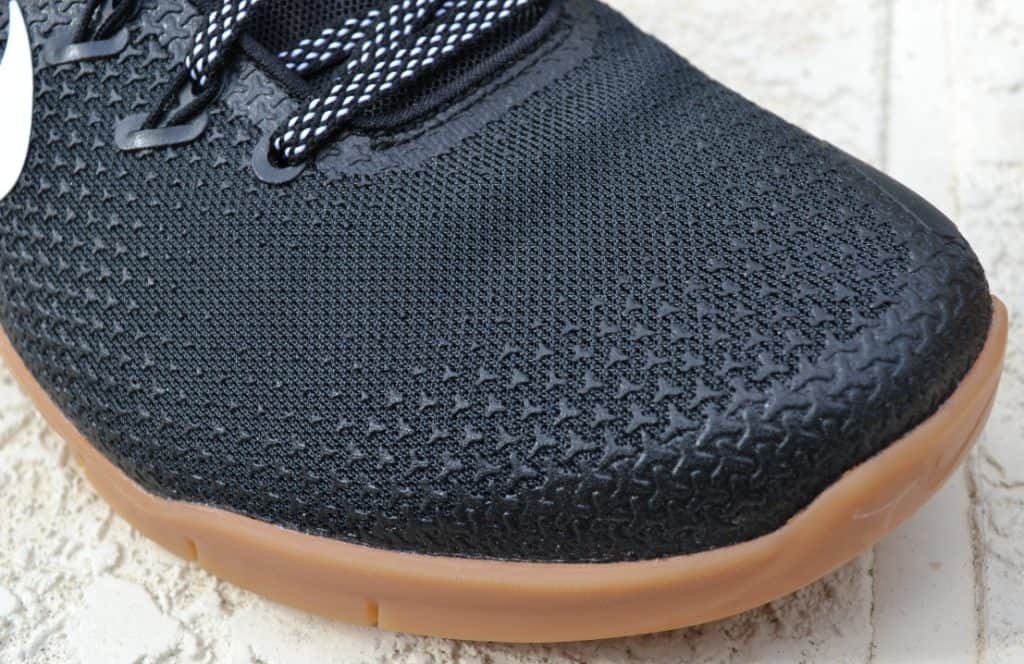 Overall, the feel of the shoe is better as well. Designers used a sandwich mesh (essentially a two-layer mesh with vertical fibers running through it) on the upper. This provides a sensation of cushioning on top of the foot for the first time and also hugs the foot better than previous models. They claim to have significantly increased the comfort level of the shoe – but not by adding cushioning – because that would compromise performance.

Can I deadlift in Nike Metcon 4s? Yes, you can (and should!) deadlift in Nike Metcon 4s. The rigid mid-sole and heel and virtually non-existent heel to toe drop (only 4mm) means these are great for deadlifting. For a big deadlift you want to minimize the range of motion. Not having a lot of cushion and heel height helps with that. You also do not want your feet smooshing around in cushioning while lifting – that can cause an injury.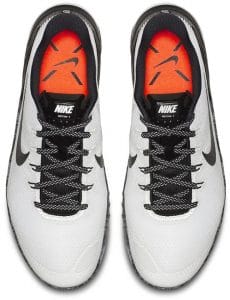 From this top view, we can see they've added an extra eyelet. There are now six lace eyelets (versus five) so you can fine-tune your laces for more precise comfort and support. In addition, a soft tri-star at the top of the tongue provides a little extra padding between the forefoot and laces.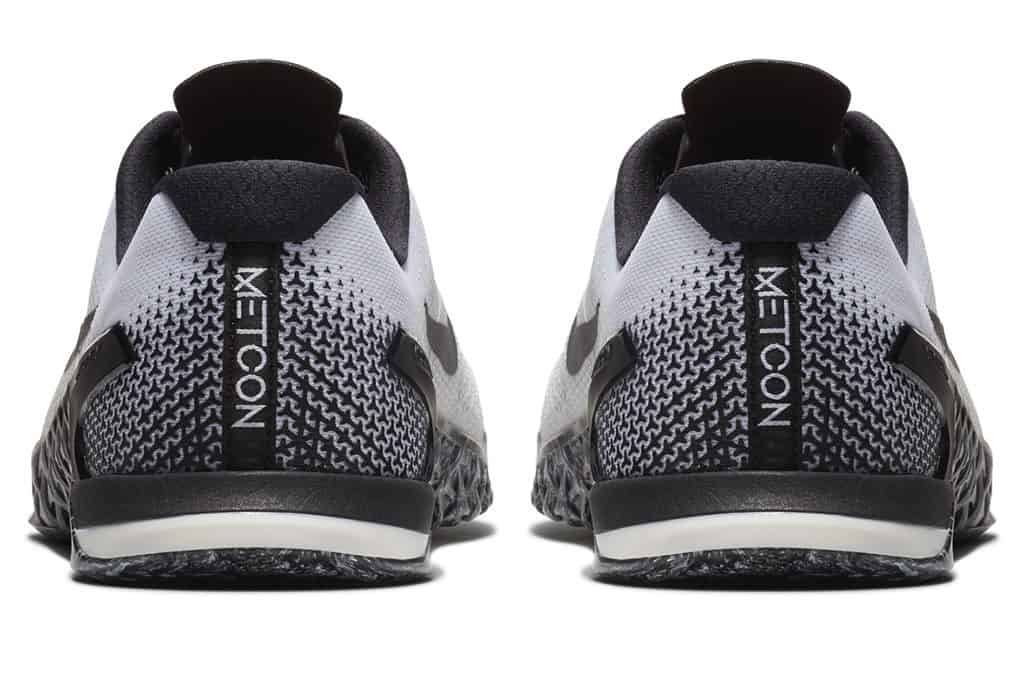 Lastly, the heel counter has changed. Nike admits it's more for cosmetics than performance, but the carved-out heel counter is more minimal than past silhouettes.
And speaking of cosmetics, there are occasionally special editions of the Nike Metcon 4.
Nike has even created a very special pair of Nike Metcon 4s – specifically for Mat Fraser, having just won the CrossFit Games 2018, is the three-time Fittest Man on Earth. This shoe isn't for sale. Mat's tagline is "HWPO" which stands for "hard work pays off". Indeed it does.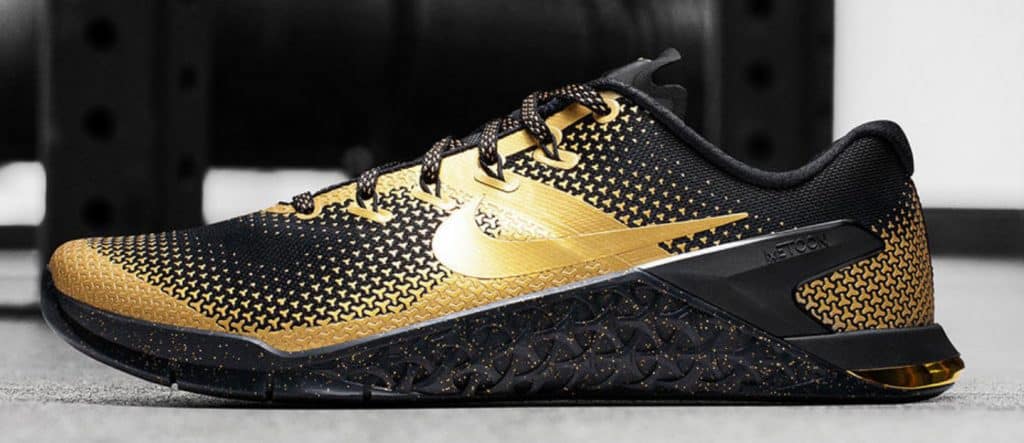 Nike Metcon 4 – In Summary
So, there you go. Nike has taken the best features of the Metcon 3 and built upon them in the Metcon 4. But they've injected some innovative new tech as well. They're available now and make sure you check out all the colorways available. Personally, I can't wait to give these a go myself.
Fit At Midlife Bottom Line:

The Nike Metcon 4 keeps all the great features of the previous Metcon 3 model.

But it also improves on those features – It's more durable and is more comfortable to wear.

The Nike Metcon 4 is competitively priced compared to other serious cross training shoes.

The Nike Metcon 4 is very stable and great for lifting weights. In our opinion, it is the best cross training shoe for weightlifting.

You may also be interested in the new Nike Metcon 5 – which is new for 2019.
Why Rogue Fitness Products?
We're a
Rogue Fitness
affiliate – so if you order equipment after clicking the links in this article we receive monetary compensation. But that's not why we recommend Rogue. It's because their equipment is tough, durable, well-made, and offers the "best of the best". Their innovative designs and diversity of options make your training better – allowing you to reach your personal goals faster. And that's why we love them.
Photo Credits
Nike Metcon 4 product photos are courtesy of Nike
Nike Metcon 3 product imagery on this page is property of Rogue Fitness and provided by Rogue Fitness.
This website is not affiliated or associated with CrossFit, Inc. CrossFit is a registered trademark of CrossFit, Inc.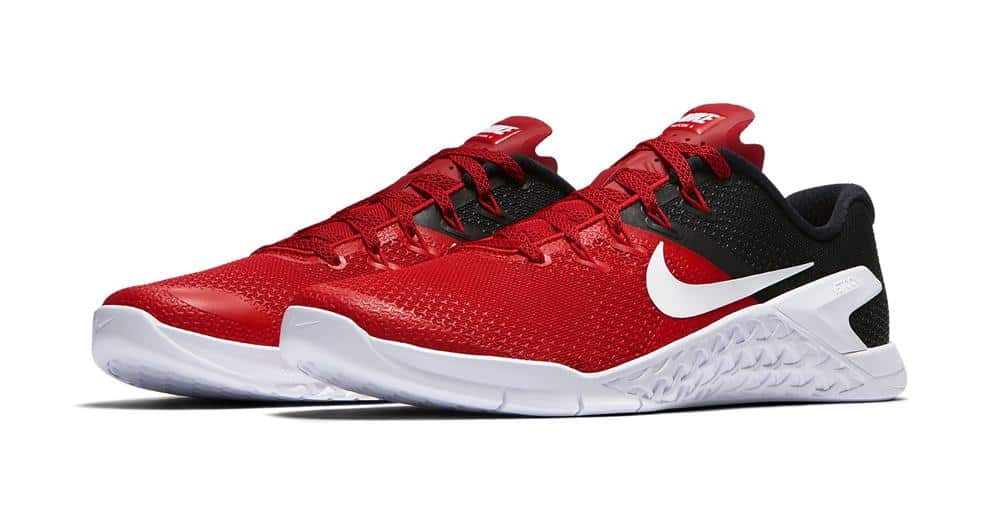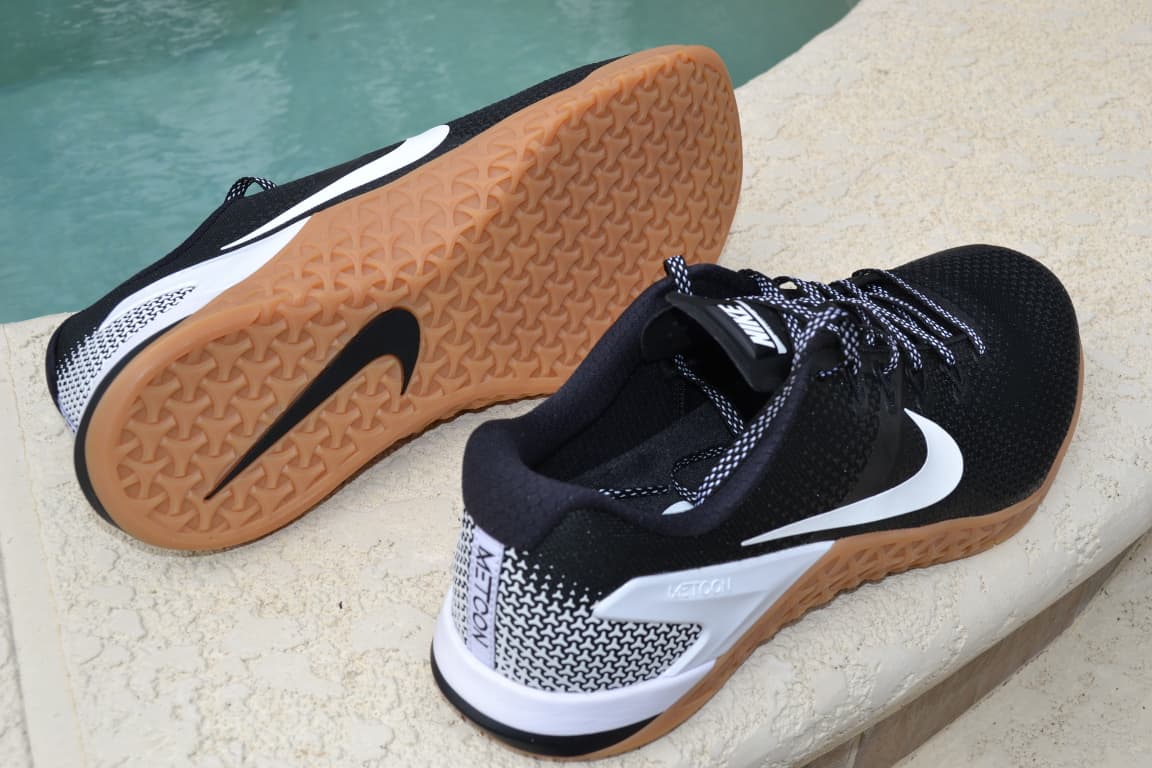 Tim is the founder of FitAtMidlife.com – an avid gym rat for 30+ years, he's a reviewer of many, many shoes – and founder of the Speed Bag Gathering – the world's only gathering of speed bag punching enthusiasts.  See more gym reviews at Tim's YouTube channel.