The NOBULL Trainer (from NOBULL Shoes) is a training shoe designed for the rigors of the CrossFit WOD.
Not only is it functional, but it is comfortable and looks good too.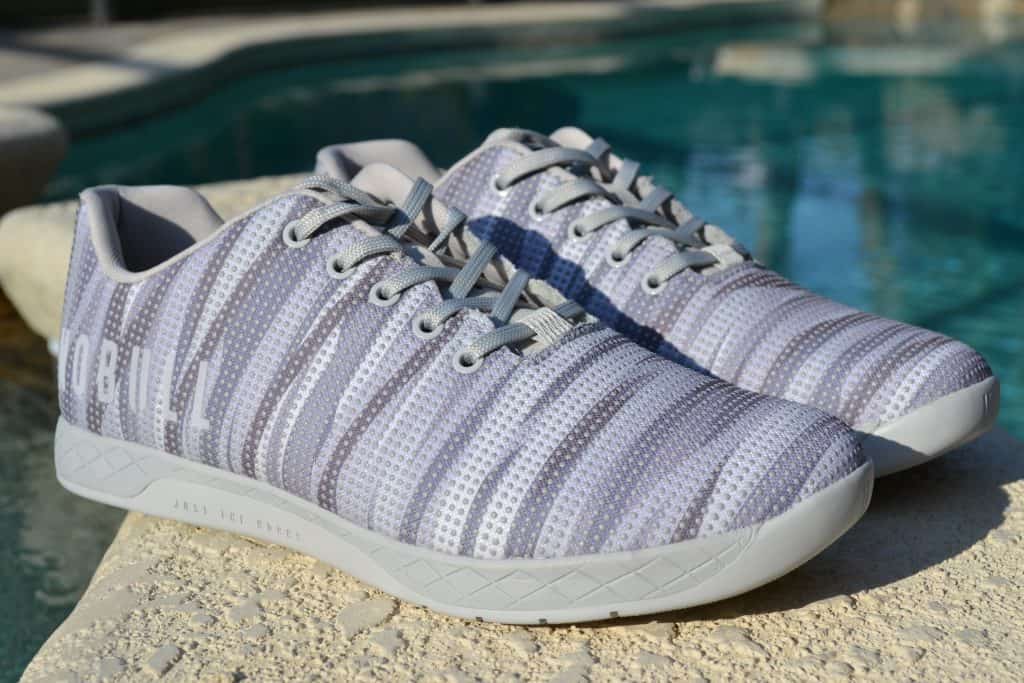 Many people consider this to be the most comfortable cross training shoe for extended wear.
It's also one of the lightest CrossFit shoes for 2019 – only bested by the Minimus Prevail from New Balance.
What can you do in NOBULL shoes? Pretty much anything -heavy weight lifting, running, box jumps, rope climbs, or just about anything else. It's available in a number of styles to order online from Rogue Fitness.
What's even better – there are options for high top, mid top, and more.
NOBULL Trainers – The Benefits of SuperFabric – Tough Shoes
First, let's talk about SuperFabric. That's what the seamless one-piece upper (the top part of the shoe) is made of. It's extremely durable, breathable and abrasion resistant material. These shoes are tough – the manufacturer claims they can resist harsh weather, glass, and even barbed wire!
Here's a close-up of SuperFabric. Those little dots are TOUGH – and as you can see they cover the entire upper.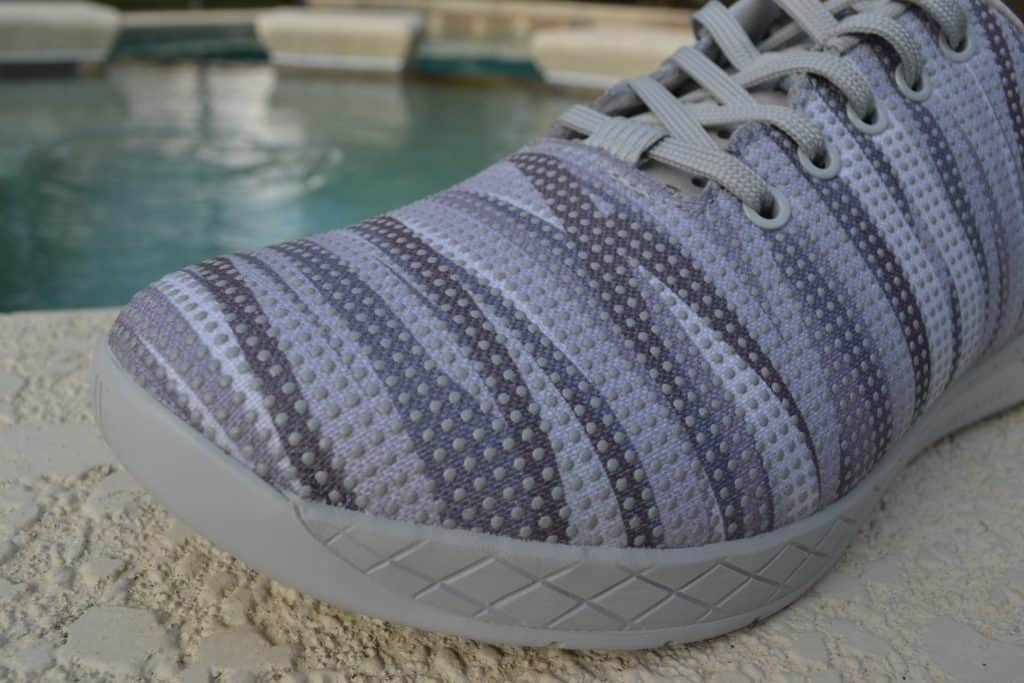 SuperFabric is no joke – it's not just used in shoes, it is used in a variety of products such as motorcycle and military apparel. It's very tough – and slash and scratch proof.
The material was originally created for gloves that could resist cuts from surgical knives. Here's a graphic from the manufacturer showing how the addition of "guard plates" to an underlying mesh fabric create this unique material. It's not just durable though – it's also breathable and flexible.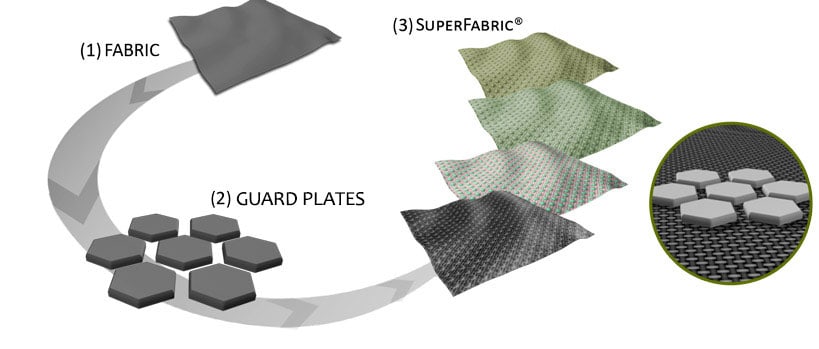 The above image is courtesy of SuperFabric® brand materials.
Rope climbs can kill a pair of shoes quick. Shoes not designed for it just can't take the stress in the areas where you'll be gripping the rope with your feet.
But not the NOBULL Trainers – they have a medial rope grip to ensure both climbing traction and durability.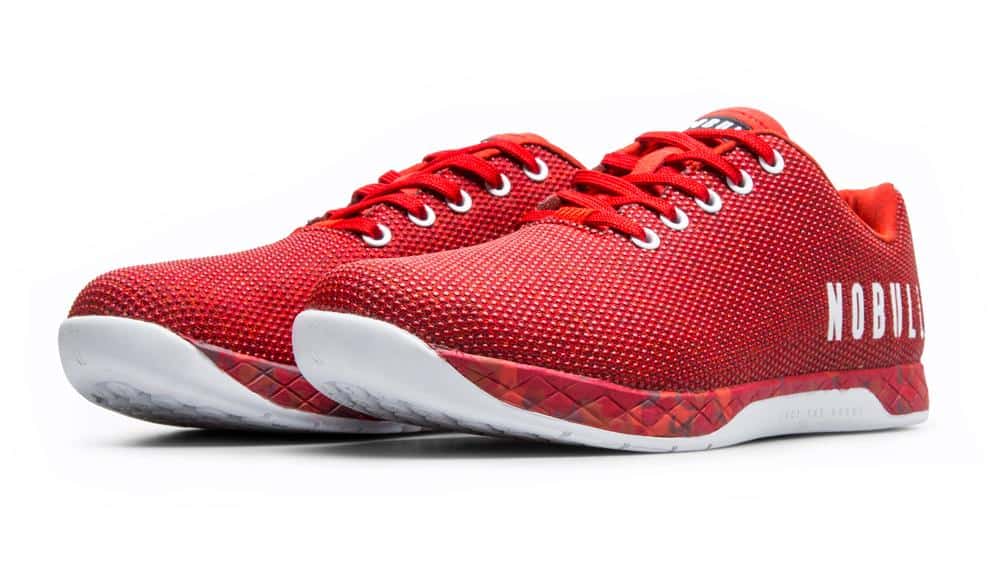 For comfort that seamless, one-piece upper is made of a highly breathable base mesh layer. The tongue is a breathable perforated microsuede tongue. And a molded, anatomical sock liner helps round out the fit.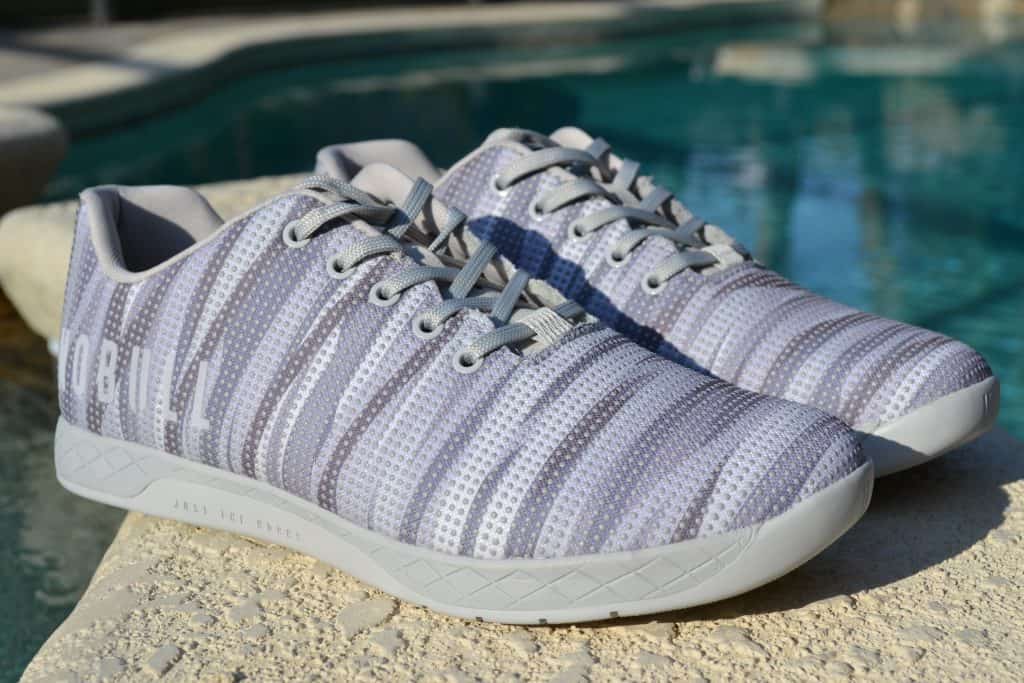 NOBULL Shoes – Styles and Colors
What colors are available? The list varies, but here's a few that are currently available:
Dark Denim, Black Ivy, Arctic Grey, White Heather Forest, Black/White, Bright Pink, Sand Camo, Black Heather Yellow, Bright Blue, White Heather Granite, Matrix Burst, and Blue Glass.
Here's a close-up of my personal pair – in Matrix Burst – which is a new pattern for 2019.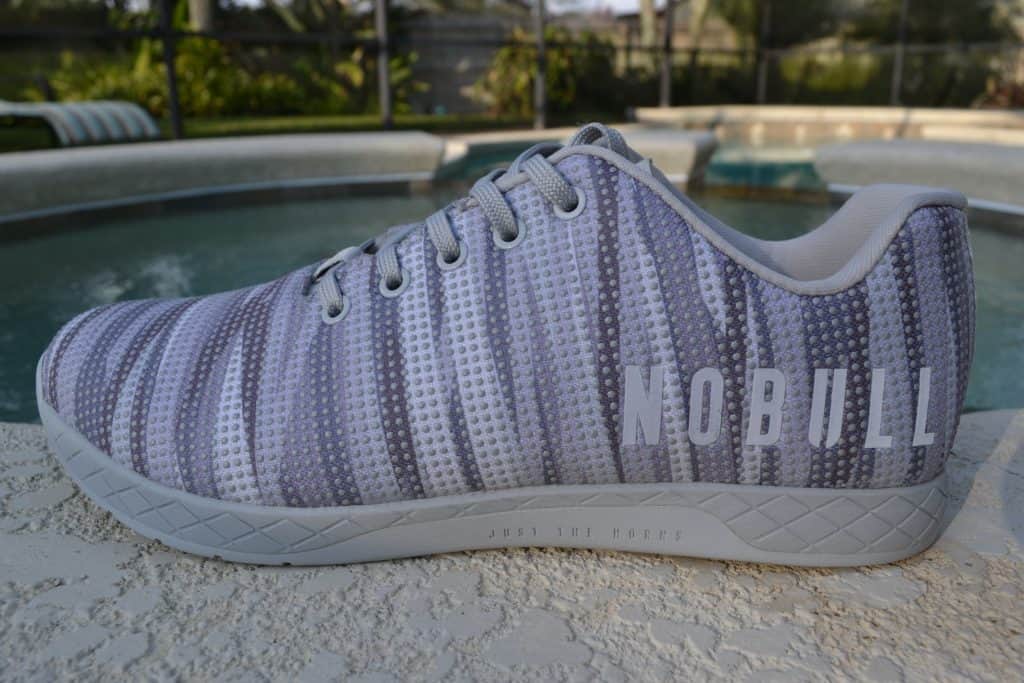 OK, they look great – I think we an all agree on that.
Let's talk more about how they function.
NOBULL Shoes – Minimal Drop For Stability
Training Shoe Anatomy
Confused about the insole, midsole, and outsole? Check out our
Anatomy of a Training Shoe
graphic. It'll set you straight.
CrossFit WODs involve a lot of weightlifting – and heavy weights at that. If you've ever tried to do heavy lifts in running shoes – you know that's a bad idea. There's simply too much cushioning in the sole, heel, and midsole of a running shoe. The problem is that your feet are sinking into the thick cushioning – and this wreaks havoc on stability. It's also an unacceptable loss of power in the quick lifts (the Olympic lifts) – you can't get efficient power transfer on a mushy shoe sole.
But these problems are eliminated in the NOBULL Trainer. It's got a versatile, but stable outsole and midsole – perfect for the variety of big weights you'll have to lift.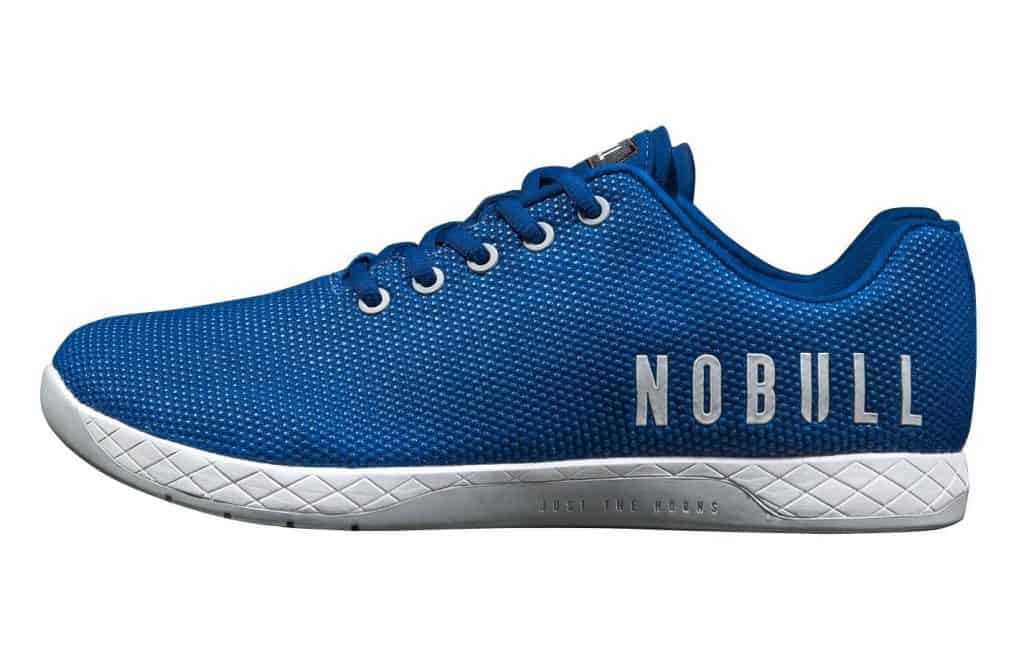 Secondly, the "heel to toe drop" is a mere 4mm. This means there isn't much of a heel on the shoe. If you've ever lifted in purpose-built weight lifting shoes you know that sky-high heel is great for getting low on a squat or clean with ease. But you can't really do much else in weight lifting shoes – that too tall heel (and the extreme rigidity) make them unusable for running, jumping, and quite frankly – anything except for lifting weights!
With a low profile 4mm heel to toe drop these shoes are versatile. They can do it all. Big squats and deadlifts? No problemo.
Let's check out the outsole aka the sole. See that versatile lug pattern? It's made for traction indoors or outdoors.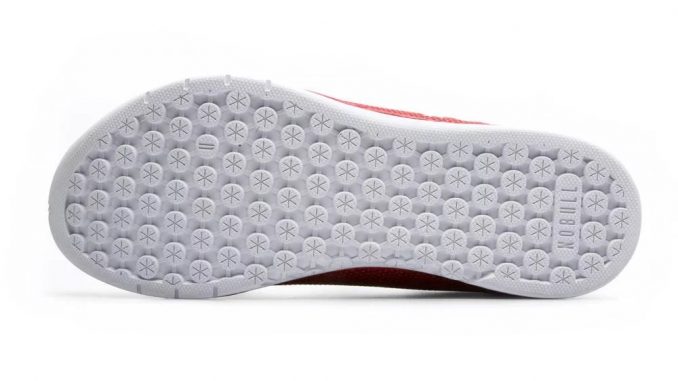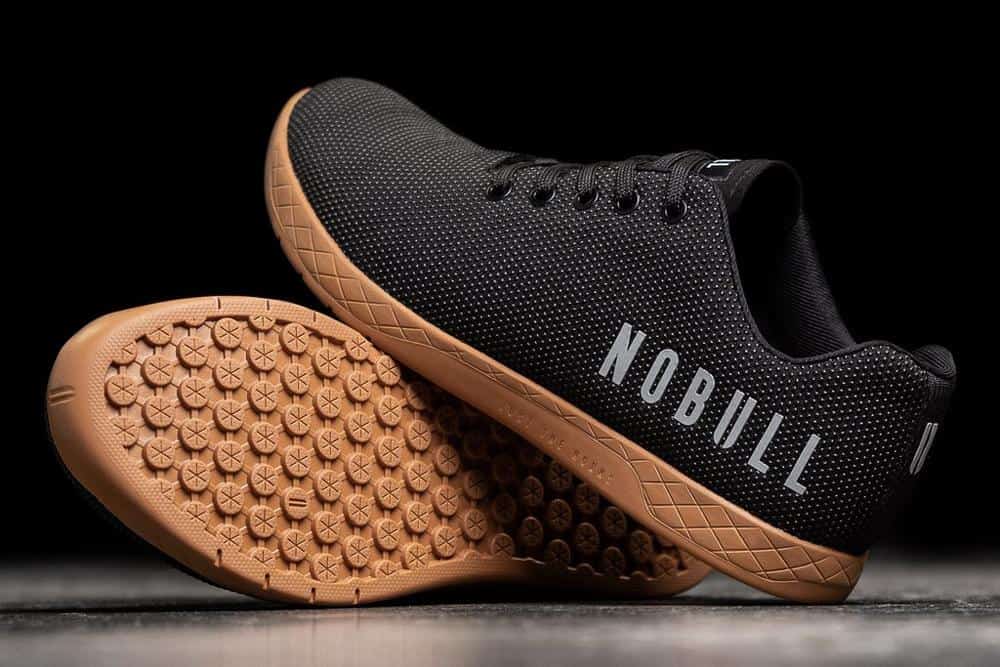 NOBULL Trainer – Lightweight CrossFit Training Shoe
We did something interesting – we compared the weight of all the CrossFit shoes for 2019.
The NOBULL trainer (Men's size 11, single shoe) came in at 11.3 ounces. The only shoe lighter was the New Balance Minimus Prevail.
That's over 2 ounces lighter than the Nike Metcon 5 or the Reebok Nano 9.
Here's a picture of the line-up – from lightest to heaviest.
NOBULL Shoes – High Tops and Canvas
There's also a High-Top Trainer model.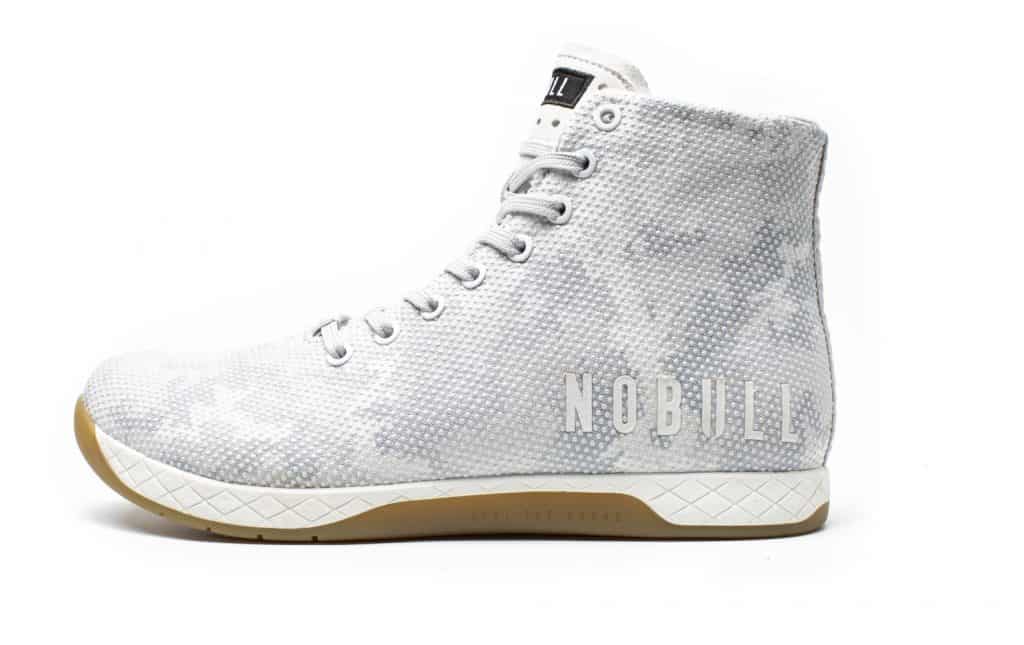 It's got all the great features of the regular shoe, but with the added stability of a high top. The high-cut collar provides padding and a secure fit for movement in any direction.
But otherwise – all the same features – the multi-environment lug outsole, reflective NOBULL logo for maximum visibility, 4mm heel to toe drop – it's all there.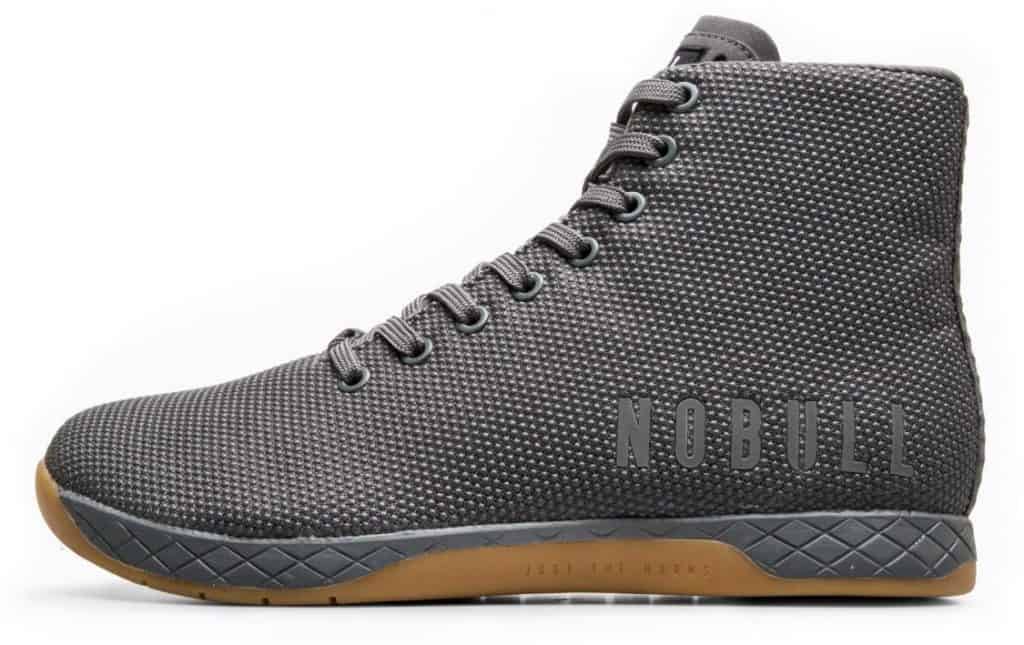 Here's a new model with a perforated canvas upper – for those that prefer it. Just like the SuperFabric version it offers durability and breathability – but at a cheaper price point. Otherwise it's got all the great features of the SuperFabric version of the Trainer.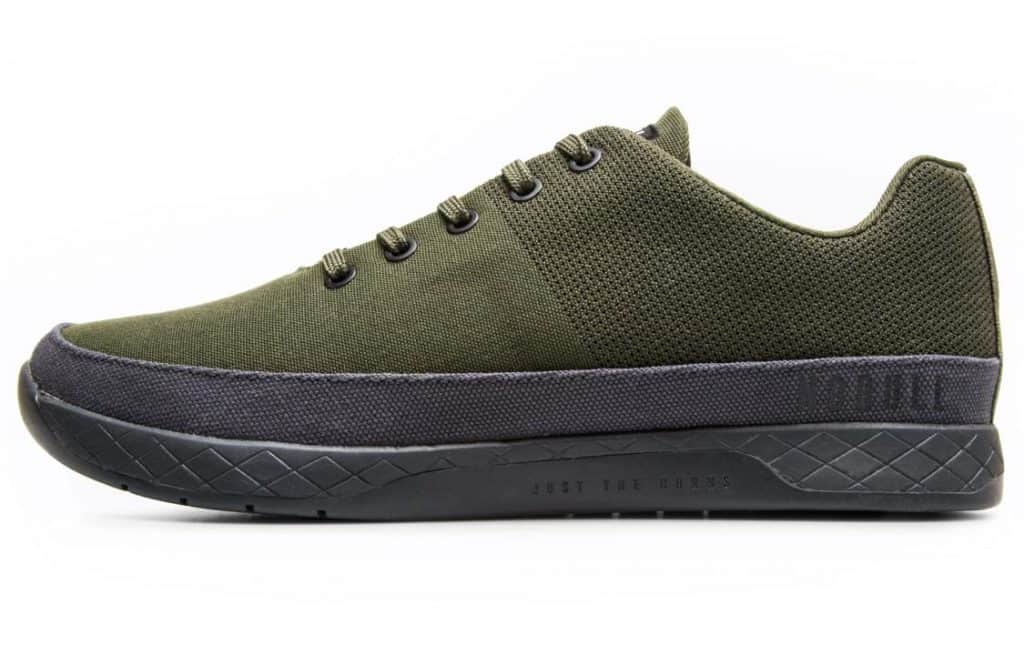 There's also a lighter color Sand Canvas option. It looks really nice. This view also shows the medial sole grip for rope climbs: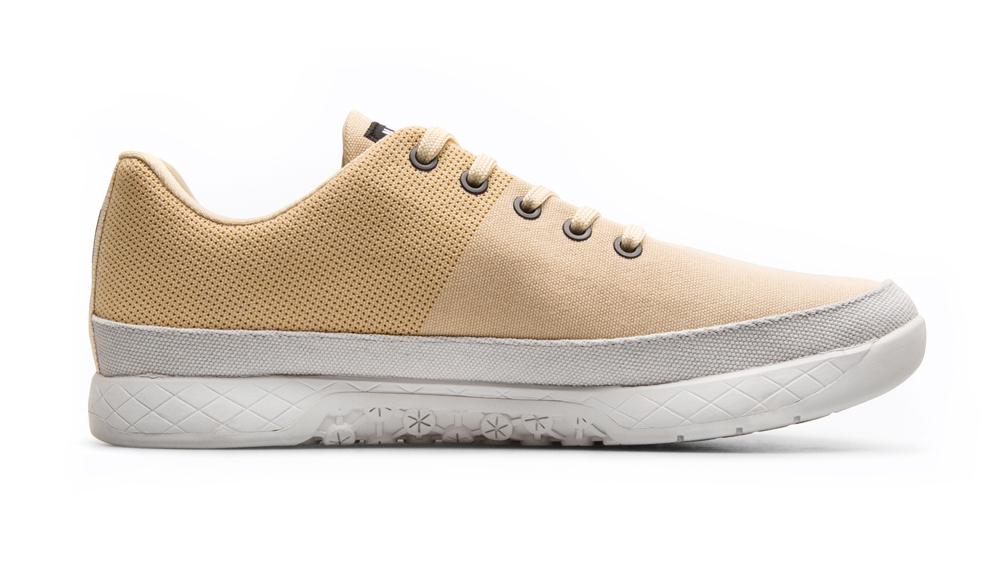 And lastly, there is a mid trainer version of the canvas shoe. Not as high as the high-top, but otherwise has all the great features including the perforated canvas upper.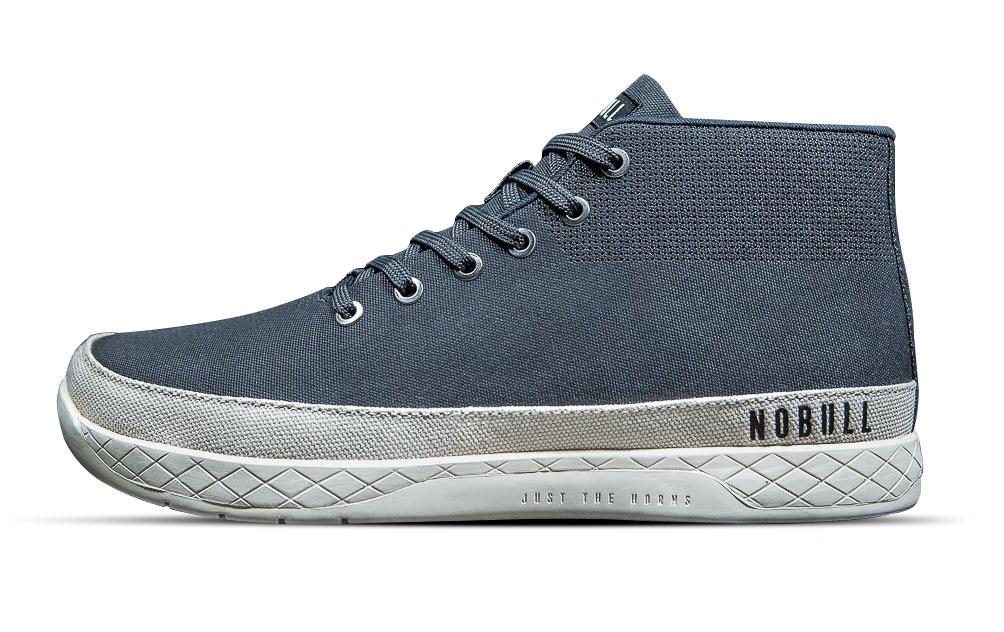 What Sort of Training Are NOBULL Shoes Good For?
Can I squat in NOBULL Trainers?
Yes – you can – low bar, high bar, front squat – it's all good. It's a "flat" shoe with a small 4mm heel to toe drop (no outrageous heel raise), so you're not going to get any help on getting low with ease in a squat. But the sole and midsole are rigid enough to ensure a stable platform for lifting. Time to work on that ankle flexibility.
It should be mentioned that many people find the NOBULL trainers less friendly for heavy weights when compared to the Nike Metcon 4s. The NOBULL Trainer is more flexible and comfortable it seems, but the Metcon is stiffer and better for weights. It's all trade-offs – which area is most important to you?
Nike Metcon 4 XD vs NOBULL Trainer

The
Nike Metcon 4 XD
is Nike's cross training shoe and is new for 2019. It is similar in many respects – it's light, breathable, and meant for the rigors of both heavy weights and explosive and quick WOD movements. It's also got a 4mm low-profile drop and is constructed of light-weight, breathable material. Either shoe is going to be an excellent choice – and which one you prefer may come down to styling and aesthetics.
Can I deadlift in NOBULL Trainers?
Yes – a flat (minimum heel to toe drop) shoe with a stable heel, sole, and midsole is just what you want for a big deadlift. This minimizes the range of motion (why lift the weight even 1/2 inch more than you have to?) and provides a stable base.
The amount of material under your feet, also known as "stack height," is an important characteristic of a good training shoe. It's one of the principles that minimalist shoes are built on – less material means a more natural feel that leads to better biomechanics. But thicker, more protective shoes might lead to fewer injuries and better running due to shock absorption.
The NOBULL trainers lie somewhere between – not too much, not too little.
Can I Olympic lift in NOBULL Trainers?
Yes – Efficient power transfer is needed for the Olympic lifts, and the NOBULL trainers deliver.
Can I run in the NOBULL Trainers?
Yes – they are not bad running shoes at all – they are light. The "NOBULL" logo on the side is reflective – it's good to be seen. But they are not purpose-built running shoes either. Look elsewhere for long distance running.
If you like NOBULL shoes, and do need a real running shoe, Rogue Fitness also carries the NOBULL Knit Runner – shown where in Dark Grey.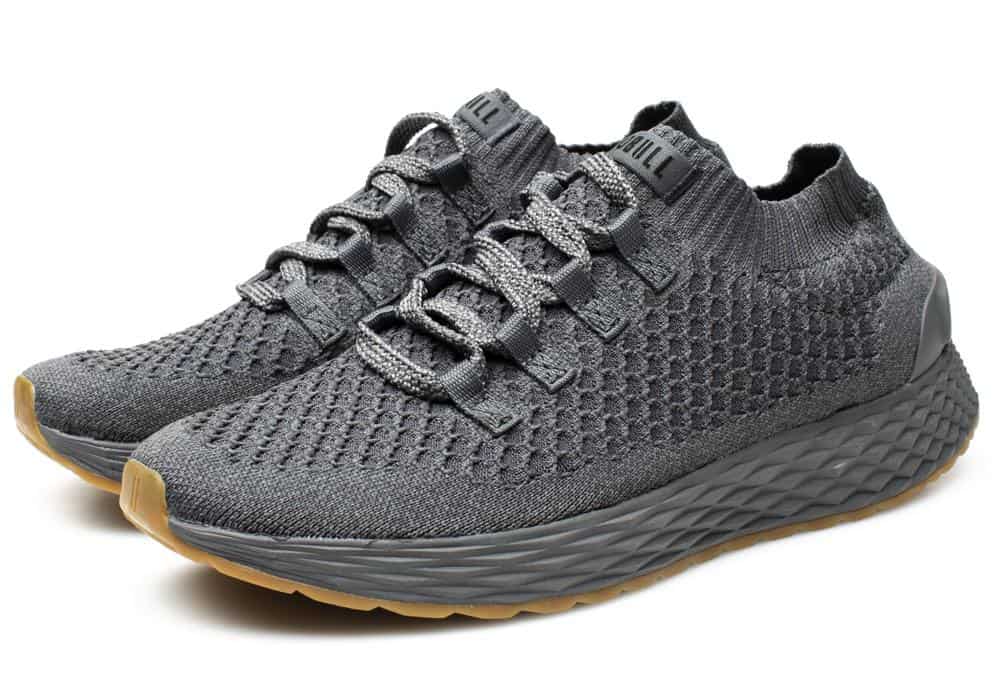 This is a classic runner's shoe – 10 mm heel to toe drop, anatomical sock liner for a perfect fit, and very lightweight.
NOBULL Trainers – In Summary
The NOBULL Trainer from NOBULL shoes is a good-looking, versatile, and comfortable shoe.
Made with SuperFabric – they are tough. They are also designed to accommodate the kind of workouts required by CrossFit.
They are also very light-weight – they are almost 2 full ounces (per shoe) lighter than the Nike Metcon 5 or Reebok Nano 9.
Many people buy these for casual wear – but they are still versatile training shoes for the WOD, so give these shoes a try for your next workout.
And, this is the only pair of CrossFit Training shoes available in a mid-top and high-top version as well – for those that prefer it.
Photo Credits
Some product imagery on this page is property of Rogue Fitness and provided by Rogue Fitness.
This website is not affiliated or associated with CrossFit, Inc. CrossFit is a registered trademark of CrossFit, Inc.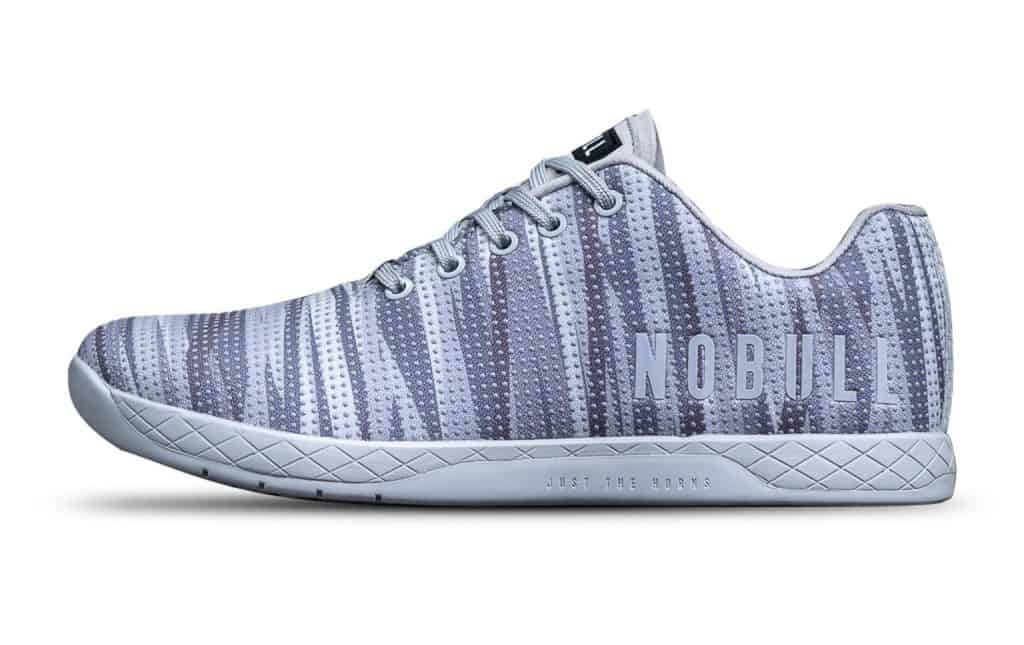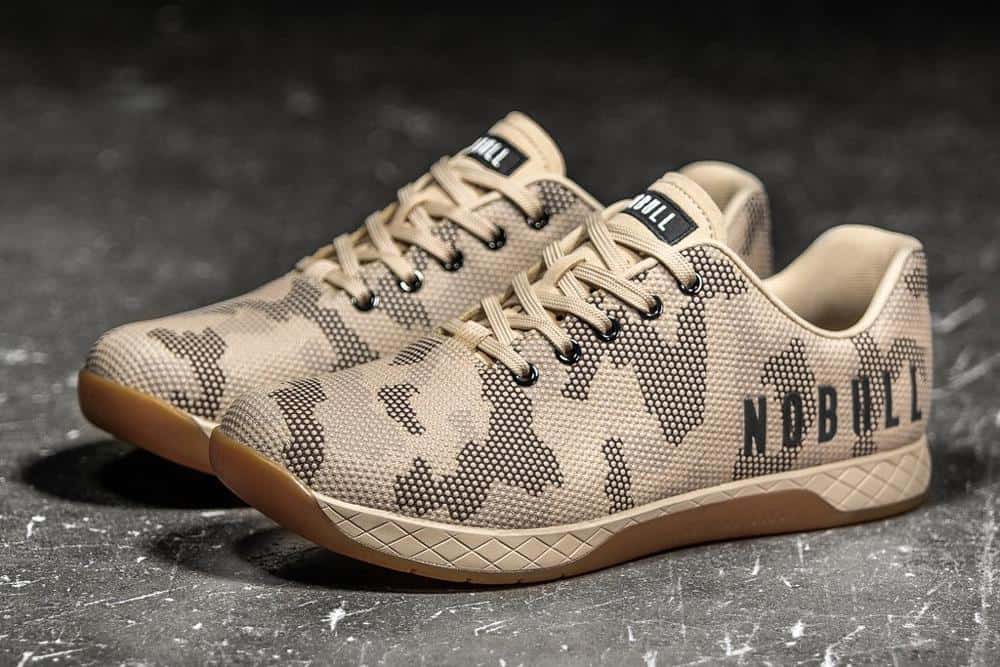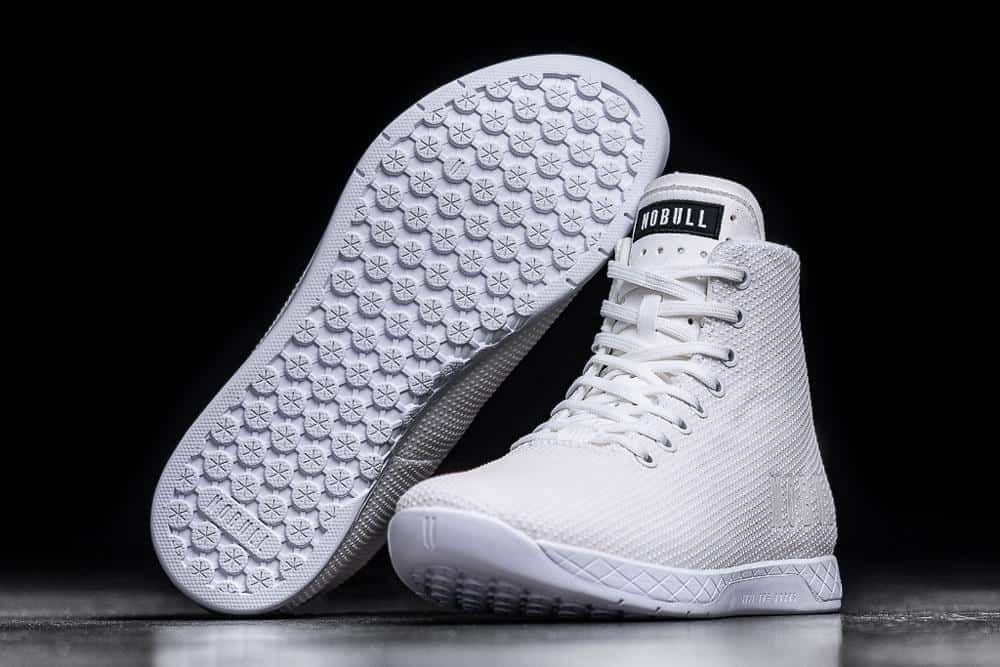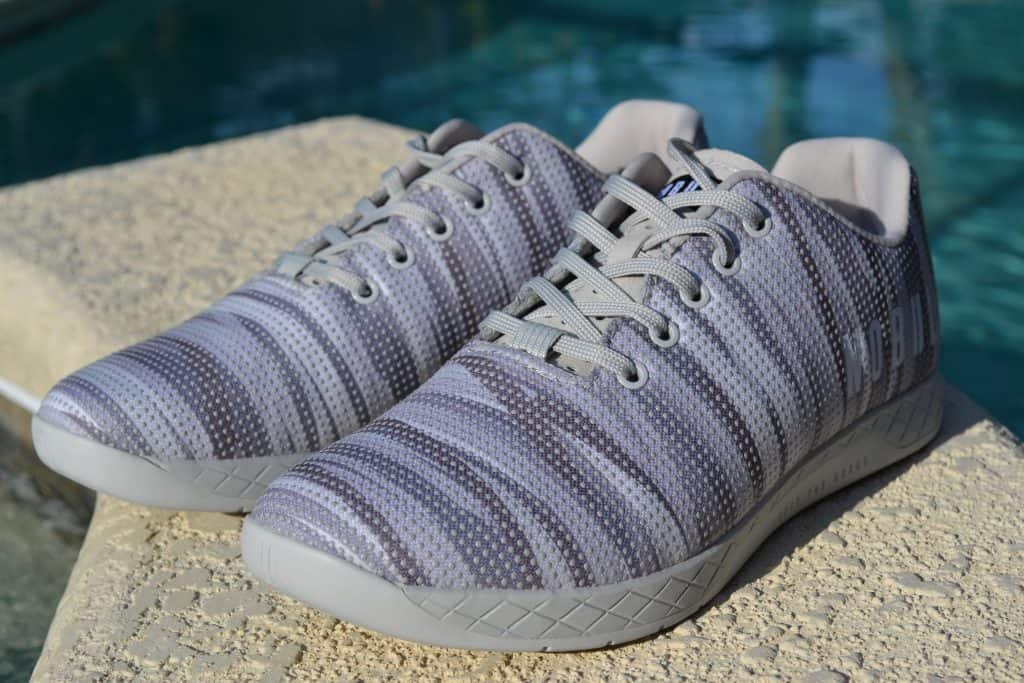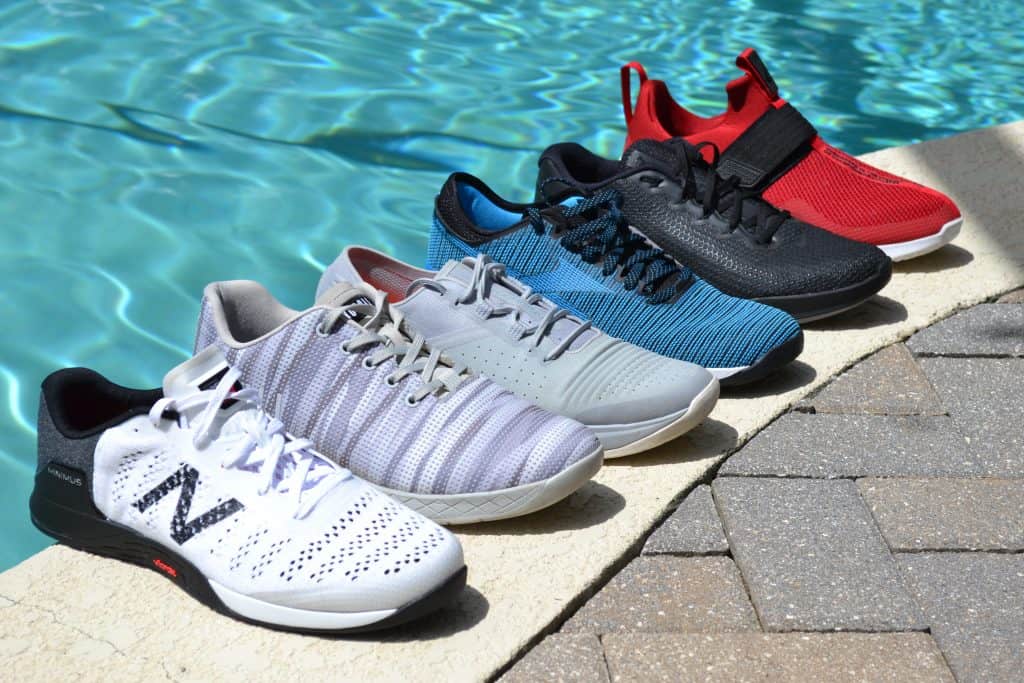 Tim is the founder of FitAtMidlife.com – an avid gym rat for 30+ years, he's a reviewer of many, many shoes – and founder of the Speed Bag Gathering – the world's only gathering of speed bag punching enthusiasts.  See more gym reviews at Tim's YouTube channel.