The Nike Metcon 9 is here and this is our hands-on review of Nike's premier CrossFit-style training shoe.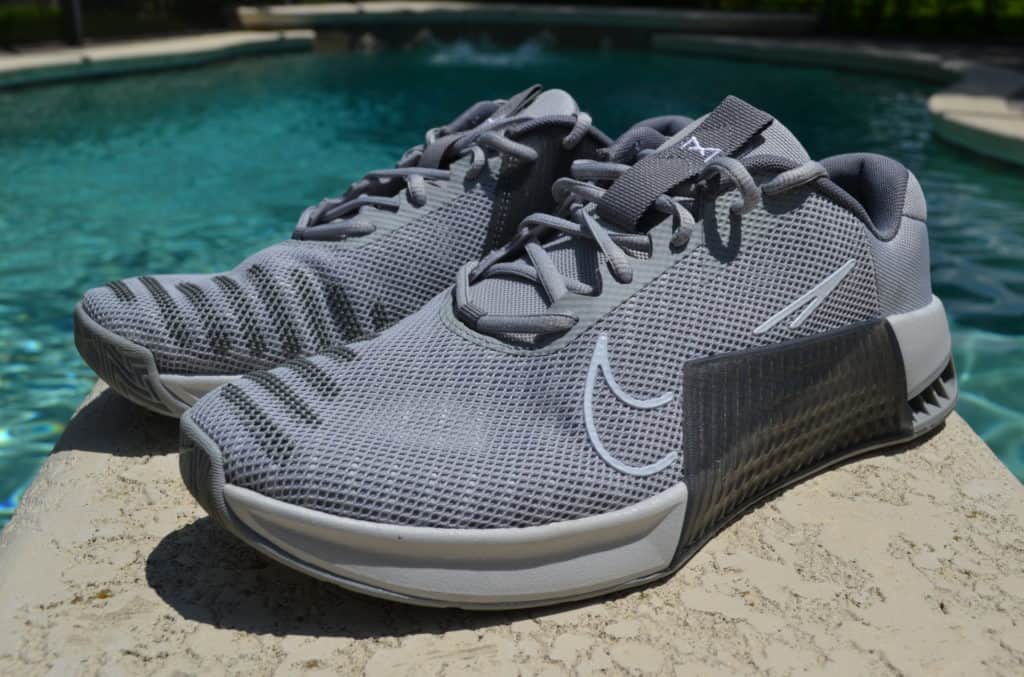 The Metcon series is Nike's ultimate, well-rounded cross-training shoe. The series is known for its enhanced flexibility for sprints and box jumps, greater stability for weightlifting, solid traction for sled pushes and rope climbs, breathability and comfort for distance running, and durability for everyday abuse. Because of its popularity and versatility, the series is now on its ninth iteration, with some upgrades and improvements.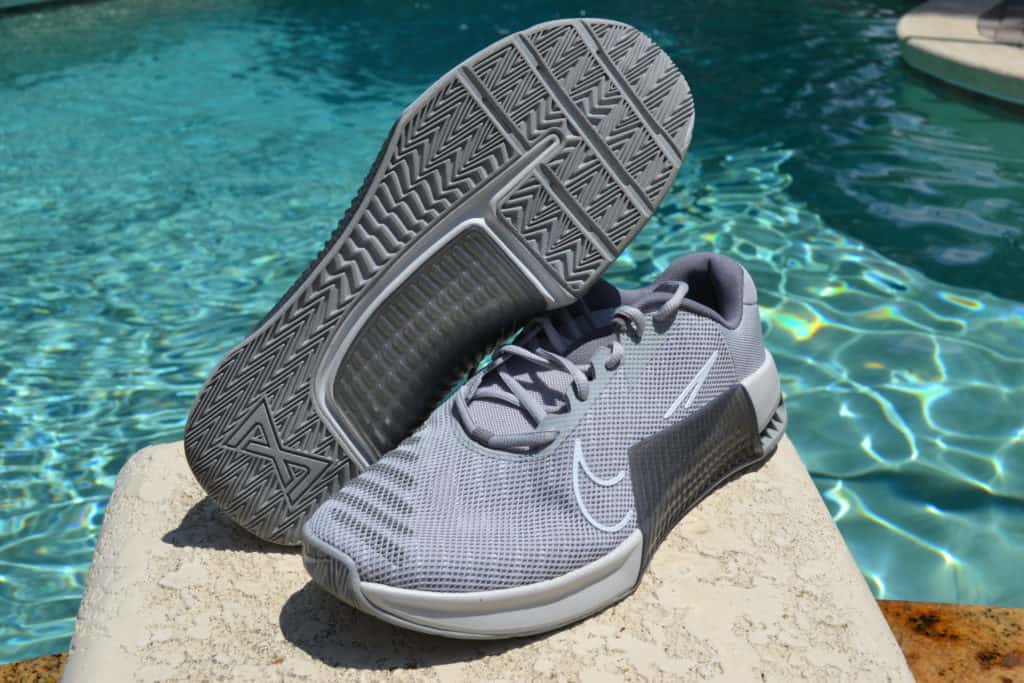 The Nike Metcon 9 – new for 2023:
First, let's take a tour of the shoe.
Nike Metcon 9 – Overview
What's new? It's the larger Hyperlift plate and added rubber rope wrap. Nike made it even bigger for stability when doing hard workouts like deadlifts, split squats, and other lower-body exercises. The plate helps force weight down and out while adding toughness to the heel. This toughness makes you feel grounded and supported, particularly under heavier loads.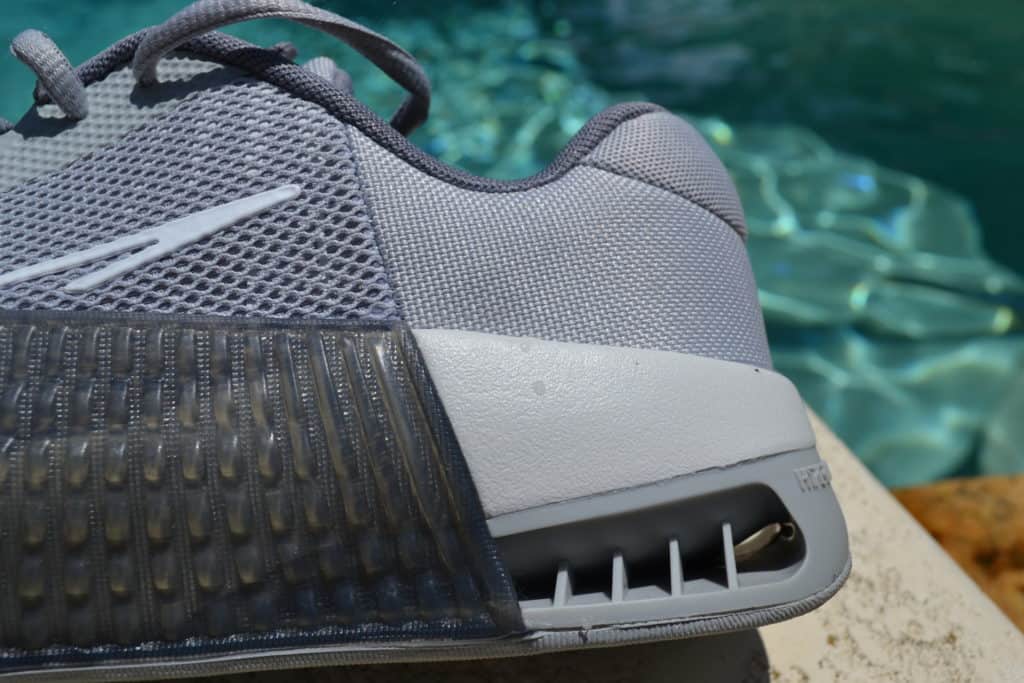 Be aware that "Hyperlift" isn't what it used to be. Since the Nike Metcon 7 "Hyperlift" refers to the stiff heel plate in the shoe (as opposed to the drop-in heel raises that came with the Nike Metcon 5 and 6.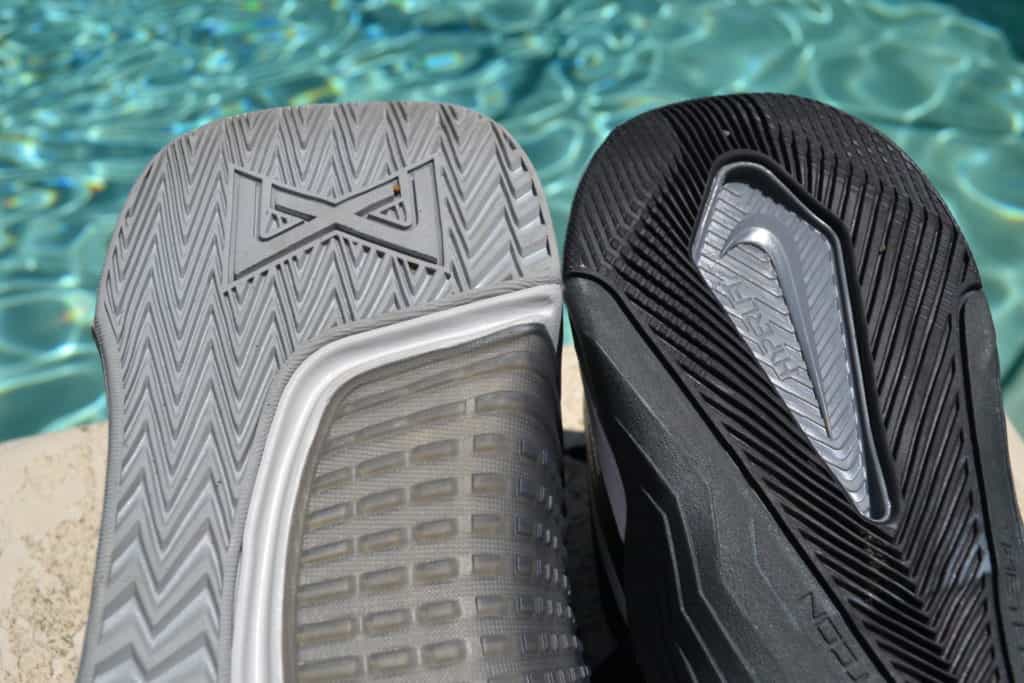 The rubber wrap on the side was extended for durability and support so you can mount any rope climb with the same repeated velocity without concern about wear and tear. It stretches from the midsole to the upper and adds some support in the upper for multidirectional movements. The upper has a more reinforced toe cap and a wider upper area than the previous version.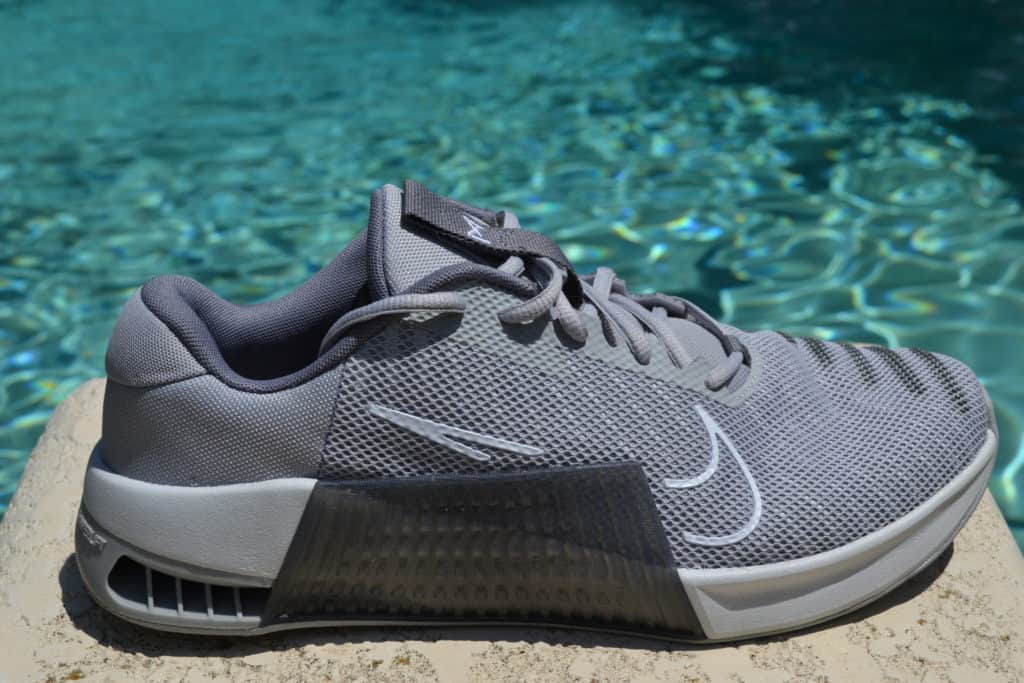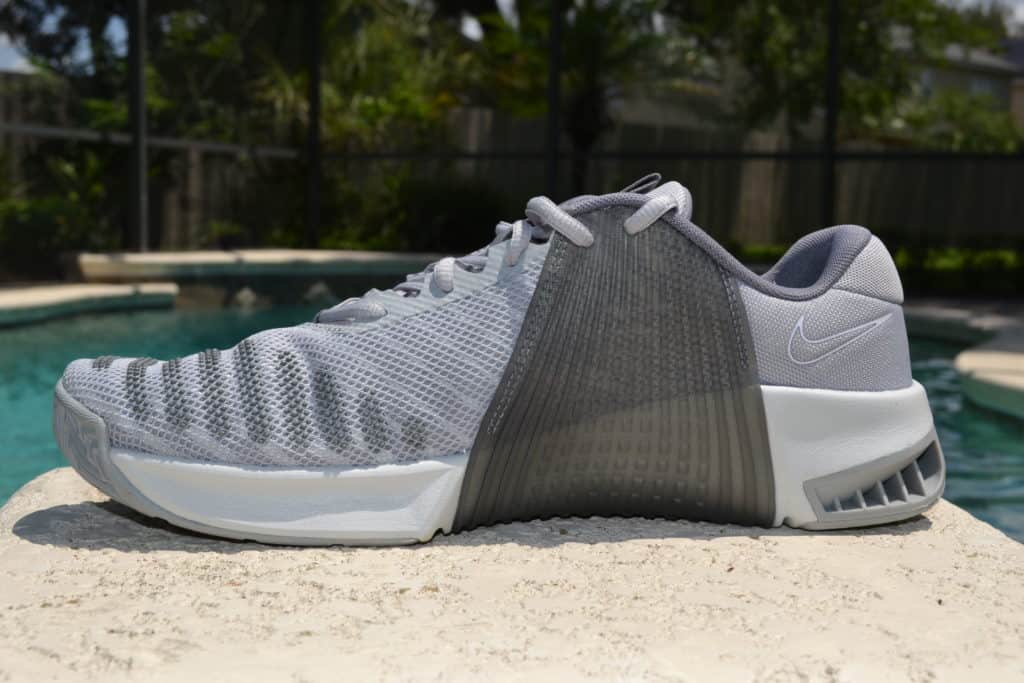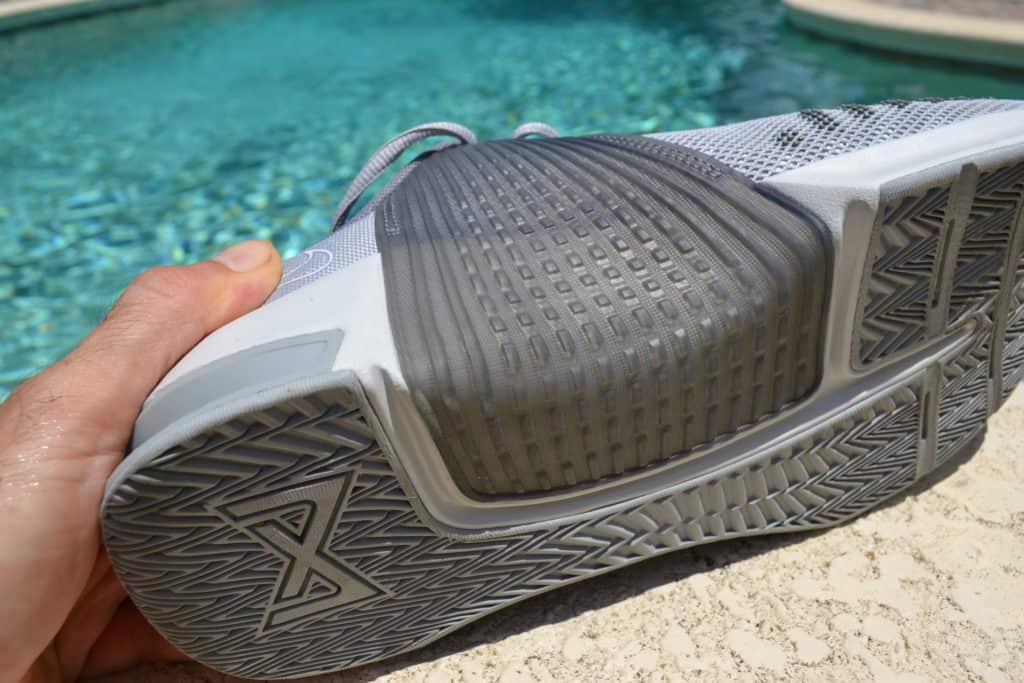 The upper is new. Functionally, it's very similar to M8 and M7. Thick, tough, and not particularly breathable. (Unlike the M6 – which had big ole holes all over).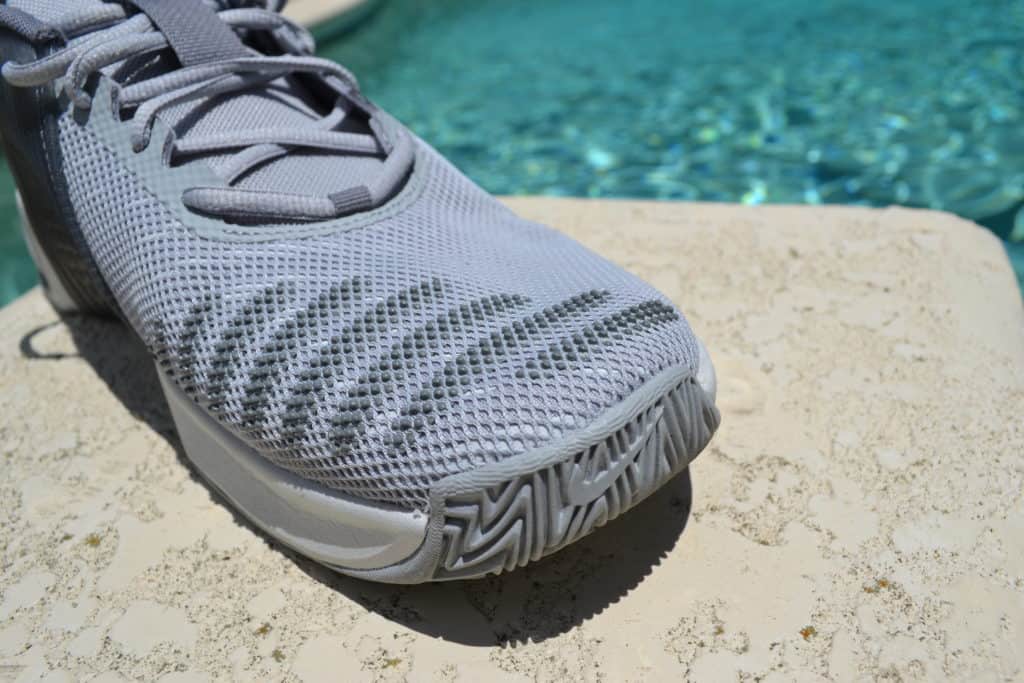 Another interesting feature of the new Metcon is the outsole. It still uses full rubber to provide durable traction for dynamic movements like cleans and walking lunges. There's lots of surface area for great traction. And it's good on turf too – which was a weakness in some of the earlier metcons (the M3/M4 was kinda slippery on turf).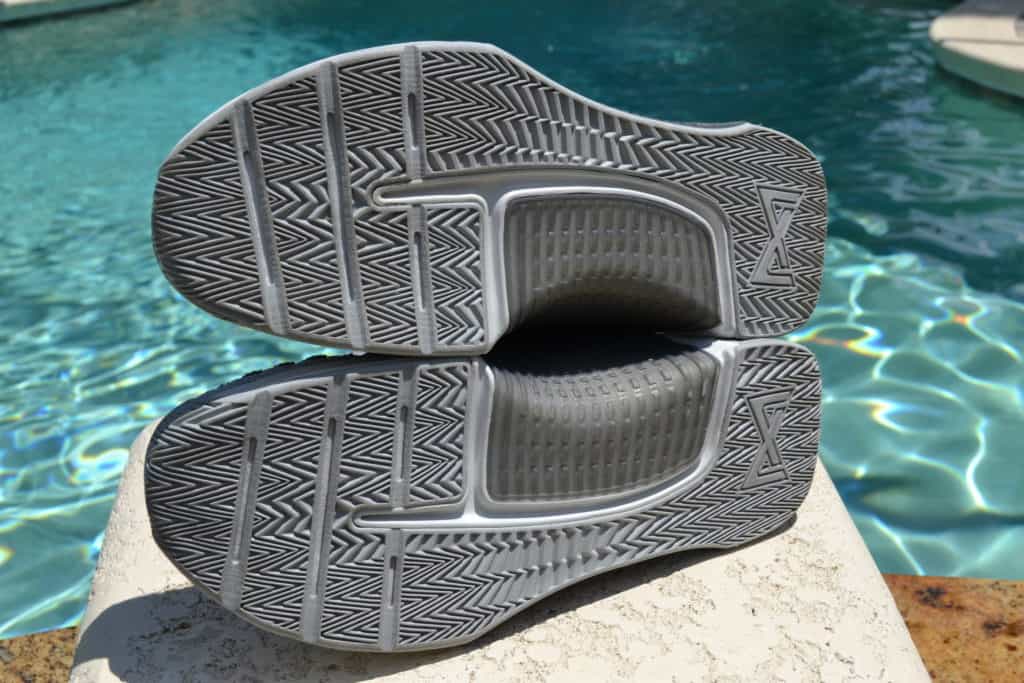 The heel area has increased protection to provide more stability, identical to the previous version but with more cushioning. The midsole uses a dual-density foam that is firm on the outside and soft on the inside to provide responsive cushioning for lasting comfort when you're tortured on cardio and other movements. The lace lock system of the Nike Metcon 9 is also somewhat revised and is now attached to the shoe tongue to keep your laces in place.
Nike Metcon 9 also comes in the AMP and EasyOn versions. The AMP version is the fancier-looking version of the Metcon. It has a visual upgrade with bolder styles and different colorways and also uses new materials. With this, you'll pay a little extra for the superior look. The other version is EasyOn, which has the Nike FlyEase technology to help make your Metcon 9 easy to put on and take off.
We did not review the AMP version of the shoe – but historically the AMP is a style upgrade with no functional improvements.
Nike Metcon 9 Review – Sizing
I find the Metcon shoe line to be tight in the toe area. There's just not enough width for me in my normal shoe size – so I always go 1/2 size up.
Everyone's foot shape is different though. But I can say these fit similar to the Nike Metcon 7 and Nike Metcon 8 – so if you have one of those consider getting the same size.
Nike Metcon 9 Review – Why so heavy?
There's no denying, the Nike Metcon 9 has porked up a bit. It's almost a full 2 ounces heavier per shoe – as compared to the Nike Metcon 8 and the Nike Metcon 7.
Why is it heavier? Well, that stiff Hyperlift plate probably has something to do with it. It's bigger – so it's got to weigh more. I'll be the increased mass of the wrap around rope wrap is a factor too – but I'm not going to rip the shoes apart to figure that out.
At any rate, it's a heavy shoe. But the Metcon series shoes were never light-weight – because they are built like a tank.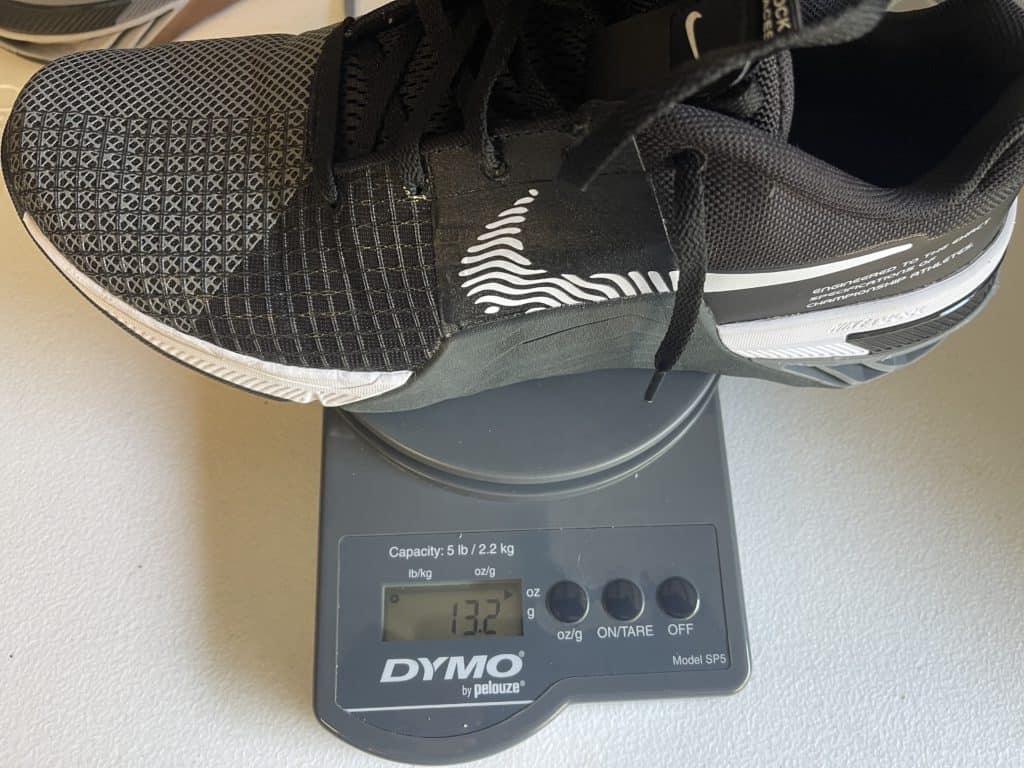 Does an extra 1.8 – 2 oz matter? It might over a long distance or long time period. All things equal, I like lighter shoes rather than heavier.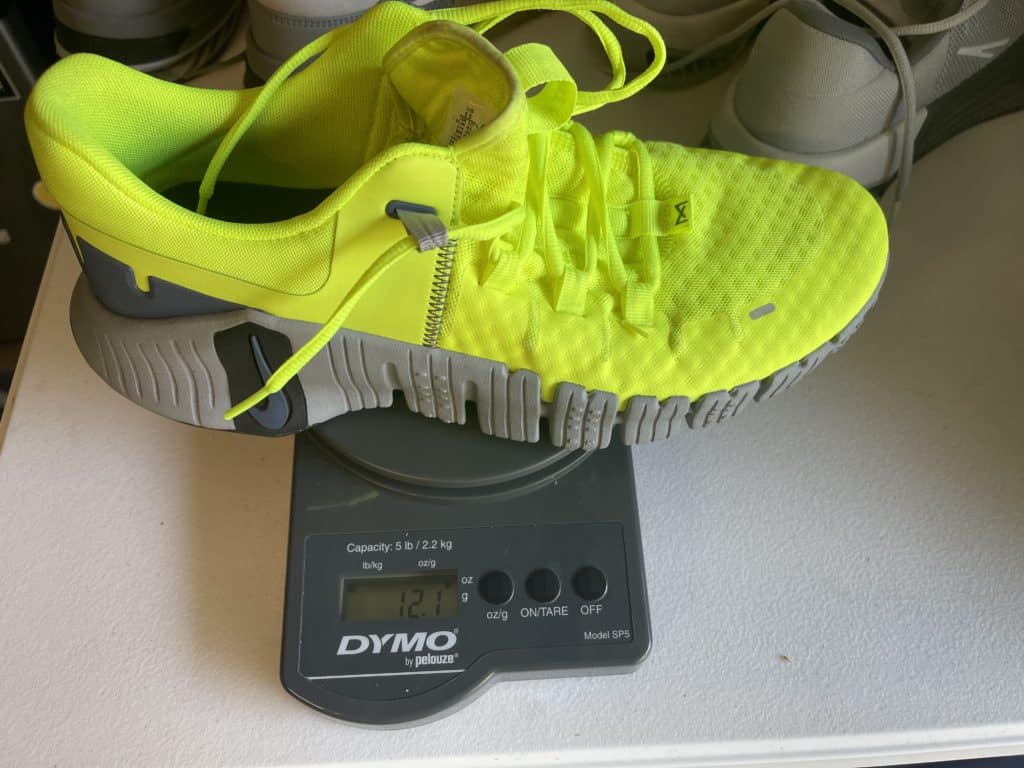 Nike Metcon 9 Review – In Summary
That's our review of the Nike Metcon 9.
Let Metcon 9 journey with you and take you to your fitness goals. This shoe makes it all worth it and is still the gold standard that delivers day after day. It is tougher and stronger with its bigger Hyperlift plate in the heel and gives you a secure feel with its lace lock system that fastens to the shoe tongue. This shoe is also durable and cool and provides responsive cushioning for lasting comfort.
Given that the Nike Metcon 9 is heavier and less versatile (and more expensive than ever) – my go to shoe for CrossFit style workouts in 2023 has been the Nike Free Metcon 5 – and I think it will continue to be.
You can read our Nike Free Metcon 5 Shoe Review to get more details on that.
Looking for more options? You can still find the Nike Metcon 7 (Recommended!) and Nike Metcon 8 in a limited set of sizes at some retailers (but they are getting very hard to find!)
More products from Nike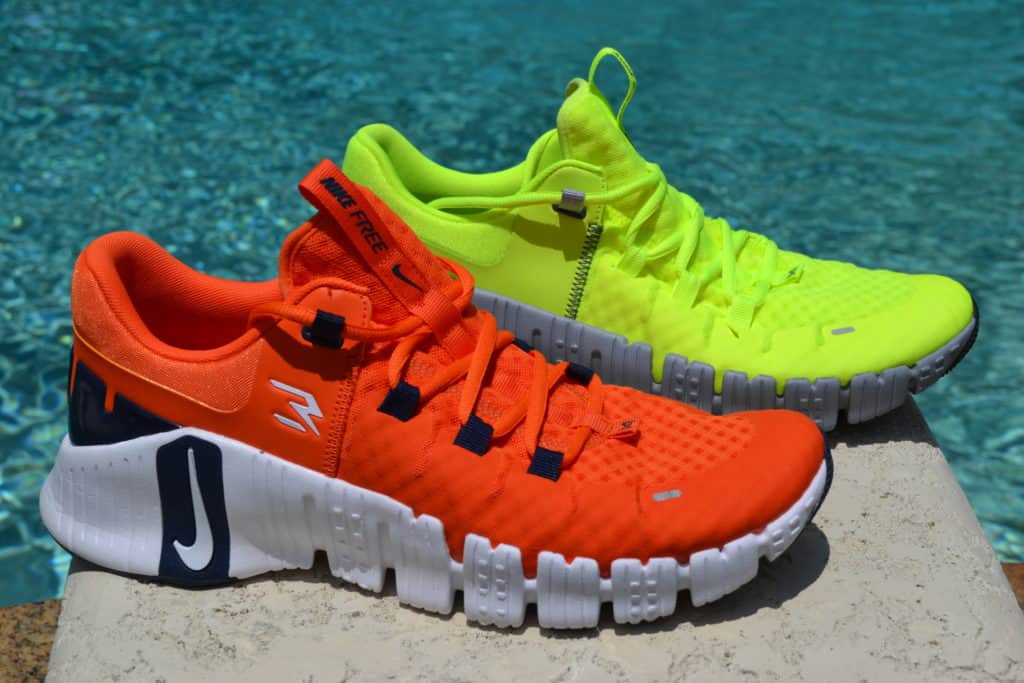 Photo Credits
Some product photos on this page are property of Nike.
This website is not affiliated or associated with CrossFit, Inc. CrossFit is a registered trademark of CrossFit, Inc.
Affiliate Disclaimer
We are an affiliate of Rogue Fitness and others that sell this training gear. If you buy clothing or other training gear after clicking the links in this article, we receive a small commission at no extra cost to you. This helps us to bring you in-depth information and content on these great training products.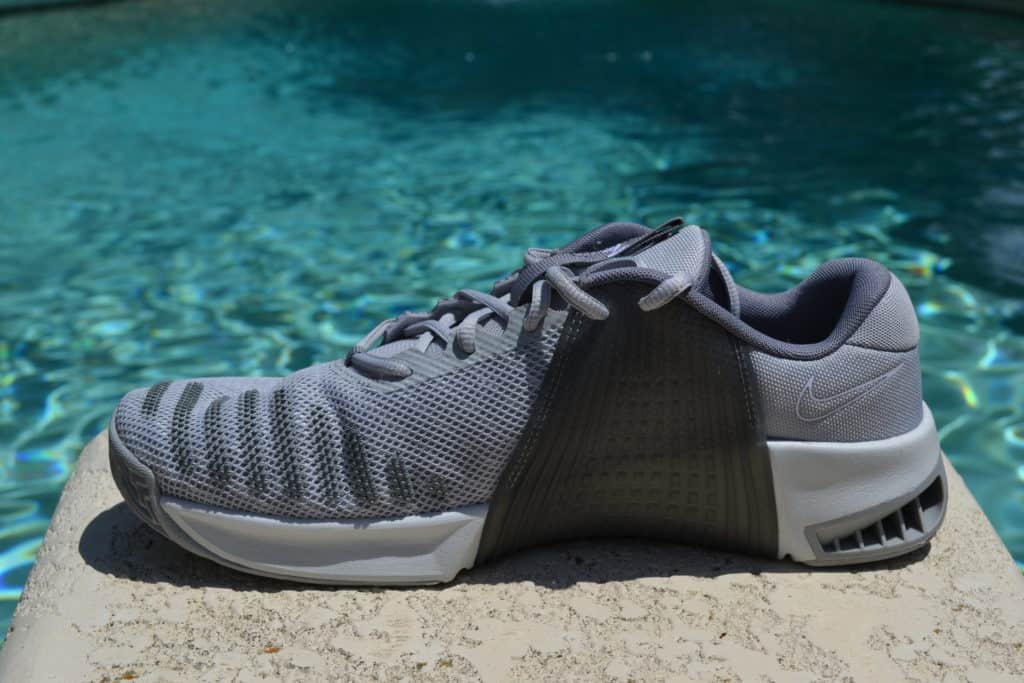 Tim is the founder of FitAtMidlife.com – an avid gym rat for 30+ years , he's a reviewer of many, many shoes – and founder of the Speed Bag Gathering – the world's only gathering of speed bag punching enthusiasts.