Rogue has the red-hot
Echo Bike
. Grab one while they last!
Here's our review of the Nike Metcon 7. Nike kept the mission of the shoe unchanged (heavy lifting) but made some big updates. Let's find out what's changed.
For this review, we bought two different pairs of the new Nike Metcon 7 (or M7) – the regular edition, and the Mat Fraser Personal Edition.
More importantly though – we put them through our tough testing process.
How does this shoe stack up to other CrossFit shoes? How does it stack up to it's predecessor (The Nike Metcon 6)? We'll have full details below.
Get the Nike Metcon 7 now, from Rogue Fitness: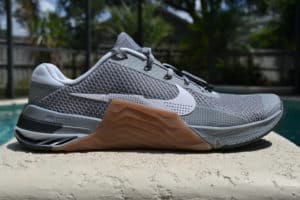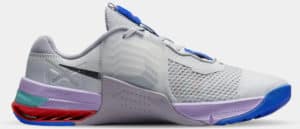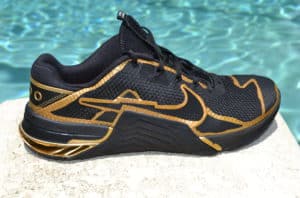 Nike Metcon 7 Mat Fraser (Black/Black-Black-Metallic Gold)
Nike Metcon 7 Mat Fraser - This is the shoe named for the multi-time CrossFit champ. It's a bold look - but that's what you should expect from the Mat Fraser Personal Edition shoe. There's no functional difference between this edition and the regular shoe.
Nike Metcon 7 Review – The Bottom Line
Here's the bottom line, right up front.
There's no more removable mid-sole, no more hyperlifts – so we're stuck with 4mm of heel to toe drop.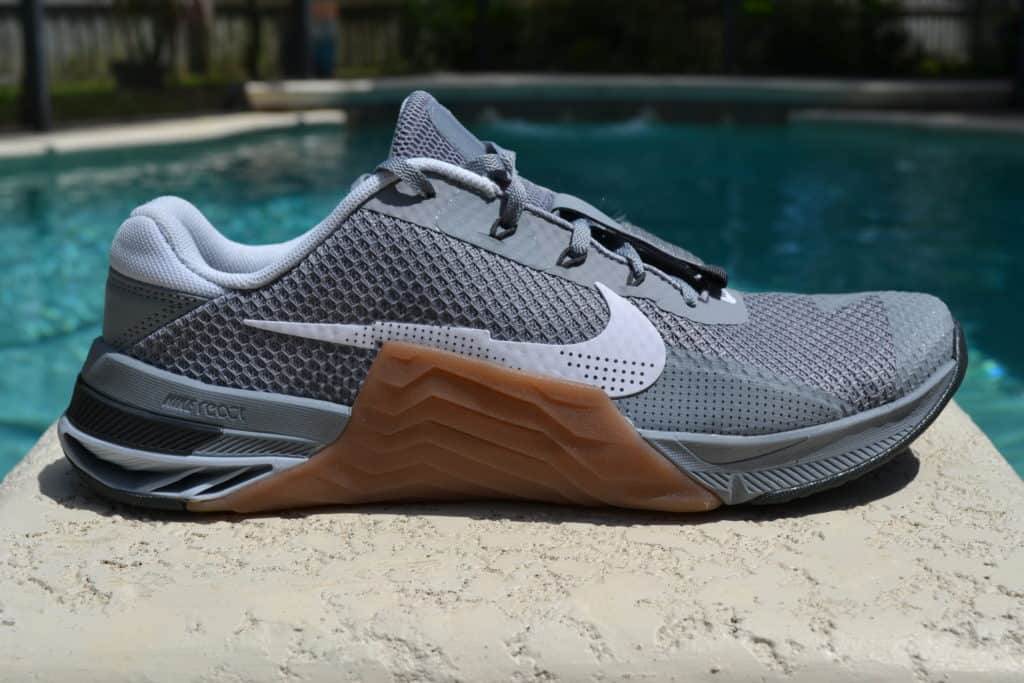 But that's probably OK, because that's what the shoe had prior to the Nike Meton 6 – and few complained.
The React foam subjectively feels less squishy and less cushioned to me than the dual-density foam from last year's shoe.
As such, this is still a rock-solid shoe for heavy barbell weightlifting – squats, deadlifts, cleans, etc.
But, it's not really stellar for high-impact activities – the repeated jarring impacts of running, sprinting, jump rope, box jumps, etc. are felt – because there is just not that much cushion.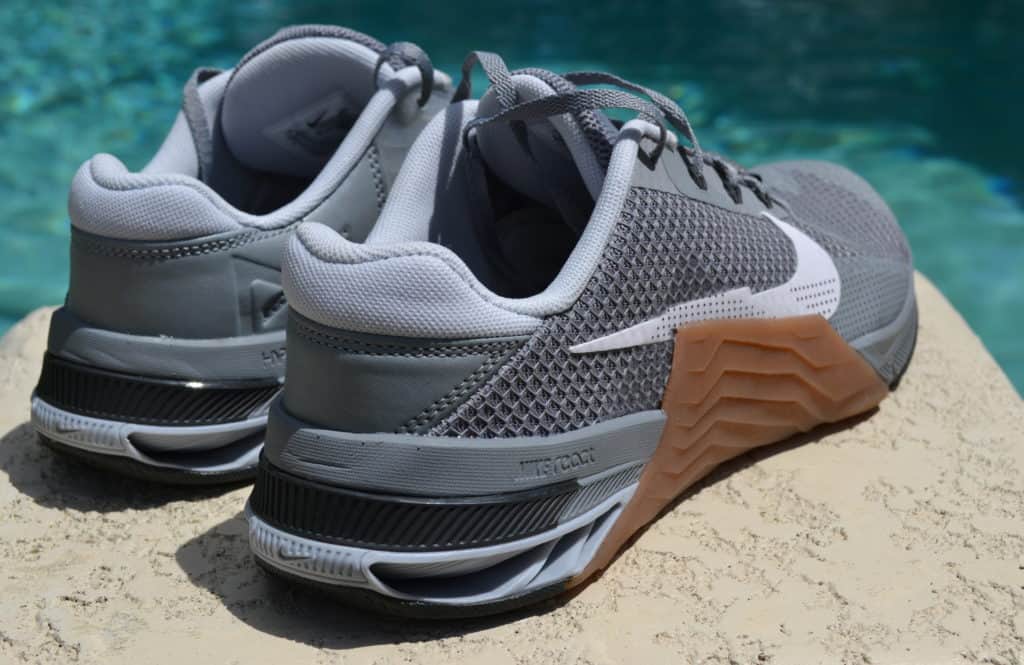 I wouldn't (and don't) run in these, but they are fine for a lot of the other things you might do in the box – assault bike, rowing, lifting, etc.
They feel narrow in the mid-foot – as have all the previous versions of the shoe.
I'm going 1/2 size up for comfort, and I'll be using these mostly for weight lifting training sessions.
These are recommended if you primarily lift heavy in your training.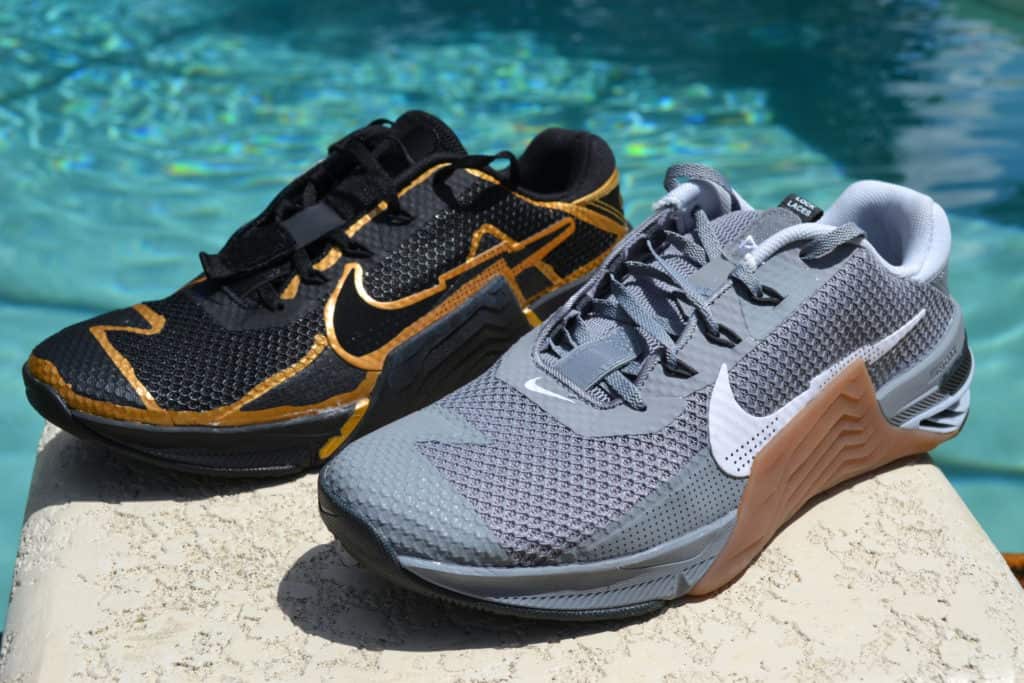 Nike Metcon 7 – Overview
Nike ditched the super-breathable upper from the M6 – but there's not much to complain about with the new shoe.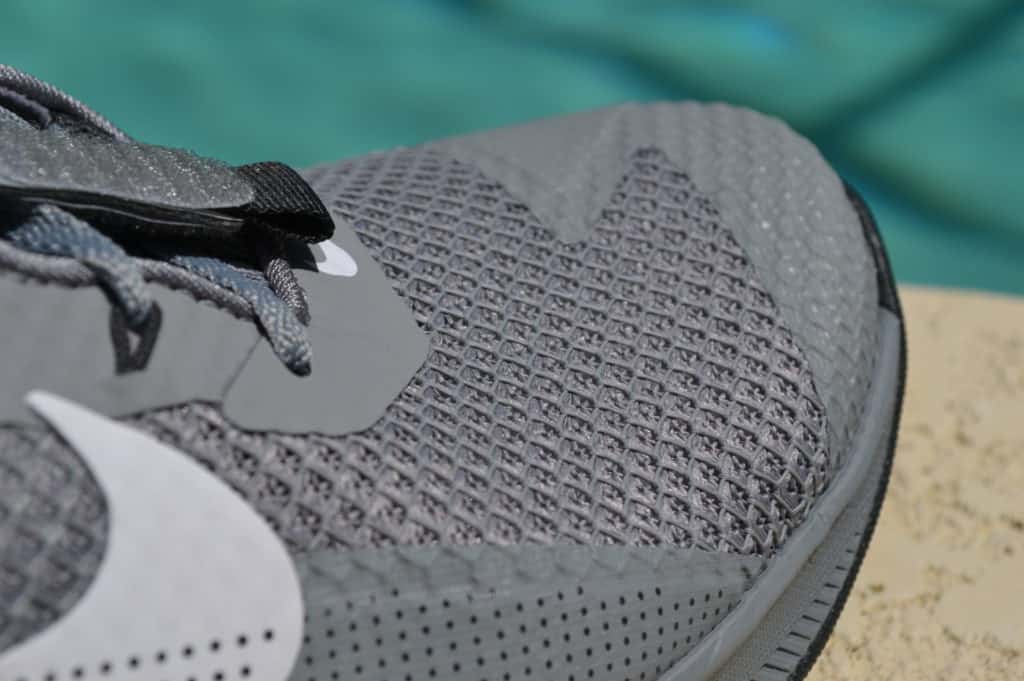 The "Rope Wrap" is still a big part of the shoe.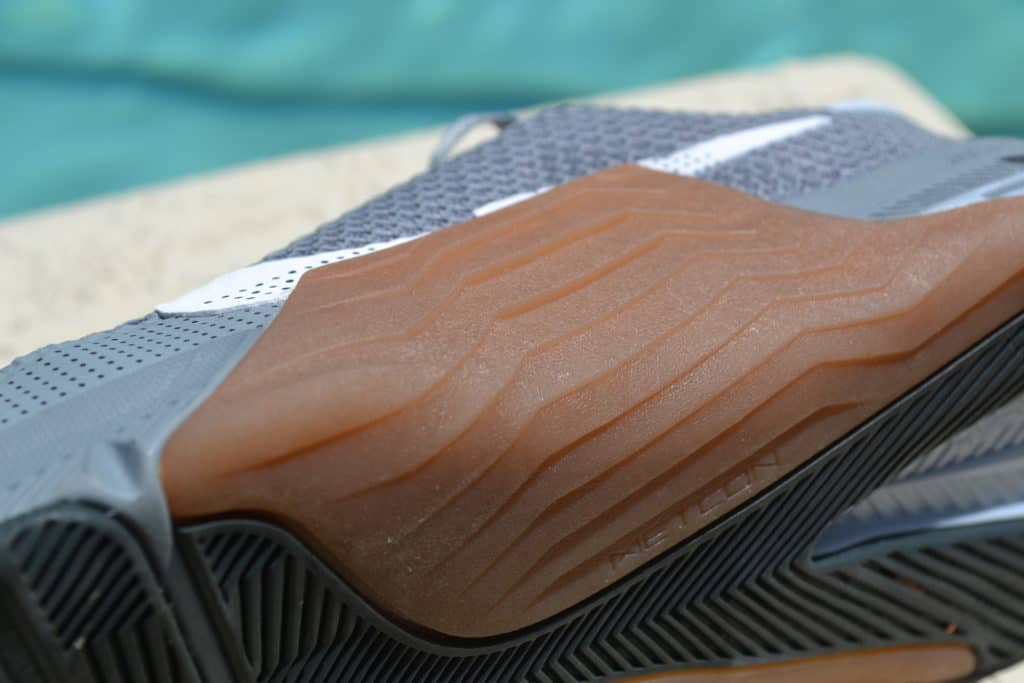 This tough wrap-around at the midfoot enables you to get a great grip while climbing ropes – and protects the shoe from getting torn up at the same time.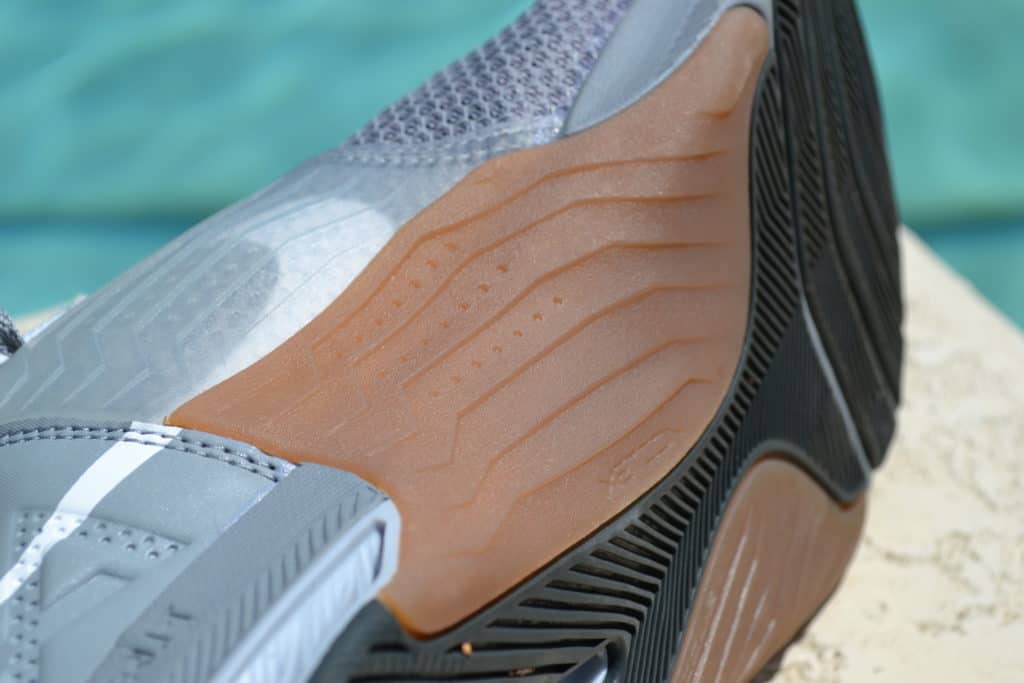 There's a need little "hook and loop" (Velcro) lace keeper.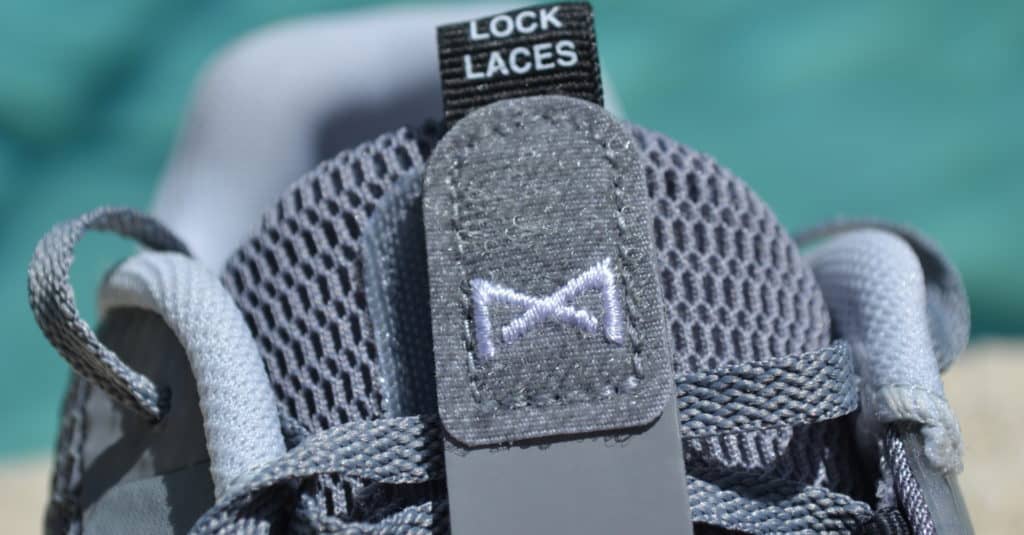 It's simple to use, but doesn't really accomplish much.
Nike kept the winning formula for the outsole – it's all rubber, very grippy and gives you max contact area on the gym floor.
THe heel is very firm in these shoes. It's a combination of the minimalistic midsole (thin React foam) plus a stiff plate that's integrated into the heel.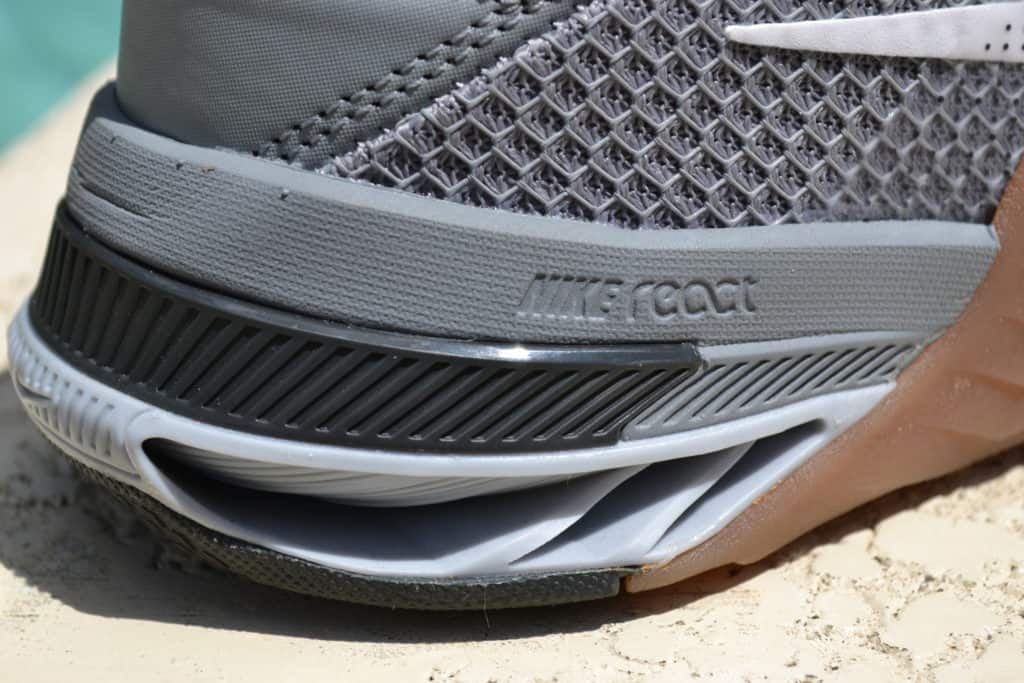 Nike Metcon 7 – How does it work in the gym?
This shoe feels like a classic Nike Metcon shoe – meaning minimally cushioned with a very stable heel.
The change to the React foam is noticeable, but there isn't much foam used. Therefore it doesn't give much of a cushioning effect.
There's no comparison to the React-based running shoes from Nike. Those use varying amounts of foam – and the ones that use a lot of foam are very cushioned.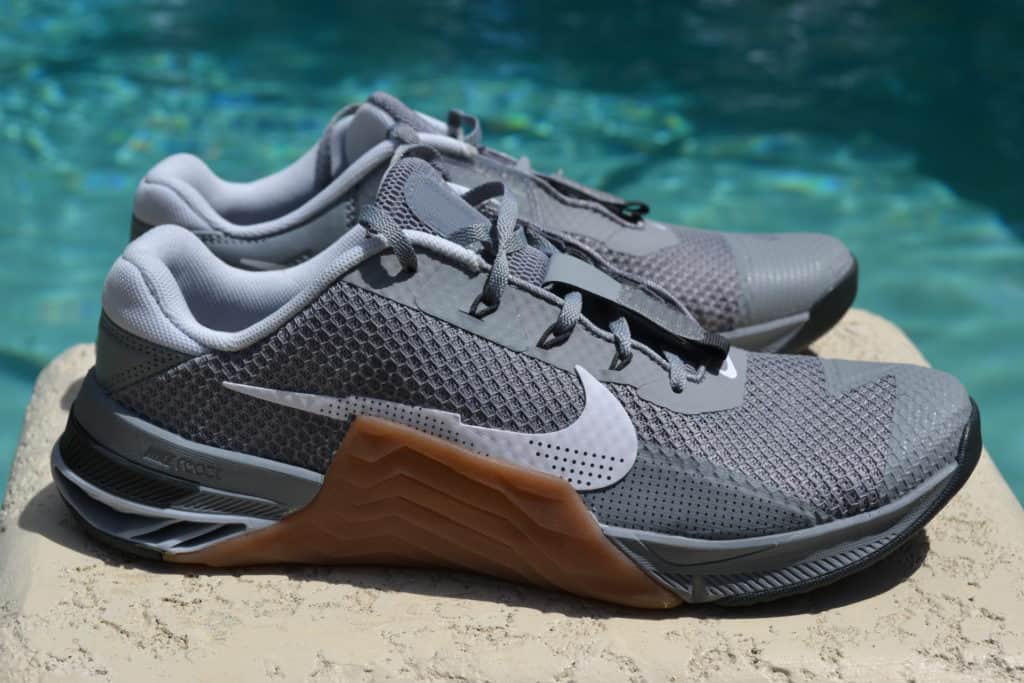 But, Nike knows what people love about the Nike Metcon: it's all about the big heavy lifts.
So while I wouldn't reach for these for running or sprinting – they are great for barbell lifts.
I am a little disappointed by the omission of the removable Hyperlifts. The shoe still has "Hyperlift" on the side – but it's just a marketing term now.
Nike claims the shoe provides 4 mm of heel to toe drop – and I can confirm that feels to be the case.
If you want more heel raise than that – you better go with the Metcon 6, an Oly lifter, or maybe drop a pair of the hyperlifts into these.
Nike Metcon 7 Fit and Sizing
I've tried these in two sizes: US Men's 11 and 11.5
Long story short – the 11s (my normal shoe size) are a little too tight in the midfoot.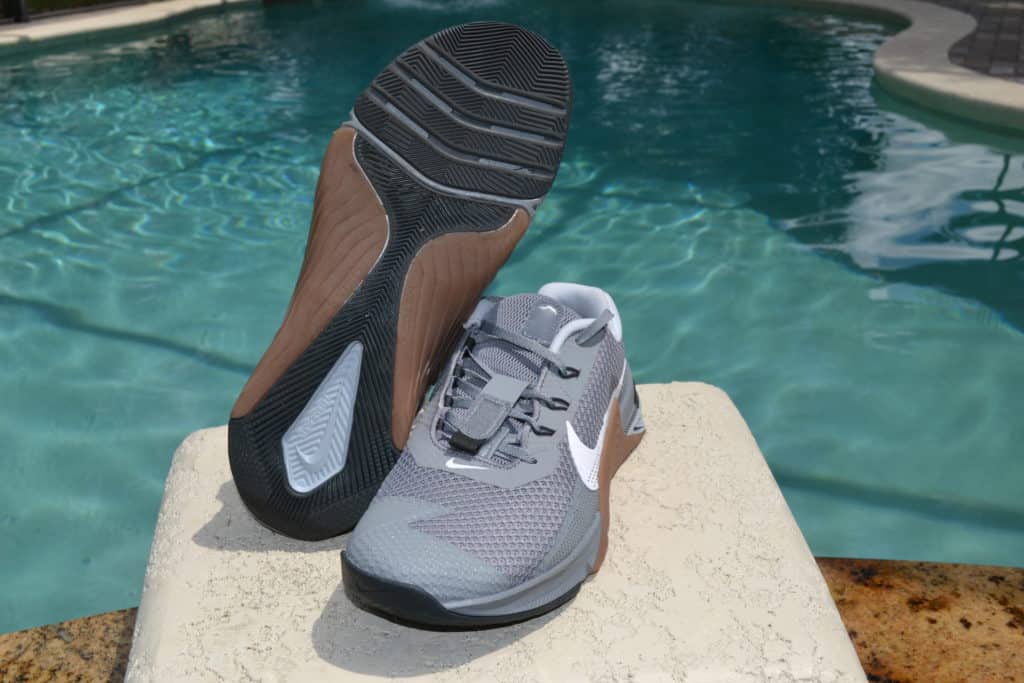 The gray pair is the 11.5s – and that's the size I'll be going with.
I'd say the fit is very similar to the Metcon 6 (and the Metcon 5).
If you are happy with how your 5 or 6 fit – get the same size. Otherwise, go 1/2 size up.
Lastly, I will say the slightly higher collar on the new M7 is a better fit for me. It feels more comfortable on my heel with no feeling of slippage.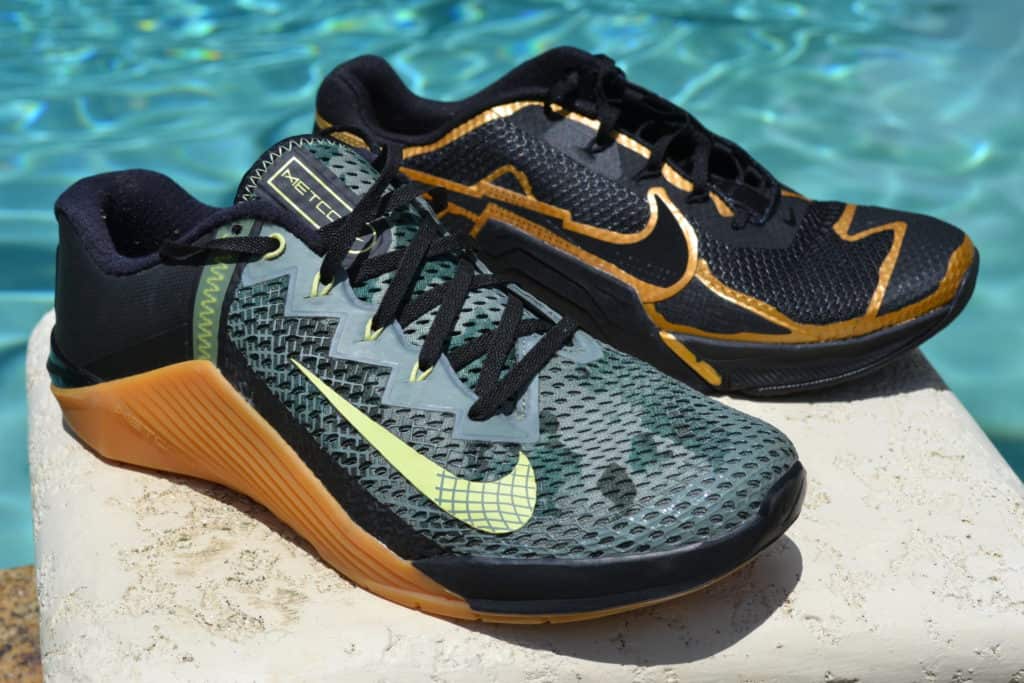 Nike Metcon 7 Versus Nike Metcon 6
How does the Nike Metcon 7 compare to the Nike Metcon 6?
In short, the Nike Metcon 7 actually feels firmer – in both the heel and forefoot than its predecessor.
Even with the React foam….
Find out more in our in-depth Nike Metcon 7 Versus Nike Metcon 6 Comparison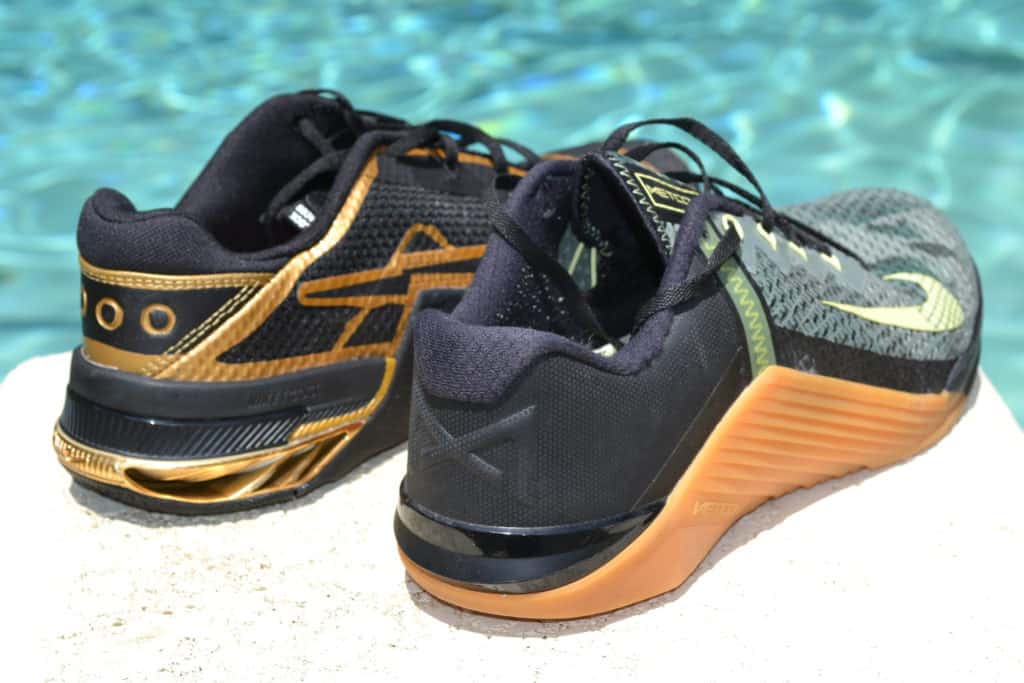 The new shoe is still noisy like the M6 was.
You'll be clip-clopping on any firm surfaces – so don't wear these to the library.
The new shoe is about 1 ounce lighter than last year's shoe.
Nike Metcon 7 Review – In Summary
That's our review of the all-new Nike Metcon 7 CrossFit shoe from Nike.
This is a great shoe for lifting.
It's passable for other things – but with less cushion than ever – so I don't recommend them for high-impact activities like running, sprinting, jumping, etc.
Want something fancier – but still effective? Nike has released some Nike Metcon 7 AMP styles that are more impressive in the looks department.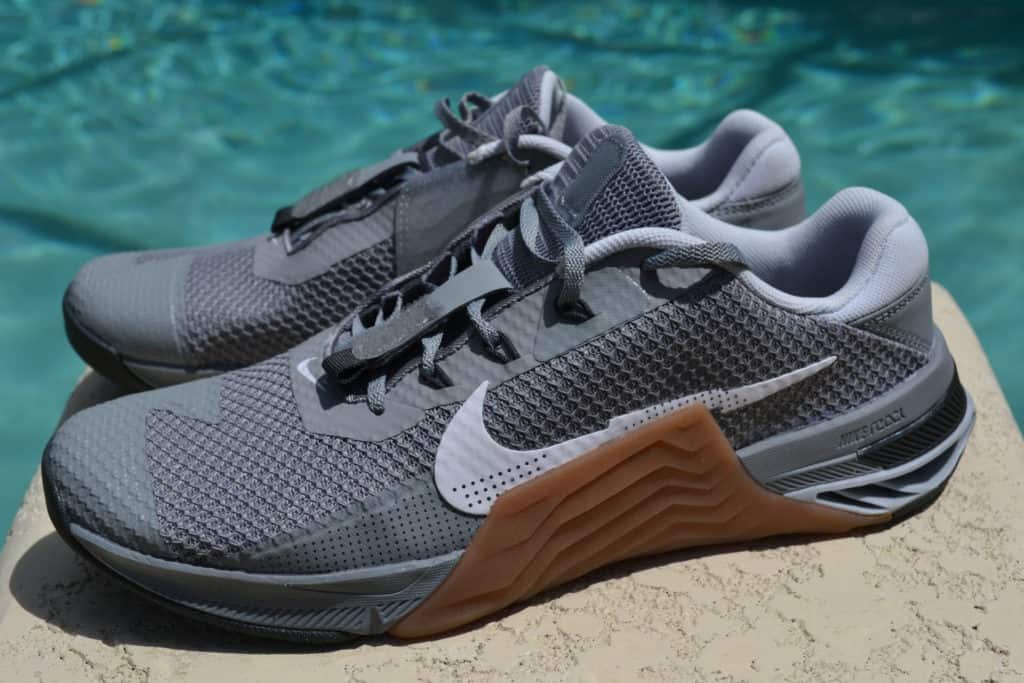 Photo Credits
Some product photos on this page are property of Nike.
This website is not affiliated or associated with CrossFit, Inc. CrossFit is a registered trademark of CrossFit, Inc.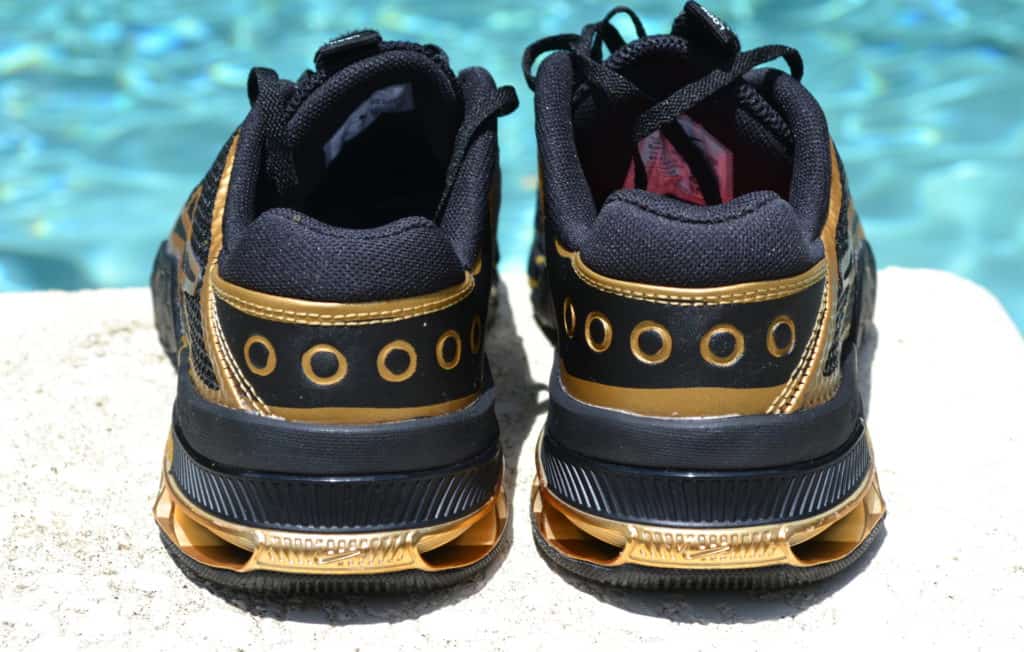 Affiliate Disclaimer
We are an affiliate of Rogue Fitness and others that sell this training gear. If you buy clothing or other training gear after clicking the links in this article, we receive a small commission at no extra cost to you. This helps us to bring you in-depth information and content on these great training products.
Tim is the founder of FitAtMidlife.com – an avid gym rat for 30+ years, he's a reviewer of many, many shoes – and founder of the Speed Bag Gathering – the world's only gathering of speed bag punching enthusiasts.  See more gym reviews at Tim's YouTube channel.