What's the big deal with the 24.7 Simple Pants – Midweight? These are GORUCK"s excellent simple pants – but with a heavier, less-revealing thickness of material.
Pants matter. They should be versatile enough to be the best pants for traveling, commuting, rucking, and training. And if you are into extreme challenges and intense workouts, pants proven at thousands of GORUCK Events are what you need.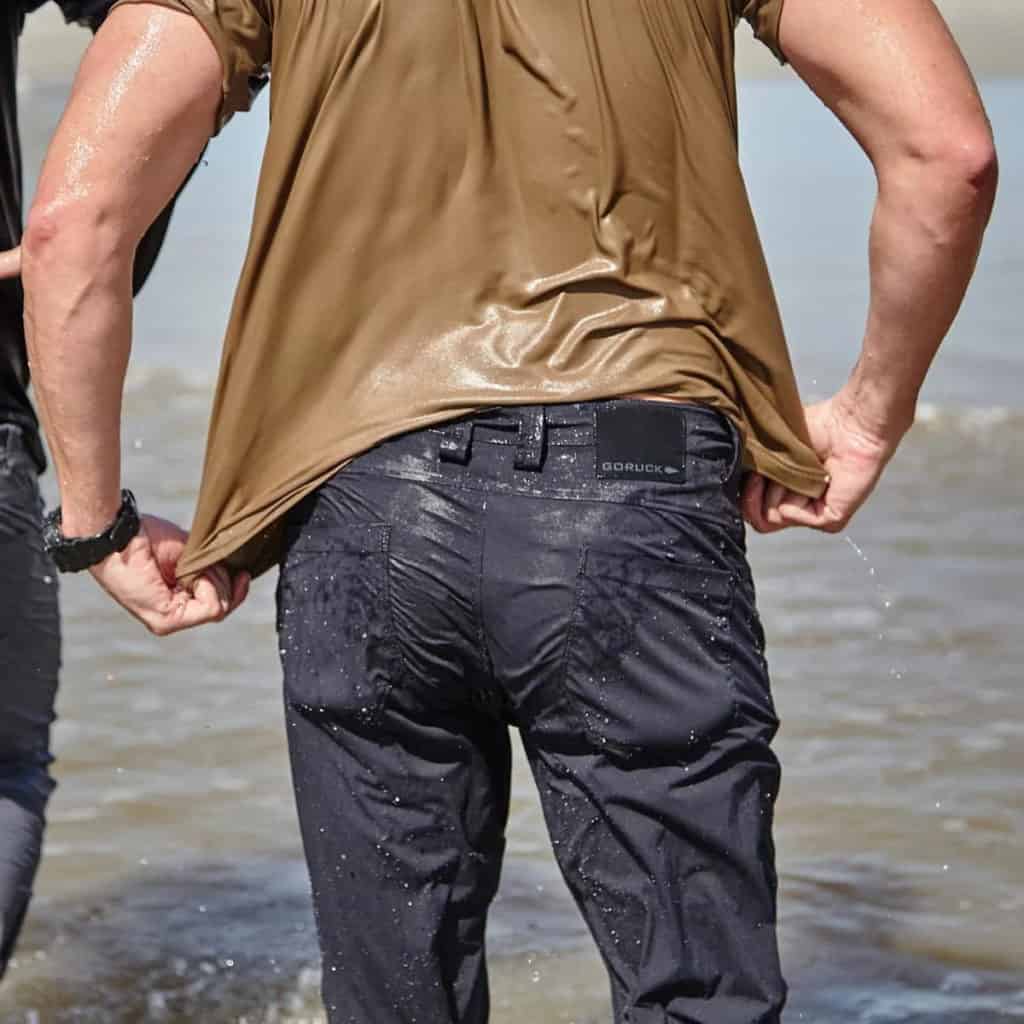 Let's cut right to the chase – how are these different when compared to the Light Simple Pants?
The Midweight Simple Pants fabric is 187 GSM – Grams Per Square Meter.
The regular (Light) Simple Pants are 125 GSM. That's almost 50% more material.
Why would they do this? The original Simple Pants are incredibly light-weight, comfortable, and stretchy. But… they could be a little TOO – let's say revealing.
This heavier weight material makes the Midweight version a bit more versatile. They are going to seem less like a pair of athletic pants.
Keep it simple and comfortable with the 24.7 Simple Pants from GORUCK:
24.7 Simple Pants – Midweight – Overview
The 24.7 Simple Pants are the combination of the best workwear blue jeans for simplicity and toughness and the tough-as-nails fabric trusted by the rock climbing industry. The ToughDry® fabric is the same material used in GORUCK's Simple Shorts and Challenge Pants.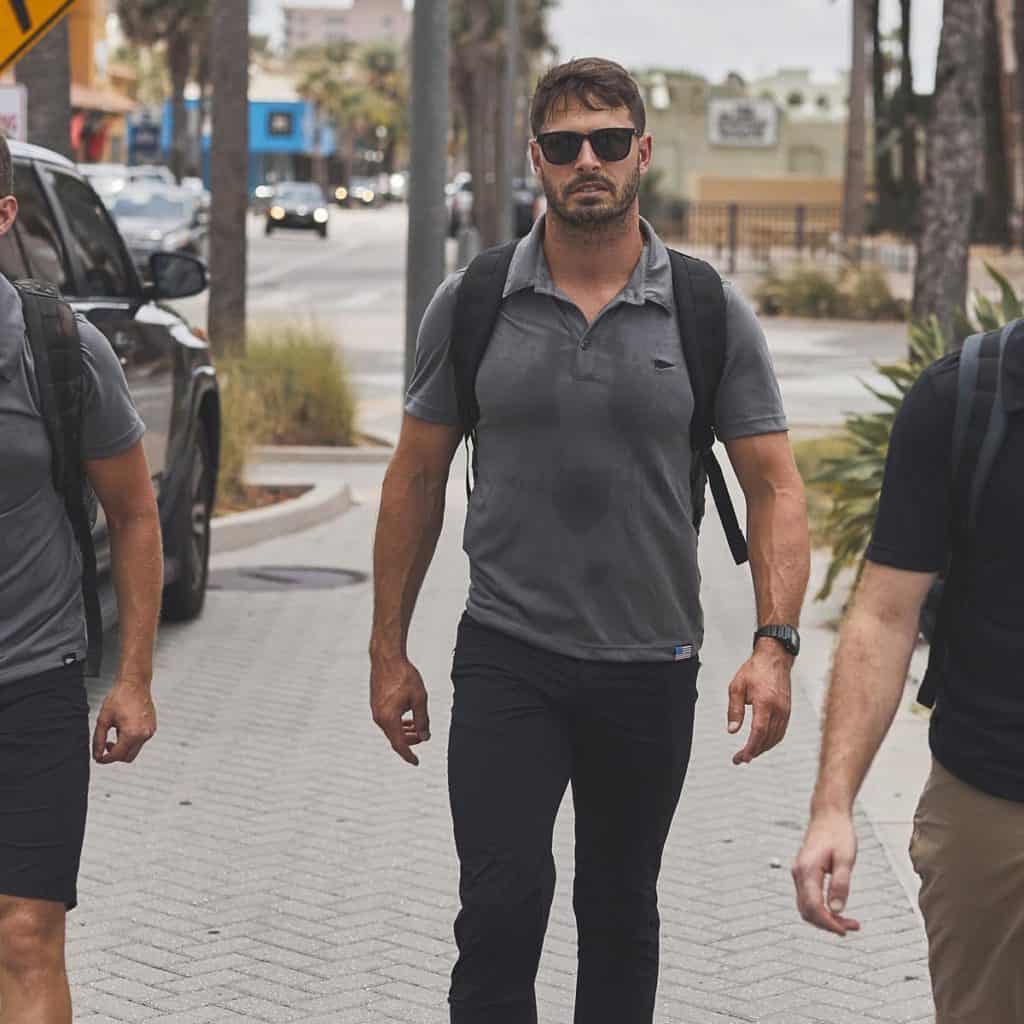 This material is fast-drying and abrasion resistant with two-way stretch. These pants weigh 187 GSM and are made from 94% nylon and 6% spandex. They are made in the USA and built to last for unstoppable adventures.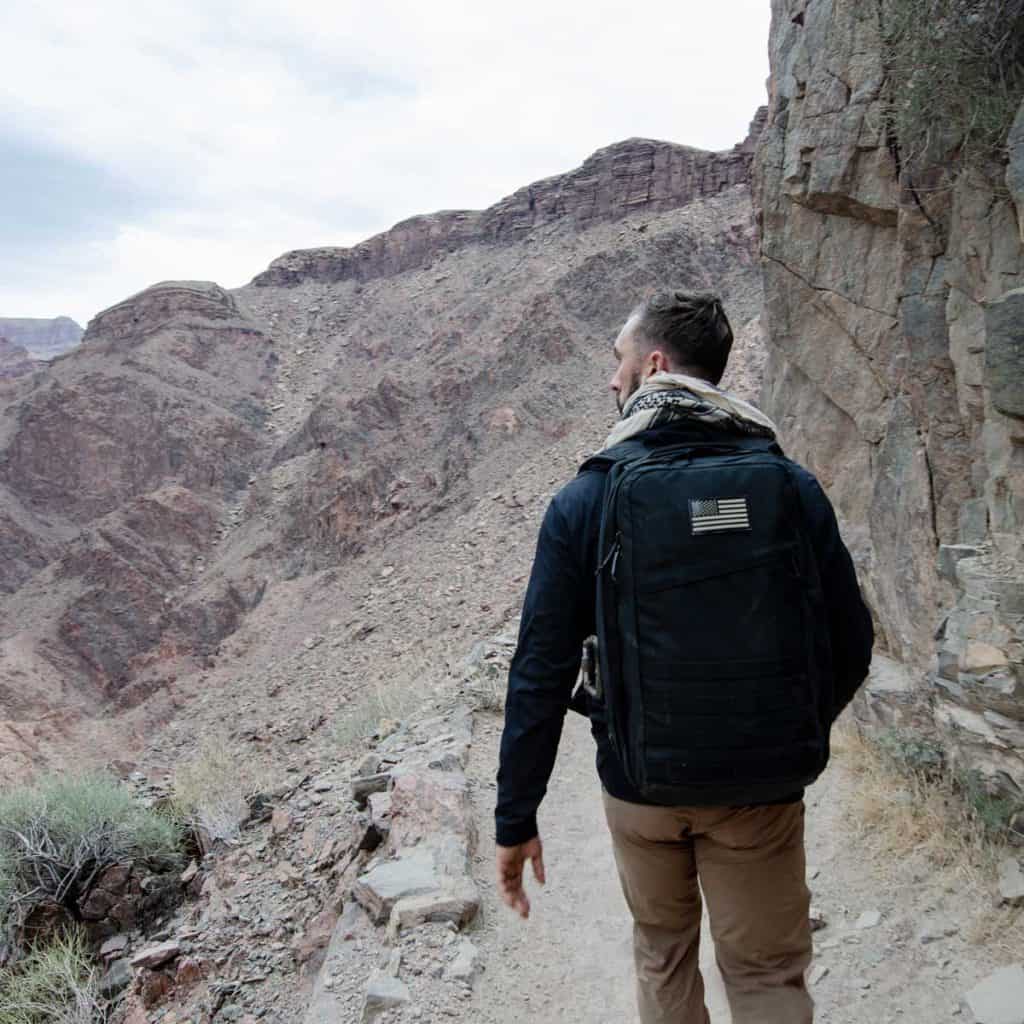 The 24.7 Simple Pants are lightweight and can be folded down to the size of a 12oz can of Budweiser. They have back pockets and horizontal pockets, so stuff will not fall. They also have finished belt loops and curved waistbands for a better fit.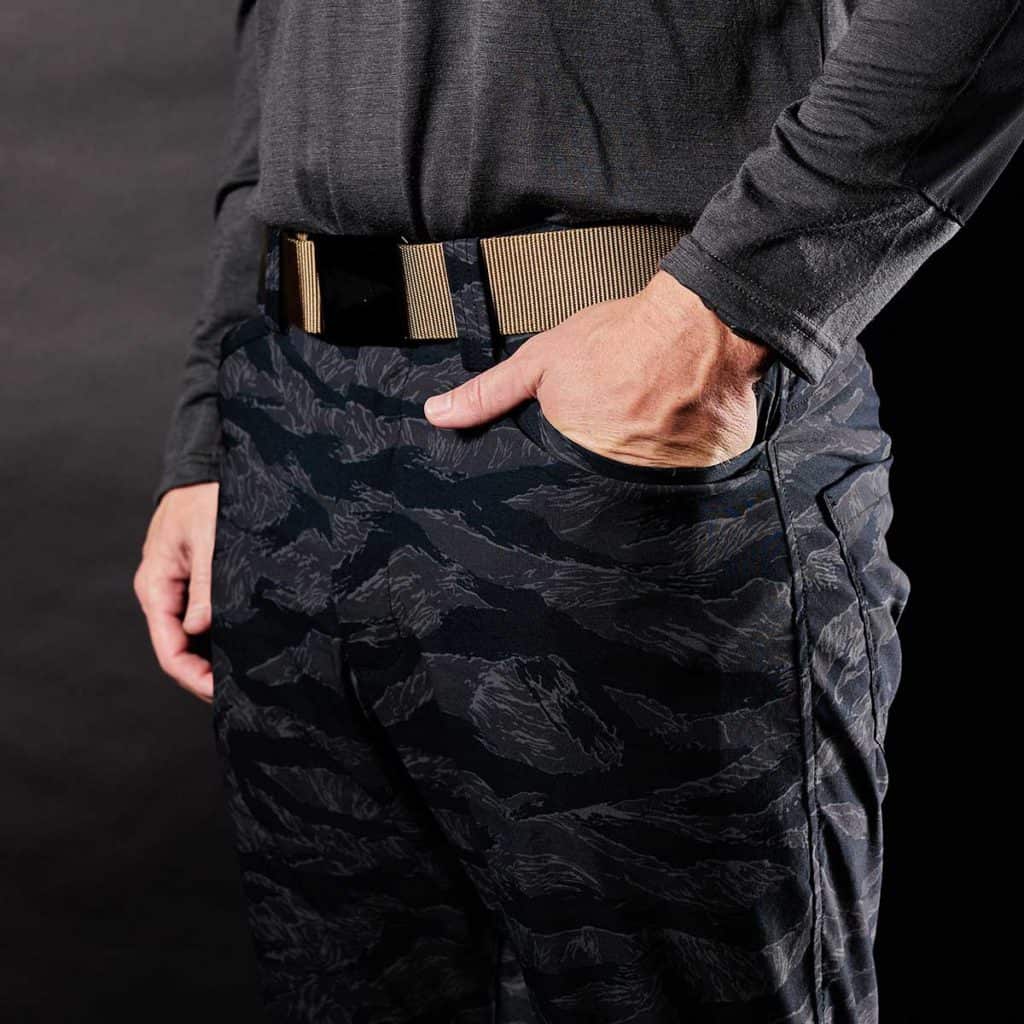 Simple Pants Versus Challenge Pants
What's the difference between simple pants and challenge pants?
Simple Pants are … simpler.
They look like an ordinary pair of jeans (but in a different material). They have the pockets you'd expect too.
But Simple Pants are not bulky – they are stretchy – and super comfortable.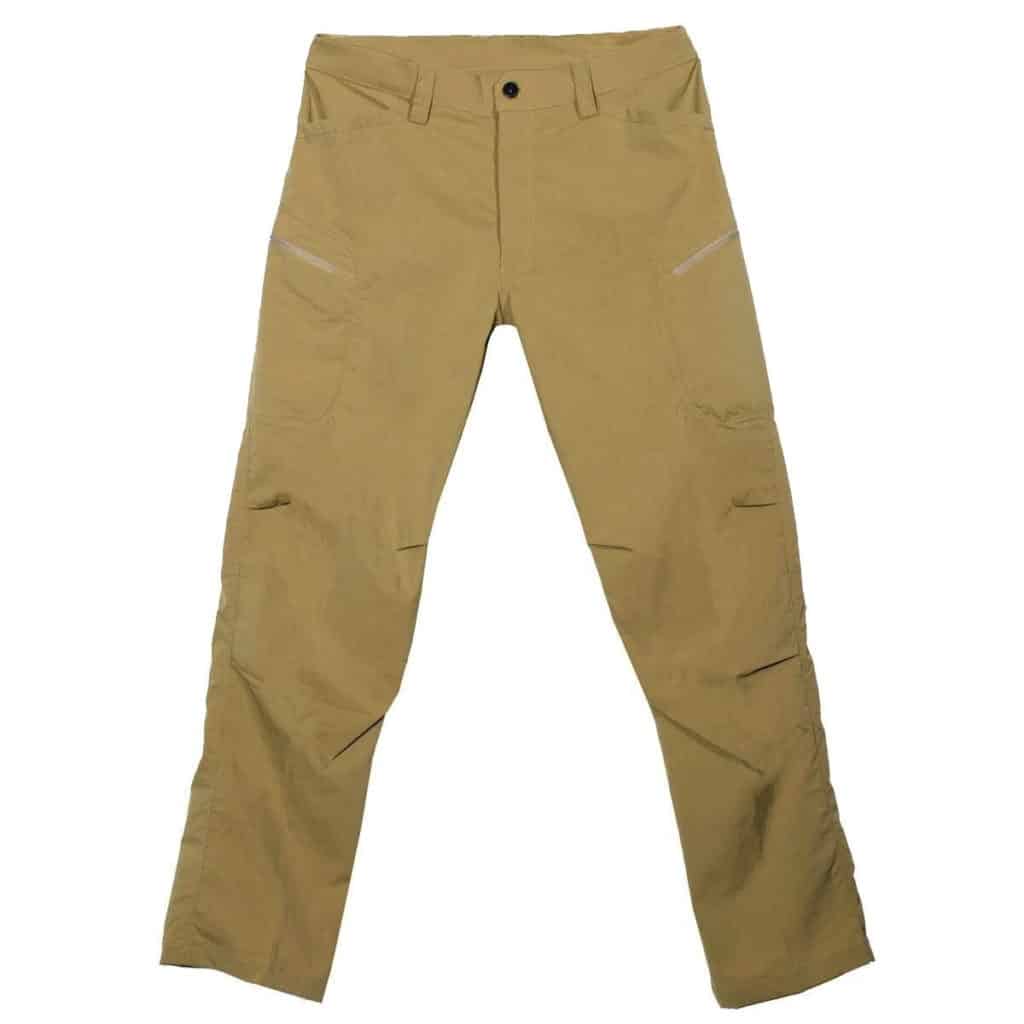 In comparison, Challenge Pants are more akin to cargo shorts.
They've got two side zipper pockets for extra storage – and the gusset in the crotch area ensures extreme comfort and ease of movement.
Challenge Pants are more expensive than Simple Pants – because there's more that goes into them.
24.7 Simple Pants – Midweight – In Summary
That's our close-up look at the 24.7 Simple Pants – Midweight.
The 24.7 Simple Pants look like high-end slacks that feel soft, like your favorite jeans. The pockets are perfectly placed, and your stuff will stay in place through all activities. The pants are available in different colors—black, charcoal, black tiger stripe, frogskin camo, and coyote brown. To back their durability, the pants come with the Scars Lifetime Guarantee.
Looking for more options? Check out these other great products:
Find out about the whole gamut of Training Pants from GORUCK.
Like the pants? You'll love these Rucking Boots from GORUCK.
More products from GORUCK.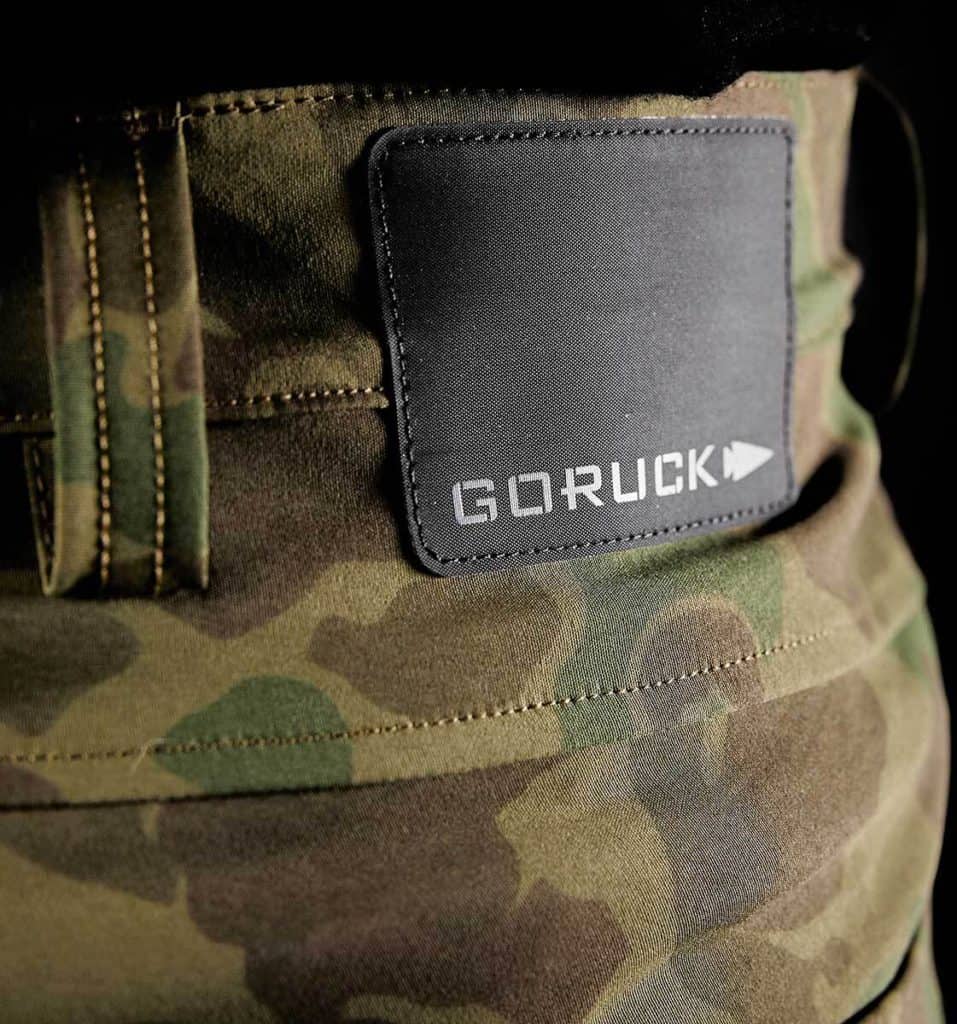 Photo Credits
Product photos on this page are property of GORUCK.
This website is not affiliated or associated with CrossFit, Inc. CrossFit is a registered trademark of CrossFit, Inc.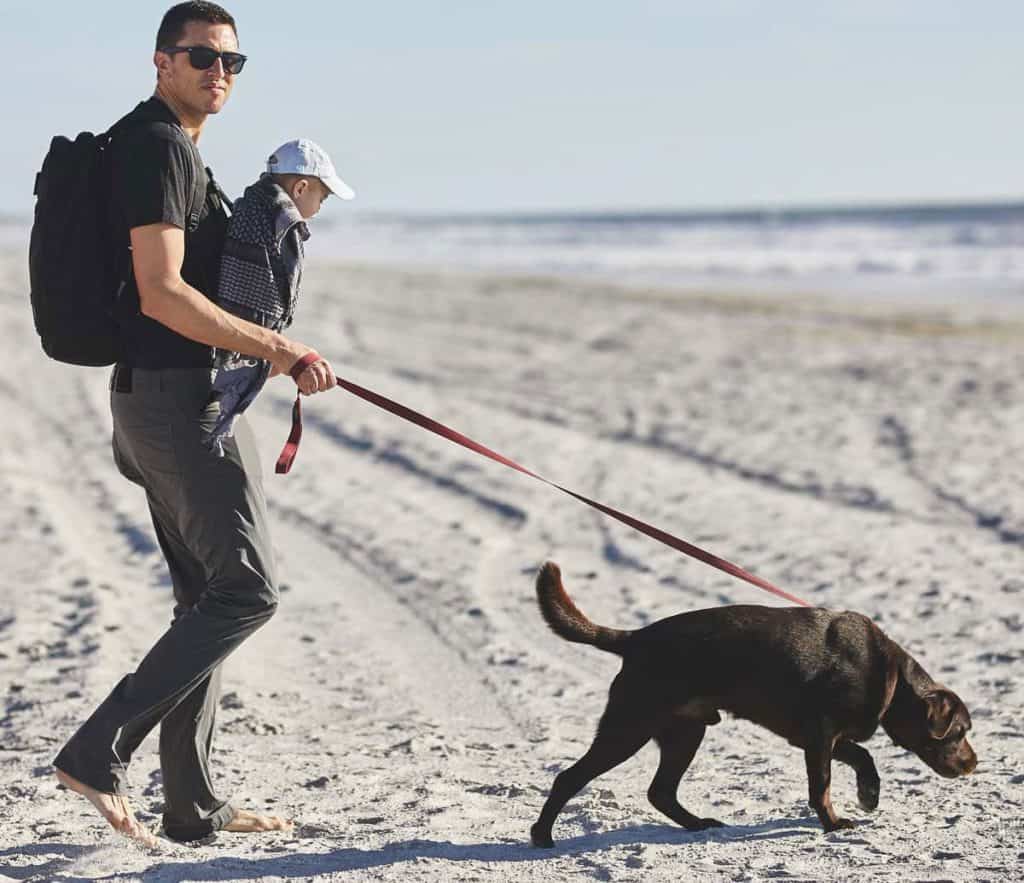 Affiliate Disclaimer
We are an affiliate of GORUCK and others that sell this training gear. If you buy clothing or other training gear after clicking the links in this article, we receive a small commission at no extra cost to you. This helps us to bring you in-depth information and content on these great training products.