Here's my hands-on (legs-on?) review of GORUCK's Challenge Pants.
What are Challenge Pants?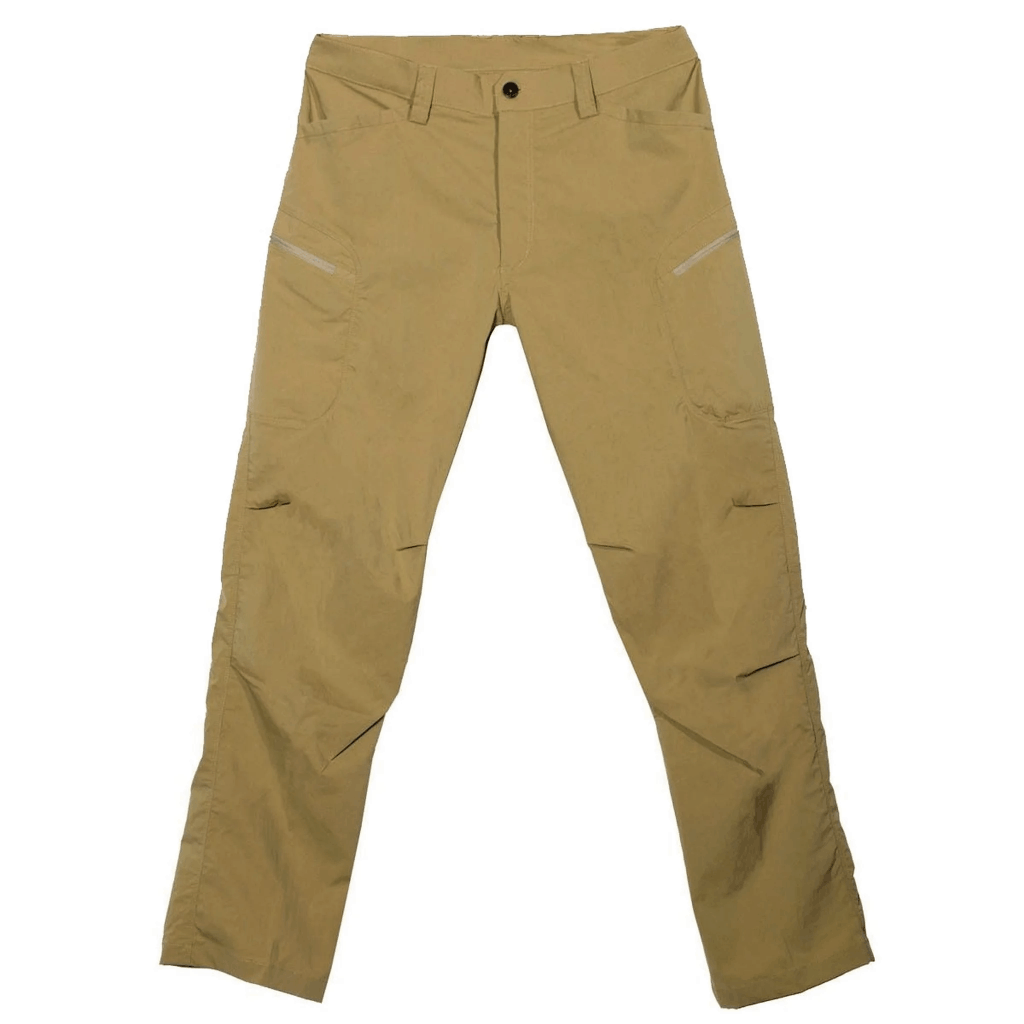 They are a super-tough technical pant made by GORUCK – the rucking company.
Rucking is walking or hiking for distance with a loaded backpack (aka rucksack.)
Do you need special pants to go on a ruck march?
No, you don't.
But GORUCK has used their expertise in building super-functional and useful gear to make what are now my favorite pair of pants. For doing anything – not just rucking.
I'm writing this in my hotel room in Seattle at 3:52am, wearing Challenge Pants.
Why? Because they are the ultimate pants for travel too.
So, whether you are looking for rucking clothing, workout pants, or serious traveler gear – you'll find that Challenge Pants work for all those things.
Let's dive right in.
Please note, there are a lot of GORUCK supplied photos here – because it is hard to take good pictures of pants. I'll add more personal photos shortly.
GORUCK Challenge Pants – Insanely Comfortable
These are the most comfortable pair of pants I've ever owned.
There are so many aspects that go into this – it's hard to know where to start.
But, let's start with the ToughDry fabric.
ToughDry is GORUCK's proprietary blend of 94% Nylon and 6% Spandex.
The Nylon material makes the material tough – and abrasion resistant.
The spandex gives it two-way stretch.
Having a slightly stretchy fit is better for comfort overall – and it helps ensure your range of motion isn't restricted.
But the other thing you need to understand is just how crazy light-weight these pants are.
The material is thin (but tough) and you really don't feel like you are wearing pants.
That might sound bad, but it's not.
After wearing Challenge Pants for awhile, I dread the thought of putting on a pair of heavy, bulky blue jeans.
The lightweight material also means these are very comfortable for hot and humid climates.
How do they fare in colder conditions? Not bad – as I mentioned earlier I've been wearing these around Seattle in February – and they are fine.
Need more warmth? Go for the layered approach and maybe throw on some compression tights underneath.
The other factor is that given that the material is so tough they don't have to use very much of it.
That means all those seams for the pockets, belt loops, and inseam are not big and bulky.
And that's another huge part of how comfortable these are.
You know what the true test of comfort is for pants?
Can you lie down in bed and sleep in them?
Challenge Pants are as comfortable as pajamas.
Seriously – try it.
GORUCK Challenge Pants – Freedom of Movement
These pants are versatile.
You can do your full workout in them.
Squats, deadlifts, even Yoga – if you wanted to.
There's just no restrictions – thanks to the athletic cut, the diamond shaped gusset sewn in the crotch area, and the articulated knees.
And being so lightweight and streamlined you really don't feel any bulk – there's no sensation like these are slowing you down.
GORUCK Challenge Pants – Tough and Quick Drying
GORUCK Challenge Pants are also super-tough.
This obviously isn't a long term test (yet) as I've only had them for a few weeks.
But I bet these will last a long time.
As the name suggests, Challenge Pants will dry quickly when they do get wet.
There's just not a lot of material to absorb water.
But the other factor is they are water resistant.
Spill some water on your pants?
It will probably roll right off with no wet stain left behind.
(I'll put a photo here shortly.)
Now, if you do total immersion these will get wet.
But they should dry quickly.
The cargo pockets have interior drain holes too – so water won't stay around for long.
GORUCK Challenge Pants – Like Real Pants, But Better
Here's another great thing about Challenge Pants – they are real pants.
What do I mean by that?
They have pockets (4 of them – 2 in front, 2 cargo) and belt loops.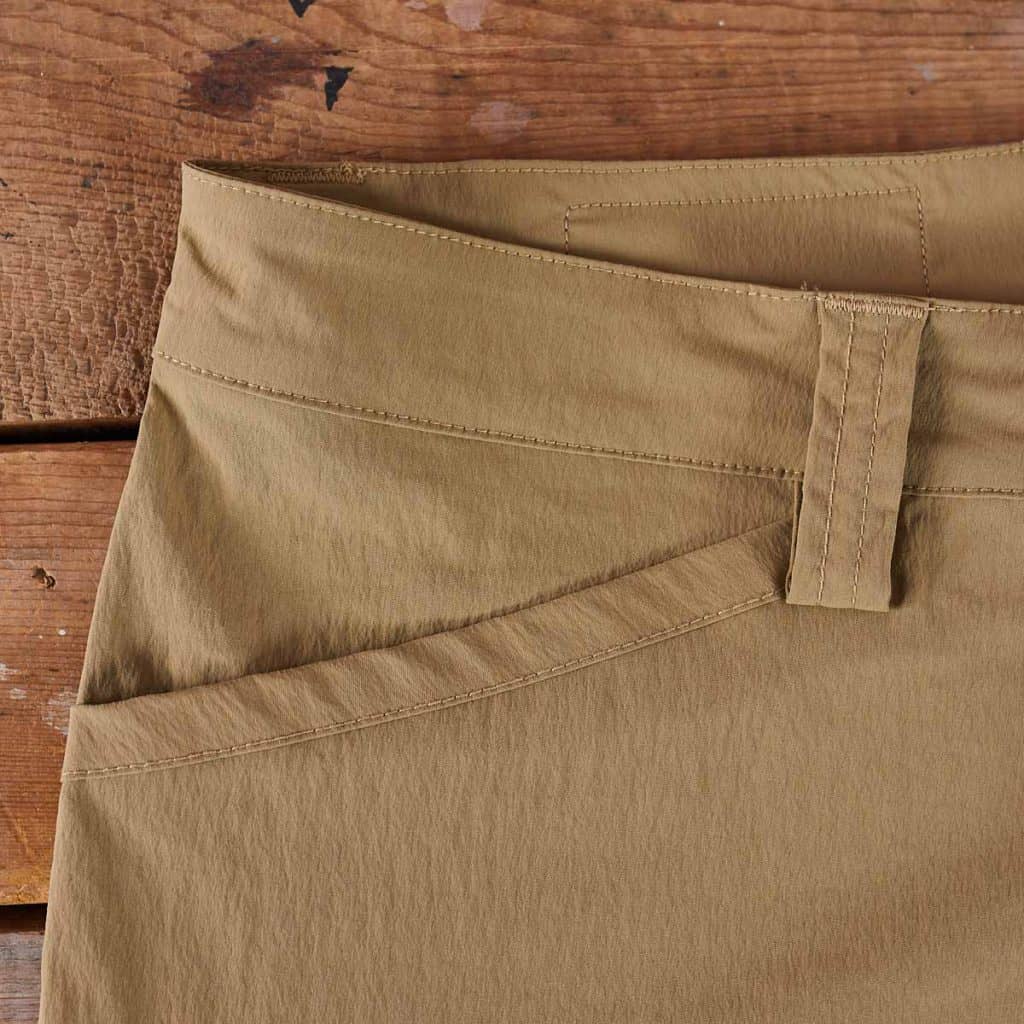 First of all, having pockets is super helpful.
It gives you a place to put your phone, wallet, earbud case, and more.
And once you add all that weight in those pockets you might need a belt.
(That's another thing I love about these pants – they fit like a glove and they are super-lightweight – so normally NO BELT IS NEEDED!)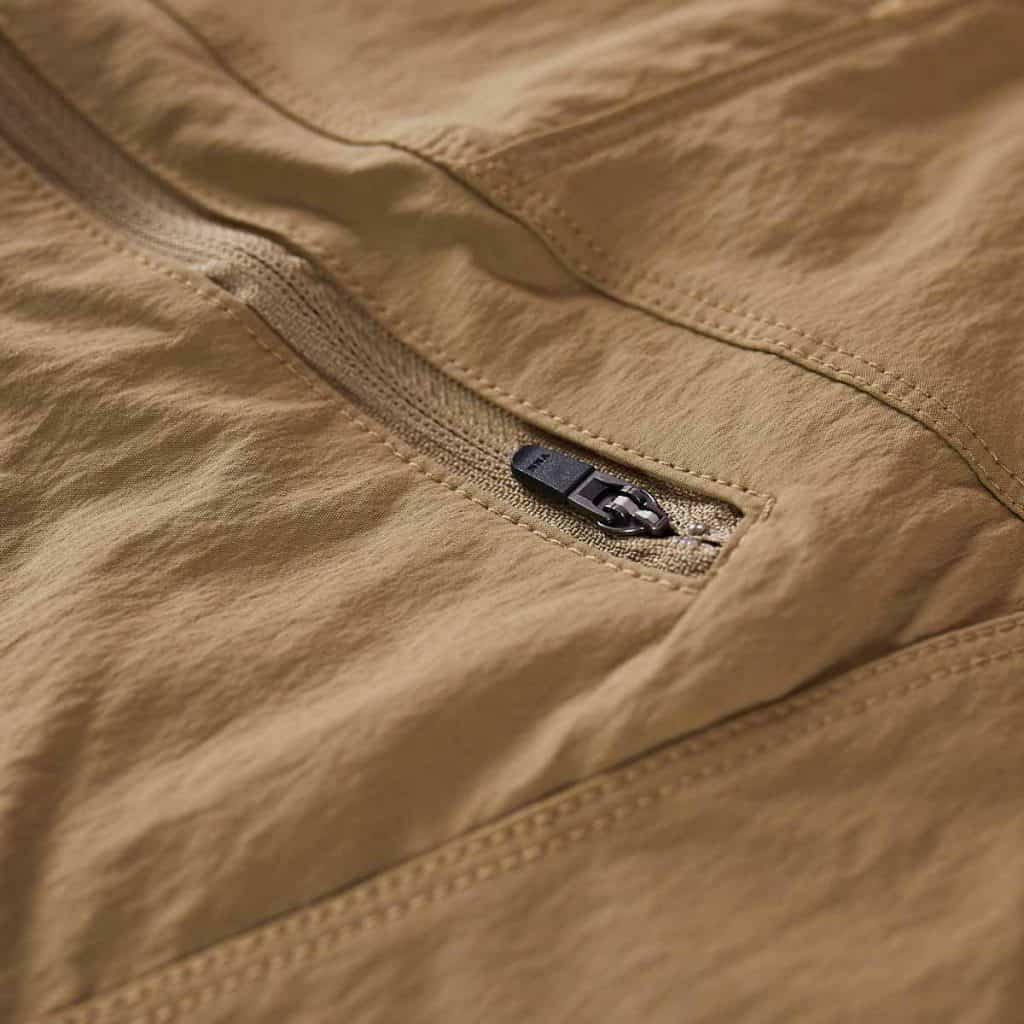 So, the pockets are super useful, and we can keep everything in place with a belt if we need to.
That also gives these the appearance of normal pants – so you can wear them just about anywhere.
Wear these to the gym or outdoors – of course – but they don't look out of place in the airport, at work, at a store – just about anywhere.
And meanwhile, nobody will know you are super comfortable in these pants.
These really are great pants.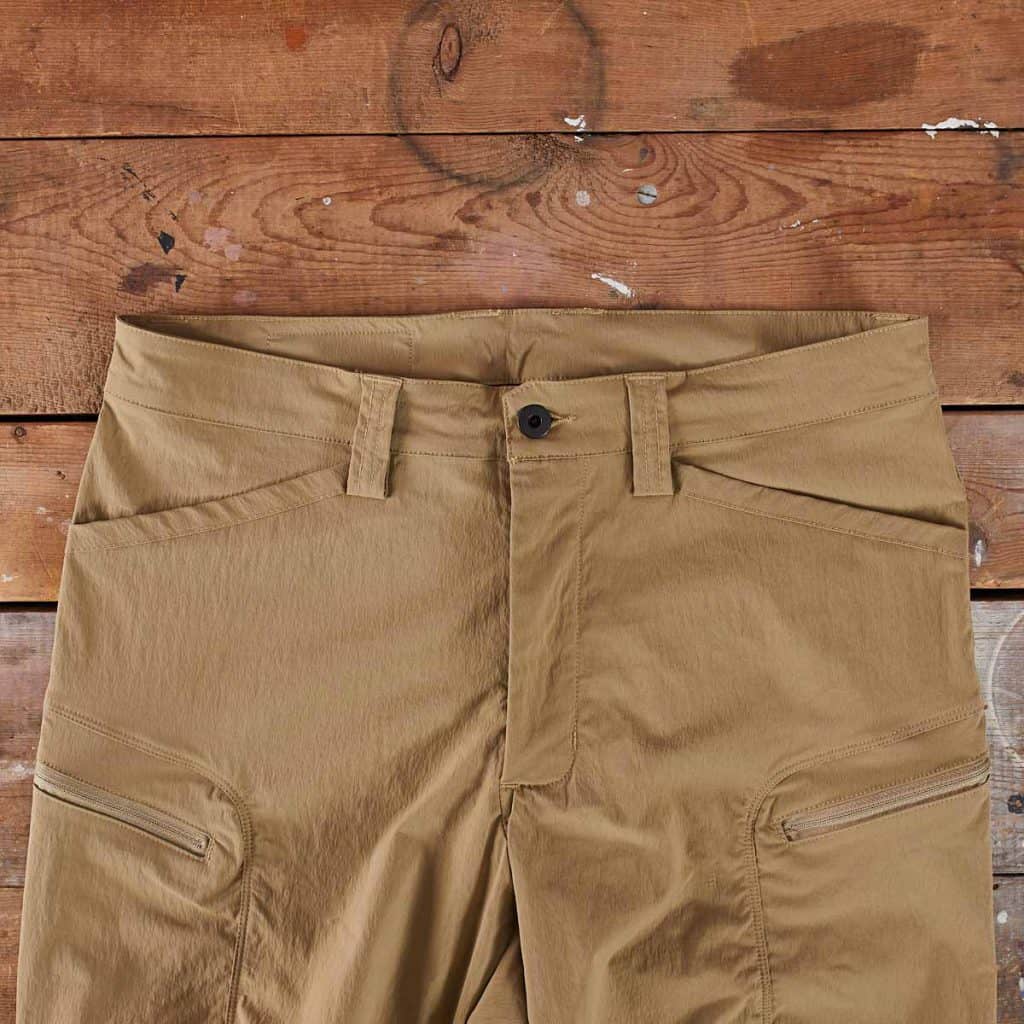 Here's another huge benefit – you really don't have to iron these or anything.
They are reasonably wrinkle proof.
Best pants ever? They are definitely a contender.
GORUCK Challenge Pants – Sizing
My normal size is 32″ x 34″ – and that fit perfectly, so I'd say these run "true to size" – as you'd expect.
There's a Hulk version of the Simple Pants too – read on to find out about that.
GORUCK Challenge Pants vs Simple Pants
GORUCK has another pants product made from ToughDry – their Simple Pants.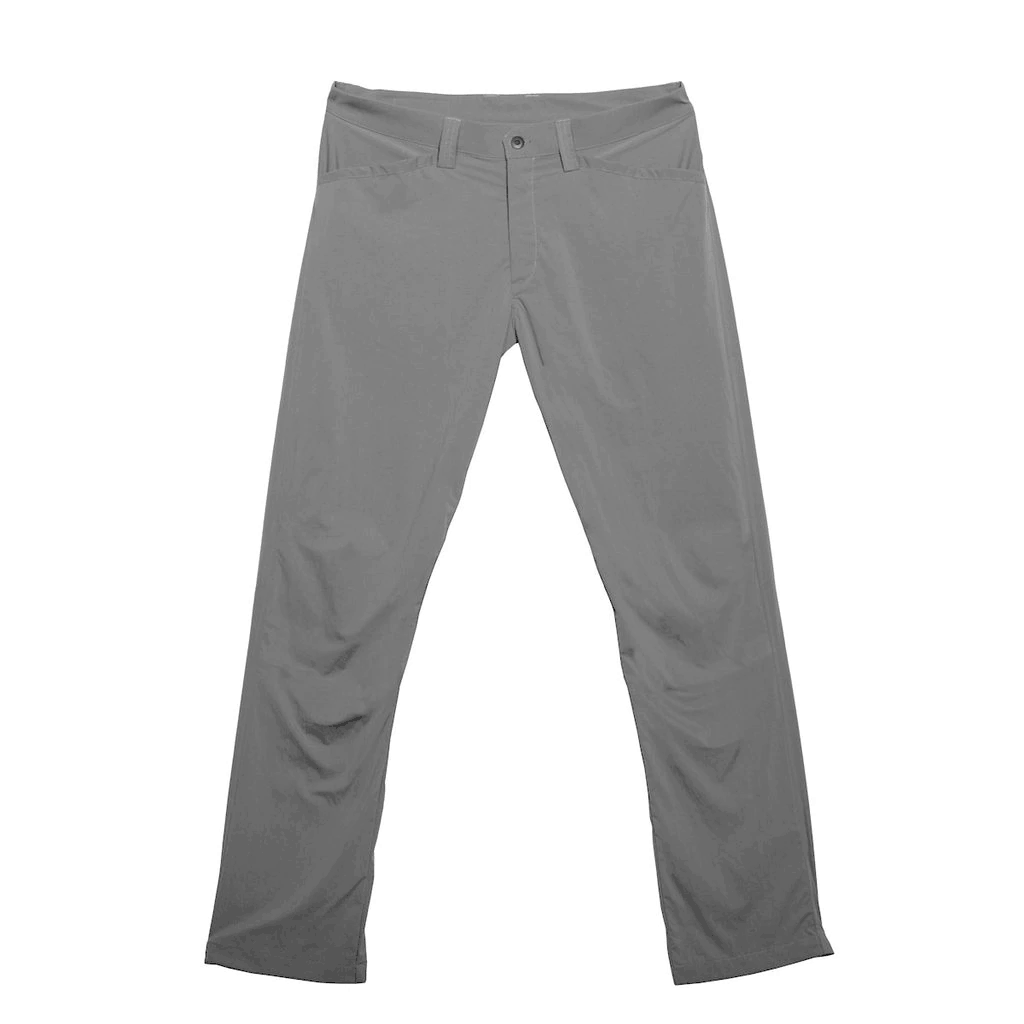 They are cut to look like regular jeans.
And by that we mean they have two front pockets and two back pockets and other-wise are very much similar in appearance to blue jeans.
But they are made from the same super-tough, lightweight, and comfortable ToughDry material.
They are about $30 cheaper than Challenge Pants.
There's a better selection of colors in Simple Pants (Black, Coyote, Ranger Green, Gray, and Coyote Brown.)
But, I like my Challenge Pants better.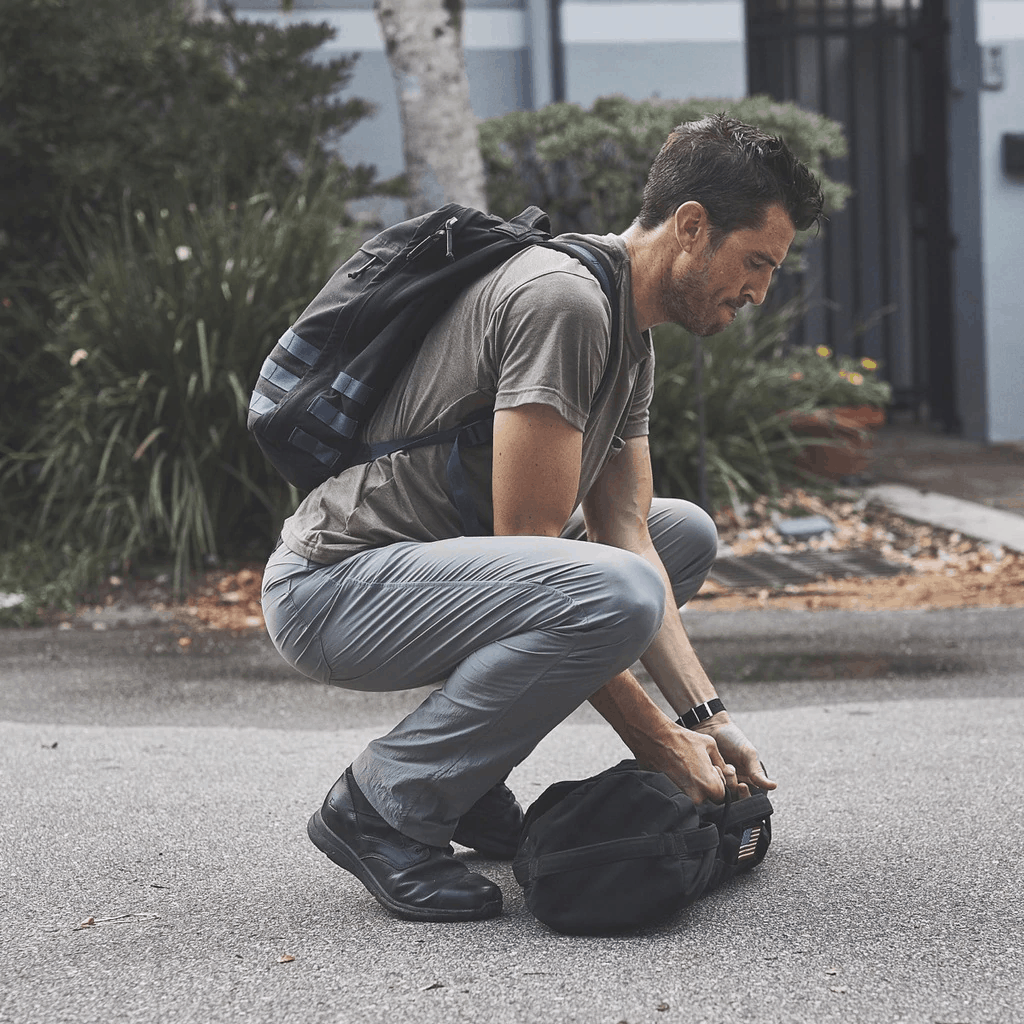 Why?
The articulated knees and diamond gusset make Challenge Pants more comfortable and give you better range of motion.
The zippered cargo pockets on Challenge Pants are a must have for airline flights (and more.)
If you want pants that look like jeans (and not cargo pants) – Simple Pants are your product.
I just find Challenge Pants more versatile.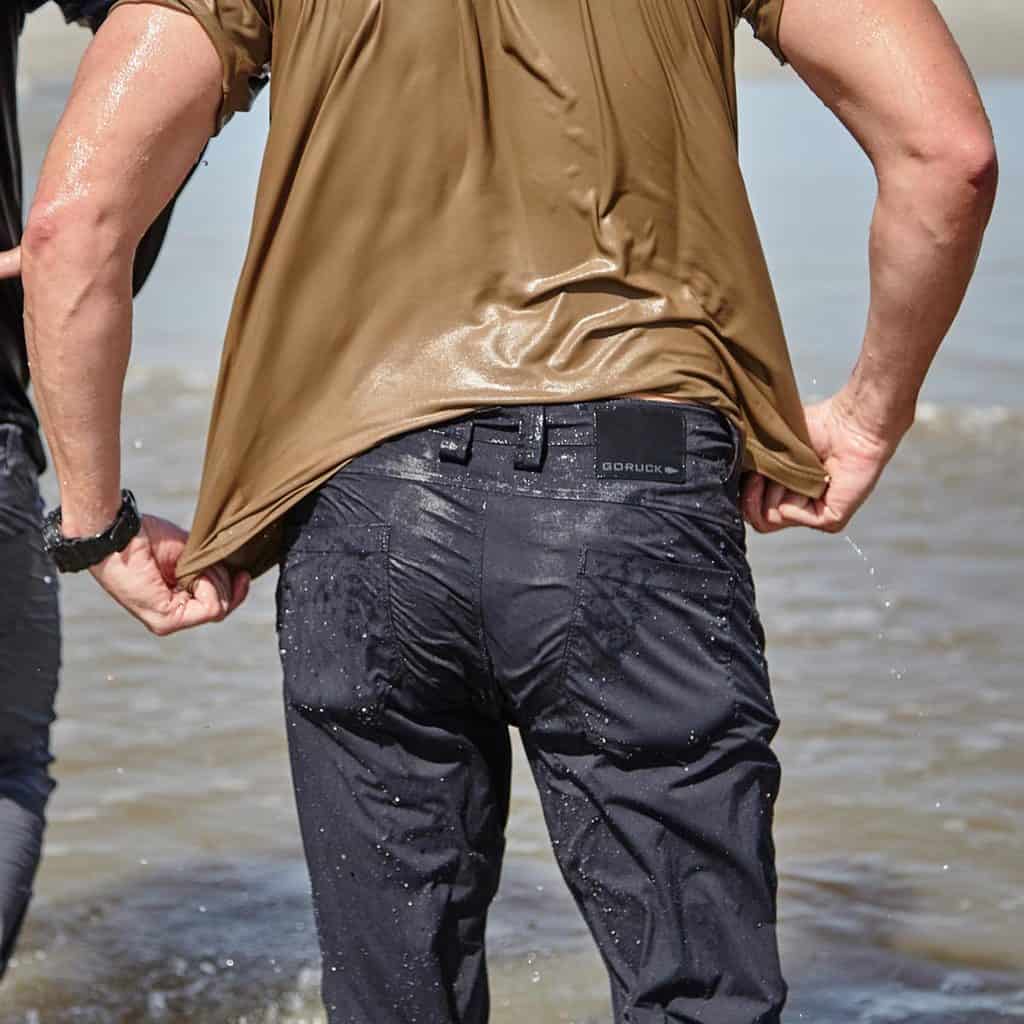 If you've got lots of quads and glutes – there's also a Simple Pants HULK version.
The Simple Pants Hulk have more room in the rear and thighs.
You may need that – I don't.
GORUCK Challenge Pants – The Ultimate Travel Pants?
I believe Challenge Pants are the ultimate travel pants.
I do a lot of flights around the country for my job.
And Challenge Pants are now my go to choice for every travel day.
Here's why.
They look formal enough to wear in most any situation.
They are super-comfortable for those long cross-country flights.
The zippered cargo pockets keep your phone, wallet, and ear buds case in easy reach even when seated in economy seats.
The lightweight and compact form factor means they take almost zero room in your luggage.
They are water resistant for the inevitable spills that can happen.
You don't really need a belt with them (unless the pockets are heavily loaded.)
Did I mention they are super-comfortable?
GORUCK Challenge Pants – Cons
OK, it can't all be rosy – can it?
GORUCK Challenge Pants are pretty expensive (relatively speaking).
Right now they are $145 USD.
But, let's stop and think about what you get for that price.
These are really good pants, really good. And they are built in the USA.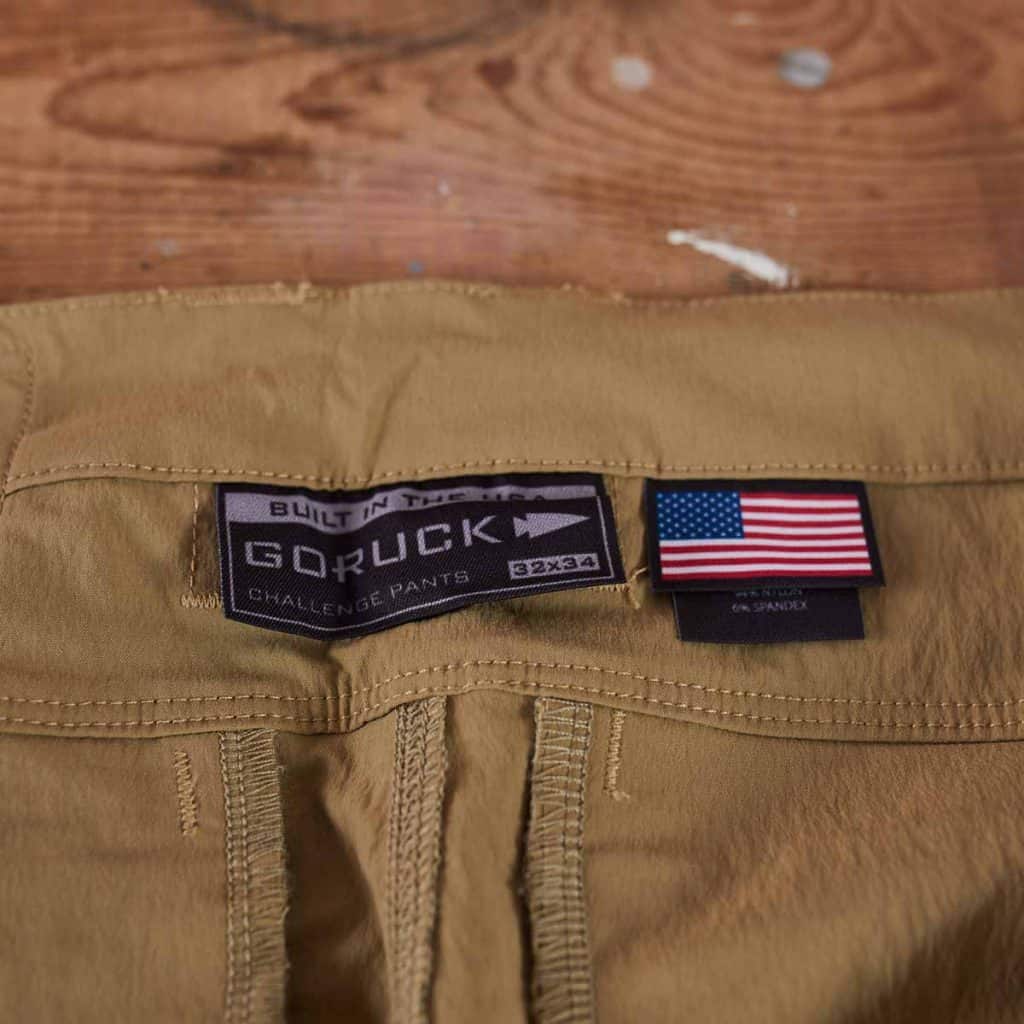 The founder of GORUCK has admitted that making items in the USA does increase the cost.
So, if you want to put your money where your mouth is – and support USA manufacturing, it will cost you more money.
But more importantly these pants have the SCARS lifetime guarantee.
GORUCK builds super-tough stuff. Awesome pants you don't want to take off AND a lifetime guarantee? Doesn't seem so bad now – does it?
These pants are also a bit noisy.
They are made from ToughDry fabric which uses high-performance synthetic materials (nylon and spandex).
And that means then pants make a gentle swishing sound as you walk, stand, run, or pretty much anytime.
As I like to say – you won't be sneaking up on anyone in a library with these pants.
Having said all that – it's not that bad. Challenge Pants are my go to pants for travel and working out – and I love them. The noise is just not that bad.
But, the ToughDry material is super slick with no traction or grip whatsoever.
Who cares?
I do – when I'm using a MacBook Pro on my lap – or even when you set your smartphone down on your leg for a moment.
It will slide off easily if you aren't careful.
So, be careful when using a laptop or phone – and you'll be all right.
Lastly, these pants are pretty thin (after all they are super light weight and comfortable.)
They also fit like a glove.
In certain situations they can be a bit "revealing."
(That's all I'm going to write about on this topic – you can use your imagination for yourself.)
I like these pants because they look like normal cargo pants, have belt loops, etc. but just keep in mind they are sort of an athletic pant – and don't wear them in a super-formal situation – unless you really want to.
GORUCK Spearhead Web Belt
Need a slick belt to go with these great Challenge pants?
Take a look at the GORUCK Spearhead Web Belt.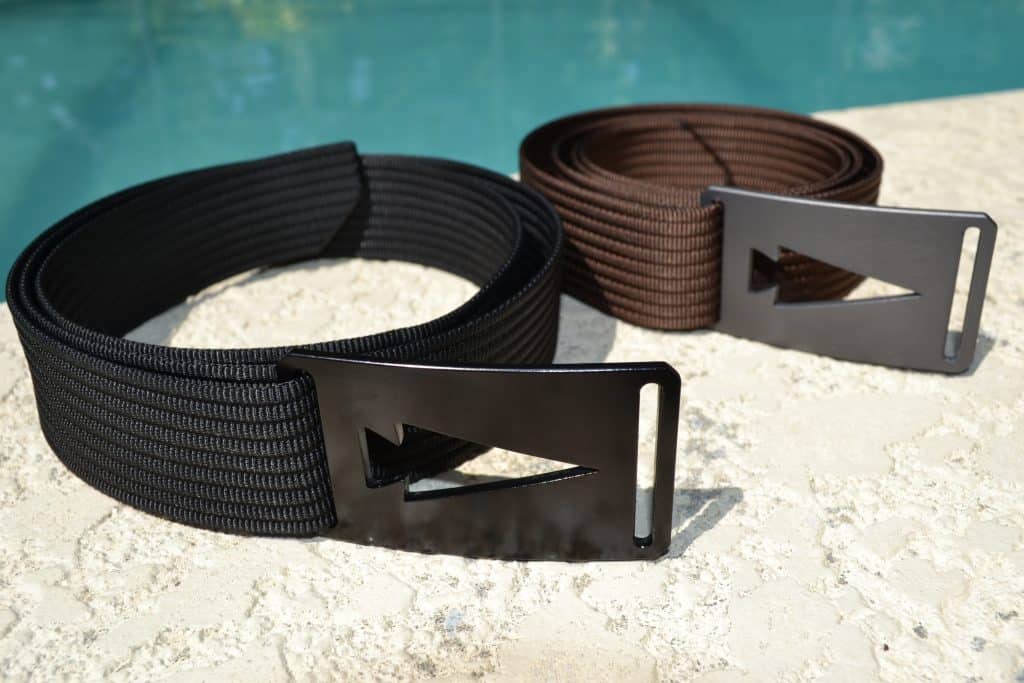 It's available in Black or Brown colors.
The belt is made by Grip6 – and that means it is made in the USA. The patented design is simple, lightweight, and efficient.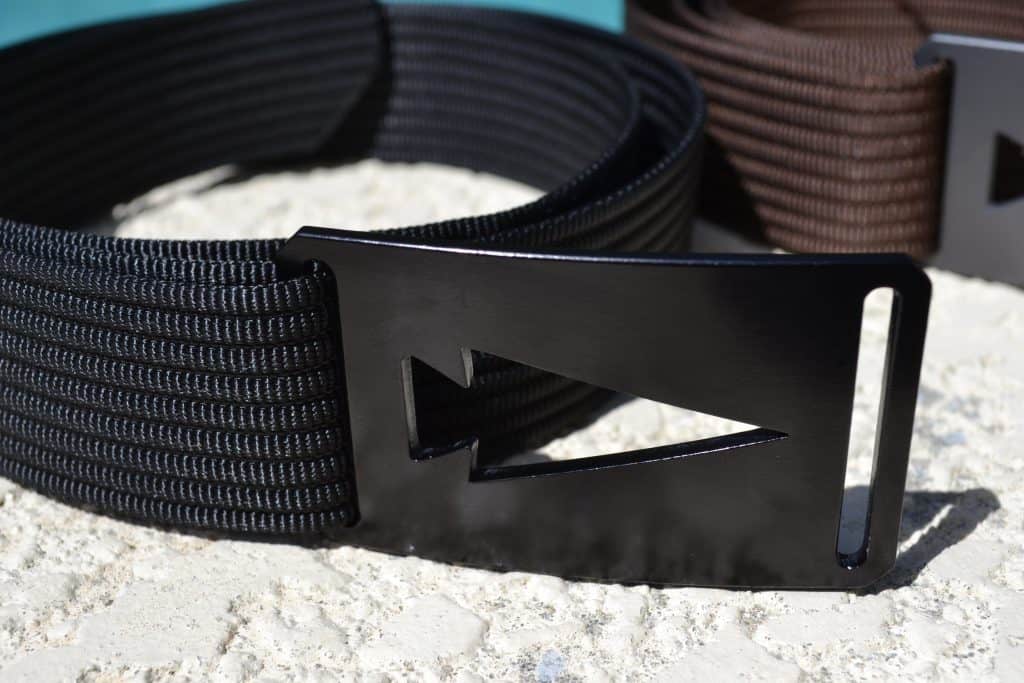 The GORUCK spearhead logo looks really sharp. The buckle is made from T6061 Aluminum.
This is a low-profile belt with minimal bulk and simple design – there's nothing to break. It'll likely last you a lifetime.
Can you Squat or Lift in the Challenge Pants?
Thanks to the diamond shaped gusset, and the stretchy fabric – these are great for cold weather workouts where pants are a necessity.
You know – like when it dips down to 50 degrees in Florida.
Here's some cleans, front squats, and deadlifts with a barbell – all done in Challenge Pants (and GORUCK MACV-1 boots.)
(Done in those brutal Florida winter conditions.)
Spearhead Tactical Belt
Tactical belts are used to keep your equipment and even your pants around your waist. One of the best features of a tactical belt is a wide strap and GORUCK Spearhead Tactical Belt boasts a 1.75″ wide strap made of high-tensile nylon fiber weave that can carry 2,000 lbs.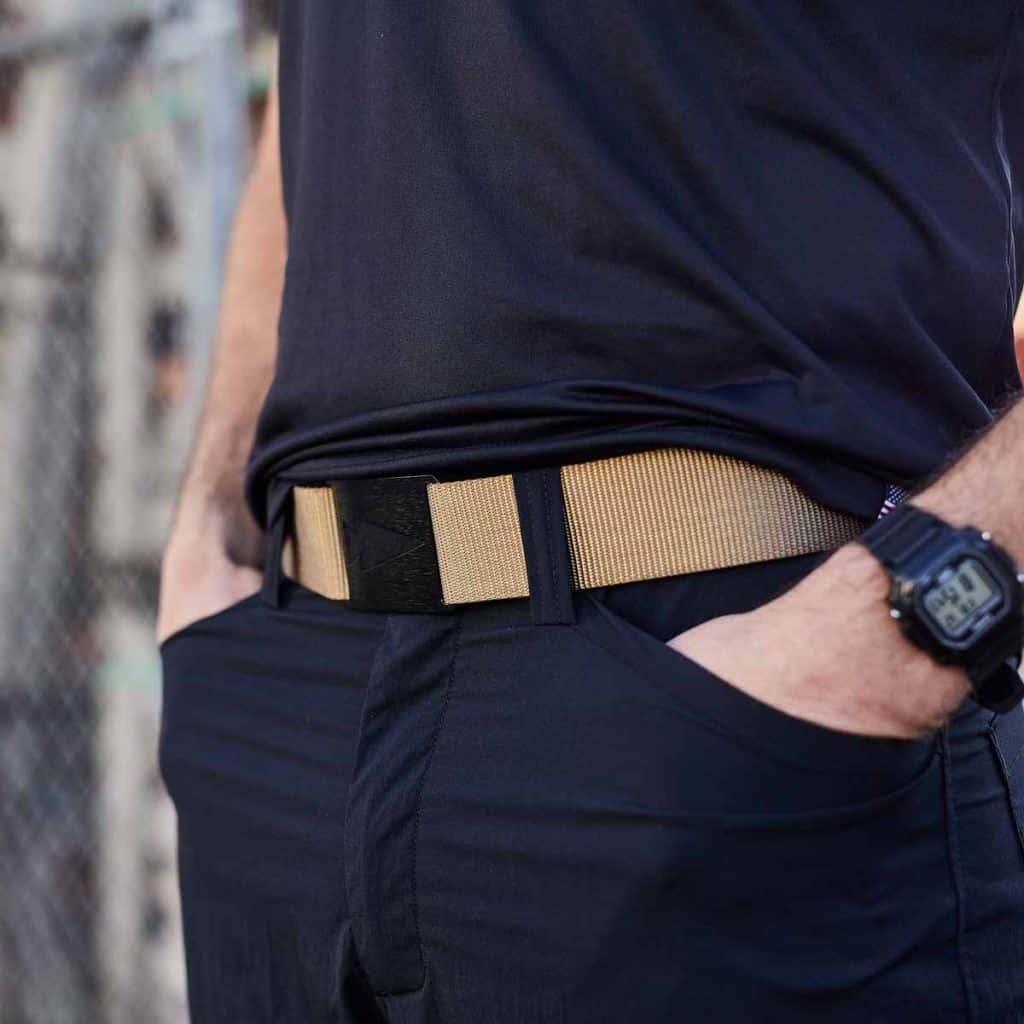 It is lightweight, simple to adjust, and doesn't slide or stretch over extended time and use. It comes in Coyote and Coal and you can set it to the exact length you need. It has a minimalist look and perfect for OCP uniform wear.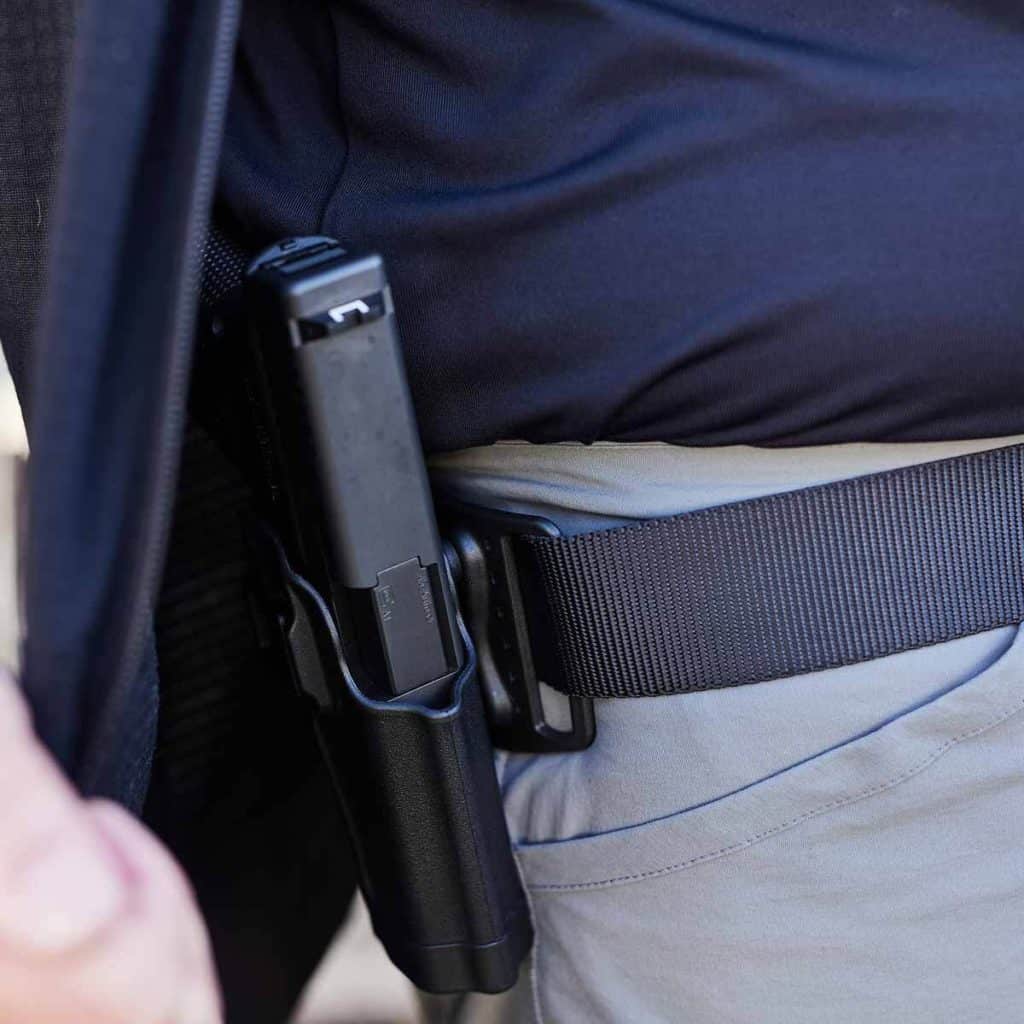 GORUCK Challenge Pants Review – In Summary
I was skeptical when I first read about GORUCK's Challenge Pants.
They seemed expensive.
But after having worn them around – I love them.
They are my go to pants for travel, working out, and lounging around the house.
You can do anything in them (including sleep) in supreme comfort.
They pack down to practically nothing – so it's easy to travel with them.
They look good and they look like "real pants" – so you can wear them damn near anywhere.
And given the cut and stretchy materials there's really no physical activity you can't do in these.
GORUCK has a hit a home run with this product – and I look forward to what more they may bring to the apparel market in the near future.
Why GORUCK Products?
We are a
GORUCK
affiliate – so if you order apparel, rucksacks, shoes, or equipment after clicking the links in this article we receive a small commission at no additional cost to you. But that's not why we recommend GORUCK. It's because their equipment is innovative, built to last, and much of their best stuff is made in the USA (like Challenge Pants). They are the driving force behind rucking not just as exercise, but as a way to make people better. And that's why we love them.
Photo Credits
Some product photos on this page are provided by, and property of GORUCK.
Tim is the founder of FitAtMidlife.com – an avid gym rat for 30+ years, he's a reviewer of many, many shoes – and founder of the Speed Bag Gathering – the world's only gathering of speed bag punching enthusiasts.  See more gym reviews at Tim's YouTube channel.