Out of the blue Nike dropped a new Metcon shoe on us – the Nike Metcon SF.
This is the first ever all-terrain Nike Metcon shoe.
(Some vendors are calling this the Nike Metcon X SFB – but Nike lists it as the Nike MetconSF – so there might have been a late breaking name change.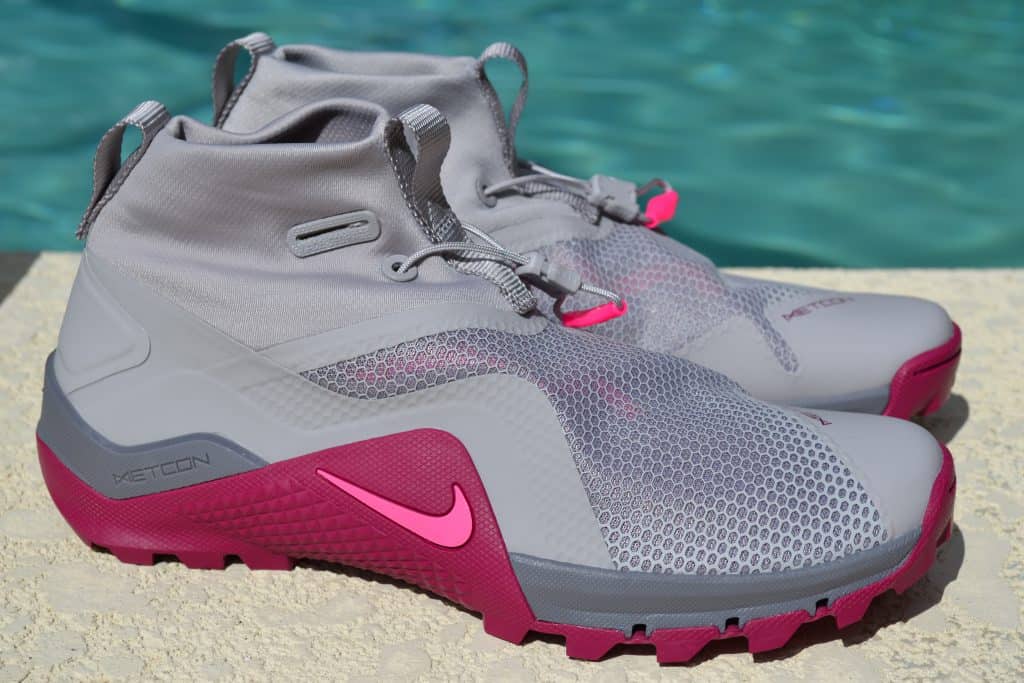 As you may know, the Metcon line has primarily been best for indoor usage (with the exception of the Nike Metcon Sport.)
The other metcon shoes don't have a really deep, aggressive tread.
But no so with the new Nike Metcon X SFB.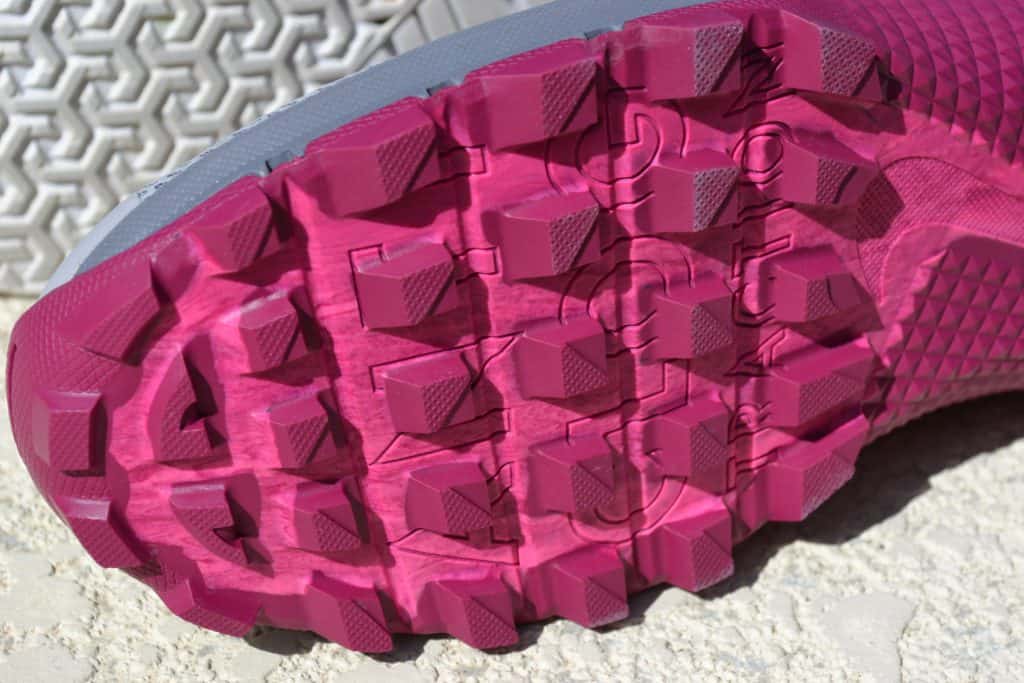 This is the metcon shoe meant for mud runs, obstacle races, and getting in the mud or the water will not be a problem.
These would also be great shoes for the beach, fishing trips, kayaking, and any other activity where your feet will get wet.
Our review pair has arrived – and our first "hands on" test drive is complete.
Let's take a look at these Metcon shoe models:
Let's talk about what makes these training shoes unique in the Metcon line.
Nike Metcon SF – Hands On Review from our YouTube Channel
Check out our hands-on review on YouTube:
Part 2 covers running in these in all-terrain conditions:
Deep Aggressive Tread for Traction in Mud
Let's start with the most important feature – a really deep, aggressive tread.
As you can see in the outsole view – those lugs are deep.

Nike even goes so far as to label it "anti-clog traction."
And that's precisely what you need when you are trail running, running obstacle courses, or taking part in mud runs.
Those wide spaced lugs won't get clogged easily – and they are deep.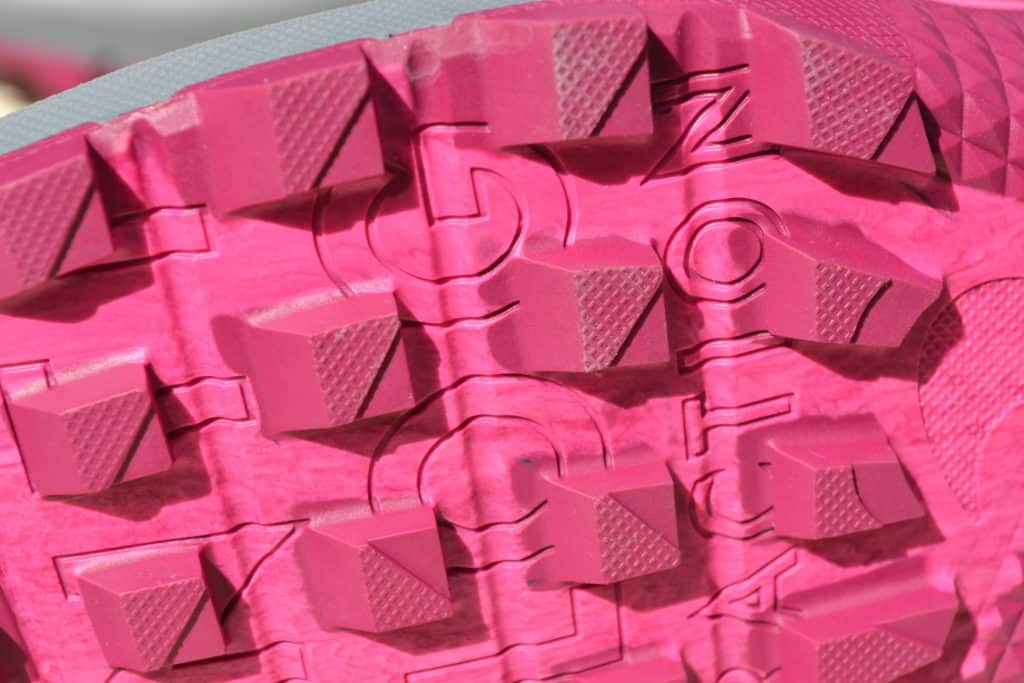 Historically, the Metcon shoes haven't had tread good for the outdoors – take a look here.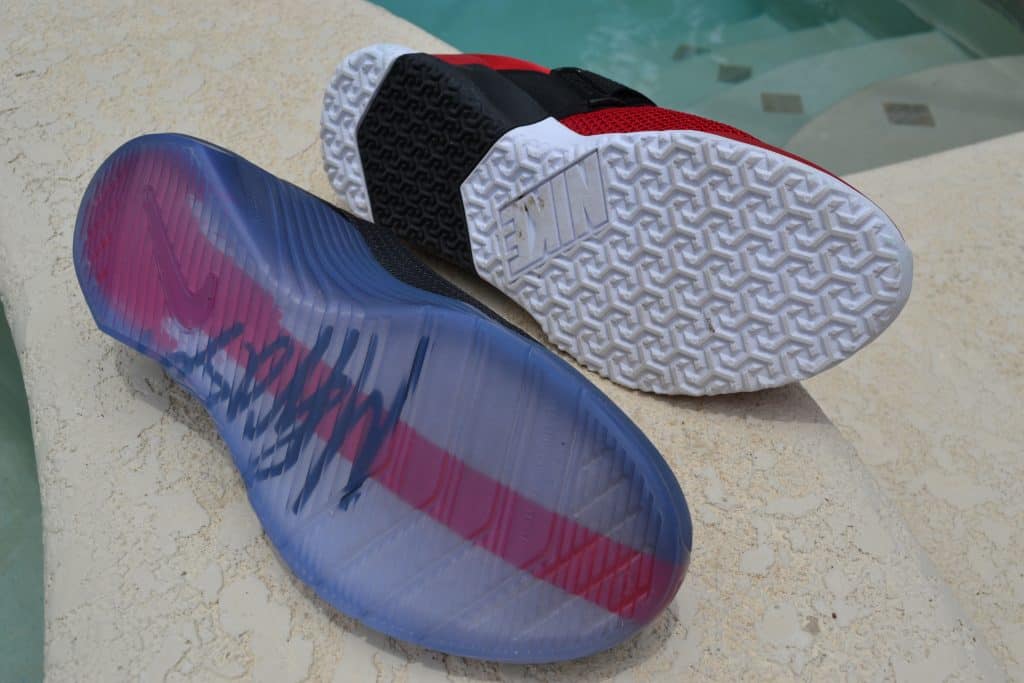 The Nike Metcon Sport has a more aggressive tread – but that's for grass and turf.
It's not going to work as well in the mud.
The Nike Metcon X SFB will give superior traction in mud.
But, there's more to this shoe than just a deep boot-like tread.
Nike has incorporated many of the principles of the metcon line.
For example, there's a rope wrap section of the shoe. That's where the super-tough outsole wraps up and around at the mid-foot.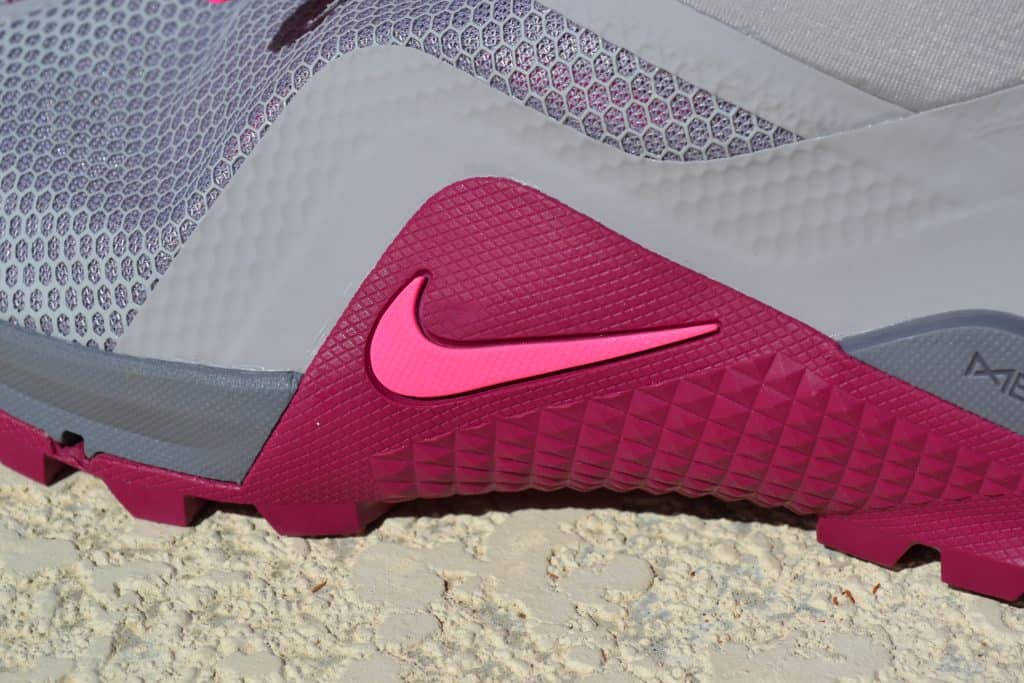 This gives you better grip on rope climbs – but just as important – it ensures the upper doesn't get shredded from friction with the rope.
These also have minimalist cushioning.
That makes them great for heavy load bearing activities because your foot isn't mushing down into the pillow-like padding that a running shoe would have.
Water Drain Ports
Here's another key feature – if you are running in the mud that means your shoes are going to fill up with water.
And there's nothing worse than waterlogged feet and shoes.
It's murderous on your skin, and it's extra weight to carry around.
The Nike Metcon X SFB solves this issue in two ways.
First of all the mesh upper looks to be the same breathable fabric (with 3D haptic print) that offers water a way to escape.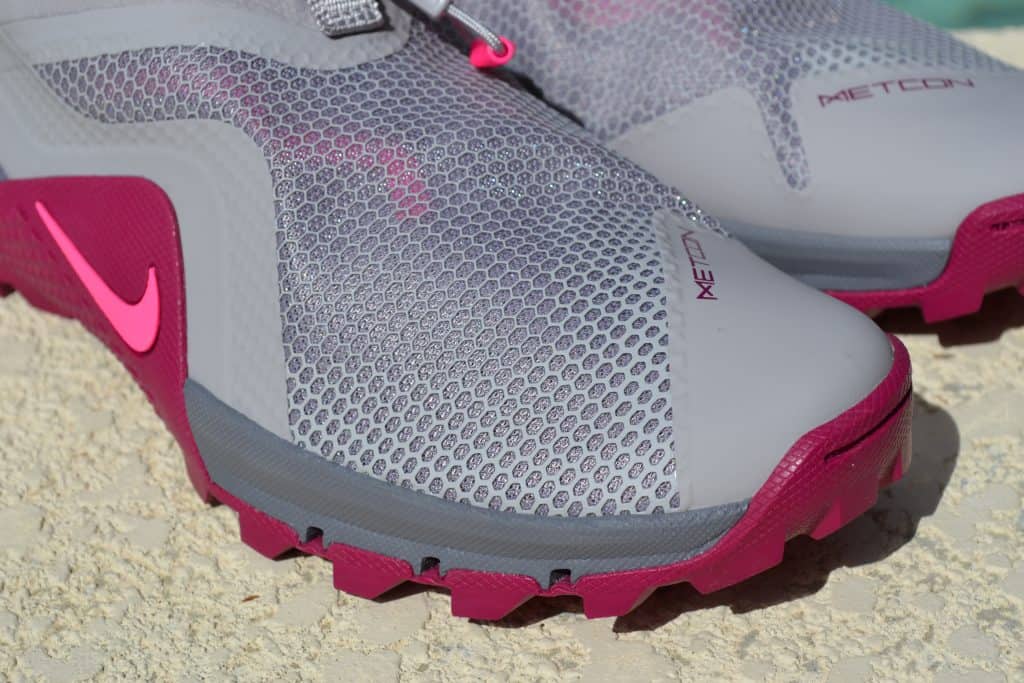 But even better, there are actually water draining ports incorporated in the outsole.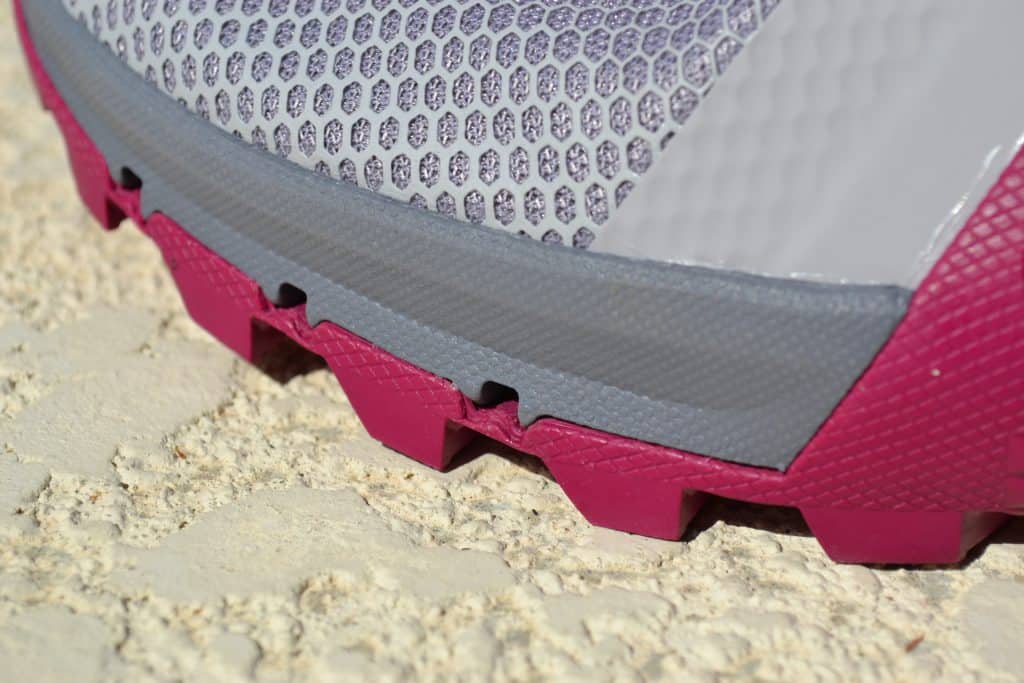 And that's how you get the ultimate mud run shoe.
Do these water drain ports work as advertised? Yep.
After total immersion – I created this puddle of water streaming from the drain ports by simplying pressing down in the forefoot repeatedly.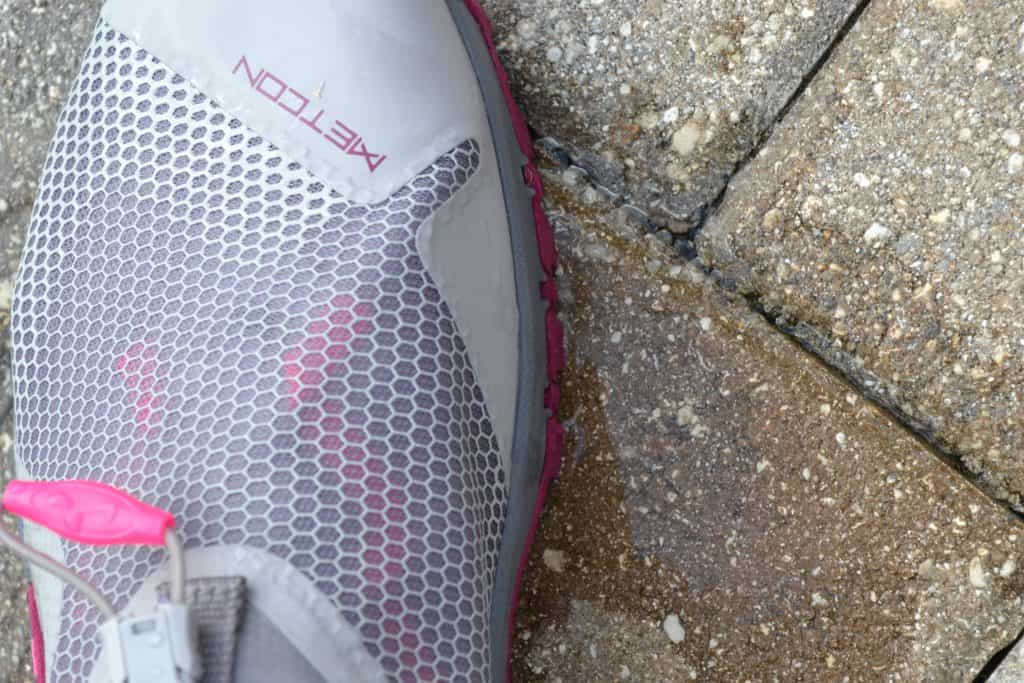 Speed Lacing System
The Nike Metcon X SFB incorporate's a speed lacing system.
This should make it very easy to adjust the fit on the fly – especially if you get a large item – like a stick or rock – inside the shoe.
Couple this with the pull tabs on the front and back of the heel and you've got the fastest shoe change you can possibly do.
But you'll notice there's a gaiter high up on this shoe – and that will help ensure no debris gets inside in the first place.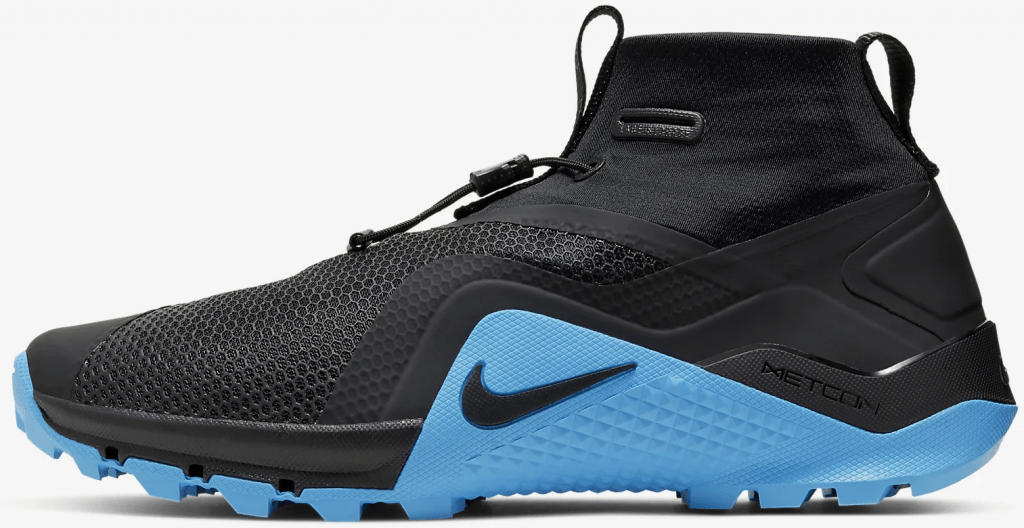 I can confirm that the gaiter maintains a flexible, but tight hold around your ankle.
I've not taken these into the swamp yet – but I'll be they'll work as they should when the time comes.
The other big factor with these – they dry very quickly.
Nike has purposely made them such that there are few materials that actually absorb water.
The very thin drop-in midsole doesn't absorb much water – and you can remove it and dry it separately.
After dunking these shoes in the pool – they dried in under an hour under a fan.
Rope Wrap – For Climbing, Swinging, and more
You'll notice as well that Nike kept a lot of the design elements of the Metcon line.
For example, the wrap-around outsole is visible at the mid-foot of the shoe.
This means it'll be easier to climb a rope (or swing on a rope) as needed in an obstacle course race.
The outsole is the toughest part of the shoe and having it wrap around like that ensures the shoe's upper doesn't bear the brunt instead – because it will get shredded.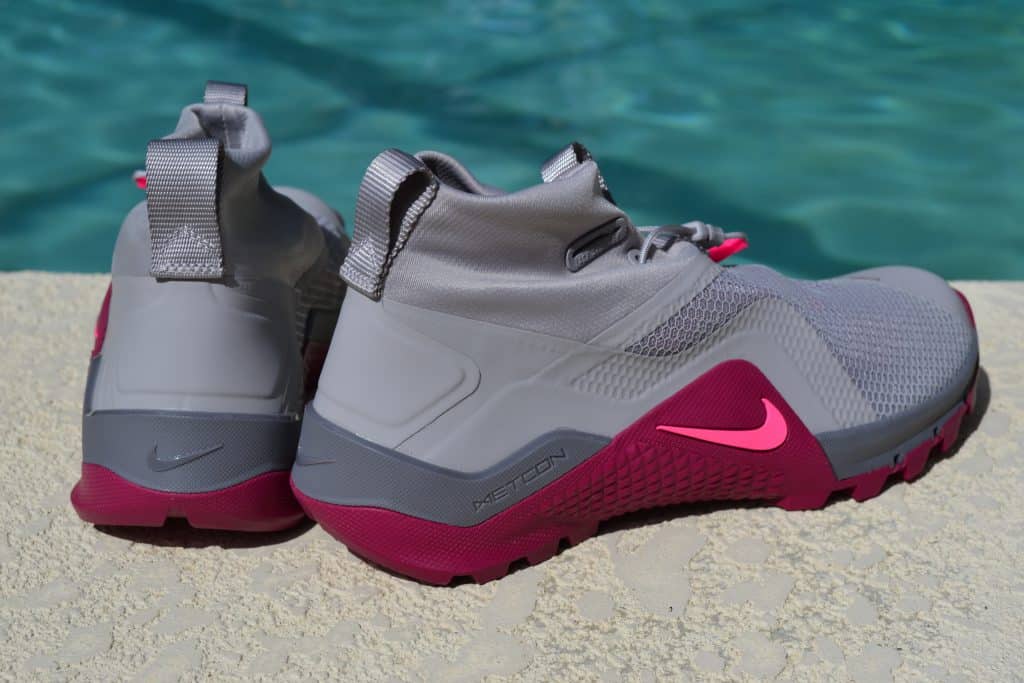 Nike Metcon SF for Running?
Can you run in the Nike Metcon SF?
Yes. But ….
Remember this is a "Metcon" shoe – that means it is a cross trainer.
And one hallmark of Nike's Metcon line is that they are versatile shoes with minimal cushion.
They can be used for heavy weightlifting, jumping, sprinting, and running – at least for short distances.
I would not recommend these for running long distances.
Get regular trail running shoes instead.
What would I recommend these for? Short runs, and activities where you know your feet are going to get WET – not just a little bit wet, but soaking wet, fully submerged, etc.
Personally, I like to wear mine fishing – because they drain quick, have great traction in mud, sand, and muck, etc.
Nike Metcon SF vs Nike Metcon Sport
OK, let's compare these to the other outdoor shoe – the Nike Metcon Sport.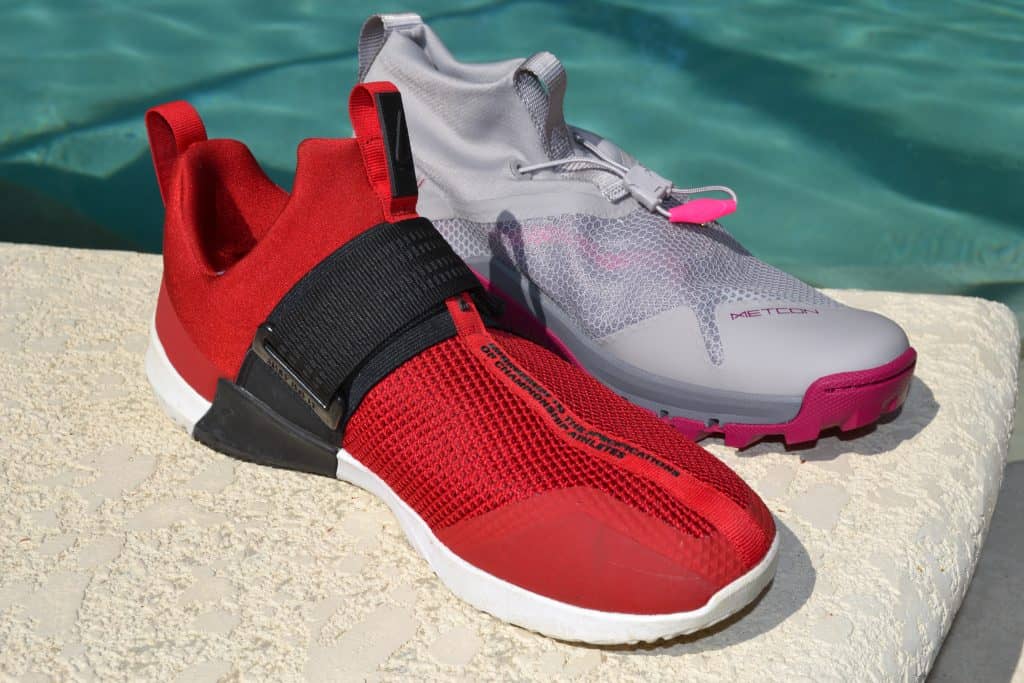 You can see that the shoes are of a similar size.
The Metcon Sport is our previous champ for having a high-traction outsole.
But it's really just good for turf, grass, etc.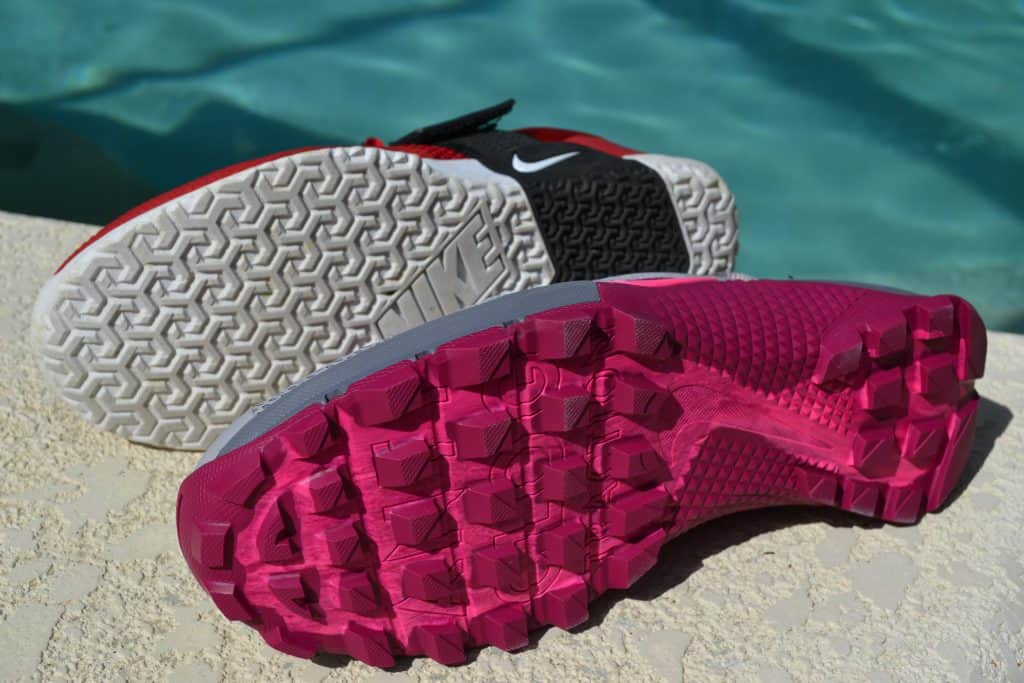 The Metcon SF is clearly the best choice for mud and rough outdoor trails.
As discussed previously, it's built for water immersion too.
How about weight?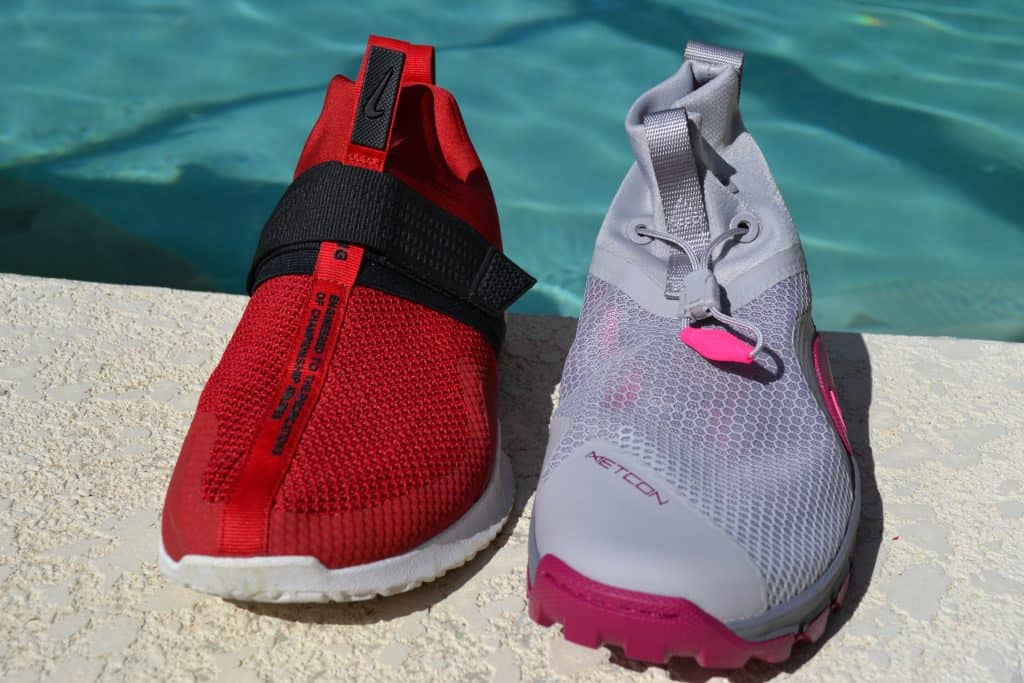 The Nike Metcon SF is lighter at 13.0 oz. The Nike Metcon Sport weighs 13.8 oz.
That's for a Men's size 11 Sport, and an Men's size 11 for the Metcon SF.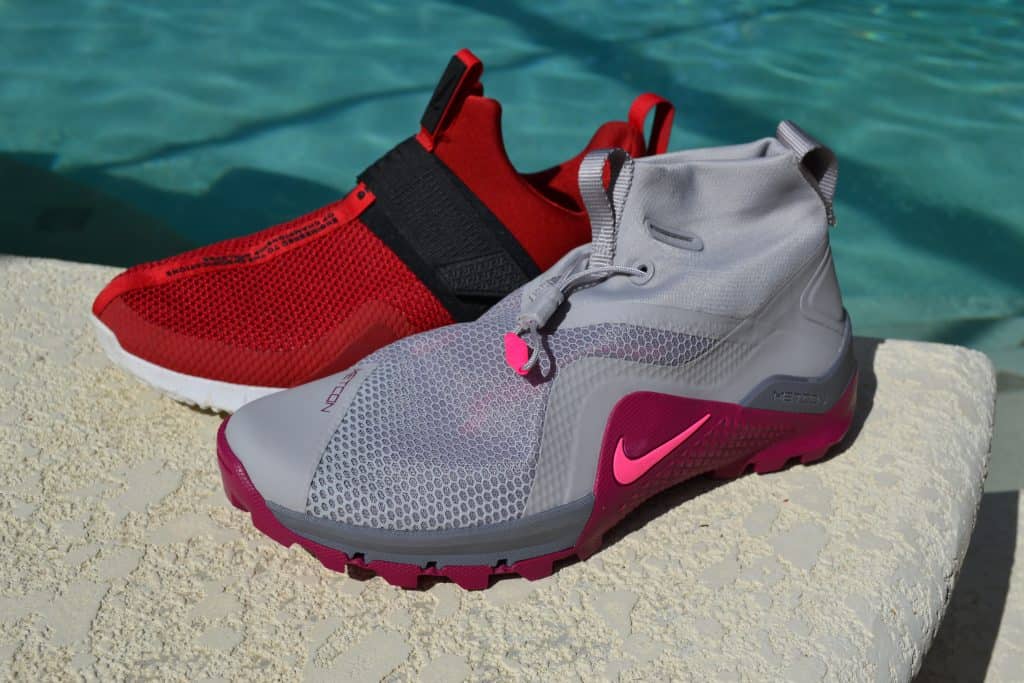 Nike Metcon SF vs Nike Metcon 5
Ok, the Metcon SF is really in a class of it's own. It's deep, boot-like tread, water shedding ability, and light-weight define it as an obstacle course race (OCR) or mud run shoe.
However, we're going to compare it to the Metcon 5 just so you can get a sense of the size, weight, etc.
They are two very different shoes…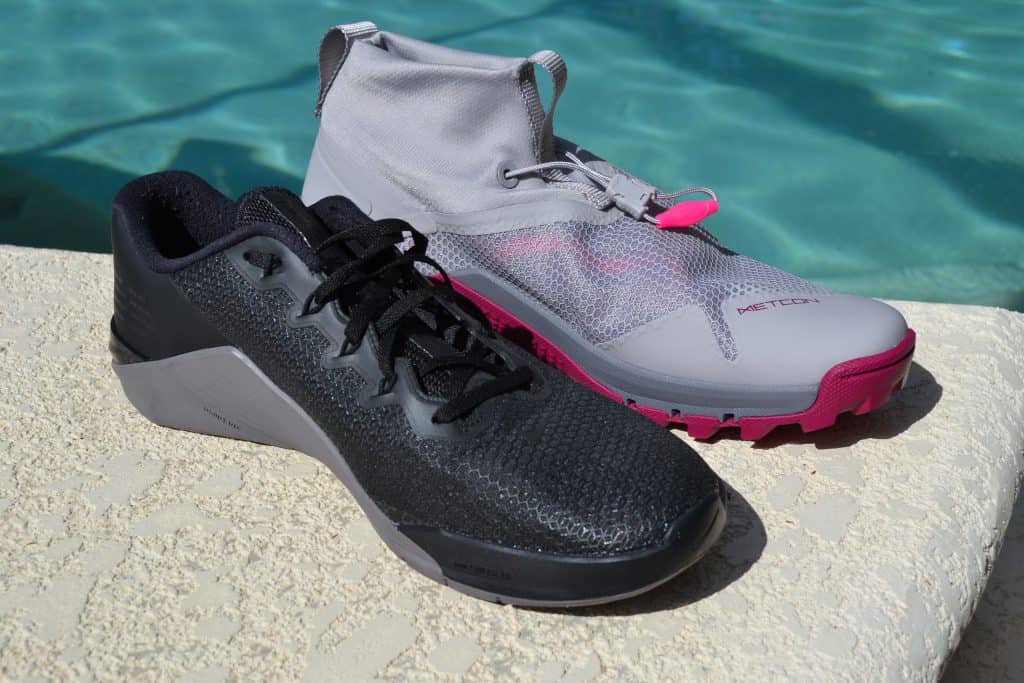 The Metcon SF is lighter than the Metcon 5 – 13.0 oz vs 13.6 oz for the Metcon 5.
This is probably due to the bigger rope wrap, and much bigger mid-sole on the Metcon 5.
The SF is made of a minimum of materials – to prevent water logging.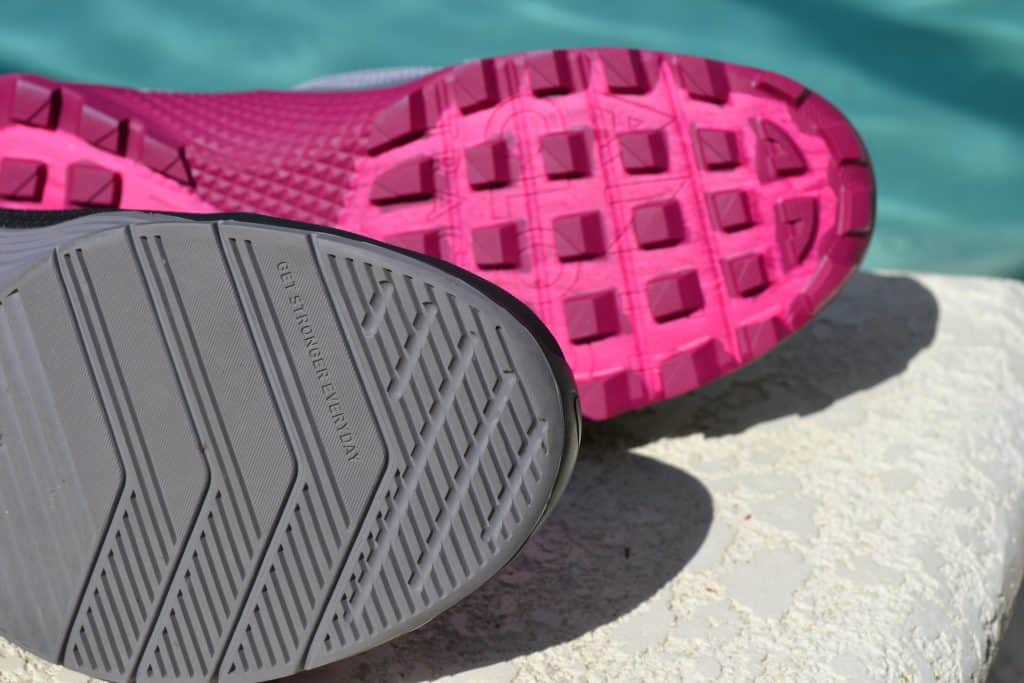 The Metcon 5 is going to be your choice for use in the gym and most normal situations.
Nike Metcon SF – In Summary
Nike has addressed a clear cut need with the new Nike Metcon SF / Nike Metcon X SFB – this is the outdoor, all-terrain metcon.
With a super-aggressive, no-clog tread, water drain ports, and speed lacing system this is a shoe meant for outdoor adventures and water immersion.
Mud runs, obstacle courses, and just about anything else you can do outdoors should not be a problem with these new training shoes.
These are likely going to be great shoes for any OCR (Obstacle Course Race).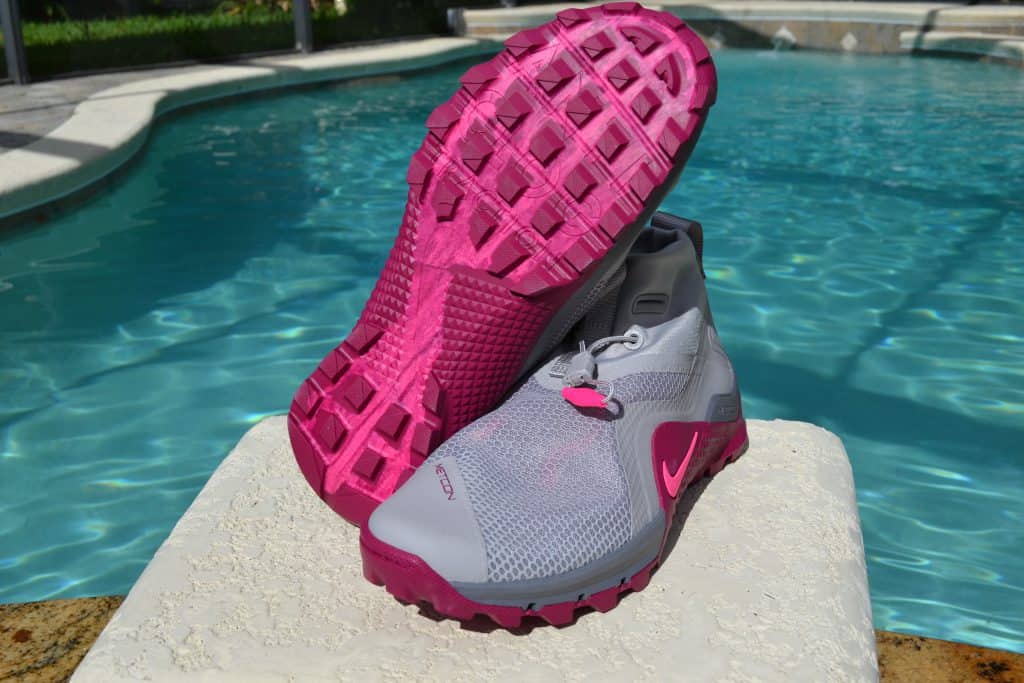 Nike Metcon SF – Photo Credits
Some Nike Metcon X SFB / Nike Metcon SF product photos are courtesy of Nike.
Some product imagery on this page is property of Rogue Fitness and provided by Rogue Fitness.
This website is not affiliated or associated with CrossFit, Inc. CrossFit is a registered trademark of CrossFit, Inc.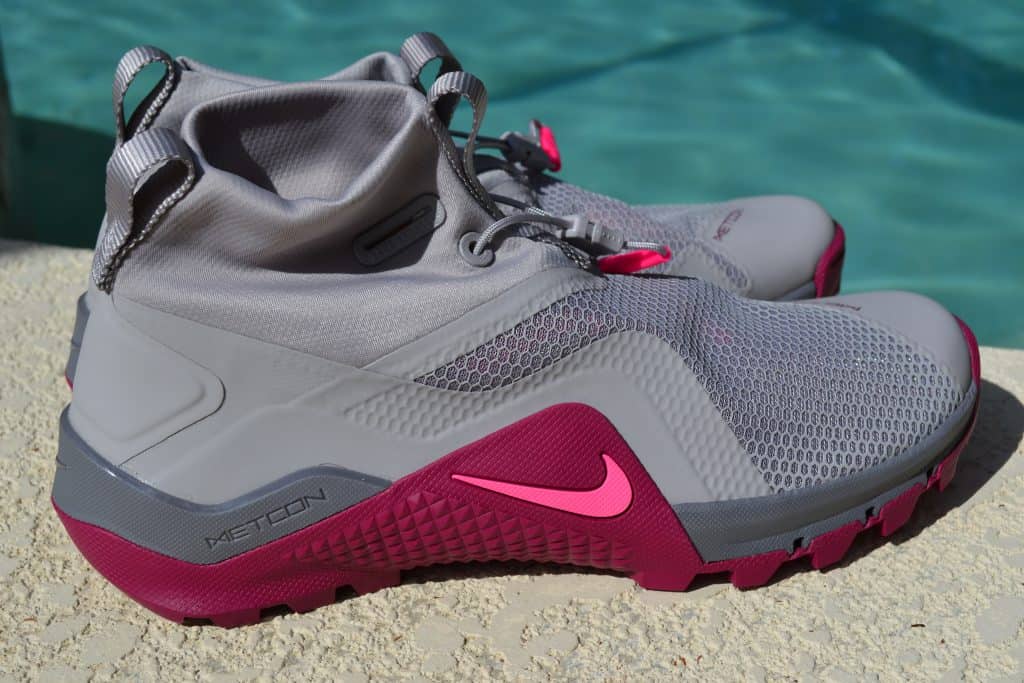 Tim is the founder of FitAtMidlife.com – an avid gym rat for 30+ years, he's a reviewer of many, many shoes – and founder of the Speed Bag Gathering – the world's only gathering of speed bag punching enthusiasts.  See more gym reviews at Tim's YouTube channel.