One of my favorite exercises to do at the gym is the lat pulldown.
It's a great exercise for the back, shoulders, and arms. It's also a great way to get a lot of volume work on the back muscles – without the drawbacks of pull-ups or chin-ups.
The problem with pull-ups or chin-ups is that your grip can be a limiting factor – and it's very hard to work the pull-up with anything less than full body weight.
The biggest impediment to performing the lat pulldown in your home or garage gym is that it requires a pretty expensive machine – and it usually takes a lot of space.
We're going to review the best lat pulldown machines and attachments that are available for the garage gym enthusiast.
As an added bonus, many of these machines will let you perform the low row as well – another potent back exercise that's hard to do without a cable machine.
Sure, you can row a heavy barbell – but then it becomes more of a lower back focus, as opposed to the lats.
Here's the gear we are going to look at in this article:
Standalone Lat Pulldown Machines for your Home Gym
Let's look at standalone lat pulldown machines first – those that don't require a power rack.
We're going to look at units for the home gym or garage gym that are versatile – and space saving.
Rogue Fitness LP-2 Lat Pulldown/Low Row Machine
First, we're going to look at the Rogue LP-2 Lat Pulldown/Low Row Machine.
This is Rogue's latest design for a standalone lat pulldown machine – and it's specifically targeted to home users.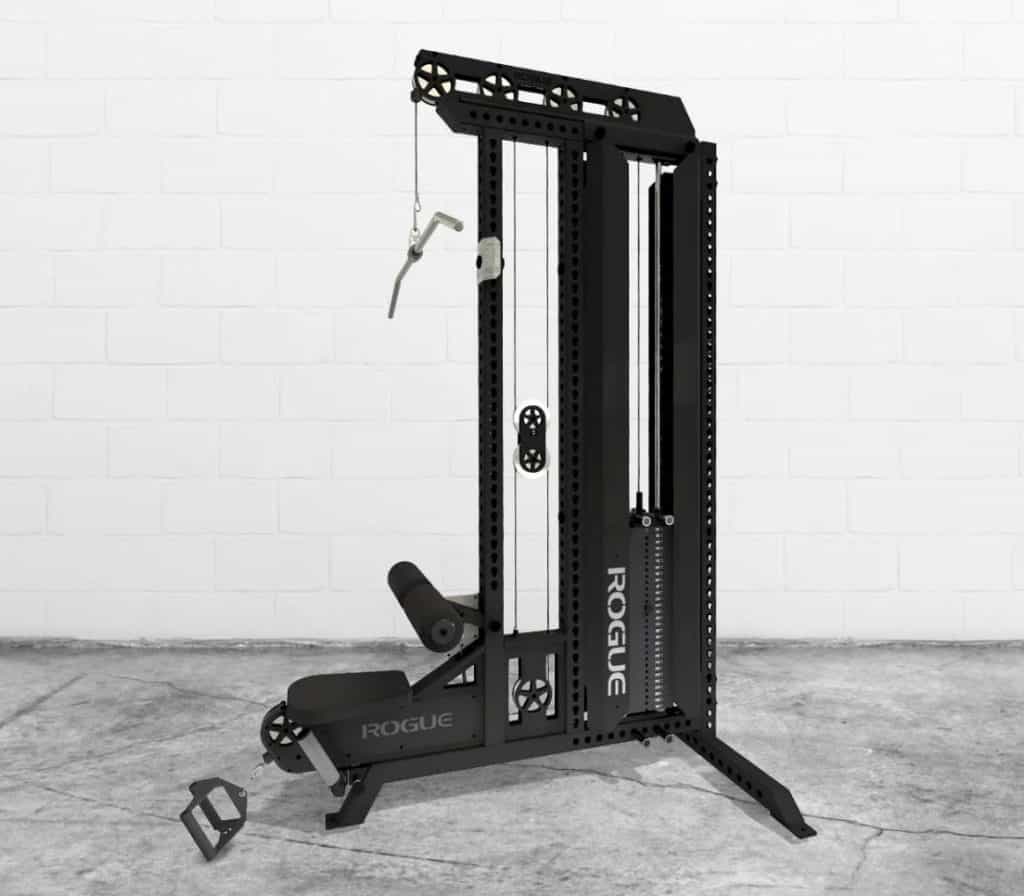 First of all, it's a dual function machine – you can perform both the lat pulldown and the low row.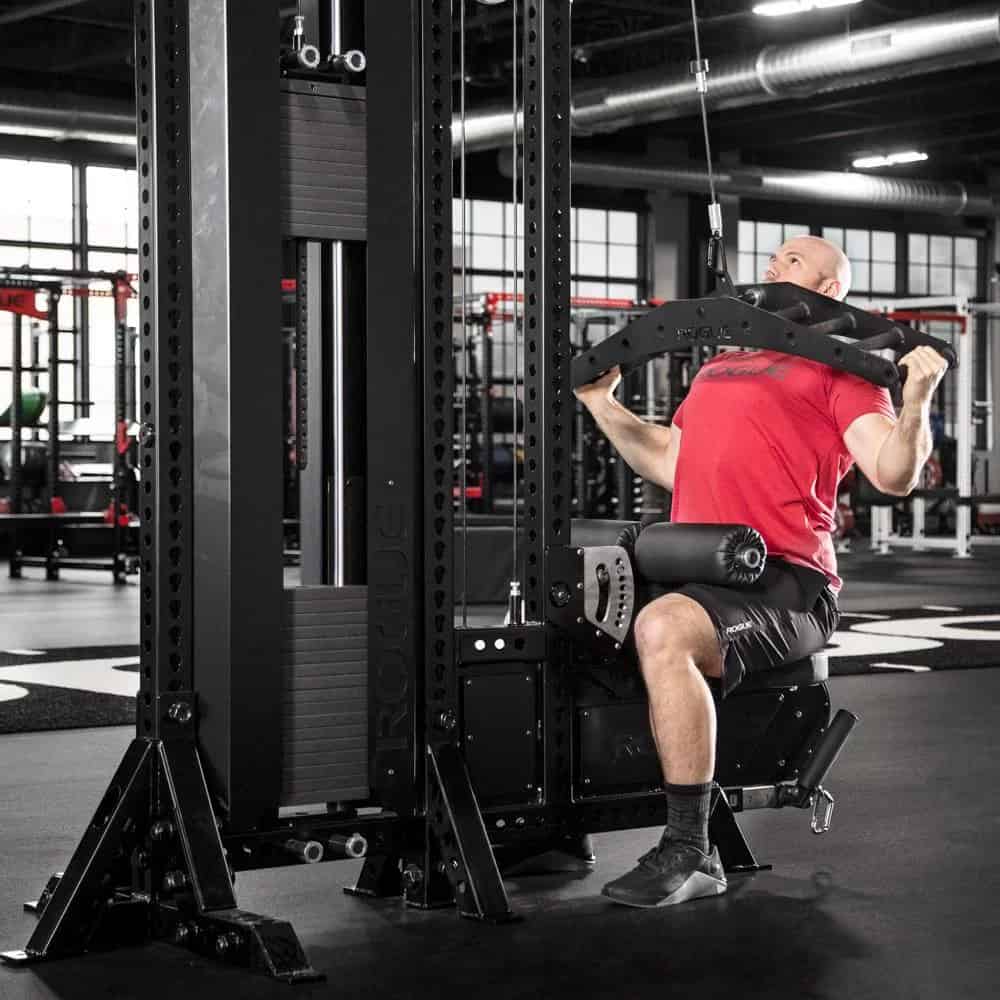 That's important for a home or garage gym – floor space is usually at a premium. We normally prefer when we can use one piece of equipment to do more than one thing.
The LP-2 is equipped with a 300 lb selectorized weight stack that is labeled in both pounds and kilograms.
The new swing-arm style foam leg rollers keep you securely seated for those heavy lat pulldowns.
It's made in the USA from 3″x3″ 11 gauge steel – and weighs in at 775 lbs – but Rogue still recommends you bolt it to the floor.
You'll notice there's no seat for the low row – that's good.
You can sit on the floor – right?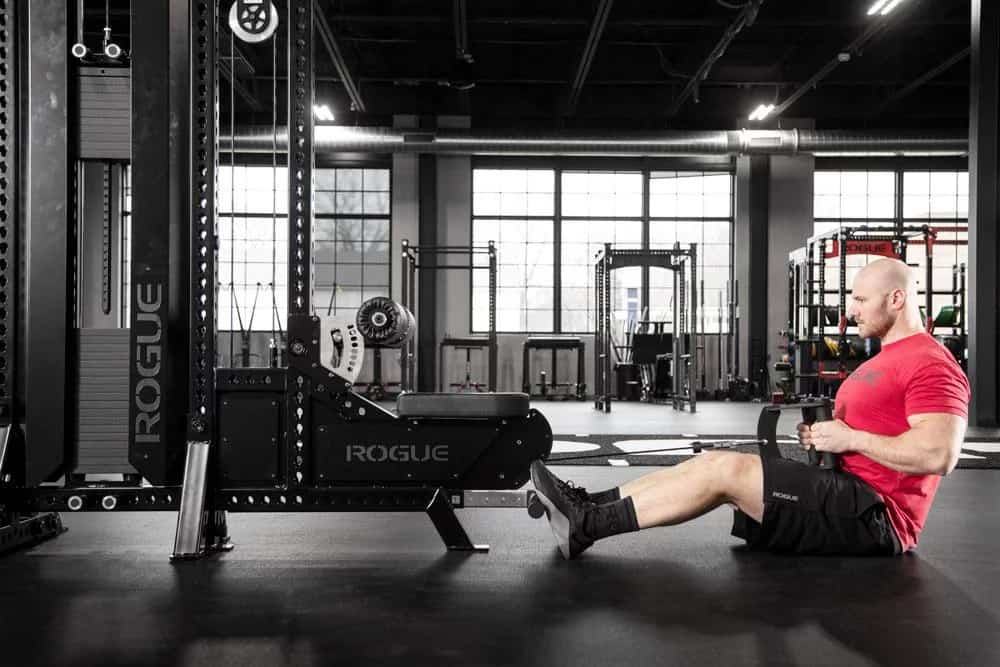 And that saves a lot of space. The unit has a 70" x 43" footprint.
But, this is a very tall unit – it is 9′ (108″) tall.
Make sure you have enough ceiling height for this.
Regarding shipping – there's good news and bad news.
Good news: no assembly required, it arrives fully assembled.
Bad news: It ships freight – so there will be some expense in that regard. There are also limits to where a freight shipment can be delivered.
The LP-2 is Rogue's latest lat pulldown design – next, we'll look at its predecessor.
Rogue Fitness Monster Lat Pulldown/Low Row (Standalone)
The Monster Lat Pulldown/Low Row Standalone was Rogue's original solution for stand alone back exercising.
As you can see from the picture – it's a no-frills unit.
There's a 300 lb selectorized weight stack, a seat with leg rollers, and a stainless steel knurled pulldown handle.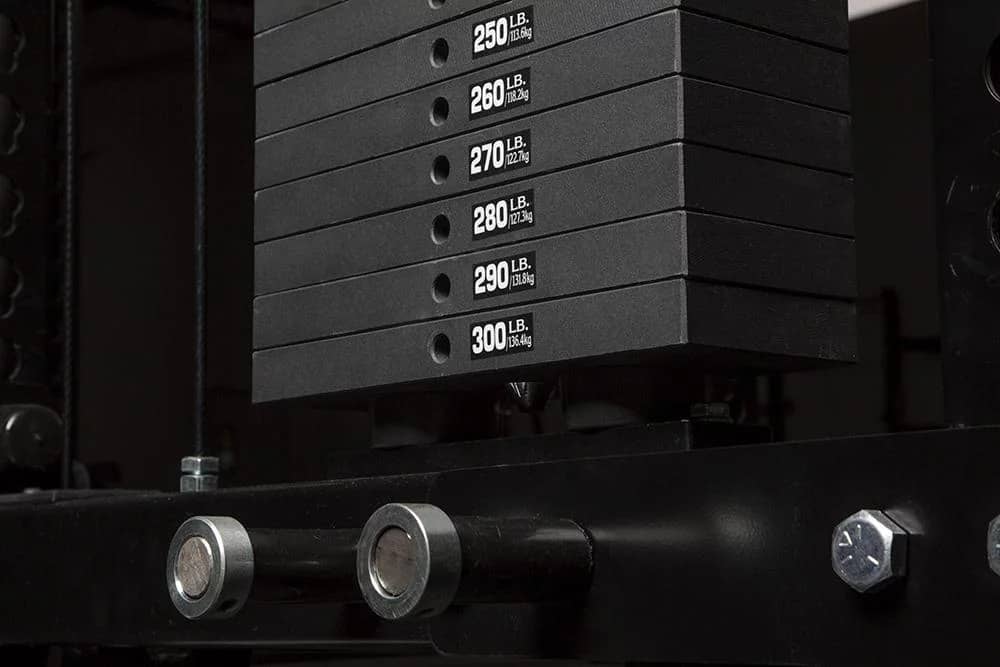 We really like the fact that this unit has band pegs built right in – that's a great way to add more dynamic, continuous tension to your workout – or to simply exceed the resistance limit that the weights alone can provide.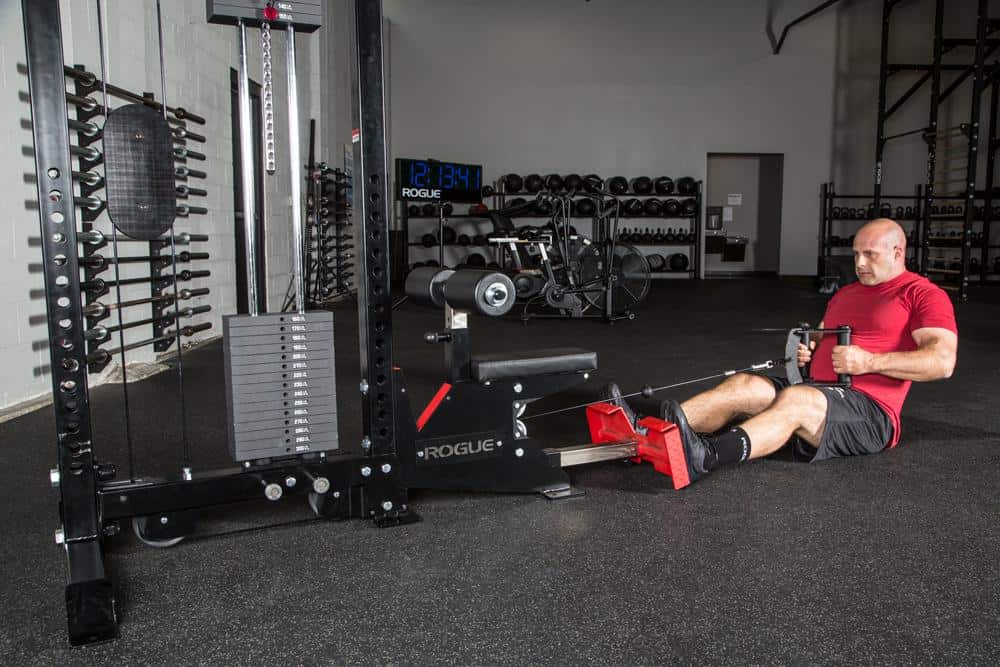 It's great to be able to perform seated rows – without all the space that a longer rowing seat would normally take up.
This unit is a little shorter than the LP-2 (at 96″ vs 108″).
Footprint is 60″ x 40″ and it weights 605 lbs.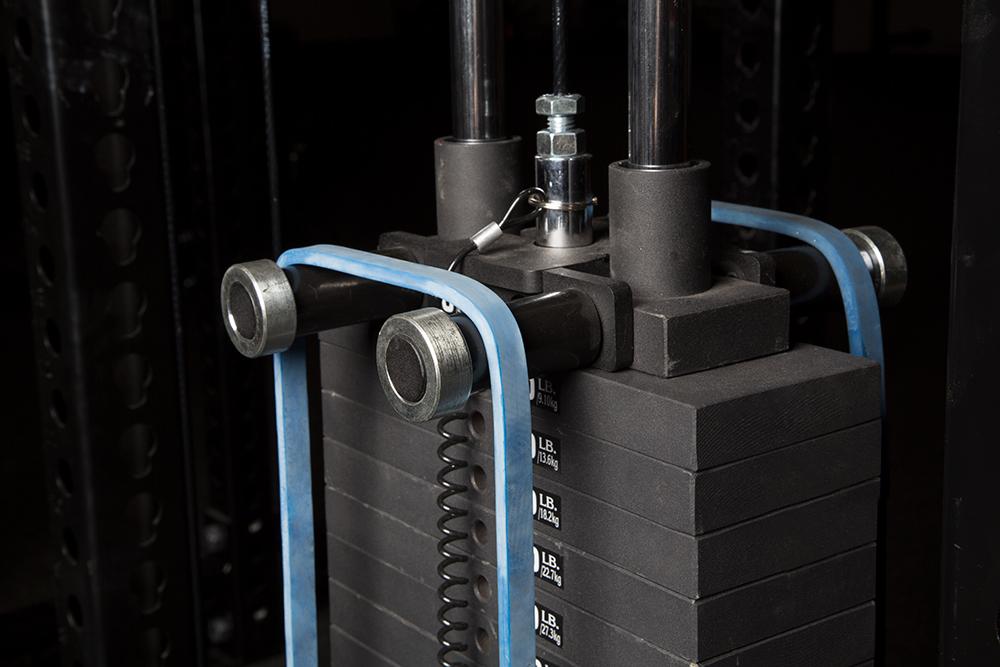 Lastly, while this unit is a little bit cheaper than the LP-2 – it's harder to get as they are made to order only.
As with the LP-2, this unit will ship fully assembled via freight.
We have one more Rogue option to review…
Rogue CT-1 Cable Tower Machine
Rogue recently released the CT-1 Cable Tower Machine.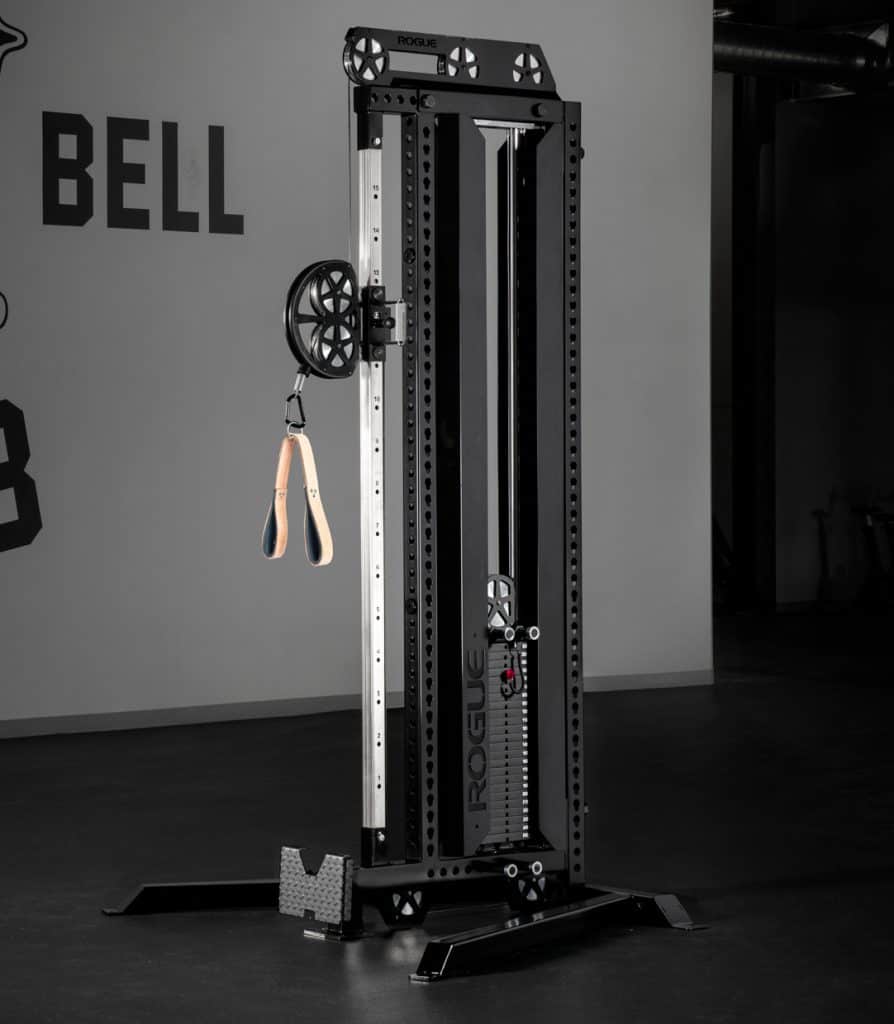 First of all, let me say – this is NOT a lat pulldown machine.
But, you could use it for light lat pulldowns with the right handle, and if you scoot a bench up close to it.
But, you'll have no leg rollers to keep you firmly seated for heavy lifting.
Having said that – this is otherwise a versatile and small footprint item for your home gym – because the pulley system is easily height adjustable.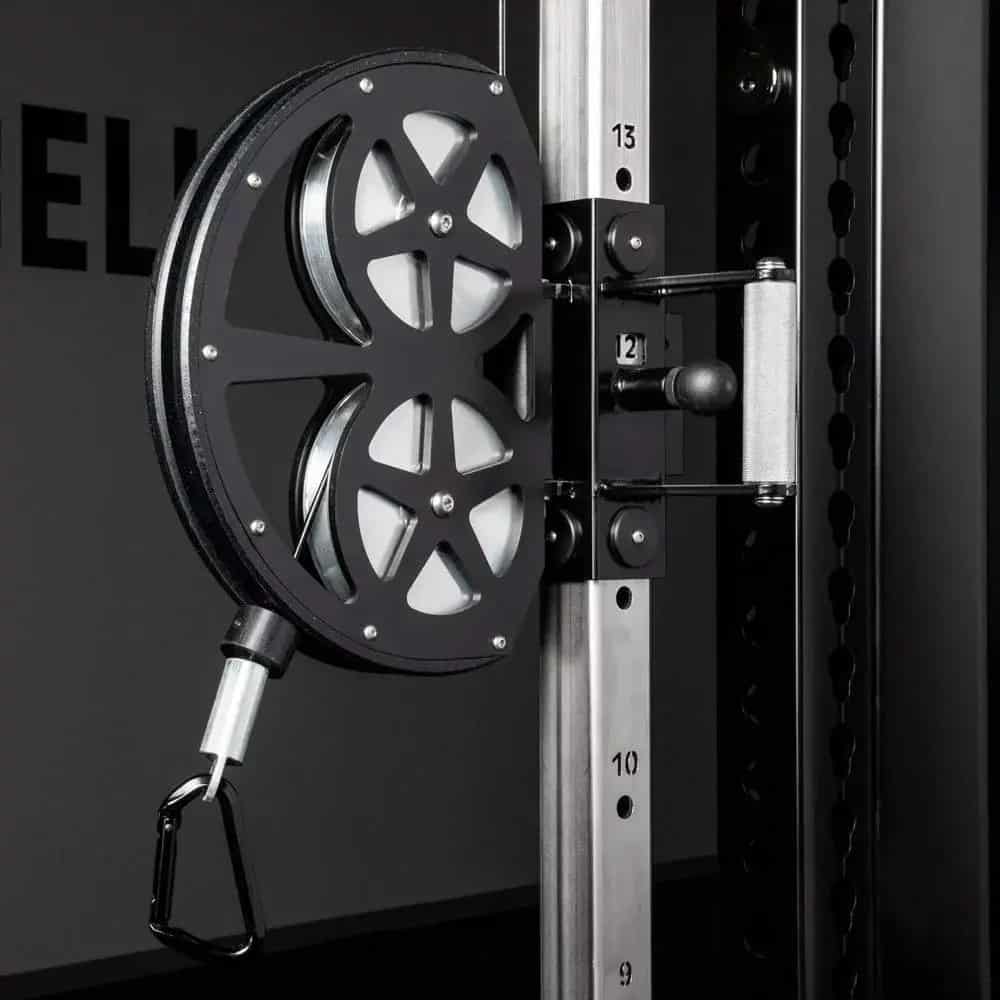 The pulley is height adjustable in 16 locations from low to high.
This means you can use it for low rows (it includes a footplate), tricep pushdowns, curls, and a whole lot of other exercises that we all love to do with cables.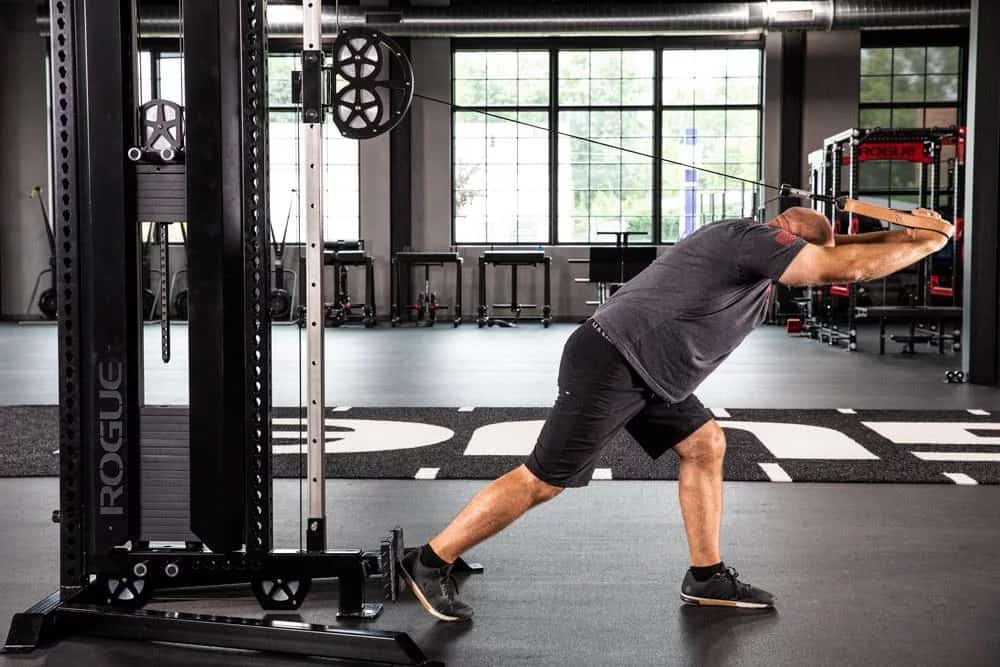 Here's a "seated" row.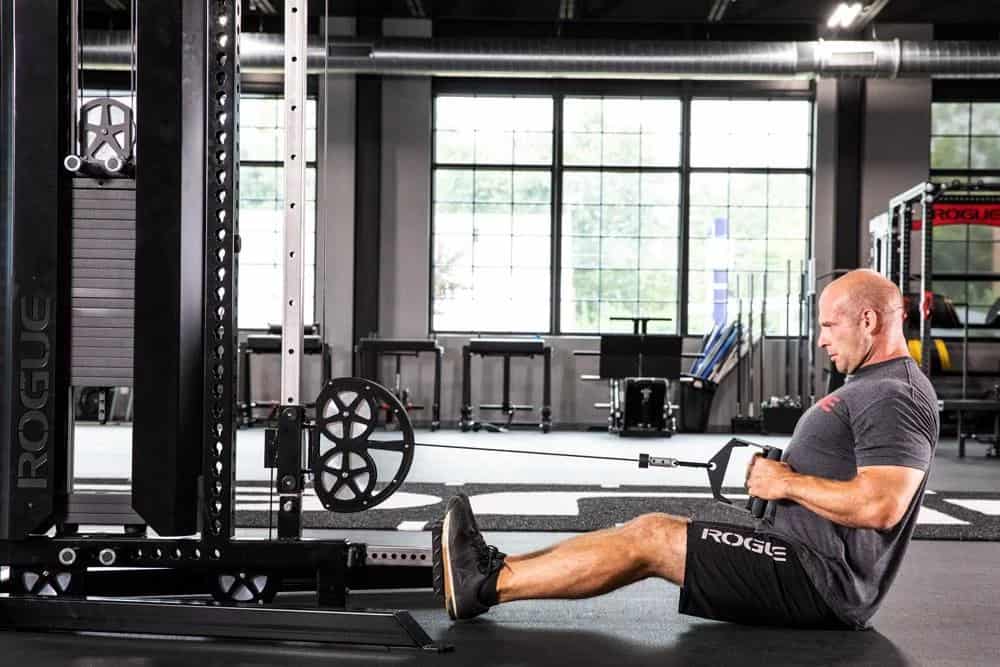 This CT-1 has a 250 lb weight stack, with 2:1 ratio pulleys.
That means there's 125 lbs effective resistance.
Like the other units we've highlighted from Rogue – it has band pegs so you can add a lot more dynamic resistance if you desire.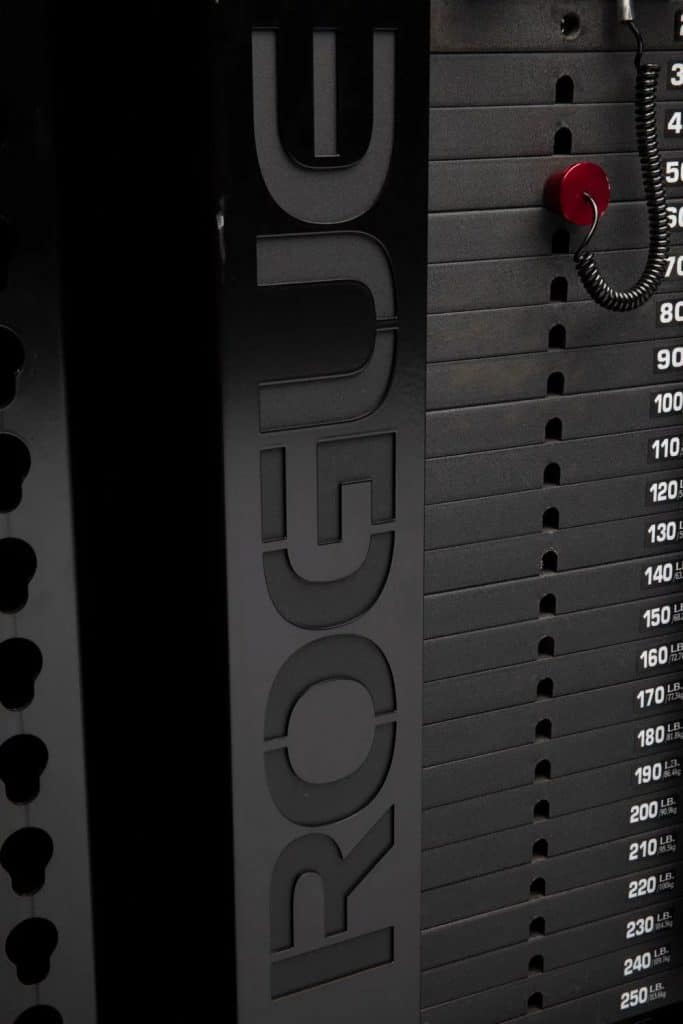 The only downside to the CT-1 is that it is 9′ tall (108″) – so make sure it'll fit in your garage before you buy it.
But, you can do curls on it. Everyone loves curls.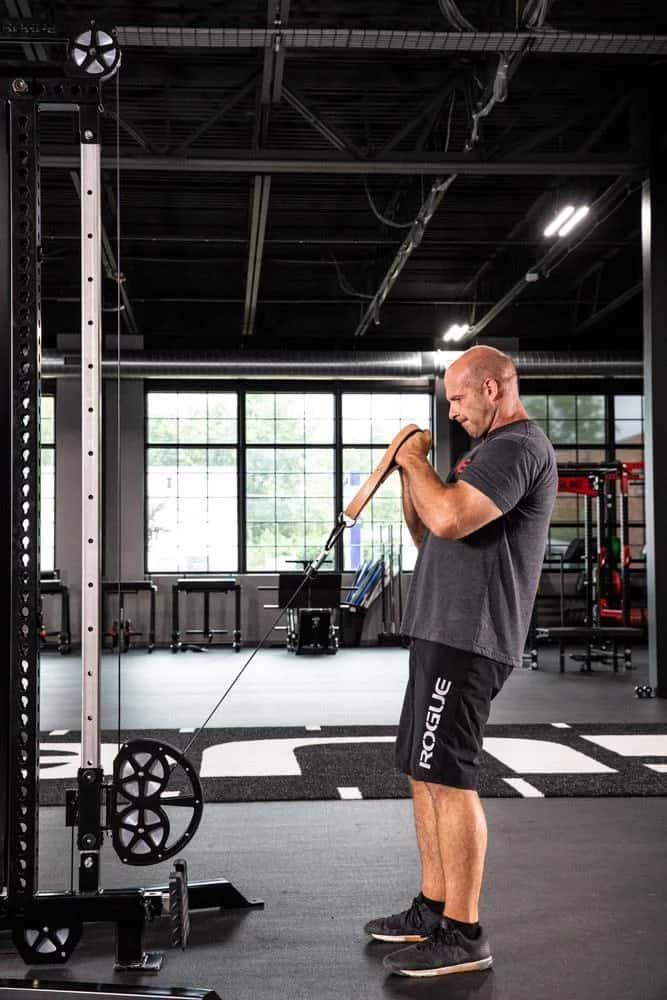 That brings us to our last lat pulldown standalone option – this is our bargain pick.
Rep Fitness Dual Function Lat Pulldown / Low Row Commercial
The Lat Pull-Down / Mid-Row Dual Function machine from Rep Fitness is a commercial unit – at a bargain price.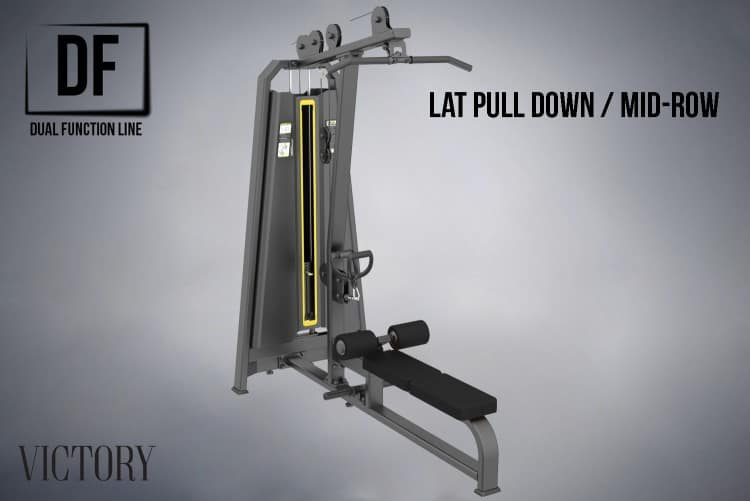 This is not a bad unit.
But, there are some things you should be aware of.
The weight stack is only 240 lbs – with no provision for band attachments.
That's not going to be enough weight in most hardcore garage gyms.
It's also billed as being a "mid-row" unit as opposed to a low row – this is because of the fixed seat – which takes up a bit of room.
Overall, it's a simpler, cheaper unit – but probably not what we'd recommend for hardcore weight lifters and bodybuilding.
OK – that's all the stand-alone units we have to review. Let's look at ways we can extend your power rack to become a lat pulldown machine.
Rack Mounted Lat Pulldown Machines for your Power Rack
If you have a power rack – you can add an attachment to give you the ability to do the lat pulldown, low row, and other cable-based exercises.
Now we'll talk about those.
Rogue Monster Lat Pulldown / Low Row
Got a Rogue Monster series power rack?
Then you can add the Rogue Monster Lat Pulldown / Low Row and add the lat pulldown and low row to your rack.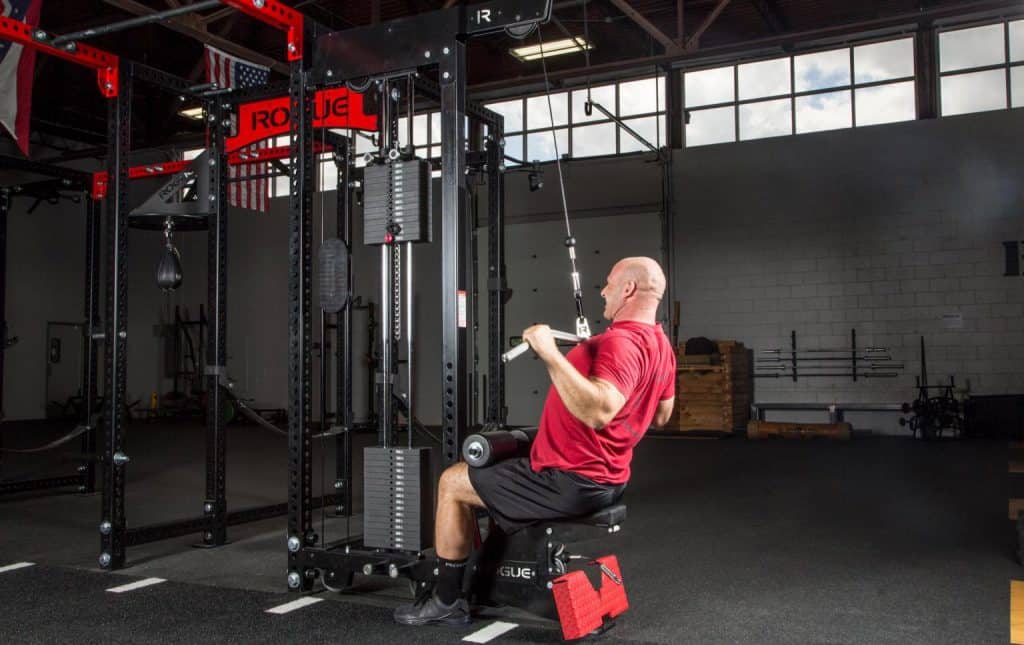 This unit has all the great features of the standalone Monster lat pulldown – the only difference is that it's made to work with the Monster series rack.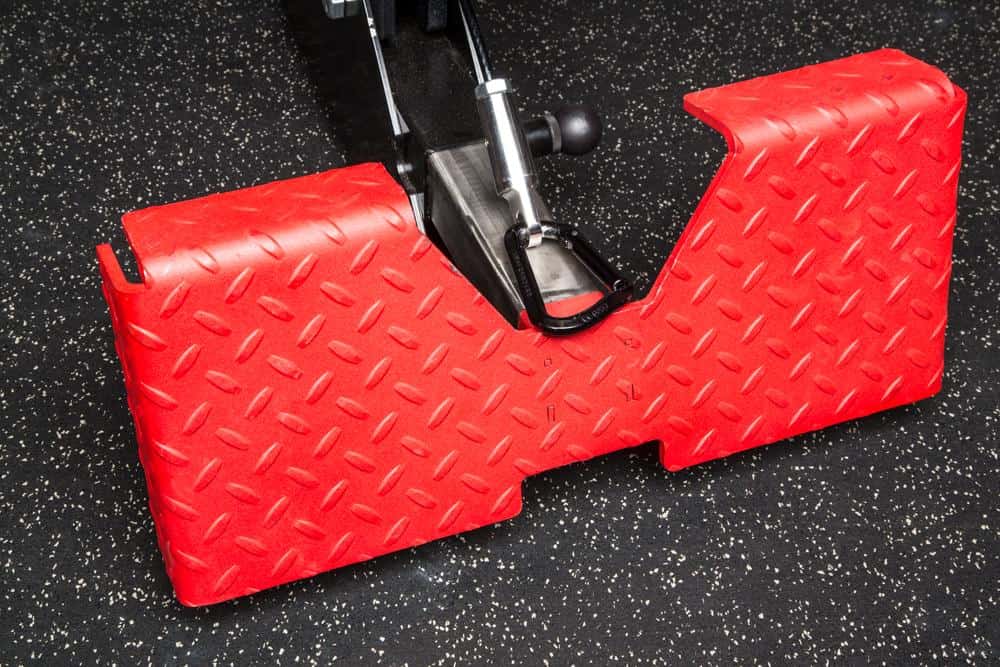 As you can see, it pretty much includes everything the standalone unit does – and that makes it expensive (and big).
Let's look at some cheaper options.
Rogue Monster Slinger
The Rogue Monster Slinger is a cheaper option to add a cable-pulley system to your Rogue Monster series power rack.
This is a pulley system that attaches to the top of the rack and lets you use weight plates, bands, or a weight stack as the resistance.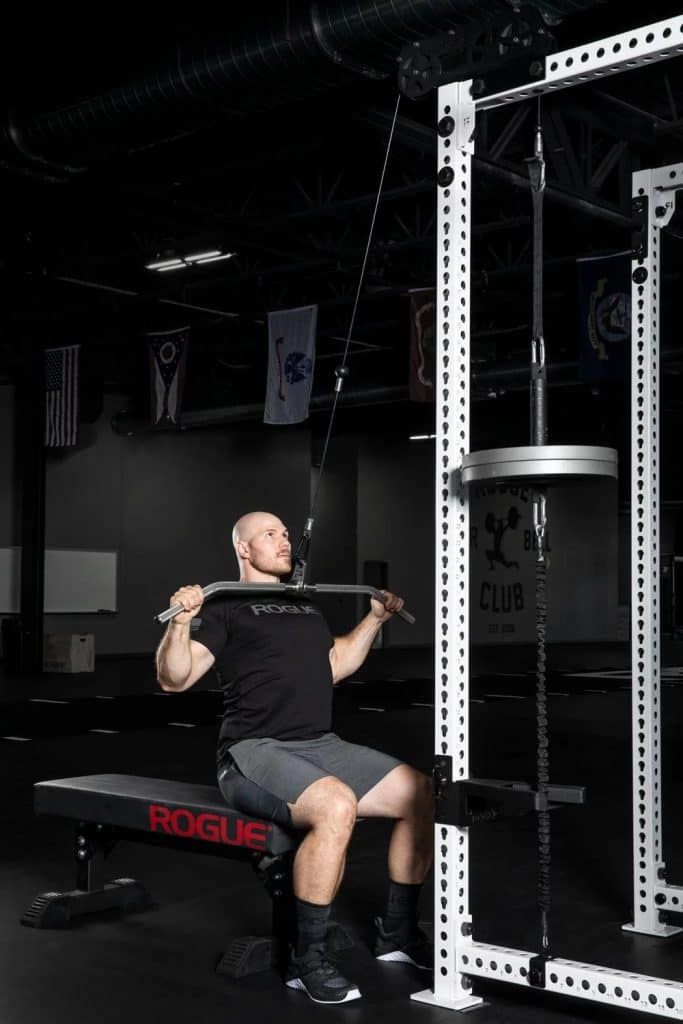 Please note that each option requires a different purchase option.
Shown above is the plate loaded option being used for lat pulldowns with a lat bar handle.
While this is a very cost-effective solution – be aware it doesn't provide any leg roller – or a seat – you'll have to scoot a weight bench up to the rack to sit on.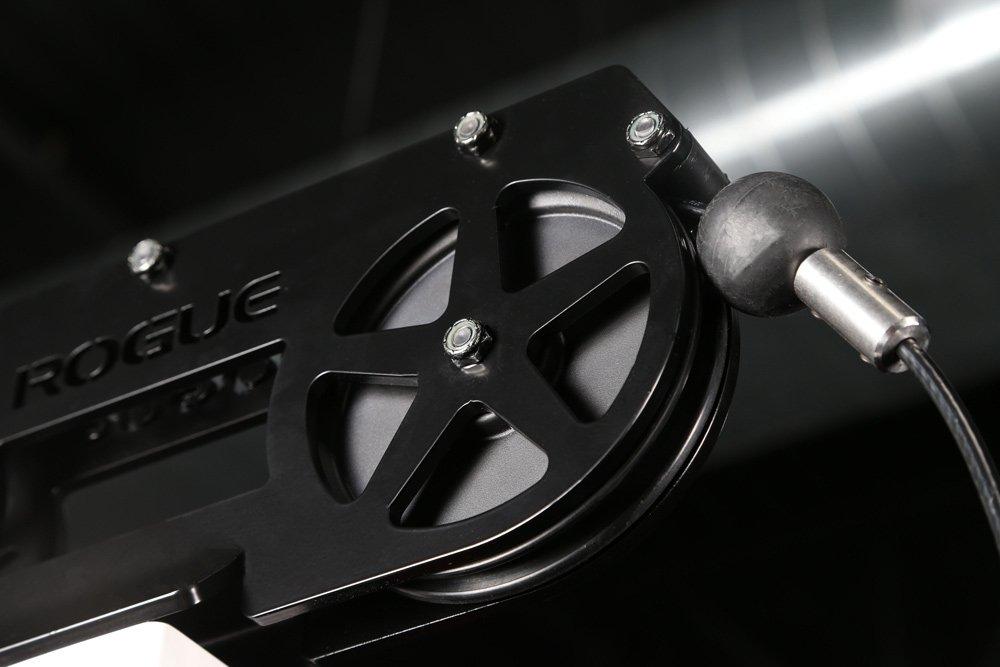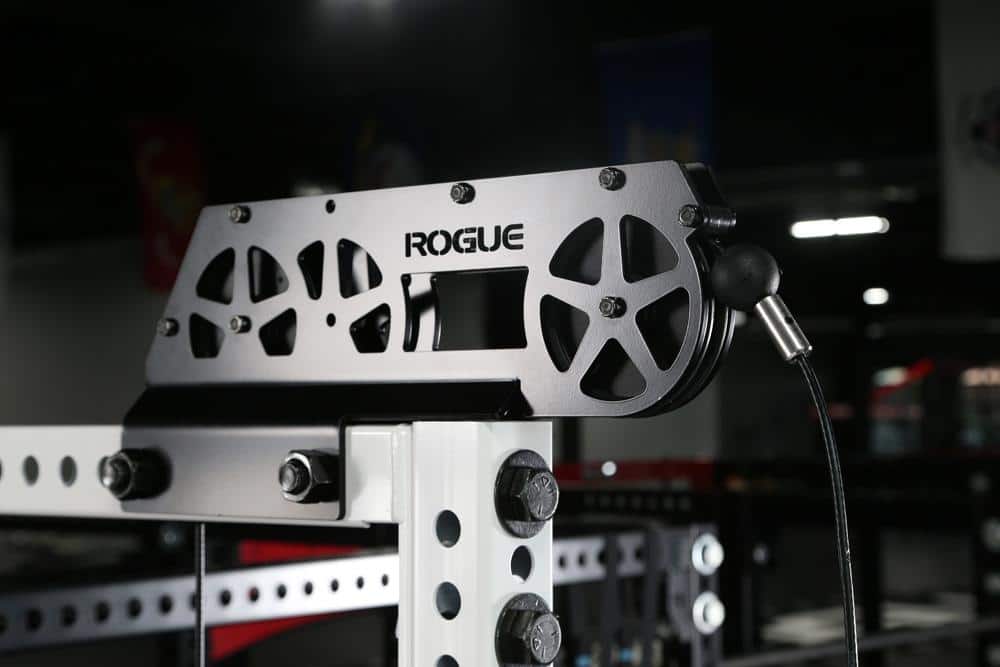 But, considering the savings – that's probably OK.
With these "Slinger" units you can do light lat pulldowns and a variety of pushdowns.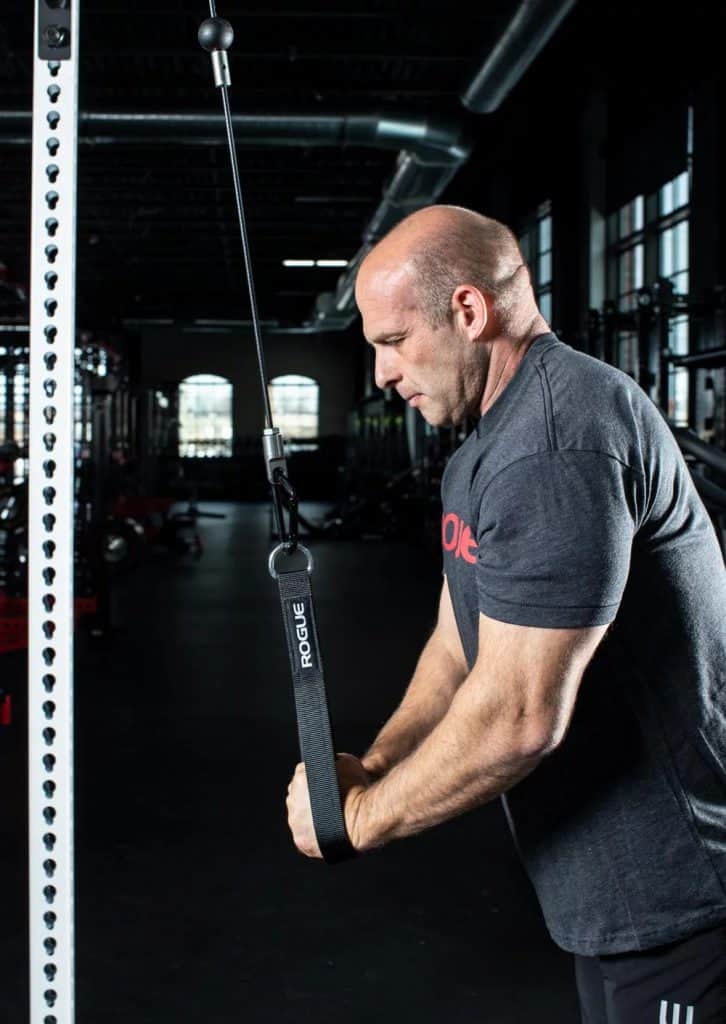 But, these are NOT as versatile as the Cable Tower CT-1 because the pulley height isn't adjustable.
If you have a Monster Lite series rack, or Infinity power rack, there are options for that too.
The Rogue Monster Lite Slinger is meant for the Monster Lite line of power racks.
This version of the slinger offers band resistance only – at this time plate loading or a weight stack are not an option.
So, the Rogue Monster Lite Slinger can only use bands.
But, it does include a neat band sheath system that ensures a broken band won't cause injury.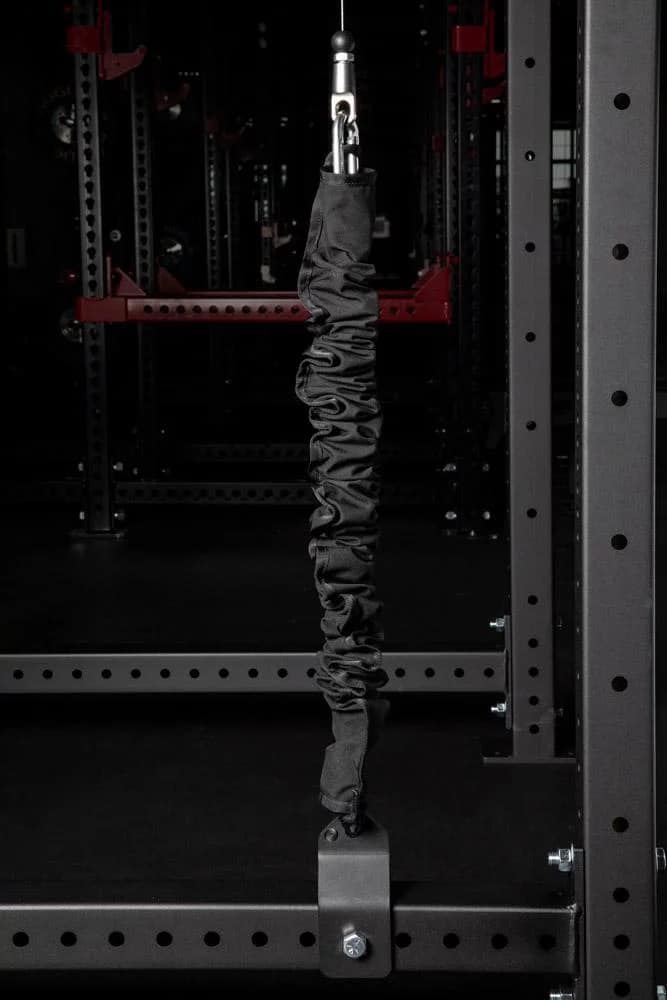 Similarly, for those with the Infinity rack system – there's a similar option.
The Rogue Infinity Slinger is a bands-only cable-pulley system for use with any Infinity series power rack from Rogue.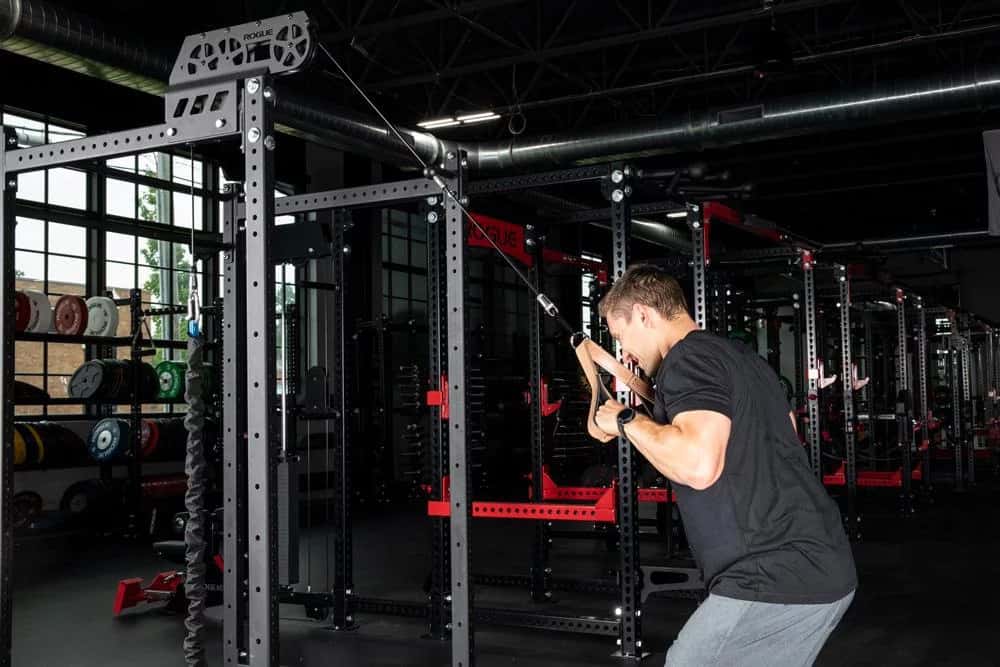 As with the other Slinger units – the caveat is that they should be used for light lat pulldowns only, as there are no leg rollers.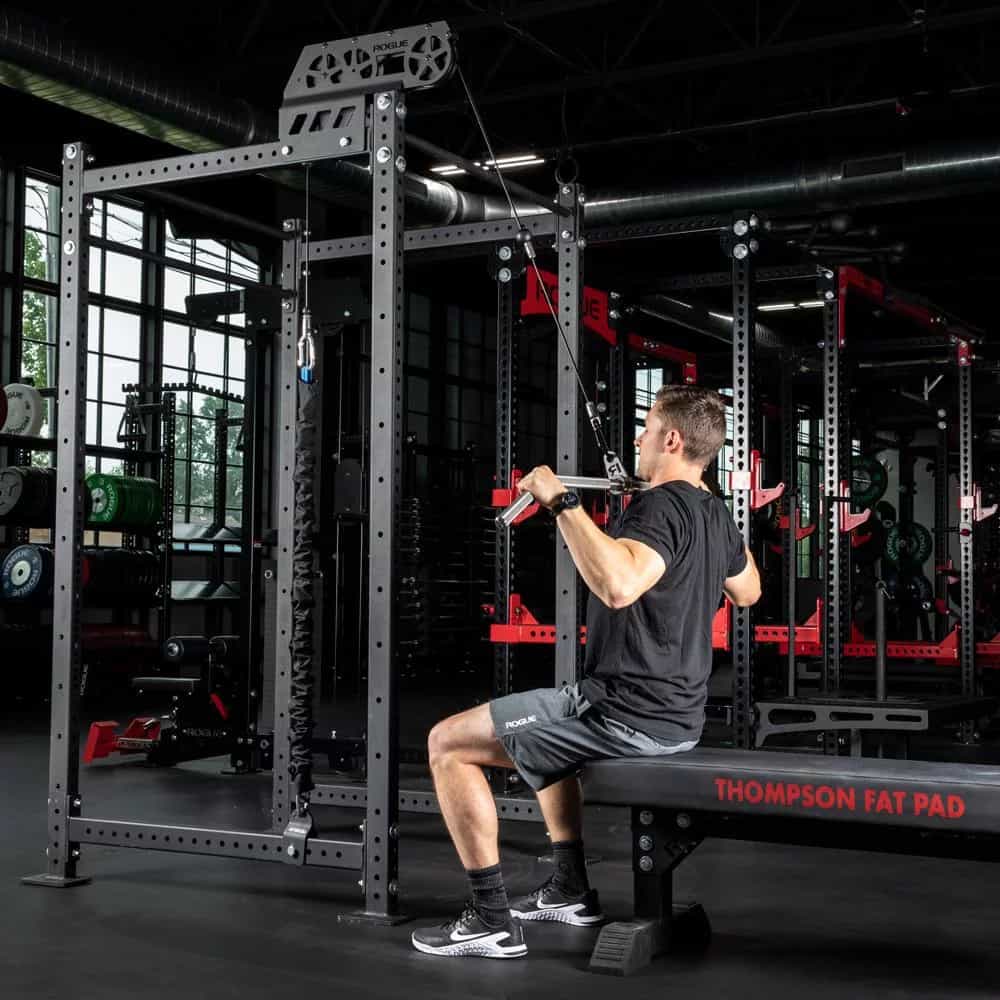 The Slinger is a very cost-effective option – and available for every rack model that Rogue makes – but it does have it's limitations.
You'll need to decide what is the best option for you.
Best Lat Pulldown Machines for your Garage Gym – In Summary
Lat pulldowns and low rows are excellent exercises for your lats – and your shoulders, arms, and more.
But, it requires a fairly expensive machine that takes up a lot of room (and height!)
We've reviewed several standalone dual-function units that target the home or garage gym enthusiast – and give you the best bang for your buck.
And perhaps best of all, those with good power racks can add "slinger" style attachments to turn their rack into a cable machine – for a very cost effective option.
Photo Credits
All Rogue Fitness product imagery is property of Rogue Fitness, and provided by Rogue Fitness.
Some photos are property of Rogue Fitness
Affiliate Disclaimer
We are an affiliate of Rogue Fitness and Rep Fitness. If you purchase equipment after clicking links in this article we receive a small commission at no additional cost to you. This helps us bring you great info about these products.
Tim is the founder of FitAtMidlife.com – an avid gym rat for 30+ years, he's a reviewer of many, many shoes – and founder of the Speed Bag Gathering – the world's only gathering of speed bag punching enthusiasts.  See more gym reviews at Tim's YouTube channel.