Nike just released a great new running shoe – the Nike React Infinity Run Flyknit.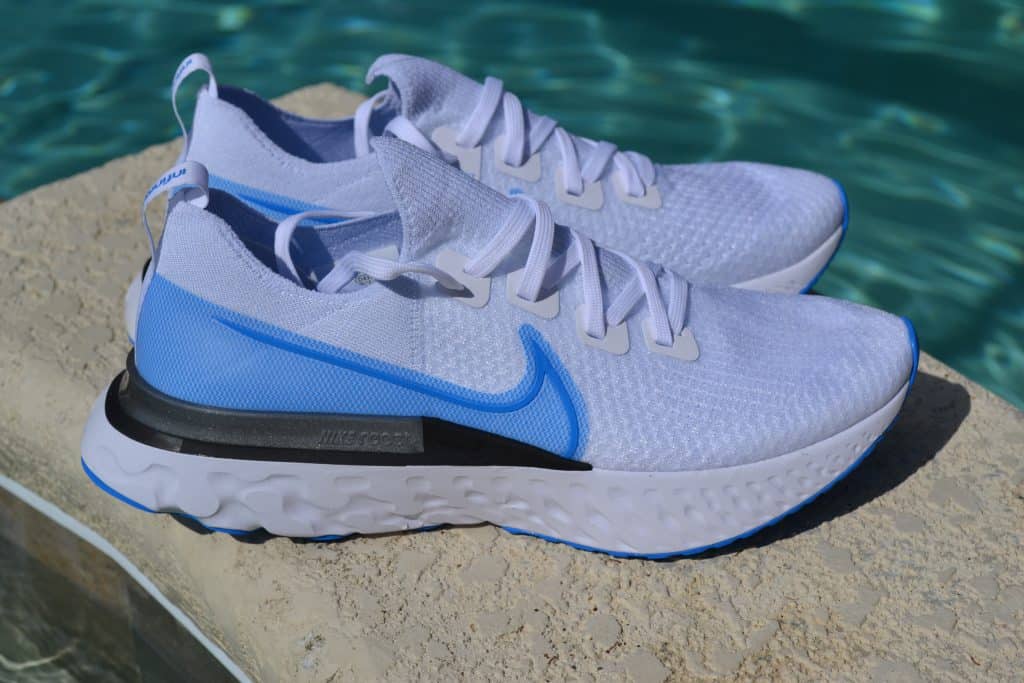 Normally we only review cross training shoes for this website.
But, when Nike recently released the React Metcon series of shoes I became infatuated with Nike's React foam cushioning system.
It's really good stuff – if you need a lot of cushion in your shoes.
And because I'm on the heavier side (from all that weight lifting) having more cushion rather than less is better for high-impact running.
That brings us to the new Nike React Infinity Run Flyknit shoe.
With this shoe, Nike has taken React cushioning to the extreme – and they claim this shoe can even help reduce the occurrence of injuries.
Let's take a close-up look.
You can get this shoe from Road Runner Sports (we are an affiliate):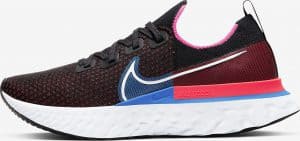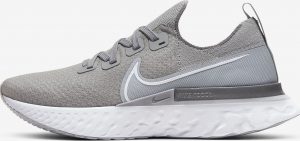 Let's dive right in.
Nike React Infinity Run Flyknit – Sizing
First, a word on sizing.
These run true to size, in my opinion.
My normal size is a Men's 11 – and these are spot – on.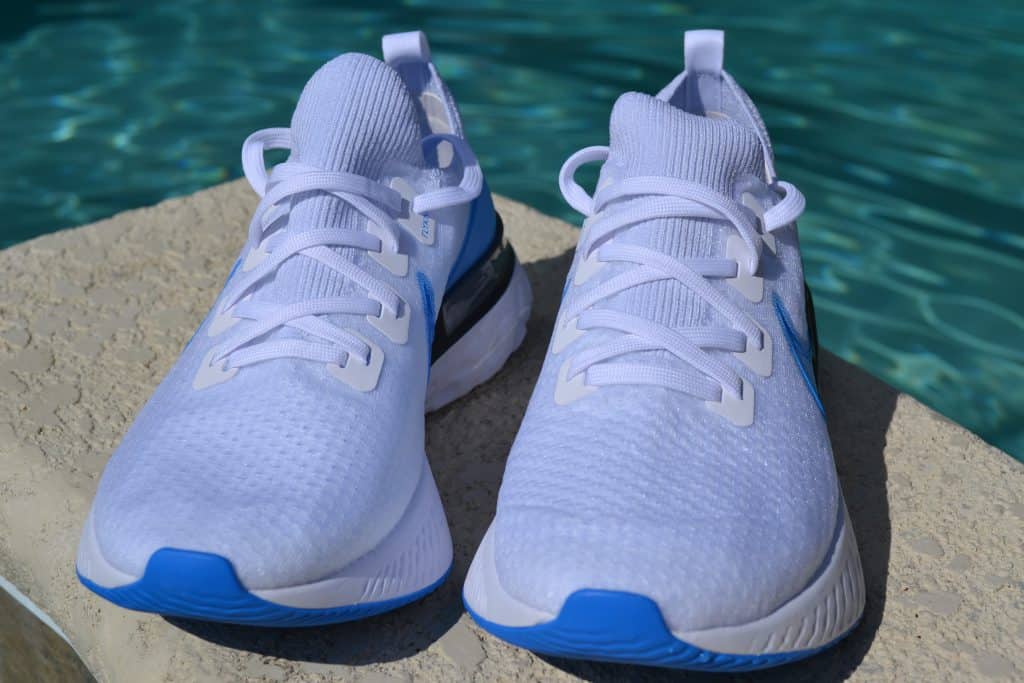 Not too long, not too short, and the width is perfect (for me.)
Also this is a Flyknit shoe.
We'll cover this more in depth, but you want a form fitting, sock-like fit with Flyknit – that's the whole point.
So, my advice is order in your normal size, unless you have very wide feet, in which case you might have to go 1/2 size up.
Nike React Infinity Run Flyknit – A Few Review Caveats
First, these are running shoes, not cross trainers.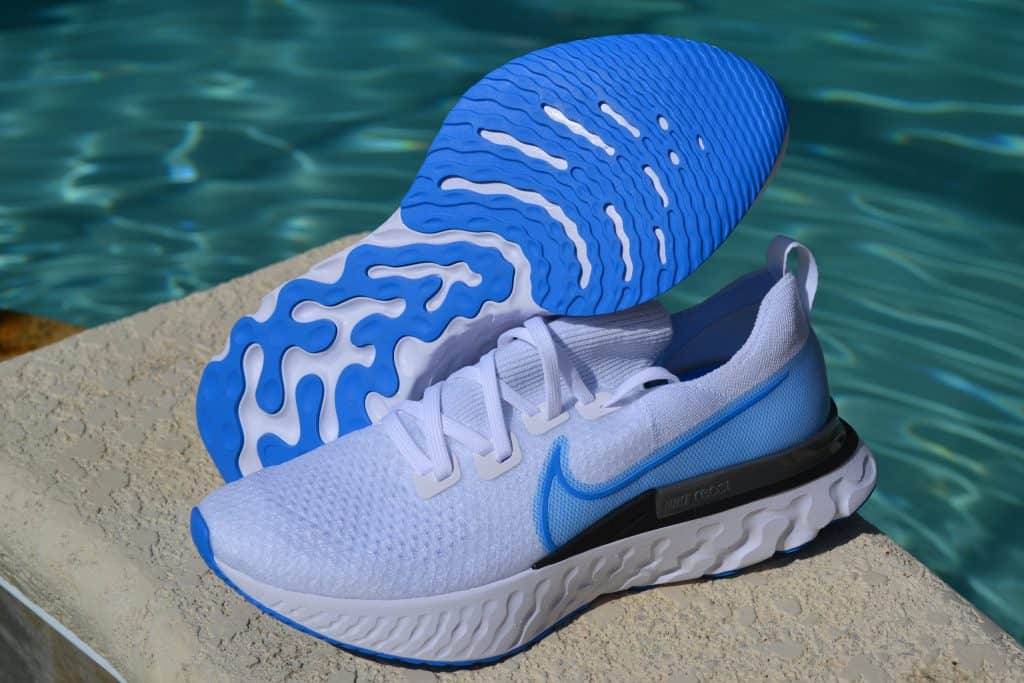 Therefore we aren't going to be talking about whether or not these are suitable lifting weights or anything similar to that.
They are not. They have way too much cushion to be considered a stable weightlifting shoe.
(They would probably also get torn to shreds on a rope climb.)
Ok, enough on that – let's get back to running.
Nike claims these shoes can reduce the occurrence of injuries. They ran a test study over a period of 12 weeks and compared the number of days missed due to pain to a control group with a different kind of shoe.
Now, this wasn't a double blind, controlled study. It was probably more of a marketing study.
And I'm not going to attempt to weigh in on this aspect either.
I can tell you these shoes are lightweight and have a lot of cushion.
Will they prevent an injury? I don't know and I'm likely not ever going to be able to confirm that.
I can tell you this – I prefer running in a REAL running shoe such as these as opposed to a cross trainer.
The cushion (especially in a React shoe) is a welcome blessing for running on asphalt – and other surfaces.
I'm 6'2″ and 200 lbs.
I'm not a distance runner and running is a lot of impact for me.
So I don't run for extended distances, but I'll give you my thoughts and feedback on using these for short, CrossFit style runs.
Features of the Nike React Infinity Run Flyknit Running Shoe
Let's start with the main attraction – all that glorious React foam.
There is a lot of foam in the outsole.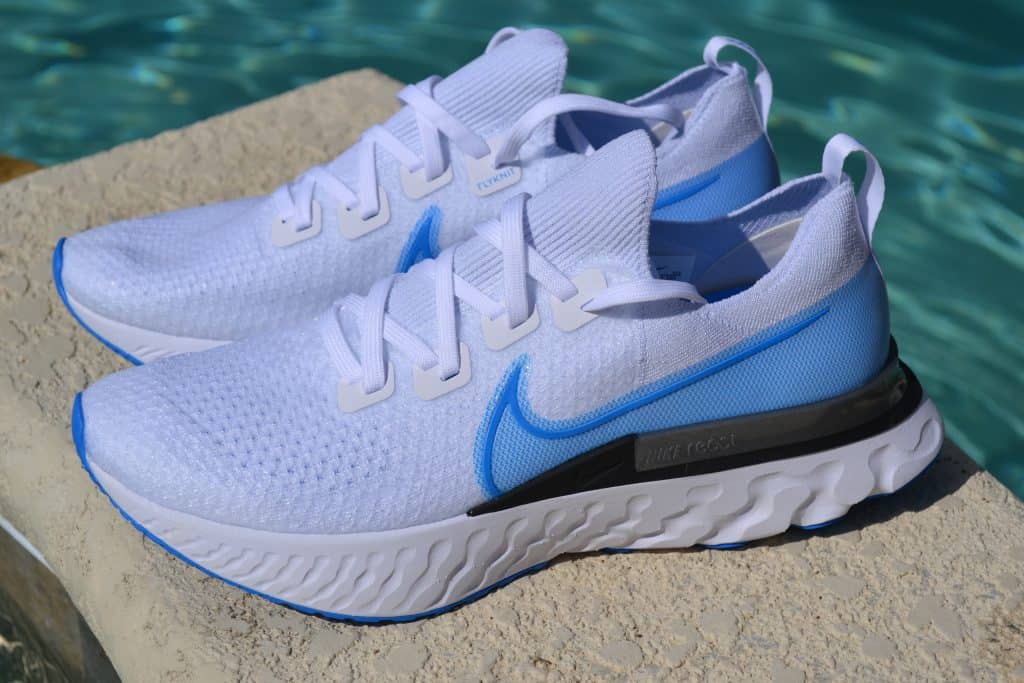 In fact, it's a "tall" shoe. The "stack height" in a shoe is the height off the ground your feet are.
And it's quite high in this shoe because there is just so much foam underfoot.
This of course leads to a softer feel.
It's also a wide shoe as well – as you can see from the photos.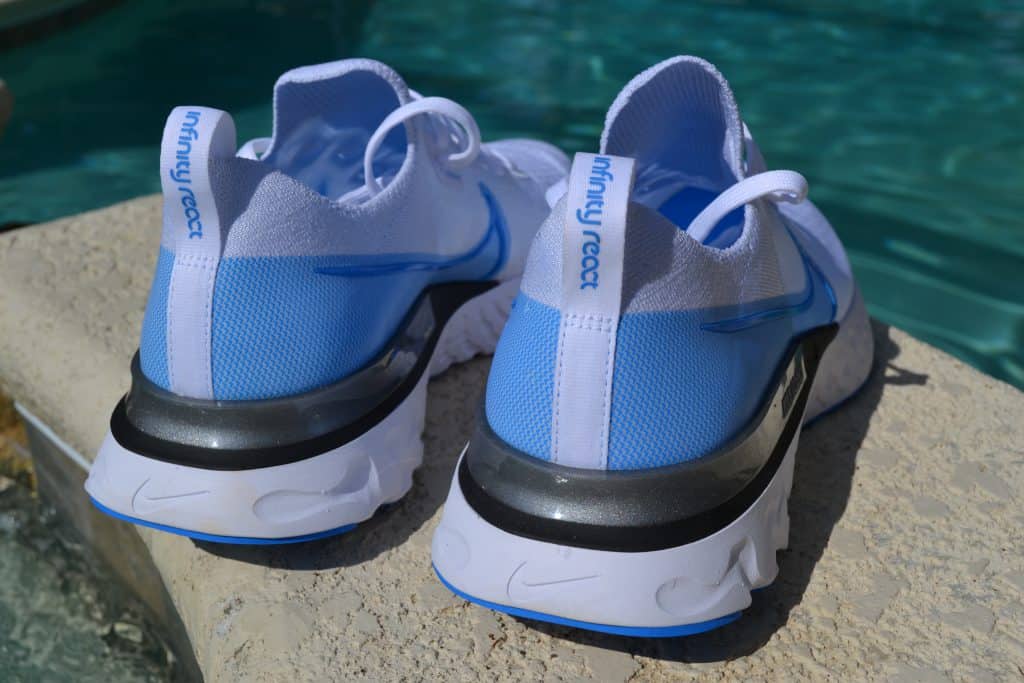 But the real magic is Nike's React foam.
Nike explains it best:
"Nike React is an unprecedented foam cushioning innovation and our most responsive foam yet. In fact, Nike React is 11% softer and offers 13% more energy return than our previous softest and bounciest cushioning. It's also more durable and more lightweight. Basically, Nike React is instant go—a contagious sensation that makes you want to run."
Sounds magical doesn't it?
I can confirm it feels that way too.
You really do feel like you have extra spring in your step with these on.
These are a joy to wear – walking or running.
(NOTE: The Nike React Metcon, which has a very thin slab of React foam, doesn't have anything like the same feel. This is a whole different level of cushion.)
The other factor for cushioning and injury prevention is the shape of the outsole.
Check it out here in profile view.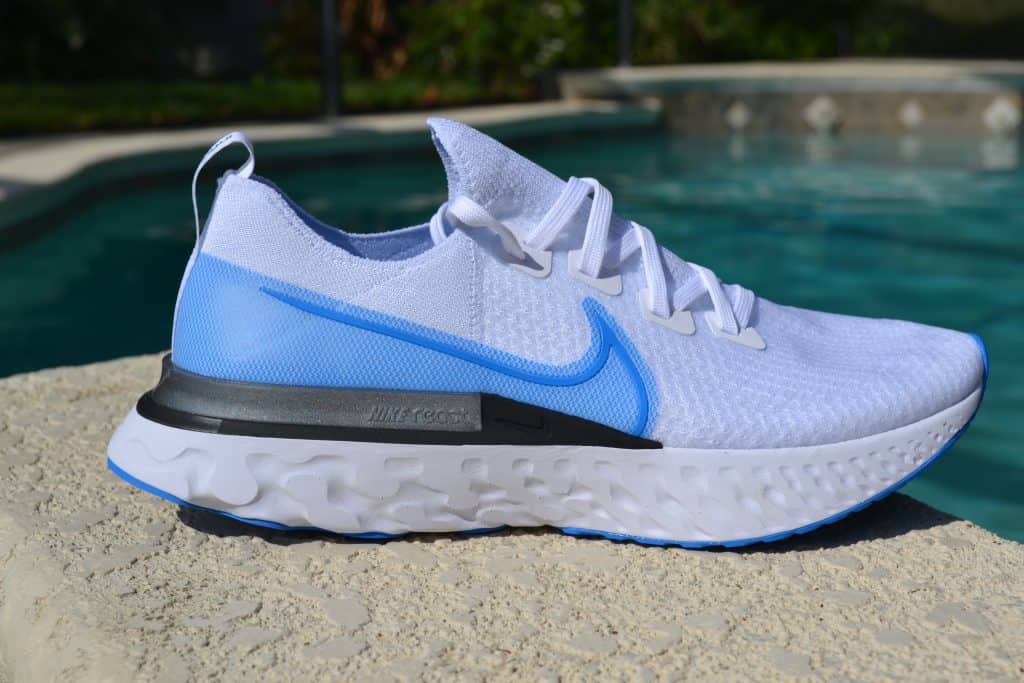 It's like a rocking chair – and that means you get what Nike calls a "smooth ride" through the 3 phases of your stride.
Toe-off (at the toe), mid-stance (mid foot), and contact (heel).
The heel to toe drop (or offset) is 9mm (forefoot: 24mm, heel: 33mm).
That's how much heel raise is inherent in the shoe – and 9 or 10mm is very common for running shoes.
Here's another thing I love about the React running shoes – they are light-weight.
My men's size 11 weigh in at 11 ounces each. That's pretty good.
React is a lightweight material – but the upper is also a component of this.
The upper of this shoe is made with the newest version of Nike's "Flyknit" material.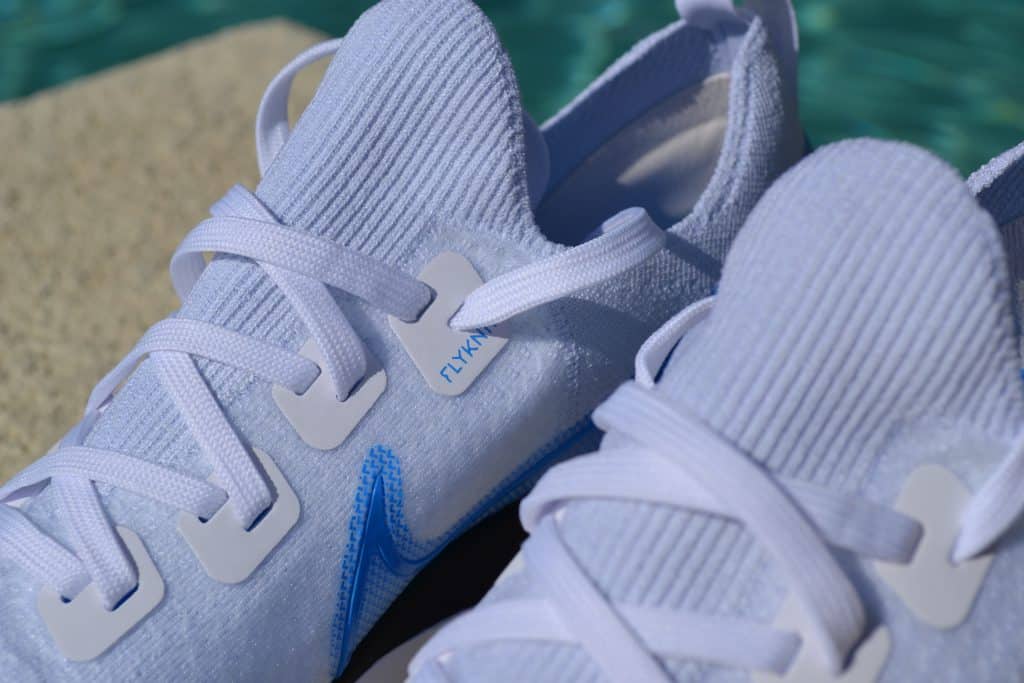 It's stretchy and comfortable – like a sock – literally.
It's a single layer, synthetic material that is knit like yarn.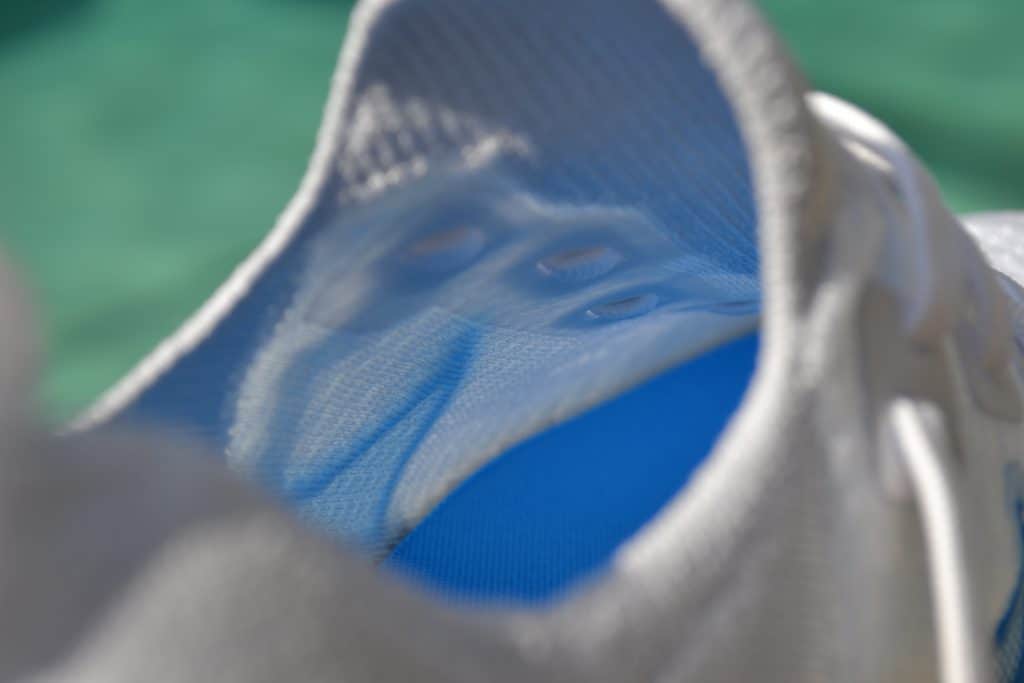 And that means few (or no) seams, and a nice fit.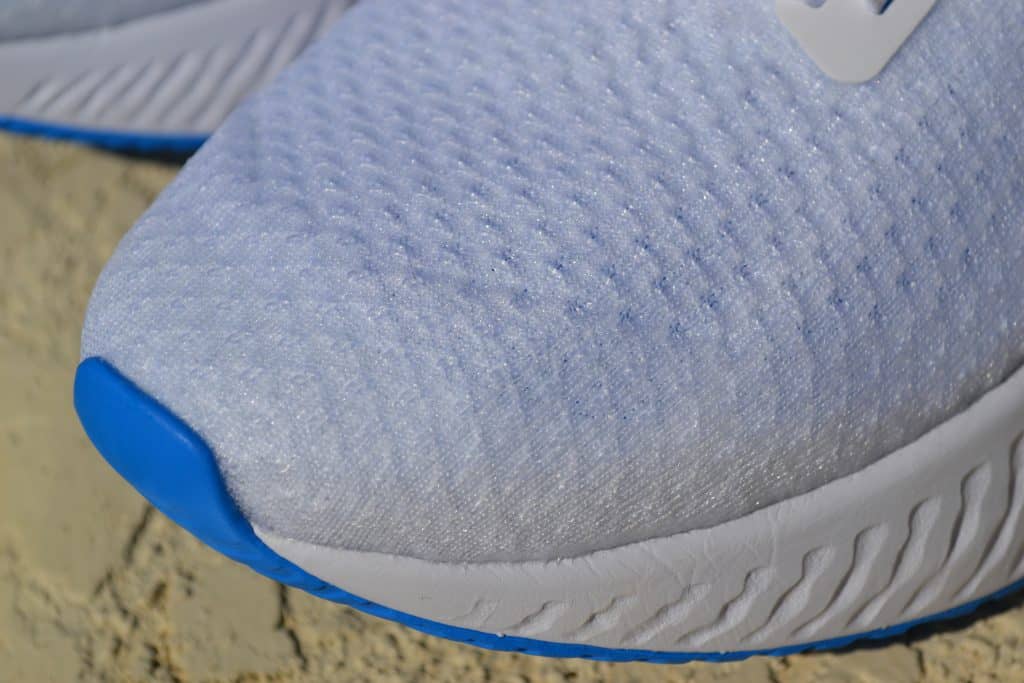 It's both comfortable and lightweight.
This version of Flyknit is touted to be more durable than the previous, and should last longer.
As you can imagine, any "sock-like" material is not going to be very tough though – so set your expectations appropriately.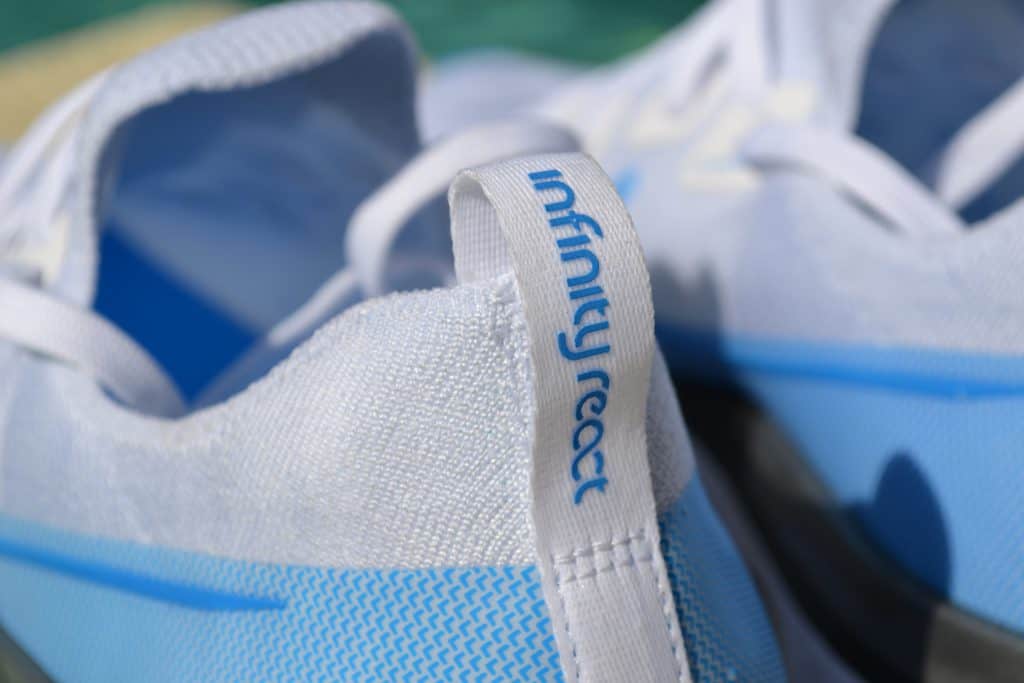 This shoe also has traditional laces.
They aren't fancy – but they work and they are reliable.
(I'm not a fan of quick pull lacing or laceless setups on running shoes – or trainers.)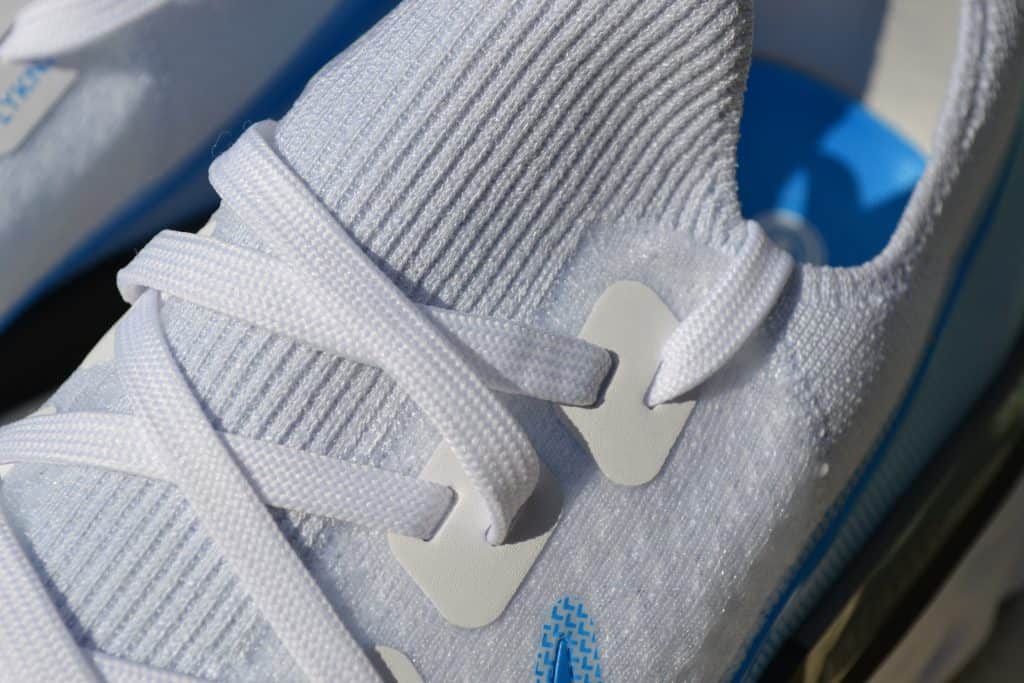 Here's another important aspect – there's not much between you and all that React foam.
There's a thing drop-in insole that doesn't do much.
That's a good thing – because the React foam is what matters.
But here's another consideration – React foam is NOT tough. It cannot take a lot of abrasion.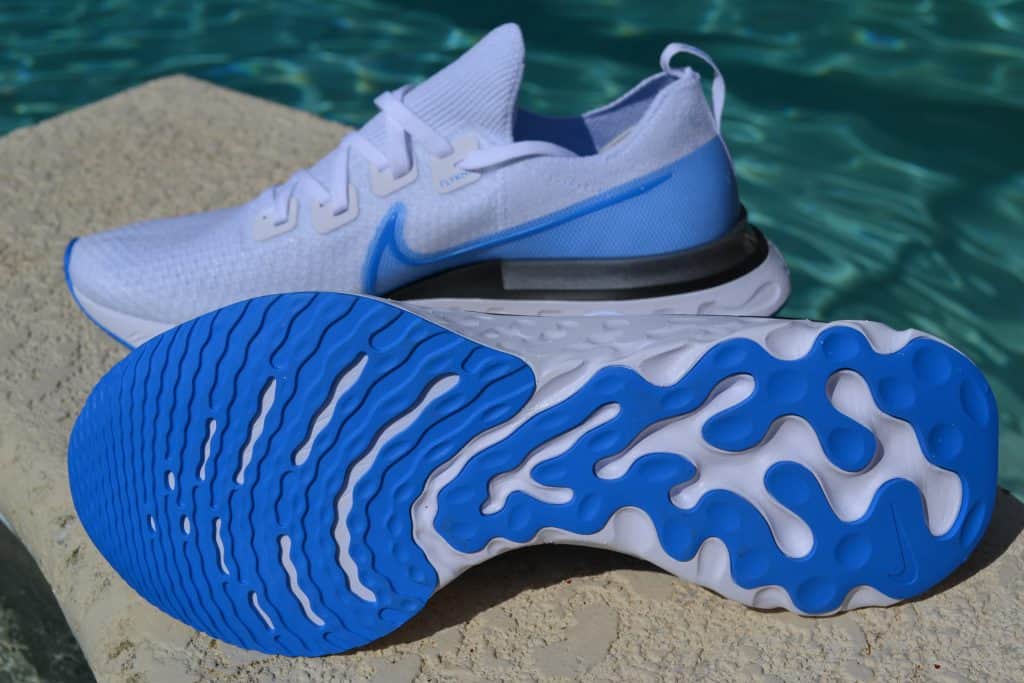 Nike has solved this on this shoe by including good old-fashioned rubber in quantity on the outsole.
I think you'll get way more miles out of these, as compared to a shoe that doesn't include this.
Enough talk – can you run in these shoes?
Running in the Nike React Infinity Run Flyknit
So, how does it feel to run in this shoe?
It's great – the extensive cushion works as you'd expect it.
You get a lot of cushion with an energetic rebound.
It's relatively lightweight at 11 ounces (Men's size 11) and doesn't feel like it's weighing you down.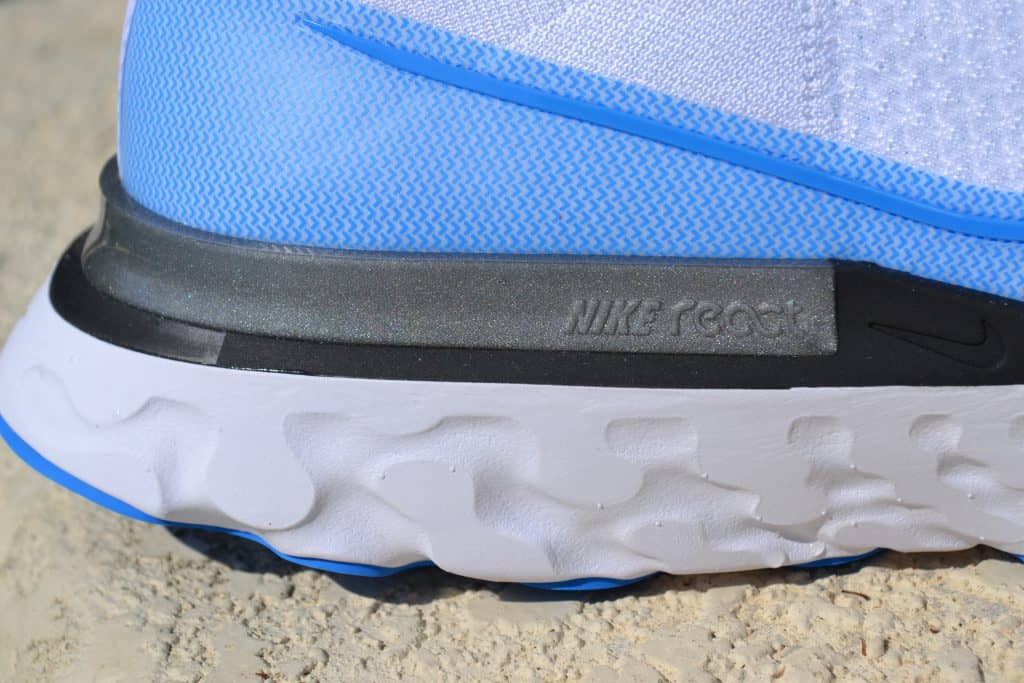 The single layer Flyknit is breathable.
I would also like to mention that I am a heavy fore-foot striker.
I don't like heel striking – but these shoes have enough cushion where I can do that and it actually (kind of) feels ok.
That's probably because of the unique shape of the outsole that gives you a lot of cushion everywhere – no matter what your running style or foot strike pattern.
I like running in these, and I look forward to putting more miles on them.
Let's now compare these to an earlier React/Flyknit running shoe.
Nike React Infinity Run Flyknit vs Nike Epic React Flyknit 2
Let's compare this shoe to another React/Flyknit classic – the Nike Epic React Flyknit 2.
They look very similar and the basic features are the same.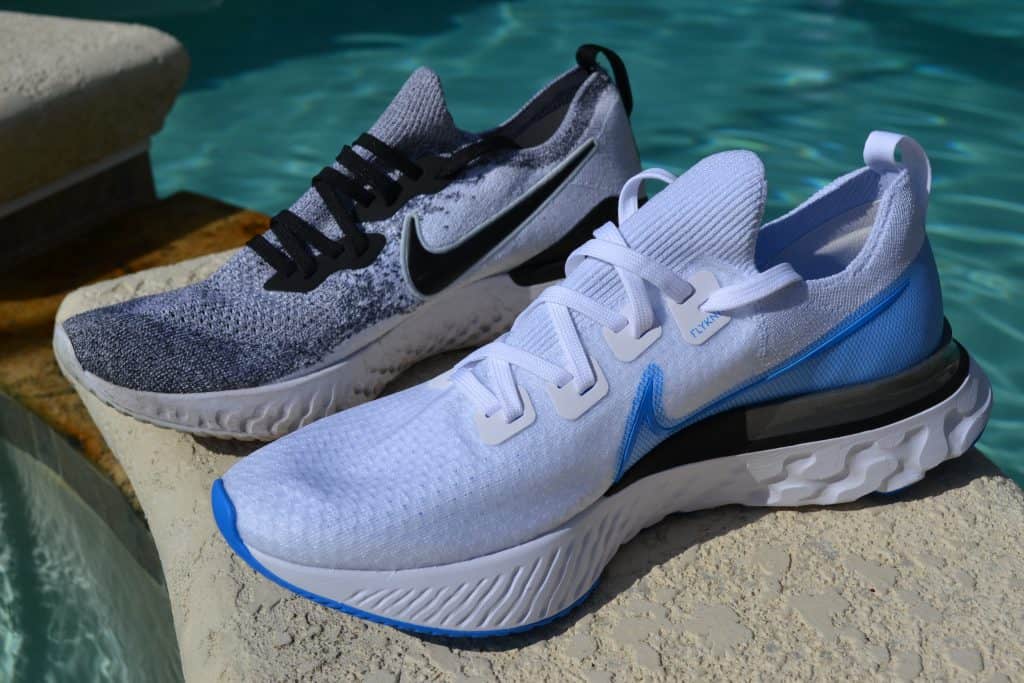 The Epic React Flyknit 2 is also a great running shoe.
It is super light-weight – at only 9 ounces for a Men's size 11.
Why is it so much lighter than the Infinity?
There's less React foam for one – but there is one other big difference.
The outsole on the Epic has no rubber coating.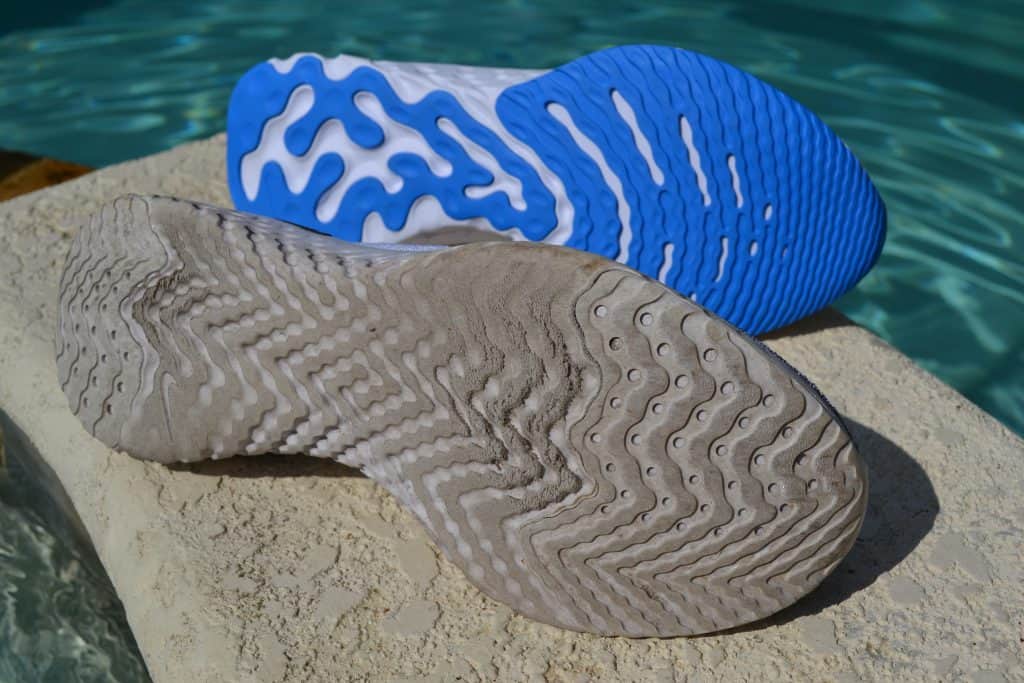 That helps to keep the weight down, but remember that React foam is not very tough.
You can see from this photo that the outsole is already starting to break down.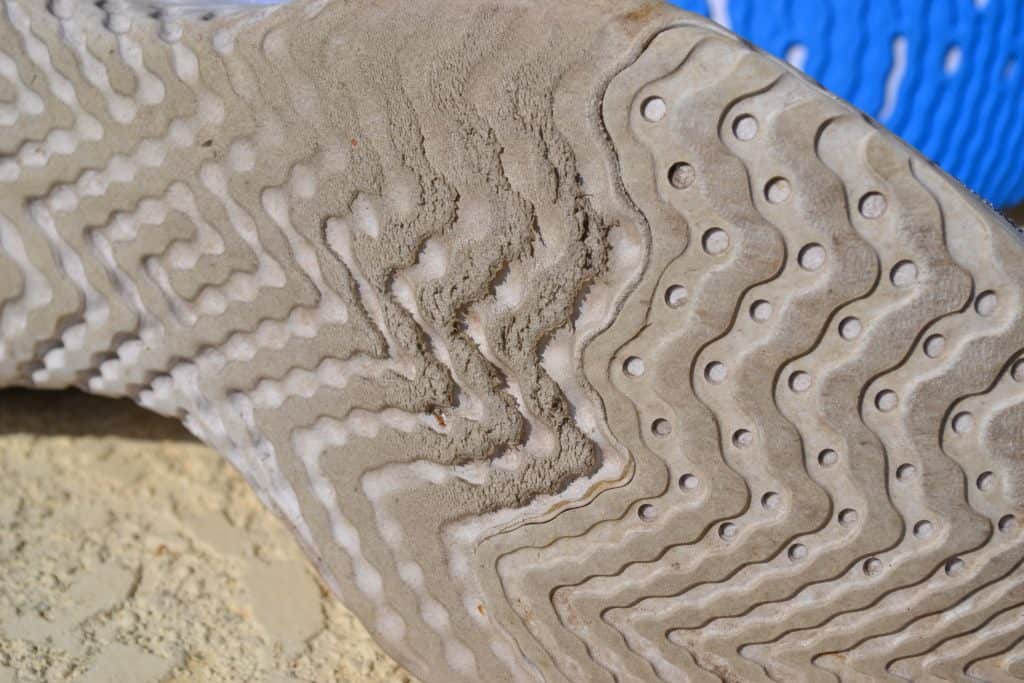 These are "low mileage" shoes – I don't run in them very much (or walk).
I don't know that these would last more than a few months for a hardcore runner.
The Epic also doesn't have that unique "rocking chair" outsole shape like the Infinity.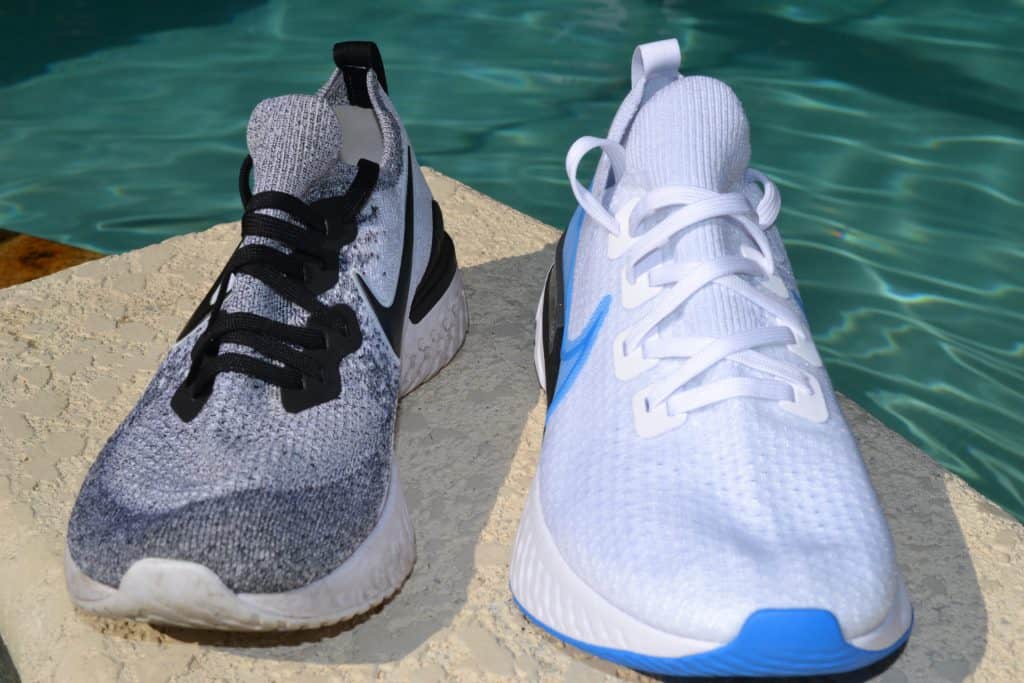 Overall, both shoes have a similar feel, but the Infinity has far more cushion.
I also expect to get a decent lifespan out of the Infinity, thanks to the tougher rubber outsole.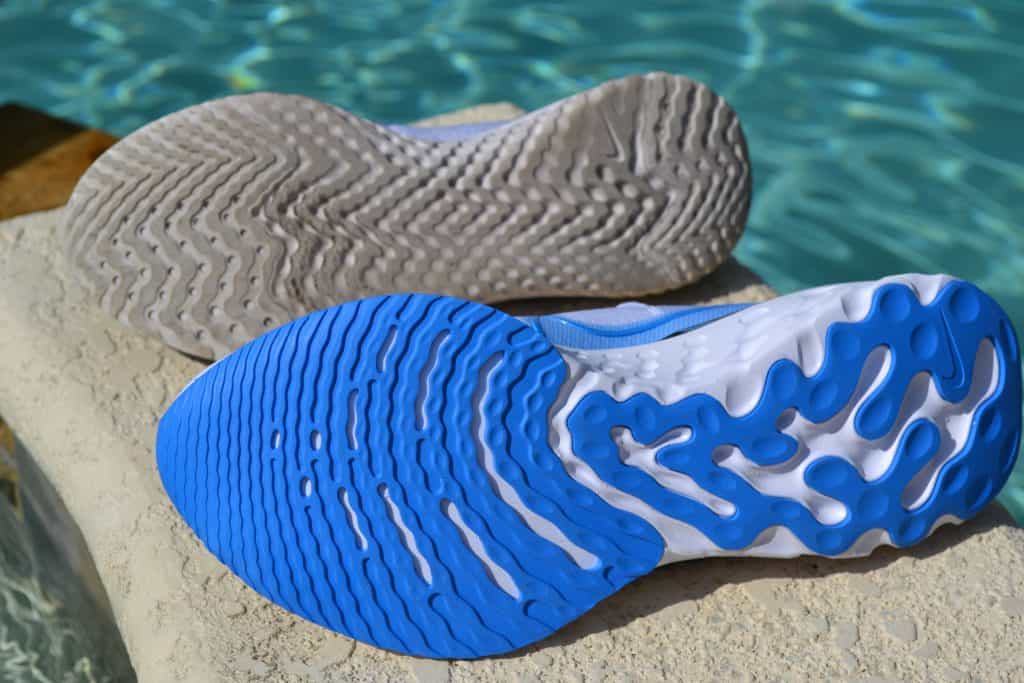 The Infinity is also about $40 more expensive at the time this article was written.
React vs Air Zoom
We'll also compare this shoe to some of Nike's latest Air Zoom shoes.
Air Zoom basically puts an air bag/cushion in the midsole of the shoe.
It is supposed to have some rebound to it, but it's nothing like the React foam – in my opinion.
If you don't want or need a highly cushioned shoe, one of Nike's Air Zoom running shoes is probably a better bet for you.
Air Zoom shoes also tend to be cheaper, if that's a factor for you.
Nike React Infinity Run Flyknit – In Summary
The Nike React Infinity Run Flyknit is a very cushioned and comfortable running shoe.
I like running (or walking) in these far more than with cross trainers – which usually have minimal cushion.
This shoe in particular seems to have improvements over the previous React running shoes – such as using a very tough rubber outsole for maximum lifespan.
It's not a training shoe – you can't lift weights with it and a rope climb would shred it – but it is a great running shoe.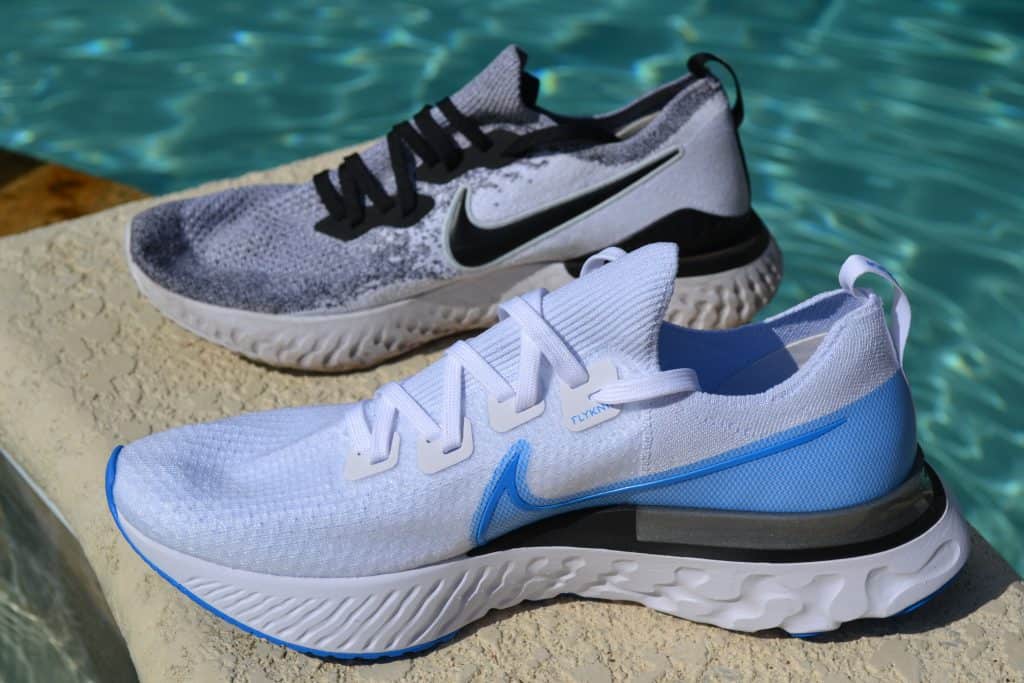 Photo Credits
Some product photos on this page are property of Nike, Inc.
This website is not affiliated or associated with CrossFit, Inc. CrossFit is a registered trademark of CrossFit, Inc.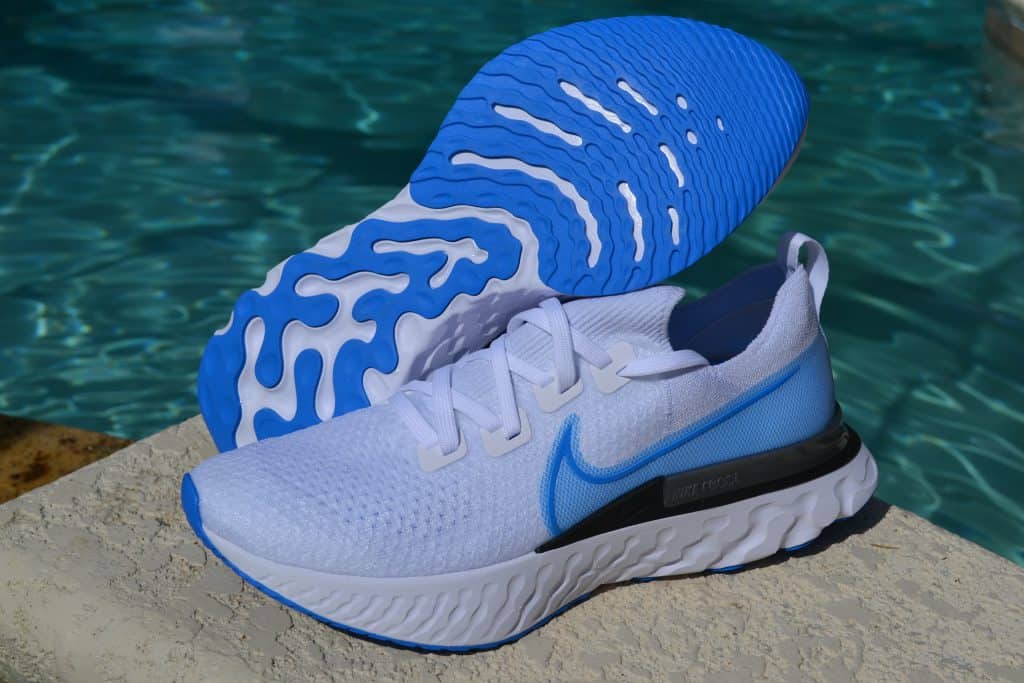 Tim is the founder of FitAtMidlife.com – an avid gym rat for 30+ years, he's a reviewer of many, many shoes – and founder of the Speed Bag Gathering – the world's only gathering of speed bag punching enthusiasts.  See more gym reviews at Tim's YouTube channel.