Let's take an in depth look at GORUCK's Women's Simple Pants.
First, let's explain what Simple Pants are.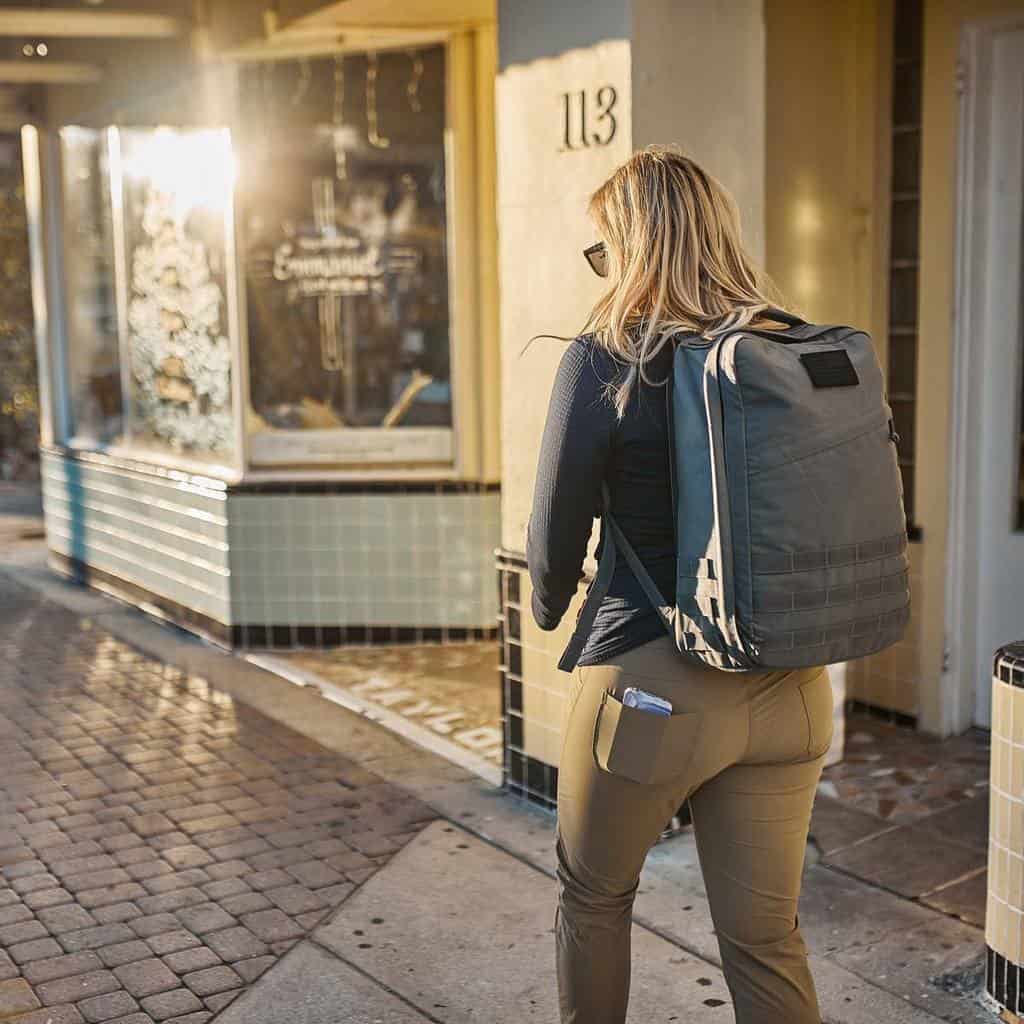 These are GORUCK's all-around comfortable and tough workout pants for women.
GORUCK is the rucking company – so it stands to reason that these pants were purpose built with rucking in mind.
Rucking is walking long distances with a heavily loaded backpack. If you've never hiked 5 or 6 miles with a 20 or 30 lb backpack on your back you are in for a humbling experience!
But Simple Pants are super-versatile and comfortable – you can do so much more than just working out and rucking.
We'll explain why in this article. Let's dive right in.
Here's the Simple Pants apparel that we'll review:
Let's make one more quick stop – and talk about rucking.
What is Rucking?
Before we start, let's talk more about rucking.
Rucking is walking for distance and time with a loaded backpack (aka a "rucksack".)
Ruck marches originated in the military – soldiers use these as a endurance building exercise so they are able to move themselves and their essential equipment for long distances.
Rucking is a simple and low-impact exercise. And it is easy to get started. Grab a backpack with some weight and walk.
Don't underestimate the extra weight in the backpack.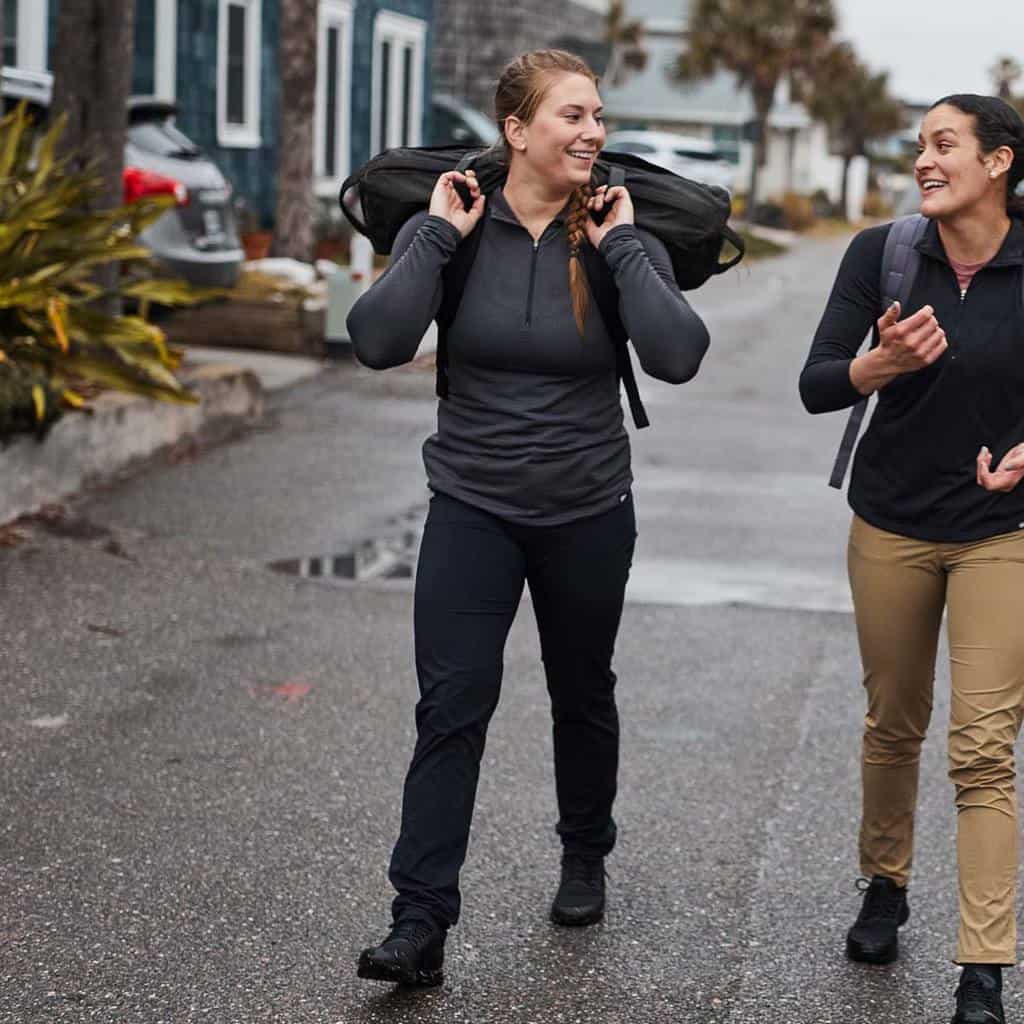 We'd recommend you start with 20 lbs. It can be a humbling experience to hike 3 miles with an extra weight on your back – it's a challenge for your legs, upper body, and your overall endurance.
Having said all that, do you need special pants just for rucking?
No, of course not.
But GORUCK has used the rucking experience as a way to sharpen their vision for their products.
They make stuff that is functional, super-tough, and comfortable.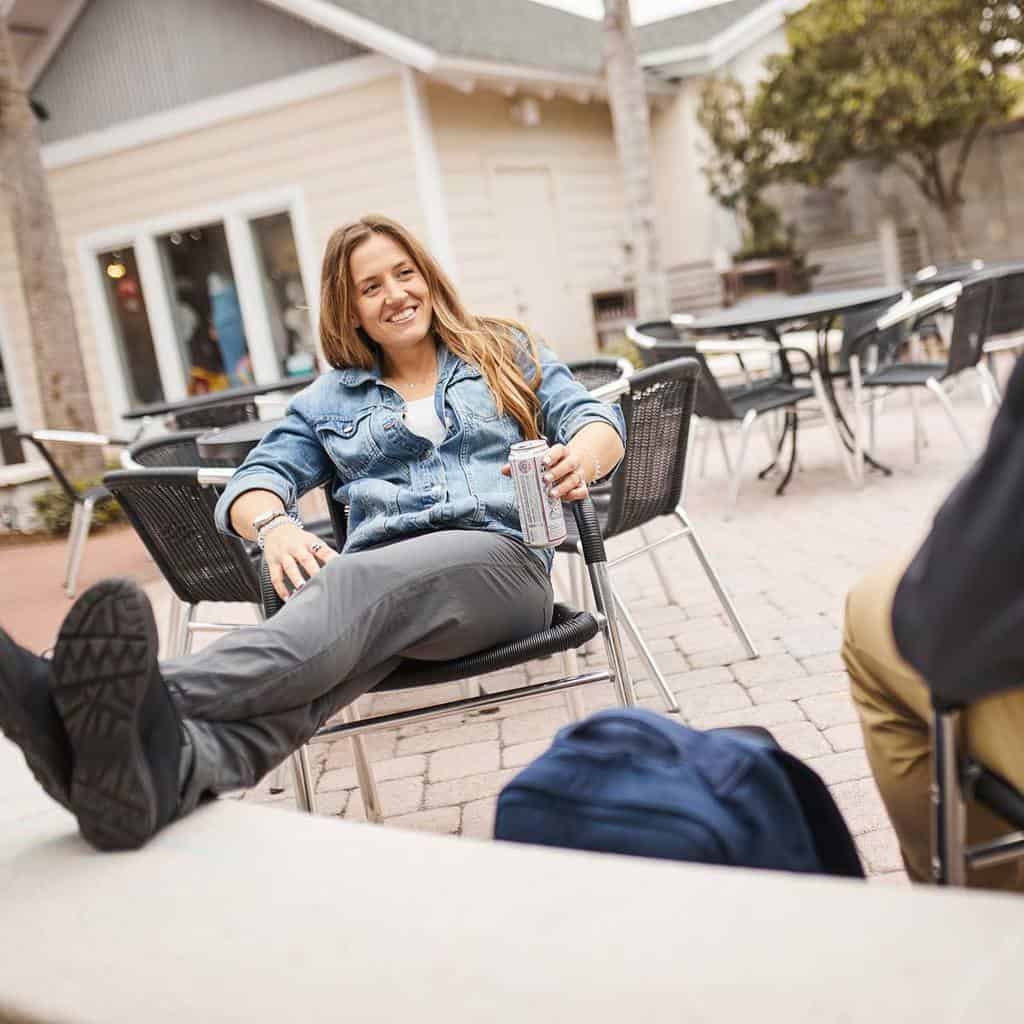 Let's take a closer look.
Women's Simple Pants by GORUCK – Materials
There is a lot to like about this product, but we have to start somewhere.
GORUCK Women's Simple Pants are made from ToughDry fabric.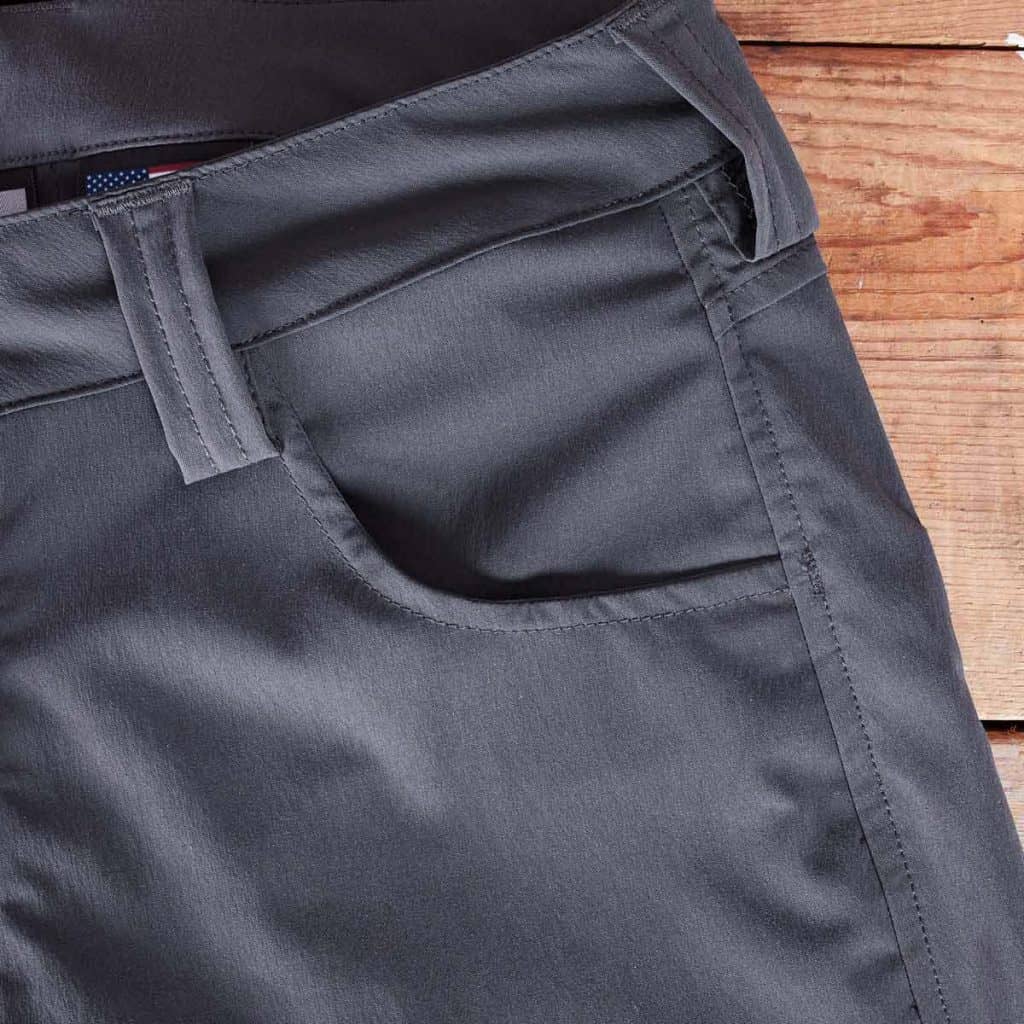 This mixed blend fabric is super-tough and dries quickly – as the name suggests.
It is also extraordinarily light-weight.
ToughDry is a 94% nylon / 6% spandex.
That spandex content gives the pants a 2-way stretch.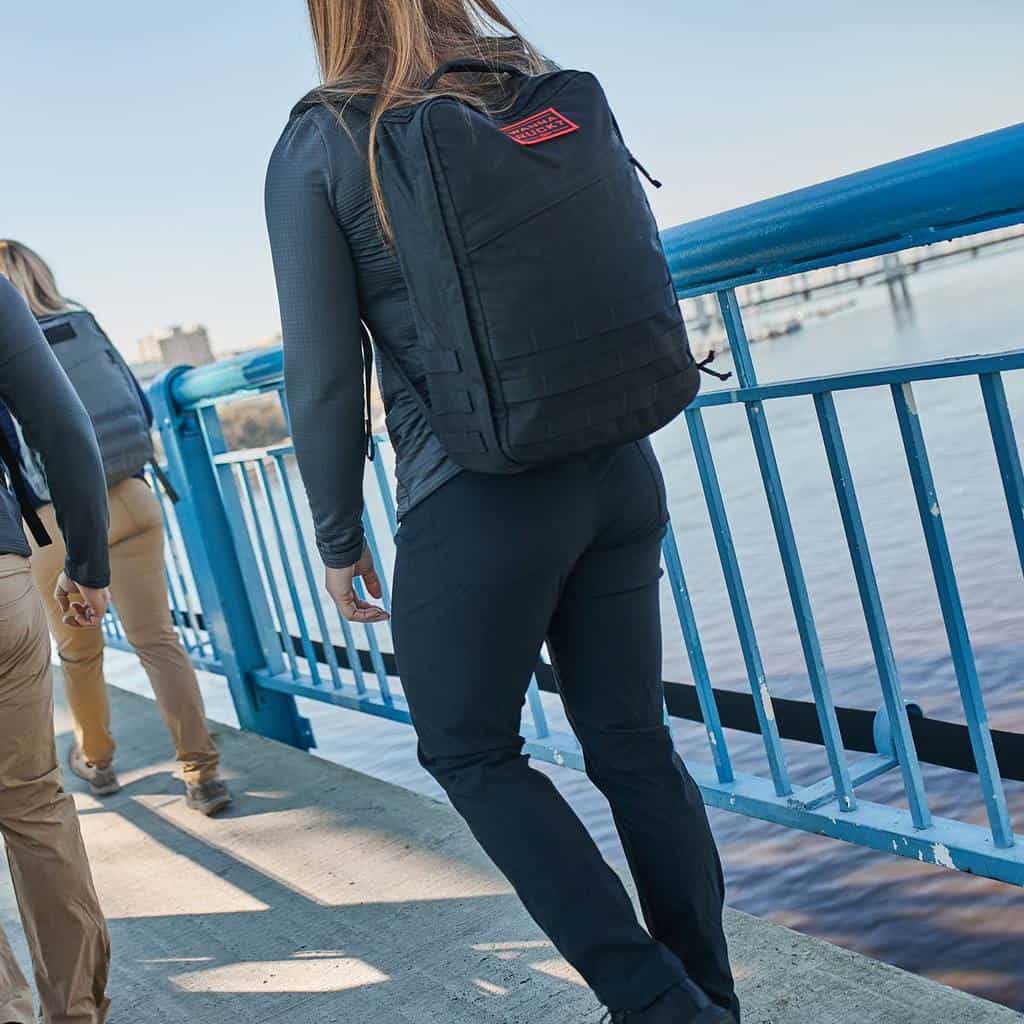 Just as important, these pants are cut so your range of motion and freedom of movement won't be restricted.
A GORUCK challenge event can include a lot of extra PT (Physical Training.)
And range of motion will be needed if doing squats with your ruck sack – and more.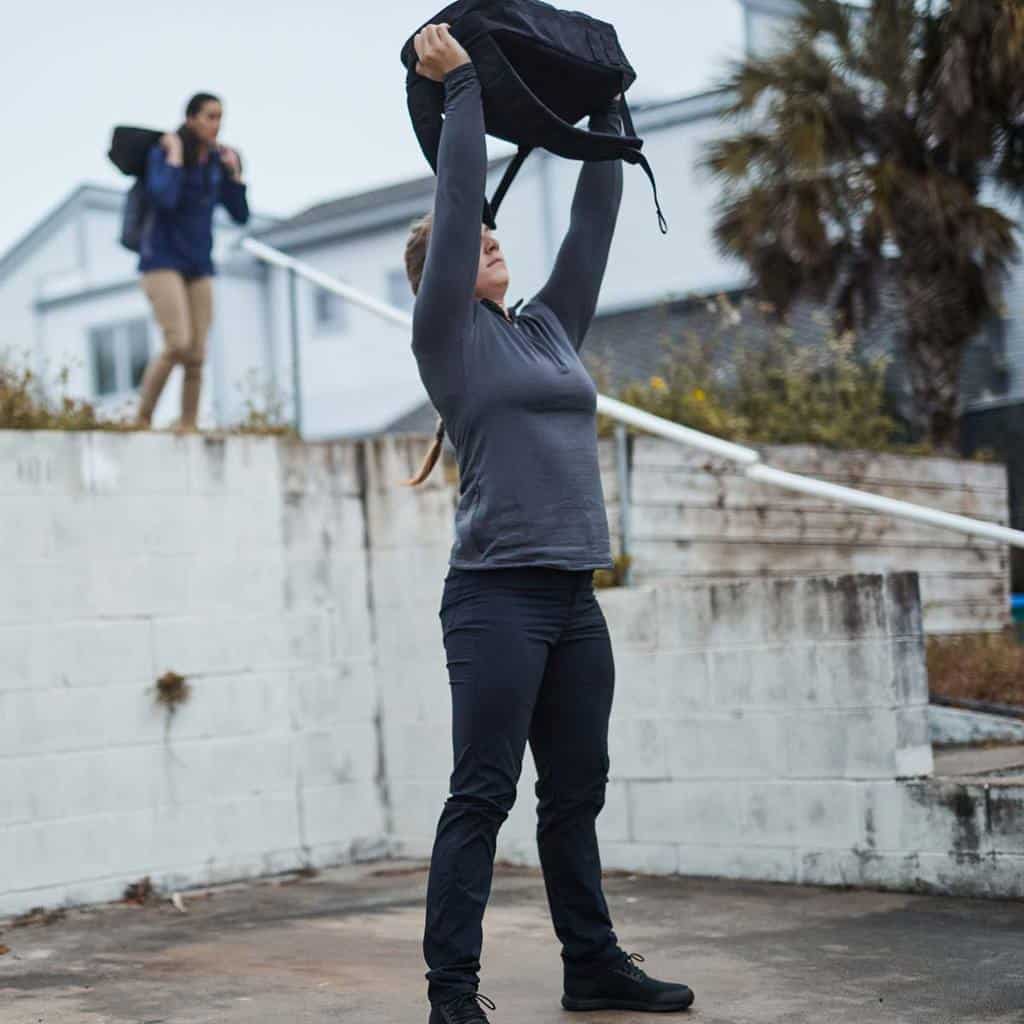 Women's Simple Pants have a tapered leg for a trim and stylish fit.
But there's also a Power version.
If you are naturally blessed with glutes and quads – or if you've spent a lot of time in the squat rack – these might be the best option for you.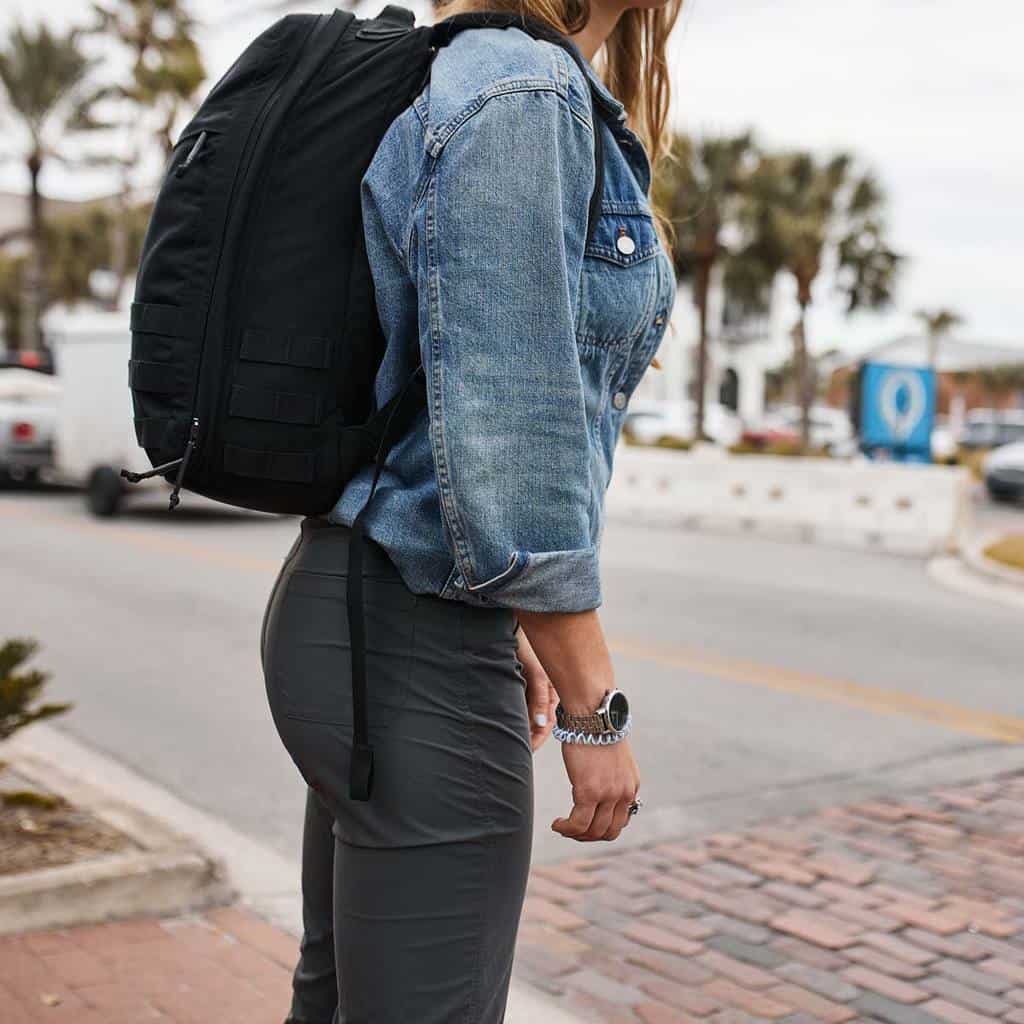 They have all the great features of the regular Simple Pants, but have a more generous allowance in the rear and thighs.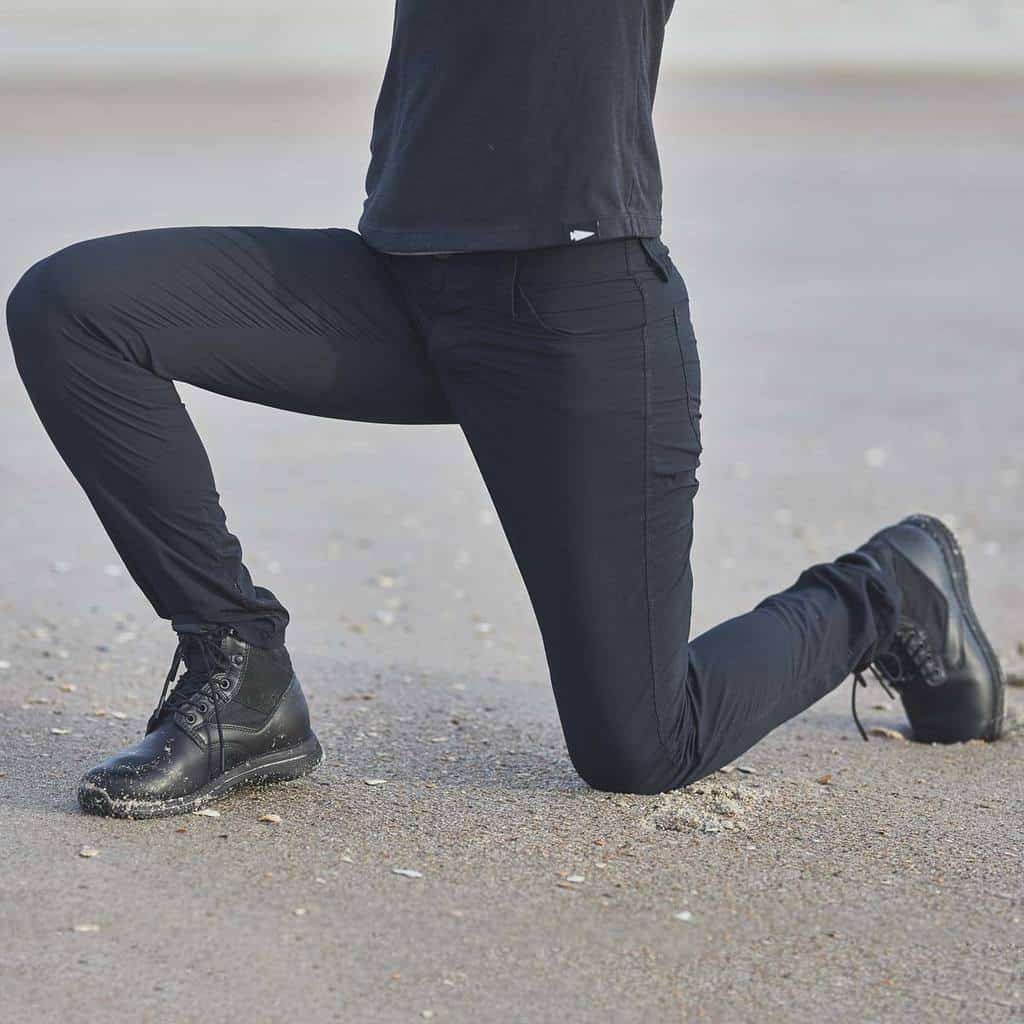 Simple Pants are proudly built in the USA.
A lot of thought and testing went into this product.
Women's Simple Pants also include GORUCK's SCARS lifetime guarantee.
GORUCK is a company that stands behind their products.
Women's Simple Pants – Like Regular Pants, But Better
Here's the other thing we love about these – they are super versatile.
Why?
Because they have all the things you'd expect in real pants.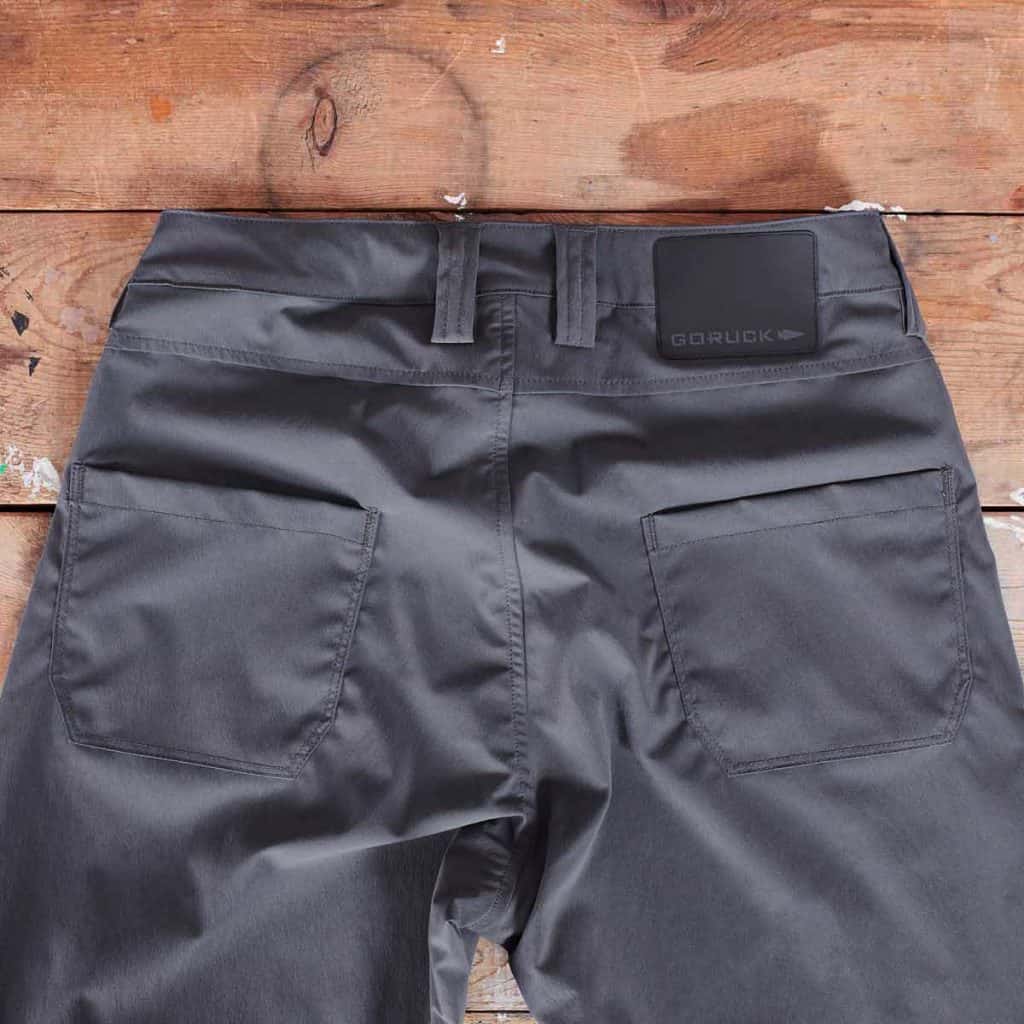 These have horizontal front and rear pockets.
Pants must have pockets.
Simple Pants also have finished belt loops.
These are also cut like your favorite blue jeans.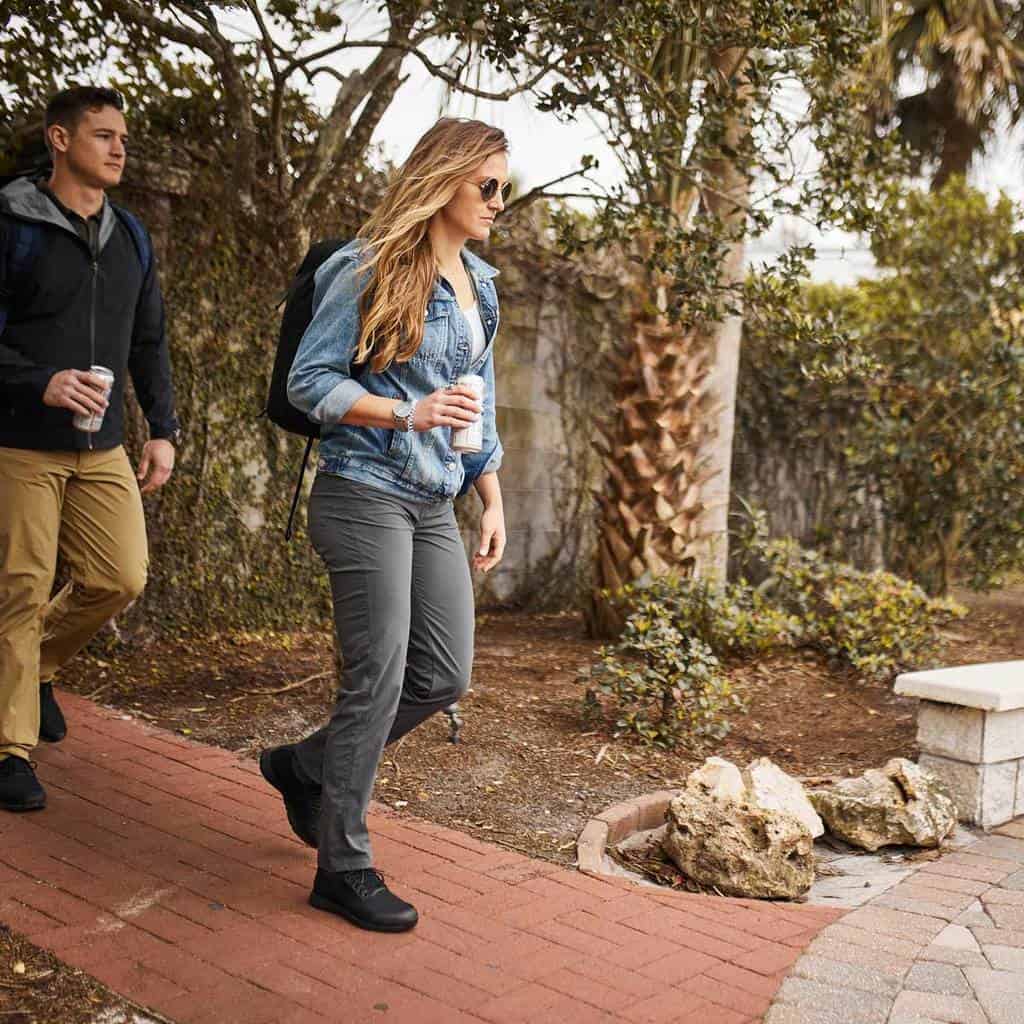 So that means a conservative look that you can pass off in just about any situation.
And once you try these – they are so comfortable you might not want to wear anything else.
You know what makes regular jeans not that comfortable?
All those bulky seams for the pockets, belt loops, etc.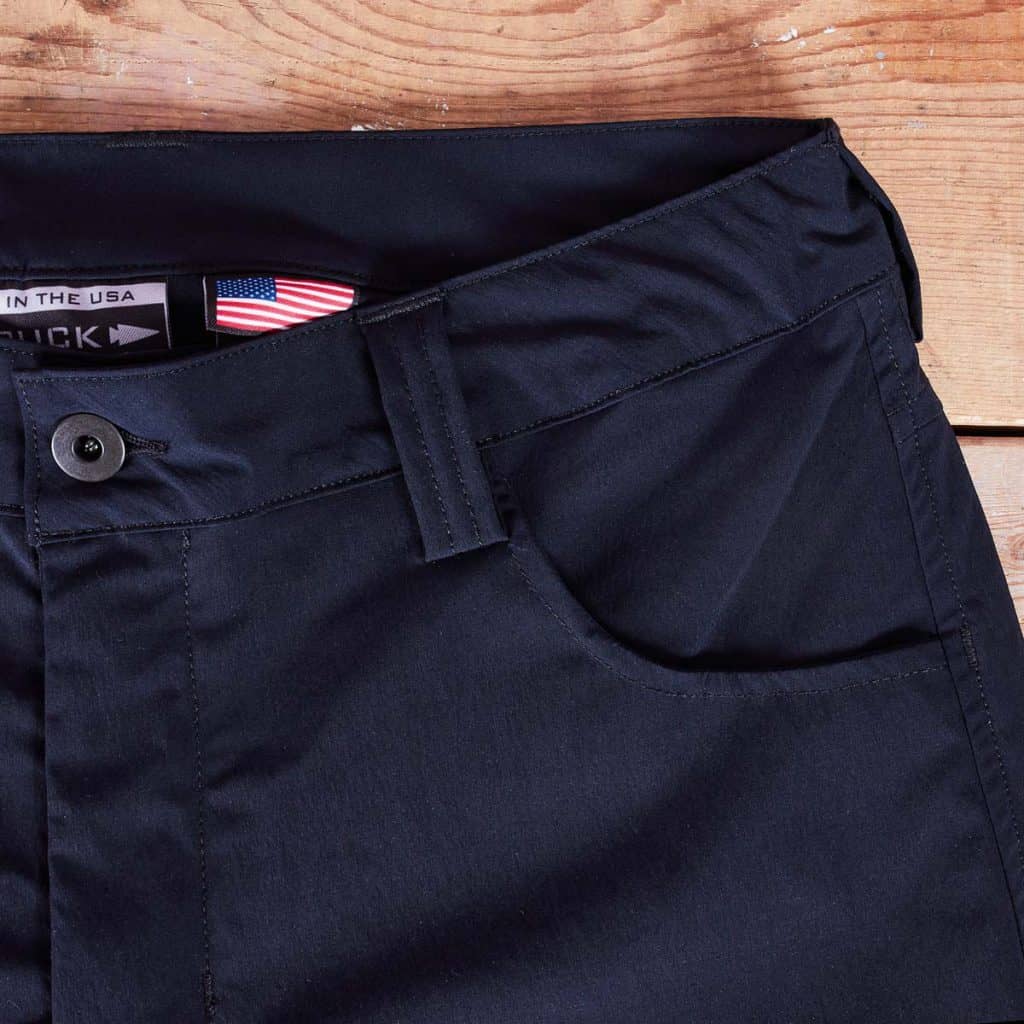 And this is another area where Simple Pants shine.
Women's Simple Pants – Maximum Comfort
What's the true test of comfort for any item of clothing?
Can you sleep in them?
Women's Simple Pants pass the test.
You can wear these pants all day – and doze off on that long airline flight – or anywhere else.
What's the secret?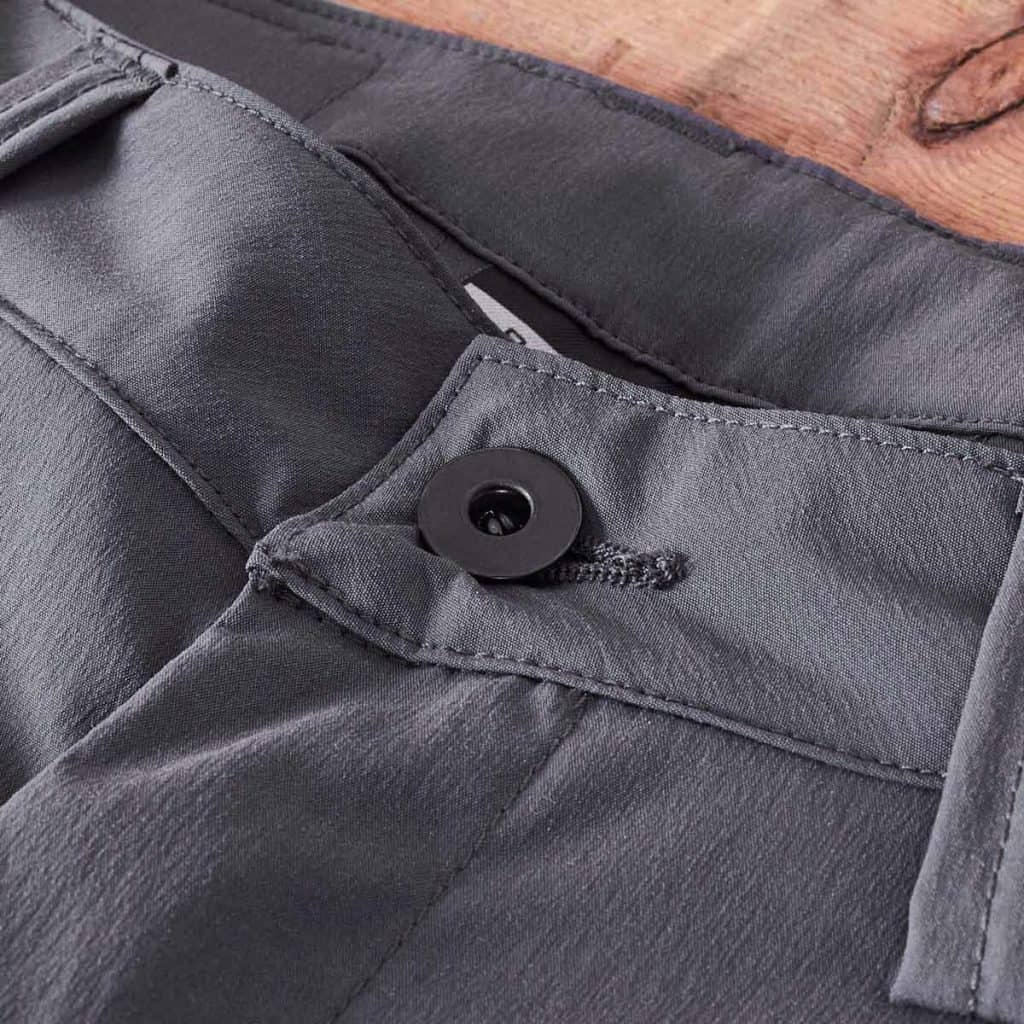 It's the generous cuts, soft, stretchy materials, and a lack of things that make you uncomfortable.
There's just none of those uncomfortable seams and bulky belt loops like in regular pants.
On the Simple Pants, everything (including the belt loops and pockets) are just so streamlined and minimalistic it really is as comfortable as wearing pajamas – in our opinion.
But at the same time, that ToughDry material is very durable – so there's no concern about wearing these out and about in the real world.
Don't believe us? Try them for yourself.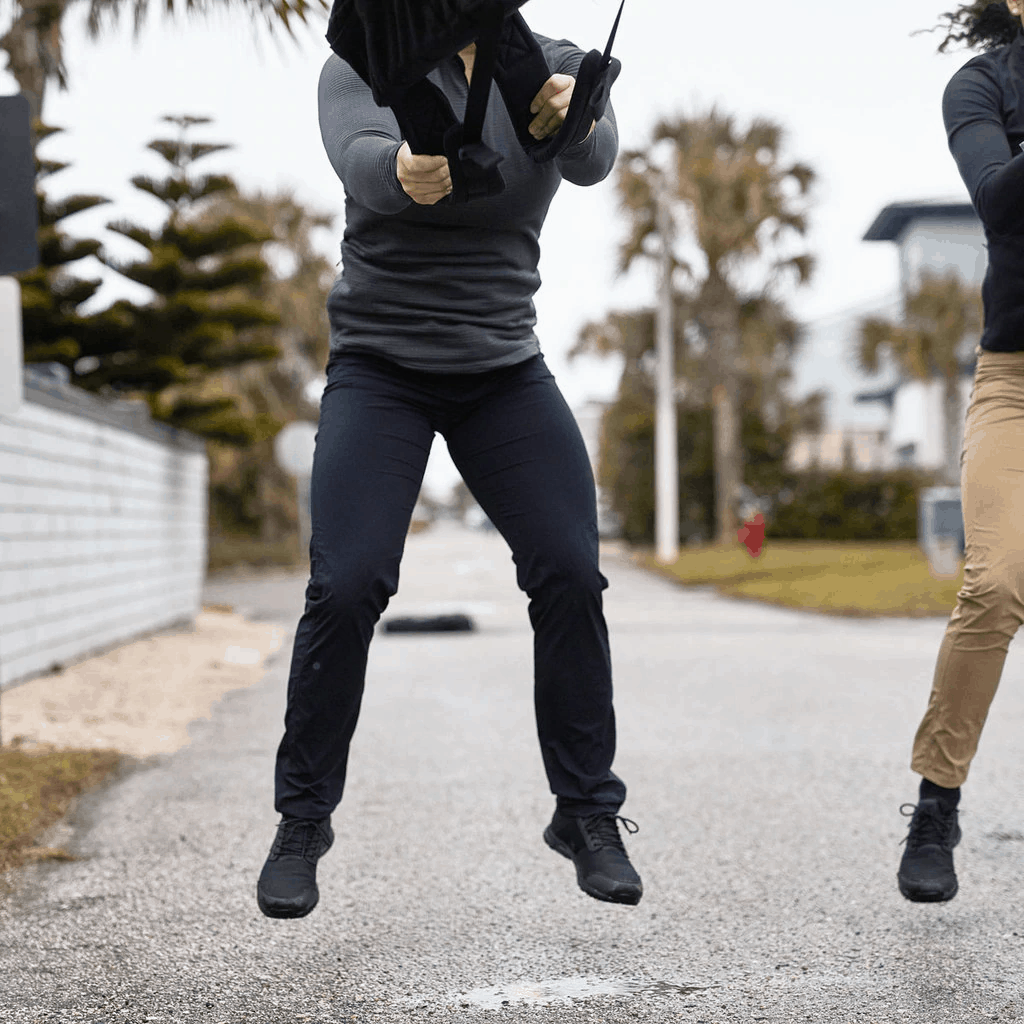 Women's Simple Pants Sizing
We've already mentioned there are Simple Pants and Simple Pants – Power.
Again, the key difference is that the "Power" option gives you a more generous cut in the upper leg and thigh area.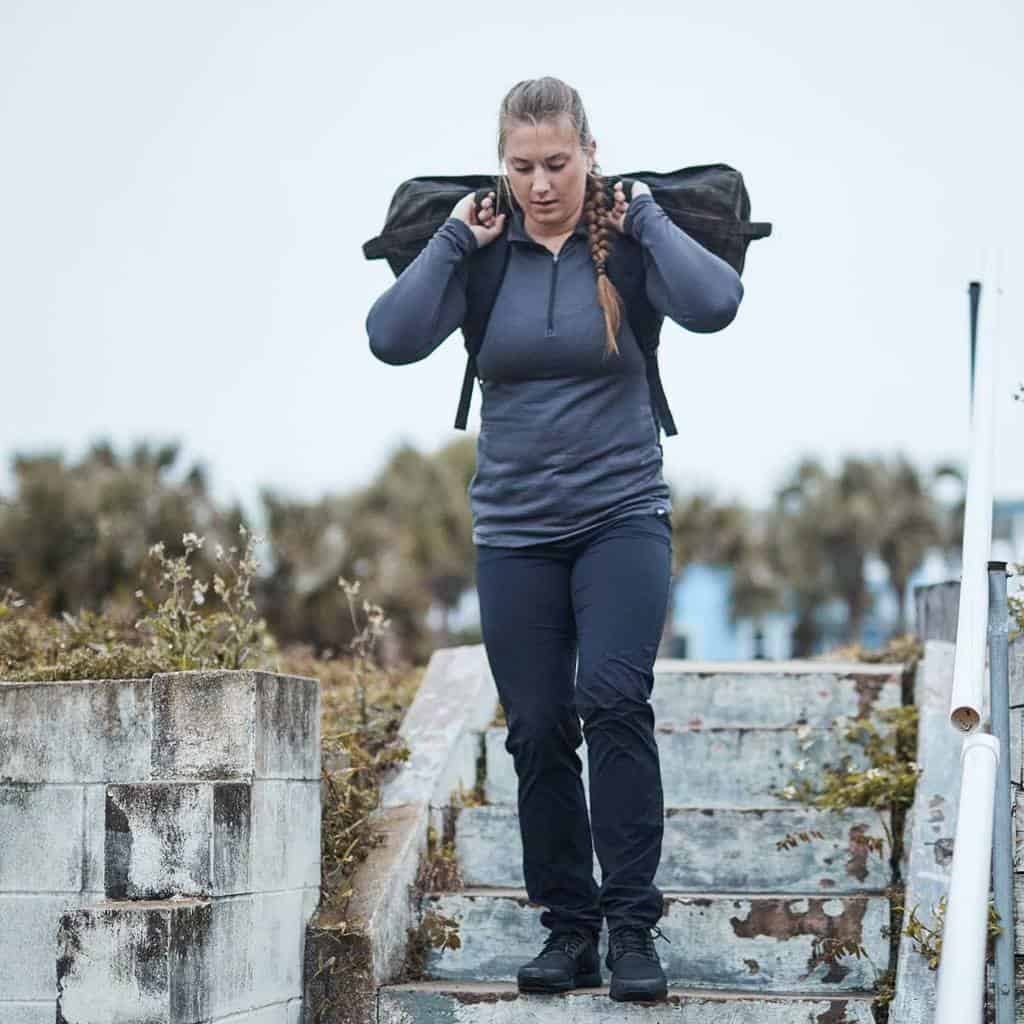 Both versions have a curved waistband for a better fit.
Our advice? If you think you need more room in the quads go for "Power".
Sizes run from 0 to 16.
There are two inseam lengths available: 32″ & 34″.
For more details on sizing, see the full details on the GORUCK web site.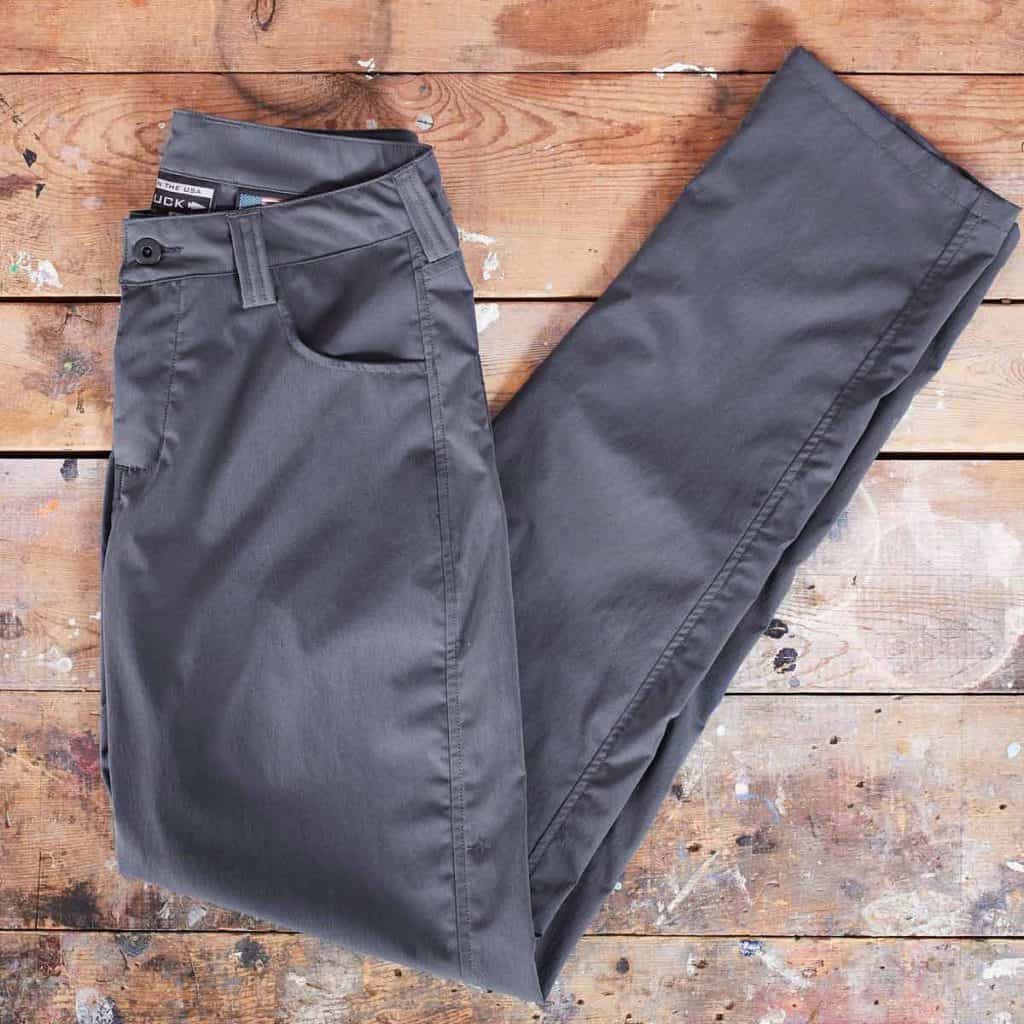 GORUCK Spearhead Web Belt
Need a slick belt to go with these great Challenge pants?
Take a look at the GORUCK Spearhead Web Belt.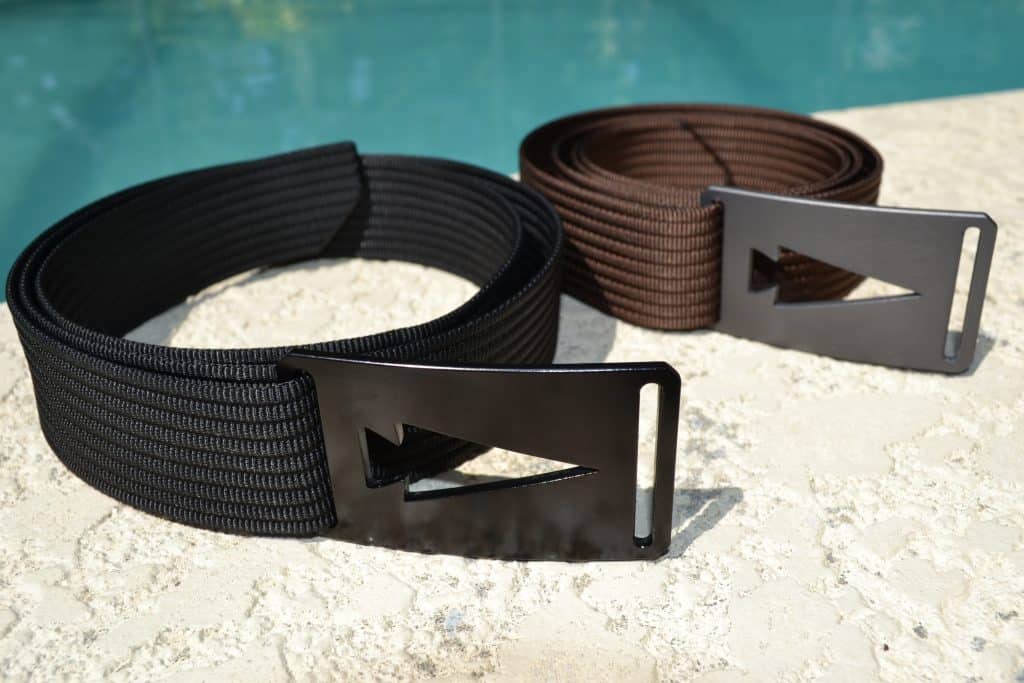 It's available in Black or Brown colors.
The belt is made by Grip6 – and that means it is made in the USA. The patented design is simple, lightweight, and efficient.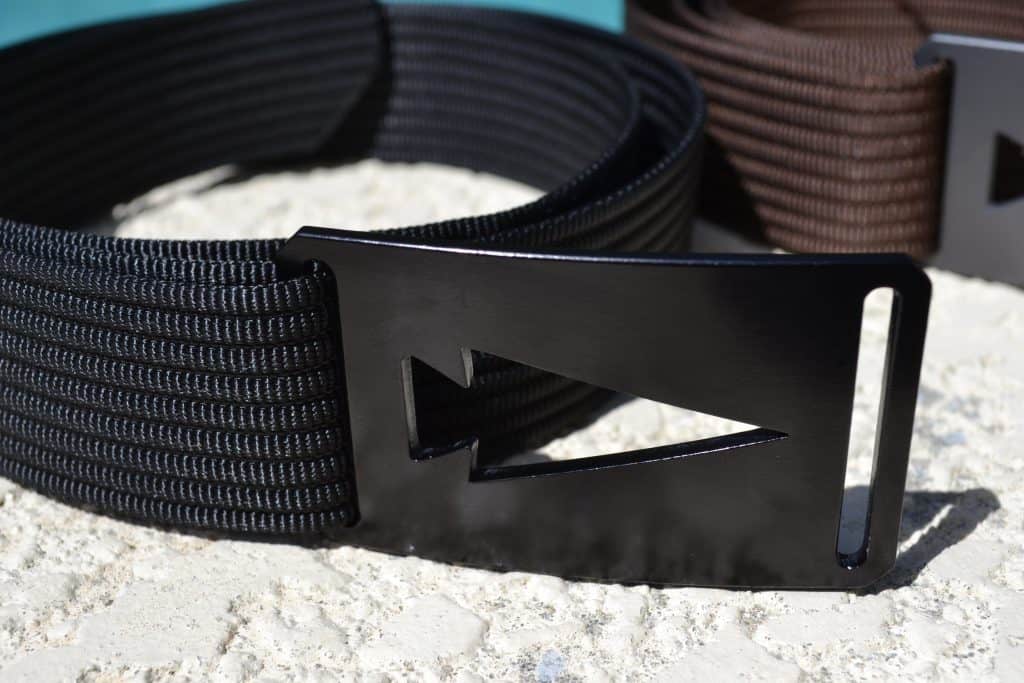 The GORUCK spearhead logo looks really sharp. The buckle is made from T6061 Aluminum.
This is a low-profile belt with minimal bulk and simple design – there's nothing to break. It'll likely last you a lifetime.
Pros and Cons of Simple Pants
Are there any drawbacks for Women's Simple Pants from GORUCK?
They are relatively expensive for pants – but you are getting a lot for your money.
Also – how many other articles of your clothing have a lifetime guarantee?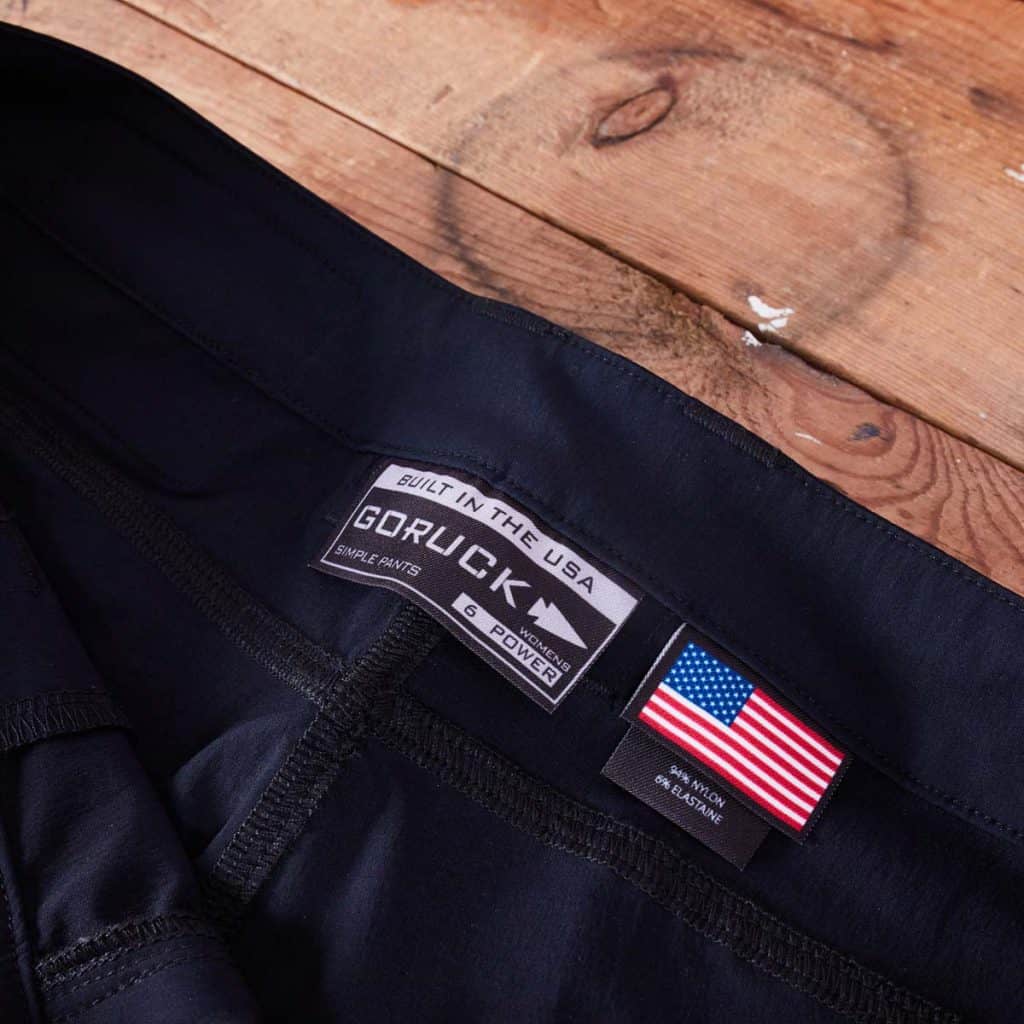 The ToughDry material also is not very grippy.
This means you must use caution when using a laptop or setting your smartphone down in your lap.
A MacBook Pro or iPhone will slide off your lap with ease – so be careful to not drop anything.
These synthetic materials also make a little bit of noise. Think of a pleasant, but audible, swishing sound.
You won't be sneaking up on anyone in the library in these pants – but who cares?
They are great active wear.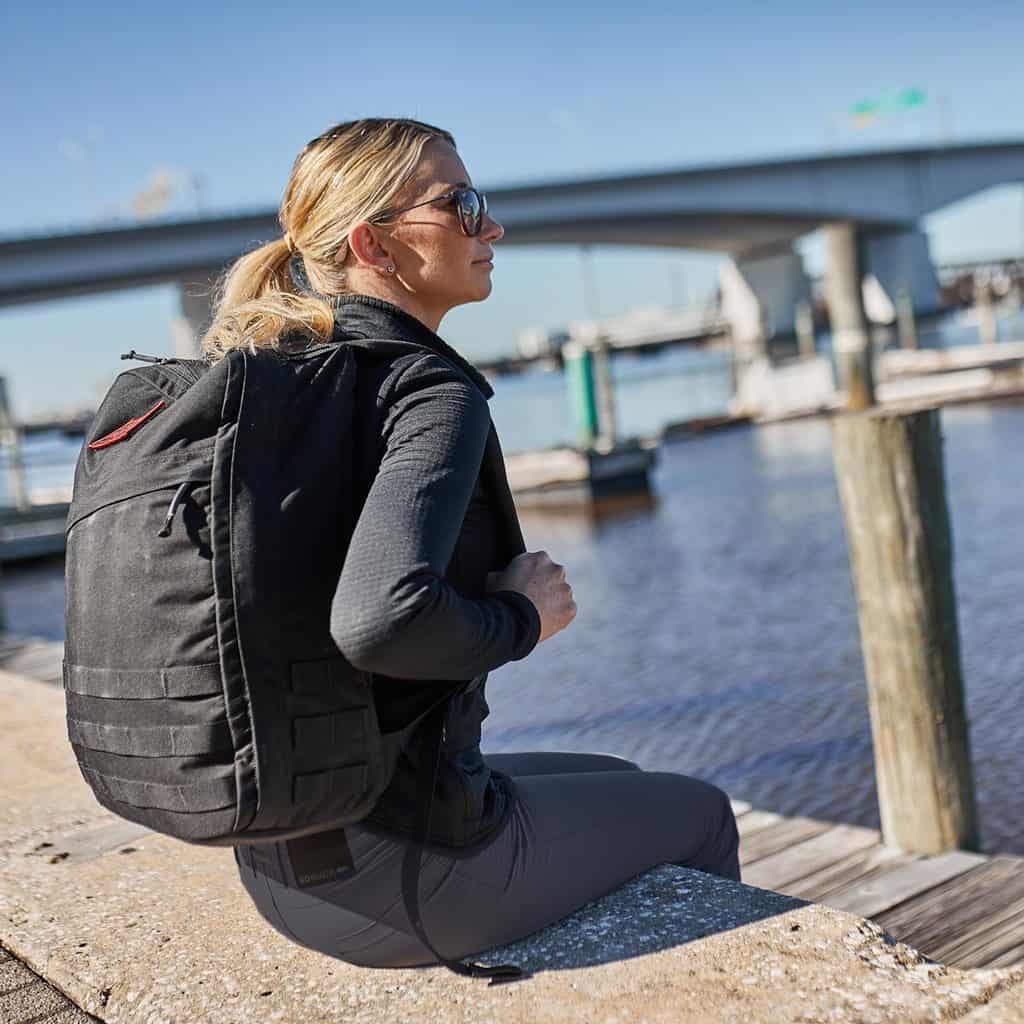 Why GORUCK Products?
We are a
GORUCK
affiliate – so if you order apparel, rucksacks, shoes, or equipment after clicking the links in this article we receive a small commission at no additional cost to you. But that's not why we recommend GORUCK. It's because their equipment is innovative, built to last, and much of their best stuff is made in the USA (like Simple Pants). They are the driving force behind rucking not just as exercise, but as a way to make people better. And that's why we love them.
Photo Credits
Some product photos on this page are provided by, and property of GORUCK.