It's here! GORUCK has released the 2nd generation of their lightweight rucking boot – the MACV-1.
We've got our pair and we're deep in the review process – so far these have met or exceeded our every expectation.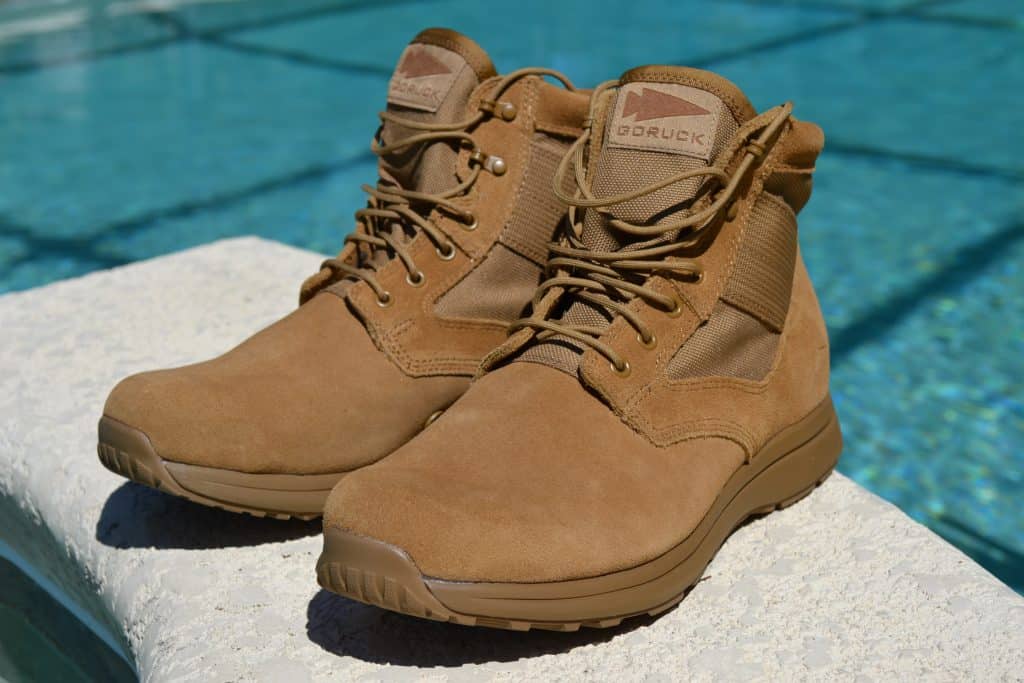 GORUCK makes rucking gear.
Rucking is walking or hiking for distance with a loaded backpack (aka rucksack.)
Do you need special boots to go on a ruck march?
No, you don't.
But GORUCK has used their expertise in building super-functional and useful gear to make what are intended to be the best rucking boots possible.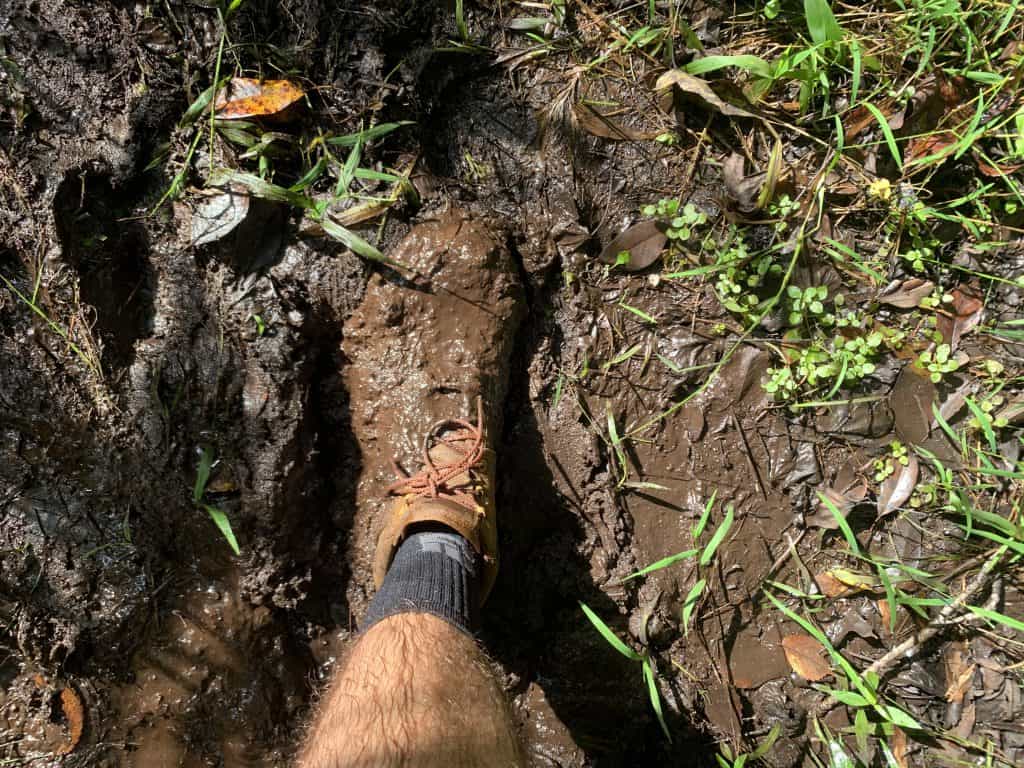 We'll tell you all about the special features of the MACV-1 boot in this article.
Here's the products we'll be reviewing:
Let's take an in-depth look.
GORUCK MACV-1 Gen 2 – Hands on YouTube First Look
Reading not your thing?
We cover all the relevant points in our hands on YouTube review:
Can you lift weights in these? Yes. I wouldn't say they are an ideal gym shoe for barbell workouts, but you can mostly get the job done.
Here's some cleans, front squats, and deadlift with the GORUCK MACV-1
They've got a little bit more cushion than I'd normally want for barbell lifting though.
GORUCK MACV-1 Gen2 Boot – Fit & Sizing
First, let's talk sizing, because that is what everybody wants to know.
GORUCK claims that the MACV-1 Gen 2 runs true to size – and it feels like it does.
However, GORUCK recommends that you go 1/2 size up to account for inevitable foot swelling that will happen on long ruck marches.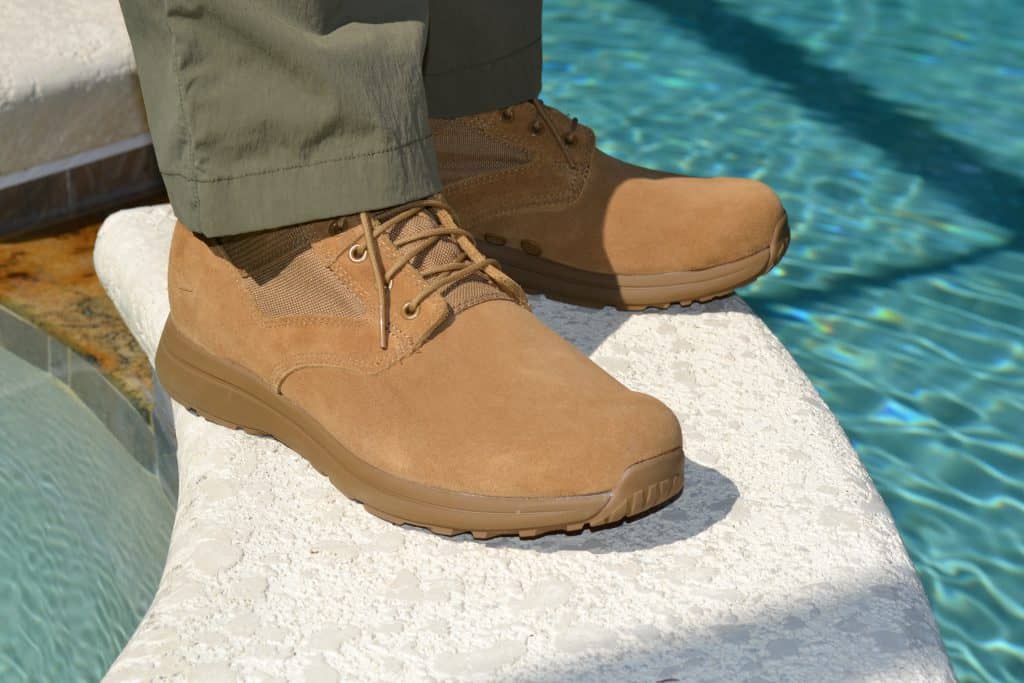 I've now rucked with both an 11 and a 11.5 – and here's my thoughts on sizing.
Either size works for me.
The 11 is a better fit – but I do get a little bit of rub. But, this can easily be handled by wearing two pairs of socks.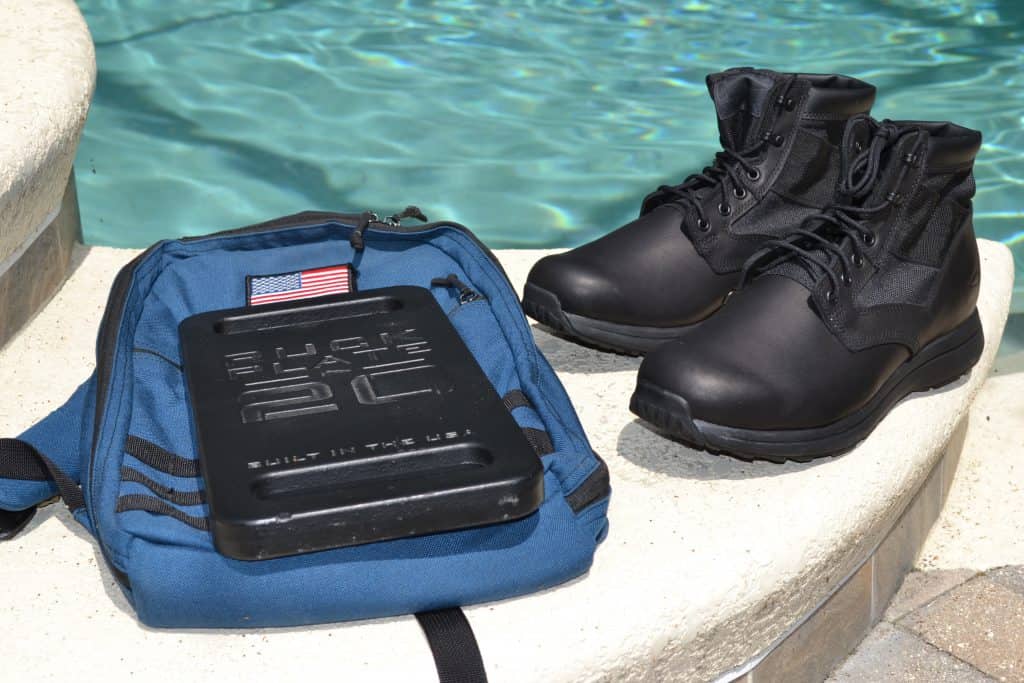 The 11.5 does feel a bit too big – my foot can move around a lot in the boot.
But again, the trick of wearing two pairs of socks makes any issues go away.
Wearing two pairs of socks on a long march is a time honored trick to avoid blisters and hotspots.
Long term update: Use a quality hiking or rucking sock, and you won't have issues. My 11s and my 11.5s both work fine with good quality hiking socks from Darn Tough and MudGear.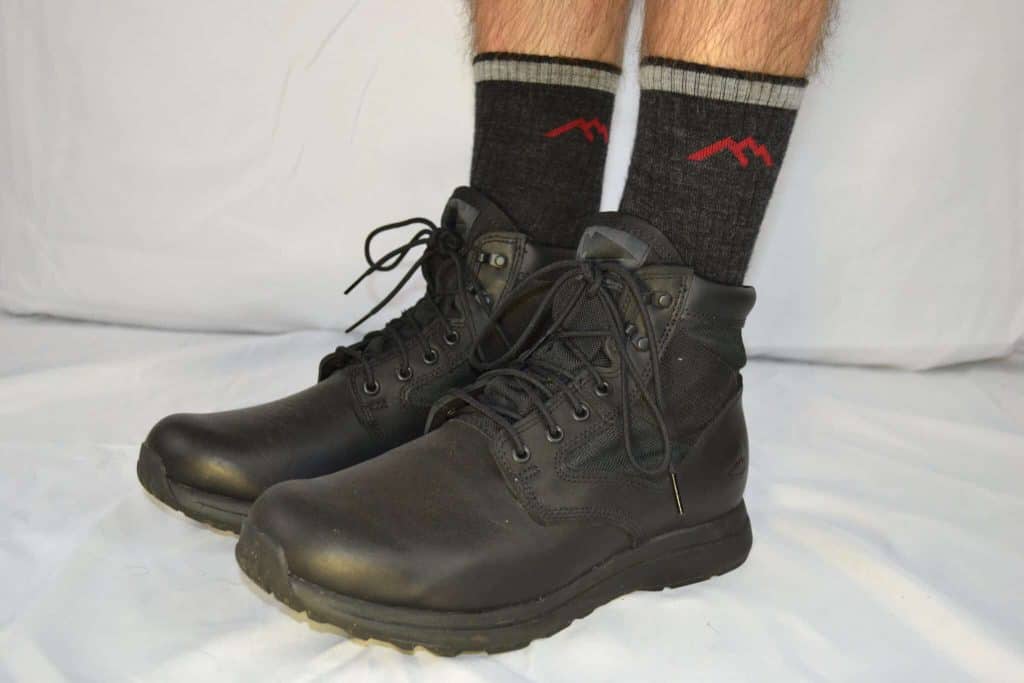 The Darn Tough Micro Crew Midweight with Cushion is great for the 6″ high MACV-1 boots.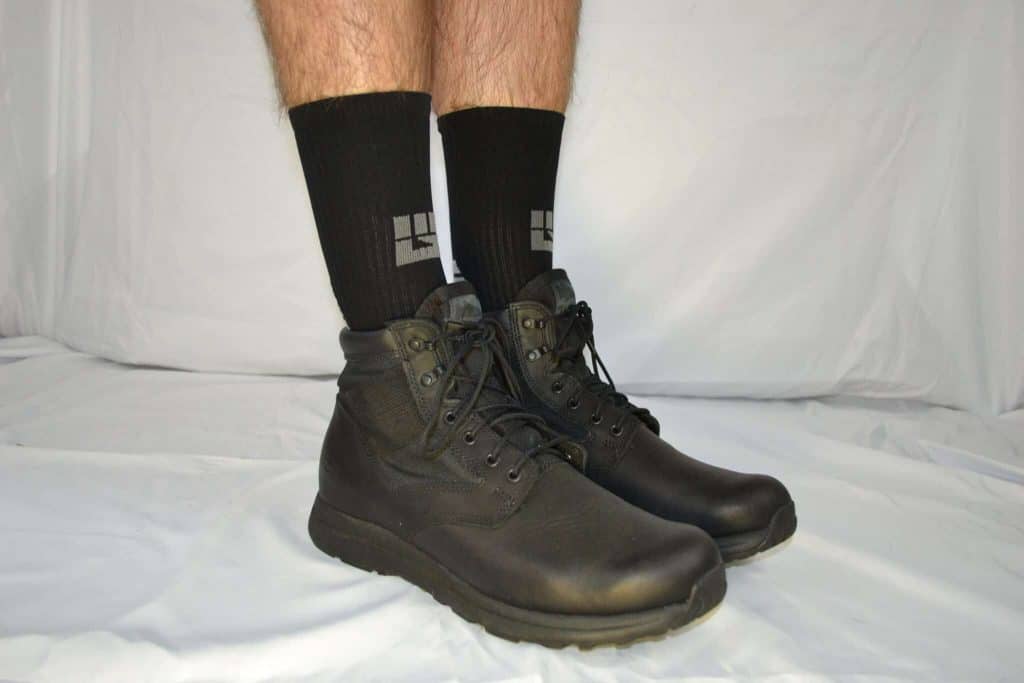 I give a slight edge to the MudGear Ruck Sock (Buy on Amazon) shown above. – it's even more comfortable than the Darn Tough, with a nice stretch fit – but it is taller. I'm in Florida, so more exposed skin is better for me.
Won't your feet be extra sweaty and hot?
Yes, but remember you are wearing boots – these aren't very breathable in any case due to the leather.
I've done ruck marches of 15+ miles with both sizes and I think either works – just make sure you understand the fit – and take any additional steps needed.
GORUCK MACV-1 – No Break In Needed?
GORUCK claims these boots need little to no break in.
I agree – provided you make sure the fit is perfect.
To test this, I took a brand new pair of MACV-1 right out of the box and rucked 6.5 miles with them.
I did end up with one small blister on my left heel – but that's because I didn't account for the fact that my left foot is ever so slightly smaller than my right.
The right foot had no issues whatsoever.
(Usually if shoes give me an issue – it's normally the left foot.)
I've also done 7 miles on the Coyote Sued pair in 11.5 – with no issues at all.
My foot does move around more in the bigger size – and that can lead to a little more foot muscle soreness the day after – but it's not horrible.
Just remember this – fine tune the fit with extra socks and other steps as needed.
And to be clear, I DO NOT recommend you wear brand new boots to a GORUCK challenge event – or on any sort of long march.
Understand the fit for YOUR feet (left AND right), go on a short test hike, and adjust from there.
GORUCK MACV-1 Gen2 Boot – Performance Features
Ok, so what makes a rucking boot?
That's what we'll talk about here. Let's start with the new changes in the 2nd generation of the MACV-1 boot.
The MACV-1 boots now use "Challenge Leather" – which is also used in the GORUCK I/O Cross Trainers.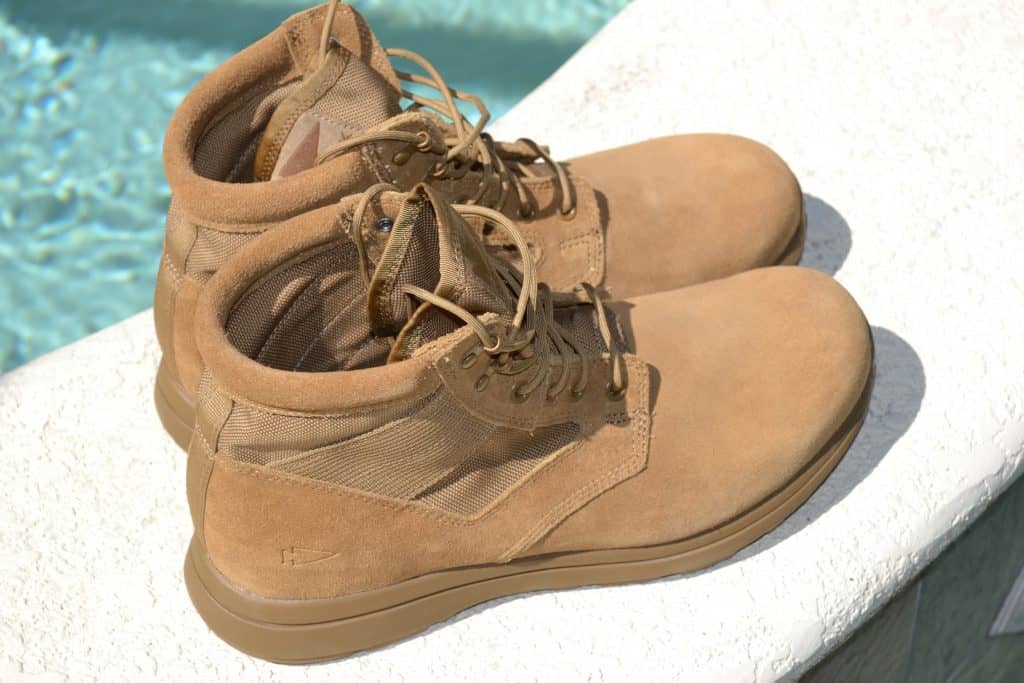 What's so great about Challenge Leather? GORUCK claims it is hard wearing and will get better with time and use.
This is our first look, so we can't say for sure yet – but I can say I'm very pleased overall with the suede look in these boots.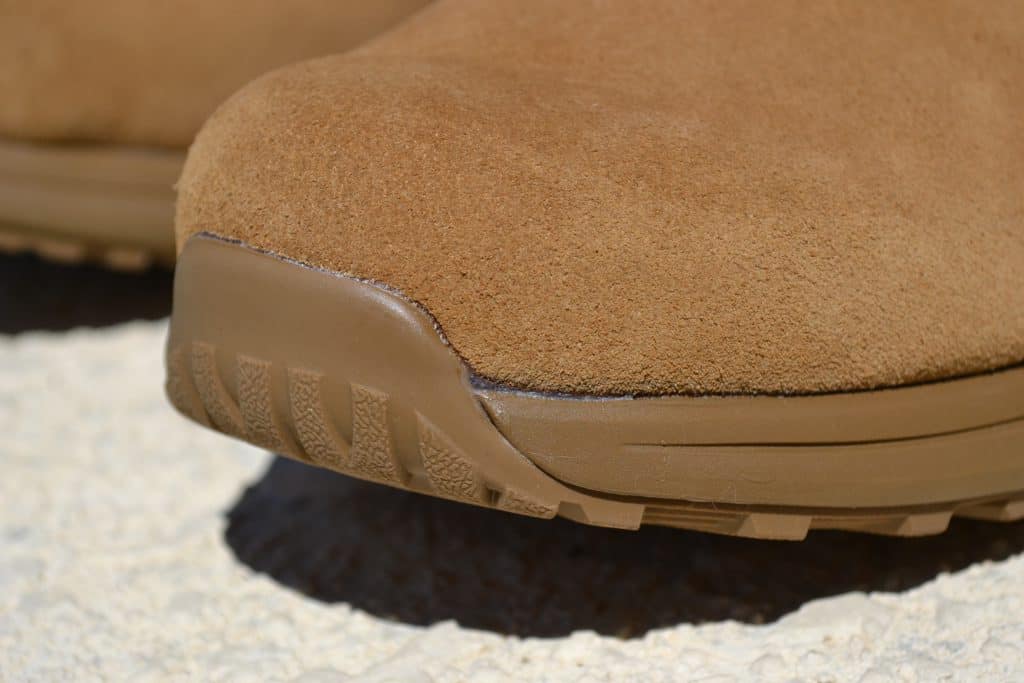 And if you are wondering the ankle area uses 1000D Cordura and nylon webbing for support.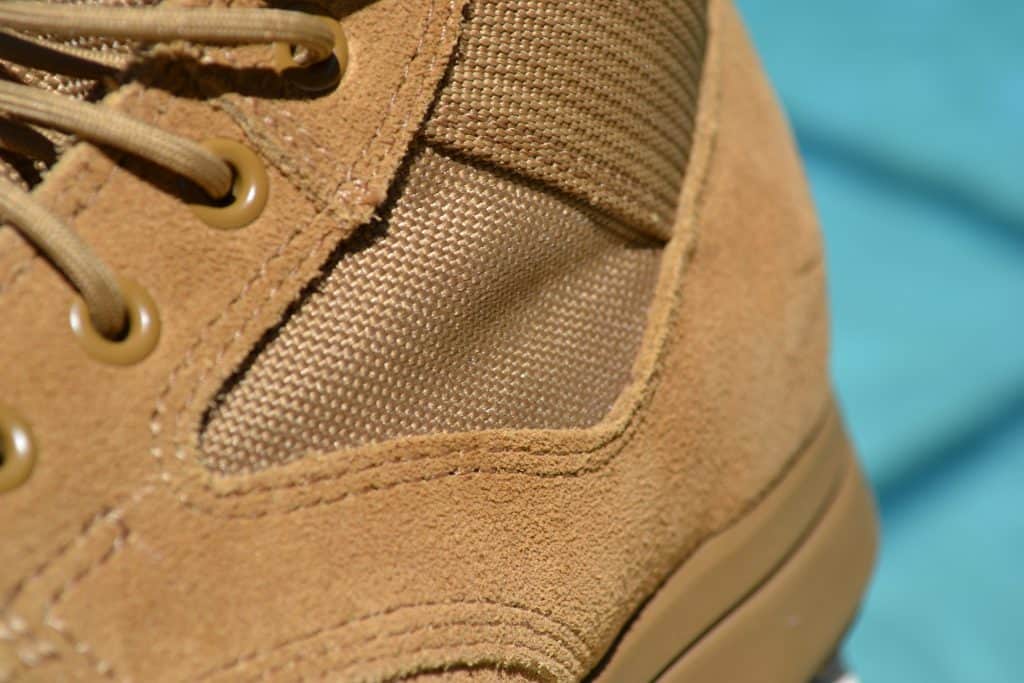 The second big new feature is the improved all-terrain outsole.
The original version of the MACV-1 took some heat over having a boot tread that was less than optimal for real world conditions off the trail.
Here's what it looks like now.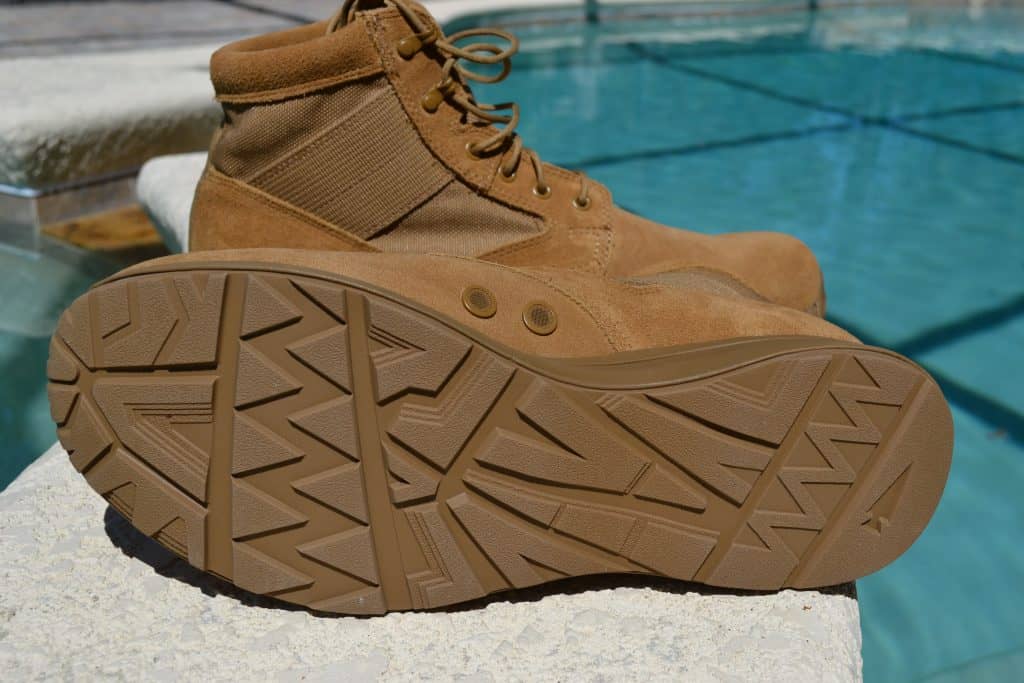 What you can't see in these pictures is that the outsole uses a dual compound rubber.
The forefoot rubber is grippier for better traction, whilst the heel area is tougher for abrasion resistance and durability.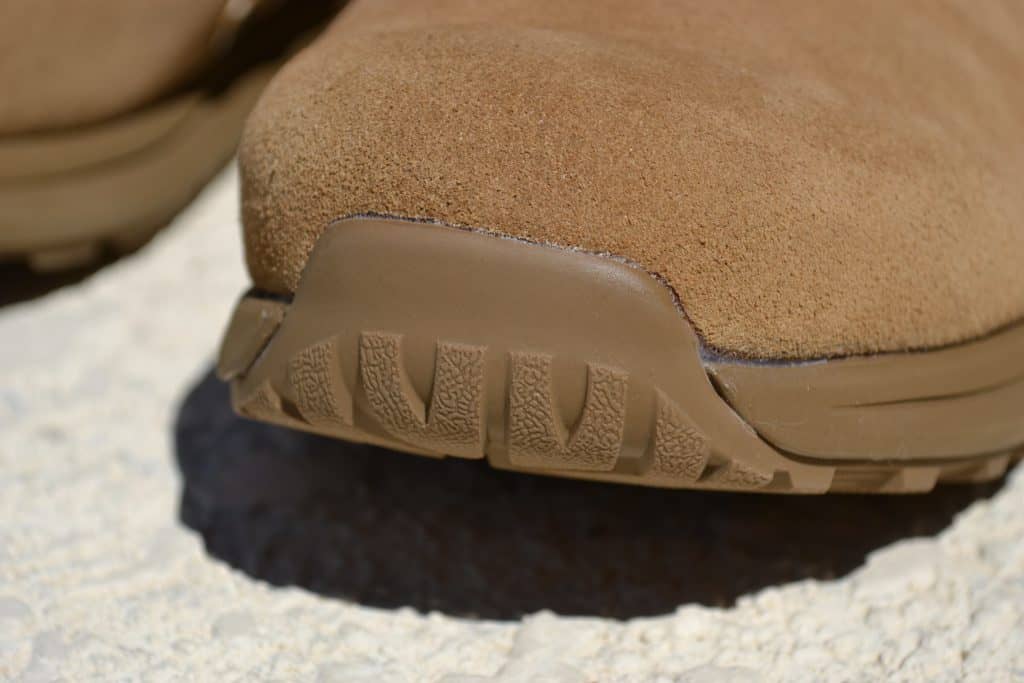 You can also see there is a very generous toeguard – this will help provide extra protection when hiking in aggressive terrain, or when doing push-ups.
These boots have a very wide toe box.
And that's a good thing because when you are going long distance your feet will swell.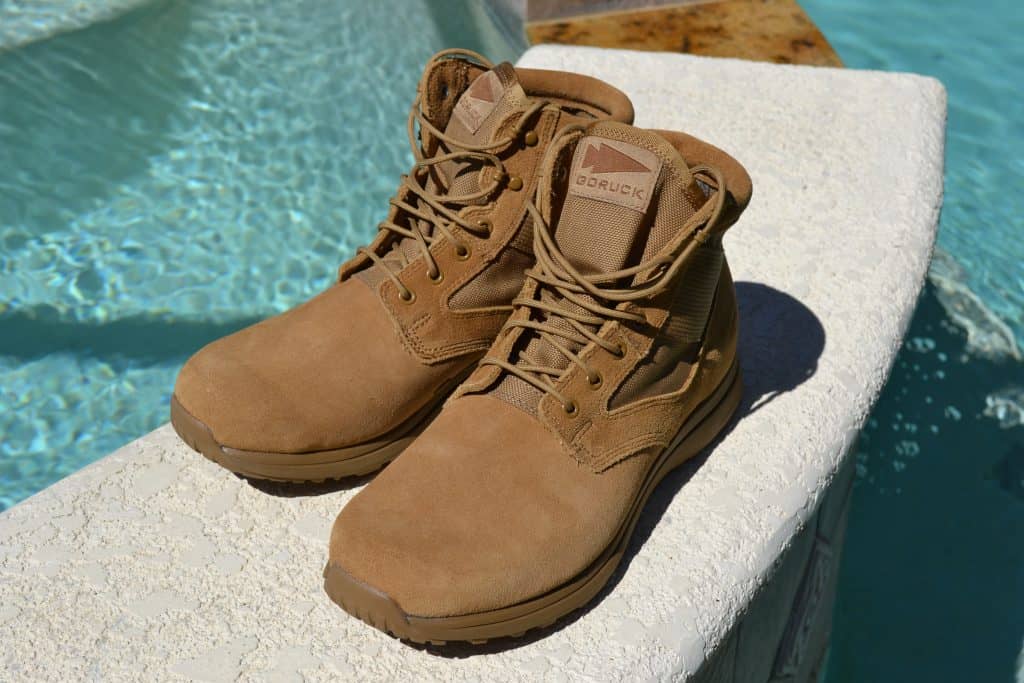 The wide toe box in the forefoot area gives you extra space to help reduce friction.
That will prevent your feet from rubbing too much against the sides of the boot.
Unlike your average boot, the MACV-1 uses thinner laces.
The 3mm speed laces are easier to tie, and won't collect as much debris or mud when you go off road.
Long Term Update: Based on many people's experience the stock laces are week – we recommend IRONLACES or a similar upgrade.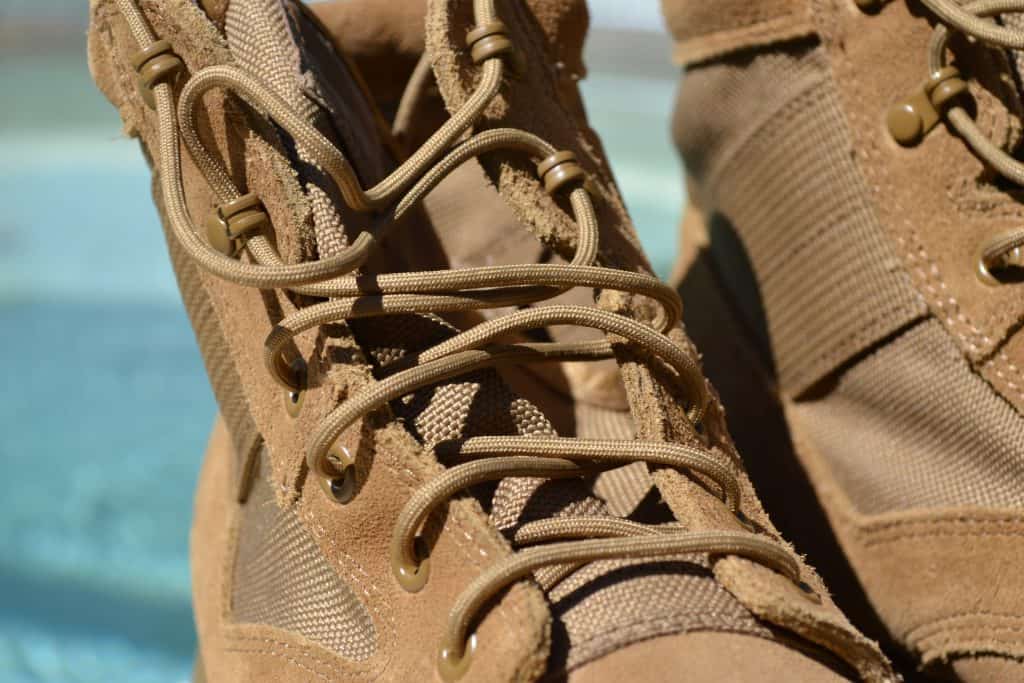 Standard boot laces are much bigger at 5mm (almost 50% bigger) and the speed laces will dry faster as well.
And by the way – these boots ARE NOT WATERPROOF.
In fact, the MACV-1 boot takes the opposite approach.
These are made to drain water rather than repel it.
Why is that? Because rucking often involves total immersion – and in those cases your waterproof boots do nothing but HOLD THE WATER IN.
And that means soggy, waterlogged feet – and "trench foot" after awhile.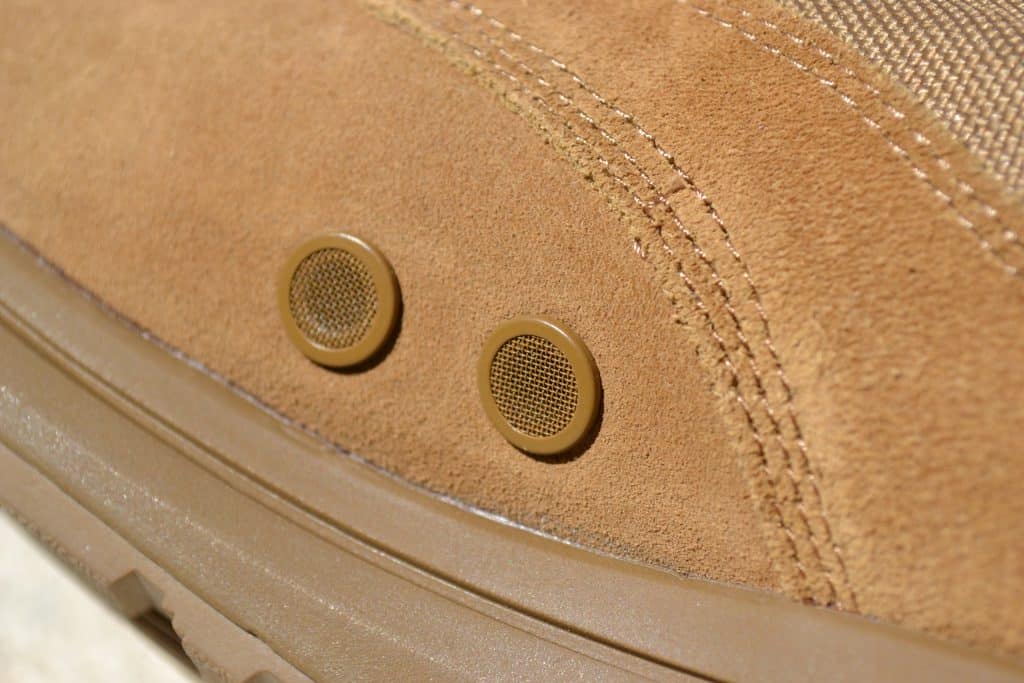 The MACV-1 actually have shielded drain ports.
The fine mesh keeps sand and dirt out – but you can pump water out with every foot step.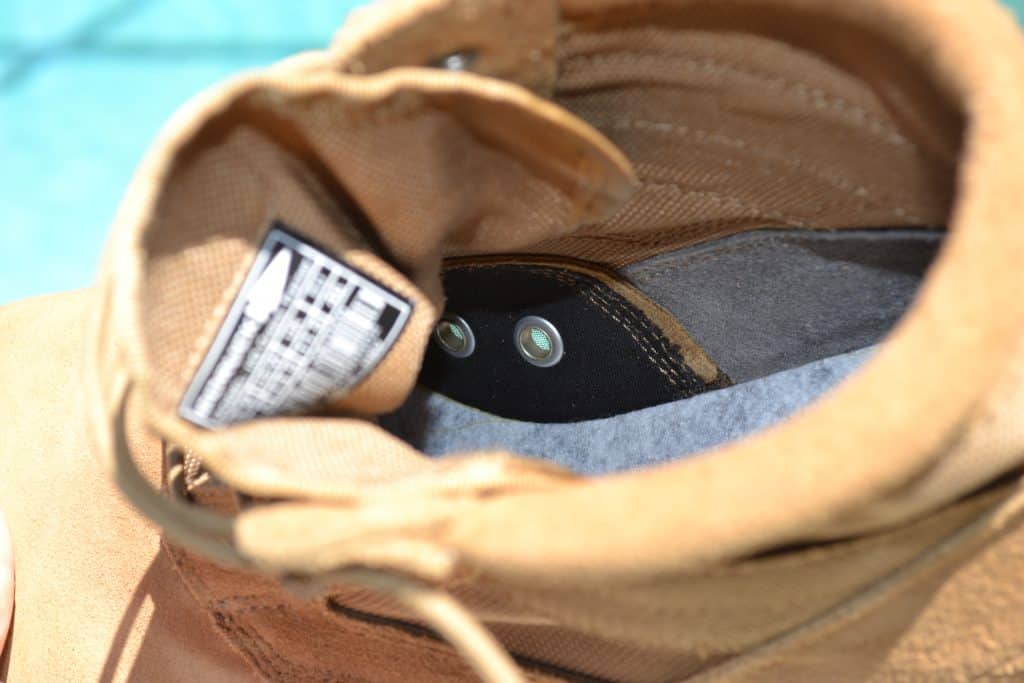 Let's look at the ankle support.
In the ankle are 1000D Cordura and 2″ nylon webbing.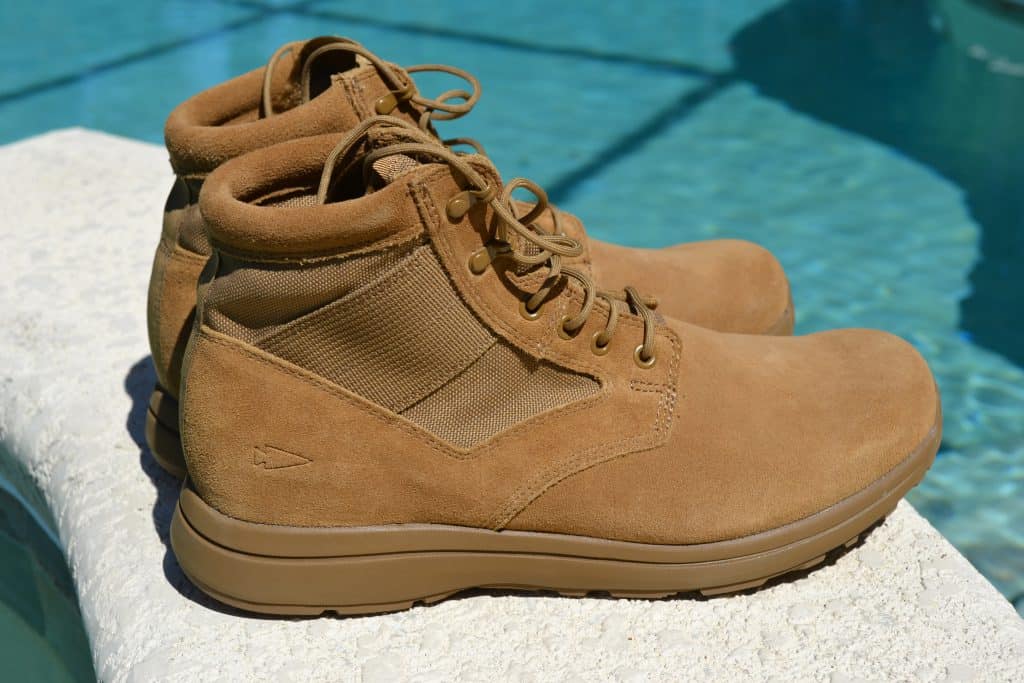 As GORUCK explains, that webbing is actually sewn into the heel counter.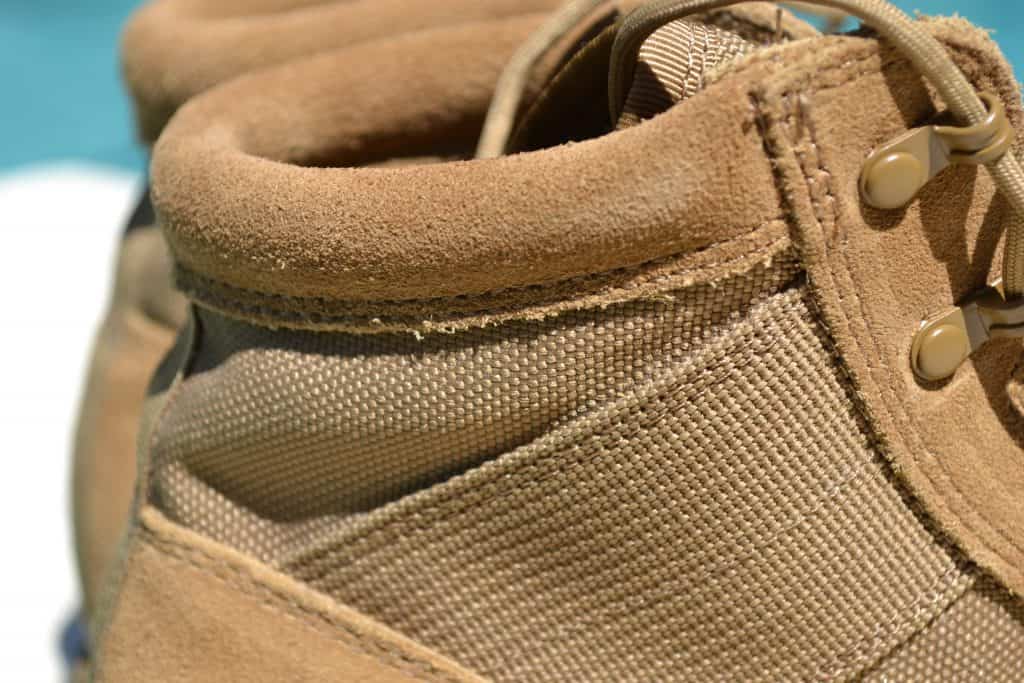 You might be wondering – what's the "heel to toe drop" (or "offset" or "drop") on these boots?
The GORUCK MACV-1 boot has a 13mm heel to toe drop that is chosen specifically for long distance endurance.
(This means your heel is 13mm higher than your toes.)
What's the benefit of that?
As GORUCK explains, that 13mm offset reduces the strain on your achilles tendon and helps accommodate a natural gait on nearly any type of terrain.
Speaking of endurance and comfort, these boots have a lightweight EVA Midsole.
That combined with a custom compression insert means a lot of comfort.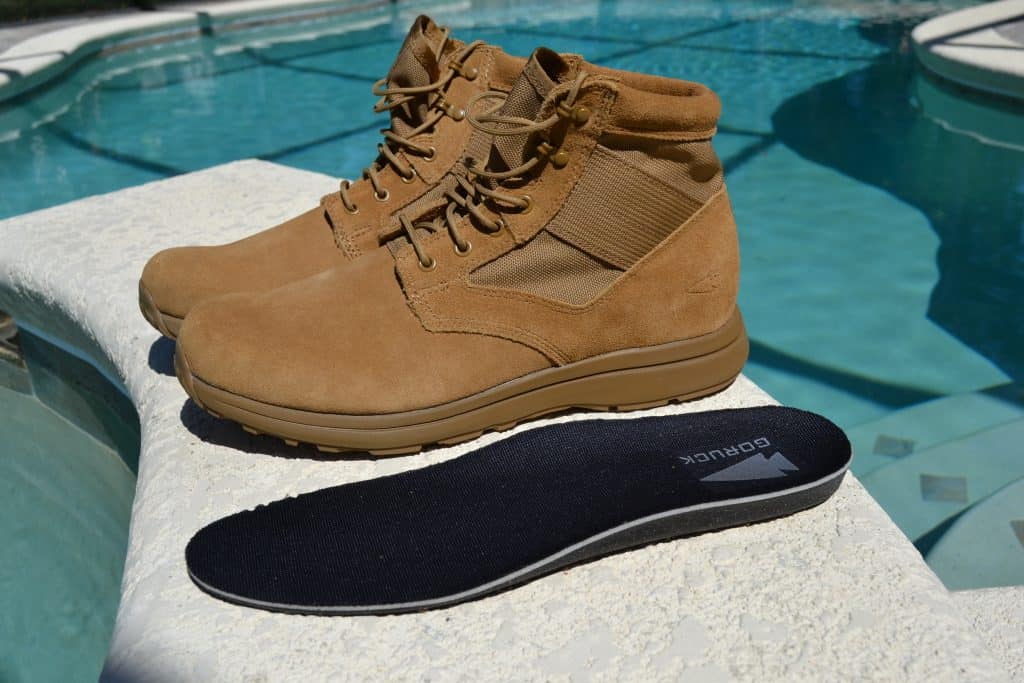 I can confirm that these boots have an exceptional amount of cushion.
That insert uses a dense compression foam system to supports your entire foot from heel to toe (including arch support.)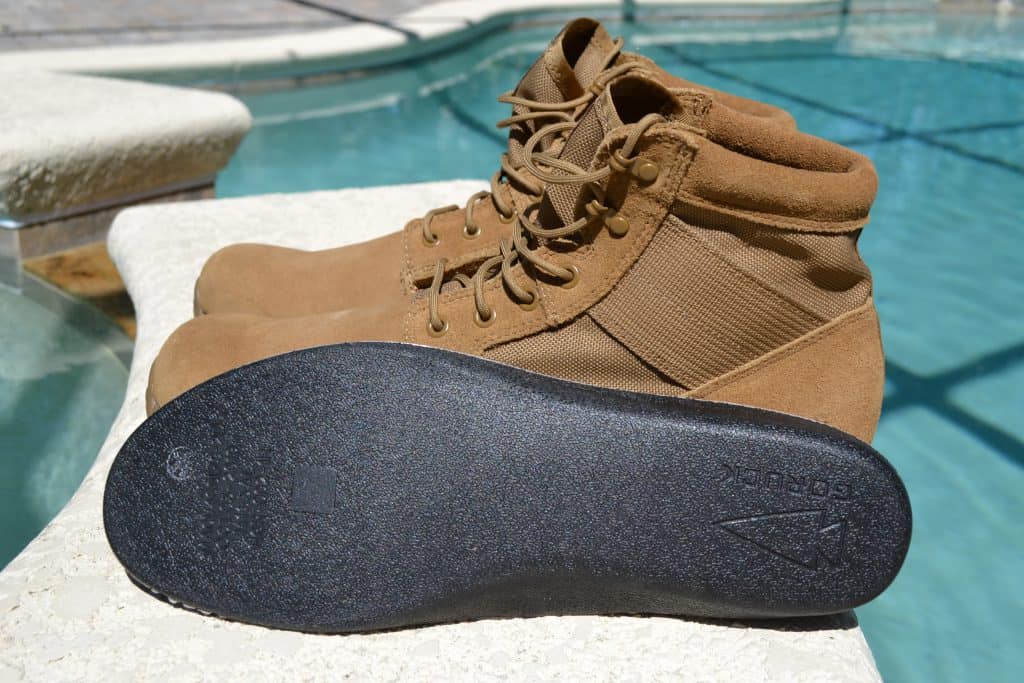 Here's another important factor for comfort.
The heel counter is lined with suede for comfort – and to reduce (or eliminate) break-in time.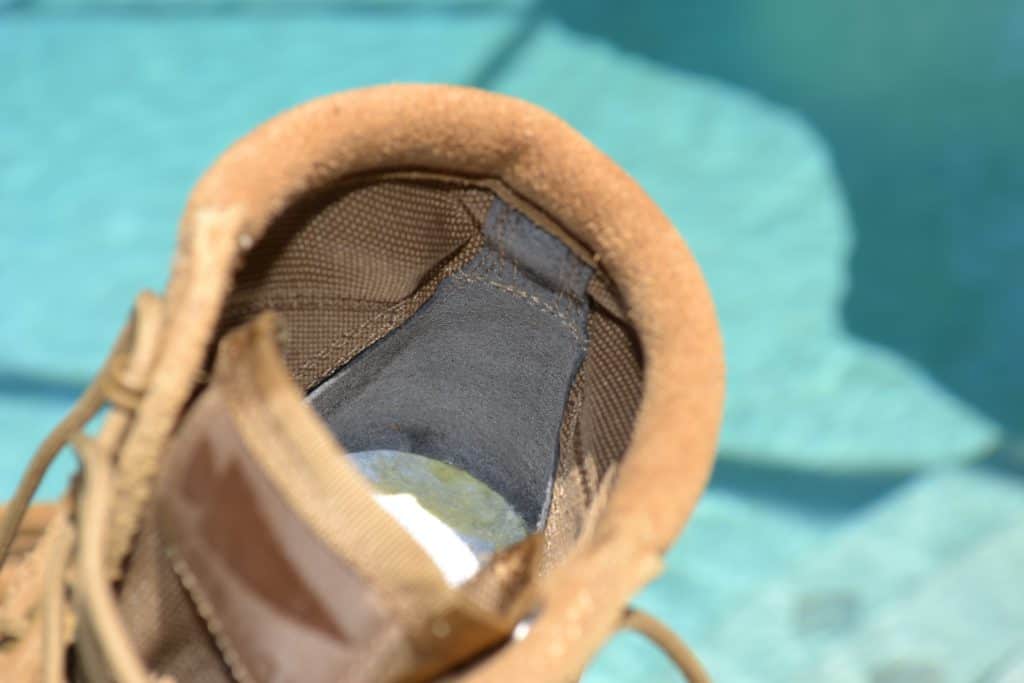 It's hard to get a photo of it, but you can see the grey suede material there – covering the entire heel counter.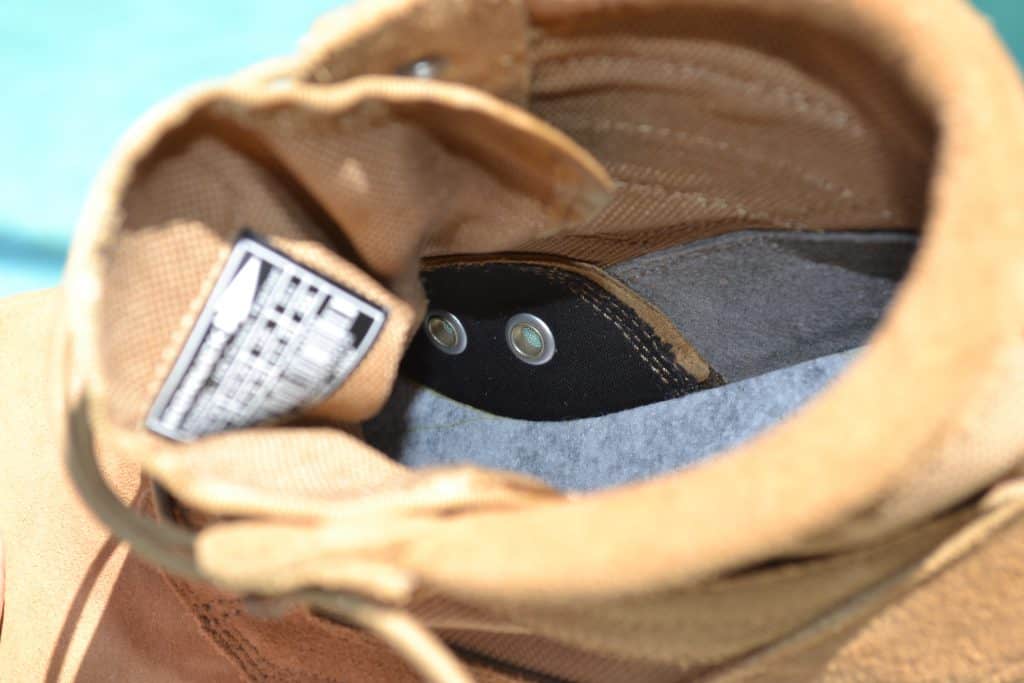 You can also see the GORUCK spearhead logo makes an appearance on this boot.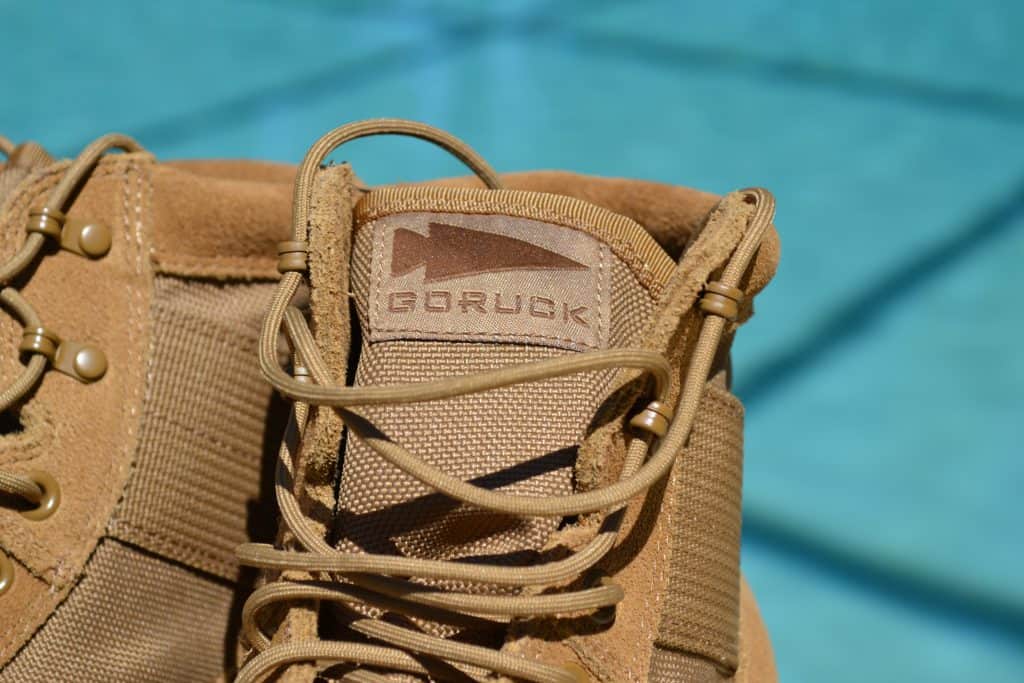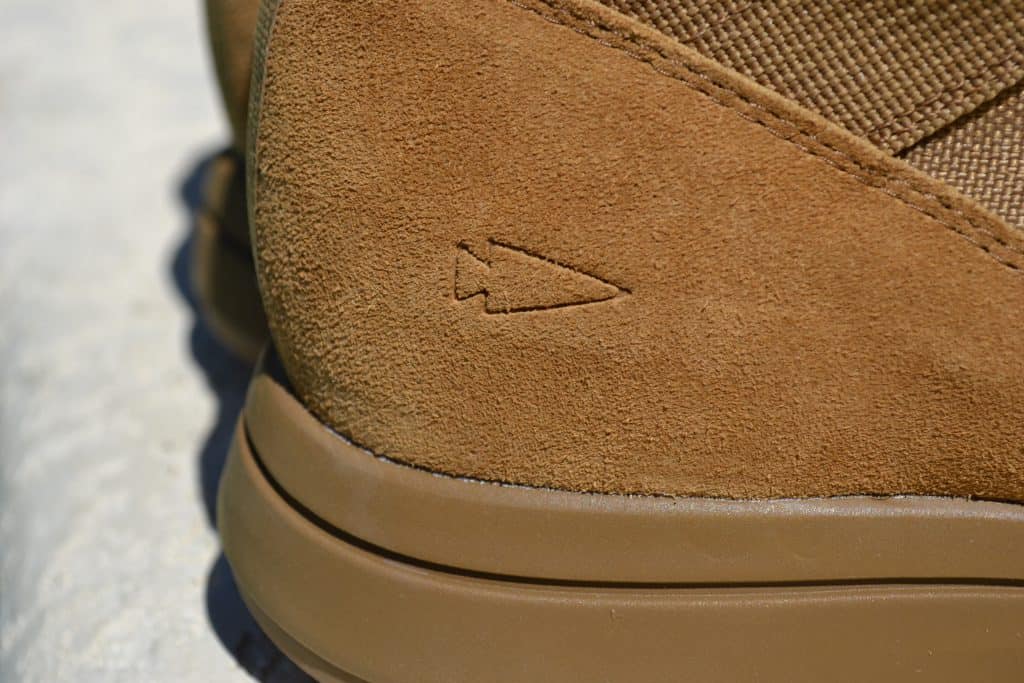 MACV-1 – Weak laces?
Here's the only real recurring problem with the MACV-1 (as experienced by many wearers of this boot.)
The stock boot laces that come with the shoe aren't very durable.
Keep in mind they are 3 mm diameter speed laces – and if you like to tie them tight – that can lead to lace breakage at the worst possible moment.
We're currently testing out Iron Laces (Buy on Amazon) as a solution.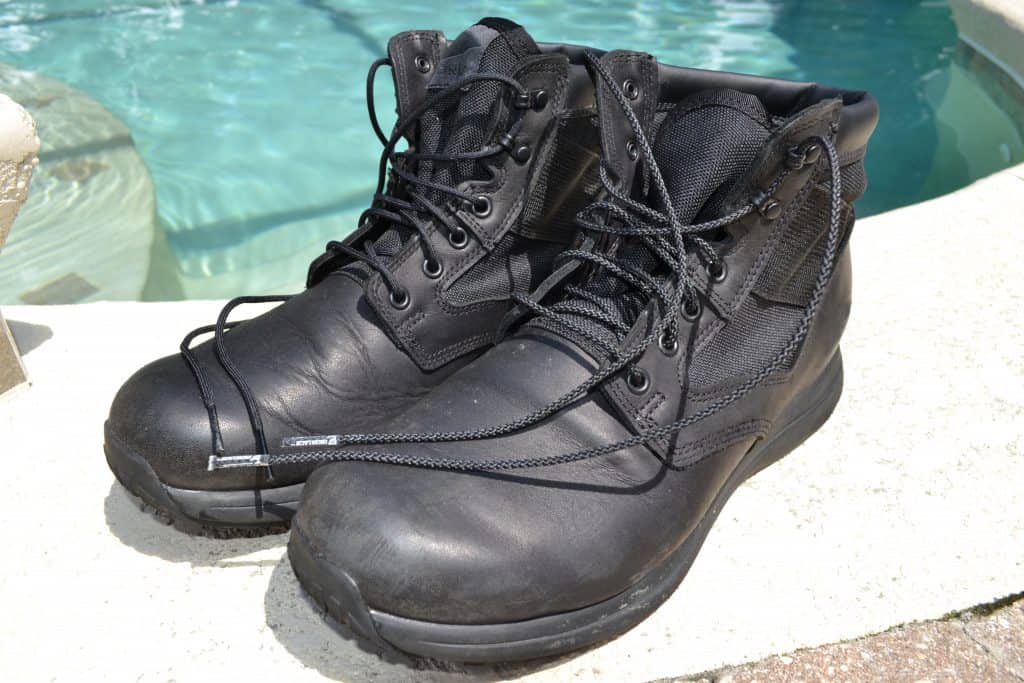 These are crazy tough laces available in different colors and lengths.
These are guaranteed for life, and stronger than steel – even though they are only 3mm in diameter.
They won't break, won't stretch, won't slip – and they are fireproof too.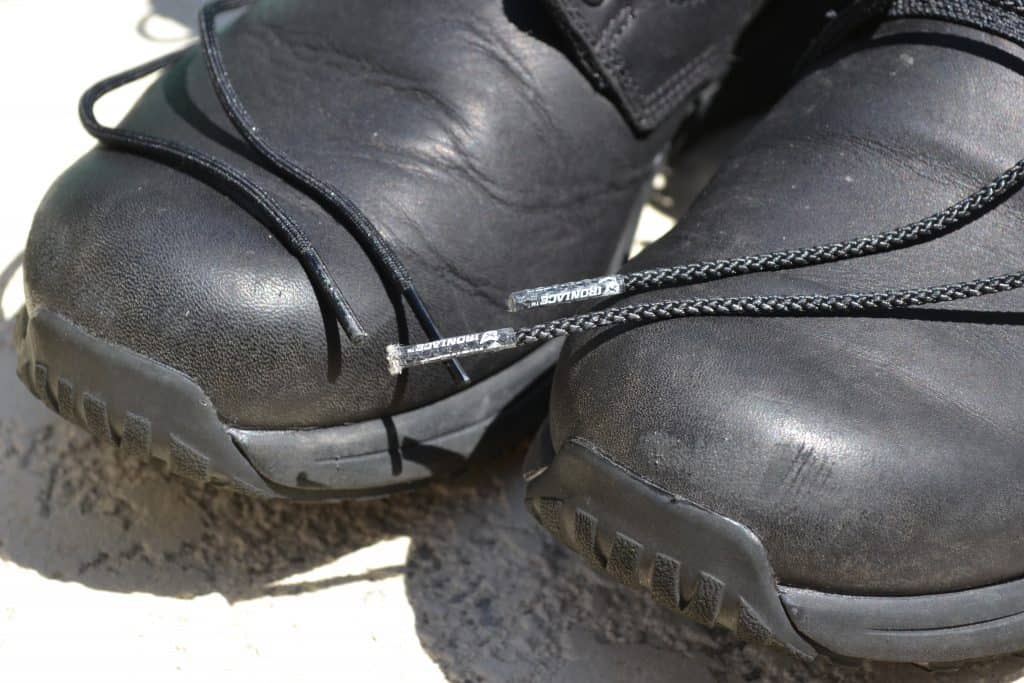 They are also waterproof and won't freeze. It's like a super boot lace.
By the way, the stock laces in the Men's Size 11.5 MACV-1 Gen 2 boot is 58.5″.
I'll be using the 54″ Iron Laces with mine.
Your other option might be to use paracord – that's really tough too.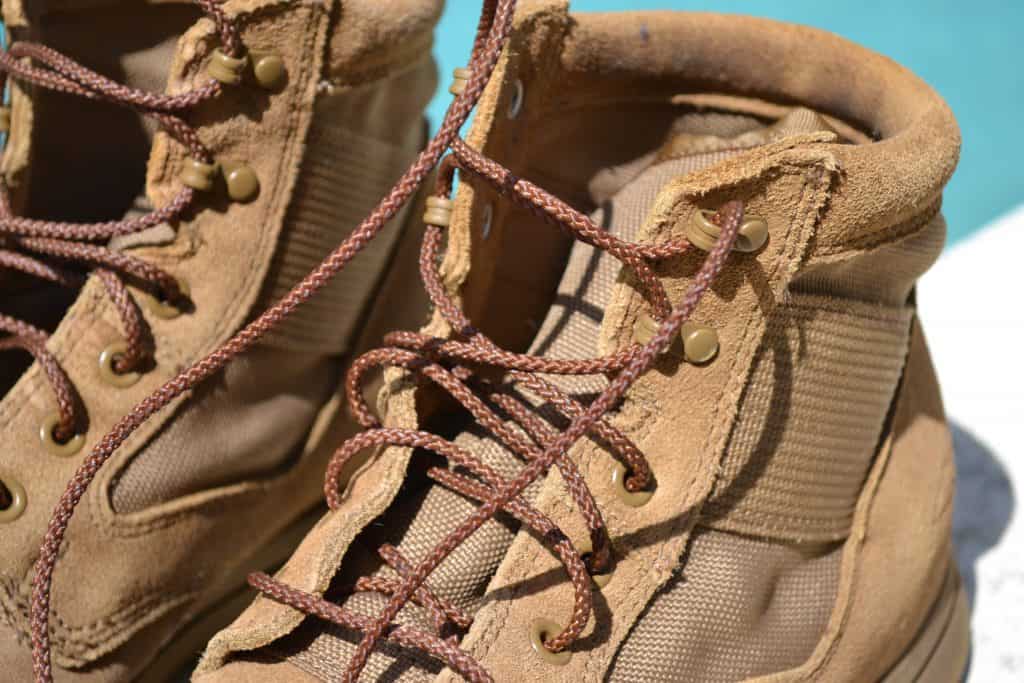 GORUCK MACV-1 Gen 2 Boot – Also Available in Black Leather
The Black Leather version of the MACV-1 boot is identical to the Coyote Suede version, just in different color leather.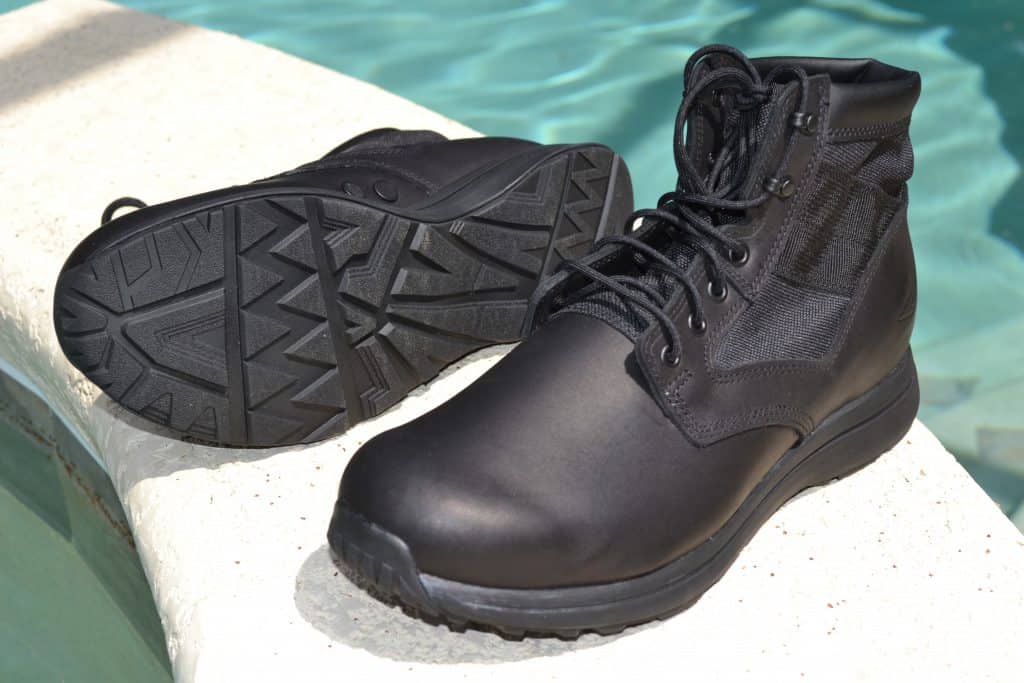 It's also not suede.
It looks great and gets the job done.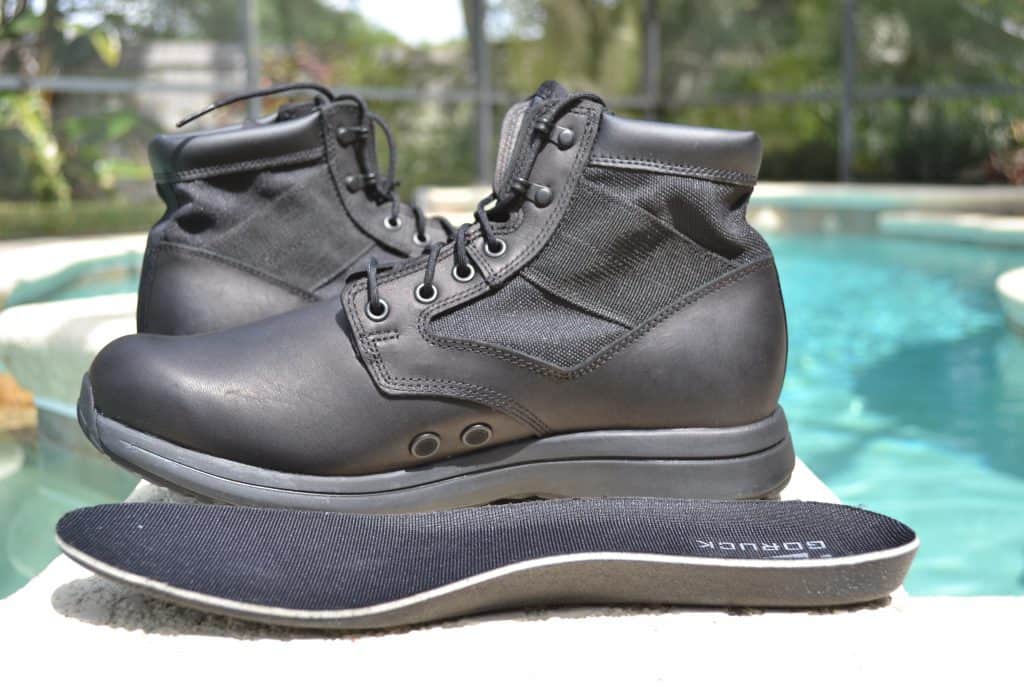 Just like the Coyote Suede pair, we tested these extensively.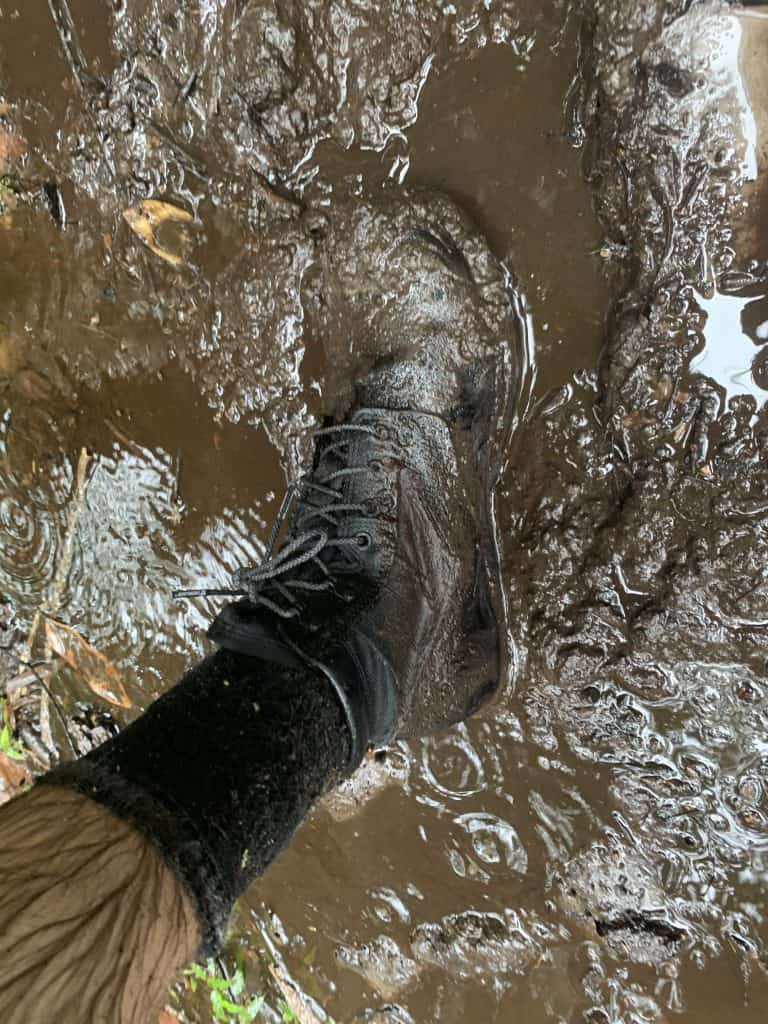 These 6″ Black MACV-1 jungle rucking boots served me well on a very wet (rain + flooded trails) 15.5 mile ruck march.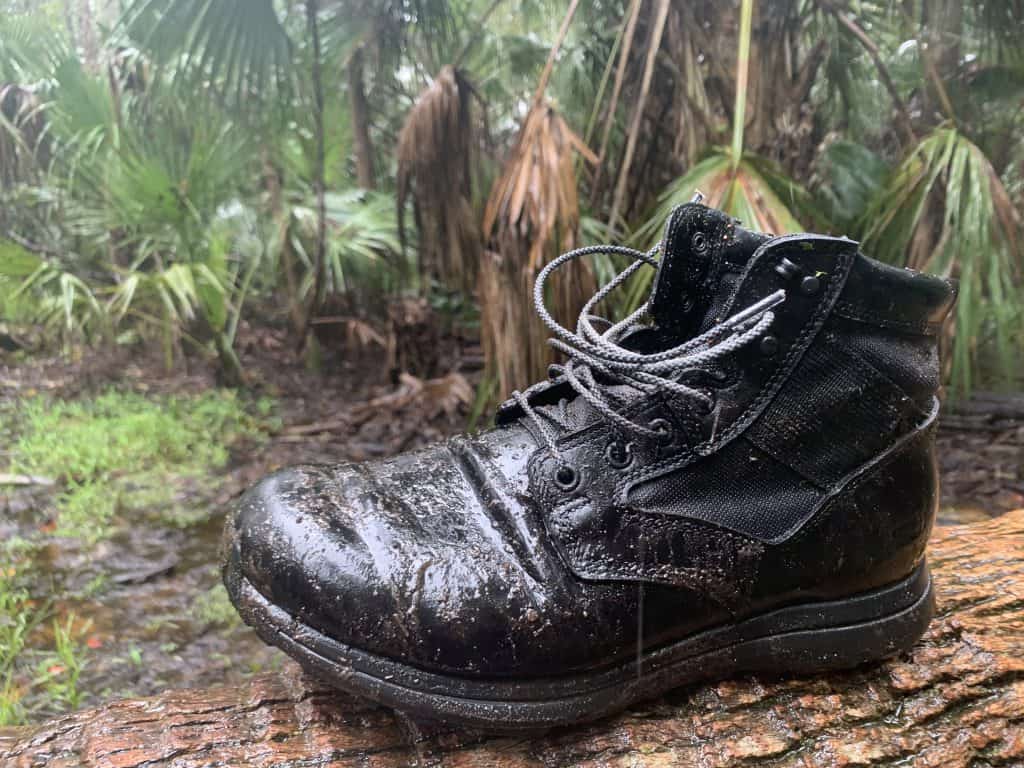 GORUCK MACV-1 Gen 2 Boot – Made in Vietnam
GORUCK makes a lot of their gear in the USA.
But the MACV-1 boots are not one of those items.
The fact is it is very hard to do high volume shoe or boot production in the US (and still have an affordable product) – we simply don't have the factories for it.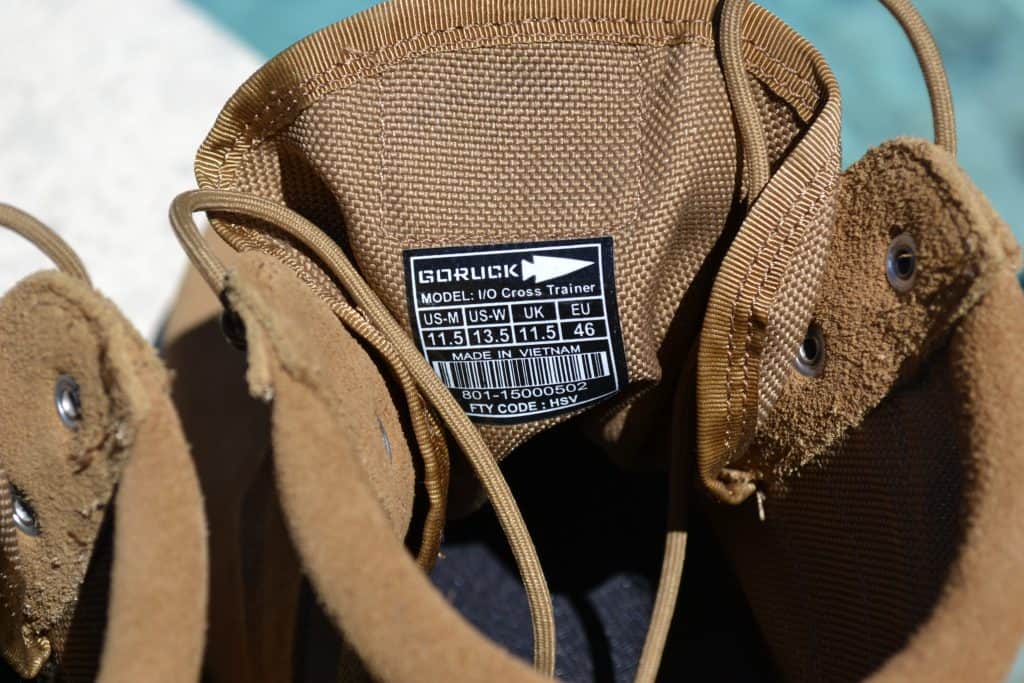 As such, the MACV-1 boot is made in Vietnam.
As you can see mine curiously have the I/O Cross Trainer label. But the size is accurate.
The MACV-1 is covered by GORUCK's SCARS lifetime guarantee.
GORUCK MACV-1 Gen 2 Boot – Lightweight?
Ok, so GORUCK claims these are lightweight boots.
How lightweight are they?
My Size 11.5 pair weigh 20.2 ounces per boot.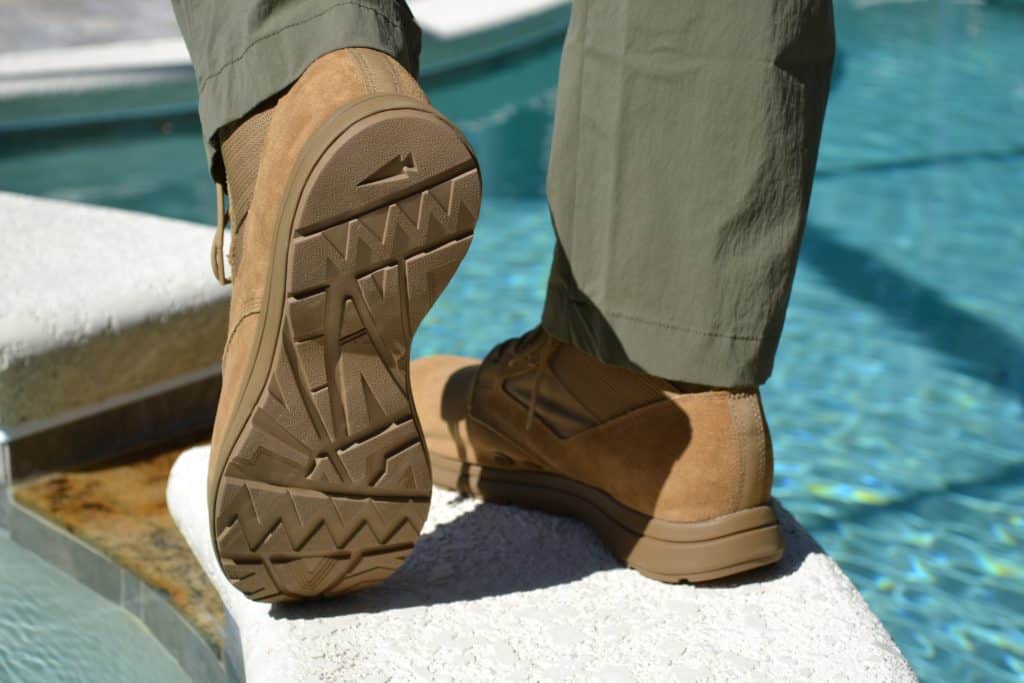 That's about 7 ounces heavier than cross training shoes like the Nike Metcon 5.
That's about twice as heavy as lightweight running shoes (like the Nike React Flyknit 2).
And as far as boots go, that is fairly lightweight.
(Remember all things are relative.)
GORUCK MACV-1 Gen2 Boot – AR-670 Compliant?
The 6″ Coyote Suede version of the MACV-1 is not AR 670-1 compliant.
But the good news is that there is also an 8″ version that is!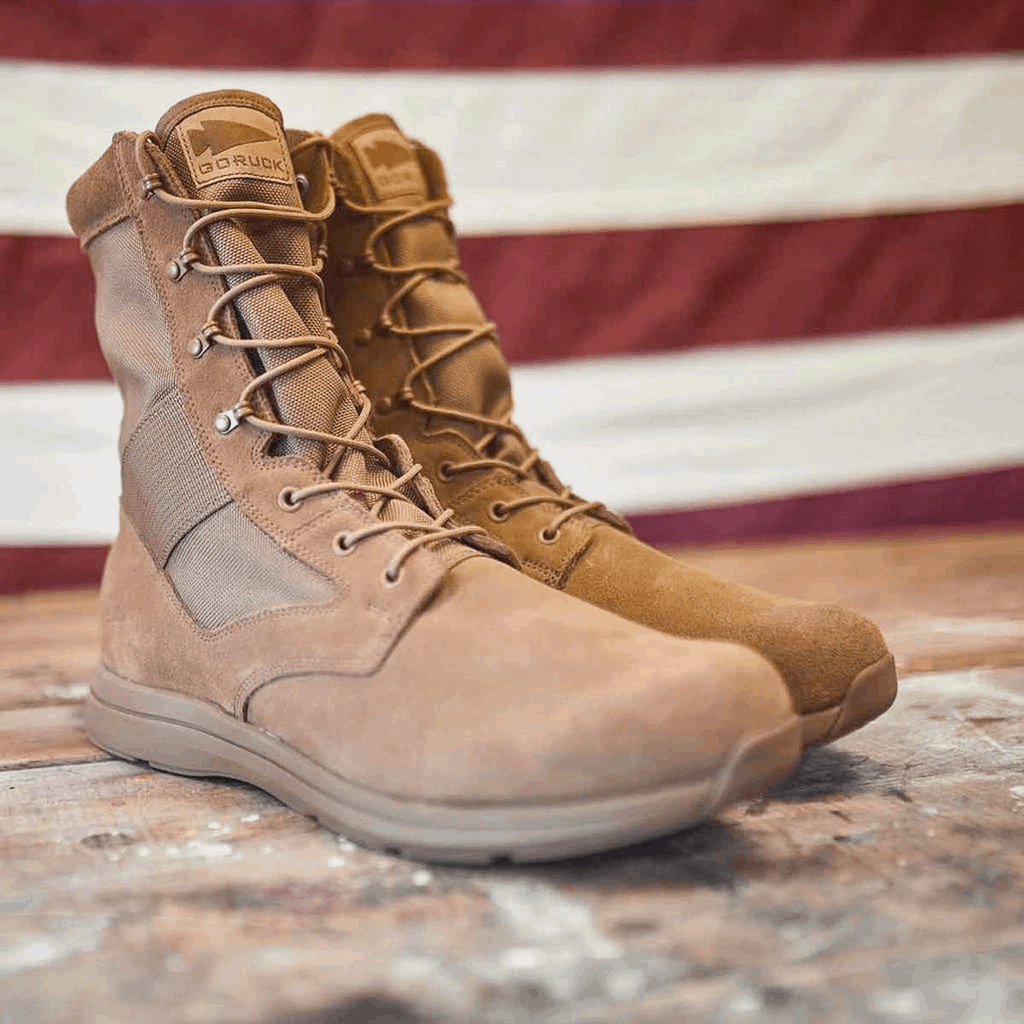 For those in the US Military that are interested in this boot – this is the version that you'll want to look into.
What makes a boot AR 670-1 compliant?
In a nutshell, it must be tan/brown/coyote, it must be 8″, it must have rough-out leather, it must have a rubber sole, and the sole must be the same color as the upper.
So, as you can see the GORUCK MACV-1 Coyote Suede 8″ meets all those requirements.
GORUCK MACV-1 Gen2 Boot – In Summary
GORUCK created a ground breaking boot with their original MACV-1 jungle rucking boot.
It was lightweight, required minimal break-in, and was useful for what it was meant to be.
The new generation 2 of the MACV-1 brings some new things to the table, like Challenge Leather, while leaving other things unchanged (such as the shielded drain ports.)
The 2nd generation has a new and improved outsole that is better focused on all-terrain usage.
Overall, the Coyote Suede version looks nice, feels good and should be a nice "light duty" boot.
We'll have further updates in the near future.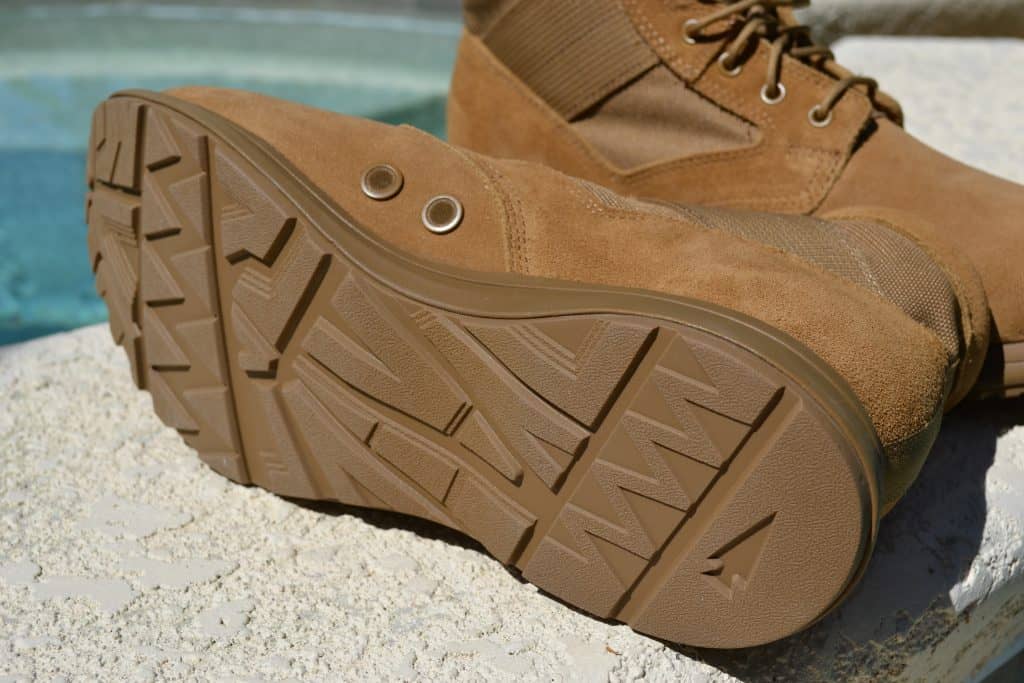 Why GORUCK Products?
We are a
GORUCK
affiliate – so if you order apparel, rucksacks, shoes, or equipment after clicking the links in this article we receive a small commission at no additional cost to you. But that's not why we recommend GORUCK. It's because their equipment is innovative, built to last, and backed by their SCARS lifetime guarantee. They are the driving force behind rucking not just as exercise, but as a way to make people better. And that's why we love them.
Photo Credits
Some product photos on this page are provided by, and property of GORUCK.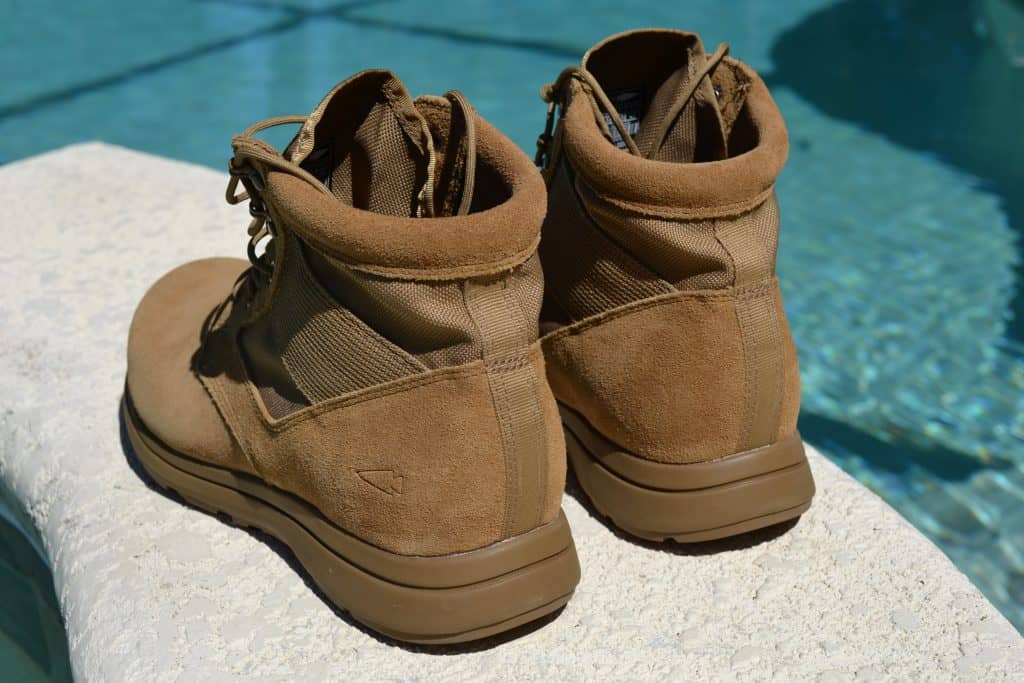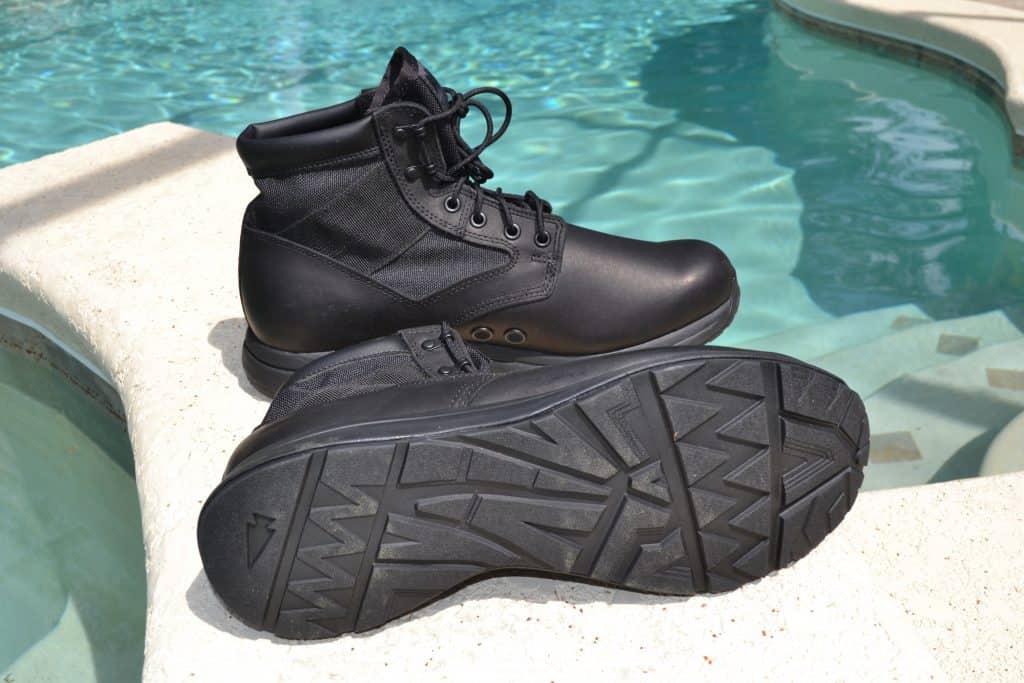 Tim is the founder of FitAtMidlife.com – an avid gym rat for 30+ years, he's a reviewer of many, many shoes – and founder of the Speed Bag Gathering – the world's only gathering of speed bag punching enthusiasts.  See more gym reviews at Tim's YouTube channel.