Nike has only one weightlifting shoe available in 2019: the Nike Romaleos 3 XD.
But, it's a very good weightlifting shoe.
By the way – did you know Nike has released an improvement on this shoe? Check out our Nike Romaleos 4 Review.
Lets review what makes this shoe special.
Here is a peek at some of the styles available now. Other styles are available occasionally – so check back often.
All right, let's take a closer look.
Nike Romaleos 3 XD Hands On Review on YouTube
Get a close-up look at the Romaleos 3 XD from our YouTube channel:
Let's talk about what features you need in a weightlifting shoe.
Nike Romaleos 3 Sizing – Narrow Shoe Warning
First of all – let's mention this – these are really NARROW shoes.
You should order 1/2 size up from your normal shoe size.
Take a look here, the Metcon 5 is also a narrow shoe, but you can see that the Romaleos 3 is still even narrower…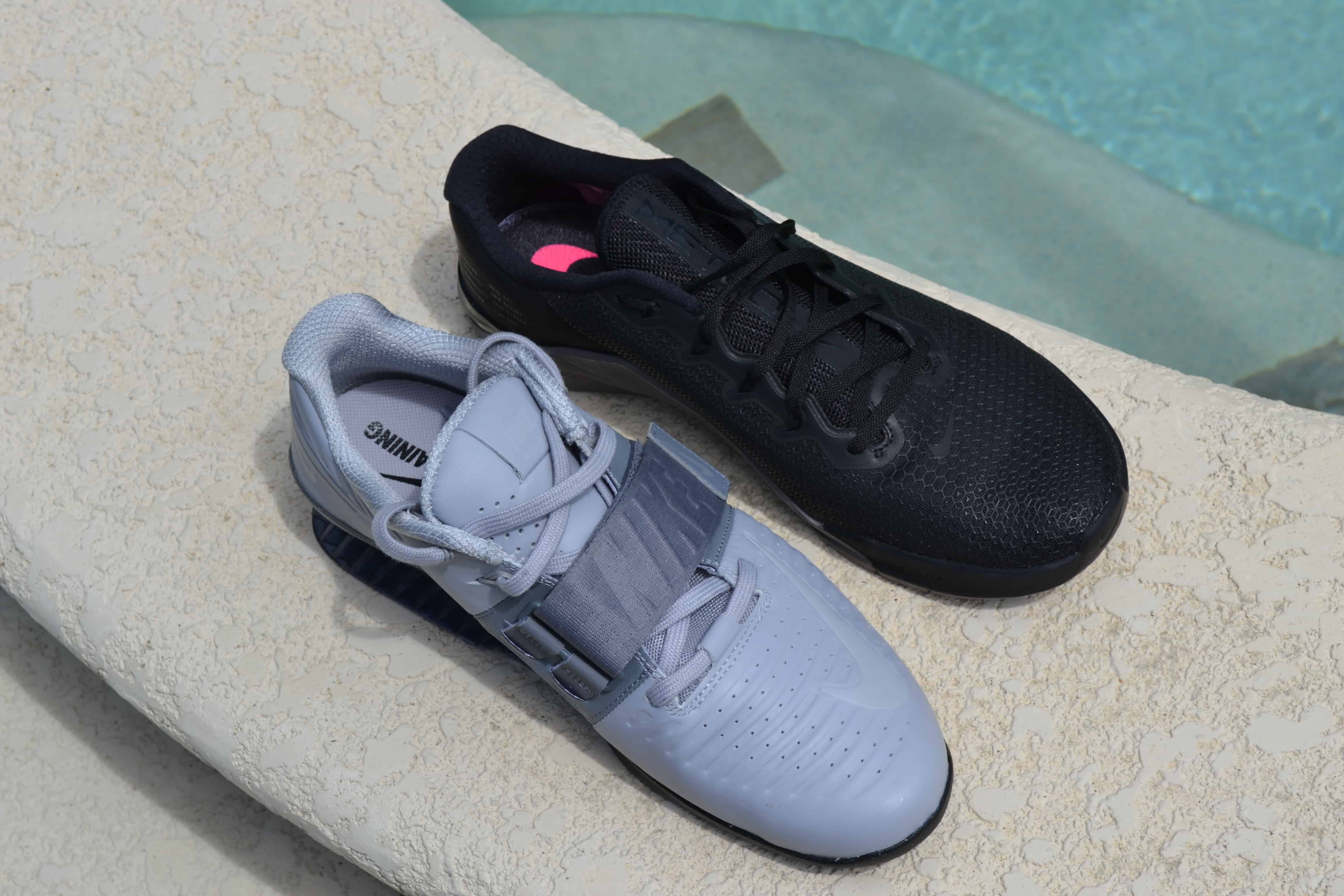 Secondly, for some people, the Romaleos are simply too narrow. If you have wide feet, you may be better off with the Reebok or Adidas lifters.
Special Features of Weightlifting Shoes
Weightlifting shoes (aka "lifters") are made for one purpose and one purpose only – lifting weights.
They aren't made for jumping, running, climbing – or anything else.
They offer the ultimate in stability so that you can squat, clean and jerk, and snatch heavy weights with the most stability.
The Nike Romaleos 3 XD are no different in this regard.
They are an excellent weightlifting shoe – let's talk about specifics.
Hands down the most important feature of a weightlifting shoe is the heel raise.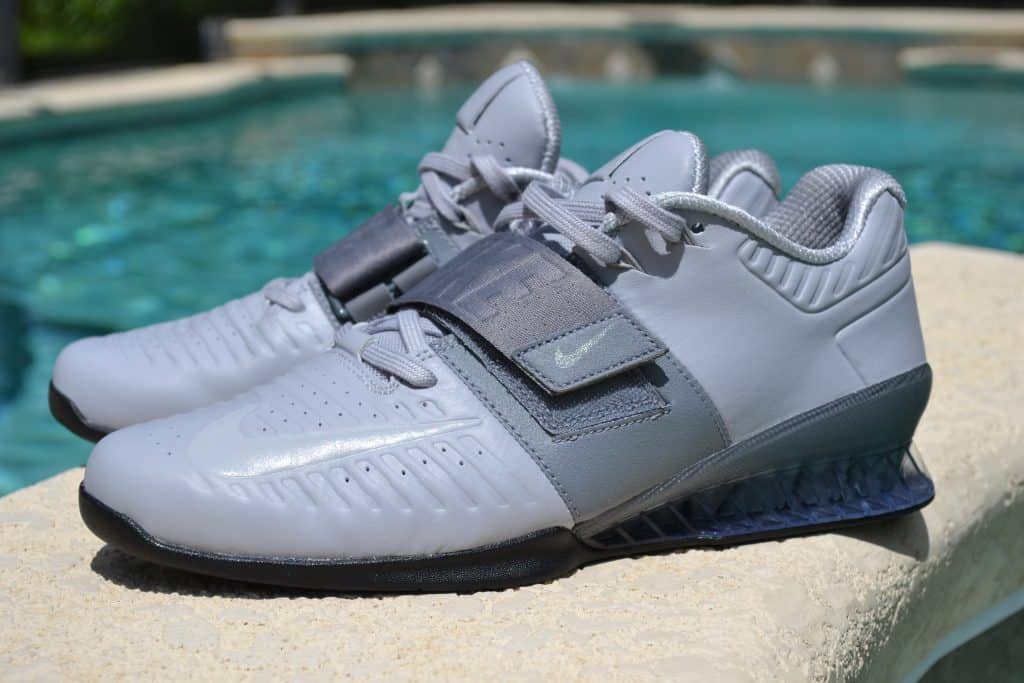 The heel raise let's you get deep in a squatting position with ease.
How so?
Because it minimizes the ankle flexibility you need.
You can see that sky-high heel raise on the Romaleos 3 XD here. And it is right in line with what you'd get on any other brand of weightlifting shoe – like the Reebok Legacy Lifter or the Adidas Adipower 2.
The other way this can be conveyed is as the "heel to toe raise", "drop", or "offset".
No matter what you call it, it's 20mm in the Romaleos 3 XD.
The second very important feature of a weightlifting shoe is the firmness and stiffness of everything under your heel.
That includes any insole, midsole, and the outsole.
In the Romaleos 3 XD they are all very solid.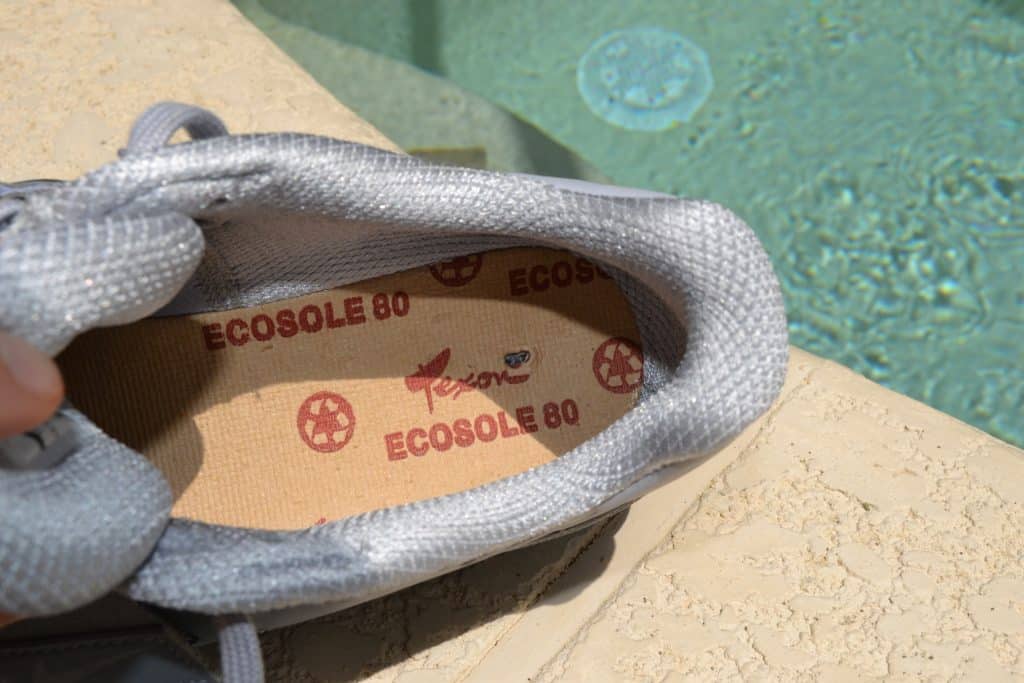 Shown above we've taken out the removable midsole.
What you are left with is the "ecosole" – and it's very solid.
The Romaleos actually comes with two different drop in midsoles.
One is very firm, and one has a little bit of cushion.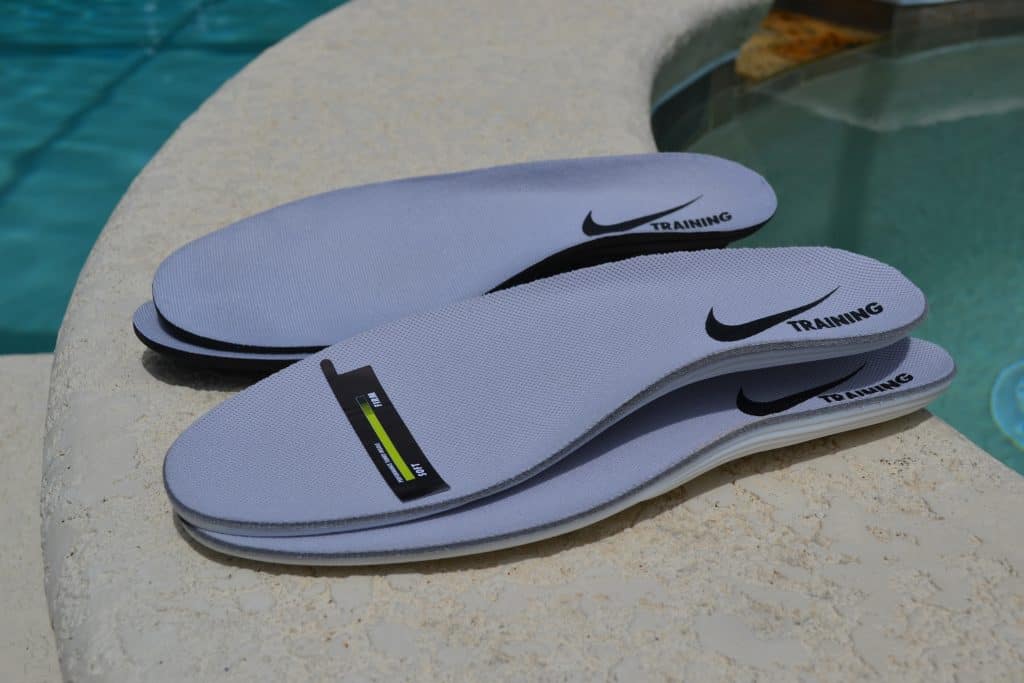 Lastly, the "outsole" and the heel are all super-rigid.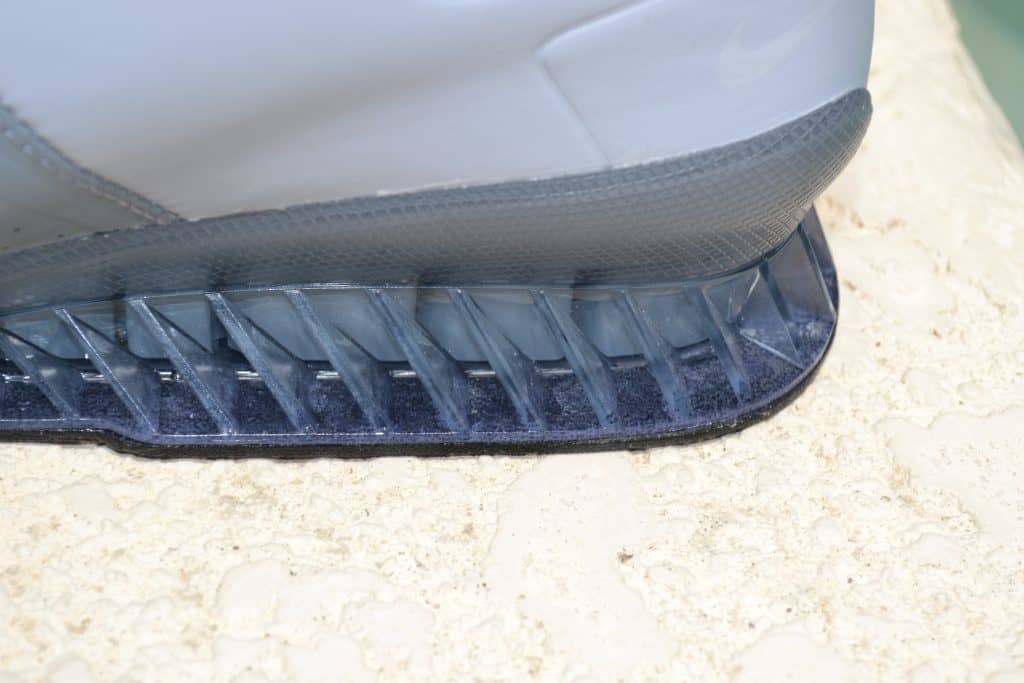 All this adds up to an absolute minimum of cushioning – and no squish under your heel.
You don't want any of that in a weightlifting shoe – it is inefficient from a power transfer perspective, and it's not of any help in a heavy squat either.
These are magnificent weightlifting shoes.
Another prominent feature of all weightlifting shoes is some form of midfoot strap.
The Romaleos 3 XD has that too, of course.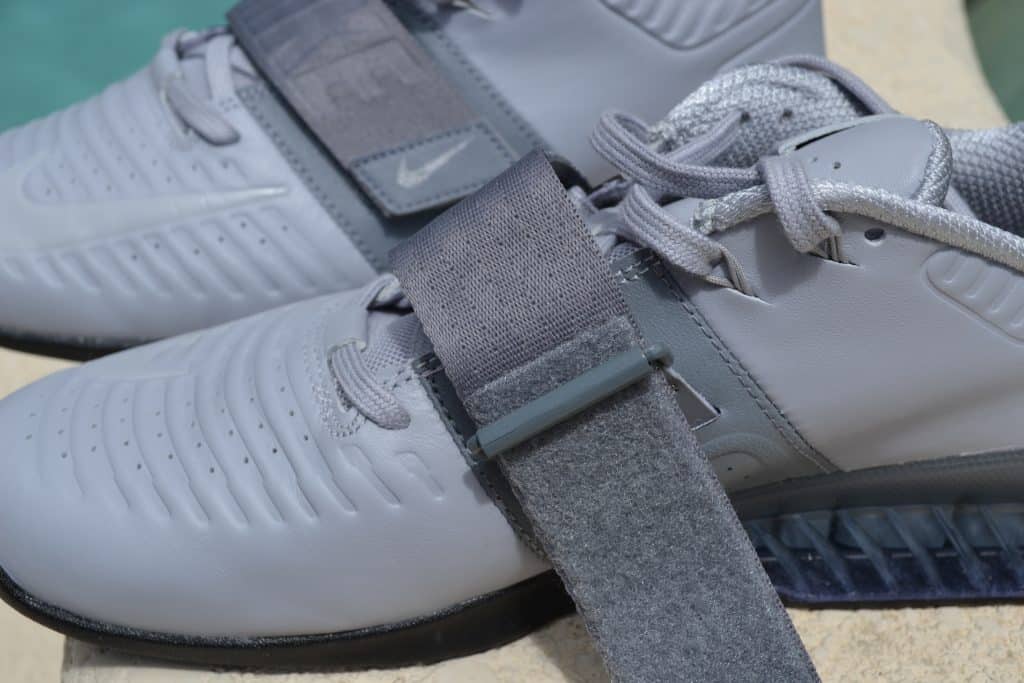 You can tighten that down for a very locked in fit and feel.
What's more – the Romaleos also uses Nike's "Flywire" system – although only on the top two laces.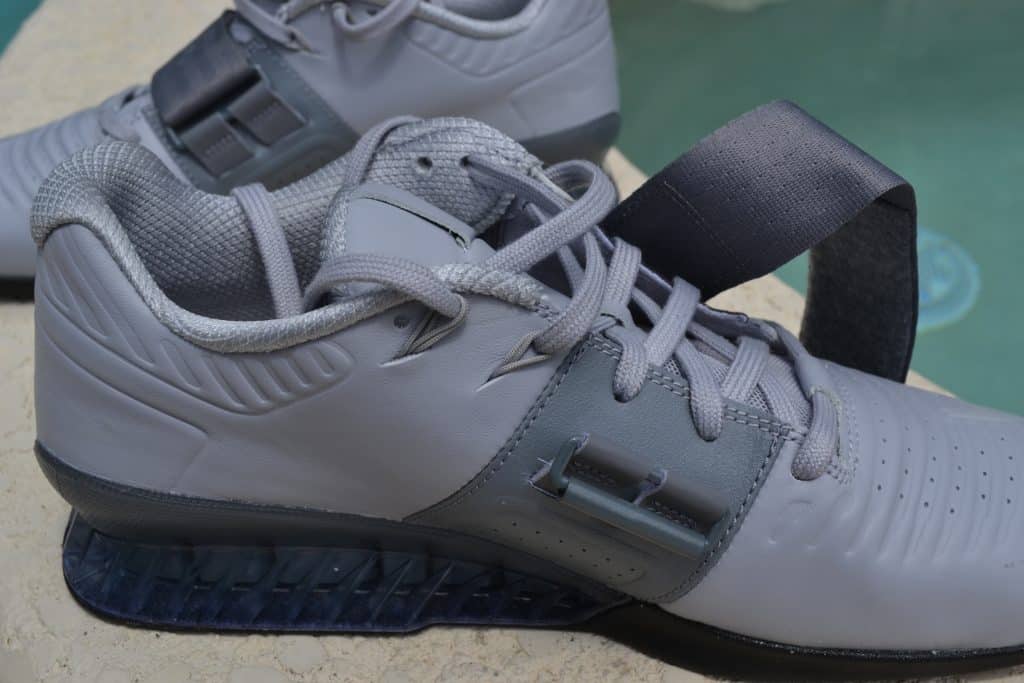 What's Flywire?
These are super-tough vectran filaments that integrate with the laces.
But they also run through the body of the shoe – so when you tighten the laces – the whole structure of the shoe tightens up.
Here you can see those flywires running through the inside of the shoe.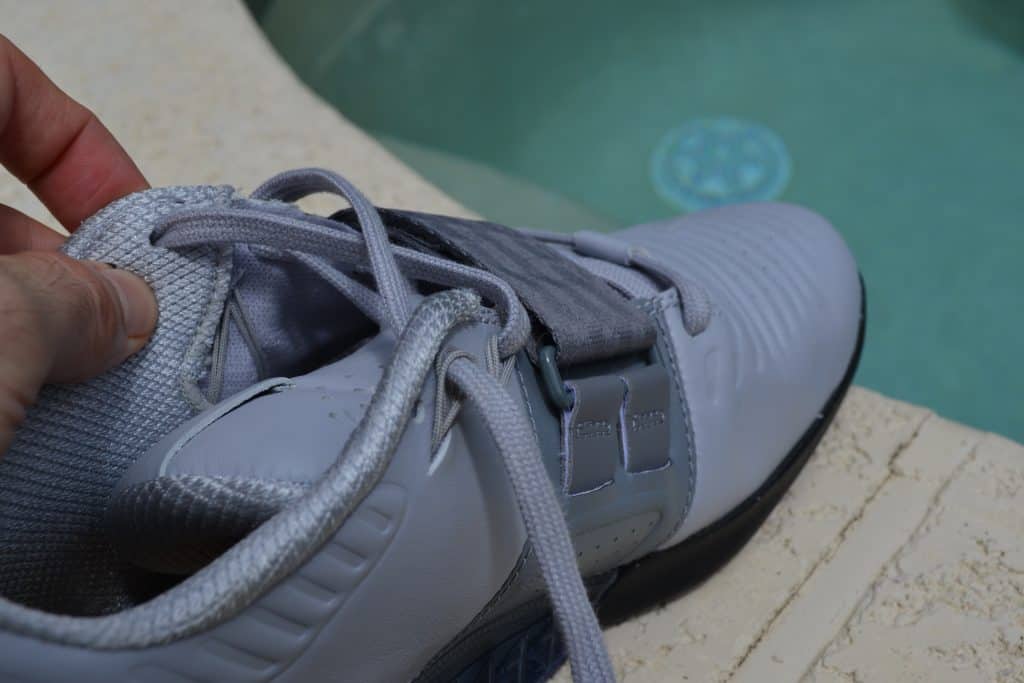 This is a feature borrowed from the Nike Metcon line. But in the weightlifting shoe the Flywire only exists for the top two laces.
But, that's OK – you have that midfoot strap anyways.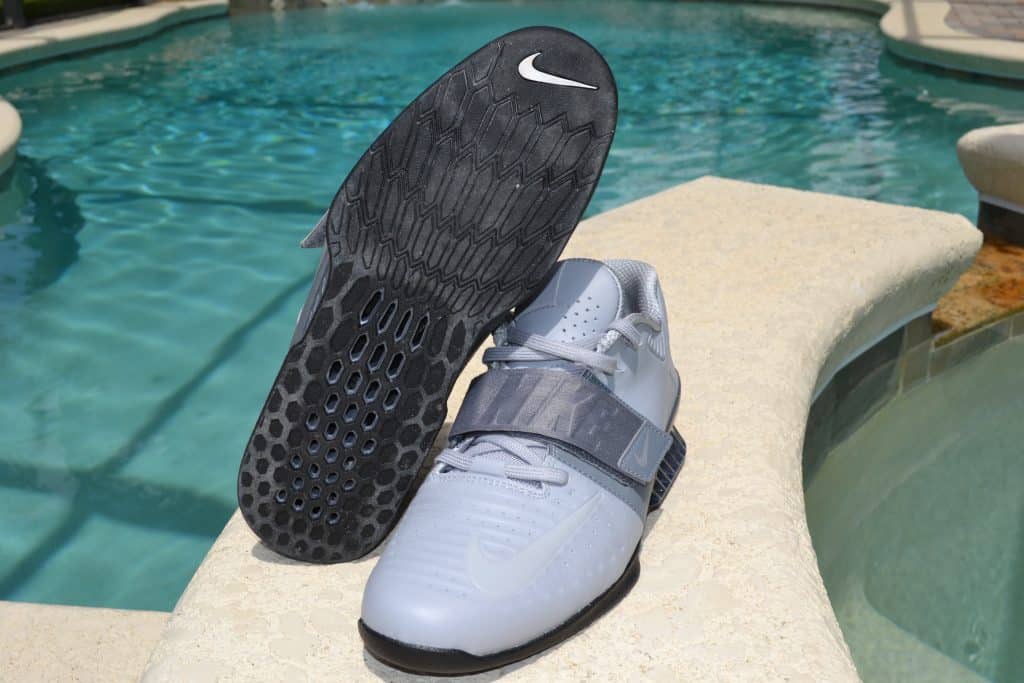 The sole has a very high traction rubber – but not a lot of tread.
There is no reason you'd ever be wearing these outdoors.
The sole is also very flat, for maximum contact with the ground.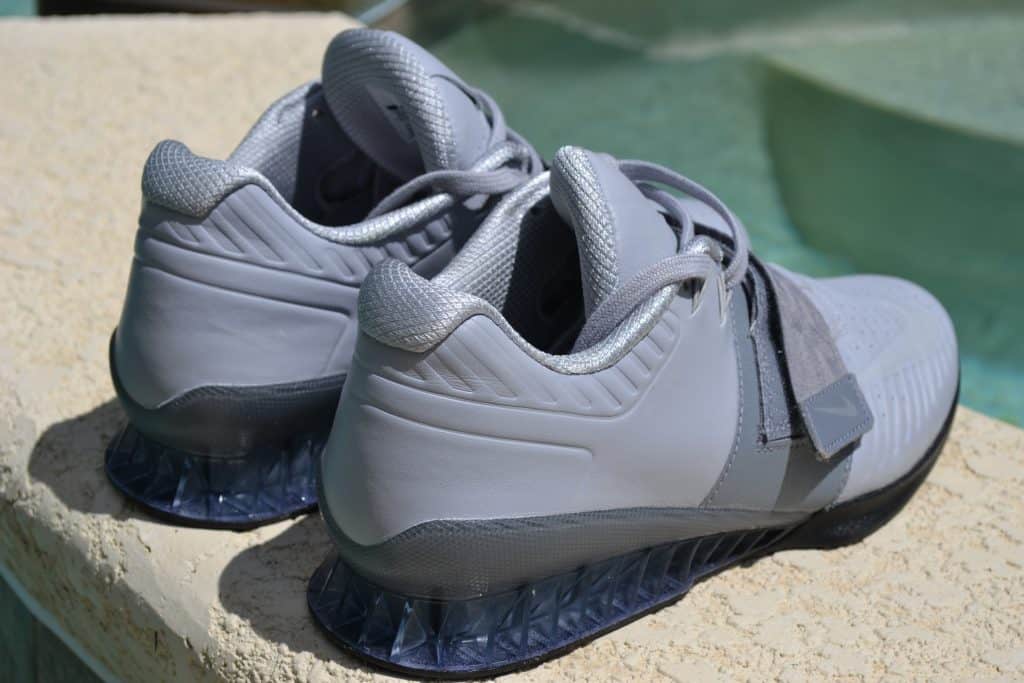 Lastly, the tongue is super cushioned – really, it's off the charts.
These are great weightlifting shoes.
But they are heavy and clunky and they have zero cushioning.
You won't be able to do the full WOD in these.
For those purposes, you should be looking at a versatile shoe like the Nike Metcon 5 or Reebok Nano 9.
Nike Romaleos 3 XD Weightlifting Shoe vs Nike Metcon 5
The Romaleos weightlifting shoe and the Metcon 5 are two very different shoes.
So, there is no point in comparing them head to head.
But, we will shoe you some photos here so you can get an idea of how the two shoes stack up size-wise.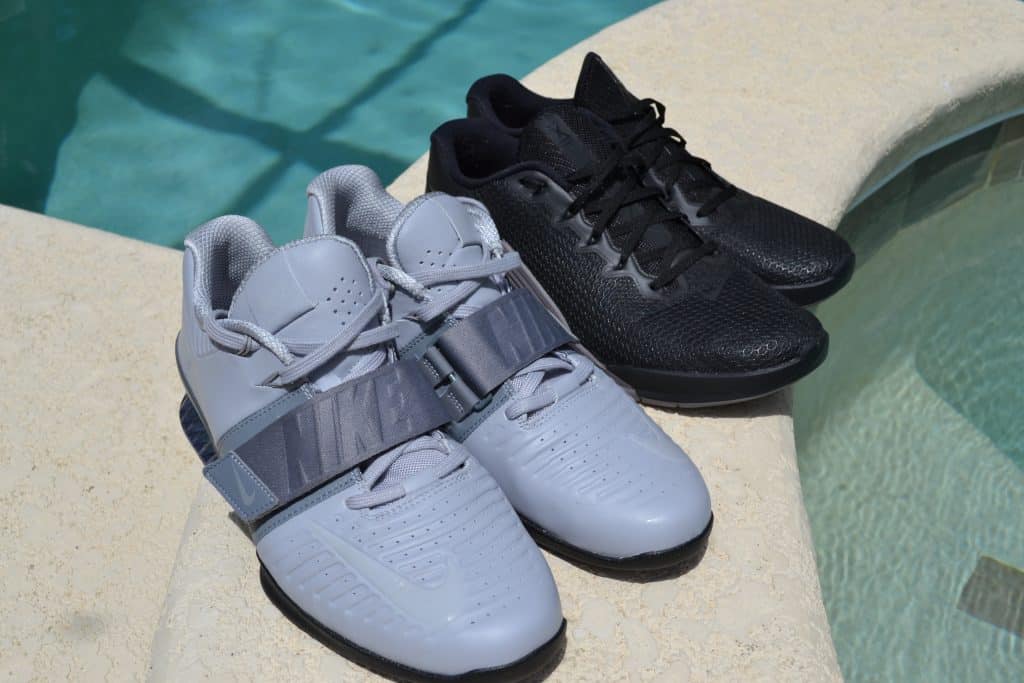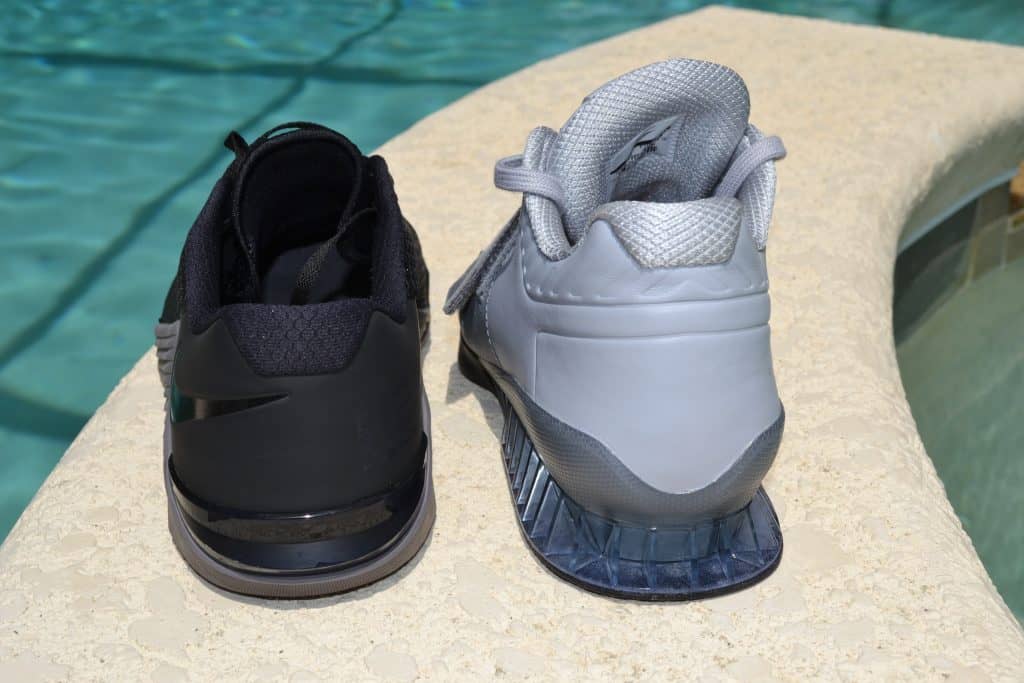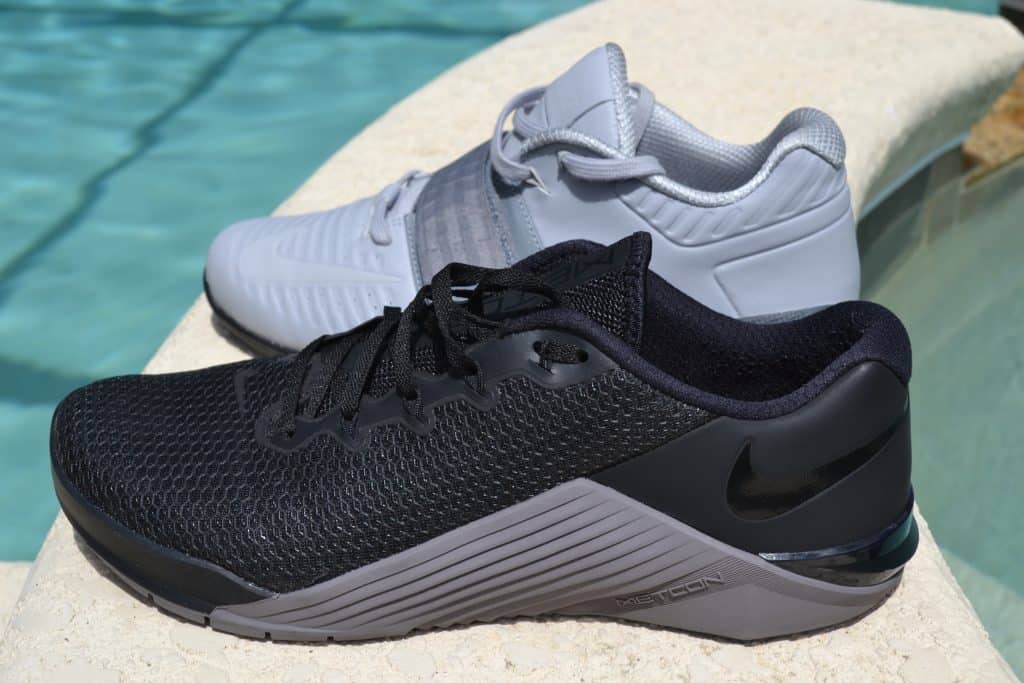 You can see that the Romaleos 3 XD are a narrow shoe. I have narrow feet – so it's fine for me – but many others that have wide feet complain about that.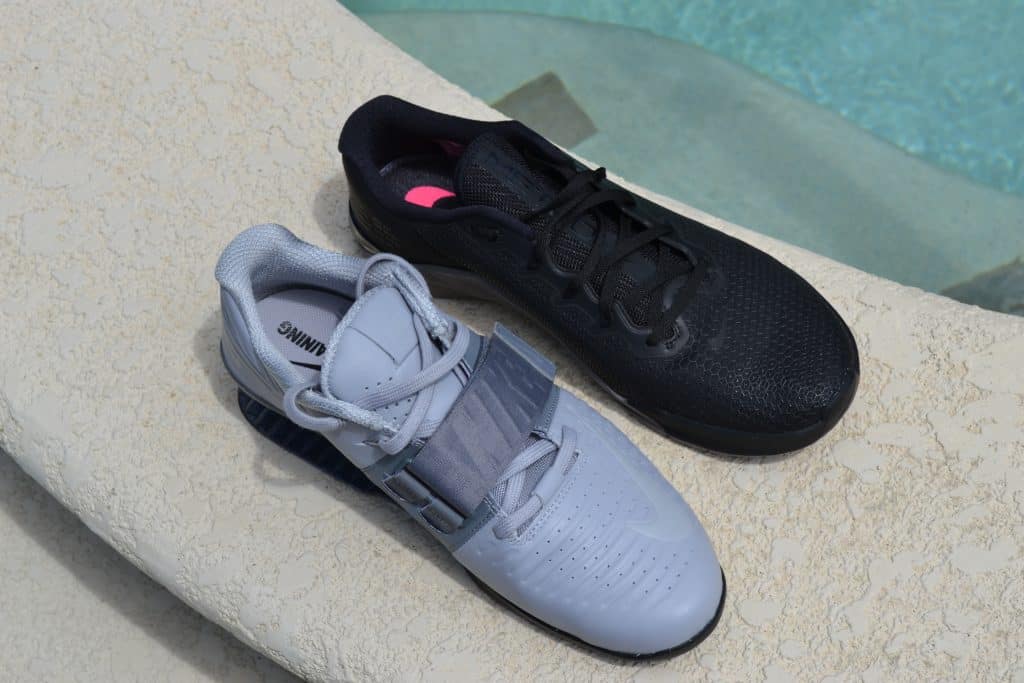 Nike Romaleos 3 XD Patch
Ok, we don't have a pair for hands on review – but what do we think about the Romaleos 3 XD Patch version?
Honestly, it's kind of a gimmick – patches you can change on the velcro covered tongue and heel.
These are like the morale patches used in the military.
But these shoes are on sale for a pretty steep discount – and they'll work just as well as the non-patch version – so this is one of your only chances to cop a pair at a steep discount.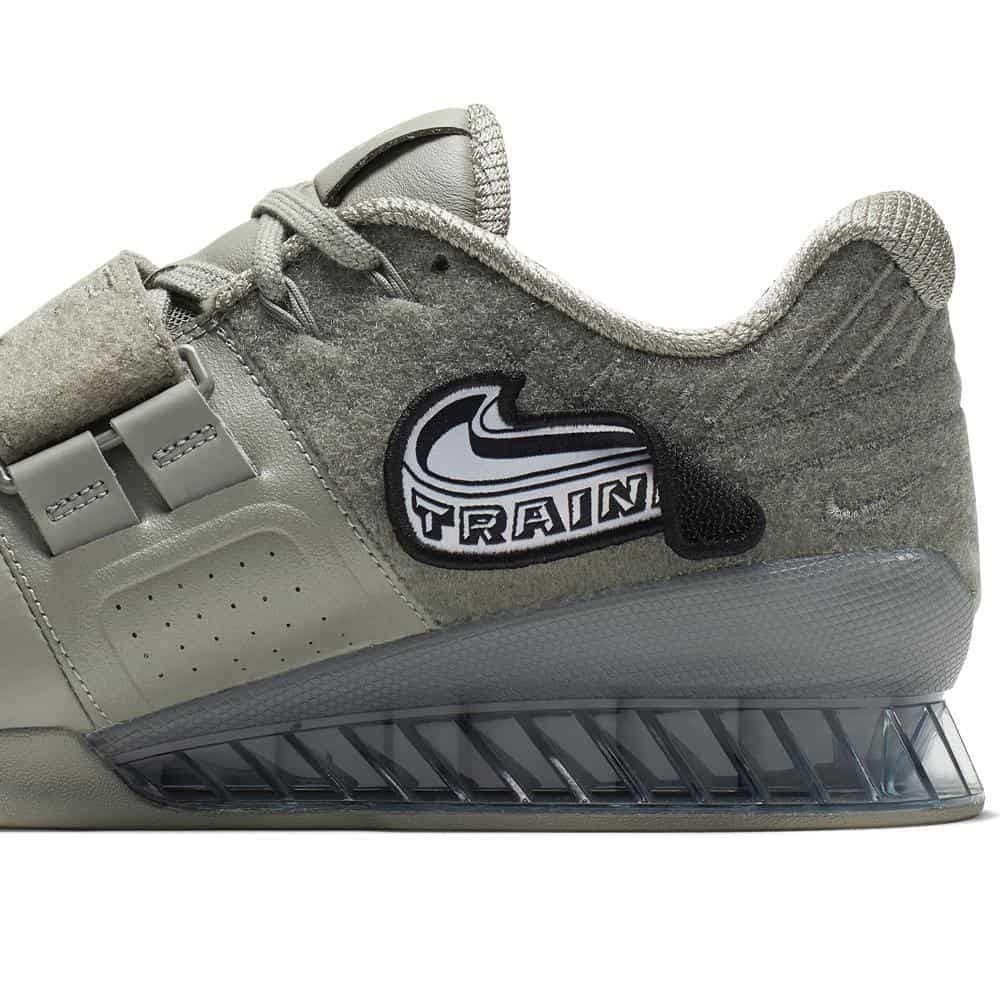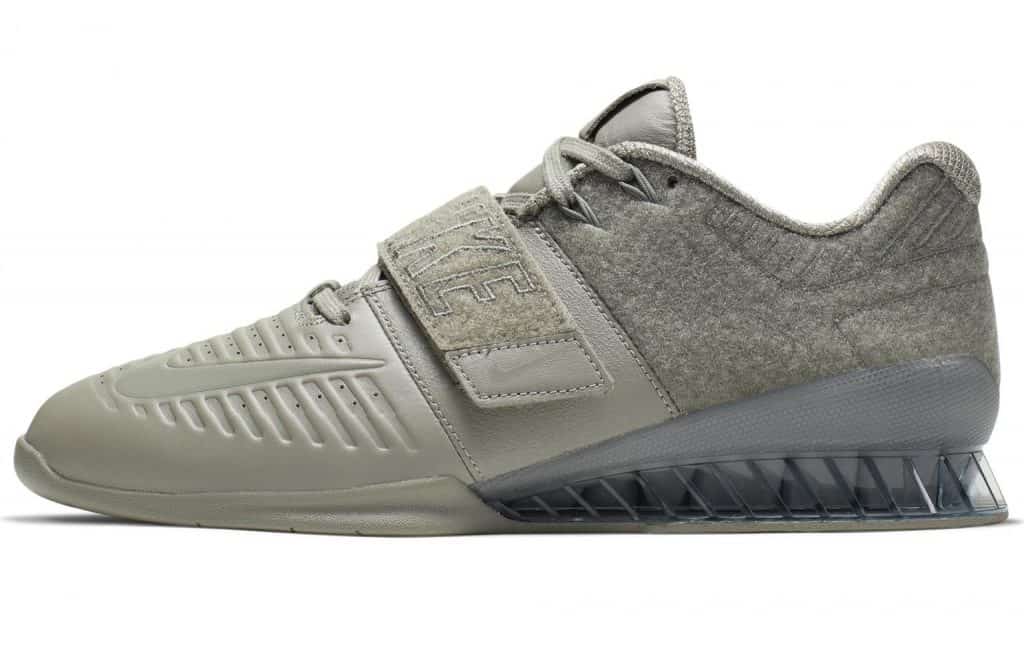 Nike Romaleos 3 XD Weightlifting Shoe – In Summary
Nike only has one weightlifting shoe to offer for 2019 – but it's a nice one.
The Nike Romaleos 3 XD has every feature you'd expect in a pro-quality weightlifting shoe.
As a nice touch – it comes with a replaceable drop-in midsole – so you can choose a tiny amount of cushion – or almost none whatsoever.
People with wide feet usually complain that they are too narrow also.
The only real con to these shoes – they are very expensive – usually retailing for $199 or more.
But, one pair might last you a lifetime – because you won't be wearing them much.
Need more options? Check out our best weightlifting shoes article.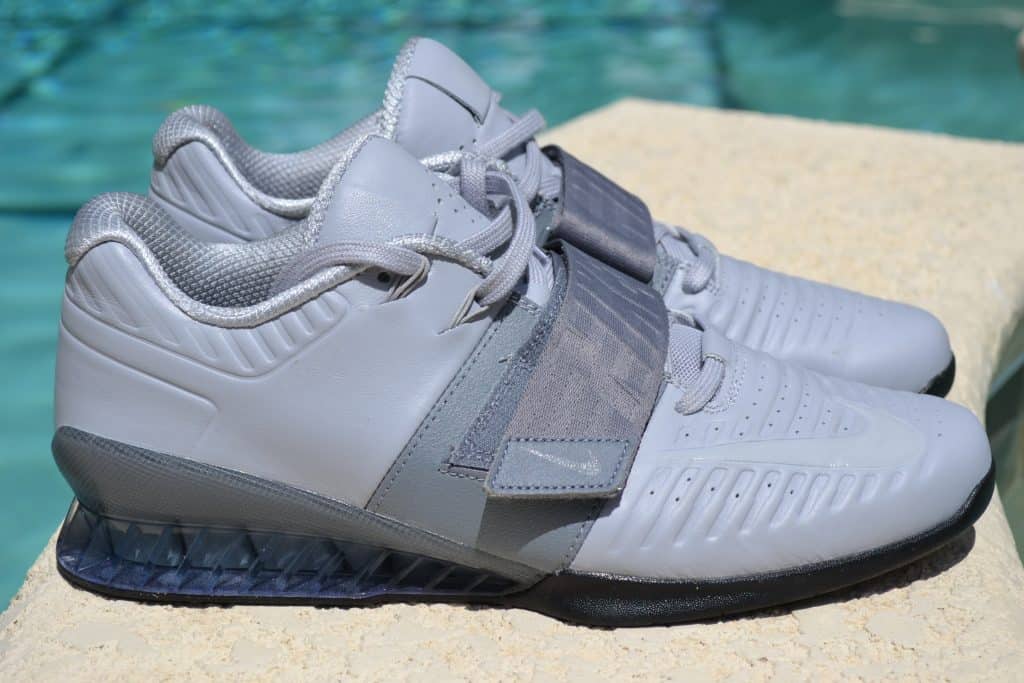 Photo Credits
Some Nike Romaleos 3 XD product photos are courtesy of Nike
Some product imagery on this page is property of Rogue Fitness and provided by Rogue Fitness.
This website is not affiliated or associated with CrossFit, Inc. CrossFit is a registered trademark of CrossFit, Inc.
Tim is the founder of FitAtMidlife.com – an avid gym rat for 30+ years, he's a reviewer of many, many shoes – and founder of the Speed Bag Gathering – the world's only gathering of speed bag punching enthusiasts.  See more gym reviews at Tim's YouTube channel.