The Reebok CrossFit Nano 8 Flexweave is the 2018 version of the Nano CrossFit training shoe from Reebok.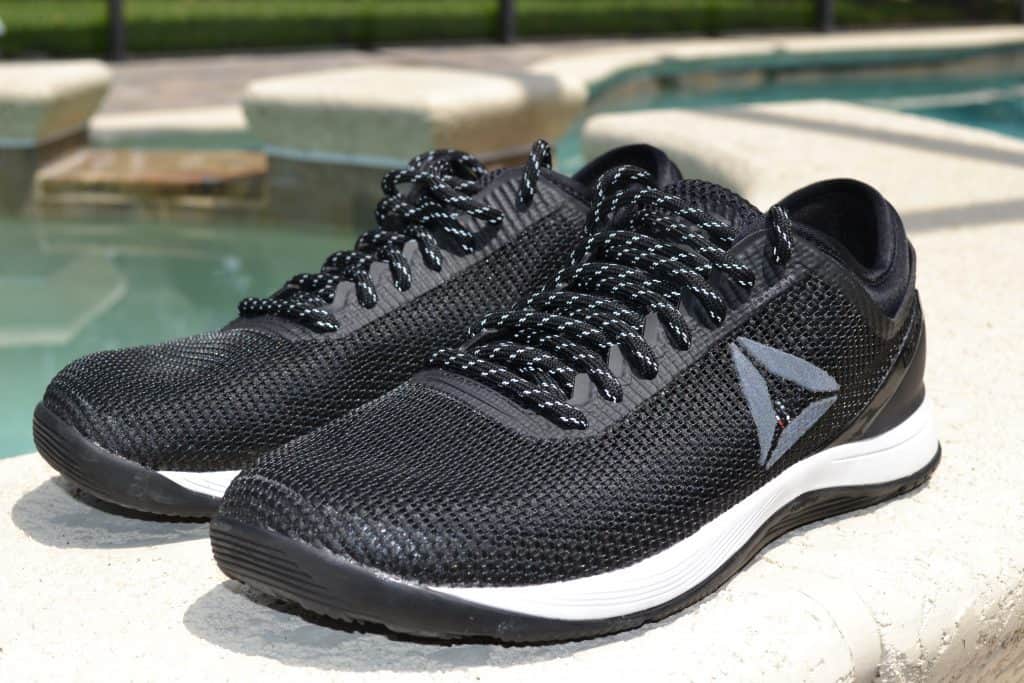 The Reebok Nano 9 is available as of June 12th, 2019.
But that means you might be able to find a great deal on a pair of Reebok Nano 8s.
And the Nano 8 is an excellent shoe.
It's designed for all the demands of the WOD – heavy weight lifting, short runs, jumps, rope climbs, or just about anything else.
It's now available to order online from Rogue Fitness.
A lot of the great features of the previous shoe, the Nano 7 and Nano 6, are carried over to the new model. But there's a multitude of improvements too – especially in comfort and versatility. The newest innovation is the extensive use of Reebok's Flexweave material which provides lightweight support, breathability, and durability.
Reebok CrossFit Nano 4.0
A classic returns – for a limited time Reebok has made the
Nano 4.0
available again. Be sure to check these out while you can.
Let's talk about what makes this a great shoe for CrossFit training, but first, here's a visual overview of the key features: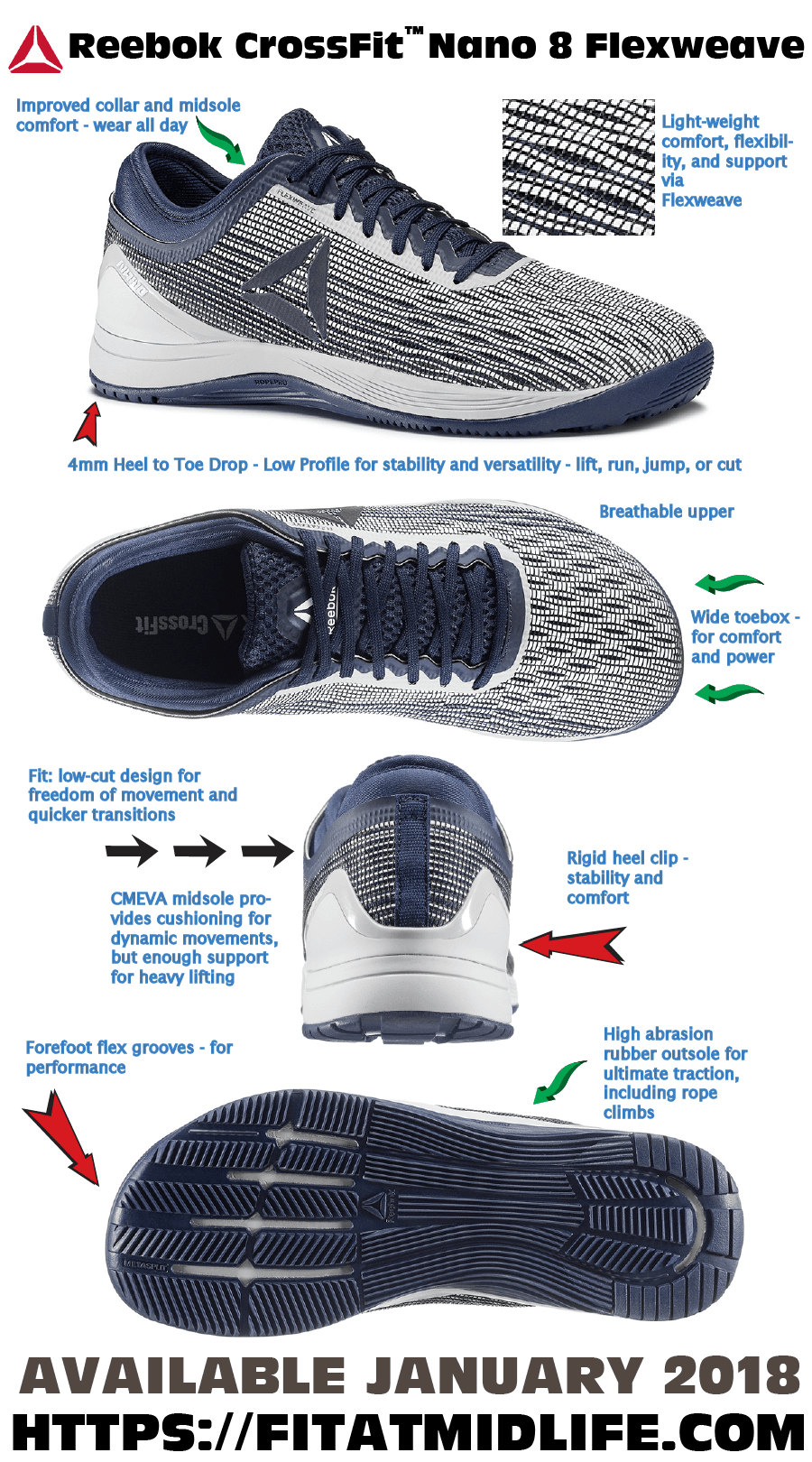 Reebok Nano 8 – The Benefits of Flexweave
Take a look at the closeup above of the Nano 8. Flexweave is an innovative figure-8 weave that can interlock individual fibers. Thanks to Flexweave, the upper is a single-layer while still providing a supportive, controlled fit with higher and lower density zones – for durability and flexibility – precisely where it's needed. In a versatile training shoe you need some areas to be rigid – and some to be flexible. At the same time you want the shoes to be light and breathable. Flexweave helps accomplish that.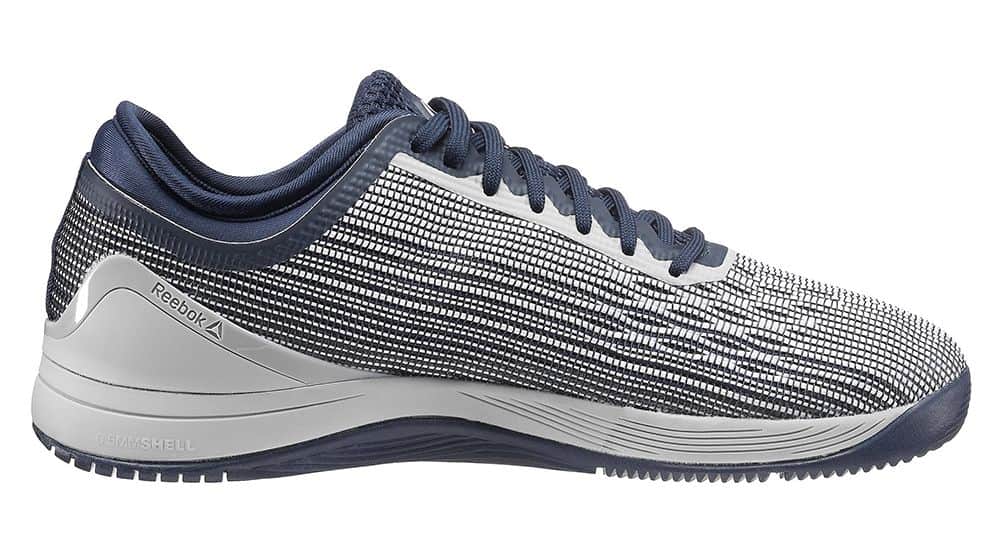 In this view, you can see the daylight through the flexweave. But, there is also an inner bootie. Together it makes for a nice fit and feel.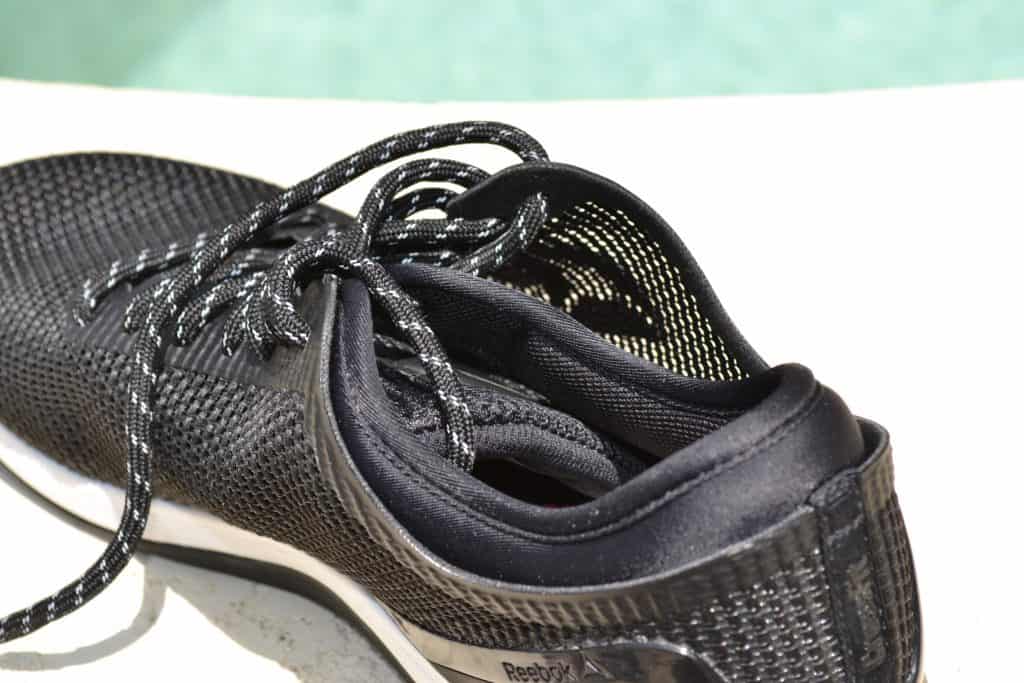 Minimal Drop For Stability
CrossFit WODs involve a lot of weightlifting – and heavy weights at that. The critical barbell exercises of a typical WOD require a proper shoe. Running shoes are not good for this purpose – they have too much cushioning and compressibility in the outsole. The last thing you want with a big weight overhead or on your shoulders is to have your feet sinking into the mushy sole of a running shoe – it's an injury waiting to happen but it's also a loss of efficiency. The Nano 8 line is "low-profile".
The heel is fairly rigid and the shoe has a minimal "drop" – the difference in height from the heel to the toe is only 4mm. This means the shoe has the the secure footing and stability you need for lifting big weight.
But unlike single purpose weightlifting shoes which are too heavy and too rigid for rapid movement – you can do a whole lot more in your Nanos – like jump, run, cut, or rope climb.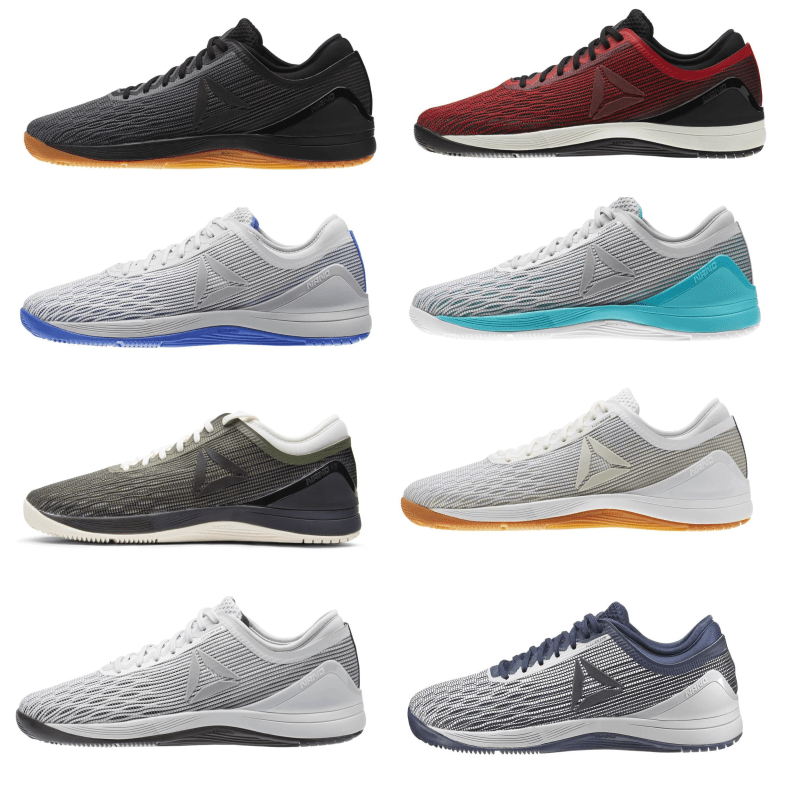 Flexibility for Movement
As we mentioned above, the Nano is rigid enough for lifting big weights – but at the same time it's got the flexibility and midsole cushioning needed to jump, run, or cut. Regarding the fit – a low-cut design for freedom of movement and quicker transitions ensures you've got full ankle range of motion. Meanwhile the flex grooves ensure the forefoot has the flexibility needed up front.
These shoes are relatively light – about 12 to 13 ounces – depending on size.
The Men's Size 11 shown in this article weighs in at 12.8 ounces (for a single shoe.)
Lastly, the toe box is wide for comfortable fit and powerful movements. A CMEVA moulded midsole adds cushioning – which is necessary for the dynamic movements such as jumping and sprinting.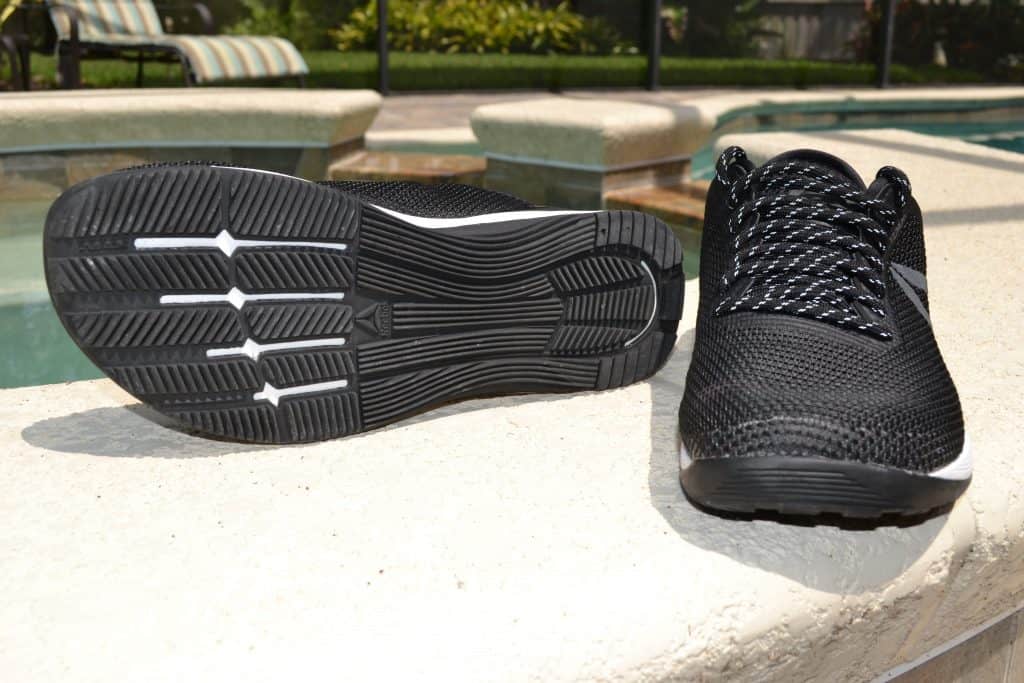 Outsole
The outsole, or more simply the "sole", is made from high abrasion rubber for traction. In the closeup photo below, you can clearly see the forefoot flex grooves as well. You can also see from the side views presented earlier that the critical area needed for traction in rope climbs incorporates the sole material as well – for traction and durability.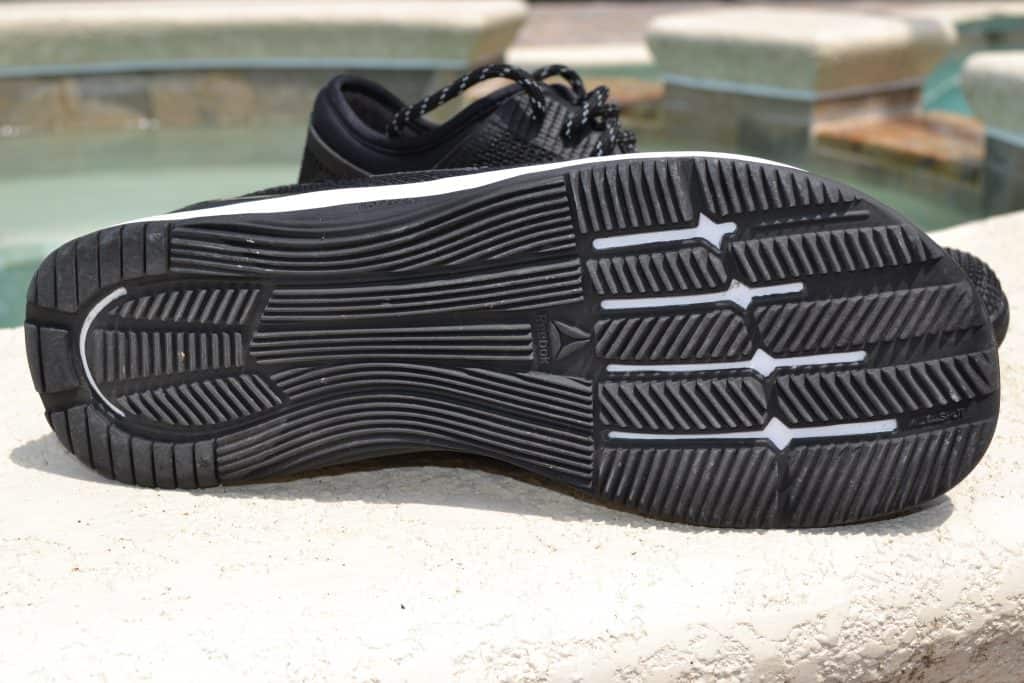 In the top view below, you can see the wide toe box – for stability and power. The collar is also evident and has been improved for all day comfort in the new model.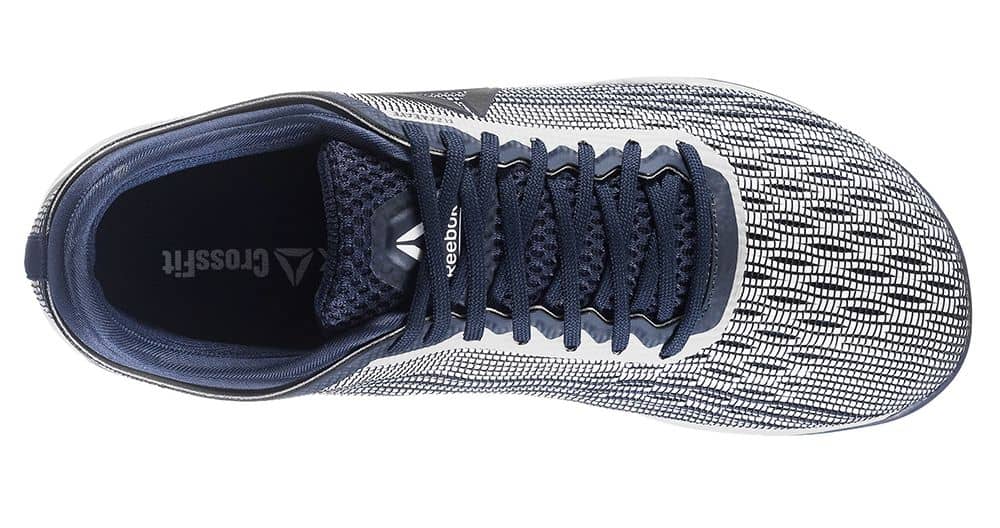 Lastly, here's the heel – it's got a robust and rigid heel clip – for a stable and strong fit with a "locked-in" feel. Again – this is a shoe for lifting big weight.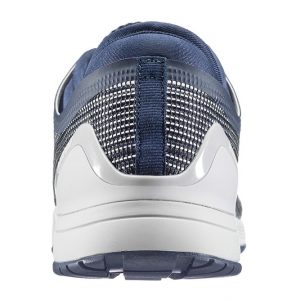 Frequently Asked Questions About Reebok Nano 8
Can I squat in Reebok Nano 8s?
Yes – you can. With the minimal heel to toe drop (4 mm) there's no significant heel raise – so you'll need adequate flexibility in the ankles, but otherwise the rigid heel and midsole make this a great choice for squatting. You'll be able to handle heavy weights with stability in any squat style – low bar, high bar, front squat, goblet squat, etc.
Can I deadlift in Reebok Nano 8s?
Yes – a flat (minimum heel to toe drop) shoe that minimizes range of motion for the deadlift is always an excellent choice for the deadlift. Again, the rigid and stable sole and mid-sole will ensure you can handle big weights without a stability issue.
How about the Oly lifts?
Yes – with the ankle flexibility caveat aside – these are good Oly lifting shoes. The rigidity means efficient power transfer – just what you need for the explosive lifts.
The Reebok Nano 8s are one pair of shoes that do it all for the WOD – lift, jump, run, climb.
Reebok Nano 8 vs Nike Metcon 4 XD
How does the Reebok Nano 8 fair against Nike's cross training shoe – the Nike Metcon 4 XD?
Quite well.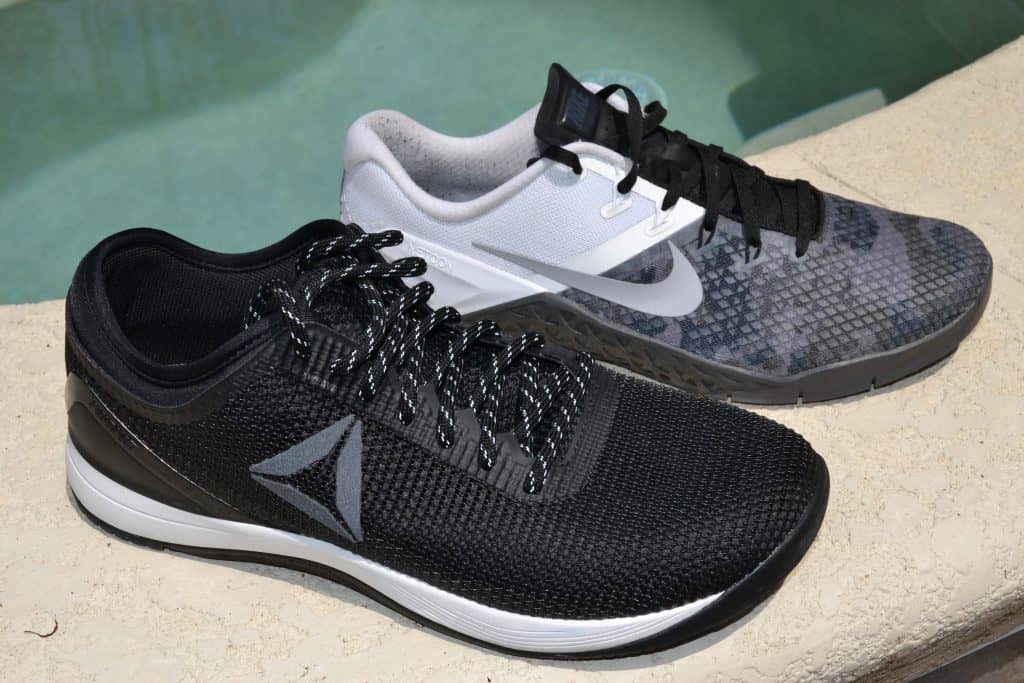 Side by side, you can see they are similar in size.
As a consequence – they are close in weight too, but the Nike Metcon has a slight advantage.
That Nike Metcon 4 XD (Men's Size 11) weighs in at 11.7 ounces, and the Reebok Nano 8 (same size) is about 12.8 ounces.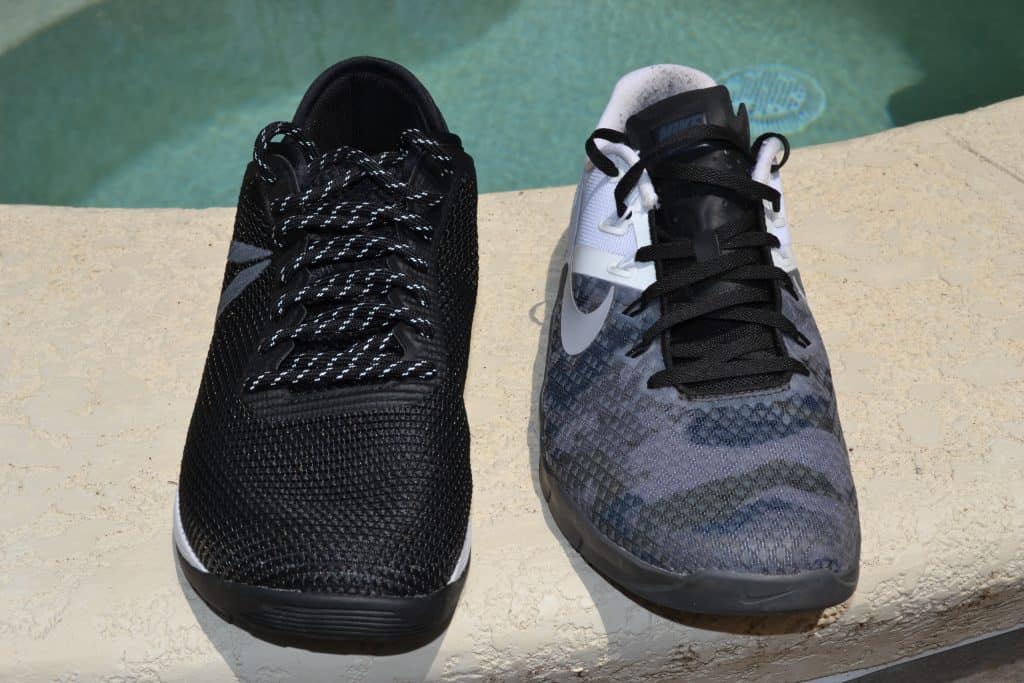 You can see that both have a wide toe box.
They are both also "low-rise" shoes – so they don't interfere with mobility.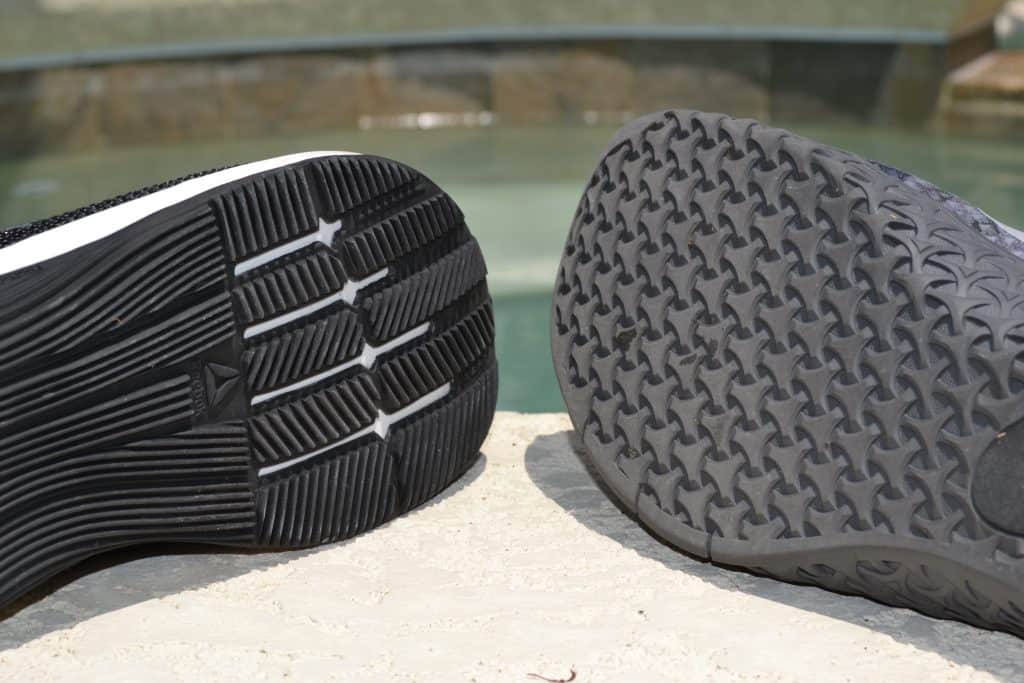 Both have high traction soles.
But, the Reebok Nano 8 has an advantage in off-road traction. There's just a lot more grip in those deeper treads – as compared to the Nike.
Both have flex grooves in the sole, as you can see.
There are similarities you can't see as well – both are great for weight lifting, but I'd give the Nike Metcon a slight advantage in that regard. It feels just a little bit more stable.
Having said that, the Reebok Nano 8 is more comfortable for all day wear, long bouts of standing, or walking.
Honestly, I'm happy with both – and I think you would be as well.
It's really a choice regarding colors/styles, price, and availability.
Both are excellent CrossFit shoes.
Reebok Nano 8 – In Summary
The Reebok Nano 8 is an evolution of an excellent cross training shoe.
It's built for the demands of the WOD – which are various and intense.
Give these shoes a try for your next workout.
Why Rogue Fitness Products?
We're a
Rogue Fitness
affiliate – so if you order equipment after clicking the links in this article we receive monetary compensation. But that's not why we recommend Rogue. It's because their equipment is tough, durable, well-made, and offers the "best of the best". Their innovative designs and diversity of options make your training better – allowing you to reach your personal goals faster. And that's why we love them.
Reebok Nano 8 Photo Credits
Reebok Nano 8 product photos are courtesy of Reebok
Some product imagery on this page is property of Rogue Fitness and provided by Rogue Fitness.
This website is not affiliated or associated with CrossFit, Inc. CrossFit is a registered trademark of CrossFit, Inc.
---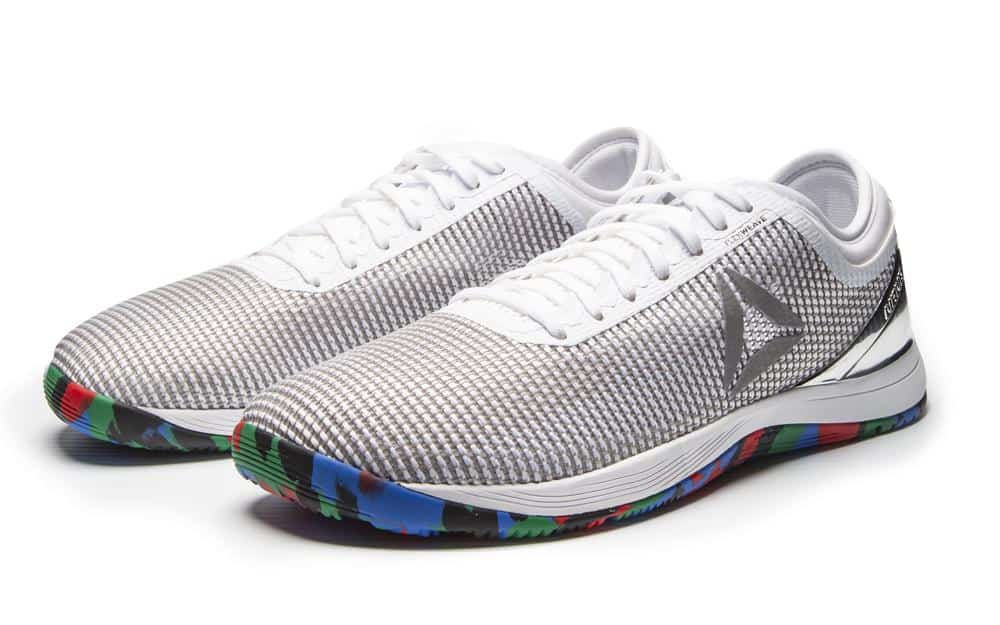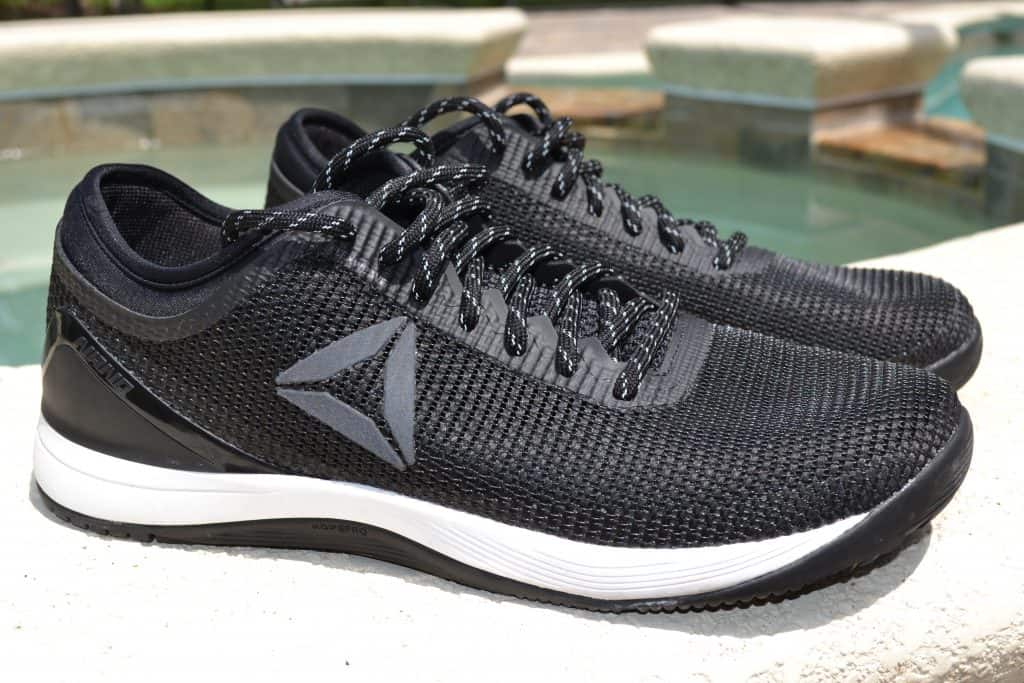 Tim is the founder of FitAtMidlife.com – an avid gym rat for 30+ years, he's a reviewer of many, many shoes – and founder of the Speed Bag Gathering – the world's only gathering of speed bag punching enthusiasts.  See more gym reviews at Tim's YouTube channel.