The long awaited Nike Romaleos 4 is now available – and this is our hands-on review.
This is Nike's only Olympic weightlifting shoe – and it is an excellent choice for heavy weightlifting.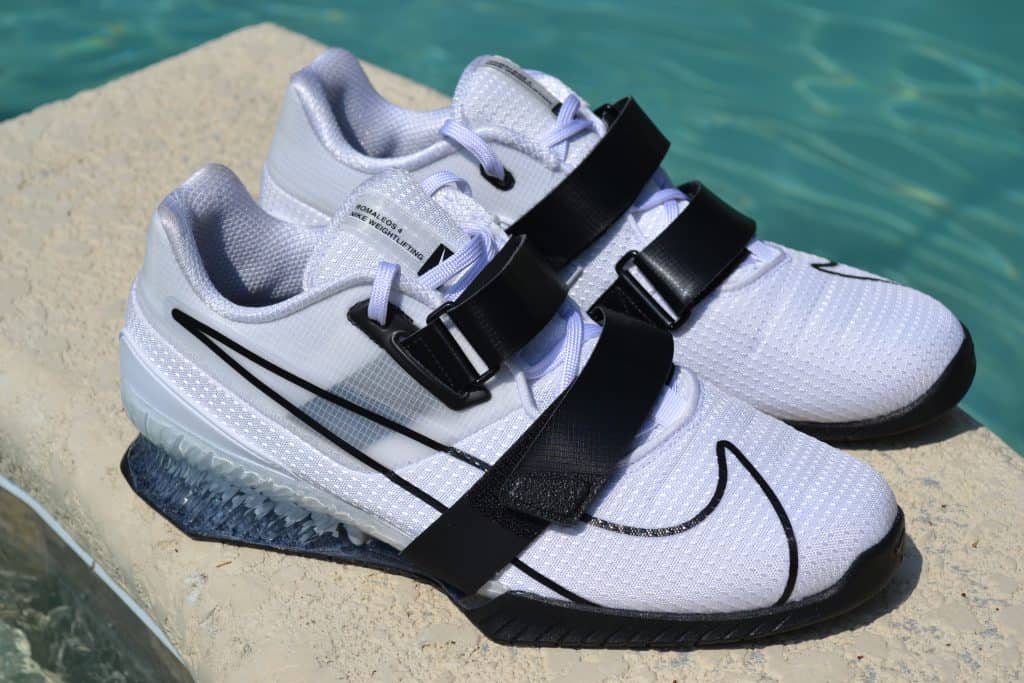 What's new and different from last year's model (the 3 XD)? How does this compare to other premium weightlifting shoes like the Adipower 2 and Legacy Lifter? That's what we'll cover in this in depth review.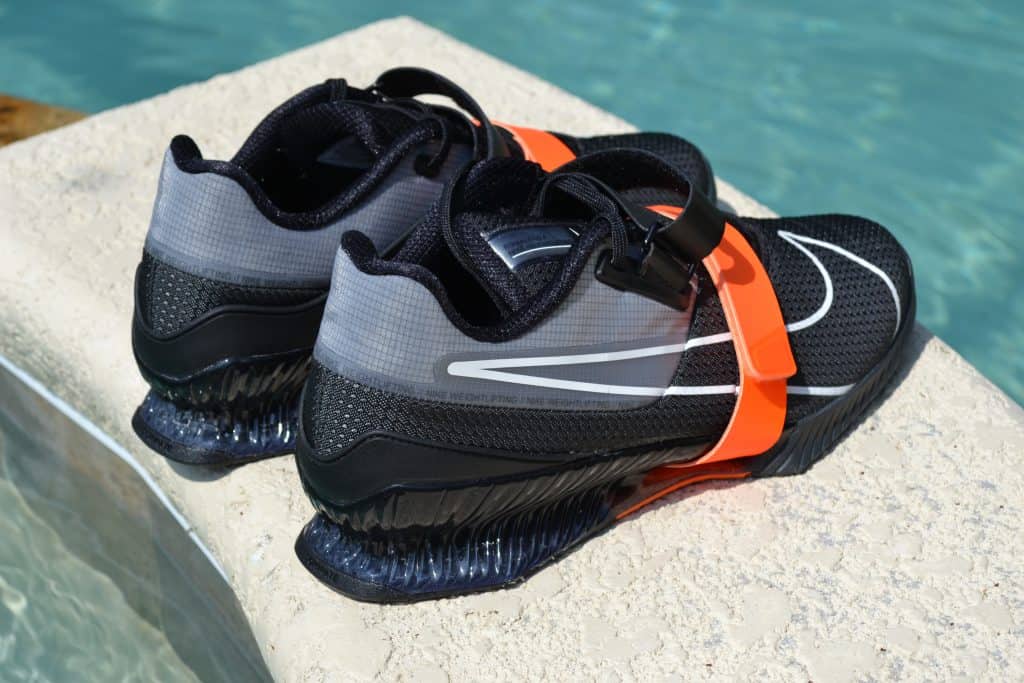 Get them from Rogue Fitness or Road Runner Sports (we are an affiliate):
Let's take an up-close look.
Nike Romaleos 4 Shoe Review – Hands On First Look on YouTube
Don't want to read? Watch instead – here's a first look from our YouTube channel:
All right, let's take a look.
Nike Romaleos 4 – Fit and Sizing
The Romaleos 4 is a narrow, pointy shoe – just like it's predecessor the Metcon 3 XD.
I would recommend you order the same size that you wore in the 3 XD – if it was comfortable for you.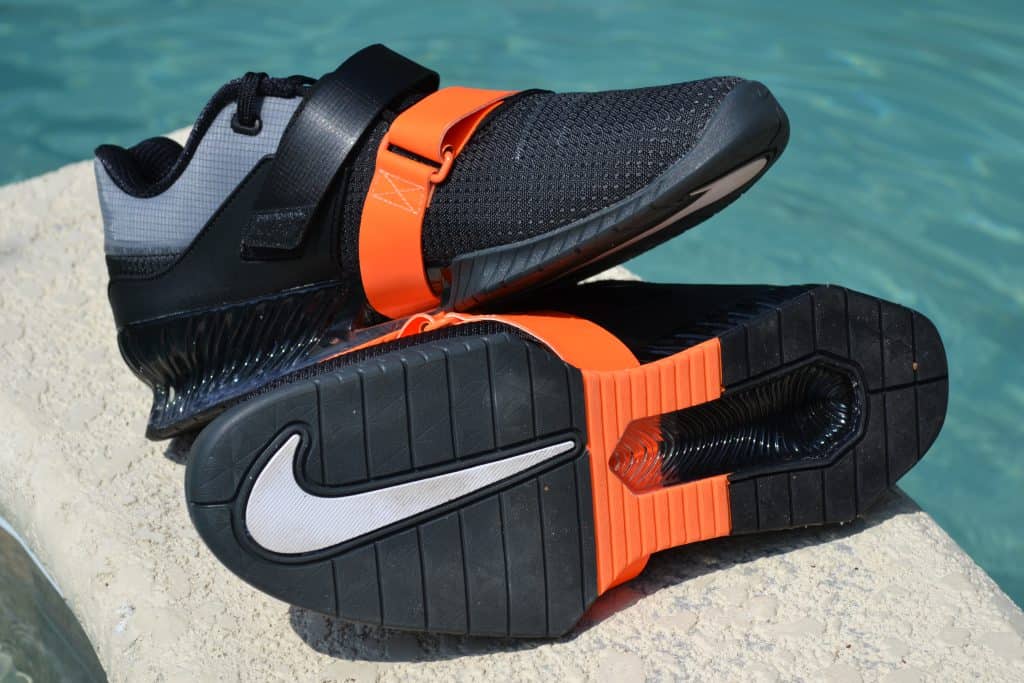 I ordered two sizes – Men's 11.5 (white) and 12 (black/orange). I'm normally an 11.
After extended use, I would say the 11.5 fits me best.
I do not have unusually wide feet, by the way.
I'm recommending you order 1/2 size up from your regular shoe size.
These are fairly stiff, supportive shoes – I don't think they'll stretch out over time.
If you get the wrong size – return them while you can.
Here's another tip for a perfect fit.
Does the shoe feel a bit loose in the heel?
Try socks with a padded heel – this can make the difference between a slightly loose feel and a perfect fit.
I can vouch for ALMI's All-Day Performance Dress Sock as being a great match with these shoes – this is what I use specifically with the Romaleos 4.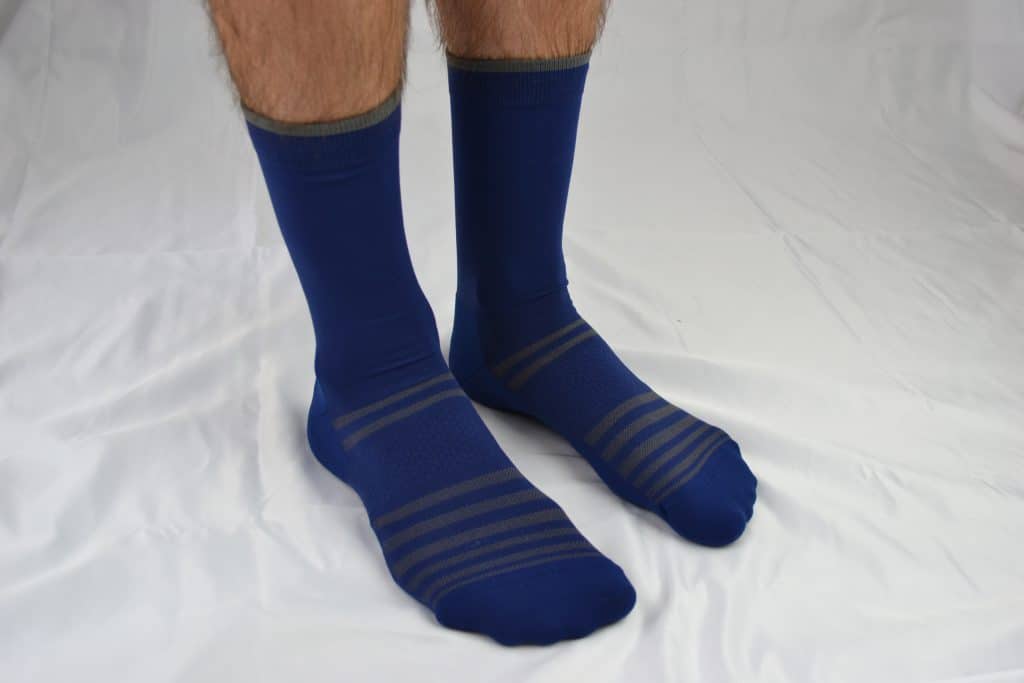 Nike Romaleos 4 Shoe Review – Overview
Ok, this is an oly lifter – so it's got a sky-high heel raise at 20mm.
This of course let's us get deep in the squat position while minimizing the ankle flexibility needed.
But maybe more importantly, the insole (there's only one this year – no choice of soft or firm), midsole, and heel are rock solid.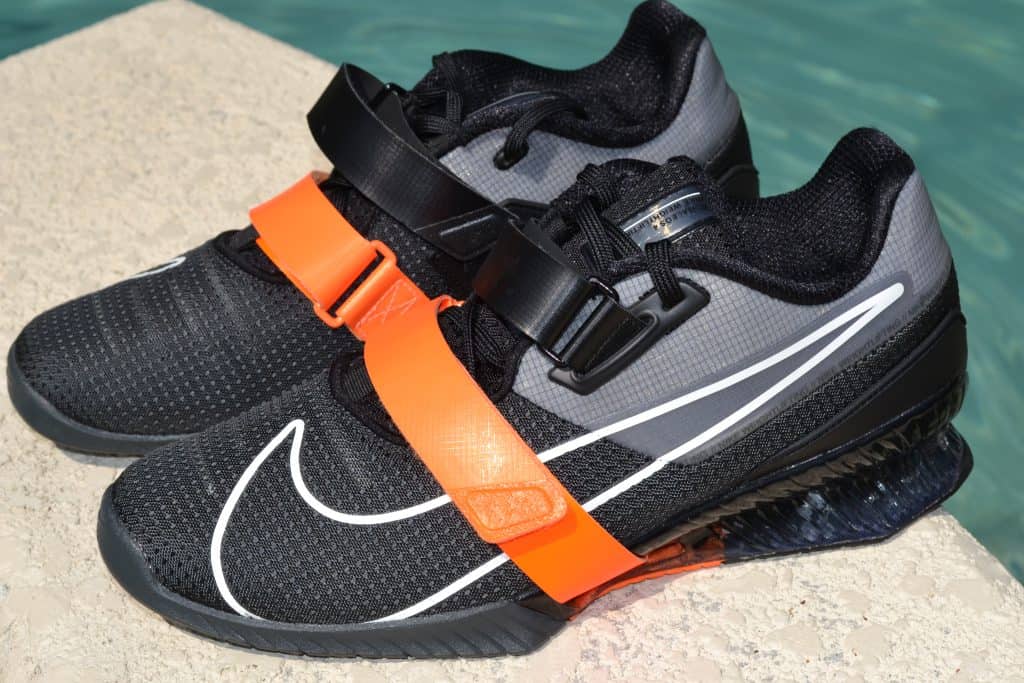 One big improvement is that they've used two midfoot straps this year – one up top, one further down.
This let's you fine tune the fit and feel.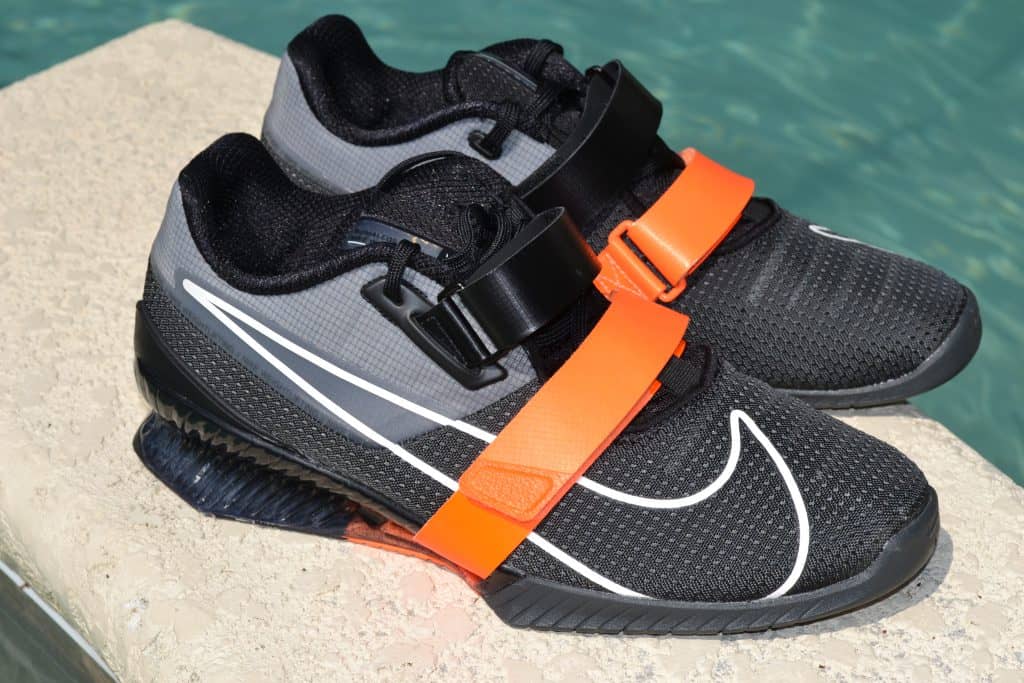 The cloth upper is dense and tightly stitched. It is NOT soft and pliable like a running shoe or cross trainer.
These shoes give a great sense of stability – including laterally.
You feel rooted to the ground – even under a heavy barbell in the bottom of a squat.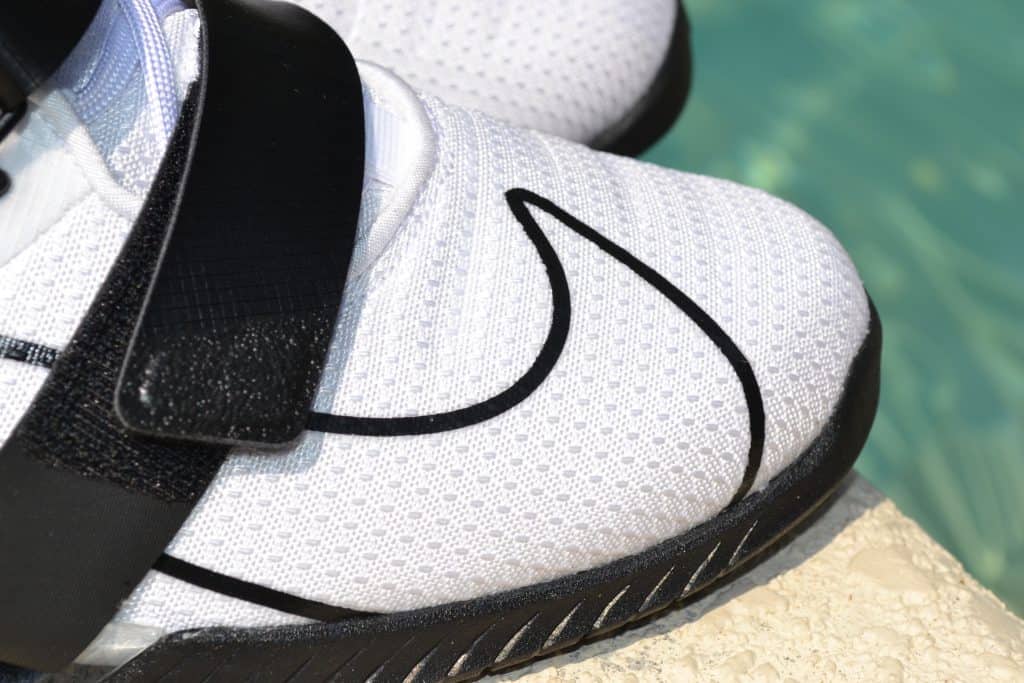 They've refined some of the things done with the previous shoe. That super-solid heel is still made from plastic – but now it's clear and they've formed it in an organic looking design.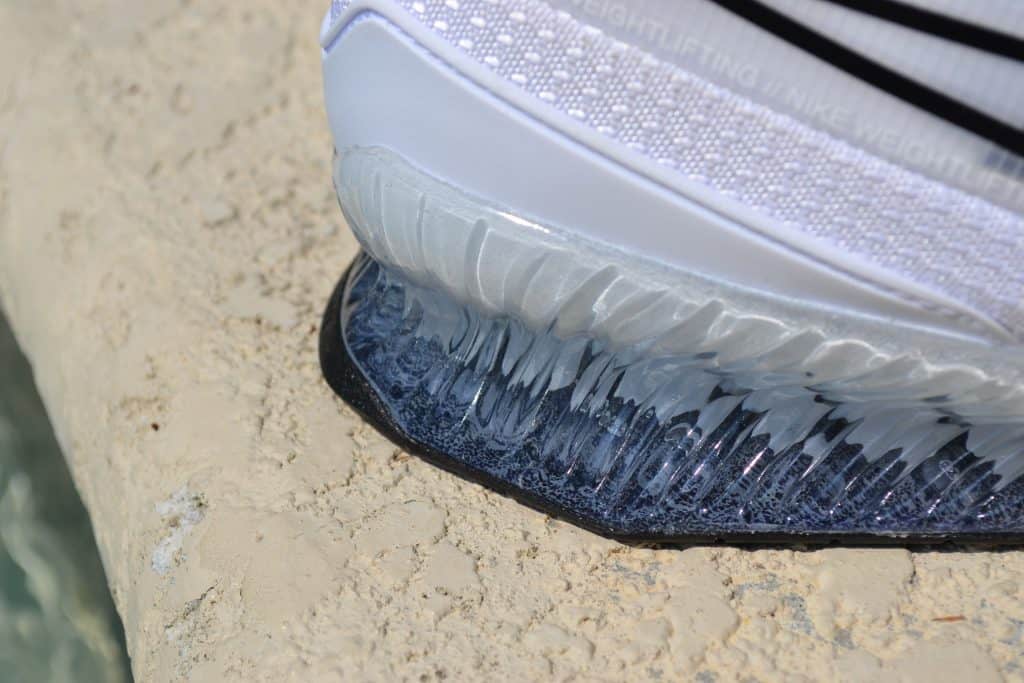 They've used a soft grippy rubber on the outsole to provide excellent traction and grip.
Despite the hollowed out center section, there's plenty of contact area because the plastic base flares out in the heel and forefoot.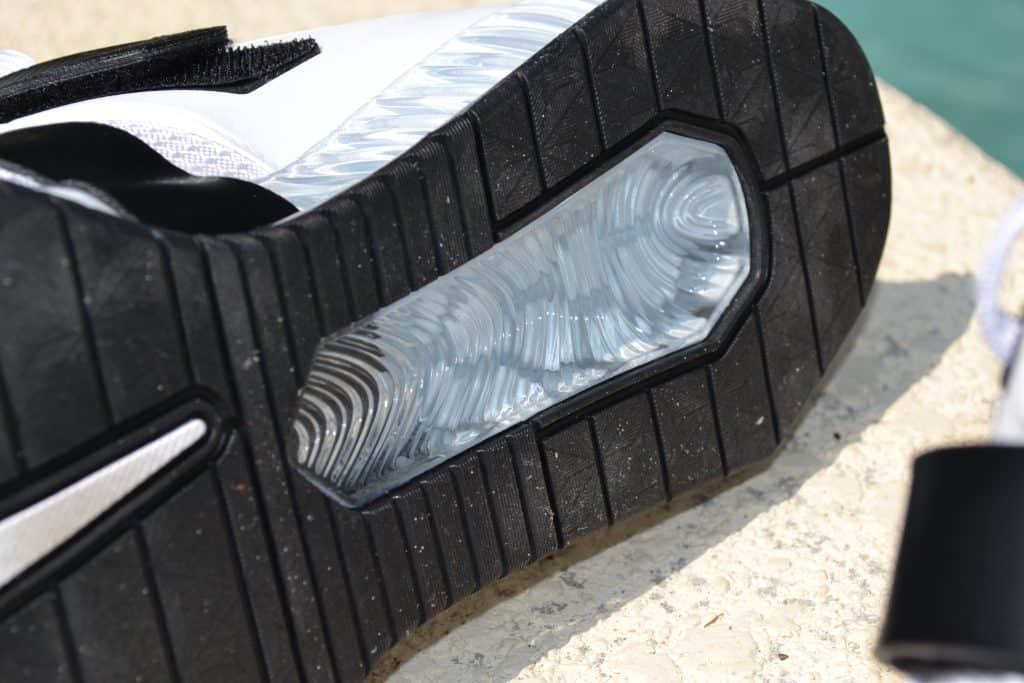 I will say this is one of the noisier Oly lifters – it makes a lot of "clap" when you pull – and when you walk.
That flared base with the relatively thin (but tough) plastic edges may account for the higher-pitched sound these make (when compared to other lifters.)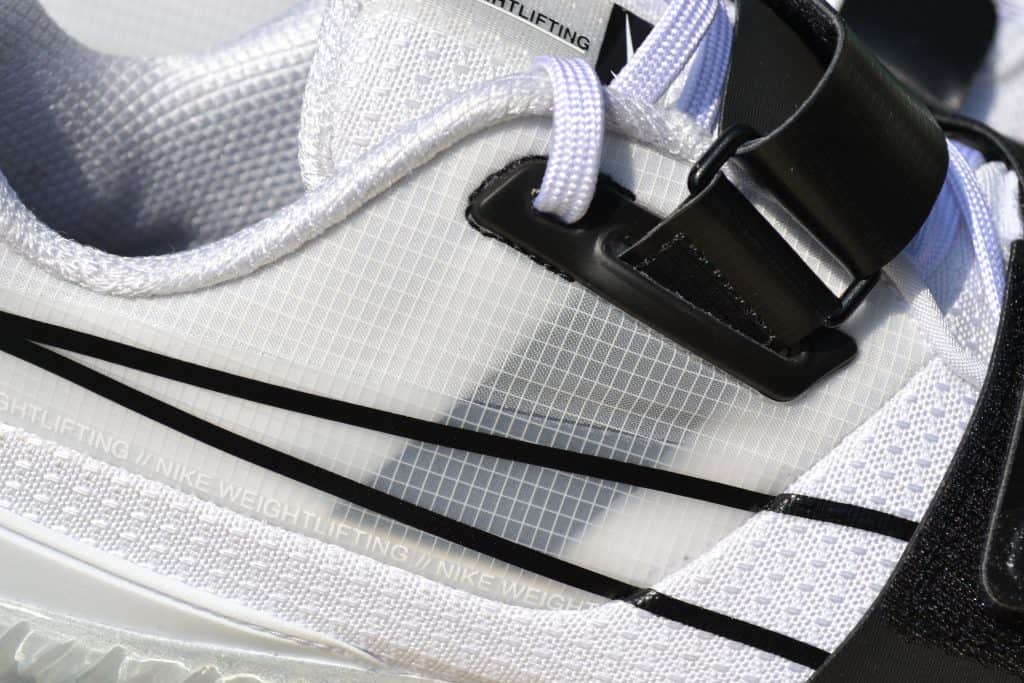 These have regular laces – but no extra eyelet for a lace lock.
Overall, these work great on the lifting platform. You'll feel secure and locked in – and lifting heavy is not a problem or concern.
Personally I think the aesthetics on these is outstanding.
If I'm paying $200 for a pair of shoes they better look good – real good.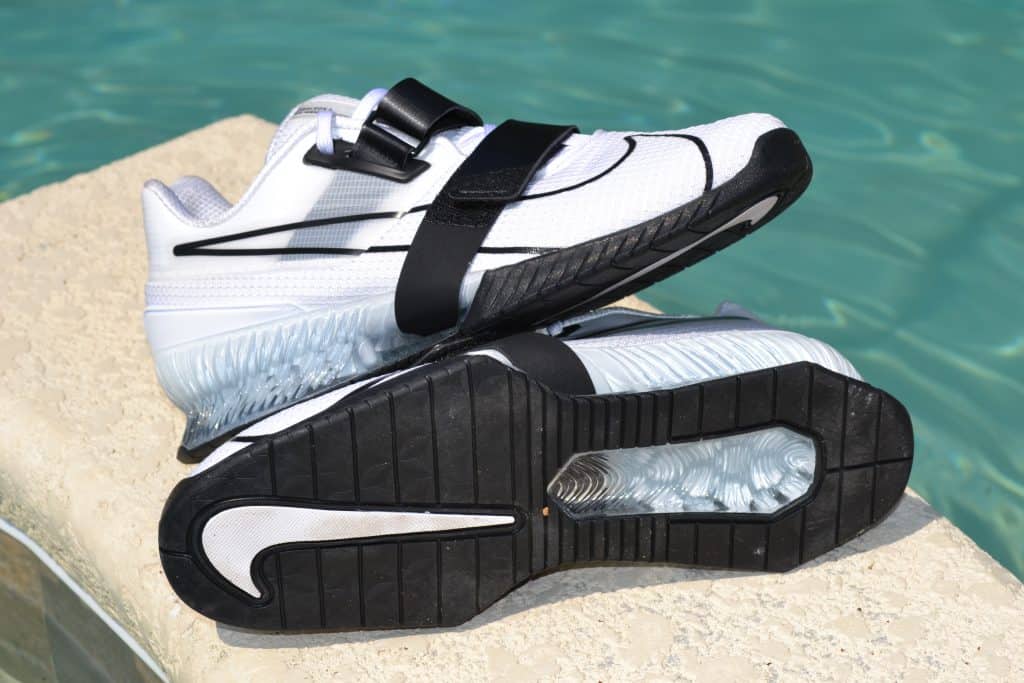 Overall, I really like the new Romaleos 4.
It's an Oly lifter – it performs as you'd expect and looks good doing it.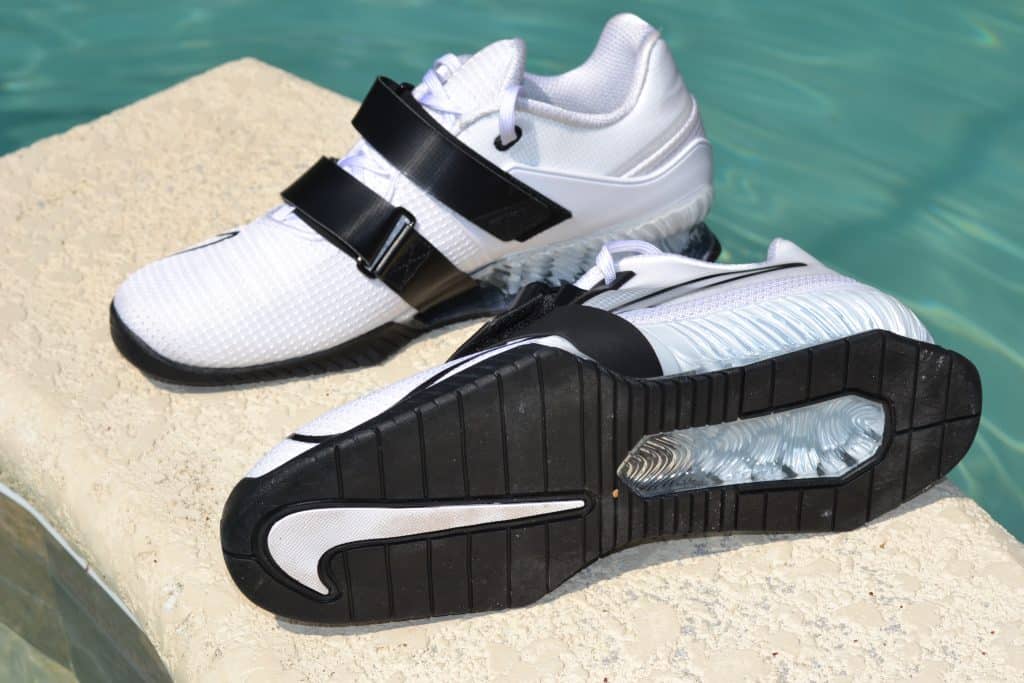 Nike Romaleos 4 AMP
Nike has also released an AMP version of the Nike Romaleos 4.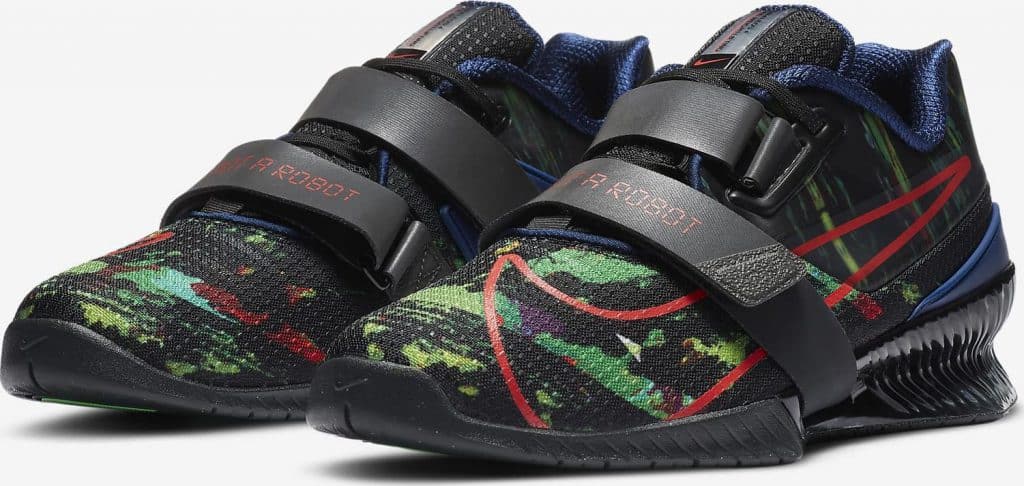 What's an AMP version?
The AMP version of the Nike Romaleos 4 is simply a fancy looking colorway – there are no performance enhancing features.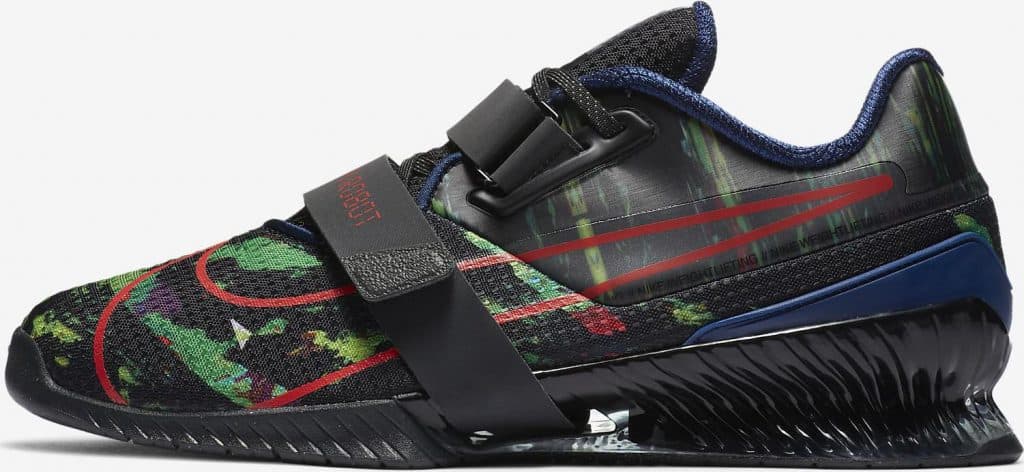 Nike's AMP shoes usually have a very bold design – and the Romaleos 4 AMP doesn't disappoint in that regard.
Nike Romaleos 4 versus Nike Romaleos 3 XD
Last year's version of this shoe was the Nike Romaleos 3 XD.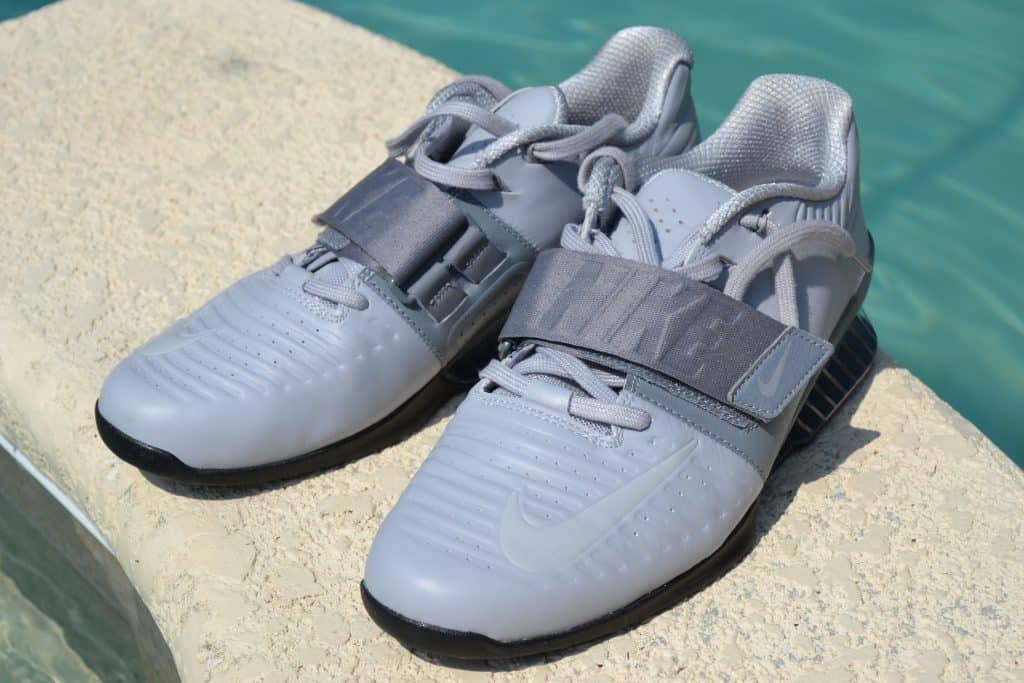 That was a mild tweak of the Romaleos 3 shoe.
It's not terrible – but overall I feel like the Romaleos 4 is an improvement in just about every regard.
The heel to toe drop is 20mm in both versions of the shoe.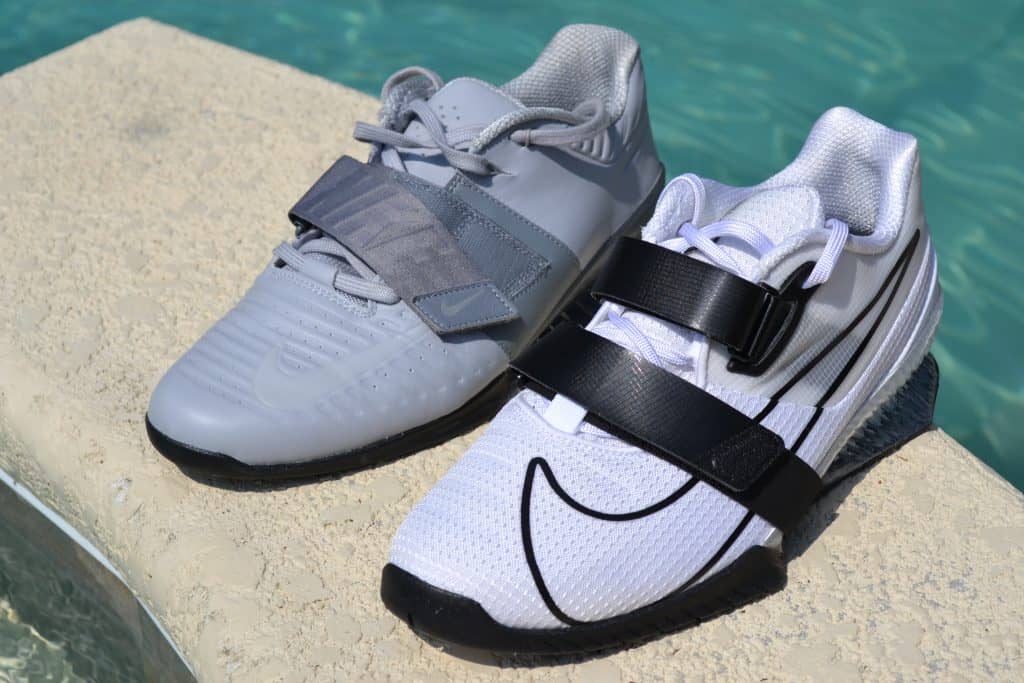 I never cared for the perforated faux leather upper of the 3 XD. The cloth/textile on the Romaleos 4 both works better – and provides just as much support.
The shoes have a relatively similar feel – but I definitely like the two straps on the Romaleos 4 and overall I think it looks much, much better.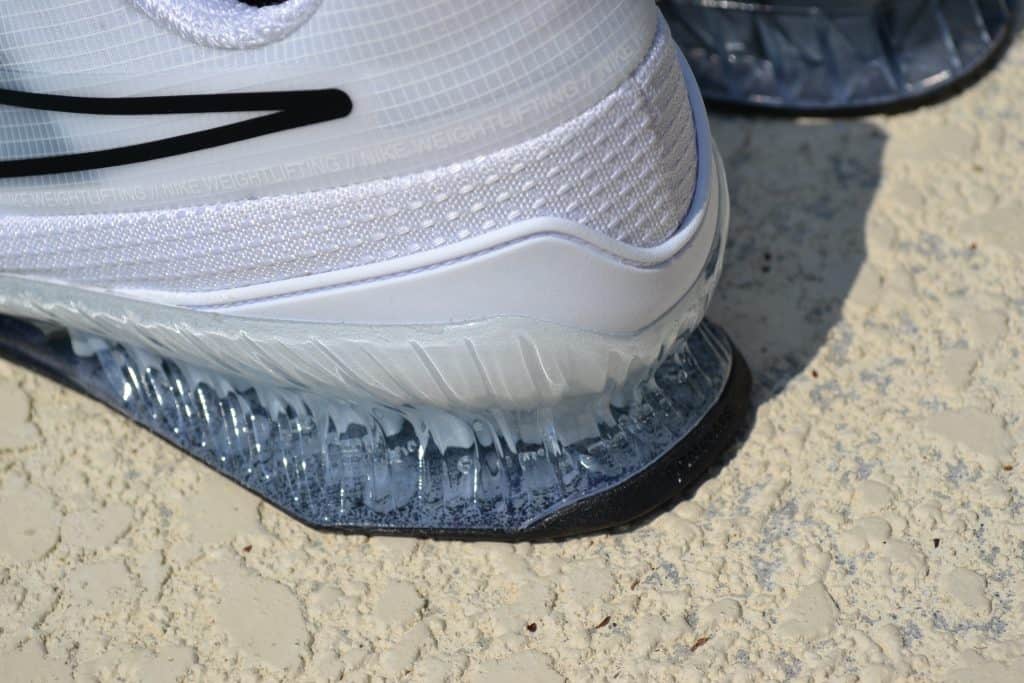 The 3 XD has more forefoot flexibility too it, but I don't find that to be an issue in the Romaleos 4.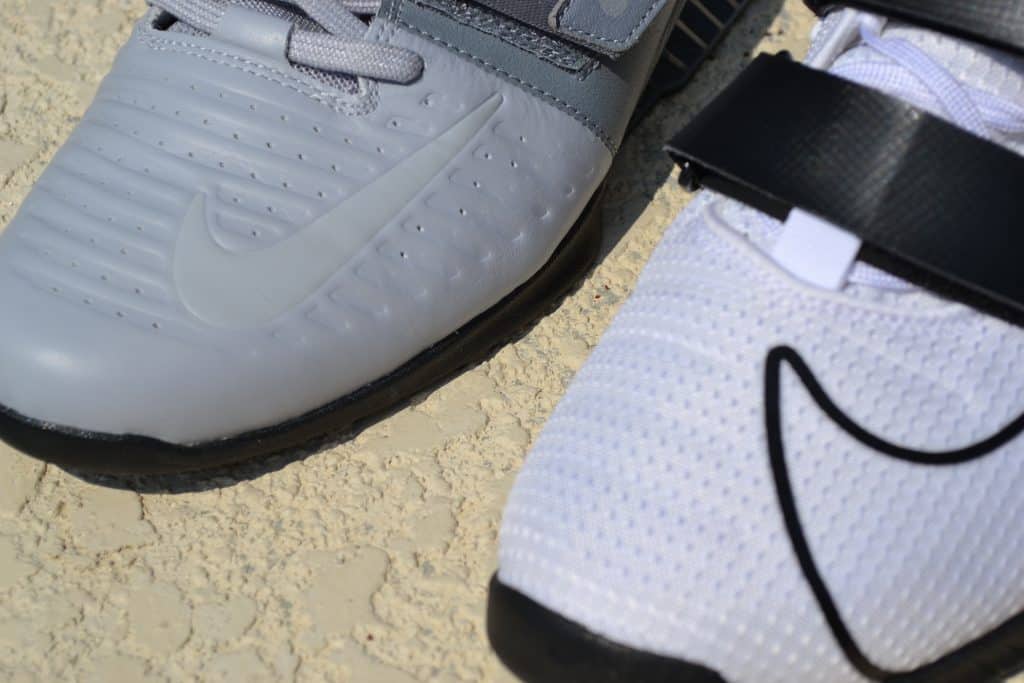 The new cloth upper on the Romaleos 4 is very thick and has dense stitching.
I don't think it's going to make for an improvement in breathability, but regardless I prefer it over the upper on the 3 XD.
Two straps are better than one – and specifically having two midfoot straps spaced widely apart means you can easily fine tune the fit.
Regarding sizing, the shoes are similar in shape – so I recommend you go 1/2 size up on both the 3 XD and the 4.
Both have a narrow forefoot and a pointy toe area.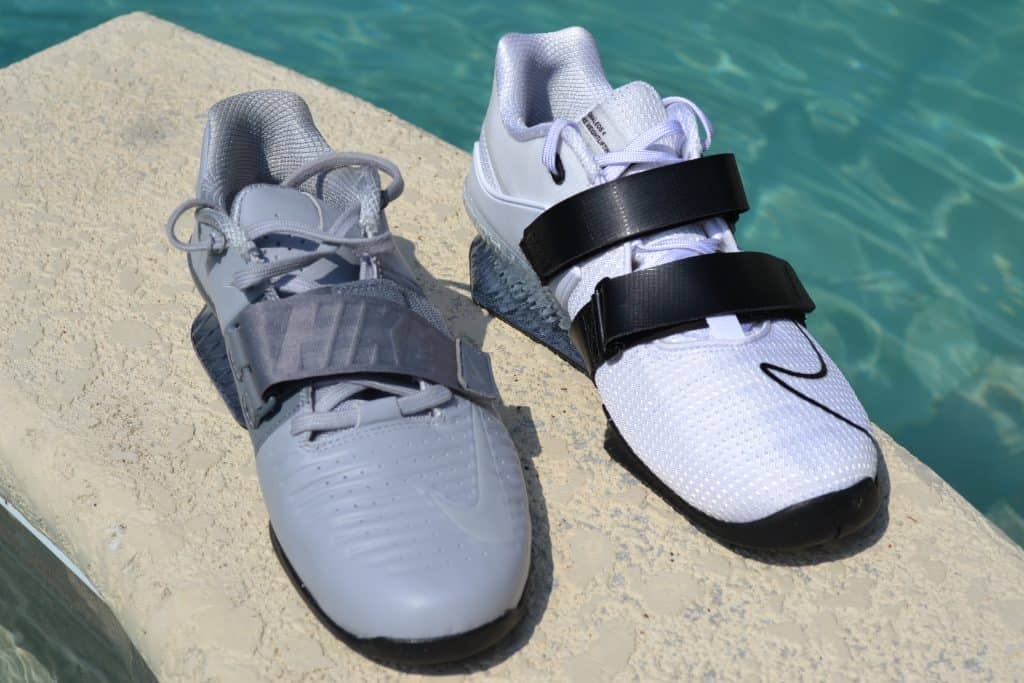 The 3 XD shown in these photos are Men's size 11 – and they are too narrow for me – but usable.
I get a slight sensation of heel slippage on the 4 that I don't get on the 3 XD. That may be due to the sizing. It's not terrible.
The 3 XD has laces with Flywire (but only on the top 2) and it also has the extra eyelet for a lace lock or runners loop.
The Romaleos 4 does not have Flywire or the lace lock eyelet.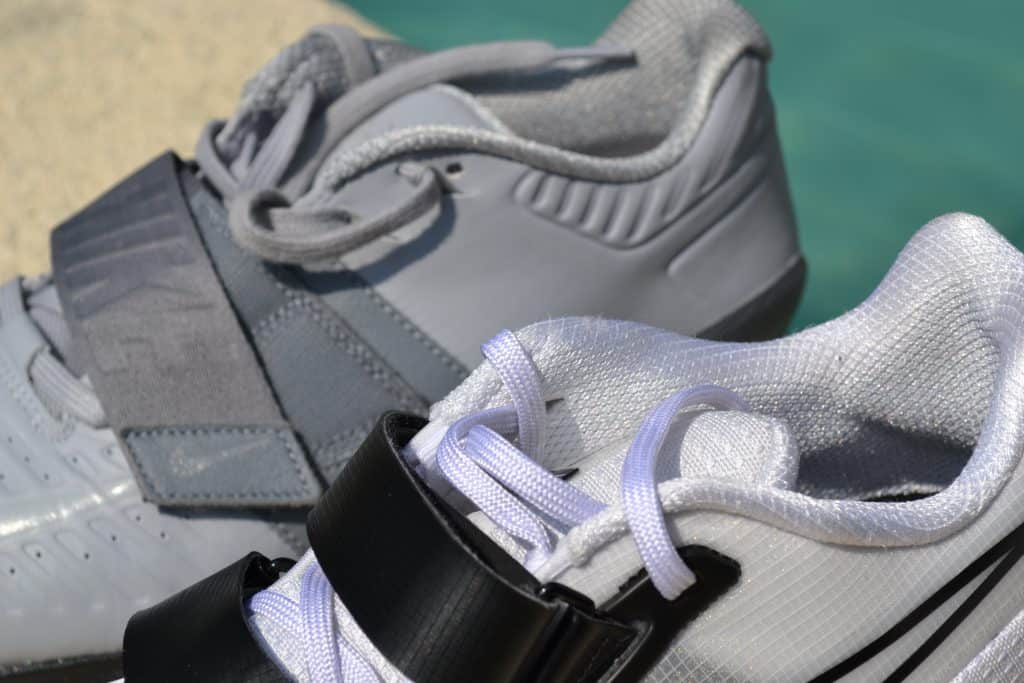 I don't think it matters – because of the two straps – and I always just strap the laces down with the velcro anyway.
The Tongue on the 3 XD is thick like a pillow. It's too much, at least for me. I like that they've gone with a thinner, but still padded, tongue on the 4.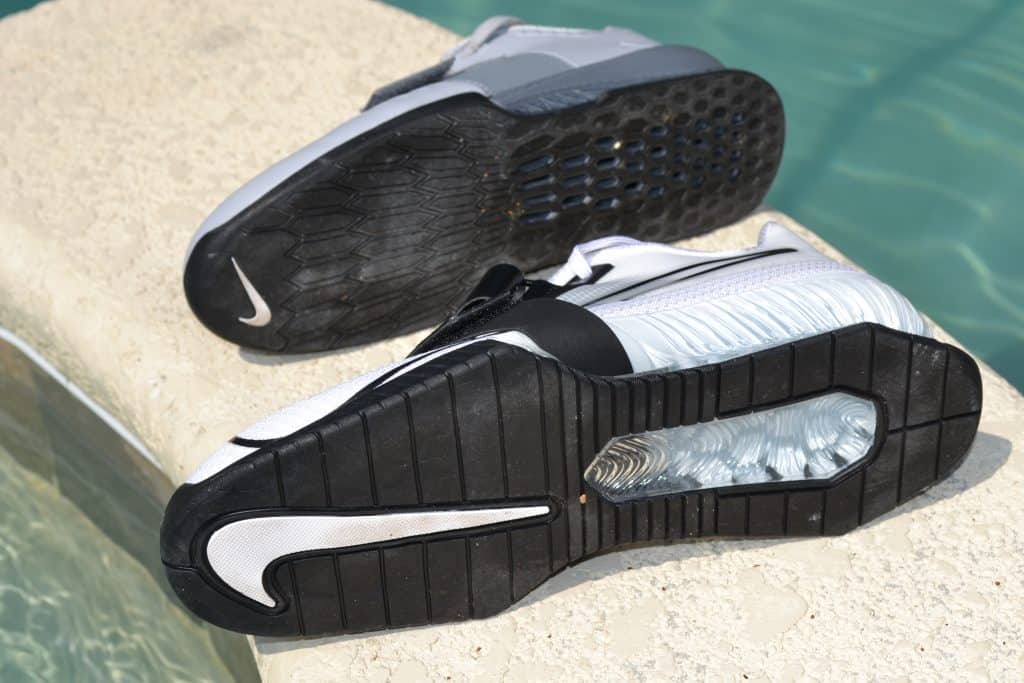 The 3 XD shoe came with two different drop-in insoles – one firm and one "soft" (but really not that soft.)
The 4 only comes with the single firm drop-in insole – which was the only one I ever used anyways.
Here's the two compared side by side:
All things considered, the Romaleos 3 XD and the Romaleos 4 do feel similar. If you are happy with the 3 XD that you already have, there's not that much motivation to upgrade (considering the cost.)
But, if you are buying I'd recommend you go with the Romaleos 4 if you can afford it – it has improved in subtle ways and it is a much better looking shoe.
Nike Romaleos 4 versus Reebok Legacy Lifter
Let's compare the Romaleos 4 shoe directly against it's biggest competitor – the Reebok Legacy Lifter Olympic weightlifting shoe.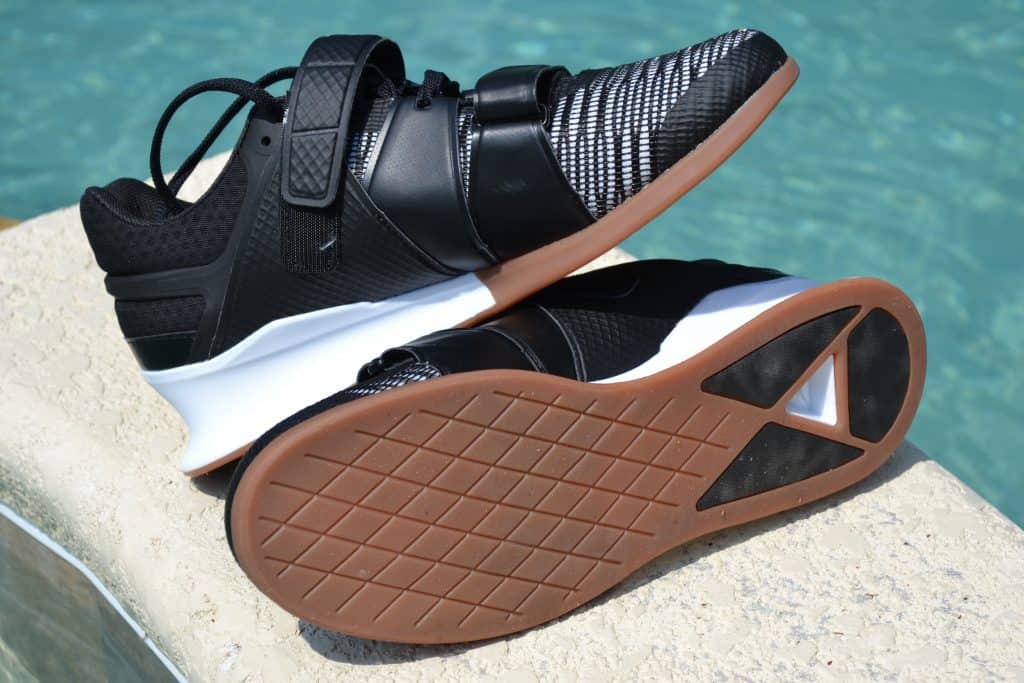 First, let me state that the Reebok Legacy Lifter is an excellent shoe – and I highly recommend it.
It's expensive – but it's nice.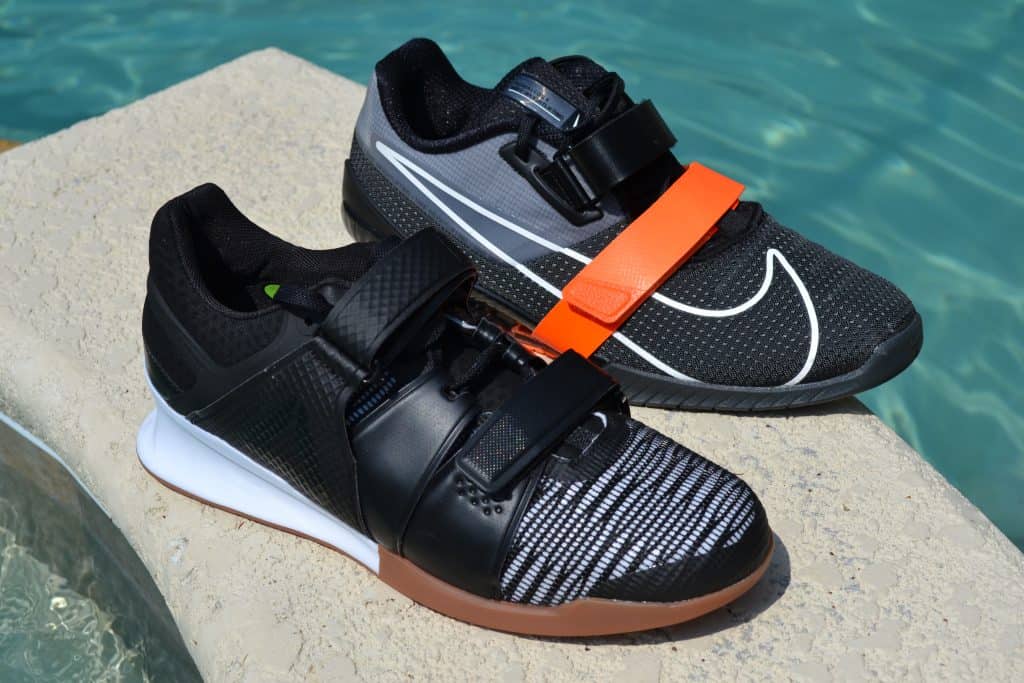 Let's talk stats.
The Legacy Lifter has a 22 mm heel to toe drop – versus 20 mm in the Romaleos 4.
In case you forget, it's engraved on the bottom of the Reebok shoe (on the left shoe.)
Can you feel a 2mm difference in drop? I can't.
The Legacy Lifter has a rock-solid outsole, midsole, and thin drop-in insole – just like the Romaleos shoe.
You could probably hammer a nail in with it – especially considering the Legacy Lifter's weight is biased to the heel – it feels "heel heavy."
More importantly, this is an adequate heel raise without being too much – and that goes for either shoe.
Speaking of weight, this Men's Size 11 Legacy Lifter clocks in at 23.2 ounces versus 22 ounces for Romaleos 4 (Men's size 11.5.)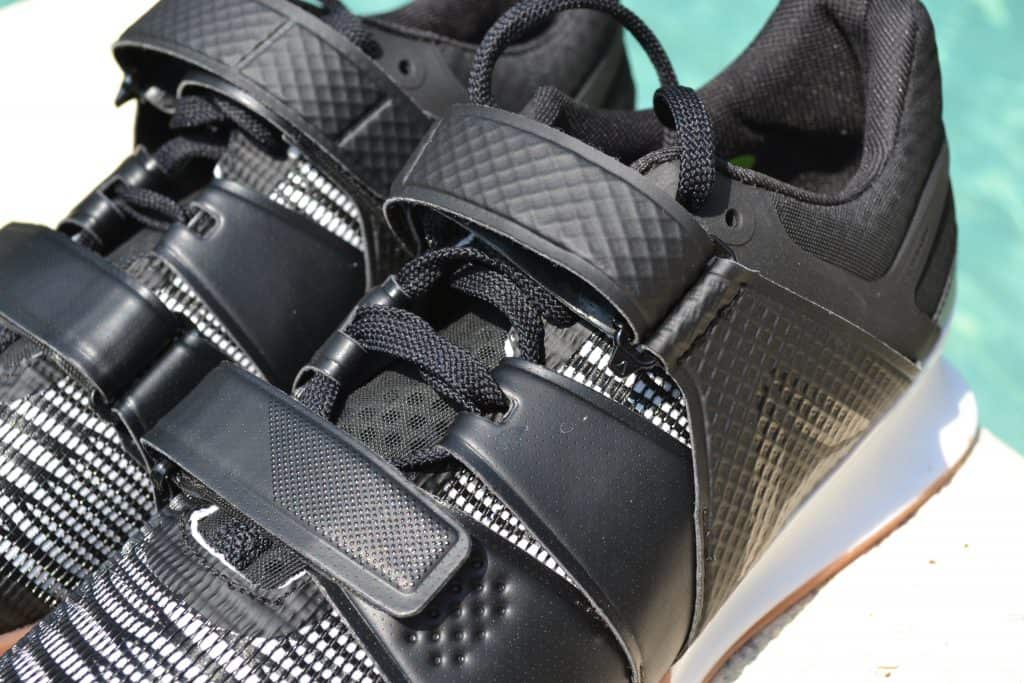 Both shoes use two mid-foot straps. As mentioned earlier, I like this. You can better fine-tune the fit and locked in feel of the shoe.
The Nike shoe definitely wins the beauty contest – at least to my eye.
The various bolsters and bands wrapped up around the midfoot section of the Legacy Lifter make it look busy and messy.
That includes the "exoframe" – which is what Reebok calls the rubbery exo-skeleton that goes around the heel.
But it also feels like all these extra things make the Legacy Lifter a very stable, supportive shoe.
The Romaleos 4 feels just as supportive though – and looks better doing it.
The Legacy Lifter laces have an extra eyelet so you can tie with a lace look or runner's loop if you so desire. The Romaleos 4 do not have this. I always just strap the laces down with the midfoot strap personally.
Both shoes have a moderately padded tongue – not the pillow-like tongue that was on the 3 XD.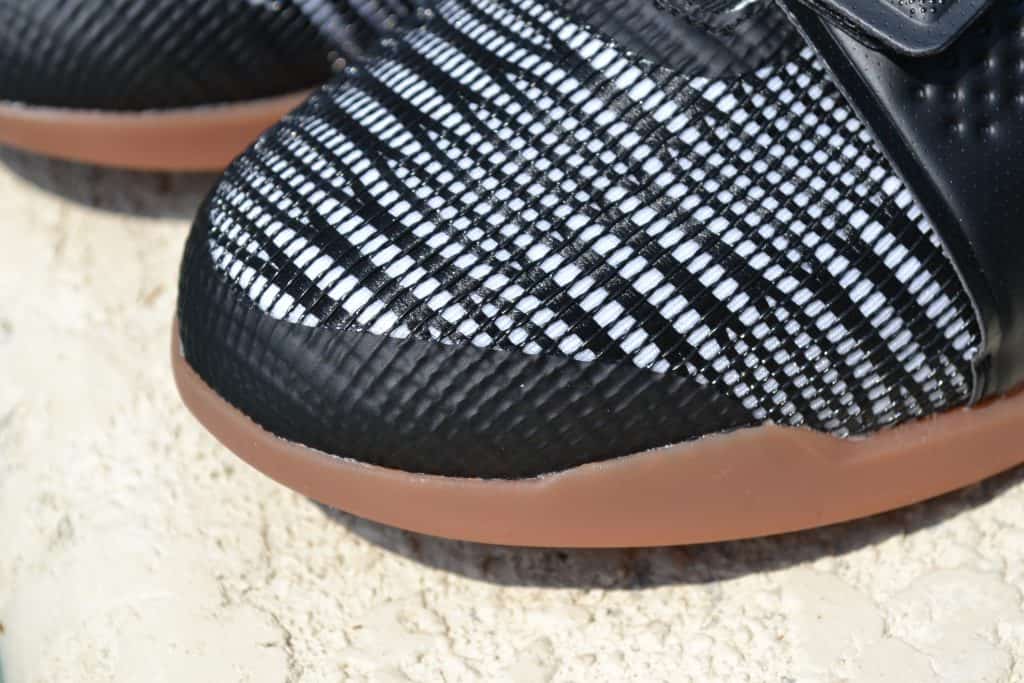 This particular version of the Legacy Lifter uses a Flexweave upper like that on the Nano 9. Compared to the Nano though this upper is less pliable and provides more support.
Does the use of Flexweave make this a breathable shoe?
No – not really. But it looks nice.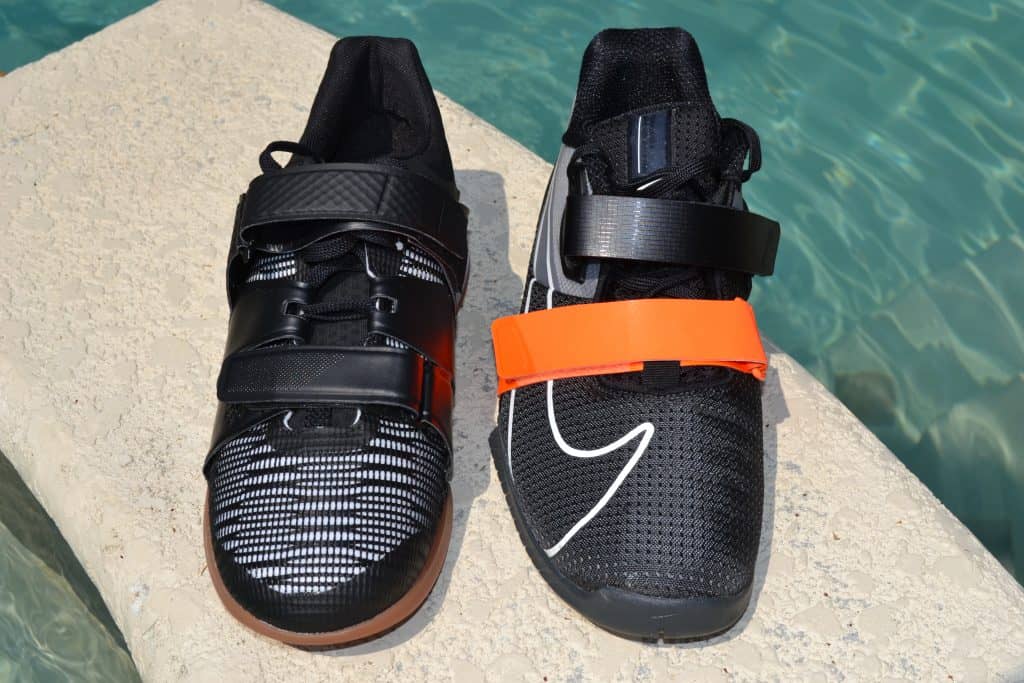 The Nike makes more noise when you walk and lift (the "clap" sound when you pull.)
It's a higher pitched sound that is significantly more audible.
I think this is because of the flared plastic outsole – which is relatively thin at the edge of the base.
It's a difference you can notice right away. In contrast, the Reebok has a more subdued "thud" when lifting, and makes less noise when walking.
The Nike's outsole has more grip though.
It's slightly easier to slide or pivot the Legacy Lifter left or right – on most surfaces.
I suspect this is because the outsole rubber on the Reebok is firmer and probably going to turn out to be more durable – but only time will tell.
The traction difference is NOT significant enough that you should choose one over the other, in my opinion.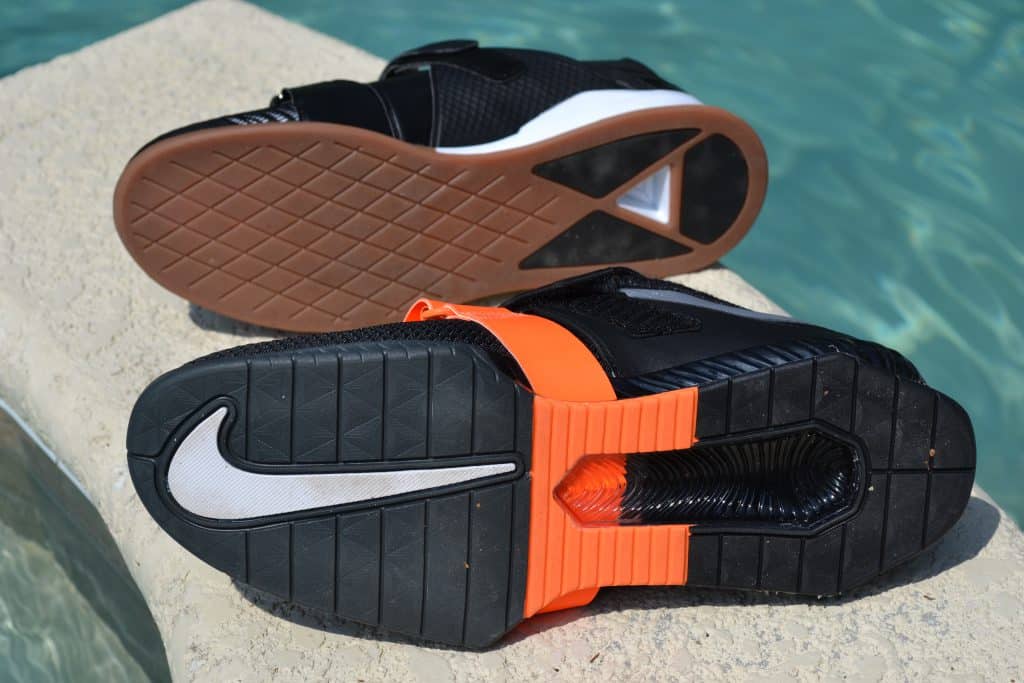 How about sizing?
I ordered the Reebok Legacy Lifter in my normal shoe size – Men's 11.
It's almost too tight in width – but feels ok. It's plenty long too – so I'd rather not go up in size.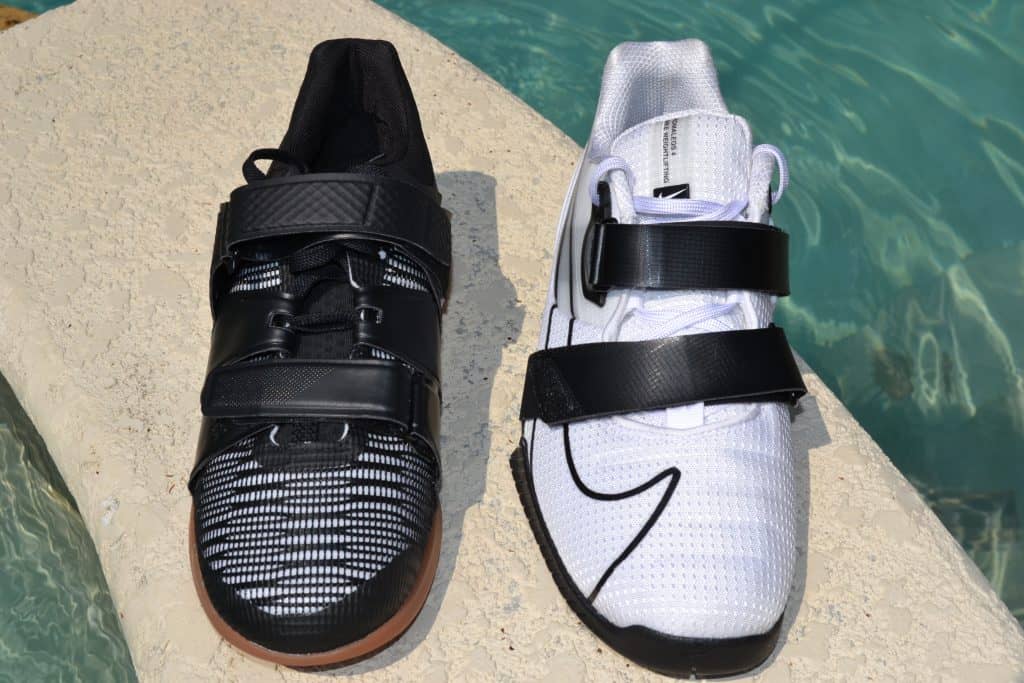 I'd recommend you buy the Reebok in your normal shoe size.
In contrast, I recommend you order the Romaleos 1/2 size up – it's got much more "point" to the toebox area.
Looks can be deceiving too – as you look at these pictures keep in mind that the Reebok is an 11, and the Nike is an 11.5 (White) or 12 (Black/Orange).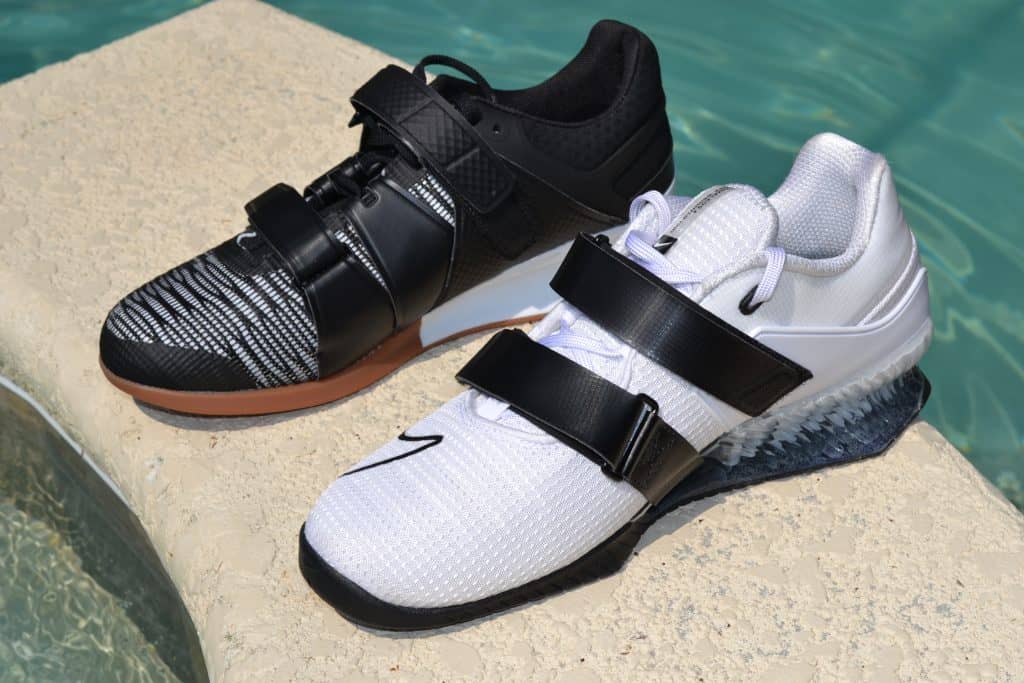 I do get a slight sensation of heel slippage in the Romaleos 4 – but I don't in the Reebok. That's possibly because I've gone up in size on the Nike – but I must do that to get the width.
Here's a video, which compares both of these shoes side by side in great detail.
In summary I like both the Romaleos 4 and the Legacy Lifter.
They are both very supportive, and it may come down to which one looks better to you, or fits you better.
(Or which one you can find on discount!)
Nike Romaleos 4 versus Adidas Adipower Weightlifting II Shoe
Now let's take a look at the Adipower 2 – this is the premium weightlifting shoe from Adidas for 2020.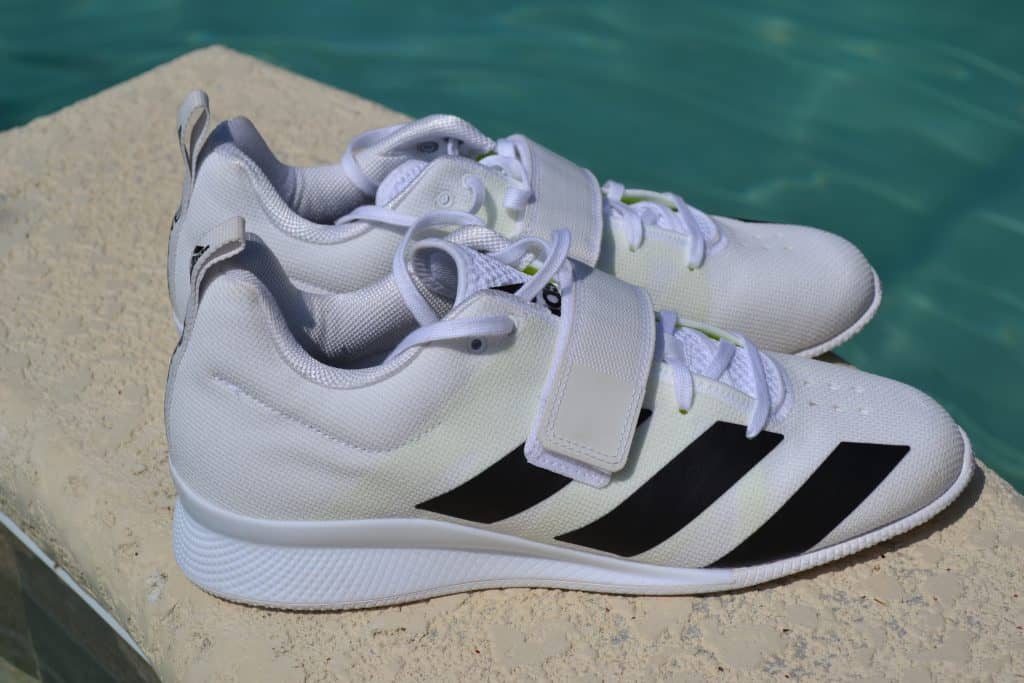 Both shoes have a 20mm heel to toe drop.
The Adipower has a relatively flat all-rubber outsole. It gives good grip – on par with the Romaleos 4.
It's very plain looking though – and the Nike wins the style contest for outsole looks.
(But who is going to see the outsole?)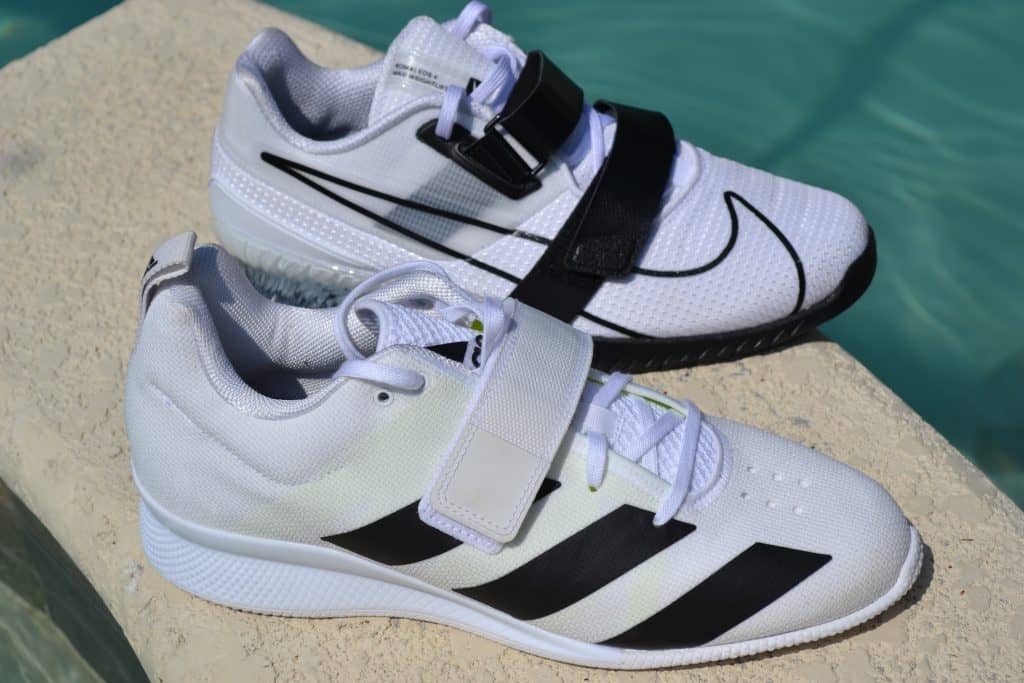 Where the shoes differ dramatically is in forefoot flexbility and overall stability.
The Adipower 2 is more flexible than most cross training shoes in the forefoot!
This can be a good thing – because it let's you really "dig in" with your toes when snatching.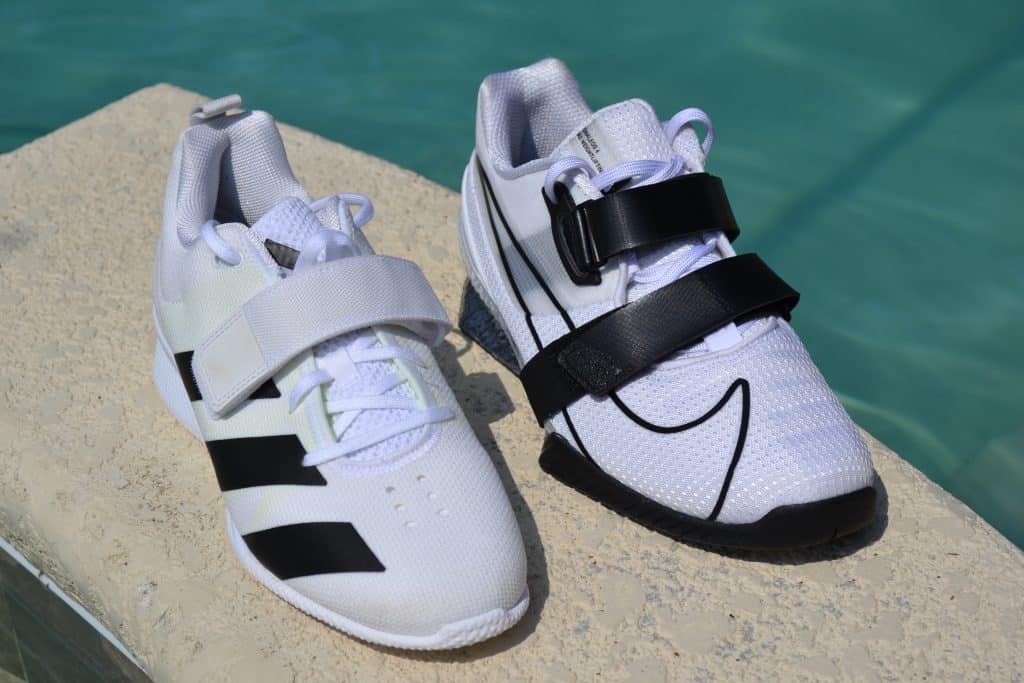 But the downside is that the very thin, flexible upper and thin outsole ultimately make this shoe feel much less stable than the Romaleos 4.
The Adipower 2 is very comfortable to wear – but it just feels to be lacking in lateral stability compared to other shoes.
As you might guess, the Adipower 2 is lighter – a Men's Size 11 weighs in at 18 ounces – compared to 22 for a Men's Size 11.5 Romaleos 4.
The Adipower 2 has a clean design, and it is very simplistic – again, it's missing all those bolsters, bands, etc. that give support.
Even the tongue is very thin. I'd have to describe the shoe as feeling "flimsy."
This makes a difference you can feel including in the heel area of the shoe – and specifically when it comes to lateral stability.
The Adipower only uses a single midfoot strap. The two straps on the Romaleos are spaced far enough apart where you can really dial in the fit.
The other thing you need to be aware of is that the Adipower 2 is really, really narrow.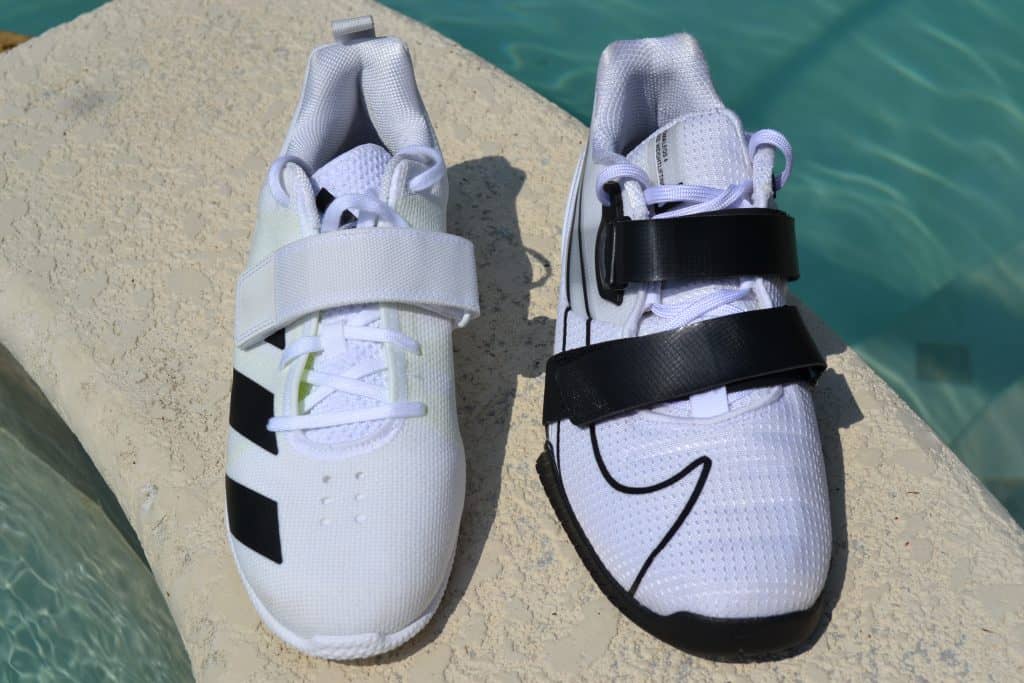 The pair shown in these photos (and video) are a Men's size 11 and they are too narrow for me to use.
I'm hesitant to recommend you go 1/2 size up – I'm not sure that would be enough – and then the shoe would be too long.
Given this, I can't recommend the Adipower 2 unless you want a lightweight , flexible weightlifting shoe – and you have unusually narrow feet.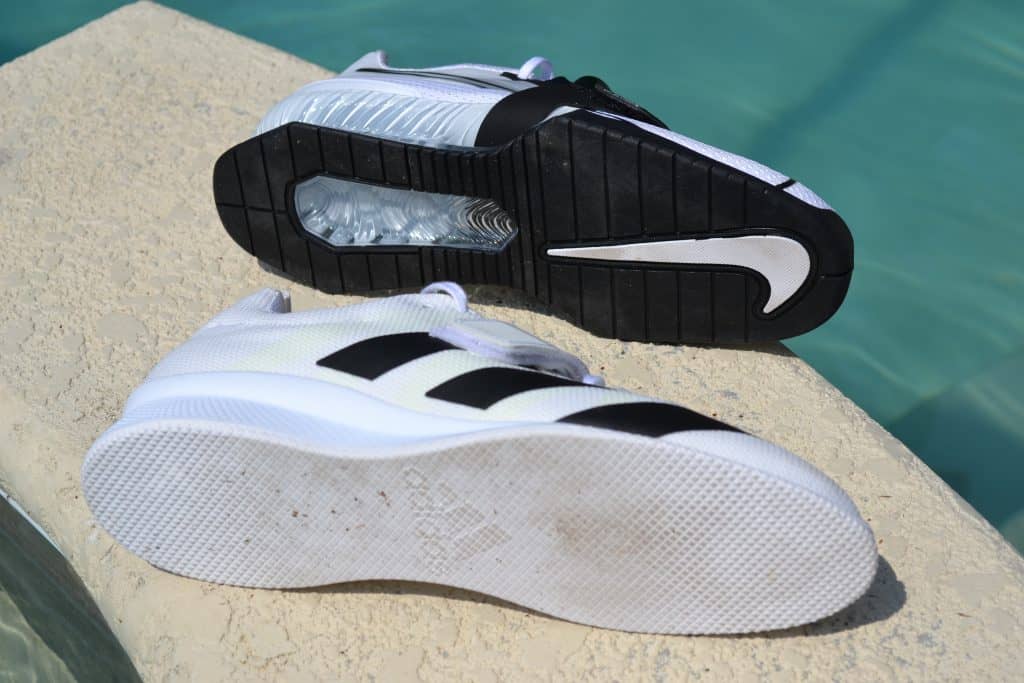 The Adipower is quieter than the Romaleos 4 (You can hear this audibly in the video posted below.)
That all-rubber outsole is a lot quieter when lifting (or walking) as compared to the Romaleos 4.
Want more details? Check out our hands-on review and comparison.
In short, unless you have skinny feet – the Adipower 2 isn't going to work for you, I'm guessing.
But, it does have a far more flexible forefoot – and maybe that's what you want.
Nike Romaleos 4 – Best Weightlifting Shoe for 2020?
Yep, it's official.
We've tested all the newest Oly lifters for 2020 and we are pronouncing the Romaleos 4 to be the best weightlifting shoe for 2020.
Hit that link to get all the details (and to see some alternatives).
Nike Romaleos 4 Weightlifting Shoe Review – In Summary
The Nike Romaleos is an evolutionary improvement over last year's shoe the Romaleos 3 XD.
Nike has improved several aspects of the shoe.
The new upper looks better and feels like higher quality and having two midfoot straps is an improvement as well.
Meanwhile, they've kept some things the same – the heel to toe drop, rock solid stability, and lateral support.
But, they've made huge stride in the aesthetics – this is a good looking shoe.
It's expensive, but it is in the same price class as other premium weightlifting shoes like the Reebok Legacy Lifter and Adipower 2.
Want more options? Check out our best weightlifting shoes for 2022 review.
We are an affiliate of Rogue Fitness and Road Runner Sports – if you purchase shoes after clicking the links in this article we'll receive a small commission at no additional cost to you. This helps us to bring you in-depth, hands-on reviews.
Photo Credits
Some product photos on this page are property of Nike, Inc.
This website is not affiliated or associated with CrossFit, Inc. CrossFit is a registered trademark of CrossFit, Inc.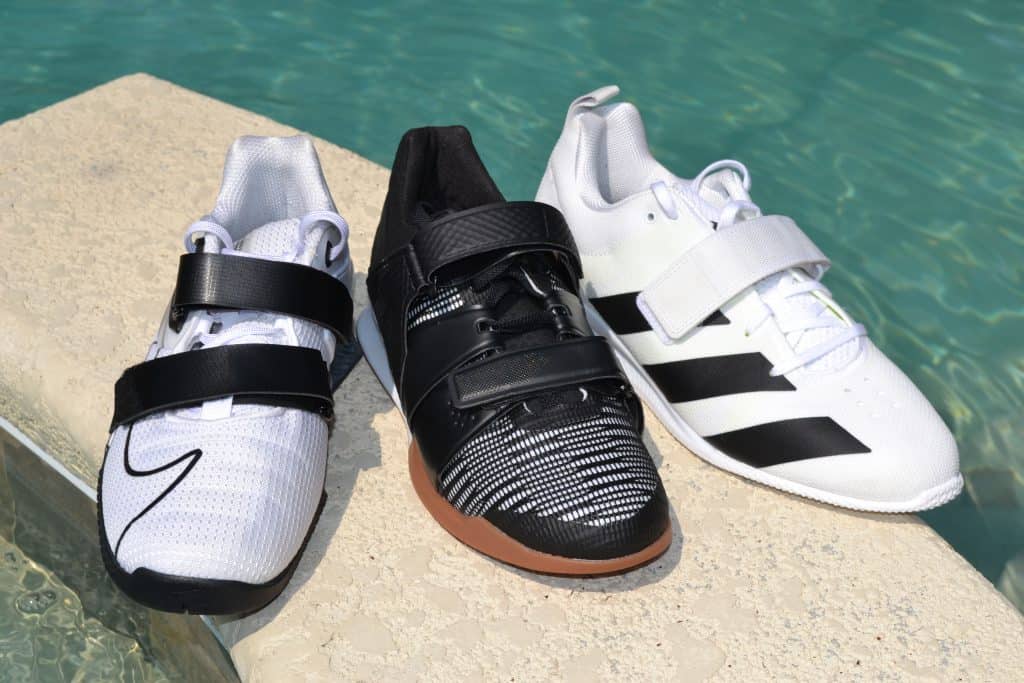 Tim is the founder of FitAtMidlife.com – an avid gym rat for 30+ years, he's a reviewer of many, many shoes – and founder of the Speed Bag Gathering – the world's only gathering of speed bag punching enthusiasts.  See more gym reviews at Tim's YouTube channel.