The Reebok Nano X (get it now!) has just been released. This is the 10th iteration of Reebok's shoe for functional fitness and CrossFit style workouts.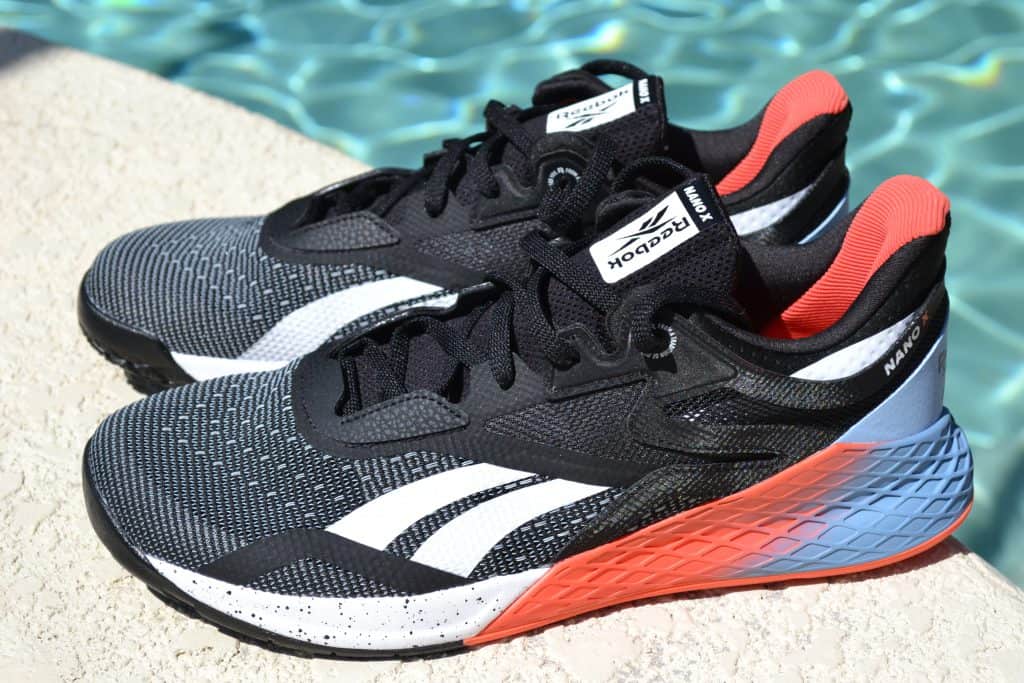 What's new? What's different? What's the same?
That's what we'll discuss (and show) in this hands-on review.
The Reebok Nano X was the runner-up in our review of the Best CrossFit Shoes for 2020.
Here's some of the launch styles that are available now from Reebok.com (NOTE: We are an affiliate.)
Let's take an in-depth look.
Reebok Nano X – Hands-On Review on YouTube
Why read when you can watch?
We give you the full run-down on the new Reebok Nano X – and compare it to the Reebok Nano 9 and the Nike Metcon 5.
From our YouTube channel:
Here's a hands-on look at the the Reebok Nano X Froning special edition – and it includes a side-by-side comparison to the regular Nano X!
Reebok Nano X – Fit and Sizing
How does the Reebok Nano X fit?
It's pretty much just like the Reebok Nano 9.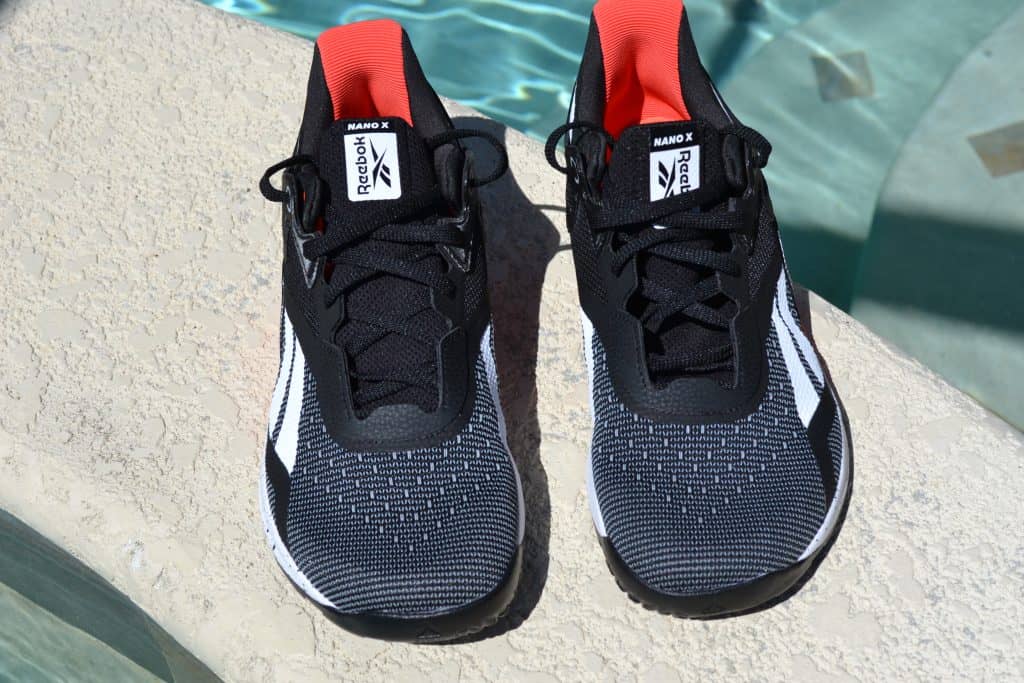 And that means a super-comfortable, true to size fit, with a nice wide toe box.
Really, this shoe is the champ when it comes to wide feet (at least for cross trainers.)
And we're happy to confirm that this is still the case with the Reebok Nano X.
It also fits true to size – a Men's size 11 is perfect for me – and that's what I wear in most athletic shoes.
The length is good, and the width is good too.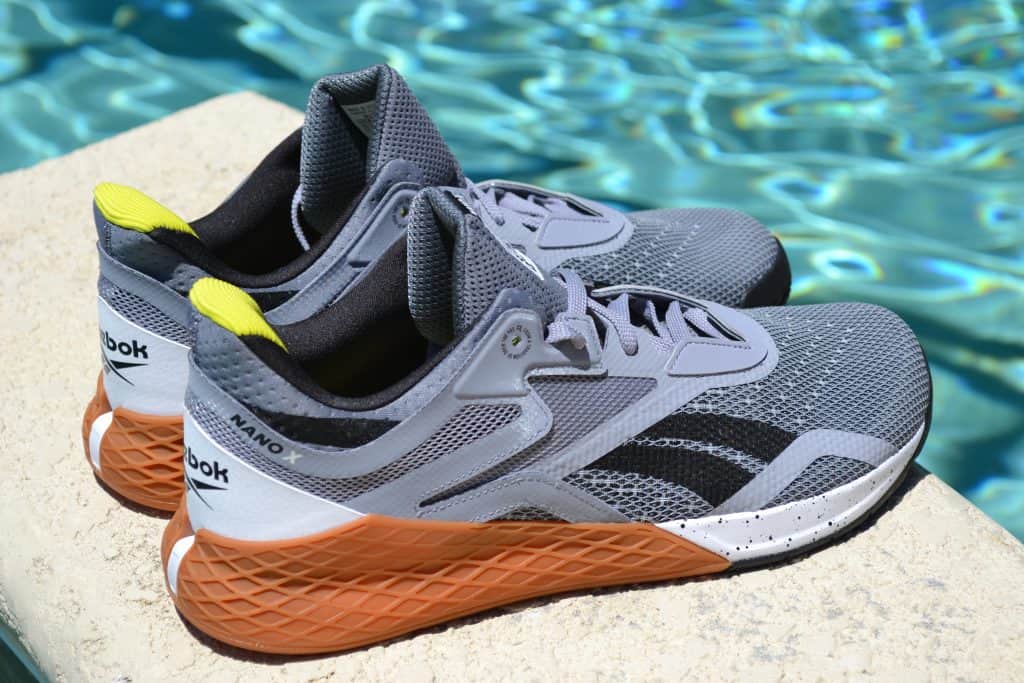 The other thing we like about the Reebok Nano X is it's a very comfortable fit (in the upper – remember this is a cross trainer – so don't expect tons of cushion underfoot.)
Reebok Nano X – What's New and Different?
What's up with the new shoe?
All we know is that it is "versatile" and Reebok claims "runnable".
Beyond that, you can see a lot of similar styling cues.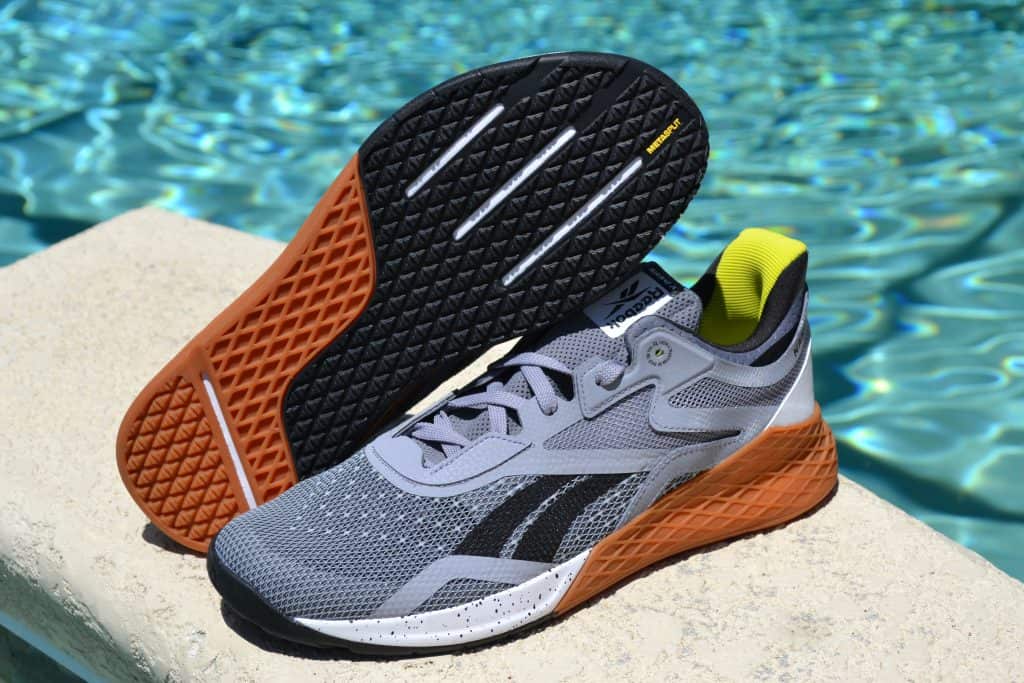 It's an evolution of the current Nano 9 – rather than a radical makeover.
All though Reebok is calling it "All new" – that's not really the case.
The outsole and the general shape are very much like the Reebok Nano 9 in many ways.
But, that's a good thing – because the Nano line has evolved to be a really good shoe.
Here's a closeup look at the details:
The outsole is mostly unchanged – it's a two-piece separated outsole that claims to help reduce shock to the forefoot when you land with a heel strike.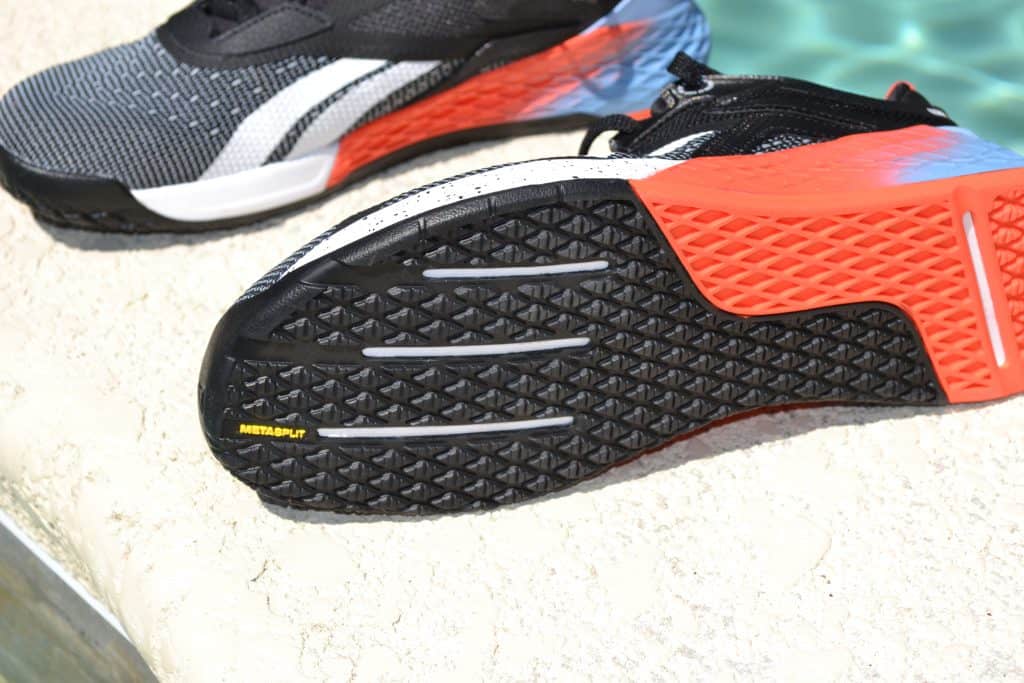 There's some flex grooves in the outsole, and it's very flat, and meant for maximum contact area with the gym floor.
The outsole rubber is tough, durable, and very grippy – these give great traction.
The inside of the shoe is still labeled "ropepro" – that's where that tough rubber outsole wraps up around the midfoot of the shoe – to give you somewhere to grip a rope with for a rope climb.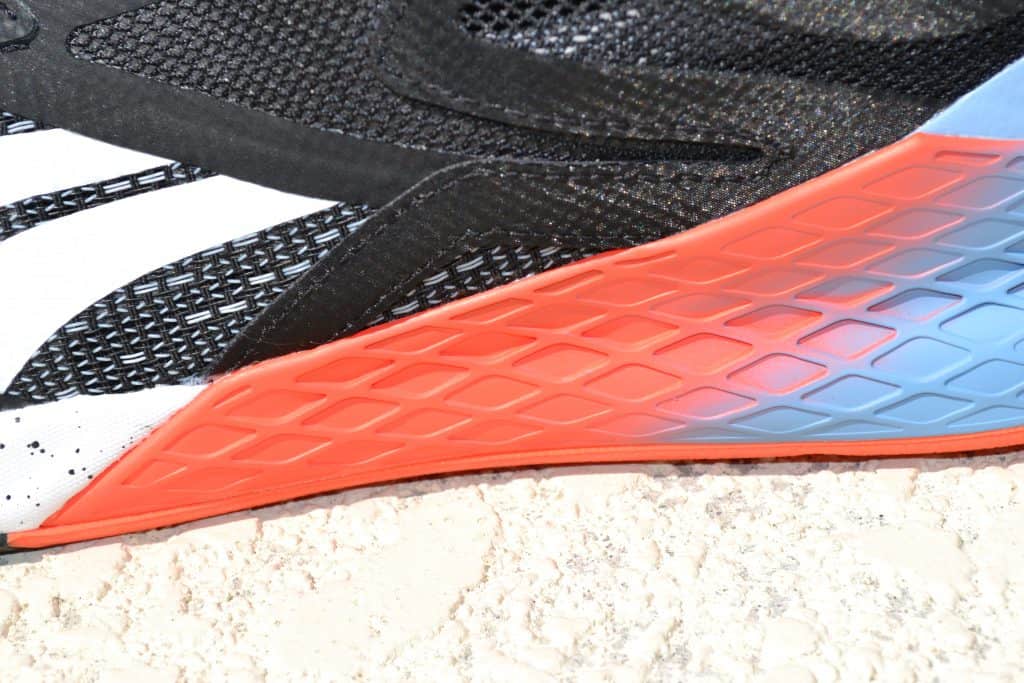 They've also carried over the tough rubber protection wrap from the 9 – you can see in the side view it goes from the midfoot all the way around the heel in the back.
(These are super-tough shoes – just like their predecessors.)
It's not until we get to the upper that we start to see differences from the Reebok Nano 9.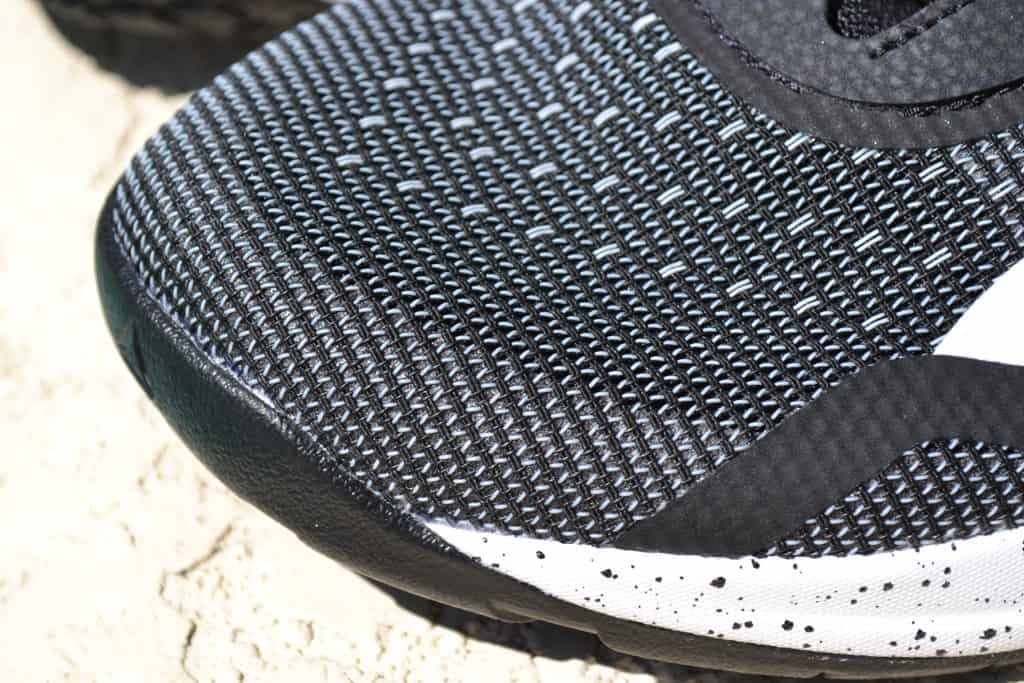 This new version of Flexweave is softer and more pleasant to the touch – but it still feels tough and durable. Only time will tell if it will have the same durability as last year's model -but my guess is that it will.
We've still got regular laces – but the tongue has changed a bit. It's now stretchy and more streamlined.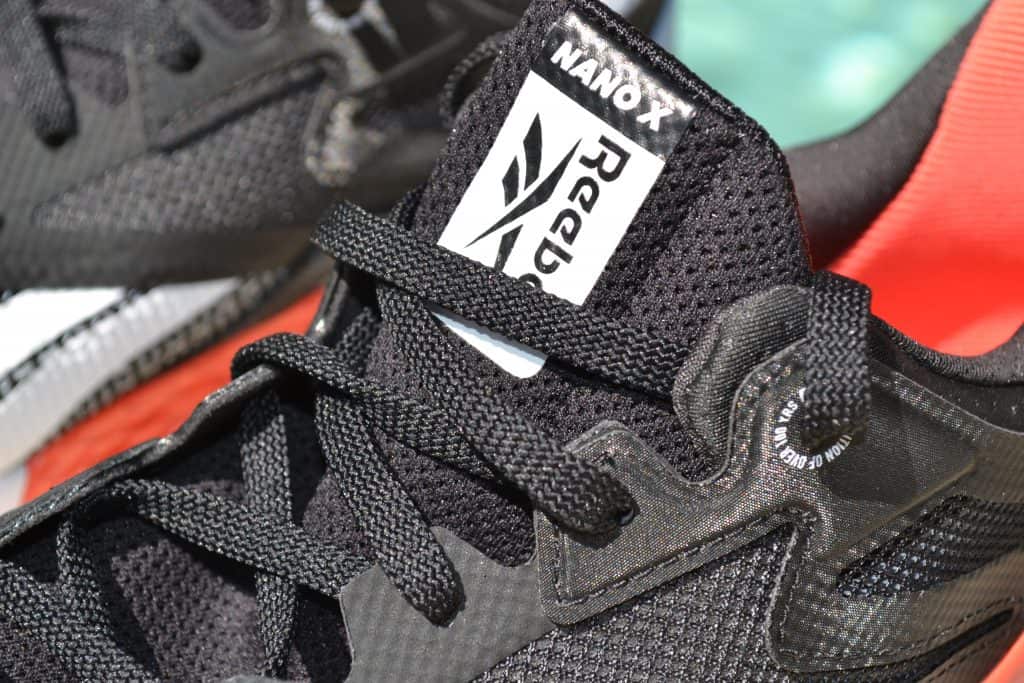 But it does have two padded areas at the top to combat lace bite.
The real big difference with the Reebok Nano X is the collar area.
The achilles pad comes up much higher, and the entirety of the collar has a nice dense foam ring around the inside.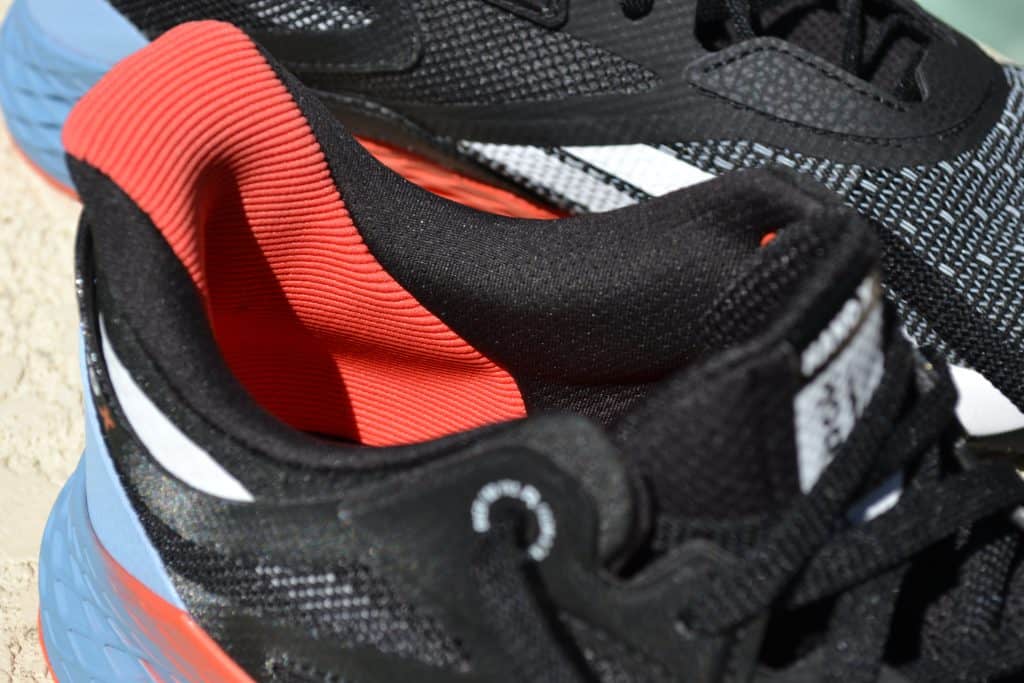 The bootie like fit of the shoe is unchanged as well. There's an internal part that cradles your foot, and a tougher "cage" that wraps around that.
The heel cup feels firmer to me – so I think they've done something there – perhaps gone with a thicker plastic.
That rigid heel cup of course helps when we're lifting heavy weights so that your foot is well supported.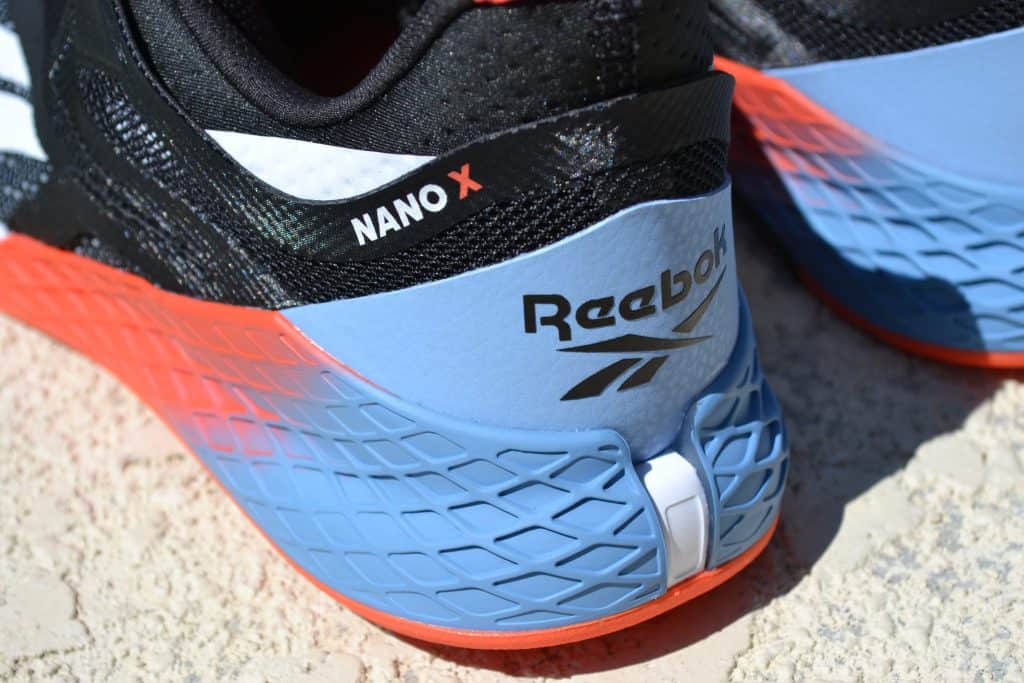 Reebok Nano X – Feel in the Gym
How's it work in the gym?
It's a great cross trainer.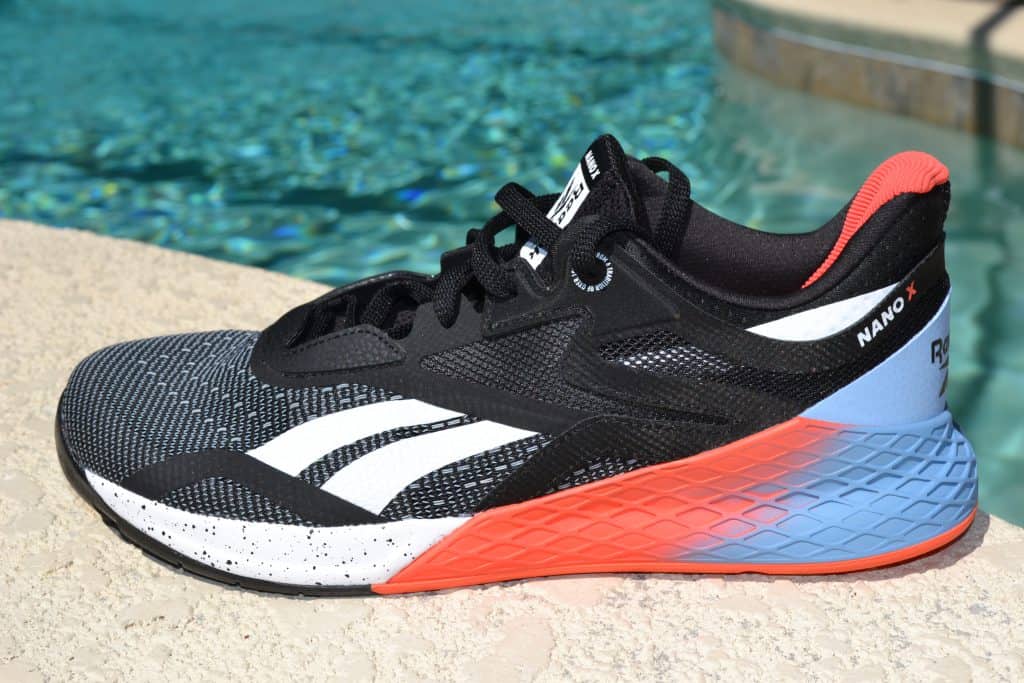 These are great for lifting, jumping, short runs, jump rope, box jumps, and more.
They fit comfortably but they do feel a little more bulky than the Nano 9.
That's because the heel and tongue come up higher – and the shoe weighs almost a full 1 ounce more than the Nano 9.
(They've added material – so that usually adds weight.)
Beyond that feeling from the upper – don't expect a radical departure from the Reebok Nano 9 – after all the same basic shape and levels of cushioning are there.
Can You Run In the Reebok Nano X?
Reebok says these will be "runnable" – what does that mean?
Normally that means there's enough cushion to go distance running.
Can you run in the Reebok Nano X?
Yes, of course you can – but they aren't great for long distance running – and for many people they don't have enough cushion to be great for short distances and sprints either.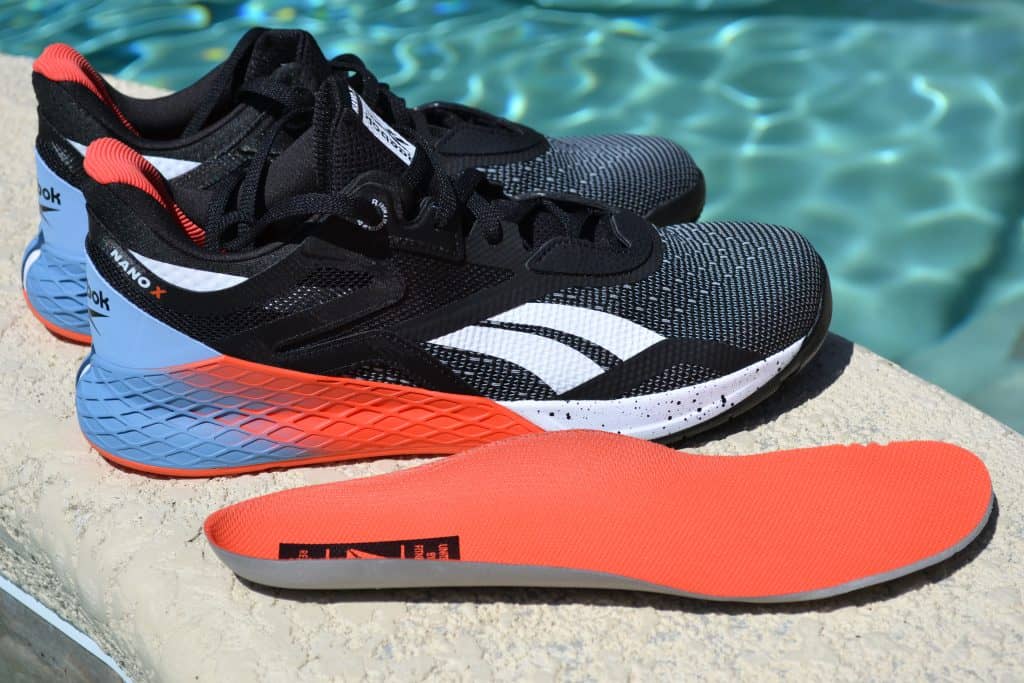 (This isn't unusual for cross trainers – because of their versatility they tend to be mediocre running shoes at best.)
My feeling is that the Reebok Nano X has the same level of cushioning (or lack there-of) as the Reebok Nano 9.
So, if you find the Nano 9 pleasant to run in, you'll feel likewise about the Nano X.
But again, this isn't a running shoe – it's a cross trainer – and we don't want a ton of mushy cushioning for all those weights we're going to lift…
Can You Lift in the Reebok Nano X?
The Reebok Nano X has plenty of firm, stable heel support for the kinds of weightlifting you might do in the CrossFit WOD.
This includes deadlifts, squats, and the Olympic lifts.
As cross trainers, they are quite versatile.
I wouldn't reach for these to set a PR squat or snatch necessarily, but they are more than adequate for the weights you'd use in the typical functional fitness workout or CrossFit WOD.
After all, that's what these shoes are designed for.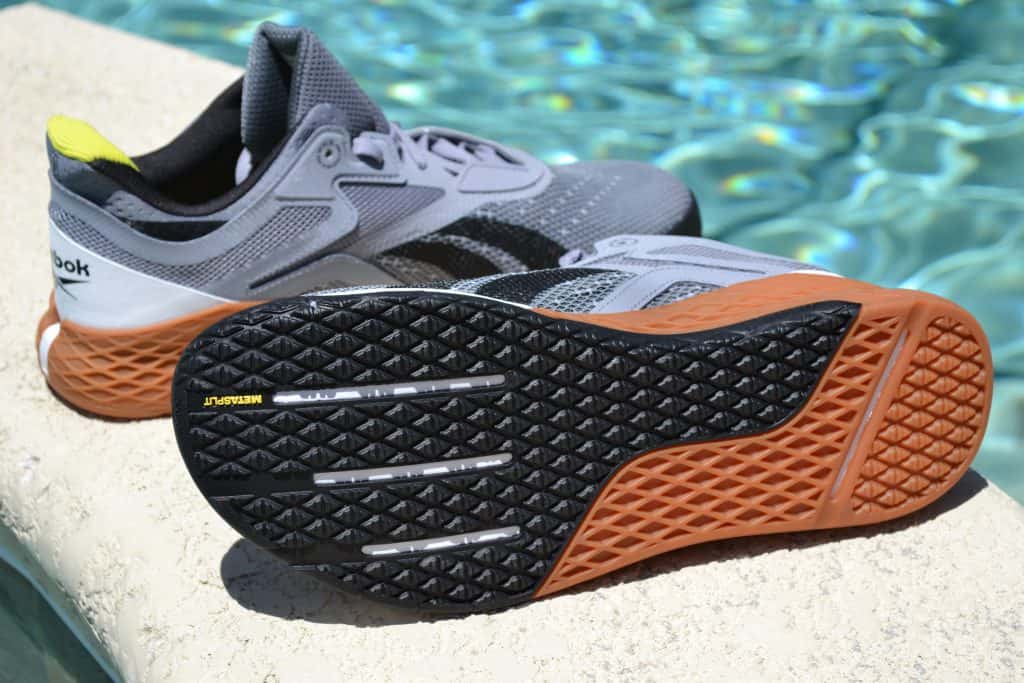 They don't have an outsized heel raise (it's probably only 4mm – but Reebok hasn't published any numbers), at least not like what you would find on an Olympic lifting shoe.
But, that's OK, because we can use them for so much more than weightlifting.
Reebok Nano X Froning – Special Edition
In July 2020 Reebok released a special edition of this training shoe – the Reebok Nano X Froning.
What's new and improved?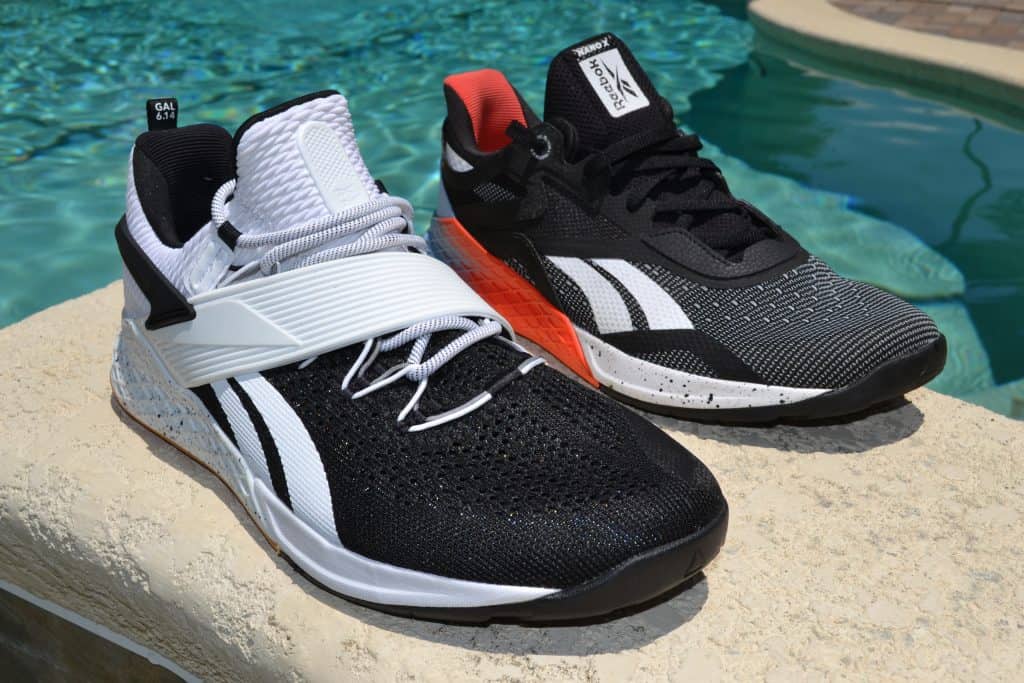 Like most special editions, this is mostly a visual upgrade.
At first glance it looks like the forefoot strap might help with tightening the shoes – but on one end it is anchored with a very stretchy piece of elastic.
This means it's impossible to get any real tightening effect.
The upper looks more sophisticated (but is slightly less comfortable).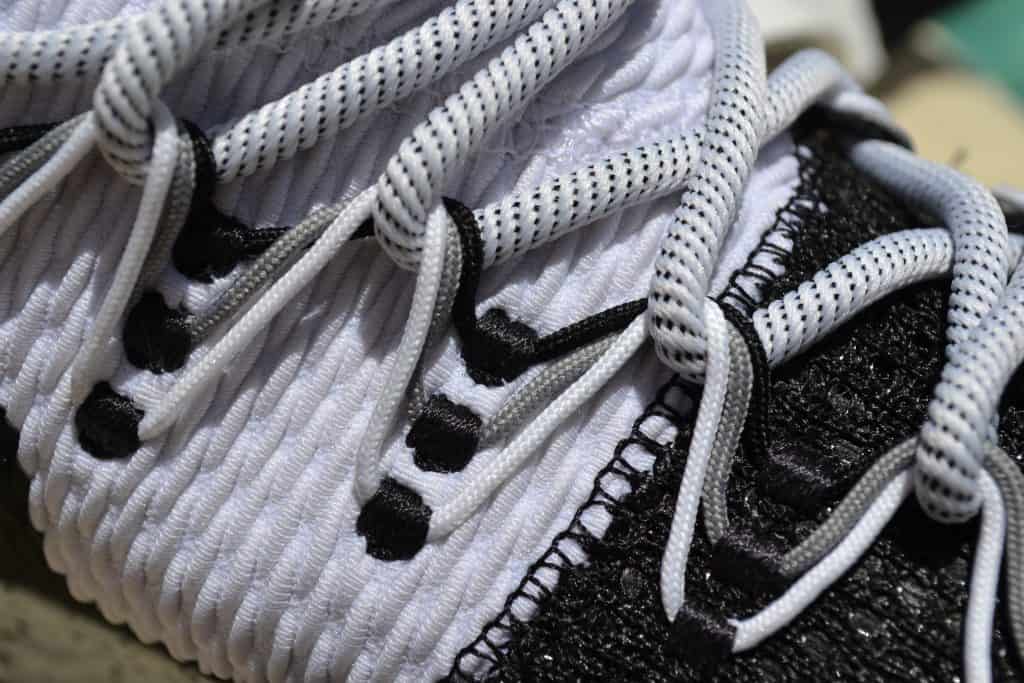 The premium laces are a nice touch and the 3 string lacing system helps make for a unique look.
This shoe is different from the regular Nano in that it is more of a slip fit shoe – it's got a pull tab on the heel – but it still has real laces too.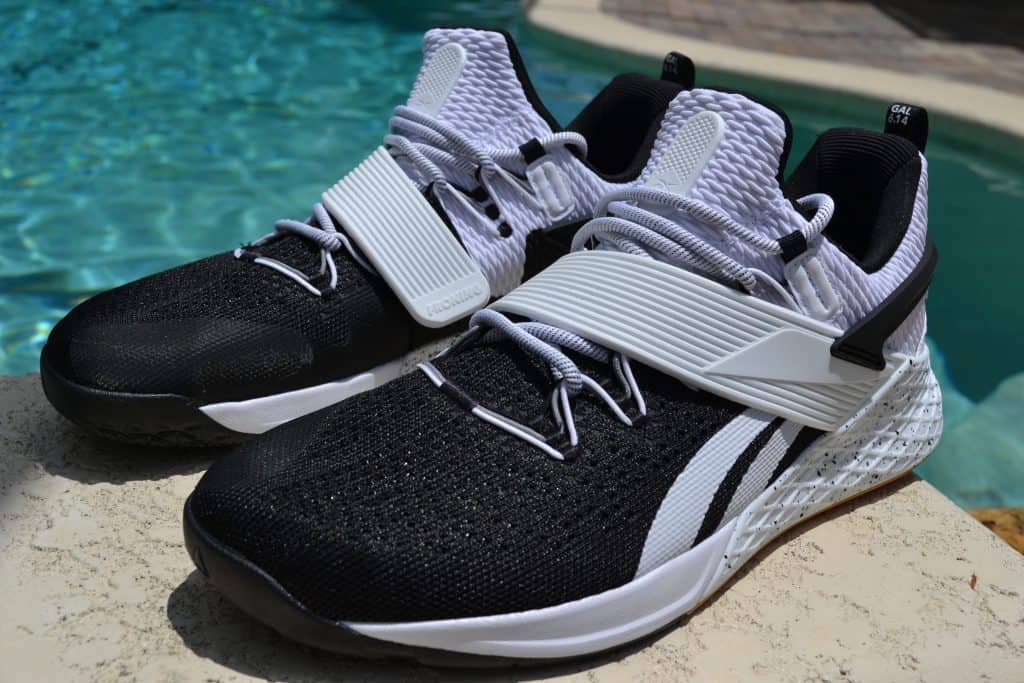 Overall, it's a great looking shoe – and it works (and fits) just like the regular Nano.
If you like the looks, you'd better buy it while you can – I'm sure it will sell out.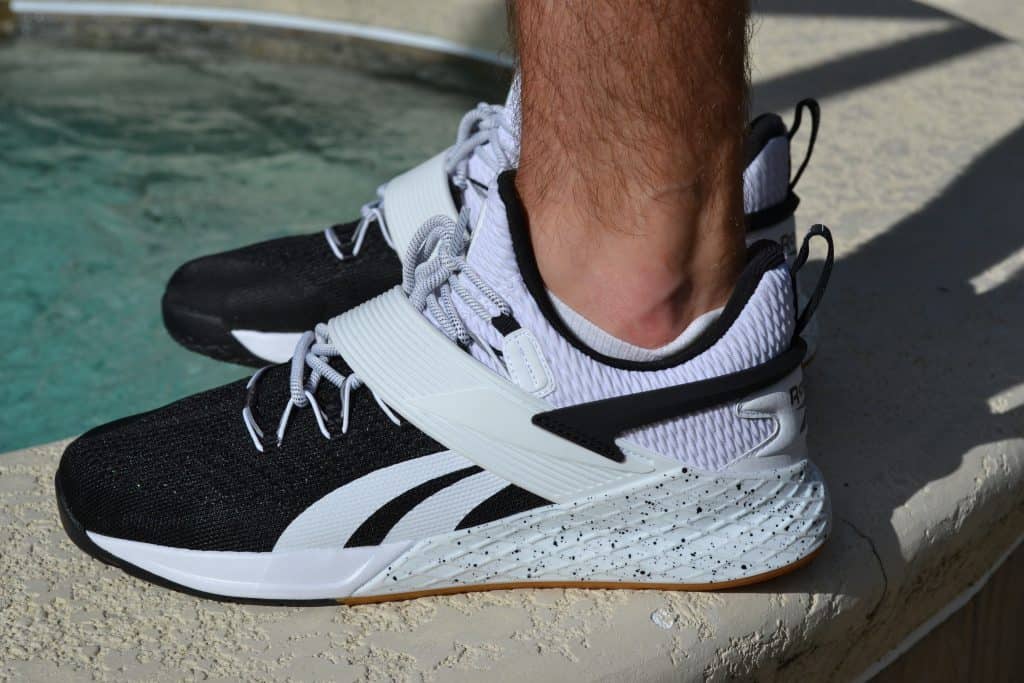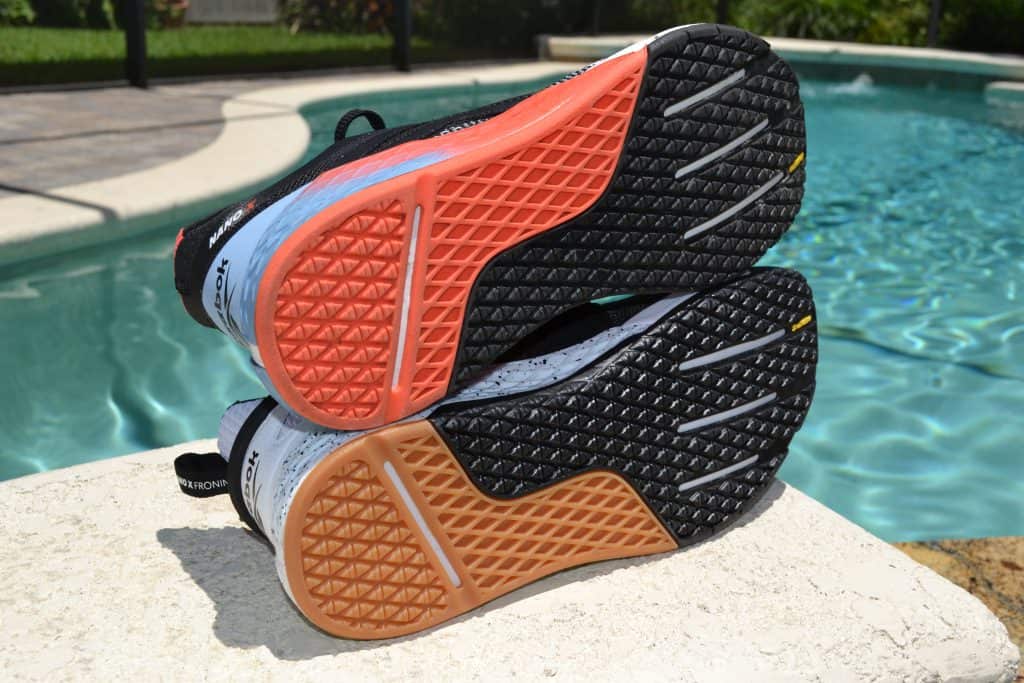 Reebok Nano X versus Reebok Nano 9
Le's compare and contrast with last year's Reebok CrossFit shoe – the Nano 9.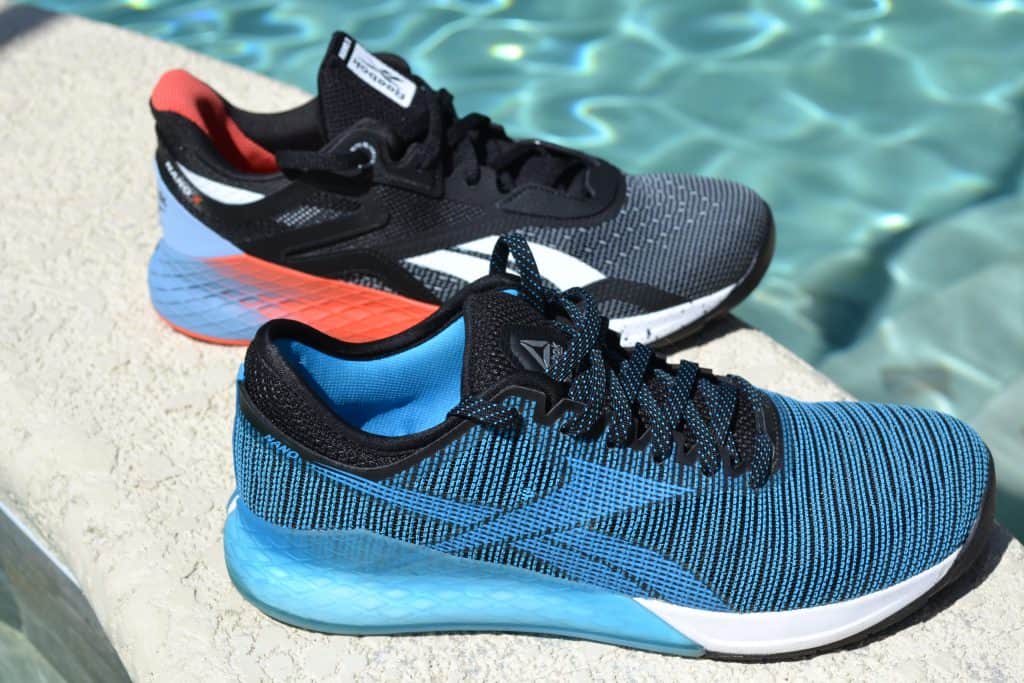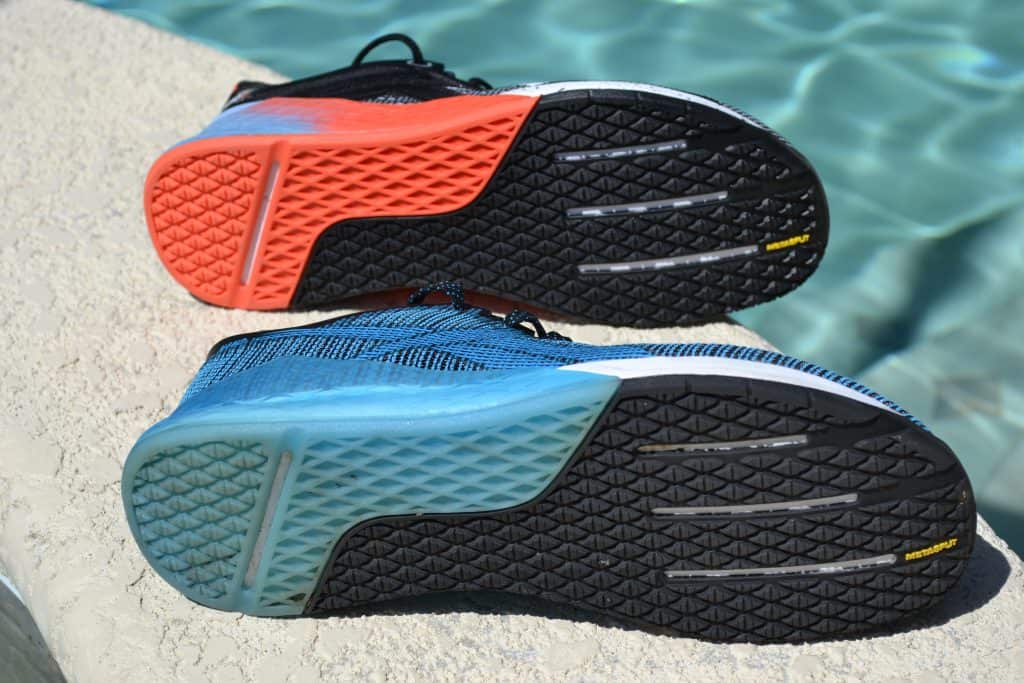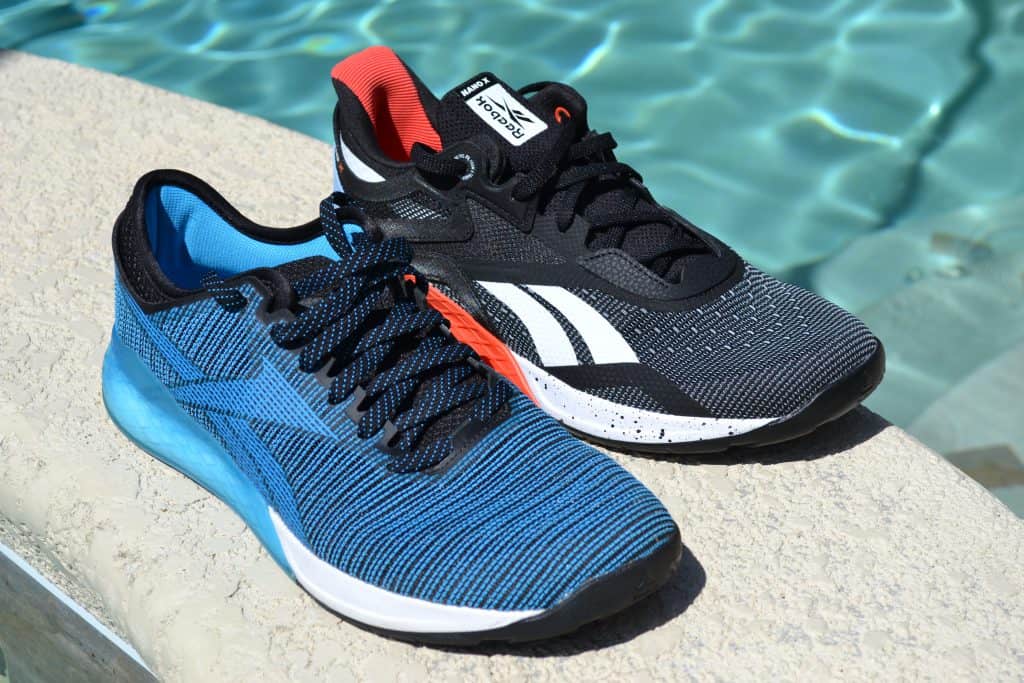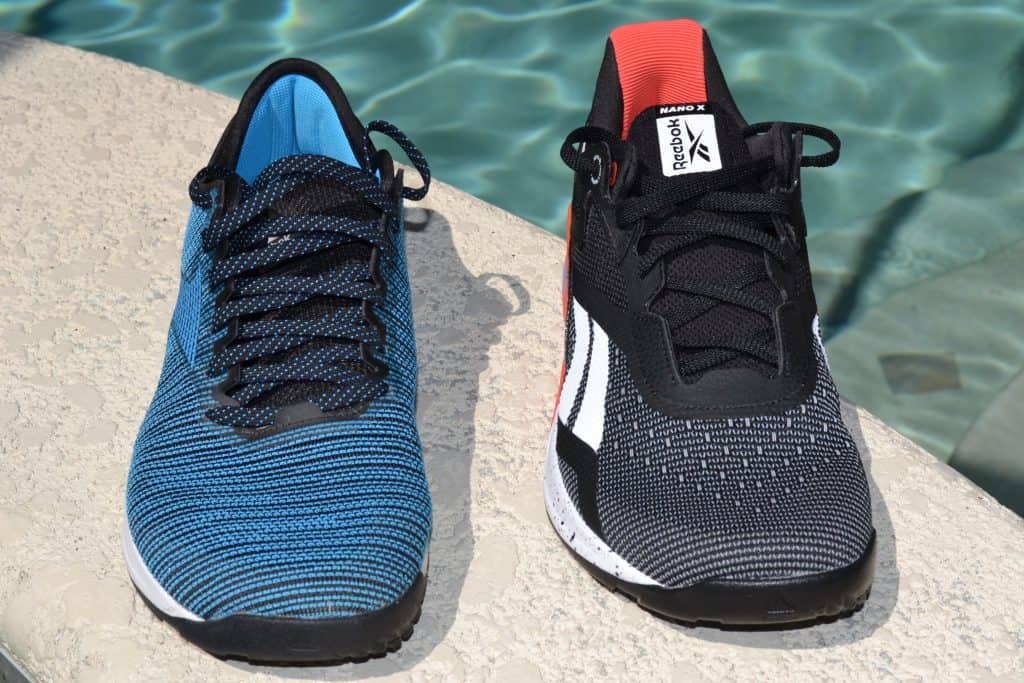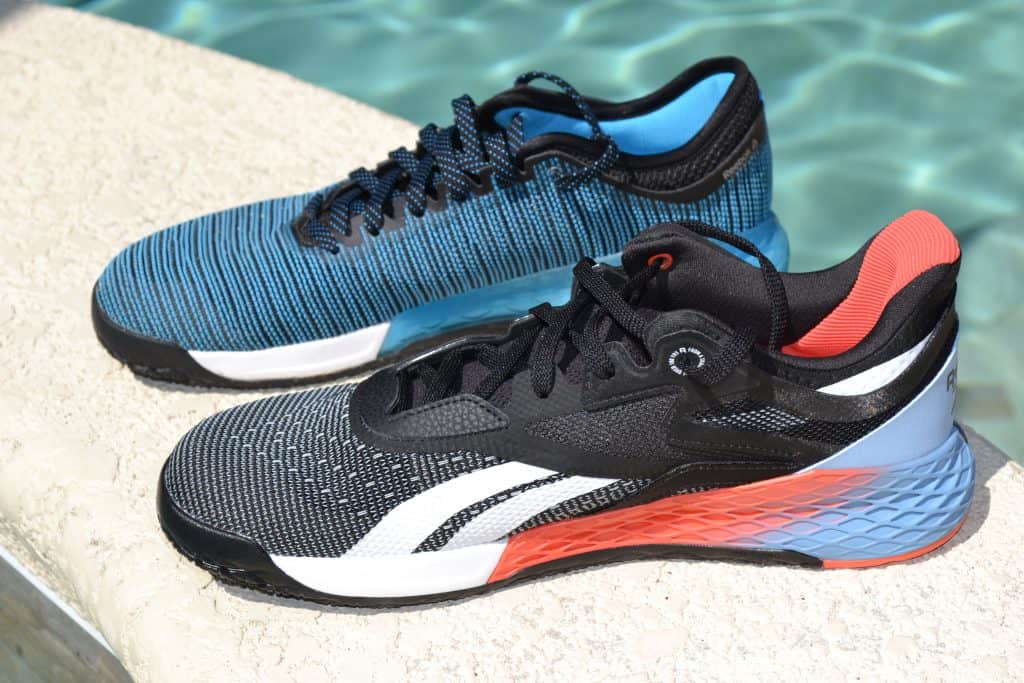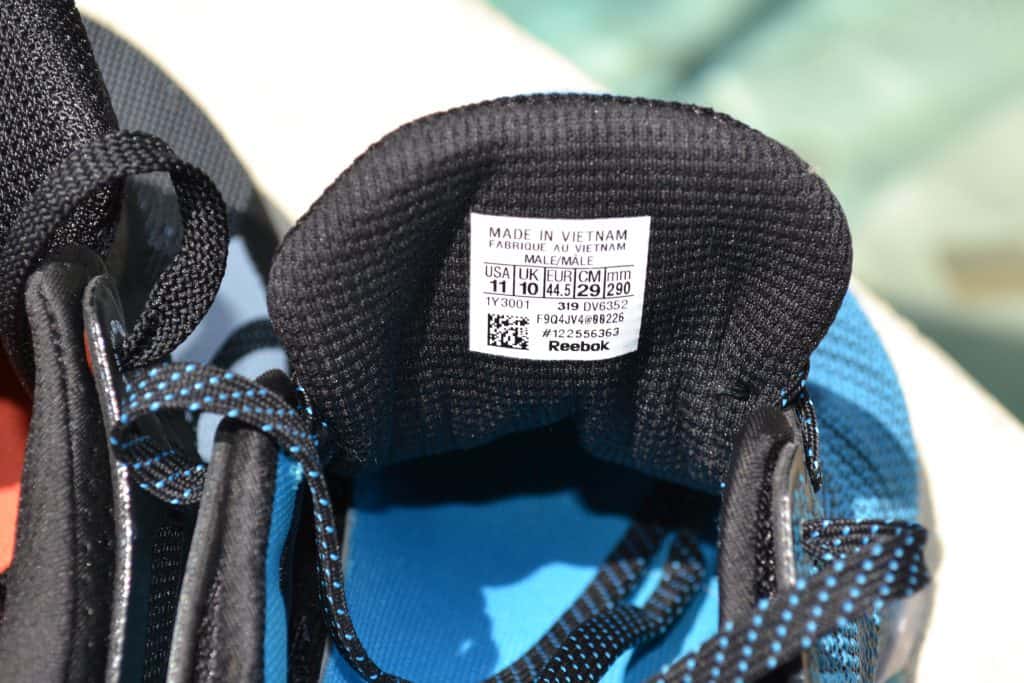 The Reebok Nano X is about .9 ounces heavier than the Reebok Nano 9 (Men's Size 11).
There's just a little bit more material too it, and it weights in at 14.4 ounces.
Cross training shoes are tough – and built like a tank – these aren't lightweight running shoes.
Overall, I like the more comfortable upper of the Nano X. I like (and prefer) the new collar and tongue – even if it adds a sensation of bulk.
And given that the levels of cushioning are the same – it's still a great lifting shoe.
This video compares it directly (and in-depth) to the Reebok Nano 9:
Reebok Nano X Unknown
Here's a mid-cut version of the Reebok Nano X – the Unknown (or Unknwn as the laces say!).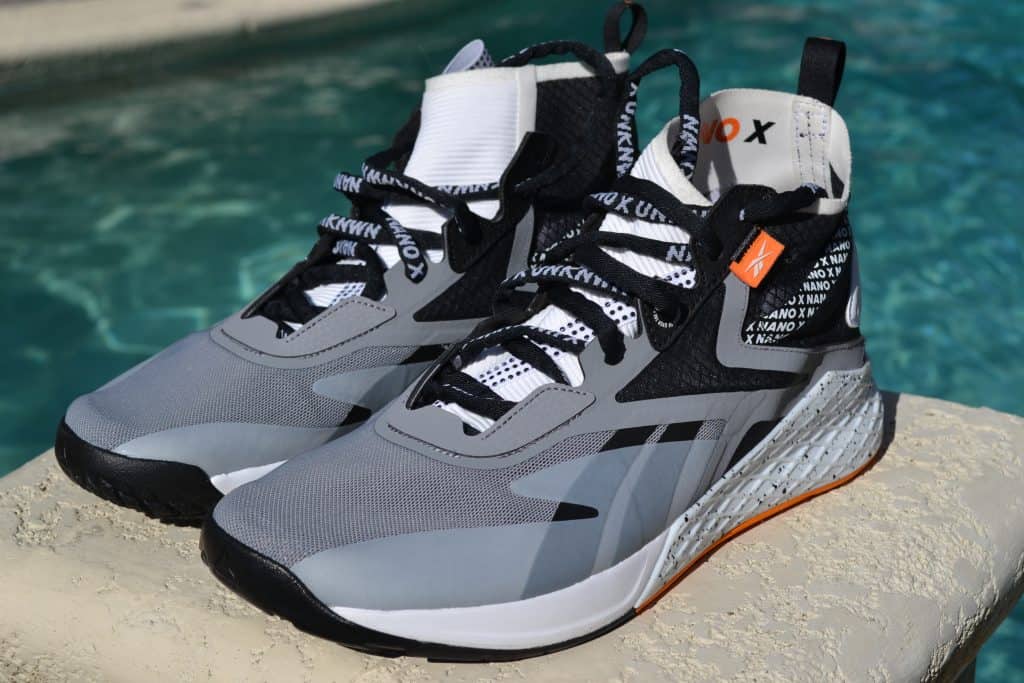 It's the Nano X outsole and midsole – with a very light-weight, thin upper.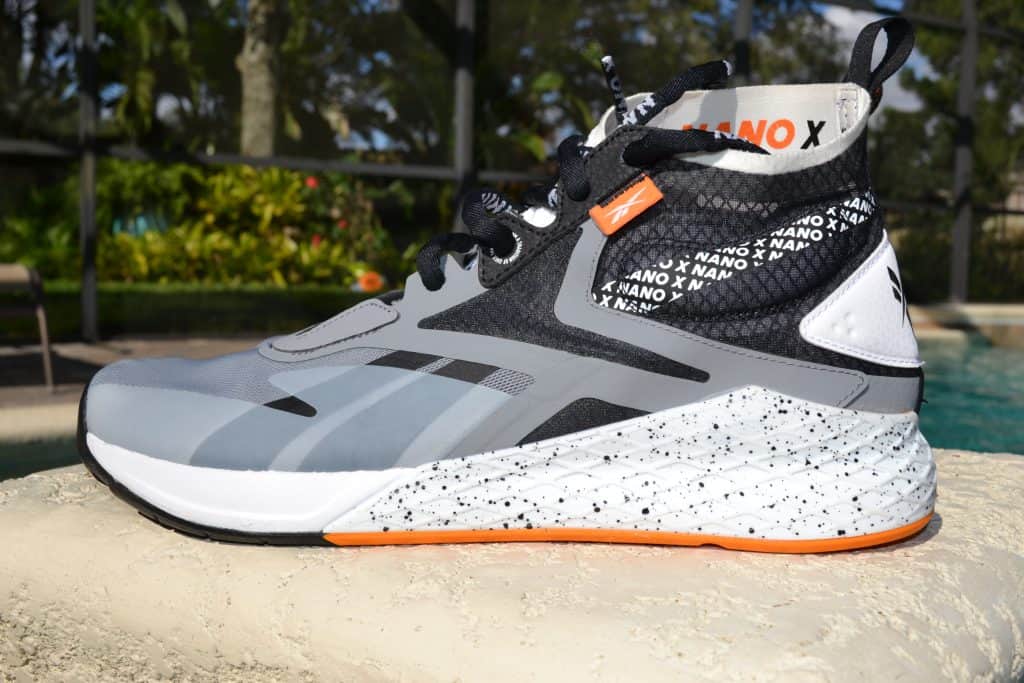 It's so thin and lightweight it's actually 1 full ounce ligther than the regular Nano.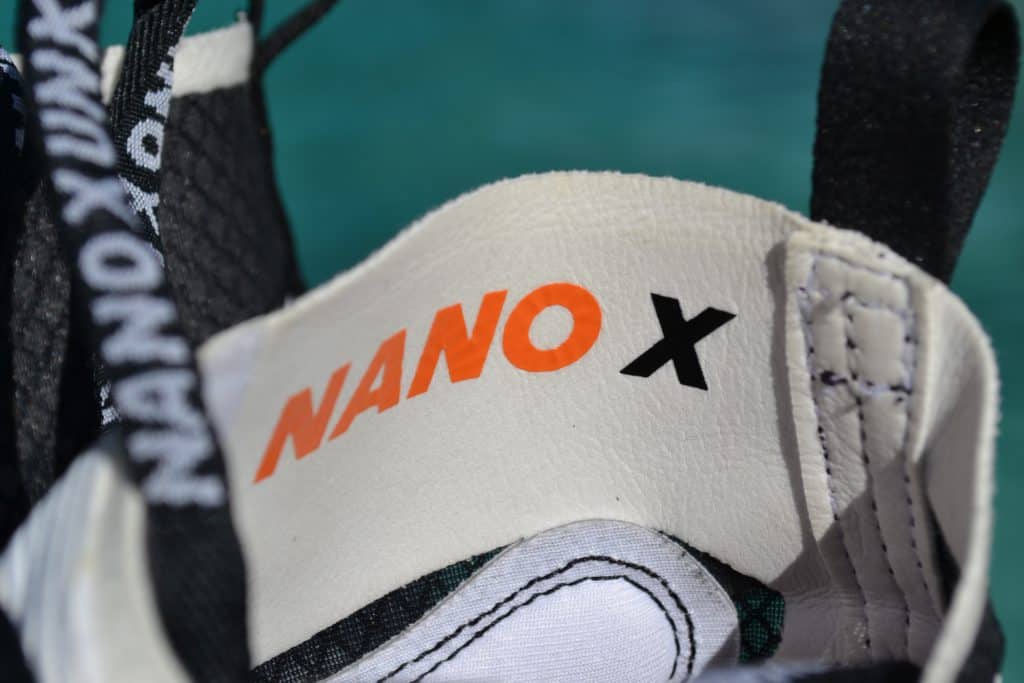 If you want the Nano experience, in a less bulky package – this would be my recommendation.
On a side note, the Nano X PR (Personal Record) is supposed to be light-weight, but weighs the same as the regular Nano X.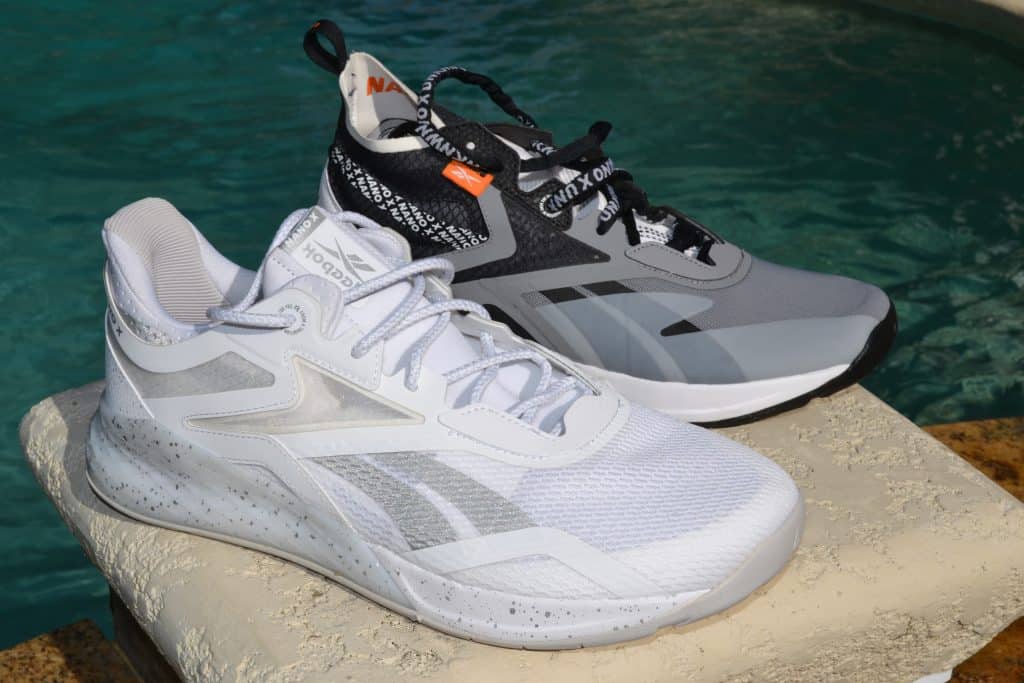 One thing to note with the Unknown – there's no heel cup inside.
We'll do testing to confirm if this shoe offers the support we expect in a Nano CrossFit shoe.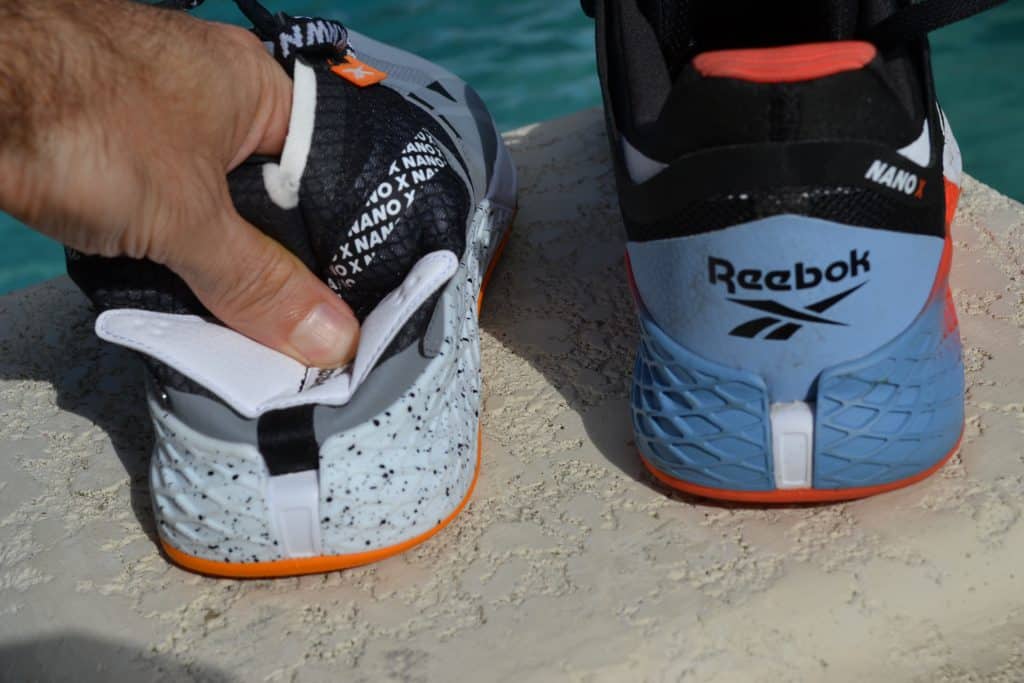 Reebok Nano X versus Nike Metcon 5
Let's compare to that other shoe that is popular for CrossFit – the Nike Metcon 5.
People love the Metcon 5 – it packs a lot into a pretty good looking package.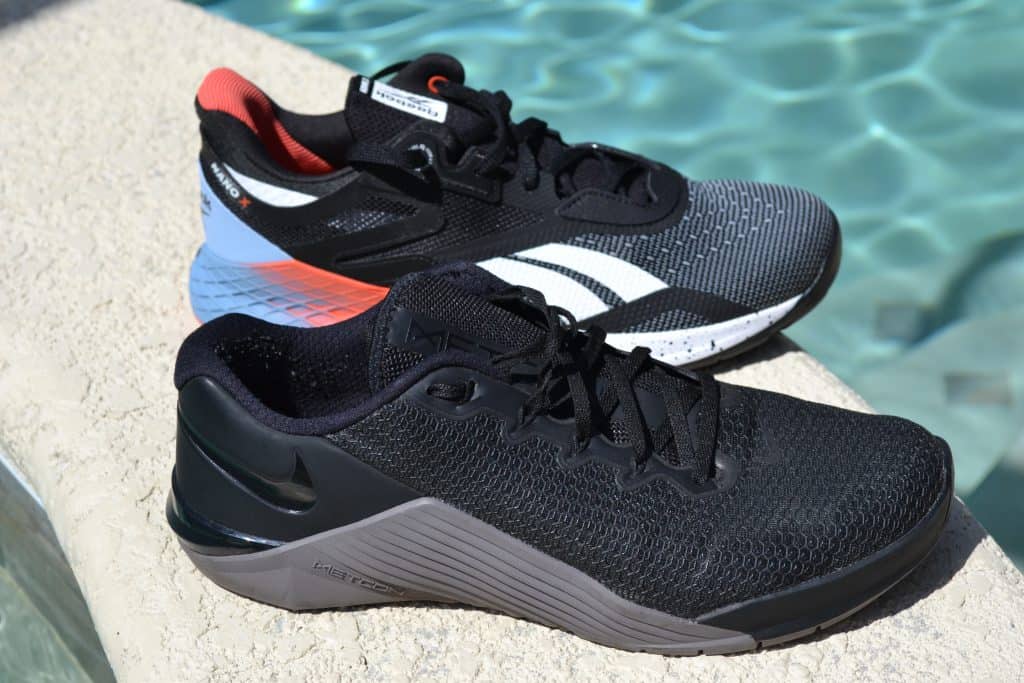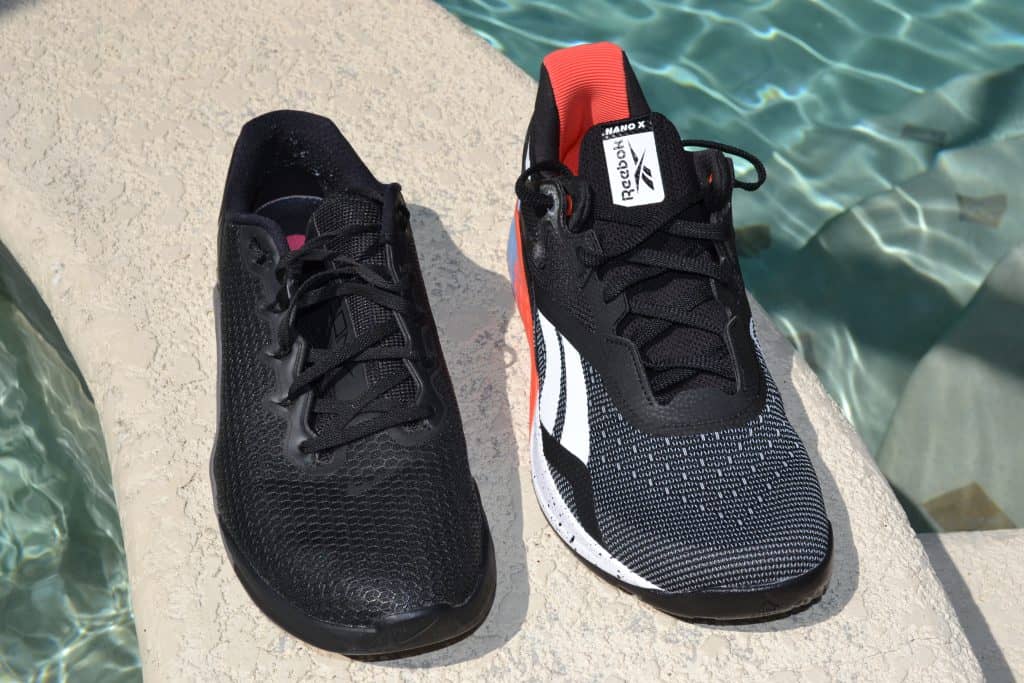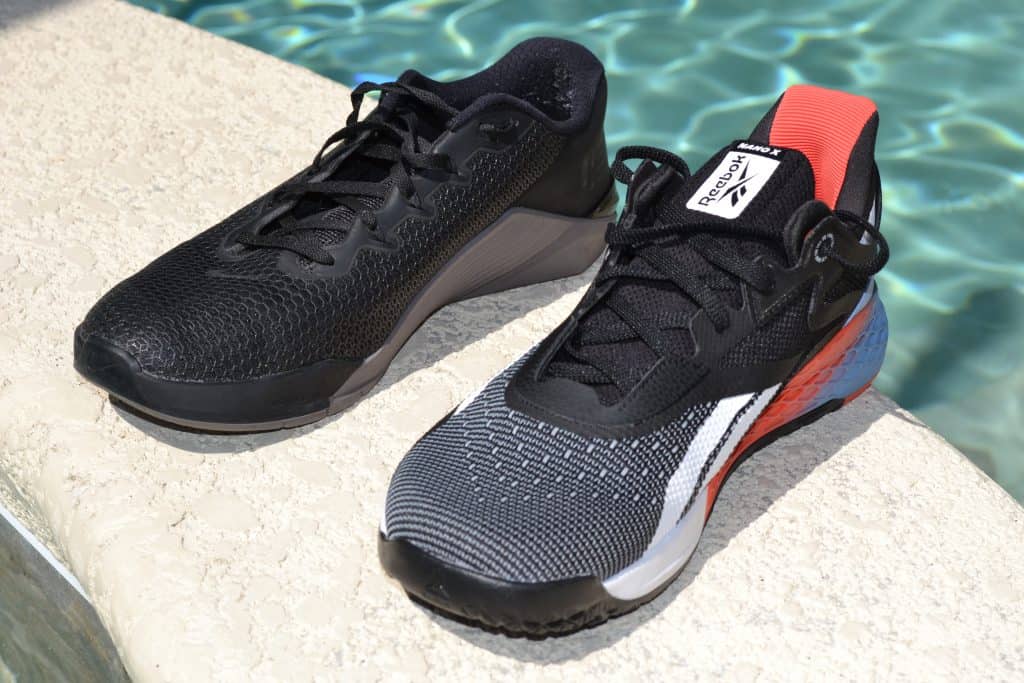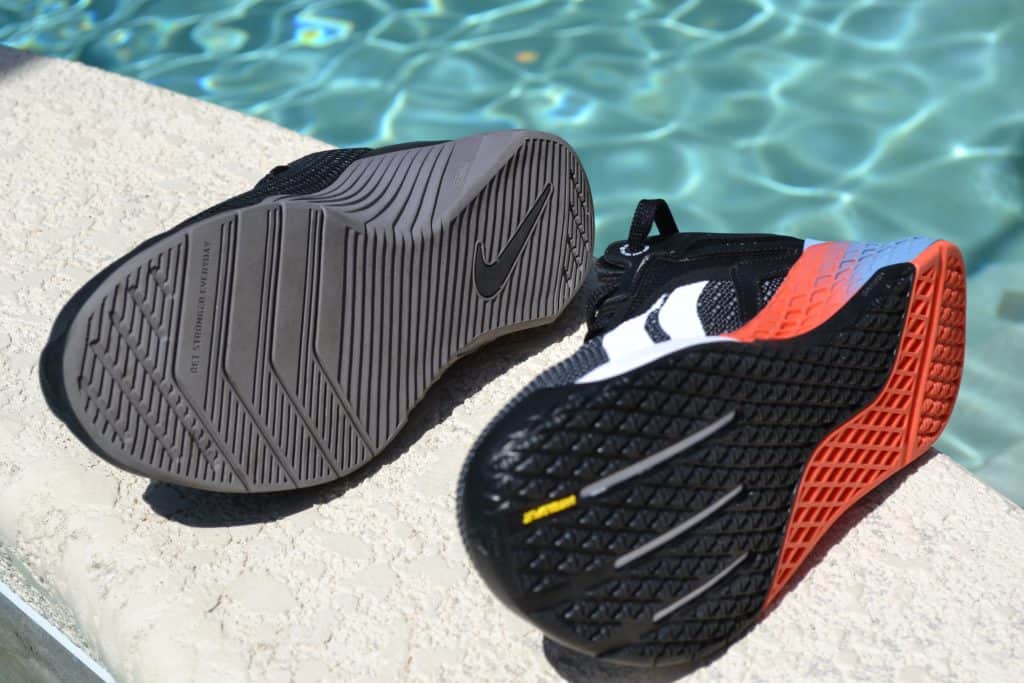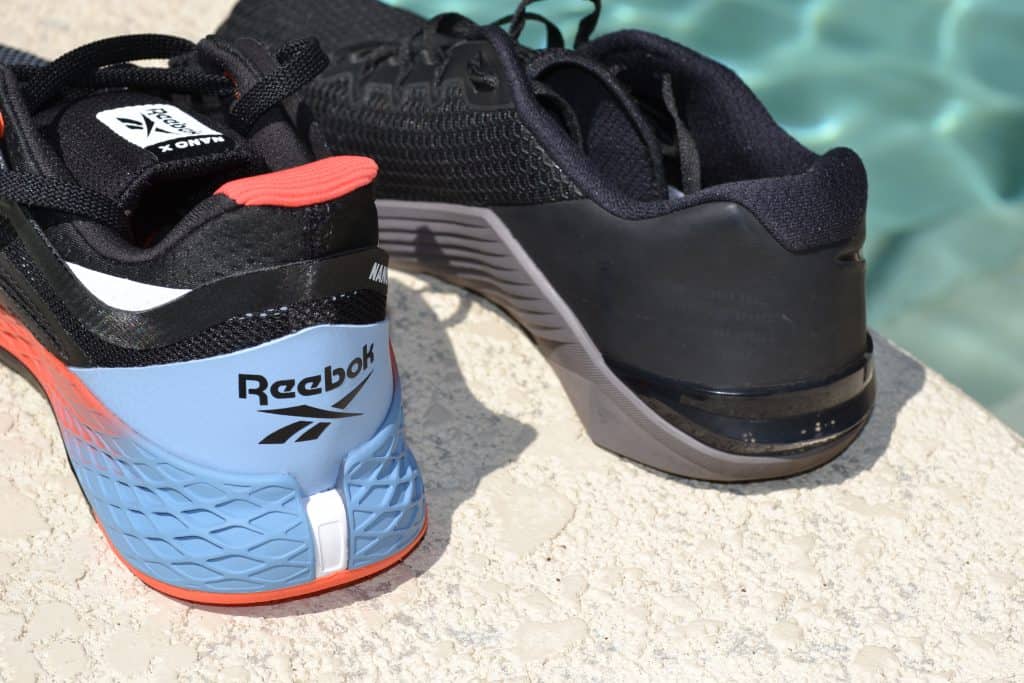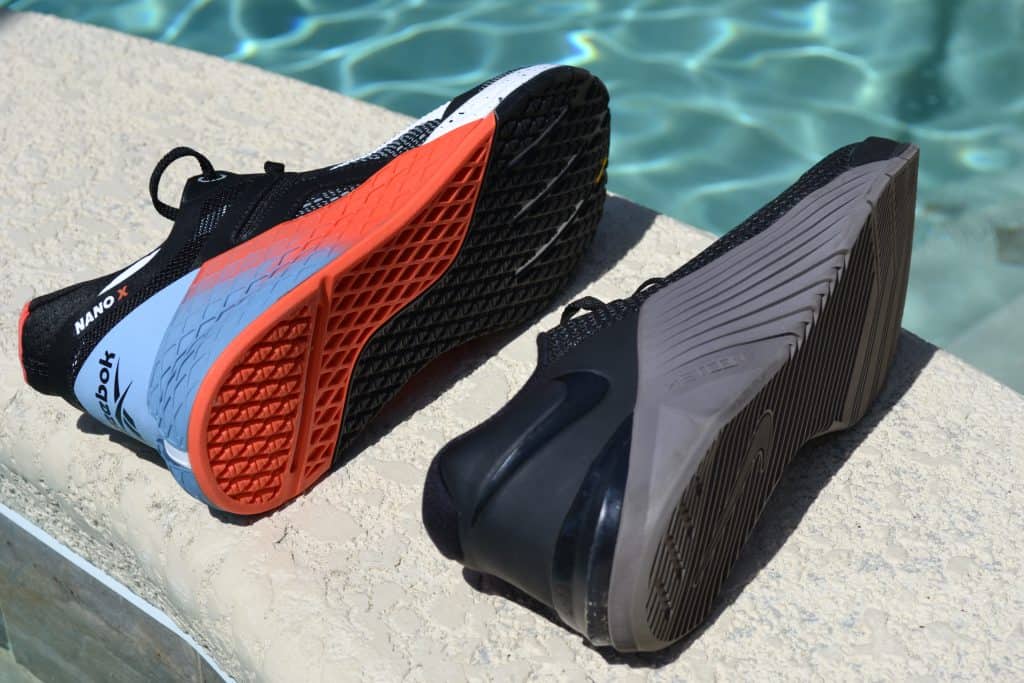 Overall, I feel the Nike Metcon 5 has more cushion – especially in the forefoot.
But, it's not so much that you can't lift in it – the heel is still pretty solid.
this is largely due to the "dual density midsole" that is literally two different pieces of foam grafted together.
Cushion up front, firm in the back (heel.)
That said, the Reebok Nano X overall feels more comfortable – the upper, the width, it's a more comfortable shoe.
But, the difference may show up if you are on your feet a lot.
(Because of the lack of cushioning in the midsole of the Nano X.)
Having said that, if I'm going to be standing all day – I usually don't wear cross trainers – as none of them have stellar cushion.
The Nike Metcon 5 is about .9 ounces lighter than the Nano X – a Men's size 11 weights in at about 13.4 ounces.
Reebok Nano X Versus Nike React Metcon
The Nike React Metcon ditches the dual density midsole of the Nike Metcon 5 for a single-density midsole made from Nike's React foam.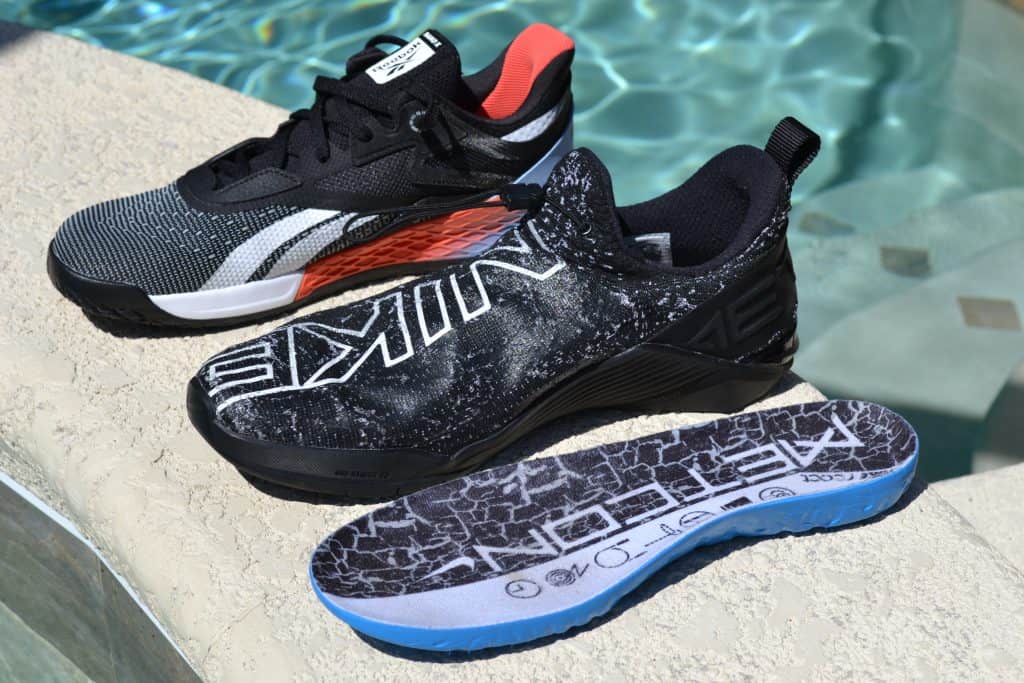 React is a cushioning system used in many of Nike running shoes that gives a light, springy, bouncy feel of crisp energy return with every footstep.
The problem in the Nike React Metcon is that the thin slab of React used is not nearly as thick as that in their running shoes – and so most of that magical feeling is lost.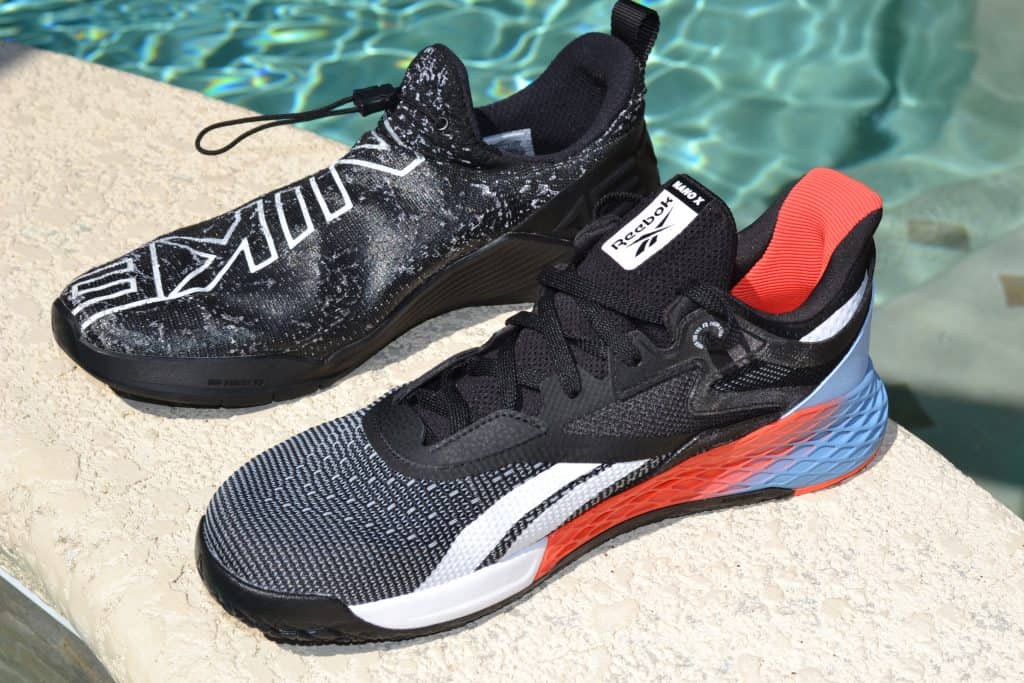 That said, it is a mild improvement in cushioning over the Nike Metcon 5 – albeit with a squishier feeling heel.
How does it stack up against the Nano X?
It does have more cushion underfoot – if that's what you want.
But I'm not a fan of the Nike React Metcon – it doesn't have regular laces, and the "Flyknit" used in this shoe is anything but the light, breathable version in the running shoes.
They really have called it something else.
For these reasons, I don't normally recommend the Nike React Metcon.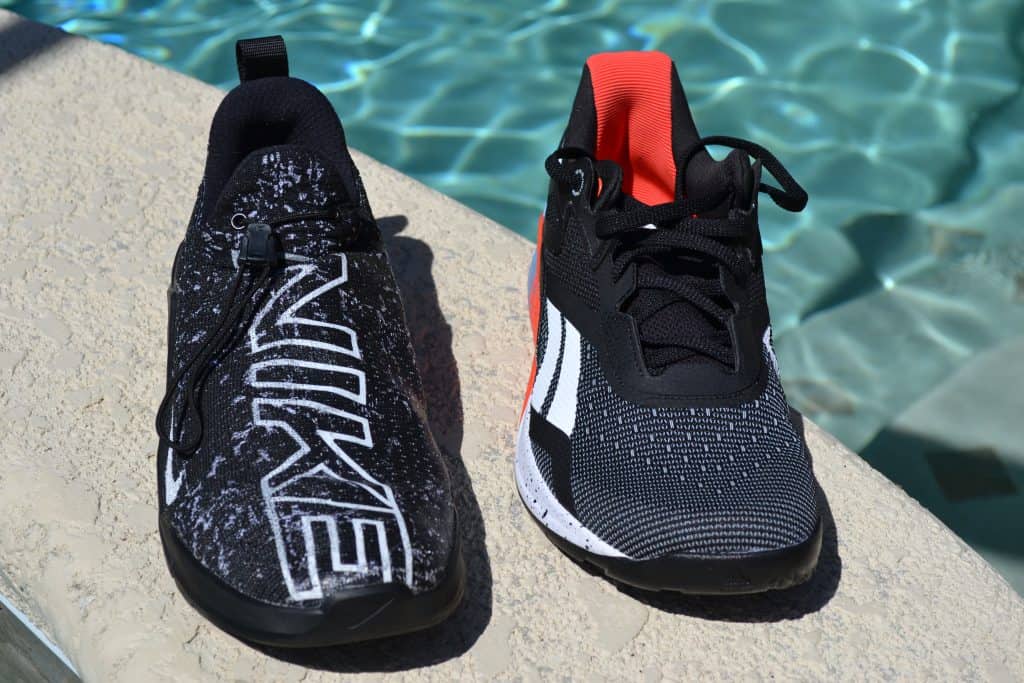 Reebok Nano X Shoe Review – In Summary
Reebok didn't mess with success. The Reebok Nano X is a mild iteration of the features we saw on the Reebok Nano 9.
I think that's what we all expected – they weren't likely going to do a major shoe reboot on the 10th version of the shoe.
That said, I like it a lot.
It feels more comfortable and is an excellent choice for a CrossFit or functional fitness training shoe.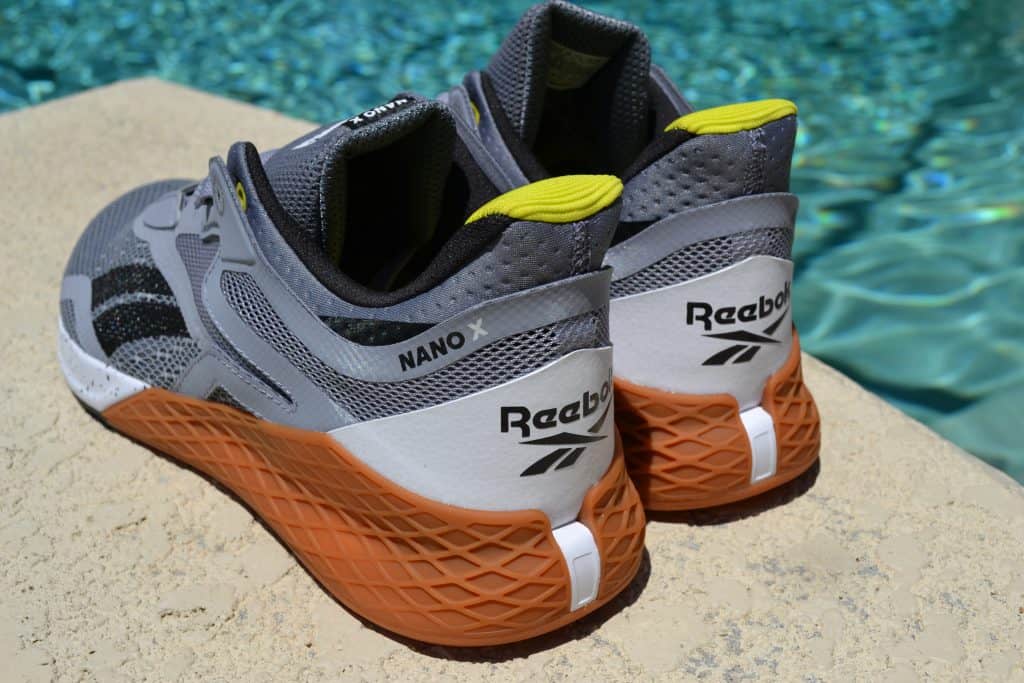 Photo Credits
Some product photos on this page are property of Reebok, Inc.
This website is not affiliated or associated with CrossFit, Inc. CrossFit is a registered trademark of CrossFit, Inc.
We are a Reebok affiliate, and if you purchase shoes or other gear after clicking the links in this article, we receive a small commission fee at no additional cost to you. This helps us to bring you our in-depth hands-on reviews of these products.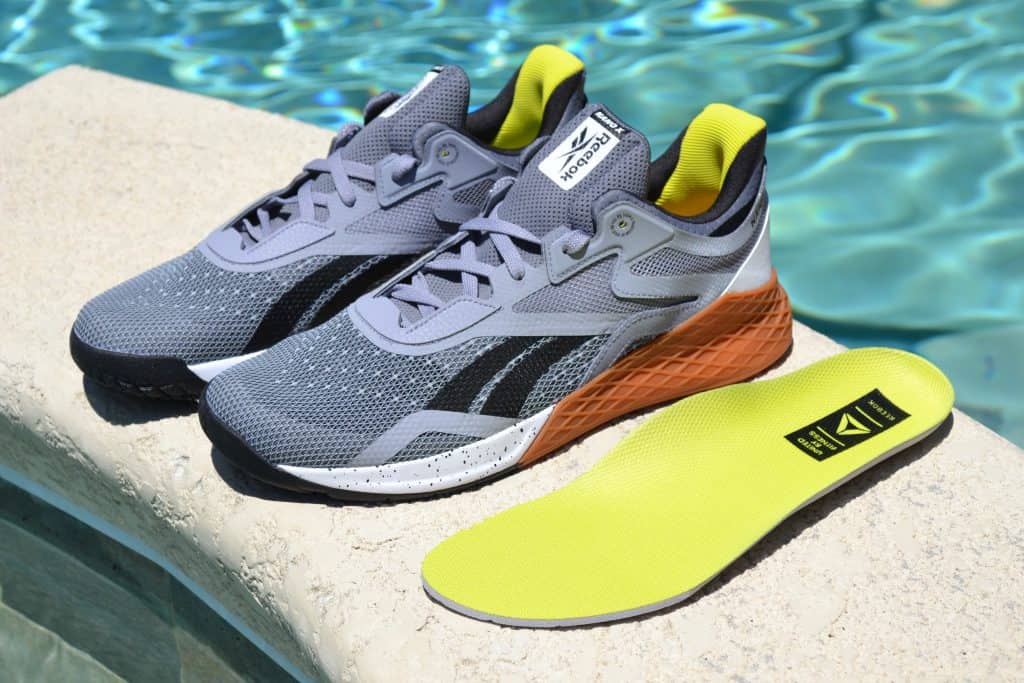 Tim is the founder of FitAtMidlife.com – an avid gym rat for 30+ years, he's a reviewer of many, many shoes – and founder of the Speed Bag Gathering – the world's only gathering of speed bag punching enthusiasts.  See more gym reviews at Tim's YouTube channel.