The Nike Metcon 5 is here!
And now we can compare it head to head with the other great CrossFit training shoe for 2019 – the Reebok Nano 9.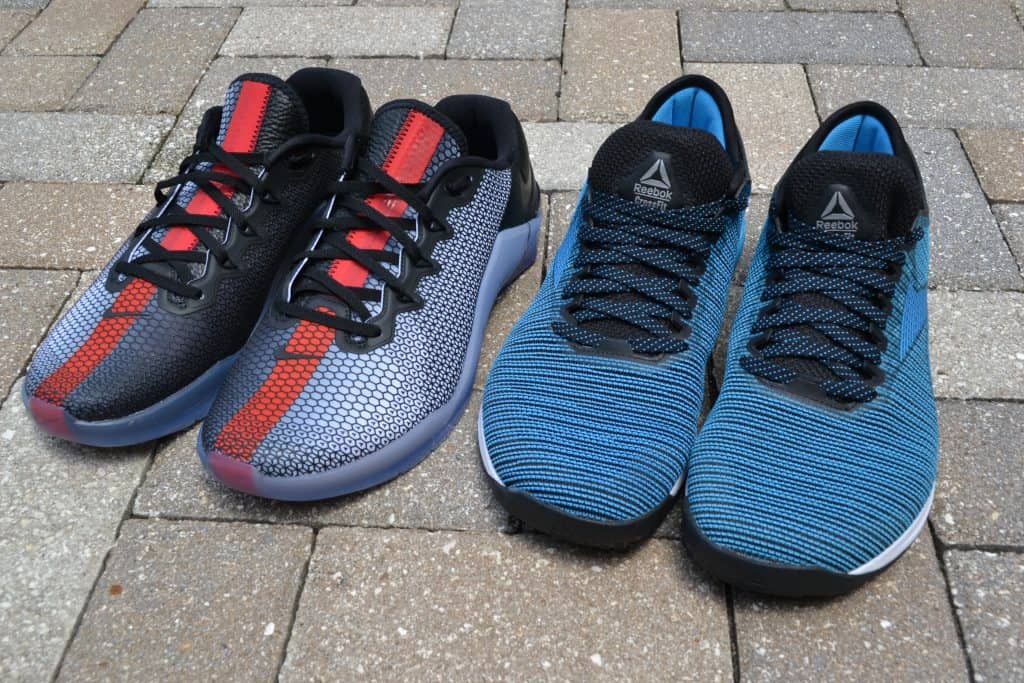 Let's take a look at these shoes and compare them.
We'll help you decide which is best for you.
Here's where you can get different styles of the shoes we'll review here:
With that out of the way, let's dive in and compare and contrast these two types of shoes.
Nike Metcon 5 Vs Reebok Nano 9 – Hands On Review on YouTube
Want an up close look at these two shoes? Check out our hands on review from YouTube:
Let's go into the details of these two great cross training shoes.
Nike Metcon 5 vs Reebok Nano 9
Let's start with the uppers. That's the part that covers your foot.
Reebok has used Flexweave again (as in the Nano 8).
That's a good thing because it is makes for a breathable and comfortable shoe.
For the Nike, the "haptic" upper is back. It's a breathable mesh with 3d printed reinforcements in varying patterns all over the shoe.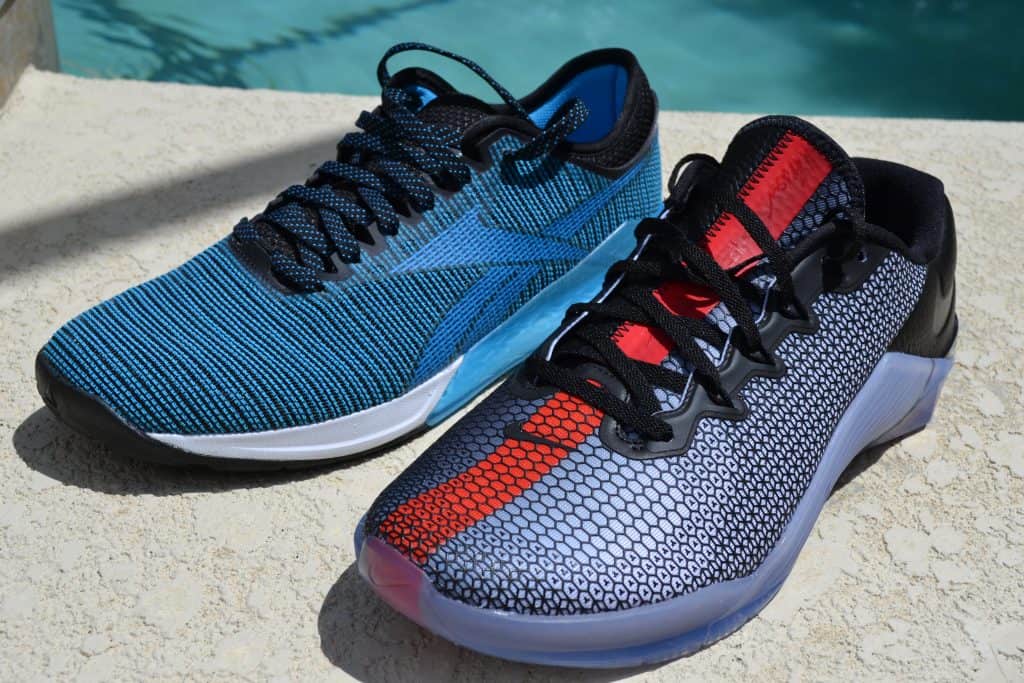 I don't have enough real world mileage on these yet to tell you which is more breathable. I'll update this article when I do. I can tell you that I think they are both going to be in the same ballpark – based on the thickness of the material in the upper.
Let's talk about heel to toe drop – also commonly just called "drop".
The heel to toe drop is the difference in height between your heels and toes.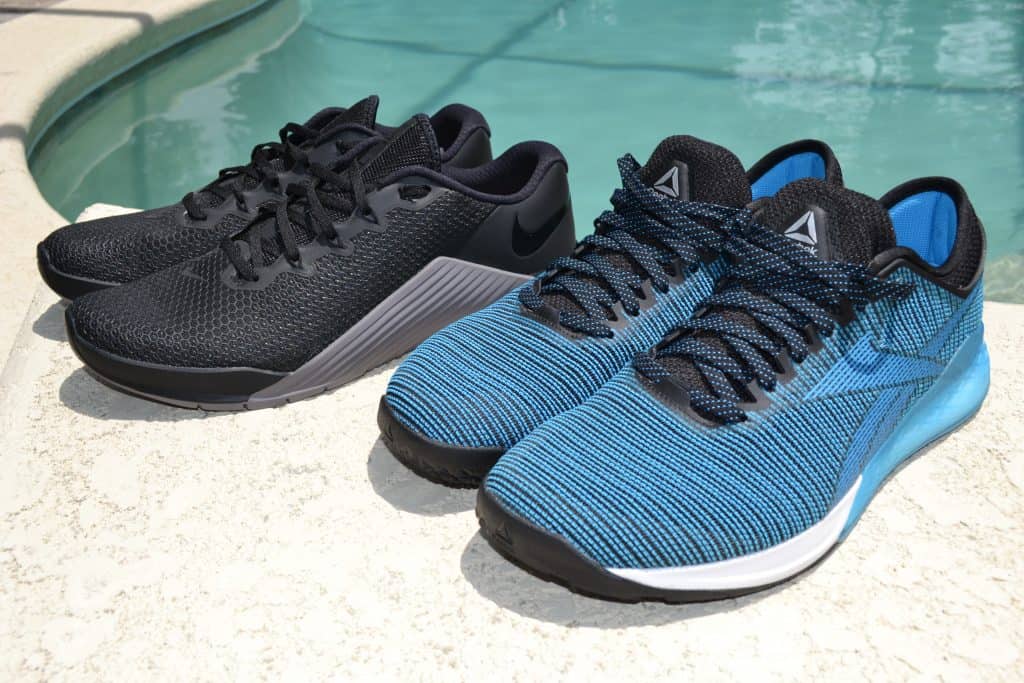 More heel raise makes certain things easier – like squatting.
But a very large heel raise makes other things more difficult – like running, jumping, etc.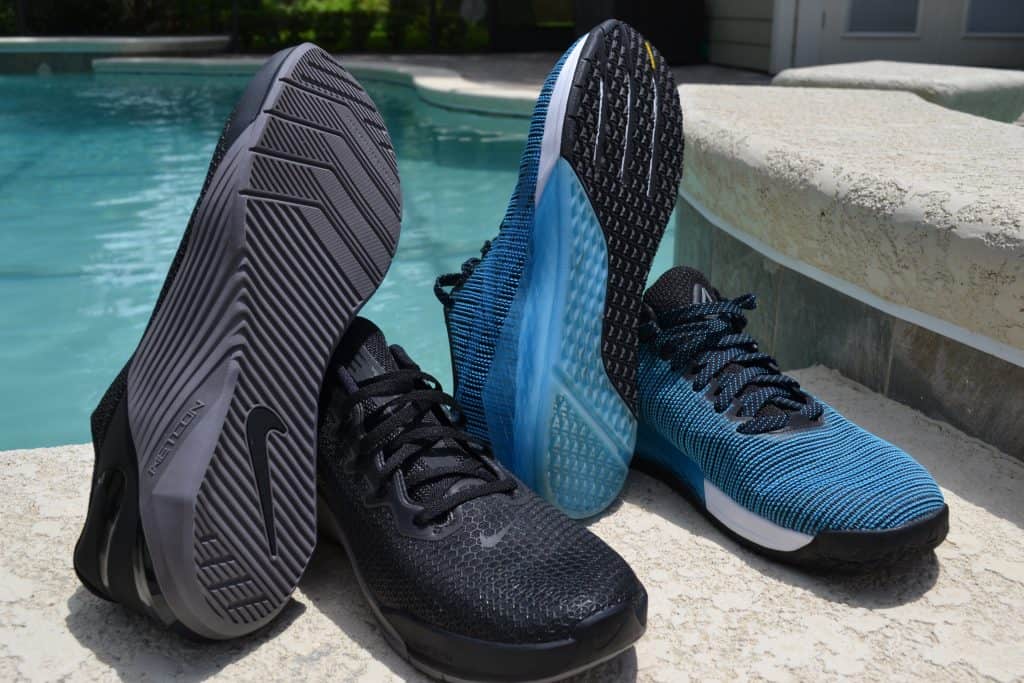 As such, both shoes have a 4mm heel to toe drop.
This makes them versatile.
But, Nike includes removable "Hyperlifts" for when you do want more raise (8mm additional in Men's, 6mm additional in Women's.)
Many trainees are finding these hyperlifts of great benefit for high volume pistol squats (one-legged squats) – as those require even more ankle flexion than a regular squat.
Both shoes have a similar profile. They are low cut on your ankle. The Reebok Nano 9 fits my heel better though. It's got more of a "socket" for your foot.
This isn't particularly an issue on the Metcon 5, but when you put the included Hyperlifts in, the shoe fits differently (because your heel is now an extra 8mm higher in the shoe).
That's always been my beef with shoes that have different insoles you can use for additional heel raise – each one will feel unique.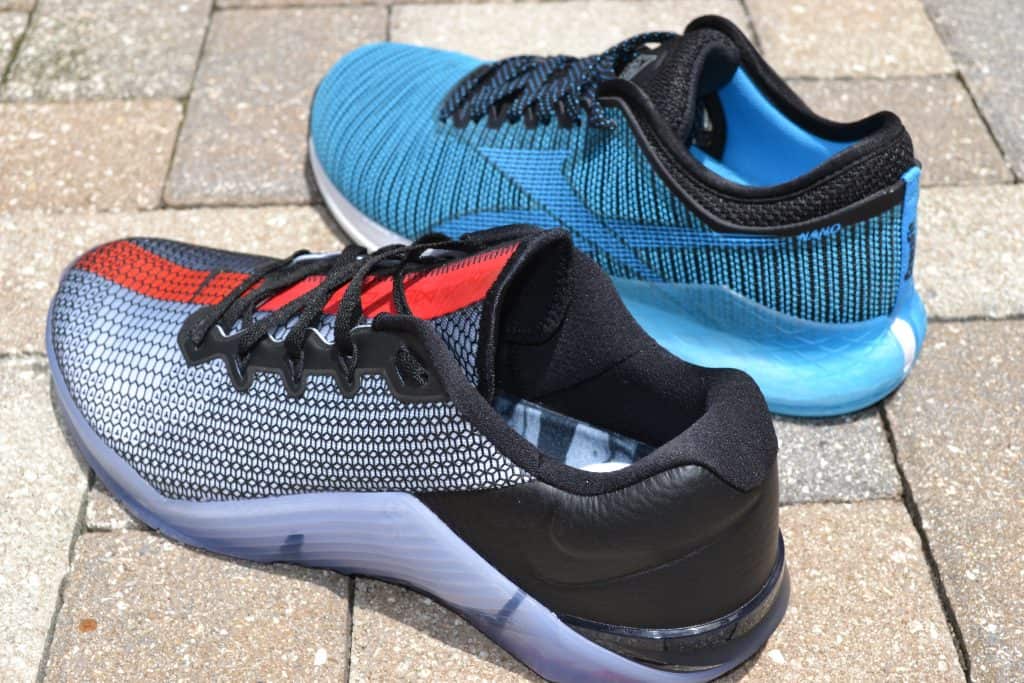 Here's the Nikes with the Hyperlifts in.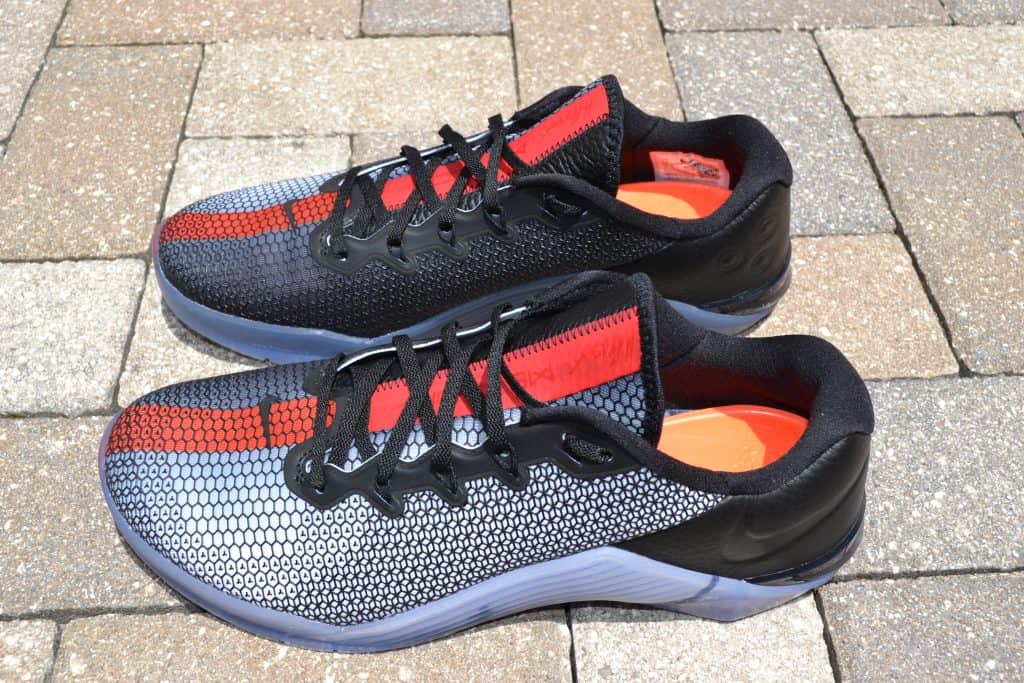 Here's a comparison of the soles.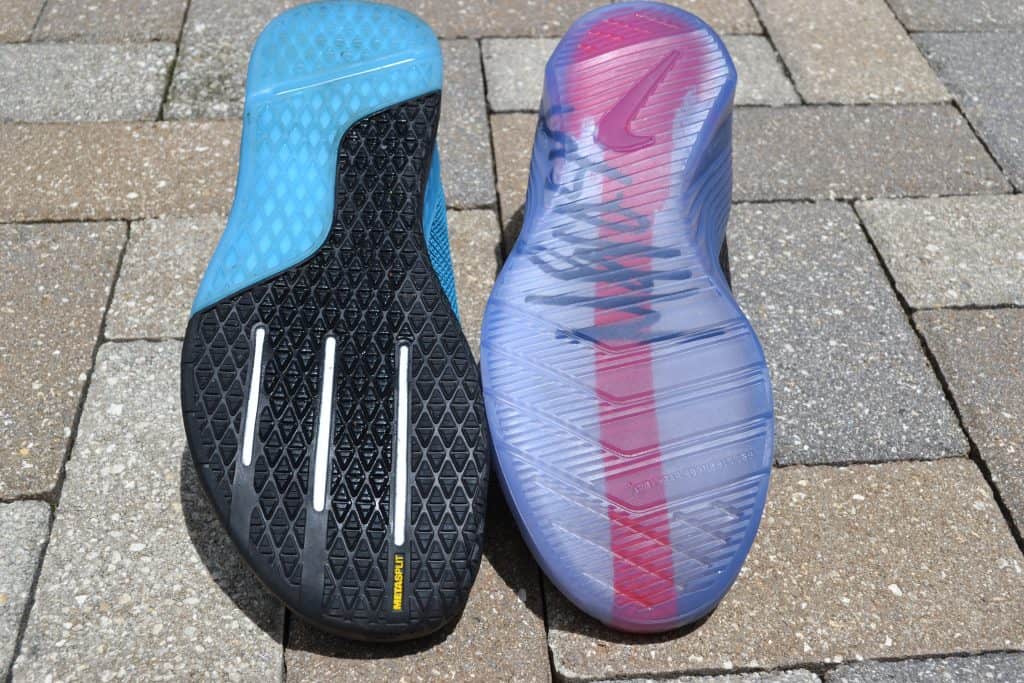 Both use a very grippy outsole material.
Traction seems fine in both – at least indoors or at the gym.
Neither of these make great turf or trail running shoes. But, that's not really what they are intended for.
You can see that the Nike Metcon 5 Mat Fraser edition uses a translucent sole and shows off Mat's signature.
It's a nice touch, but the regular Nike Metcon 5s don't have this – and I'm not sure how well that translucent sole will stand up over time.
I do really like the red racing stripe.
Both shoes claim good forefoot flexibility – and they do have that, but I'd have to give the Metcon 5 the win in regards to how flexible it is.
You can see that the pre-formed flex grooves on the Metcon 5 run side to side, while on the Nano 9 they do not.
That could be the difference.
Both have a very rigid heel that is perfectly adequate for lifting weights – squats, deadlifts, cleans, snatches, etc.
That's what I love about the cross training style of shoe – they are great for strength building workouts – without all the weight and discomfort of a real "lifter" (which can be heavy, clunky, and usually don't breathe well.)
Having said all that, if you are looking to hit a squat PR – I'd reach for a pair of lifters with a 20mm or so heel raise.
Let's look at the toebox.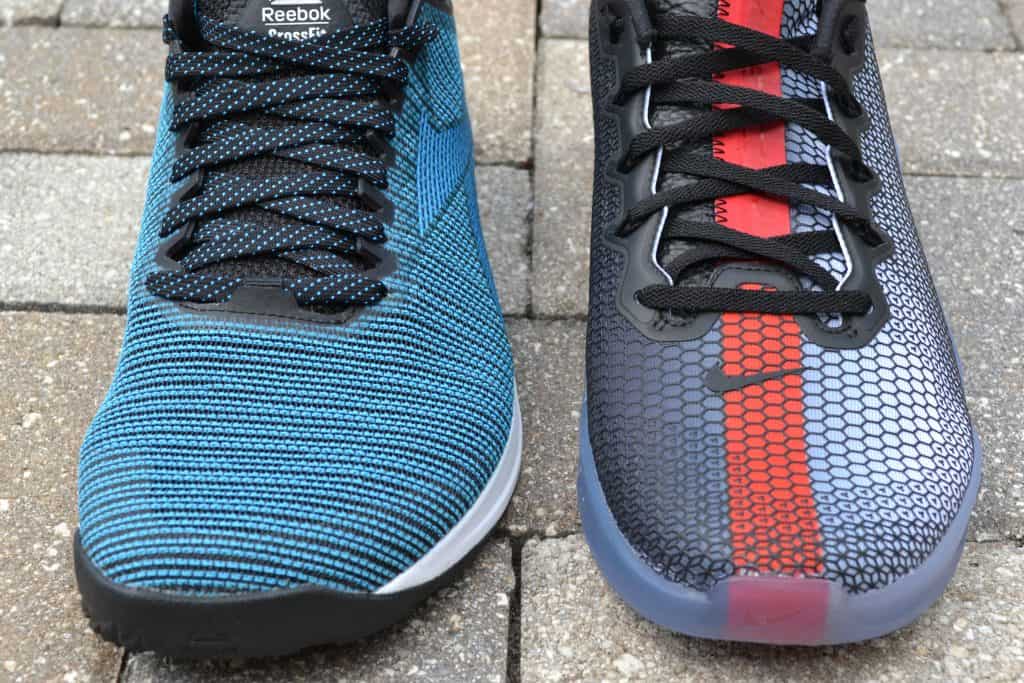 The Nano 9 brings back that really wide toebox.
It's easy to see the difference above.
The Metcon 5 is definitely narrower.
Does this make a practical difference? I guess it depends on how wide your feet are – but if you like the Nano 8 for this reason, you'll like the Nano 9 as well. (And not so much the Metcon 5).
NOTE: The Metcon 5 also runs a bit small compared to the Metcon 4 XD. I recommend you go 1/2 size up for the Metcon 5.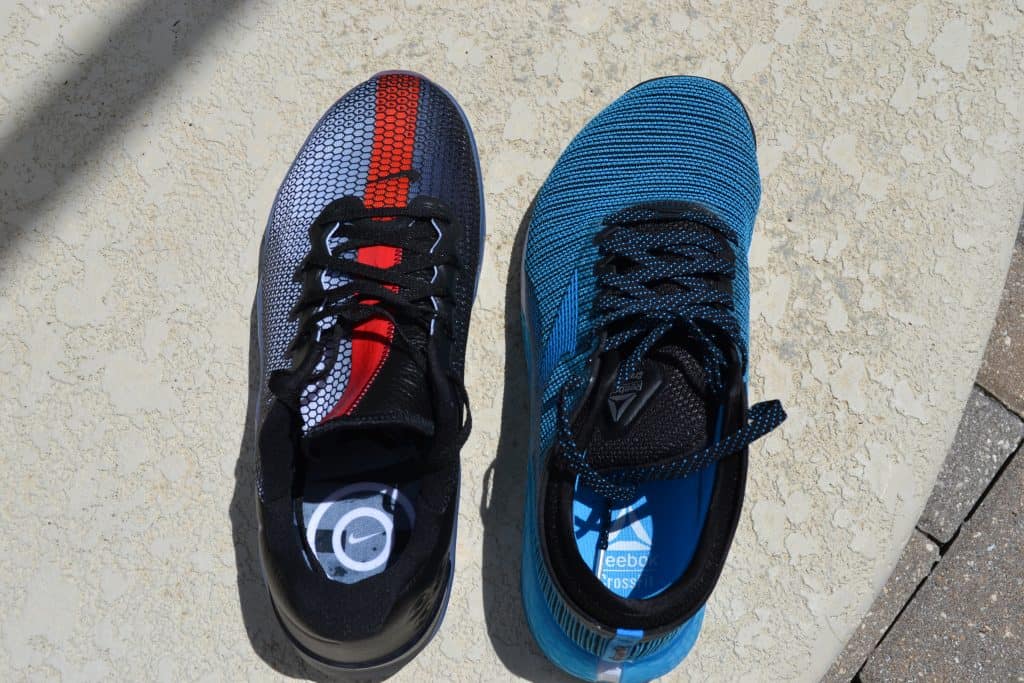 One thing I do love about the Nano line – they are great for all day wear – long distance walking, etc.
They have more cushion in the midsole.
I can't say definitively yet where the Metcon 5s fall.
But they have really improved the cushioning – it's a much more comfortable shoe to wear all day.
Nike is also bragging about a more cushioned tongue in the Metcon 5.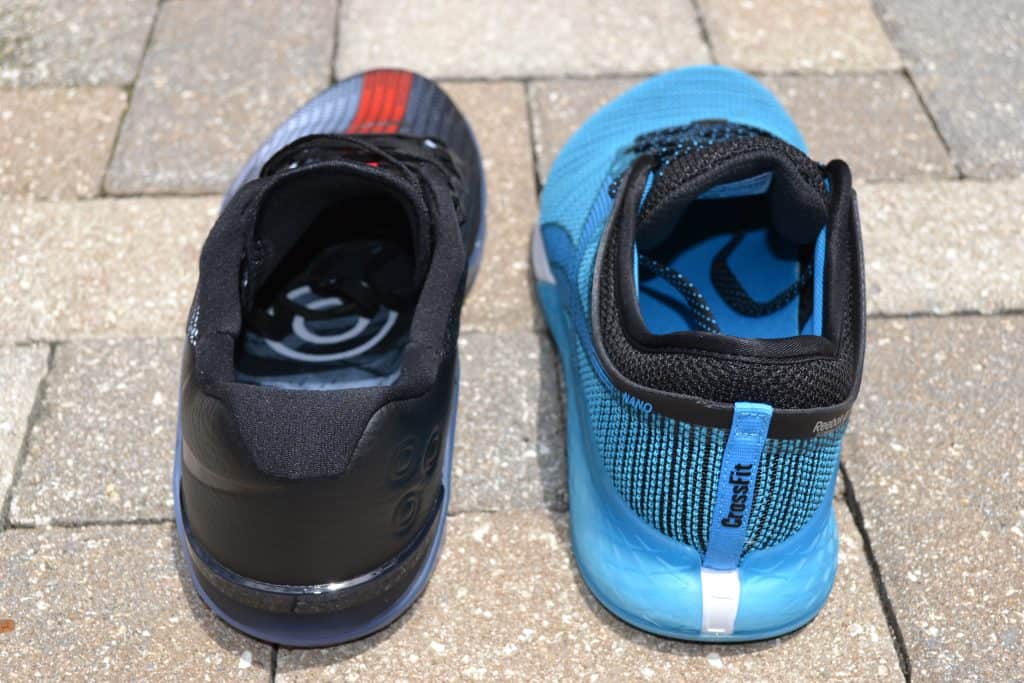 Indeed it has cushion – this is a key difference compared to the Metcon 4 XD.
But it's got nothing on the Nano 9 – which has a tongue cushioned like a pillow in comparison.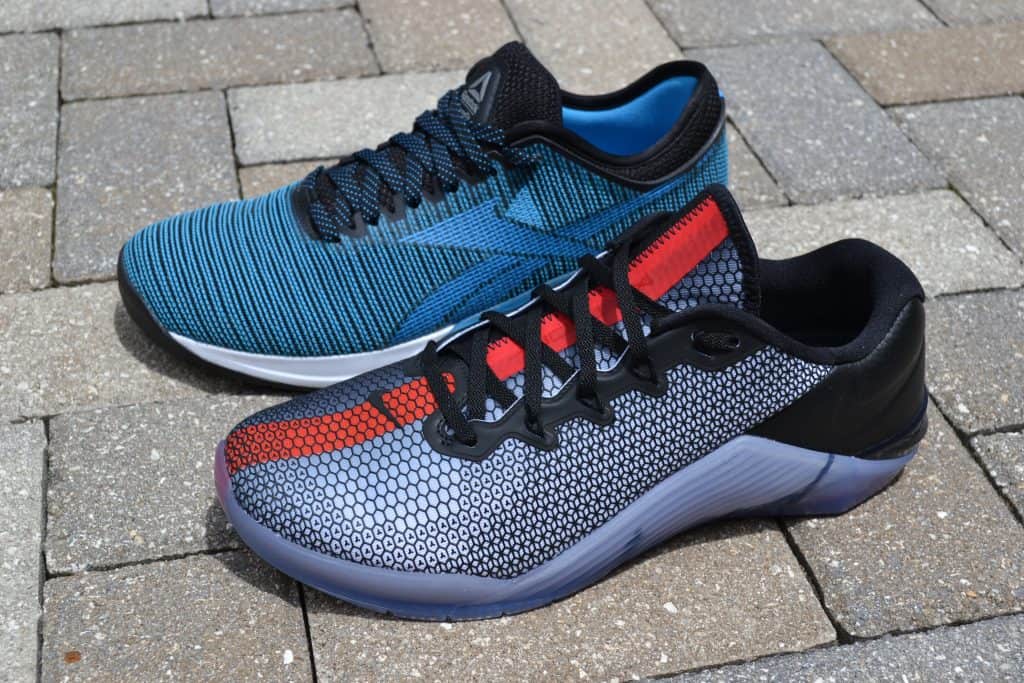 One more thing I'm sure you are dying to know.
Has Nike fixed the dreaded Metcon squeak?
(The previous Metcon shoes are known to be some of the noisiest around.)
I can't say at this time.
The issue is that the Metcons use a drop-in midsole.
So far, it is NOT squeaking – but I haven't removed it yet.
It seems to me like once you take them out or move them they are more prone to squeak.
The internet recommended solution for this is to drop some chalk or foot powder in between the drop-in and the outsole.
I can tell you the Nano 9s don't make any unusual noise – nor have any previous Nano that I've tried.
Let's look at the rope climbing abilities of these shoes.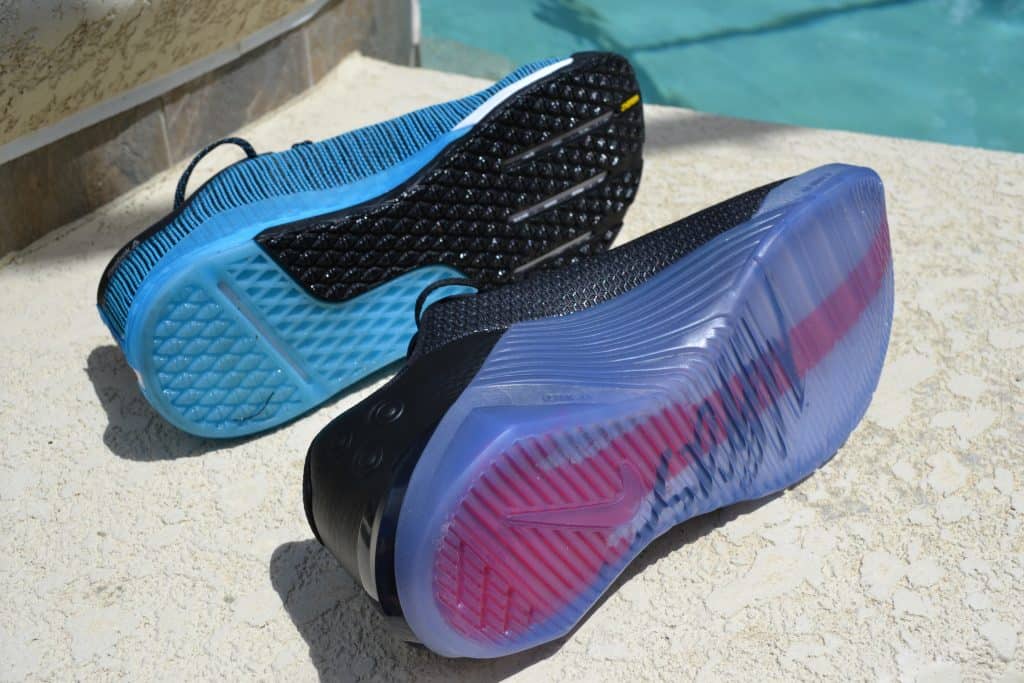 I don't have a rope to climb, but to me the Metcon 5 looks like it would work much better.
With the Metcon 5 they've made the "rope wrap" crazy large.
Further, it's got a directional tread pattern now for even better grip.
Here's a close-up – you can see the deep grooves.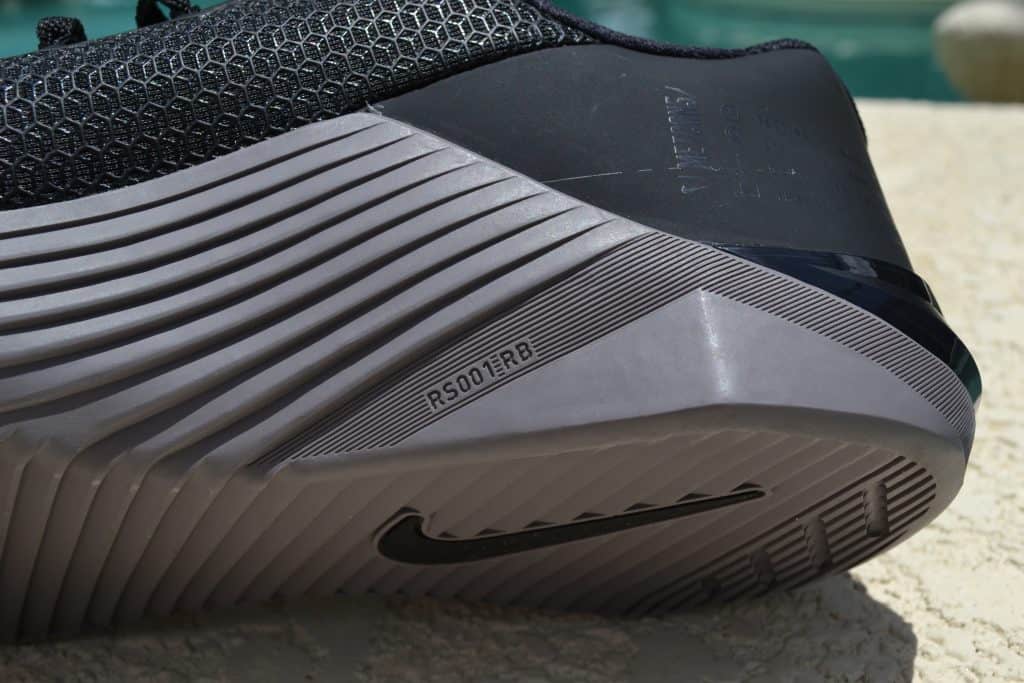 There's not anything really like that on the Nano 9.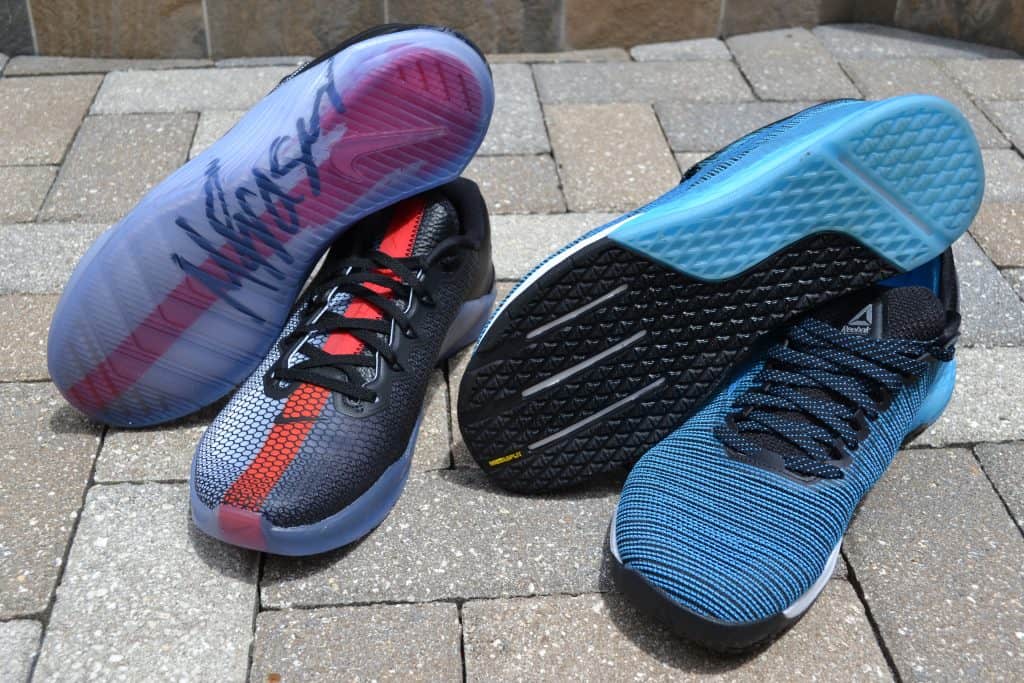 Reebok Nano 9 vs Nike Metcon 5 – Weight
Both these shoes have "evolved" over several iterations.
With each release they add new things.
And that weight is starting to pile up.
Both shoes, in a Men's size 11, weigh in at 13.6 ounces.
That in and of itself means nothing. But consider that the previous iterations of both the Metcon and Nano were over 1 ounce lighter.
The Nano 8, for example, is 12.3 ounces.
The Metcon 4 was a svelte 11.3 ounces, the Metcon 4 XD plumped up to mid 12 ounces.
Can you feel a difference? Maybe not, but I'd rather have light training shoes.
Reebok Nano 9 vs Nike Metcon 5 – In Summary
Overall, both of these shoes seem like great options.
Obviously, this isn't a long term review of the Nike Metcon 5 – they just came out.
But as is the case with the Reebok Nano 9 – Nike knew not to mess with success.
Many of the features of the earlier shoes are back – that goes for both the Metcon and Nike.
Give these shoes a try for your next workout.
Why Rogue Fitness Products?
We're a
Rogue Fitness
affiliate – so if you order equipment after clicking the links in this article we receive monetary compensation. But that's not why we recommend Rogue. It's because their equipment is tough, durable, well-made, and offers the "best of the best". Their innovative designs and diversity of options make your training better – allowing you to reach your personal goals faster. And that's why we love them.
Nike Metcon 5 vs Reebok Nano 9 Photo Credits
Reebok Nano 9 product photos are courtesy of Reebok
We are a Reebok affiliate, if you purchase after clicking links in this article we receive a small commission at no additional cost to you.
Some Nike product photos are courtesy of Nike
Some product imagery on this page is property of Rogue Fitness and provided by Rogue Fitness.
This website is not affiliated or associated with CrossFit, Inc. CrossFit is a registered trademark of CrossFit, Inc.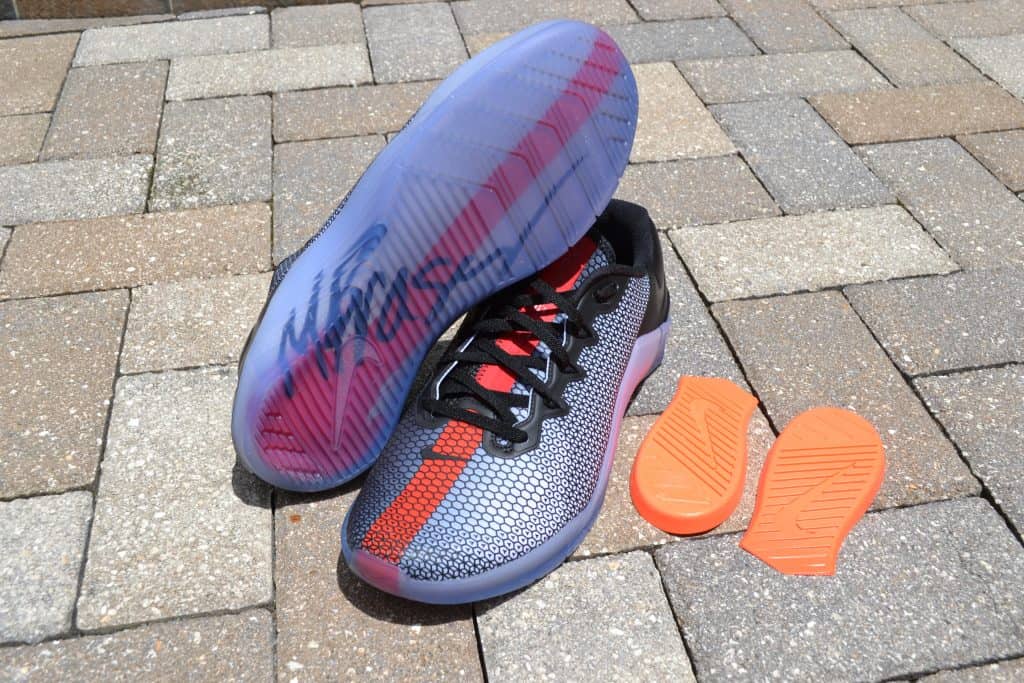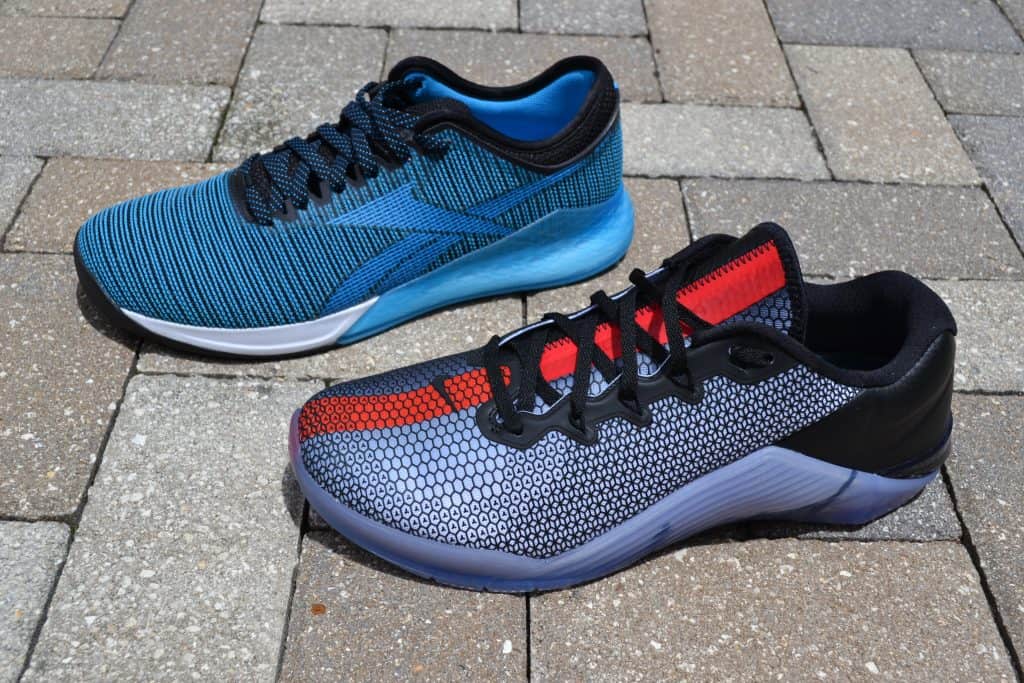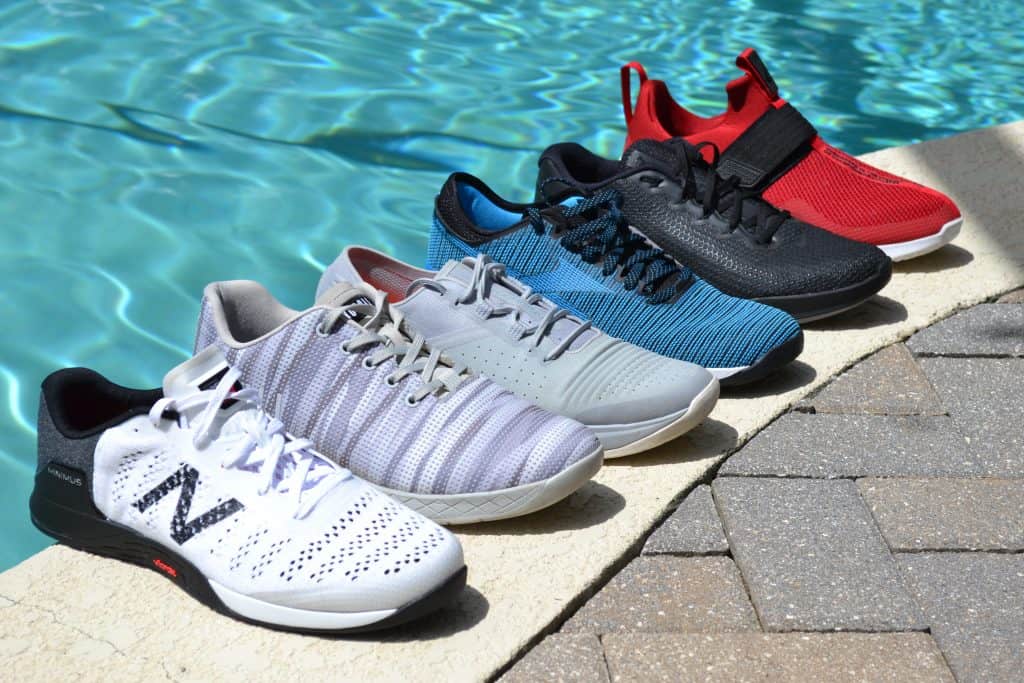 Tim is the founder of FitAtMidlife.com – an avid gym rat for 30+ years, he's a reviewer of many, many shoes – and founder of the Speed Bag Gathering – the world's only gathering of speed bag punching enthusiasts.  See more gym reviews at Tim's YouTube channel.