Let's review the new Rep Wall Storage solutions.
Imagine your house with no cabinets or storage for clothes, shoes, kitchenware, toiletries, etc. It looks chaotic, right? Imagine the same to your garage gym – your barbell plates, belts, bands, bars, rollers, and other equipment all lying down on the floor. Aside from showing how disorganized you are, it is also not a pleasant sight to look at. Good thing there are storage and racks where you can store them to keep your garage tidy and organized.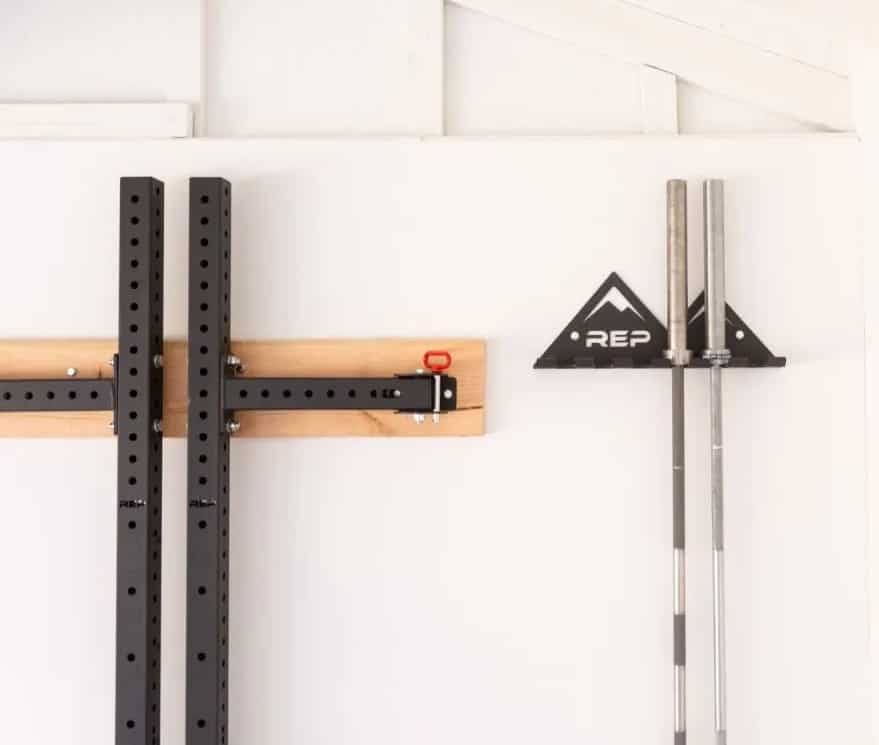 Here are some of the styles we are going to look at:
Rep Wall Storage – Overview
Whether it's a steel shelf storage or a simple DIY project, having an organized area can make a huge difference. There are various kinds of storage, but wall storage can be the most reliable way to build a space-efficient and coordinated training space. With wall storage, your gym will not look like a storage unit anymore, but a bigger floor space to work out in.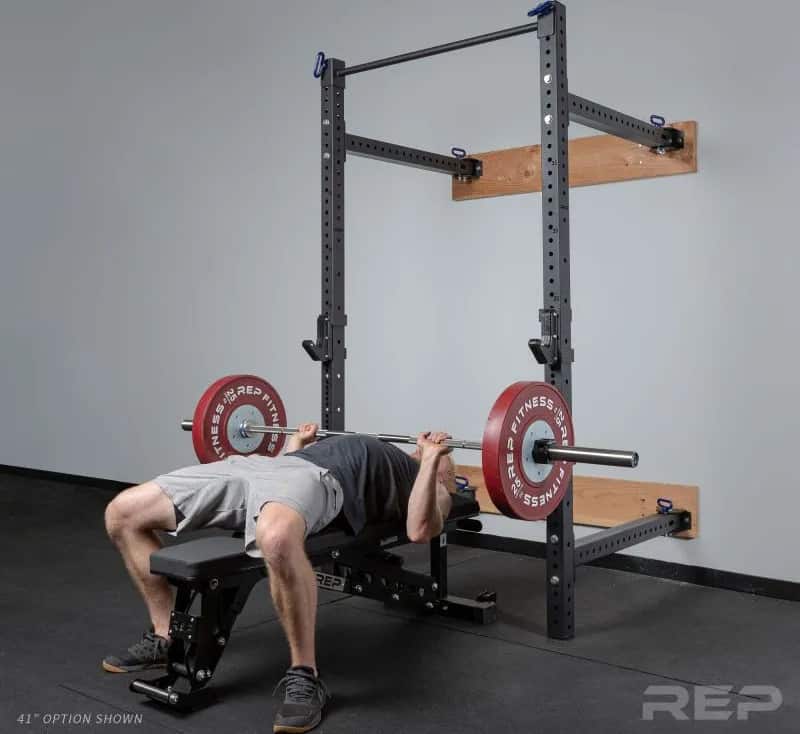 We have wall storage from Rep that will bring a quick fix to the limited space you have in your garage. Some of them are folding racks that you can install securely and quickly against the wall after use, but all of them are wall-mounted and will keep your equipment securely organized and at bay.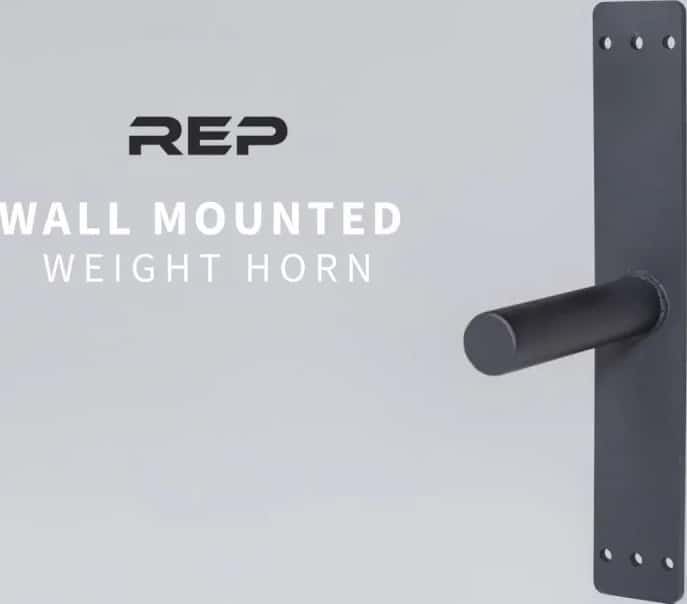 Rep Multi-Use Wall Storage
Rep Multi-Use Wall Storage highlights laser-cut twin peaks inspired by the Rocky Mountains. This impressive 7-pronged storage hanger carries up to six barbells or other equipment, weight belts, jump ropes, chains, or mobility bands.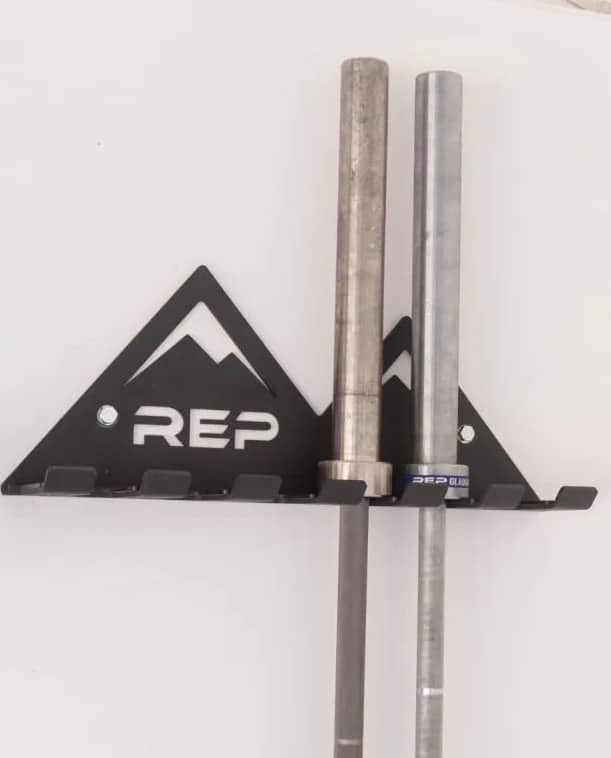 You can pair it with Rep Fitness' Single or Double Plate Weight Storage to create a comprehensive zero-footprint weight storage solution to achieve a closely "stockless" structure.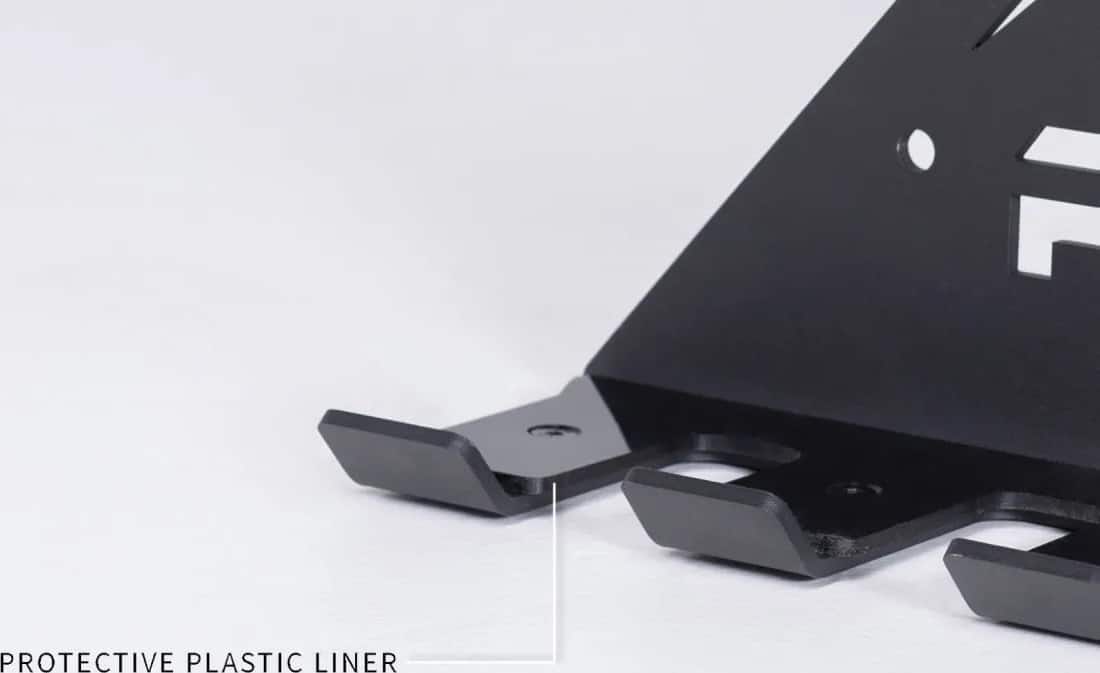 Rep Wall Mounted Plate Storage
Rep Wall Mounted Plate Storage is designed for a minimal footprint. It is wall-mounted and holds your Olympic and change plates organized and off the ground.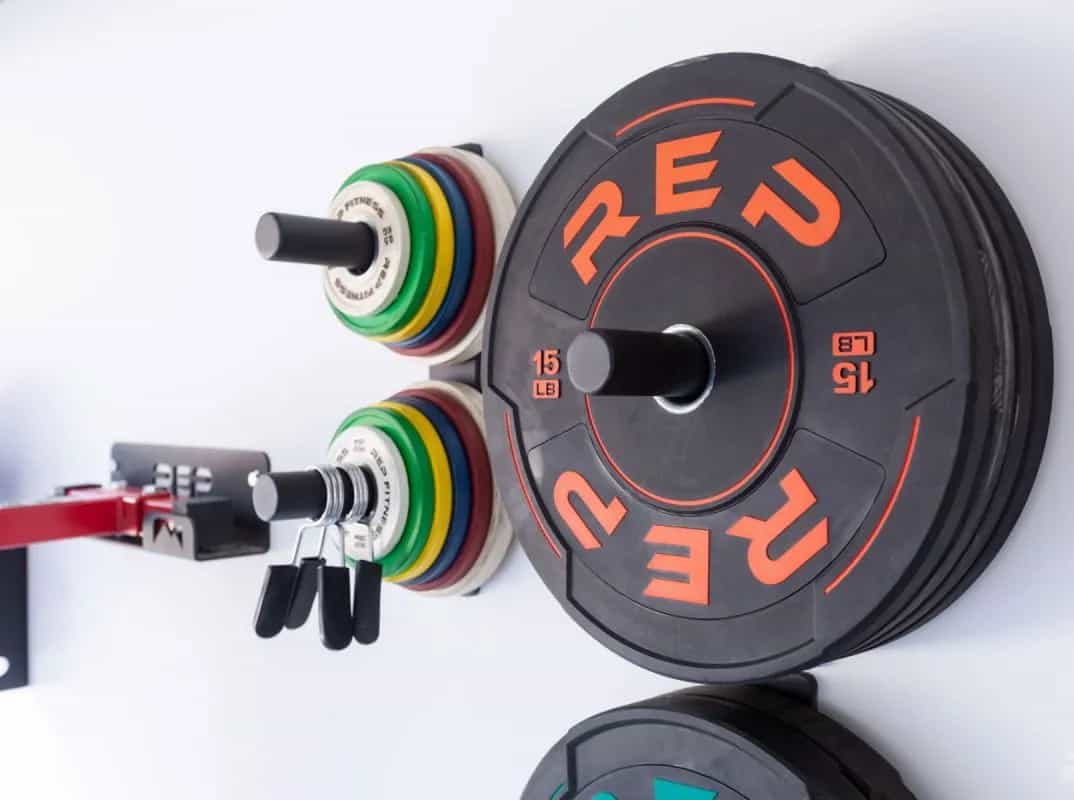 It is crafted from compact steel with traditional 16-inch stud mount spacing. Rep Wall Mounted Plate Storage is a tried-and-true space-saving weight storage system that gives a raised touch to any home gym.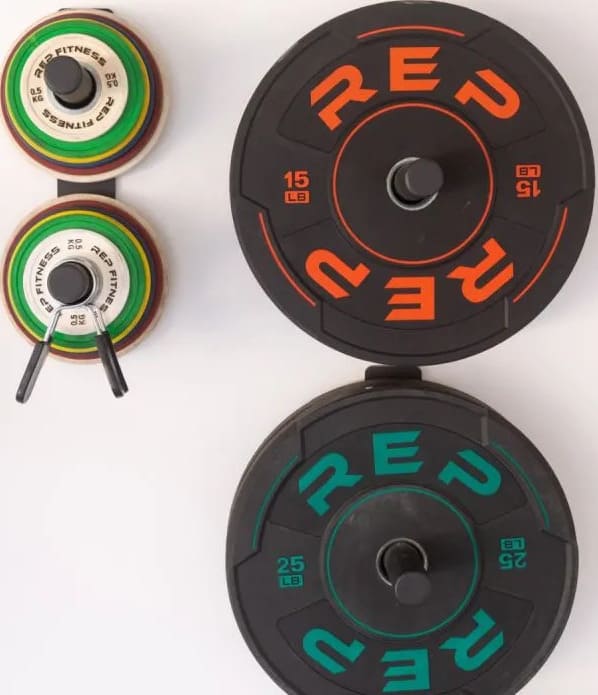 Rep Ball Storage
Medicine balls are great for training explosive movements, but they create some storage headache. Free up valuable spaces with Rep Fitness' zero-footprint Ball Wall Storage shelf. This Ball Wall Storage shelf is designed to grow with your home or commercial gym. The rack can be set up for large or small medicine ball sizes, as well as slam balls.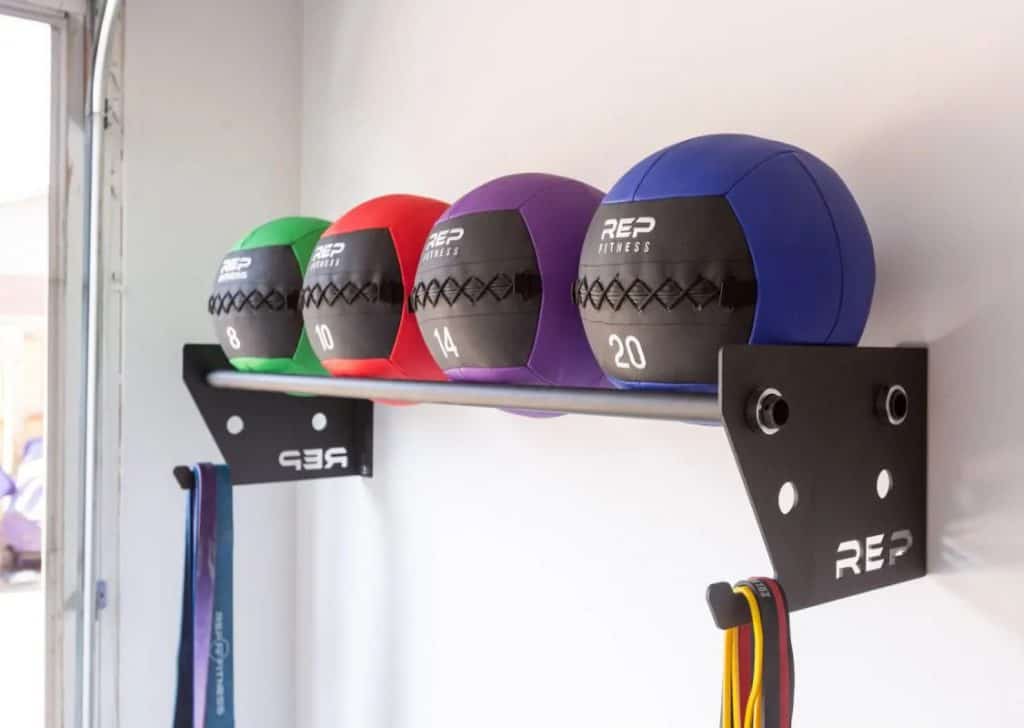 It also includes versatile arm hooks to stock weight belts, jump ropes, elastic bands, even a barbell. You can effortlessly add shelf expansion to fit your new toys as your collection expands. It is fast and easy to install, making it a no-fuss storage solution perfect for a gym with a complete medicine or slam ball collection.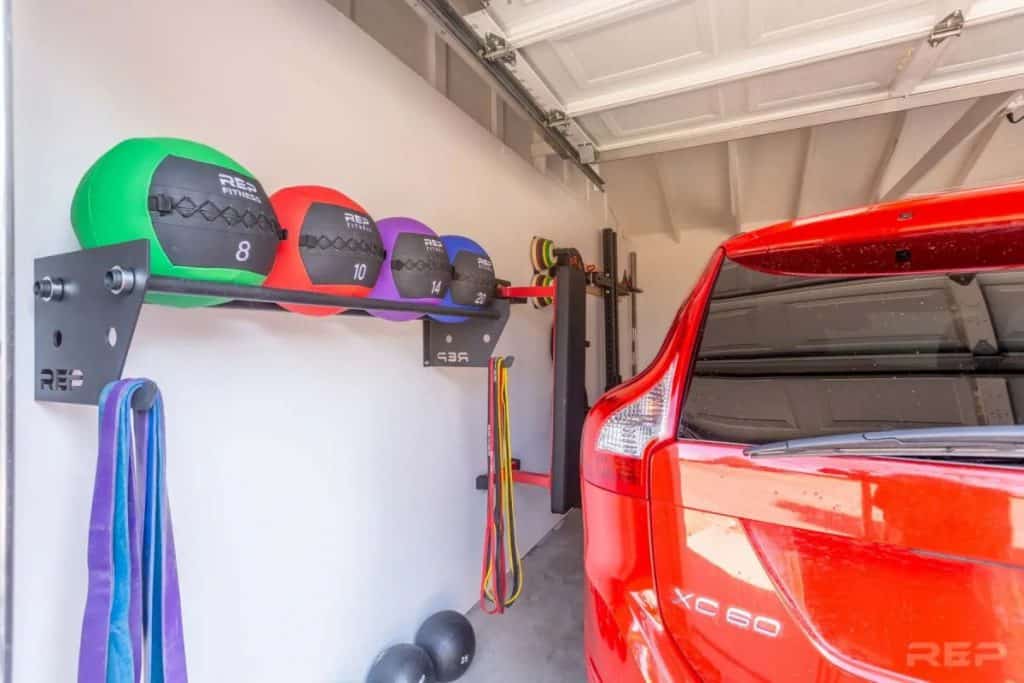 FB-3000 Flat Bench
FB-3000 Flat Bench is constructed with heavy-duty 11-gauge steel that can easily handle 700lbs with no sweat. This series highlights Rep Fitness' gripper pad material made from durable vinyl upholstery. The bench height permits precise positioning of the feet for the excellent back arch to push up heavyweight with good form.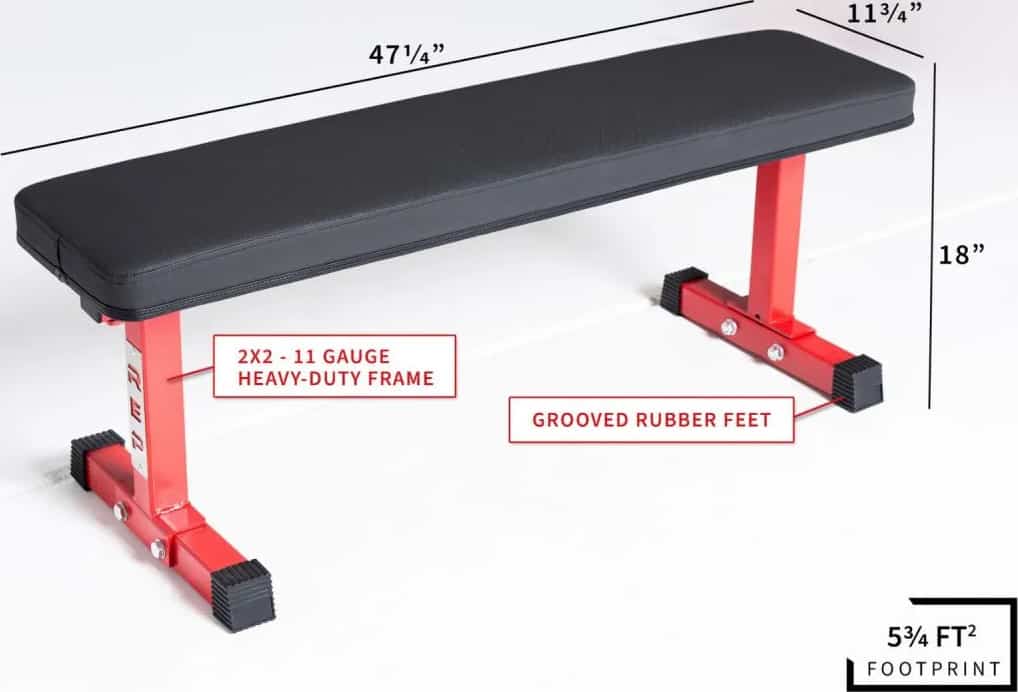 This vertically mounted bench hanger can be installed effortlessly and firmly into studs or concrete with its 16-inch spaced mounting holes. The bench hanger is 3.43″ deep, highlighting a compact 18 x 5.25 x 4.25 footprint, making it the ideal space-saving answer for your FB-3000 flat bench, adding a professional finish to any home gym.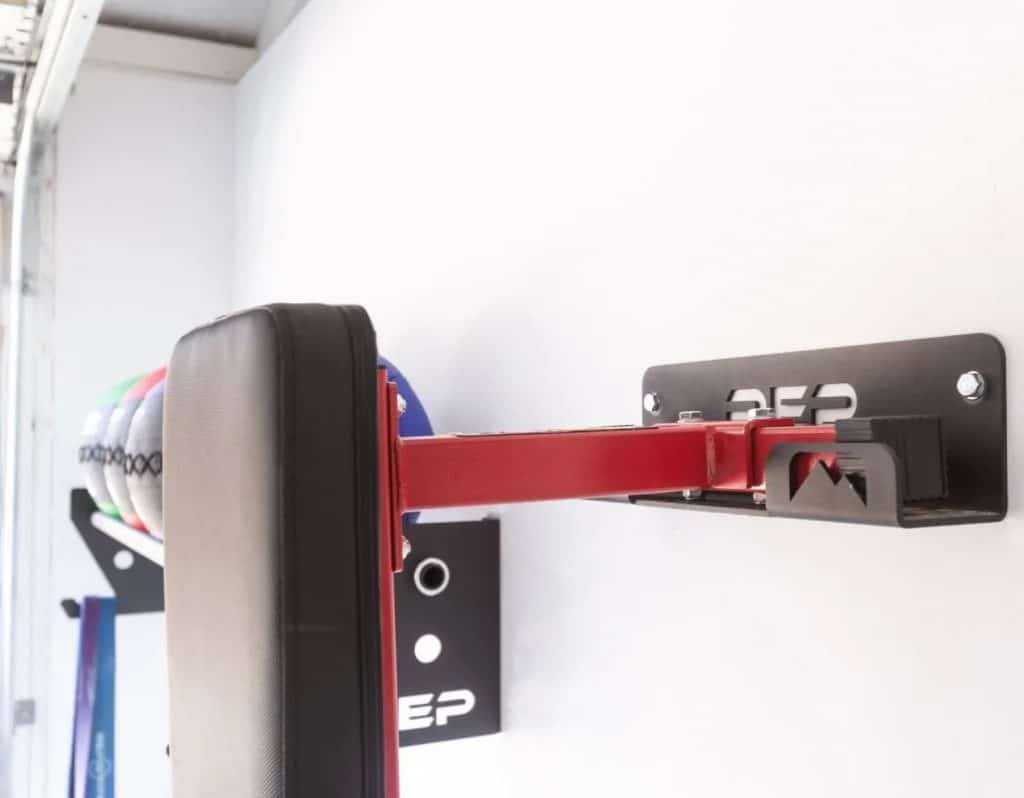 Rep Gun Rack Barbell Storage
Rep Gun Rack Barbell Storage is a horizontal wall-mount design that saves space and keeps your bars organized. It comes in an 8-bar or 3-bar model and has protective plastic-lined brackets which preserve your bar's finish.
This is a firmly built wall rack with heavy powder coating and non-metallic material to keep the bars from abrasion. It is also very easy to install and a great way to keep your bars out of the way in-between workouts.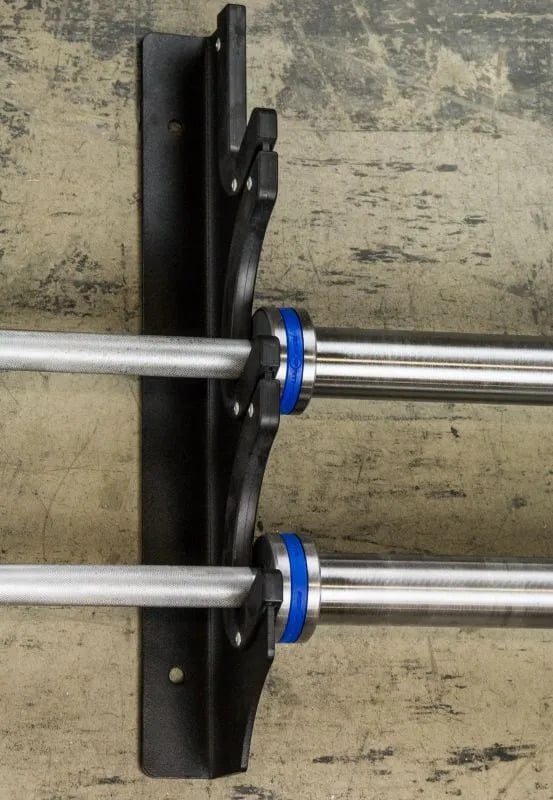 Rep Wall Mounted Gym Storage Rack
Rep Wall Mounted Gym Storage Rack is dependable general storage for any gym accessory – from belts and chains to bands, jump ropes, etc., to barbells and even med balls.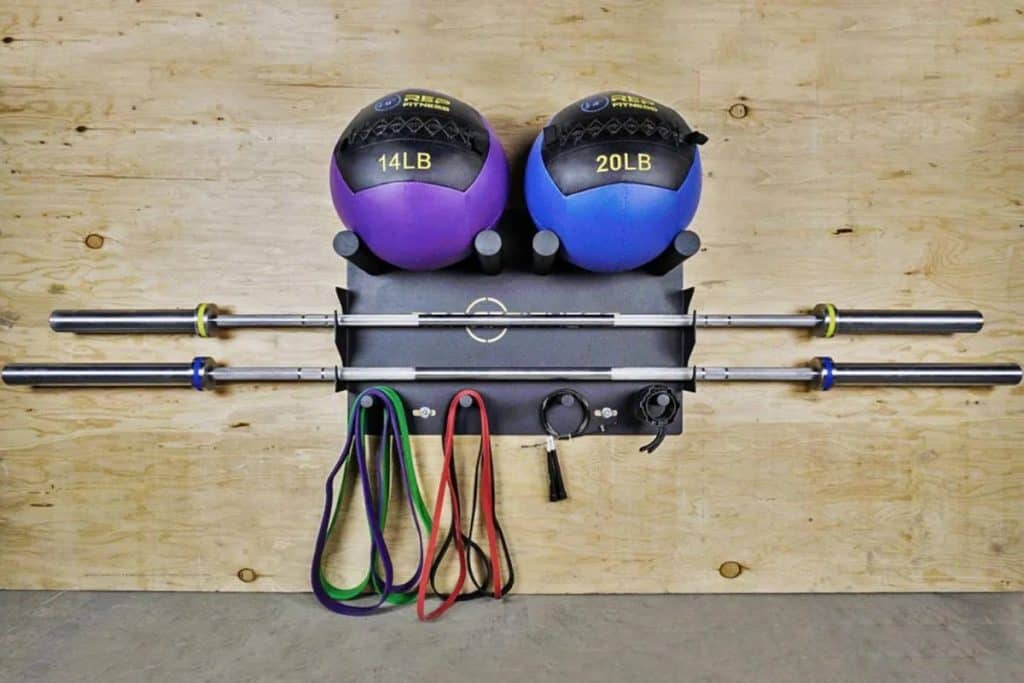 This functional storage is easy to mount and has a dimension of 29.5″ long x 19.5″ tall x 11″ deep. This storage is perfect if you want to organize your accessories and add an aesthetically charming item to your home gym.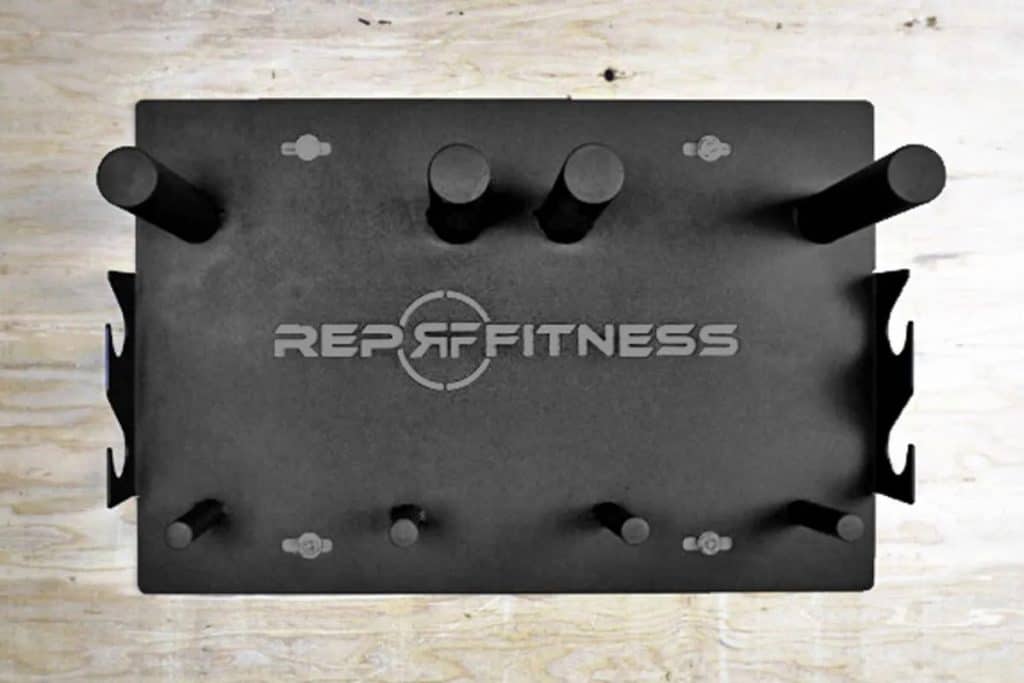 Rep PR-4100 Folding Wall Mount Squat & Power Rack
The 3×3″ 11 gauge steel uprights of PR-4100 make this rack exceedingly robust for the most challenging workouts. It has protective caps on the bottom of the uprights to ensure an effortless setup and protection for your floors.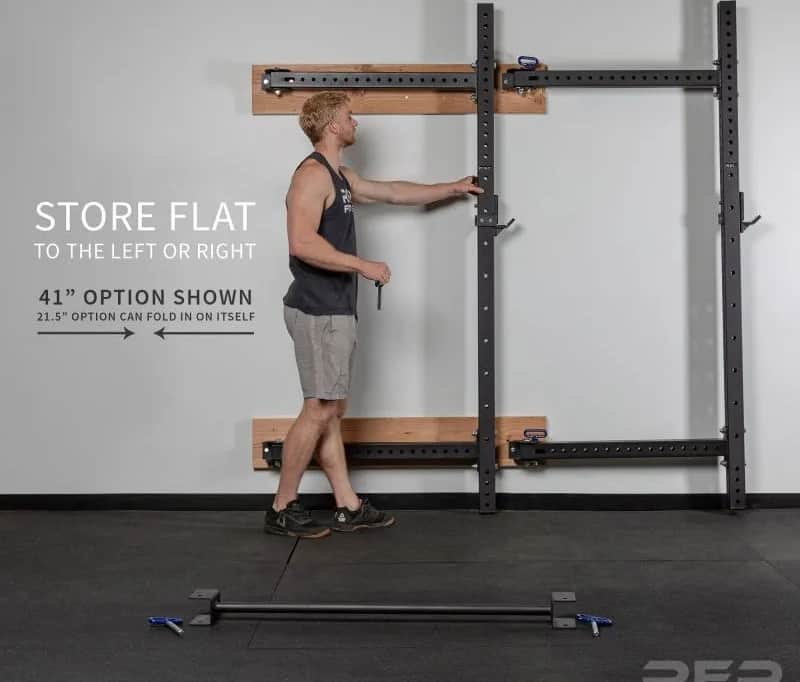 The 21.5″ option can fold in on itself and take up 6.5″ from the wall. The 41″ option can fold left/right or partially to take up 24″ from the wall. It is also recommended for people performing kipping pull-ups or muscle-ups because of the out/back body movement.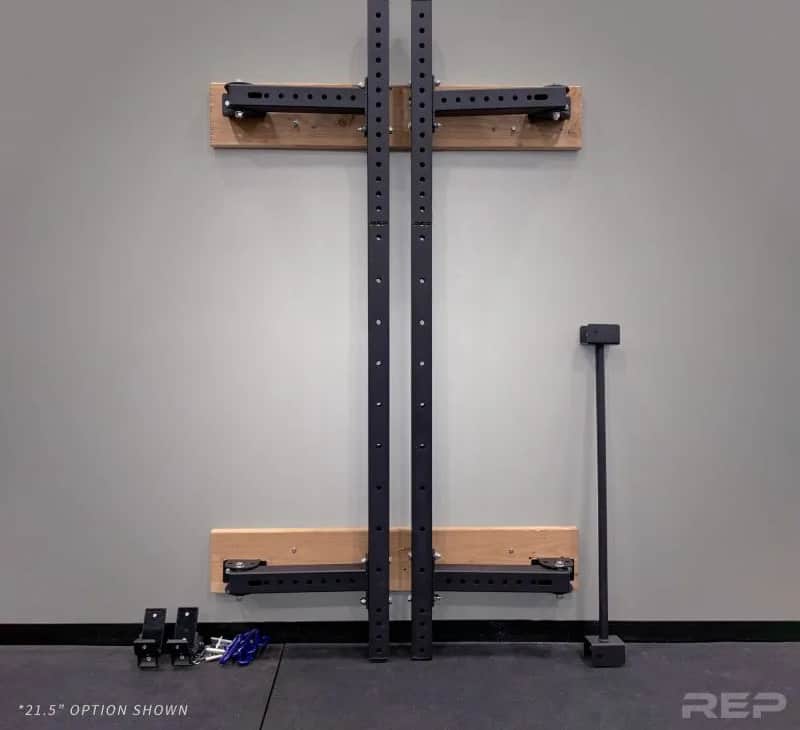 Rep Wall Storage Overview – In Summary
That's our overview of Rep Wall Storage.
Creating a space-efficient and coordinated training space has never been this easy with these wall storage and racks. Using wall storage can help better organize your gym equipment giving more available space for your gym. They are heavy-duty, easy to mount, functional, and will keep your equipment protected and out of the way.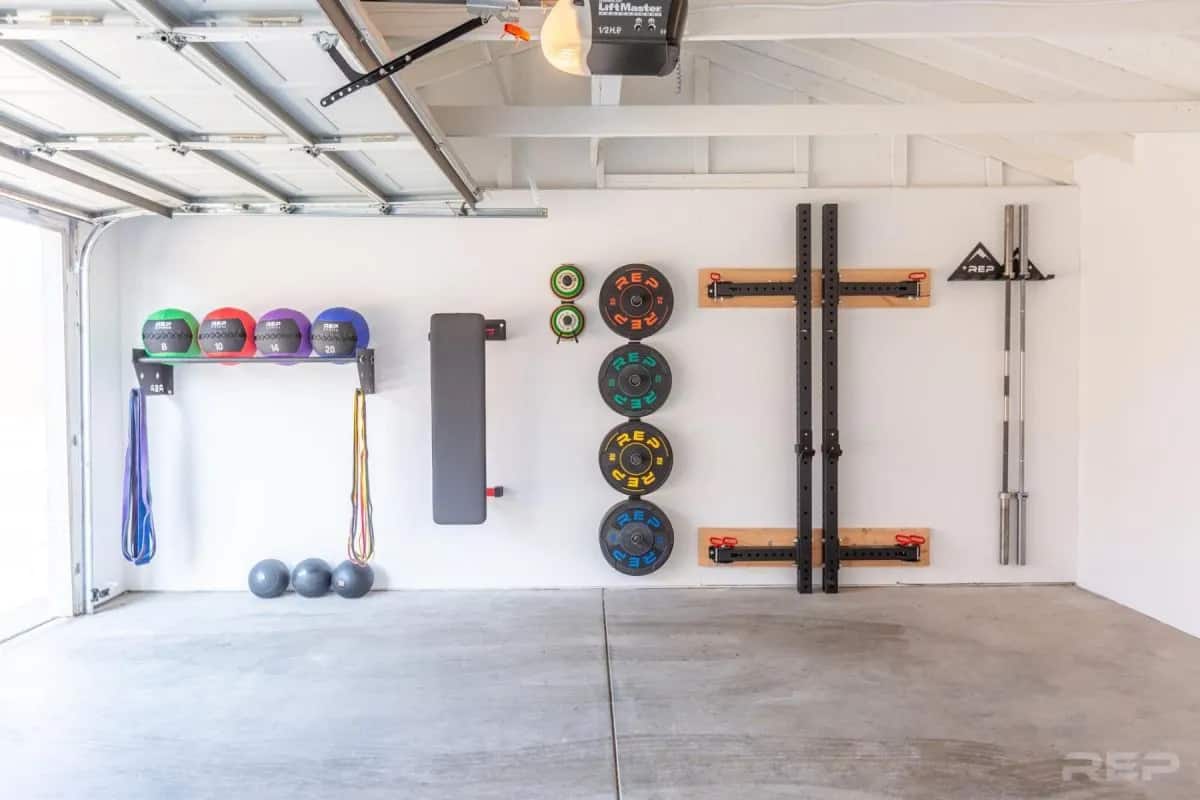 Photo Credits
Product photos on this page are property of Rep Fitness.
This website is not affiliated or associated with CrossFit, Inc. CrossFit is a registered trademark of CrossFit, Inc.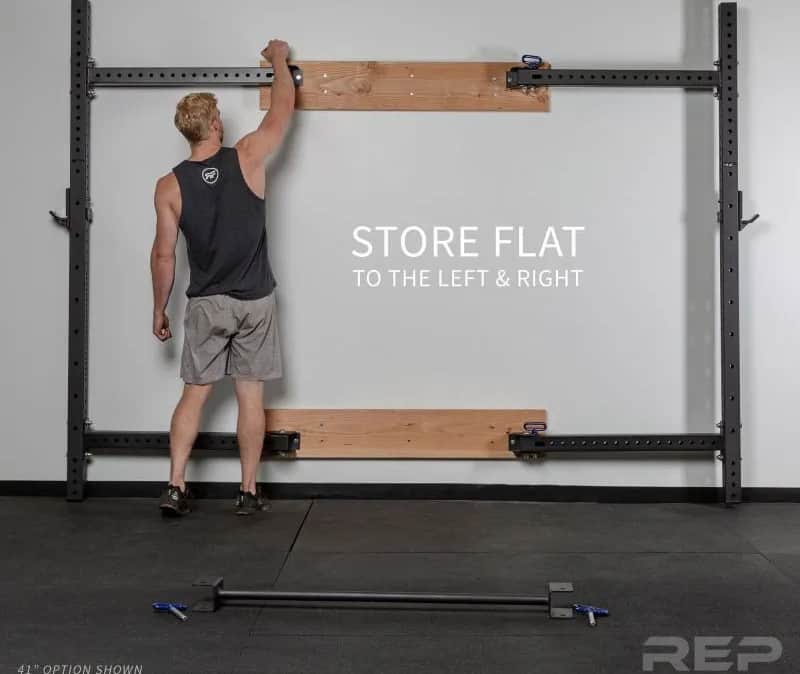 Affiliate Disclaimer
We are an affiliate of Rep Fitness and others that sell this training gear. If you buy clothing or other training gear after clicking the links in this article, we receive a small commission at no extra cost to you. This helps us to bring you in-depth information and content on these great training products.
Tim is the founder of FitAtMidlife.com – an avid gym rat for 30+ years, he's a reviewer of many, many shoes – and founder of the Speed Bag Gathering – the world's only gathering of speed bag punching enthusiasts.  See more gym reviews at Tim's YouTube channel.