Need more gift ideas? Here's our overview of Rep Fitness Stocking Stuffers 2022 – Part II.
Whether you are shopping for your family or friends, finding the perfect gift takes work. You give gifts to the same people year after year, and it gets harder and harder to come up with special gifts. With that, we list some gift ideas for your gym and fitness loved ones to help your shopping process a lot quicker.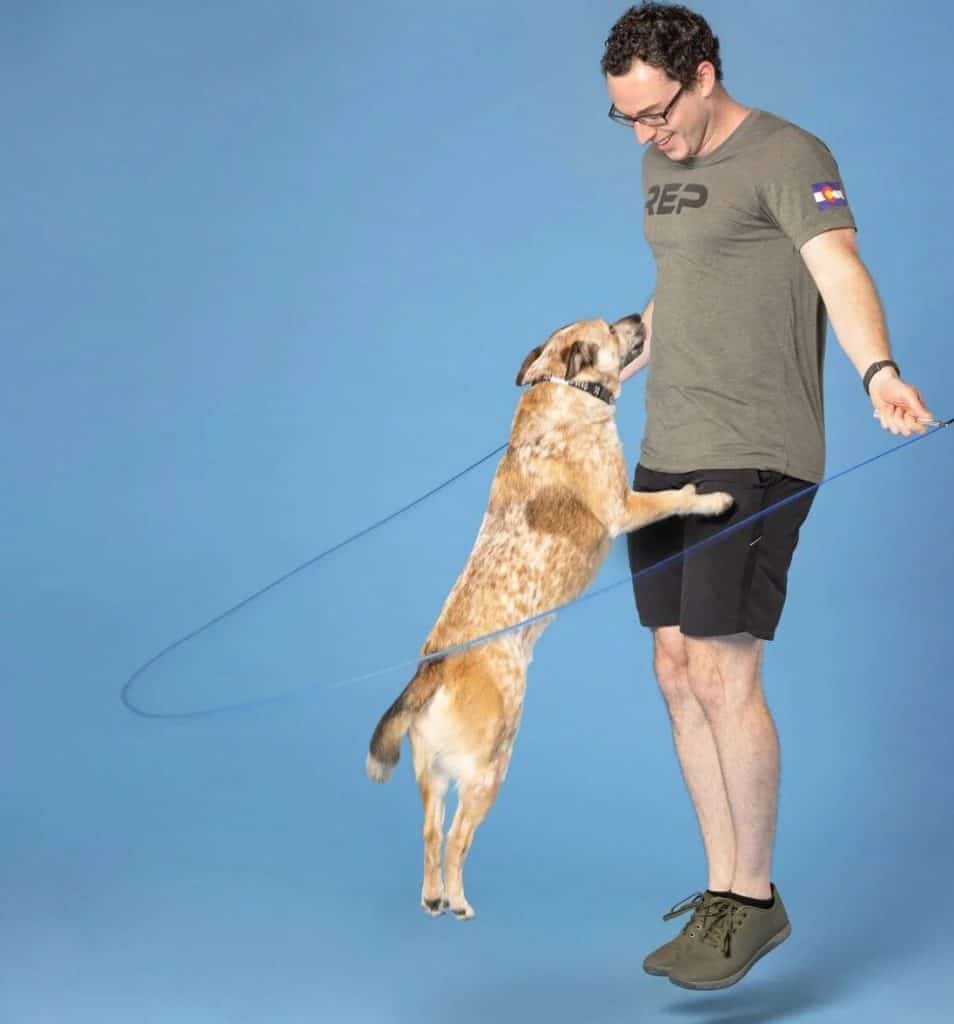 Rep has so many great ideas for small gifts this year – we had to make this a two-part article:
Rep Fitness Stocking Stuffers 2022 – Part II – Overview
Christmas is a happy and exciting season, but we also know that it can bring pressure on some of us when it comes to giving gifts or putting items in the stockings. But fret not—we are here to help you. Even if you give these items to your non-fitness friends, they will be inspired to start their journey toward healthy living.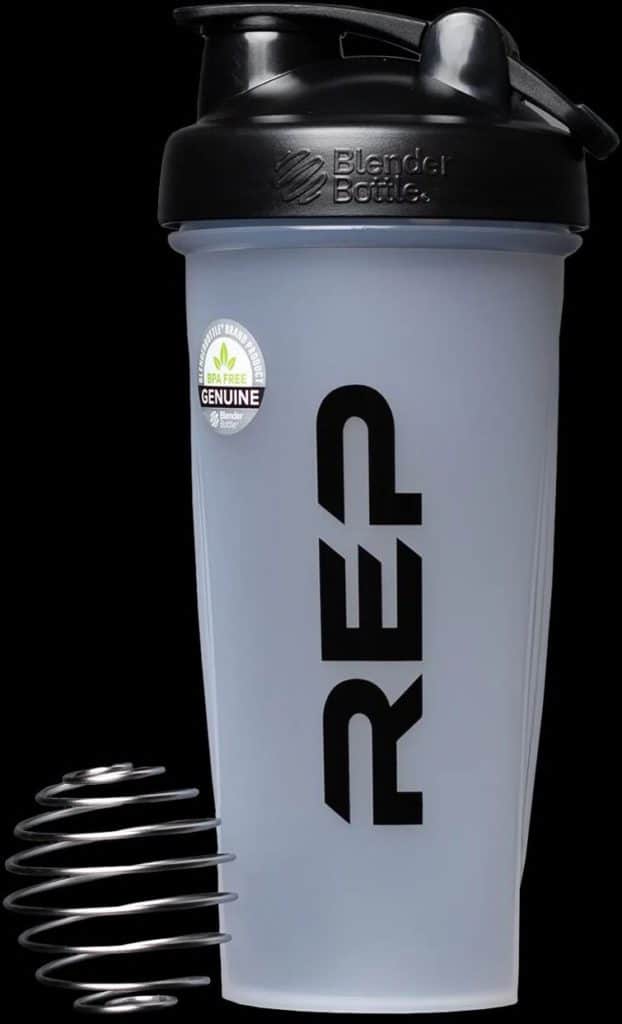 This list includes excellent items from Rep Fitness, a fitness company that produces quality home gym equipment at an affordable price. These items that you can stuff your stockings with are less than $26 and will surely delight your loved ones who are into fitness. From ab roller to socks and mugs, we've got you covered!

Ab Roller
The REP Ab Roller is what you need if you want to enhance your pull-up power, contrast the effects of hip hinging, and target your overall core strength.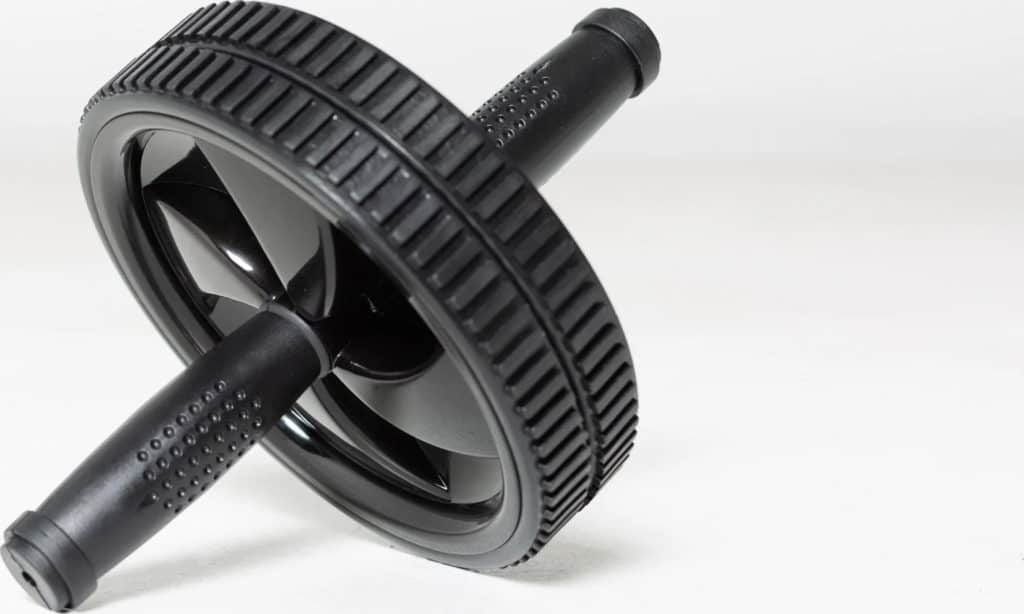 This tool weighs only 2lb and is great for focusing on full-body tension and makes a great addition to your home gym.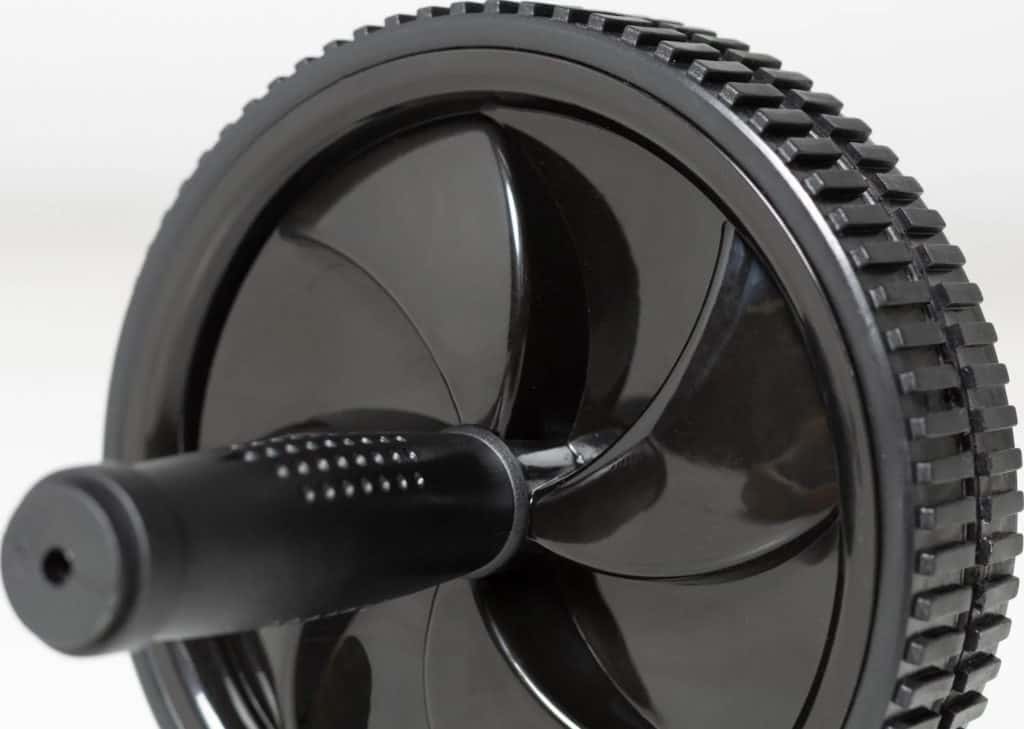 Fractional Weight Plates
The fractional plates enable progressive overload, and they are a safe way to increase the weights in your workout and allow you to do it slowly.

Specs: 1/4 Lb (White) – Diameter: 3.87″ Thickness: .1″ 1/2 Lb (Green) – Diameter: 3.87″ Thickness: .2″ 3/4 Lb (Blue) – Diameter: 3.87″ Thickness: .3″ 1 Lb (Red) – Diameter: 3.87″ Thickness: .4″
Liquid Chalk
REP Liquid Chalk is made from Magnesium Carbonate, an insoluble compound that will make the chalk keep up no matter your workout. It is made with 75% alcohol, so you also fight bacteria while lifting.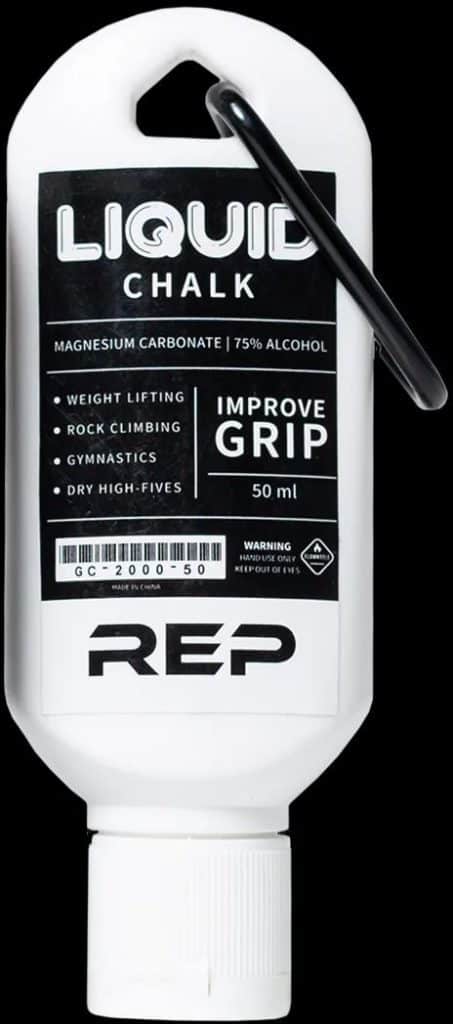 Using chalk during workouts helps improve your grip and lower the risk of your barbell, dumbbells, gymnastic rings, or other equipment sliding from your hands. It is available in two convenient sizes: 50ml and 250ml.
Rep Blender Bottle
The Blender Bottle allows you to enjoy your protein shakes and supplements anywhere. The whisk-ball blends ingredients, and the lid keeps a tight seal for a spill- and splatter-proof drink on the go.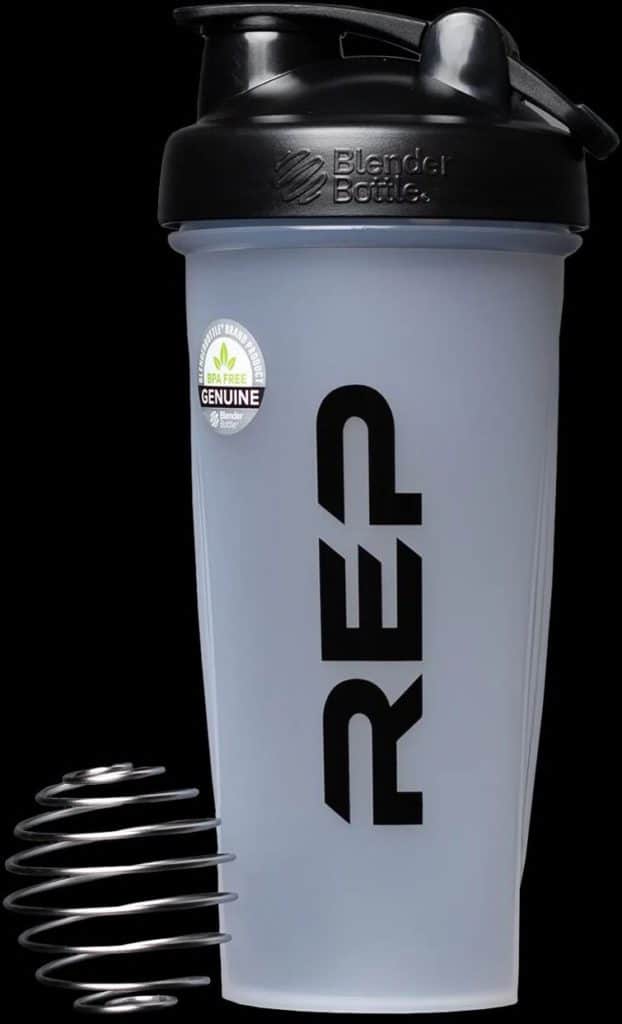 The Blender Bottle has a capacity of 28 oz, is BPA-free, and is dishwasher safe. It also has indented sides for easier grip and markings embossed in milliliters and ounces.
Rep Coffee Mug
The REP Coffee Mug doesn't discriminate—whether it be coffee, milk, or tea. This mug is perfect for your mug collection or if you want to give it as a gift.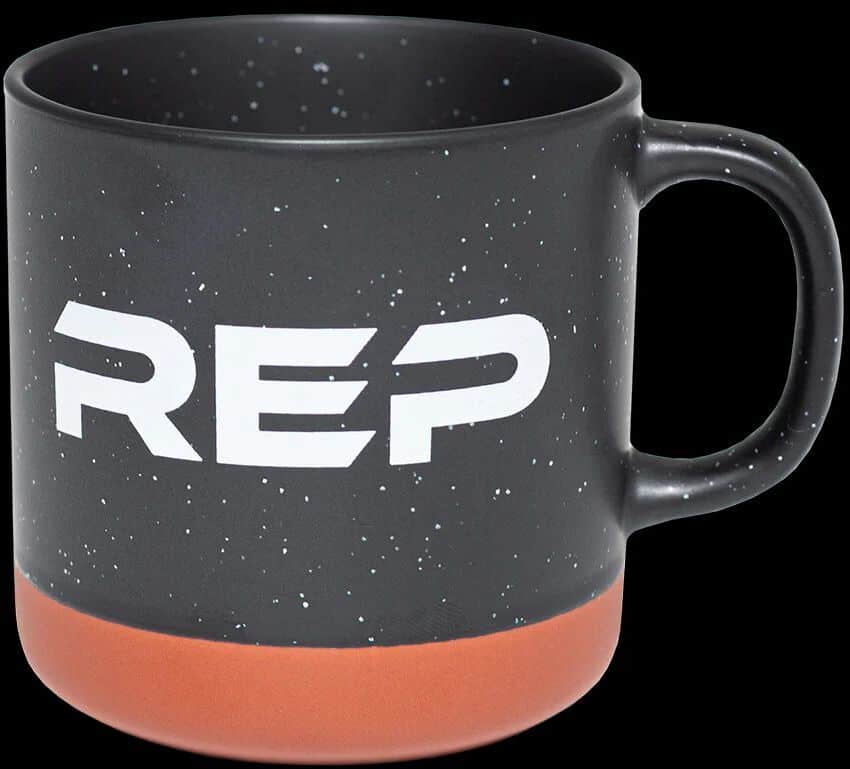 It will surely hold your preferred beverage of choice and bring joy to anyone who uses it. This mug has a 12 oz capacity.
Bumper Plate Coasters
The Bumper Plate Coasters are miniatures of REP's Competition Bumper Plates made from soft silicon rubber. They are stylish and are made to protect your surfaces from water stains.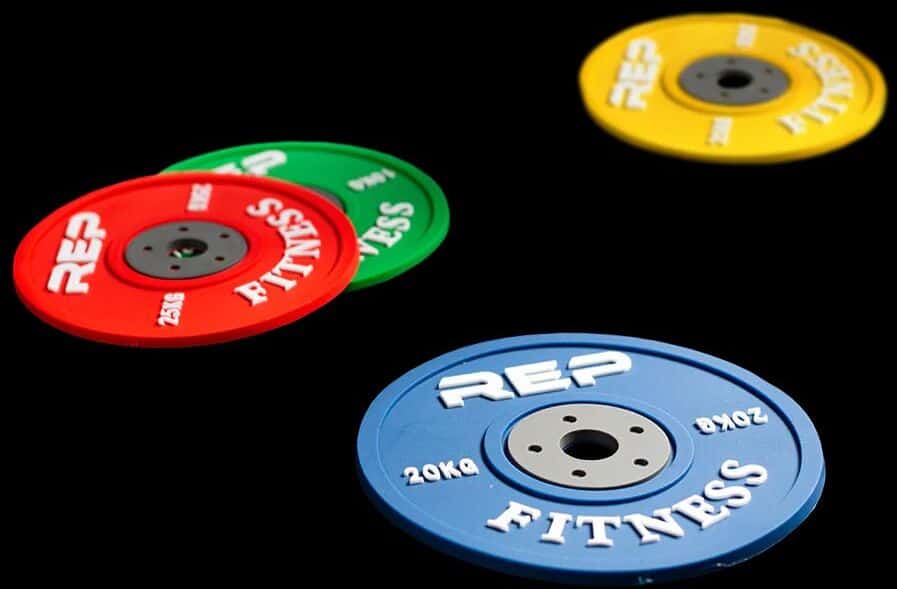 The set comes with four pieces, one of each style: red (25kg), blue (20kg), yellow (15kg), and green (10kg). Each coaster is 3.5" in diameter.
Dog Collar
REP's Dog Collar will show love to your fur babies. It is an essential device to help protect newborn puppies from wandering off. It is also used for training, walking, or fashion.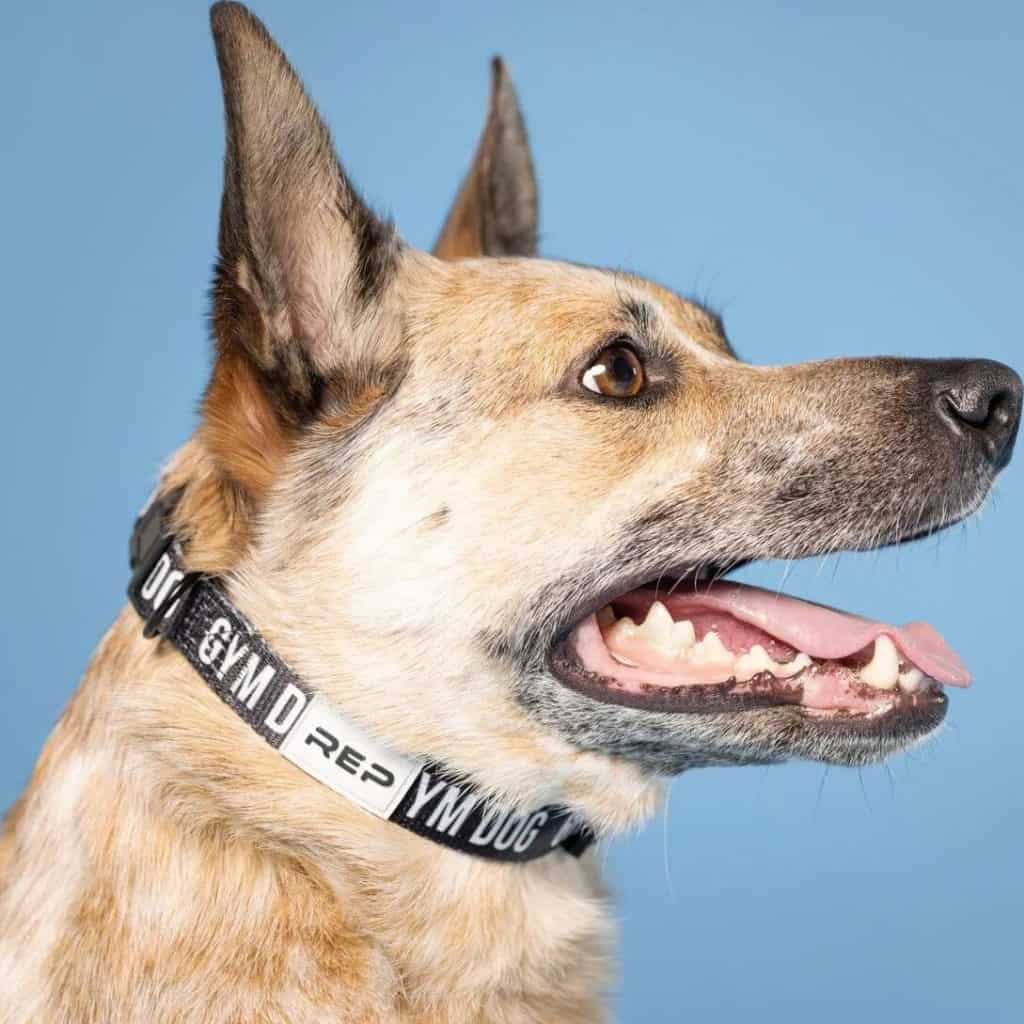 REP is now offering "Gym Dog" collars for your four-legged gym partner, which are available in small, medium, and large sizes.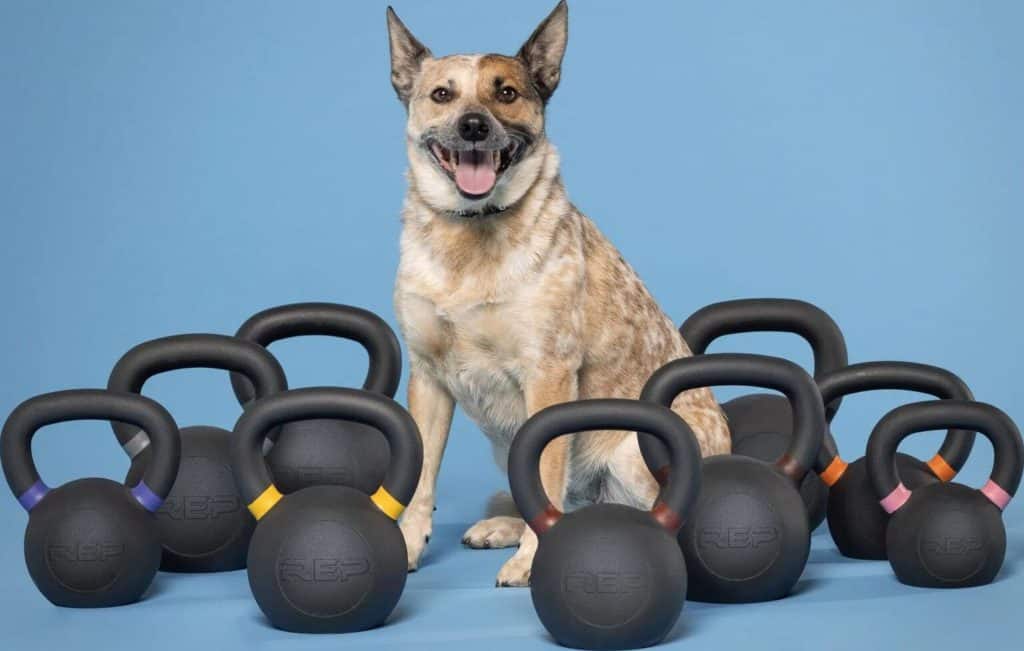 REP Noise Tee
The REP Noise Tee is stylish and comfortable and shows your passion for lifting and REP. This T-shirt is extremely soft, printed on 50% polyester, 25% combed, ring-spun cotton, and a 25% rayon-jersey blend.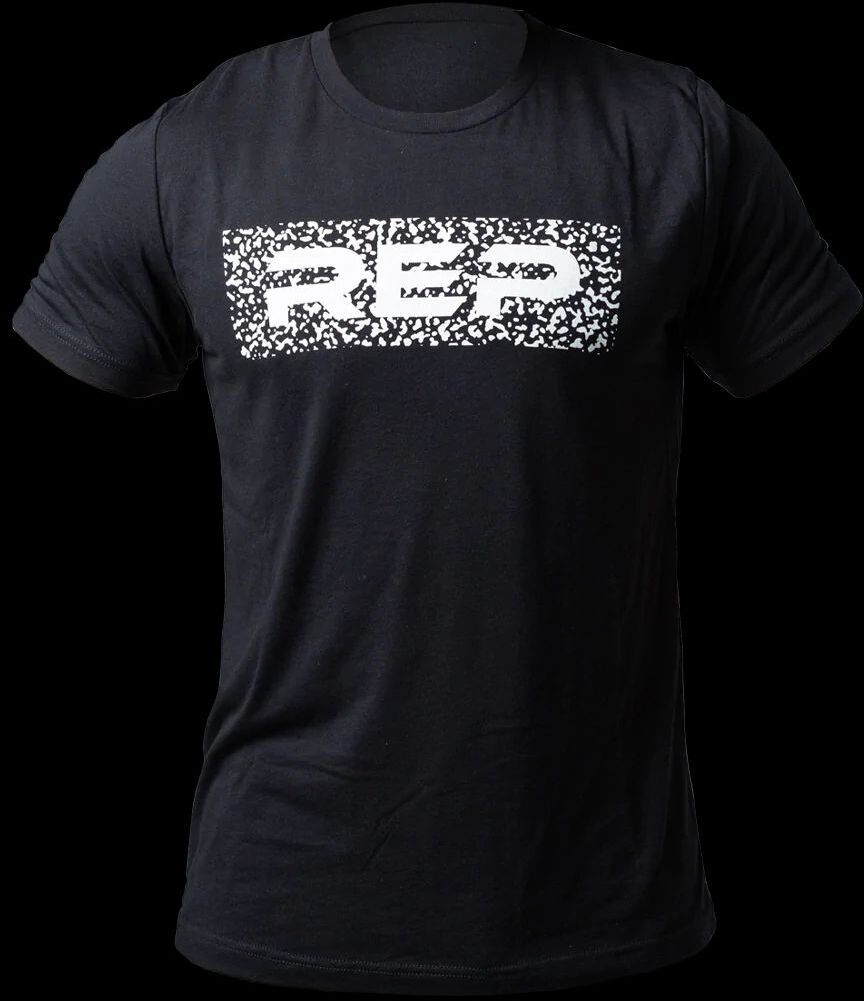 The shirt highlights the REP Fitness logo on top of the "noise" background across the chest and was designed with an athletic cut to show off your hard work.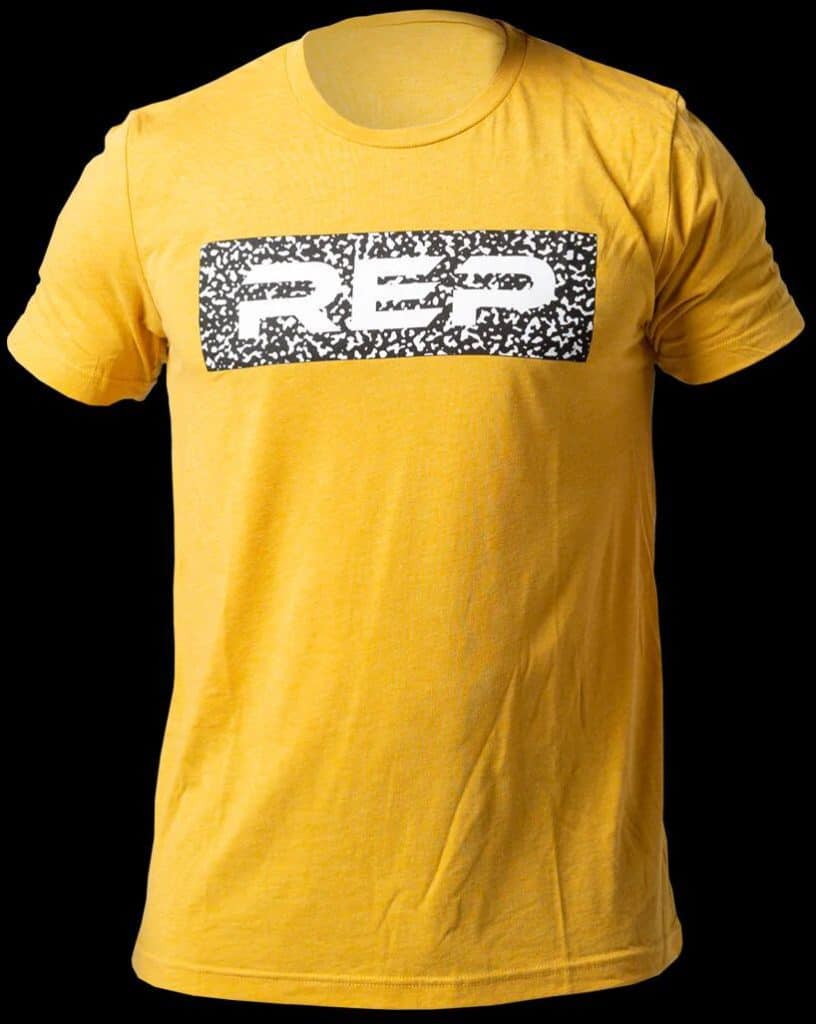 Rep Socks
When you are hard at work in the gym, you need comfortable socks to make things easier. REP Socks can bring the comfort you need, and it is ideal for Weightlifting, Powerlifting, rope climbing, deadlifting, and other workouts.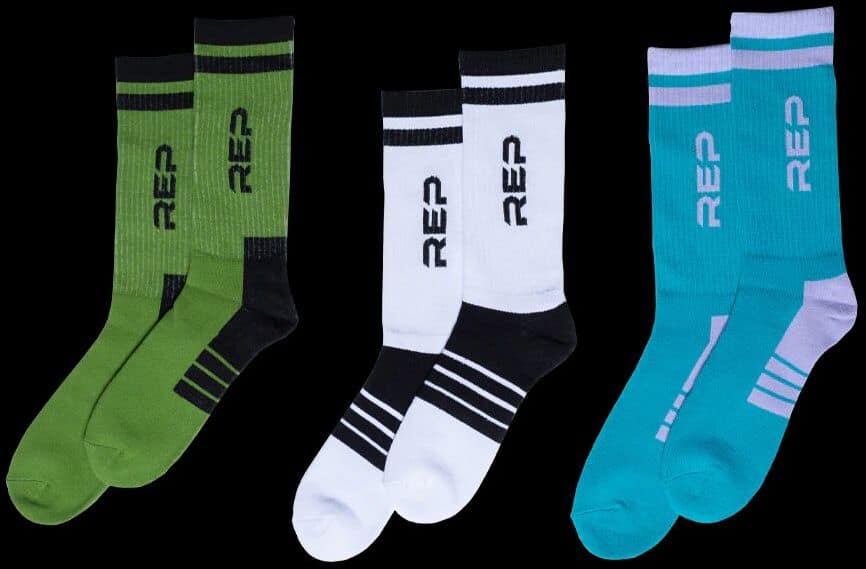 It is available in black and white, black and moss, and teal and lavender.
Gym Flag
REP's Gym Flag adds decoration and style to your home gym or garage. This flag is made with a clean design highlighting the REP logo, a barbell, and the words "Garage Gym" at the bottom.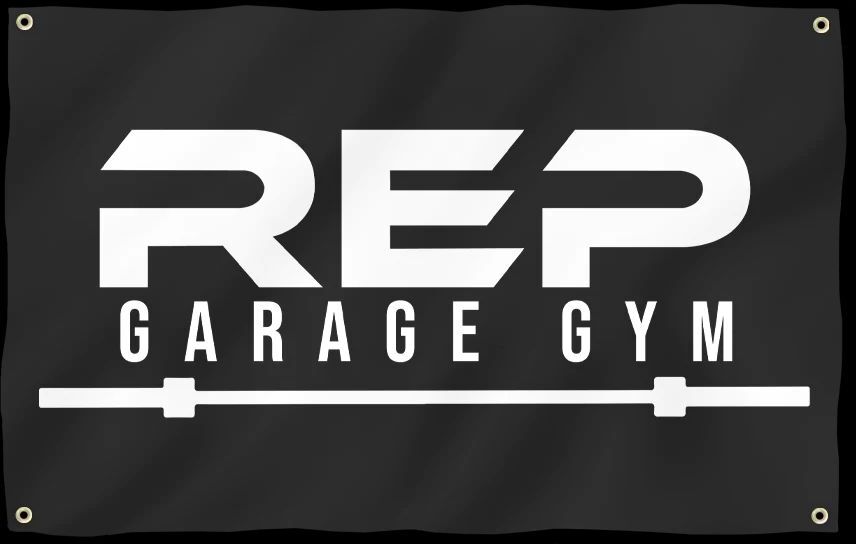 The flag is high-quality and durable, made from knitted polyester, and measures 2×3' or 3×5'. It also has brass grommets on all four corners to help it last.
Rep Fitness Stocking Stuffers 2022 – Part II – In Summary
That's our close-up look at Rep Fitness Stocking Stuffers 2022 – Part II.
Christmas is the most wonderful time of the year, and receiving gifts makes it more wonderful. Fitness enthusiasts will love these gifts, and those who are not into fitness will be inspired to start their journey. Shopping as early as now helps you avoid the pressure of last-minute shopping so you can enjoy the Christmas season better.
Looking for more options? Check out these other great products:
Check out Rep Fitness Stocking Stuffers 2022 – Part I.
Rep not have what you want? Here's also Rogue Christmas Gift Ideas.
More gift ideas for CrossFitters.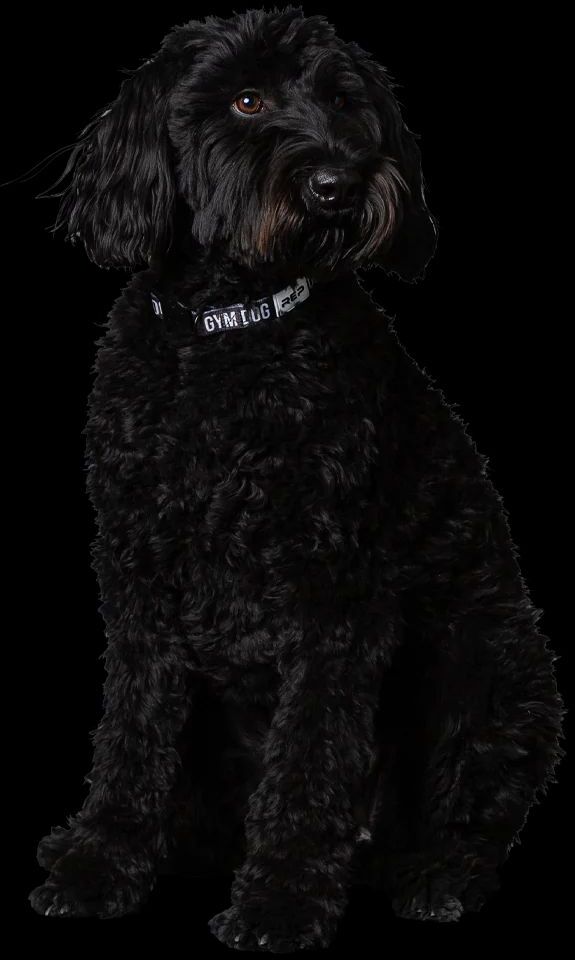 Photo Credits
Product photos on this page are property of Rep Fitness.
This website is not affiliated or associated with CrossFit, Inc. CrossFit is a registered trademark of CrossFit, Inc.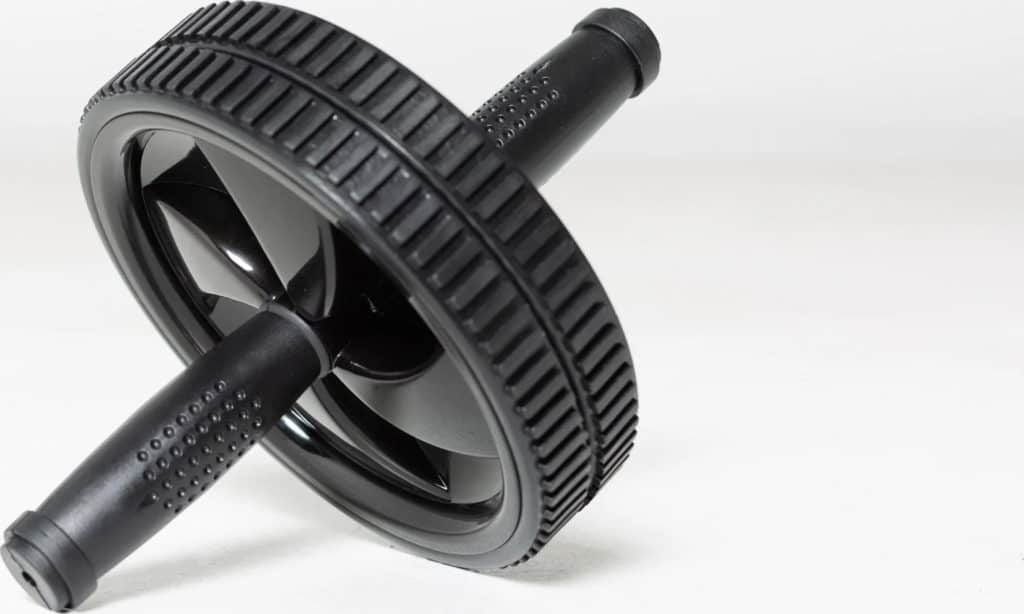 Affiliate Disclaimer
We are an affiliate of Rep Fitness and others that sell this training gear. If you buy clothing or other training gear after clicking the links in this article, we receive a small commission at no extra cost to you. This helps us to bring you in-depth information and content on these great training products.