Let's compare the Nike React Metcon Turbo Training Shoes and the Nano X1 Grit Training Shoes from Reebok.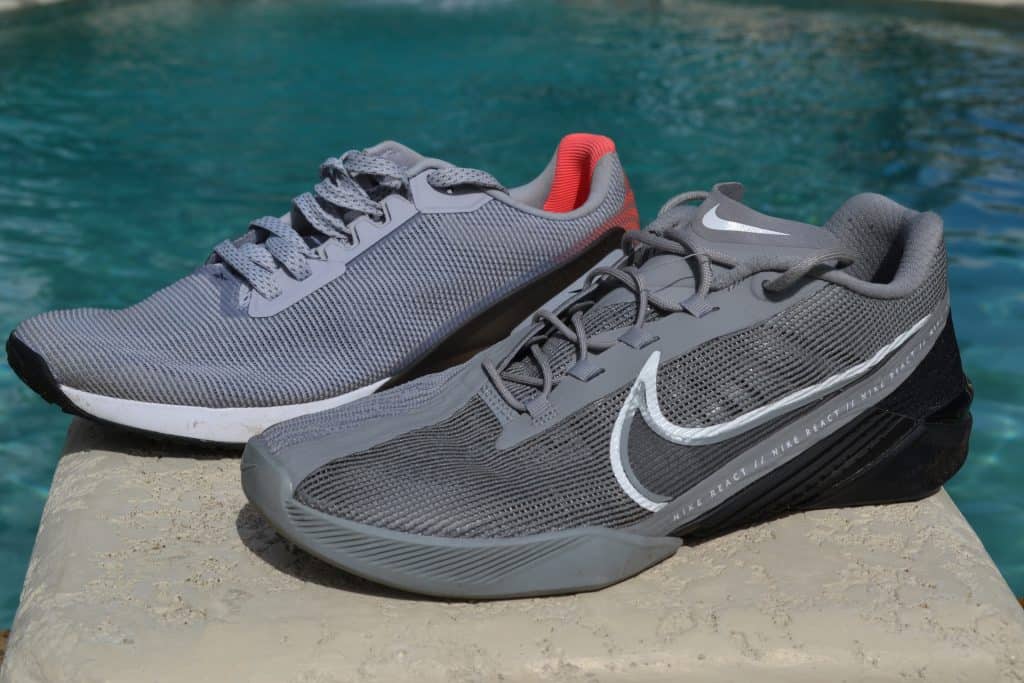 Nike React Metcon Turbo Training Shoes and Reebok Nano X1 are both cross-training shoes, but what differentiates the former from the latter?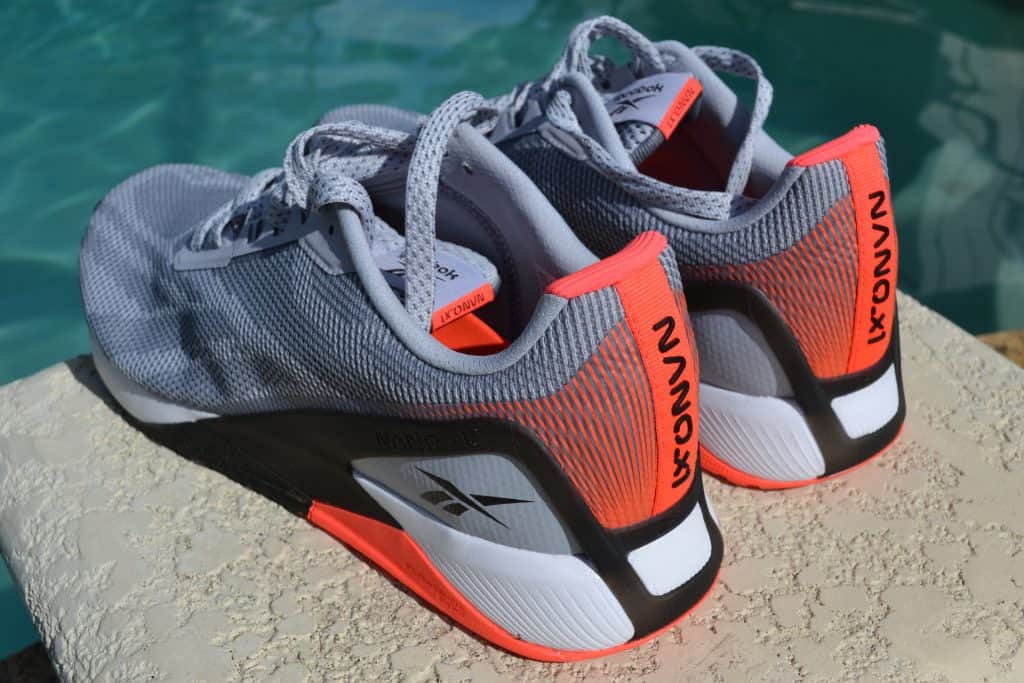 Both review pairs arrived, and we put them through our workout test side by side. But before we break the differences down, let's see some of the styles that we will be comparing: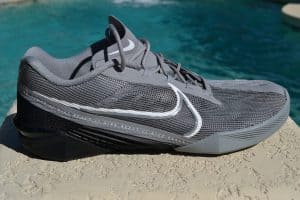 Nike React Metcon Turbo Training Shoes (Grey)
Nike Men's React Metcon Turbo Training Shoes. This is the style in most of the photos in this review. These shoes have a React foam-based midsole - but no Hyperlifts. Overall, I feel like these are an improvement over the Nike Metcon 6 - I just wish they came with Hyperlifts.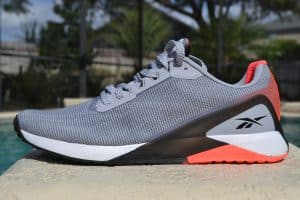 Nano X1 Grit Men's Training Shoes (Grey/Core Black/Orange Flare)
Nano X1 Grit Men's Training Shoes. This is the 11th version of the Nano. This is the Grit upper that is most similar to the upper on the previous Nano X. In comparison to that shoe, this one has more drop and more cushion. It's no longer hyper-focused on CrossFit too - Reebok has made it a more versatile fitness shoe in general.
Let's compare and contrast these two shoes.
Nike React Metcon Turbo Versus Reebok Nano X1 – Video Review on our YouTube Channel
Why read when you can watch? Check out this video from our YouTube channel:
If you want a very high-level summary: I'd say the Nano X1 is more suitable for running and impact activities thanks to the increased amounts of cushion, and the additional heel to toe drop.
In contrast though, it doesn't feel as stable as the Nike React Metcon Turbo when it comes to lifting weights. This low-profile shoe, with a lack of stack height, is great for heavy barbell lifting.
The Turbo has React foam – but it's not at all like a running shoe. There is a minimal amount of foam.
Nike React Metcon Turbo Versus Reebok Nano X1 Gallery
Here's some side by side photos.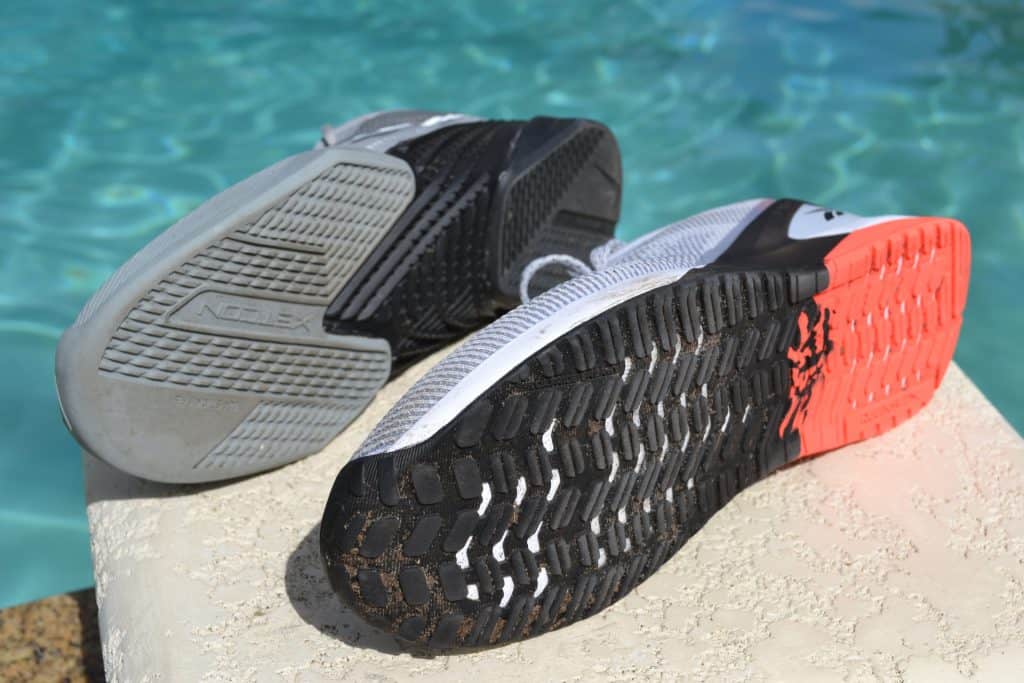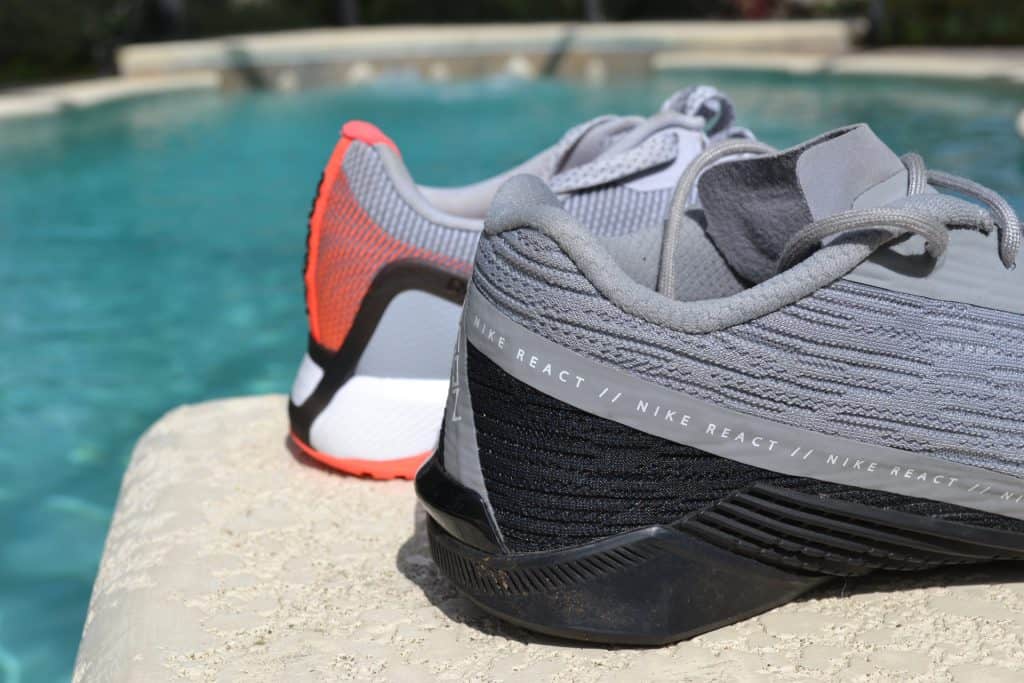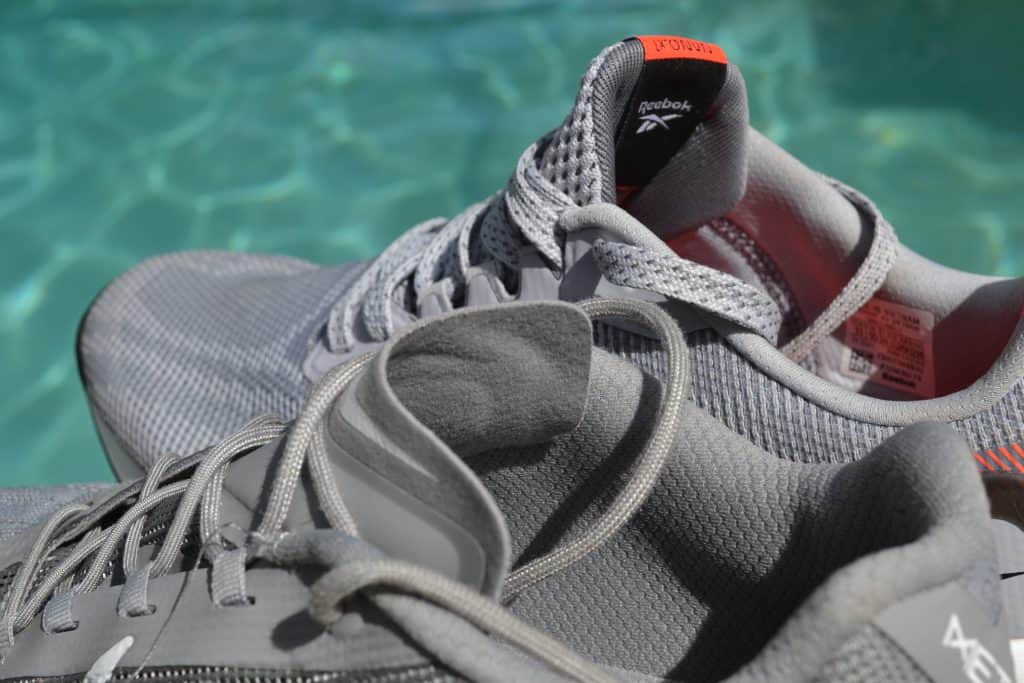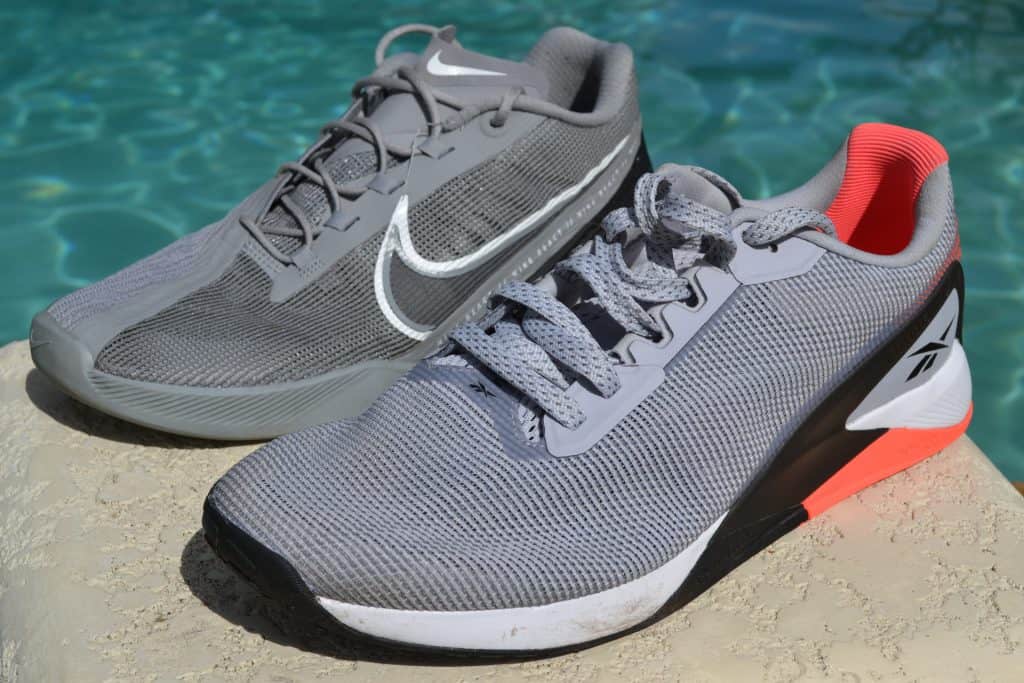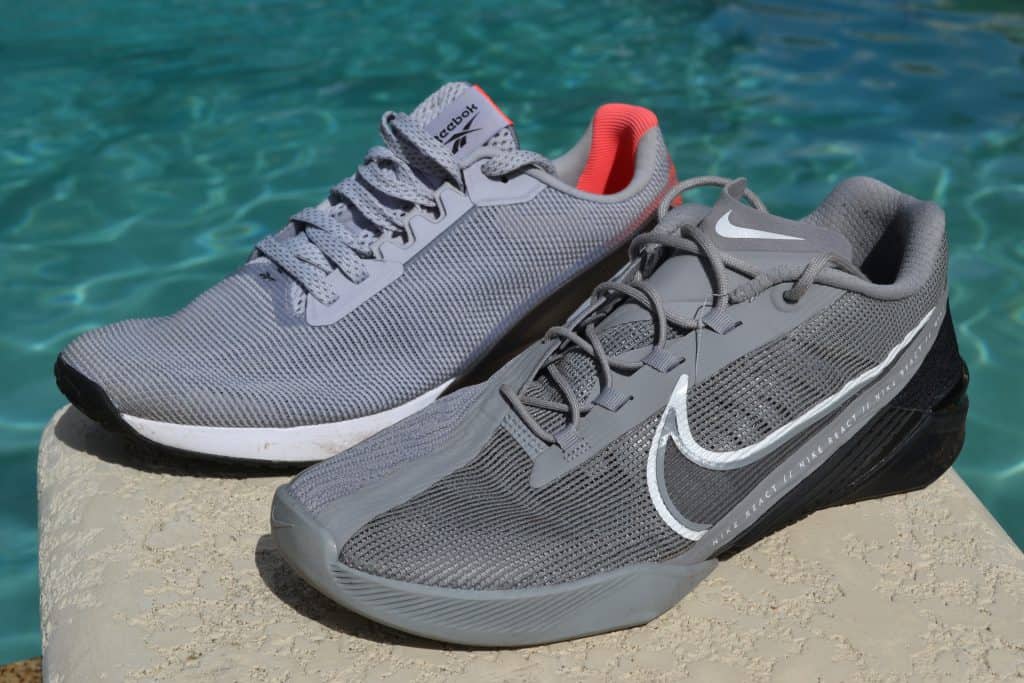 Nike React Metcon Turbo Versus Reebok Nano X1 Review
To test Nike React Metcon Turbo and Reebok Nano X1, I used both of them when I did weightlifting, running, sprinting, jumping box, jumping rope, cycling, walked many miles with a 37-pound backpack, and with the Robbie Miller Hero WOD (part of GORUCK Tribe.
Upper
Nike React Metcon Turbo
Nike React Metcon Turbo has a dual mesh that looks nice and sharp and is reasonably breathable and comfortable. It hugs the top of your foot and feels robust, which will make the shoe last for quite a while.
The tongue is wide, thin, and grippy and works well.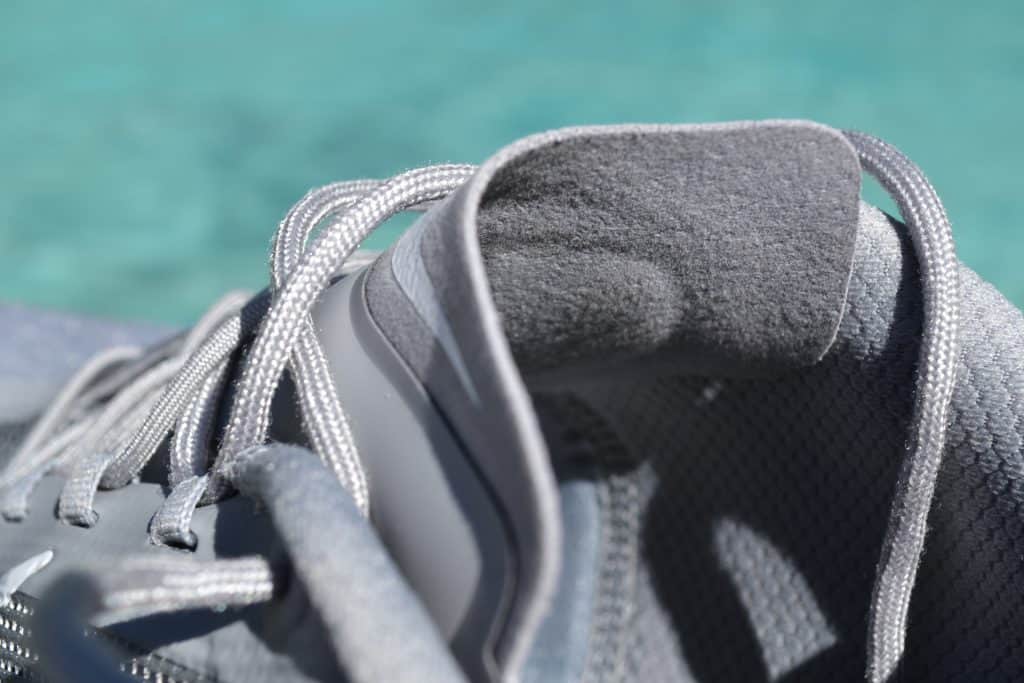 It has regular laces, and the base of the heel is super stiff but has no internal heel cup.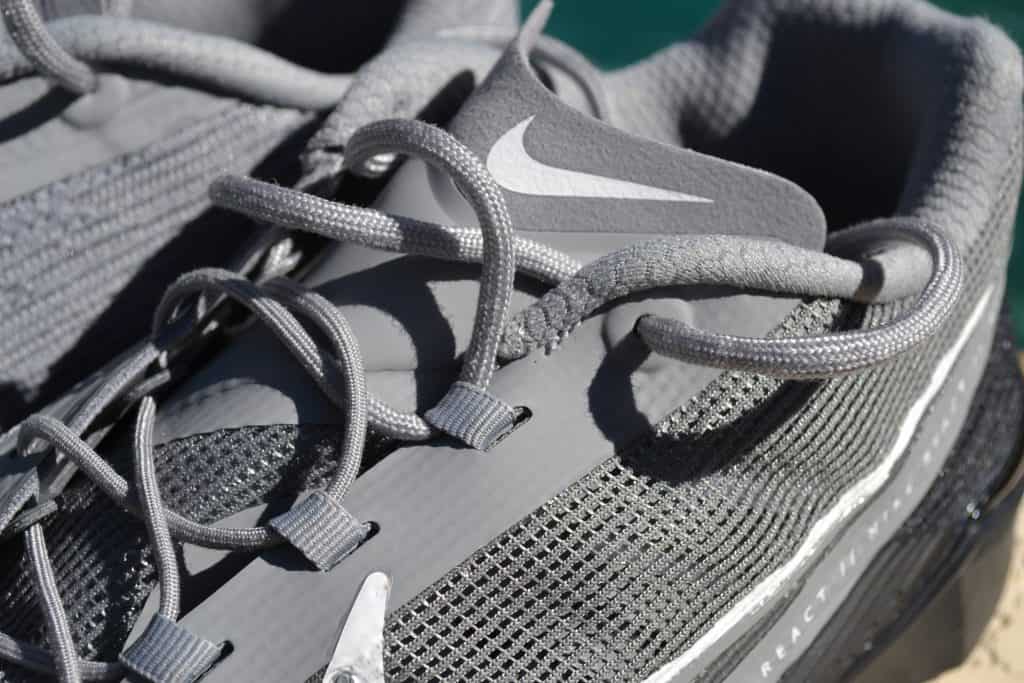 Mp>The collar comes up higher than Metcon 6 and 5 and fits me better than Metcon 5 and 6. I don't have any complaints about the upper as it is pretty good.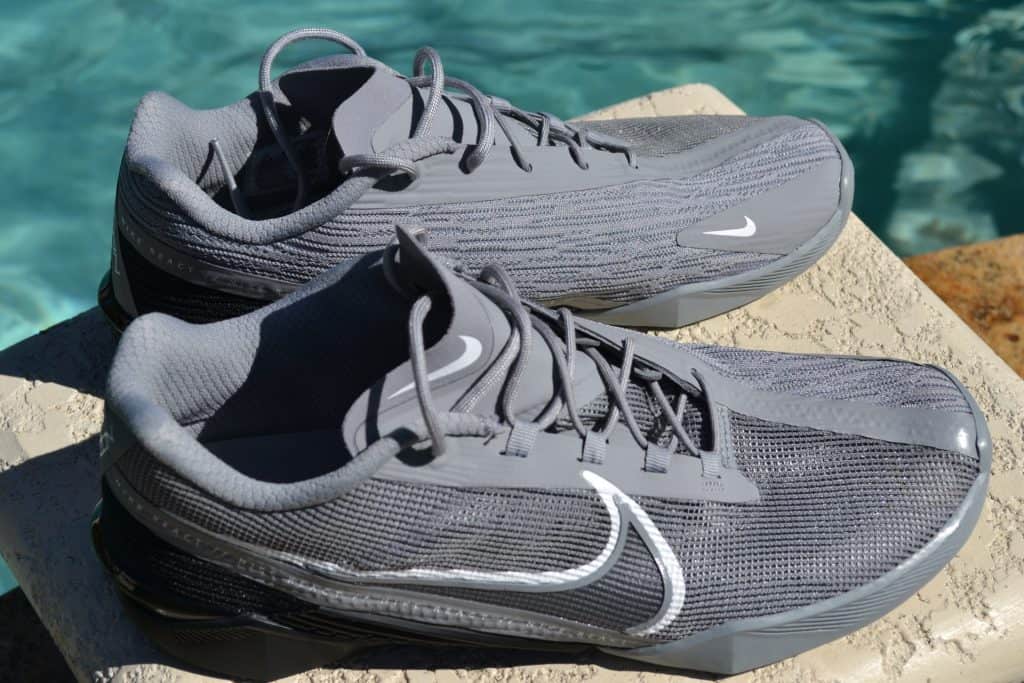 Reebok Nano X1
The vector logo and style are pretty nice, but Nano X1 seems pretty plain and boring when you look at any angle.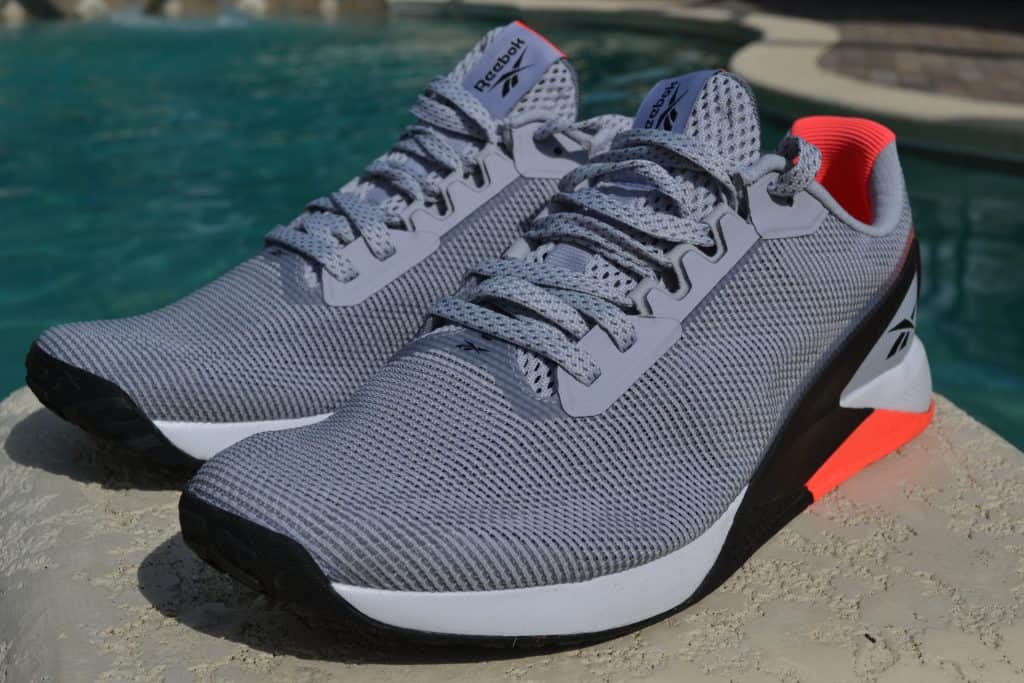 The Grit upper is more stretchy and reasonably tough, breathable, and comfortable. It hugs the foot very well, but the look is so generic.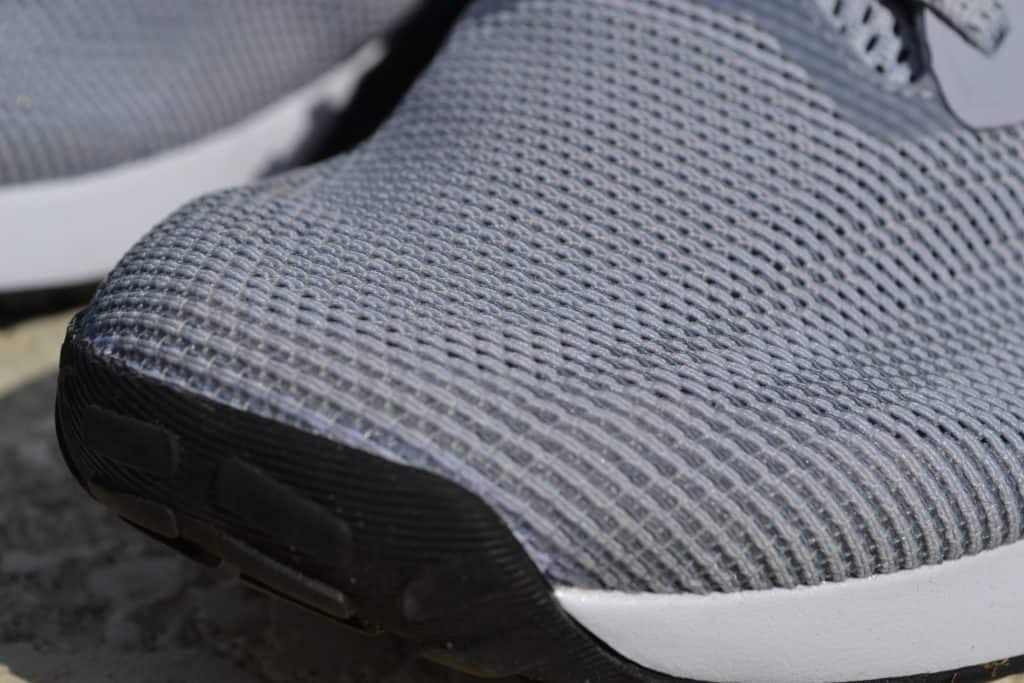 It also doesn't have a heel cup making it so flexible. It has a much taller collar than Turbo and has an aggressive inward curve which might cause blistering and abrasion to some people when it rubs on the back of the heel/ankle. It doesn't really bother me, but it might for some people.
(I recommend you wear tall socks for sure with the Nano X1.)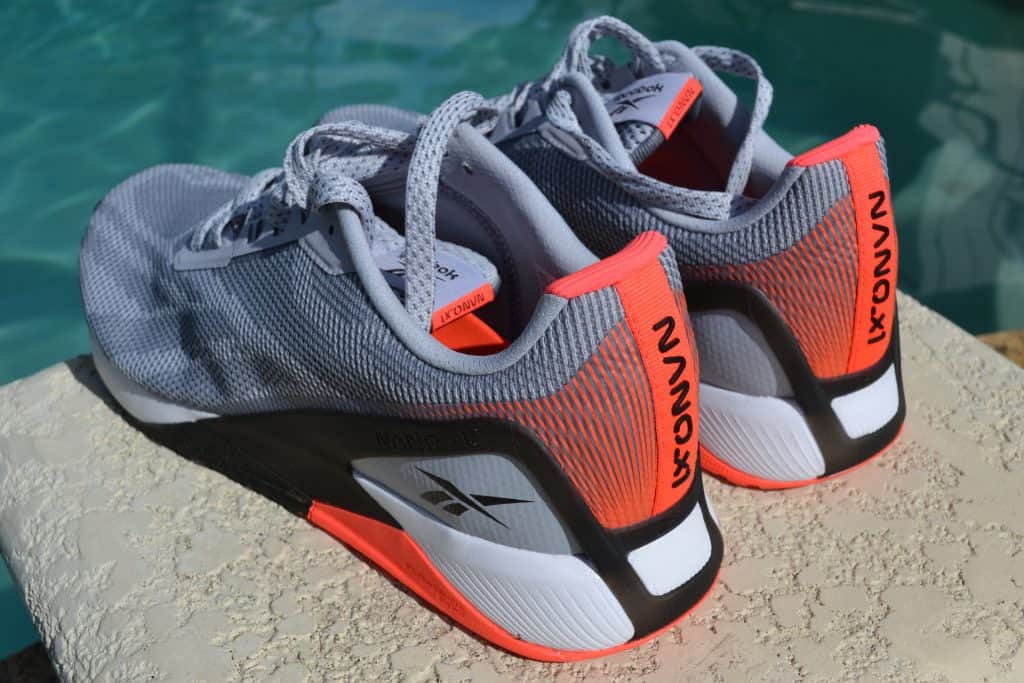 The skinny, wimpy tongue is too thin. It's got some padding, but then it's not wide enough to fully cover the whole shoe. I like the tall collar but not the curve so much, although it might give you a lock-in feel.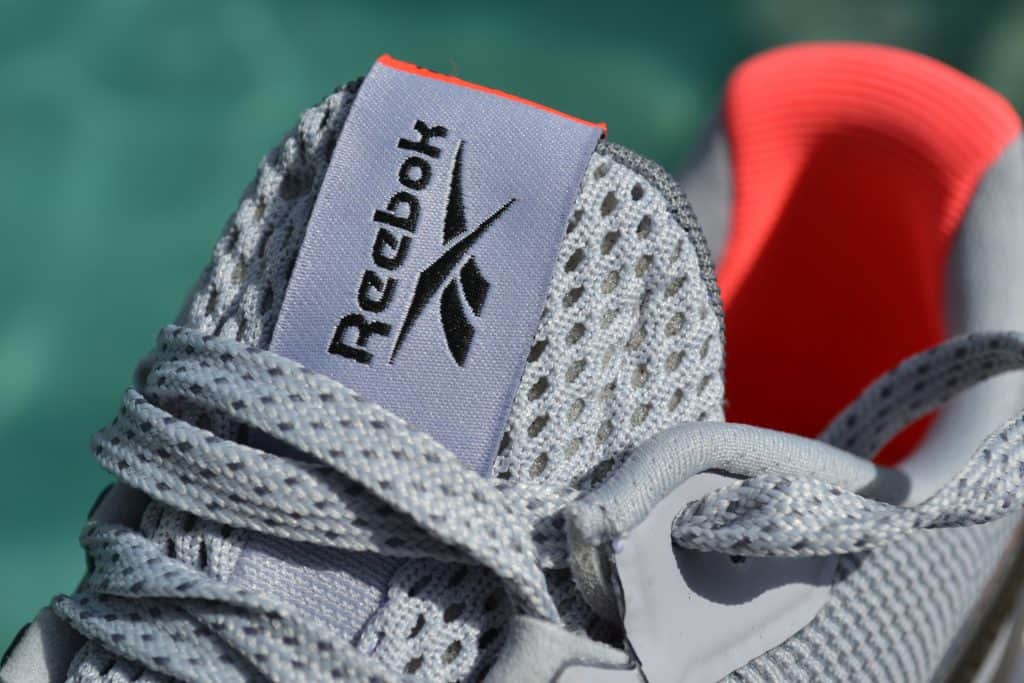 Heel, Midsole, and Forefoot
Nike React Metcon Turbo
Nike React Metcon Turbo has a diamond-shaped heel with a TPU heel counter, which is very steep and firm. It's very stable, but the rim of the heel makes the shoe noisy on hard surfaces.
(Watch the review video to hear just how loud it is compared to the X1.)
It's about the same noise level as the Nike Metcon 6 (and the Nike Metcon 5.)
A React foam cushion is placed inside the shoe, and there is some you can feel when you are lifting, but pretty minimal.
It has a low drop of 4mm to toe drop, and you get a flat low to the ground feel without a lot of stack height combined with the heel. Metcon Turbo is suitable for weightlifting because of the firmness and stability of the heel.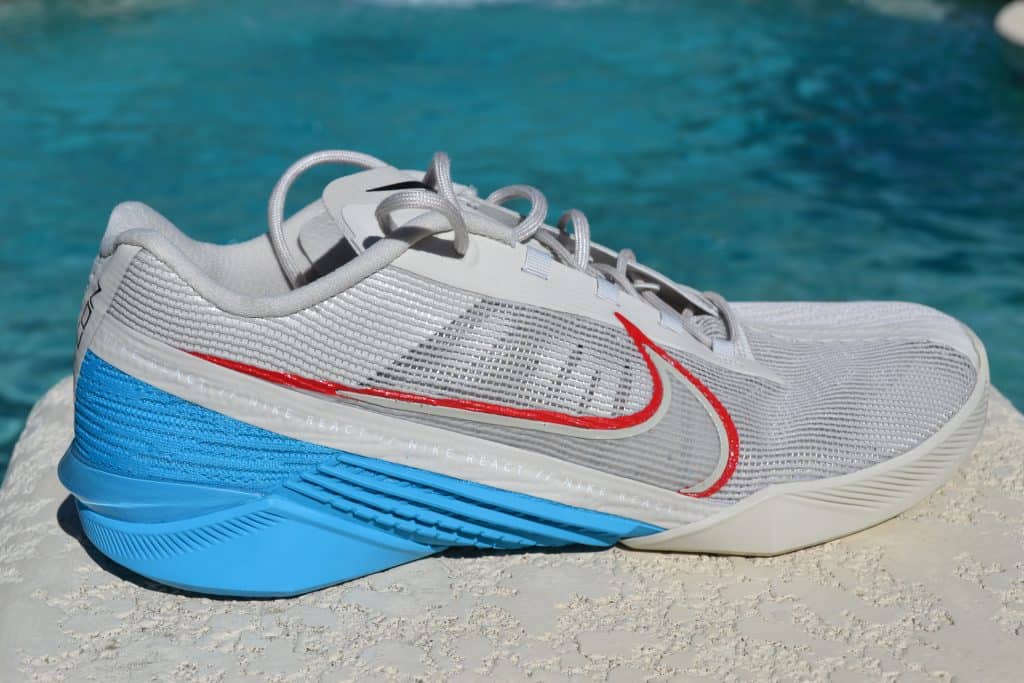 The midsole is made of React foam and is very flexible. The center has a rigid plastic bridge piece, and when it is in the shoe, it bridges the gap from the front pad to the heel pad.
This is an interesting approach and very different from the other Metcon shoes.
Perhaps as a consequence, this shoe does not have very good arch support. That flexible midfoot, combined with the minimally rigid midsole just don't provide support – especially if you have a high arch.
The X1 has a much better feeling of arch support.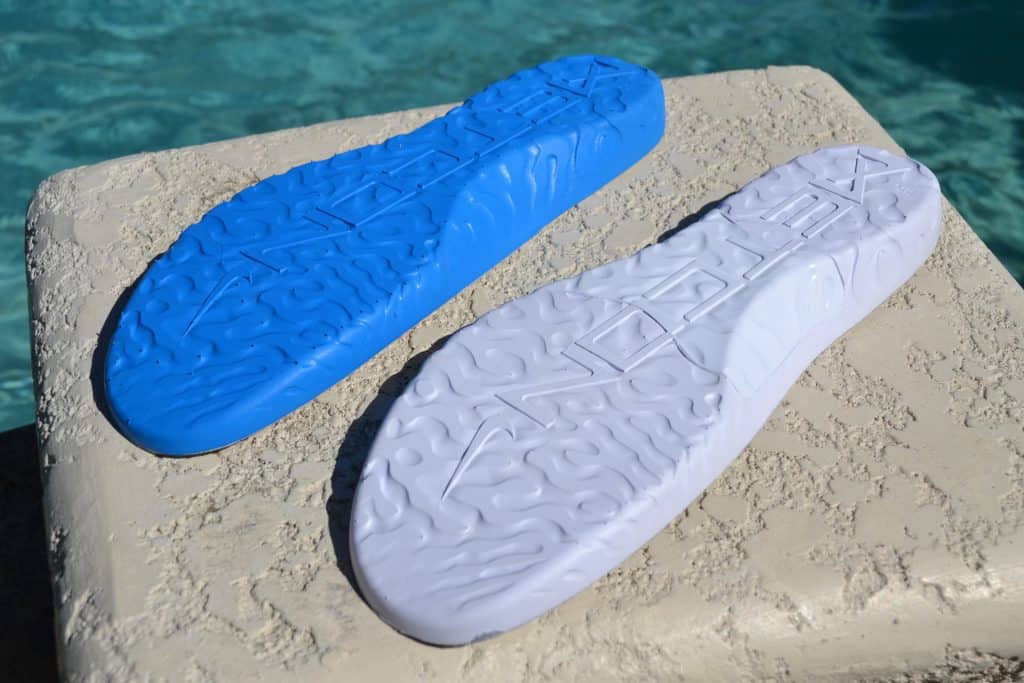 I do like that they've minimized the rope wrap on this shoe.
The rope wrap is the wrap-around at the midfoot where the tough material from the sole helps protect against rope climbing friction.
It's the dominating feature of the side profile of the Nike Metcon 6 – and it probably adds a lot of weight too.
Certainly to be the ultimate CrossFit shoe it must support rope climbs. But it feels like the wrap on the Turbo is more appropriate for most trainees.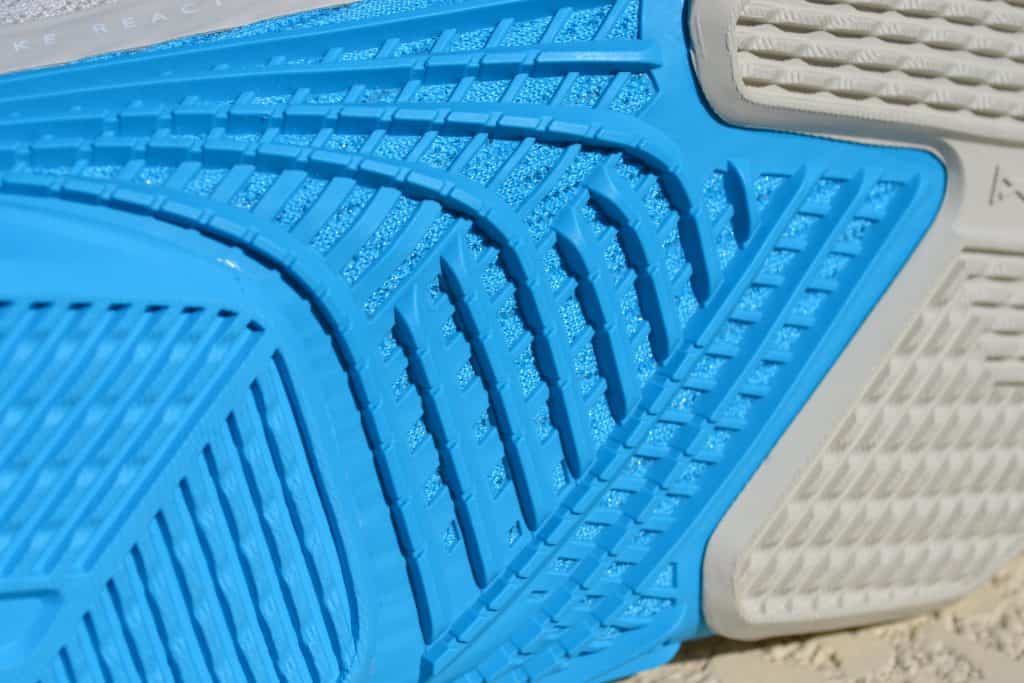 There's nothing in the midsole other than the outsole when you take it out of the shoe. The only thing you get is the relatively thin portions and a minimal amount of React foam. The forefoot cushioning feels inferior compared to Nano X1.
But, consequently the Turbo has an advantage in lifting weights because it feels flat and close to the ground, but there's not much to compress in the more rigid heel.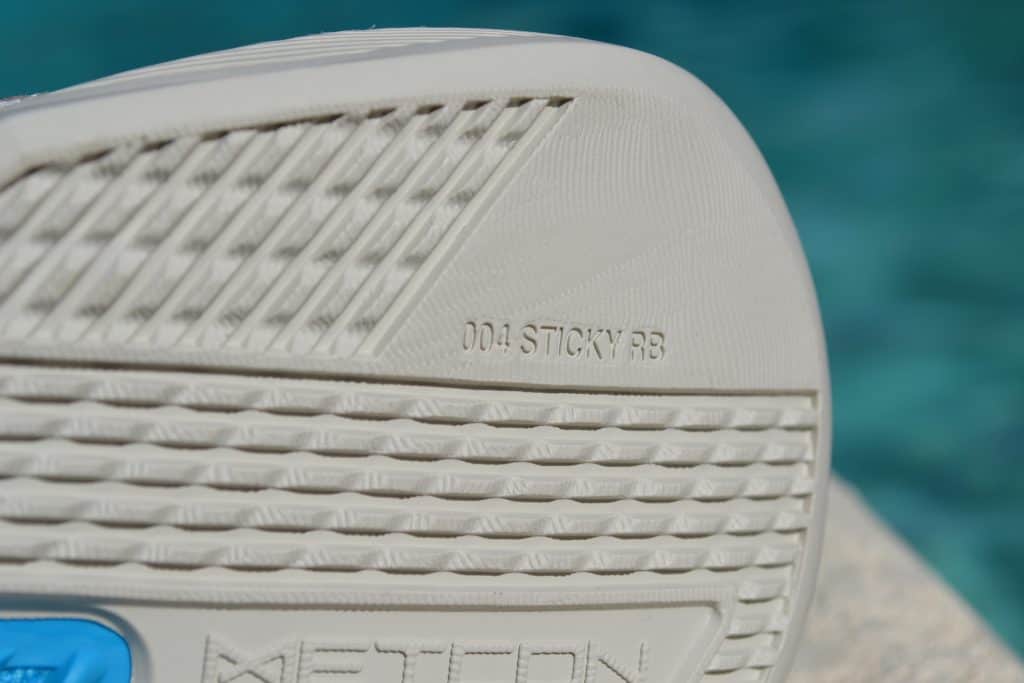 Reebok Nano X1
Reebok combined the FloatRid Energy system of a running shoe with a training shoe to develop the X1. The heel of Nano X1 can be pressed easily because of the good amount of foam in the heel.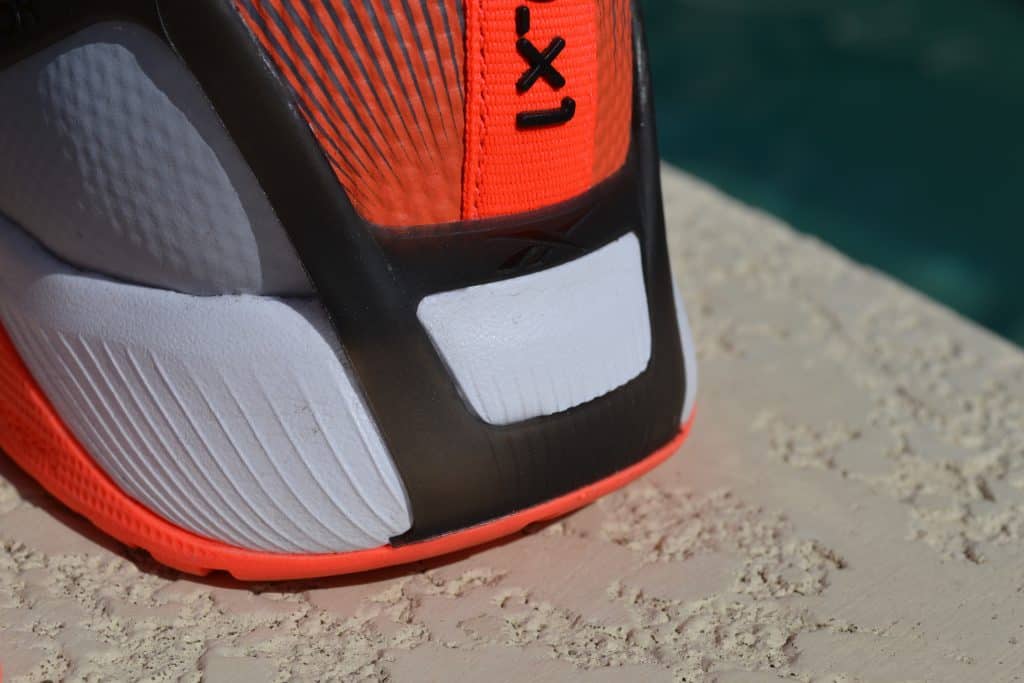 There's rubber on the outsole that is pretty firm, but it's nothing like Nike Metcon Turbo's heel. It is not a running shoe as it is a cross-trainer shoe, but it has noticeably more cushion and feels significantly comfortable, especially when you are landing on the heel.
It's also much quieter than the Turbo – because the heel rim is not super-rigid.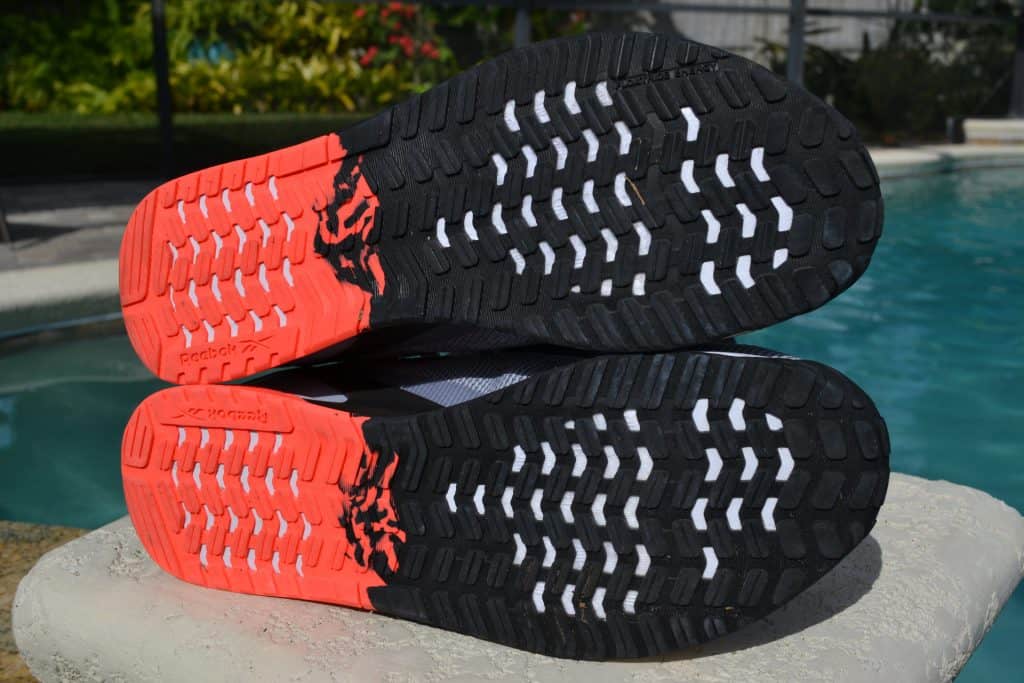 The X1 has 7mm of heel-to-toe drop. It also has more stack height – there is more foam under your heel. You can feel the compression in the foam in the midsole portion, and it is exaggerated, especially when you lean back to your heel.
That drop, and extra cushion, feels nice when running.
It's also helpful for squatting motions.
The speed chassis (The TPU part that encases the heel) is nicely placed and helps provide more arch support than the React Metcon.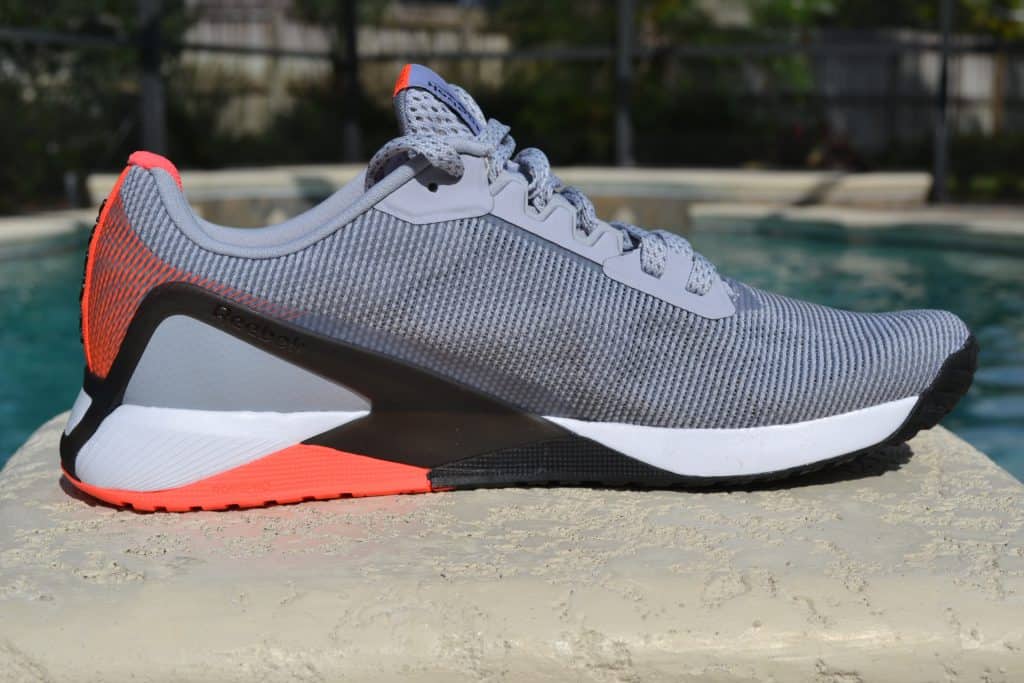 <[p>Forefoot cushioning is also pretty good; you can feel the foam in the front, although there is a cushion throughout the shoe. This is a better shoe for running, in my opinion, and experience. The drop is excellent, especially on the front squats, but as the lifts get heavier and heavier, it gets noticeably less stable because of the cushion.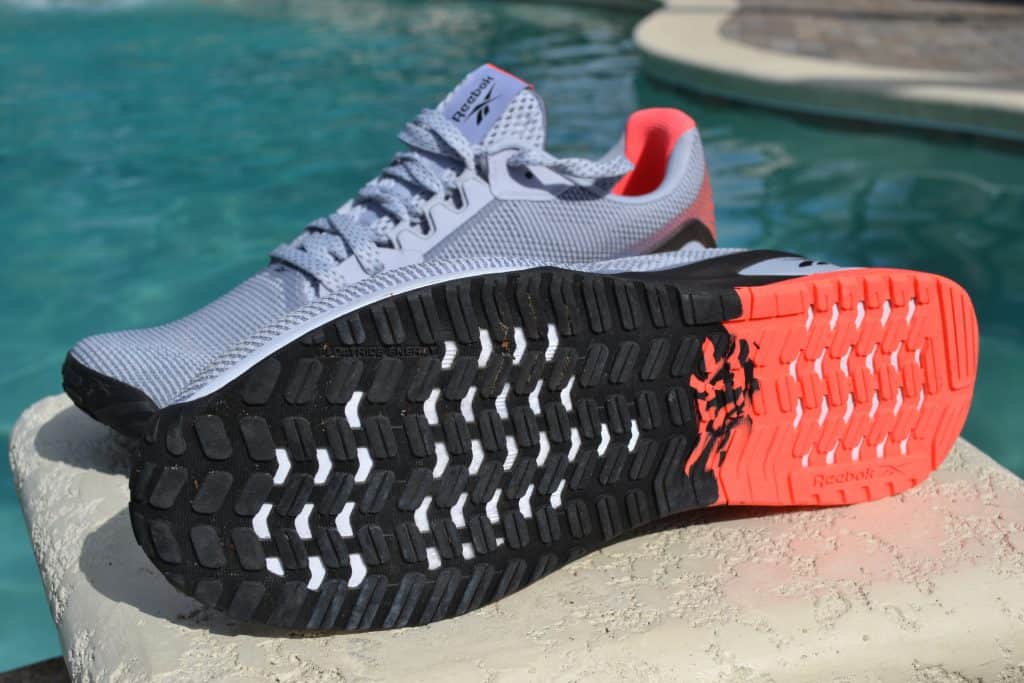 Overall, if I had to run some distance for a WOD – I'd probably grab the Nano X1.
But, maybe not if there was also heavy barbell lifts…
Sizing
Nike React Metcon Turbo
I normally wear a US Men's Size 11, but with Nike React Metcon Turbo, I had to go a half size up. The width is too tight for my foot, and my toes felt cramped and uncomfortable. It's both short and narrow. I love the taller collar, though, and it fits quite well.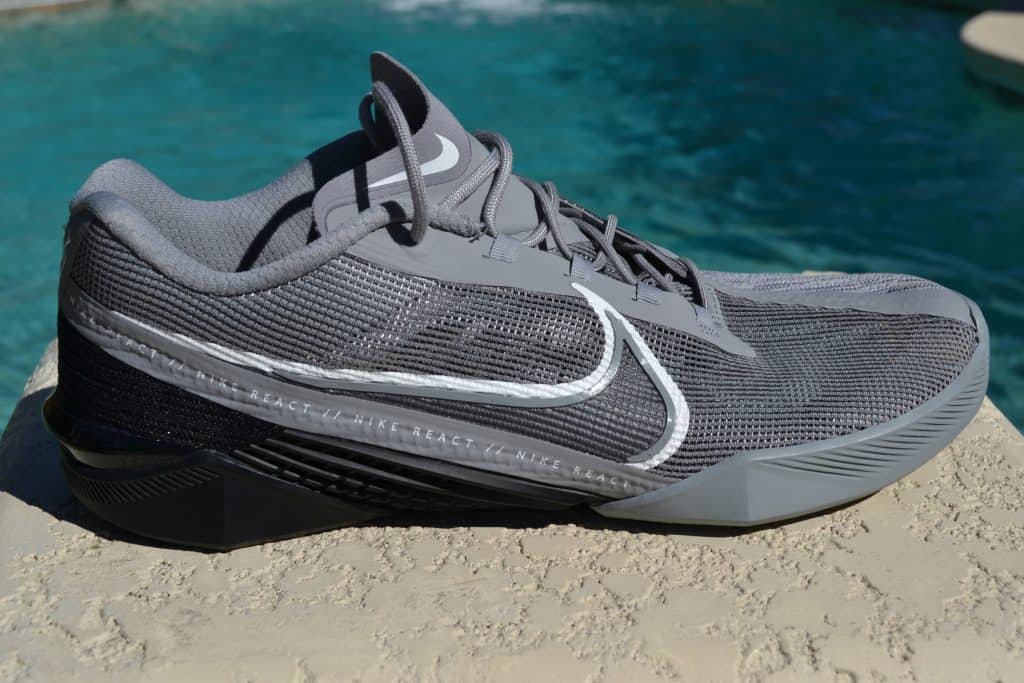 Reebok Nano X1
Reebok Nano X1 runs true to its size. I wear US men's size 11 in most running shoes and training shoes, and the width is perfect and very comfortable. The outsole is not as wide as Nano X, but the top part is as wide as Nano X. The toe cap is good, and the toe guard is nice and supportive for push-ups and burpees.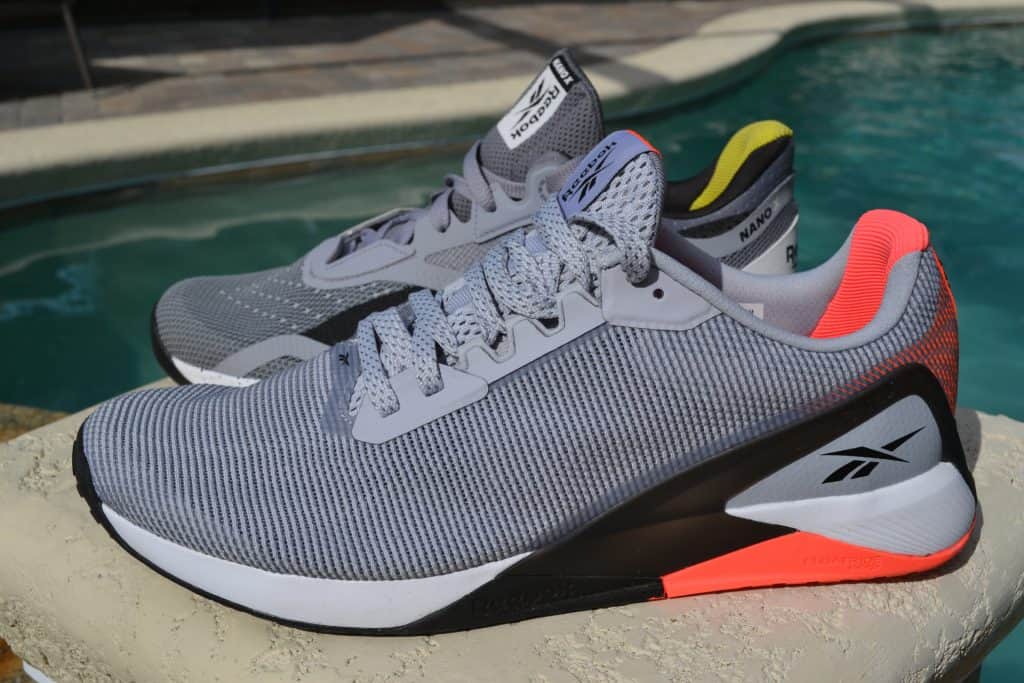 Weight
Nike React Metcon Turbo
Nike made the Turbo lighter (compared to the Metcon 6) at 13.1 oz (Men's size 11.5) which is a good thing. They made a subtle change and this is lighter compared to Metcon 6.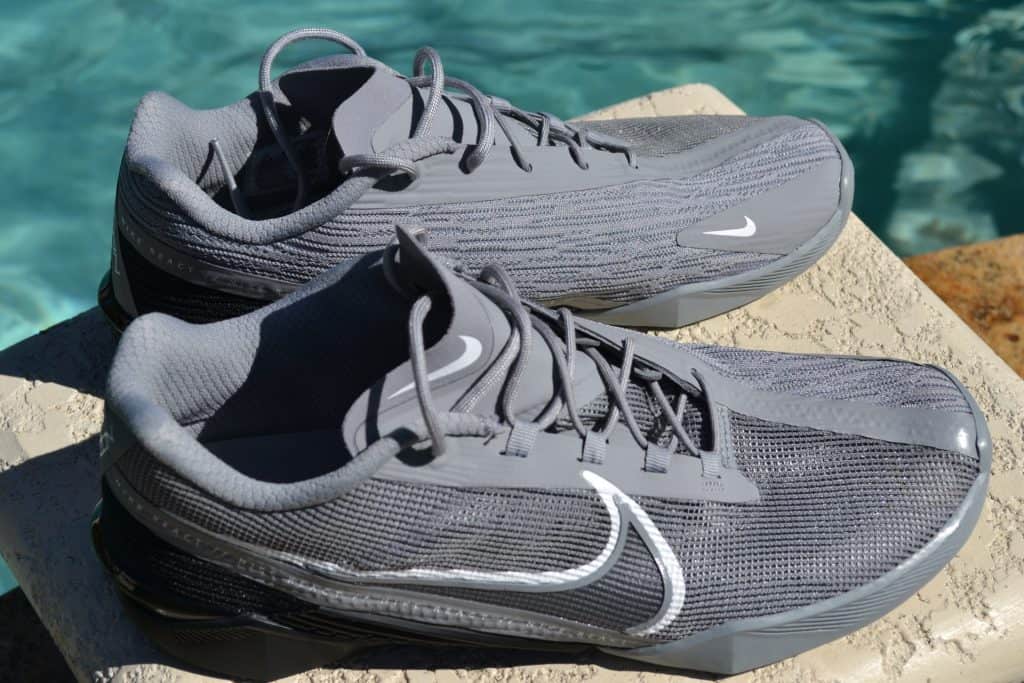 Reebok Nano X1
Nano X1 is only 12.1 oz (Men's Size 11), making it an ounce lighter than Turbo. This is a more lightweight shoe that you can use for running.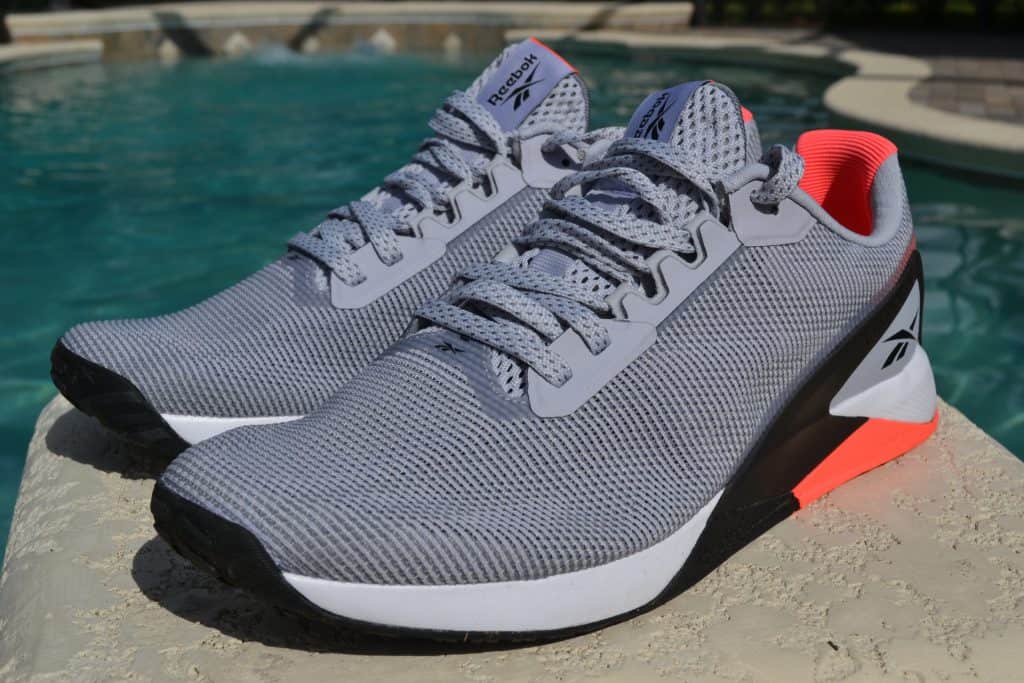 Will the X1 Grit be as tough as the React Metcon Turbo over the long term? Only time will tell.
Both shoes feel well built. I will say that the Knit option of the X1 feels and looks cheap – I definitely recommend you go with the Knit option.
Pros and Cons
Nike React Metcon Turbo
Pros – It has React foam, although not a lot of it, however, it is still a good improvement. I feel no heel slippage – thanks to the taller collar and the materials used are high-quality and the shoe is very sharp-looking. It is suitable for lifting because of its stable and firm heel.
Cons – It is a bit noisy, and the arch support is a bit questionable and weak. It is also $20 more expensive than the Reebok.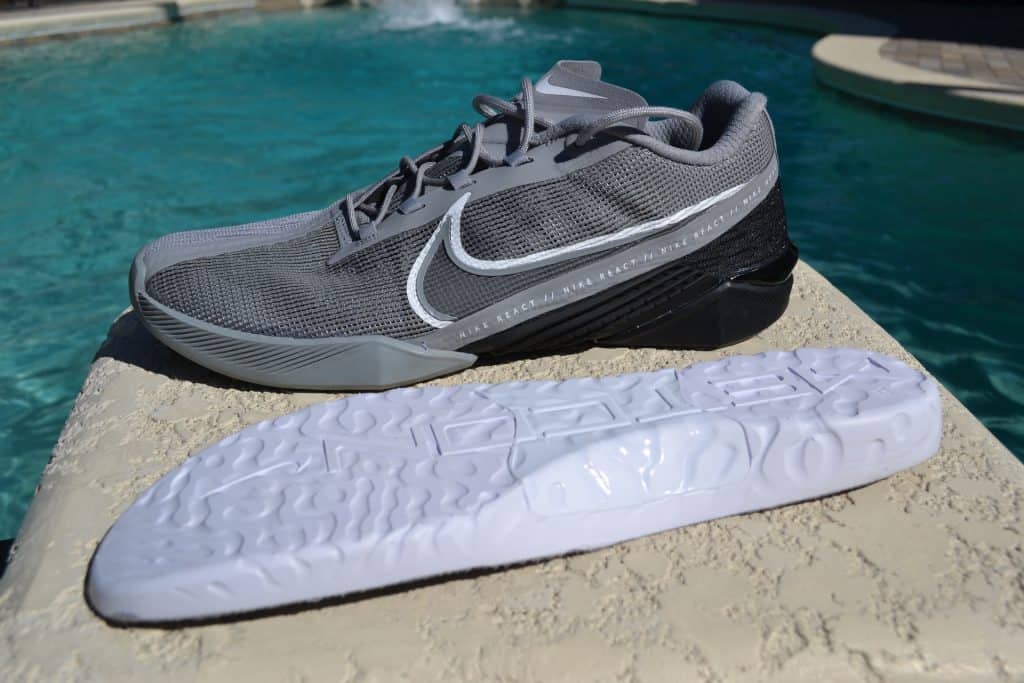 Reebok Nano X1
Pros – It is lighter and has a cushion that is better for running and walking long distances. This is not a running shoe, though, so don't expect a pillow-like cushion. The arch support is good, and that little bit of extra drop can be felt in some activities.
Cons – It looks cheap and boring. Reebok could have done more with the upper. I'm not too fond of the tongue, and the curve is a little bit too much.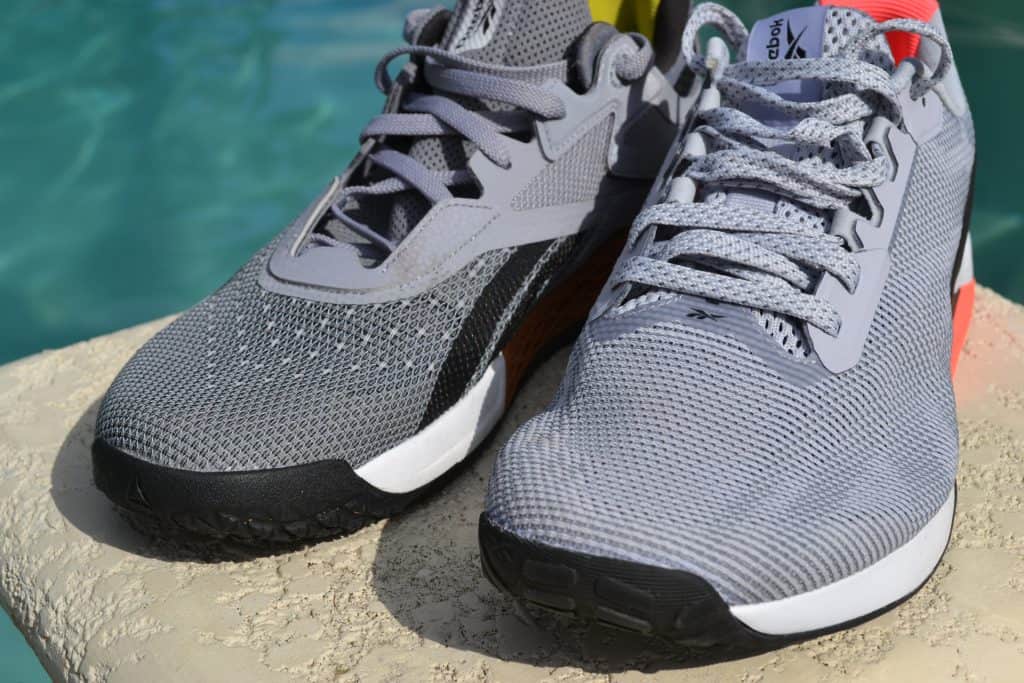 Nike React Metcon Turbo Versus Reebok Nano X1 Review – In Summary
That's our review of the Nike React Metcon Turbo and the Nano X1 Grit from Reebok.
Choosing the right shoe boils down to your workout activities. Do you run more? Then Reebok Nano X1 is perfect for you because of its cushion from forefoot to the heel. But if you are weightlifting and doing plenty of squats, Nike React Metcon Turbo has a more stable and firm heel to keep you going.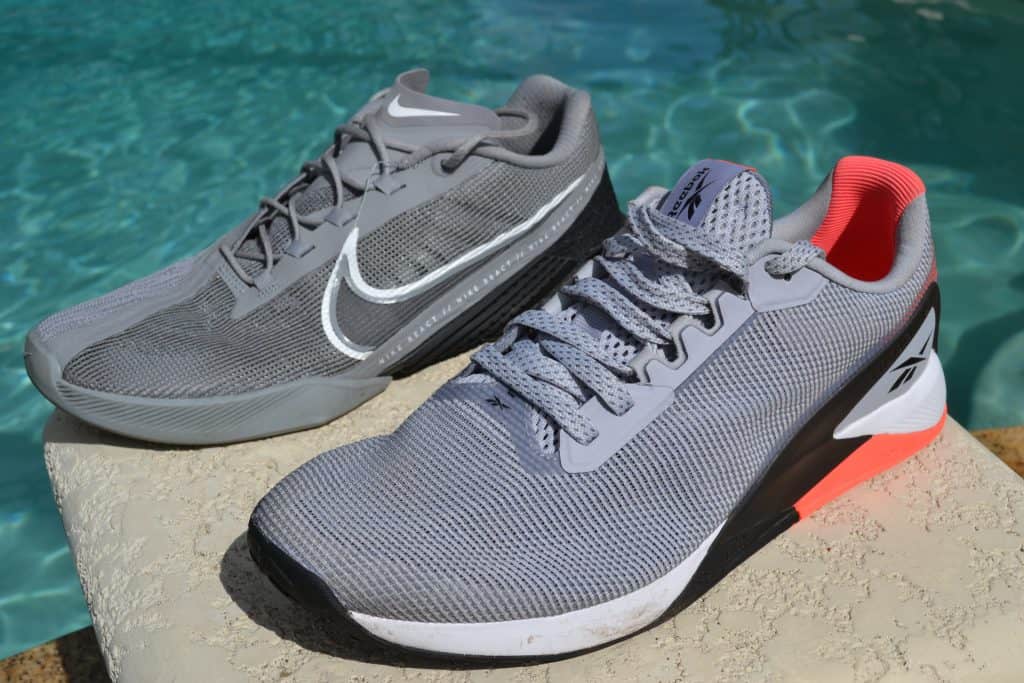 Photo Credits
Some product photos on this page are property of Nike.
This website is not affiliated or associated with CrossFit, Inc. CrossFit is a registered trademark of CrossFit, Inc.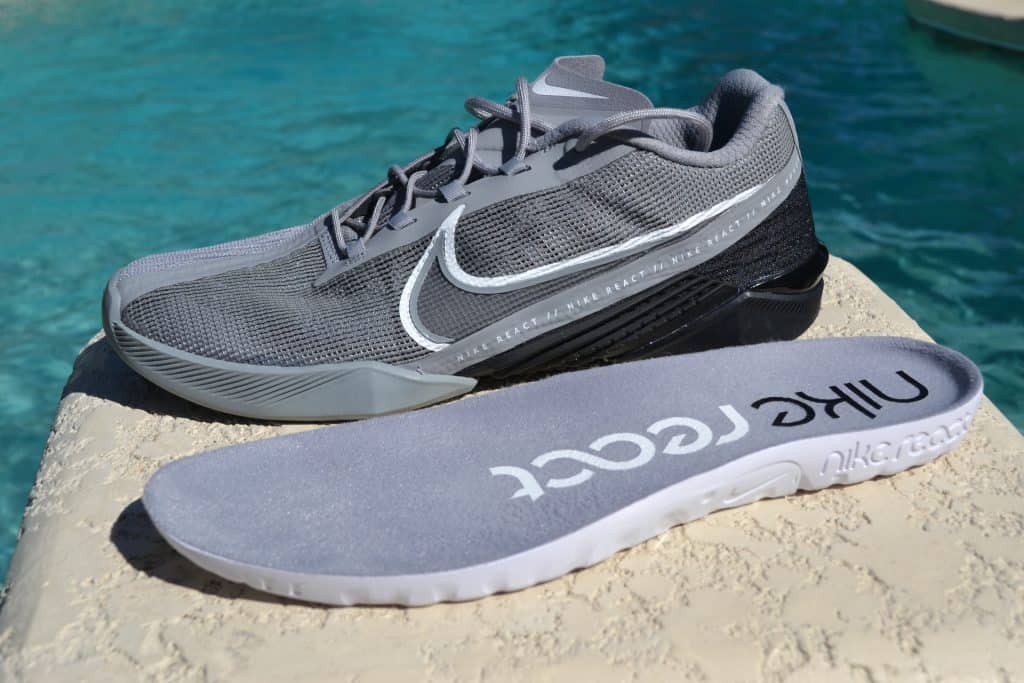 Affiliate Disclaimer
We are an affiliate of Reebok and others that sell this training gear. If you buy clothing or other training gear after clicking the links in this article, we receive a small commission at no extra cost to you. This helps us to bring you in-depth information and content on these great training products.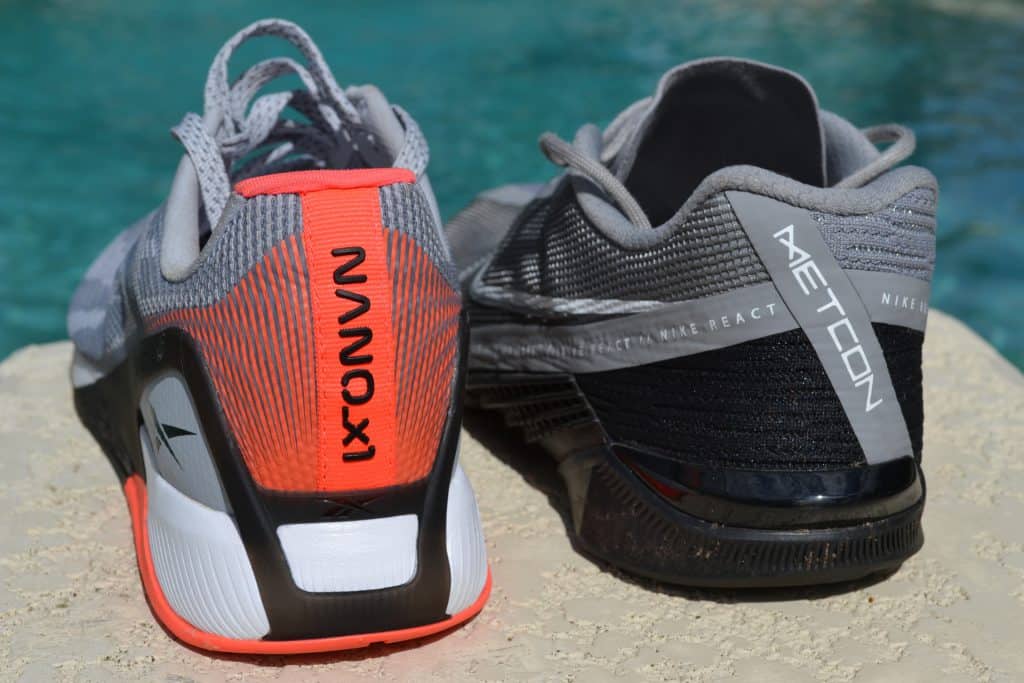 Tim is the founder of FitAtMidlife.com – an avid gym rat for 30+ years, he's a reviewer of many, many shoes – and founder of the Speed Bag Gathering – the world's only gathering of speed bag punching enthusiasts.  See more gym reviews at Tim's YouTube channel.