Let's review the best athletic sock for CrossFit.
A sock review? Yes, a sock review. Let me explain.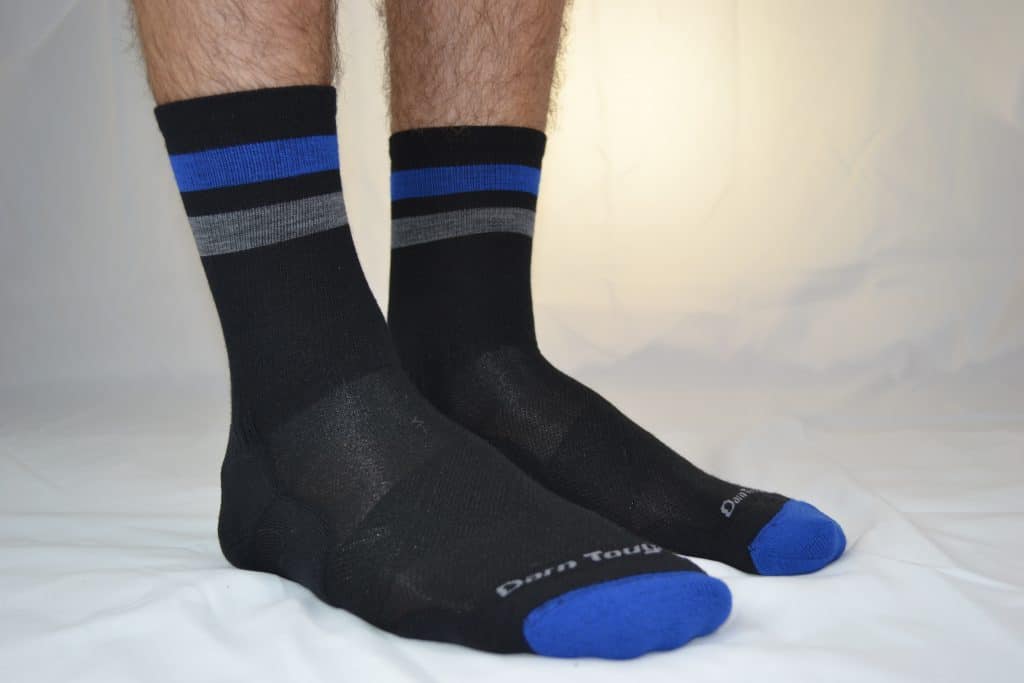 I'm the guy that always bought cheap socks.
You know, whatever was in the bargain bin at the front of the store – the 12 pack of paper-thin cotton socks for $20.
But after I started buying (and testing) real athletic socks – I can't bear to wear the cheap ones any longer.
So ditch those Walmart socks (the ones that get a hole the 2nd time you wear them) and check out some of these better options for your workout:
Let's take a closer look.
Athletic Sock Versus Running Sock – What's the Difference?
First of all, what is an athletic sock anyways?
Is an athletic sock and a running sock the same thing?
Sort of. Here's the key differences.
Athletic socks are for general fitness activity and exercise.
They tend to be light-weight, breathable, and usually have at least a mild compression effect to them – thanks to a comfortable, stretchy fit.
(The theory with compression socks is that they offer the same performance and recovery boost that other compression gear does).
So how is a running sock different?
Running involves a lot of repetition, impact, and moisture.
So, running socks tend to have more cushion (on the bottom) than your average athletic sock.
They also are normally some form of moisture wicking material – to get that sweat away from your skin.
Lastly, running socks will normally help combat the mortal foe of any runner – blisters.
And while running socks are a great idea if you are running a lot – they might be overkill if you are doing a more balanced functional fitness style workout – like CrossFit.
(But on the flipside – wouldn't you like a more cushioned sock to go with those no-cushion cross training shoes you are wearing? I know I would.)
Having said all that, there's a LOT of overlap between athletic socks and running socks.
Therefore, we're going to look at a number of options – and let you decide what works best for your workout.
Best Sock for CrossFit?
So what do we want in an athletic sock for CrossFit?
Here's my "Wish list".
I like a slight compression effect – something that gives a tight, but comfortable fit.
Why? Well the compression effect can help reduce muscle fatigue – and boost your recovery ability.
There's also a thought that they help reduce the incidence of muscle strains.
All that – and it feels nice – so let's make sure there's some compression effect in our socks.
How about cushion?
For CrossFit (and any functional fitness style workout) we're probably not running much – maybe a few hundred meters. (Or maybe not at all – if you are lucky).
But, do you wear cross trainers like the Reebok Nano X, Nike Metcon 5, or something similar?
Those shoes have close to ZERO cushion. It's the nature of the beast – they are cross training shoes – they have little cushion so they feel stable under a heavy squat, deadlift, clean, or snatch.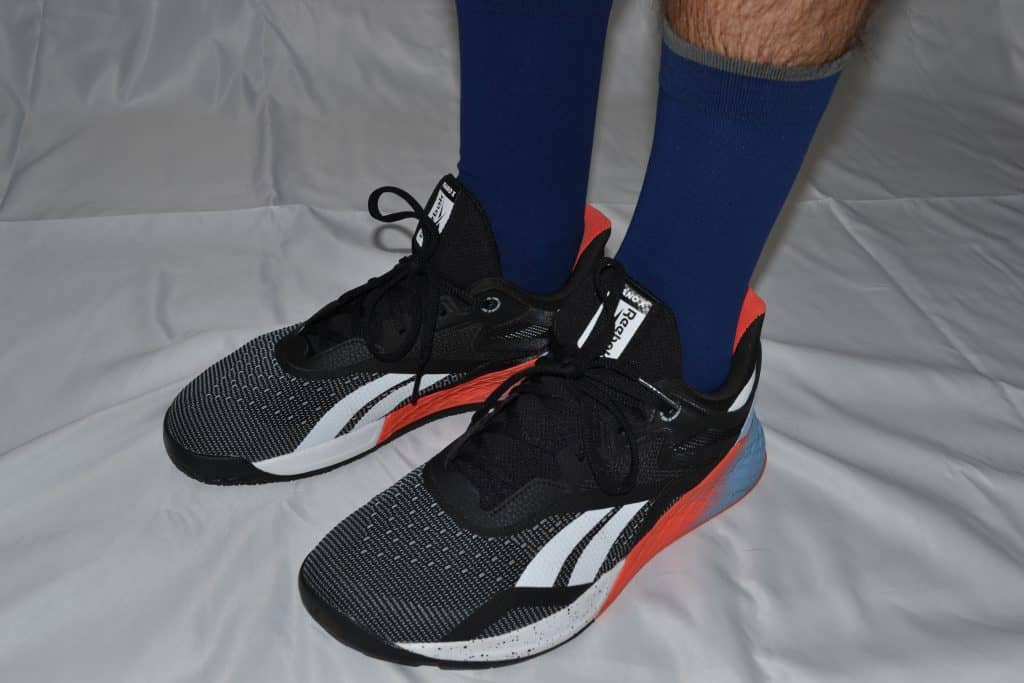 And while that's great while we are lifting heavy weights, those shoes tend to be less comfortable at all other times.
If we can't change the cushion in our shoe, we certainly can put more cushion in our sock – and that is one area where running socks excel.
Some people like to wear tall socks for deadlifting – it helps keep the bar from scraping up your shins as you lift.
(If you are doing the deadlift right the bar is CLOSE to your body at all times).
If you want that, look for a sock in the "over the calf" length. We'll consider that an optional requirement here though.
Lastly, CrossFit WODs tend to be a hot and sweaty affair.
If we can get any sort of moisture-wicking (to get the sweat away from our skin), anti-microbial properties, and thermo-regulation or breathability – that's a good thing.
Let's look at the contenders – we'll tell you were each of these rank in our hands-on (feet on?) testing.
Athletic Socks from Darn Tough
Let's look at athletic and running socks from Darn Tough.
These are all made in the USA (knitted in Vermont) and they all use some amount of Merino wool (which may be imported).
Why Merino wool? It's one of nature's wonder materials. Keeps you cool when it's hot, and warm when it's cold – that's what we call "thermoregulation".
It's 6 times more durable than cotton, and is naturally anti-odor and anti-microbial.
This isn't old fashioned wool – Merino wool is much finer than traditional wool.
Here's the 1/4 Sock Lightweight with Cushion. Being 1/4 Sock Height means it sits just above your ankle. This feels perfect – fast and light – and it will work with any running shoe or cross trainer.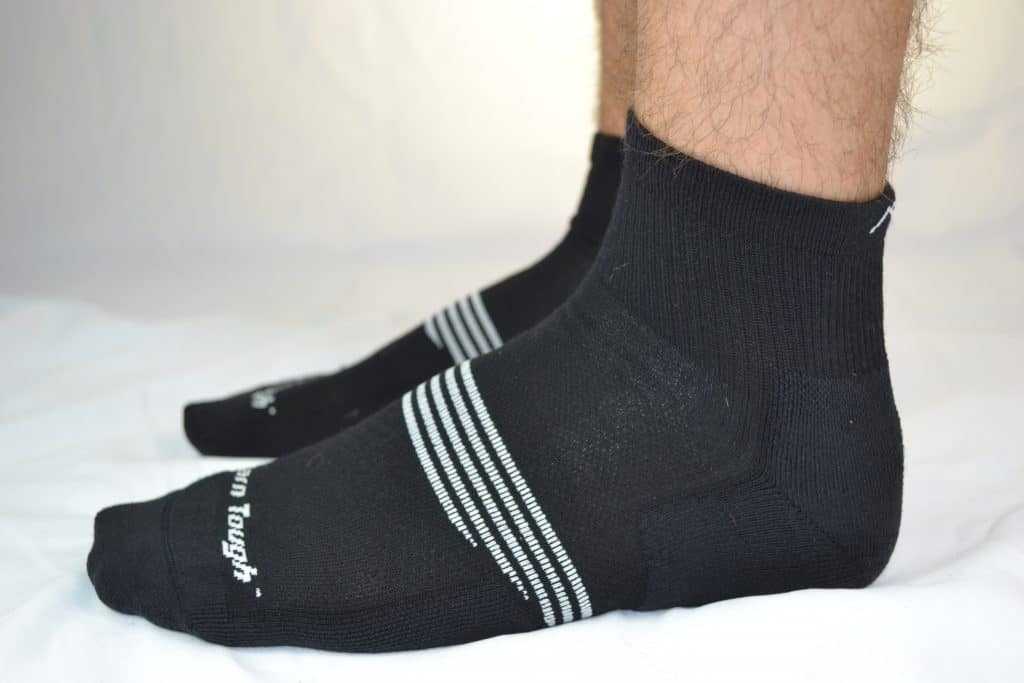 This specific version of the sock has extra cushion on the bottom.
That means it makes those bare-bones cross training shoes a lot more comfortable.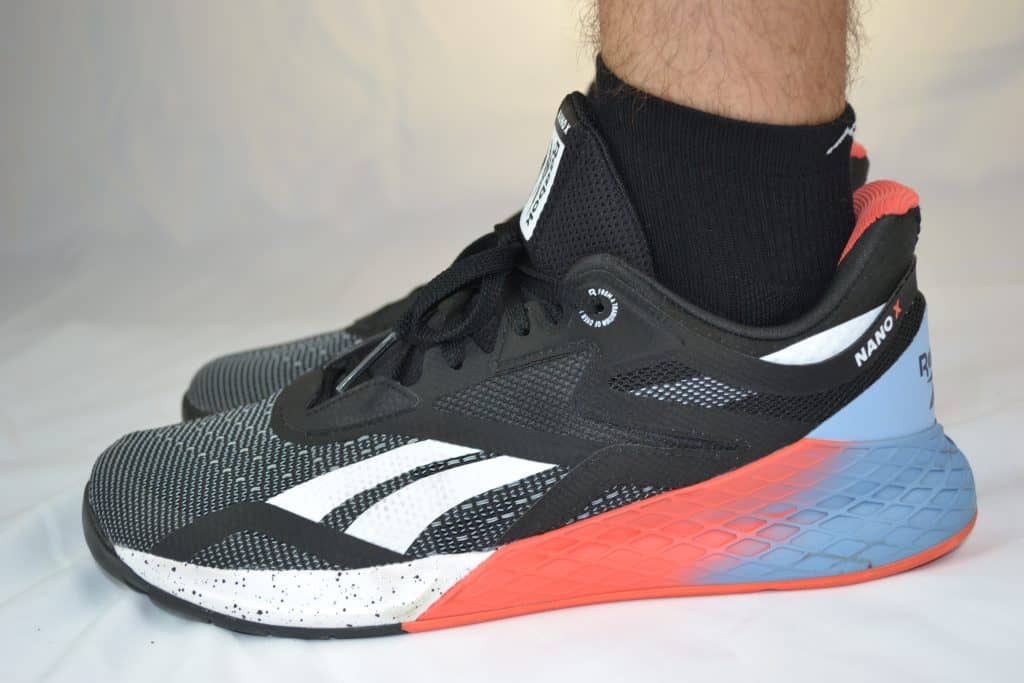 These are made from a 53% Nylon/43% Merino Wool/4% Lycra® Spandex bland.
That means a stretchy, comfortable fit – no bunching or excess material.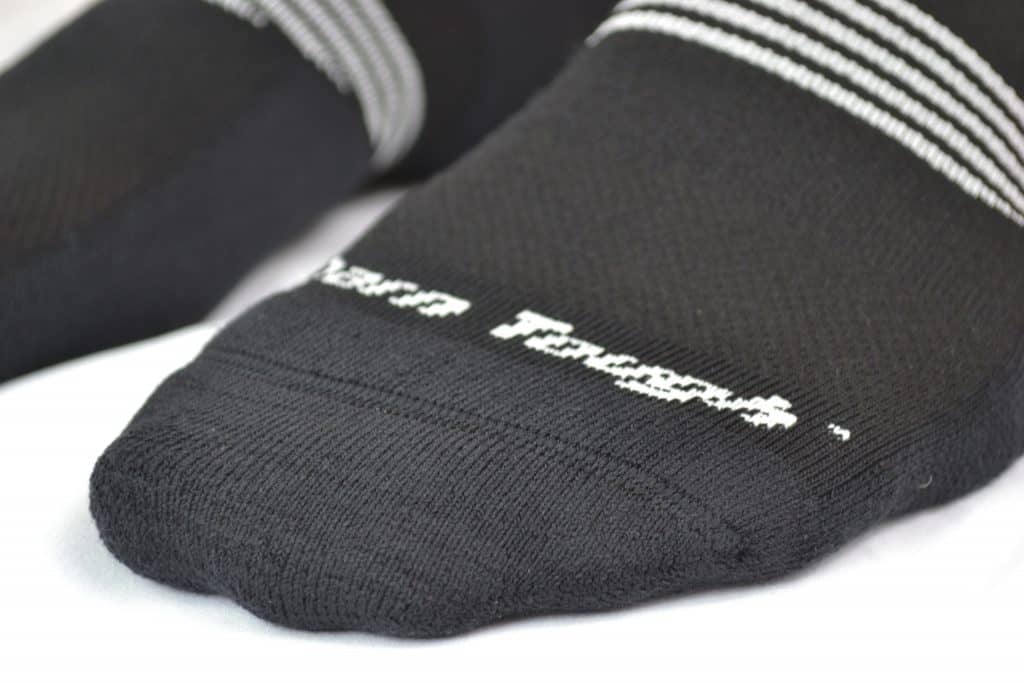 Want a shorter height? We'd recommend you look at the Element No Show Tab Light Cushion.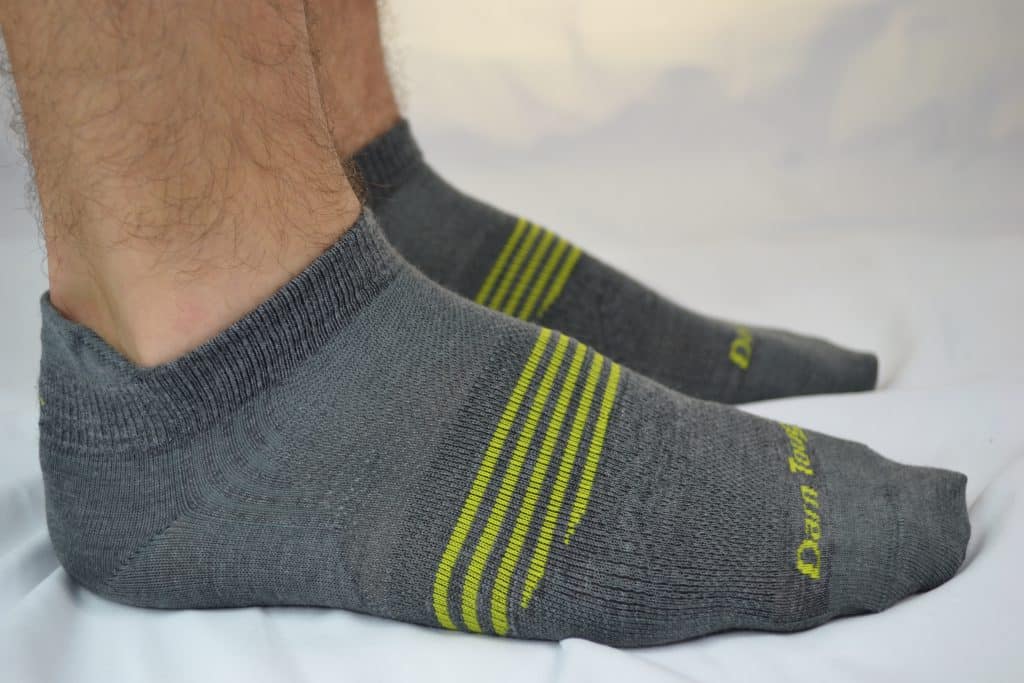 It's basically got all the same features as the other sock – but in a no-show height.
Being a shorter sock, it does have a higher Lycra Spandex count – to make sure the fit is perfect.
The "tab" on the heel also helps ensure these short socks stay put.
And if you are looking for something even lighter – they make a version of that sock without the bottom cushion.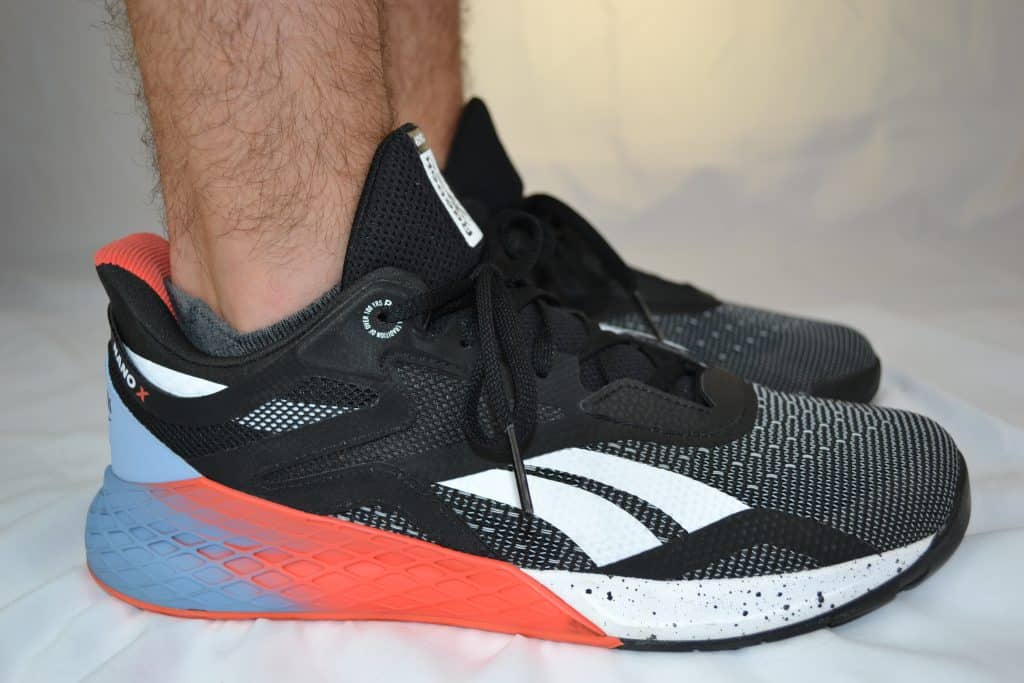 How about a running sock option from Darn Tough?
The Vertex Micro Crew Ultra-Light Cushion is our top pick.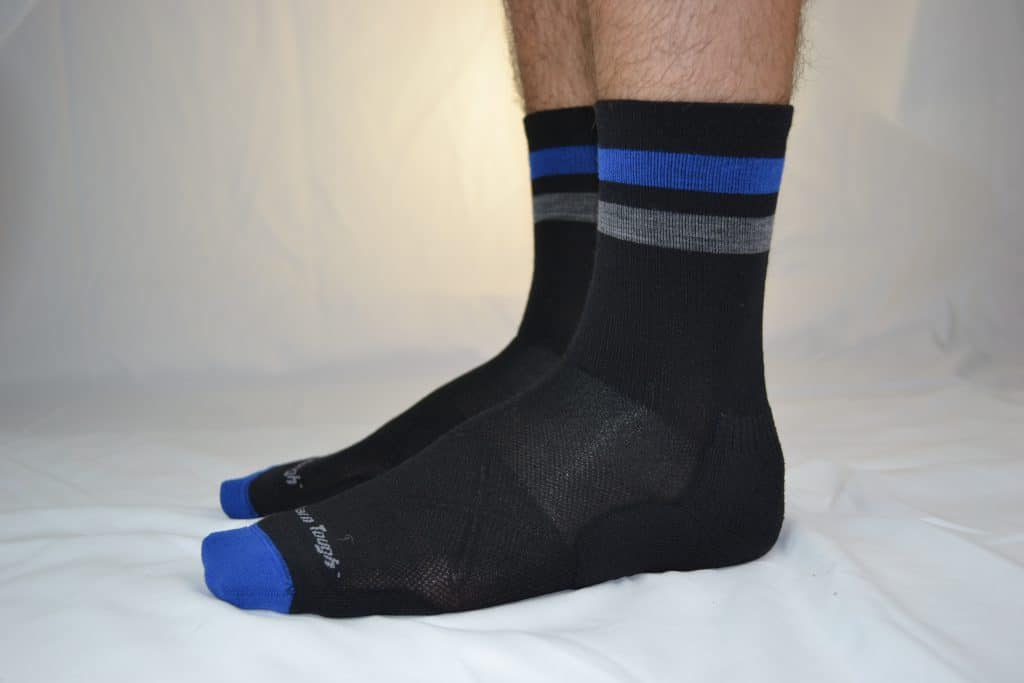 How does this "running" sock differ from your average athletic sock?
It's ultra-lightweight and made with 51% Merino wool/43% Nylon/6% LYCRA Spandex. Why add weight to your run?
At the same time, this is a cushioned option (again – for reasons we already explained).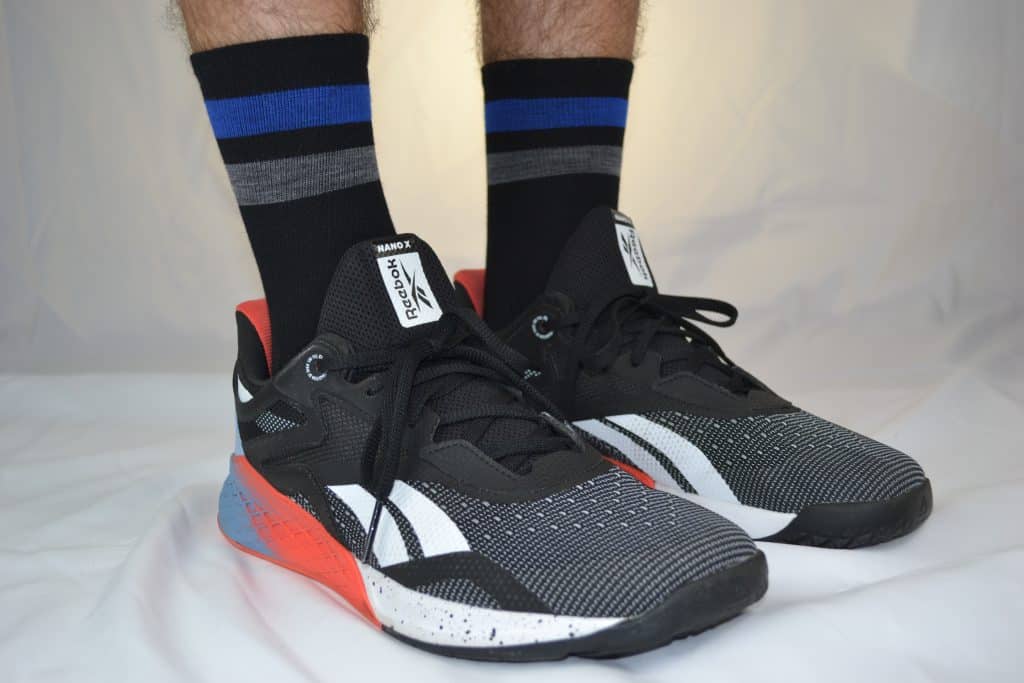 All that and it looks nice.
By the way, all these Darn Tough socks are "guaranteed for life".
No strings. No conditions. For life.
Are these expensive socks? Not if they last forever – and if you love wearing them (and you will).
Here's a close-up of the upper of the sock – they are very high-quality.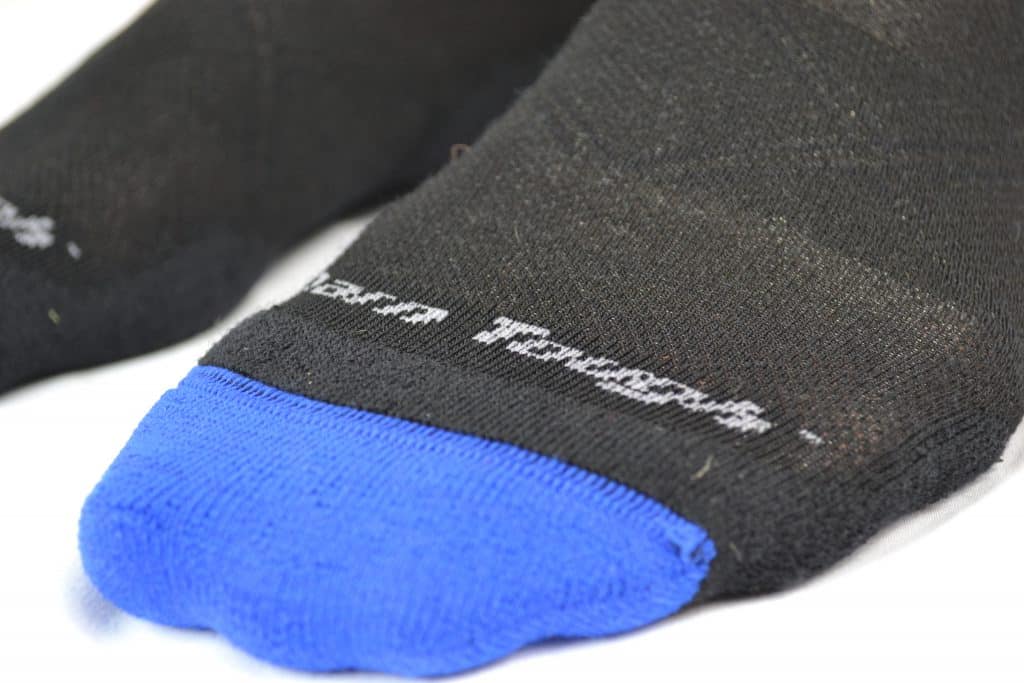 These are great socks.
The Wonders of Merino Wool
Merino wool makes for a much better performance fabric than regular wool – here's why:
Moisture Wicking –
As your body heats, Merino Wool absorbs moisture before it turns into sweat on your skin, and releases it, leaving you dry.
Thermo Regulating –
There is a natural crimp in wool fiber that provides pockets of insulation—holding and releasing heat dependent on what the body is doing.
Anti-microbial –
Odor resistance is unique to wool. The chemical structure stops sweat and bacteria build-up. So go ahead and take a whiff.
Athletic Socks from ALMI
Any road warriors in the audience?
For me personally, I travel a lot for work – and always have. But I never check a suitcase – it's roller bag or bust for me.
So that means I've got to be choosy about what I pack – and the professional settings I'm in usually equates to dress pants and dress shoes (and occasionally a tie – Ugh!).
ALMI ("A Little More Invincible") makes the All-Day Performance Sock.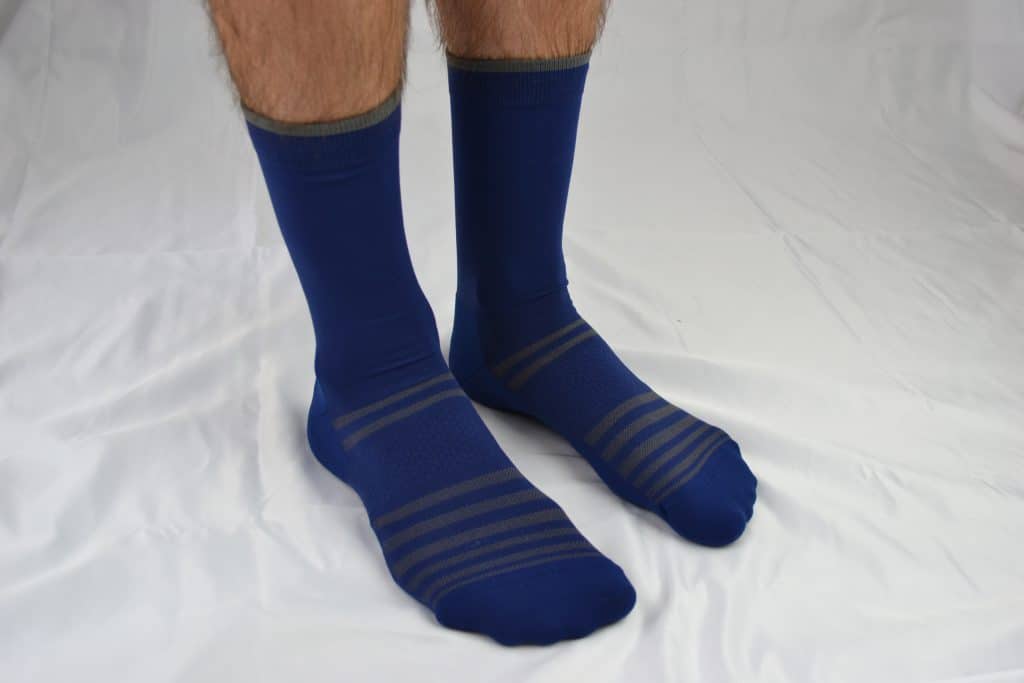 What's special about these?
They are the perfect blend of dress and athletic – for the office during the day – and the gym in the evening.
These are 200 needle fine knit – just like your other big-boy dress socks. Those ones you paid a lot of money for. (Can you wear those in the gym?)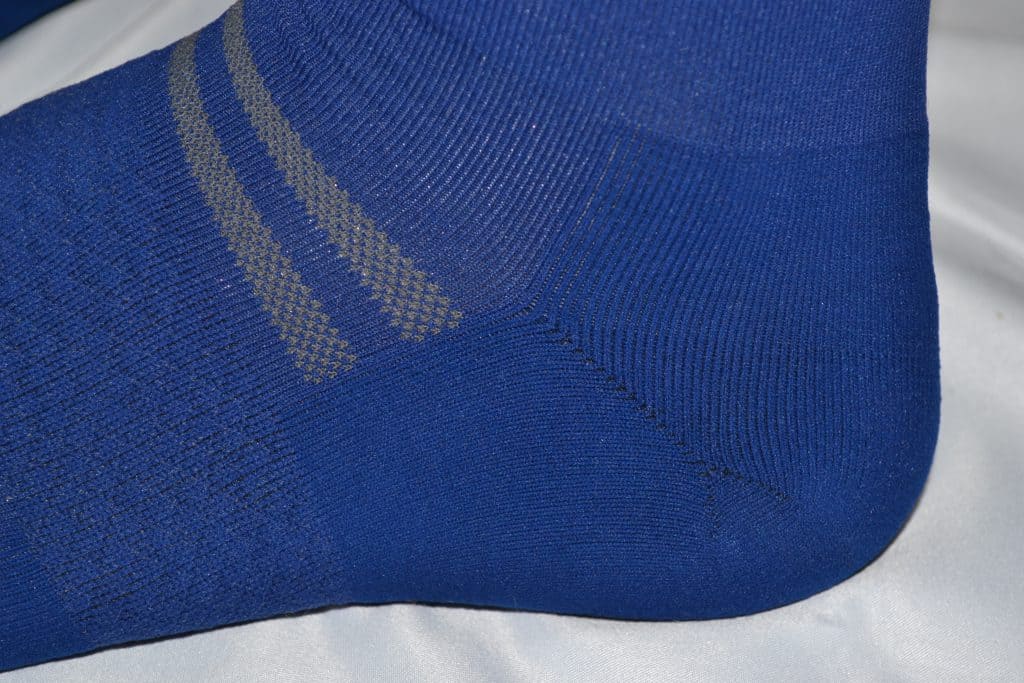 They have a conservative look – but still pack the performance features we look for in a premium athletic sock. They are available in 3 colors.
They have the light compression and comfortable, stretchy fit that I prefer.
They have a lightly padded heel and toe. That makes them great for standing all day in dress shoes – and they work nice with the Reebok Nano X and Metcon 5 shoes.
The padded heel works great in shoes where the heel is just a tiny bit loose – this sock can make the difference between too loose – and a perfect fit. (For this reason I love to wear these with both my Legacy Lifter and Romaleos weightlifting shoes).
They also provide excellent arch support.
See those stripes? That's not just a fancy design. Those are breathable mesh zones.
These are also anti-microbial, anti-odor and built for comfort and durability.
ALMI gives you a generous 30 days to try – and return them if they aren't awesome.
I'll bet you keep them though.
Here's one last thing we like about these – the more you buy, the cheaper the price. That's nice.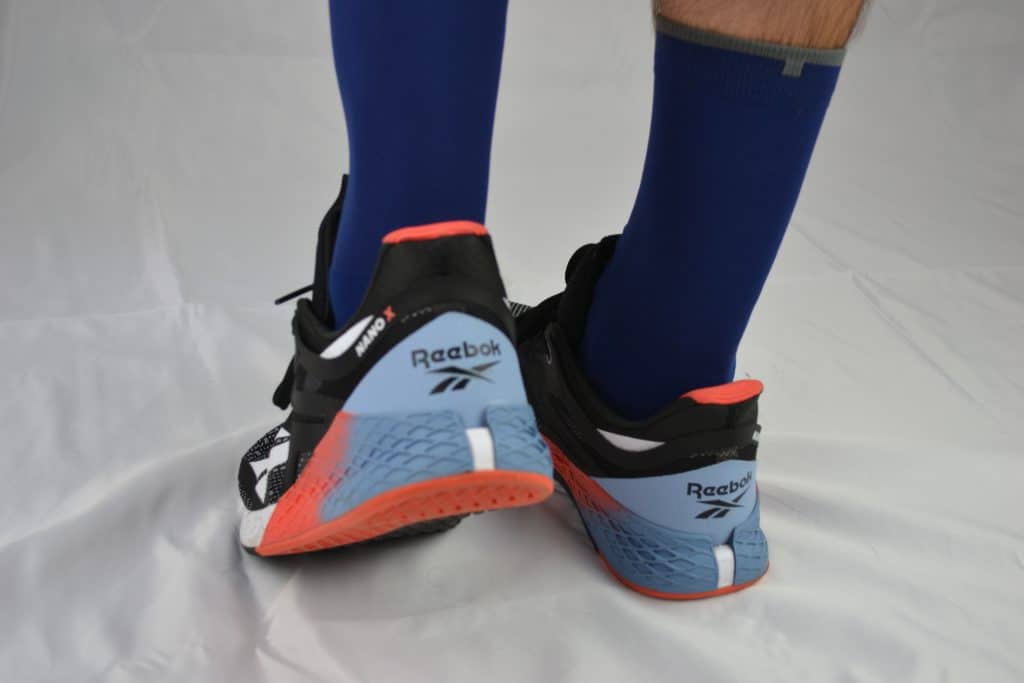 Athletic Socks from MudGear
MudGear makes tough stuff too – they have to.
Here's the MudGear No-Show Running Sock (Buy on Amazon) – It's a great no-show sock that meets all our criteria for an excellent workout sock.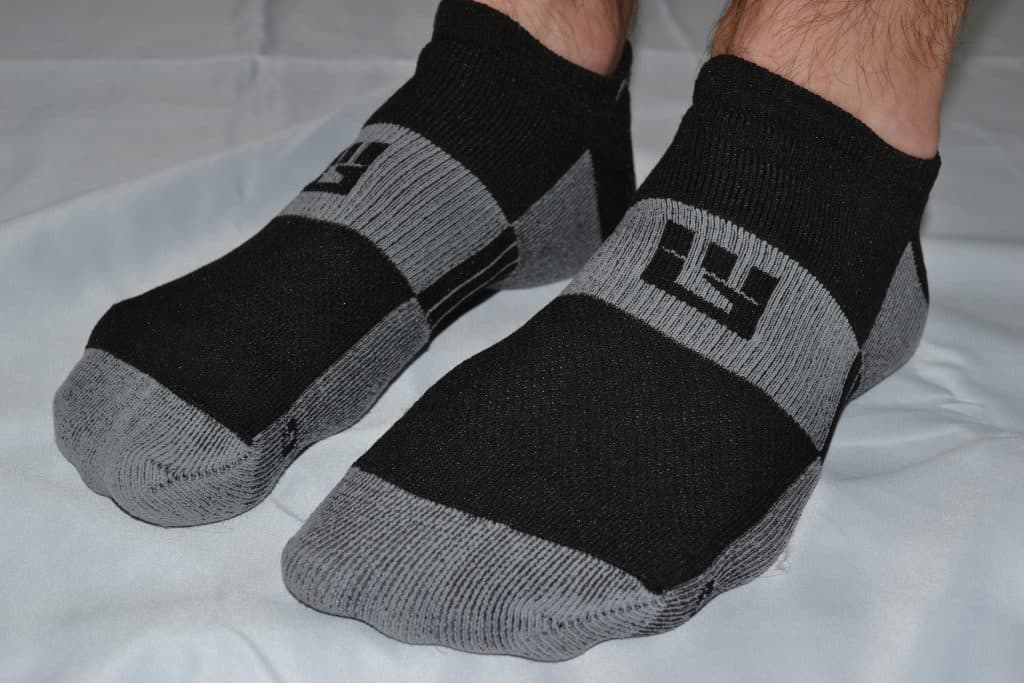 They specialize in apparel for mud runs and obstacle course races (or OCR, as it is known).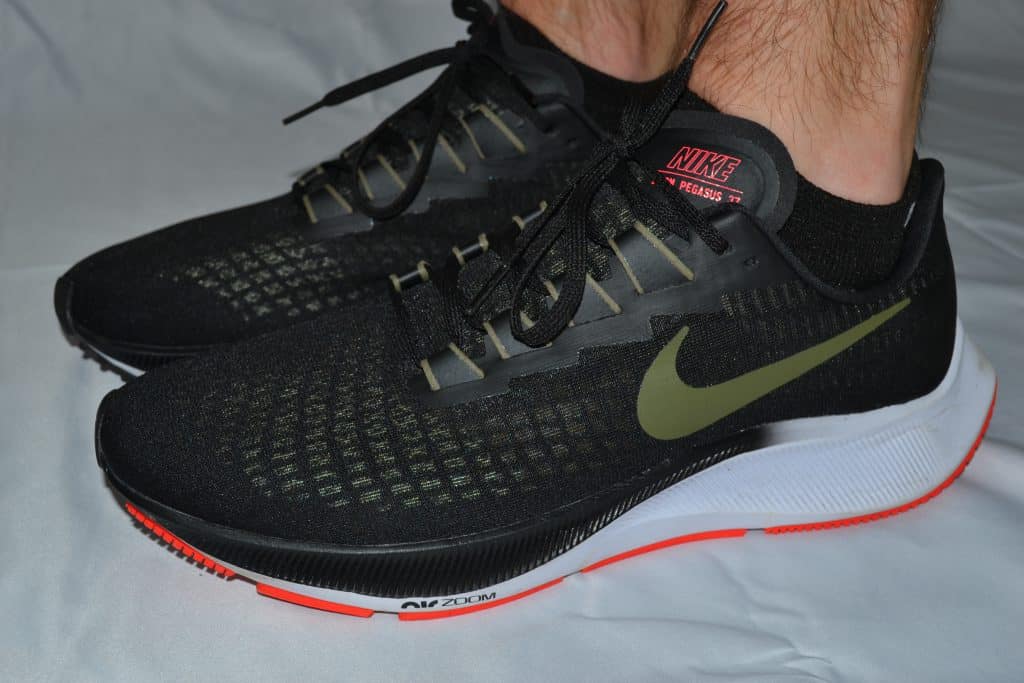 What should you expect? Comfort and toughness – and an improved ability to handle water immersion.
(Remember, they build stuff for mud runs).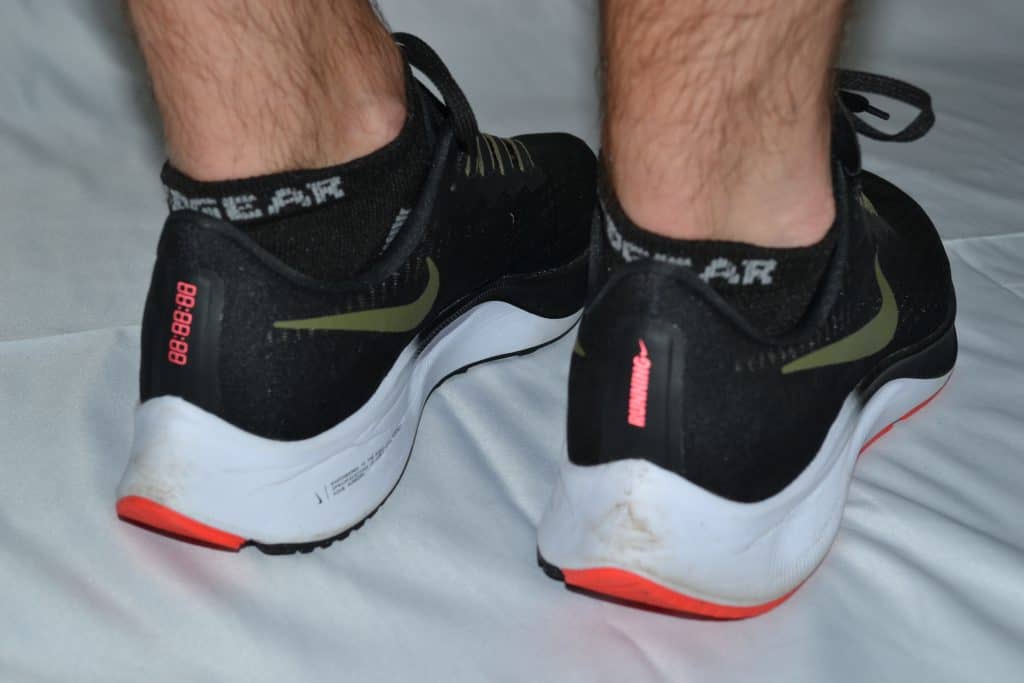 These are made in the USA – and they have an extra supportive midsole – and that means no slipping and bunching.
(You can't stop to adjust your socks when you are running a race against the clock).
They have a good level of cushioning on the sole.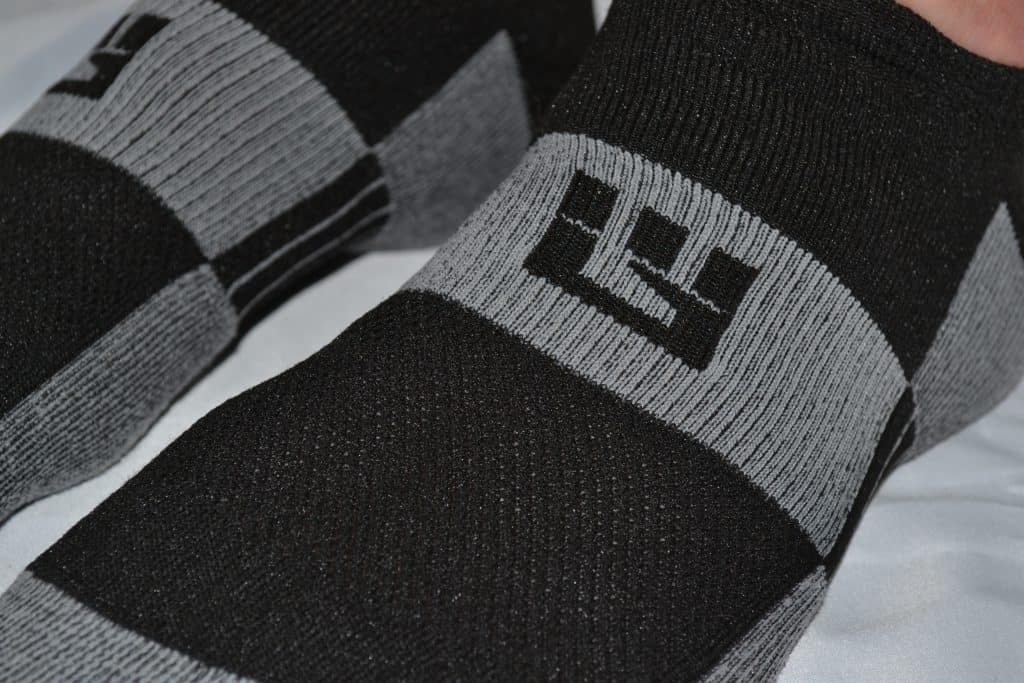 These have been put to the test by experienced trail runners and endurance runners too.
Based on my testing – these are great socks for CrossFit – and just about anything else.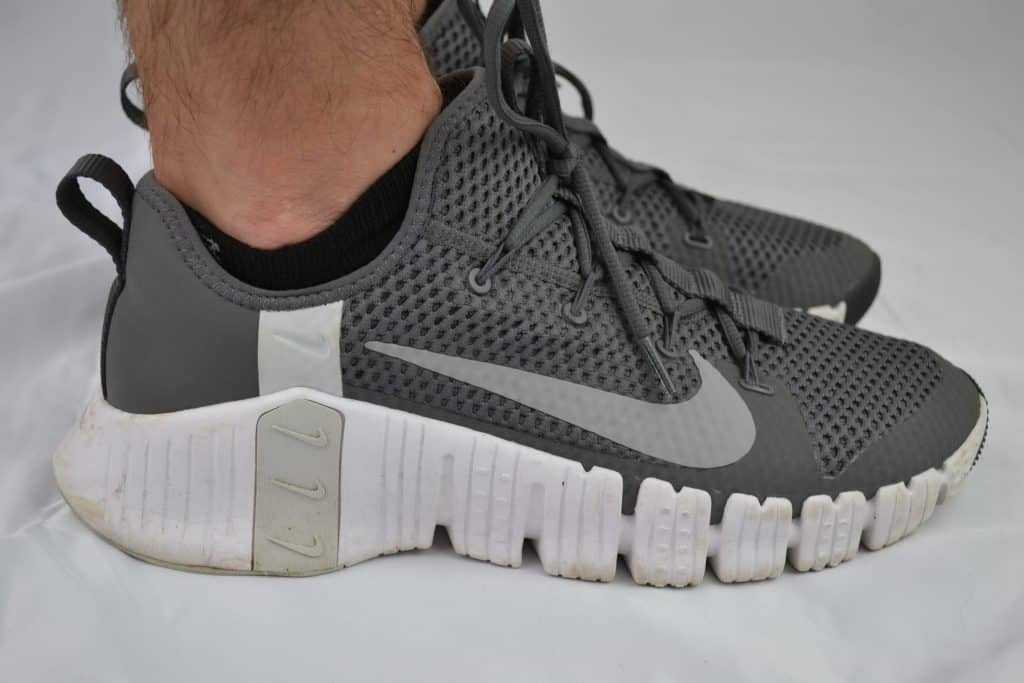 Why Cheap Socks Stink
If you are buying in bulk, you can't beat the price of that dozen-pack of thin cotton socks.
But here's where those are a false economy.
They get holes – QUICKLY. I've had Walmart socks that went south literally the first time I wore them. They were just TOO thin (that's why they are so cheap).
They never have any compression effect and the fit is usually very poor. With no stretch to them, they fit your feet like a trash bag. Lots of bunched up material in the toes, in the heel, or both.
The elastic tends to be poor – or outright fail. They certainly don't get better with age.
Lastly, cotton is nice for some things – but it is NOT considered to be a high-performance material.
The socks we've reviewed here are made from high tech, premium materials – and provide high performance.
Best Athletic Sock for CrossFit – In Summary
Cheap socks for your CrossFit workout are a false economy.
They fit poor, they don't help your performance, and they don't last long.
The best athletic sock for CrossFit will give you a performance boosting compression effect, breathability, sweat wicking, and a nice, comfortable fit.
Perhaps more importantly – they'll work consistently – over and over and over.
I don't mind paying a lot for socks – especially if they last a long time.
Photo Credits
Some product photos on this page are property of the manufacturers.
This website is not affiliated or associated with CrossFit, Inc. CrossFit is a registered trademark of CrossFit, Inc.
Affiliate Disclaimer
We are an affiliate of ALMI, Mudgear, and Darn Tough. If you buy socks after clicking the links in this article, we receive a small commission at no extra cost to you. This helps us to bring you in-depth information and content on these training aids.
Tim is the founder of FitAtMidlife.com – an avid gym rat for 30+ years, he's a reviewer of many, many shoes – and founder of the Speed Bag Gathering – the world's only gathering of speed bag punching enthusiasts.  See more gym reviews at Tim's YouTube channel.