At long last, the Nike Metcon 5 training shoe has arrived.
The Mat Fraser special edition (aka the "matcon") sold out quickly at all retailers.
But, now there are many other styles available.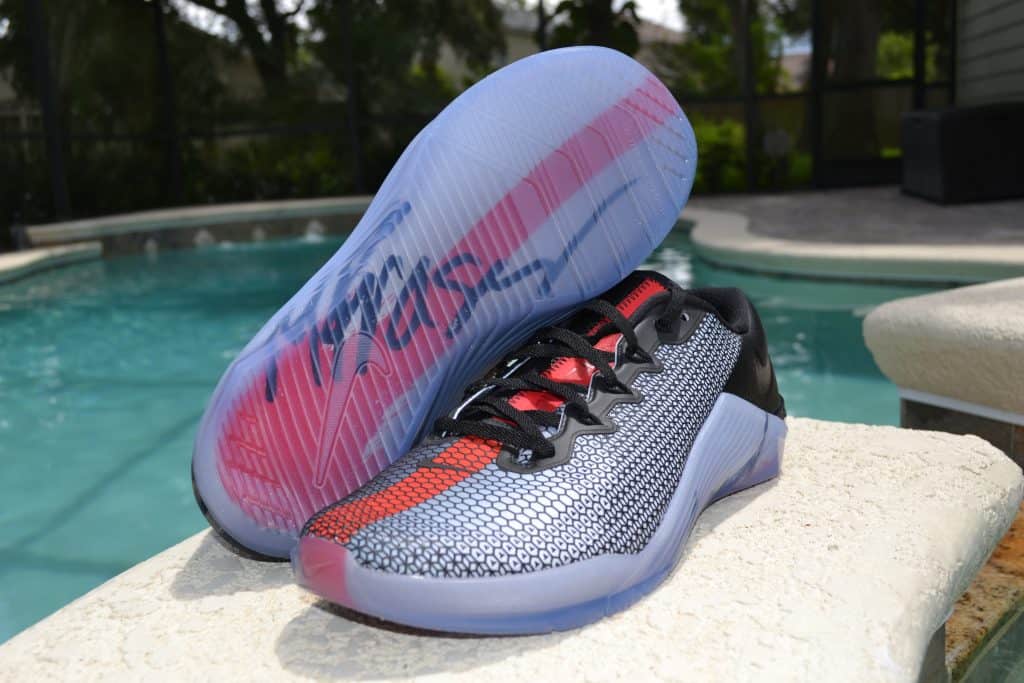 Here's a peek at some of the styles available now. Other styles are coming soon – so check back often.
What's New in The Nike Metcon 5
Let's look at what is new in the Nike Metcon 5.
We're looking at the special edition Mat Fraser shoe here.
Let's start with the upper – the top part of the shoe that covers your foot.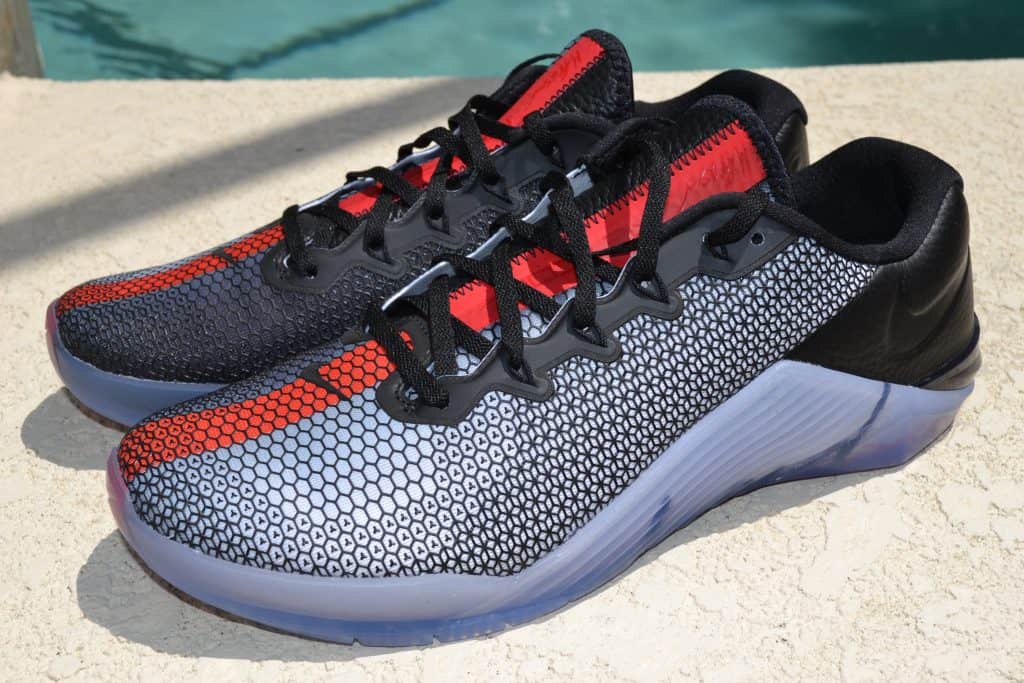 Like the previous shoe, the upper is 3D-printed. It is meant to be breathable and helps keep you cool.
You'll also notice the wrap-around sole is back – for tough protection during rope climbs.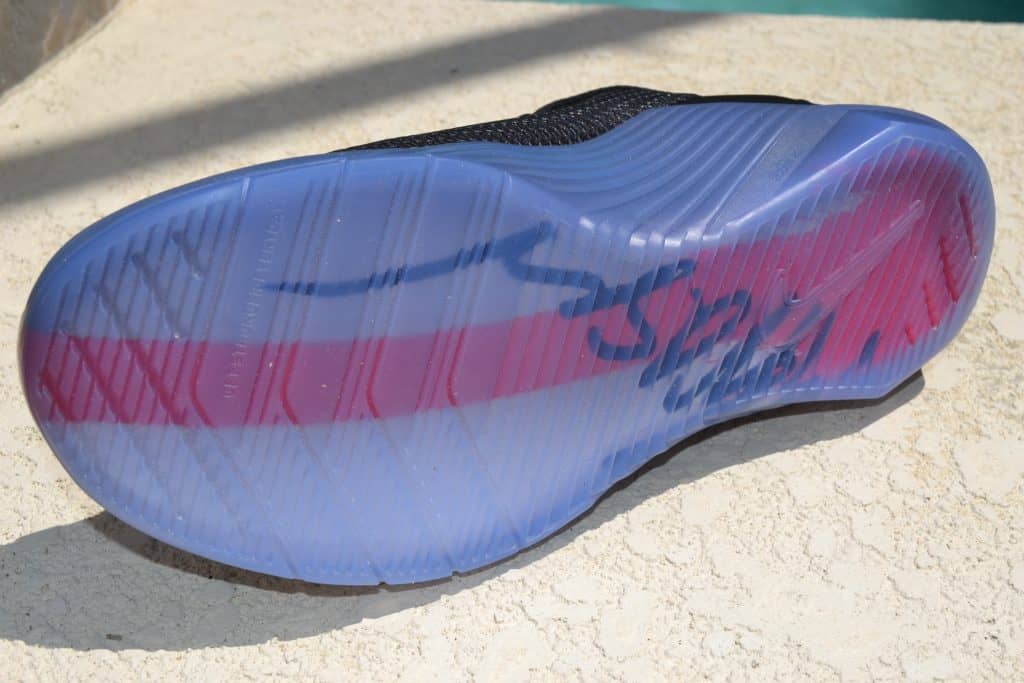 But, notice there's a new directional pattern on the rope wrap – and it goes higher up the side of the shoe.
This should give you better grip and better protection when rope climbing.
Here's a close-up of the rope wrap: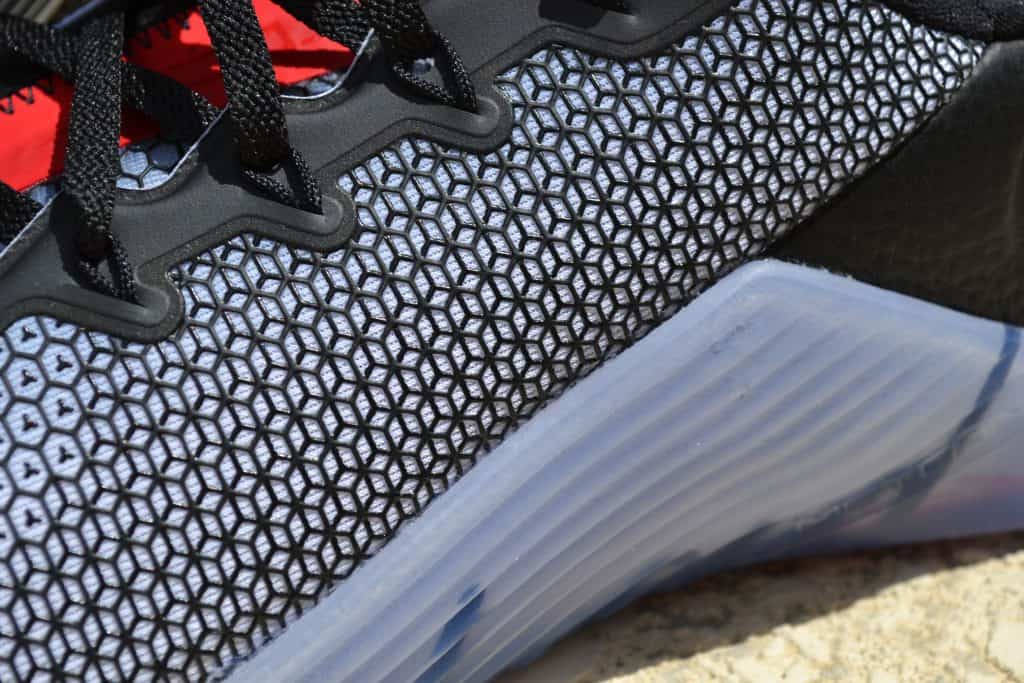 Above the rope wrap you can see the 3D print upper is changed. This new haptic chain-link pattern is meant to better withstand the abuse of rope climbs.
Here's a close-up.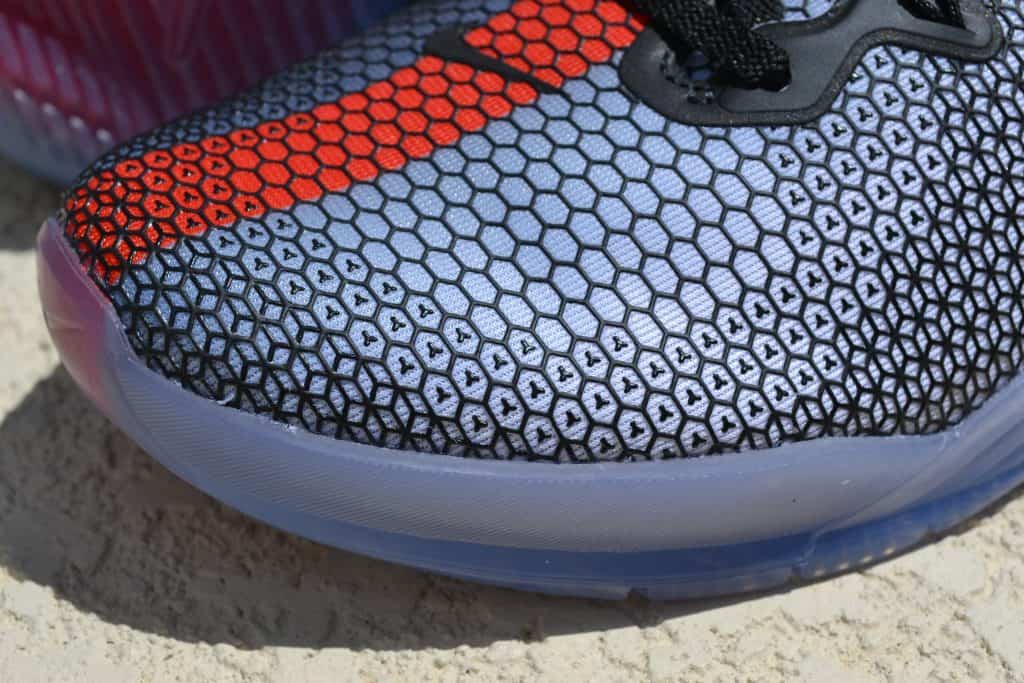 All together- this means more grip on rope climbs, and easier descents too.
The tongue has more cushioning for better support and lock-down.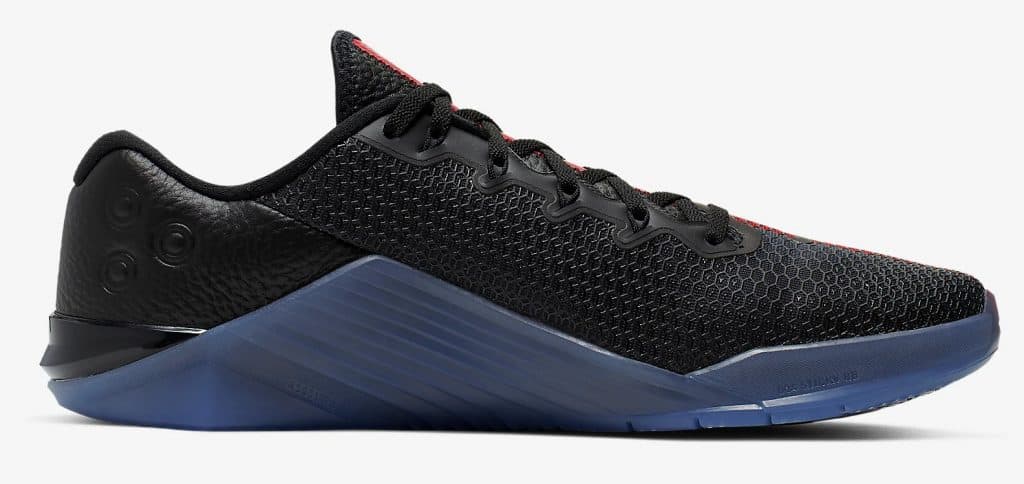 The diamond shaped heel is now wider. This wider heel improves stability during heavy squats, snatches, cleans and any other heavy weightlifting.
Nike has also improved the drop-in midsole. It's dual density foam – like usual – but they've raised the sides up a bit compared to previous years.
Why a dual-density midsole? It is softer and more flexible in the forefoot, but is denser in the heel – where you need weightlifting stability.
After having worn my shoes for several days – I can confidently say that the Metcon 5s are definitely more comfortable than the Nike Metcon 4 XD. There's more cushion, especially in the heel area, but they are still OK for heavy weightlifting.
This dual-density foam is one of the big secrets to making the Nike Metcon shoes so versatile – box jumps, jumping rope, sprints and more all benefit from that flexible forefoot.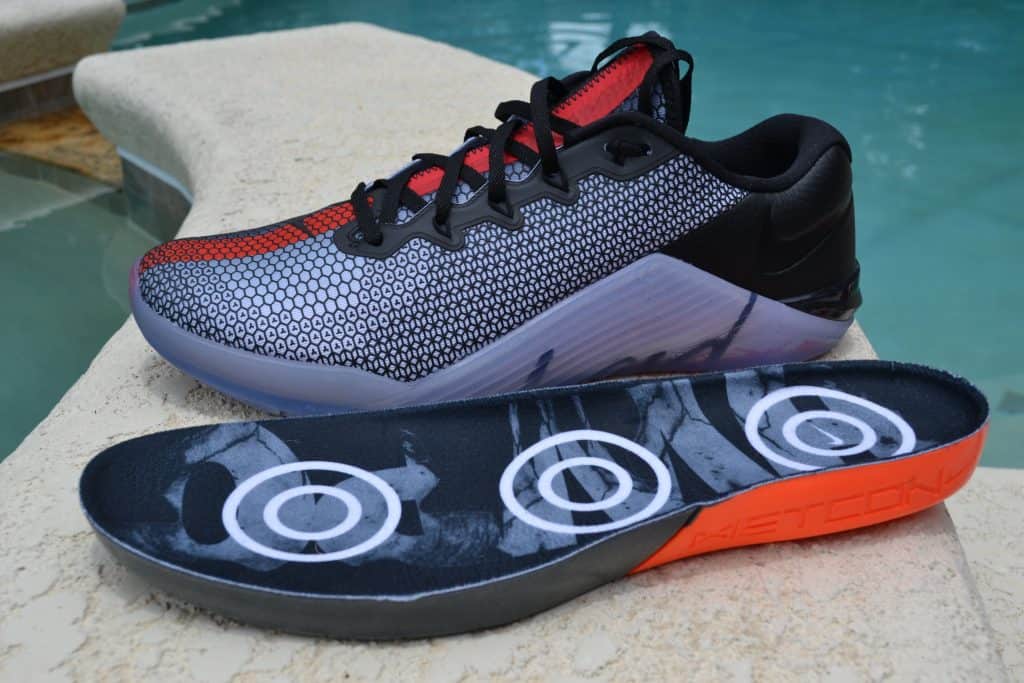 What's the raised sides good for? Better lateral stability, most likely.
Additionally the "heel to toe drop" or just plain "drop" is the same at 4mm. This means your heel is 4mm higher than your toes.
This helps with versatility – you can lift, run, jump, and climb in these shoes.
But, with the Metcon 5, Nike has included removable lifts that can be inserted into the shoe.
Here's what the Hyperlifts look like. They are the orange wedges to the right of the shoes. They simply drop into the heel area, and one is labeled left, the other right.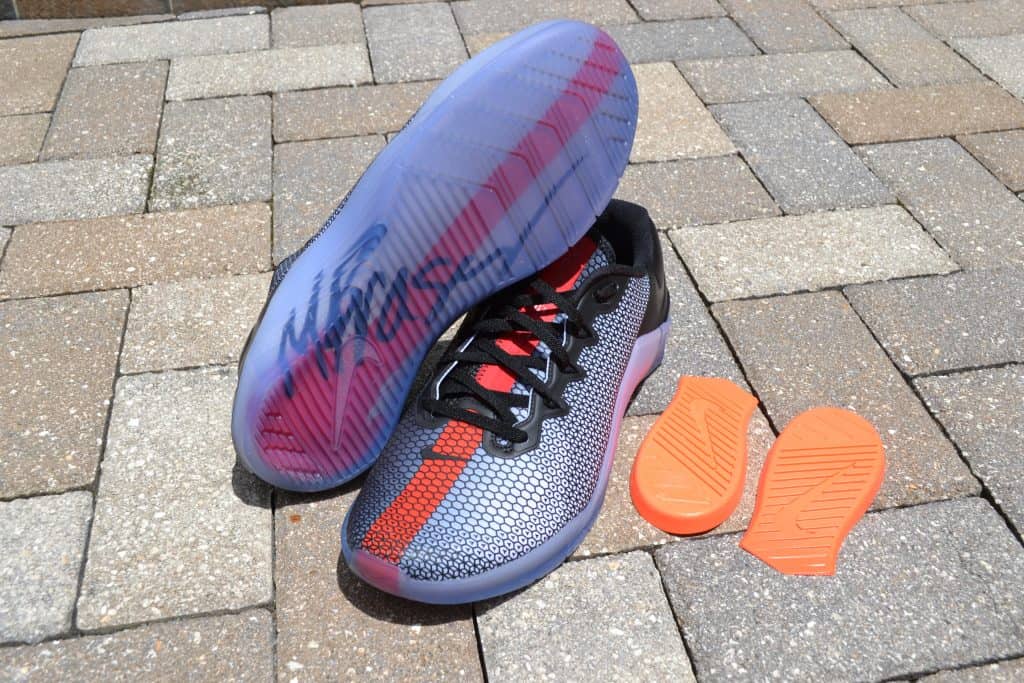 These Nike Hyperlift inserts gives an additional 8mm lift for men and 6mm for women to further improve stability.
This helps the shoes work more like traditional weightlifting shoes ("lifters") – which have a big heel raise to help with certain movements (like squats.)
Nike says that:
"The higher offset helps you to maintain heel-to-ground contact and balance, which can create strong stability during heavy lifts as well as high-rep squats, wall balls, thrusters and even rowing."
Here's what they look like in the shoe.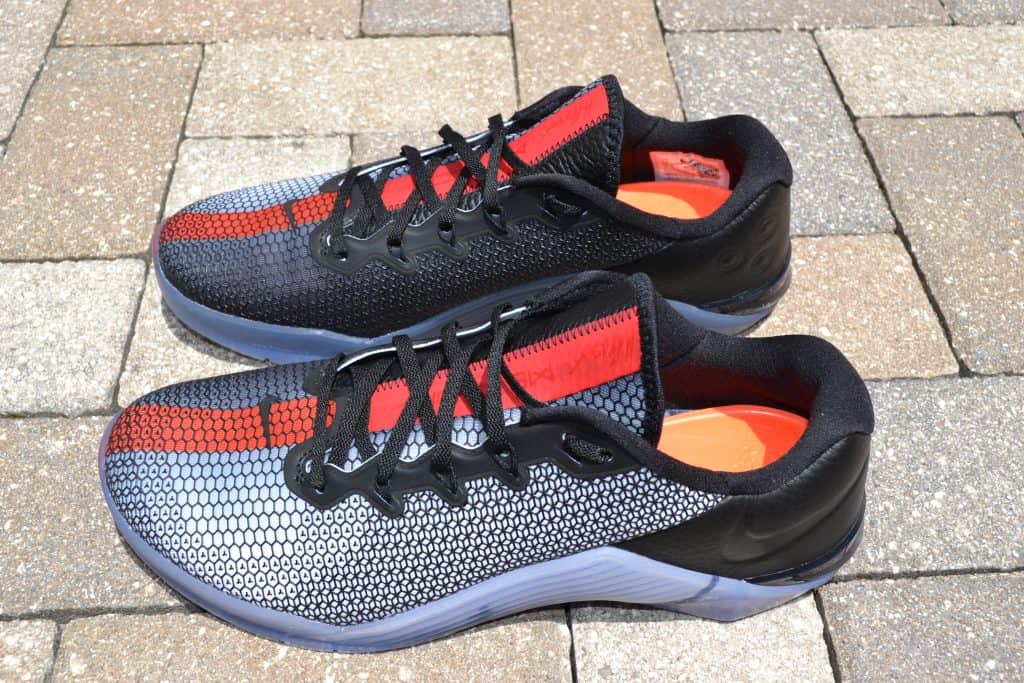 On the underside of the shoe, we have the outsole, or more simply the sole.
It's sporting a new tread pattern. But just like last year's shoe it has stickier rubber in the forefoot and a more durable rubber in the heel.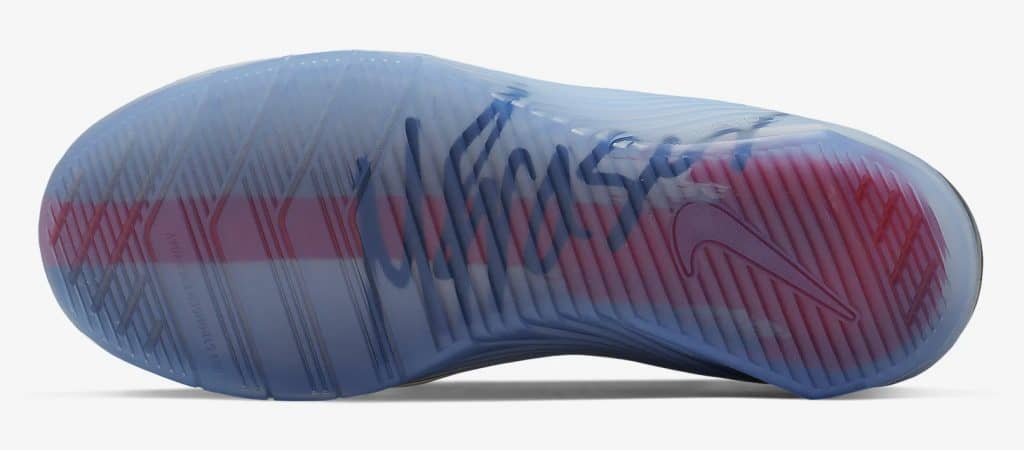 Nike's Flywire is back too. These are super-tough filaments that integrate with the laces of the shoe. They run through the body of the shoe and help to tighten up the fit when you tighten the laces.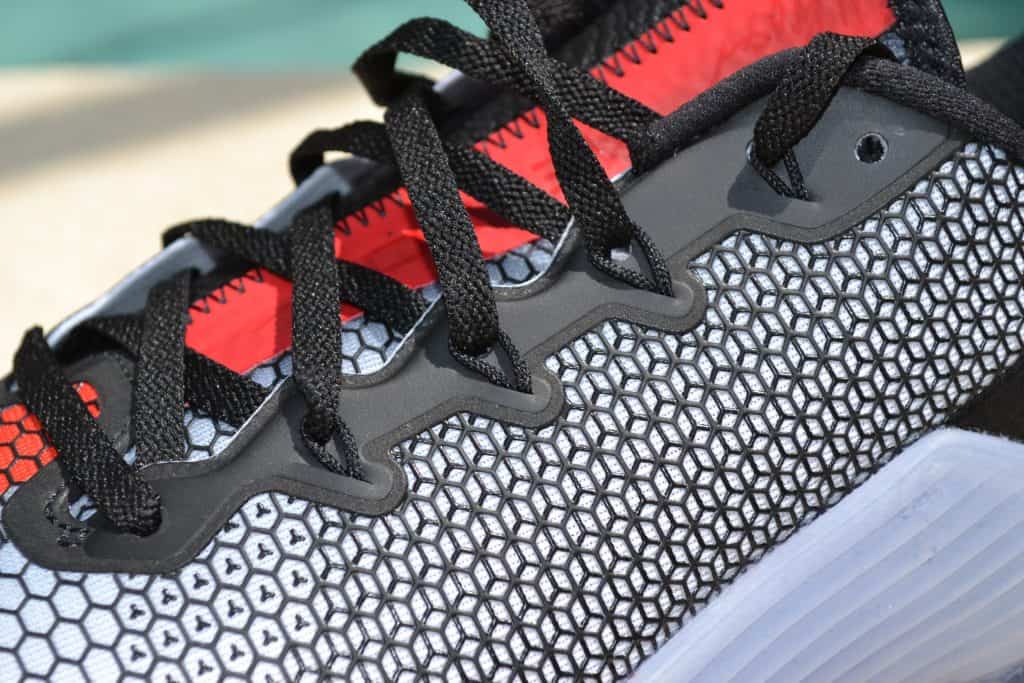 They provide a similar function to that of the midfoot strap on a weightlifting shoe.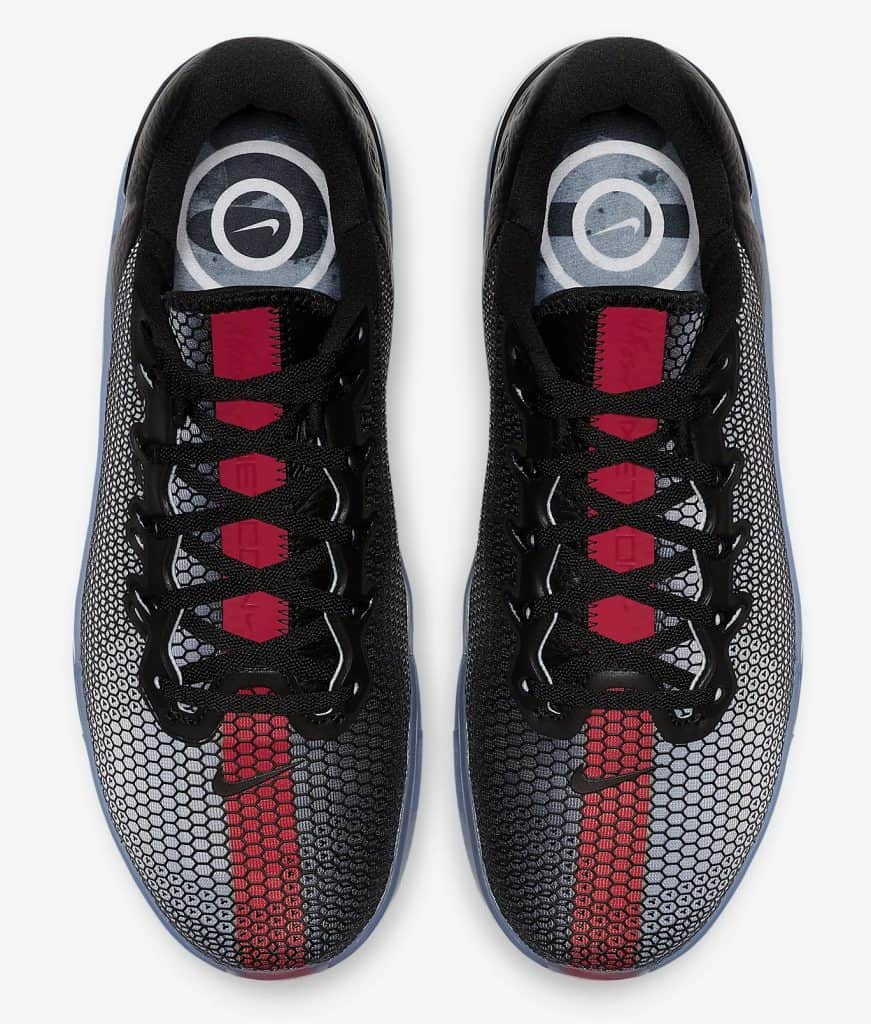 Here's a view from the heel. The low-drag heel clip is still in place. This has been a standard feature of the shoe since the earlier Metcon 3.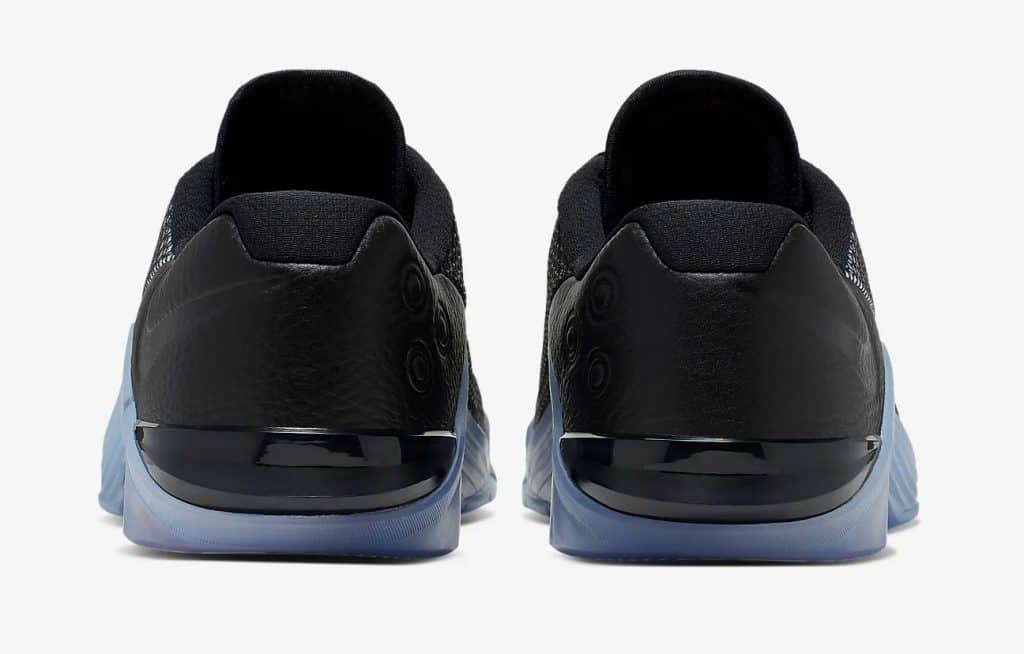 The Dreaded Metcon Squeak Is Gone
You want to know what's NOT back?
The dreaded Metcon Squeak.
Previous models of Nike Metcons are some of the noisiest shoes around – it's due to the movement between the outsole and that drop-in midsole.
But at last, Nike has eliminated the problem in the Metcon 5 for good – mine do not squeak at all.
Nike Metcon 5 Sizing
These new Nike Metcon 5s run narrower than the Metcon 4 did.
We, and many others on the Internet, recommend you order 1/2 size up from your normal shoe size.
Nike Metcon 5 – Regular Editions
The Mat Fraser edition is now sold out, but the regular versions of the shoe are now available – for both men and women.
Here's a look at one of the options currently available.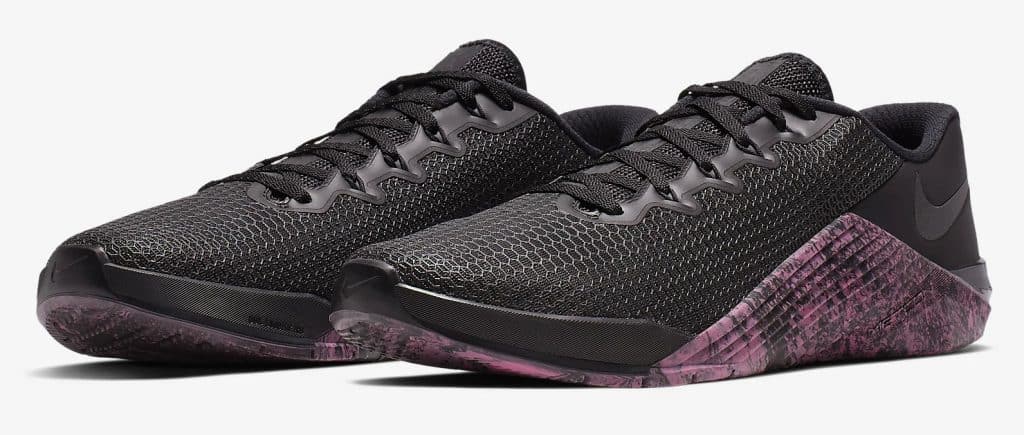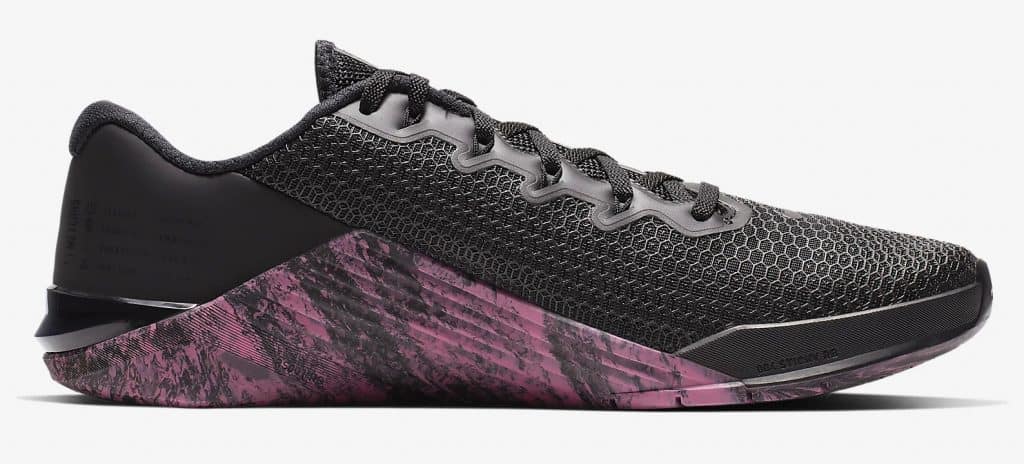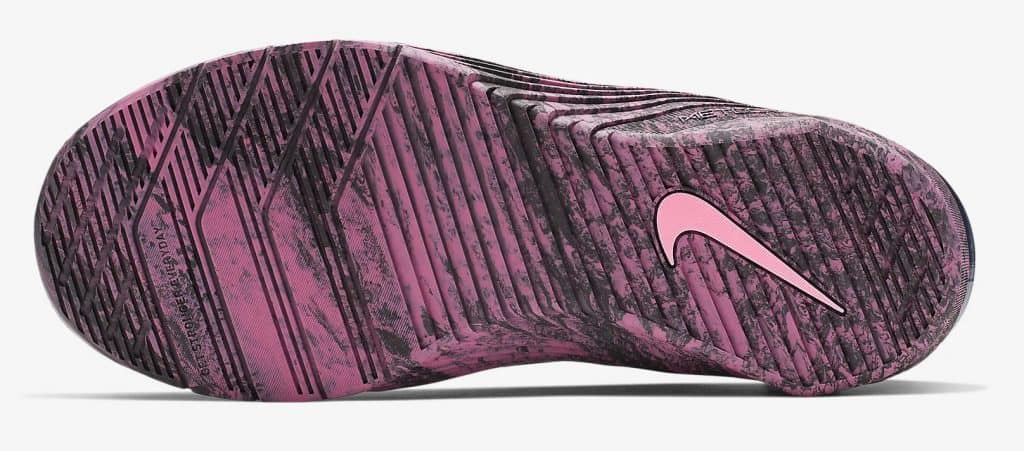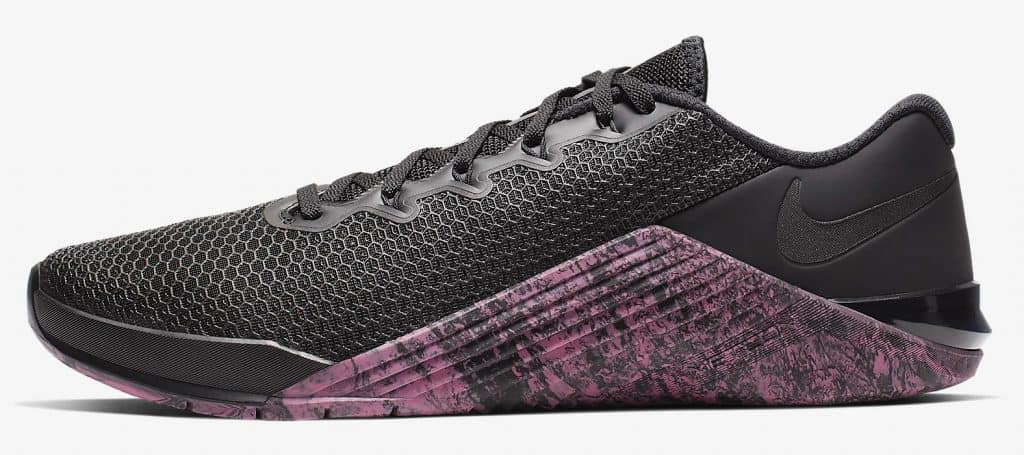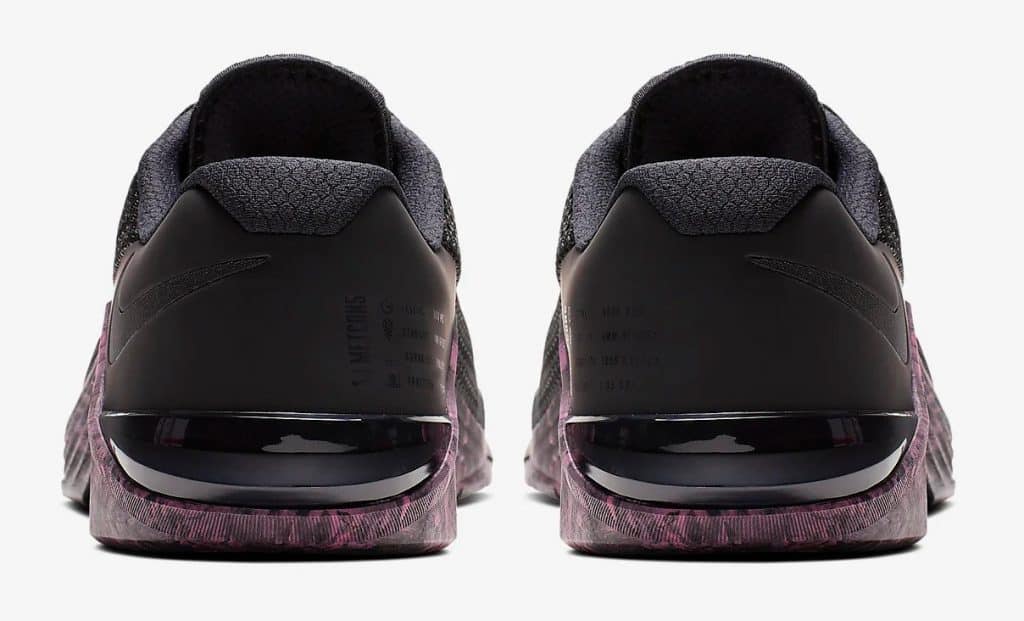 Here's the women's lead colorway – expect more options upon global release July 8th.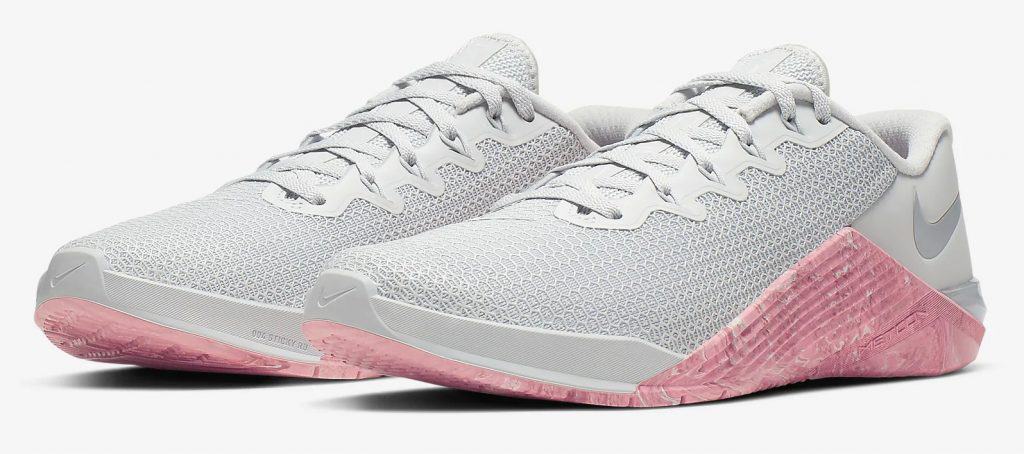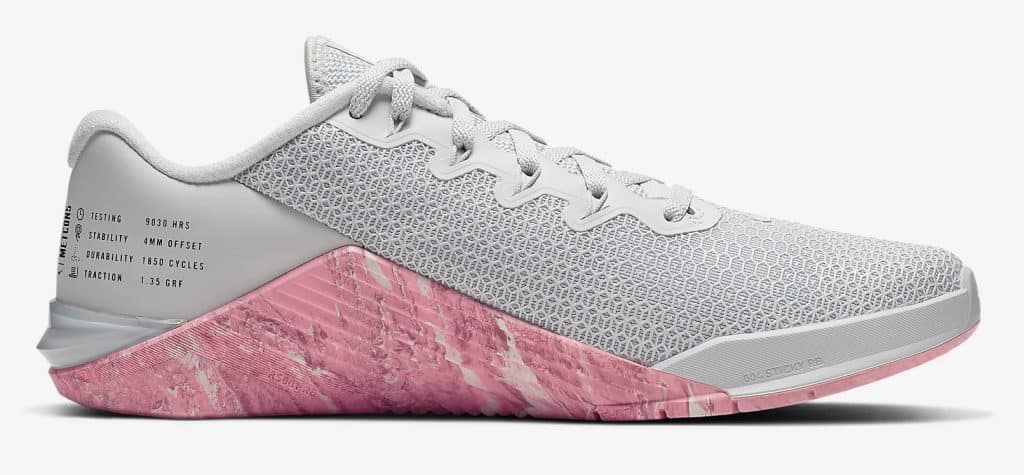 Nike Metcon 5 vs Nike Metcon 4 XD
How does the new Nike Metcon 5 stack up against last year's Nike Metcon 4 XD?
To be honest, the fit and feel of the Nike Metcon 5 and the Nike Metcon 4 XD are very, very close.
(With the caveat that the Metcon 5s run a little narrower – so order 1/2 size up from the size of your Metcon 4 XD.)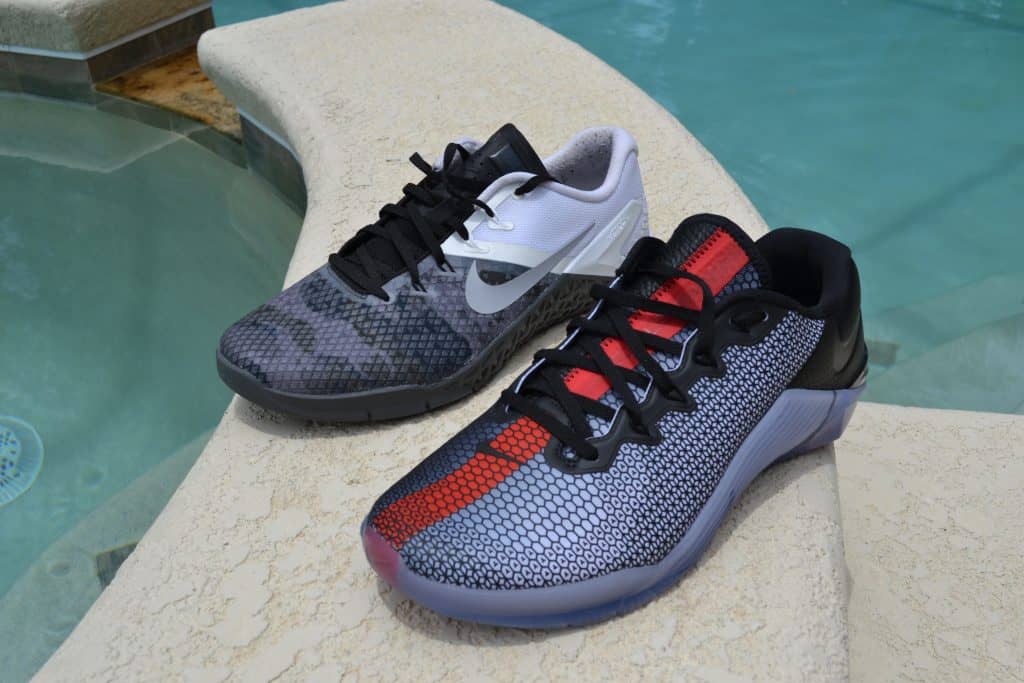 But, there are improvements in the Nike Metcon 5 that should prove themselves over time.
There's more cushion in the 5s – they are more comfortable for all-day wear and walking long distance. I could imagine they are going to be better for running too – but I haven't run long distance in them yet.
We've talked about the "Rope Wrap" at length already. The Metcon 5 is definitely going to be the superior rope climbing shoe – the wrap is bigger and has a better tread pattern to it.
Here's another difference, the drop-in midsole is deeper on the Metcon 5. Here's a side by side shot.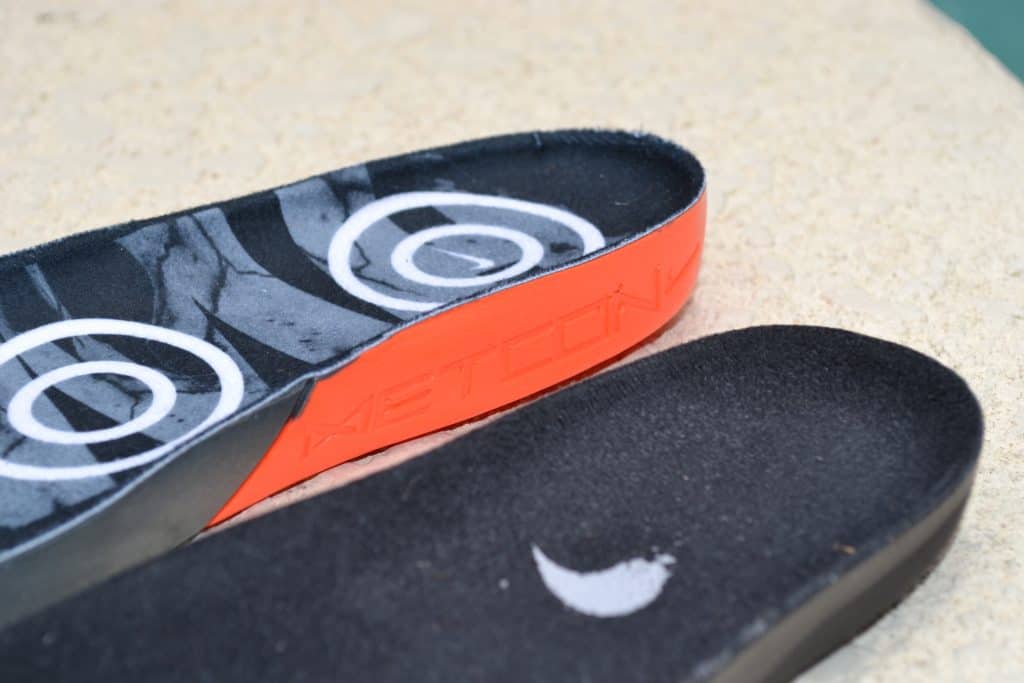 The outsole tread pattern is very different on the two shoes as well.
I think the Metcon 5 will fare better on a variety of surfaces, especially outdoors.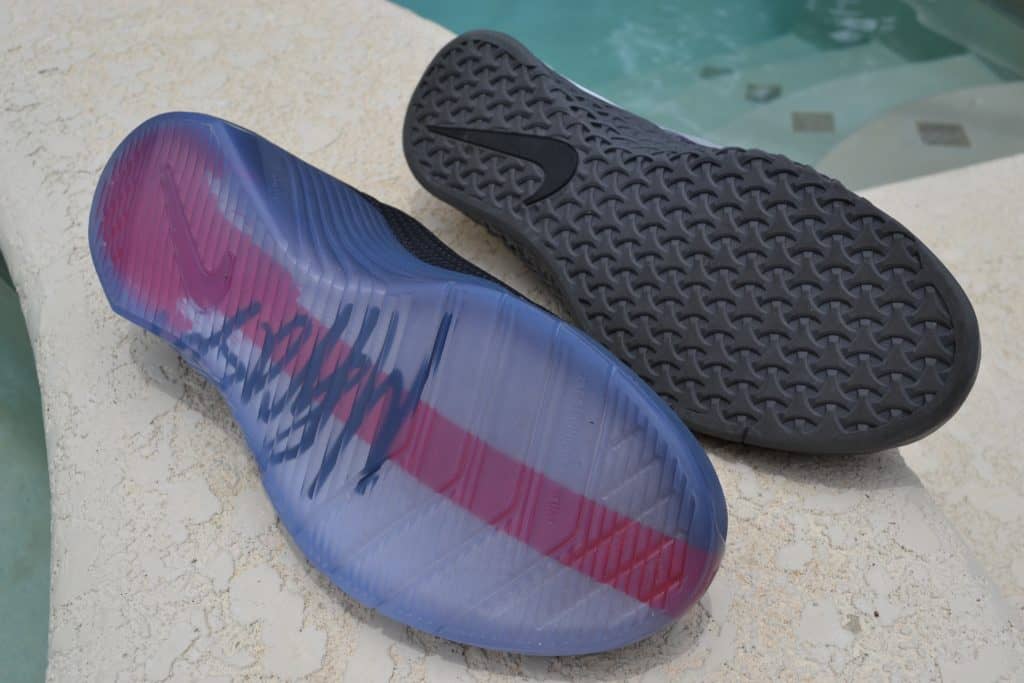 The Metcon series have traditionally been meant for indoor gym use.
And to be honest, I DO NOT want a deep, squishy tread on my shoes I use for heavy lifting.
Lastly, my pair of Metcon 5s have zero squeak to them (even after removing and replacing the midsole several times.).
My Nike Metcon 4 XDs (and my 4s, and 3s) all squeak.
Nike Metcon 5 vs Nike Metcon Sport
Nike is promoting the Nike Metcon Sport as the best shoe for agility.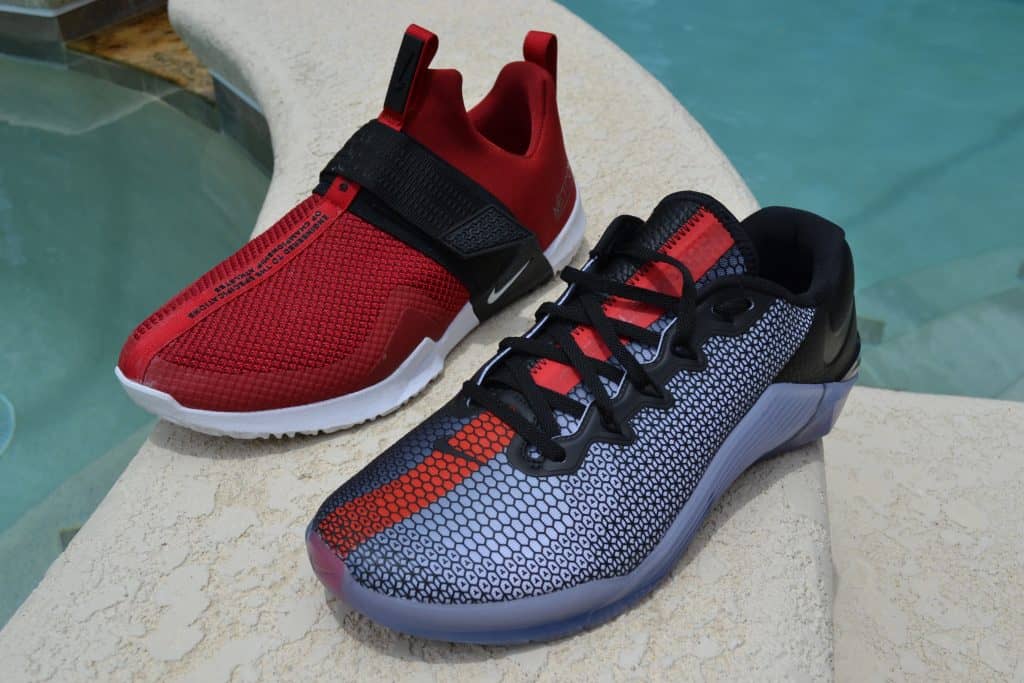 Differences as compared to the Metcon 5?
The obvious difference is that there are no laces – it's a slip fit shoe that incorporates pull tabs and a midfoot hook and loop strap.
You might think it would fit too loose – I assure you it does not. You are going to need those pull tabs to get these on. And you can tighten things up nicely using the velcro strap.
The Sports are a lot taller as well.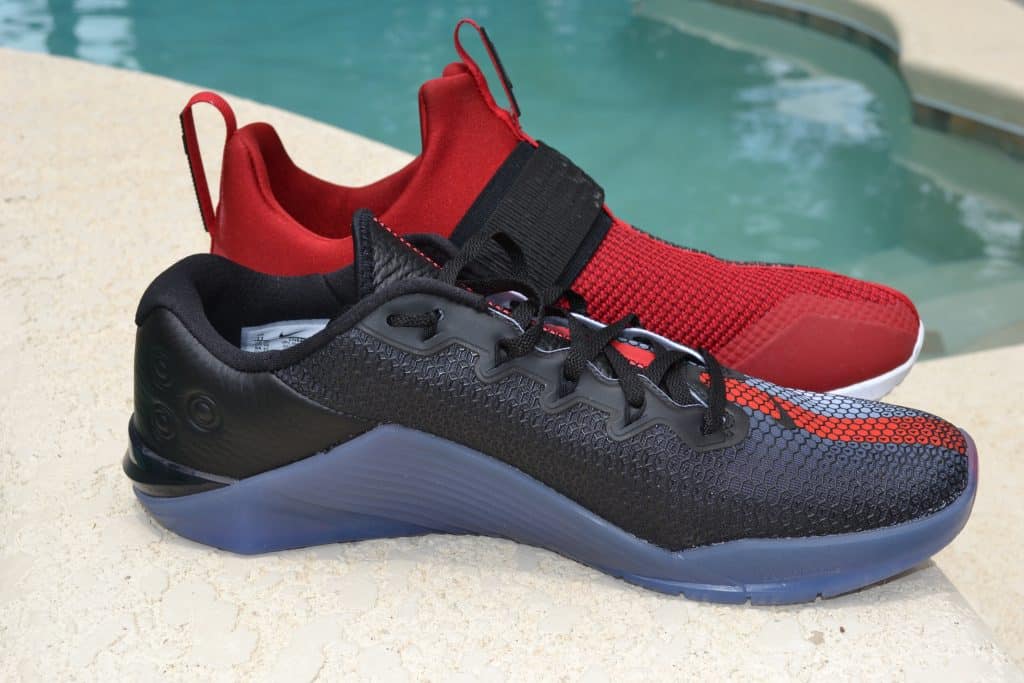 But there's other key differences.
The outsole tread is much more aggressive – the Nike Metcon Sport is better for outdoors usage – especially on turf, grass, etc.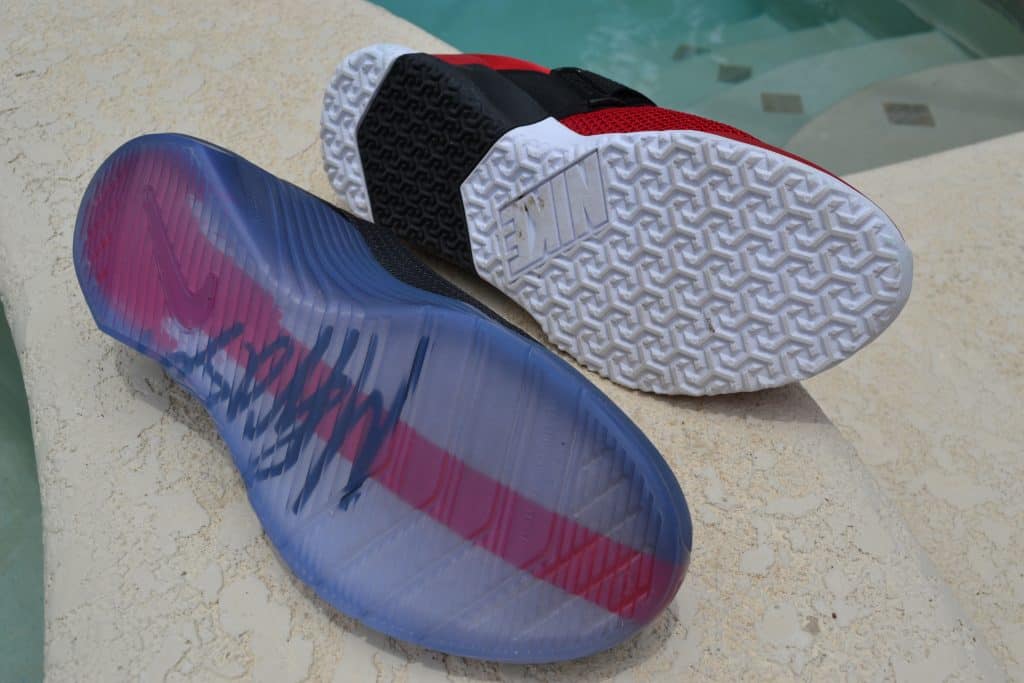 The Nike Metcon Sport also has significantly higher sides on the drop-in midsole. Here's a comparison.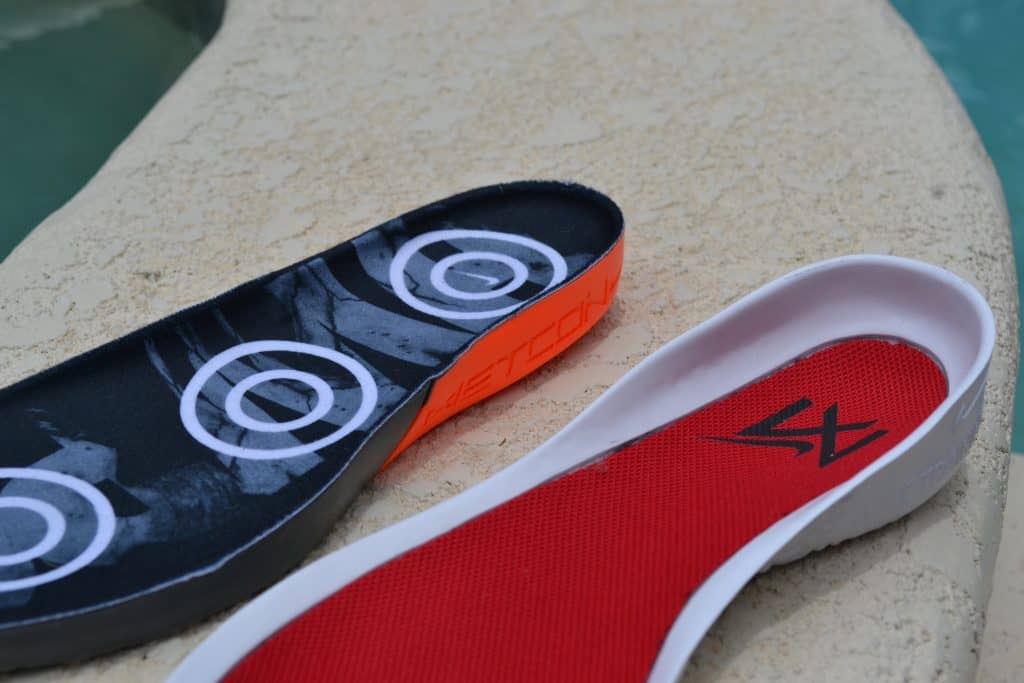 Most comfortable shoe?
It's still the Nike Metcon Sport. It's my go to shoe for all day wear.
Nike Metcon 5 vs Reebok Nano 9
How does the Metcon 5 stack up against it's main competitor the Reebok Nano 9?
This is a tough call to make – because both shoes are very good.
Read our full head to head comparison here.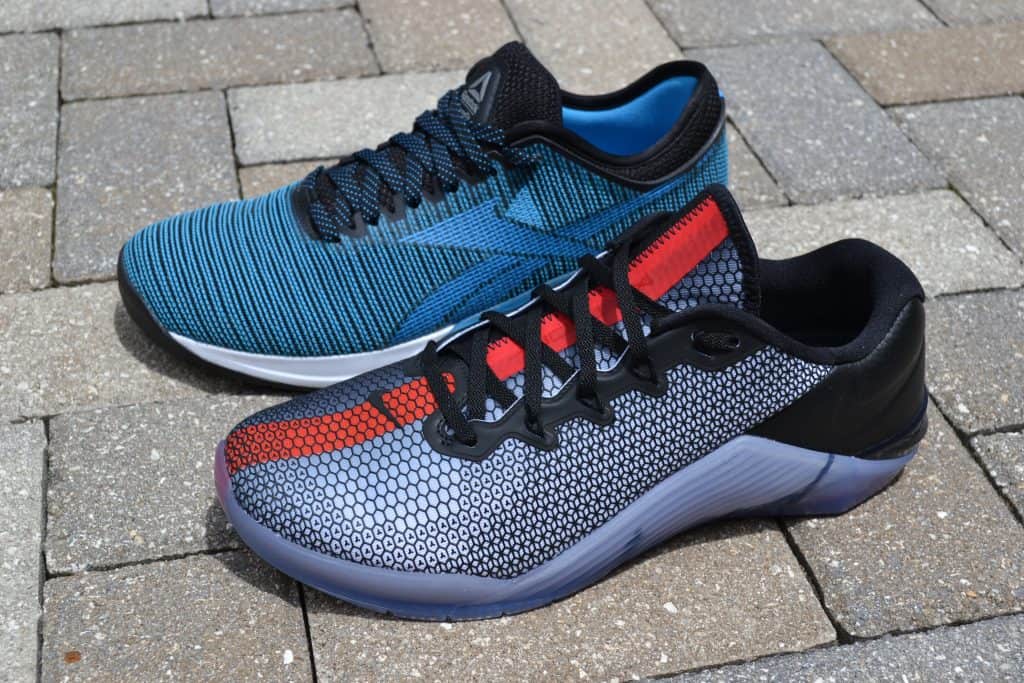 Nike Metcon 5 vs UnderArmour Tribase Reign
Check back soon and we'll have details here.
Nike Metcon 5 – In Summary
Overall, it looks like Nike has made some great incremental improvements to a shoe everyone loves.
Check back soon – we'll have a full hands on review and we'll compare these to the best cross training shoes.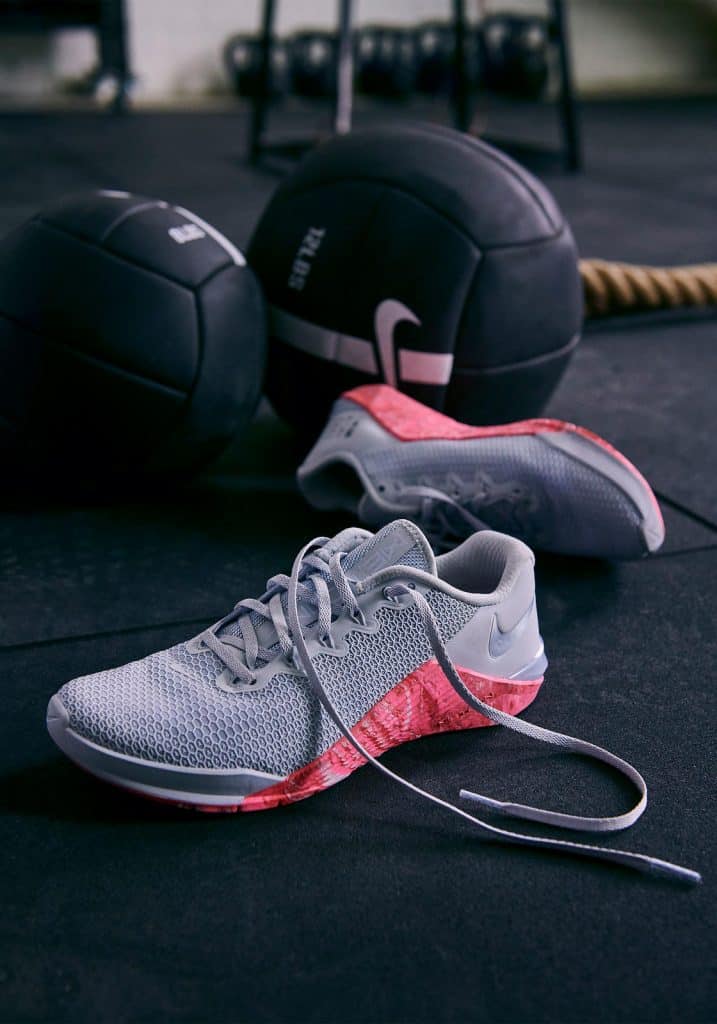 Why Rogue Fitness Products?
We're a
Rogue Fitness
affiliate – so if you order equipment after clicking the links in this article we receive monetary compensation. But that's not why we recommend Rogue. It's because their equipment is tough, durable, well-made, and offers the "best of the best". Their innovative designs and diversity of options make your training better – allowing you to reach your personal goals faster. And that's why we love them.
Photo Credits
Nike Metcon 5 product photos are courtesy of Nike
Some product imagery on this page is property of Rogue Fitness and provided by Rogue Fitness.
This website is not affiliated or associated with CrossFit, Inc. CrossFit is a registered trademark of CrossFit, Inc.