The foundation of the best garage gym or home gym is the power rack or squat rack.
Why? Because it's the best option for versatile and safe training with heavy weights.
Shown here is the RML-390BT Rogue Monster Lite Power Rack (Rogue Fitness: Click to see price).
It is an exceptionally well built product, and has all the essential features we look for in the best power rack for a garage gym.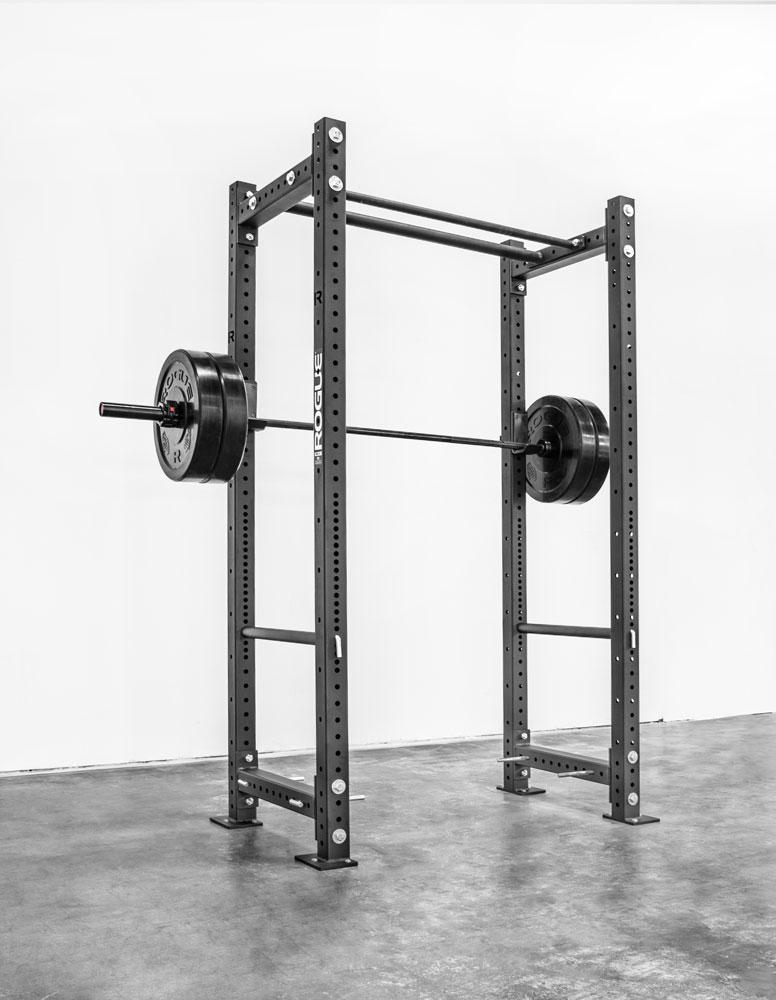 Got a garage? Then you've got space for a garage gym.
The benefits of the garage gym are many: no crowds, no commute, no waiting for equipment.
But, the downside is you've got to have the right equipment. You need versatile gear that will last for a lifetime.
What is the best power rack (also called a squat rack) for your home gym? It depends on what features you need – and the space you have.
We'll cover a variety of options in this article that cover all the bases.
We're going to highlight products from Rogue Fitness. Their gear is tough, looks great, and the build quality is amazing.
Looking for Black Friday 2019 Deals on Power Racks?
Check back here for the best
Black Friday 2019
deals on power racks and squat stands. Black Friday is the best time of the year to buy fitness equipment.
The Power Rack – The Foundation of Strength Training Equipment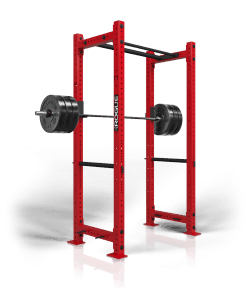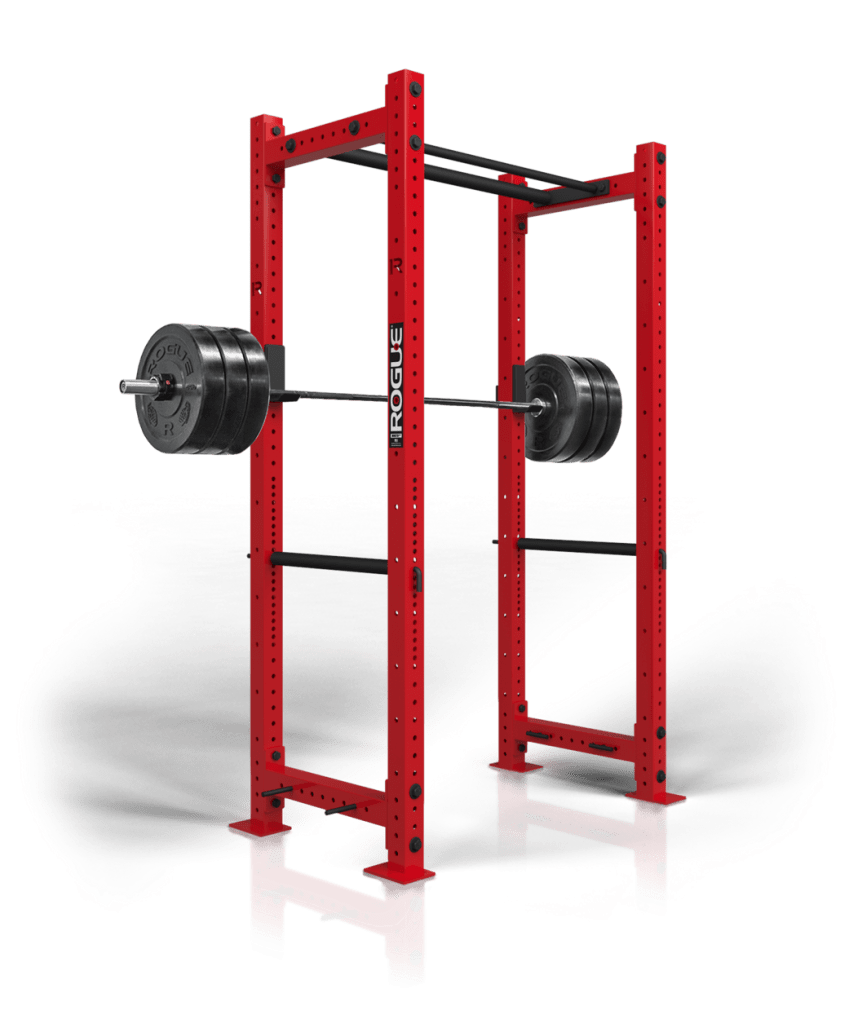 Firstly, let's talk about the power rack or squat rack. This is a large, sturdy steel frame that allows you to position a loaded barbell (or other implements) in a variety of positions for strength training.
Is a power rack strictly needed for strength training? In our opinion, yes.
The foundations of strength training are the squat, bench press, overhead press, and deadlift.
Of those 4 exercises, only 1 can be done safely and with considerable weight without a rack (the deadlift). Attempt to squat, bench press, or overhead press without a rack, and you are selling yourself short.
Leaving weight on the table, as it were.
A Word About Safety There's one exercise that seriously injures or kills more people than anything else in the gym – and that's the bench press. Putting a heavily loaded barbell over your chest, neck, and face without safety mechanisms is dangerous, and can be deadly. Even if you have a spotter. Having the right equipment allows you to work out safely, and alone, if need be.
Why is a power rack an absolute must?
Because it's the only way to get a heavily loaded barbell in the proper starting position for the bench press, overhead press, and squat – and it can have safety spotter arms, pins, or safety straps.
Don't underestimate the importance of having safety spotter arms when working out alone in your garage gym.
They are absolutely essential to ensure you don't get stuck under a heavily loaded barbell – which is both dangerous and embarrassing.
The first consideration for a power rack is space – height, width, and depth.
Therefore the first important parameter is how much space do we have to work with? Will a car be parked in the garage? Are we able to take up half of a two-car garage? Will we need to stow the equipment to put the car into the garage? Don't worry – there are options for all these things.
Check Ceiling Height – Especially With A Pull-Up Bar Time to get out the tape measure. 90″ in height may sound like a lot, but it's not – that's 7.5 feet. If you are tall, or the ceiling is low, or both – you may have some issues with a pull-up bar. If you intend to use a pull-up attachment, things will work better with more overhead space. There are options for taller racks – but ultimately the ceiling height is going to matter as well.
Best Power Rack For Limited Space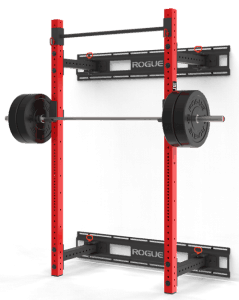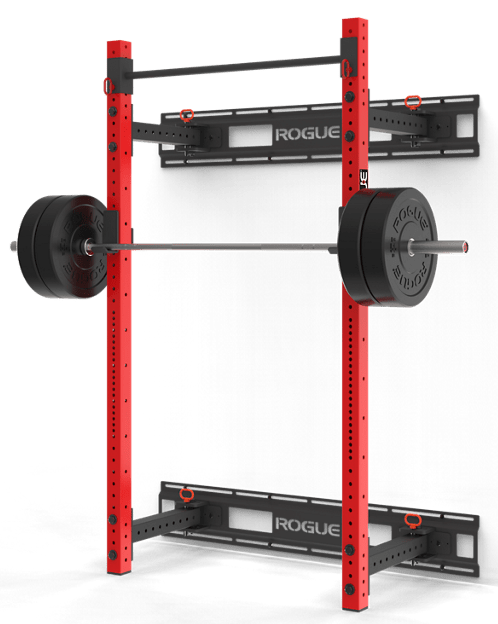 Need to keep a car (or two) in the garage? Then you need the ultimate in space saving technology.
And that's the Rogue Monster Lite RML-3WC Power Rack (Rogue Fitness: Click to see price), as shown here.
This innovative power rack design is mounted on the wall, and can fold nearly flat – reclaiming a lot of space.
Far from flimsy, it's from the Rogue Monster Lite (RML) line and the uprights are 3″x3″ 11-gauge steel. How tall? 90 3/8 inches, or about 7.5 feet, which means it should fit easily into any standard sized garage.
It's also available in 21.5″ or 41.5″ depth (the distance the uprights will be from the wall. OK, so it "folds flat." How flat? 5″ (for the 21.5″ depth model). We'd recommend the 41.5″ depth, to give a bit more breathing room, in case you need a spotter behind the uprights – but note that the 41.5″ depth rack doesn't fold as compactly as the 21.5″ model.
It also comes with a pair of J-Cups (these hold the barbell) and a Quick Attach Pull-Up Bar and is compatible with all the standard Monster Lite (ML) accessories, if you want to add attachments.
Since having a power rack is all about safety, we'd consider these a required purchase: SAML-24 Monster Lite Safety Spotter Arms (Pair) (Rogue Fitness: Click to see price).
They are built tough, but feature a plastic insert along the top to protect the knurling on your Olympic bars.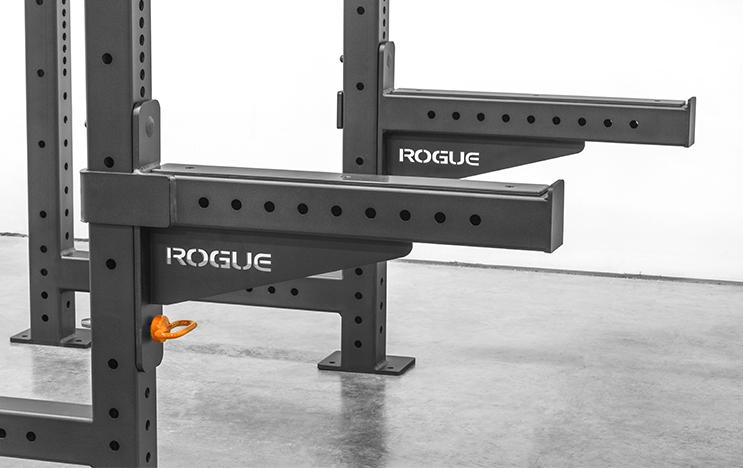 Half the fun of the garage gym is the customizations you can do – to make it your own space.
This power rack is available in 11 different colors (shown in Rogue Red above). Head on over to the Rogue page for this item, and check out the options.
Want yours in black? You can save about $50 by getting the non custom color version – known as the Rogue RML-3W Fold Back Wall Mount Rack (Rogue: Click to see price).
This is also a great image highlighting the features of these racks, and showing just how flat this unit can fold: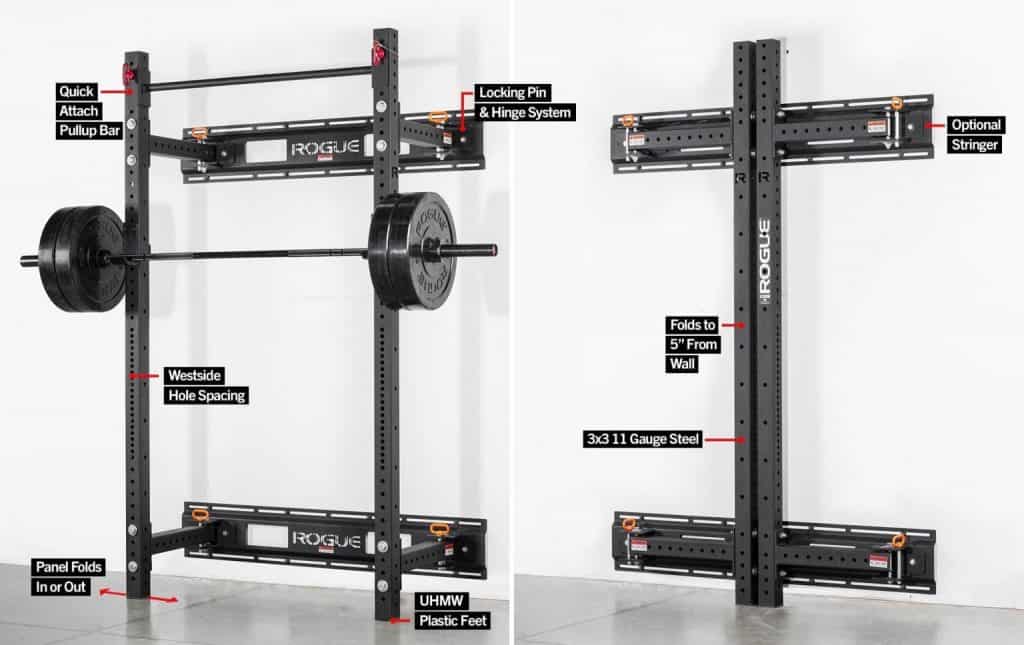 Be aware that this model lists the stringers as optional, but if you are mounting to the average garage wall with 16″ on center studs – you need the stringers.
Pull-Ups & Chin-Ups Don't miss out on one of the simplest and most effective exercises – the pull-up (or chin-up). Equip your power rack with a pull-up bar and you can use a wide range of exercises including: Pull-ups, chin-ups, hangs, leg raises, etc. Being able to do these exercises is really one of the huge benefits of a power rack.
Best Power Rack When You Have More Space to Work With – Rogue RML-390C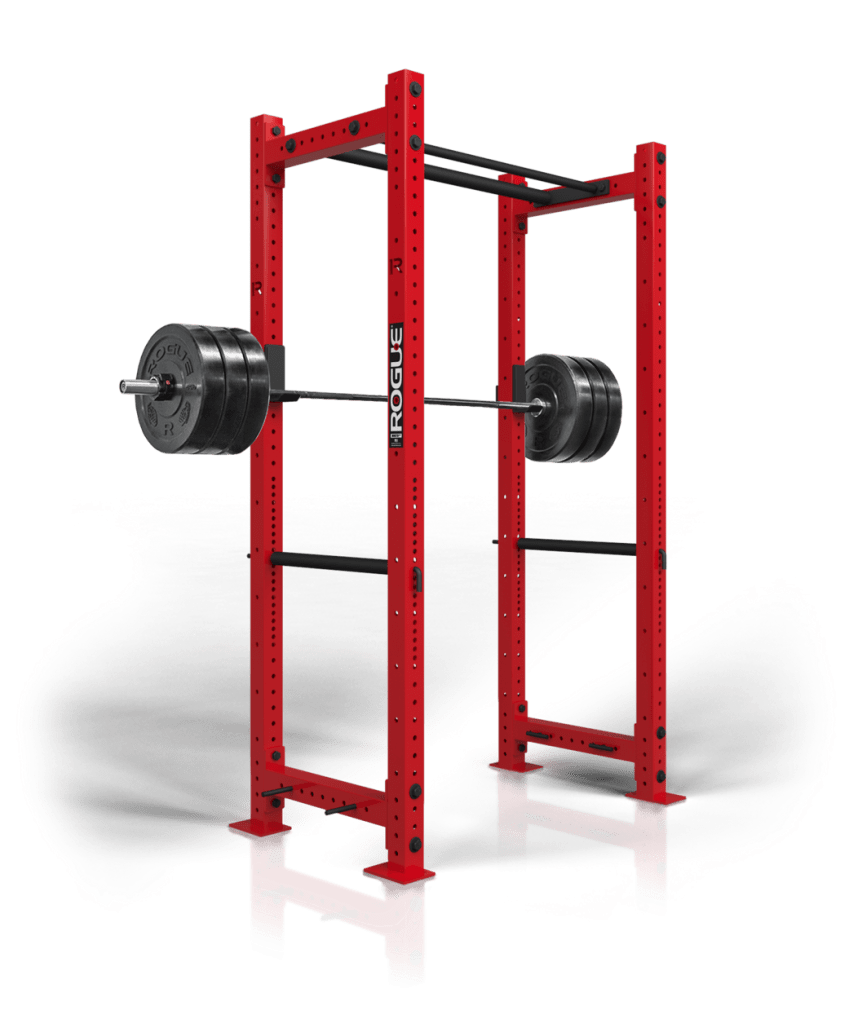 How about if you've got more room to play with? Perhaps you have a full one half of a two car garage. In that case you can get the RML-390C Rogue Monster Lite Power Rack.
What are the benefits of this unit?
You'll be able to do a lot more with a full-size, fixed power rack as compared to the folding units.
For example, it's got two different pull-up bars built into the unit (a thick grip and a thinner grip). Unlike with the folding rack model, you won't have to remove these.
Secondly, it's got safety pins already provided with the unit. And as we mentioned above, safety is a big reason for buying a rack.
Lastly, this unit provides band pegs. Band training is somewhat of an advanced training method, but it's good to know we've got that option for the future.
This unit is made in Columbus, OH, at Rogue HQ. And, it's a bolt together design – so shipping and assembly should be reasonable.
It is a classic Westside power cage design with 3×3″ 11 Gauge Steel used throughout.
The "C" model indicates it's available in a variety of colors. The coating used is semi gloss powder coat available in over 10 colors.
This rack is just over 90″ tall, so make sure you have the overhead spaced. It's also available in 24″ or 30″ interior depth. We'd recommend the 30″ model – more depth means more base and more stability. It's also less cramped on the "inside".
If you are very tall, the pull-bars on this unit might not be tall enough.
If you want a 100″ or 108″ tall power rack look at the RM-3 Monster Rack 2.0 (Rogue: Click to see price).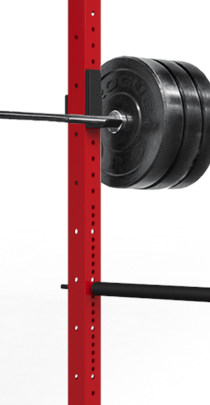 What is a Westside power rack? It's one with Westside Hole Spacing.
What is Westside Hole Spacing? That means holes for the safety pins or j-cups every 1″ through the bench and clean pull zone, and 2″ spacing above and below. This gives you the granularity you need, where you need it. This will allow you to precisely position the barbell as needed.
The RML-390C comes with the following items:
Pair of Monster Lite J-Cups with UHMW plastic inserts – the insert ensures the knurl on your barbells will be treated gently.
Set of Pin/Pipe Safeties for Squats, Bench & Rack Pulls from any height.
Band Pegs for additional resistance workouts.
Fat/Skinny Pull-Up Bar.
Rogue notes that this unit must be bolted to the floor.
Don't want to pay extra for custom colors? Then go with the RML-390BT Rogue Monster Lite Bolt Together Power Rack (Rogue: Click to see price) in Black.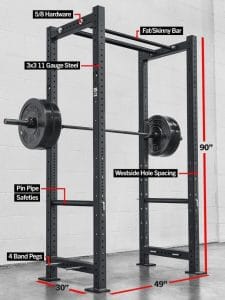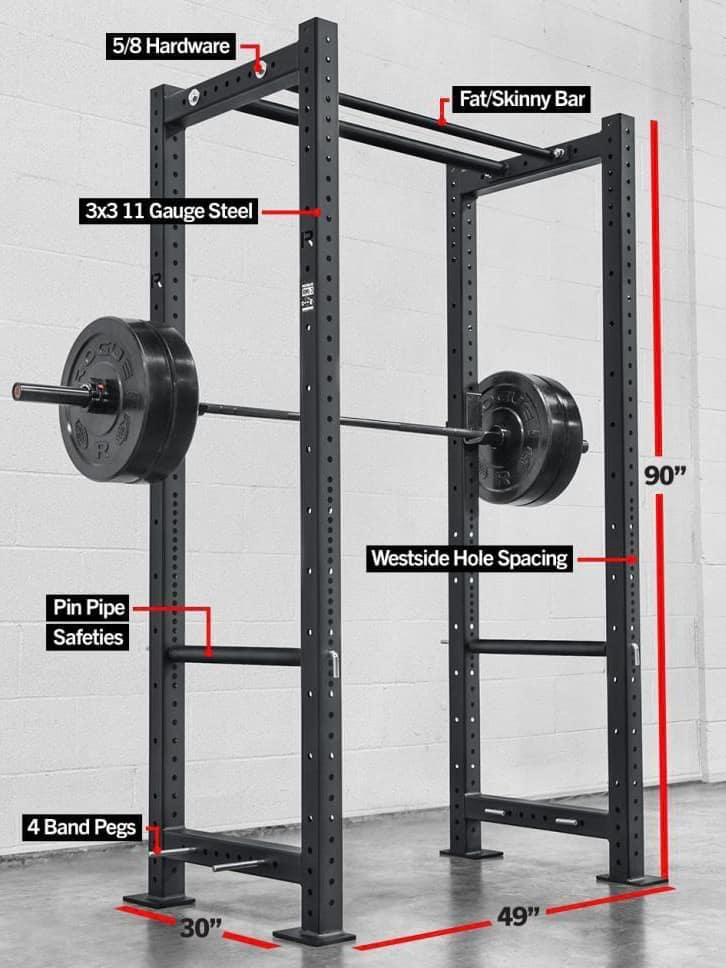 If you don't want a bolt together design – go for the RML-3. This is the same power rack design, but not bolt together. It will cost more to ship.
Otherwise, the RML-3 Rogue Monster Lite Power Rack (Rogue: Click to see price) has all the same great features.
It's a little bit cheaper option than the folding racks.
What About Squat Stands?
Normally, we're not a fan of squat stands. They just don't have the stability and versatility of the power rack. But you can thank Rogue Fitness for overcoming much of this with the SML-2 Rogue 90″ Monster Lite Squat Stand (Rogue: Click to see price).
What's great about this unit? How about:
It's from the Monster Lite line – so it can accommodate those very necessary safety spotter arms.
It's got the fat/skinny pull-up bars
It's less expensive than the power racks
It can be equipped with optional wheels to make it semi-mobile. Note that it still has a considerable foot print, so this isn't a space saving option like the folding rack.
It's a free standing unit – so might be good for an apartment or town home garage, where you can't drill into the walls.
Having said that, it's just not going to be as stable as a four post rack (or a two post rack mounted to the wall). And it's not going to give you as many options to expand to in the future (in the form of additional Monster Lite attachments).
But this is a great low-cost option, that gives you nearly all the desirable benefits of a power rack.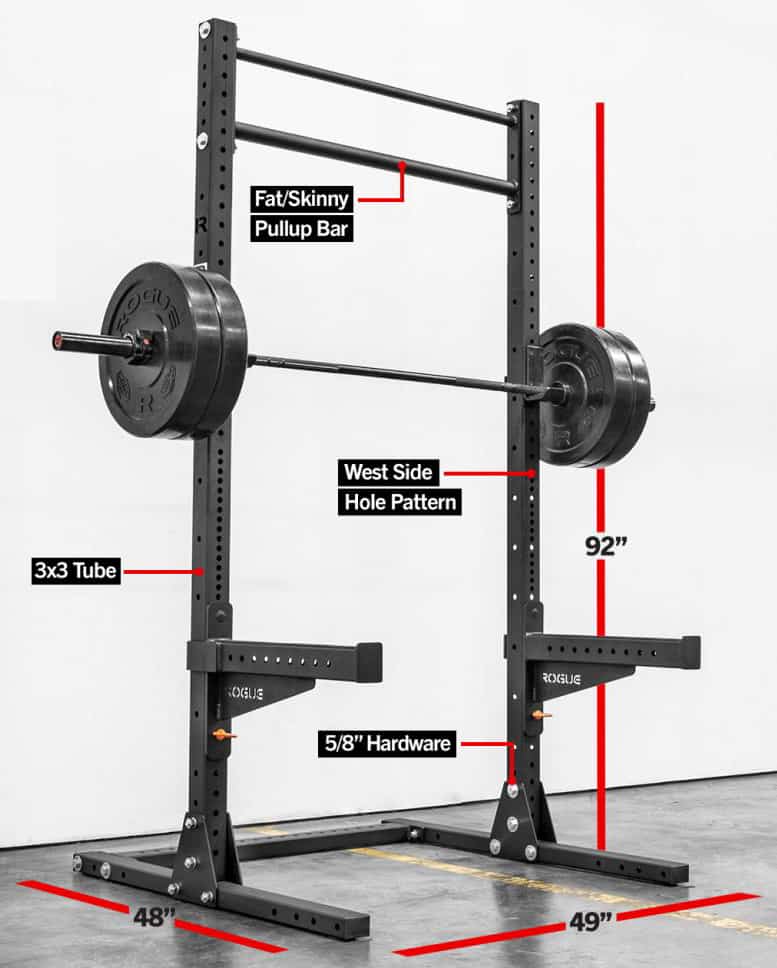 What About Shipping?
You might be wondering – isn't shipping this gear going to be expensive? Well, it depends. If you find the right daily shipping deal from Rogue, you may be in luck.
In Summary – Best Power Rack for a Garage Gym
In summary, serious strength training requires a power rack (or a seriously stable pair of squat stands). There's just no way around it.
When purchasing a rack for your garage gym, the first consideration is available space. Once you know the space you have to work with, then you can start looking at options. And if you are buying a power rack – get some form of safety spotting arms or pins, and a pull-up bar.
Beyond that, it's really just a matter of what fits your tastes and budget.
You may want to review our article on the best garage gym barbells, which should also be considered an essential piece of gear for your garage.
Please also consider checking out our guide to Olympic weight plates. You can't do much with a power rack without a barbell and plates.
For a well-rounded home gym we also recommend a Glute Ham Developer bench as well.
Why Rogue Fitness Products?
We're a
Rogue Fitness
affiliate – so if you order equipment after clicking the links in this article we receive monetary compensation. But that's not why we recommend Rogue. It's because their equipment is tough, durable, well-made, and a lot of their best stuff is made in America. Their equipment looks good, and works even better. Their innovative designs and diversity of options make your training better – allowing you to reach your personal goals faster. And that's why we love them.
Photo & Image Credits
All Rogue Fitness product imagery is property of Rogue Fitness, and provided by Rogue Fitness.
---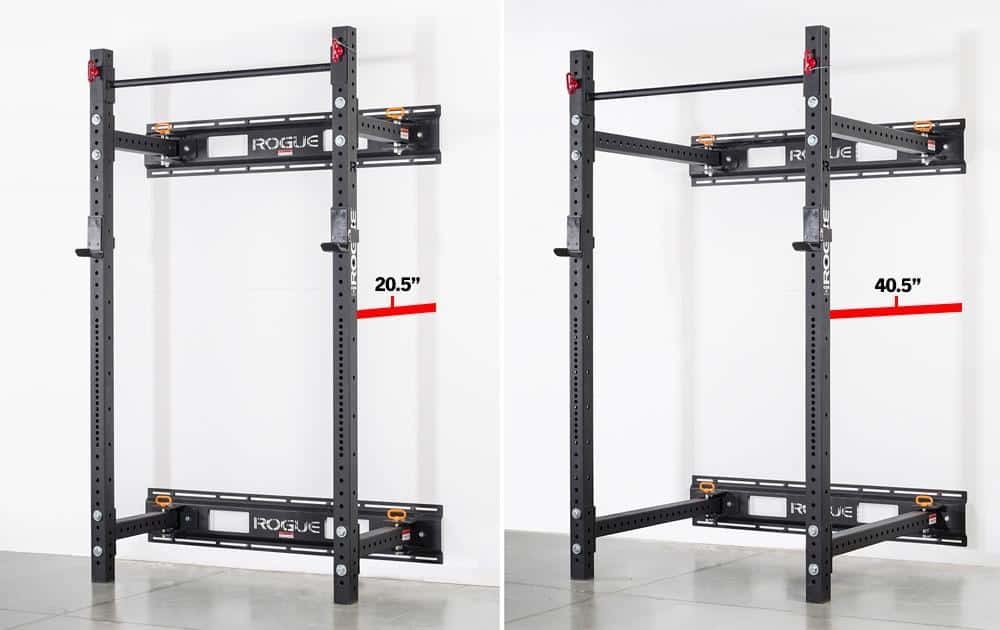 Tim is the founder of FitAtMidlife.com – an avid gym rat for 30+ years, he's a reviewer of many, many shoes – and founder of the Speed Bag Gathering – the world's only gathering of speed bag punching enthusiasts.  See more gym reviews at Tim's YouTube channel.