We're going to talk about what is probably the most essential piece of gear for a great garage gym – the Olympic weightlifting barbell.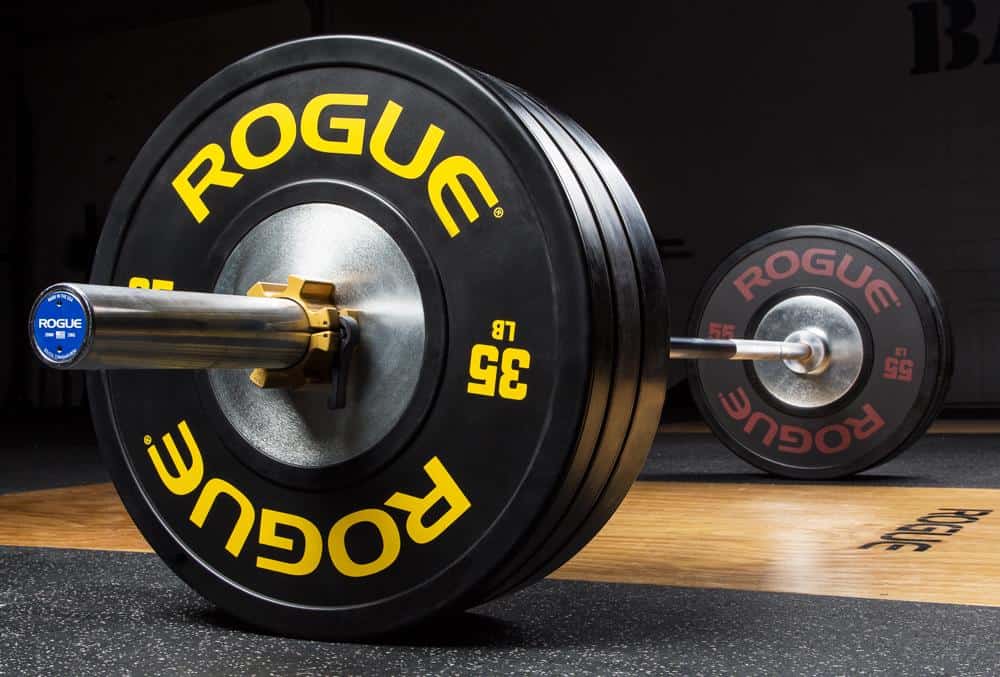 We'll provide examples of Rogue barbells – because we think Rogue Fitness makes the best barbells for your home or garage gym (or your CrossFit box!)
Here's the barbells we'll be reviewing. Be sure to read through to understand the specific strengths of each model.
What is an Olympic Weightlifting Barbell? It's the 7.2 foot long weightlifting bar used as a standard in competitive weightlifting, including the Olympics. A men's Olympic bar is a metal bar that is 2.2 meters (7.2 ft) long and weighs 20 kilograms (44 lb).
Looking for Black Friday deals on Olympic barbells?
Check back here for all the great gym equipment deals.
Black Friday
is the best time of the year to buy Olympic barbells.
The outer ends are 50 millimeters (2.0 in) in diameter, while the grip section is 28 millimeters (1.1 in) in diameter, and 1.31 meters (4.3 ft) in length.
On both ends of the bar are rotating sleeves on which the Olympic weight plates (plates with a 2″ hole) are placed. The rotating sleeves allow the weight plates to spin, which is an essential component of several of the lifts you can do with this equipment. There are also women's and training versions of the Olympic bar that are sized a bit smaller, and lighter.

Why is a women's Olympic barbell only 15Kg?
An Olympic barbell for women is typically 25mm in shaft diameter – this makes the bar easier to grip for those with smaller hands. Women's bars are also shorter – with less
loadable sleeve length
. Consequently the bar is also significantly lighter at 15 kg (about 33 lbs) – compared to 20 kg (44 lbs) for a men's bar (which have diameters ranging from 28-29mm typically). Read more about
Women's Olympic barbells
.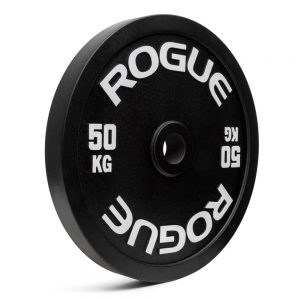 The Olympic barbell uses weight plates with a 2.0 inch diameter hole in the center (in comparison a standard barbell – the skinny one – uses plates with a 1.0 inch hole). Beyond that you can choose metal plates (typically used for bodybuilding and powerlifting) or bumper plates (typically used for the Olympic lifts). What are bumper plates? They are plates made out of very dense rubber – and they are meant to be safely dropped from overhead.
You've probably seen these before – not only are they used for the Olympic lifts, such as the snatch and clean and jerk, but they are the standard equipment for any serious amount of weight – so powerlifters and bodybuilders utilize them as well.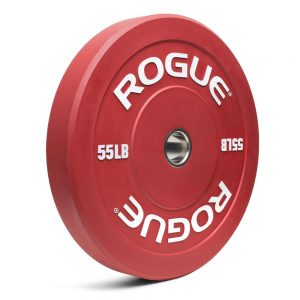 But there are some subtle, but important, differences in the different types of bars used for different purposes. And that's what we'll discuss in this article.
The goal will be to give you the information to select the best barbell for your home or garage gym – one that is robust, durable, and can help you achieve your goals.
And as a first step, let's determine what sort of strength or power training do you wish to do? That will help determine which bar (and weight plates) we ultimately choose.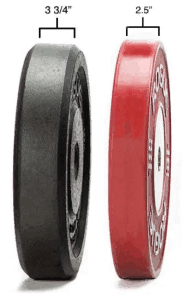 How many bumper plates fit on a bar?
That really depends – how long is the usable length of the sleeve ("loadable sleeve length or loadable sleeve space") on the barbell and how thick or wide are your bumper plates? The loadable sleeve length on a Rogue Ohio Power Bar is 16.25″, as an example. Cheaper bumper plates tend to be thicker – because they use less dense material. Really good competition bumper plates are very thin – and very expensive! Secondly the best plates have a steel disc insert that helps add weight in a minimum of space. As an example, a Rogue Hi-Temp Bumper (45Lb) is 3.75″ wide. In comparison, a Rogue Competition Bumper plate (45lb) is only 2.5″ wide thanks to the high quality material and beefy steel disc insert.
Olympic Barbell – How Do You Want To Train?
First, there are two inherently different kinds of lifts you can do with an Olympic bar – the quick lifts and the slow lifts. What's a "quick lift"? These are represented by the lifts contested in the Olympics – the snatch and the clean and jerk. These are lifts that demonstrate and build power – force or strength applied quickly. There's no way to clean a barbell to your shoulders slowly. There's a lot of technique involved. These are also an essential part of CrossFit training.
Why You Need a Garage Gym
Let's pause for a quick word about the
garage gym
. What are the benefits? Why turn your garage into a gym? Well, why throw away money on monthly gym membership fees, for a place you may be too busy to go to? Investing in good equipment for your home gym is something that pays dividends for years to come.
Work out when you want, and how you want. That's the beauty of the garage gym.
You can also use it to supplement regularly scheduled workouts when the gym is closed.
In contrast, the "slow lifts" are the moves typically done by powerlifters and bodybuilders – the squat, the deadlift, the bench press, the overhead press – all these can be (and usually are) done slowly. You can "grind" out a tough squat. You can't do that with the Olympic lifts – you either make it, or you don't. The slow lifts train pure strength and hypertrophy (muscle size).
It's also possible that you may desire to do some of both. Even pure Olympic weightlifters use slow lifts to build pure strength.
Bearing bar vs Bushing bar
An Olympic bar has sleeves on the end which rotate. We need bushings or bearings to sit between the bar and the sleeve, allowing the sleeve to spin more freely around the bar, reducing friction and wear. Bushings are simpler, but don't allow as much spin as bearings. Bearings are better for spin – but are more expensive. A picture is worth 1,000 words – so let's take a look. Here's a bronze bushing. It's very simple:
Here's a needle bearing, as used in some of the Rogue barbells:
See the difference?
What attributes of the bar are desirable for the Olympic lifts? Here's a list:
Spin – you will need those revolving sleeves to spin smoothly. This makes a huge difference in your ability to clean the weight. This can be achieved with high quality bushings or bearings.
You'll want bumper plates. It's not impossible to smoothly lower a barbell with steel plates from overhead – but it's a lot less work and energy to be able to drop the loaded bar at the conclusion of the lift.
Bar Whip – A good bar for Olympic weightlifting will have some "whip" – it will store some elastic energy and that will contribute to the total amount you can lift.
No Center Knurl – The knurl on the bar can chew up skin, over the long term. In the Olympic lifts, you'll be "racking" the bar at your shoulders a lot – and if that bar comes in contact with the upper chest area enough, you'll know it.
Durability – A barbell used for the Olympic lifts will be dropped from overhead many, many times during it's lifespan. This places an enormous stress on the bar – and weak bars are prone to bending and permanent deformation.
How about the slow lifts (the squat, bench press, deadlift, etc.)?
As it turns out, some of the desirable attributes run counter to that of the Olympic lifts:
Weight is weight – For the slow lifts steel plates are fine. You are not (or should not) be dropping them. Steel plates are generally cheaper than bumper plates. It's hard to make a good bumper plate that will withstand years of drops from overhead.
Whip is less desirable, no whip even better – For the most part you DO NOT want whip during the slow lifts. The stiffer the bar, the better.
Expensive revolving sleeve bearings not a concern – For convenience the weights still have to spin, but this isn't anywhere near as much of a requirement as for the quick lifts. In fact, you probably want more cost-effective and robust bushings of a simpler design, to save cost.
Center Knurl for the Squat – You do want a centered knurl pattern on a slow lift bar – to help ensure that heavily loaded barbell stays in place on your upper back. Having a heavily loaded barbell slowly slide down your back as you squat is not fun.
Won't be dropped – Generally speaking if you are dropping the bar when doing the slow lifts – you're doing it wrong. There's no reason to drop a loaded or empty barbell when doing the slow lifts, except in cases of extreme emergency.
Based on these criteria, read on for our top three choices. We hope we've armed you with the right knowledge to make the best decision for your needs.
A Note About Dropping Barbells Having bumper plates and a good bar isn't an excuse to gratuitously drop them all over the place. Make no mistake, several hundred pounds is several hundred pounds – and you'll get more life out of your gear (and your garage floor) if you treat if carefully. And to be clear, do not purposely drop a loaded barbell onto the safety pins or arms on a power rack. That will damage almost any bar, no matter how good it is.
Olympic Lifts – The Barbell We'd Choose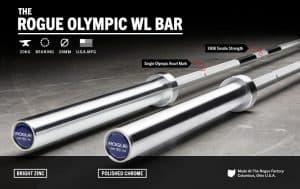 For a specialist in the Olympic lifts – hands down, we'd choose the Rogue Olympic WL Bar. Why? It's got all the essentials we described above – It's a bearing bar and it will revolve super smooth, there's no center knurl, and it has great whip – as you'd expect because it's purpose designed for the Olympic lifts.
This is the best barbell for olympic lifts.
Let's focus on the bearings for a moment – the Olympic WL Bar features 10 sets of needle bearings (5 sets per sleeve) that produce a smooth, reliable spin across day-to-day use. What's a needle bearing? See the picture to the left…
Rogue Work Hardening
Find out more about
Rogue's F-Scale Rating
– and how their barbells are engineered to last a long, long time.
And lastly, a barbell used for Olympic weightlifting will be dropped from overhead many times. Rogue knows this, and has made some of the most durable barbells ever available. How? With their proprietary, patent pending process they call Rogue Work Hardening (RWH™). Rogue barbell shafts treated with RWH™ have improved durability and last longer than untreated bars when subjected to the stresses of being dropped.
This barbell has a tensile strength of 215,000 PSI and an F-6R rating on Rogue's F-Scale (indicating durability). That means it's going to last for years and years – even with heavy use.
Slow lifts only – Barbell for Powerlifting and Bodybuilding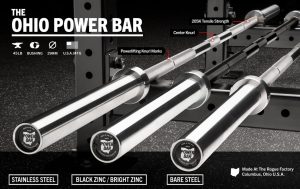 If all you do is the "slow" lifts – in the traditional fashion of powerlifters and bodybuilders worldwide – then your best choice is the Rogue Ohio Power Bar. It weights 45 lbs – because it's not an olympic bar. It's a little thicker (29mm vs 28mm) and has no whip. It's also got an aggressive center knurl.
This is the bar you want for big squats, deadlifts, and bench presses.
The knurl is on the aggressive side. Why? Because grip is a huge limiting factor on a heavy deadlift – and aggressive knurl helps.
With a tensile strength of 205,000 PSI, and an F-8R durability rating on Rogue's F-Scale, this is one tough bar. You will get many years of use from this piece of equipment.
Which finish? If you can swing it from a budget perspective, get the stainless steel. That is by far the most durable version of the bar.
This is an important consideration for a garage gym – which may not be climate controlled and therefore have a lot of humidity.
Black zinc, bare steel, and Cerakote are available as well. Cerakote brings some interesting colors (and patterns!) and is nearly as oxidation resistant as the stainless steel finish.
The Rogue Ohio Power Bar is an excellent powerlifting barbell for all the slow lifts. It is also a very good value for the price.