Let's look at some options for the best women's Olympic barbell for CrossFit.
First of all - do women need a special barbell for weightlifting?
Short answer - they don't.
But, women's barbells have a shaft diameter of only 25 mm. Compare this to the 28 or 29 mm diameter of a men's bar. It is 10% less diameter.
And that means it's easier to grip for those with smaller hands.
Here's the barbells we are going to review today. Read on to find out about the important qualities of the best women's barbell.
Looking for Black Friday 2019 sales on Women's Olympic Barbells?
Check back here for all the best deals on women's olympic barbells.
Black Friday
is the best time to buy fitness equipment.
The better grip that comes with a 25mm bar will be an important factor on the Olympic lifts such as the snatch, and clean and jerk.
Women's barbells are also not as long as a men's bar. You give up about 3" of loadable sleeve length - which means fewer bumper plates will fit on the barbell.
As a consequence of that smaller diameter and shorter length a women's barbell will also be lighter - there's simply less mass involved.
15 kg to lbs 15 kilograms is 33 pounds.
A women's barbell will typically weigh 15 kilograms (33 lbs) as opposed to 20 kilograms (44 lbs) for a men's barbell.
Beyond that, to find the right women's barbell, find the model that works best for what you intend to use it for.
Rogue Women's WL Bar
Are you specializing in the Olympic lifts? The clean and jerk and snatch are the epitome of the expression of power. You need to explode with a maximum of strength in a short amount of time. And technique is critical.
There's no way to "grind" out a snatch or clean.
You either get it, or you don't.
[thrive_leads id='5255']
And for a specialist weightlifting bar we want to look for a bearing bar.
Bearings are the weight bearing surfaces within the sleeve of the barbell that allow the weight to spin. And the better the spin, the easier it is to exhibit perfect technique.
Secondly, we want a good Olympic weightlifting bar to have some whip.
It should flex and rebound back into shape as the weights are lifted.
What are bumper plates?
Dropping the bar from overhead is only recommended if you have
bumper plates
- the dense, rubber plates that are built specifically for Olympic lifting.
Finally, a weightlifting barbell has to be tough. Because you are going to be dropping it from overhead - with a lot of weight on it.
So, the best women's barbell for weightlifting will need: a tough bar, with bearings (ideally), and some "whip".
The Rogue Fitness Women's Olympic WL Bar is an excellent barbell for weightlifting.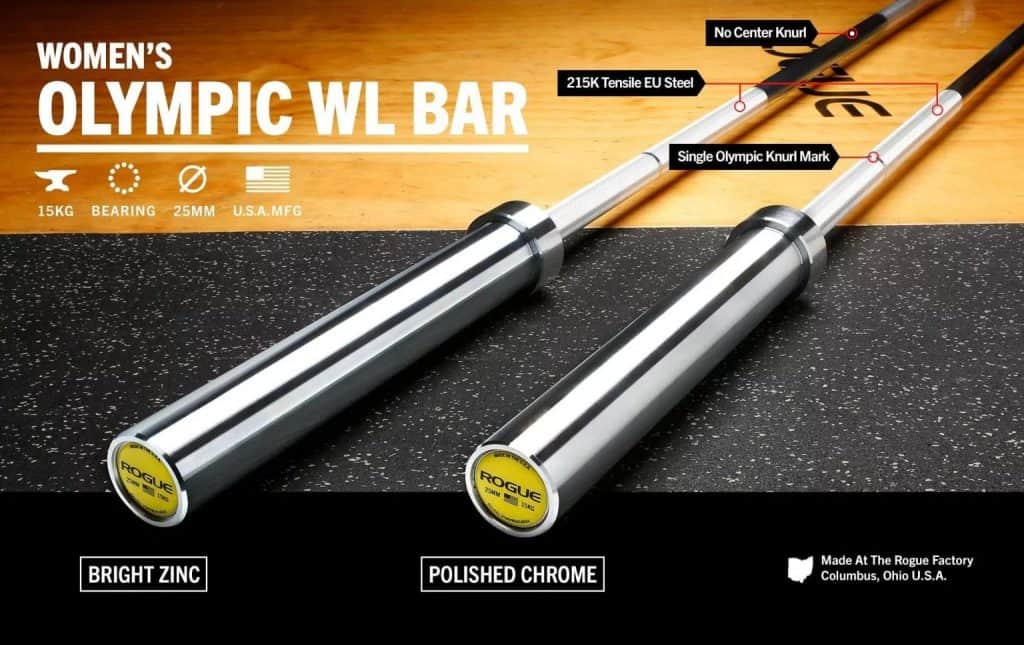 The shaft diameter is 25mm, so it's easy to grip. And it weighs in at 15kg / 33 lbs.
The Women's WL Bearing Bar features 10 sets of needle bearings, 5 sets per sleeve. Needle bearings provide the utmost in consistent, smooth spin. But, they do cost a bit more than a bushing bar - which is a much simpler type of weight bearing surface.
The WL Bar is made in the USA from 215,000 PSI tensile strength steel.
The only decision you'll need to make: Bright Zinc or Polished Chrome for the finish?
Both are pretty resistant to rusting (oxidation).
For a higher level of corrosion resistance - and to bring some style to your game - consider the Women's WL Bar in Cerakote.
What's Cerakote? It's a thin-film ceramic coating that offers amazing durability, protection, and a choice of colors and patterns.

Cerakote barbells are some of the best looking barbells around. It looks good, and works even better.
Beyond the looks, Cerakote offers a high level of corrosion resistance.
You may also want to check out the Women's Pyrros Bar.
It's also a bearing bar that's great for Olympic weightlifting.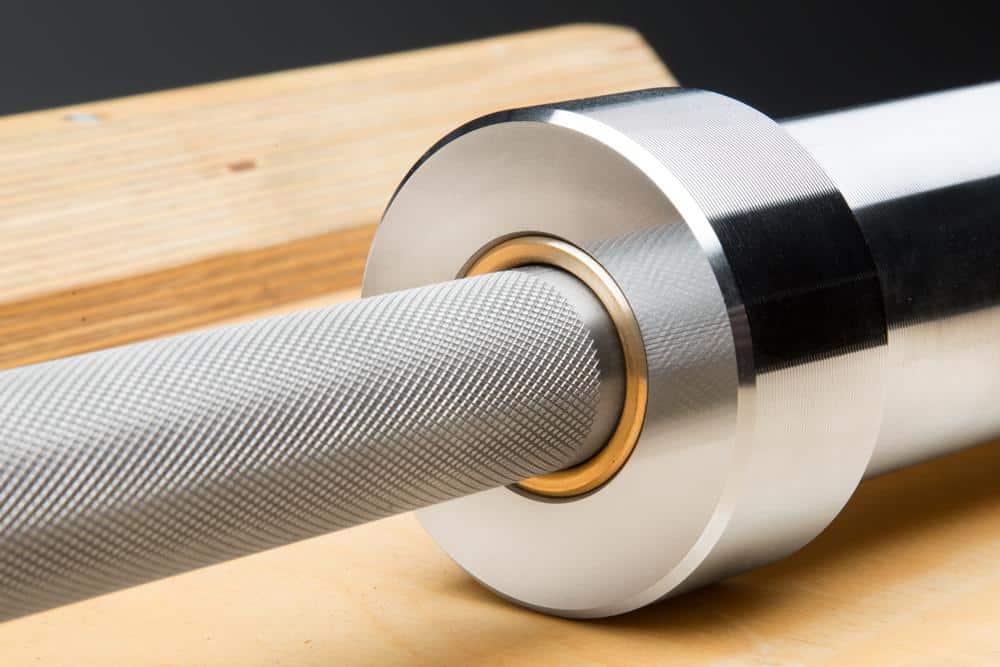 The Pyrros bar is made from stainless steel - providing a great bare metal feel and the most durable finish available in a barbell.
Bella Bar 2.0
If you are a CrossFit enthusiast - you probably want a dual purpose Olympic bar.
A dual purpose bar is good for the Olympic lifts, but also good for old school strength moves like the squat, benchpress, and deadlift.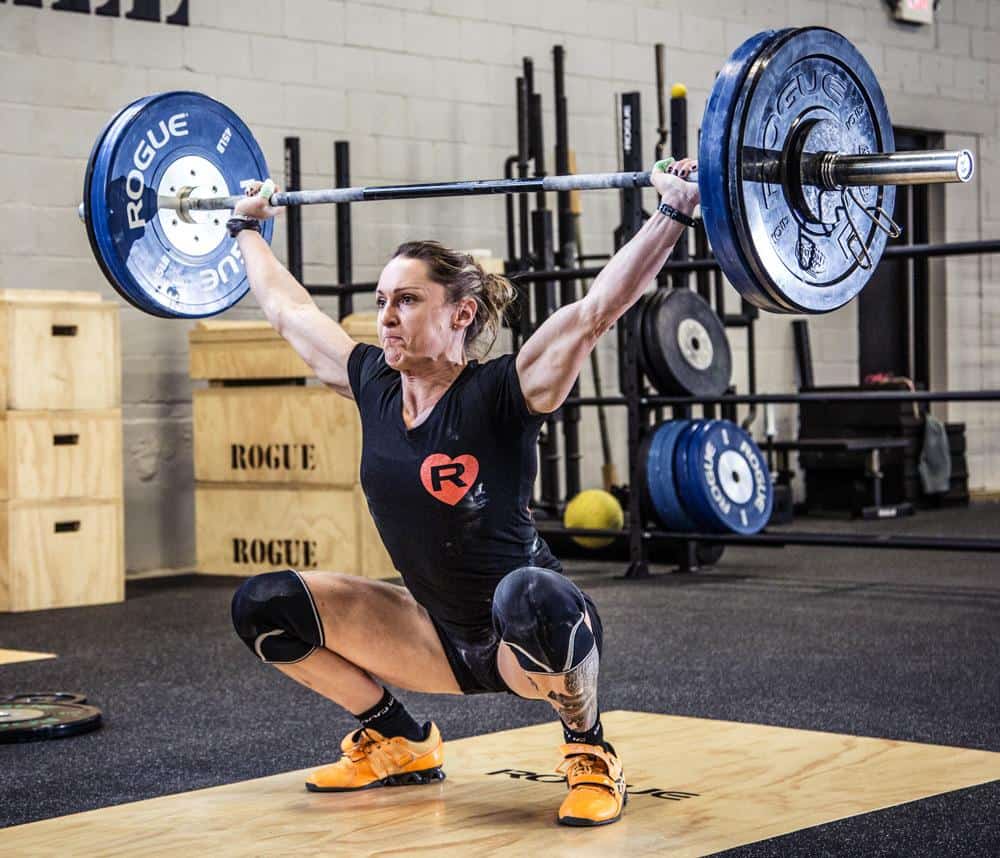 The so-called "slow lifts" like the squat and deadlift don't really require extreme barbell spin, or whip.
So, you don't necessarily need an expensive bearing bar. But, you still need a bar that's passable for the Olympic lifts.
Rogue Fitness sells the Bella Bar 2.0 that is an excellent solution.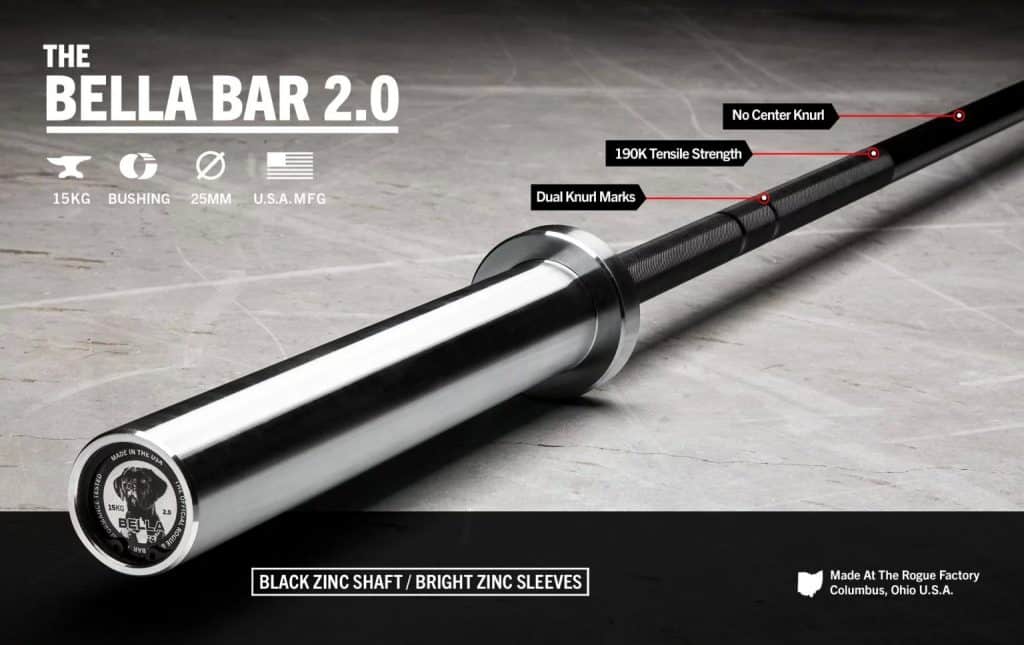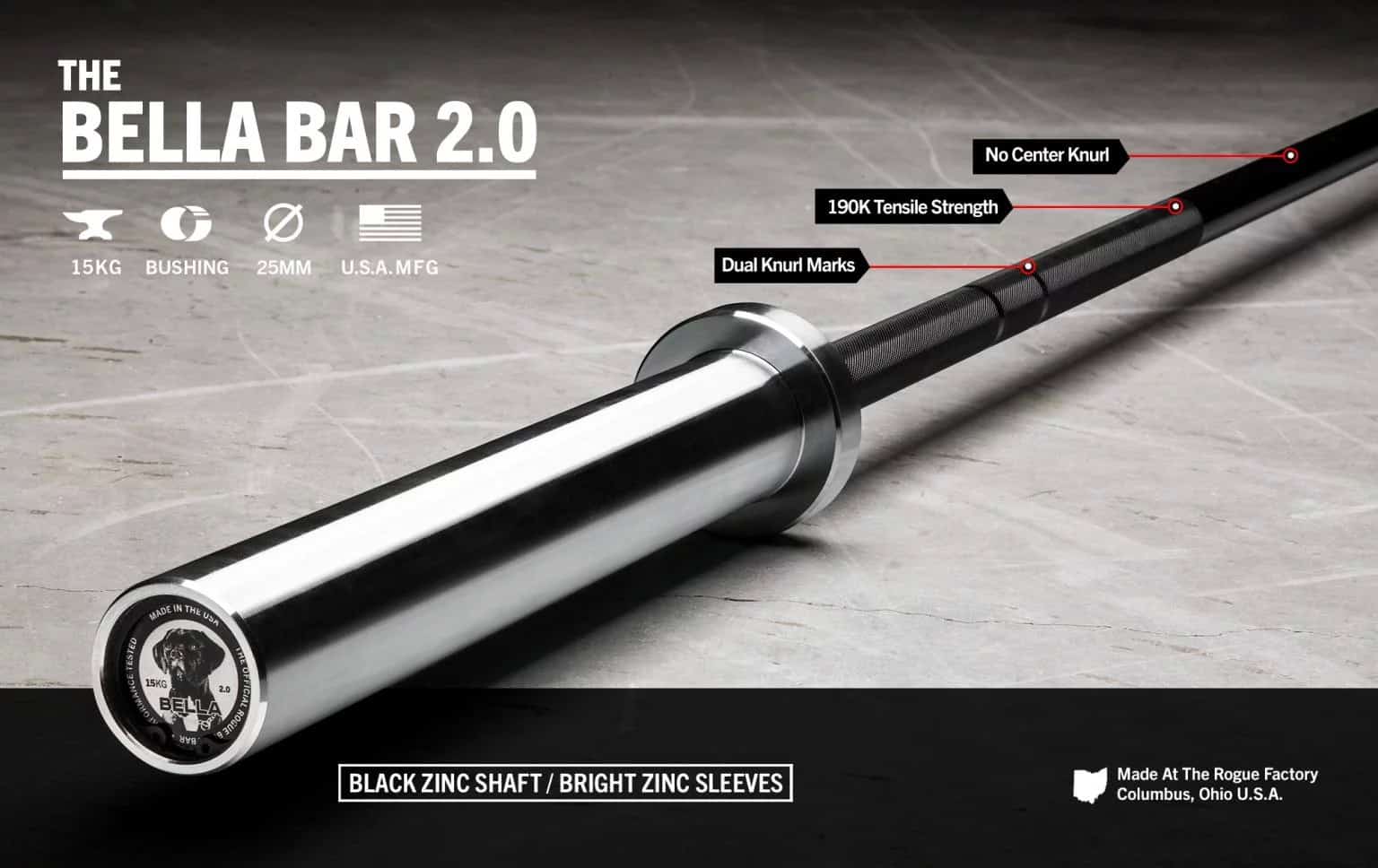 It uses quality snap ring bronze bushings to allow the sleeves to revolve for those Olympic lifts. These are a more cost-effective solution compared to a bearing bar.
It's also a tough bar. Made in the USA from 190K tensile strength steel.
It has dual knurl marks for powerlifting and weightlifting - so you know just how wide you can grip the bar and still stay legal.
There is no center knurl on this bar.
Why not? Because having knurl in the center of the bar can be a bit uncomfortable at times.
See the picture below of the "rack position" of the bar as an example. Think of it like taking a cheese grater to your skin. This does mean it's a little more troublesome to keep the bar on your back for squats. If you are a back squat enthusiast you might want a bar with center knurl for that reason.
The Bella Bar has the right combination of whip and rigidity for the powerlifts. When you are doing heavy deadlifts, benches, and squats you don't want a bar that flexes too much.
This is a great bar for the CrossFit WOD.
The Bella Bar normally comes with a black zinc shaft and bright zinc sleeves.
You can also get a version that uses Cerakote.
Cerakote is also popular in the gun industry – because of the range of custom colors that can be used, but also because of the amazing durability of this thin-film coating.
The Bella Bar Cerakote offers great looks and a high level of corrosion resistance.
These bars look good, and will look good for a long, long time.
Available in over 24 different color / sleeve options - you're sure to find one you like.



For the sleeves - choose between black Cerakote or chrome.
The black Cerakote sleeve looks better, but chrome will be more durable, because loading and unloading the plates means any coating will wear over time.
And now, you can custom order a Bella Bar 2.0 with the color options of your choosing, using Rogue's ZEUS Build-A-Bar.
Not only do you pick the color of the sleeves and shaft, but also the bushings. And you can choose custom text or an image to be placed on the bar.
Cool stuff.
And lastly, for the ultimate in bare steel feel and aesthetics look at the Bella Bar Stainless Steel.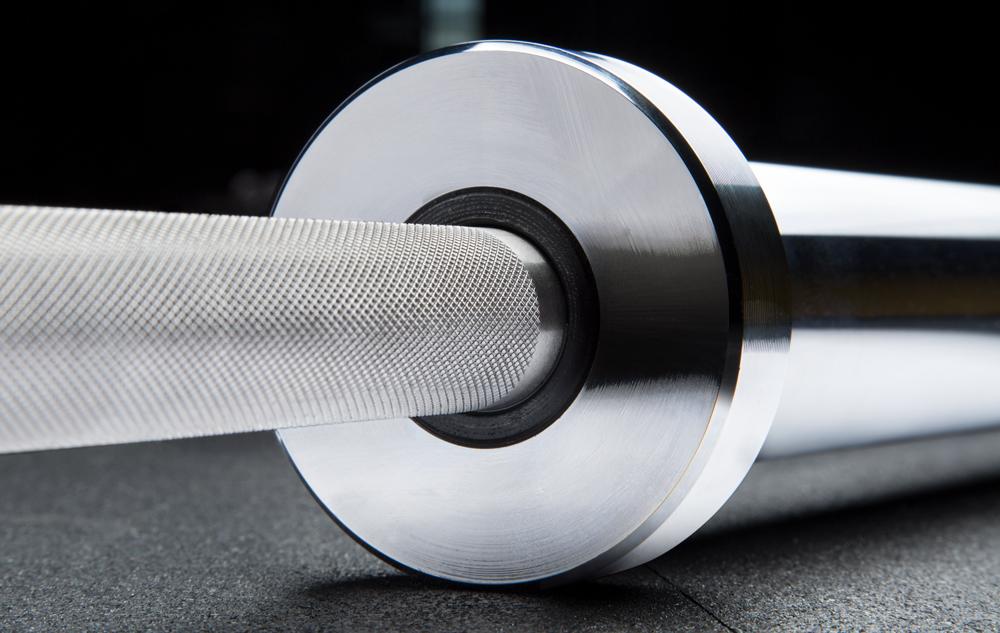 The stainless steel version of the Bella Bar also offers the ultimate in corrosion protection.
No matter what version of the Bella Bar you get, it's sure to be a hit. Check out the user reviews on the Rogue Fitness web site.
Fringe Sport Bomba V2
Rogue Fitness isn't the only vendor that sells made in USA women's Olympic barbells.
Fringe Sport sells their Bomba Women's Barbell.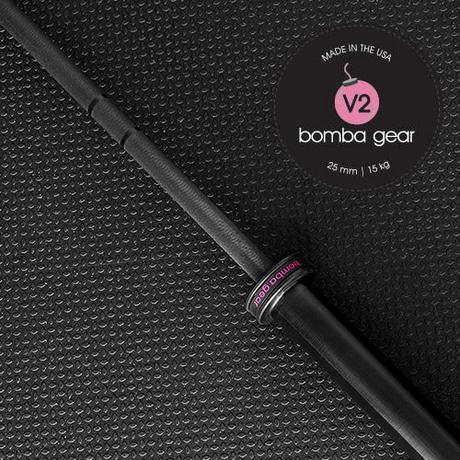 It's a Women's bar so 25mm shaft diameter and 15 kilograms / 33 pounds is the weight - as you'd expect.
It's built from 206,000 PSI tensile strength steel - and made in the USA.
It's a bushing bar - using high impact bronze bushings. As we mentioned above, this saves considerable expense compared to needle bearings.
With a moderate amount of whip and a moderate amount of spin - it can be used for dual purpose lifting.
Whether Olympic weightlifting or powerlifting this bar will work.
And, it's bargain priced - especially considering it is made in the USA, has a lifetime warranty, and is overall a great product.
The Bomba Bar V2 is also available in Cerakote.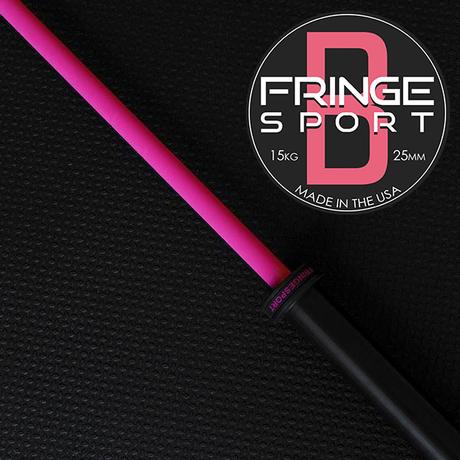 With excellent oxidation (rust) resistance, and cool looks it's perfect for your garage or home gym.
Fringe Sport offers the Women's Bomba bar in Blue, Pink, or Purple.
Best Women's Barbell - In Summary
With a 25mm shaft diameter a Women's Olympic barbell will be easier to grip, and is significantly lighter than a men's barbell.
Beyond that, to find the right women's Olympic barbell you need to figure out what kind of lifting you want to do.
To specialize in the fast, technique driven Olympic lifts go for a bearing bar.
If you are doing CrossFit style functional fitness or otherwise doing powerlifts as well - look for a dual-purpose bushing bar.
Photo and Image Credits
The Rogue Fitness logo and some product imagery on this page is property of Rogue Fitness and provided by Rogue Fitness.
The Fringe Sport logo and some product imagery on this page is property of Fringe Sport and provided by FringeSport.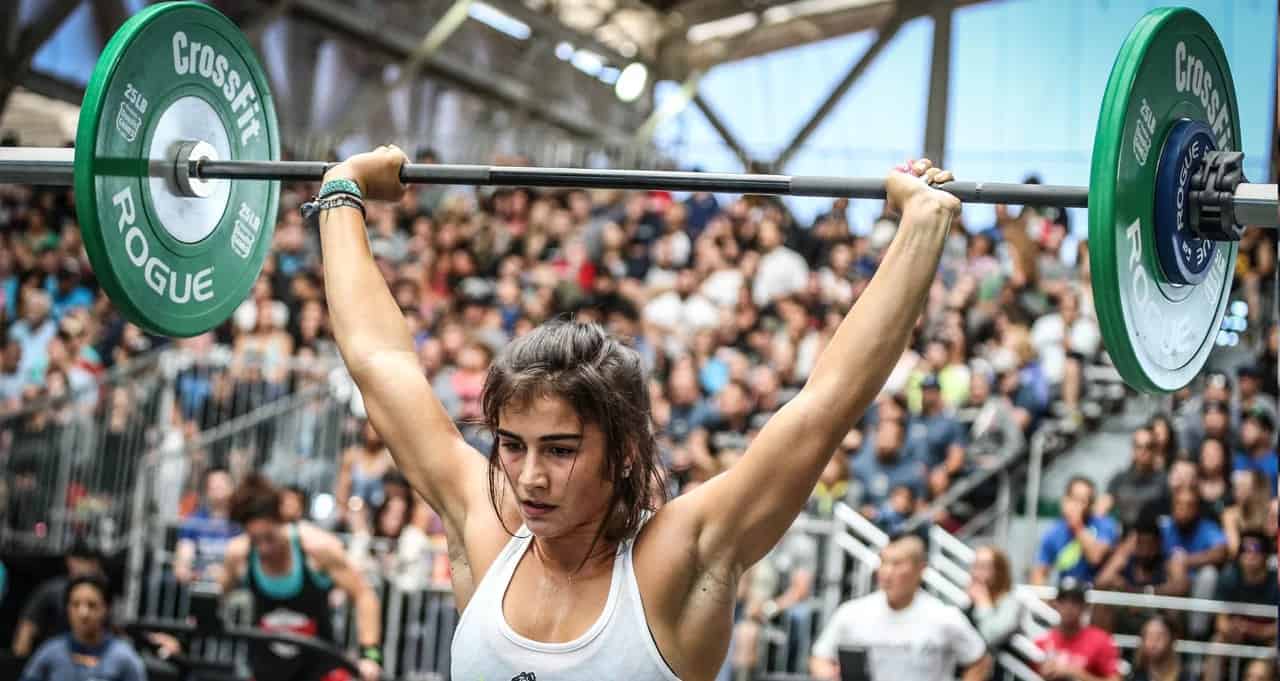 Tim is the founder of FitAtMidlife.com – an avid gym rat for 30+ years, he's a reviewer of many, many shoes – and founder of the Speed Bag Gathering – the world's only gathering of speed bag punching enthusiasts.  See more gym reviews at Tim's YouTube channel.