Let's compare the new Nano X1 Training Shoe from Reebok directly against the Nike Metcon 6.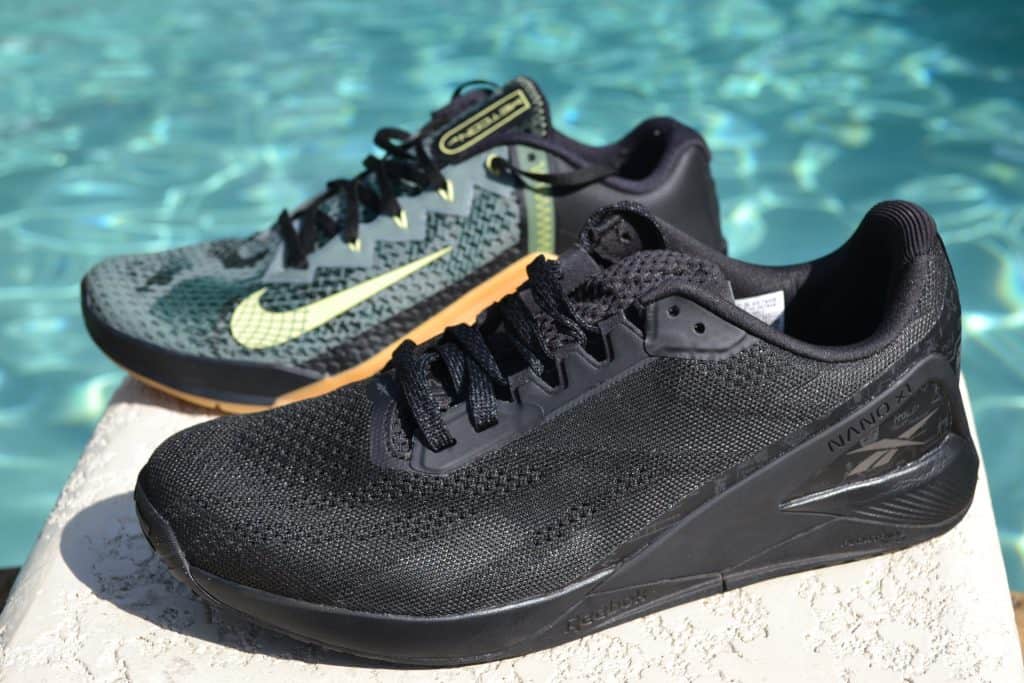 Our review pair has arrived and we've put them through our workout test – side by side with our trusty pair of Nike Metcon 6.
Before we dive into the results, let's review some of the styles that are available now:
Let's review what's new and improved in this training shoe.
Reebok Nano X1 Versus Nike Metcon 6 Review – Video Review on our YouTube Channel
Why read when you can watch? Check out this video from our YouTube channel:
That's some in action video of the Nano X1 – but let's dive deeper into all of the details.
Reebok Nano X1 Versus Nike Metcon 6 Review – Sizing
Here's my thoughts on size – Reebok Nano X1 first.
This shoe runs true to size. A US Men's Size 11, which is my normal shoe size for most trainers and running shoes, fits perfect.
The width is good, the length is good, and overall these are comfortable.
There's one caveat – the tall collar / Achilles pad does put some pressure on the top of your heel.
Will this break in over time? I'll provide an update here in a few weeks.
The other big thing we need to address is the optical illusion that the X1 is less wide than the Nano X.
In a nutshell, the outsole is narrower, but not the actual area in the upper that accommodates your toes.
This video explains in detail:
How about the Nike Metcon 6?
I've been going 1/2 size up on these since the Nike Metcon 5 days.
My first pair of Metcon 5s felt too tight in the toes – especially after a long day – when your feet swell.
Since, I've been going with 1/2 size up and that makes the width just fine.
Unless you've got unusually narrow feet – I'd recommend you do the same.
(Of course everyone's foot is different – and the ideal situation is that you'd try these on first, but that's hard to do in the era of online shopping.)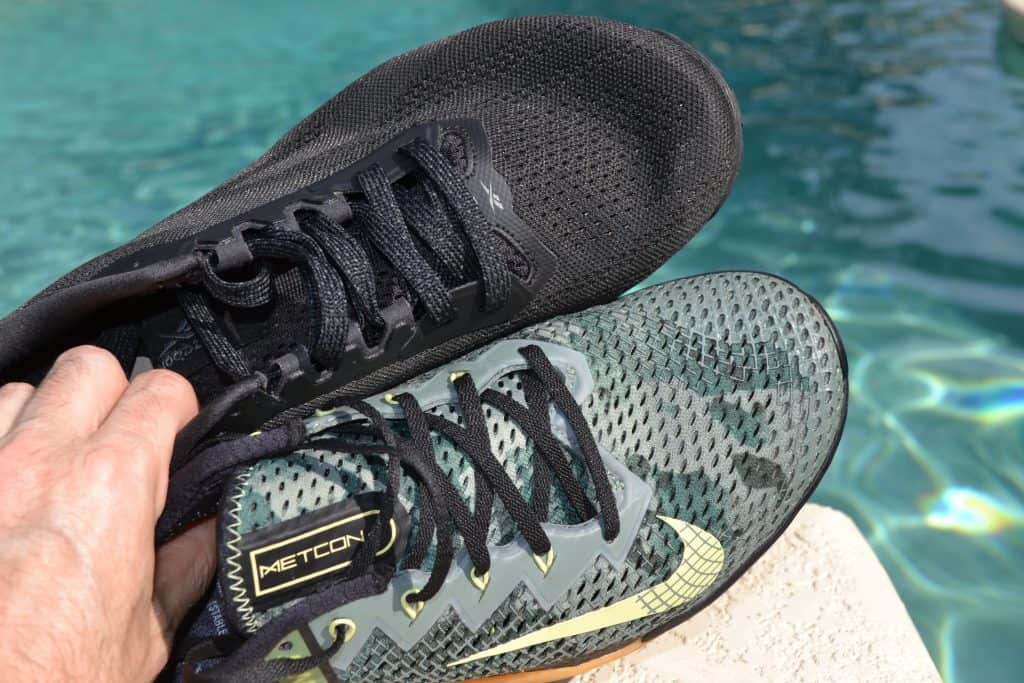 Reebok Nano X1 Versus Nike Metcon 6 Review – Overview
OK – time to line these up side by side. Let's start with the sole – or outsole.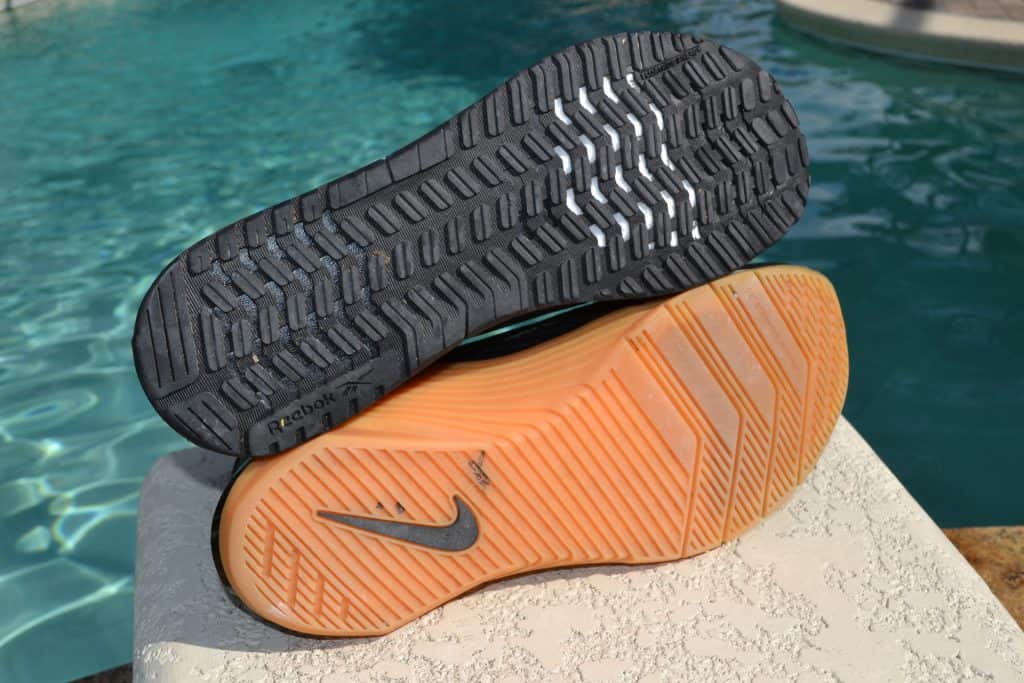 Being primarily gym shoes both prioritize surface contact area with the gym floor.
They offer good grip, but clearly aren't all-terrain shoes.
The real differences start to show up as we look higher up on the shoe.
The design hallmark of the Metcon 6 (and the Metcon 5 before it) is that monster-sized rope wrap.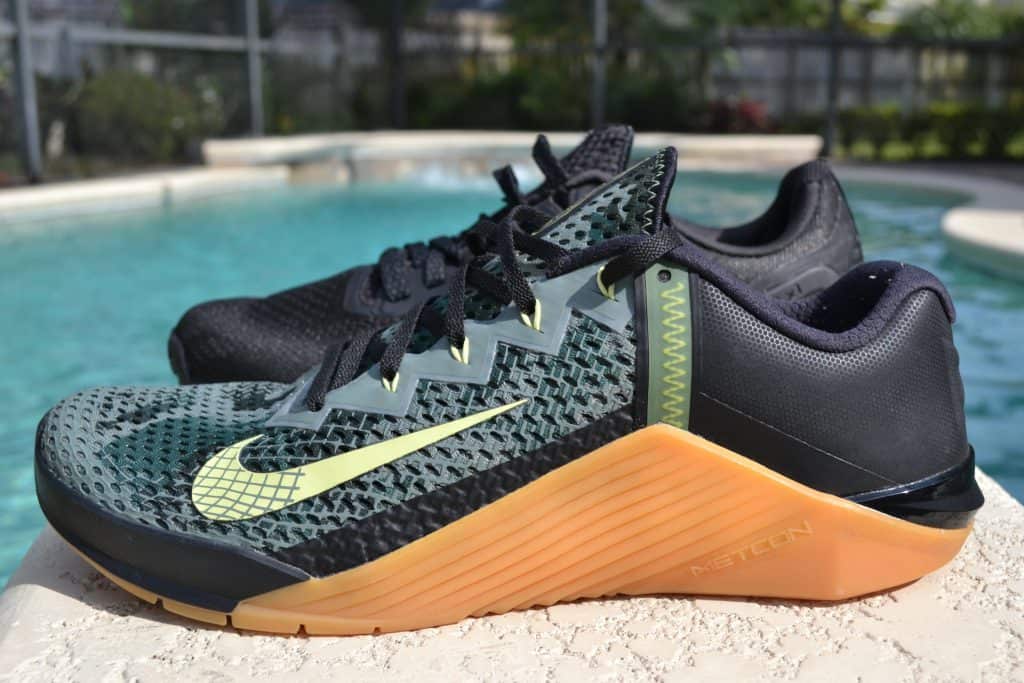 This is where the tough outsole wraps up around the sides of the shoe at the midfoot. Why? For grip when climbing ropes – and to protect the upper from friction.
In contrast, the Nano X1 has something that can hardly be identified as a rope climbing supplement. There's a small Ropepro label down on the side, and there's sort of a tough area that looks like it would be good for getting a "pinch" grip on a rope.
This really big rope wrap has an impact on weight though.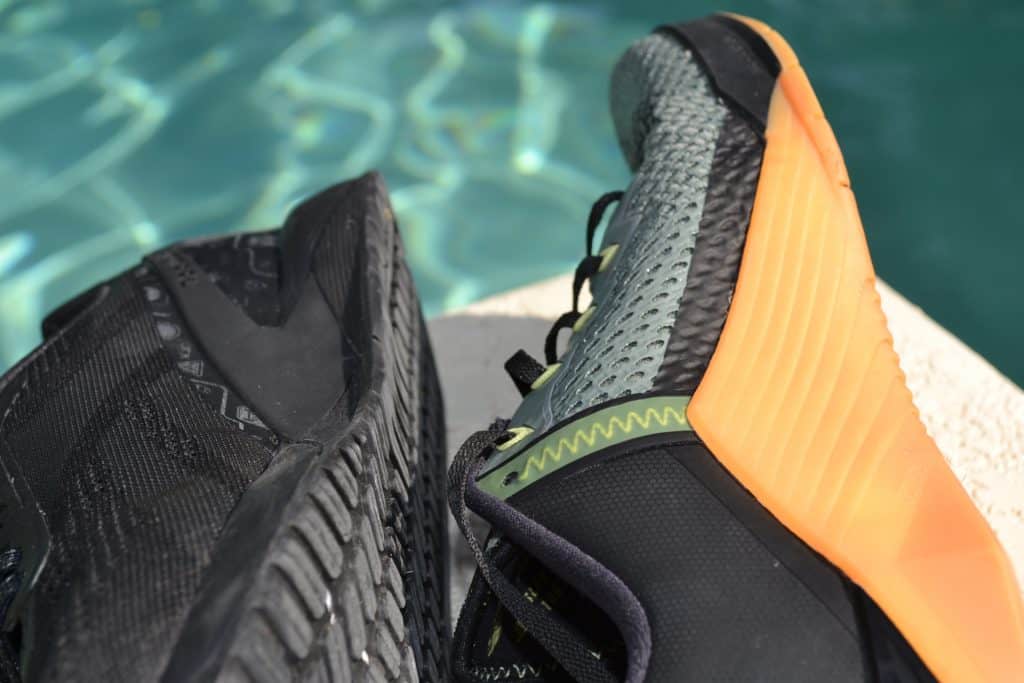 And how many of you actually climb ropes regularly anyways?
This is one area where the X1 stands out – at 12.1 ounces per shoe (US Men's Size 11) it's almost 2 ounces lighter than the Nike Metcon 6 (13.9 ounces).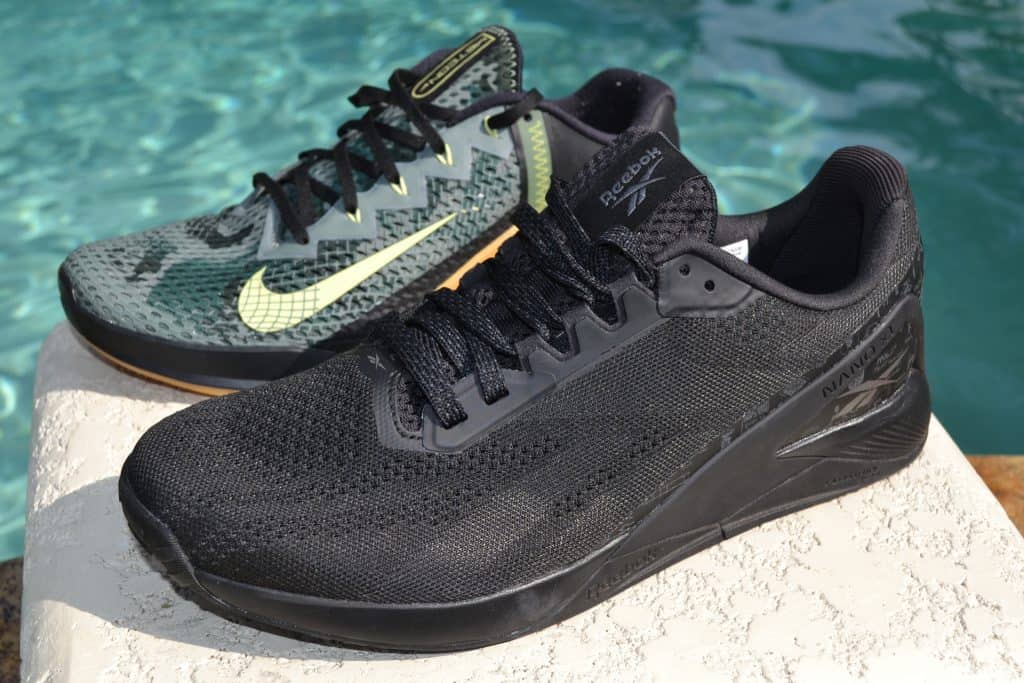 All things equal, I want a lighter shoe, not a heavier shoe – especially for running.
The other big difference we get from the X1 is the cushion in the midsole (the part between your foot and the outsole.)
The Nano X1 is now using Reebok's Floatride Energy system which is based on EVA foam.
It offers noticeably better cushion in the heel and midfoot when running – even when compared to the Nike Metcon 6.
(Previously I had rated the Nike Metcon 6 as better for running than the Nano X – and that's still the case – but the Nano X1 has now become better.)
The Reebok show has 7mm of drop. That's an additional 3 mm as compared to the Nano X.
When it comes to longer distances more drop is better – that's why so many running shoes have 10mm of drop.
It's also a little bit helps when squatting, because it minimizes the ankle flexibility you need to get to depth.
(That said, 7 mm is NOT a ton of heel to toe drop – consider most Oly lifters have 20 or 22mm of drop…)
The Nike, of course, can have 4mm or 12 mm – once you put in the hyperlifts.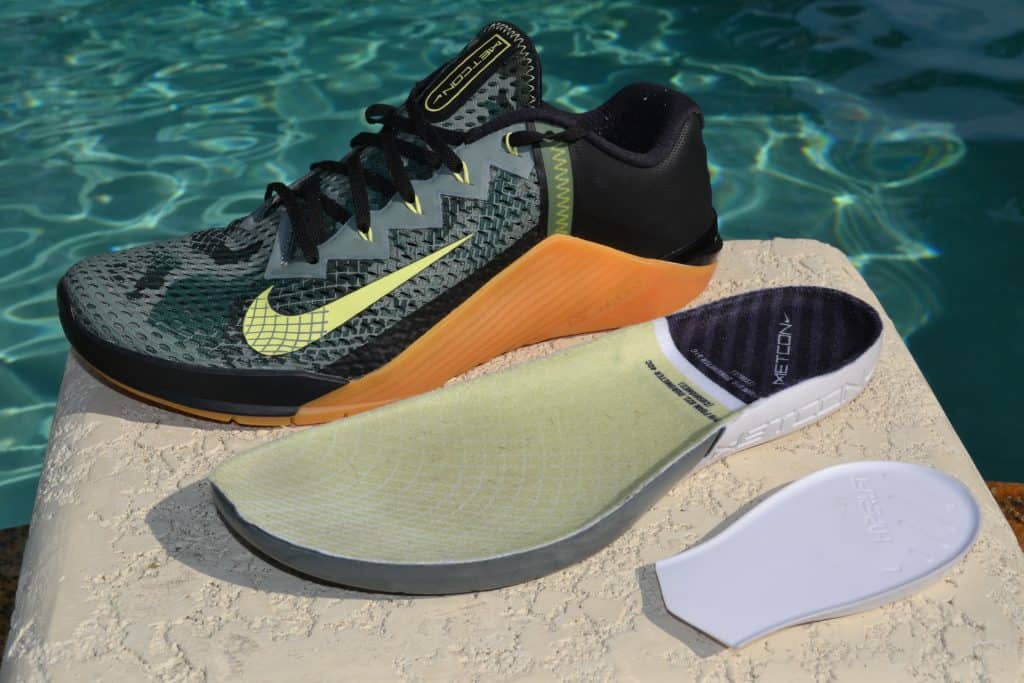 And that's a point in favor of the Nike show – it's modular to some degree and you get to choose what you want.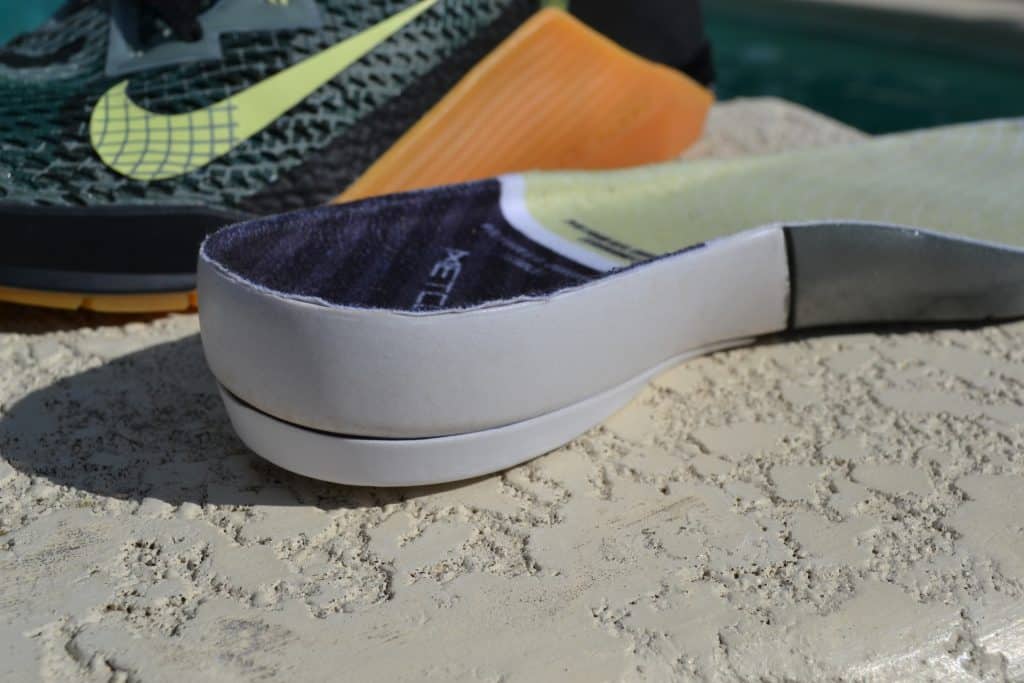 People tend to use the Nike Hyperlifts for wall balls, pistol squats, really anything that requires getting deep into the squat position.
Here's one other thing to point out about the Hyperlifts. While it's a neat concept, and it works, when I put them in I get too much heel slippage.
Why? Well, the Nike Metcon 6 has a very low collar – and that Hyperlift is propping up your heel by 8mm – with no corresponding change in collar height.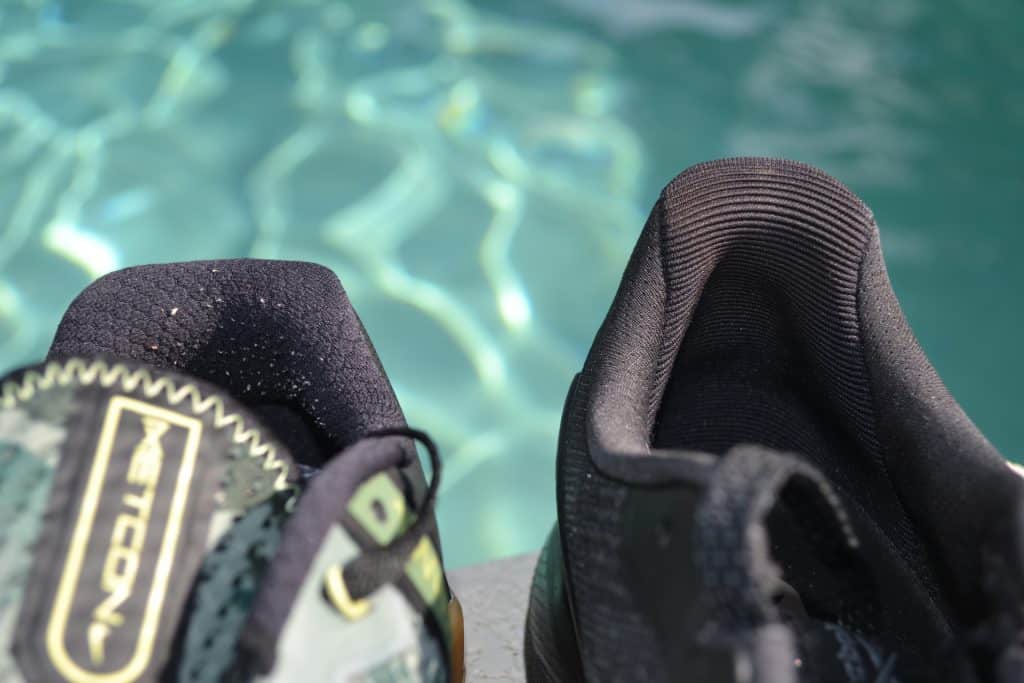 It would work better for me if the collar were more like that in the Nano X1.
It's quite tall and I get zero sensation of heel slippage.
That said, my initial thoughts on the Nano X1 is that it might put too much pressure on the backside of my heel. I need more testing to figure out if this is a concern.
The Nano X1 has a nifty TPU cage that surrounds your heel. It provides better lateral stability than the Metcon 6 – which doesn't really have anything equivalent.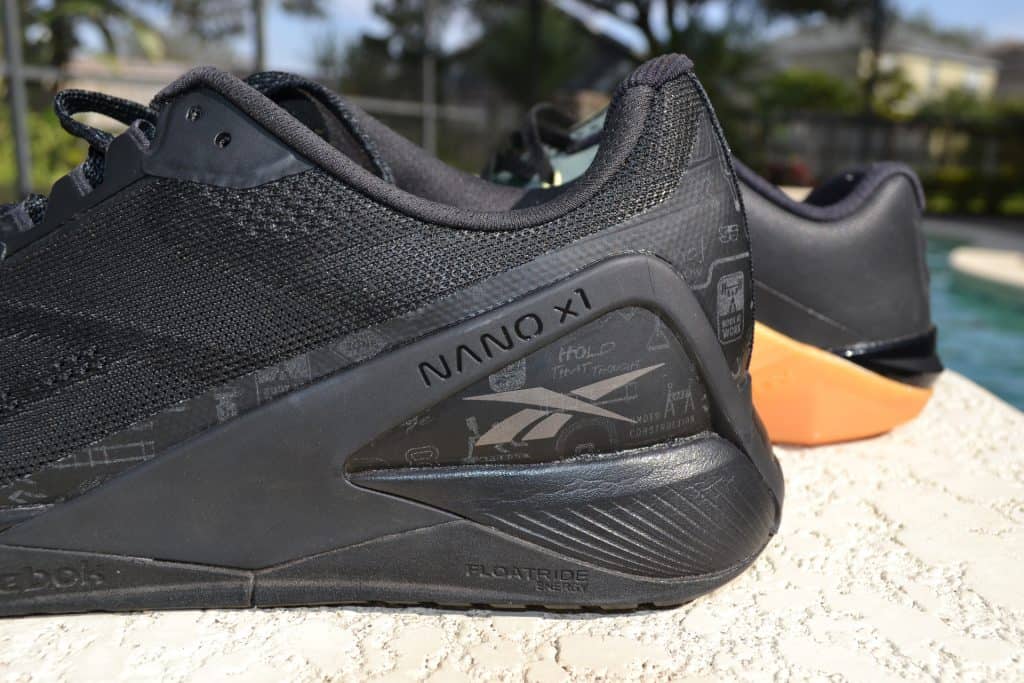 My other concern with the X1 is that it has a very narrow (skinny) tongue that doesn't offer a lot of padding.
The Nike Metcon 6 has a wide tongue with decent padding.
The uppers are very different.
This version of the Nano X1 uses Flexweave Knit which is a very standard "knit" style upper.
It's not super-stretchy or socklike. It's not thin or weak either.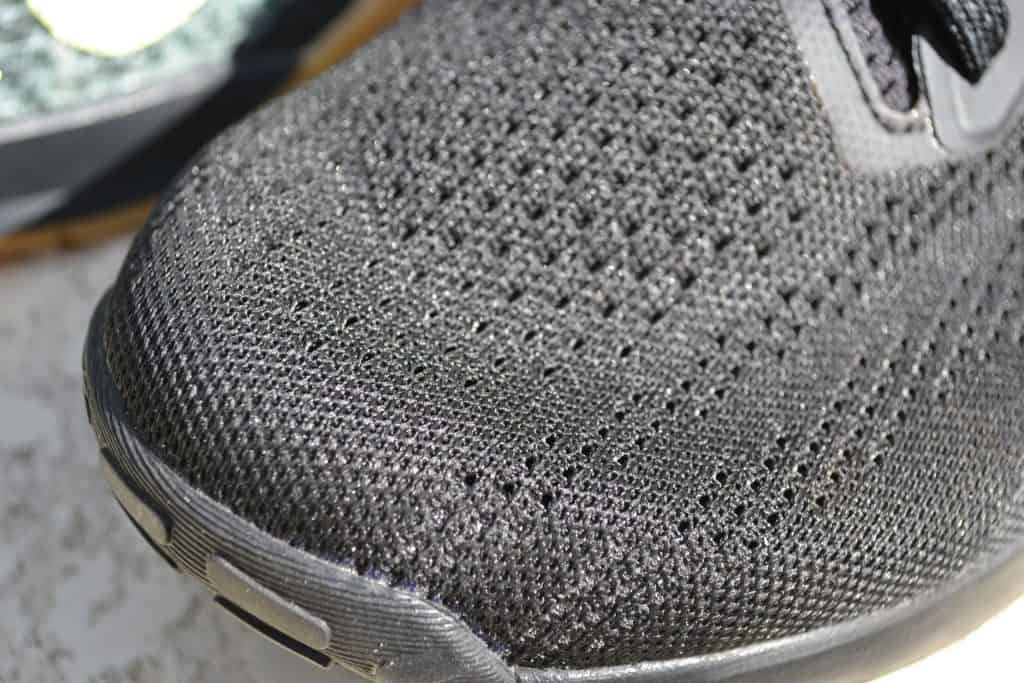 Breathability seems decent, but it can't hold a candle to the Nike Metcon 6.
The Metcon 6 brought to the table this new upper with giant-sized perforations.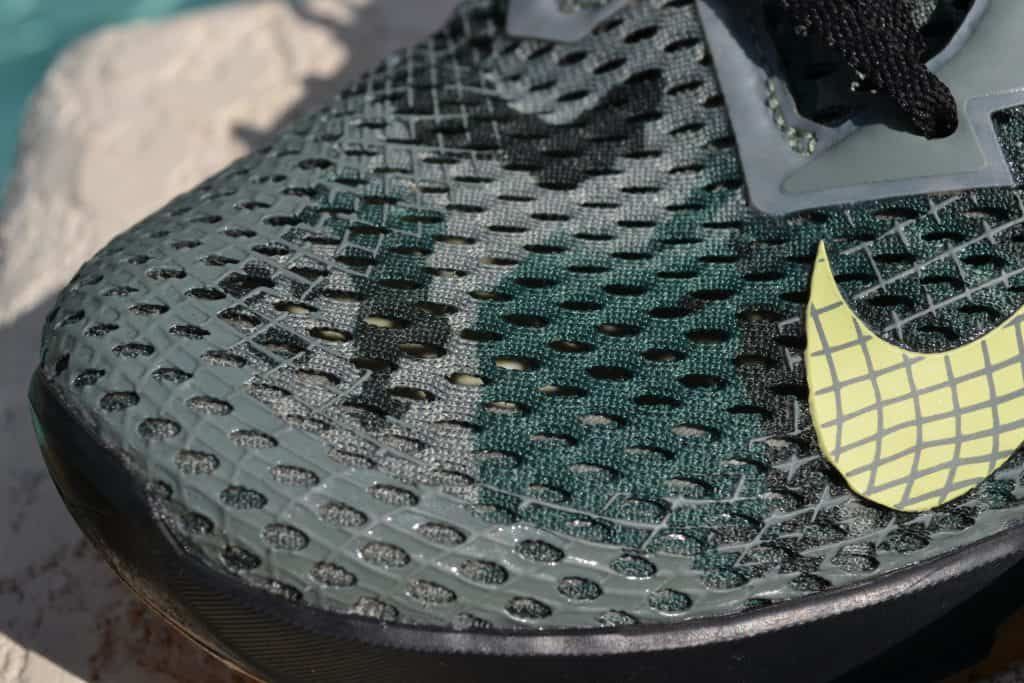 How can you get more breathable than that? It's also really tough.
Quite frankly, the Nike shoe is probably tougher overall than the Nano X1. But that's why it's significantly heavier too.
For those that need or want a tougher Nano X1 – there will be Flexweave Grit option soon – that's more like the traditional Flexweave you are used to.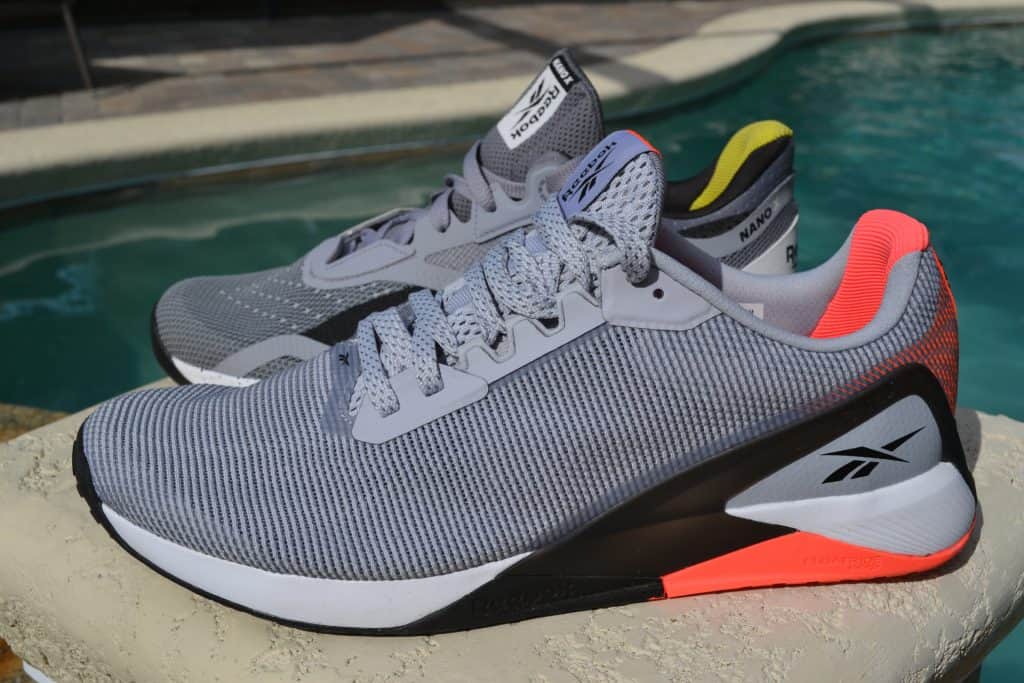 The last area we'll compare side by side is the heel clip.
The Nike shoe has a knife-edge to it – to ensure minimal friction or drag when doing Hand Stand Push Ups (or HSPUs).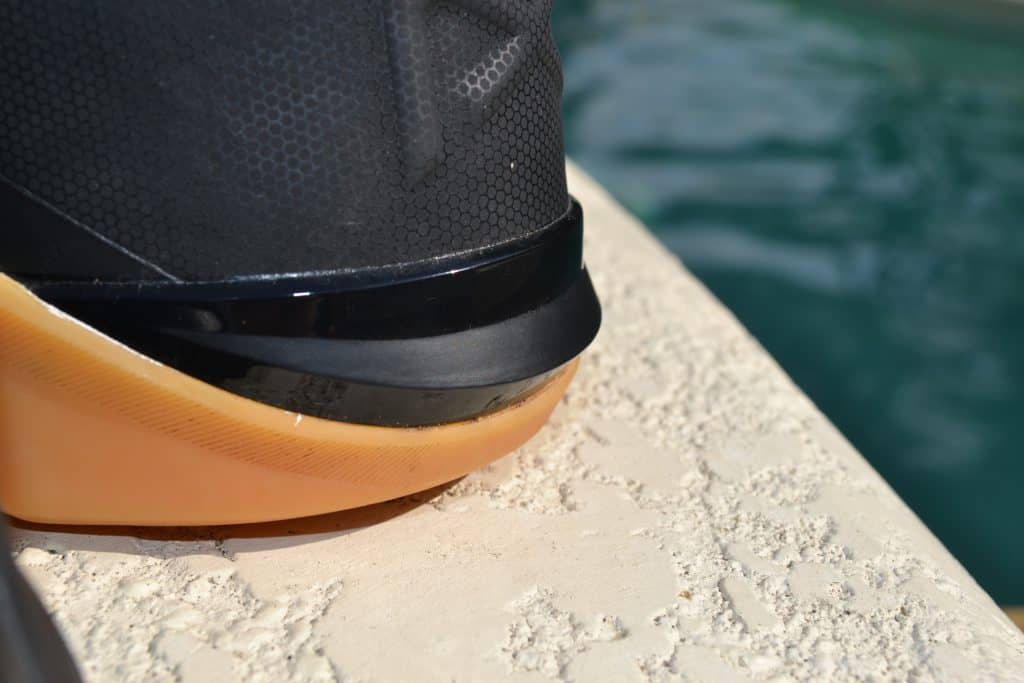 It's made from TPU and seems to work – as it's one of the features that Nike keeps around every year.
The Nano X1 has TPU on the heel area – and that's really slick – so I don't think it would create too much drag either.
Can we compare the Reebok to any of the other Metcon 6 versions? Here it is side by side with the latest AMP shoe.
There's no real performance differences in those special editions – other than looks.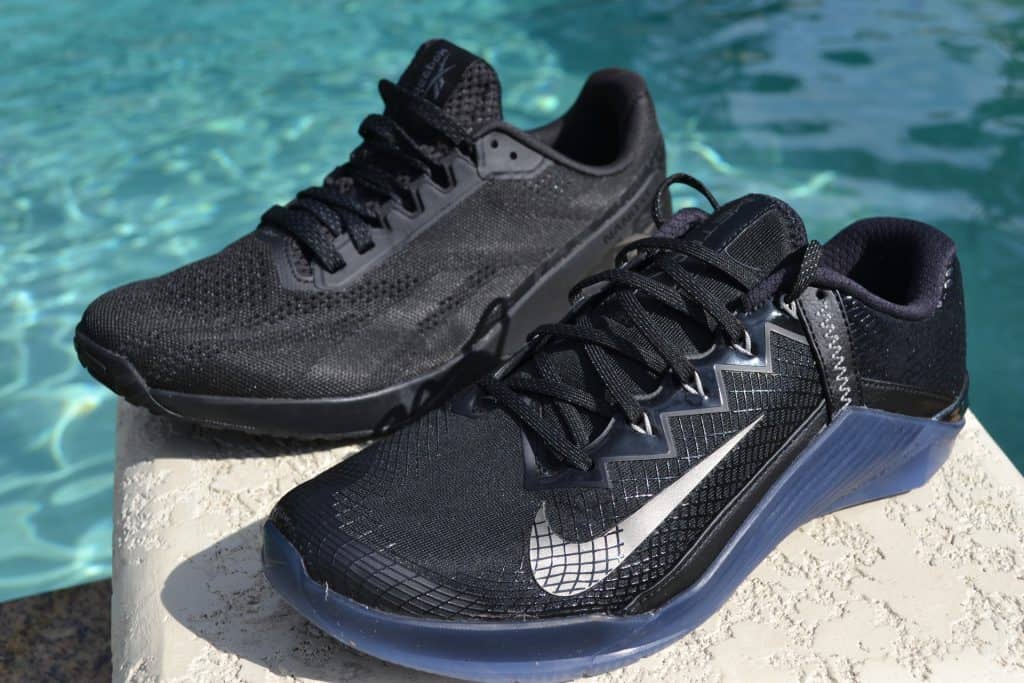 Reebok Nano X1 Versus Nike Metcon 6 Review – In Summary
That's our review of the Reebok Nano X1 Training Shoe versus the Nike Metcon 6.
Reebok has dropped the singular focus on CrossFit, and made a shoe with wider appeal in the process.
The Nano X1 is 2 ounces lighter than its predecessor, has 7mm of drop (Up from 4), and best of all – has some effective cushion in the heel and midfoot.
In contrast the Nike Metcon 6 is heavier (but built like a tank) and it's super versatile – thanks to the dual-density midsole and removable Hyperlifts – which let you choose 4mm or 12mm of drop.
Overall, I think the Nano X1 is a better shoe for impact activities and sprinting or running – but you can still lift weights in it.
The Metcon 6 has OK cushion too, but it's just a little less effective than what's now in the Nano.
That all being the case – there's something to be said for style and how well the shoe fits you.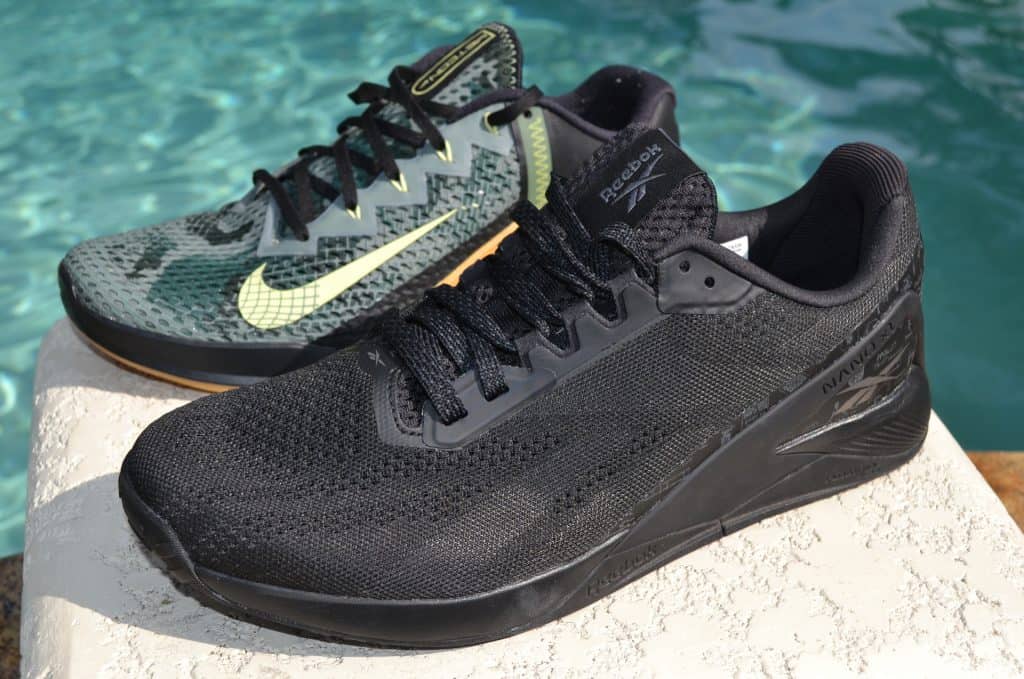 Photo Credits
Some product photos on this page are property of Nike or Reebok.
This website is not affiliated or associated with CrossFit, Inc. CrossFit is a registered trademark of CrossFit, Inc.
Affiliate Disclaimer
We are an affiliate of Reebok and others that sell this training gear. If you buy clothing or other training gear after clicking the links in this article, we receive a small commission at no extra cost to you. This helps us to bring you in-depth information and content on these great training products.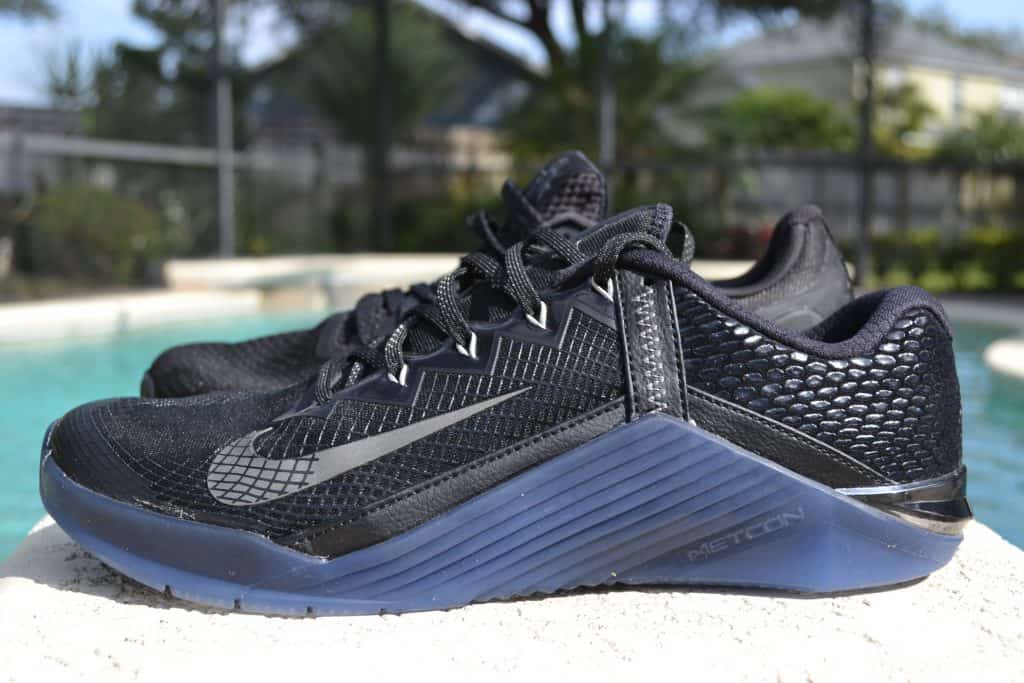 Tim is the founder of FitAtMidlife.com – an avid gym rat for 30+ years, he's a reviewer of many, many shoes – and founder of the Speed Bag Gathering – the world's only gathering of speed bag punching enthusiasts.  See more gym reviews at Tim's YouTube channel.