Force USA: Use code
FAM5
to get 5% off any purchase over $1,500.
Force USA has updated their Force USA G3 All-In-One Trainer – this is the new version 2.
It's a functional trainer – and so much more!
The new and improved perfect entry-level All-In-One Trainer is here to bring convenience to your fitness. The Force USA® G3™ is an upgradeable All-In-One Trainer that integrates twelve strength training stations into a single power rack footprint. It is recommended for home use and comes with 14 attachments and a 2:1 cable pulley ratio for a versatile training.
The newly updated V2 of the G3 All-In-One Trainer from Force USA: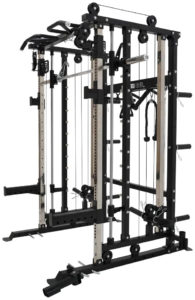 Force USA G3 All-In-One Trainer (Black)
The unit itself has a weight rating of 992 lb, while the Smith Machine and Chin-up weigh 72 lb each. The cables are 6.2mm nylon coated mil-spec aircraft quality tested to 2000 lb.
Force USA G3 All-In-One Trainer – Overview
The Force USA G3 All-In-One Trainer provides exceptional workout versatility in a single power rack footprint. With it, you can perform all the same exercises you do at your local gym with the flexibility to elevate as your fitness goals develop. The G3 base unit starts with a power rack foundation. Four more strength training stations are added, including a smith machine, functional trainer, chin-up, and landmine core trainer. This machine allows you to stay in one machine to do squats, bench presses, free weight exercises, and core training and save time and energy between sets. It also allows you to perform full-body training or break up your training days to focus on the upper-body or lower-body training. The space-saving design of G3 also helps eliminate the mess in your workout room, providing convenience in doing all your exercises in one area.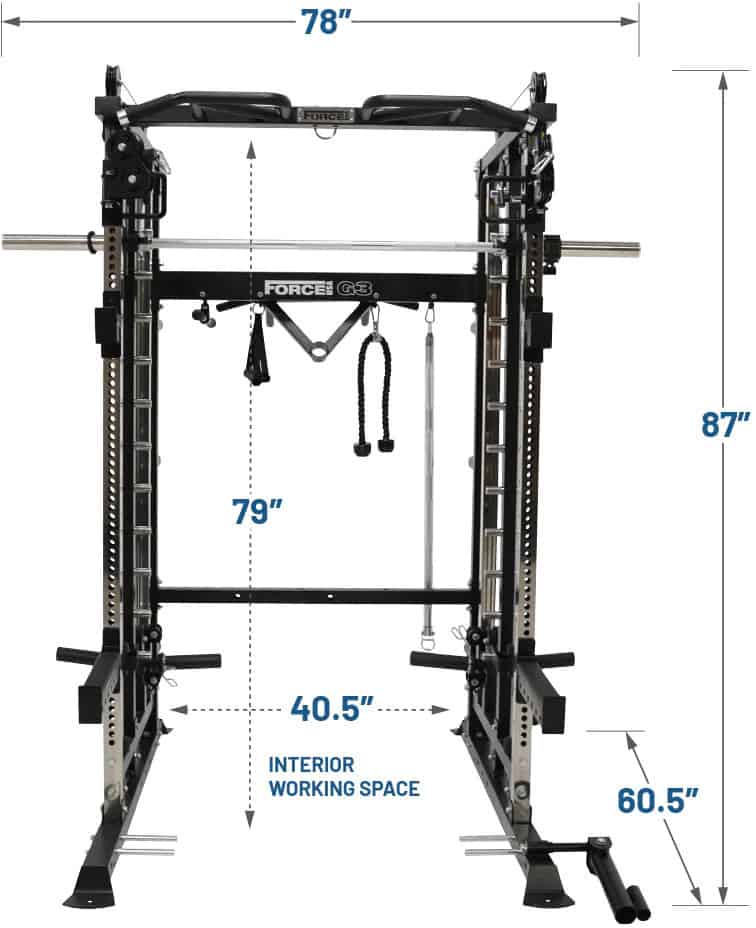 G3 combines 12 strength training machines into one.
1. Power Rack This machine is the foundation of G3 and is made from heavy-duty gauged rolled steel tubing that is powder coated and then clear-coated for added durability and longevity. The commercial-grade J-Hooks and Safeties help keep you safe as you push yourself to your limits, while the Westside hole spacing lets the J-Hooks move up and down 62 adjustment points on the upright for bench presses, squats, and more.
2. Functional Trainer The functional trainer station uses a dual cable pulley system fastened to adjustable plate weight holders for precision resistance training. It includes 16 adjustable height positions that allow a full-body workout to isolate and target your shoulders, core, arms, back, chest, and legs. The 2,000-pound rated aircraft quality cables produce a smooth, natural feel using a 2:1 cable pulley ratio.
3. Smith Machine The Smith Machine station includes a fixed knurled barbell that takes Olympic weight plates up to 772 lb. It promotes a wide variety of strength training exercises, including presses, squats, pulls, deadlifts, lunges, rows, and more. It has built-in safe-lock and release mechanisms with safety catch to make safe solo workouts possible.
4. Chin-up This machine improves grip strength, posture, and muscles that stabilize the spine. This multi-grip chin-up bar offers various hand positions to help you isolate and target the muscles you want to grow. Chin-ups work your biceps and back, while pull-ups target your back more than the biceps.
5. Suspension Trainer It offers a reliable suspension trainer stirrup station that gives access to more than 50 exercises, including inverted rows, push-ups, and more. The Suspension Trainer is compatible with resistance band packages from Force USA, TRX®, and others (sold separately).
6. Core Trainer The landmine is the ultimate core trainer that helps build upper body strength, increase muscle mass, and enhance balance and stability.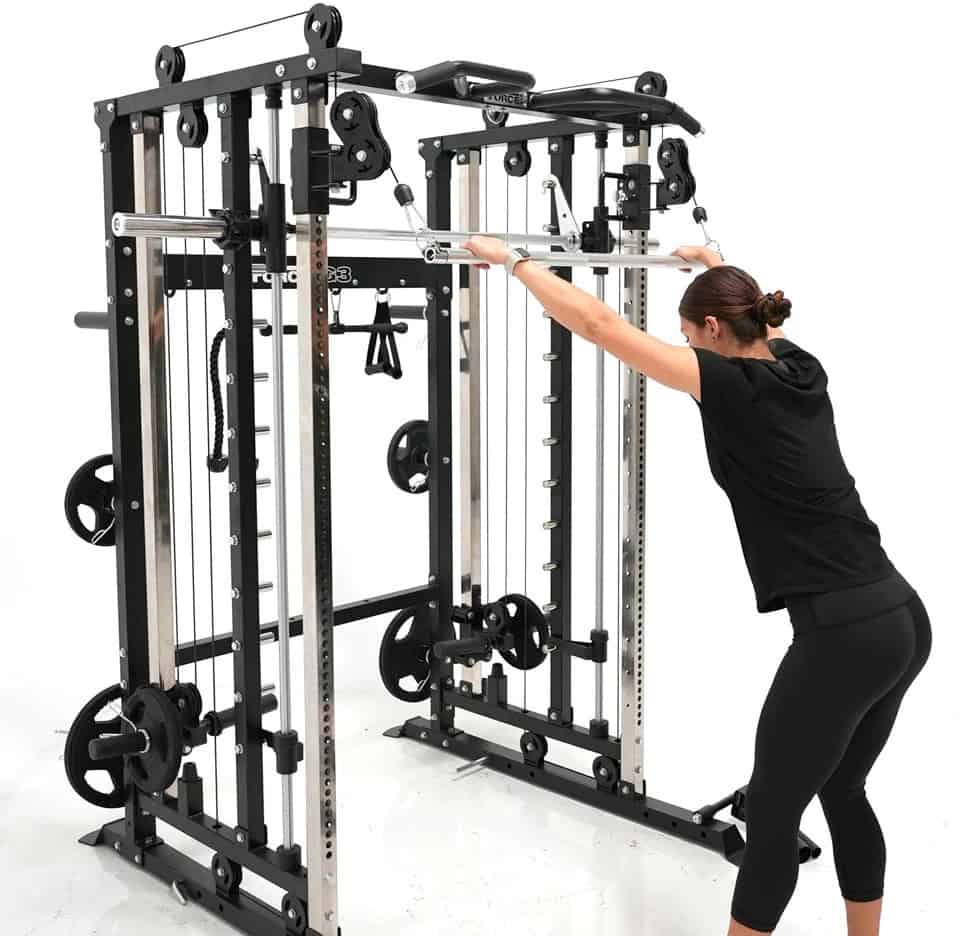 7. Leg Press (Optional) The optional G3 Leg Press attachment transforms the Smith Machine barbell into a Vertical Leg Press station. It attaches to the 12 height adjustment racking points on the upright so you can easily find the perfect starting and ending racking position. The footplate highlights diamond-plated steel and black powder coating for added slip resistance.
8. Lat Pull-down (Optional) The lat pulldown handle and seat with knee holder both attach to the front of the rack on either upright and function in agreement with the dual cable pulley system. The upgradeable multi-grip lat pulldown bar, knee holder, and seat attachment help target and strengthen your back muscles for better posture and spinal stability.
9. Jammer Arms (Optional) Jammer Arms allow you to perform bench presses, shoulder presses, and other explosive work. It is finished with a high-grade environmentally-friendly black powder coating for added durability.
10. Dip (Optional) This machine allows you to build strength in your chest, shoulders, and triceps.
11. Low Row (Optional) The Low Row adjusts to three different angles and is used to improve stamina and strength by using low-impact pulls from a seated position.
12. Leg Developer (Optional) This machine can be used with or without a bench and attaches to eight uprights. It isolates the quads, glutes, and hips and is made with durable high-density sweat-resistant foam.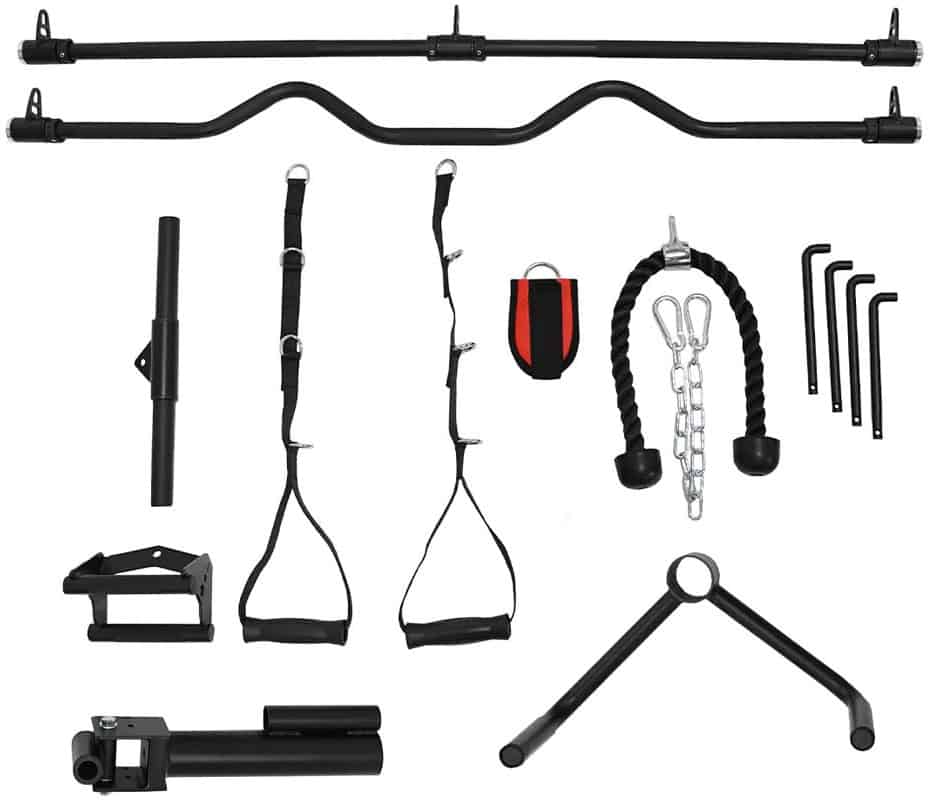 Force USA G3 All-In-One Trainer – In Summary
That's our close-up look at Force USA G3 All-In-One Trainer.
The G3 All-In-One Trainer is a highly versatile and well-manufactured piece of equipment that allows you to do various exercises in your garage. No need to drive to the gym. The G3 is a 2:1 ratio, which means that if you have 100 lbs loaded, the resistance is 50 lbs. You can add more versatility to your G3 by adding two additional strength training stations and two functional attachments.
Looking for more options? Check out these other great products:
But wait, there's more – the Pro Multi Trainer from Force USA is professional grade – but that doesn't mean it wouldn't be awesome in your garage gym.
Is that too much? If so, check out the Force USA G12 All-In-One Trainer – it's also full-featured.
More products from Force USA.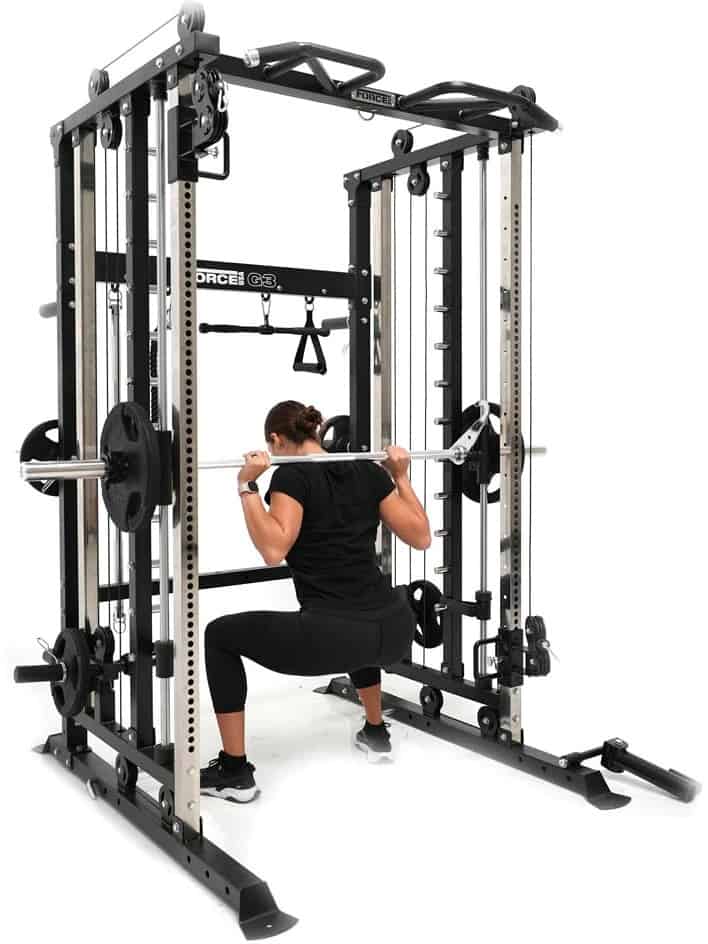 Photo Credits
Product photos on this page are property of Force USA.
This website is not affiliated or associated with CrossFit, Inc. CrossFit is a registered trademark of CrossFit, Inc.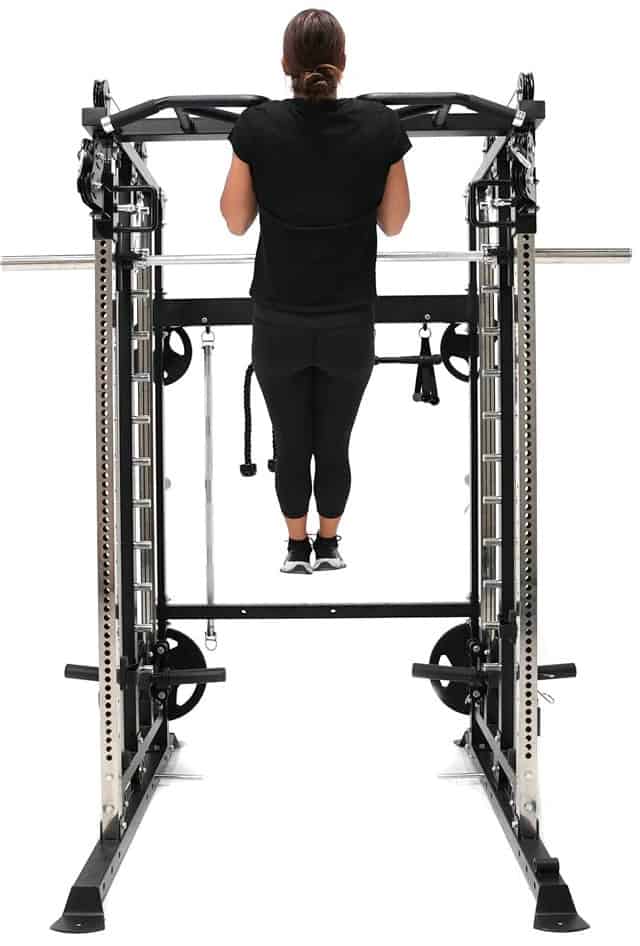 Affiliate Disclaimer
We are an affiliate of Force USA and others that sell this training gear. If you buy clothing or other training gear after clicking the links in this article, we receive a small commission at no extra cost to you. This helps us to bring you in-depth information and content on these great training products.
Tim is the founder of FitAtMidlife.com – an avid gym rat for 30+ years, he's a reviewer of many, many shoes – and founder of the Speed Bag Gathering – the world's only gathering of speed bag punching enthusiasts.  See more gym reviews at Tim's YouTube channel.