Let's take a look at an innovative piece of endurance exercise equipment – the Concept2 SkiErg.
This unique piece of equipment lets you get the health benefits of Nordic skiing exercise anytime, anywhere.
Looking for SkiErg Black Friday deals?
Concept 2 equipment is rarely on sale at discounted prices – even on
Black Friday
– your best bet is to look to minimize sales tax, or to find free shipping. In fact, Rogue has the SkiErg available as part of it's "5 for $5" shipping deal right now – buy any 5 qualifying items and they all ship for only $5. This is the cheapest way to get a SkiErg.
Is the SkiErg the right piece of exercise equipment for your home gym or garage gym?
We'll review the advantages of this unique piece of gym equipment.
Great workouts with the SkiErg Nordic skiing machine
Nordic or cross-country skiing has long been known to be one of the most effective forms of exercise. Not only can Nordic skiing be nearly as intense and as other forms of rigorous exercise, such as hiking, cycling and jogging, but it also has the benefit of being one of the lowest-impact sports. This makes it an ideal exercise for those who are seeking optimal health, including avoiding the injuries to joints, tendons and bones that are commonly seen with higher-impact exercise, such as jogging.
In fact, there is strong evidence that cross-country skiing may be the best exercise for maintaining great health into optimal age.[1] One study found that octogenarian men who had been regular, lifelong Nordic skiers had approximately twice the physical capacity for both aerobic and strength training when compared to their healthy peers. Furthermore, the lifelong skiers had a similar cardiovascular risk profile to healthy men in their 30s.
Overall, cross-country skiing delivers comparable benefits to cycling while placing less stress on joints, tendons and bones.[2]
Concept 2 SkiErg Overview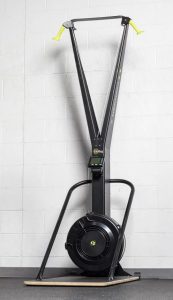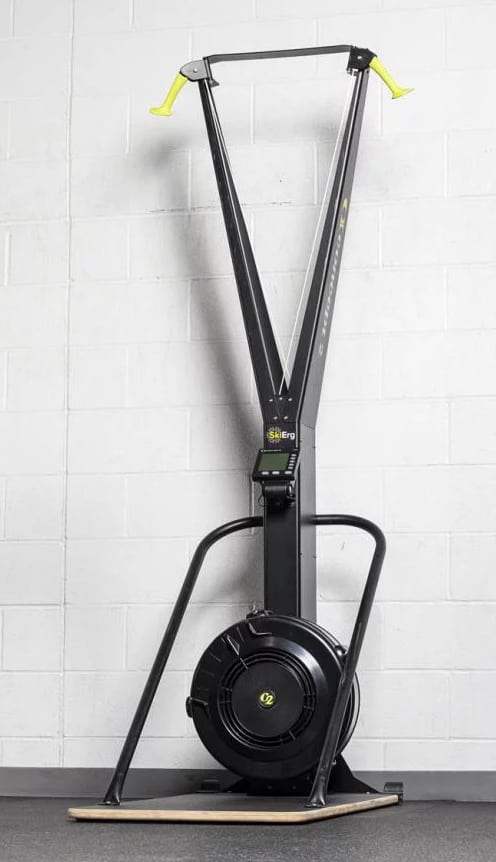 It's no wonder, then, that cross-country skiing is undergoing an explosion of popularity as an exercise form. One consequence has been the emergence of machines that are designed to replicate the motions and intensity of Nordic skiing, one of the best ways to burn calories.[3].
And the leading machine to emerge in this relatively new area of personal fitness has been the SkiErg, by renowned fitness-equipment manufacturer Concept2.
Concept2 has become famous for its rowing ergometers, which are machines that closely replicate the motions involved in competitive rowing. Concept 2 machines have long been the gold standard in the rowing ergometer market, used by many of the top athletes in the field.
What is an Ergometer? The SkiErg and indoor rowers are often known as ergometers (or an "erg" or "ergo"). An ergometer is a device which measures the amount of work performed. The SkieErg is calibrated to measure the amount of energy the trainee is using through their use of the equipment. This can be done because the flywheel is of a known mass and the machine can calculate the speed of acceleration and deceleration.
Now, the company has created one of the first-ever skiing ergometers. The SkiErg is primarily designed to replicate intensive poling, one of the defining characteristics of cross-country skiing. Although the machine does not replicate the actual motion of the skies themselves, it still provides for an amazingly rigorous lower body workout, the intensity of which can be easily controlled by the user's range of motion.
The SkiErg comes with wall mounts.
As you can see here, when wall mounted it takes up very little space.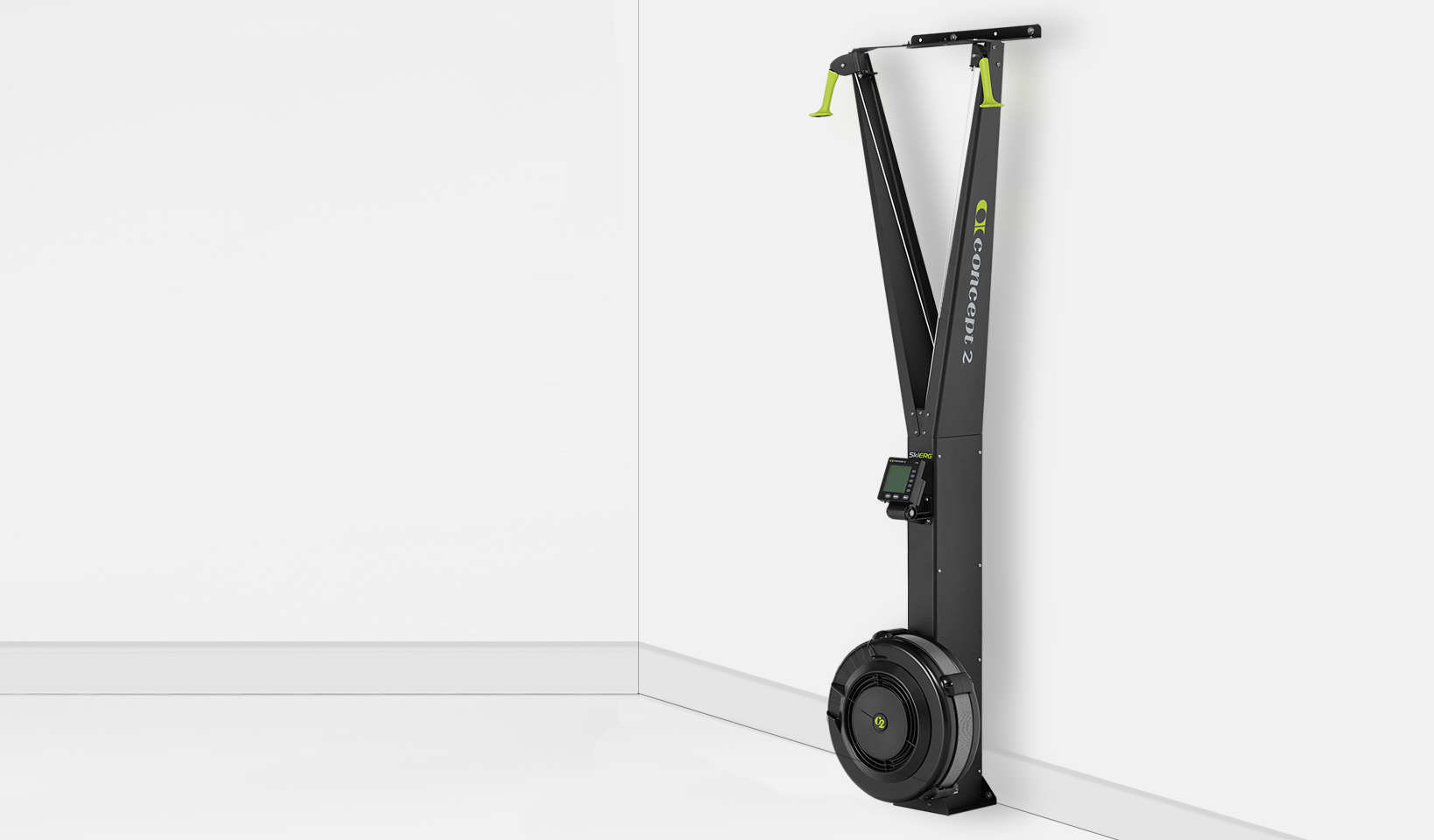 But, it's not portable.
There is an optional floor stand that will turn it into an ultra-sturdy, freestanding machine.
The SkiErg is a compact machine, measuring just 20 inches across, 16 inches deep and 83 inches (a little less than 7 foot) in height.
The optional floor stand will increase the depth of the machine to 52 inches.
However, even with the floor stand, the SkiErg will easily fit into most home exercise spaces.
And, with the floor stand it's easy to reposition the unit – as it has wheels.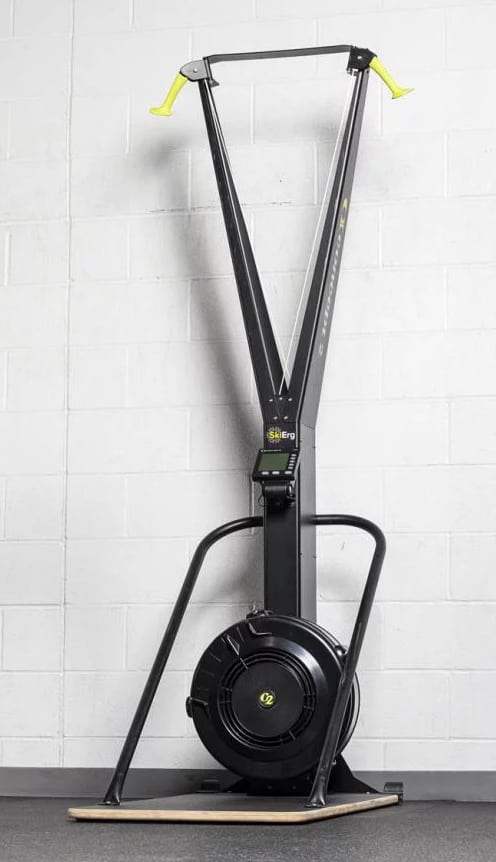 Because the SkiErg uses flywheel-generated tension rather than weights, it is very light. Assembled, it weighs just 46 pounds. But the Concept2 SkiErg is built with the rock-solid construction that you would expect from the company that has produced the top rowing machines in the world for nearly four decades. With few moving parts and world-class craftsmanship, expect the SkiErg to last as long as you are able to use it.
The floor stand weighs 35 lbs.
Used SkiErg for Sale?
It's not impossible you might find a second hand skierg for sale cheap on craiglist, ebay, or facebook marketplace. But the Concept2 SKiErg is just like the Concept 2 rower – it will hold it's value very well. Don't expect much of a discount. You will also find that very few people are selling these items regularly and the chance they will be local to you is minimal.
What is Nordic Skiing?
There are two main categories of snow skiing: alpine or downhill skiing and Nordic or cross-country skiing. Alpine skiing relies primarily on gravity to pull the skier down a hill. Cross-country skiing, on the other hand, relies on the skier's effort to provide forward movement. This is principally achieved through the use of poles and through the generation of forward momentum by using the skis themselves. Skilled cross-country skiers can ski down a hill nearly as effectively and effortlessly as alpine skiers. But alpine skiing equipment is optimized solely for skiing down hills, making flat-surface or uphill movement extremely cumbersome and energy intensive.
Having evolved over centuries, cross-country skiing may still be the single-most-efficient means for a person to move over snow-covered surfaces under their own power.
What muscles does the SkiErg work out?
The Concept2 SkiErg was designed for competitive athletes to improve the most important technical aspect of cross-country skiing: poling. However, when used properly, the machine provides a surprisingly vigorous full-body workout.
The main muscle groups that the machine targets are those of the arms and core, including triceps, biceps and abs. Muscle groups that are secondarily targeted include the quadriceps and glutes. However, many first-time users are amazed by the extent to which nearly every muscle in the body is challenged by the Ski-Erg.
Does the SkiErg work out the legs and lower body?
Yes. The machine provides you with a considerable lower-body workout, if you are using the proper form as described above.
However, it is not of the same magnitude as you would get using a Concept 2 Rower, or air bike like the Rogue Echo Bike. There's much, much more range of motion involved with those exercise devices. The Air Bike in particular can give you a huge leg pump if you do it right.
For those with leg injuries or who would like to target only the upper body, the machine can be used in a legs-stationary stance or from a seated position. This will isolate upper-body muscle groups.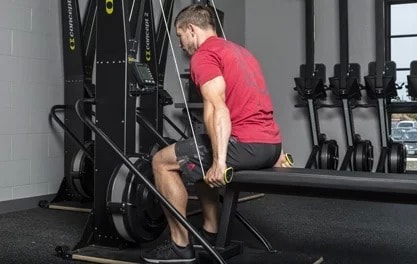 How to use the Ski-Erg properly
The machine can be used in any combination of four main modes: double poling, single poling, standing or sitting. The most-intensive workout will be provided by the double-poling technique. This involves simultaneously pulling both handles towards the ground while bending the knees anywhere from moderately to as low as you would while doing squats. You should keep in mind that the machine has been professionally designed to closely simulate actual cross-country poling. So, using a motion that is both natural and as close to your personal poling style as possible will help maximize not just the use of your exercise time but also the improvement you see while skiing.
You can also use the machine in a single-poling motion. This technique involves less lower-body movement and, as a result, isolates the arms. The machine can also be used while sitting, which will completely isolate upper-body muscle groups, producing an intense yet extremely low-impact workout.
You can combine any of these variations to target or exclude muscle groups and to vary intensity. No matter how it's used, the machine gives a high-intensity workout that will leave anyone feeling the burn of muscle growth and improved cardiovascular capacity.
This video demonstrates proper technique:
Unique benefits of working out with the SkiErg
The Ski-Erg provides an intense yet low-impact workout that can be matched by few machines. The Ski-Erg's flywheel is specially designed to closely imitate the resistance that is provided by snow and the drag of skis. This means that you are getting a highly faithful reproduction of real-world cross-country skiing in the comfort of your own home, no matter the weather conditions or season.
For the competitive Nordic skier, the Ski-Erg is simply the best off-season or in-home training tool that you will find. Made with the same meticulous attention to detail and quality that has defined Concept2's rowing machines as the gold standard among elite rowers, the Ski-Erg provides a challenging workout that will keep Nordic skiers at all levels on top of their form.
The SkiErg also comes with a state-of-the-art monitoring tool that allows you to track your performance as well as compare yourself with other users throughout the world.
Try Before You Buy Before you invest in an expensive piece of gym equipment it makes sense to give it a trial run. There are some companies that provide skierg rentals (so you have the unit in your home), but this is quite rare. The better bet is to find a CrossFit box or other fitness location nearby that has a SkiErg and try it there first.
What do people say about the Ski-Erg?
User reviews of the Ski-Erg have been almost universally positive, with the vast majority of users expressing extreme or high satisfaction with the machine. This is a reflection of the quality with which the Ski-Erg is built as well as the almost shocking difficulty of the workouts it is capable of delivering.
Some common strong points frequently mentioned by real-world Ski-Erg users are:
The incredibly light weight and easy mobility of the machine as well as its ability to fit in almost any home-exercise space.
It's high level of adaptability. The Ski-Erg can provide incredibly intense workouts. But it can also be used at lower intensity levels, making it great for everyone from those just trying to get back into shape to elite-level athletes.
The Ski-Erg can flat-out prevent knee, ankle and foot injuries through its low-impact nature. But it can also allow those who already have those types of injuries to slowly incorporate their lower bodies back into their workouts. The Ski-Erg may allow for the highest degree of variation for lower-body involvement of any exercise machine available.
Using the Ski-Erg for adaptive training and rehab
Because the Ski-Erg can be used at an extremely wide range of intensity levels and modes, it makes an ideal form of adaptive training and for those who are undergoing rehab. The Ski-Erg allows for total user control over the degree to which the lower body is involved, with a seated position that completely eliminates the use of the legs altogether.
But the Ski-Erg's real strongpoint is the simple fact that it can deliver as vigorous or as light a workout as the situation calls for. It relies on flywheel resistance rather than weight, which results in far higher resistance as speed increases. This means that workout intensity level can be instantly and exactly controlled by the user at any time.
Combining the Ski-Erg with other workouts
The most popular workouts with which the Ski-Erg is combined are those involving rowing. However, the Ski-Erg can act as a standalone cardio workout. Or it can complement a broader workout routine, helping to keep things interesting while targeting new muscle groups.
SKiErg Alternatives
While there are a few other brands of ski machines, the simple fact is that, for the quality of build, intensity of workout and ability to accommodate even those with limited mobility, there really is nothing that directly competes on the same level with the SkiErg.
The Xebex Ski Trainer is another type of ski machine very similar to the Concept2 SkiErg.
SkiErg vs Rower Calories
The SkiErg is a good workout, but it simply doesn't have the range of motion over the whole body that rowing does.
Indoor rowing uses much more of the legs, thighs, and back musculature.
And as such, you can burn more calories, quicker using a rower as compared to a SkiErg.
Now, having said that – you can't use a rower without leg drive, and the SkiErg is going to be more friendly to poor hips and knees.
It's also a nice change of pace compared to other cardio equipment.
In summary – the Concept2 SkiErg
If you're looking for a new kind of machine-based full cardio workout, the SkiErg should be at the very top of your list. The SkiErg has garnered almost universal acclaim from thousands of customers.
It is built of top-quality materials and made to last forever. But most importantly, the Ski-Erg is a machine that will continue to challenge you, no matter what level of cardiovascular fitness and strength you're at.
For the money, it may be the best cardio machine out there.
References
1. https://www.theglobeandmail.com/life/health-and-fitness/fitness/the-jaw-dropping-benefits-of-cross-country-skiing/article6747824/
2. https://www.ncbi.nlm.nih.gov/pmc/articles/PMC4763839/
3. https://www.webmd.com/fitness-exercise/features/cross-country-ski-workouts#1
Photo Credits
All Rogue Fitness product imagery is property of Rogue Fitness, and provided by Rogue Fitness.
Some other photos are provided by the manufacturer, and are property of Concept2.

---
Tim is the founder of FitAtMidlife.com – an avid gym rat for 30+ years, he's a reviewer of many, many shoes – and founder of the Speed Bag Gathering – the world's only gathering of speed bag punching enthusiasts.  See more gym reviews at Tim's YouTube channel.