Let's review the Do-Win Classic Lifter weightlifting shoe from Rogue Fitness.
This is a traditionally styled lifter, using traditional materials like suede, mesh, and leather – no plastic here.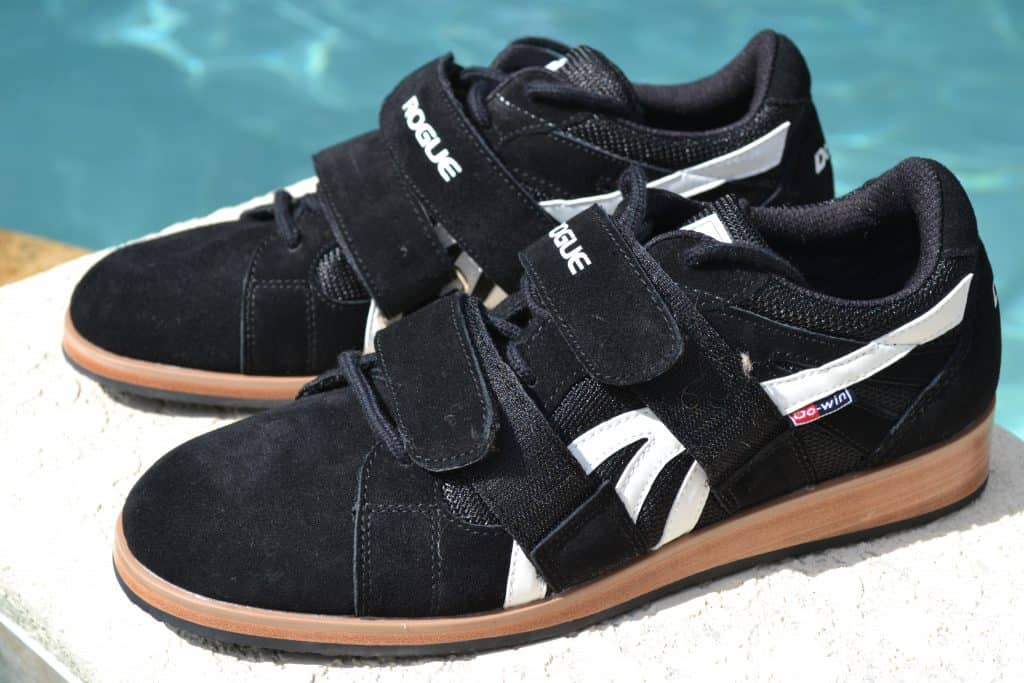 It's good looking (check out that heel crafted from layers of stacked leather – and it's got a good price too.
Here's the shoes we'll be looking at in this review: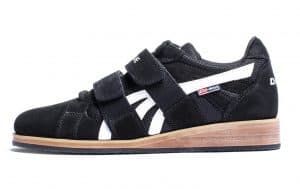 Do-Win Classic Lifter Shoe (Black)
The original Rogue weightlifting shoe, the Do-Win, is back in a re-launched "Classic" edition. Heel raise varies by shoe size - but is around .75&quot/19mm. This is the style shown in most of the photos.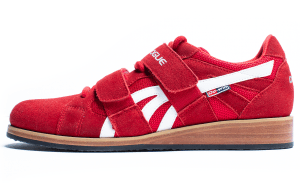 Do-Win Classic Lifter Shoe (Red)
The Do-Win Classic Lifter includes a suede and mesh upper with a rounded toe shape (just like the old-school version had). Two hook-and-loop tarsal straps and nylon webbing for a secure fit.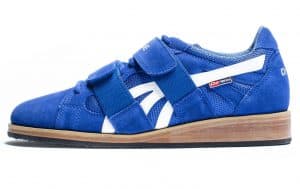 All right, let's take a look.
Do-Win Classic Lifter – Review on YouTube
Why read when you can watch? Check out the Do-Win Classic Lifter review from our YouTube channel:
This is a great, no-frills lifter. It made an appearance in our roundup of the best oly lifters for 2020.
Do-Win Classic Lifter – Fit and Sizing
How do these fit? Rogue advises you buy 1/2 size DOWN from your normal shoe size.
These run LONG – the Men's Size 11 I bought have a bit too much space in the toe (length-wise.)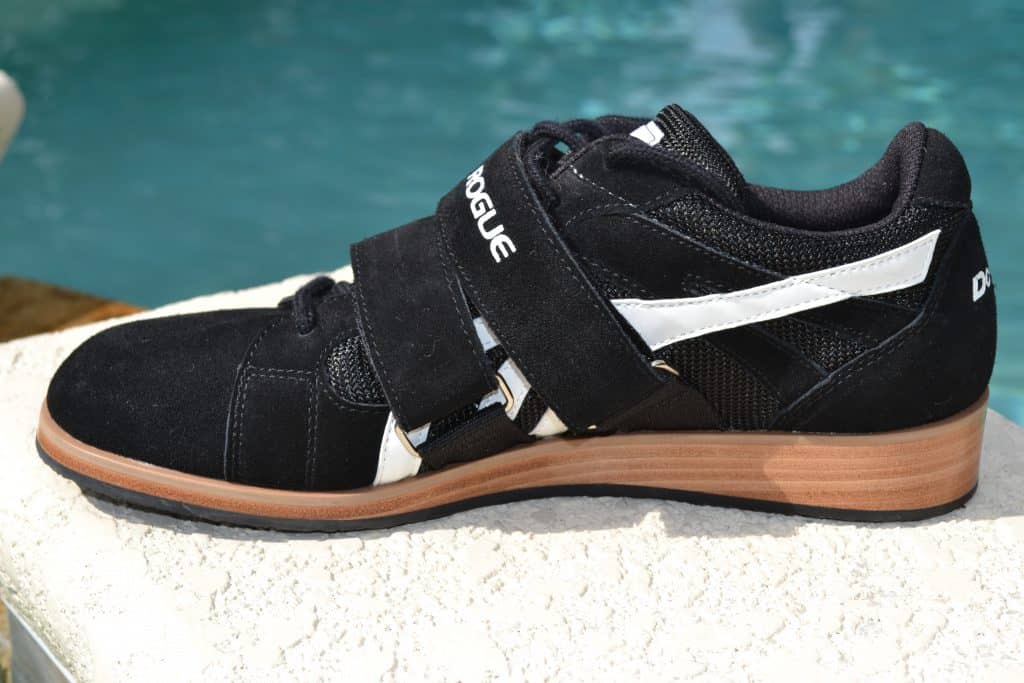 But, at the same time, they feel a bit tight around the mid-toe area.
They are leather – they may stretch out a bit.
I want to say if I had gone 1/2 size down the length would be a perfect fit – but then the width probably would've not been good.
Overall these are usable, just be aware of the length.
(I'll update this section as I put more use on these – I do think they'll break-in a bit.)
Do-Win Classic Lifter from Rogue – Overview
First of all this is a "Lifter" – or olympic weightlifting shoes.
Some people call them squat shoes.
Why? Because they help you get into a deep squat position with greater ease.
The secret ingredient is the heel raise. This pair of men's size 11 shoes has a 21mm heel to toe drop, according to rogue.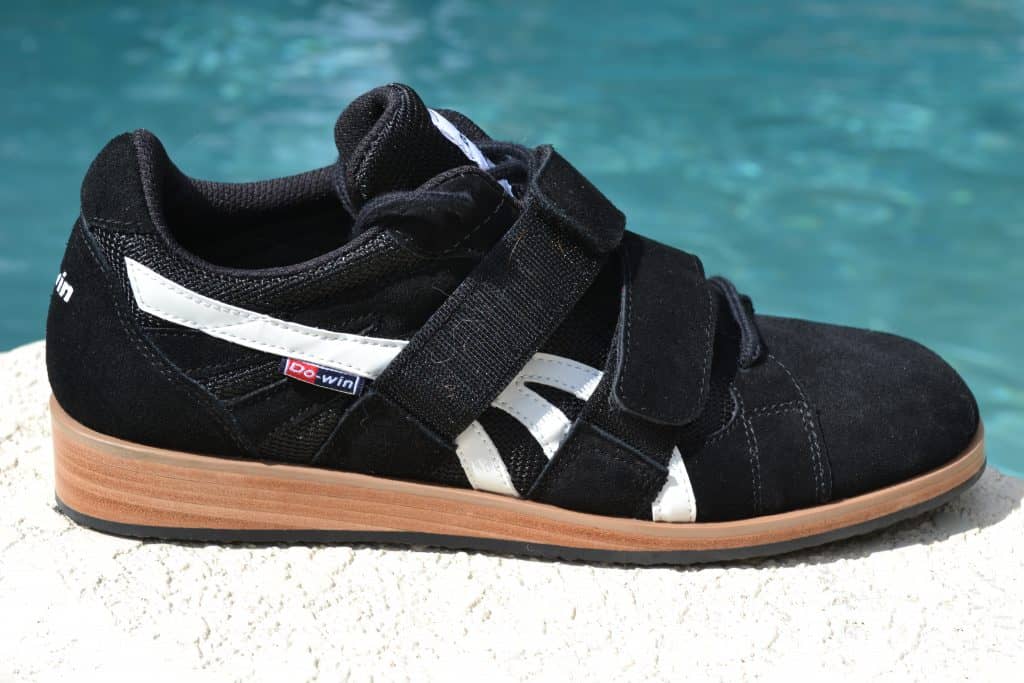 That means your heel is 21mm higher than your toes.
And that raise means you can get along with less ankle flexibility when you need to hit parallel (or deeper) in any squatting motion.
These are useful for all kinds of squats (front, back, low-bar, high-bar, etc.) but also they make pistol squats significantly less-challenging (NOTE: I didn't say easy!)
Some people say you should just develop more ankle flexibility on your own – but some people don't have the bone structure for that.
Here's the other key feature of an Oly lifter – that heel is not just raised, it is SOLID.
These type of shoes have minimal cushioning – and the Do-Win Classic Lifter is no exception.
As mentioned previously, the heel in this shoe is made from stacked layers of leather – compressed into a very solid material.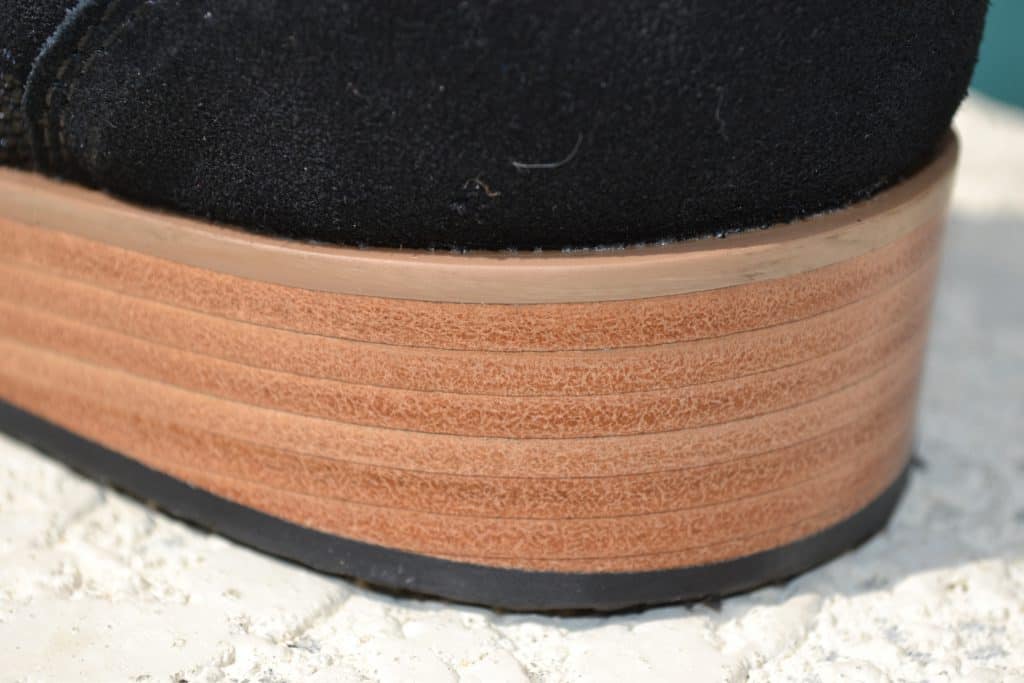 It looks good – and it works good.
Inside the shoe, there's a thin minimalist removable insole. It doesn't provide any real cushion.
Under that is the midsole – and that's rock solid too.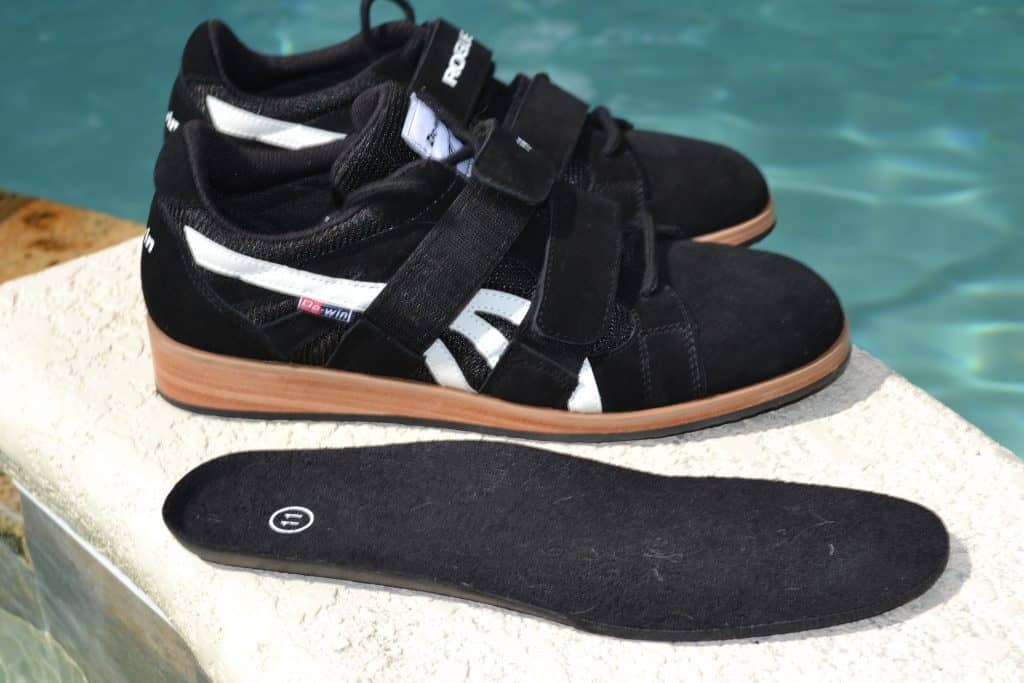 Why do we want solid support and stability with almost no cushion?
This helps in two ways. Firstly, it makes for a rock-solid lifting foundation for heavy barbell squats (or snatches, or cleans and jerks.)
It also means no wasted energy when you pull in the Oly lifts – the power from your body is transferred efficiently to the ground – not in compressing a rubber midsole.
In this regard, the Do-Win Classic Lifter delivers.
You'll notice too that the all-rubber outsole is very durable, and provides great traction.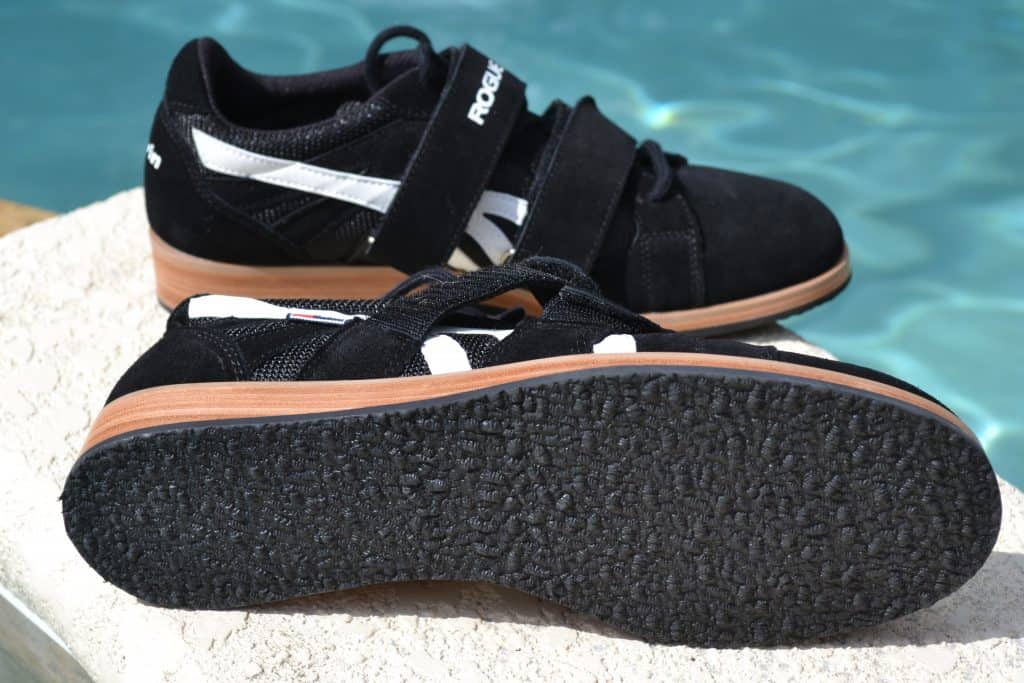 You don't want to slip when lifting weights.
The rubber outsole is normally the achilles heel of lifters – it's the first part that wears out.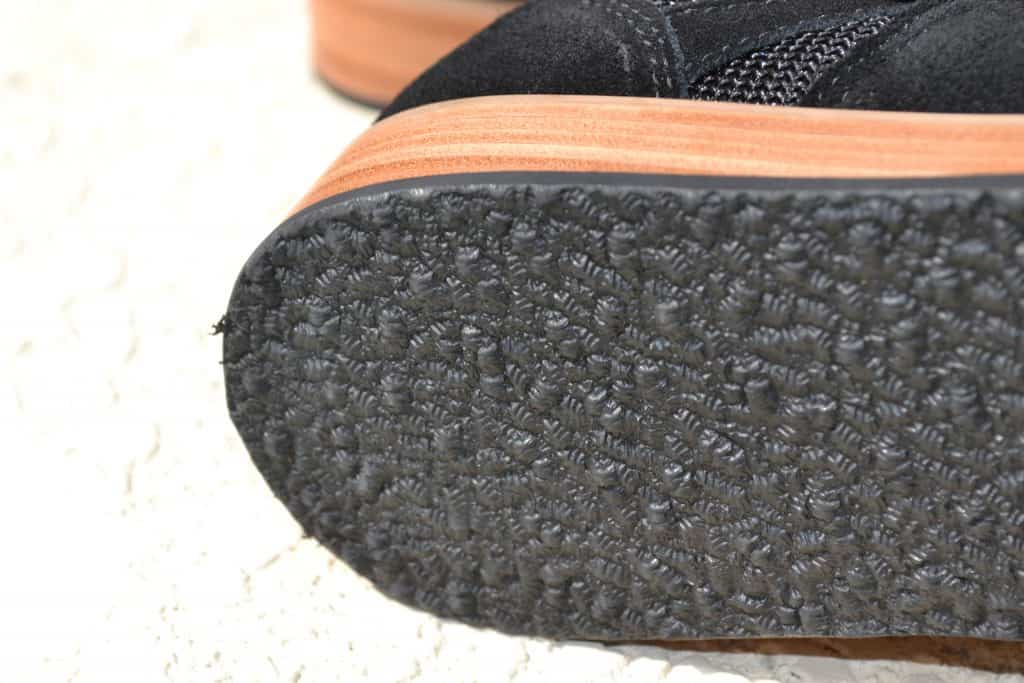 Obviously, I've only had these a short time, but the rubber seems durable (and grippy) and is relatively thick.
That rubber outsole and leather heel result in a relatively quiet shoe as well. Lifters are famous for the "clip-clop" sound they make as you walk, lift, etc.
I'm not saying these are silent, but they are less noisy than some other Oly lifting shoes.
Lets move up the shoe and look at the upper.
This is real suede with some mesh areas for breathability.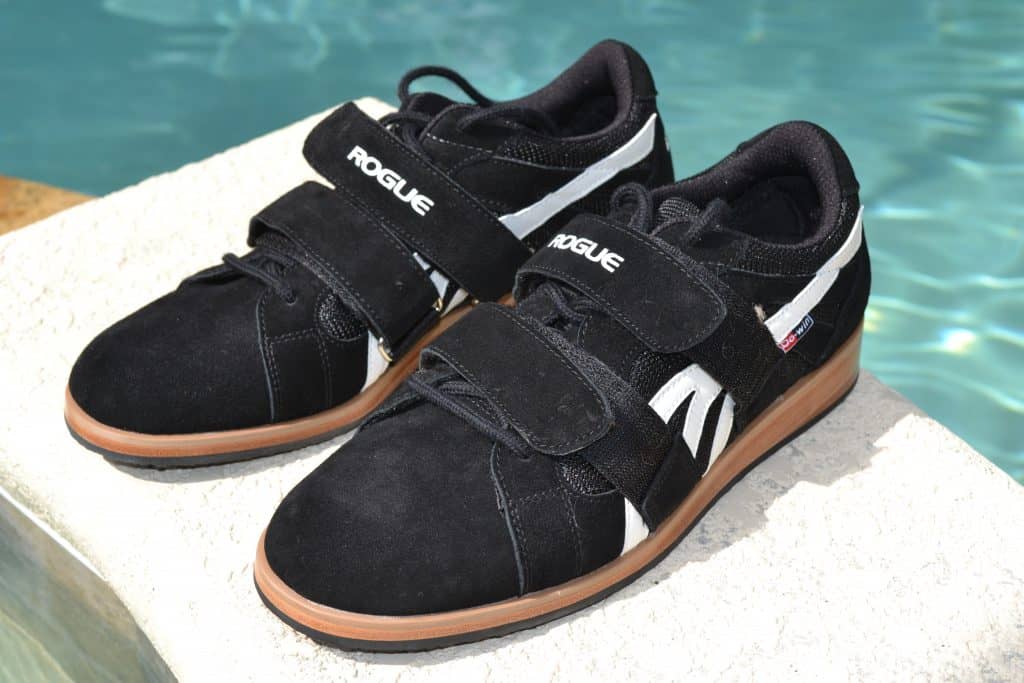 It's tough and comfortable. The upper is not going to wear out on this shoe.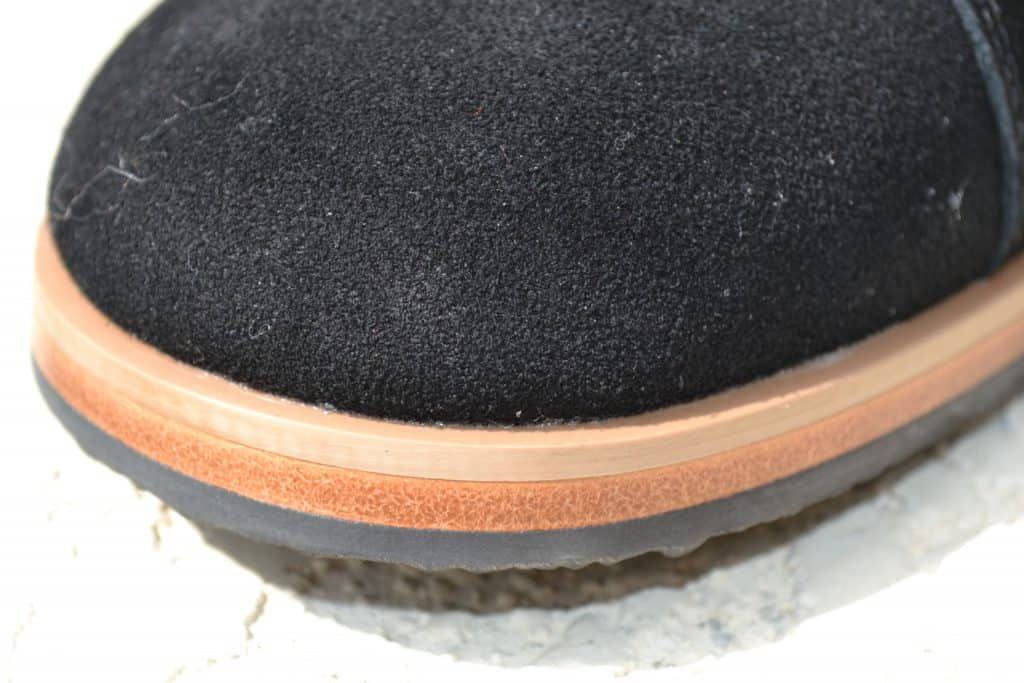 You'll see there are two mid-foot straps – this lets you dial in the tightness with precision.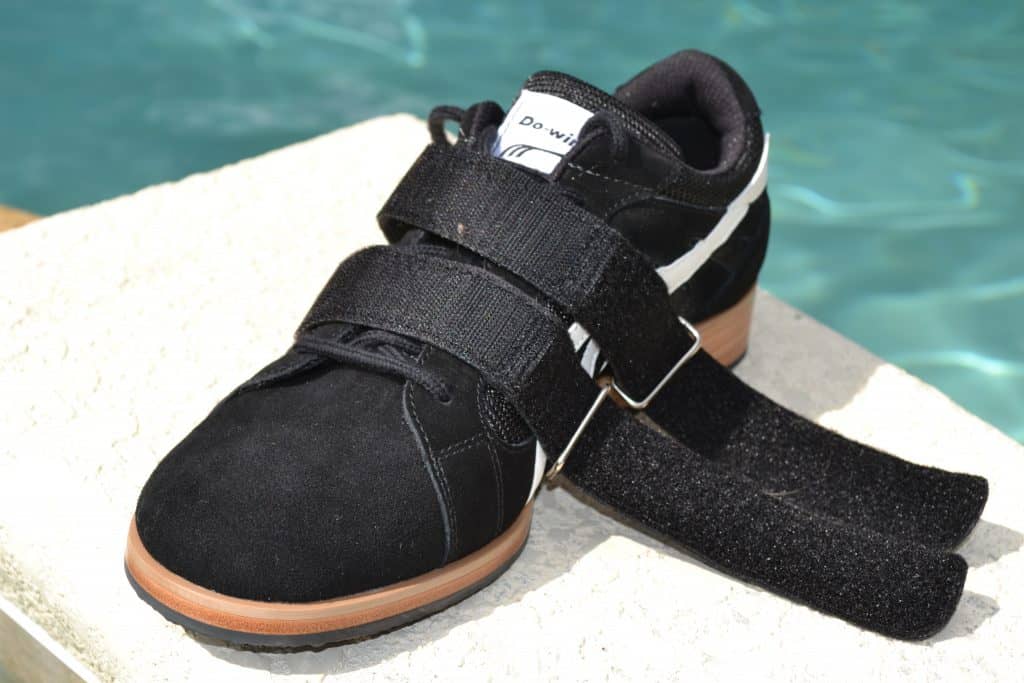 I prefer lifters with two straps versus one – it's more precise.
Lastly, let's take it all in – this is a good looking, but conservative lifter.
Now, let's compare it to some other lifting shoes.
Do-Win Classic Lifter Versus Reebok Legacy Lifter
The Do-Win Classic Lifter is significantly cheaper than some of the big dollar lifters – like the Reebok Legacy Lifter.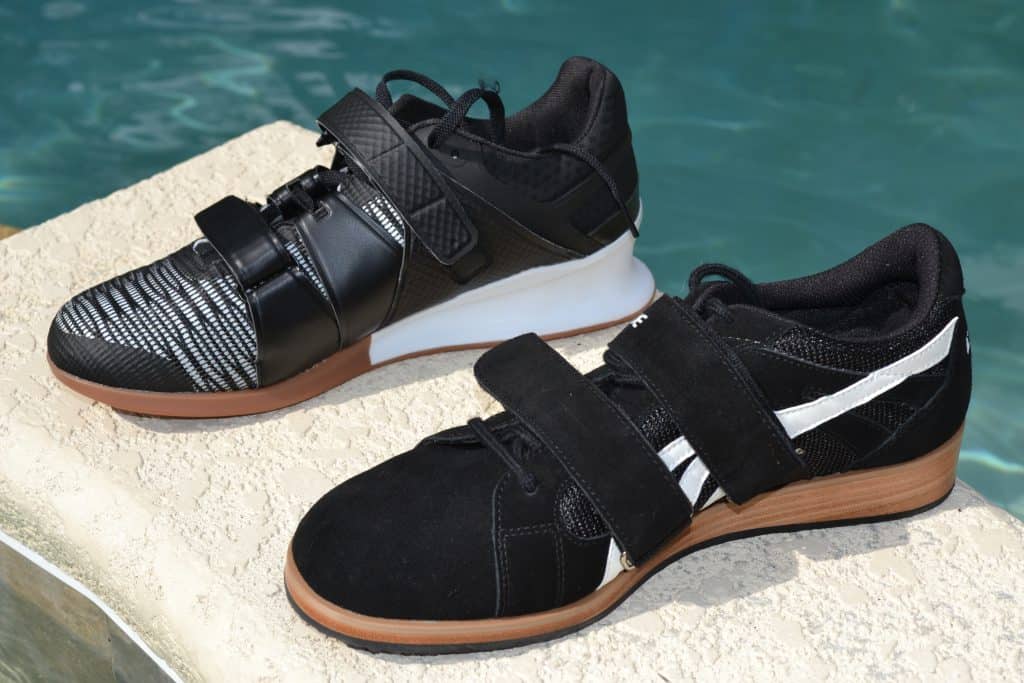 What's the real difference?
Both shoes are close in the heel raise department – 22 mm on the Legacy Lifter versus 21mm on the Do-win (Remember: that's for a Men's Size 11 specifically.)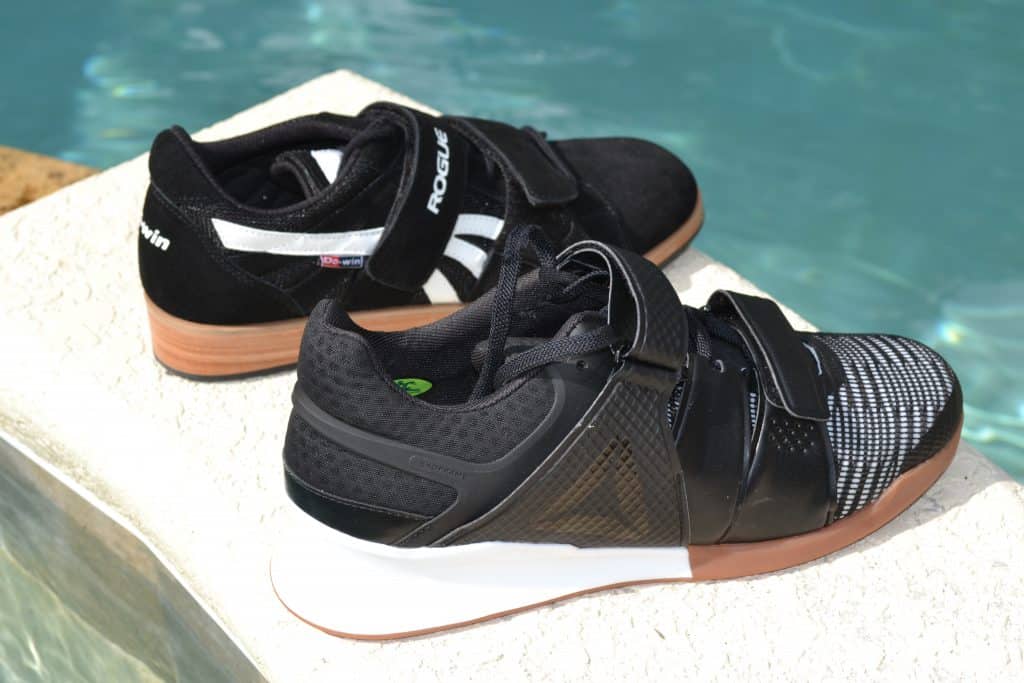 They weigh about the same too, although the 23.5 ounce Do-Win is slightly heavier.
Unlike the Do-Win, the Legacy Lifter fits me fine at my normal size of Men's Size 11.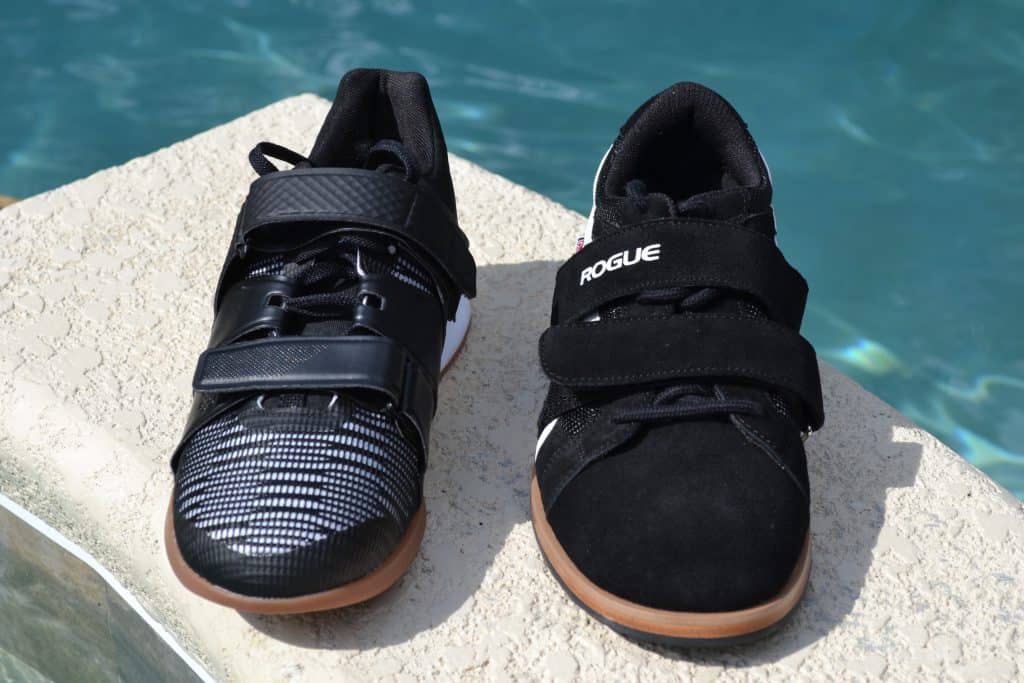 The Legacy Lifter has less grip in the outsole. I wouldn't describe it as being slippery – but it's slightly less traction than the Do-win (and most other Oly lifters that I have.)
It's not problematic though – I think it's because Reebok uses longer-lived rubber that is more durable (and therefore will wear less) but provides slightly less traction.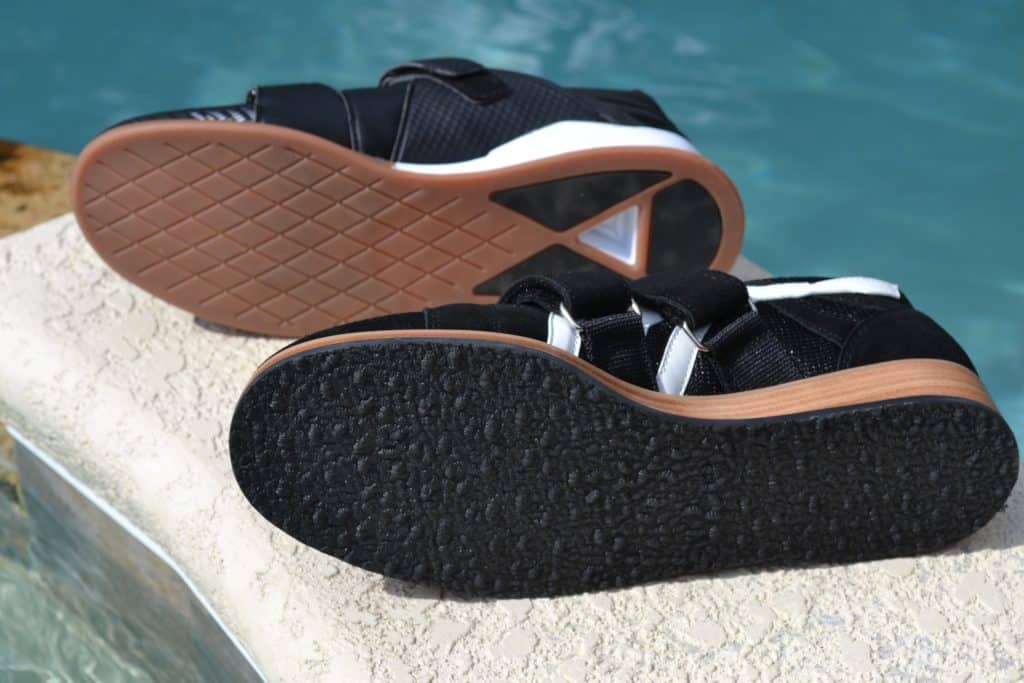 The Legacy Lifter is a fine weightlifting shoe.
But, the Do-win is competent for weight lifting too – so I think it's going to come down to whether or not you want to spend an extra $75 for the Reebok – or whether or not the Do-Win fits you as well – given that length/width fit.
Do-Win Classic Lifter Versus Nike Romaleos 4
Let's line it up against another premium shoe – the Nike Romaleos 4.
I like the Romaleos 4 – it has flashy looks and provides solid performance.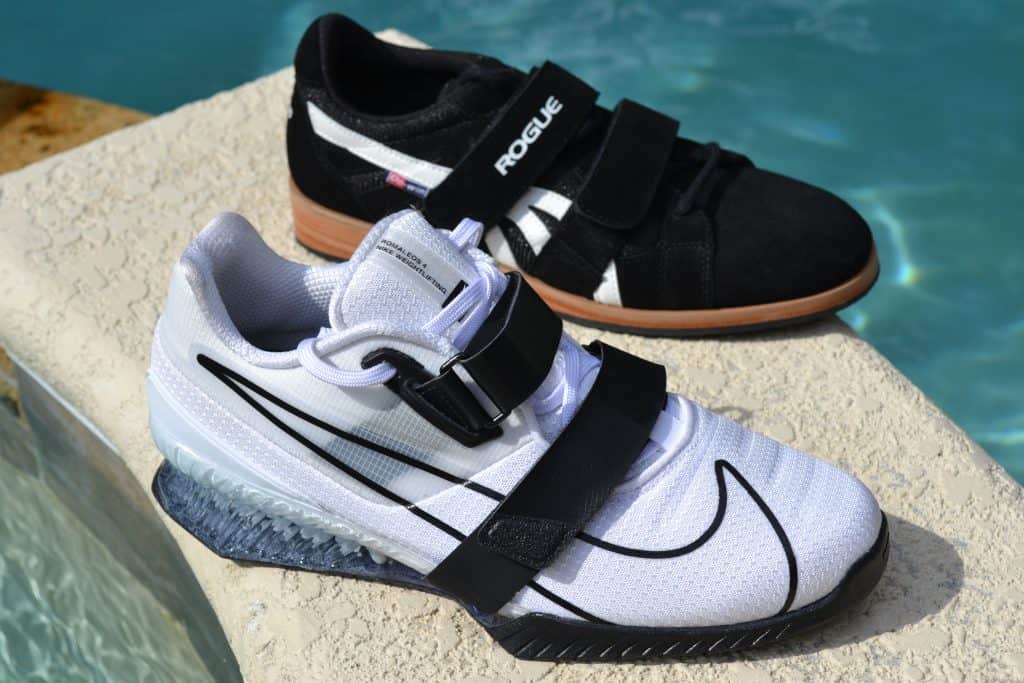 The Romaleos 4 is a 20 mm heel to toe drop versus 21 mm for the Do-Win.
Weights are in the same ball park too.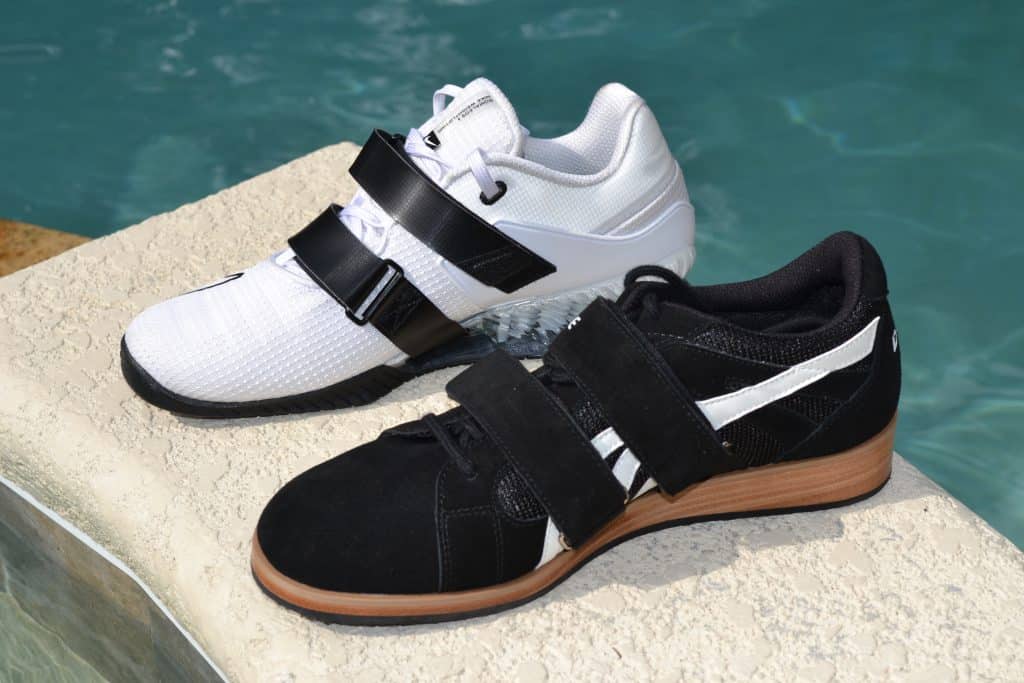 But the materials used in the Nike shoe is where this line-up diverges considerably.
The Nike has all kinds of materials layered in the upper and the heel counter.
And check out the plastic outsole – it's very wide.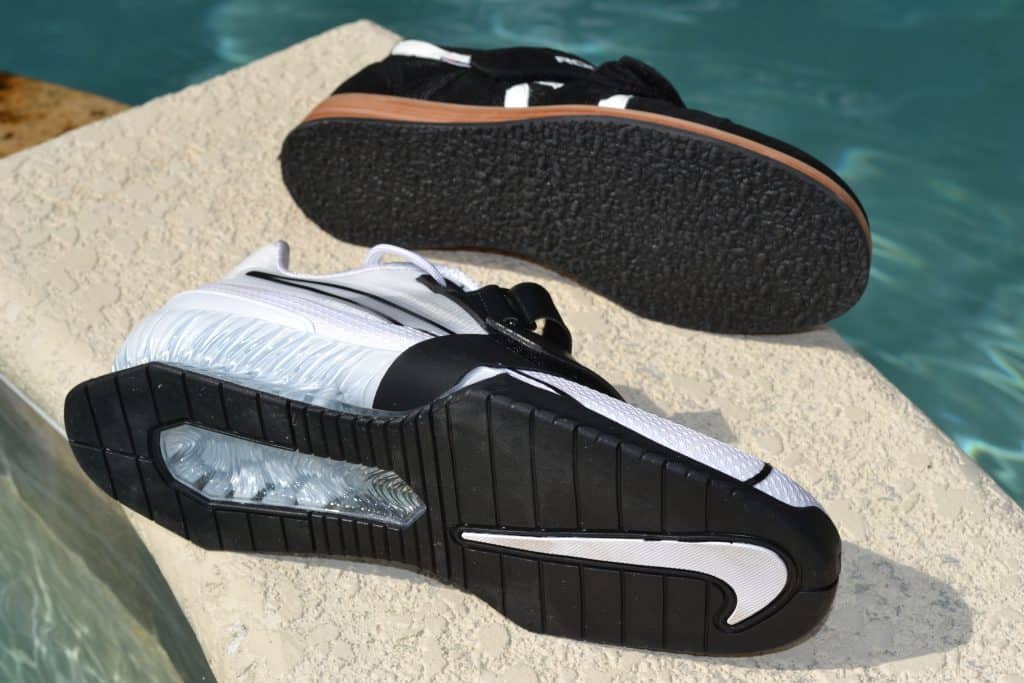 The Nike shoe has outstanding lateral stability – definitely a notch above the Classic Lifter.
I think it's a combination of the width of the outsole/heel piece, but also the materials used in the upper and around the heel cup in particular.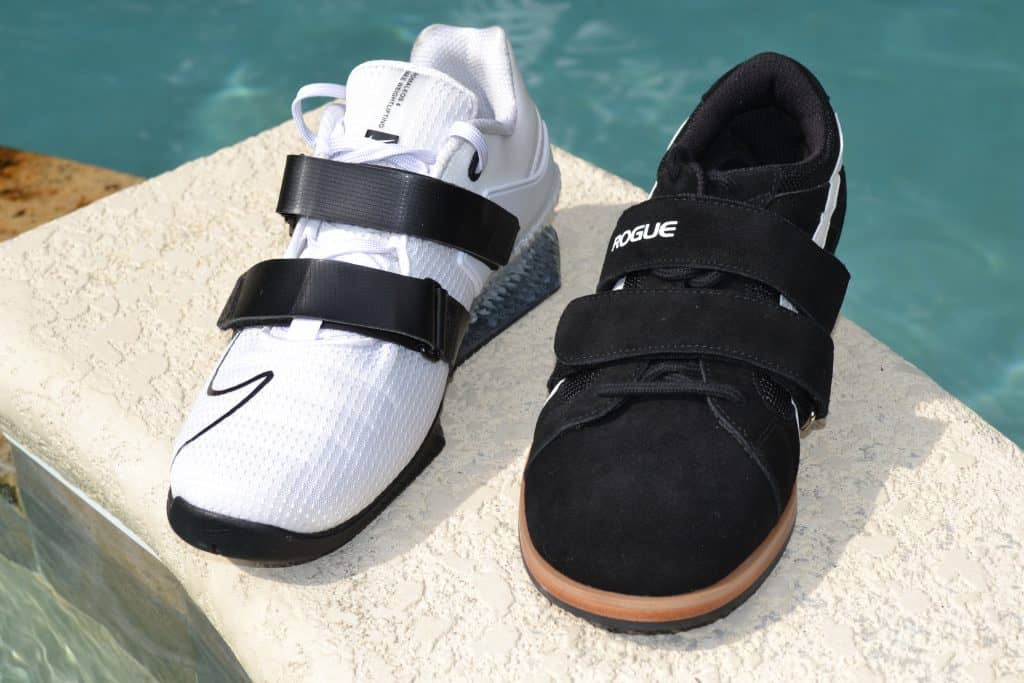 I also think it looks cool. If I'm paying $200 for shoes – I want them to look good.
The only downsides to this shoe – it's noisy.
That thin edge to the heel/midsole piece makes a higher-pitched "clattering" sound all the time – when walking – or lifting.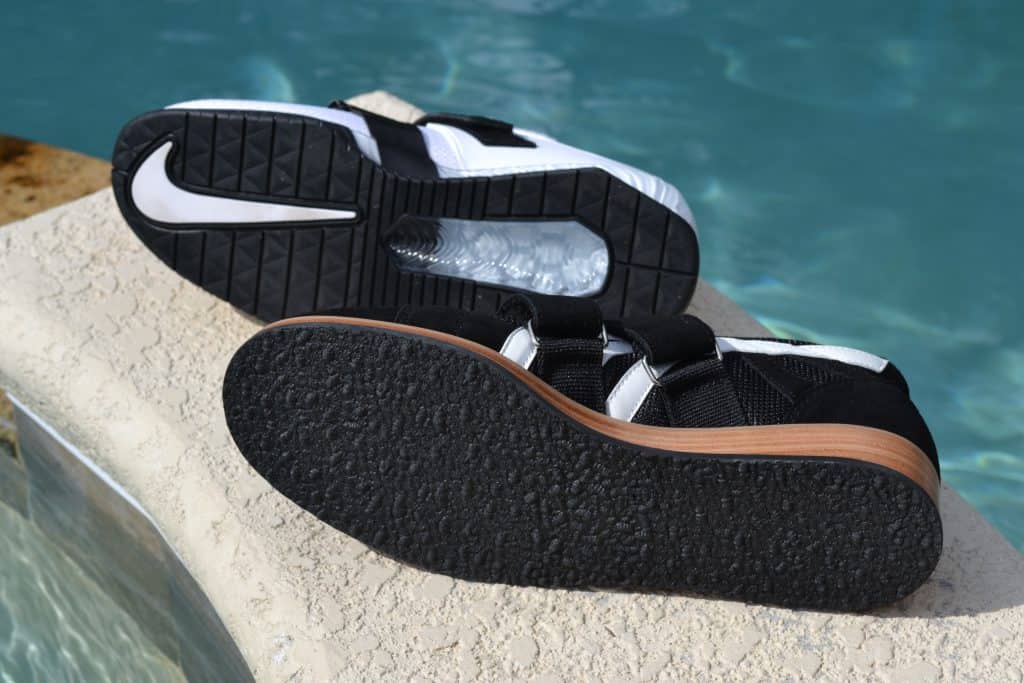 This is the noisiest lifter I have.
In comparison the Do-Win Classic Lifter is quiet.
Secondly, I did have to go 1/2 size up on the Romaleos 4 – to get adequate width.
But, after having done that I'm very happy with the fit.
The Romaleos 4 is currently my favorite lifter – but remember – it is $75 more expensive than the Do-win.
And not everybody likes that space-age styling.
Do-Win Classic Lifter Versus Adidas Adipower 2 Weightlifting Shoe
One more comparison before we wrap this up – let's line it up to the Adidas Adipower Weightlifting II shoe.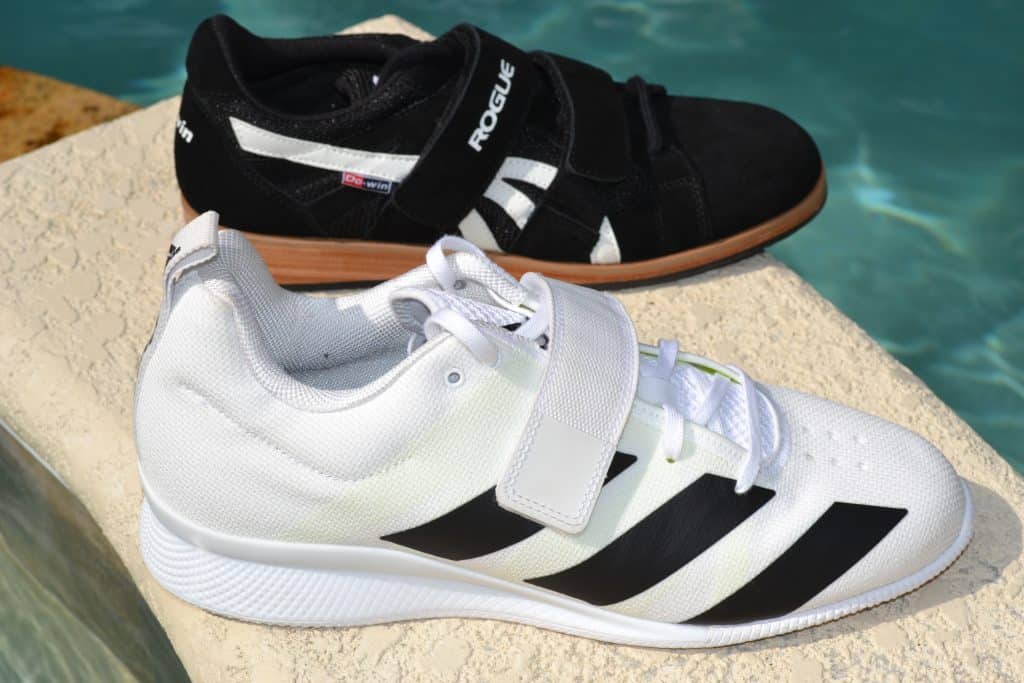 This is another big dollar shoe option for lifting, and it has some unique attributes.
First of all, let me say the Adipower 2 is crazy narrow.
Check out the point on the toe. I don't know what to advise you on sizing, these are so narrow, I can't really use them. Length is not a problem though.
The second thing about these is they have great forefoot flexibility – which some people prefer so they can "dig in" with their toes.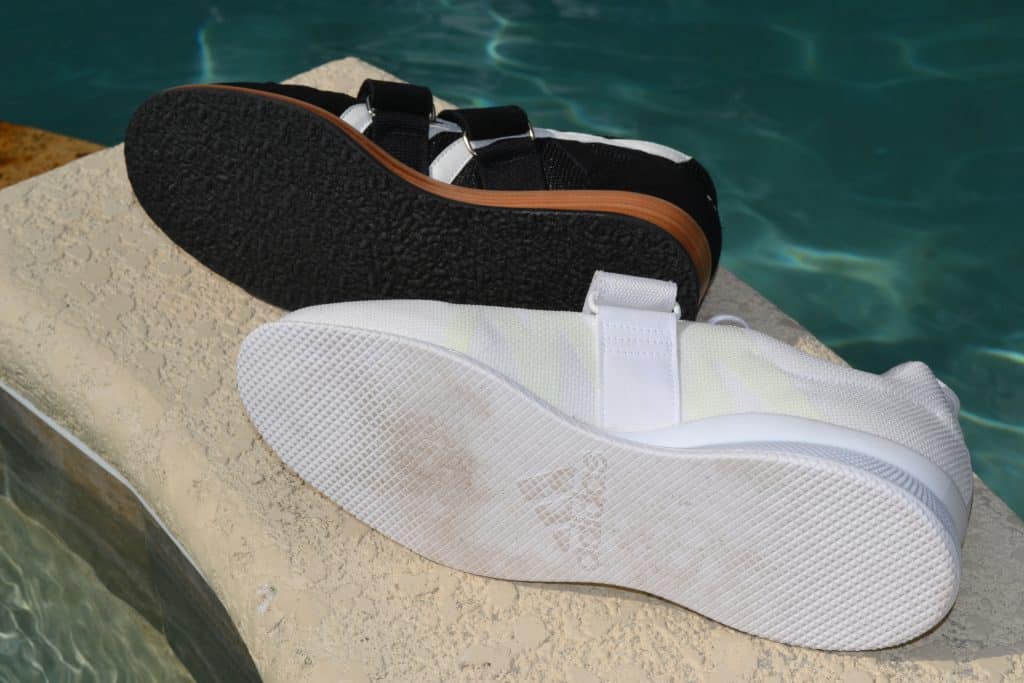 They also are by far the most comfortable lifter I've tested in 2020 – the upper has comfort like a running shoe.
But here's the rub – they are not very supportive at all.
The upper is very thin and pliable – all over.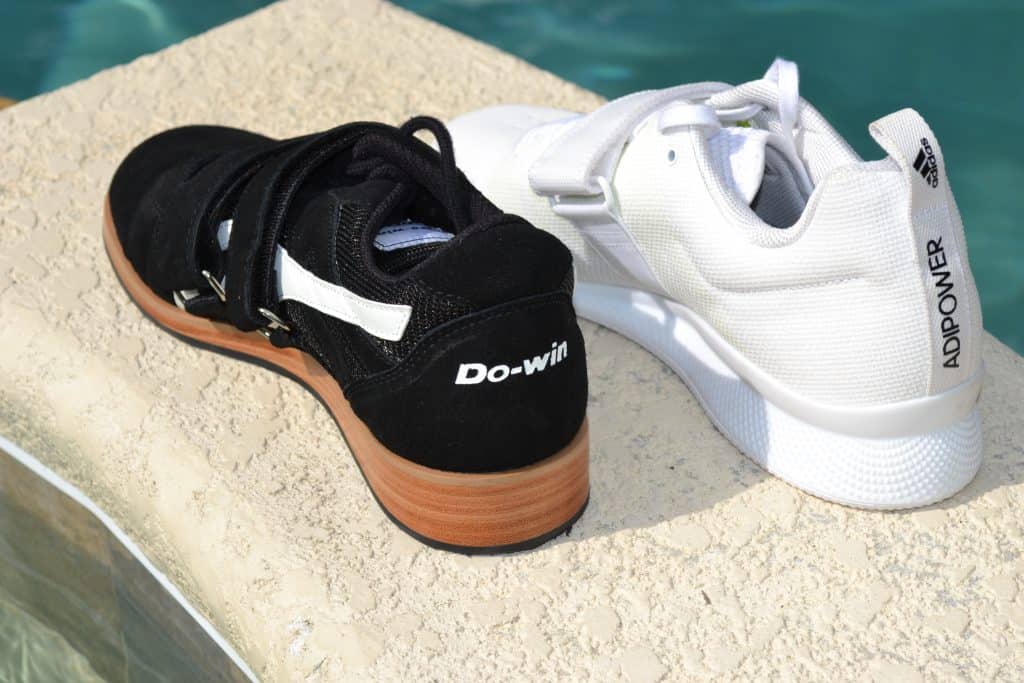 The lateral stability is not good enough for me.
These are also light weight – almost 5 ounces lighter than the Do-Win.
Overall, I think if you are expecting a classic lifting shoe feel – you should opt for the Do-Win Classic Lifter.
(You'll also save $75.)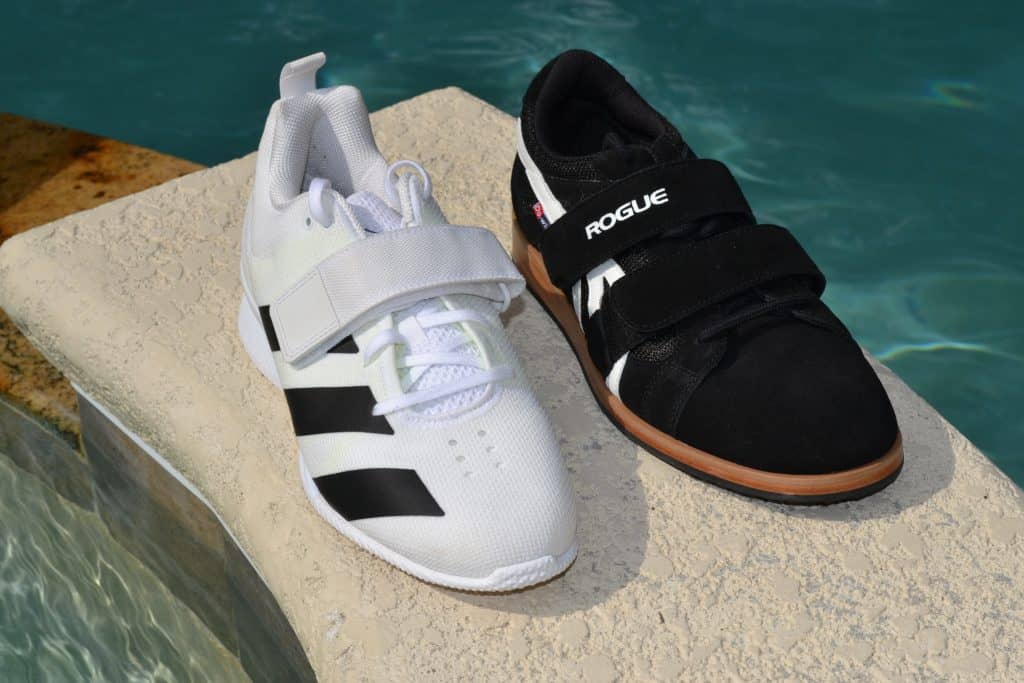 Do-Win Classic Lifter Shoe Review – In Summary
The Do-Win Classic Lifter from Rogue is a great budget option.
(I say budget because it is $75 cheaper than those big name shoes.)
It delivers what you need – heel raise, solid heel, midfoot straps – and is built like a tank.
For those who want to save some coin, or who don't care for the overly busy look of some other options – this might be the right Oly lifting shoe for you.
Just be sure to check the sizing advice on Rogue's website.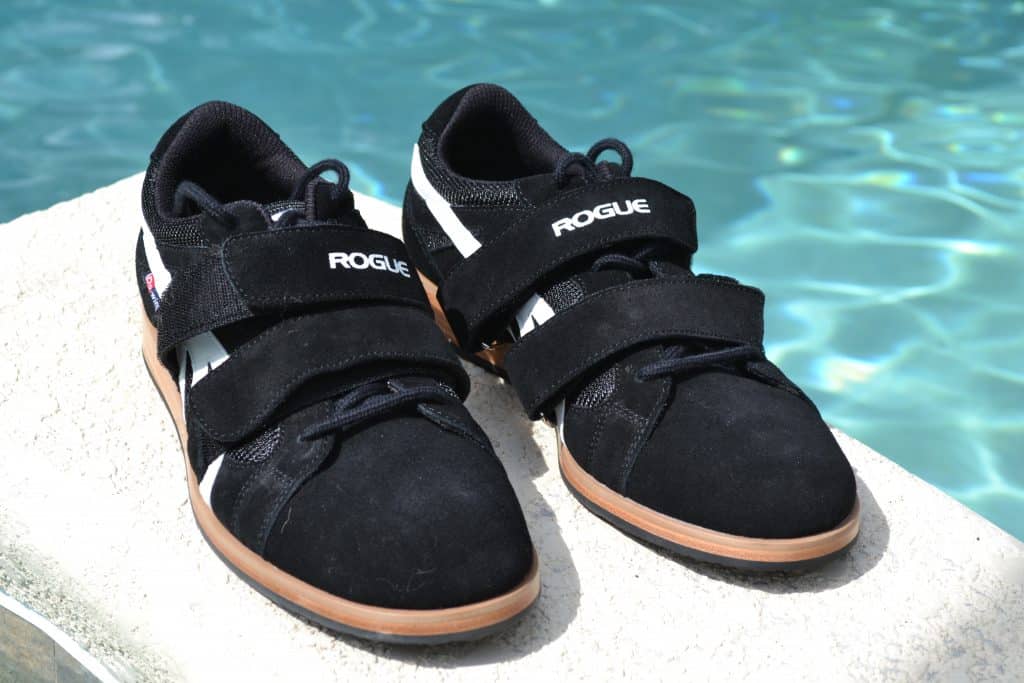 Why Rogue Fitness Products?
We're a
Rogue Fitness
affiliate – so if you order shoes or equipment after clicking the links in this article we receive a small fee – at no additional cost to you. Rogue Fitness makes extremely high-quality gear – to last a lifetime. We're proud to help spread the word – and to help make your workout be the best it can be.
Photo Credits
The Rogue Fitness logo and some product imagery on this page is property of Rogue Fitness and provided by Rogue Fitness.
This website is not affiliated or associated with CrossFit, Inc. CrossFit is a registered trademark of CrossFit, Inc.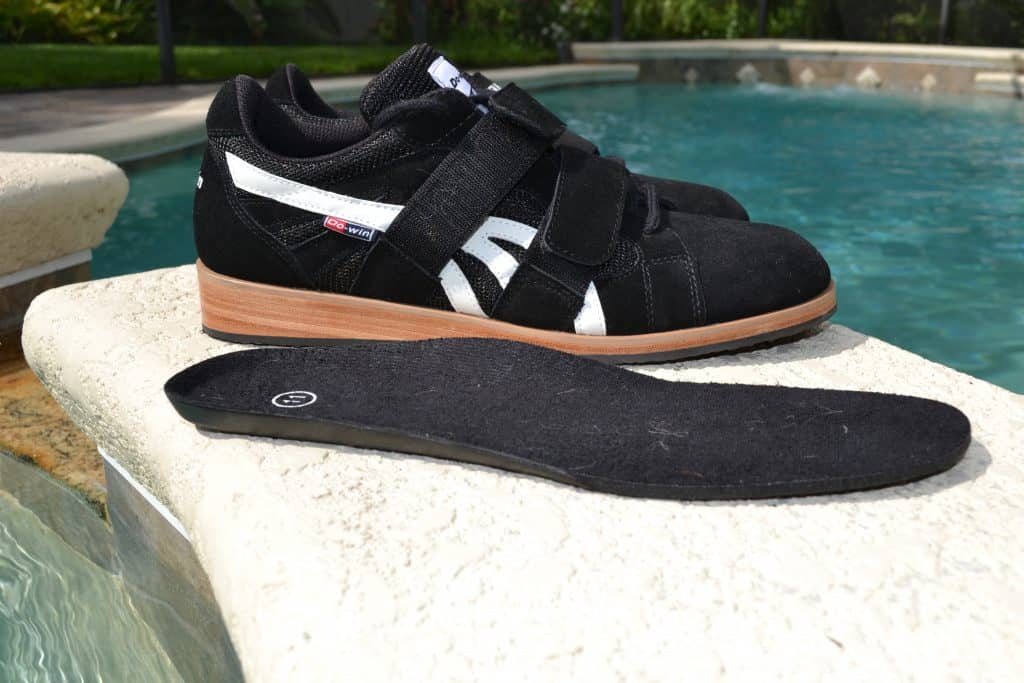 Tim is the founder of FitAtMidlife.com – an avid gym rat for 30+ years, he's a reviewer of many, many shoes – and founder of the Speed Bag Gathering – the world's only gathering of speed bag punching enthusiasts.  See more gym reviews at Tim's YouTube channel.