Let's review the best bumper plate storage.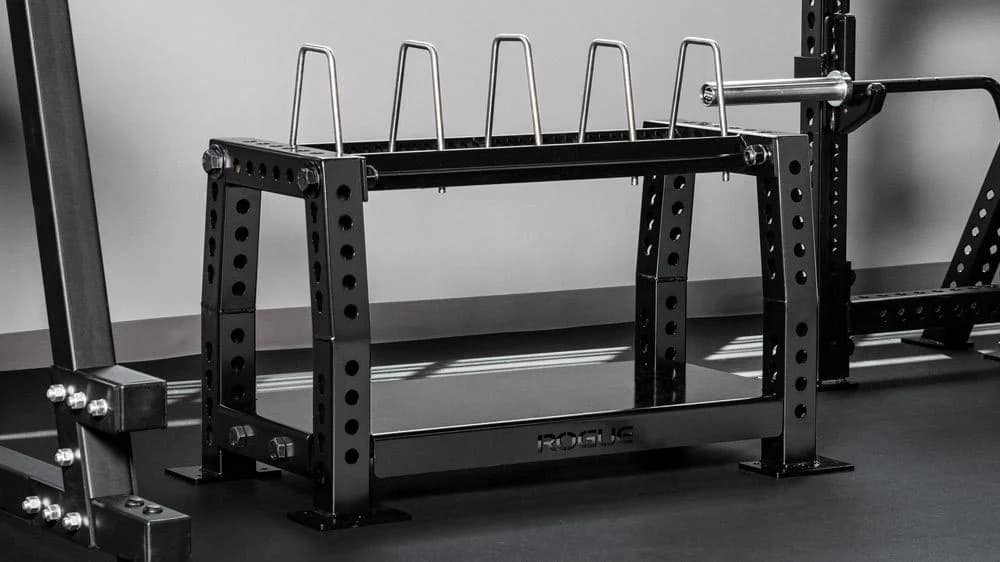 Having a commercial or home gym is not all about getting all the equipment you need. These pieces of equipment need to be kept and stored neatly and orderly. Bumper plates specifically should be stored in racks and storages to preserve their quality so you can use them for a longer time.
Here's some of the equipment we are going to look at:
Best Bumper Plate Storage – Overview
Storing your bumper plates can be done in several ways. There are horizontal storages where you can store your bumper plates like dinner plates. There are also vertical trees, racks, carts, and storage with wheels, but whatever your preference is, there are some things to consider when choosing s bumper plate storage. The first thing to consider is the number of plates you have. Having plenty of plates means you would need a storage that can fit ten weight plates. Other things to consider in choosing bumper plates storage or rack are weight capacity, peg size, size, and accessibility.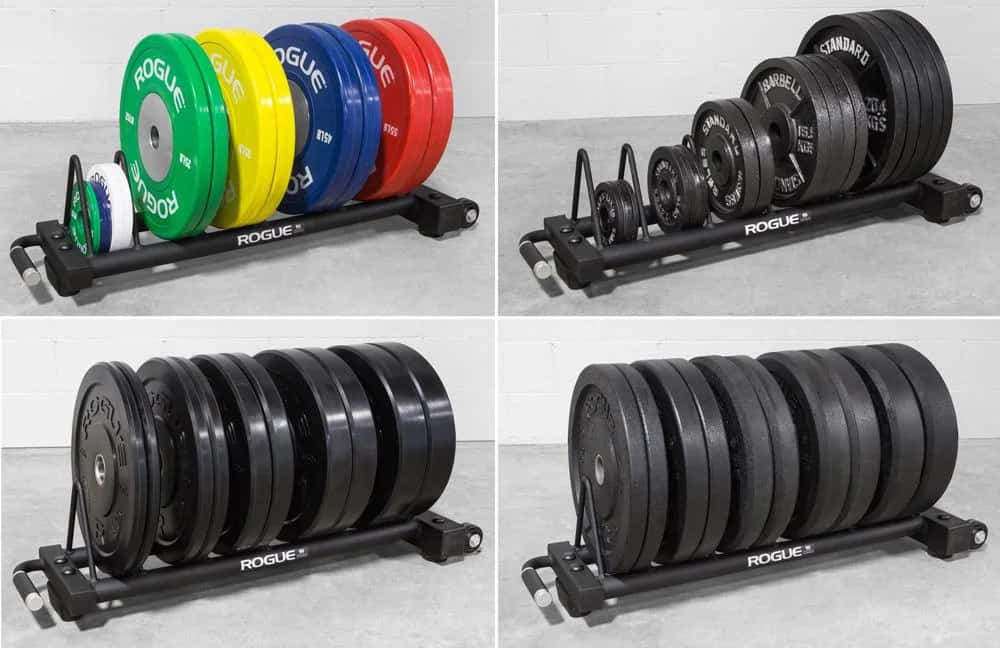 Having a cluttered and disorganized stack of weight plates in the corner of your gym is not a pretty sight. This article will show you different types and forms of racks and storages from different manufacturers that will create some harmony in the disorder of your bumper plates. They are all from trusted companies producing quality and functional gym products and equipment.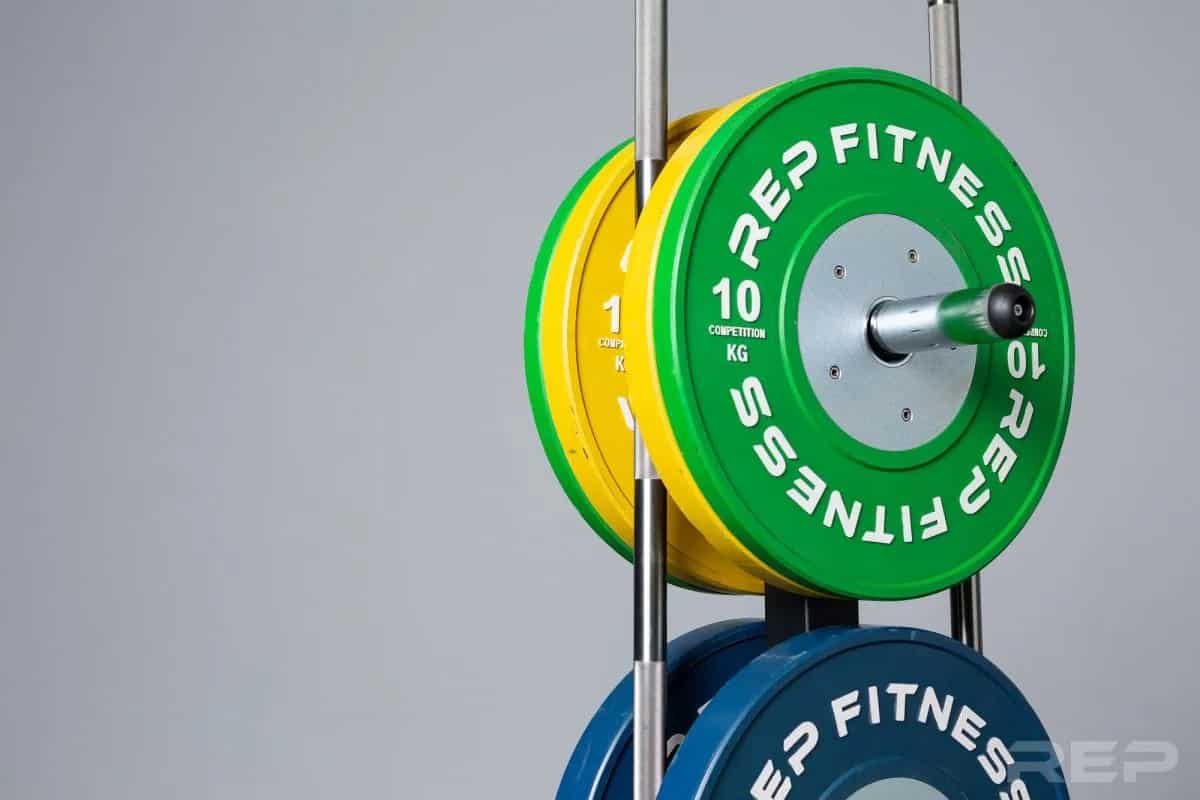 Rogue Vertical Plate Tree 2.0
Rogue updated its Vertical Plate Tree with Version 2.0. It now has an augmented triangle-plate base, optional wheels for movement, and re-positioned posts enabling full-size Oly plate storage on all three tiers.
The unit's new bolt-together design lessens shipping costs while boosting overall stability. It is furnished with six 12" long storage posts (three on each side) built from a 1.5" Schedule 40 pipe. Each of the posts is separated at 18.275″ on center to provide versatility and ample storage capacity.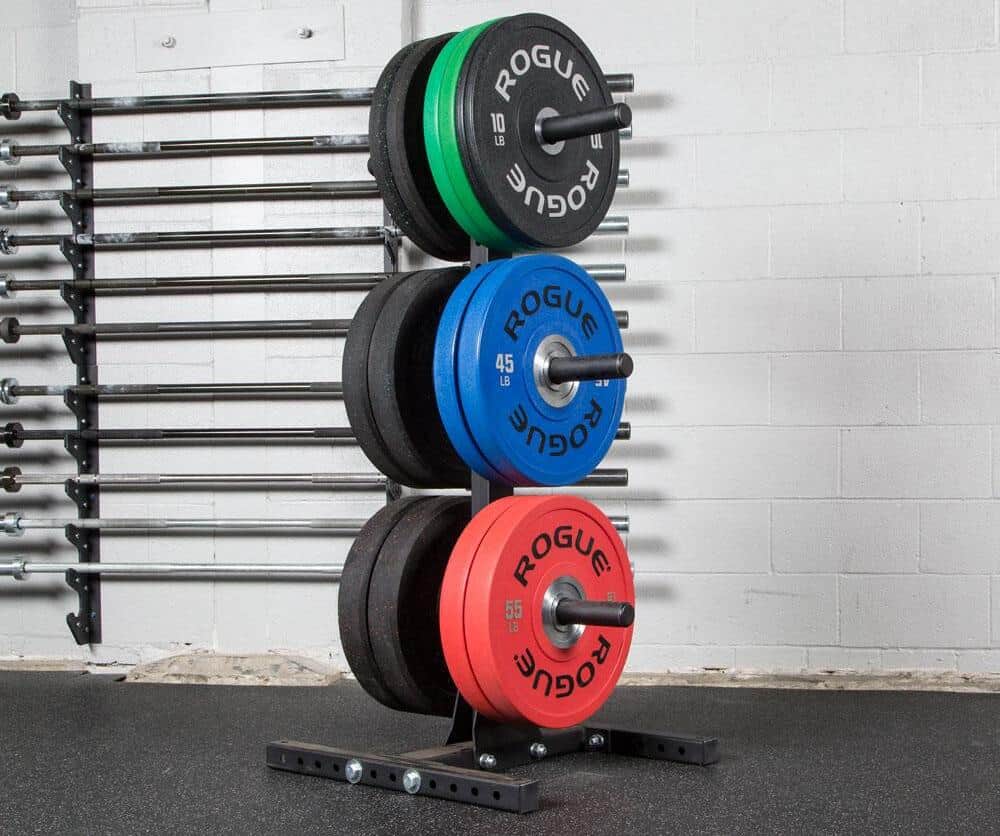 Rep Bar and Bumper Plate Tree
The Rep Plate Tree can accommodate bumper plates on every level with its six weight pegs. Each peg is chrome coated so plates can glide on and off very smoothly, and so there will be no flaking paint from constant use.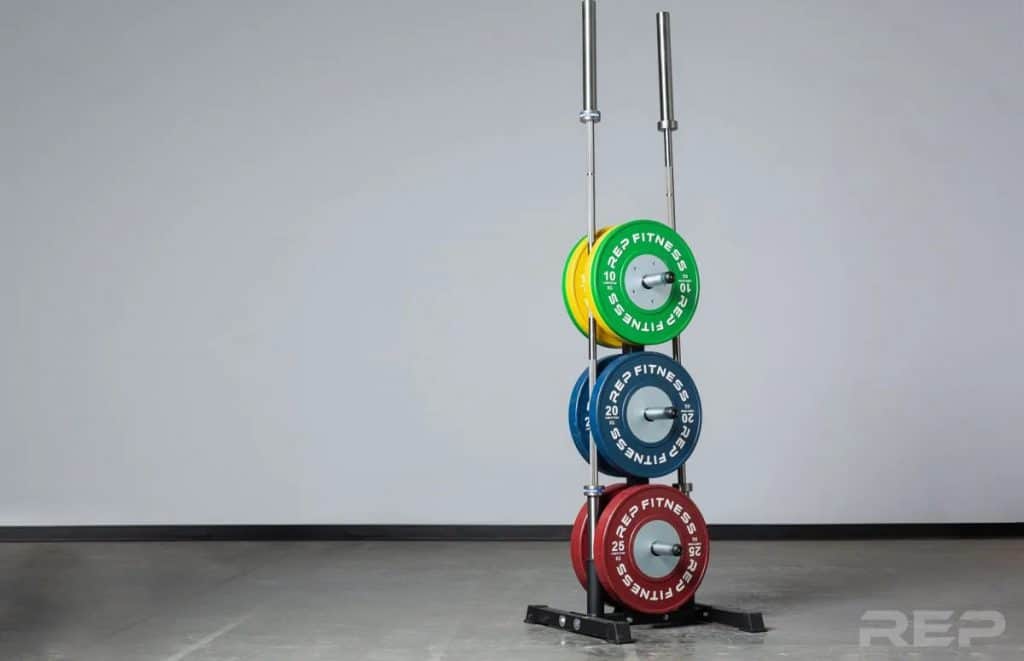 It can hold two barbells because of its front and rear barbell tube. It has a weight capacity of 850lbs and a dimension of 24″ long x 24″ wide x 50″ tall.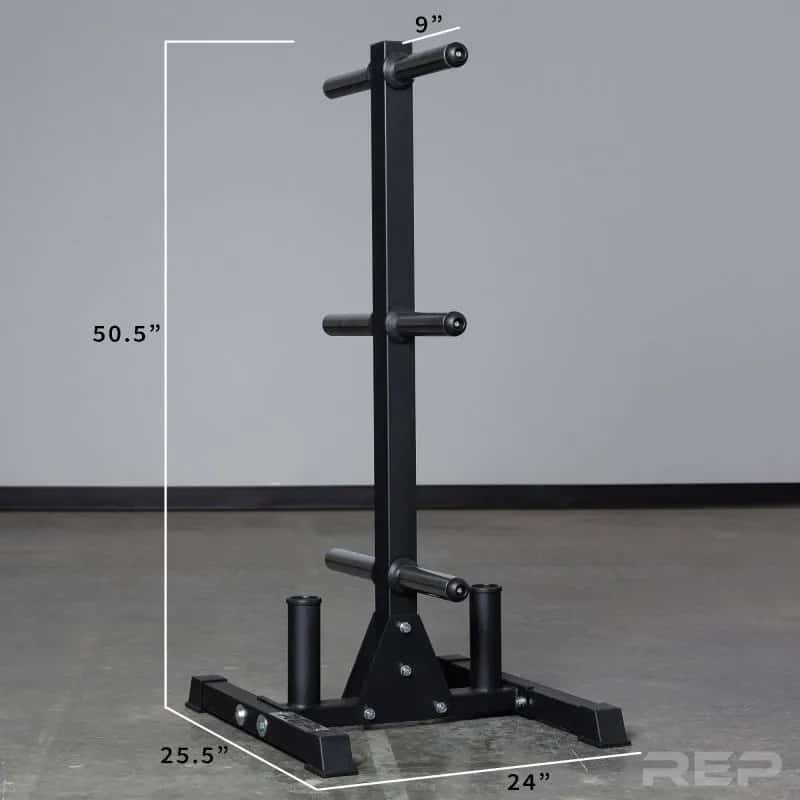 Get RX'd Vertical Plate Tree
Get RX'd Vertical Plate Tree can carry bumper plates at all six sleeves from 10lbs to 55lbs. The 13″ sleeves can hold up to four 55lbs plates each, and it weighs 87lbs.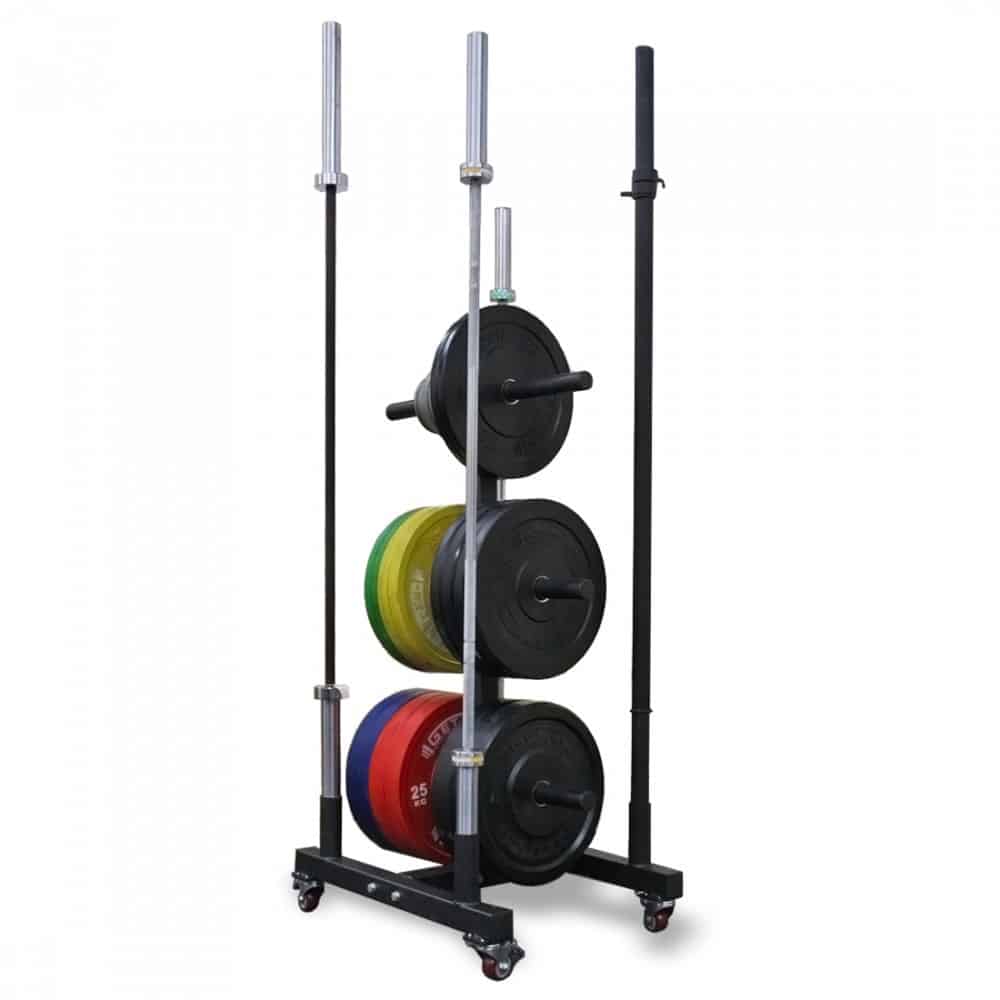 The Vertical Plate Tree can be locked into place easily with its lock-in wheels. Storing and removing plates and barbells become more efficient with this space-saving storage solution.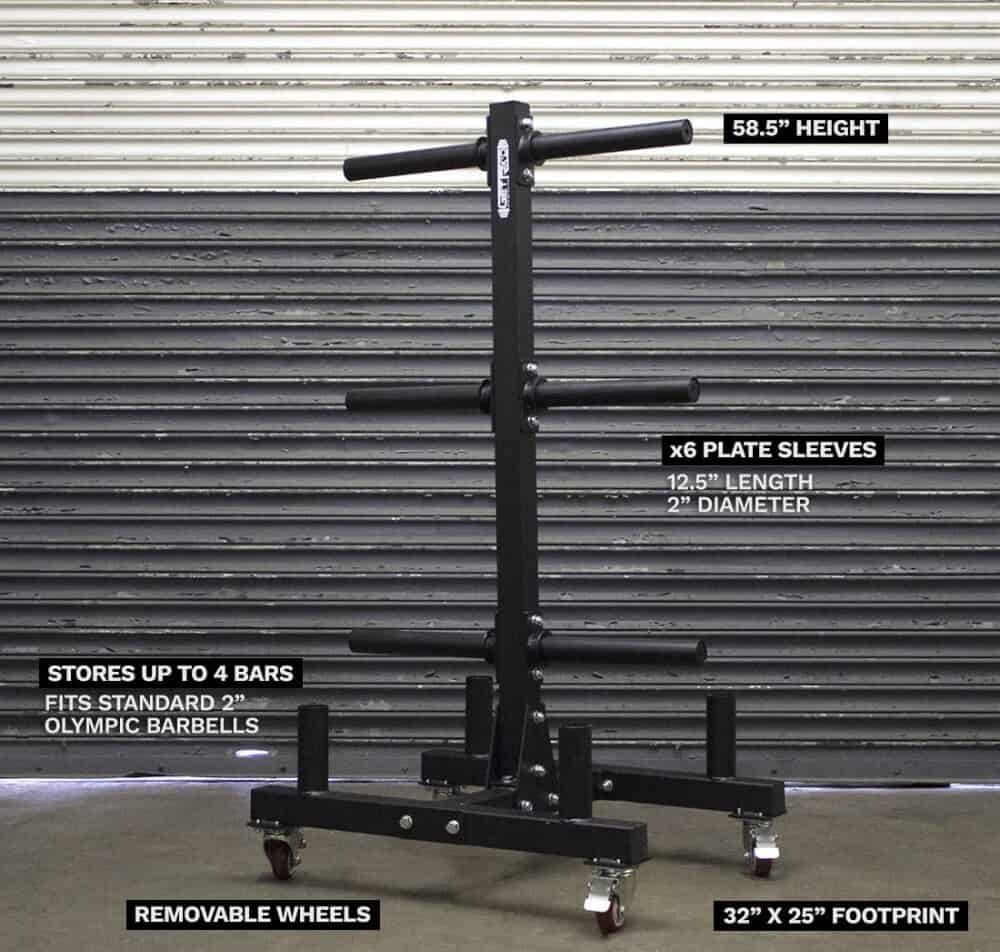 Rogue Competition Bumper Plate Cart
Conducive and completely mobile, Rogue Competition Bumper Plate Cart is created exclusively for use with competition bumper plates, offering a 320lb/165kg weight capacity. It comprises nine steel dividers positioned to securely carry two 55lbs/25kg plates, two 45lb/20kg plates, two 35lbs/15kg plates, two 25lb/10kg plates, and an array of smaller steel plate increments (10lbs, 5lbs, 2.5lbs).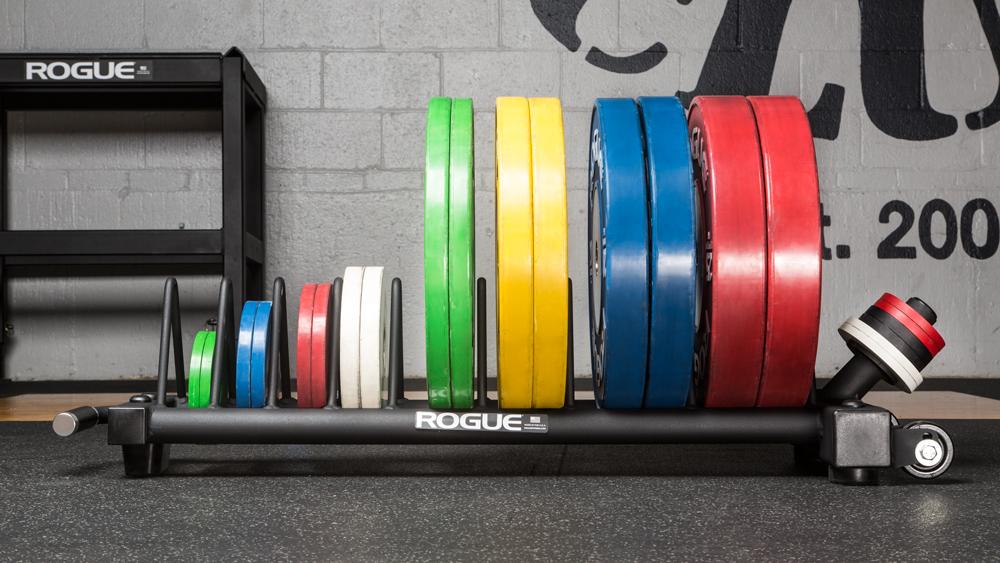 It has a 4″ inch horn on one end of the cart to provide an additional storage option for fractional plates. The Competition Bumper Plate Cart emphasizes a built-in handle and wheels for easy portability. The unit's small frame (48.75″ x 15.625″ footprint) makes it easy to fit in a tight corner of a home gym.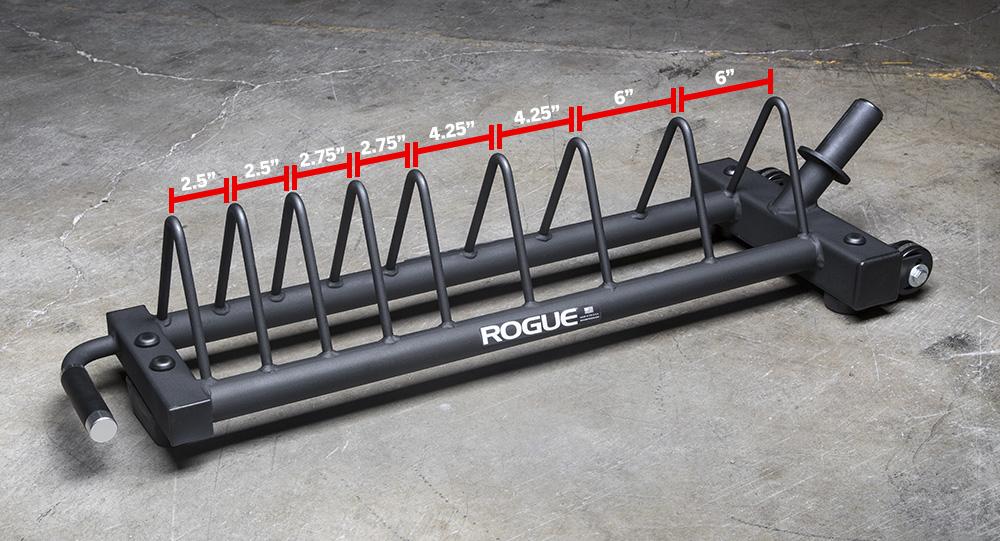 Rogue Horizontal Plate Cart 2.0
Rogue Horizontal Plate Rack grants a single, all-around storage solution for all types of bumpers, including Hi Temps, Steel Plates, HG Bumpers, and Competition Plates. Version 2.0 stresses a glossier look with a broader back end for better stability while moving and a set of load-bearing rubber feet to preserve the gym's flooring.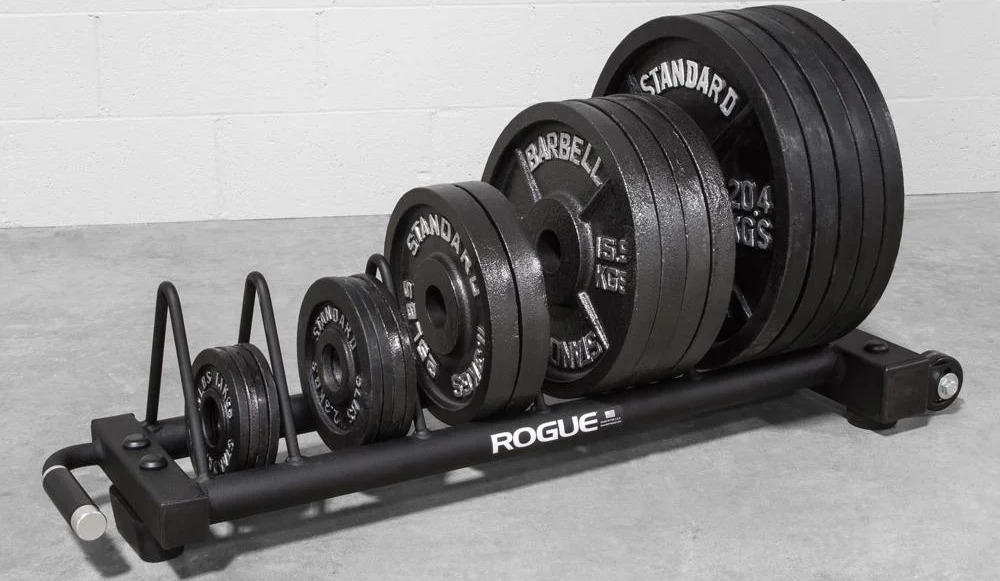 It has six dividers creating two slots for 45lbs and 35lbs plates, two slots for 25lbs and 15lbs plates, and one slot for 10lbs and a smaller variant bumper. This results in a substantial max storage capacity of 310lbs. It also has a convenient handle and wheels for effortless mobility.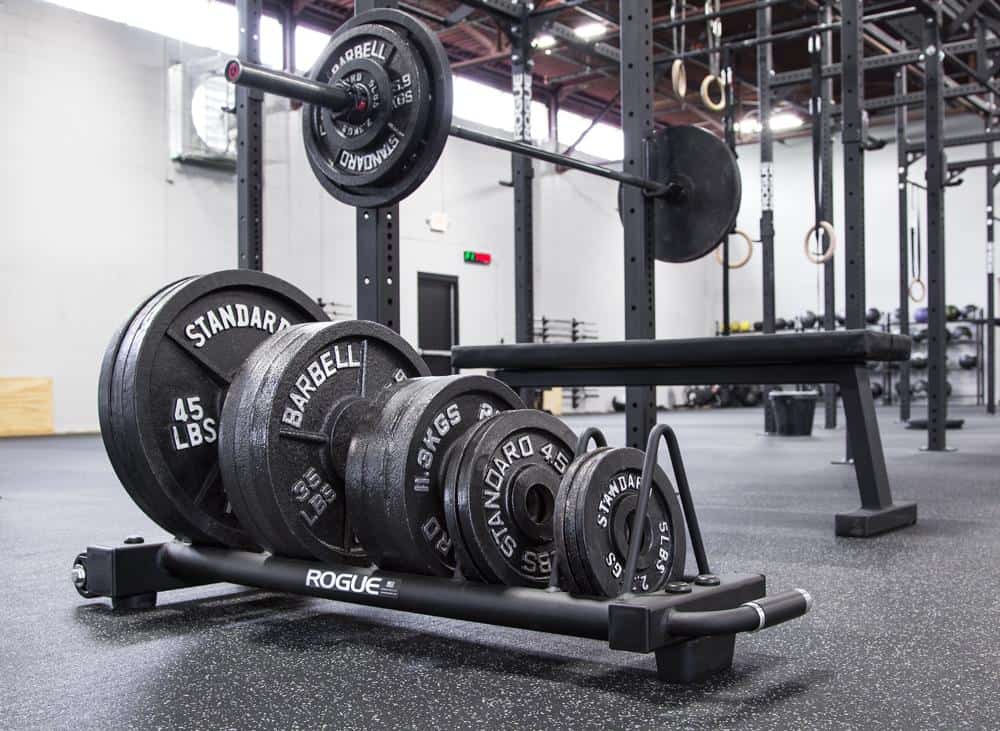 Rep V2 Horizontal Plate Rack
The V2 Horizontal Plate Rack has an updated ergonomic handle and dual barbell tube storage, making it more convenient to move weights between platforms. It has a dimension of 43.5″ x 15.75″ x 11.5″ (LxWxH) and can hold 420lbs of weights.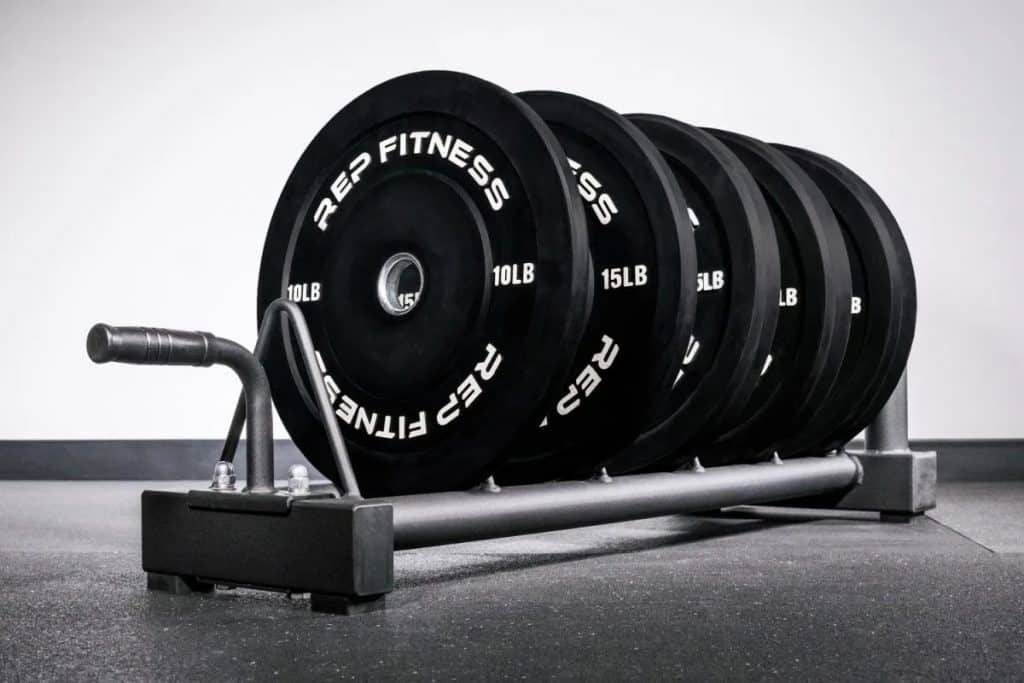 It has a matte black powder coating making it long-lasting and good-looking. The wheels don't rest on the ground when not being moved, which prolongs the rack's life.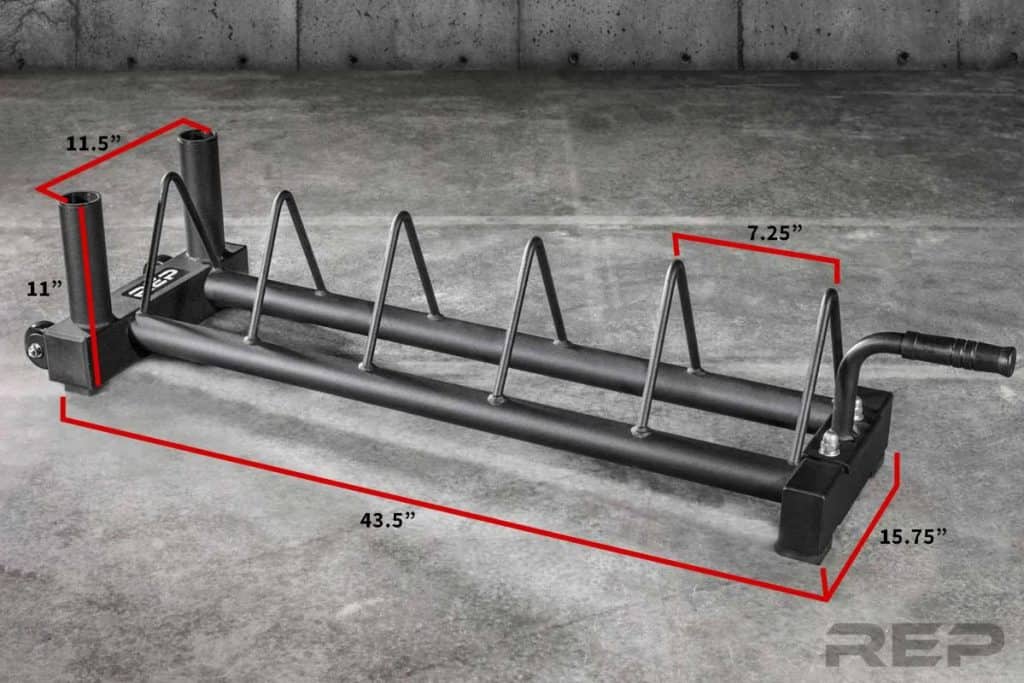 Get RX'd Universal Plate Cart
The Universal Plate Cart is ideal for Competition, Cast Iron Olympic Plates, or Bumpers. The cart is entirely mobile for smooth transport throughout the garage or gym because of its dual wheels and a built-in handle.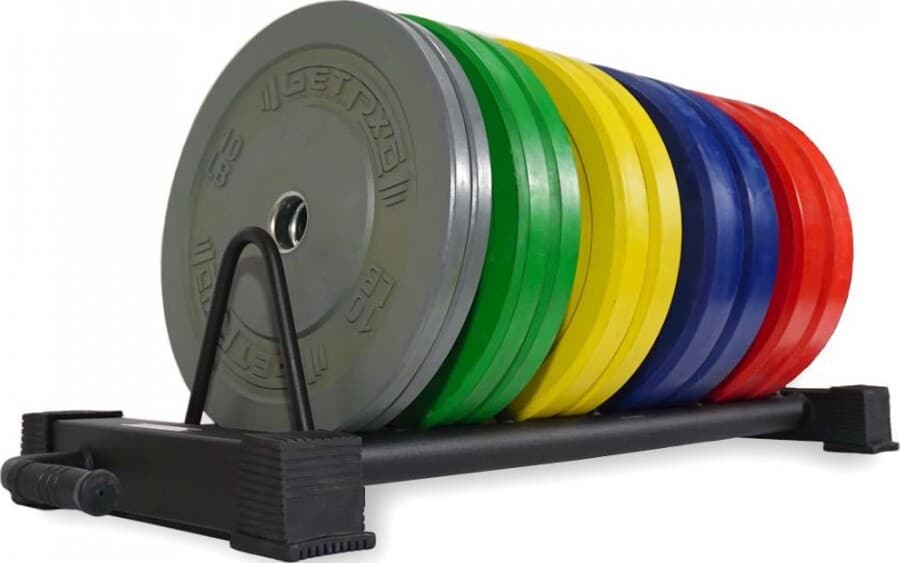 You can now have all your plates on a single rack with its fractional and metal plate sleeve welded along the rear. It has a 3.5″ section, two 5.5″ sections, two 8″ sections, a 5.5″ plate sleeve spacing.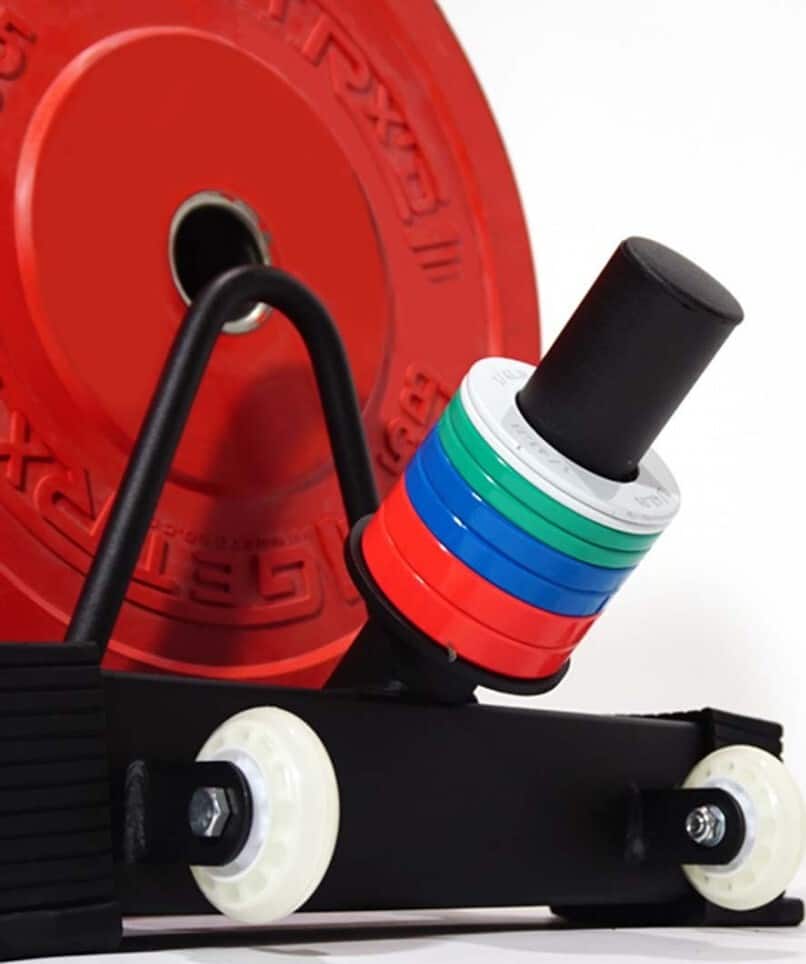 American Barbell Horizontal Rolling Bumper Storage
American Barbell Horizontal Rolling Bumper Storage is an Olympic plate holder that highlights a front handle and a foam-covered hand grip for efficient handling. It provides a compact way to store your plates with its heavy-duty metal frame that measures 16 inches in width and 50 inches in length.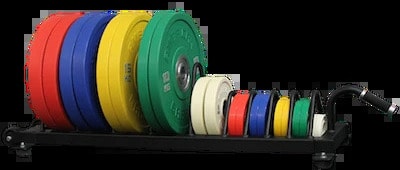 This horizontal rolling bumper storage unit gives you the ability to store 45-pound plates as well as your smaller and incremental plates. Plate storage spacings are 2.5 inches and 5.5 inches, and there are a total of nine plate spacings on this rack.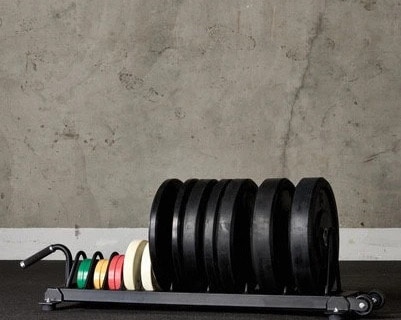 Rogue V2 Bumper Stacker
Rogue redesigned their Bumper Stacker for maximum efficiency as it highlights a 36.5" tall weight post with an X-shaped base for simple assembly and reduced shipping costs. Its two legs are made from 2×2″ 11-gauge steel and measure 24″ in length, establishing a compact footprint perfect for a vertical plate storage unit.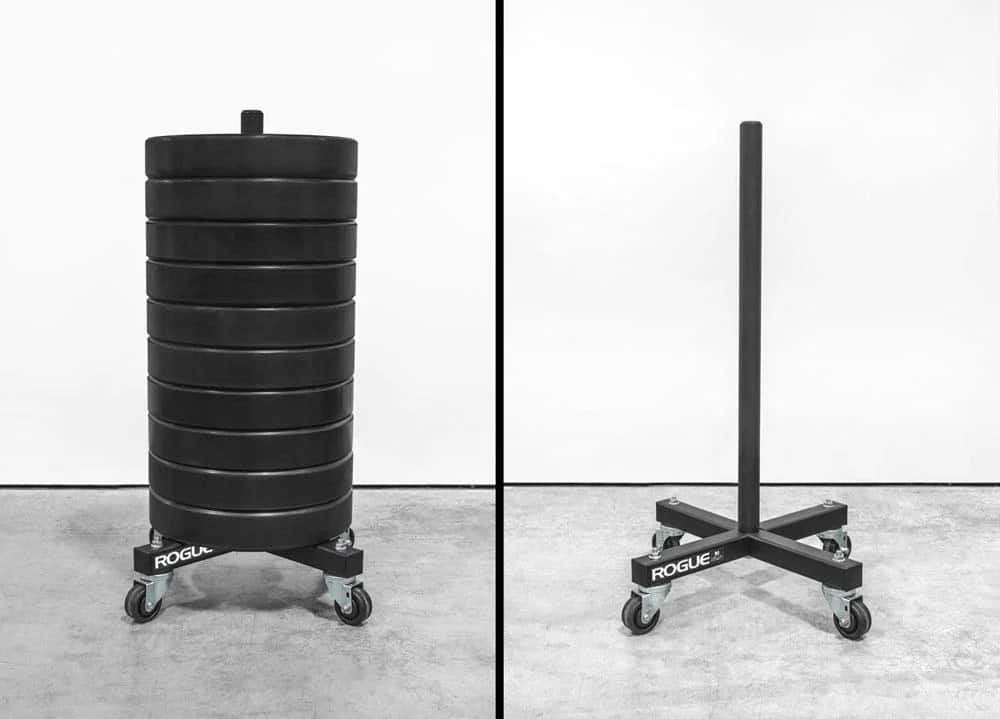 This version's load-bearing rubber feet come standard for extra stability, but an upgrade with caster wheels is available for added mobility. The Rogue V2 Bumper Stacker's loading capacity extends up to 800lbs depending on what kind of bumper plate you stack.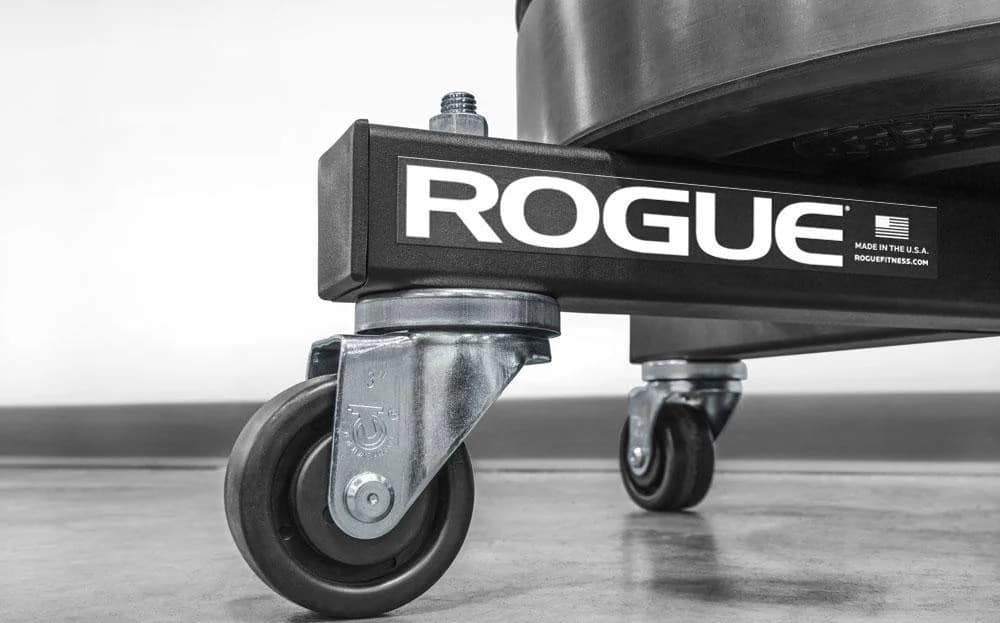 Rep Bumper Stacker with Wheels
Rep Bumper Stacker with Wheels is a rolling bumper rack that enables you to move bumper plates around efficiently, and the vertical plate storage conserves space. It can hold 300-800lbs of plates, depending on the type of plate being piled.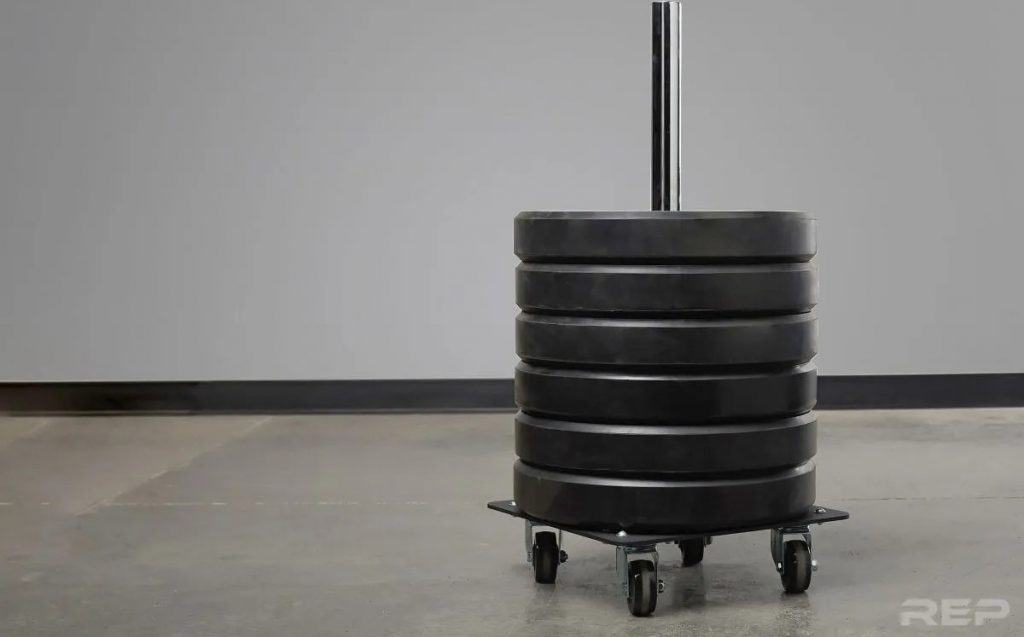 It weighs 30lbs and can be assembled in 15 minutes. It doesn't take so much space making it a good stacker for your home gym or garage.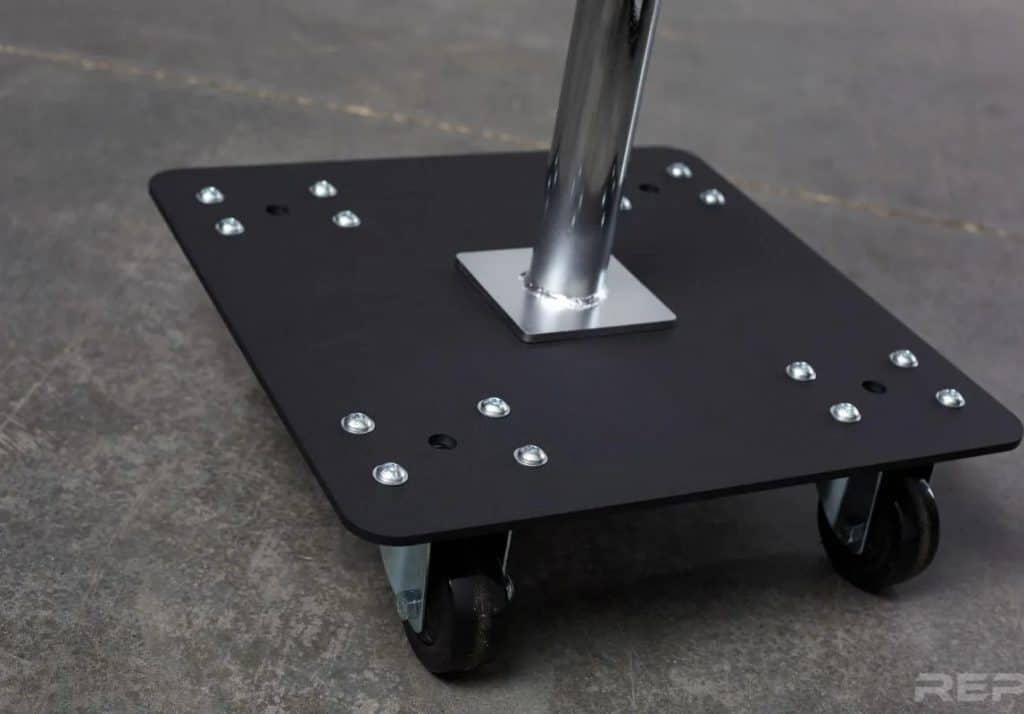 American Barbell Upright Rolling Bumper Storage
American Barbell Upright Rolling Bumper Storage is a stainless steel storage post that presents excellent sturdiness and is 32″ tall. It enables you to quickly and comfortably move your weight plates around your training area.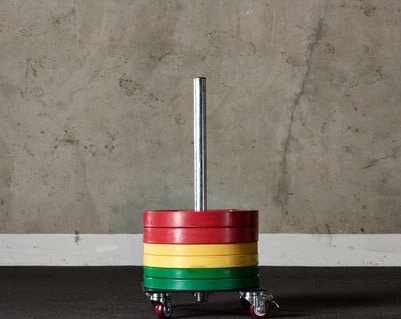 This unit highlights three premium quality multi-directional roller wheels allowing you to move it in any direction smoothly. The high-end bearings guarantee that the wheels will continue to move with convenience for many years to come. The extra-long storage post enables you to take and control the unit with just one hand.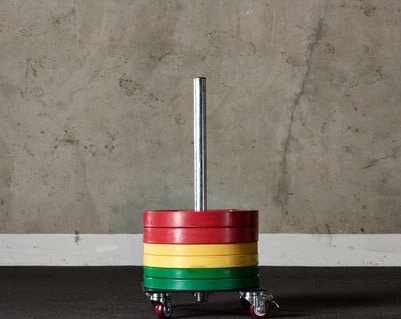 Rogue Monster Bumper Rack
The Monster Bumper Rack is a dense, customizable equipment storage unit made from 3×3" 11-gauge steel. The patent-pending has a 180 lbs design that holds an adjustable top rail and dividers for plates.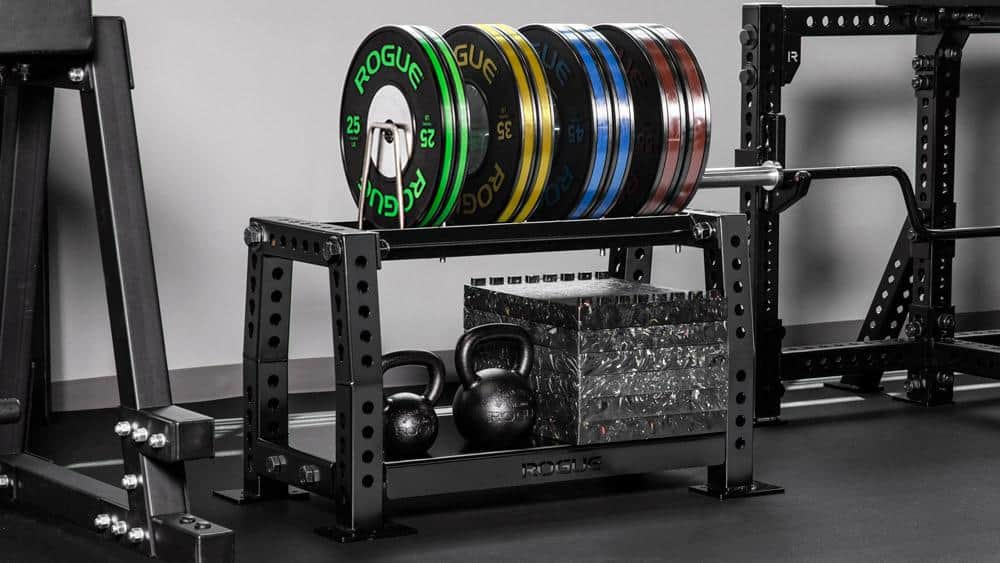 Monster Bumper Rack also gives you the ability to store and organize any size or type of plate as you wish with its 44" x 23.5" footprint. Just re-position the five stainless steel dividers along the 1" spaced holes in the railway tubing.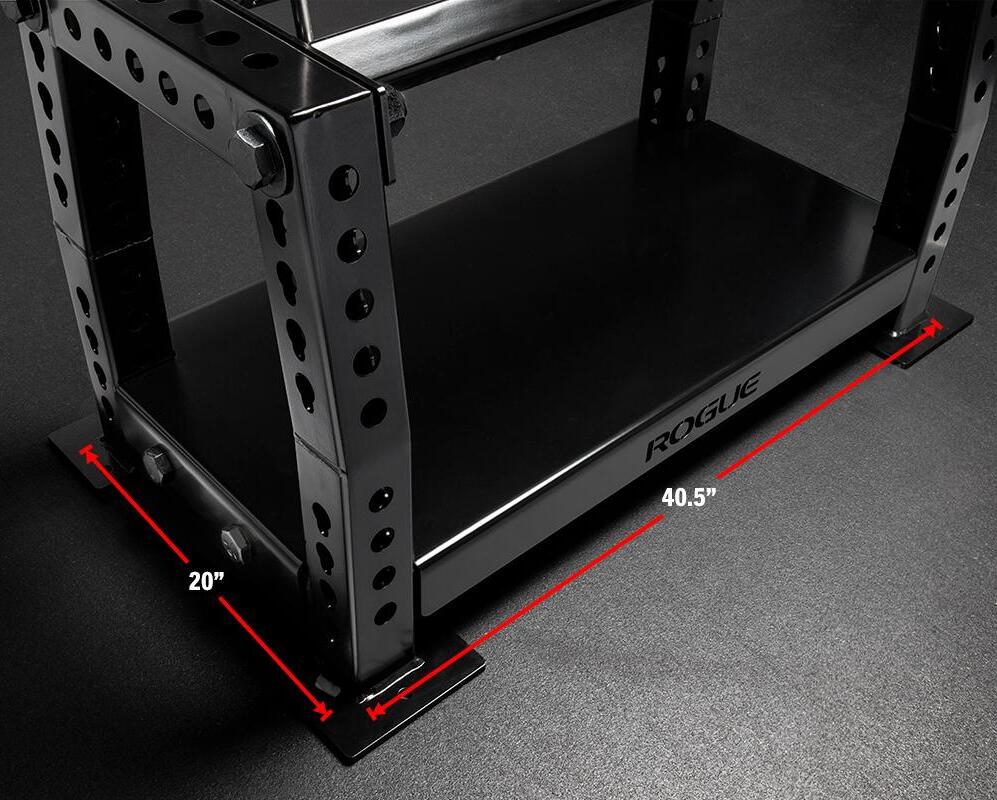 Horizontal Plate Rack 3.0
The Rogue Horizontal Plate Rack 3.0 is a portable rack that integrates new adjustable dividers that can be positioned in 1" increments along the rails, allowing more variations in the cart's set-up and more customization possibilities. Now you can keep most standard types and sizes of plates including Hi Temps, HG Bumpers, Competition Plates, and Steel Plates, with 33.5" of loadable space available.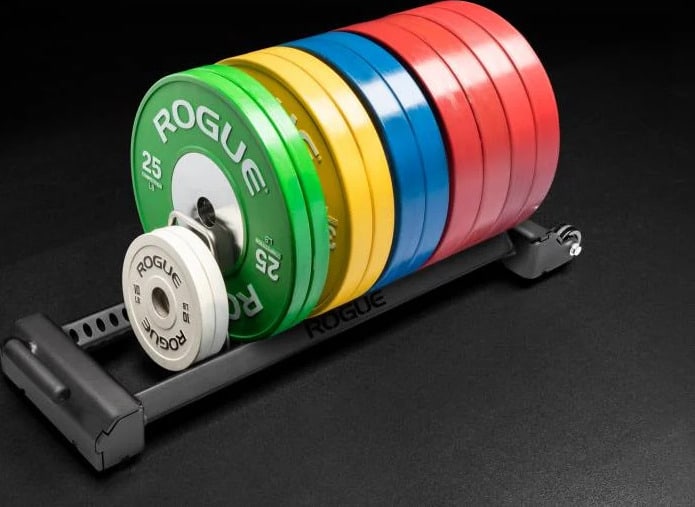 It uses 2×2" 11-gauge steel tubes, 1/4″ and 3/8″ flat steel, 1″ solid round, and 1/2″ stainless steel solid round for the five dividers. It has four rubber feet to give stability while the rack is resting on the ground. It also has a pair of wheels and a rubber-grip handle that enables the unit to be moved smoothly to another spot without breaking your flooring.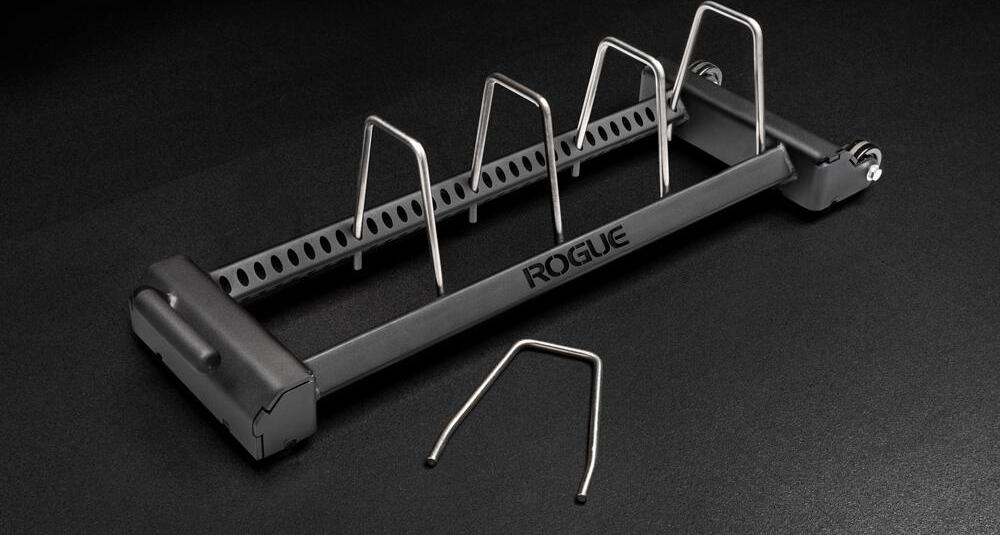 Best Bumper Plate Storage Overview – In Summary
That's our overview of Best Bumper Plate Storage.
There are various ways to store your bumper plates, and here we have provided you with different kinds of racks and storages to keep your gym clean and your bumper plates protected. In choosing the proper storage for your bumper plates, consider checking your gym or garage area, the weight capacity of the storage that you will get, and the number of plates you have.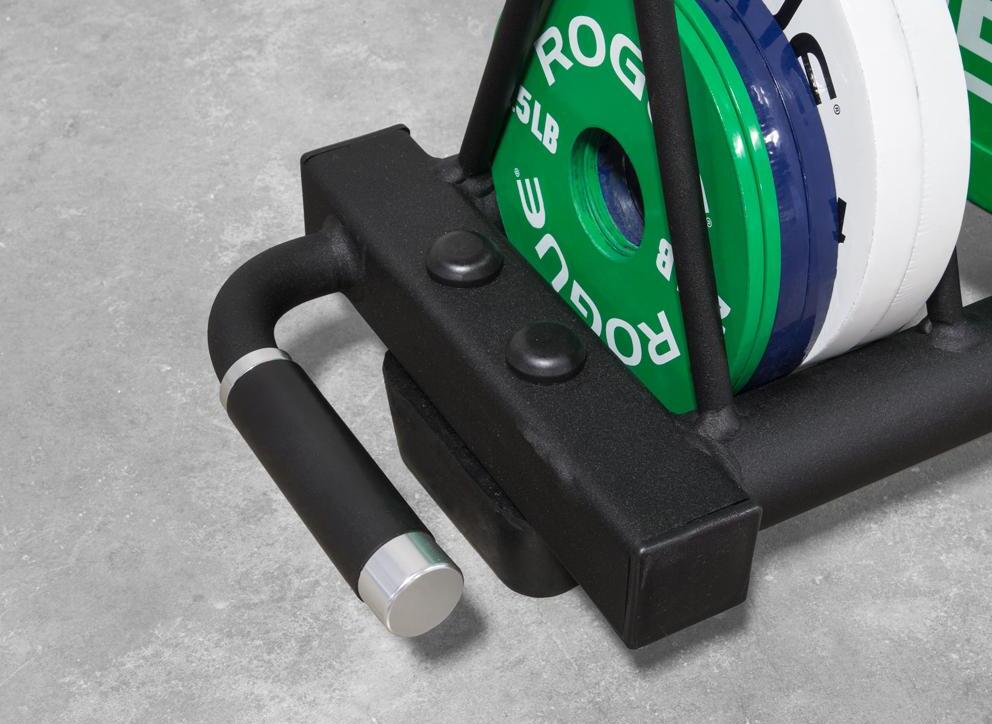 Photo Credits
Product photos on this page are property of the manufacturer.
This website is not affiliated or associated with CrossFit, Inc. CrossFit is a registered trademark of CrossFit, Inc.
Affiliate Disclaimer
We are an affiliate of Rogue, Rep, Get RX'd and others that sell this training gear. If you buy clothing or other training gear after clicking the links in this article, we receive a small commission at no extra cost to you. This helps us to bring you in-depth information and content on these great training products.
Tim is the founder of FitAtMidlife.com – an avid gym rat for 30+ years, he's a reviewer of many, many shoes – and founder of the Speed Bag Gathering – the world's only gathering of speed bag punching enthusiasts.  See more gym reviews at Tim's YouTube channel.