Rogue has the red-hot
Echo Bike
. Grab one while they last!
Let's review the Olympic Plate Storage from Rogue.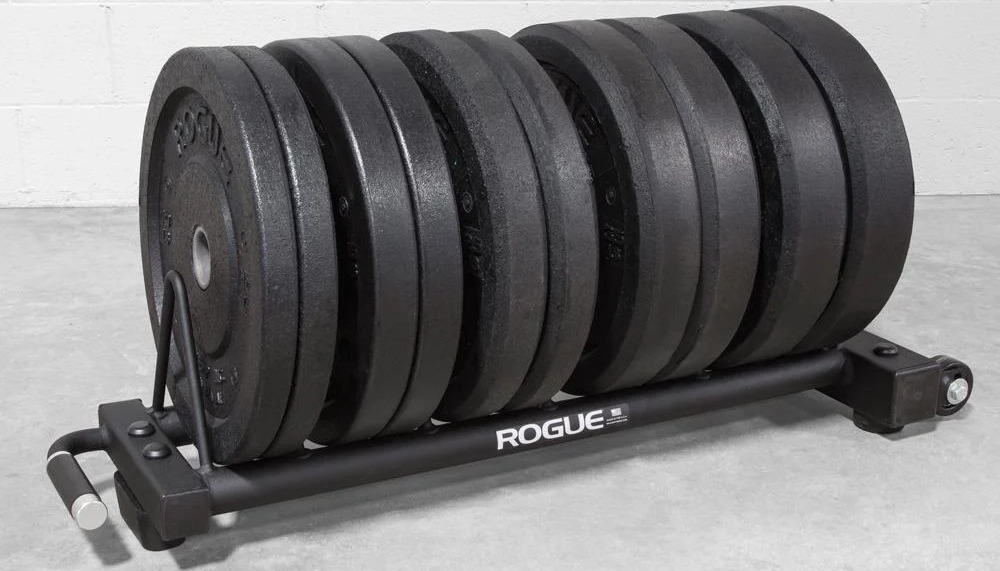 You probably have weight plates if you own a commercial gym or a home gym. Whatever kinds of weight plates you have, they, too, along with other pieces of equipment, have to be stored in proper storage to keep them from unwanted damages and keep your surroundings clean and orderly.
Here are some of the styles we are going to look at:
Olympic Plate Storage – Overview
There are different ways to store your weight plates. The classic and the most popular way to keep them is by using the weight plate tree. It may come in different measurements and forms, but they have a similar build – a center post. There's also the horizontal bumper plate storage where you can store your weight plates like dinner plates.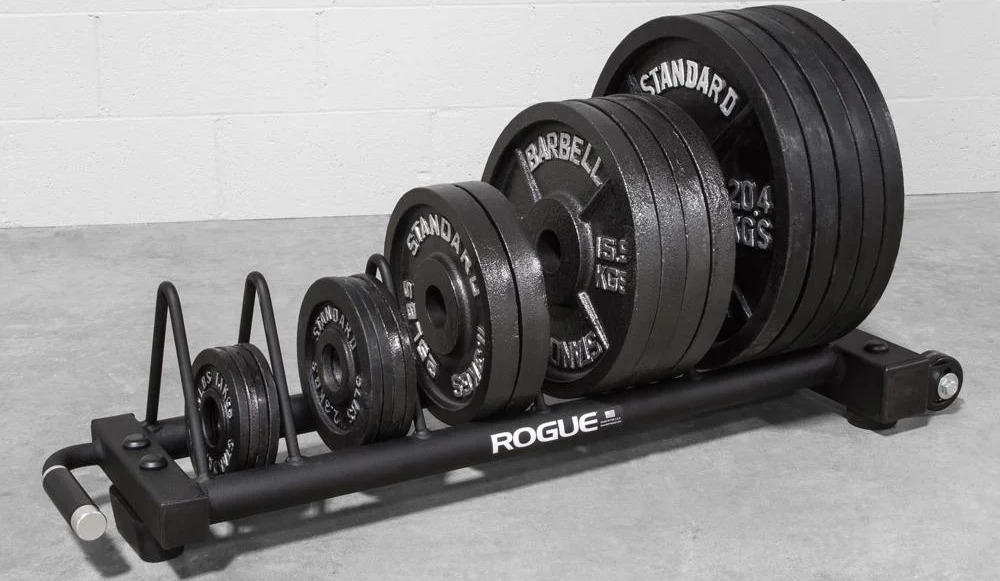 When buying a weight plate storage, there are some things to consider. The first is the number of plates. If you have plenty of plates, you might want to choose a storage that can fit ten weight plates. Other things to consider in choosing storage are weight capacity, peg size, size, and accessibility. Rogue has different kinds of weight plate storage to provide a solution that meets your circumstances the best.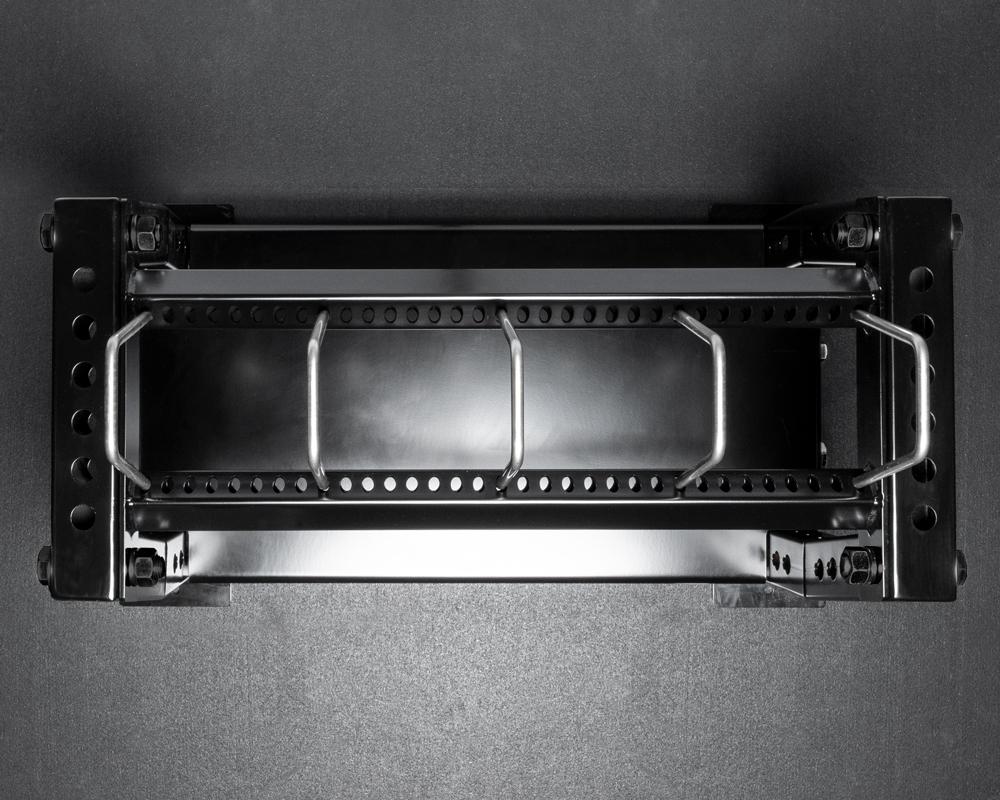 Rogue Vertical Plate Tree 2.0
Vertical Plate Tree is the most used plate rack – it is easy to use, making it an efficient storage for your bumper plates. Rogue made some adjustments and refined their plate tree calling it the Vertical Plate Tree 2.0. This version upgrades conventional models with a bolstered triangle-plate base, available wheels for mobility, and re-positioned posts that allow full-size Oly plate storage on all three tiers.
The Vertical Plate Tree 2.0 is furnished with six 12" long storage posts (three on each side) assembled from 1.5" Schedule 40 pipe and is suitable with all IWF standard Olympic plates. It is approximately a four-foot-tall tree, and each of the posts is equally spaced at 18.275″ on center, extending a right mix of versatility and storage capacity.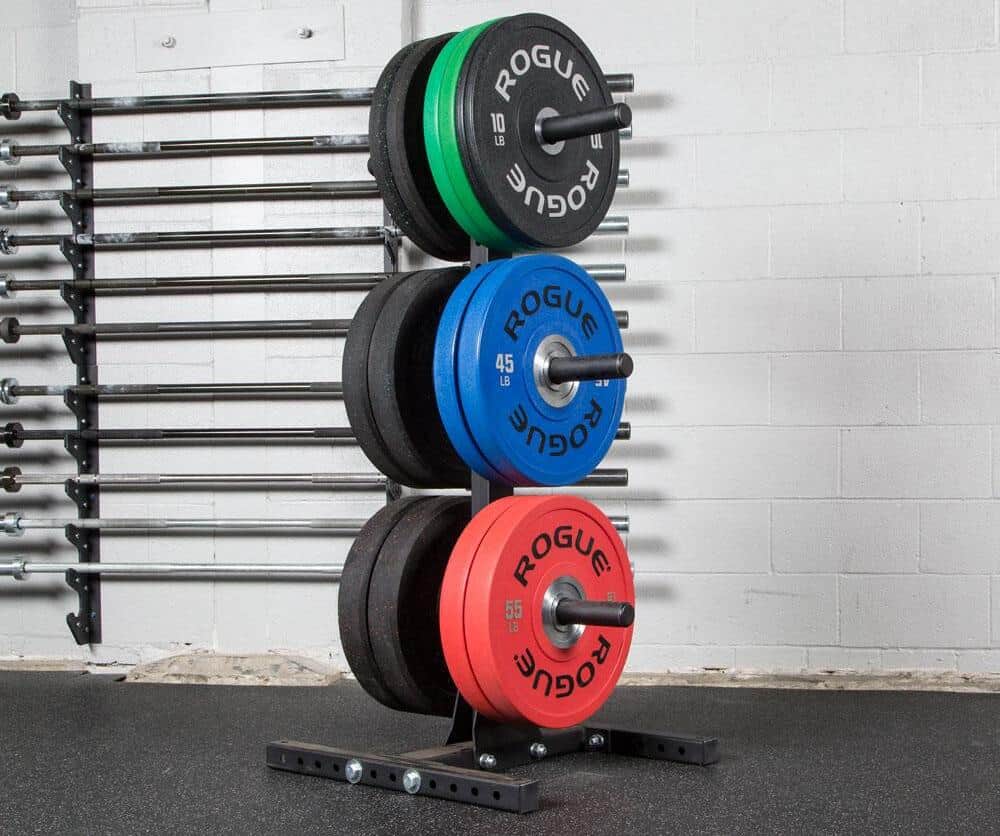 Rogue Competition Bumper Plate Cart
Rogue Competition Bumper Plate Cart is an entirely portable plate storage cart created solely for competition bumper plates. It is very convenient to use, and it offers a 320lb/165kg weight capacity. It involves nine steel dividers positioned to hold two 55lb/25kg plates firmly, two 45lb/20kg plates, two 35lb/15kg plates, two 25lb/10kg plates, and a variety of smaller steel plate increments (10lb, 5lb, 2.5lb).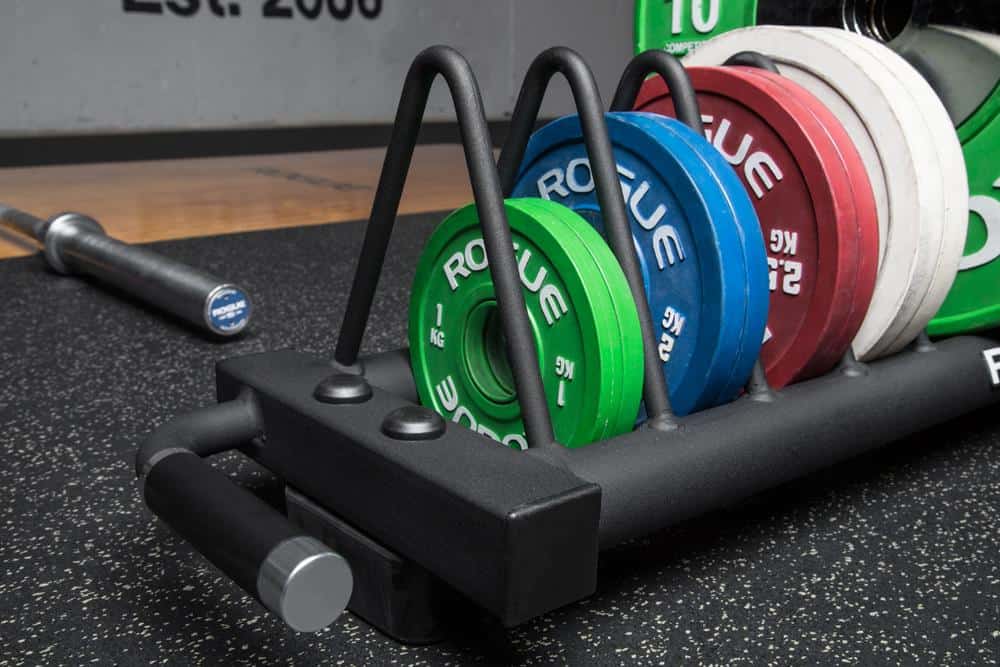 The Competition Bumper Plate Cart highlights a built-in handle and wheels for stress-free portability. It can easily fit in a car or a tight corner of a home gym because of its small frame (48.75″ x 15.625″ footprint). It has a 4″ inch horn on one end of the cart to provide an added storage option for your fractional plates.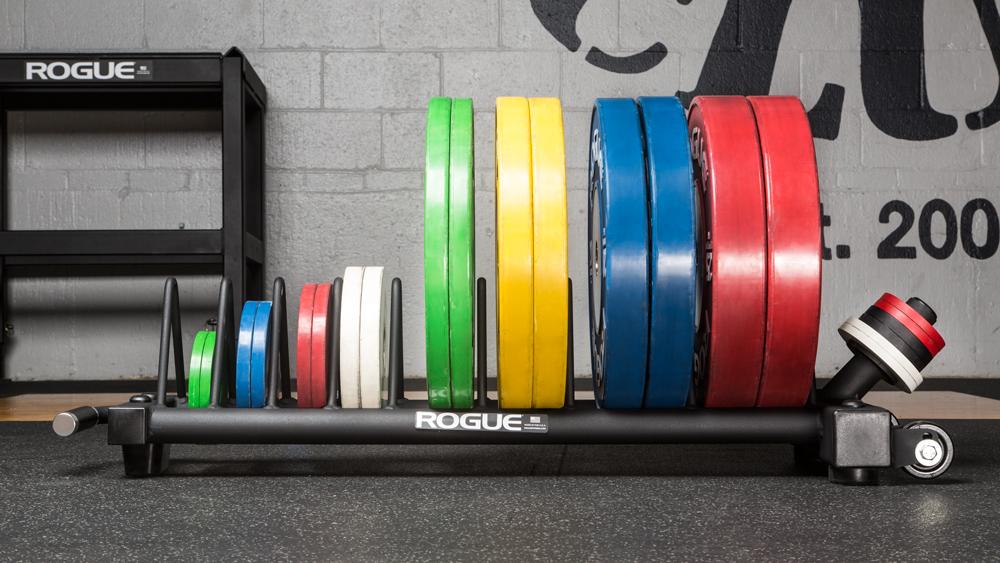 Rogue Horizontal Plate Rack 2.0
Another efficient way to store your bumper plates is horizontally, and Rogue entirely redesigned its Horizontal Plate Rack. It now allows a single, functional storage solution for all types of bumpers such as Hi Temps, Competition Plates, HG Bumpers, and Steel Plates. Version 2.0 has new production capacities that highlight a more polished look with a more comprehensive back end for better stability during transport and a set of load-bearing rubber feet to preserve your flooring.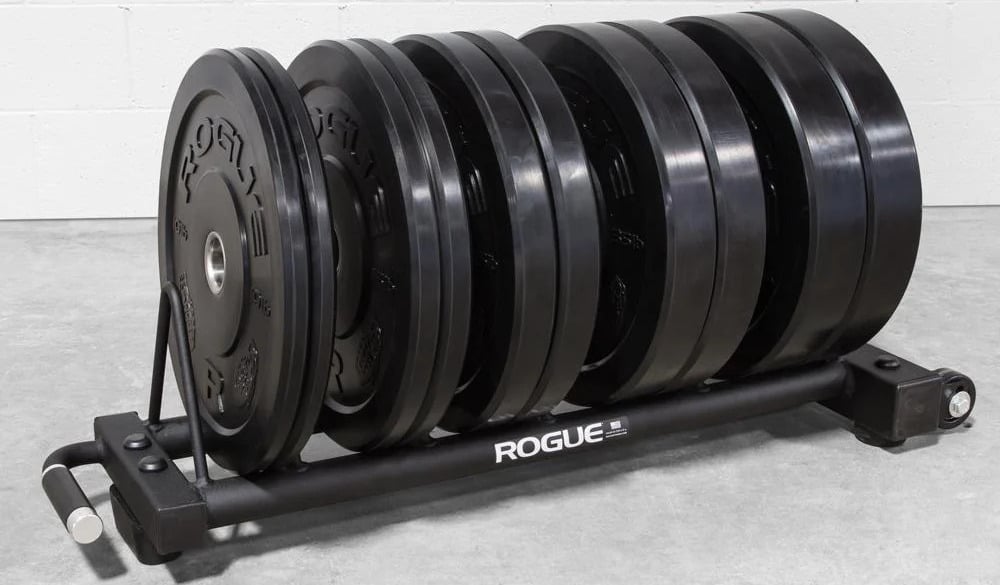 The Horizontal Plate Rack 2.0 is manufactured in the USA with US steel or the US and CAN steel from quality welded steel, with six dividers producing two slots for 45lb and 35lb plates, two slots for 25lb and 15lb plates, and a slot for 10lb and smaller alternative bumpers. It has a convenient handle and wheels for smooth mobility and can considerably store a capacity of 310lb.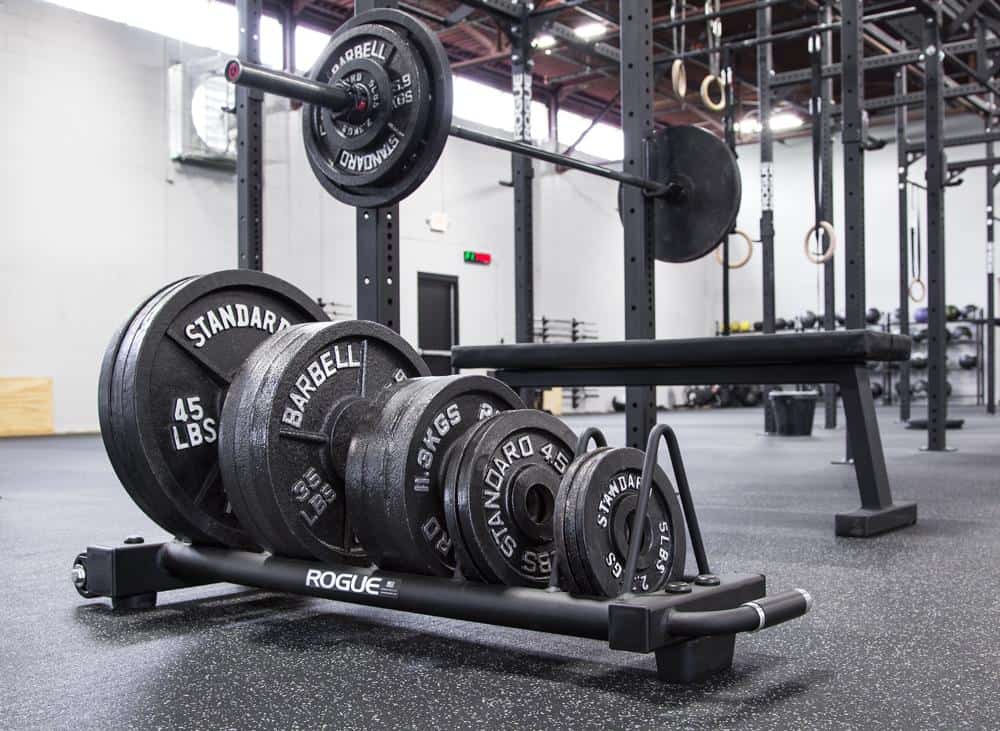 Rogue V2 Bumper Stacker
The Rogue V2 Bumper Stacker was improved to provide maximum efficiency and now highlights a 36.5" tall weight post with an X-shaped base for easy assembly and lowered shipping costs. The two legs of the unit create a compact footprint perfect for a vertical plate storage unit and are made from 2×2″ 11-gauge steel and measure 24″ in length.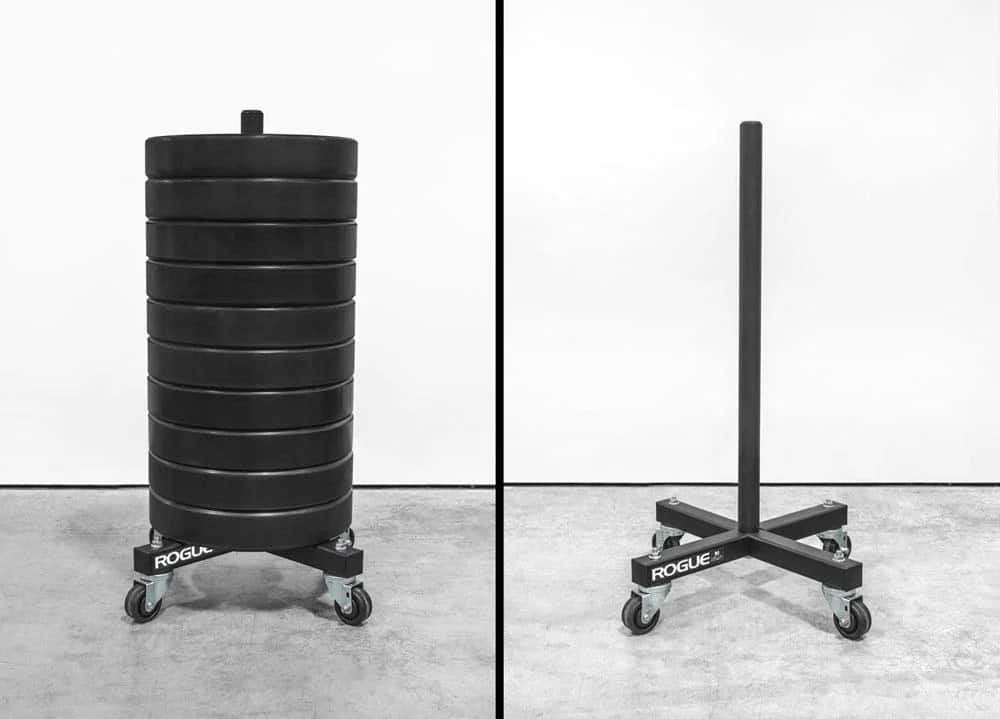 The load-bearing rubber feet come standard for additional stability, and there is an available upgrade with caster wheels for added mobility. The Rogue V2 Bumper Stacker's loading capacity varies from 300 lbs to 800 lbs depending on what style of bumper plate you stack.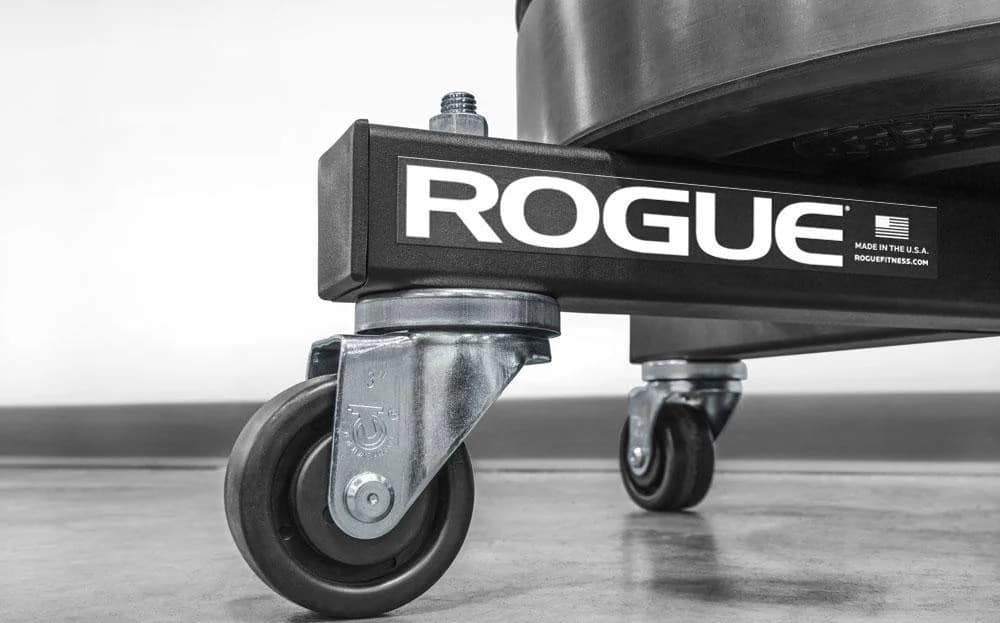 Monster Bumper Rack
The Monster Bumper Rack is a compact, customizable equipment storage unit giving gym owners the capacity to store and arrange any size/type of plate as they wish by repositioning five stainless steel dividers along the 1" spaced holes in the railway tubing.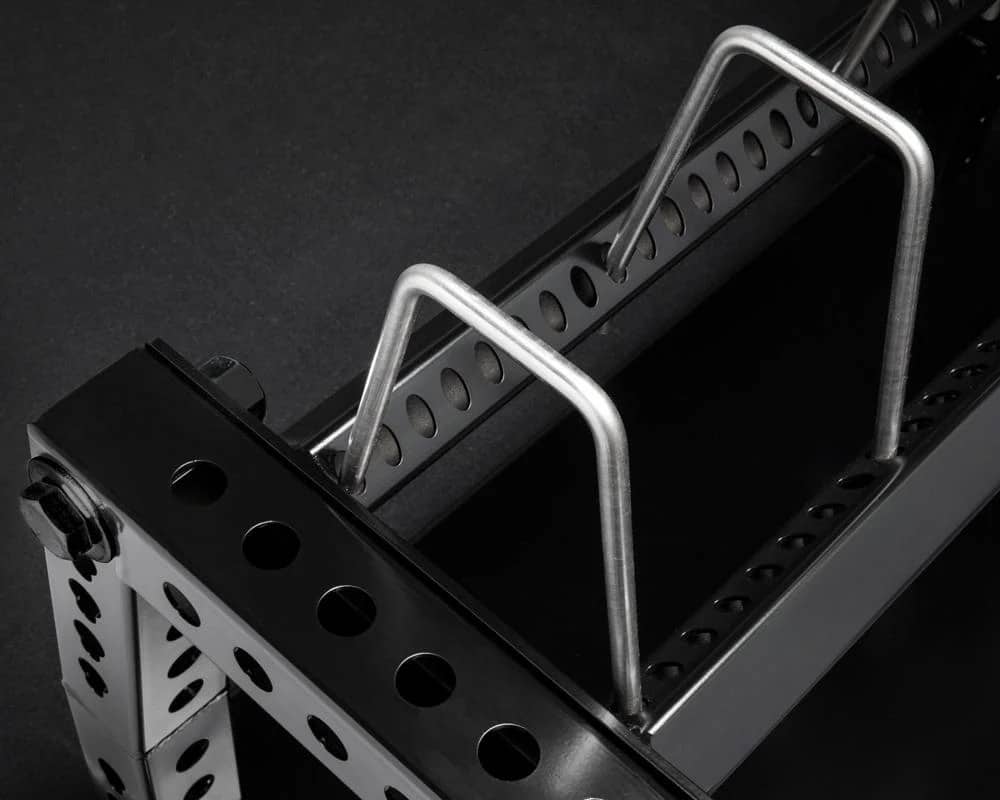 It is made in the USA with US steel or the US & CAN steel from the same 3×3" 11-gauge steel as Monster Power Racks and Rigs. The patent-pending, 180 LB design holds an adjustable top rail and dividers for plates, with a flat, bolstered bottom shelf (40.5" wide x 20" deep) so you can put other gears as well.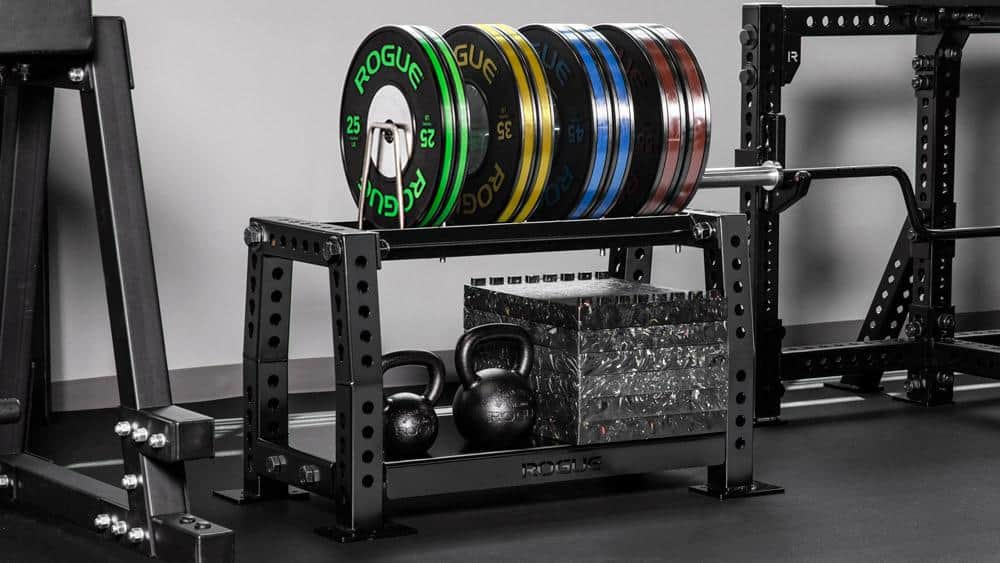 Horizontal Plate Rack 3.0
The Horizontal Plate Rack gives you the ability to customize your cart's set-up according to your preference with its new adjustable dividers that can be positioned in 1" increments along the rails. Rogue uses a texture black finish in the whole cart except for the dividers. It is compact so it won't take so much space and you can store most regular types and sizes of the plate including HG Bumpers, Competition Plates, Hi Temps, and Steel Plates, with 33.5" of loadable space available.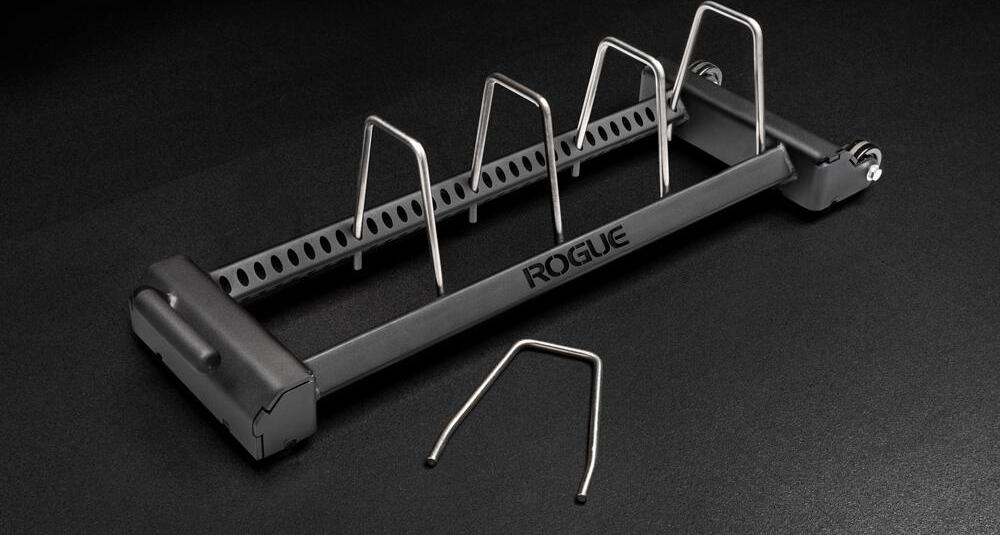 Built in the USA, this rack uses 2×2" 11-gauge steel tubes, 1/4″ and 3/8″ flat steel, 1″ solid round, and 1/2″ stainless steel solid round for the five dividers. You don't have to worry about it rolling everywhere with its rubber feet that provide great support. If you want to move it to another location, the wheels and the rubber-grip handle smoothly glides without damaging your floors.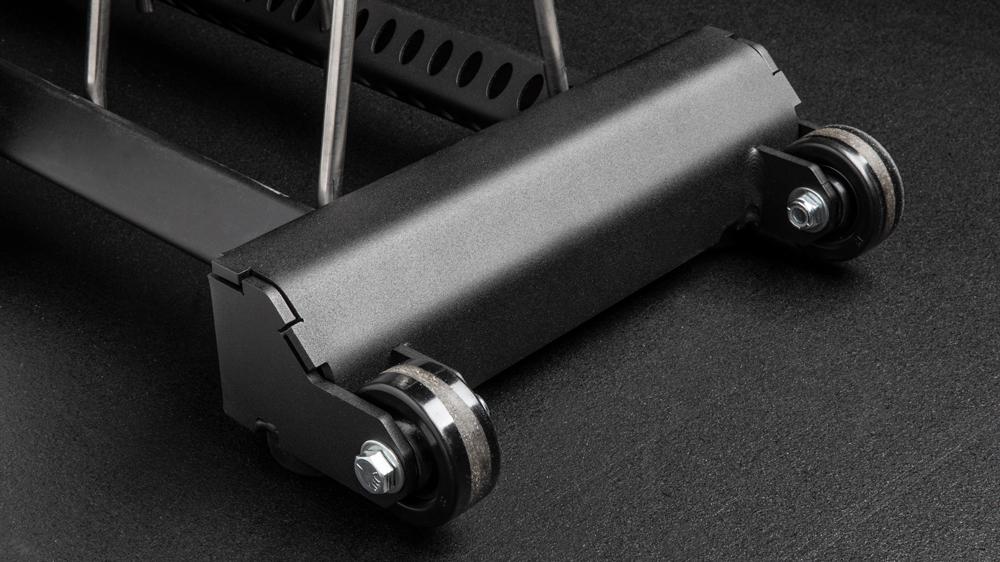 Olympic Plate Storage Review – In Summary
That's our review of Olympic Plate Storage.
Whether you choose the vertical or horizontal plate storage, it is essential to check if all the plates you have will fit, and the storage can carry all the weight of your plates. Having storages with wheels makes it easier to clean your area, plus they don't take so much space. Rogue's quality is genuine, tried, and tested, making all their strength and conditioning equipment trusted by athletes worldwide.
Now that you have some plate storage ideas, grab some bumper plates or iron plates.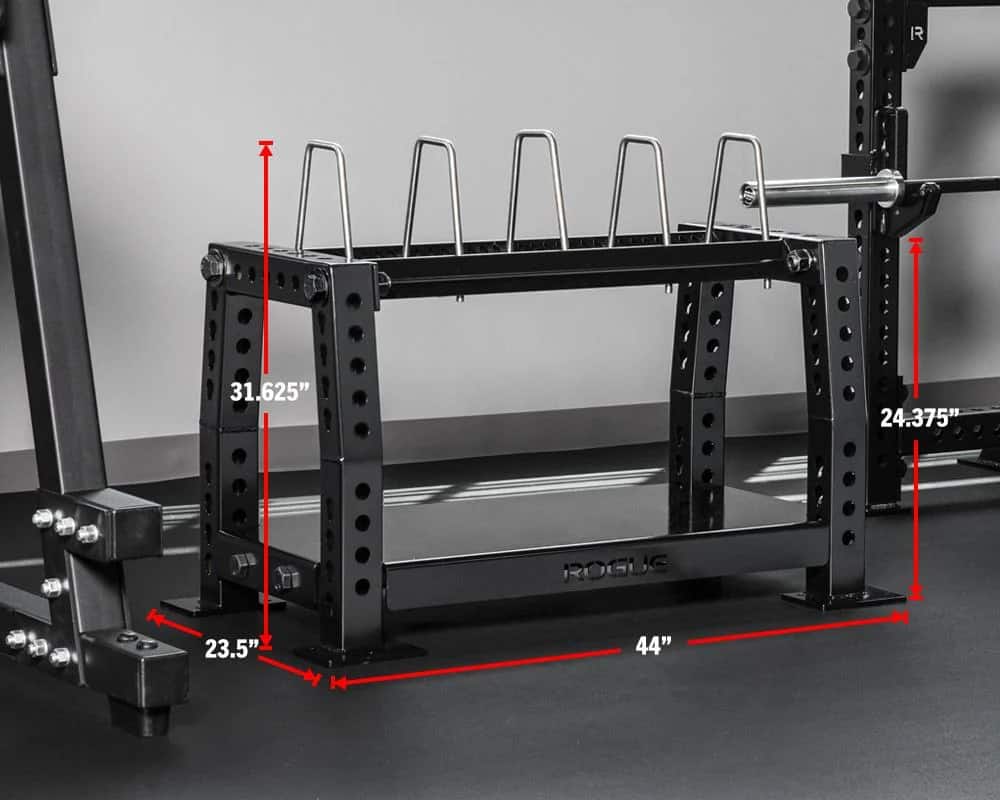 Photo Credits
Product photos on this page are property of Rogue.
This website is not affiliated or associated with CrossFit, Inc. CrossFit is a registered trademark of CrossFit, Inc.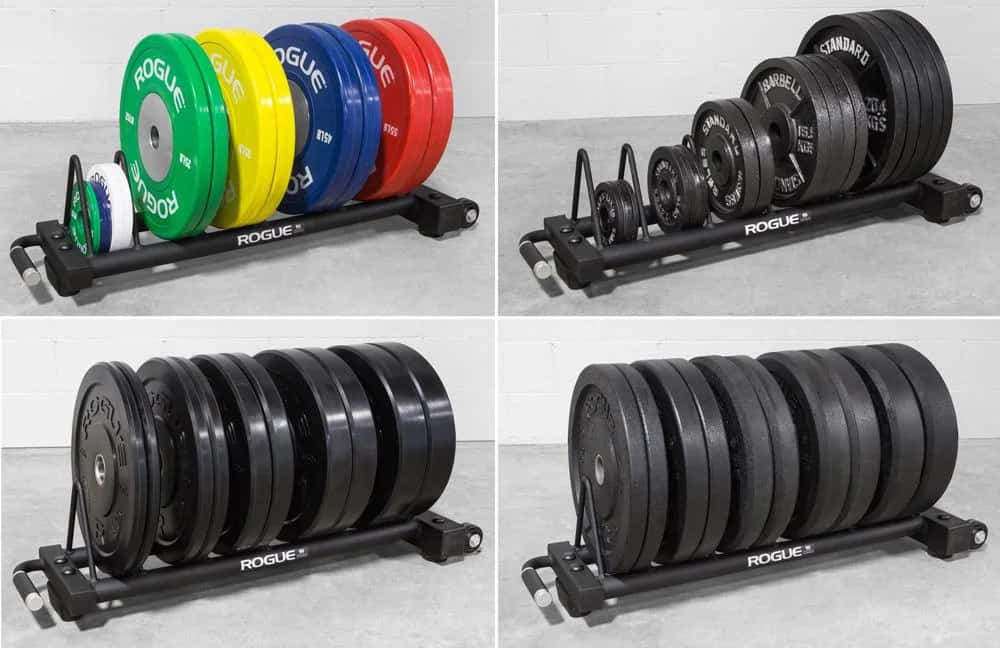 Affiliate Disclaimer
We are an affiliate of Rogue and others that sell this training gear. If you buy clothing or other training gear after clicking the links in this article, we receive a small commission at no extra cost to you. This helps us to bring you in-depth information and content on these great training products.