We've got the brand new Reebok Nano X2 – and here's our review. We'll cover the Nano X2 review but also Nano X2 Versus Nano X1, and Nano X2 versus Nano X.
Reeboking marketing tells us that the new Nano X2 is labeled as the "Official Shoe of You". It is still the reliable shoe for various workouts known in the Nano series. It stays lightweight with a wide toe box and a comfortable foam midsole. But let's see what changes and improvements Reebok has made to X2.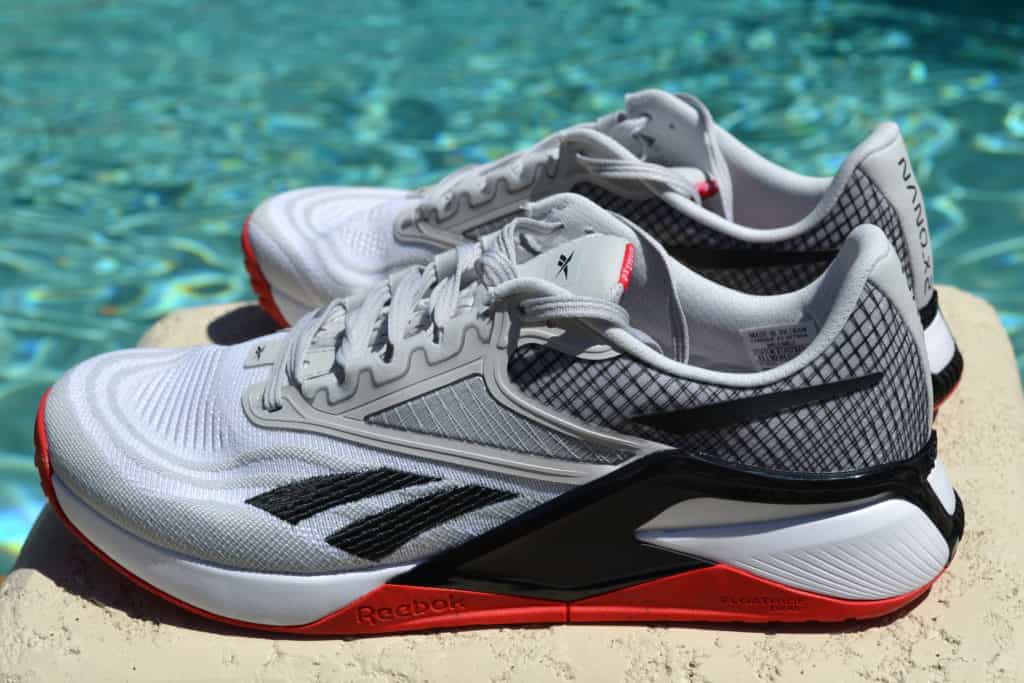 Let's find out if that is true.
Get it now from Rogue, or Reebok, or Road Runner Sports:
Let's review this shoe.
Reebok Nano X2 Review
Firstly, let me state that they have fixed all the issues I had identified in my Nano X1 review – except for ONE. Which one is it? Read on to find out (or jump to the end!)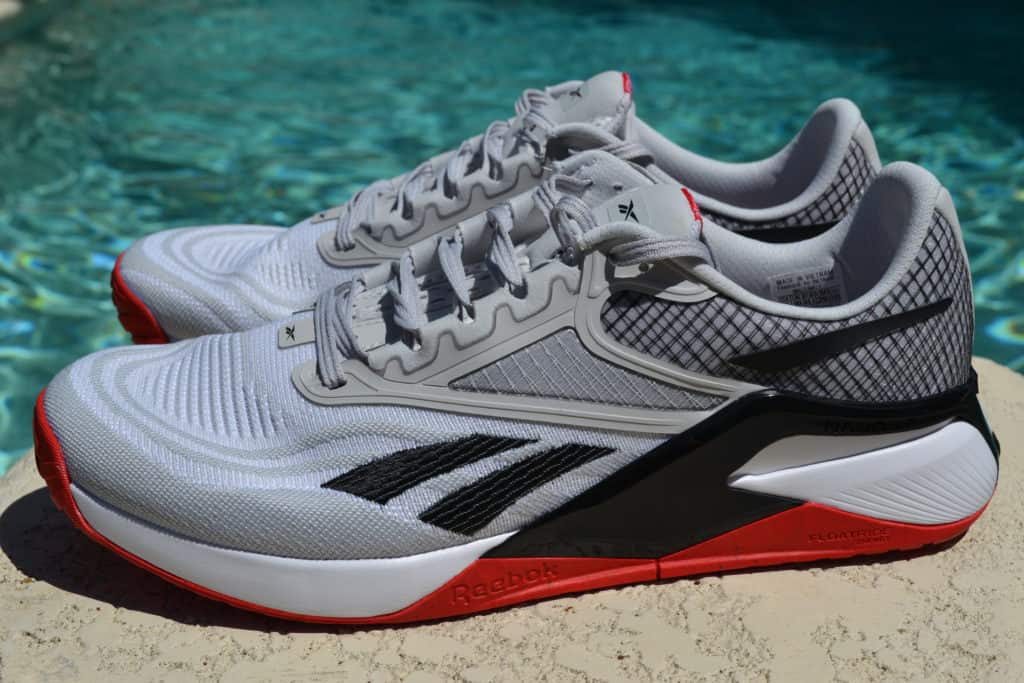 Overall this is an evolution of the X1.
This shoe is meant to be a versatile cross training shoe.
That means you can lift heavy weights, and do activities that require cushion – like running, jogging, or jumping.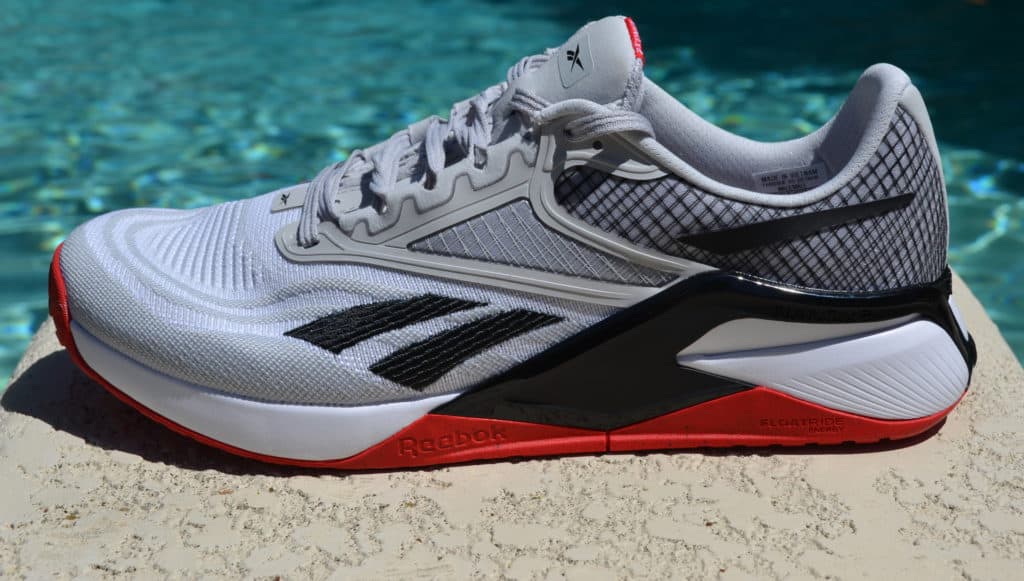 That's the basic definition of a cross training shoe. What is a cross training shoe? It's a shoe that you can use for more than one kind of workout.
How do you make such a versatile shoe? Well – you have to make some compromises – and we'll talk about that. But realize that every cross trainer is compromises.
First of all, let's talk about cushioning. The new Nano X2 line uses Reebok's Floatride Energy cushion. It's more cushion than has been there in the past – that's good for running and jumping – or walking all day – to be honest.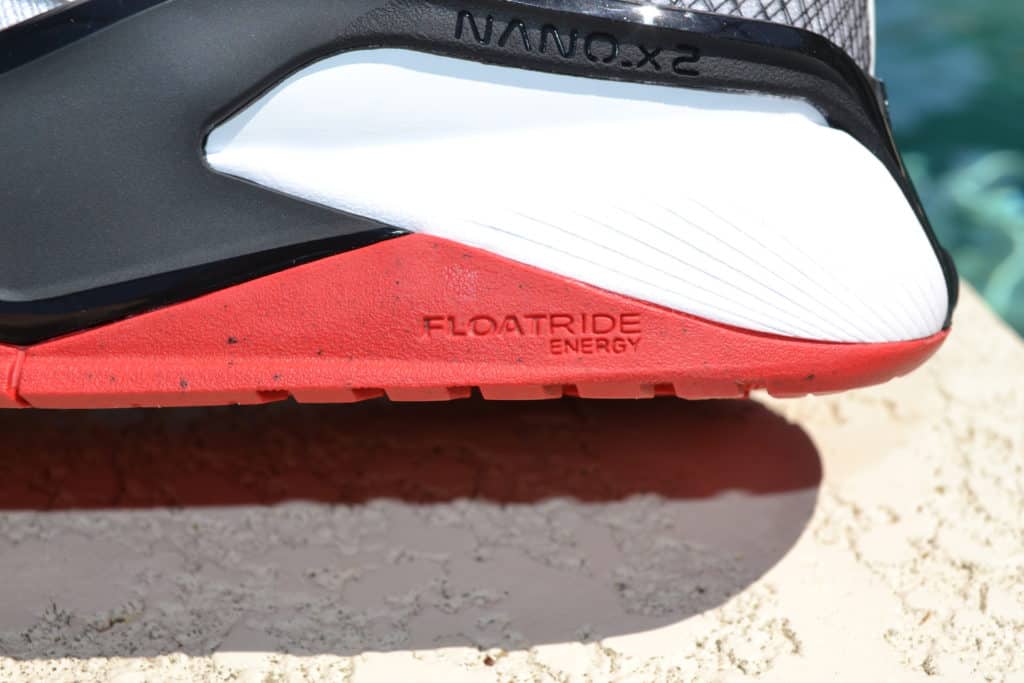 Here's another things joggers and runners want – they want heel to toe drop. Why? Because there is mechanical advantage when your heel is slightly elevated above your toes – especially for distance and endurance.
Think about it – what's the heel to toe drop (or just "drop") on your purpose-built running shoes? Probably 10mm – maybe even more!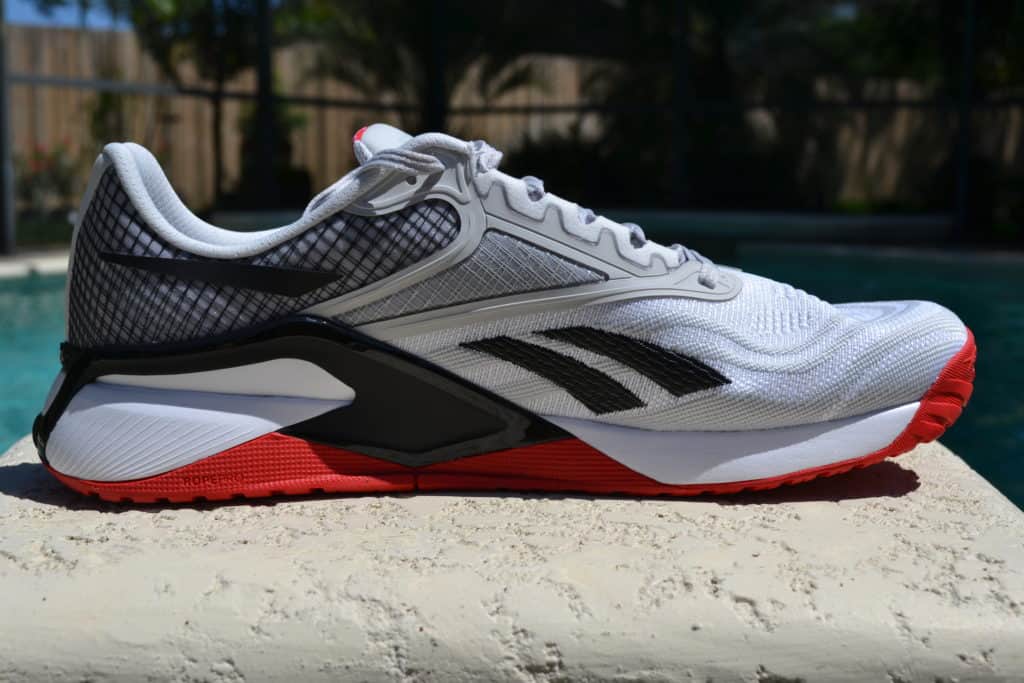 The Nano X2 comes in at about 7mm – just like the X1 had – but more than the 4mm of the Nano X.
It's lesser drop than a traditional running shoe because that's what CrossFitters want – the lesser drop makes it good for heavy deadlifts and other things too.
Isn't a lot of drop helpful for deep squats – yep – but we've got to make some tradeoffs here – so I'd call this a "medium drop" shoe.
The next thing is grip and traction – and this shoe is not a trail runner so you get an all-rubber outsole that's flat (less stack height) and will maximize traction on the concrete gym floor through maxium surface area.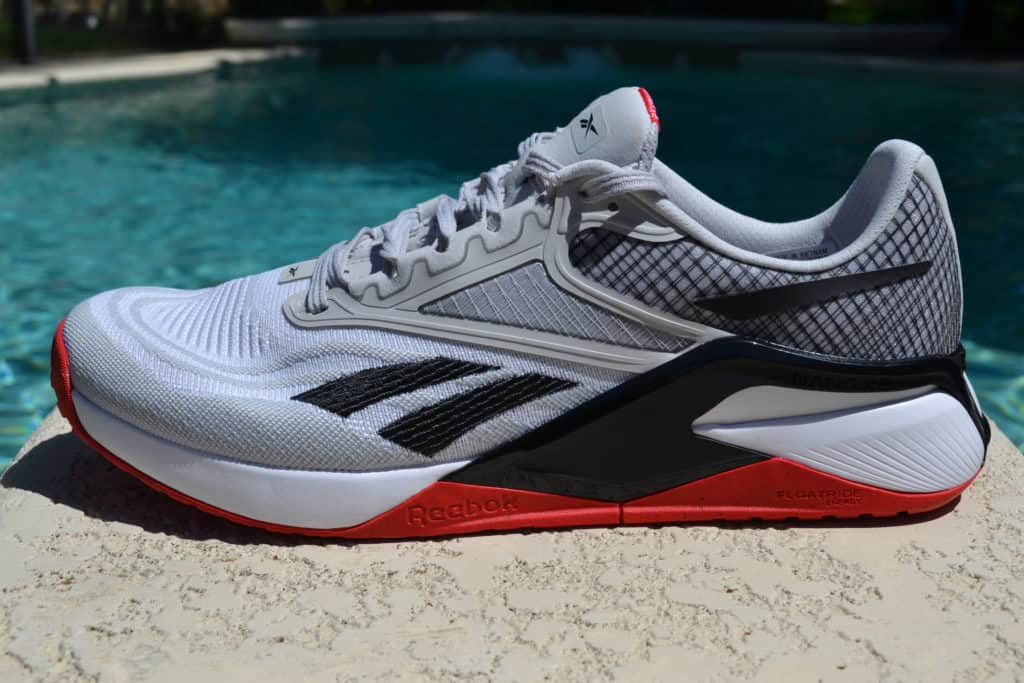 Cross trainers need to be tough as nails too – because they are subjected to stresses that other shoes just don't get.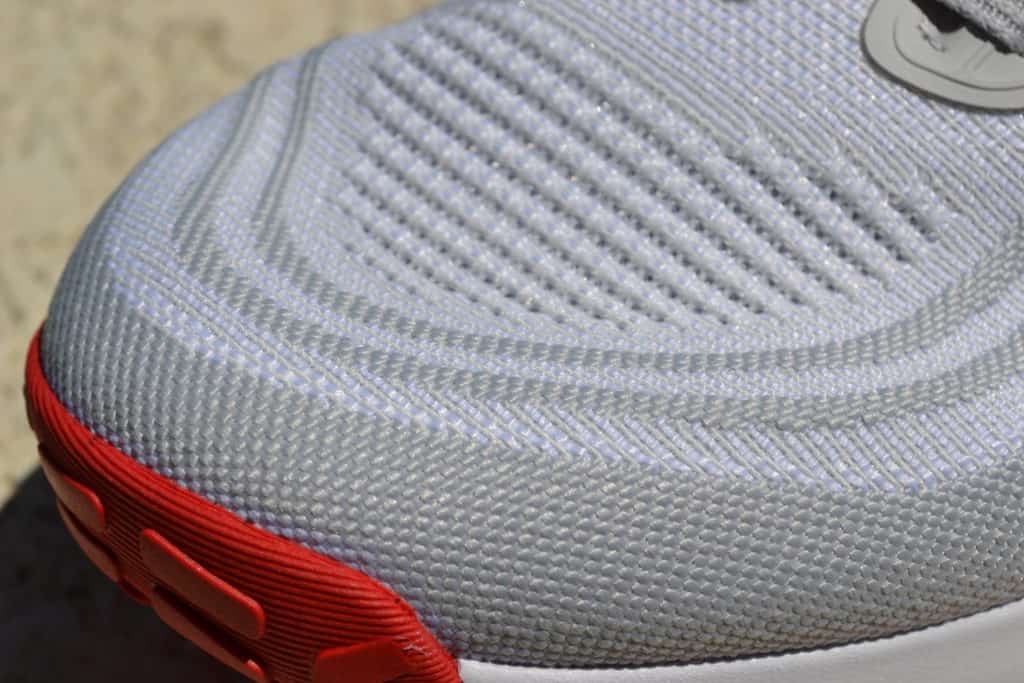 All those crazy CrossFit activities – burpees, jogging, jumping rope, and rope climbing will put stress and abrasion on the upper and sides of the shoe.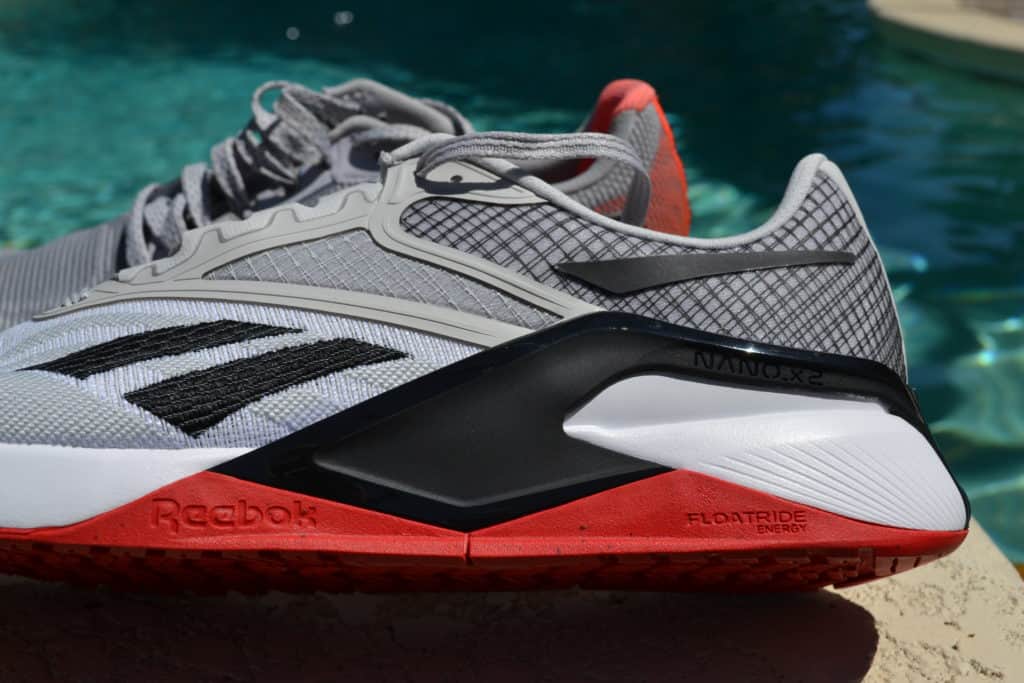 Therefore cross trainers tend to be heavy – because they are built like tanks. They have to be – otherwise they'd not last long.
This makes the cross trainer less desirable for LONG DISTANCE running – but plenty fine for heavy weights in the gym (like barbell lifts). Think about it – an Oly lifter like the Nike Romaleos 4 is VERY heavy – but it doesn't matter – it does it's job well.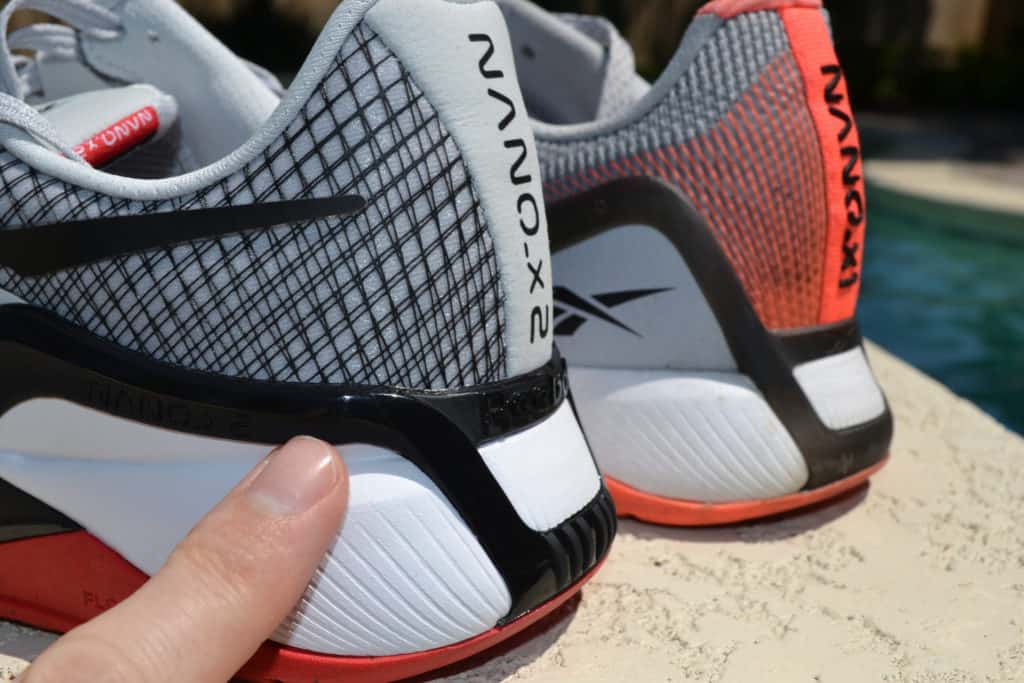 Given all those things, Reebok has done a good job of giving us a CrossFit shoe option that can lift weights and has some cushion. With more cushion and more drop than the main competitor (The Nike Metcon 7 – which we've reviewed this gives us a great option.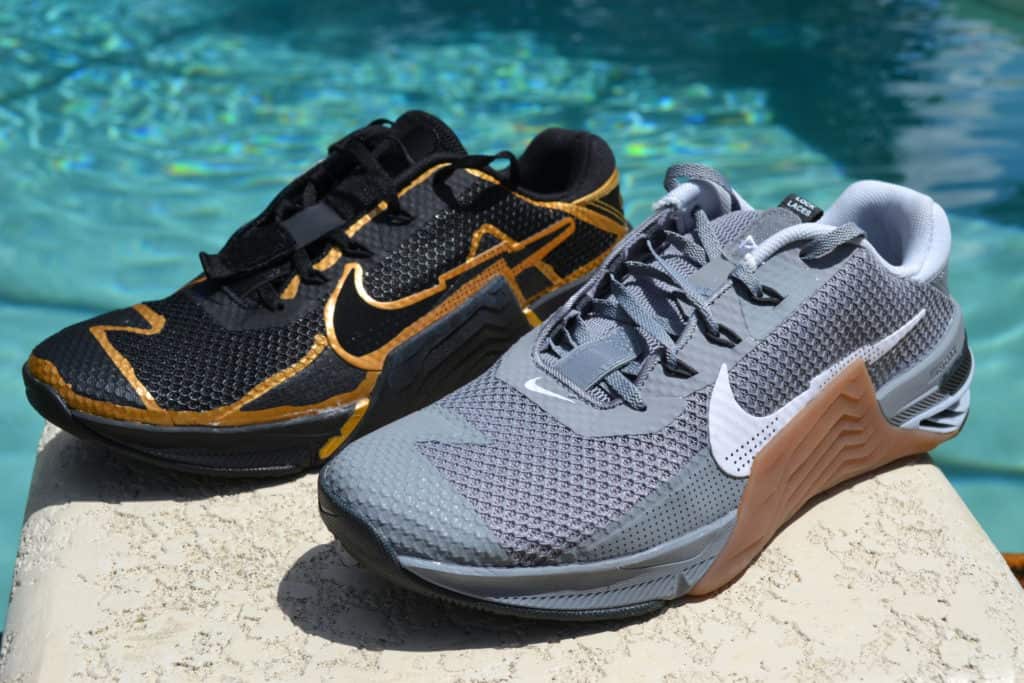 How about fit? I say true to size.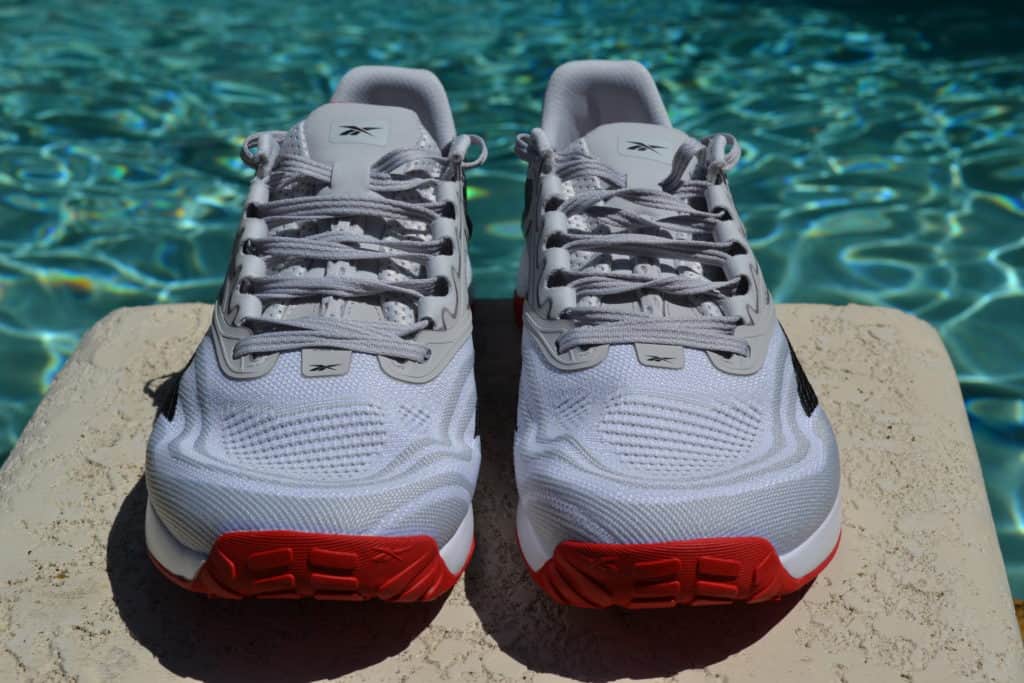 Isn't nice to walk (or stand) all day in a shoe and be able to lift heavy in the gym? You bet it is.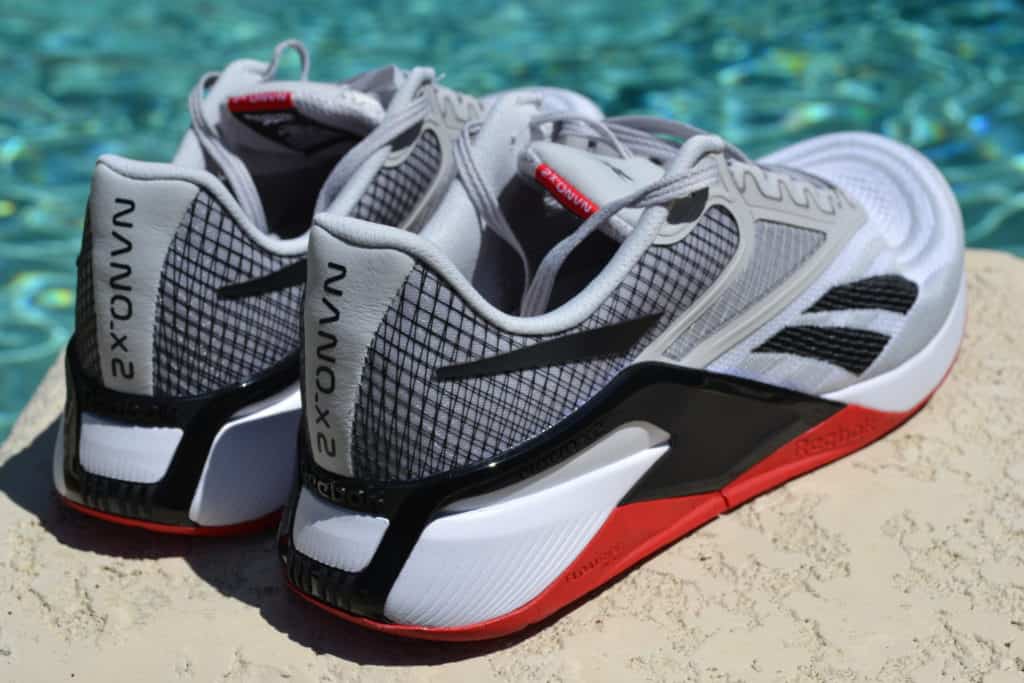 Reebok Nano X2 – The Problems with the X1 that they fixed.
What did I NOT like about the X1?
The X1 looked cheaply built. Lots of visible glue. The "knit" upper looked cheap. The letters fell off the back – they were glued on.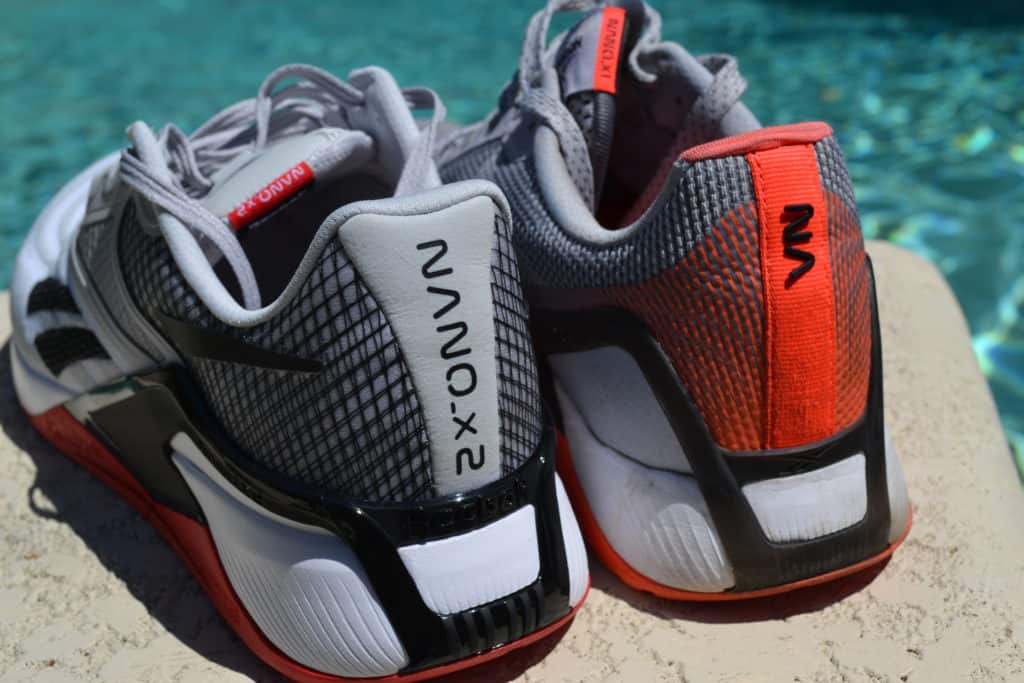 The X1 had a weak, narrow tongue. Now the X2 does not.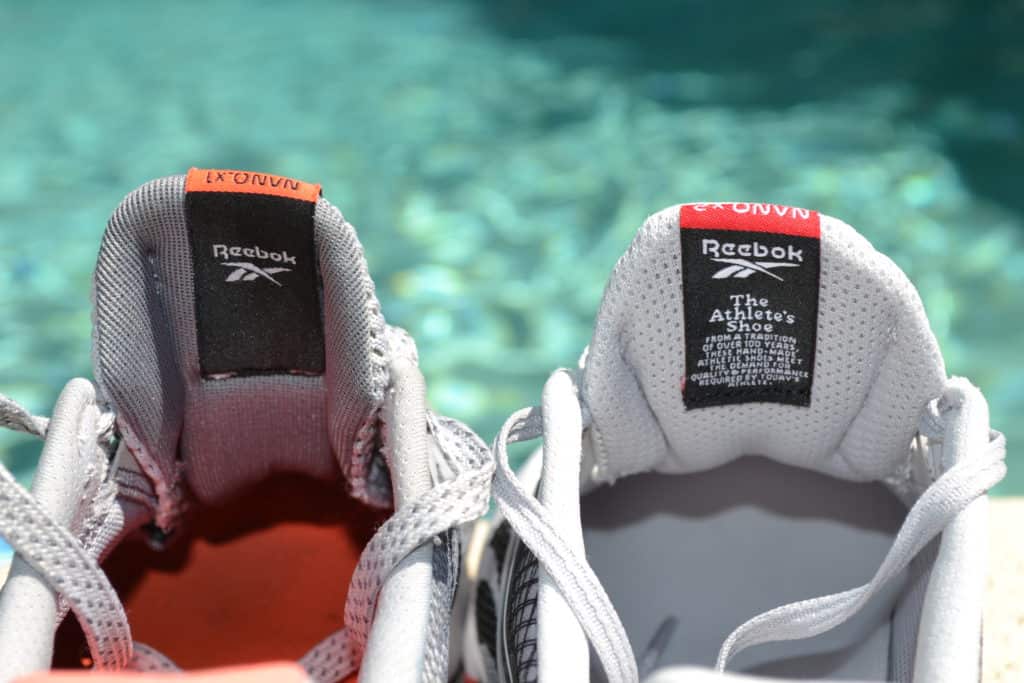 Overall, the build quality is good for a shoe that is going to be in the $135 dollar range (that's about $5 more than the X1).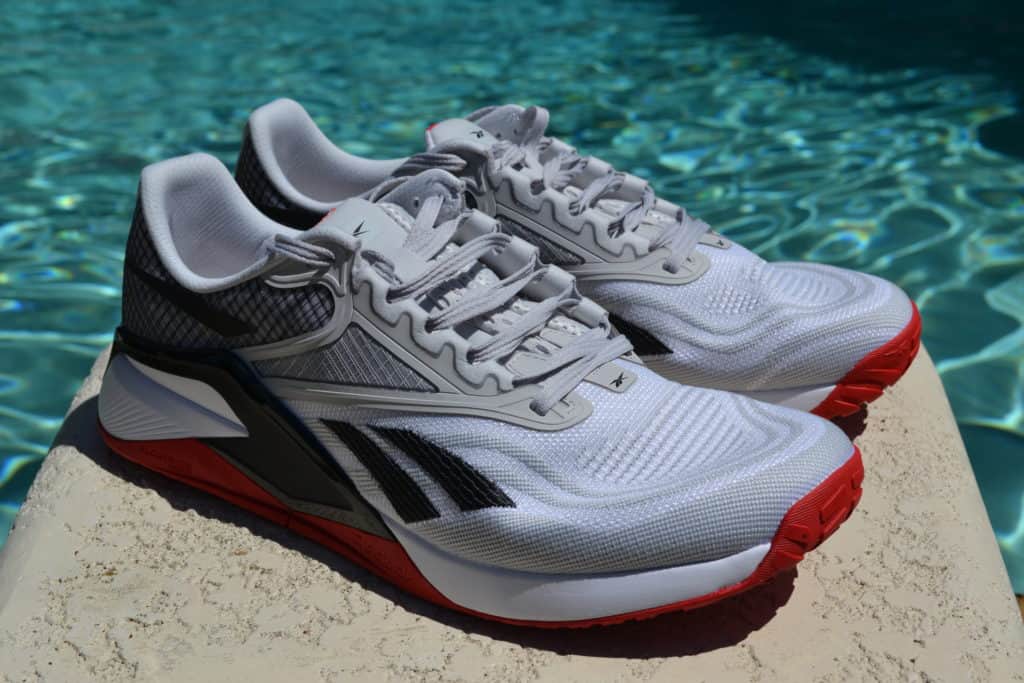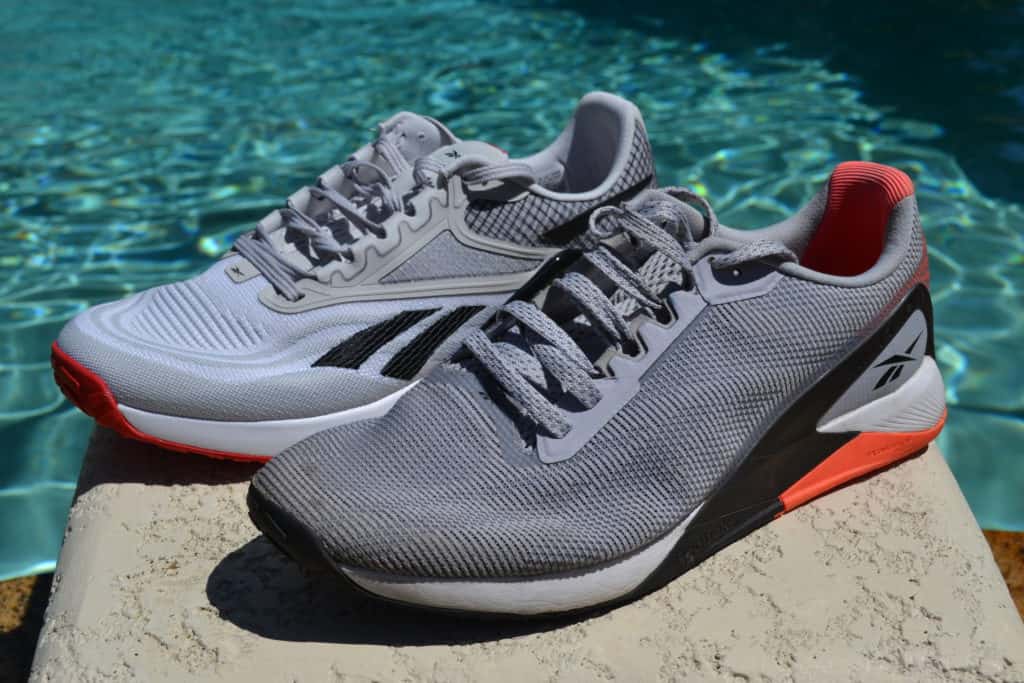 Ok, so what's the ONE THING they didn't fix?
The heel cup / Achilles pad has a very aggressive curve to it.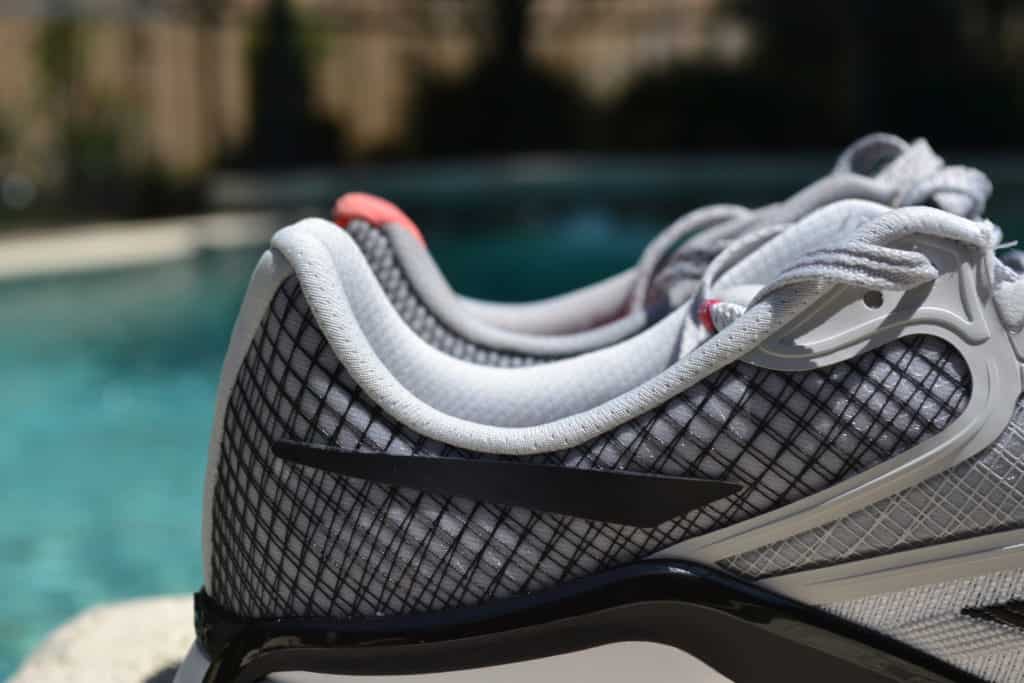 It can bite into the soft skin on the backside of your ankle – somewhere that doesn't normally get abrasion.
Don't be surprised if you end up with a blister or abrasion the first time you go long on wearing these.
It softens up and breaks in over time , but would be nice if this wasn't an issue to begin with.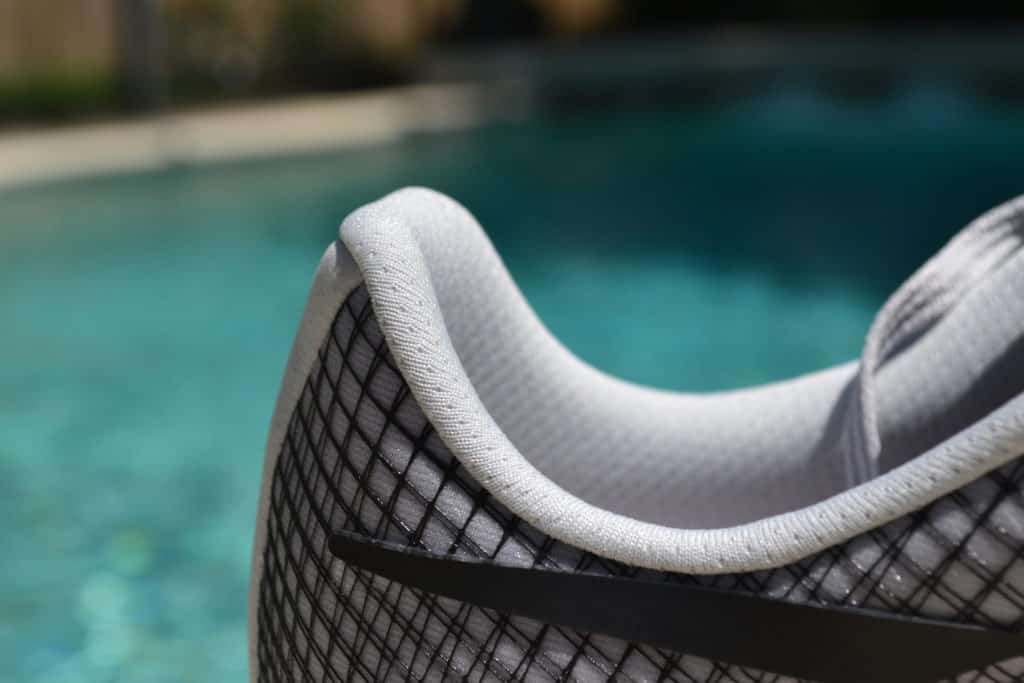 Reebok Nano X2 Versus Reebok Nano X
The Reebok Nano X is going to go down in history as a classic CrossFit training shoe. Why? Just read what we like when we reviewed the Nano X.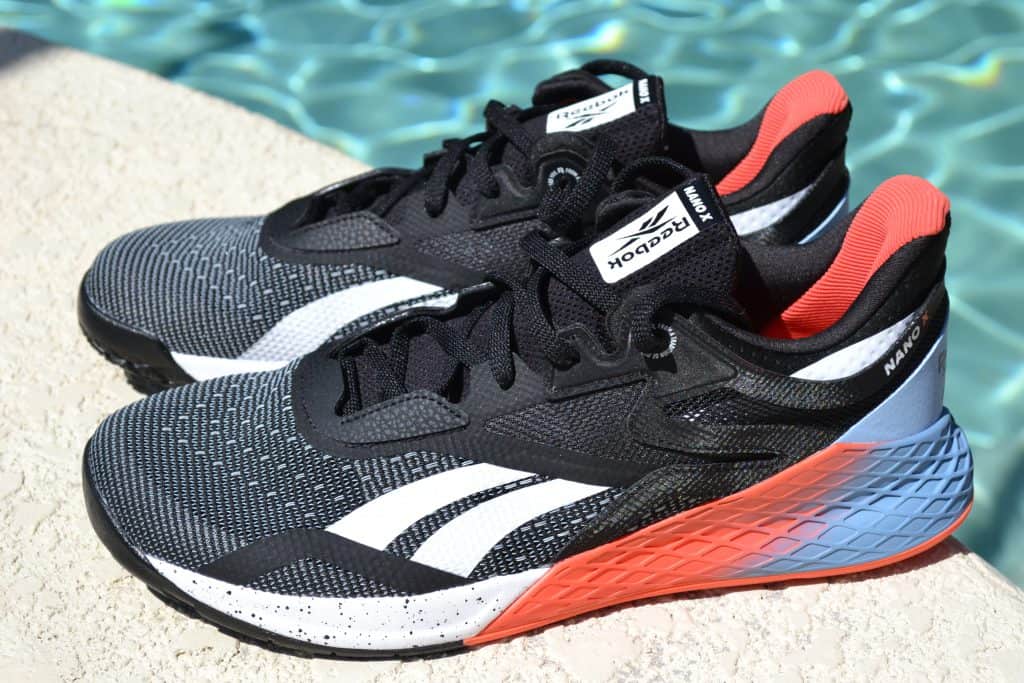 Maybe best of all – you can still get it – brand new – from Reebok.
How does the Nano X2 compare to the Nano X?
We'll direct you to this article: Nano X1 Versus Nano X – given that the X2 is an evolutionary iteration all those things still apply.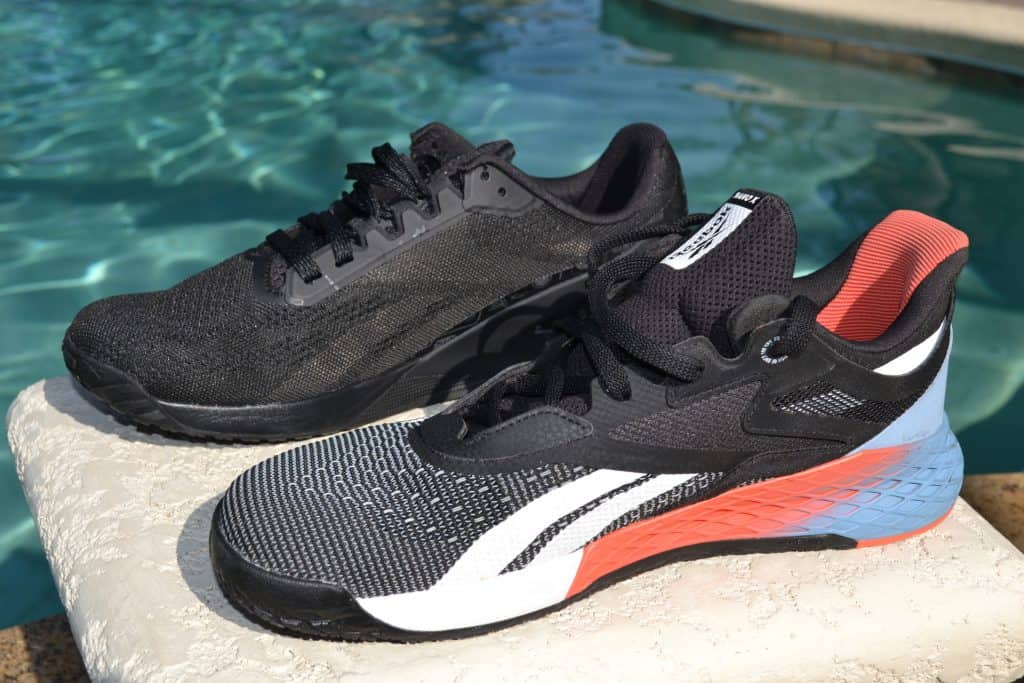 Reebok Nano X2 Tour of Features
The Nano X2 is now furnished with Floatride Energy Foam for a responsive underfoot feel. It has a revised softer heel clip for improved stability and a sharper look, and the new Flexweave knit upper boosts protection and breathability.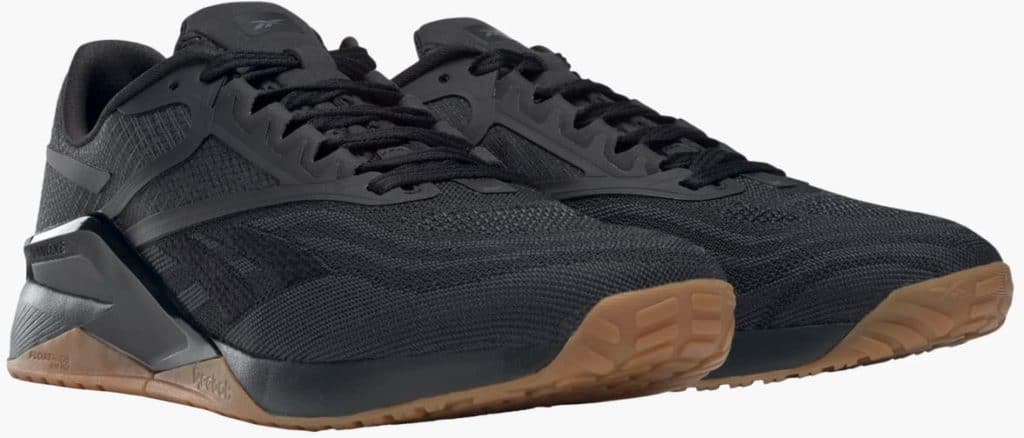 This shoe is made for exercises from squats to box jumps and burpees to wind sprints. It is a cross-training and weightlifting shoe that features a durable rubber outsole with a strategic lug pattern that offers dependable traction. It also has Reebok's ROPEPRO quality in the outsole midfoot that adds bite for rope climbs.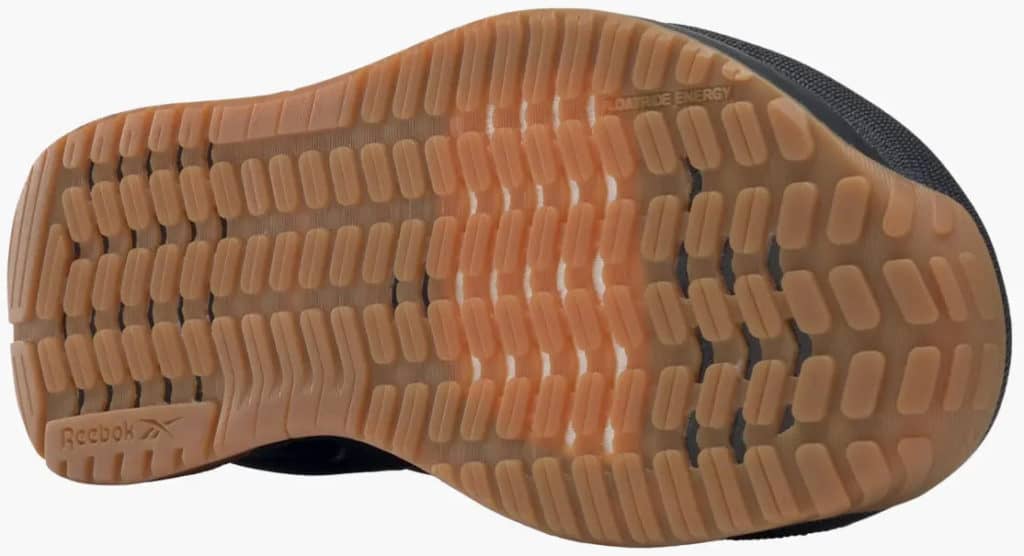 The new attributes and colorways of the X2 edition are integrated with classic Nano performance and style, making it durable and versatile. It has a firm foundation with a broad, anatomical toe box and a comfortable collar for an all-day locked-in feel.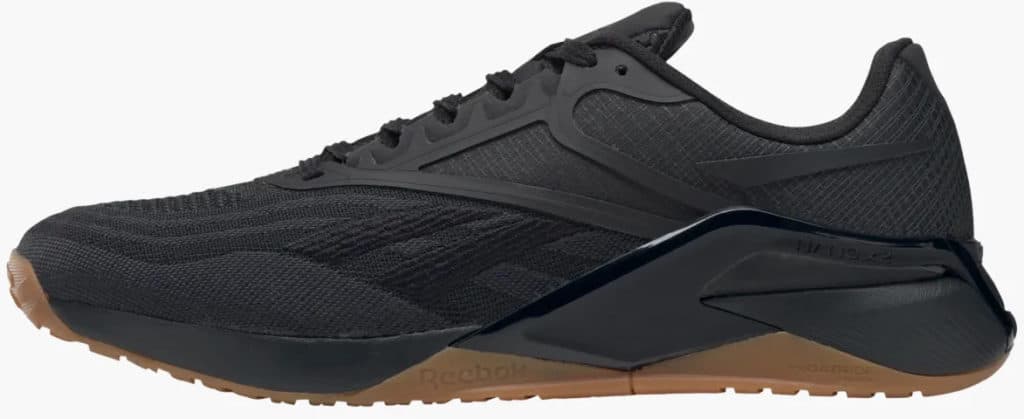 Take your training to the next level with the Reebok Nano X2. It is a cross-training shoe that will fit your routine with its improved upper, lower heel clip, softer heel, and cushioned forefoot. It is available for men and women and comes in Ftwr White/Core Black/Pure Gray.
Reebok Nano X2 Review – In Summary
That's our in-depth review of the new Reebok Nano X2 CrossFit shoe.
Overall, I approve – the Reebok Nano X2 has fixed many of the deficiencies of the previous model (the X1).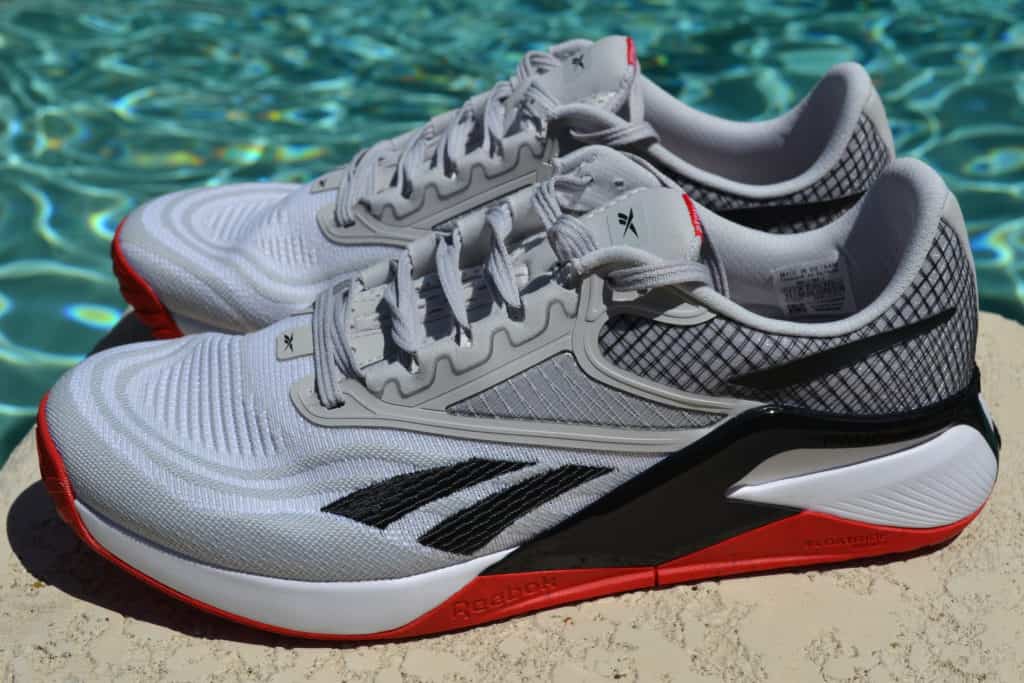 I just wish they'd take out the aggressive curve of the heel cup / achilles pad – it can rub on a place that doesn't get rubbed often – which means blisters and pain – at least until it breaks in.
Looking for more options? Check out these other great products:
Want less drop and less cushion? In that case the Nike Metcon 7 is probably the right shoe for you.
The Reebok Nano X1 is still available – check out these Reebok Nano X1 – Newest Styles.
How is the Nano X series different from the previous shoes? Check out our article on Reebok Nano X Differences.
Find more CrossFit shoes from Reebok.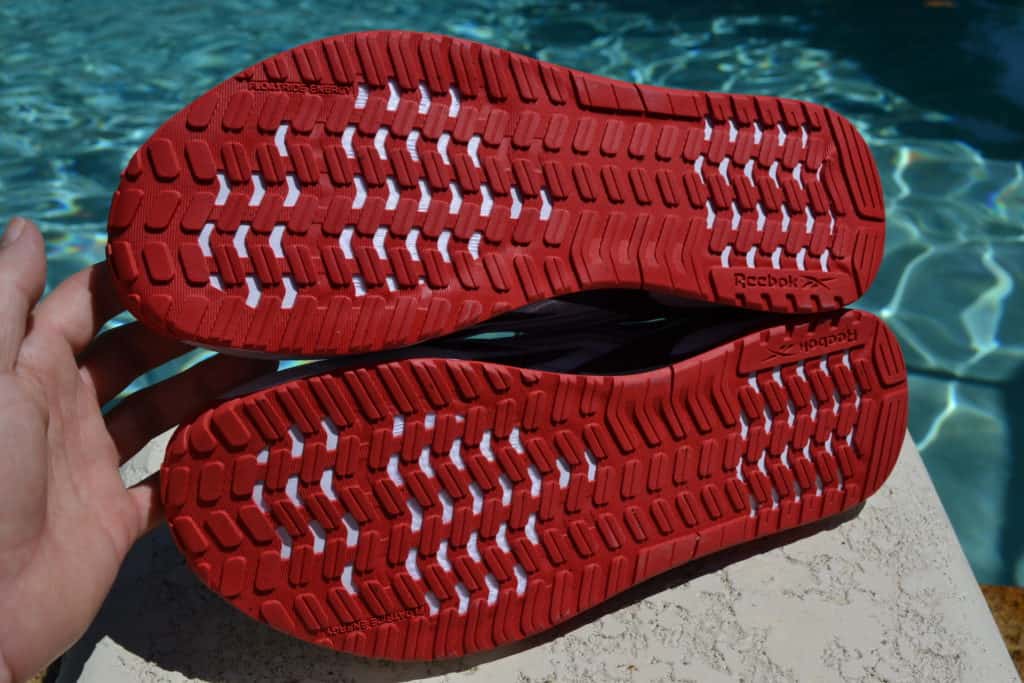 Photo Credits
Product photos on this page are property of Reebok.
This website is not affiliated or associated with CrossFit, Inc. CrossFit is a registered trademark of CrossFit, Inc.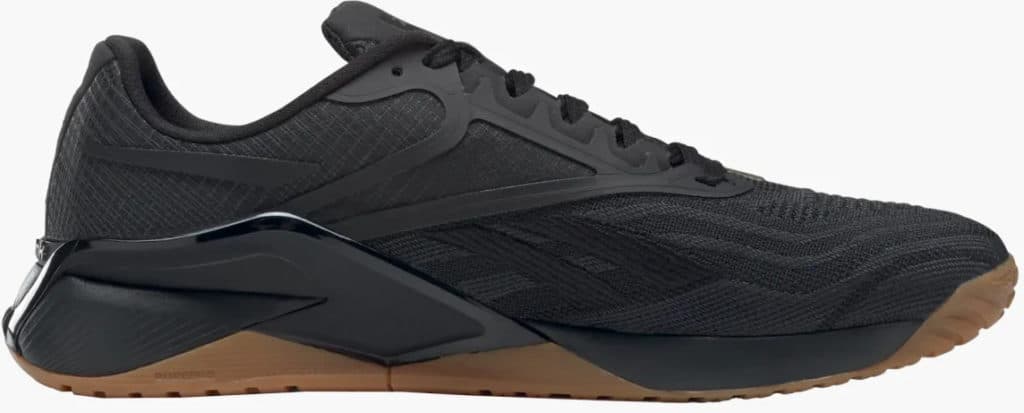 Affiliate Disclaimer
We are an affiliate of Rogue and others that sell this training gear. If you buy clothing or other training gear after clicking the links in this article, we receive a small commission at no extra cost to you. This helps us to bring you in-depth information and content on these great training products.
Tim is the founder of FitAtMidlife.com – an avid gym rat for 30+ years, he's a reviewer of many, many shoes – and founder of the Speed Bag Gathering – the world's only gathering of speed bag punching enthusiasts.  See more gym reviews at Tim's YouTube channel.