Rep's new Safety Squat Bar is now available.
The Safety Squat Bar (SSB) is a great all-purpose specialty bar that delivers extensive benefits in gaining strength, injury prevention, and upper extremity protection. It is a great training tool for those working through injuries or with mobility constraints. It is safe and comfortable while making you strong and improving your squatting technique.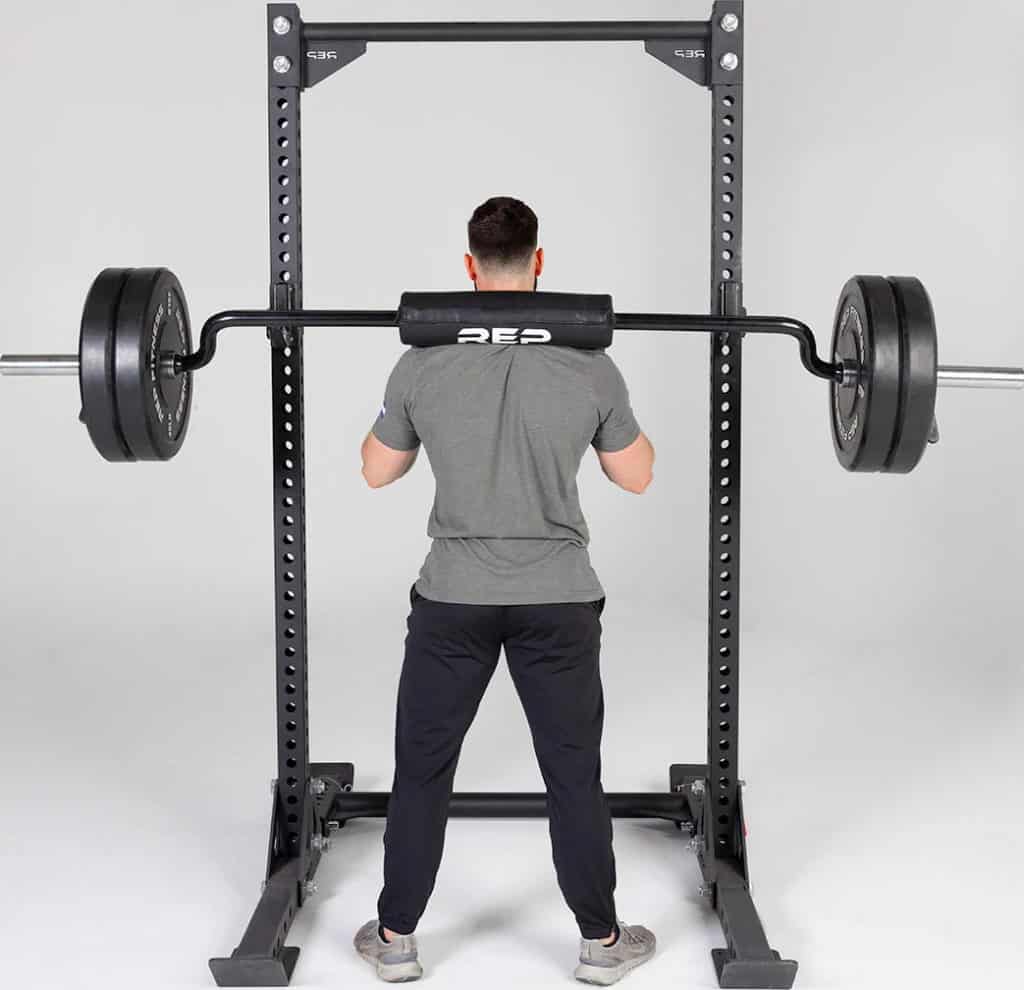 Get it now, from Rep Fitness:
Safety Squat Bar from Rep Fitness – Overview
The Safety Squat Bar is a top-notch specialty barbell that offers comfort and training diversity. It is exceptionally versatile and functional, highlighting bulky, fully knurled handles that you can unfasten for more training possibilities and, finally, more handle options. Because the cambered ends disperse the weight differently than a traditional barbell, you are compelled to stay upright during squats, enhancing technique and demanding more upper back and core stabilization.
It has a metallic black powder coat making it look good in any setting with its striking two-toned design. The SSB is compatible with 2" Olympic-sized plates and standard barbell collars. This barbell weighs more than a traditional bar (68lbs) and has a static rating of 1,500lbs. The hard chrome sleeves use superior material known for their durability and protection while sliding plates on and off the bar.
The SSB has a standard 2″ diameter, so there is no need to invest in specialty collars. The sturdy handles are completely knurled to deliver a comfortable feel and secure grip while you lift. The SSB is designed to be rackable on the standard 47" width of Rep's racks, as well as racks with up to a 49" width.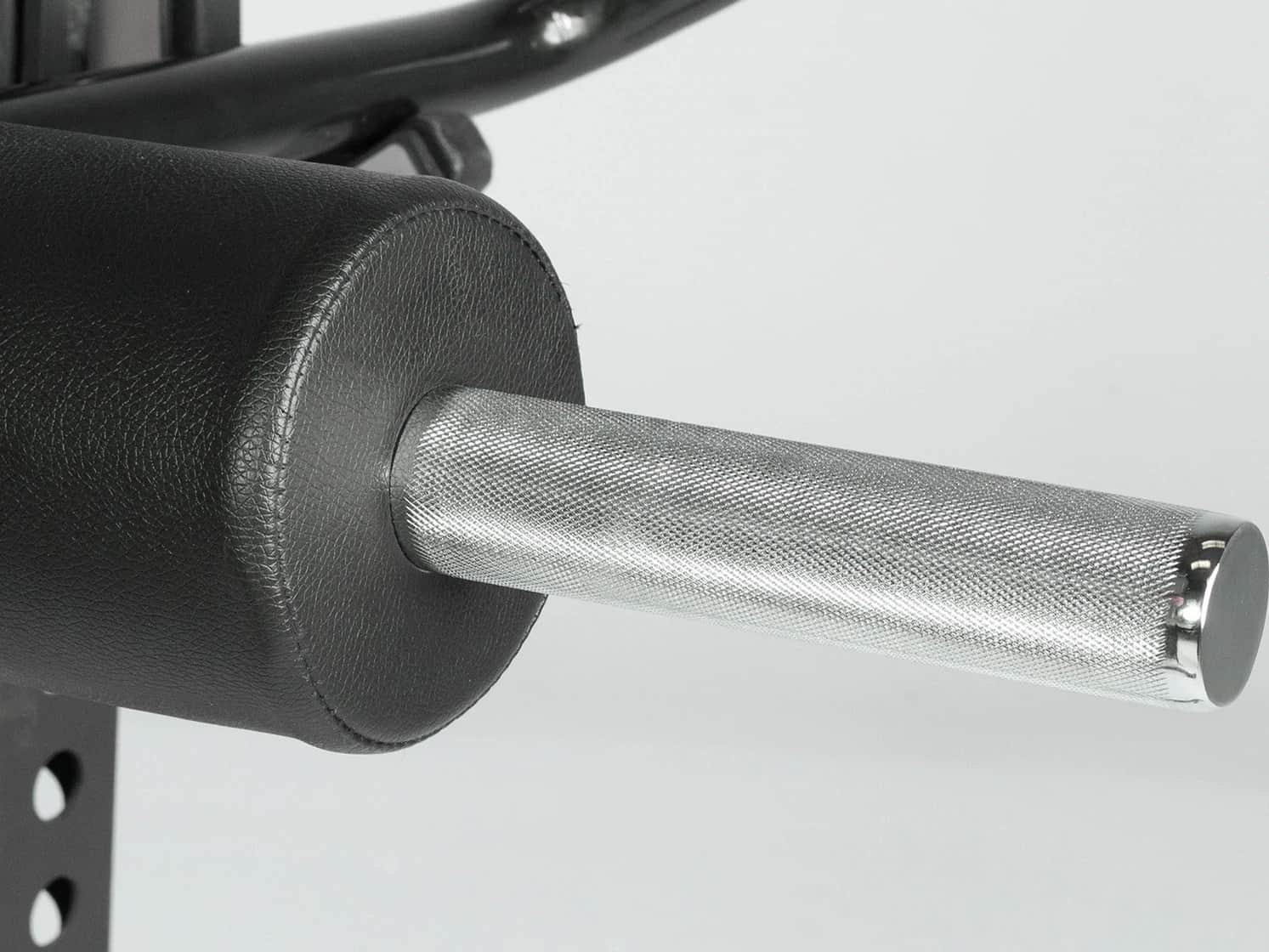 Safety Squat Bar from Rep Fitness – In Summary
That's our close-up look at Safety Squat Bar from Rep Fitness.
The Safety Squat Bar helps your training more than any other specialty bar. It lets you squat with an upright posture while providing comfort on your shoulders and reducing your risk of injury during training. Rep Fitness offers a limited lifetime warranty for the bar and a 1-year warranty for the pad.
Looking for more options? Check out these other great products:
Get some great Rep Fitness Bumper Plates for that Safety Squat Bar.
Or check out this equipment – the New Cambered Swiss Bar from Rep makes your workouts easier on your joints.
More garage gym gear from Rep Fitness.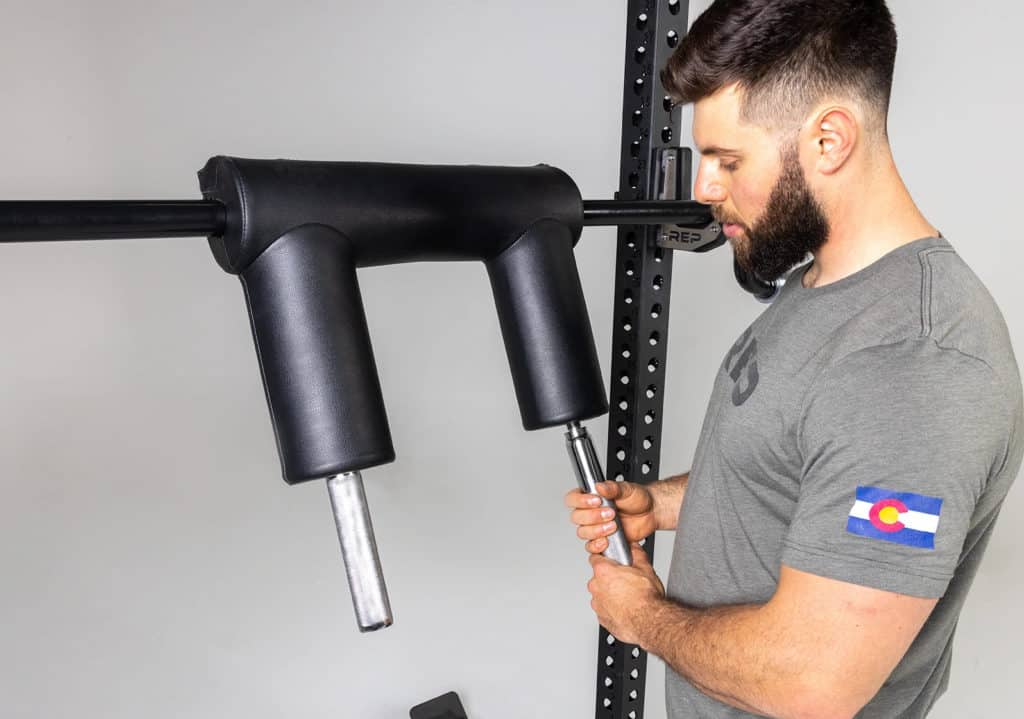 Photo Credits
Product photos on this page are property of Rep Fitness.
This website is not affiliated or associated with CrossFit, Inc. CrossFit is a registered trademark of CrossFit, Inc.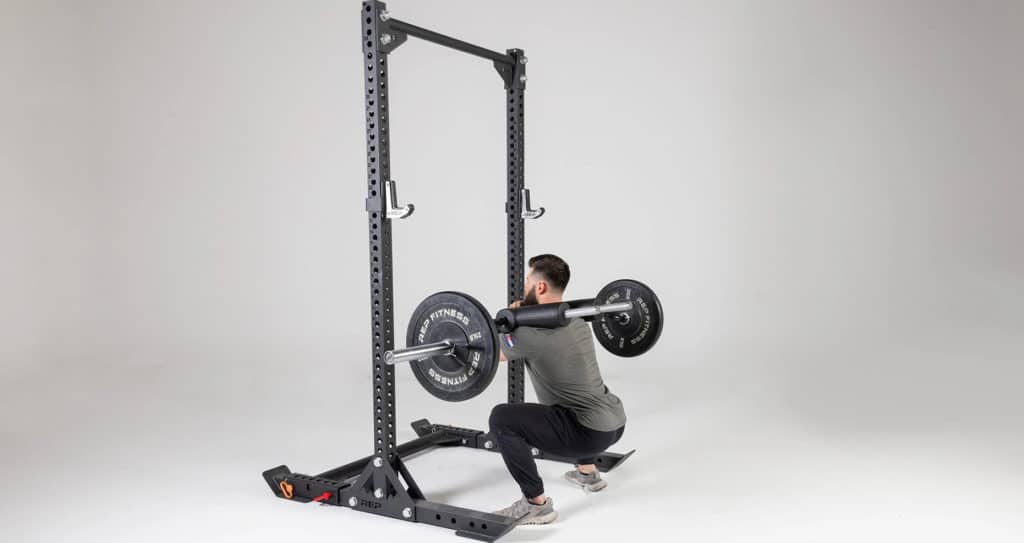 Affiliate Disclaimer
We are an affiliate of Rep Fitness and others that sell this training gear. If you buy clothing or other training gear after clicking the links in this article, we receive a small commission at no extra cost to you. This helps us to bring you in-depth information and content on these great training products.
Tim is the founder of FitAtMidlife.com – an avid gym rat for 30+ years, he's a reviewer of many, many shoes – and founder of the Speed Bag Gathering – the world's only gathering of speed bag punching enthusiasts.  See more gym reviews at Tim's YouTube channel.