Rogue has the red-hot
Echo Bike
. Grab one while they last!
Let's take a look at the new Rogue Ohio Power Bar Aggro.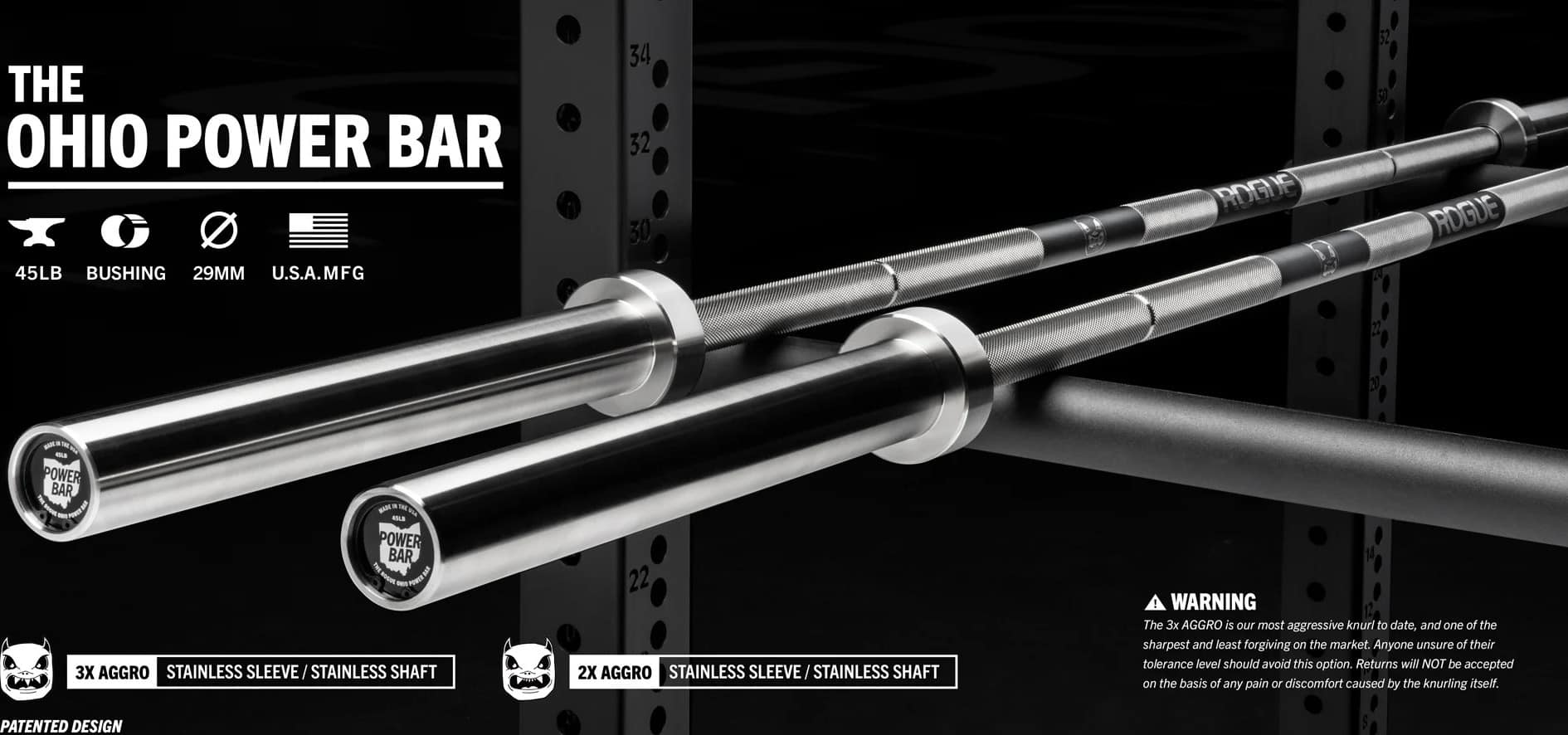 When it comes to strength training, nothing comes close to the effectiveness and efficiency of the barbell in increasing strength, power, and muscular mass. Barbell knurling is the crosshatch design on the shaft of Olympic Barbells to enhance resistance between your hands and the bar, which improves grip. The aggressive knurling is sharper, deeper, and rougher than weightlifting bars and is used to improve grip on heavy lifts, especially deadlifts.
Here's some of the options you can order now. Please note there are 3 levels of knurl:
Rogue Ohio Power Bar Aggro – Overview
Rogue intensified the depth and coarseness of the Ohio Power Bar knurling without forfeiting the knurl geometry that Rogue is known for. The tooling has been mainly created to have a remarkably repeatable knurl with a more dynamic feel that looks as great as it grips. It uses stainless steel that offers exceptional oxidation resistance. The shaft and sleeves of the AGGRO bars are left uncoated to give you the authentic feel of the extra aggressive knurl.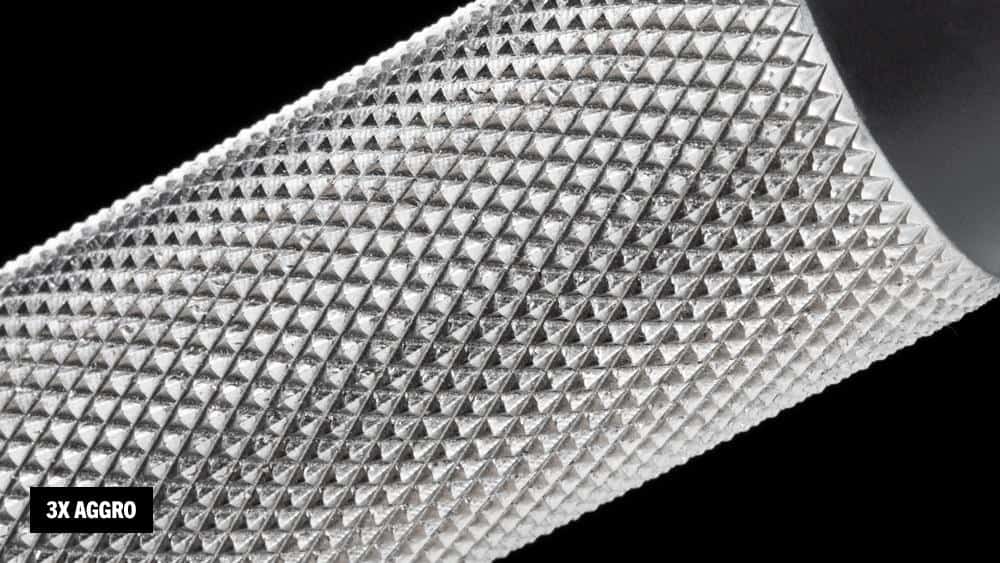 The AGGRO Ohio Power Bar's 29MM diameter stainless steel shaft has a tensile strength of 200,000 PSI that delivers excellent harshness and practically zero whips/flex. The bar is manufactured and assembled in Columbus, Ohio, and highlights a snap-ring design and quality bronze bushings for a smooth, steady feel. The Cerakote branding is included on both sides of the center knurl in a unique "photonegative" stencil style, with black Cerakote emphasizing designs from stainless steel.

The bar comes in two designs of 2x AGGRO or 3x AGGRO. The Rogue logo is accentuated on one side, while the other carries the AGGRO Monster, with his number of teeth showing the aggressiveness of the knurl. Please note that the 3x is NOT meant for anyone uncertain about their preferences or pain threshold. (All bars include a center knurl). Rogue's Lifetime Warranty backs the quality construction of the AGGRO Ohio Power Bar against bending.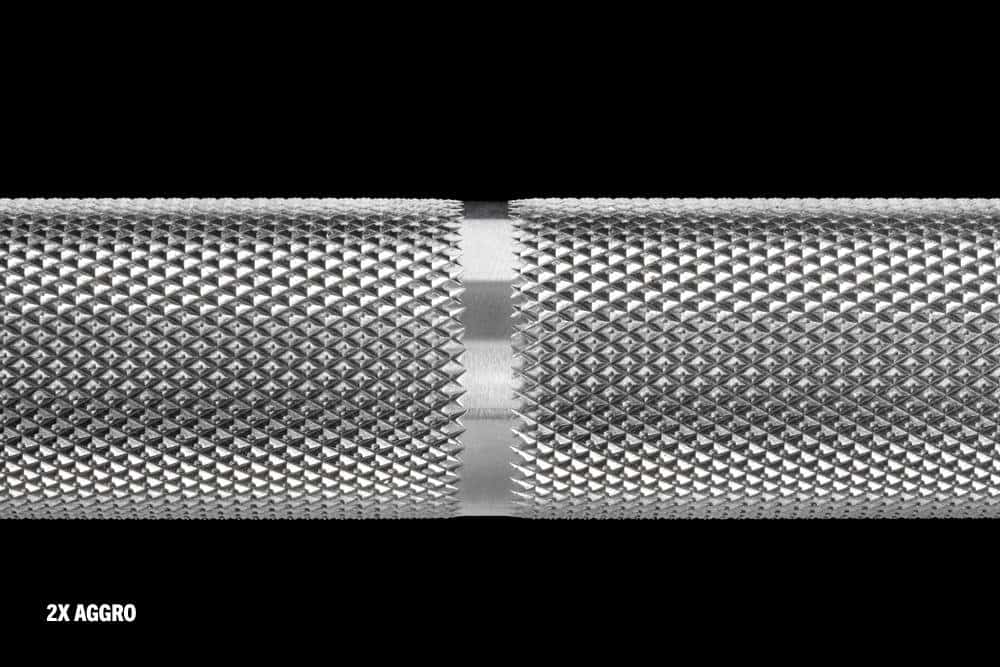 Rogue Ohio Power Bar Aggro – In Summary
That's our close-up look at Rogue Ohio Power Bar Aggro.
The AGGRO™ adaptations of Rogue's 45LB Ohio Power Bar are created for lifters who want a more aggressive knurl than the standard model. There are two options – 2x AGGRO and 3x AGGRO, each using advanced precision tooling to refurbish the geometry of the original knurl pattern with extra depth and more prominent peaks. It comes with Rogue's Lifetime Warranty against bending but does not cover damage due to the user's careless or incorrect use, alteration, maintenance, storage, or handling.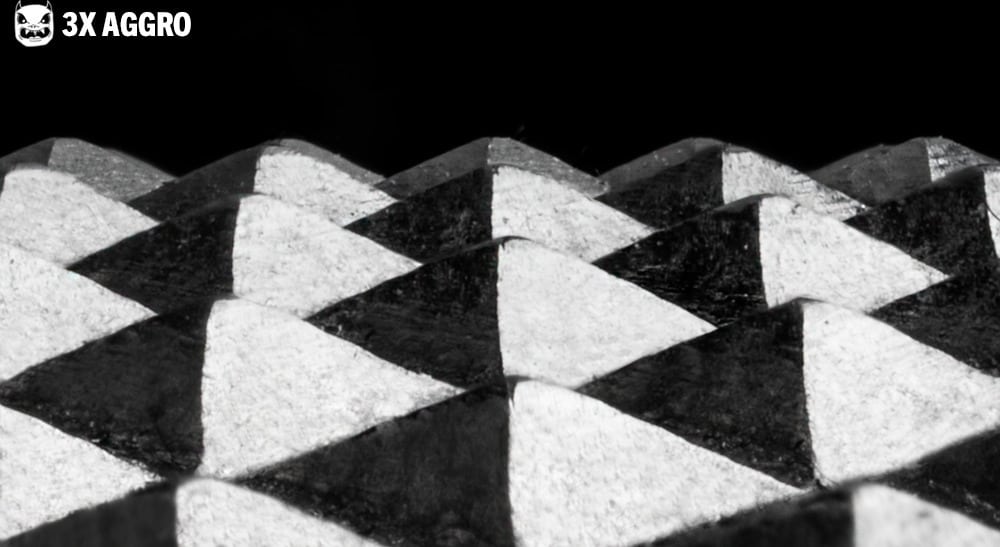 Photo Credits
Product photos on this page are property of Rogue.
This website is not affiliated or associated with CrossFit, Inc. CrossFit is a registered trademark of CrossFit, Inc.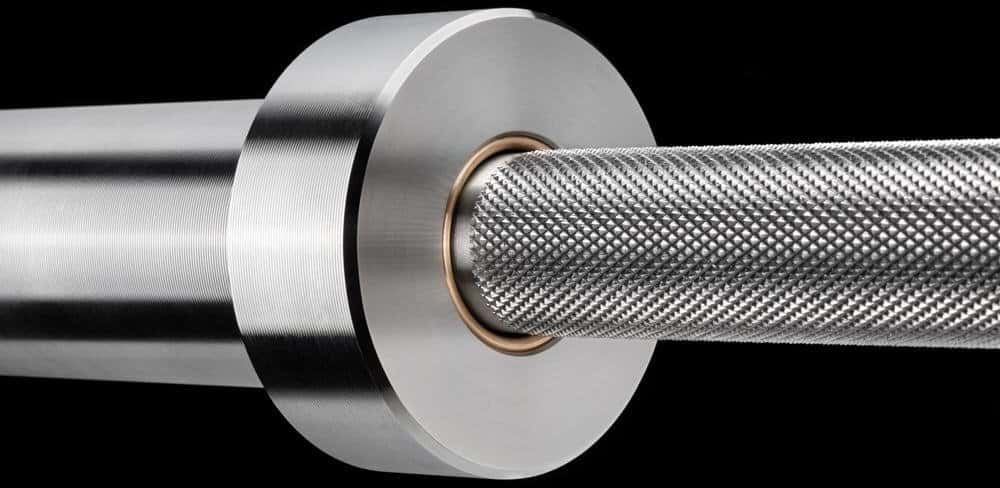 Affiliate Disclaimer
We are an affiliate of Rogue and others that sell this training gear. If you buy clothing or other training gear after clicking the links in this article, we receive a small commission at no extra cost to you. This helps us to bring you in-depth information and content on these great training products.
Tim is the founder of FitAtMidlife.com – an avid gym rat for 30+ years, he's a reviewer of many, many shoes – and founder of the Speed Bag Gathering – the world's only gathering of speed bag punching enthusiasts.  See more gym reviews at Tim's YouTube channel.