Bumper plates are the most versatile Olympic sized plates you can use in your home gym or garage gym.
These plates are made from rubber (or other materials) that allow you to safely drop them from overhead.
They are quiet, durable, and can be used for the slow strength lifts – but they are a necessity for the quick Olympic lifts.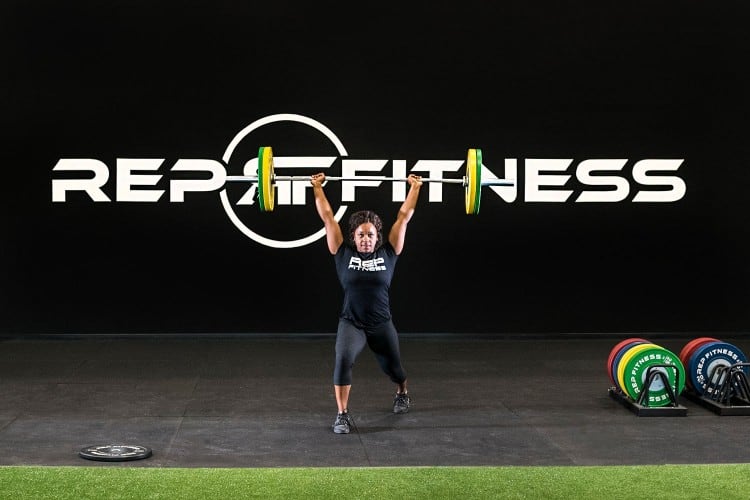 If you are interested in the Oly lifting – you need bumper plates.
It's simply too much hassle to have to lower steel plates under control – it's a waste of energy.
Given that, we recommend bumper plates for your garage gym.
The downside is that bumper plates are significantly more expensive than steel plates – and harder to find.
Finding quality plates locally can be tough – but there are plenty of options on-line.
Rep Fitness has a range of bumper plate options – and we'll look at those in this article.
Here's the high quality bumper plates from Rep Fitness we'll review in this article:
Let's take a closer look at these great plates from Rep.
Black Bumper Plates from Rep Fitness
Rep Fitness has a "house brand" of simple bumper plates known as the Rep Black Bumper Plates.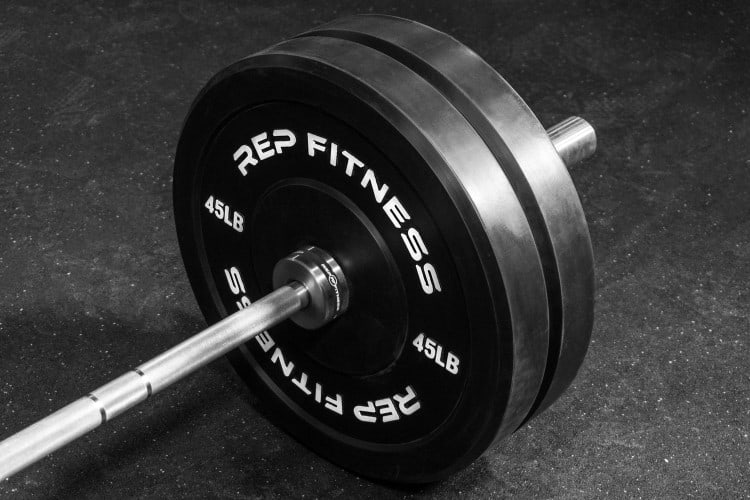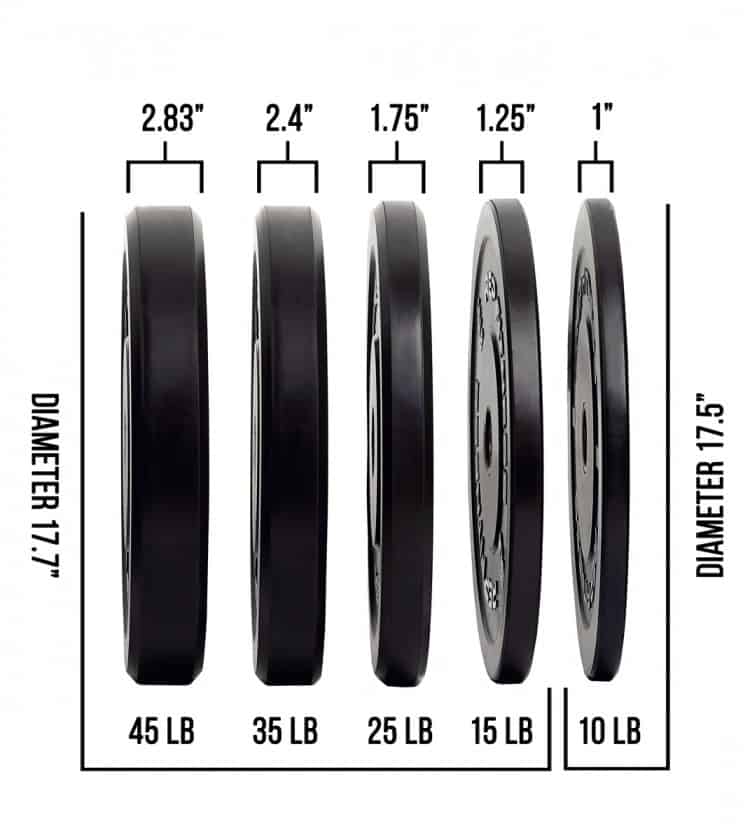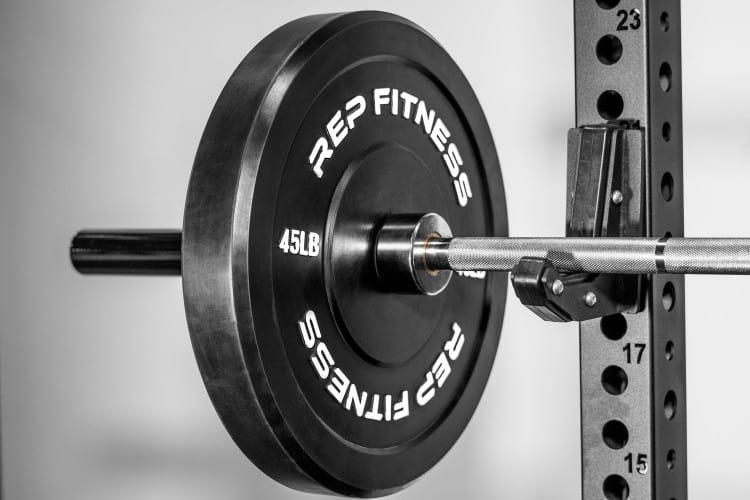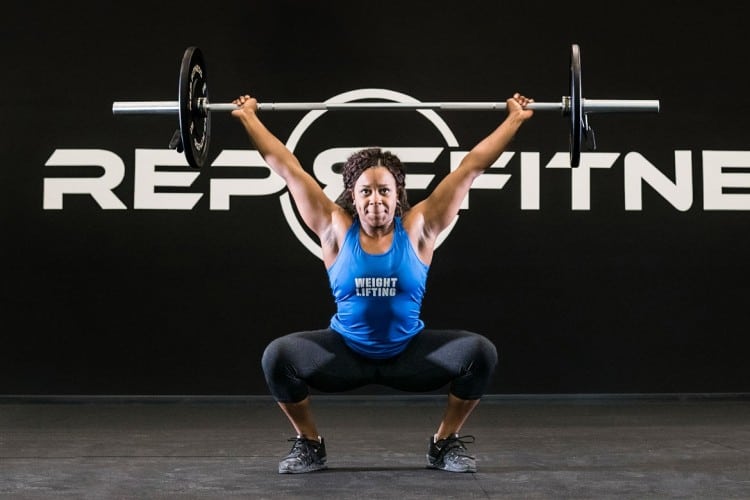 All black plates are kind of boring, so let's move on.
Color Bumper Plates from Rep Fitness
Liven things up with Rep Color Bump Plates.
These are color coded: Red = 55 lbs, Blue = 45 lbs, Yellow = 35 lbs, Green = 25 lbs, and Gray = 10 lbs.
Never misload a barbell again.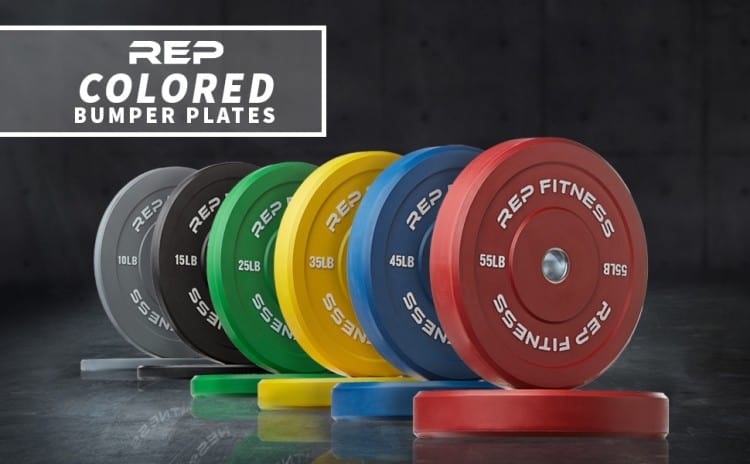 But really, these look a lot nicer too.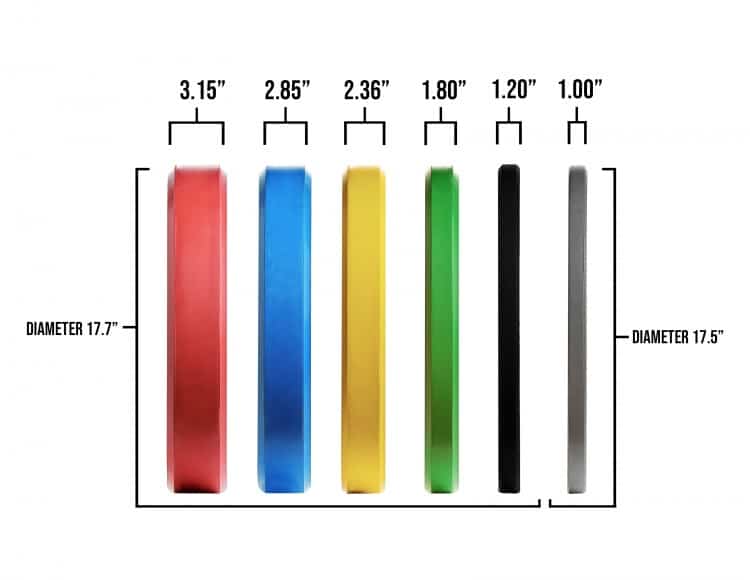 These are also made from virgin rubber and are "low bounce".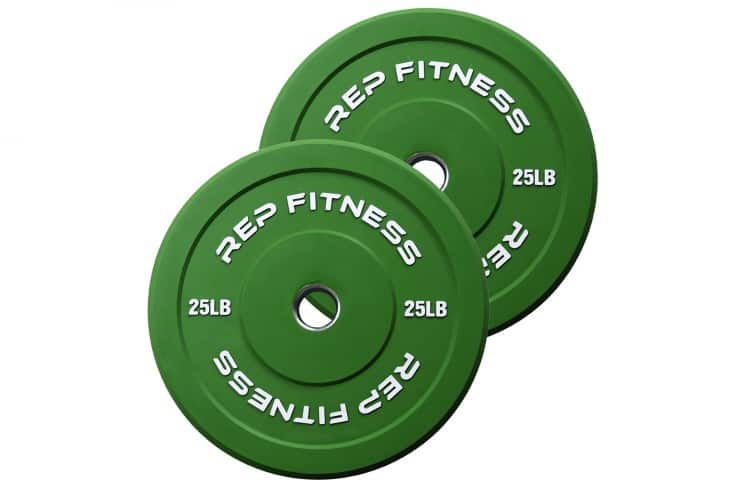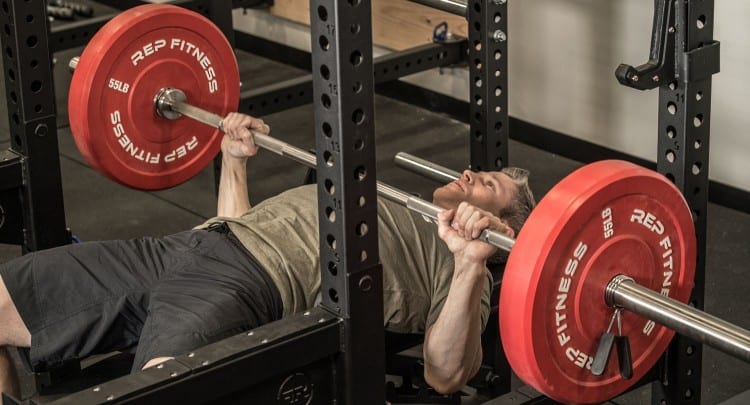 Competition Bumper Plates (Lbs) from Rep Fitness
Competition Plates like the Rep Competition Bumper Plates (Lbs) are precision manufactured.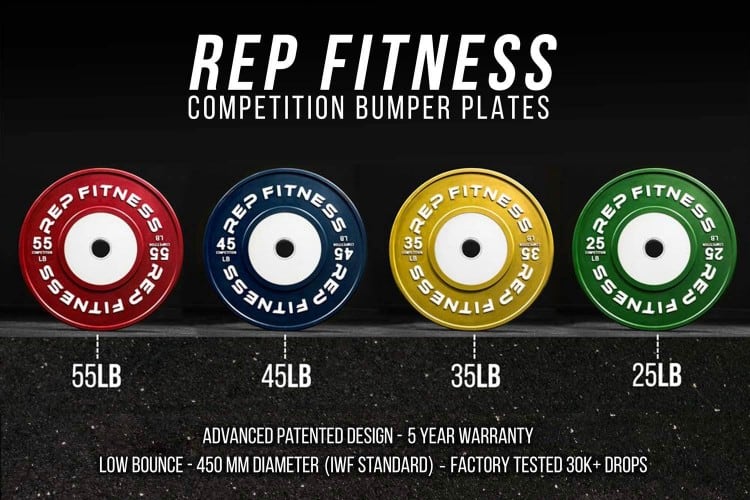 To be used in competition – they must meet strict quality standards set by the IWF (International Weightlifting Federation.)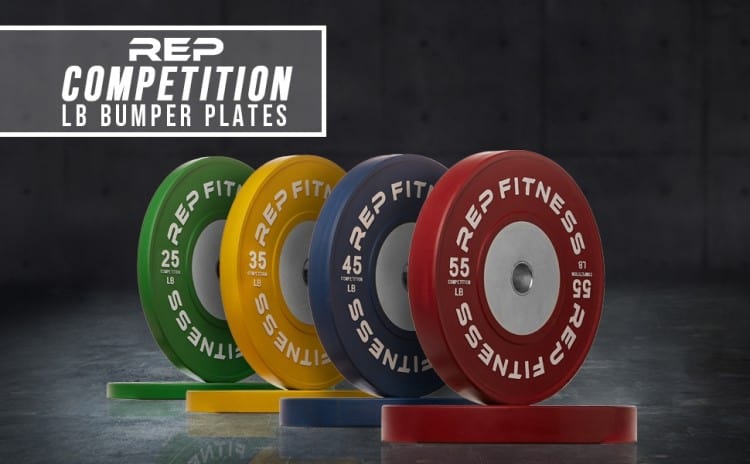 These are within +/- 10 grams of the claimed weight.
They are 450 mm in diameter.
Are these over-kill for a home gym?
Yes, but they are very high quality.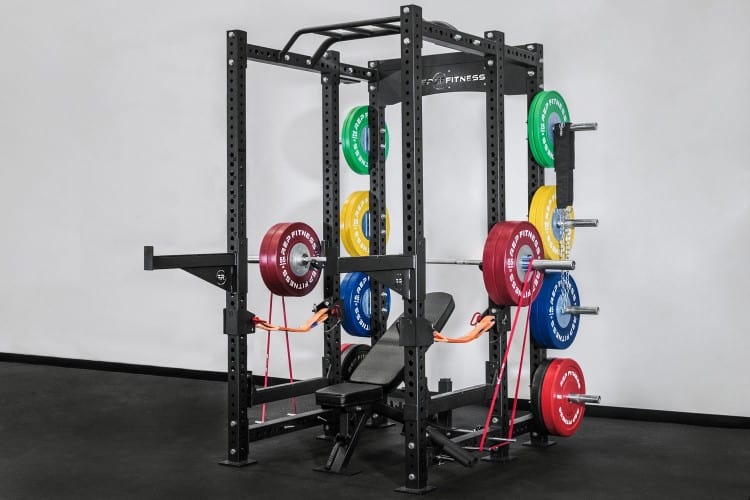 There are some reasons to use them.
Thanks to the very beefy steel insert these are significantly thinner than the training bumper plates we covered earlier.
That means you can fit more of them on the barbell.
Secondly, these have a 92 durometer rating – which means they are "very low bounce."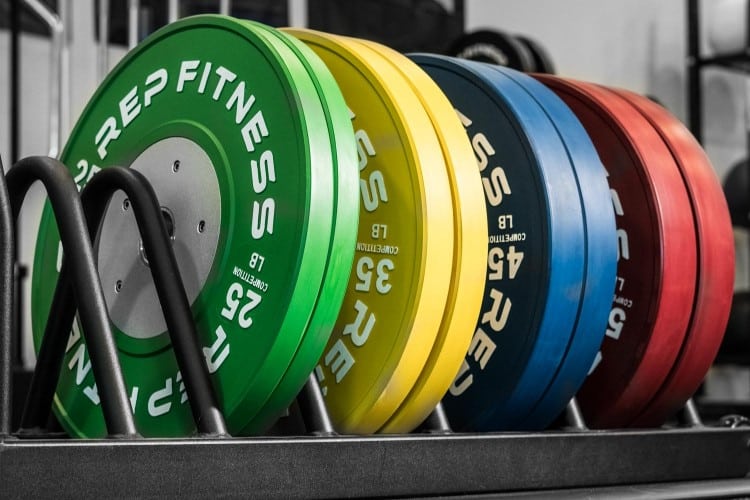 Competition Bumper Plates from Rep (Kilos)
Oly lifting with plates marked in lbs? Blasphemy!
Keep things legit with the Competition Plates (Kilos).
These have all the same attributes of the other competition plates, but are marked in kilos.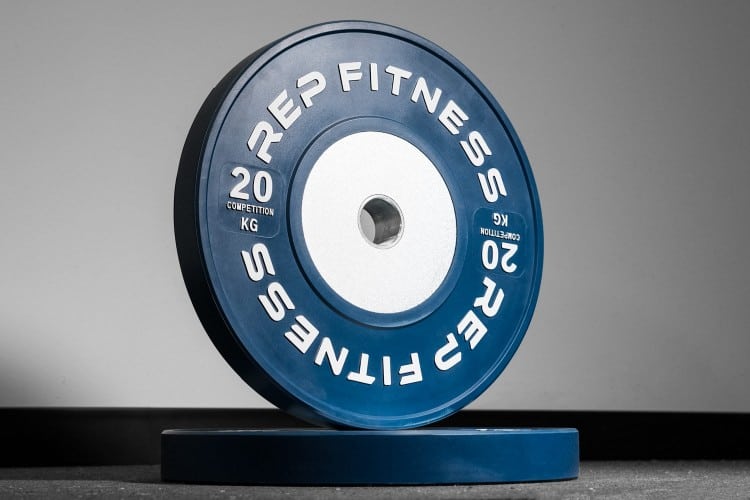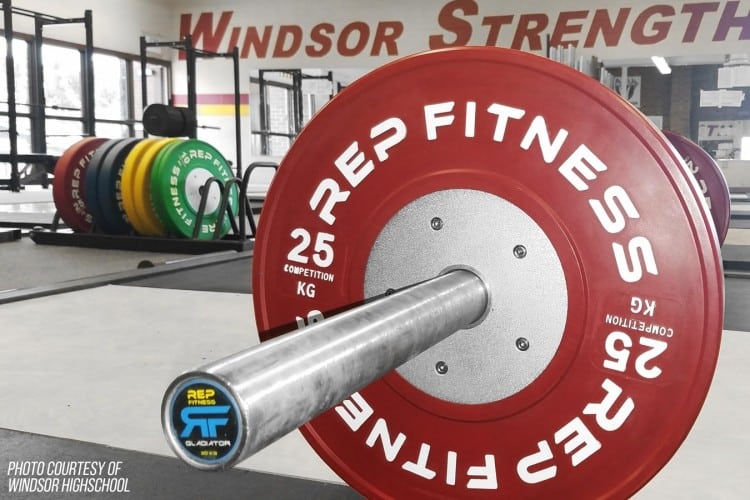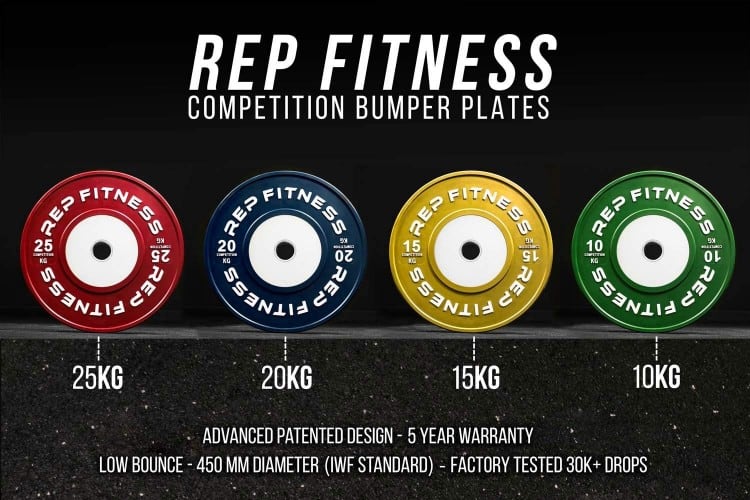 Bumper Plates from Rep Fitness – In Summary
Bumper plates are not a necessity for power lifting.
But they are a necessity for Oly lifting.
Because the snatch and clean and jerk end with the bar overhead – you can safely drop it without damaging your bar.
Bumper plates are more expensive – and harder to find.
But, they are quieter to use in most situations, and they look really nice.
Why Rep Fitness Products?
We're a
Rep Fitness
affiliate – so if you order equipment after clicking the links in this article we receive a small fee – at no additional cost to you. Rep Fitness is the king of "bang for your buck" value in the gym equipment market. The quality is high – and the price is right. We're proud to help spread the word – and to help make your workout be the best it can be.
Photo & Image Credits
All Rep Fitness product imagery is property of Rep Fitness, and provided by Rep Fitness.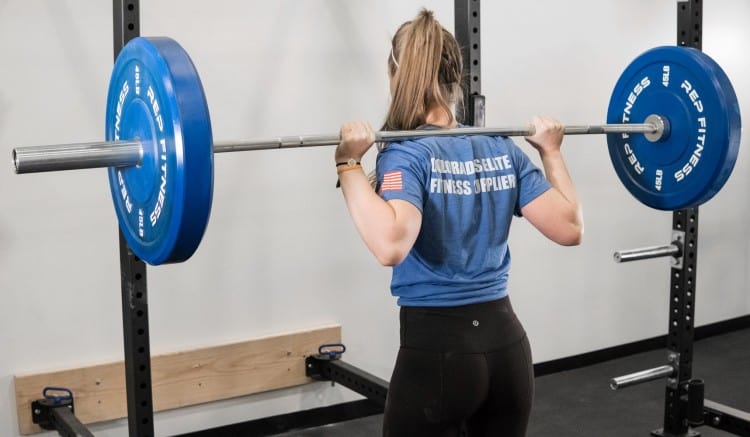 Tim is the founder of FitAtMidlife.com – an avid gym rat for 30+ years, he's a reviewer of many, many shoes – and founder of the Speed Bag Gathering – the world's only gathering of speed bag punching enthusiasts.  See more gym reviews at Tim's YouTube channel.