Get ready for the Vulcan Strength Black November 2022 Sale.
Vulcan Strength is also offering a Black November sale. Get tiered discounts from 8% to 15%, locked discounts from 10% to 40%, and more when you buy today until November 7th. Products on sale include sandbags, kettlebells, plyo boxes, and more!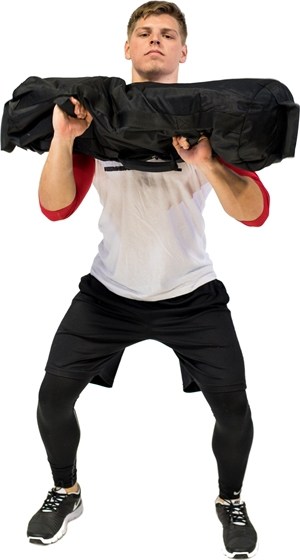 Black Friday 2022 – get these deals while they last:
Vulcan Strength Black November 2022 Sale – Overview
Vulcan Strength is a primary supplier of gym equipment that continues to deliver quality exercise equipment for Olympic weightlifting, strength training, and cross-training to commercial gyms, CrossFit gyms, and home gyms. Vulcan offers daily deals that include rigs and bars, free shipping, cart discounts, military discounts, and facility equipping.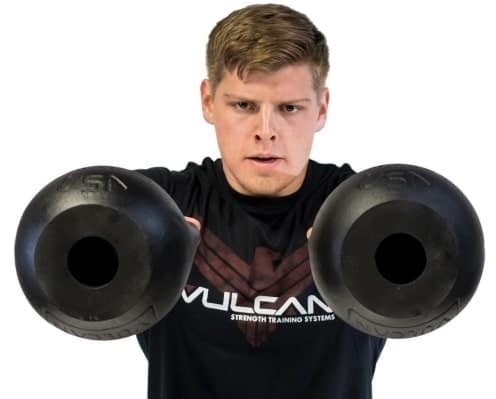 Vulcan offers more deals this Black November Sale—power racks, bumper plate sets, and all orders over $5,000 ship for free. Take advantage of this Vulcan Black November Sale and save more when you buy more.
Double Under Speed Rope
You can now enjoy smooth and precise jump rope exercises with the Double Under Speed Rope. It is available in various colors.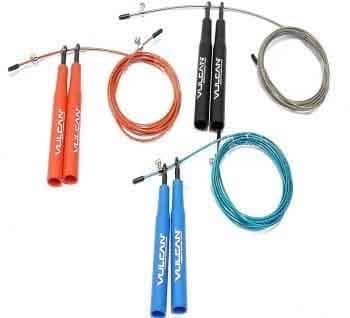 The bushing system lets the handles rotate with a low amount of resistance while the rope length is adjustable to fit different individual needs.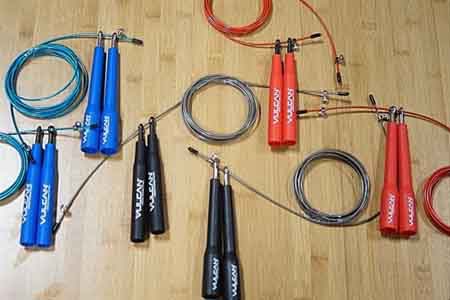 Absolute Training Bumper Plates
Absolute Training Bumper Plates are unique and high-performing bumper plates with a thinner profile than most competition bumper plates to allow more plates on the bar. The raised lettering is painted with indelible ink that will not come off quickly or fade like other bumper plates. The discs are glass bead blasted to deliver an excellent aesthetic look after numerous uses.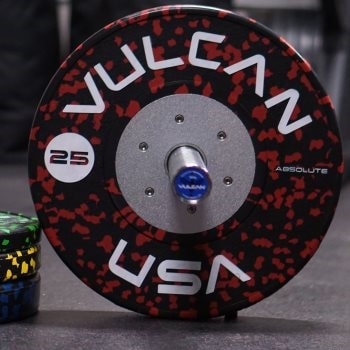 The textured surface of steel discs reduces unsightly surface scratches and scuffs. The rubber sits around 1.25 mm above the disc, guaranteeing a very tight fit and minimal metal-to-metal contact between bumper plates. Vulcan Absolute Competition Bumper Plate Sets are spot tested and mechanically drop-tested 10,000 times, a more extensive test than other competitors.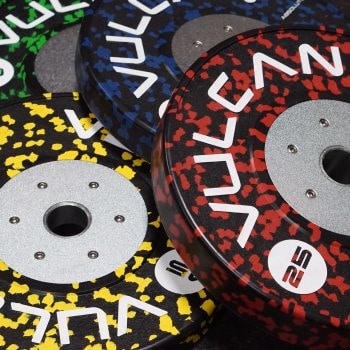 Sandbags
The Sand Bags from Vulcan have new and improved construction. They are now built from 1050 Denier Ballistic Nylon with heavy-duty parachute-grade stitching and button enclosures. They also have a heavy-duty zipper, DWR-treated waterproof interiors in the main bag, and filler bags.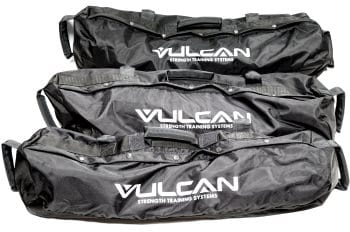 They are ideal for teaching novices Olympic movements and are used broadly in CrossFit workouts for various training and performance conditioning. All sizes (small to large) have seven handle positions.
Competition Kettlebells
The design of the Vulcan Absolute Kettlebell allows the handle of the kettlebell to sit further down on your forearm, bringing most of the weight proximal to your body. It is ergonomically devised to improve performance and lower the frequency of injury to the wrists and forearms, which is common with other Competition Kettlebell designs.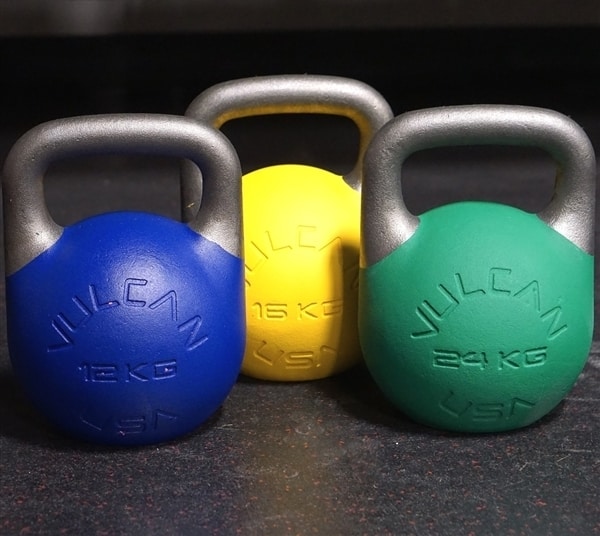 The Vulcan Absolute Kettlebell not only places the load of the kettlebell further down the forearm at a stronger point but distributes more of the weight onto your body for boosted comfort, control, and safety. Vulcan Absolute Kettlebell is made of high-quality steel and is guaranteed for life from denting or breaking. It is made of steel with an unpainted steel handle that measures 35mm in diameter at the top dead center.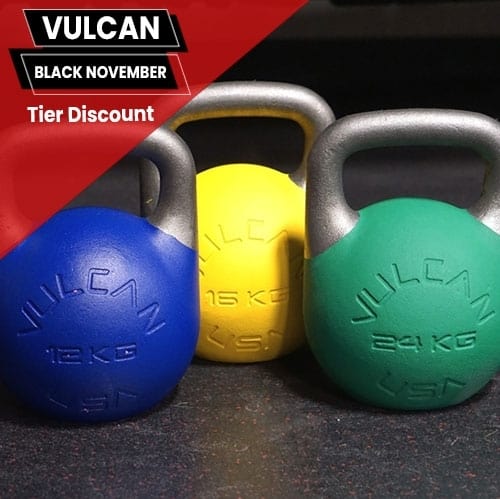 Alpha Bumper Plate Sets
Alpha Bumper Plate is not made from recycled rubber—it has a unique rubber compound not found in any other bumper plate. It is made for indoor and outdoor use and offers a low bounce on any surface. Alpha Bumper makes roughly 25% less noise when dropped from a height of 9 ft, based on testing with a decibel meter. It also has a lower odor than crumb rubber or recycled bumper plates.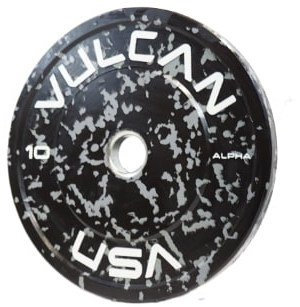 The Fleck "Camouflaged-Like" pattern is distinct, unique, and trademarked, making it the best-looking and best-performing bumper plate in your gym. It has a weight tolerance of +/- 1%, has easy identification from a distance, and less vibration and wobbling.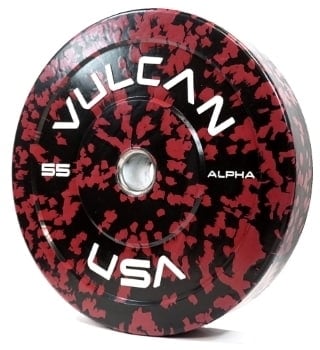 Vulcan Pro Ballistic Medicine Balls
The Vulcan Pro Ballistic Medicine Ball is made from military-grade ballistic fabric Aramid, making it highly durable. Aramid is a popular material used in military and aviation products worldwide. This material is ten times stronger than steel yet very flexible. The Medicine Ball can be used for slamming and traditional med ball/wall ball exercises.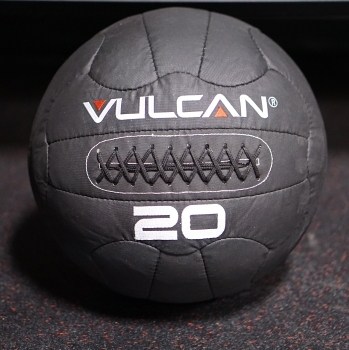 The Vulcan Pro Ballistic Medicine Ball has a Lifetime Guarantee from bursting and breaking. It has a very grippy tactile surface that provides a firm grip. It has an embroidered logo, weight identification that will not fade or rub off, and a heavy-duty rubber bladder that helps keep its shape.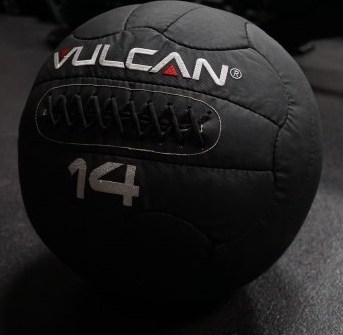 Vulcan Soft Impact Plyo Boxes
Vulcan Soft Impact Plyos are high-density foam plyometric squares and are safer than traditional steel boxes. The boxes measure 6", 12", 18", and 24" with Velcros securely attached to each other.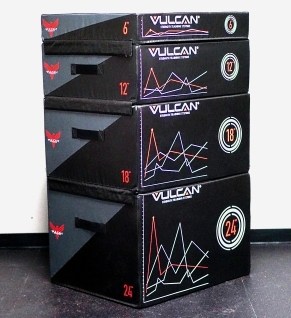 They are ideal for CrossFit applications such as ball slams, box step-ups, etc. They are less aggressive than wood or steel boxes, and you won't get injured if you miss a jump.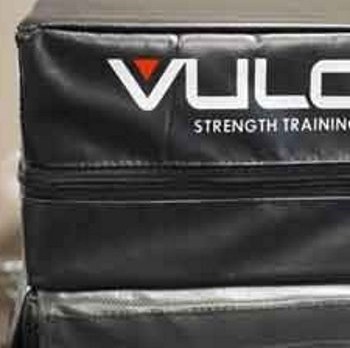 Kettlebells – Vulcan Absolute Training
Vulcan Kettlebells are made of steel, so you can be sure they are of good quality. The Patented Absolute design is the most advanced and ergonomic kettlebell on the market and is ideal for every variety of kettlebell lifting/training purposes. Vulcan Absolute Training Kettlebells integrate the benefits of competition kettlebells lacking in traditional cast iron multi-size/shape fitness kettlebells.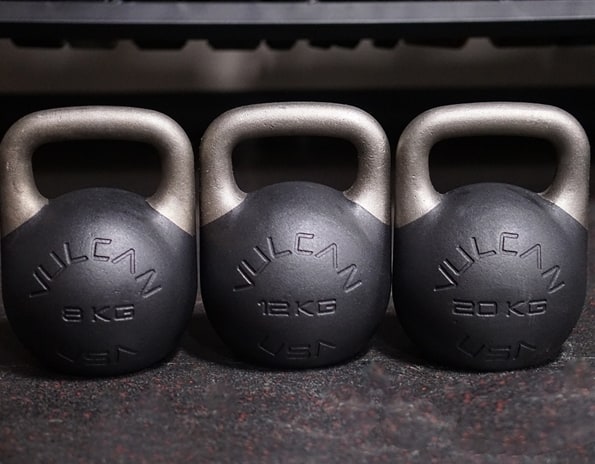 The handle of the Vulcan Absolute Training Kettlebell rests in the optimal position on the forearm to decrease the load on the soft tissue and bring the core of the weight to a place more adjacent to the body. The natural steel surface of the kettlebell handle has a texture that will allow the kettlebell to hold chalk extremely well.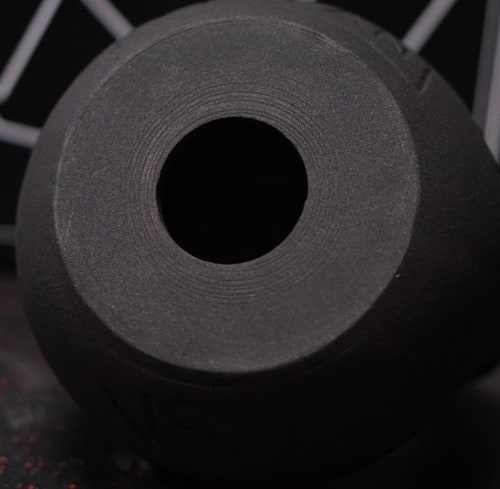 Vulcan Strength Black November 2022 Sale – In Summary
That's our close-up look at Vulcan Strength Black November 2022 Sale.
Get bumper plates, kettlebells, medicine balls, plyo boxes, and more, and save more during Vulcan Strength's Black November Sale. Buy this early for your Christmas gifts to your family and friends and get discounts from one of the best suppliers of quality gym equipment.
Looking for more options? Check out these other great products:
Get a Half Racks for your Home Gym – save space and get an intense workout.
Check out the Best Trap Bar for your garage gym.
More Black Friday sales.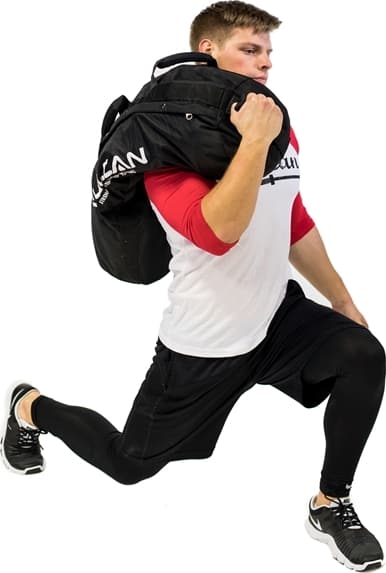 Photo Credits
Product photos on this page are property of Vulcan Strength.
This website is not affiliated or associated with CrossFit, Inc. CrossFit is a registered trademark of CrossFit, Inc.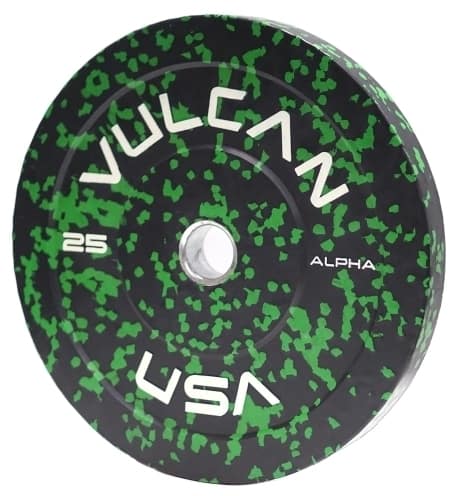 Affiliate Disclaimer
We are an affiliate of Vulcan Strength and others that sell this training gear. If you buy clothing or other training gear after clicking the links in this article, we receive a small commission at no extra cost to you. This helps us to bring you in-depth information and content on these great training products.
Tim is the founder of FitAtMidlife.com – an avid gym rat for 30+ years, he's a reviewer of many, many shoes – and founder of the Speed Bag Gathering – the world's only gathering of speed bag punching enthusiasts.  See more gym reviews at Tim's YouTube channel.