The original FT-3000 was a big hit – here's the new and improved version 2.0 – from Rep Fitness: FT-3000 Compact Functional Trainer 2.0.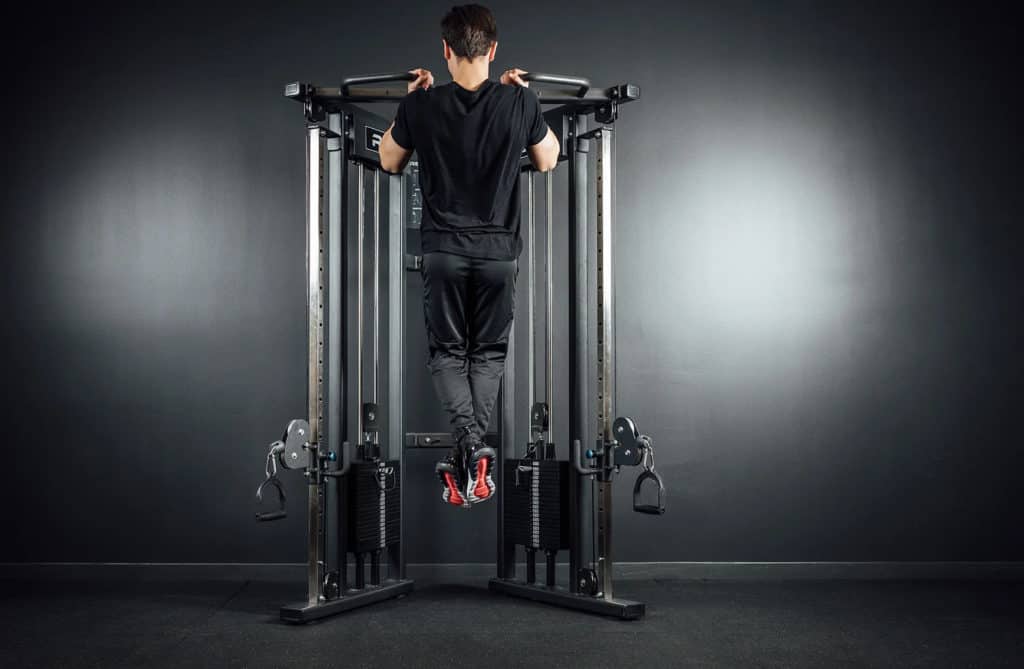 Lessen the time in the gym (or completely forget it!) with the FT-3000 2.0 Compact Functional Trainer. It is an exceptionally versatile cable machine with full commercial-grade capabilities but is compact enough for a home gym. This trainer comes with different attachments, different cable positions, heavy weight stacks, and more.
New from Rep Fitness – make your home gym more versatile than ever: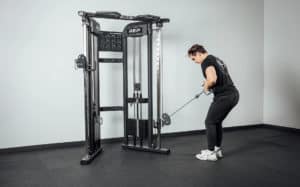 FT-3000 Compact Functional Trainer 2.0 (Black)
One of the key selling points of this equipment - it's COMPACT - and will take up a minimum of space. You can (and should) compare this to bulkier functional trainers. By the way, the minimum usable weight on each side of the FT-3000 2.0 is 10lbs of resistance and the maximum is 93.5lbs of resistance.
FT-3000 Compact Functional Trainer 2.0 – Overview
The FT-3000 2.0 has superior components, like a magnetic-tipped pin to lock weight in place and an extra pin to fasten the trolley. The robust frame is double-coated with a chip-resistant, electrostatic powder coating and completed with a matte black finish. The cables are smooth, with aluminum pulleys instead of plastic. The FT-3000 2.0 highlights 21 cable positions and dual weight stacks that each top out at 187 lbs with a 2:1 ratio (100lbs feels like 50 lbs), or 374 lbs total (feels like 187 lbs). This allows more customization and natural movements, especially when working smaller muscles.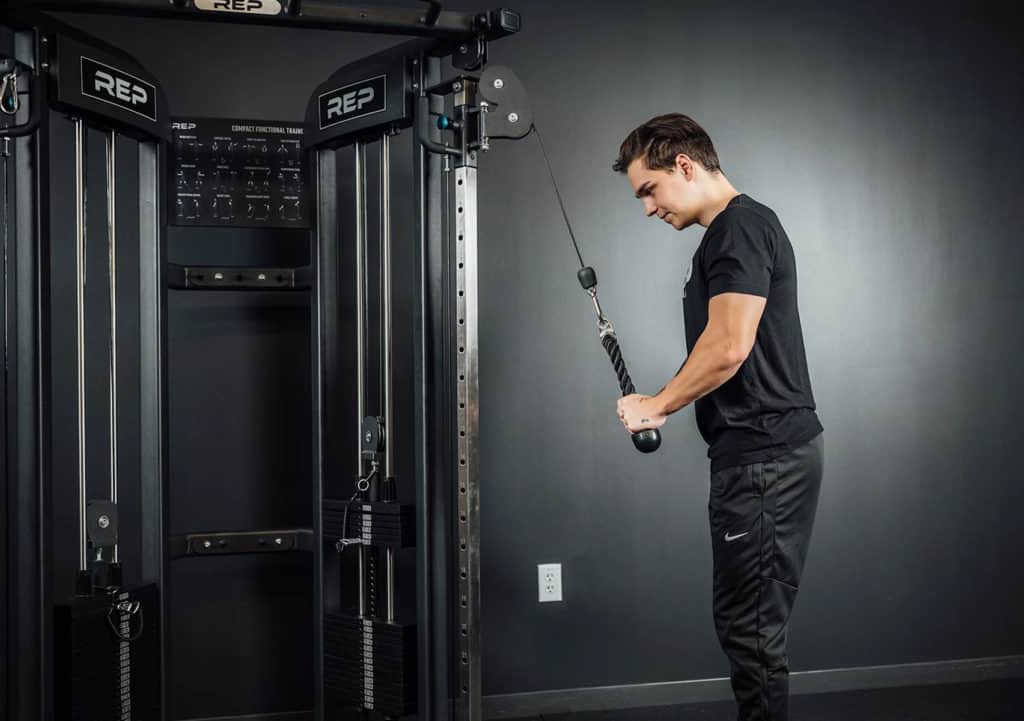 Compared to the original version, 2.0 has higher positions on the trolley. The lowest position is the same, but the smaller trolley, additional holes, and new cable ending on the 2.0 allow a greater range of motion from the bottom position. The 2.0 also has pre-lubricated uprights; a pin for added security on the trolley; a new exercise diagram; and a sleeker design without the original curtains. Fastening and removing a carabiner is made easy with the added welded ring. Just interchange a larger carabiner for different attachments, and use the end piece as an additional grip option.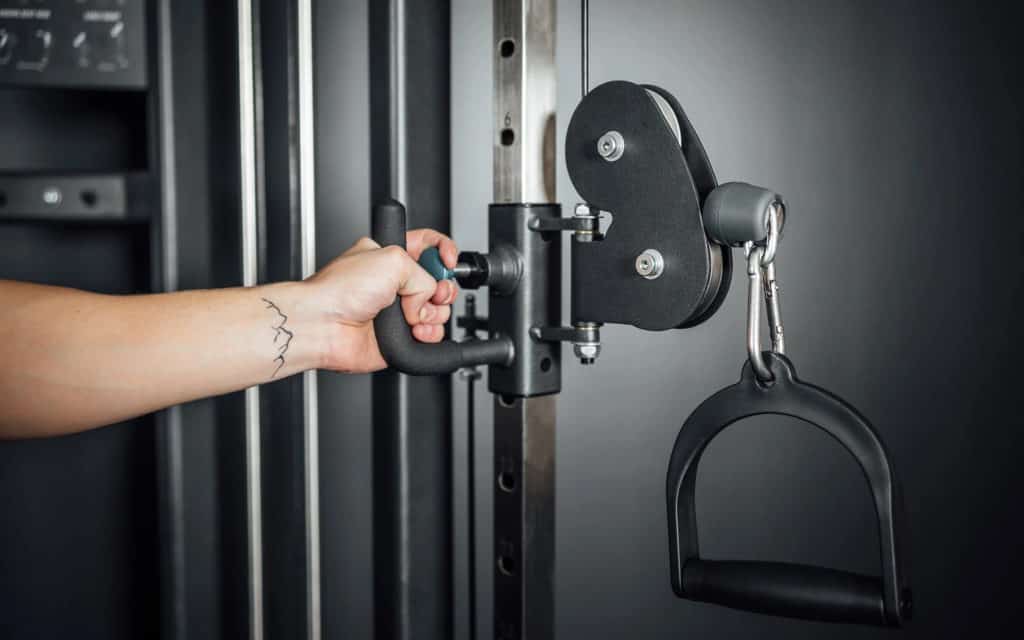 The FT-3000 2.0 is compatible with plenty of cable attachments, such as the ankle cuff, tricep press-down bar, sports handle, tricep rope, multi-grip curl bar, and much more. The cable column markings are laser-etched and numbered on the inside of the uprights, so handles are easy to line up. The functional trainer comes with two polymer D handles, storage pegs for the attachments, and a placard displaying various movements, so you can get the most out of the machine and ensure effective and safe at-home workouts.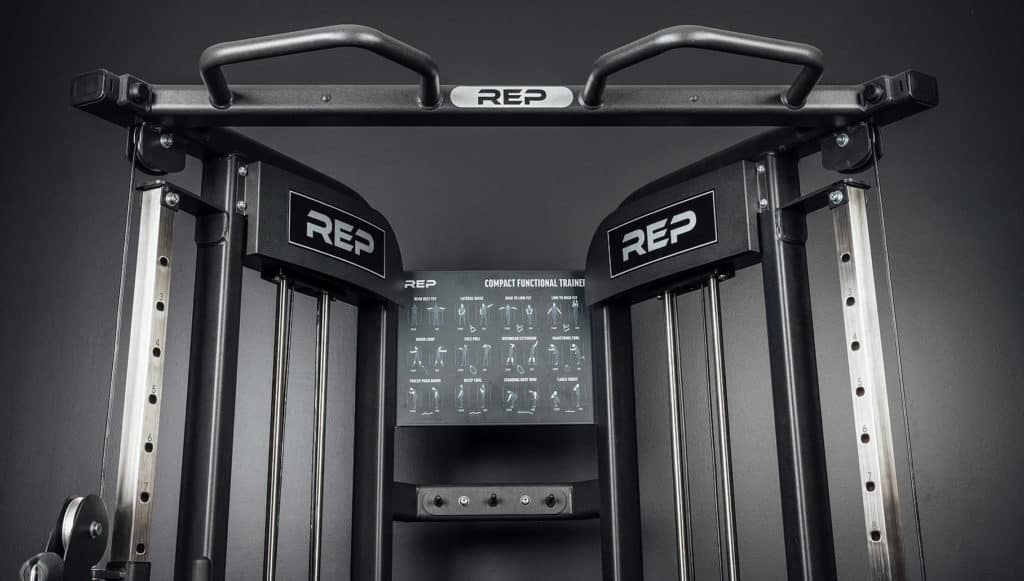 Still need convincing? See it in action here:
(Video Credit: Rep Fitness/FT-3000 2.0 Functional Trainer)
What is a Functional Trainer and why would you want one?
A functional trainer is a piece of gym equipment that is designed to allow the user to perform a variety of exercises that mimic everyday movements. It typically consists of two adjustable columns with weight stacks, and a pulley system that allows for a wide range of exercises to be performed. (This is why a lot of people will refer to a functional trainer as a "cable machine"). The user can adjust the height and angle of the pulleys to perform exercises such as chest presses, rows, pull-downs, and even leg exercises like squats. The versatility of the functional trainer makes it a popular choice for strength training, sports performance, and rehabilitation exercises.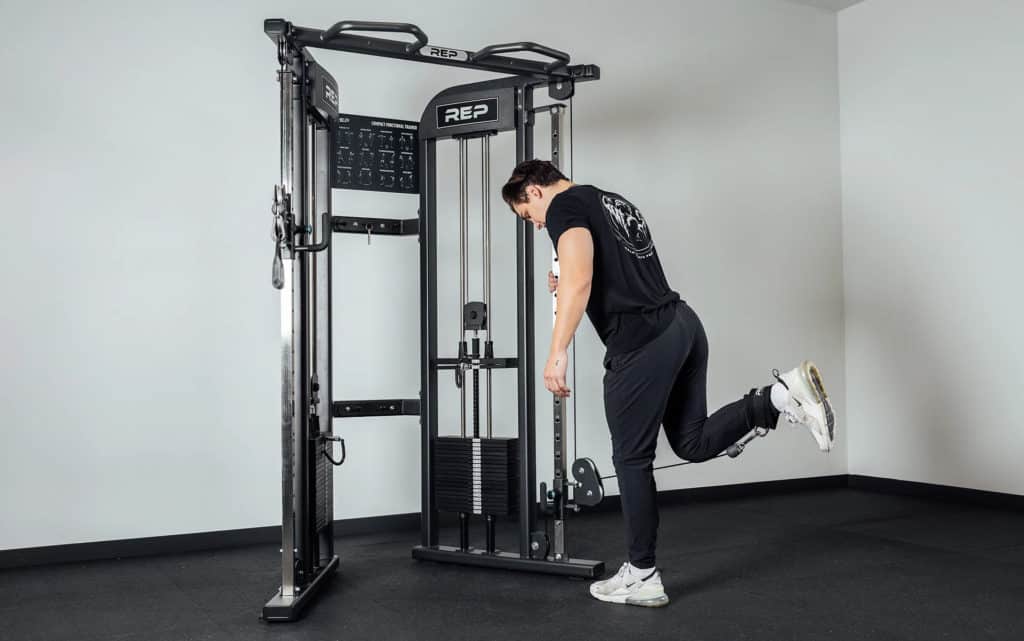 Working out with a functional trainer machine can provide a variety of benefits, including:
Improved functional strength: The exercises performed on a functional trainer machine typically involve multiple muscle groups and joints, which can help improve overall strength and coordination for everyday activities.
Increased range of motion: The pulley system on a functional trainer machine allows for a wide range of motion, which can help improve flexibility and mobility.
Versatility: A functional trainer machine can be used to perform a variety of exercises, making it a versatile piece of equipment for a full-body workout.
Reduced risk of injury: The controlled movements and adjustable resistance of a functional trainer machine can help reduce the risk of injury during exercise.
Rehabilitation: A functional trainer machine can be used for rehabilitation exercises, as the adjustable resistance and range of motion can be tailored to the needs of the individual.
Time-efficient: With a functional trainer machine, you can work multiple muscle groups in one exercise, making it a time-efficient option for a full-body workout.
Overall, working out with a functional trainer machine can provide a challenging and effective workout that targets multiple muscle groups and improves overall fitness and functional strength.
One Important Thing you MUST know about Functional Trainers
Everyone always feels enormously strong on a cable machine.
Why is that?
The pulley mechanism gives you a significant mechanical advantage when moving the weight stack.
In fact, for the FT-3000 2.0 the pulley gives a 2:1 ratio.
That means, when you have 100 lbs selected, it's going to feel like 50 lbs.
And 200 lbs would feel like 100 lbs, etc. You get the idea.
So now you know – when comparing functional trainers (or any cable machine with a pulley ) make sure you are taking this mechanical advantage into account.
Also for that same reason – we recommend you ALWAYS GO WITH THE BIGGEST / HEAVIEST weight stack you can.
Functional Trainers and Cable Machines – Some Other Options
Before you plunk down a lot of money on a functional trainer, I do recommend you compare and contrast a few different models.
In that regard – you are in luck – as we've done that for you. Here's our comparison:
FT-3000 Compact Functional Trainer 2.0 – In Summary
That's our close-up look at the FT-3000 Compact Functional Trainer 2.0 – which is the 2nd iteration of Rep's FT-3000 gym equipment.
The FT-3000 Compact Functional Trainer 2.0 is a smaller version of the FT-5000 2.0, narrow enough to fit through a standard doorway, and won't take up immense space in your home gym. It has high-end features and bigger weight stacks and punches above its weight class for its size. The FT-3000 2.0 features 21 cable positions instead of 16 for more customization and natural movements.
Find out more about functional trainers and cable machines.
Photo Credits
Product photos on this page are property of Rep Fitness and other manufacturers.
This website is not affiliated or associated with CrossFit, Inc. CrossFit is a registered trademark of CrossFit, Inc.
Affiliate Disclaimer
We are an affiliate of Rep Fitness and others that sell this training gear. If you buy clothing or other training gear after clicking the links in this article, we receive a small commission at no extra cost to you. This helps us to bring you in-depth information and content on these great training products.
Tim is the founder of FitAtMidlife.com – an avid gym rat for 30+ years, he's a reviewer of many, many shoes – and founder of the Speed Bag Gathering – the world's only gathering of speed bag punching enthusiasts.  See more gym reviews at Tim's YouTube channel.