Rogue has the red-hot
Echo Bike
. Grab one while they last!
Want made in the USA gym equipment? You can't beat Rogue – check out their latest
Rogue USA Olympic Plates.
Olympic plates are known for their versatility, and they are more advantageous than standard plates. They are more stable on the weight lifting bar and are built to hold a greater total weight. Olympic Plates from Rogue are less likely to crack, chip, and have a superior finish with bold raised lettering and numbering. They are made in the USA with weight tolerance that is almost perfect.
Here's some of the styles we are going to look at:
Rogue USA Olympic Plates – Overview
Each Rogue USA Olympic Plate, from the 55LB increment to the 0.25LB change plate, highlights a slim profile, durable E-Coat finish, and a unique four-surface machining process. This machining process ensures the plate fits securely on the bar, is uniform in diameter, and sits flush against other plates when loaded. Each plate is furnished with crisp detailing and a clear division between the embossed Rogue branding, weight indications, and "Made in the USA" lettering. The look is finished with an E-Coat finish, an electrically applied paint coating produced initially for the automotive industry due to its superior adhesion, uniform coverage, and corrosion resistance. The electrically applied E-coat finish applied on all Rogue USA Olympic Plates runs thinner than a traditional powder coat, providing a glossy finish without losing the underlying texture of the casting.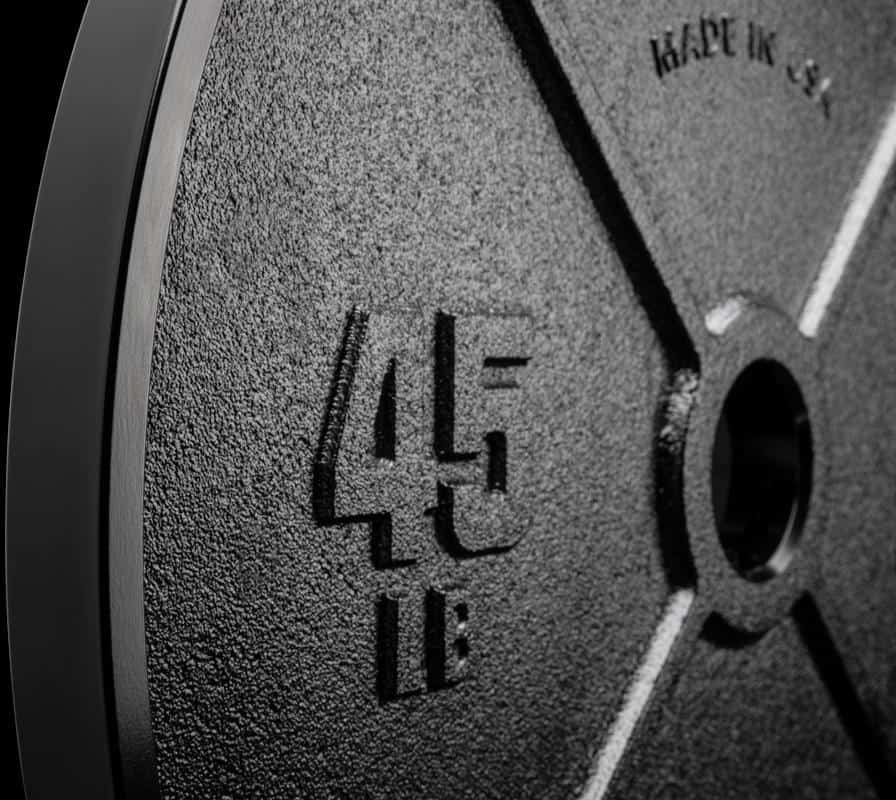 All Rogue USA Olympic Plates emphasizes precision machining on the back of the plate, the center hub, the outside rim, and the front-facing of that rim. The chamfered center hub also makes it natural to get the plates onto the bar, with the machining securing a snug but not overly firm fit. Rogue created these plates with a narrow width (from 0.76" in the 10LB plate to 1.05" in the 55LB plate), similar to Rogue Calibrated Steel Powerlifting Plates. This, along with the flush connections allowed by the machined backs of the plates, opens up sufficient additional loading space on the bar.
Rogue USA Olympic Plates are sold in pairs and available in the following weight increments:
55LB: 17.72″ (450mm) diameter, 1.05" (26.75mm) width
45LB: 17.72″ (450mm) diameter, 0.89" (22.75mm) width
35LB: 15.75″ (400mm) diameter, 0.88" (22.5mm) width
25LB: 12.80″ (325mm) diameter, 0.93" (23.75mm) width
10LB: 9.0" (229mm) diameter, 0.80" (20mm) width
5LB: 7.5" (190mm) diameter, 0.57" (14.5mm) width
2.5LB: 6.3″ (160mm) diameter, 0.45″ (11.5mm) width
1LB: 5.3″ (135mm) diameter, 0.30″ (7.5mm) width
0.5LB: 4.4″ (112mm) diameter, 0.26″ (6.5mm) width
0.25LB: 4.21″ (107mm) diameter, 0.18″ (4.5mm) width.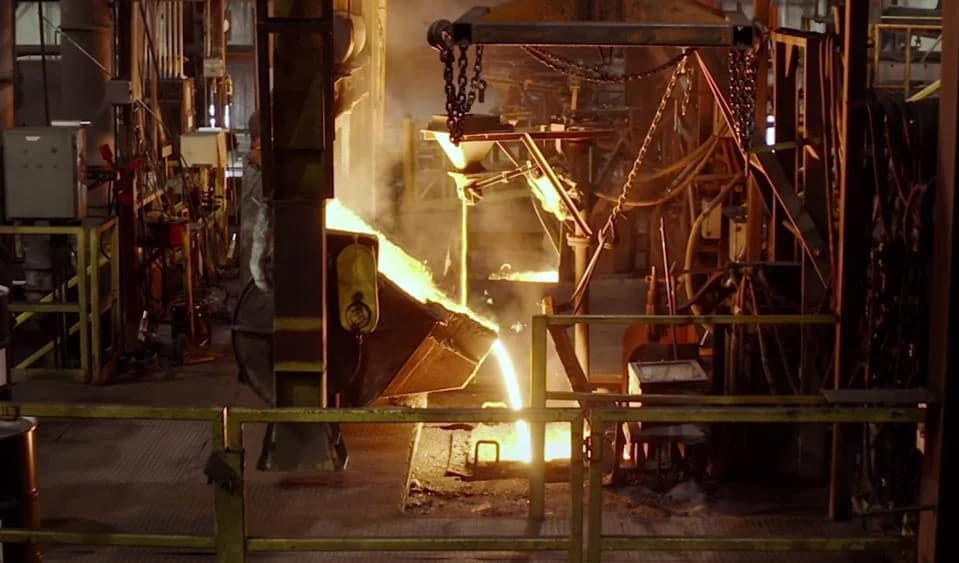 Cast In Michigan by Cadillac Casting
Rogue USA Olympic Plates are produced in Cadillac, Michigan, where a wide variety of complex and safety-critical components for the automotive industry and other industrial clients and designed and produced. Cadillac utilizes Ductile Iron, aka nodular cast iron, which includes powerful graphite nodules that give it excellent tensile strength and corrosion resistance well adapted to automotive components, gearboxes, wheels, machine frames, and weightlifting plates. These plates have +2% / -0% firm weight tolerance.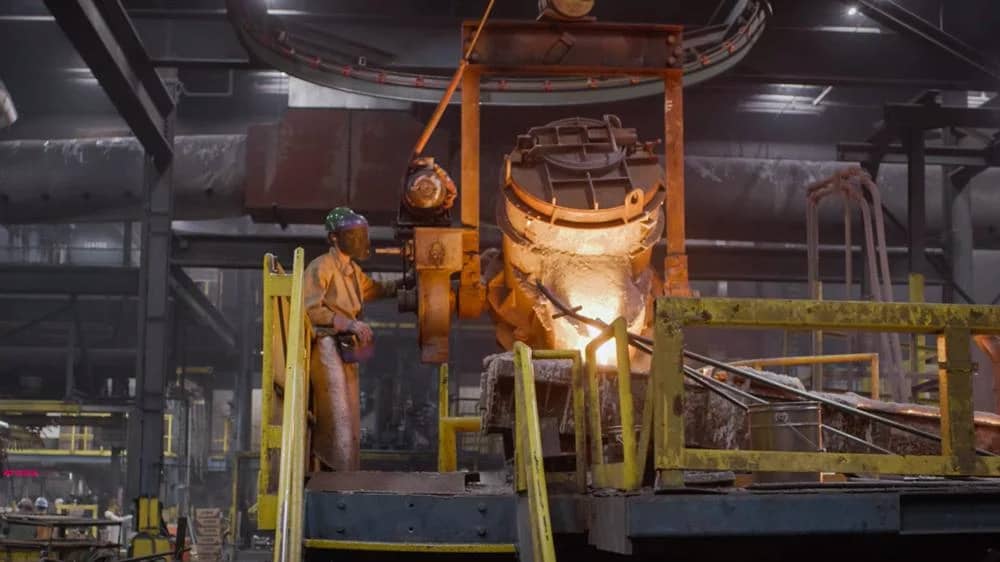 Rogue USA Olympic Plates Review – In Summary
That's a quick look at the new Rogue USA Olympic Plates.
Get made in the USA quality – from Rogue.
Rogue USA Olympic Plates highlight a slim profile, long-lasting E-Coat finish, and a rare four-surface machining process. All 55LB, 45LB, 35LB, 25LB, and 10LB plates are cast by the Cadillac team using ductile iron, which has superior tensile strength and yield strength, along with excellent corrosion resistance. These plates have a glossy finish because of the electrically applied E-coat that is thinner than a traditional powder coat. Rogue's USA Olympic Plates are the finest series they have ever developed.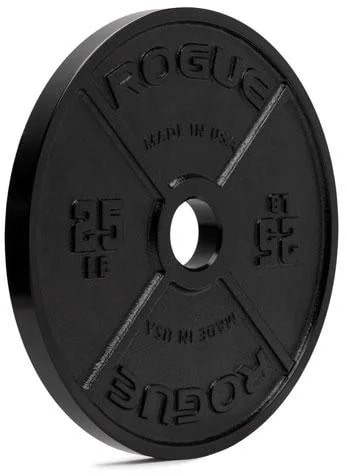 Photo Credits
Product photos on this page are property of Rogue.
This website is not affiliated or associated with CrossFit, Inc. CrossFit is a registered trademark of CrossFit, Inc.
Affiliate Disclaimer
We are an affiliate of Rogue and others that sell this training gear. If you buy clothing or other training gear after clicking the links in this article, we receive a small commission at no extra cost to you. This helps us to bring you in-depth information and content on these great training products.
Tim is the founder of FitAtMidlife.com – an avid gym rat for 30+ years, he's a reviewer of many, many shoes – and founder of the Speed Bag Gathering – the world's only gathering of speed bag punching enthusiasts.  See more gym reviews at Tim's YouTube channel.