Rogue has the red-hot
Echo Bike
. Grab one while they last!
It's November – and that means a lot of month-long Black Friday Sales 2022 from Rogue Fitness, Rep Fitness, and much more. Want to upgrade your garage gym to the gym of your dreams? Black Friday is the time to do it!
You held back from purchasing those pieces of equipment before so you could get them at the right time at a lower price. That time has finally come! From power racks to tank push sleds and Bumper Plates, we've got it all for you.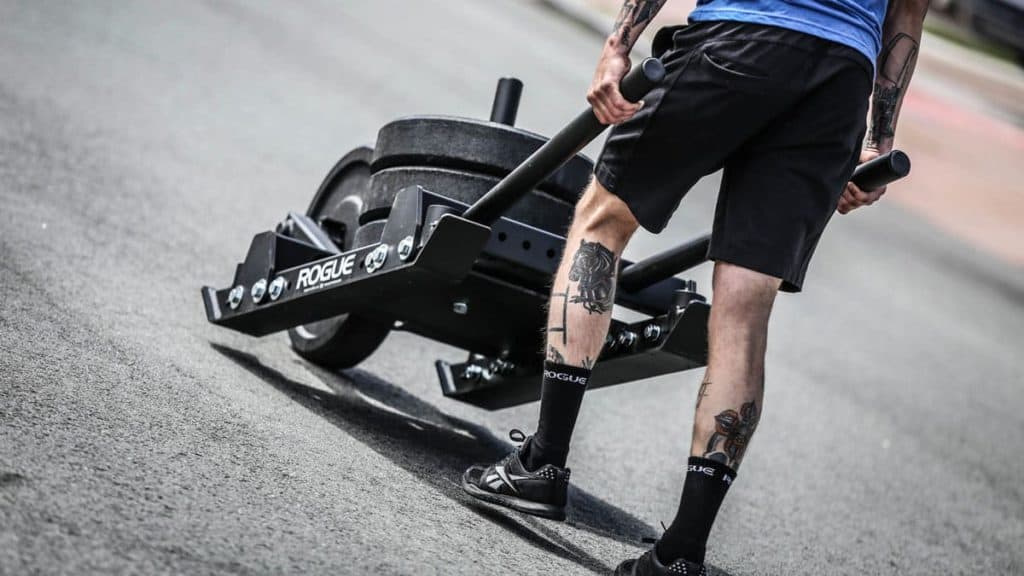 Check out the TONS of gym equipment on sale now from these vendors:
Garage Gym Black Friday Sales 2022 – Overview
Black Friday is the most significant retail sales day in the United States, usually considered the unofficial beginning of the holiday shopping season. This is the time of the year when retailers roll out various in-store deals on everything to start the Christmas shopping season. Some of your favorite fitness brands are already here to offer you early Black Friday deals.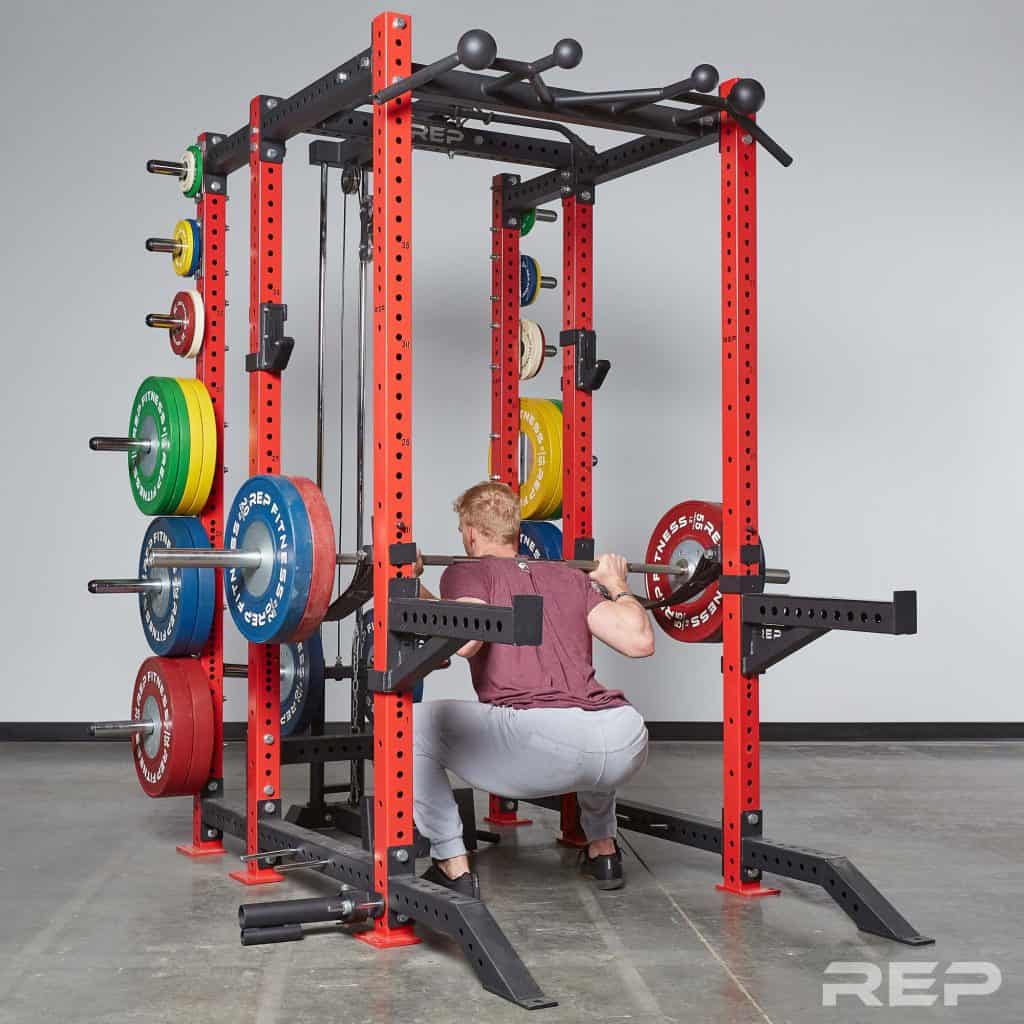 Here, we gathered your favorite equipment from Rogue, GORUCK, Force USA, Rep Fitness, Torque USA, and Get RX'd to spur you and motivate you to continue your fitness journey. The long wait is finally over and it is worth it!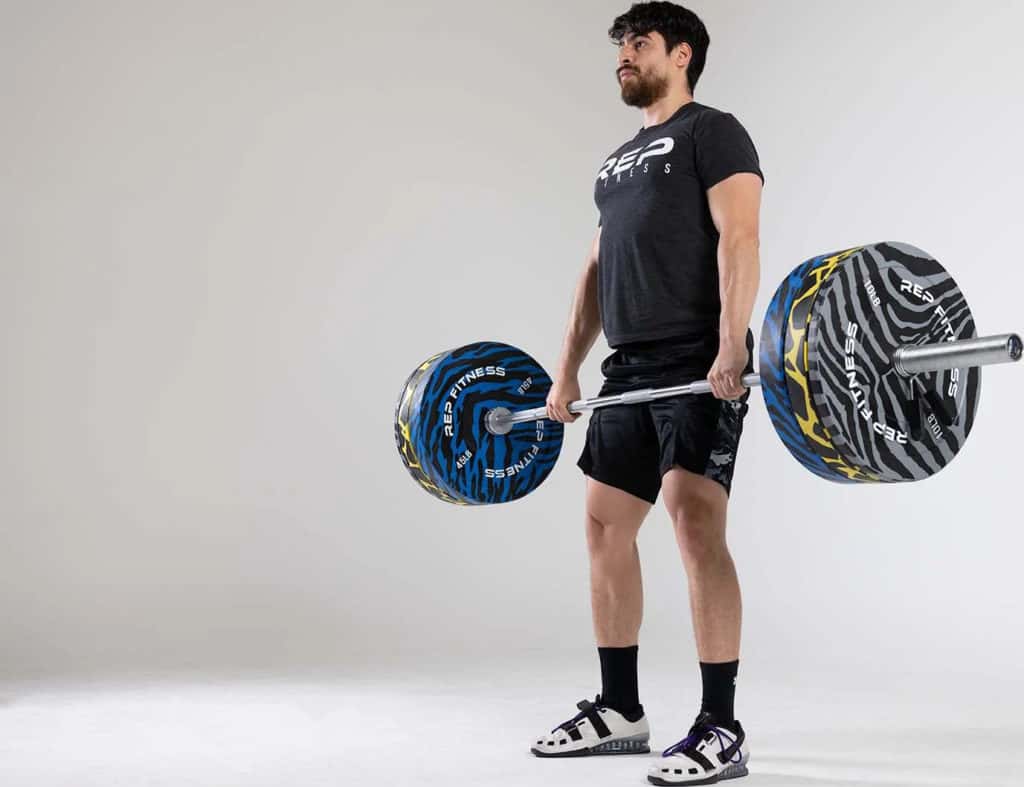 Rogue Fitness Matte Black November 2022 – Black Friday Sale for 2022
What's for sale at Rogue for their Matte Black November sale? Almost TOO MUCH.
All month long Rogue will have Hot Deals, Hundo Pricing, 5 for $5 shippping, and more.
Be sure to check back often.
Here's just a small sample.
Rogue RML-490C Power Rack 3.0
Manufactured in Columbus, Ohio, the Rogue RML-490C Power Rack 3.0 combines the 3×3" 11-gauge steel construction of the RM-4 Monster Rack and the 5/8" hardware of the Infinity R-4. It also includes various custom color finish options, a new stabilizing back nameplate, Slinger-compatible crossmembers, and your choice of numbered or unnumbered uprights.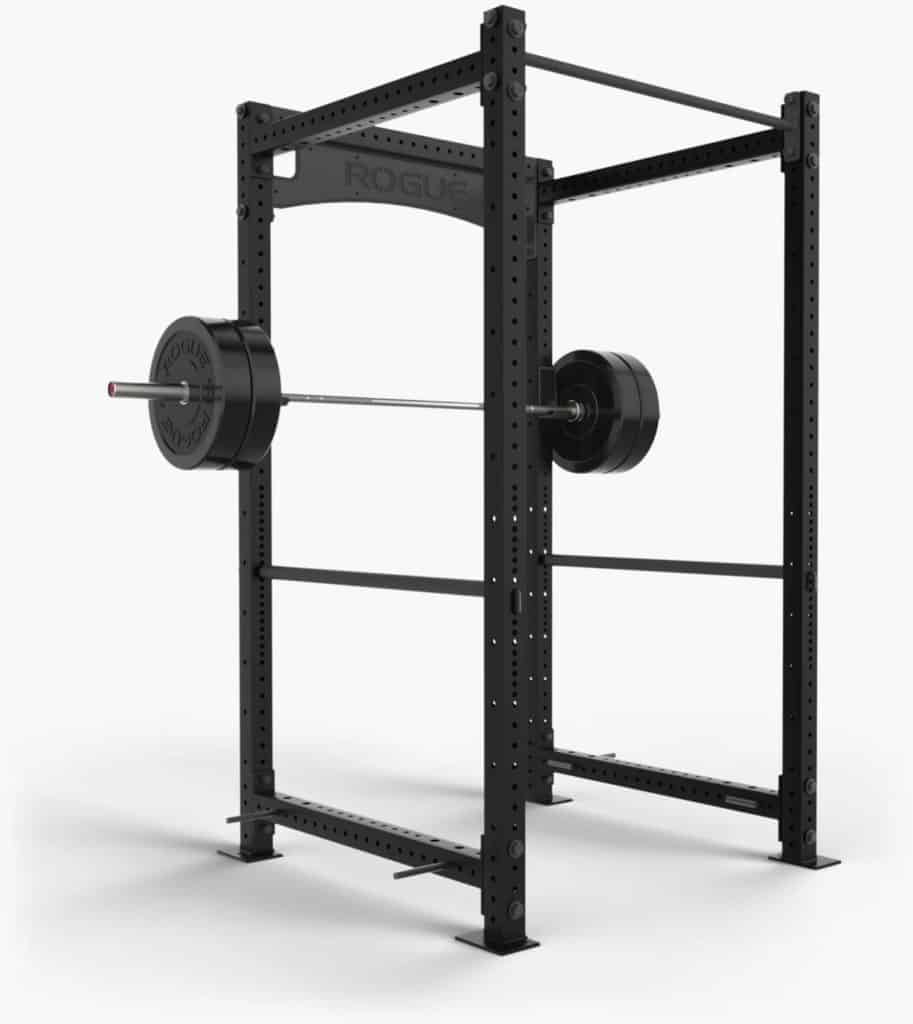 The rack also highlights 90" tall uprights with laser-cut holes in the Westside pattern (1" through bench and clean pull zone, 2" spacing above and below). It has a 53" x 53" footprint, making it compact and fitted as a dynamic complement to a bigger collegiate, pro, or military training facility. It is backed by Rogue's Lifetime Warranty.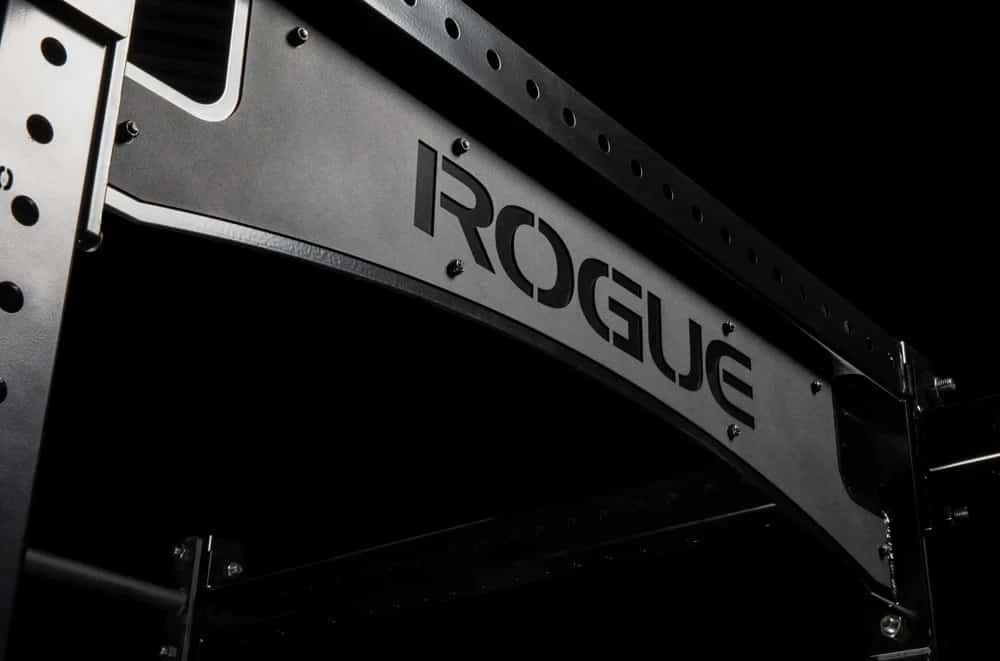 Rogue Dog Sled
The new Rogue Dog Sled is compact, rugged, and versatile enough for push, pull, and speed training on almost any surface. It is also compatible with a wide range of mountable attachments, including the Double Handle, Lawn-Boy, Wheelbarrow, and more because of the holes in the sled's skis.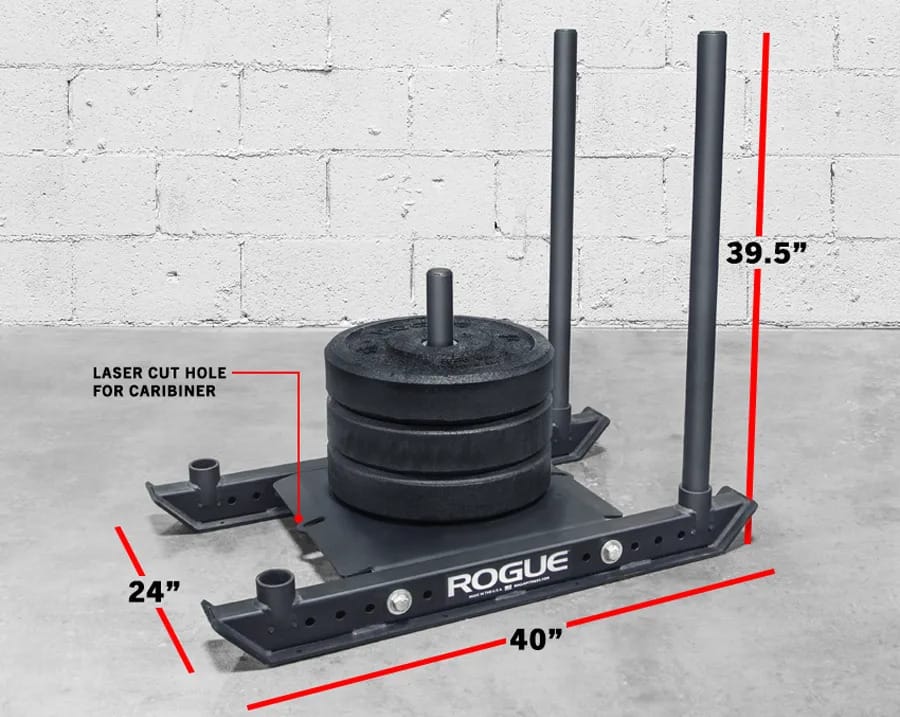 The Rogue Dog Sled comes standard with a quarter-inch steel base plate, 2×3" 11-gauge steel tubing, and three-foot upright push bars devised to hold high and low push stances. The portable Dog Sled has a smaller general surface area, letting you get the most out of your own plates.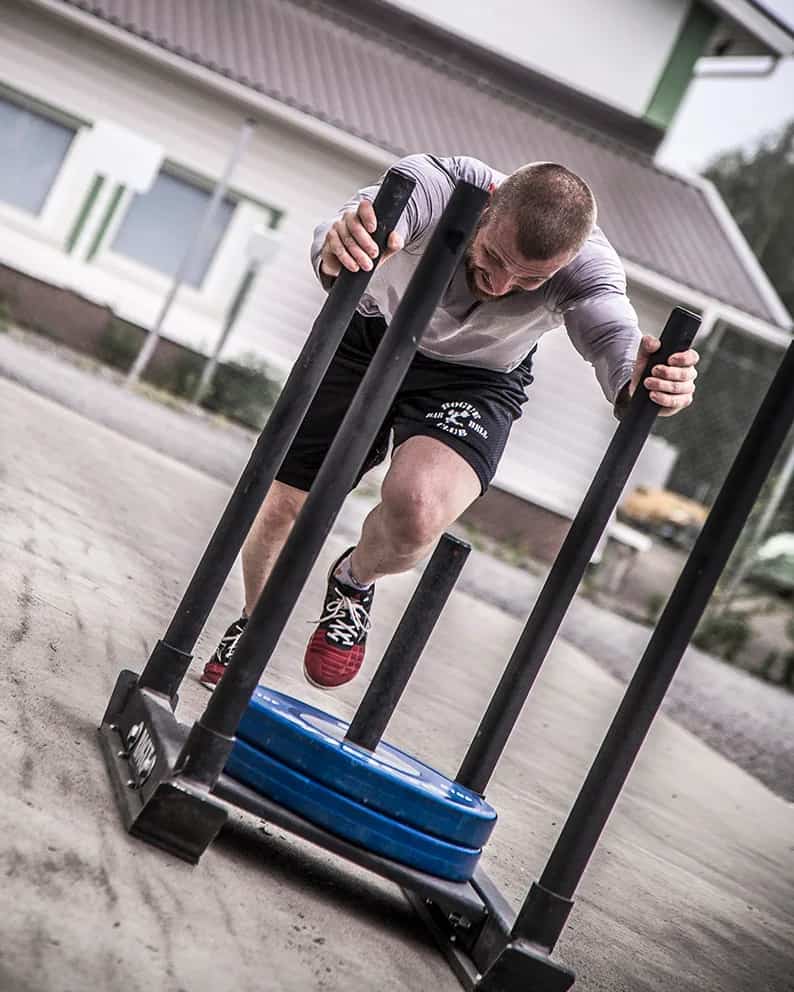 REP FITNESS Black Friday Sale 2022
Next up in our list of the best Black Friday gym sales is REP Fitness.
Their sale is all month long – but of course quantities are limited – so if you see something you want, it's best to act immediately.
Here's just a few of their great items. You'll also want to check out their selection of weight benches – which are second to none in quality and value!
REP PR-4000 Rack
The REP PR-4000 Rack is made with 3×3" 11-gauge steel with a 1,000lbs rackable capacity. The rack highlights laser-cut numbers every five holes to make it easy to line up attachments. It has precision manufacturing with laser cutting, robotic welding, and robotic painting, all under one roof to ensure a consistent, high-quality product.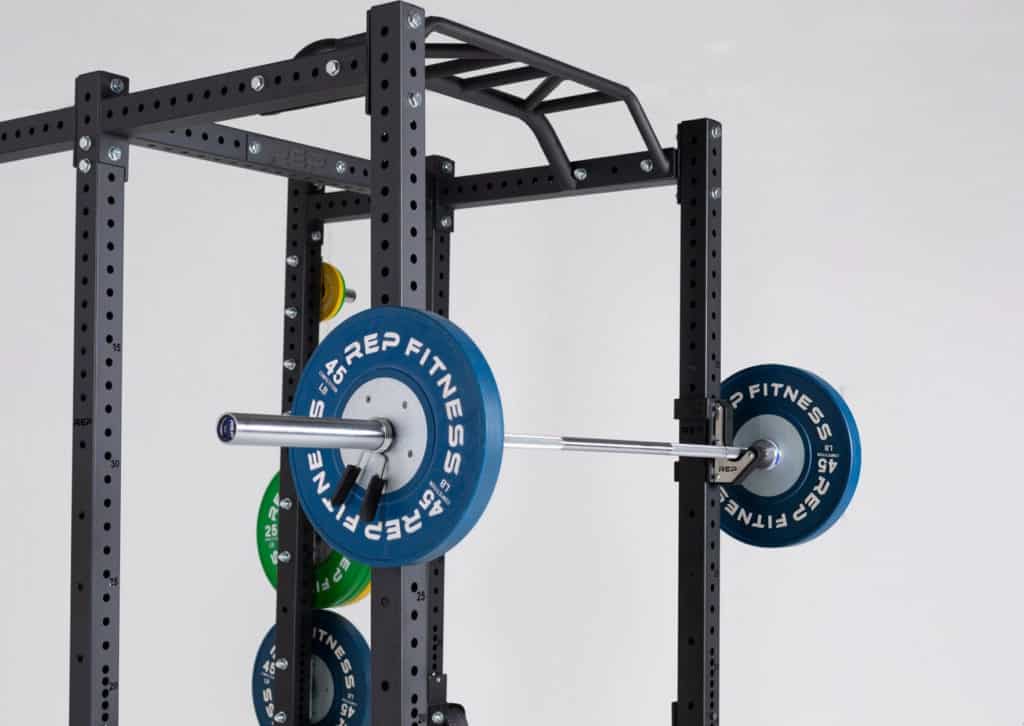 The PR-4000 is compatible with plenty of attachments, with new attachments always being designed. The uprights have 1" hole spacing throughout the bench zone and 2" elsewhere for a detailed liftoff height. You can customize your rack with numerous heights, depths, and color options to have the perfect rack for your space and style.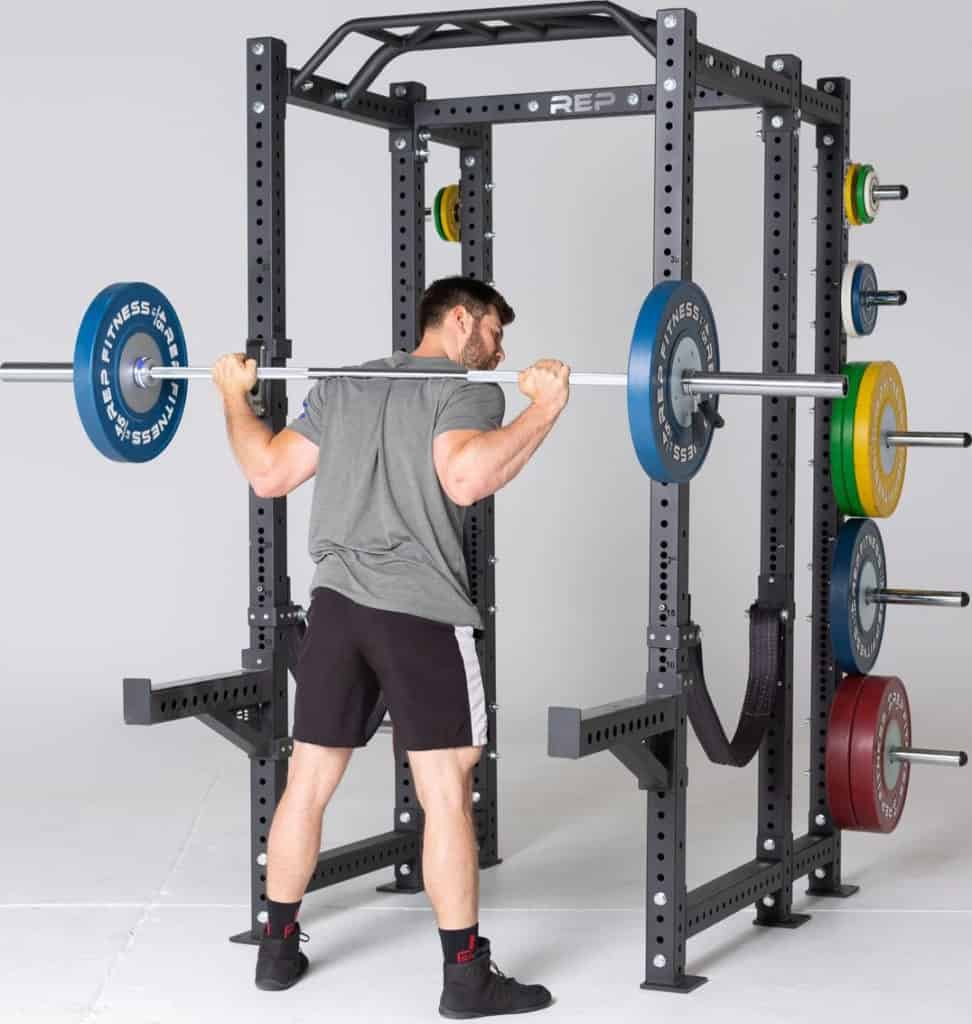 REP Animal Print Bumper Plates
With their zebra, snake, giraffe, tiger, and leopard print, the REP Animal Print Bumper Plates can turn your home gym to nature and bring excitement to your workouts. These bumpers are incredibly durable and high-quality, with a hooked steel insert. The 10lb plates are thicker than regular 10s to improve durability and reduce warping. You can mix and match different patterns, all of which fit on standard, 2" Olympic-style barbells.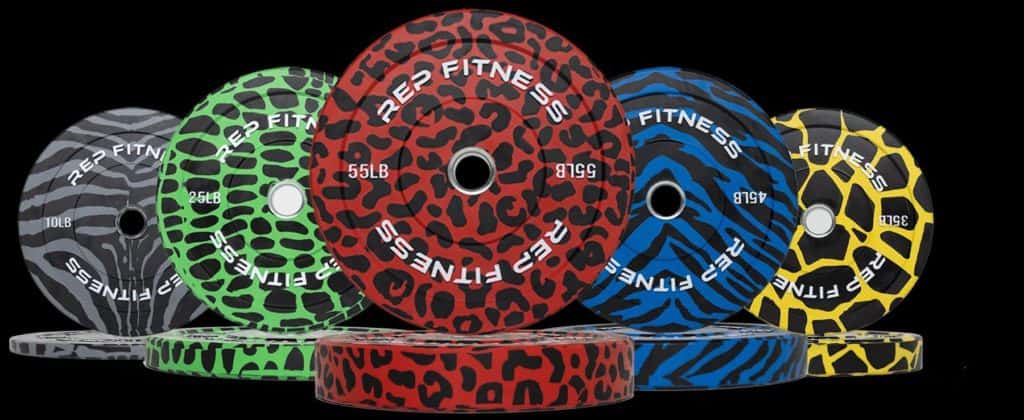 These bumpers have low bounce with a thinner profile, so you have more control over the barbell when it hits the ground. They are perfect for training that includes dropping the plates from overhead or shoulder height, such as Olympic weightlifting, cross-training, and HIIT workouts.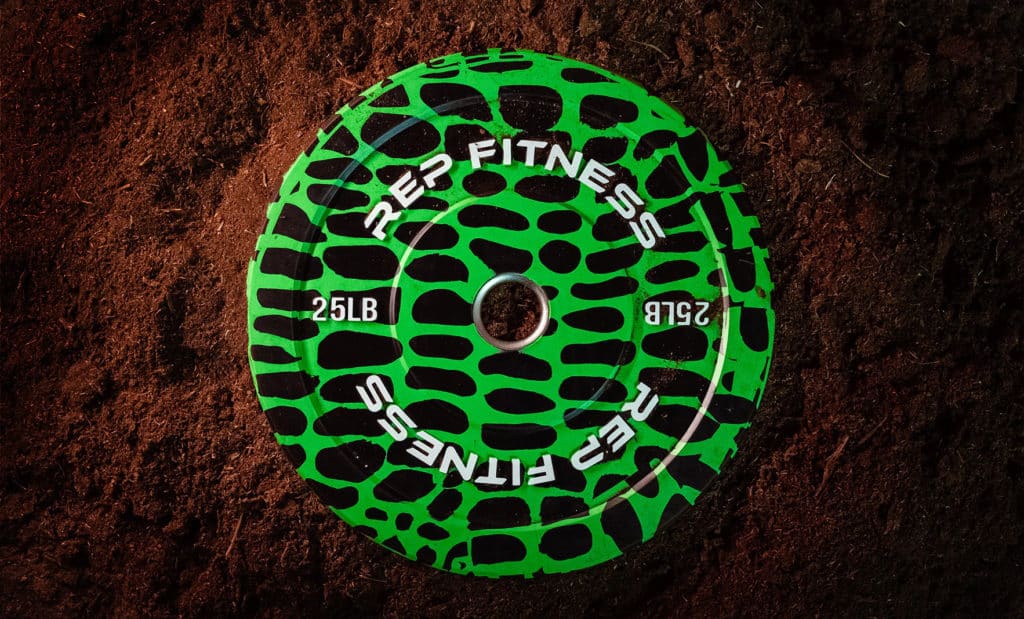 GORUCK GR1 Coyote Brown
GR1 is synonymous with the best of American Manufacturing and has been proven to Special Forces standards for over a decade at the GORUCK Challenge. It has a Bombproof Laptop Compartment that is extra supported and has a false bottom so your laptop won't even notice. It opens flat for easy organizing and packing and has three rows of external and internal MOLLE webbing for customization.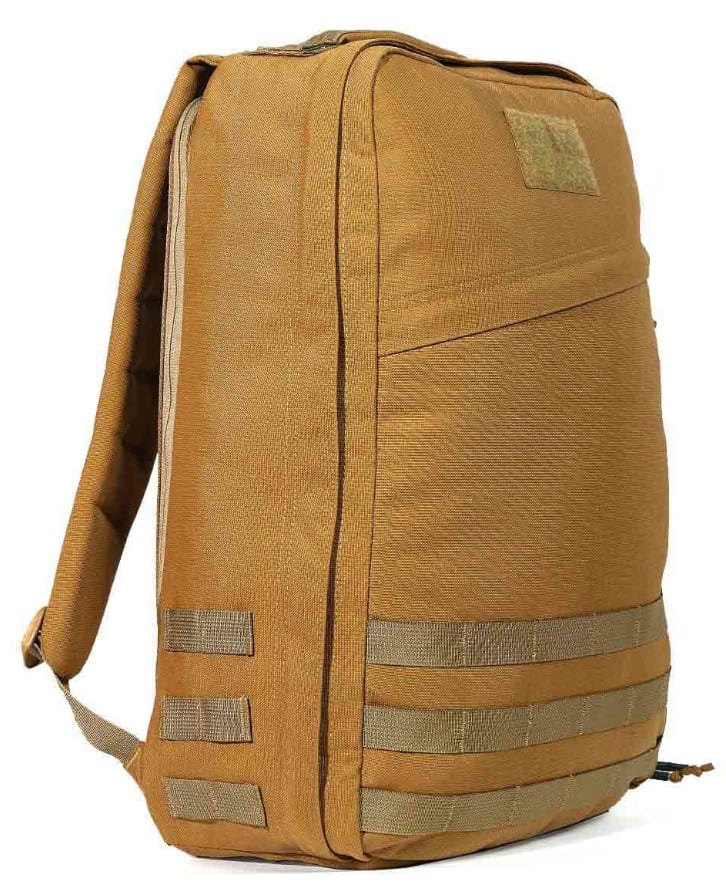 This ruck has plenty of pockets, including three internal pockets and one external slant pocket. It also has a removable, rigid plastic frame sheet that stabilizes the laptop compartment and allows you to carry more weight comfortably. It is TSA Compliant and highly water-resistant.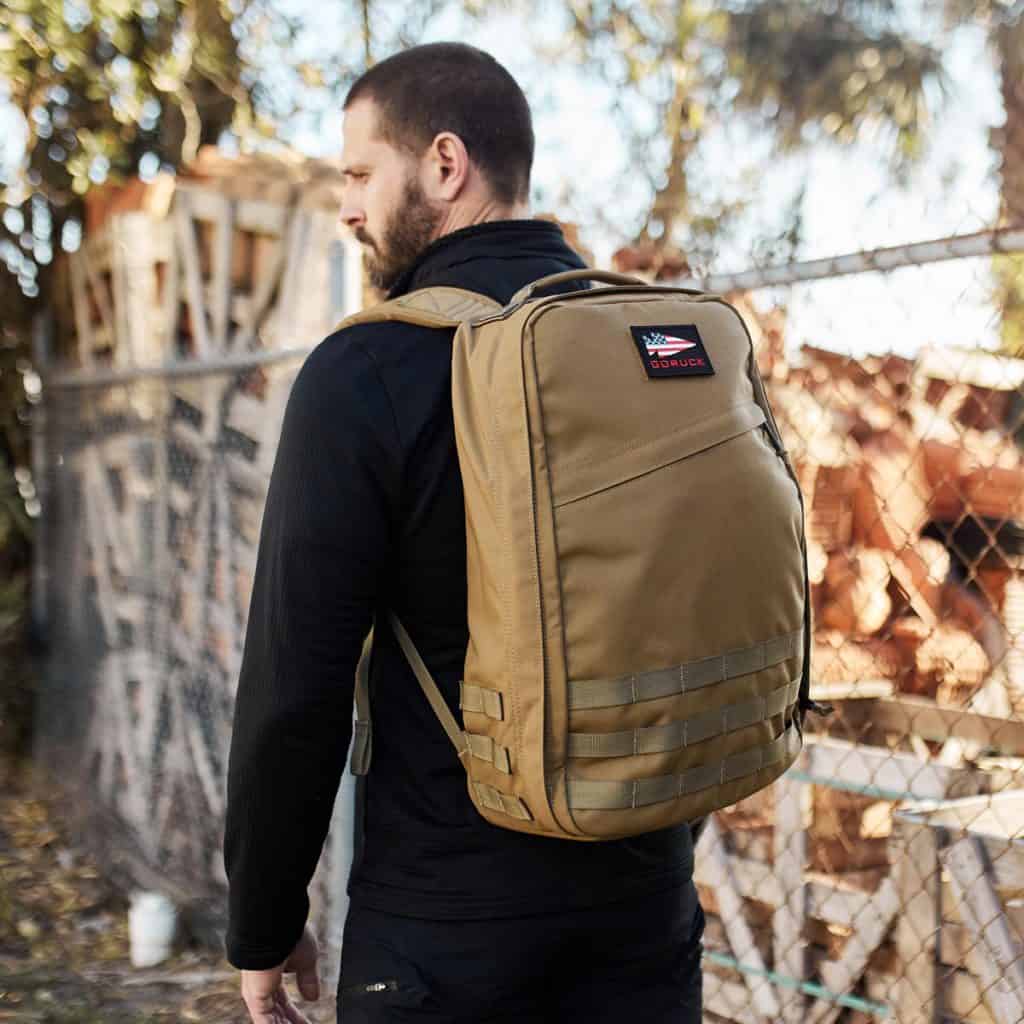 GORUCK Kit Bag
Used on all Airborne flight operations, the GORUCK Kit Bag has a large opening at the top, which is big enough to allow body armor to fit inside comfortably. Special Forces and other units also began using the Aviator's Kit Bags as travel bags, pilot flight bags, and deployment bags. It is inspired by classic aviator's kit bags also utilized by Special Forces teams to transport a small army's gear.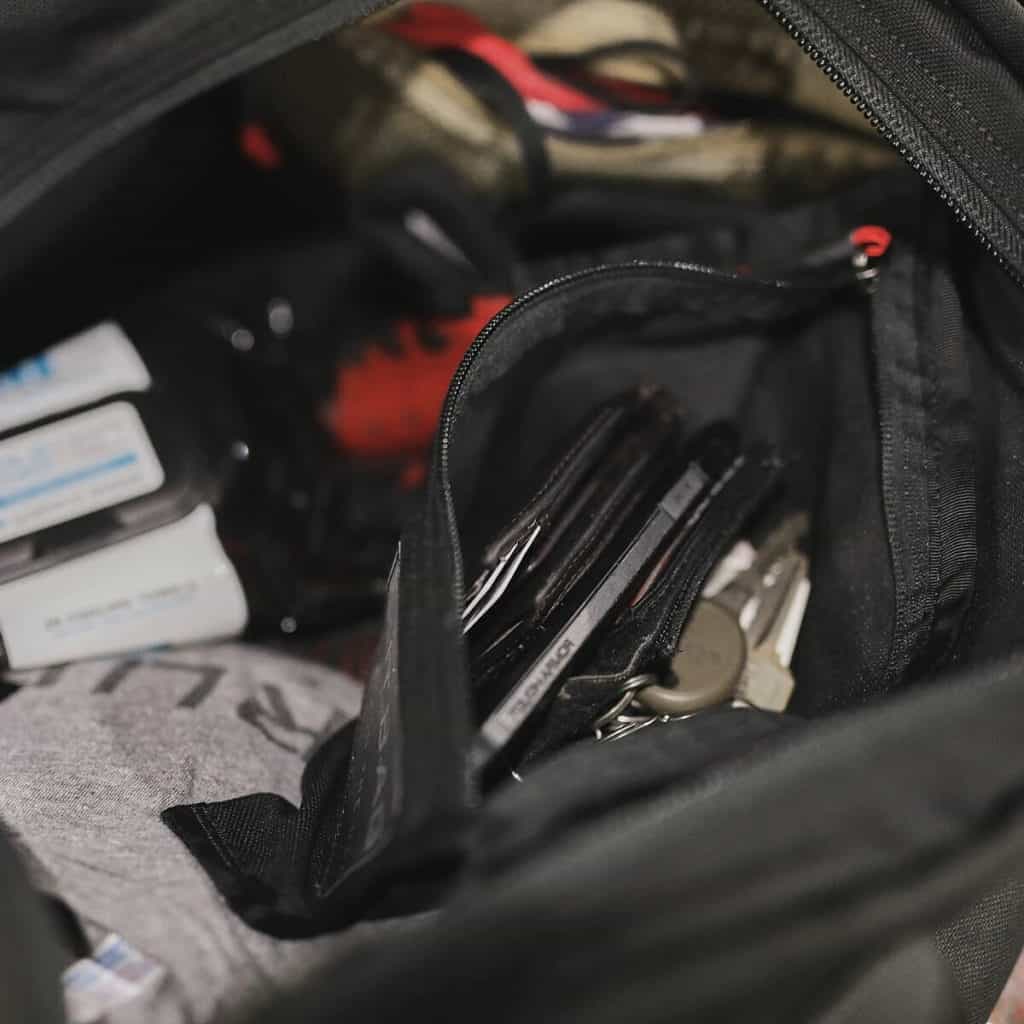 The GORUCK Kit Bag includes an adjustable padded shoulder strap and a re-designed internal Cordura pocket with sufficient space to fit any phone. It is made from 1000D Cordura with three interior zipper pockets and two external pockets. It measures 19"W x 17"H x 10.5"D, and you can customize it with a patch of your choice.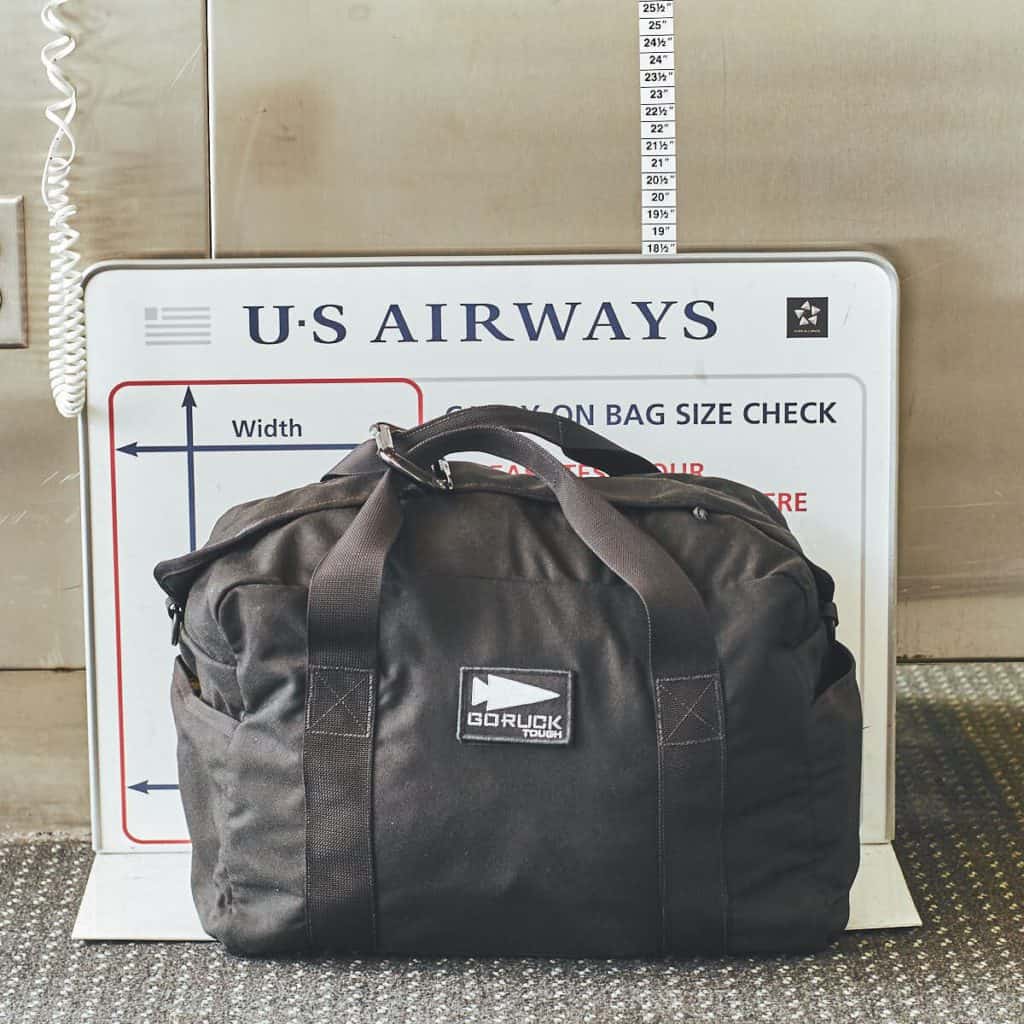 Force USA G6 – All-in-one Trainer
The Force USA G6 All-in-one Trainer is a versatile, comprehensive, and space-saving strength training machine for your home. It allows you to experience different workout options usually found in a commercial gym in the footprint of a single power rack in your home. The pin-loaded stack weights are linked to the functional trainer and cable crossover stations from the rear of the structure.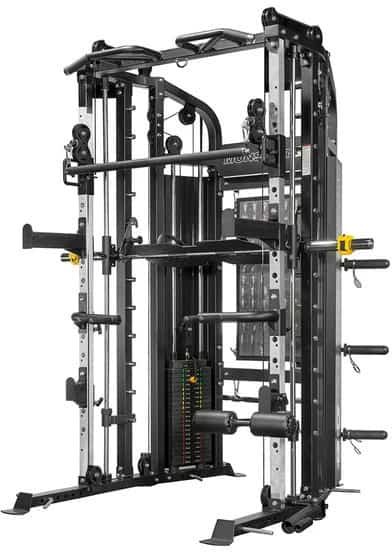 Pin loading delivers a quick, easy, and secure solution to picking different weight levels in seconds. The G6 All-In-One Trainer includes built-in storage for an Olympic and Standard barbell, weight plates, and cable attachments to keep your training space tidy, organized, and free of any trip threats.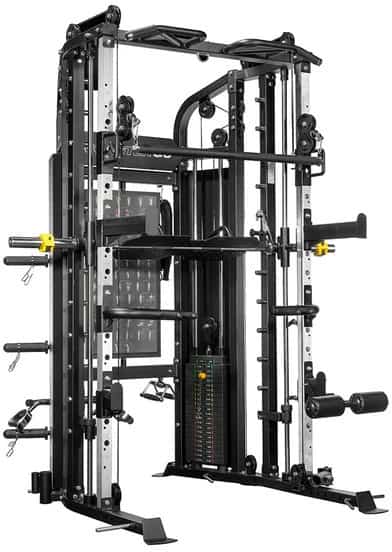 Force USA X20 Pro Multi Trainer
The Force USA X20 Pro is the perfect Multi Trainer for your home, athletic facility, commercial gym, or training studio. It blends a full power rack, a functional trainer with dual integrated 289 lb weight stacks, chin up, landmine, suspension trainer, and a low row station into one compact strength training system. It has six strength training machines in one, featuring a 2:1 cable pulley ratio, 11-gauge steel uprights (3'x3′), and 17 attachments.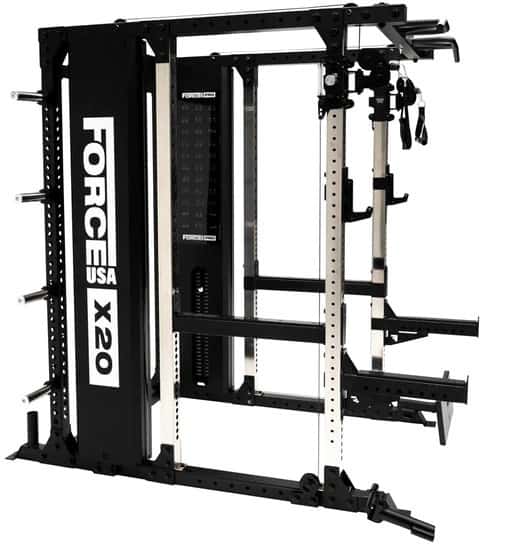 The steel uprights highlight Westside Spacing with 42 adjustment points using 1″ diameter holes (1 1/2″ spacing lower rack and 3″ upper spacing rack) for fast and comfortable adjustment of height levels between sets. If you need more storage and want to raise the versatility even further, the optional X20 Pro Upgrade Kit has everything you need to take things to the next level.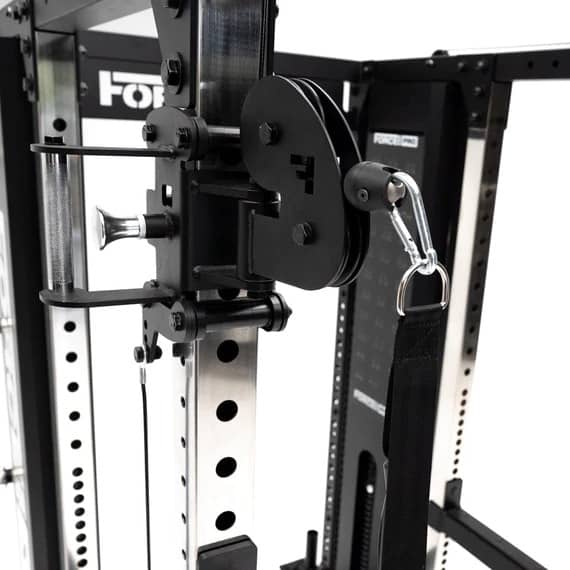 Torque USA M1 Tank Push Sled
The Tank has three training levels: 1: Speed Power, 2: Acceleration Power, and 3: Explosive Power. The faster you push, the harder it gets. There is no need to increase your workout's difficulty with its magnetic braking system. It is painted with electrostatic paint, so you can use it outdoors, under all weather situations, without fear of harming the equipment.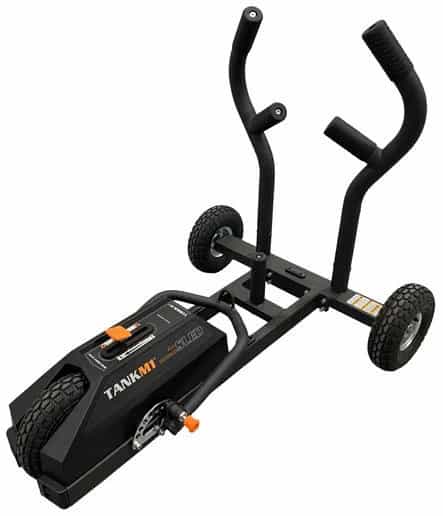 The Tank was created to be used on various indoor and outdoor surfaces—from grass fields to turf tracks. Its rubber-treaded tires are non-marking and will provide traction on a variety of surfaces. Adding a plate or two on the included weight horn may be beneficial for traction and keeping wheels down for some movements.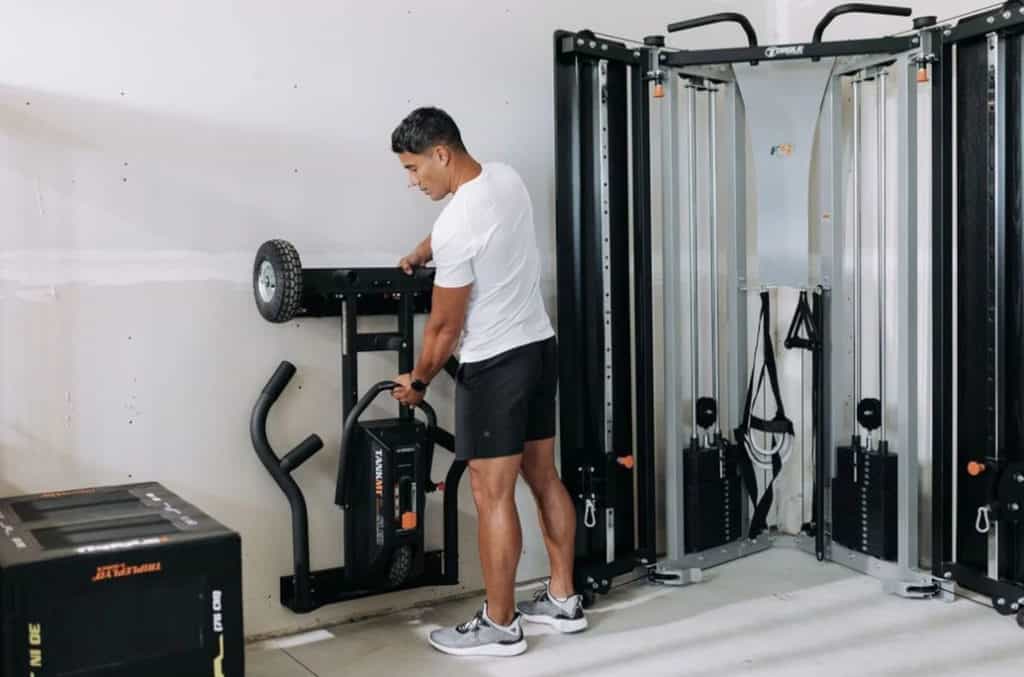 Torque USA – F9 Functional Trainer
The Torque USA – F9 Functional Trainer is a full-body functional trainer that brings club-quality strength training into the home. It has two independent adjustable swivel pulleys with 17 low-to-high positions on the uprights. It also has dual separate selectorized weight stacks for up to 112.5 lb. resistance per handle.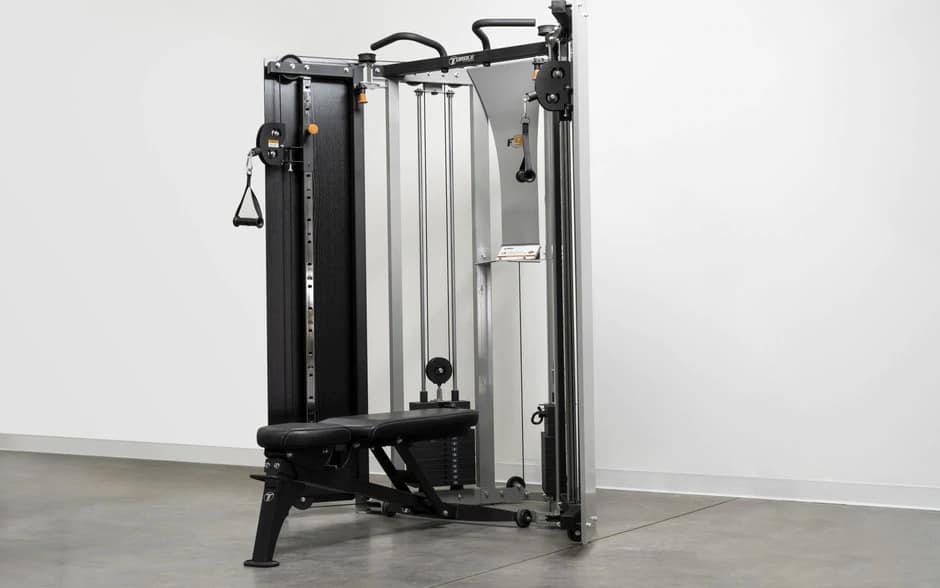 The F9 Functional Trainer has an assist strap function for chin-ups and dips so you can commence low and slowly advance toward independent performance. All parts and exercises are stored within the fold-away cabinet when not in use. It has a ½ to 1 weight ratio and allows max cable travel that delivers lasting functional exercise capabilities.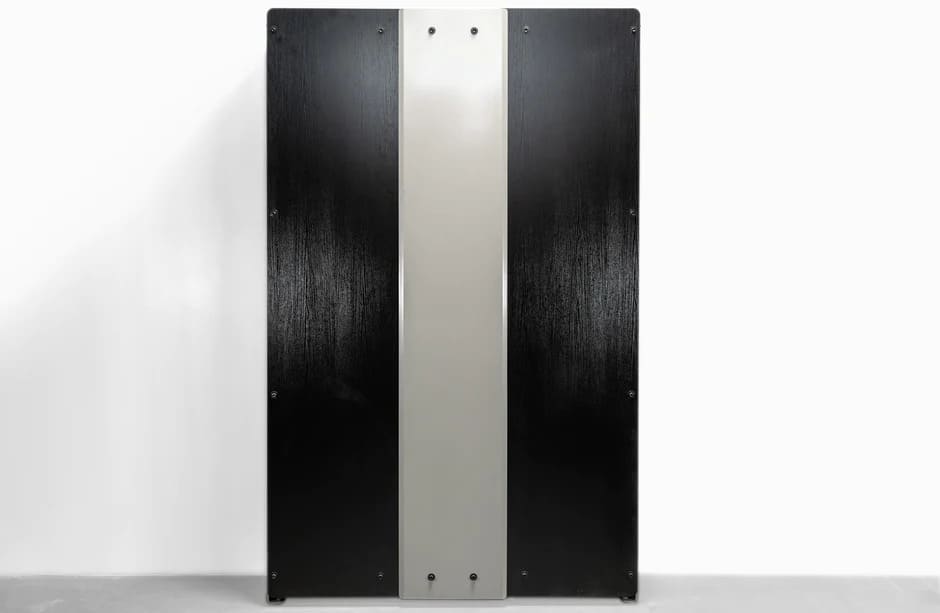 Get RX'd XebeX Runner Smart Connect
The Xebex Runner is a motorless, self-generated, curved treadmill. The 10mm thick, low-impact, shock-absorbing, vulcanized rubber running surface provides you with more comfort and less impact during long-distance runs and all-out sprints. Novices and competitors can run at the preferred speed and adjust the output with no maximum or minimum speed setting.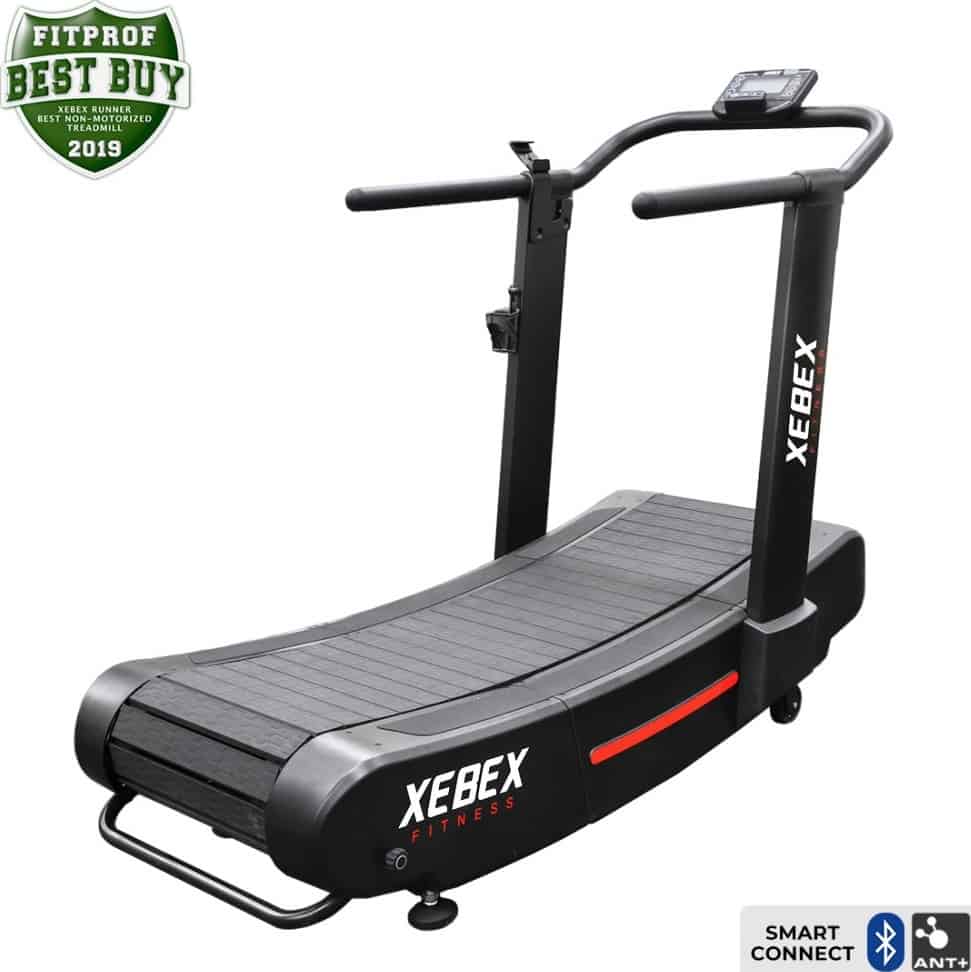 The Xebex Runner console keeps you informed on your Time, Distance, Calories burned, Watts, Speed, RPM, and Pace, with several heart rate and interval programs available. It is proven to burn 30% more calories than standard, motorized treadmills. The shock-absorbing slats made of rubber reduce the impact on the joints, such as knees and hips, delivering a more comfortable and safer training experience.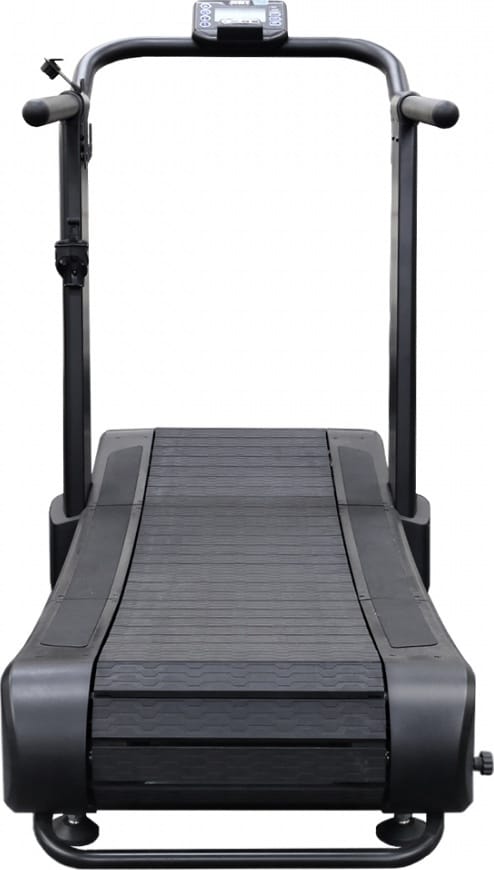 Garage Gym Black Friday Sales 2022 – In Summary
That's our close-up look at the Garage Gym Black Friday Sales 2022.
Black Friday this year falls on November 25, but you don't have to wait that long to start your shopping. We offer you pieces of equipment that are great additions to your home or garage gym and available now. With these offerings from different fitness brands, you can start buying early and get the deals you want.
Looking for more options? Check out these other great products: Fringe Sport – Affordable Lat & Lift Cable Pulley System Assault Fitness Gym Equipment More Black Friday sales.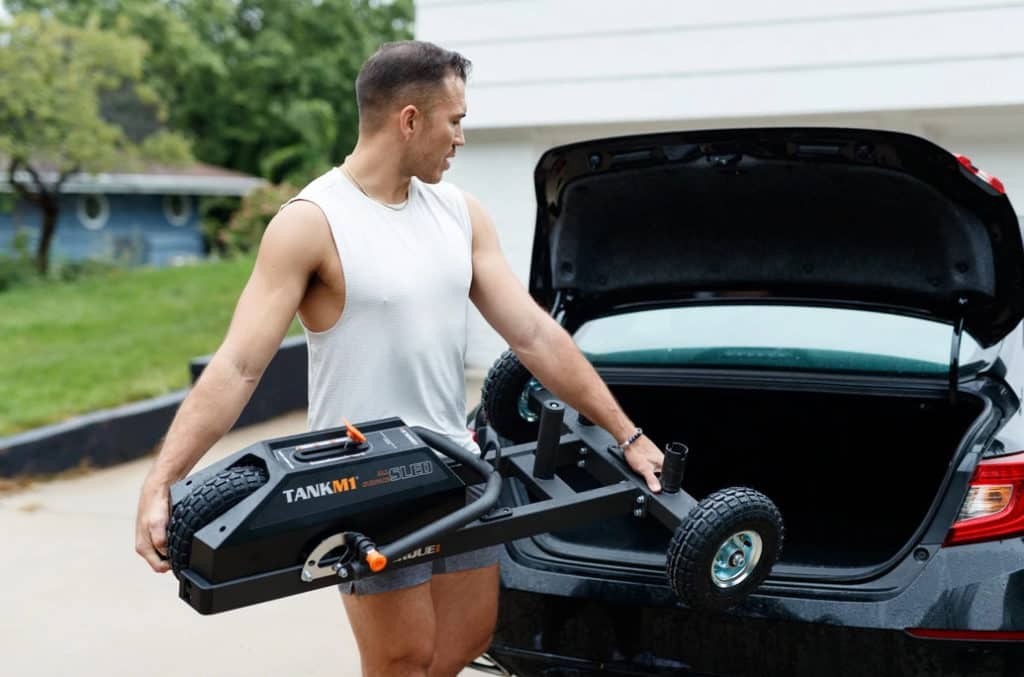 Photo Credits
Product photos on this page are property of Various.
This website is not affiliated or associated with CrossFit, Inc. CrossFit is a registered trademark of CrossFit, Inc.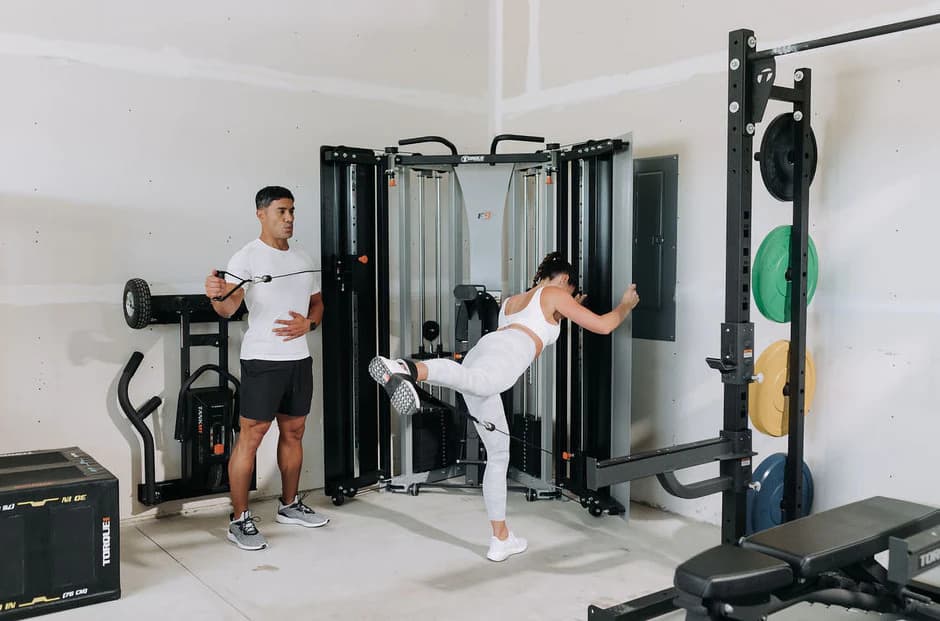 Affiliate Disclaimer
We are an affiliate of Rogue Fitness and others that sell this training gear. If you buy clothing or other training gear after clicking the links in this article, we receive a small commission at no extra cost to you. This helps us to bring you in-depth information and content on these great training products.
Tim is the founder of FitAtMidlife.com – an avid gym rat for 30+ years, he's a reviewer of many, many shoes – and founder of the Speed Bag Gathering – the world's only gathering of speed bag punching enthusiasts.  See more gym reviews at Tim's YouTube channel.