Let's look at power racks for your garage gym.
A good power rack is a garage gym essential – because it lets you lift heavy weight safely.
As a bonus, the best power racks let you do a whole lot of other exercises too.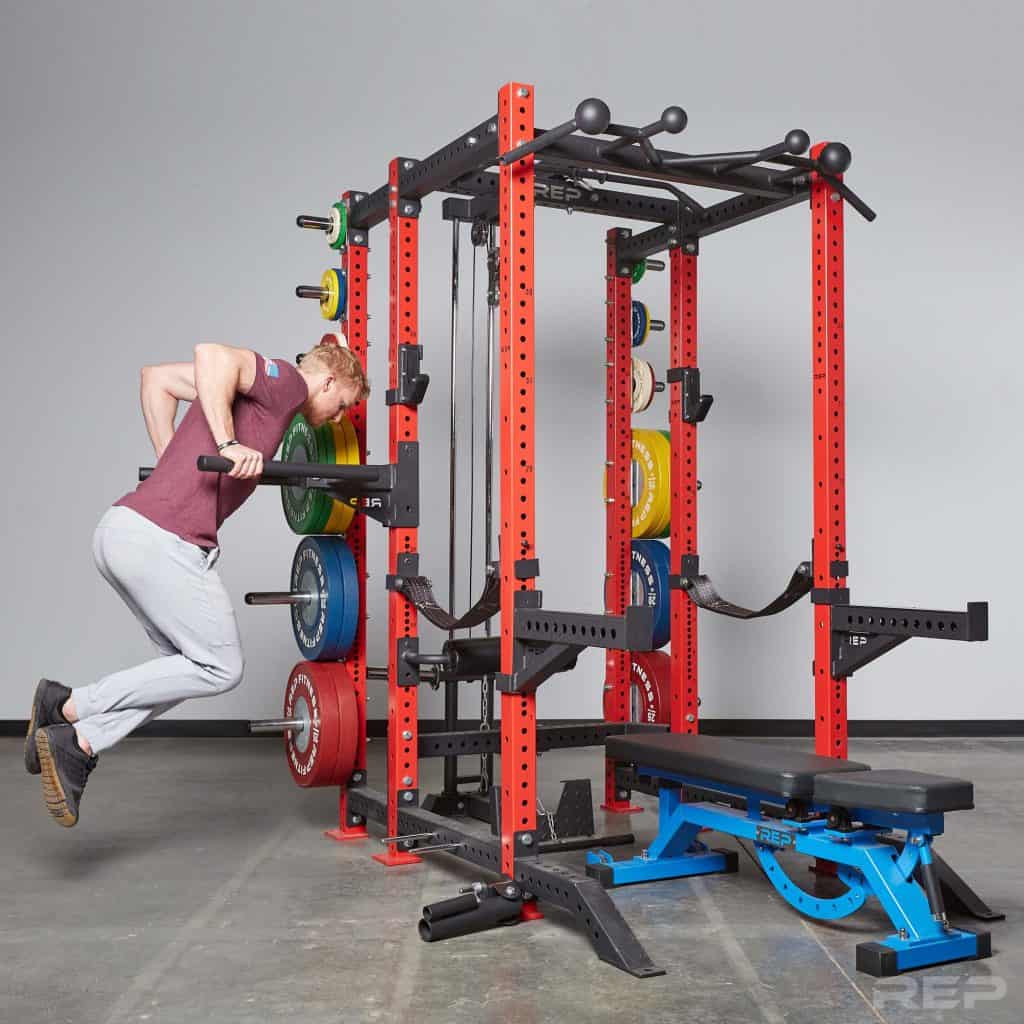 Shown above is the PR-4000 Squat Rack from Rep Fitness as an example.
It is an exceptionally well-built product, and has all the essential features we look for in the best squat stand or rack for a garage gym.
Better still, it has a lot of options for expansion – which is part of the fun of customizing your power rack.
We're going to highlight products from Rep Fitness. They make high-quality gear – at bargain prices.
Rep Fitness is the "bang for the buck" champion of barbell equipment:
The Power Rack – What To Look For
What do you need in a power rack?
First of all, let's clarify. We're going to talk about four-post power racks.
These typically consist of four posts – and they are stand-alone units.
If you need a more space efficient two post squat stand, Rep Fitness offers those as well.
One of the most important features of a power rack – how much weight can it support?
You'll find lighter racks made from 14 gauge steel, and others made from 11 gauge steel.
The maximum weight rating is not something you are going to be able to upgrade later, so we recommend getting a solid foundation to build upon.
The height of the power rack is important – to ensure it will actually fit in your garage.
A taller rack will let tall guys do pull-ups and chin-ups – but may cost more.
Beyond that, look for quality accessories and attachments.
For example, the "J-Cups" that are used to hold the barbell should be lined with plastic.
This keeps the knurl on your expensive barbells looking (and feeling) good.
Some of the higher end power racks have an insane number of optional attachments.
But, the good thing is that you can start simple – and build upon it later.
Let's look at what Rep Fitness has to offer.
PR-1100 Power Rack from Rep Fitness
The PR-1100 Power Rack is a great basic power rack.
This 14 gauge steel rack is rated for 700 lbs and comes with: multi-grip pull-up bar, UHMW (Plastic) lined J-Cups, numbered holes, and safety bars.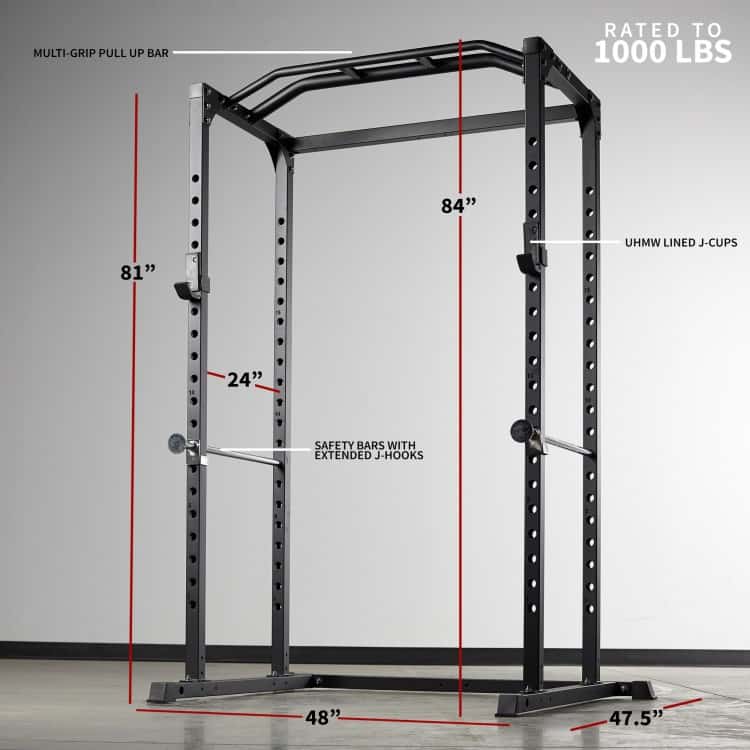 It is also expandable, as it is compatible with PR-1000 series attachments.
This includes weight horns (for storing weight plates), dip handles, lat pulldown/low row cable attachment, and a land mine accessory.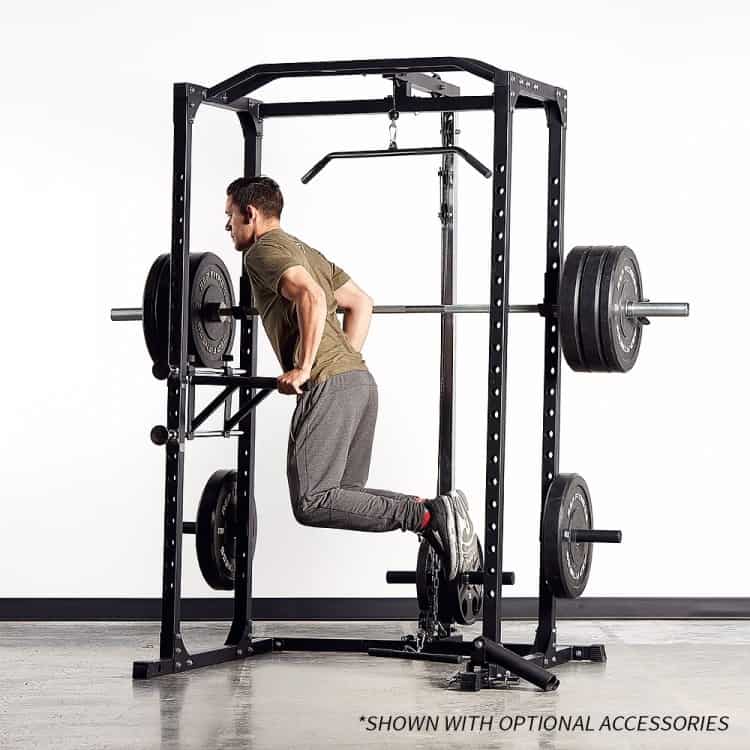 Speaking of customization, it is also available in a variety of colors – to let you customize the look of your home gym.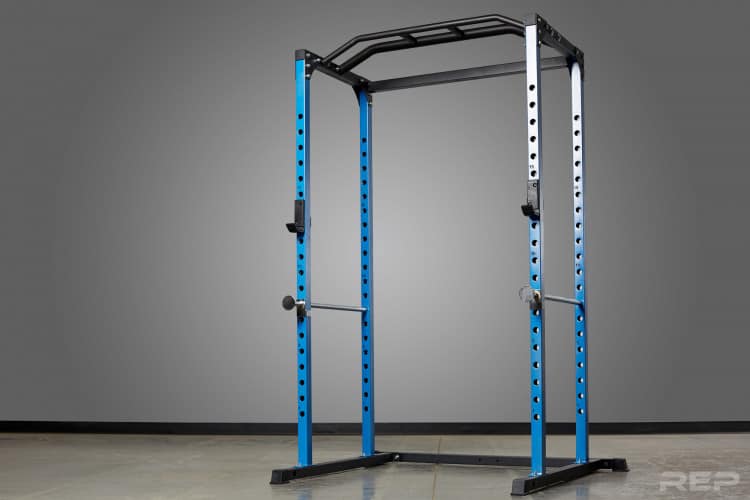 Let's look at another option from Rep Fitness.
PR-1000 Power Rack from Rep Fitness
The PR-1000 Power Rack is a great starting point.
As you can see, this is a four post rack.
It is made from 14 gauge 2" x 2" steel, and is rated for 700 lbs maximum weight.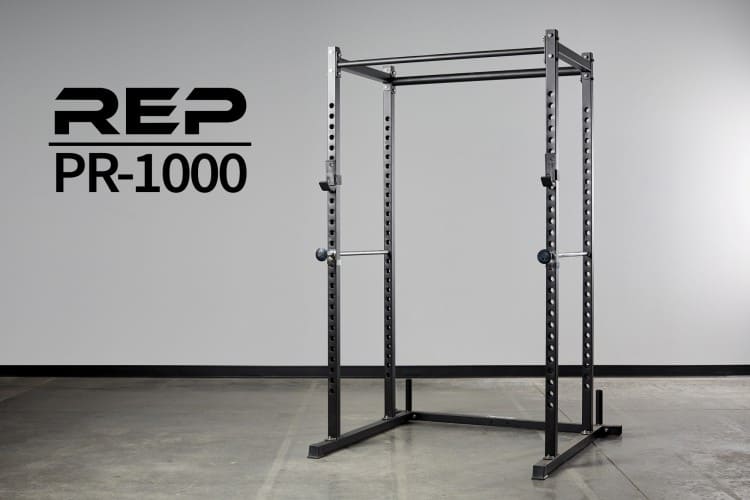 The PR-1000 is 83" tall. That's just under 7 feet tall.
If you need shorter, Rep has the PR-1050 Shorty Power Rack. It's similar, but only 6 foot tall.
The PR-1000 has numbered uprights – so it is easy to set the J-Cups at the same height.
There is a pull-up bar – which is highly recommended of course.
The J-Cups are plastic lined, but the safety bars that extend through the cage are not.
That means you shouldn't rack the bar on the safeties regularly – save them for emergency use only – otherwise it's going to be hard on the knurl.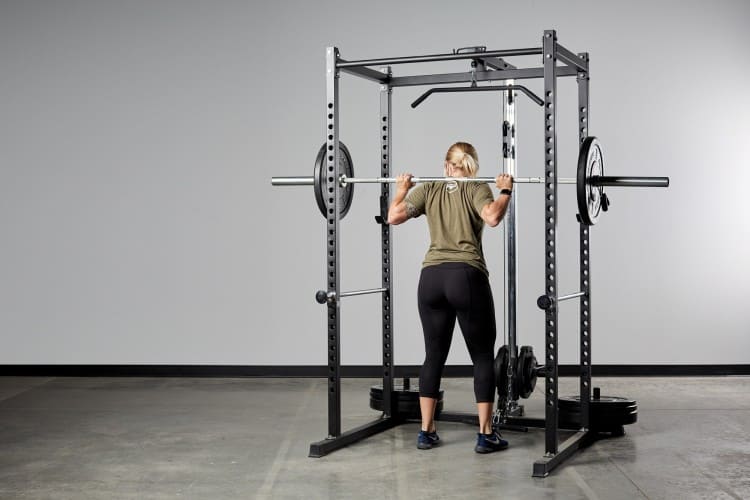 There are also several optional attachments you can add.
Shown below is the lat pulldown/low row attachment. Dip handles are also available.
Please note both of those are additional cost.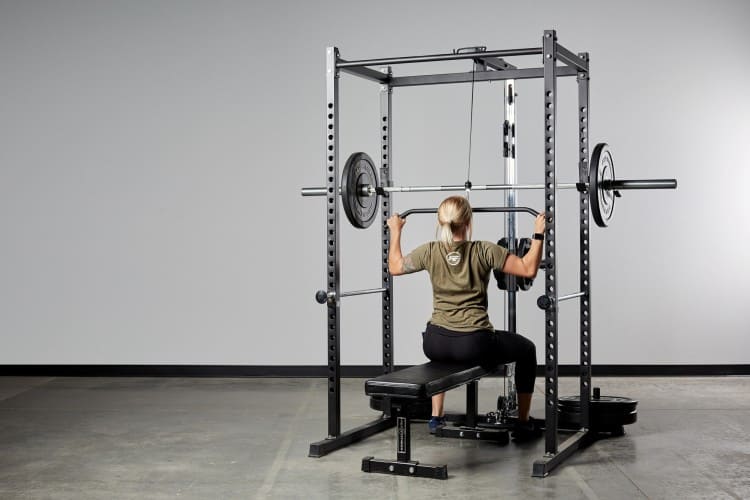 Let's look at more options from Rep Fitness.
PR-4000 Power Rack from Rep Fitness
This is where things start to get serious.
The PR-4000 Power Rack is commerical quality, and made from 11 gauge 3" x 3" steel.
As such, it has a weight rating of 1,000 lbs.
That's enough for just about every garage trainee.
It is available in several colors, and raw clear coat.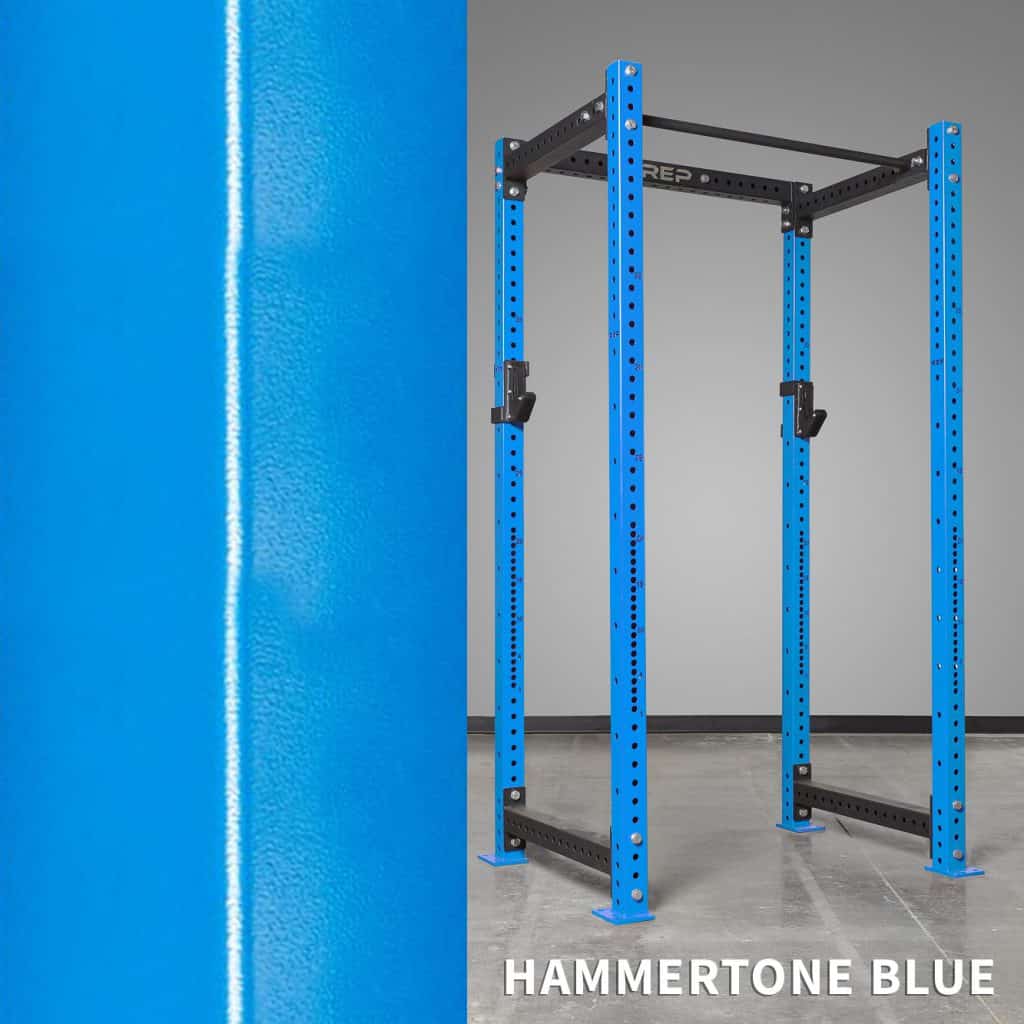 But, where the PR-4000 really shines is the expandability. There are TONS of options.
All of these cost extra, of course.
If there is an attachment you want or need – they probably have it for the PR-4000.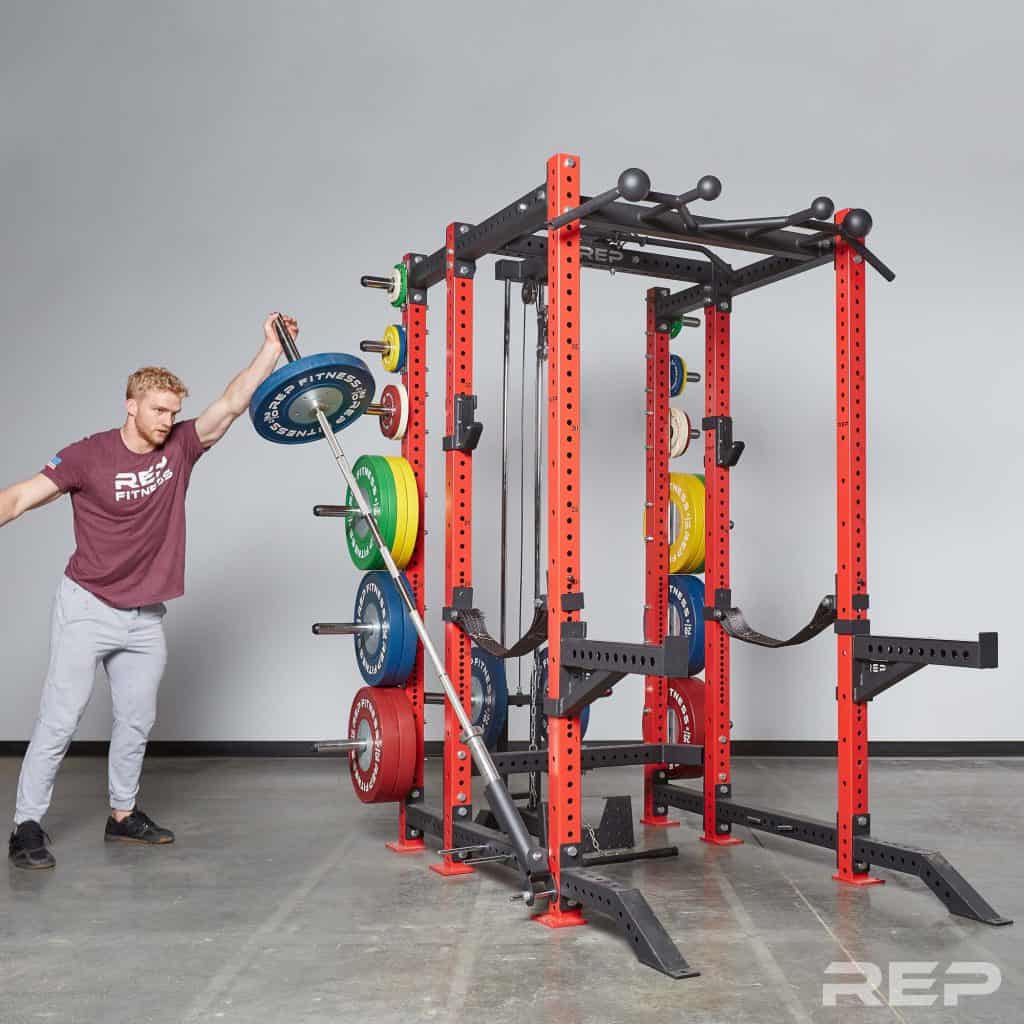 Here's just a few of the add-on options: lat pulldown/low row, dip handles, land mine, front foot extension, weight pegs for plate storage, spotter arms, leg rollers, band pegs, and much, much more.
Ok, maybe this is overwhelming.
Just remember, you start simple with just the rack, safety bars, and J-cups – and you add all the other stuff later.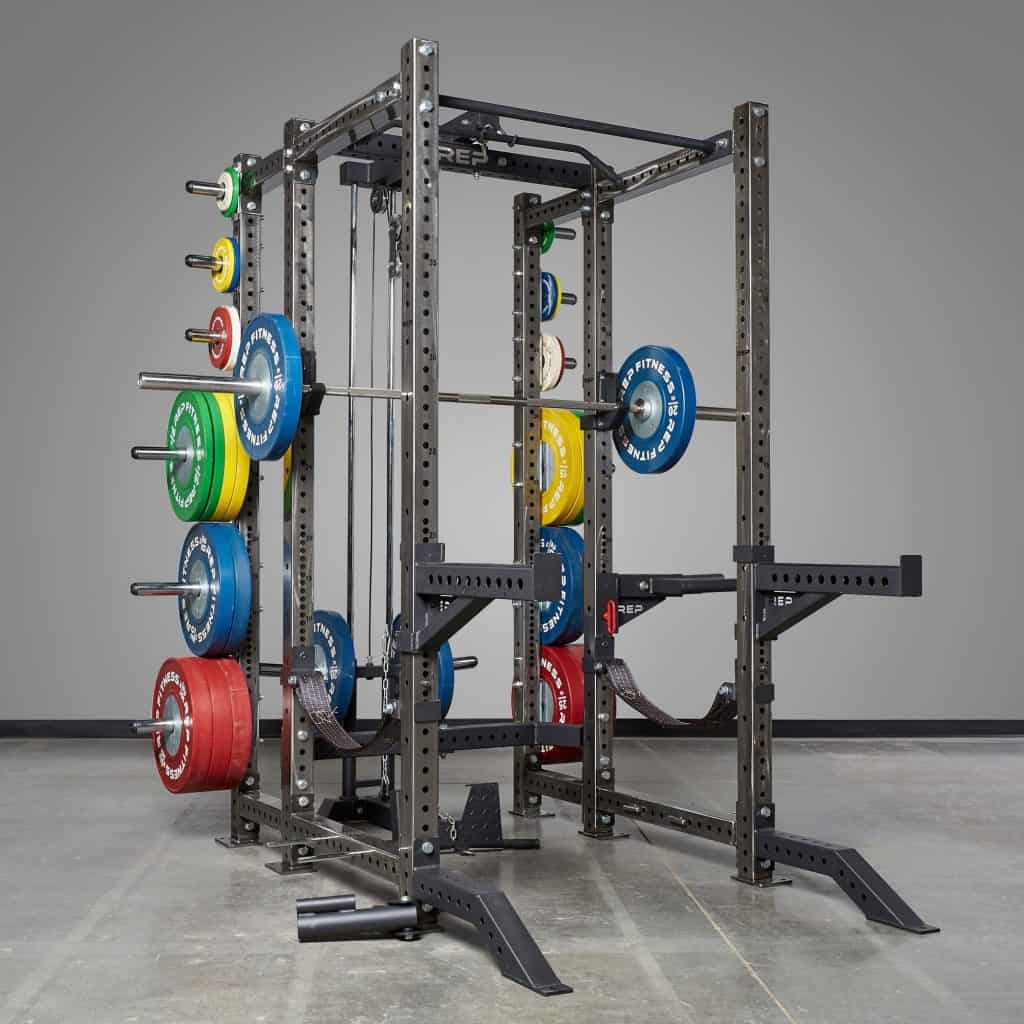 The PR-4000 takes up quite a bit of room. Let's look at an option that takes things in a different direction.
PR-4100 Folding Power Rack from Rep Fitness
The PR-4100 Folding Squat Rack / Power Rack takes space savings to a whole new level.
This is a FOLDING wall mounted power rack.
It combines the stability and safety of a full power rack – with compact storage.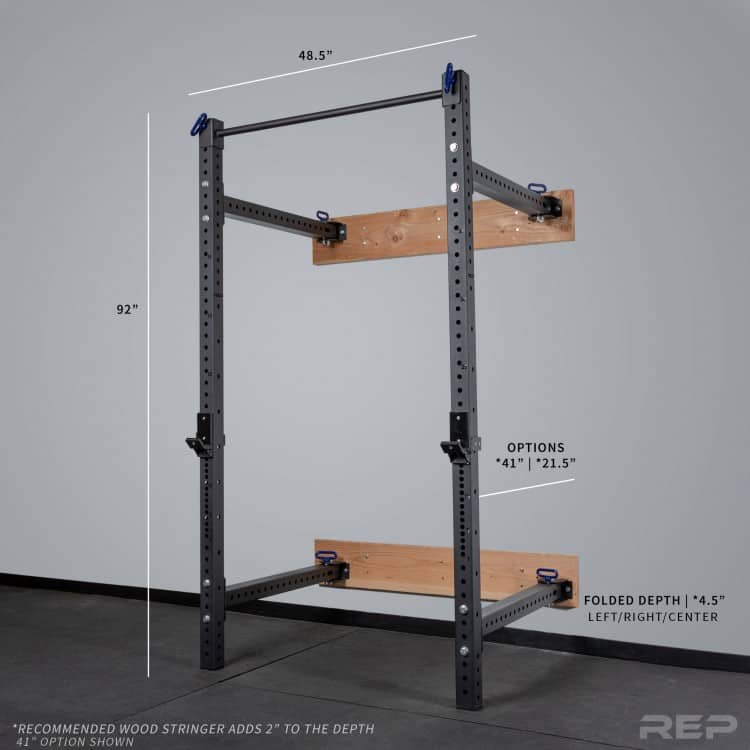 How flat does it fold? Pretty flat: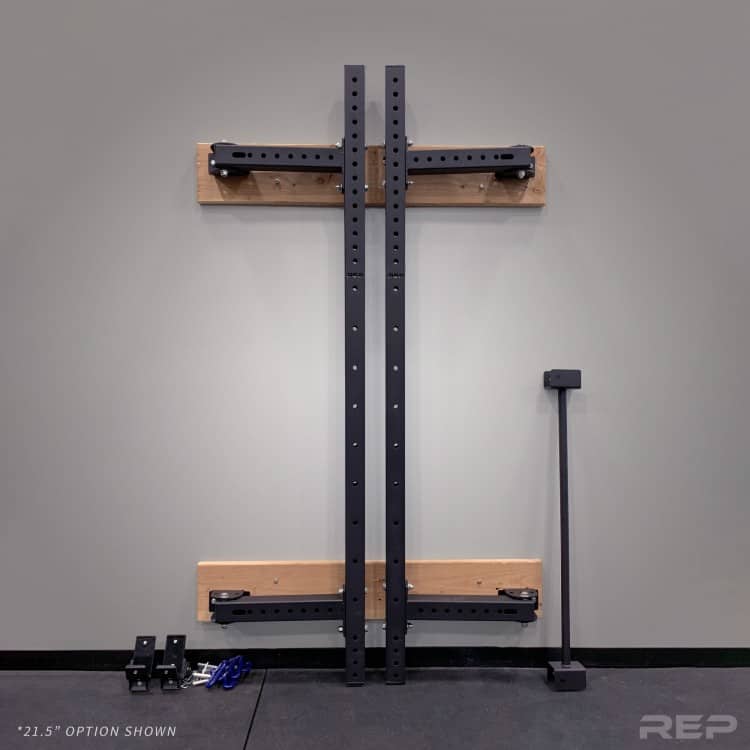 Please note there are two depths for this unit – 21.5" or 41" deep.
The uppers can fold inward or outward.
The PR-4100 comes with a single 1.25″ diameter pull-up bar. It is height adjustable, and must be removed to be stowed. But, it is easy to put it on or take it off the rack.
The PR-4100 has some other neat bells and whistles too.
For instance, it has Westside 1″ hole spacing.
This allows for very fine adjustments to the barbell height – right where you need it – in the "benching" zone.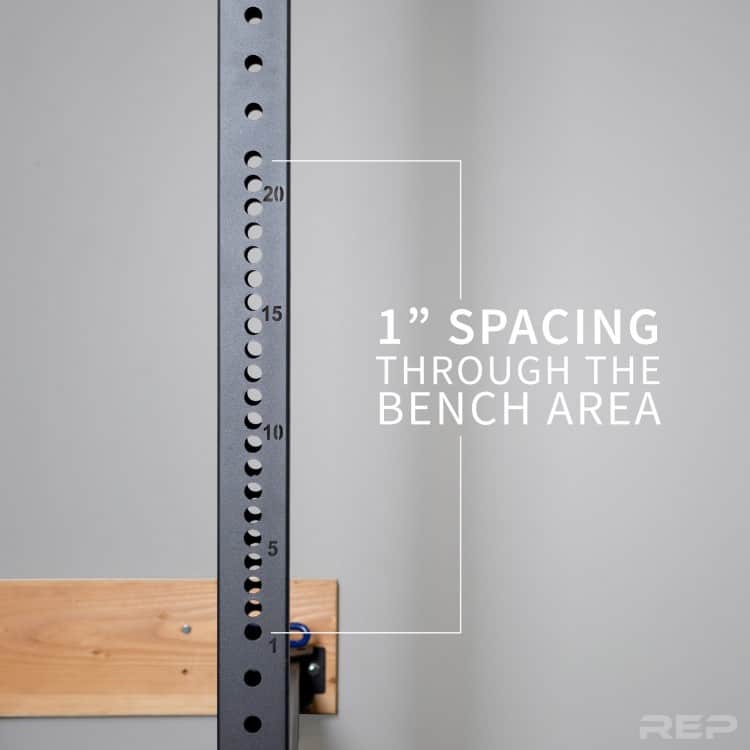 For the most secure mounting, Rep recommends the use of wooden "stringers" – mount these across the studs in the wall – then mount the PR-4100 to these.
No need to buy an expensive metal string – just use wood of the appropriate length.
Connect these into the studs – and then attach the rack to the stringers.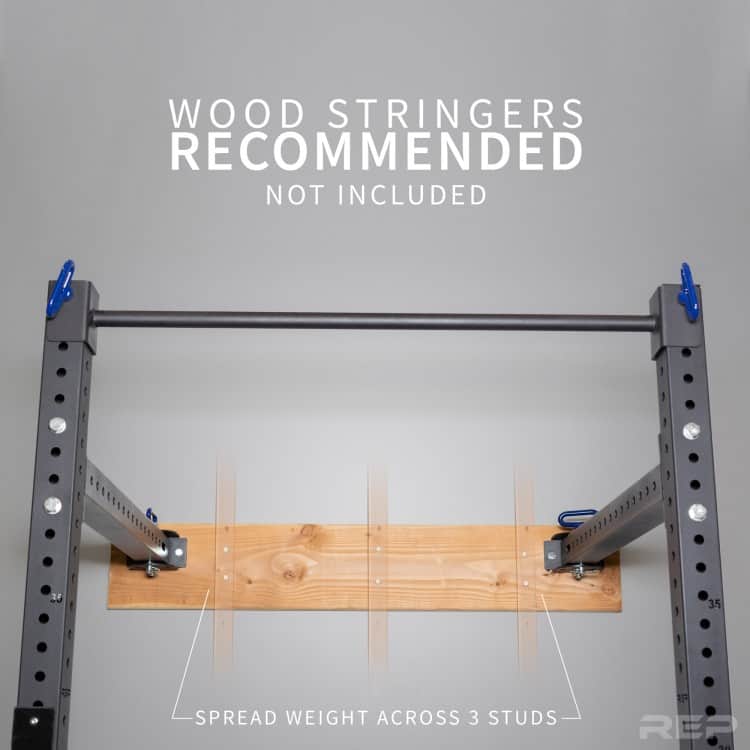 The Pull-Up bar can be easily removed for when it is time to store the unit.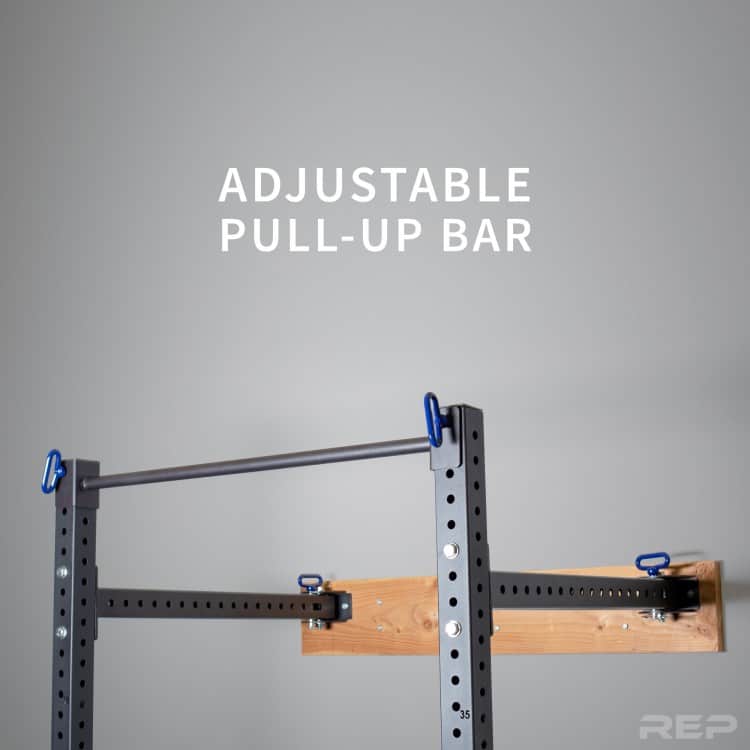 This unit is very sturdy – because it's got the two posts AND it's connected to the wall.
It is made from 11 gauge steel that is 2.5" x 2.5&qout;.
How sturdy? Using the optional PR-4000 Dip Handles you can do body weight dips.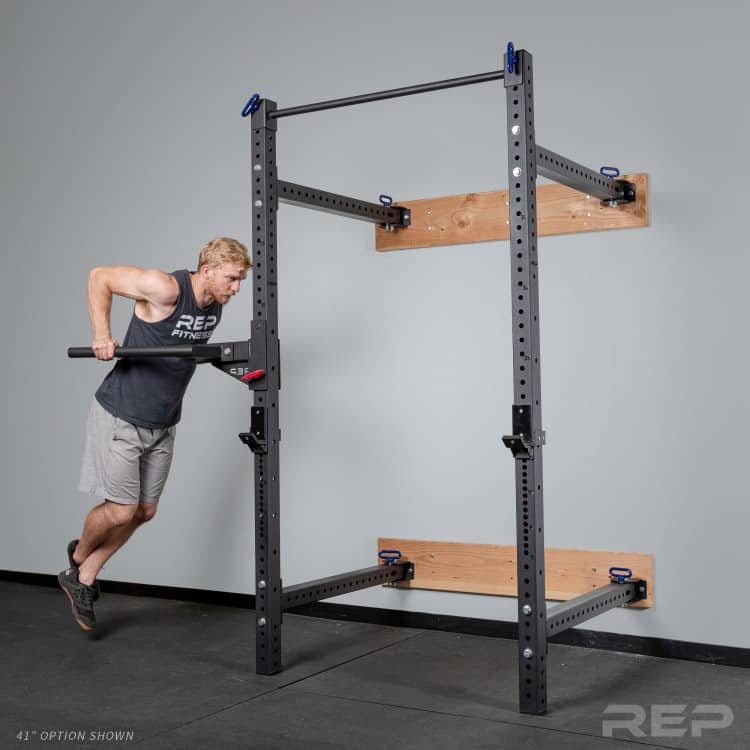 Overall, the PR-4100 is our top choice for a compact power rack in your garage.
PR-5000 Power Rack from Rep Fitness
We saved the best for last.
The PR-5000 Power Rack is the top of the line from Rep Fitness.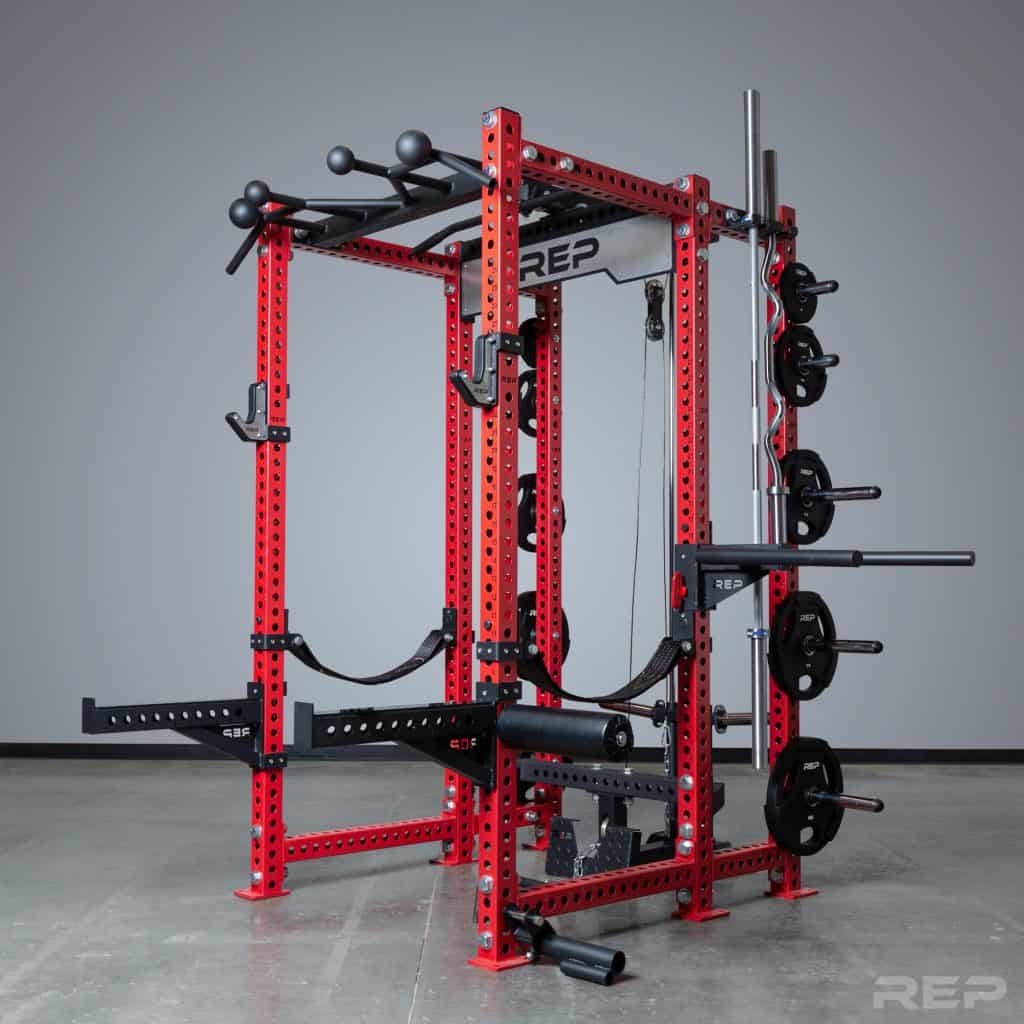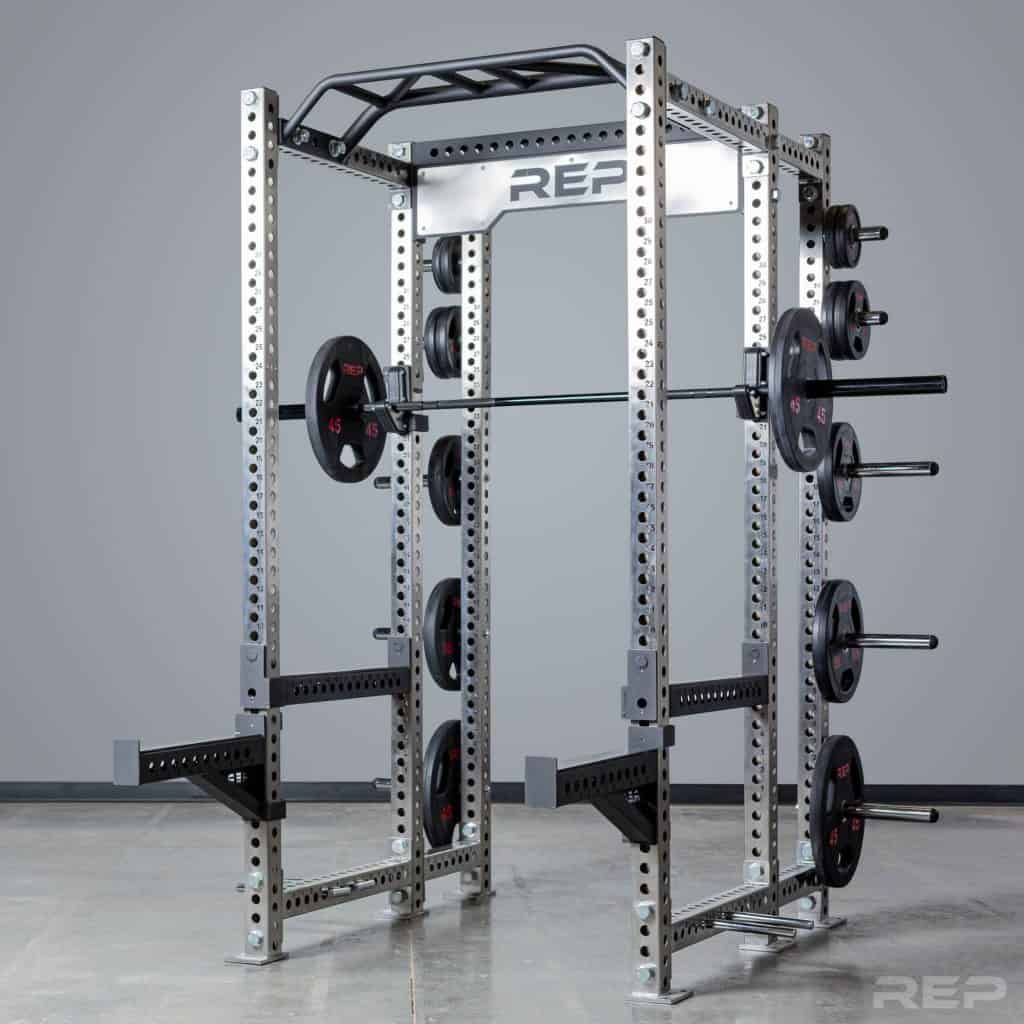 That should do it – if you can't find a power rack in that bunch- I'm not sure what to tell you.
Power Rack Accessories from Rep Fitness
Want to make your power rack even better? Check out these accessories.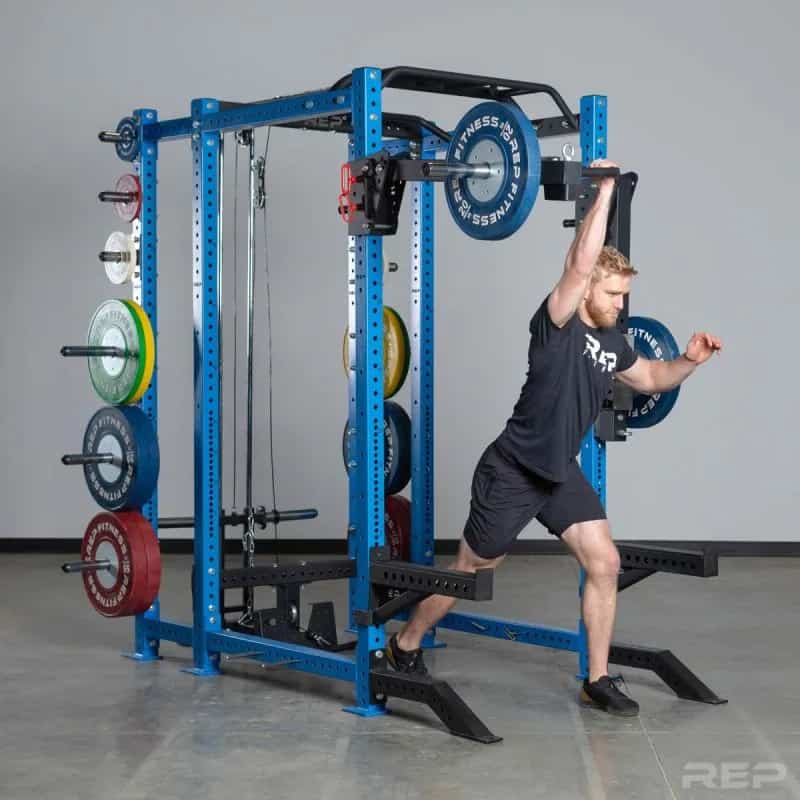 ISO arms can certainly assist you in doing various exercises, particularly if you are looking for new ways to train within a limited space. This is a good investment any weightlifter can make, especially if you don't want to go through the hassle of driving to the gym, waiting for equipment, not having enough time, etc.
Want to find out more? Check out Rep ISO Arms.
Squat Rack Accessory from Rep Fitness
Looking for function and form in your gym equipment? Monolift Rack Attachment has both!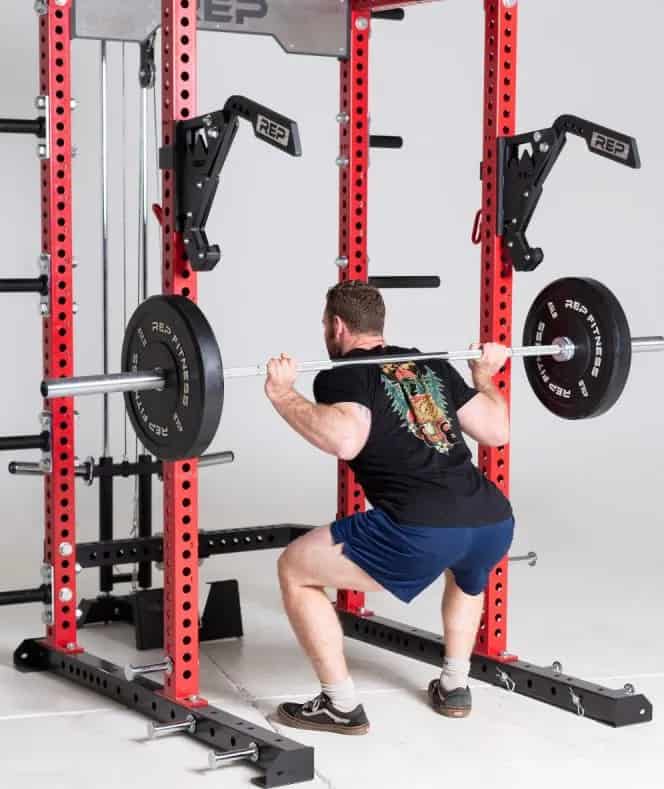 If you have chosen the direction of lifting, this Monolift Rack Attachment can be your perfect partner to keep you concentrated and driven in reaching your goals. It swings quickly and neatly, gives an added layer of security, and grants an excellent user experience.
Looking for more? Check out Monolift Attachment.
Power Racks from Rep Fitness – In Summary
A Power Rack is a must for heavy barbell training.
These units take up a lot of space – and don't move easily.
But they offer a great variety of exercise variations – and safety.
We recommend a unit that is strong and sturdy but can be improved with additional accessories in the future.
That will help keep your gains from hitting a plateau – and keep your training fun and exciting.
Space constrained? There are models that fold flat for the ultimate in space saving storage.
Why Rep Fitness Products?
We're a
Rep Fitness
affiliate – so if you order equipment after clicking the links in this article we receive a small fee – at no additional cost to you. Rep Fitness is the king of "bang for your buck" value in the gym equipment market. The quality is high – and the price is right. We're proud to help spread the word – and to help make your workout be the best it can be.
Photo & Image Credits
All Rep Fitness product imagery is property of Rep Fitness, and provided by Rep Fitness.
Tim is the founder of FitAtMidlife.com – an avid gym rat for 30+ years, he's a reviewer of many, many shoes – and founder of the Speed Bag Gathering – the world's only gathering of speed bag punching enthusiasts.  See more gym reviews at Tim's YouTube channel.