Let's review the Rucker 3 backpack from GORUCK.
This is the 3rd generation of GORUCK's Rucker backpack – it's made specifically for fitness training purposes.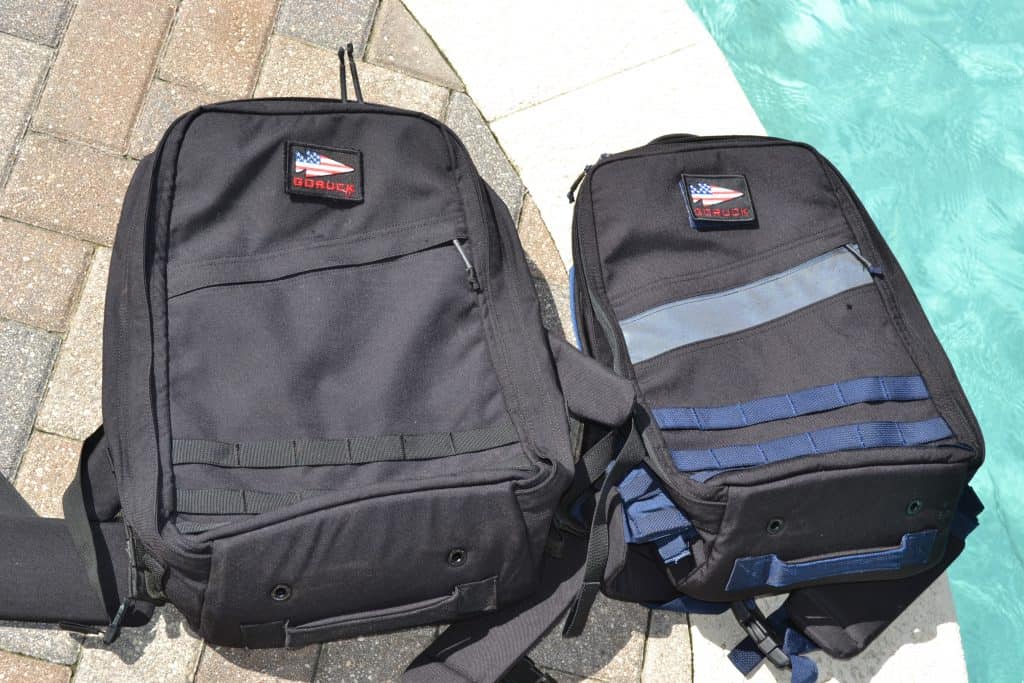 We're going to focus on these features, and what is new and improved from the last version (the Rucker 2).
The Rucker is the ultimate backpack as fitness tool – and is a far better choice than the GR1 or Bullet for this purpose. And now it gets even better with this 3rd version.
Why? That's what we'll explain in this review.
In this review of the Rucker 3 we'll take a close up look at Rucker 3 Versus Rucker 2.
GORUCK Rucker 3 Review – Our Review
To test this product, we got hands-on and in-depth.
Here's what we found:
Rucker 3.0 is the third generation of GORUCK's Rucker backpack created especially for fitness training purposes. It is smoother, slicker, and is not abrasive compared to Rucker 2.0.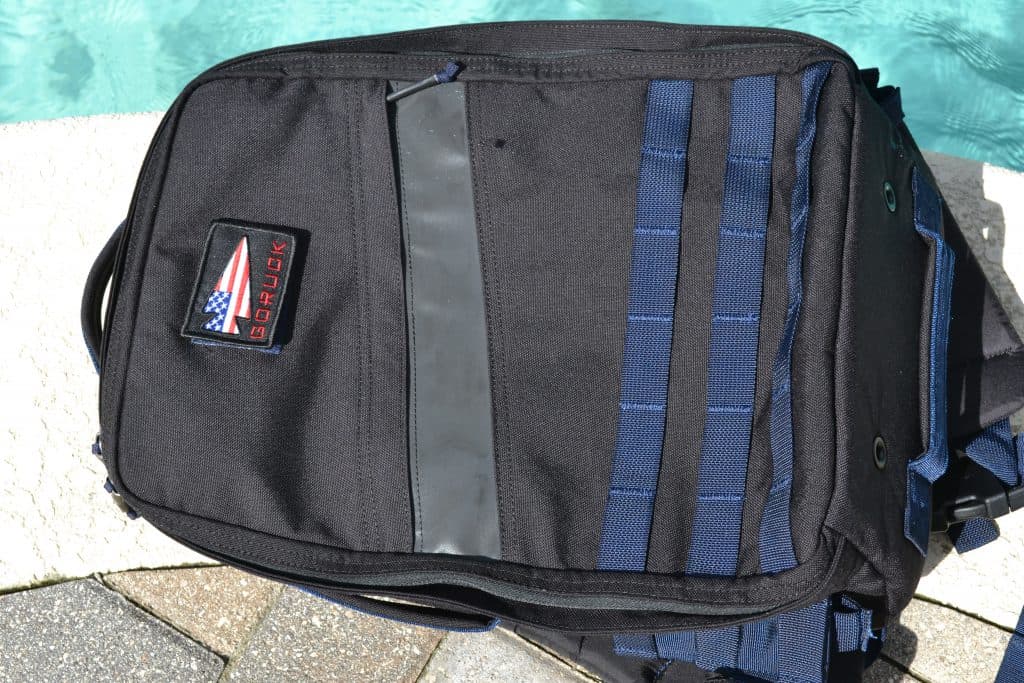 The bottoms of the shoulder straps use a new, less abrasive material called 210D HT (High Tenacity) CORDURA. GORUCK added a 10 mm EVA foam lumbar support on the back using the same 210D material. The chest strap gives you a way to manage where the straps lay on your shoulders and traps.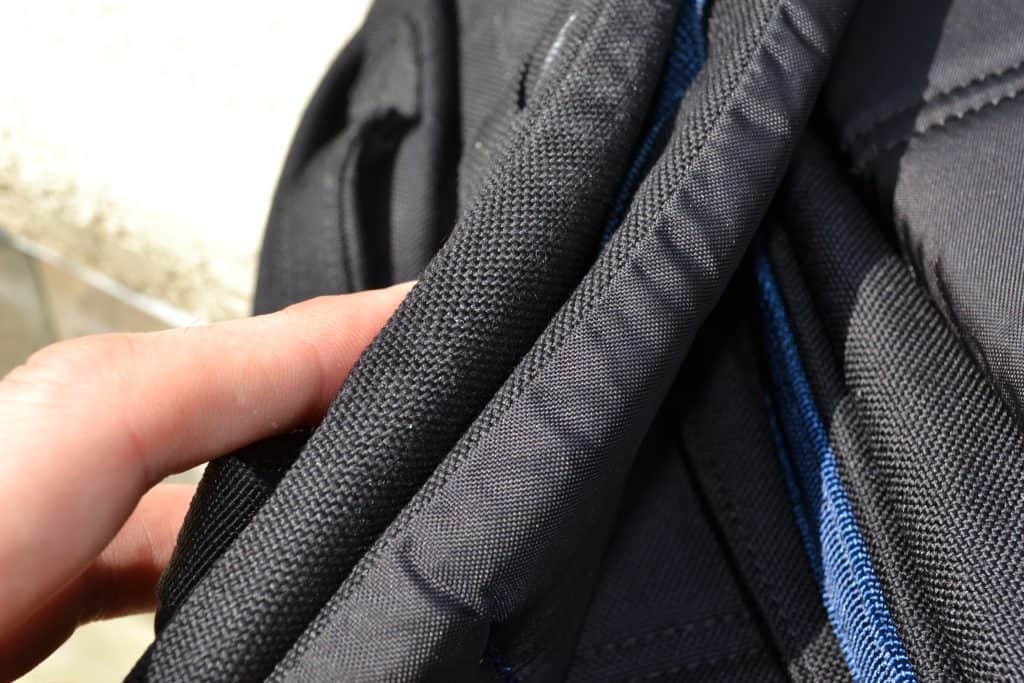 You can dial things in for special comfort, or make a modification as required to avoid exhaustion. The sternum strap itself is now wider and is highly advised if you are going any distance with weight. The buckle is also so much bigger and more robust.
Want to find out more? Check out our hands-on, in-depth GORUCK Rucker 3 Review review.
By the way, you can now reserve the next evolution of the Rucker – the Rucker 4.
GORUCK Rucker 3 Review on YouTube
Why read when you can watch?
Here's a short overview of the Rucker 3, from our YouTube channel:
Let's take an up-close look.
GORUCK Rucker 3 Strap Improvements
Here's one BIG improvement.
The undersides of the shoulder straps use a new, less abrasive material called: 210D HT (High Tenacity) CORDURA.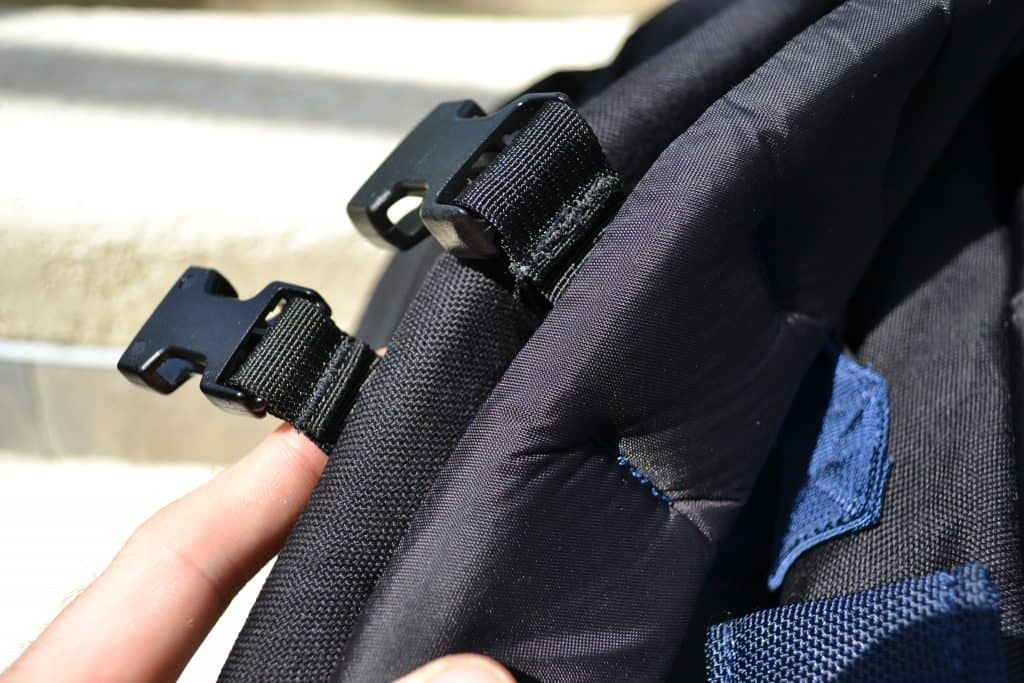 It's smoother, slicker, and it is not abrasive.
You can see the difference in these side by side shots with a Rucker 2.
Overall, this is a good thing. We'll have to wait and see how durable it is.
Can you ruck in a tank top or other sleeveless shirt?
Yes, but remember the top side of the shoulder strap is still 1000D – and the underside of your arm is going to rub on that – over and over and over…
I wouldn't go long distances shirtless or without sleeves, personally. Short distances are OK.
The back panel uses the non-abrasive material as well.
The straps have the same amount of foam inside (as far as I can tell) and also look the same from the top.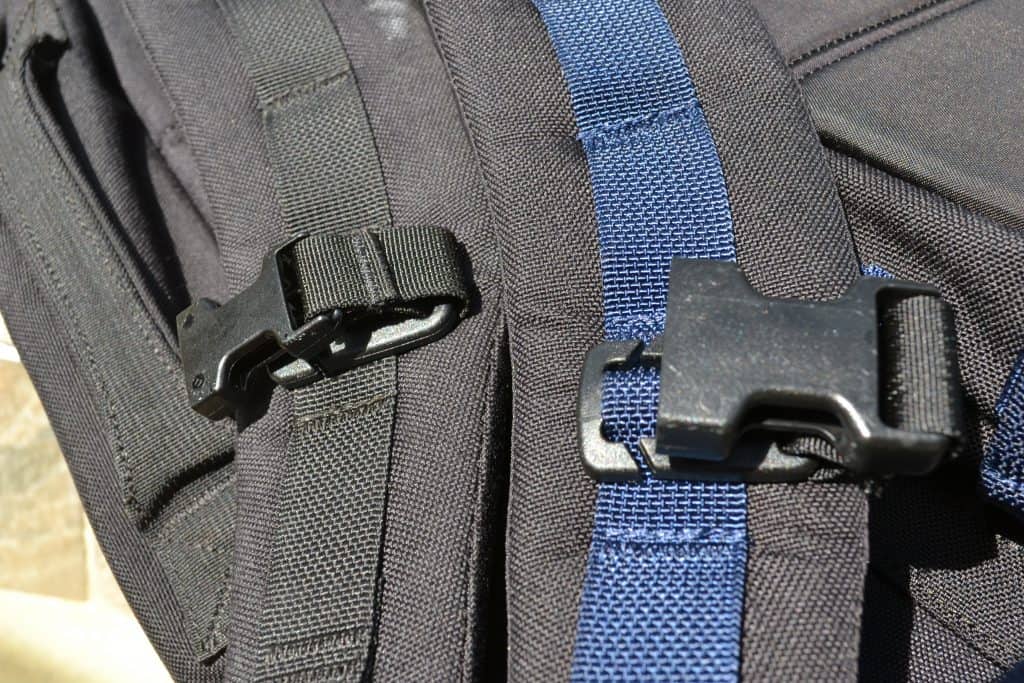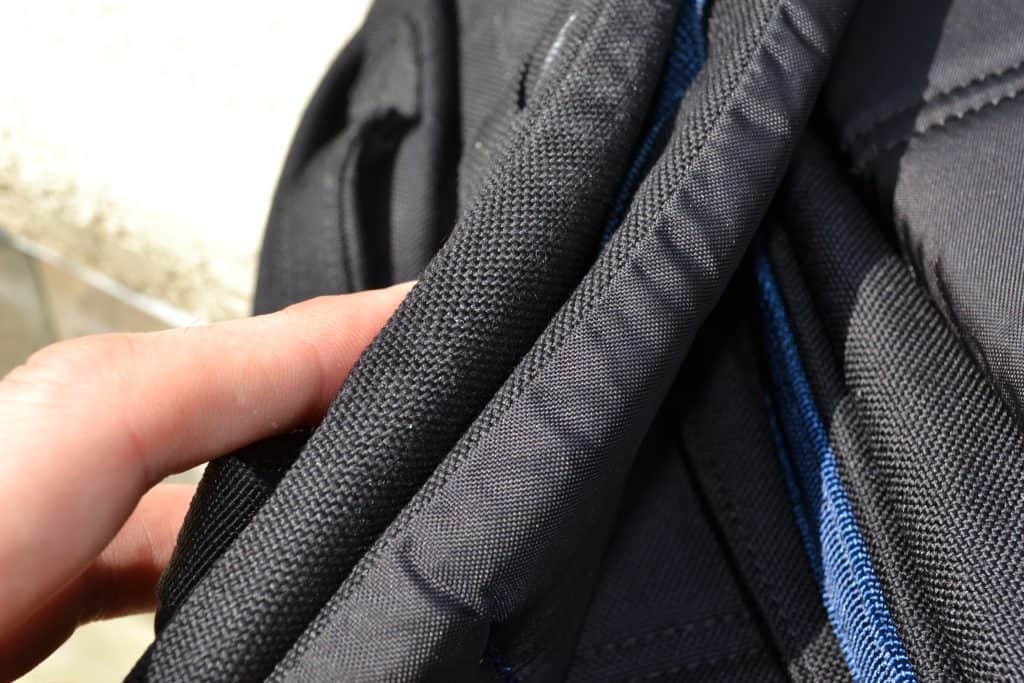 GORUCK Rucker 3 – Improved Framesheet
For those of us that use the Rucker with just a plate – the original framesheet in the Rucker 2 was a disappointment.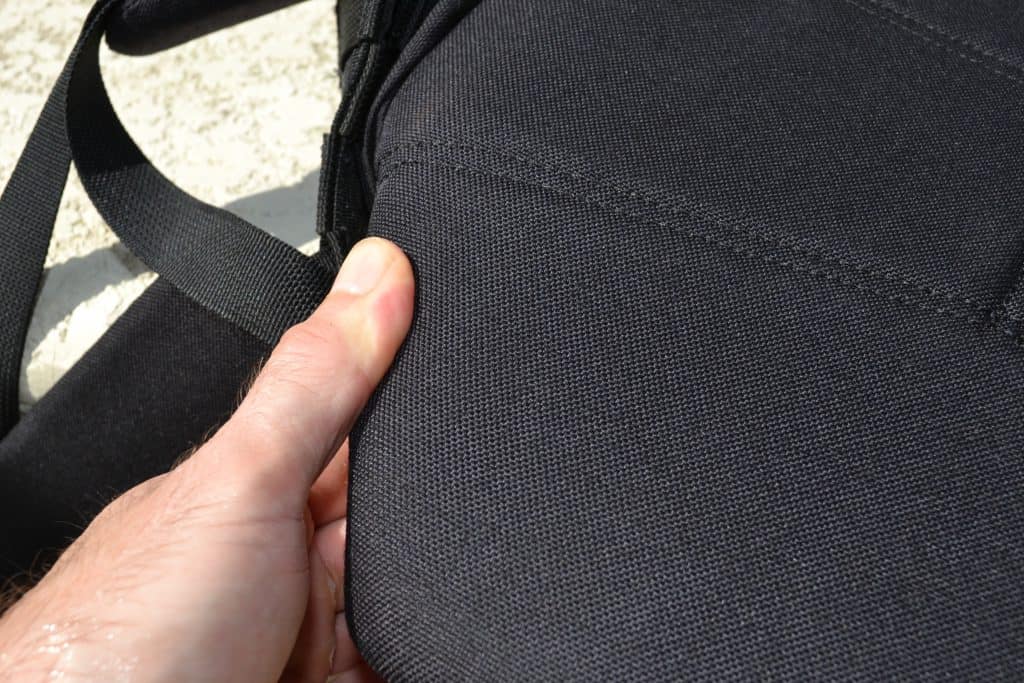 It was not stiff enough and tended to curl over when you had a plate up in the elevated plate pocket – and nothing else in the pack to give it support.
It then gave a bouncy, trampoline effect with every foot step.
They've fixed this with the Rucker 3. The frame sheet now runs the entire width of the bottom of the pack – and it works much better under these conditions.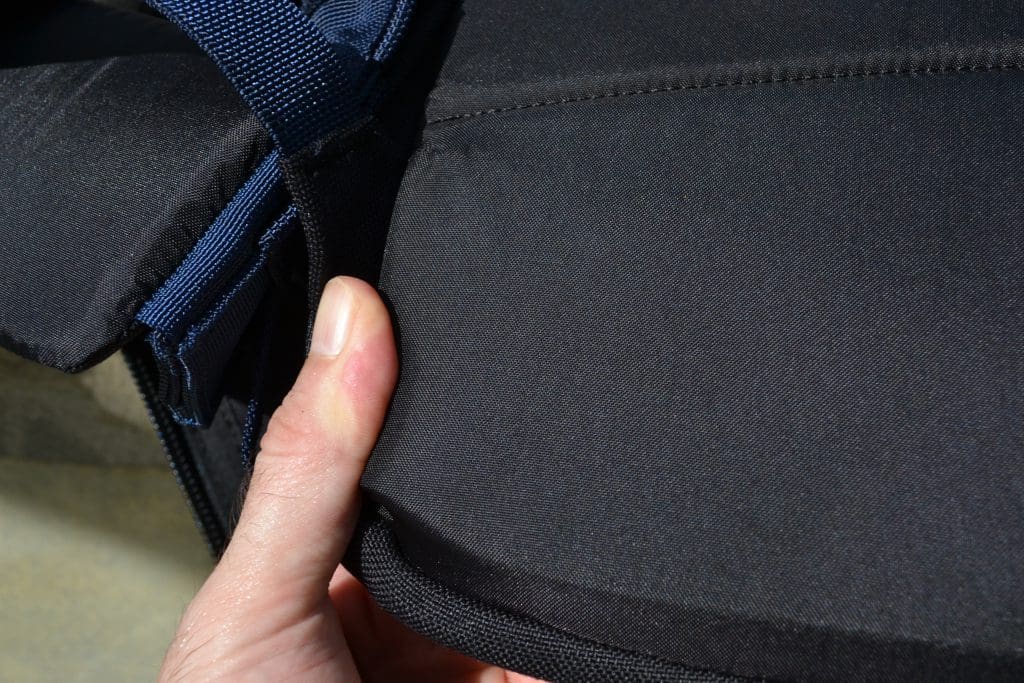 GORUCK Rucker 3 – Reflective Panel
I ruck in the dark near roads quite a bit, so this is a solid win.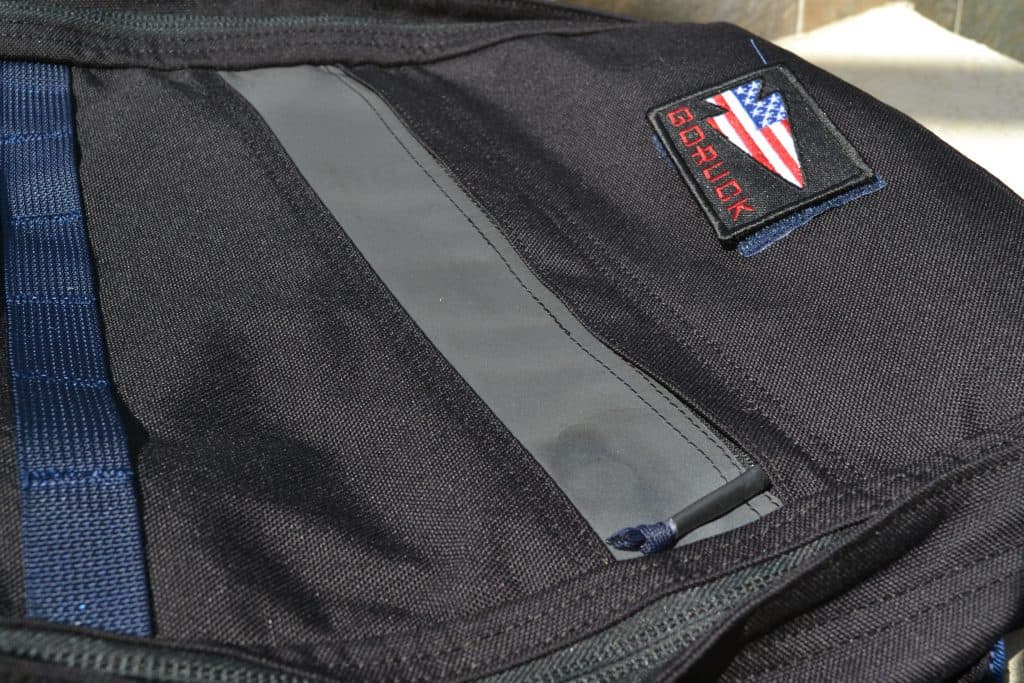 GORUCK Rucker 3 – Lumbar Support
They've added a 10 mm EVA foam lumbar support on the back.
It's using the same 210D material.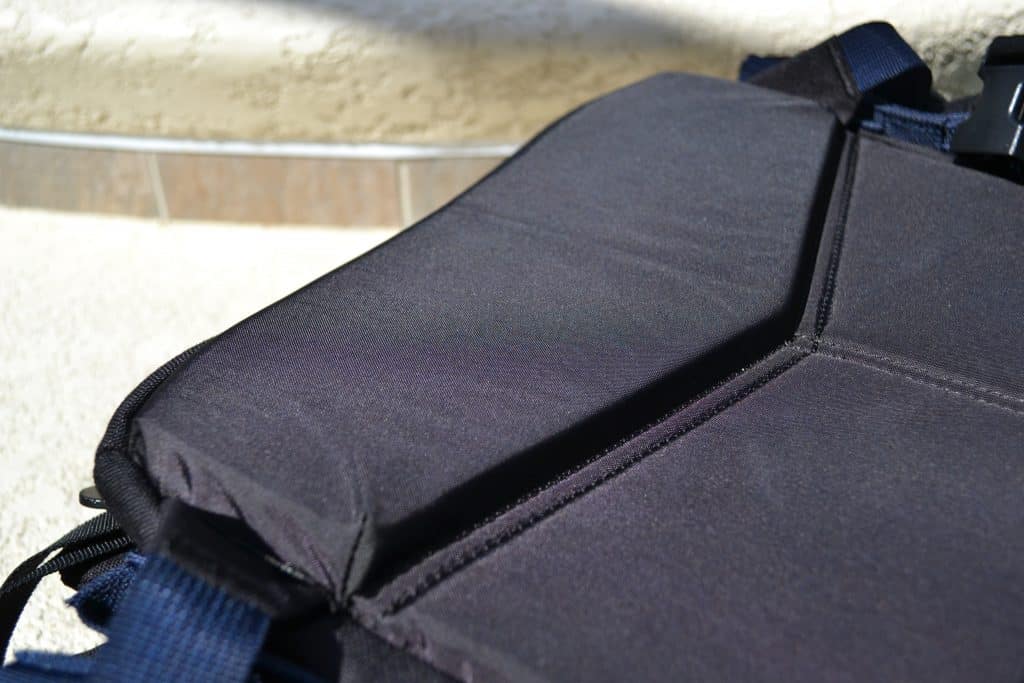 I like it. The lower back is one of the areas where I would get rubbed raw (even through a shirt!) on really long rucks.
GORUCK Sternum Strap Improvements
You'll get the new version of GORUCK's Sternum Strap with the Rucker 3.
What's new?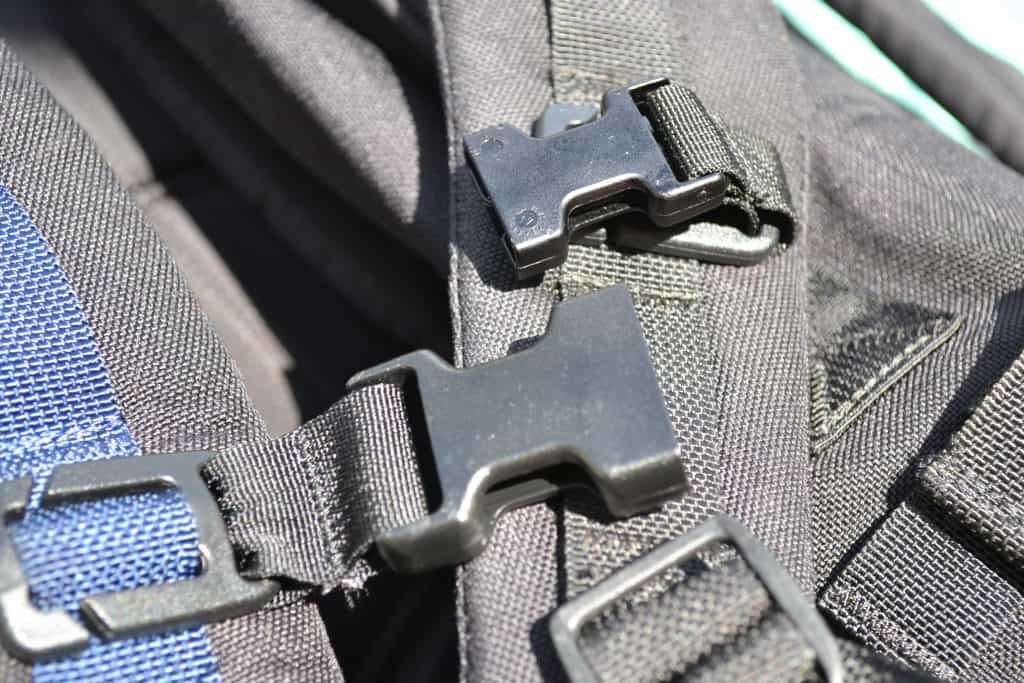 It's bigger, and in the case of chest straps – bigger IS better.
First of all, the chest strap gives you a way to control where the straps lay on your shoulders and traps.
You can dial things in for precise comfort, or make a change as needed to stave off fatigue.
The sternum strap is highly recommended if you are going any distance with weight.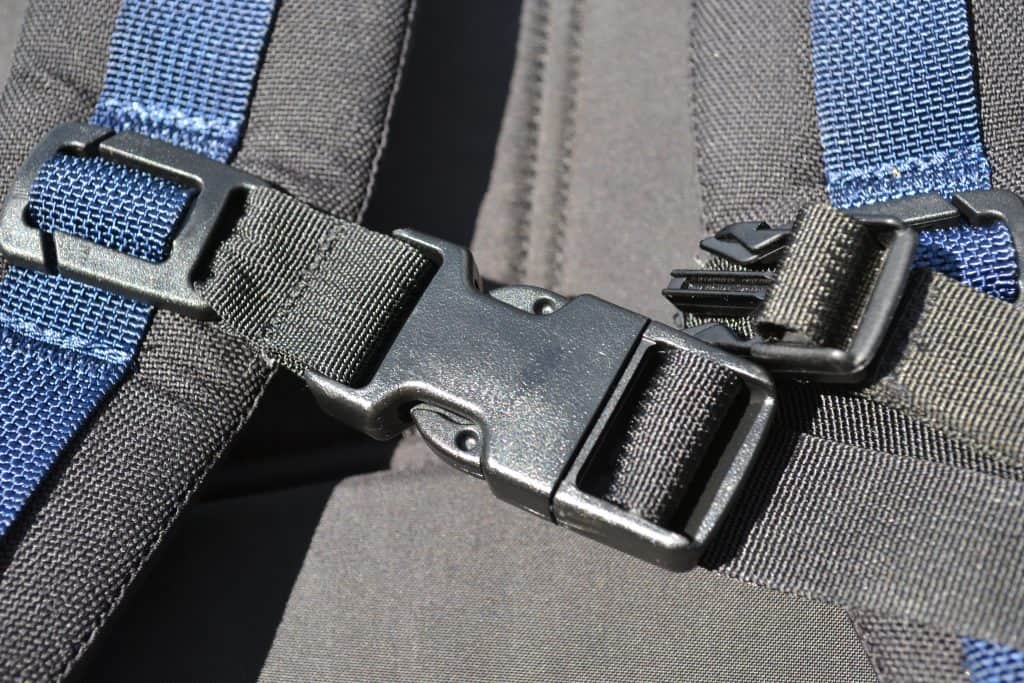 The strap itself is now wider – that means it cuts into your chest / pecs less when tightened.
The buckle is much bigger and more robust.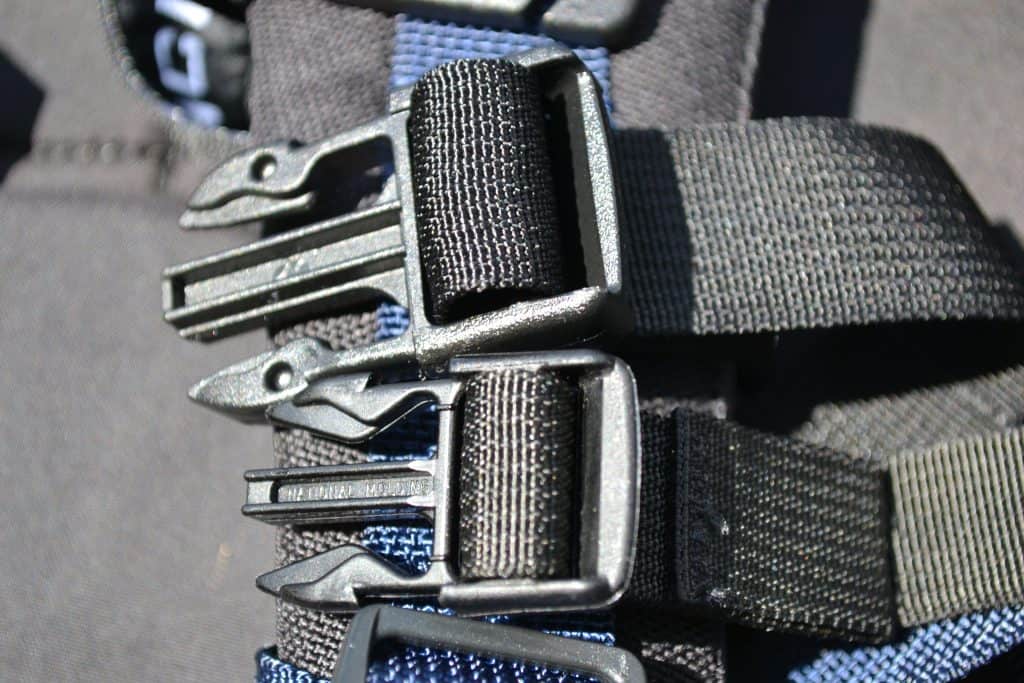 I've overtightened and broken lesser chest straps – while in the middle of a LONG hike.
The only possible downside to the new chest strap? It makes a much louder CLICK when you snap it in place.
it's also slightly shorter overall length than the previous strap (I'd say about 3/4″).
GORUCK Rucker 3 – What Hasn't Changed
In comparison to the Rucker 2, a whole lot has been kept the same.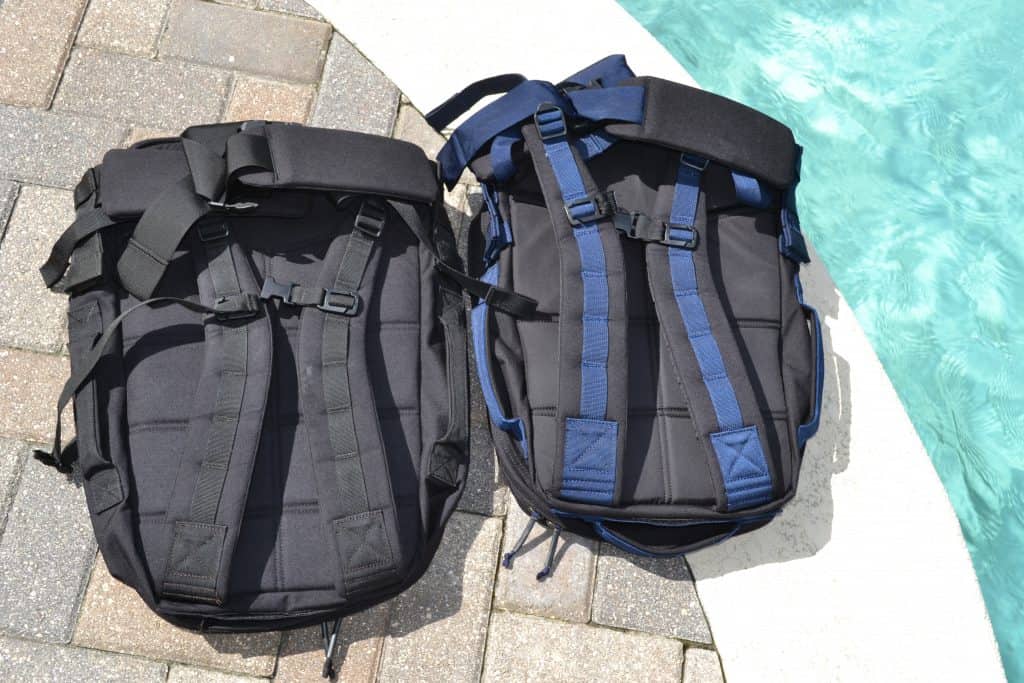 And that's a good thing.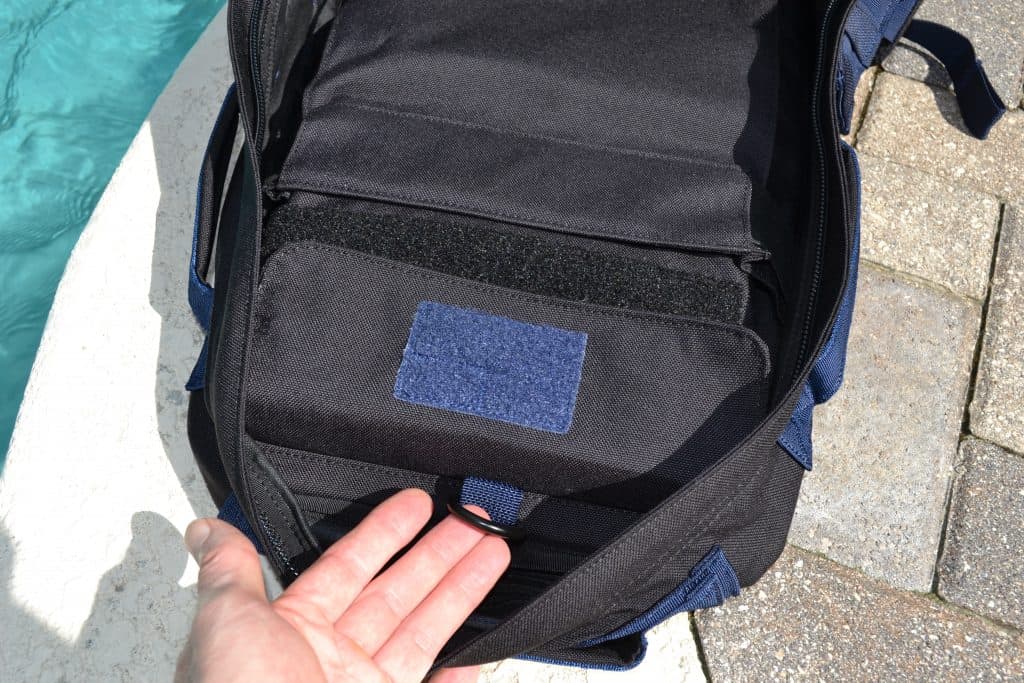 There's still an elevated plate pocket and an elastic pocket.
This means you can carry your ruck plate high (and highly secure) or lower as you desire.
The Rucker will work with both the GR1 style ruck plates (taller and skinnier.)
Rogue's Brick Bag works great too – these are miniature sand bags with an integrated handle.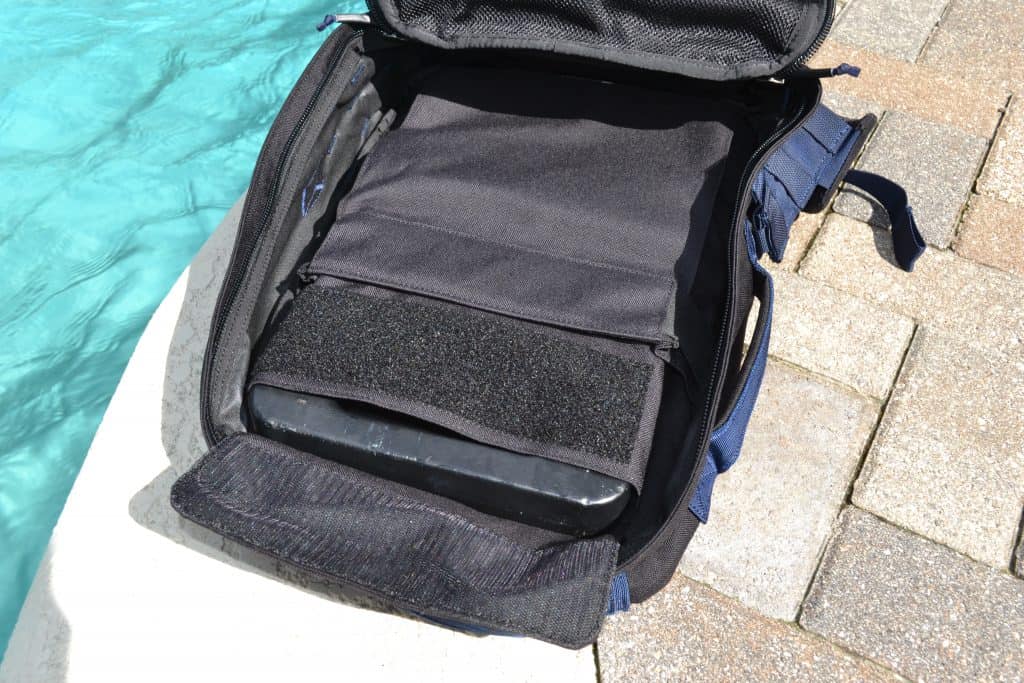 There's still a D ring for your hydration bladder.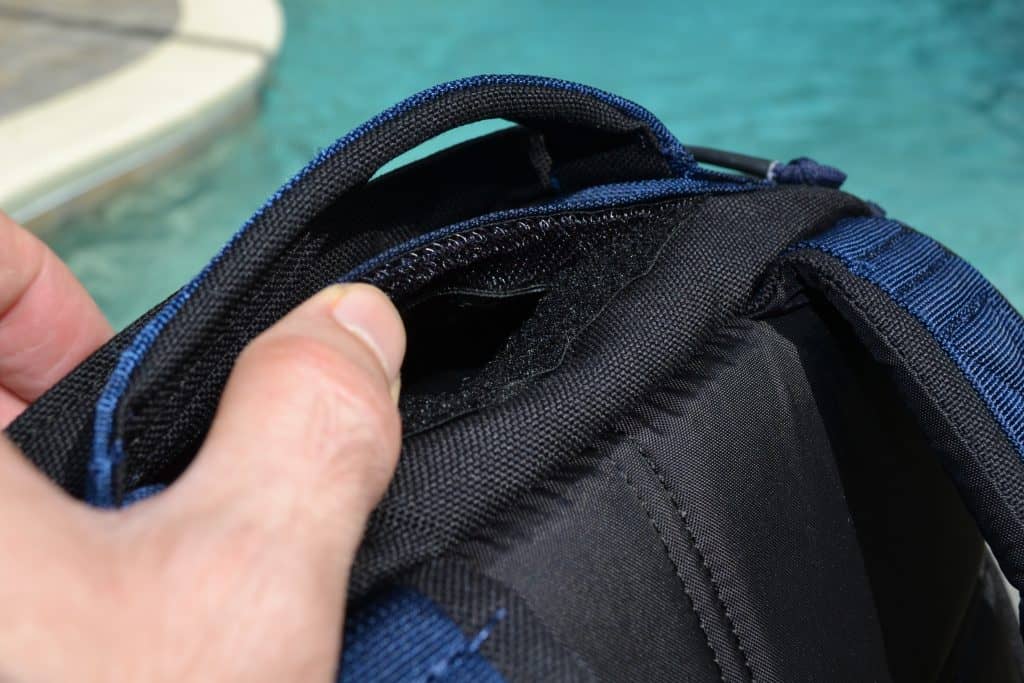 There's also a velcro panel up top to route the hydration tube.
All the same zippered pockets and whatnot – all the same.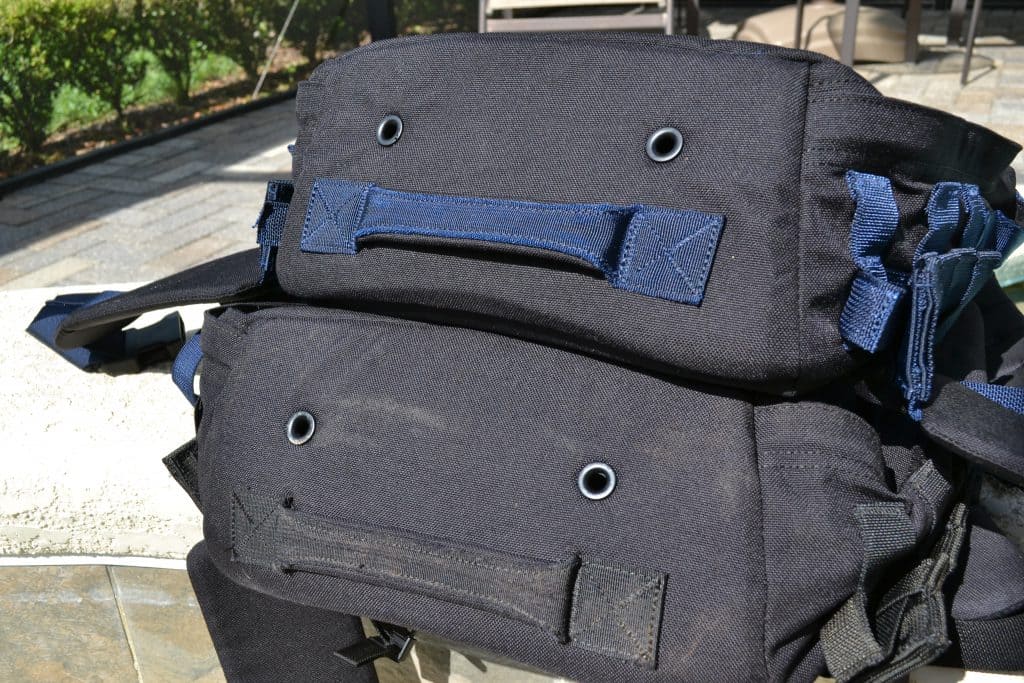 GORUCK Rucker 3 – How Did I Test?
How did I arrive at all these conclusions?
Extensive testing on the ruck march – and in GORUCK's Sandbag and Ruck Training program.
I've compared the Rucker 2 and Rucker 3 side by side.
NOTE: The only version of the Rucker 3 available now is the 20L. The Rucker 2 used in testing is bigger volume – it's a 25L.
I've used the Rucker 3 for ruck marches ranging from 3 miles to 7 miles (to date).
Long range testing is still in progress, and coming soon.
Bullet Ruck 15L Black Multicam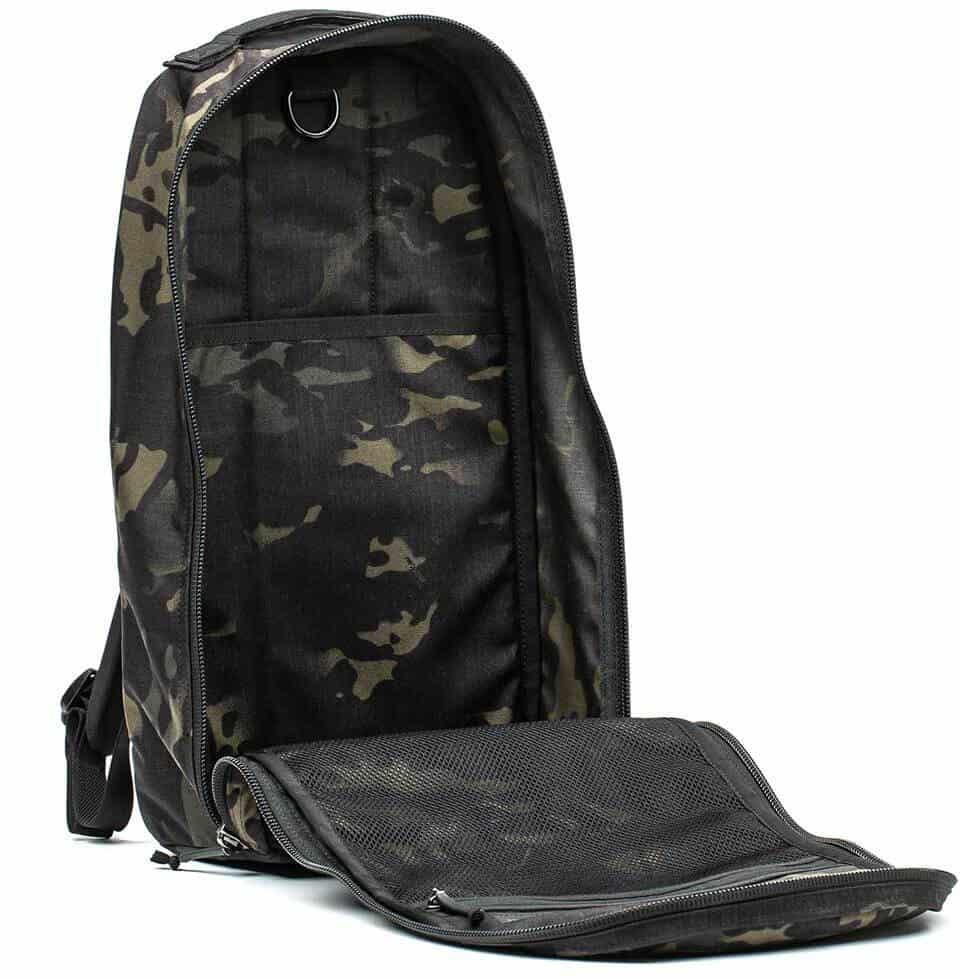 The GORUCK Bullet 15L is a hard, compact backpack, and is adaptable for everyday carry (EDC) needs or day hikes. It now comes in Black Multicam, which can be used in military and civilian settings. It is compact with plenty of useful packing space and a flexible internal organization.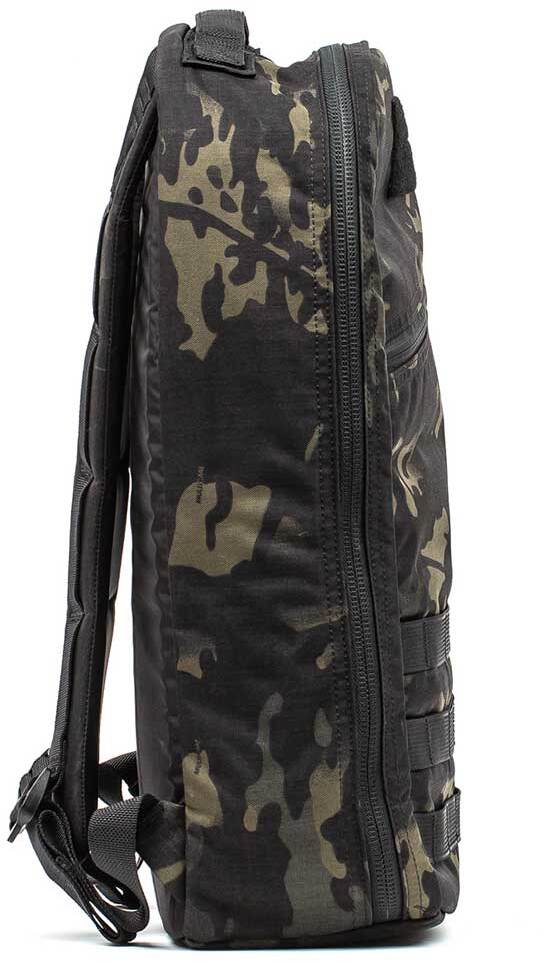 It uses a new fabric called 210D HT Cordura in the back panel and under shoulder straps, so you can wear it shirtless with no friction burns no matter the weight in the Bullet. It opens flat so you can easily pack and organize your stuff and has a streamlined design with a single compartment and three interior pockets, including one for your Ruck Plate. The three rows of external MOLLE webbing allow you to customize with other MOLLE-friendly accessories.
Spearhead Tactical Belt
A tactical belt can be used for self-defense and in many other ways especially in case of an emergency. GORUCK Spearhead Tactical Belt does just like that. It is tough enough to carry your equipment and be used to protect yourself and be flexible at the same time not to limit your movement.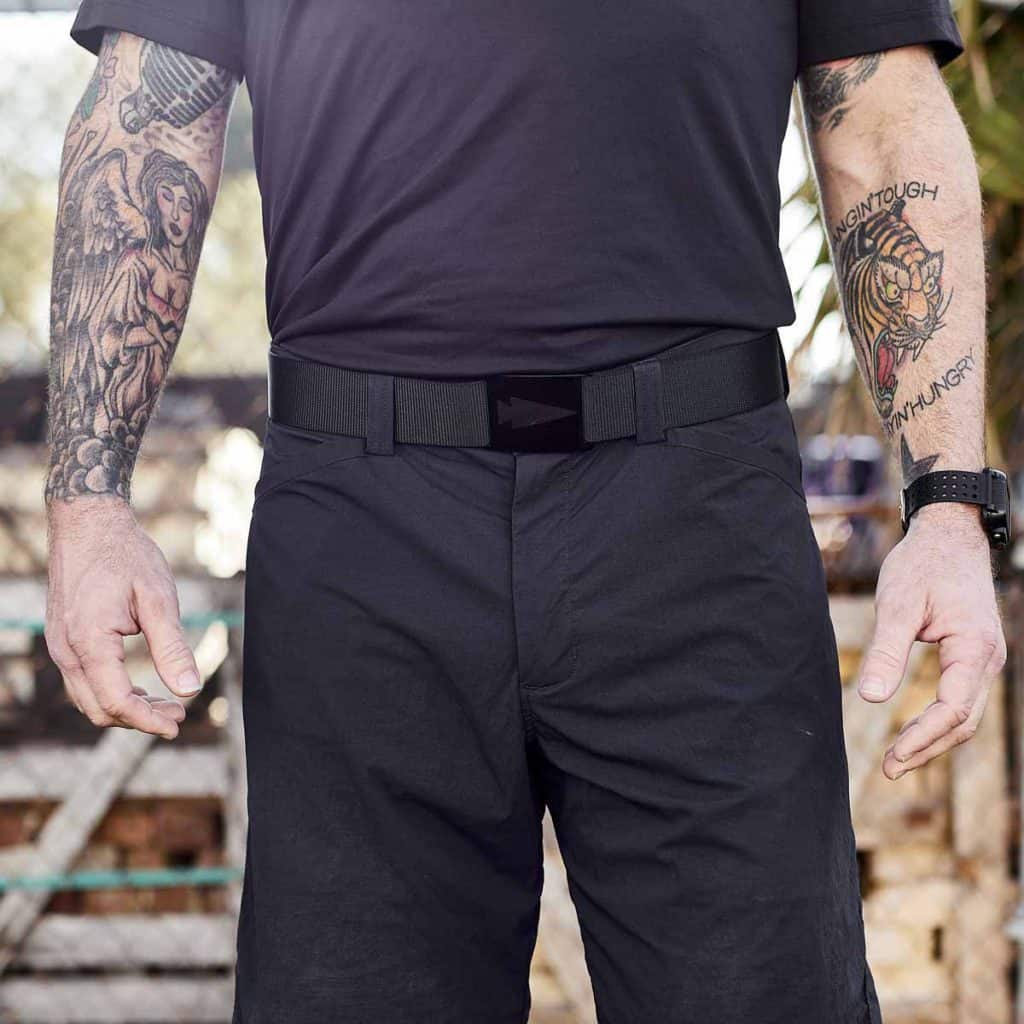 Wider than the regular Spearhead belt, this belt has a strap that measures 1.75″ adding durability while you carry a pistol. The strap is woven with high-strength nylon webbing and lies down flat and won't swell out from the pants or cut into the skin.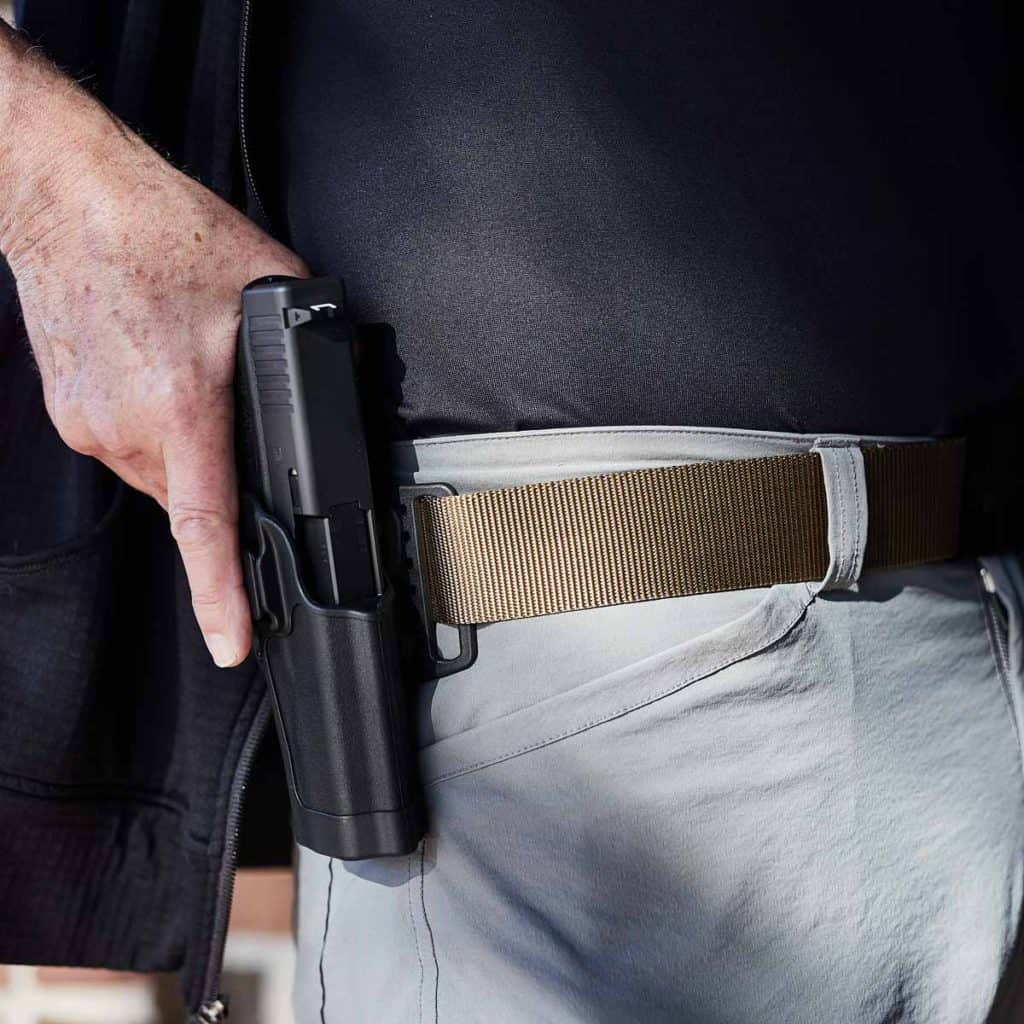 Rucker 4.0
Coming soon is the Rucker 4.0.
What's new? In order to make this bag even tougher, they've ditched the interior zippers (and replaced them with hook and loop).
Also gone is the outside pocket – as that zipper was prone to dying a quick death as well. (Basically anytime you dropped the bag and it landed "face first" that zipper took a beating…
Rucker 4.0 uses 500D CORDURA® for Tropic Multicam and 1000D CORDURA® for Black as primary materials, while the back panel and shoulder strap underside material are made from 210D HT (High Tenacity) CORDURA®. Rucker 4.0 is the latest version of Rucker and now has a 10MM EVA foam padding lumbar support. It is purpose-built for rucking and rucksack training and a great tool to get stronger. The interior zippers are replaced with velcro and removed from the front exterior zipper pocket.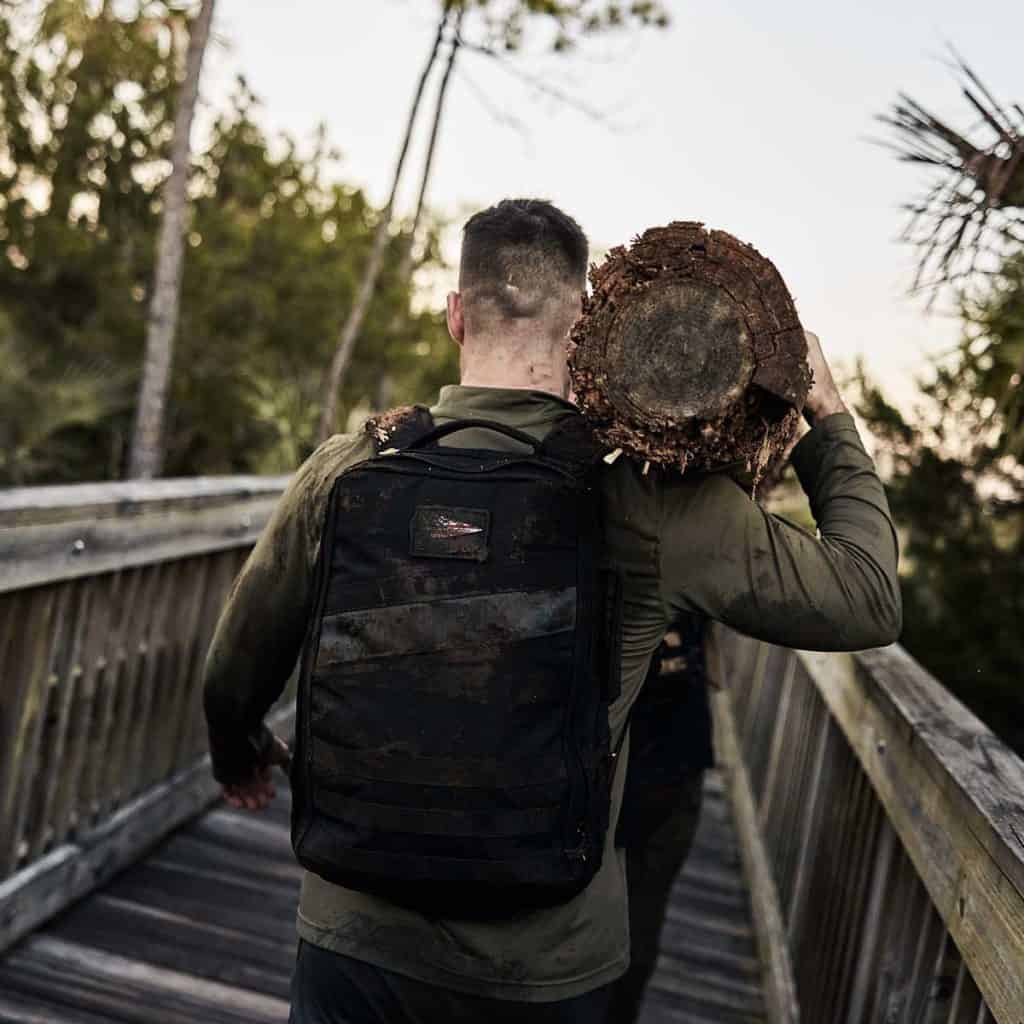 The zippers are YKK with silent, glove-friendly zipper pulls formed from parachute 550 cord. It has four padded handles on the top, bottom, and both sides and a hi-vis reflective stripe across the front for safety. The interior D-ring and hydration tube exit port are under the top handle of the ruck. 20L has two velcro mesh pockets and a velcro Ruck Plate Pocket, while 25L has two Velcro mesh pockets and two Ruck Plate Pockets.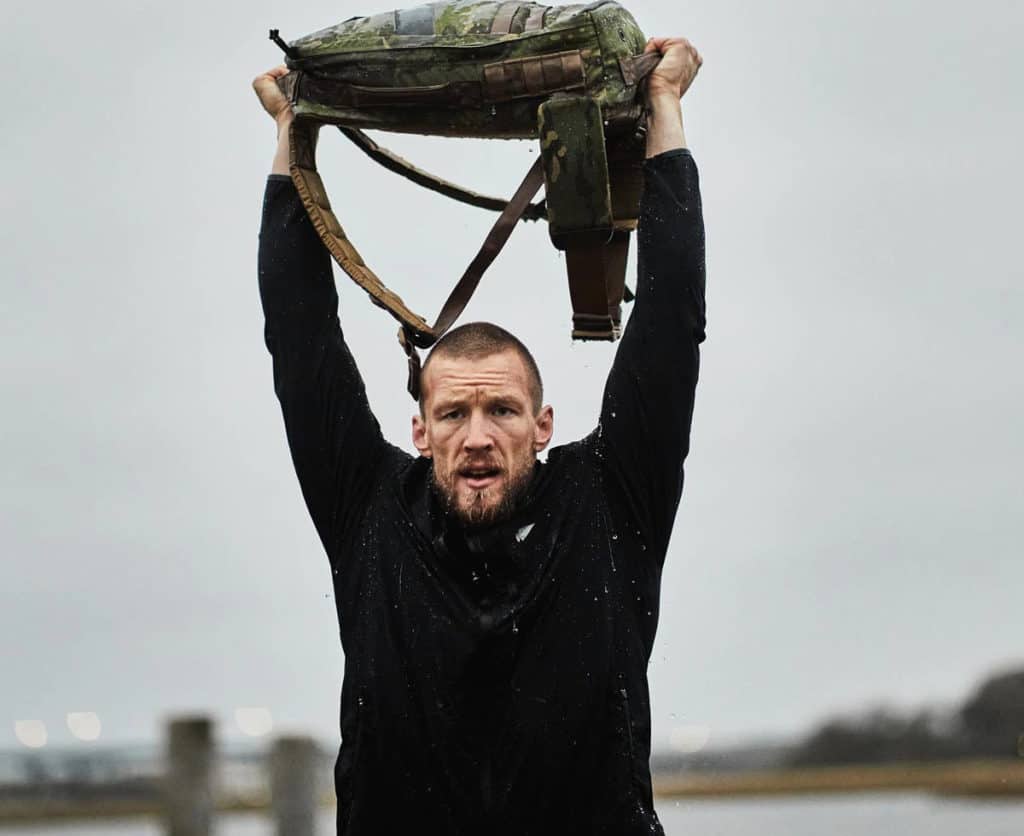 We'll have one soon for review.
Rucker Long Range
Going the distance? The soon-to-be-launched Rucker Long Range will bring a 33L and 39L option for long distance. More room for everything!
It is not madness to wear the Rucker Long Range shirtless because it has padded straps, and the material used on the back panel and underside of the shoulder straps will not cause friction burn. It is a very comfortable rucksack on your back and is made specifically for long-range Rucking and Rucking Events like GORUCK Selection and other endurance events. It has two large compartments and multiple pockets, giving you plenty of room for supplies and to keep things in their place.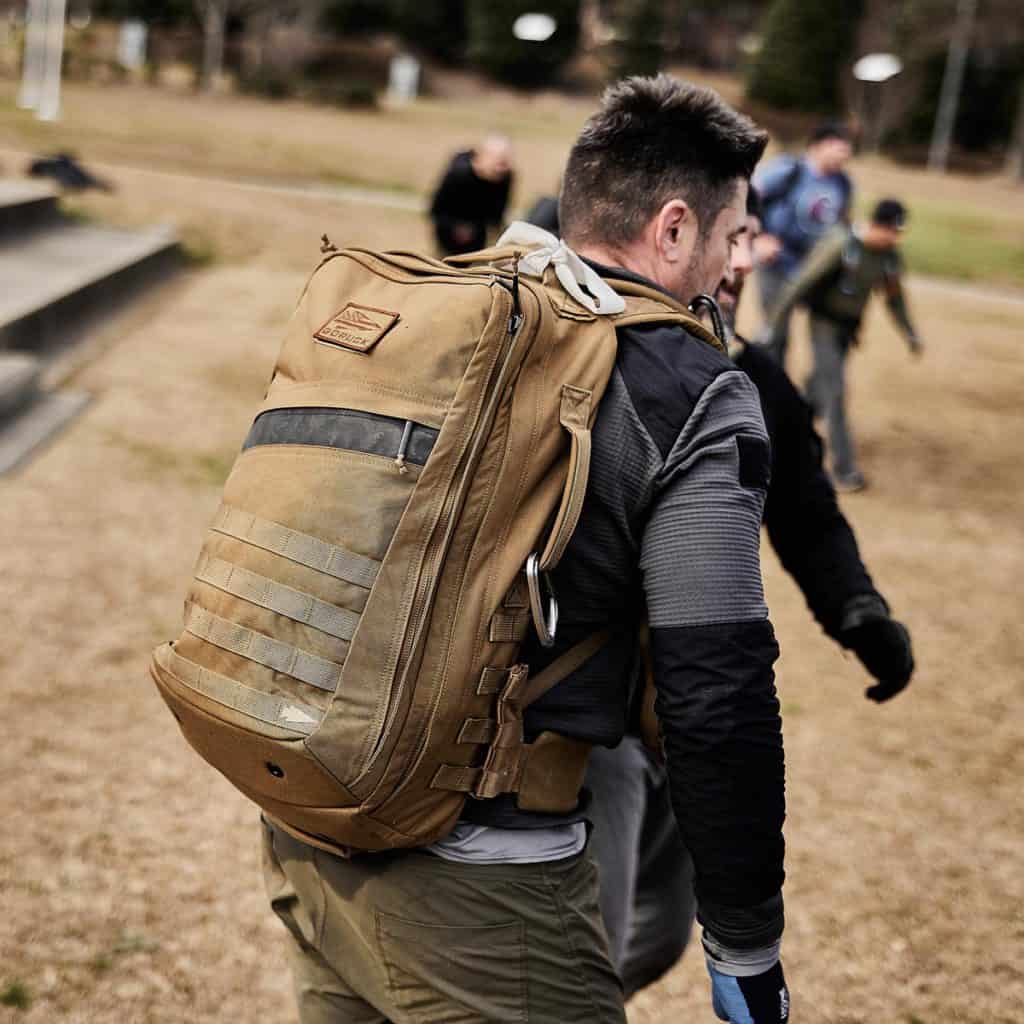 Rucker Long Range is highly water-resistant with bottom grommet drain holes and includes adjustable and removable Training Sternum Strap. It has a 2″x3″ hook and loop on the front panel and an additional 2″x3″ hook and loop patch panel on the Ruck Plate® pocket. It opens flat for easy packing and organizing and has three rows of external MOLLE webbing on the front and side let you customize your ruck.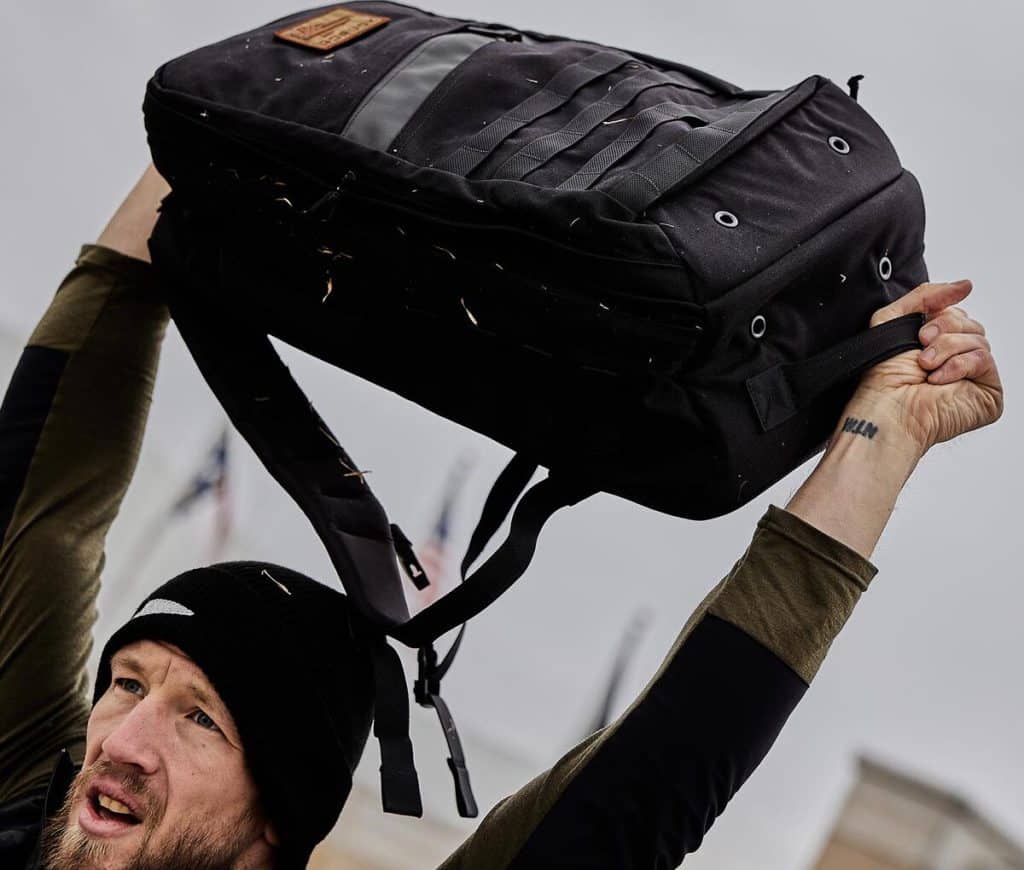 Rucker 3.0
No friction burn means an enjoyable workout amidst the grueling rucking and GORUCK Challenges. Rucker 3.0 offers superior comfort with its ergonomic lumbar support and an all-new, less irritating fabric used on the back panel and underside of the shoulder straps. It has a redesigned 3mm thick, full-width frame sheet that no longer tapers towards the bottom, providing constant support and rigor no matter how high your ruck is cinched.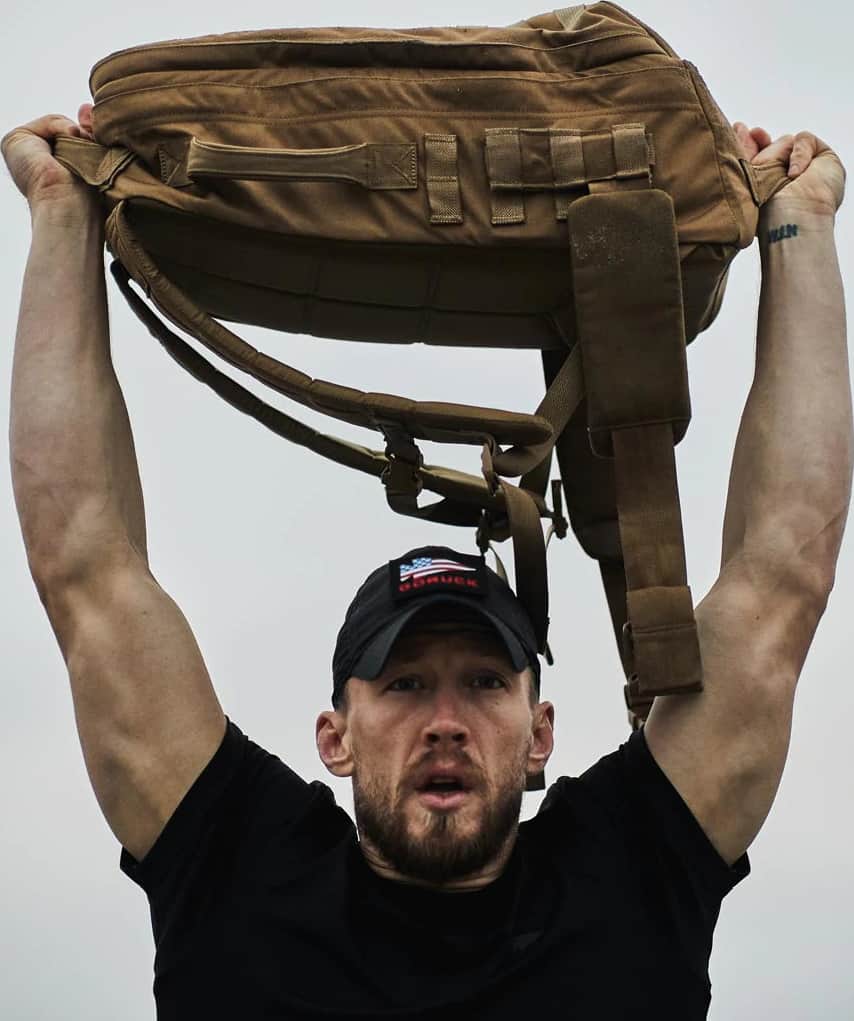 Rucker 3.0 securely holds 10LB, 20LB, and 30LB Ruck Plates® high on your back in an elevated Ruck Plate® Pocket. It comes complete with a side MOLLE to integrate flawlessly with the Padded Hip Belt. The role of the hip belt is to disperse heavy loads to your hips over long periods while carrying your backpack for rucking; plus, it also keeps the ruck stable during Ruck PT. The top, bottom, and side handles are all padded for comfortable suitcase carries, overhead press, overhead lunges, thrusters, ruck twists, and more.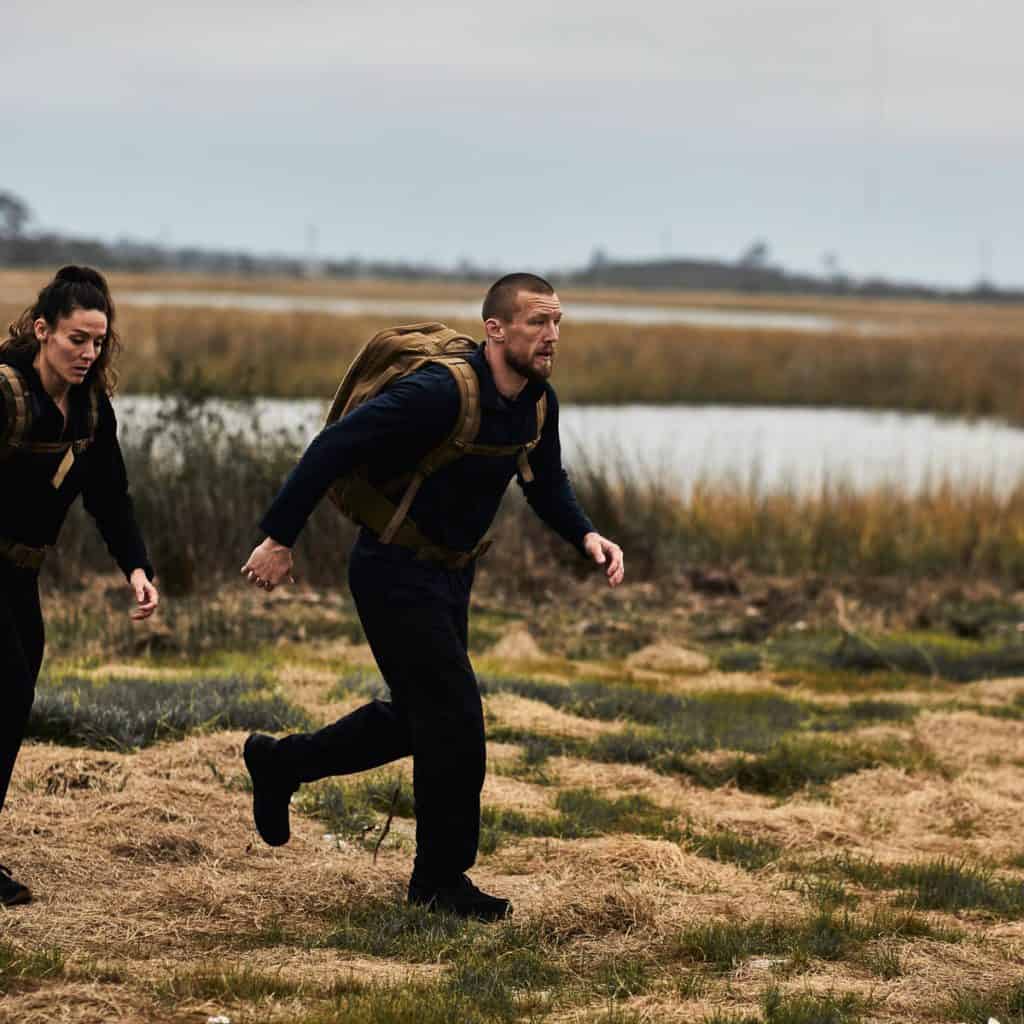 GORUCK Rucker Summary
Ruckers from GORUCK 33have an extra 10mm of EVA foam padding along the bottom section of the back panel, supporting the natural curve of your back. Friction burn is a thing of the past as these rucksacks use 210D HT (High Tenacity) CORDURA® on the back panel and underside of the shoulder straps that does not cause friction burn on your skin. They have been tested and proven at thousands of GORUCK events across the country and come with a Scars Lifetime Guarantee.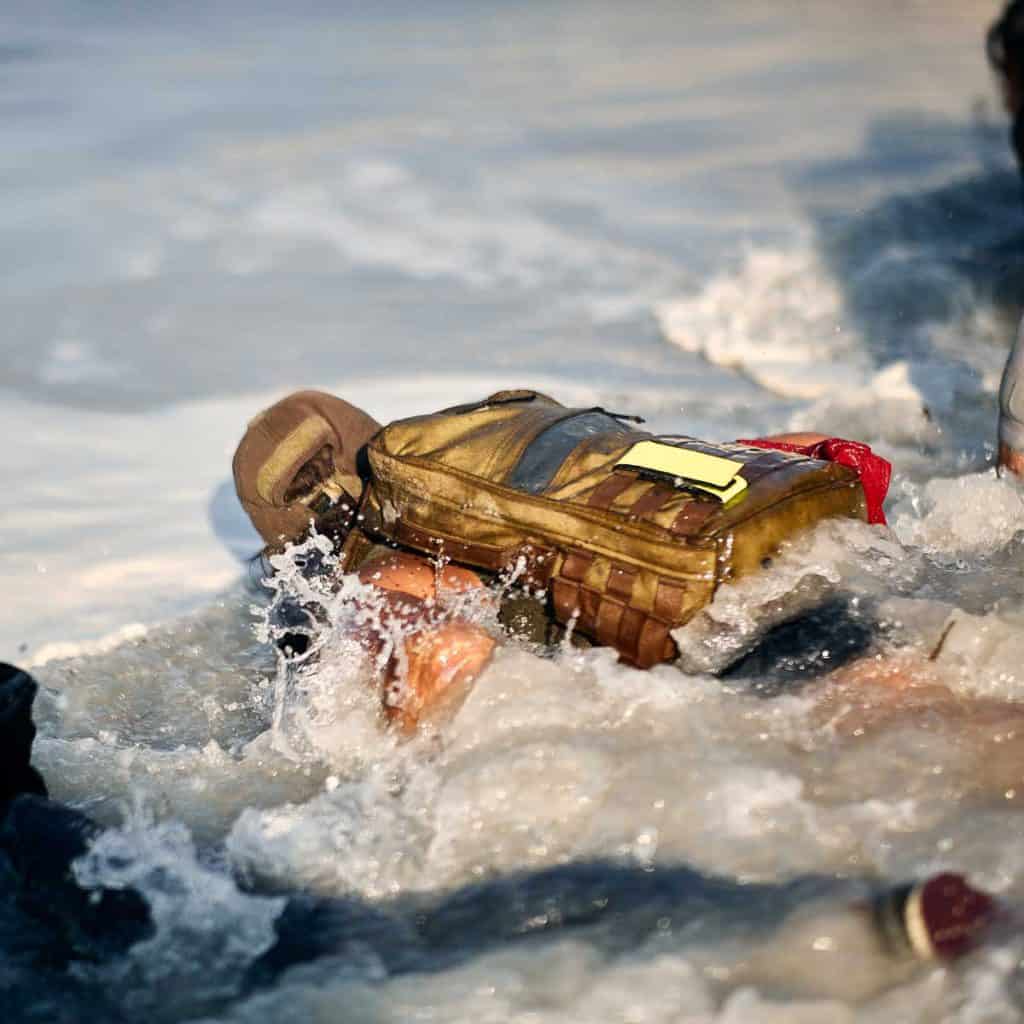 GORUCK Rucker 3 – Best Fitness Backpack In Summary
When it comes to fitness, the Rucker 3 is even better than it's predecessor.
It's cheaper compared to some of the other GORUCK packs, but more importantly it has features specifically for fitness workouts.
Handles, an elevated plate pocket, padded straps – and more.
The big differences with the Rucker 3 that make even better are the improved framesheet, the new, less abrasive material on the straps and back panel, and the built-in reflective stripe.
Get the Rucker 3 and you can't go wrong.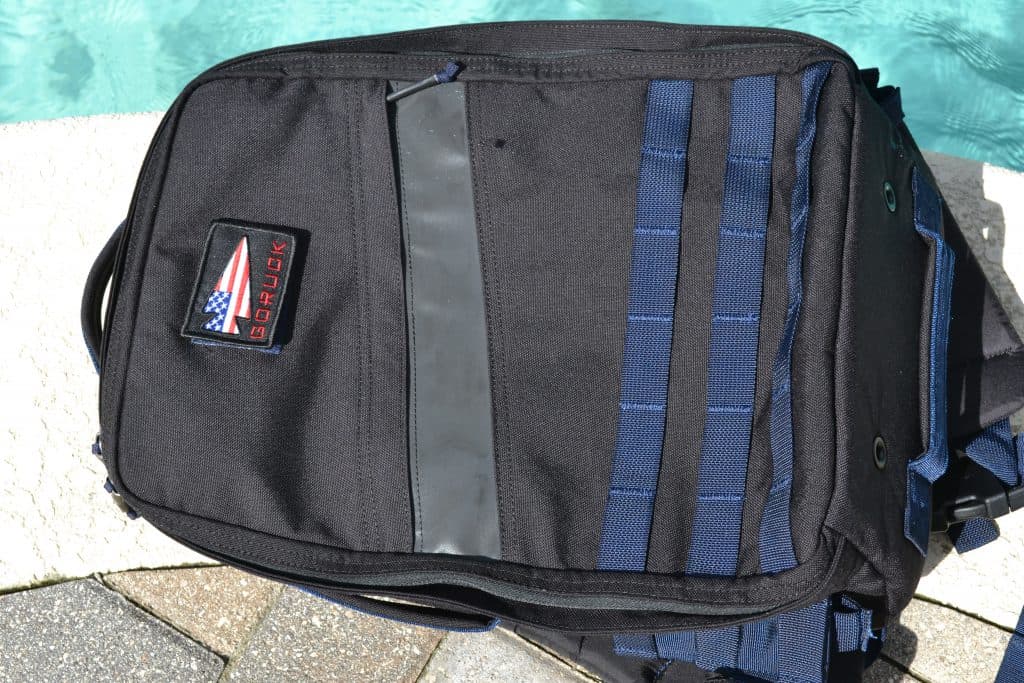 Looking for more options? Check out these other great products:
GORUCK GR1 Rucksack for Fitness.
More products from GORUCK.
Photo Credits
Some product photos on this page are property of GORUCK.
This website is not affiliated or associated with CrossFit, Inc. CrossFit is a registered trademark of CrossFit, Inc.
Affiliate Disclaimer
We are an affiliate of GORUCK. If you buy training programs or gear after clicking the links in this article, we receive a small commission at no extra cost to you. This helps us to bring you in-depth information and content on these training tools.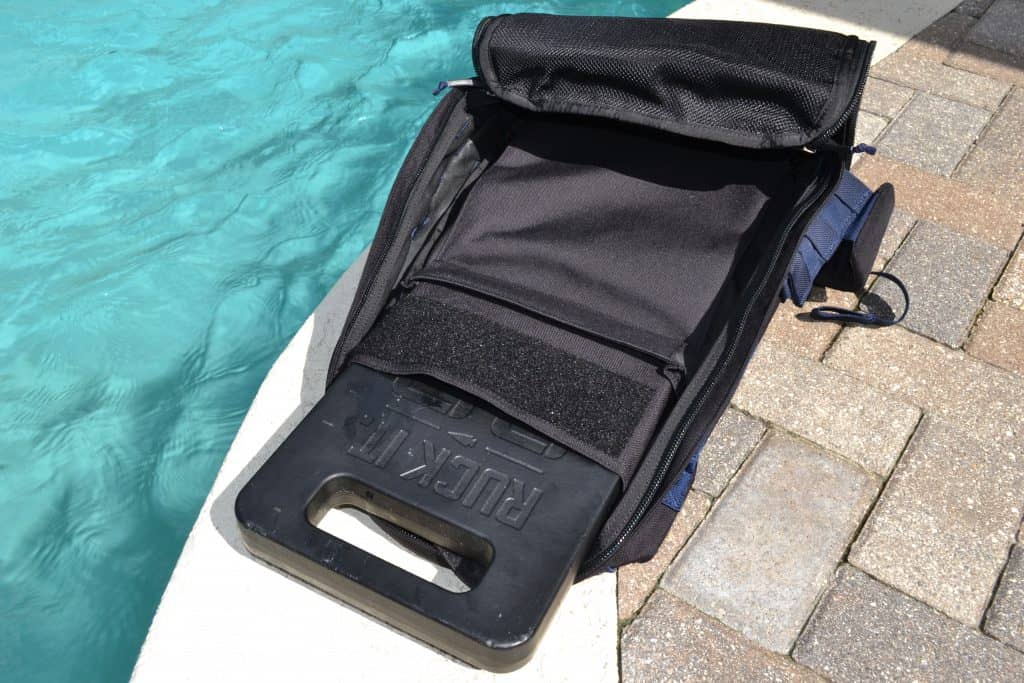 Tim is the founder of FitAtMidlife.com – an avid gym rat for 30+ years, he's a reviewer of many, many shoes – and founder of the Speed Bag Gathering – the world's only gathering of speed bag punching enthusiasts.  See more gym reviews at Tim's YouTube channel.