Looking to better equip your home or garage gym? The Rep Fitness Labor Day Sale 2022 is now on!
Celebrate how hard you work in the office and the gym with the Labor Day Sale 2022. Rep Fitness joins thousands of establishments as they offer great sale on equipment like weighted benches, functional trainers, plates, and barbells at up to 35% discount.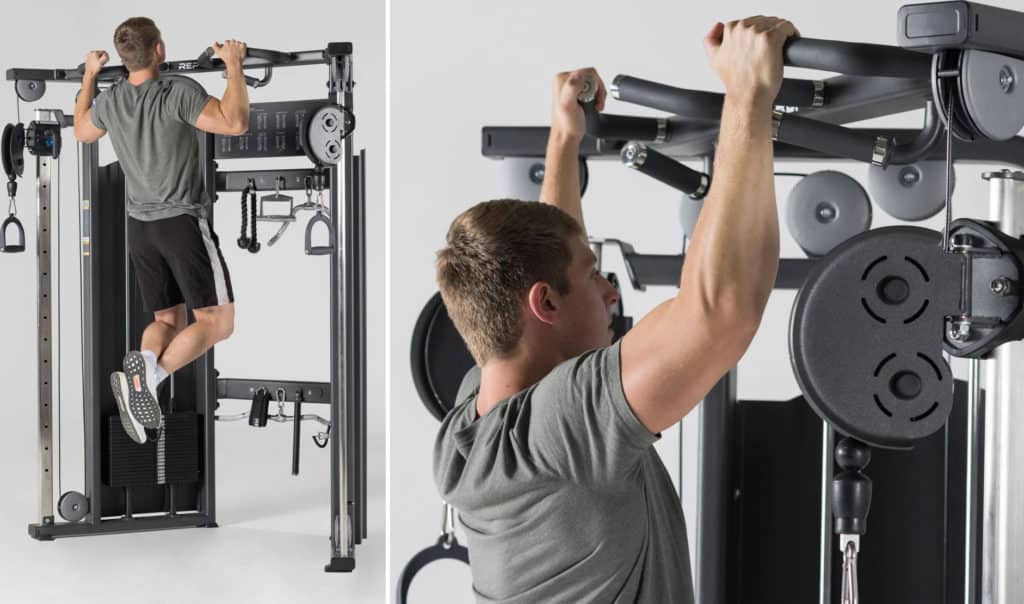 Get savings on all these items – and more – only at Rep Fitness:
Rep Fitness Labor Day Sale 2022 – Overview
Rep Fitness is dedicated to bringing customers the highest quality fitness equipment for home or commercial use. They are a home and commercial equipment supplier specializing in strength and conditioning equipment in Denver, Colorado.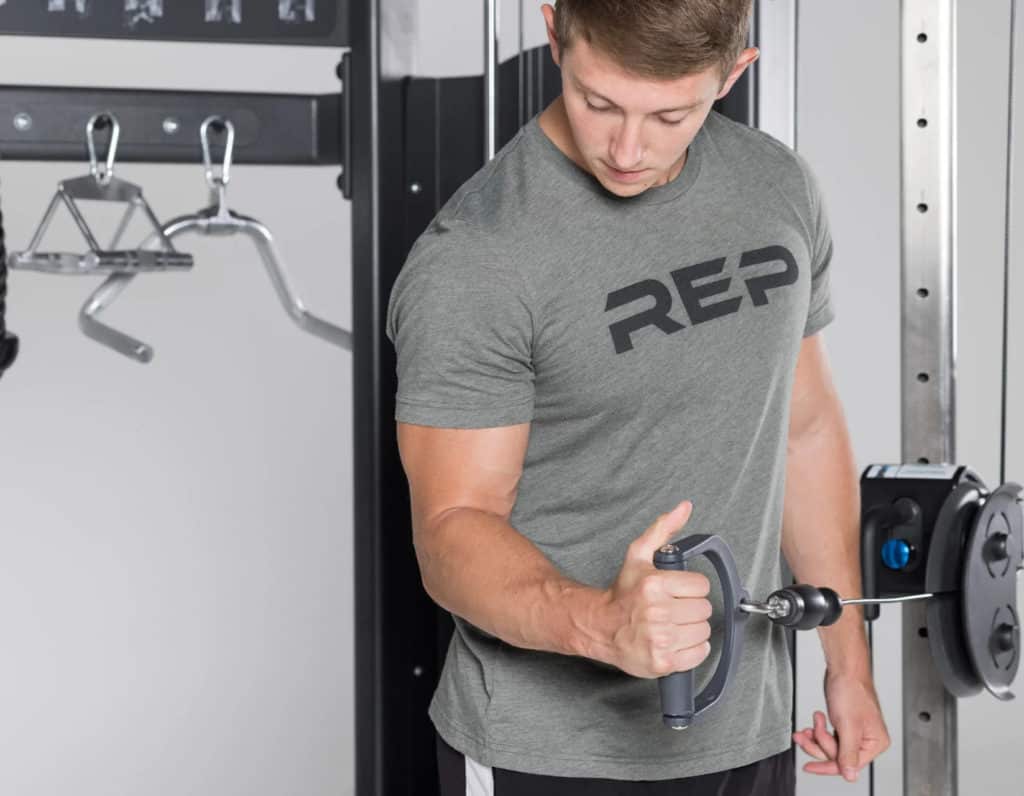 Their goal is to deliver the highest quality products at a price that sets them apart as value leader. Check out some of the equipment Rep Fitness offers with a discount on this Labor Day Sale 2022.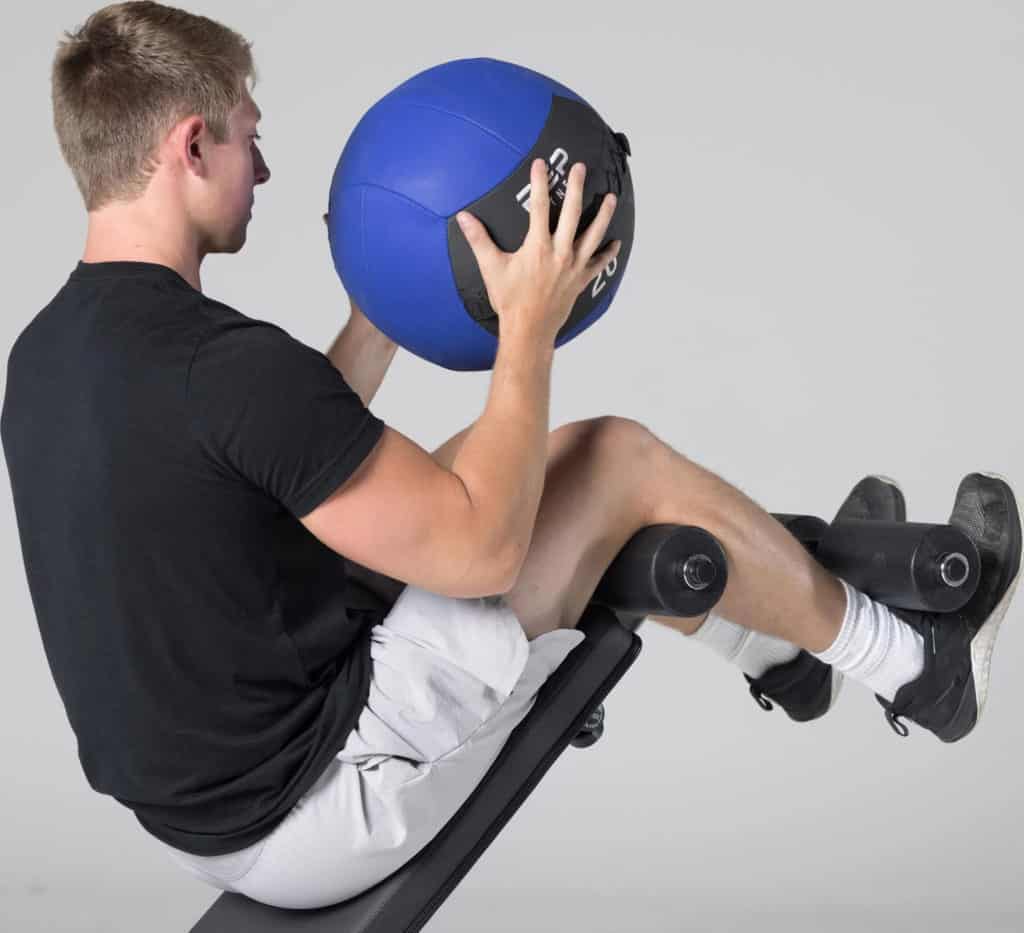 AB-3000 Adjustable Bench
You can adjust the angle of the AB-3000 Adjustable Bench immediately and effortlessly by moving the bench into the preferred ladder rung. Whether flat, incline, or decline, this bench can support whatever your training demands. It features seven different back pad adjustments (from 85 to -20 degrees) and five ways to position the seat pad, totaling 21 possible configurations.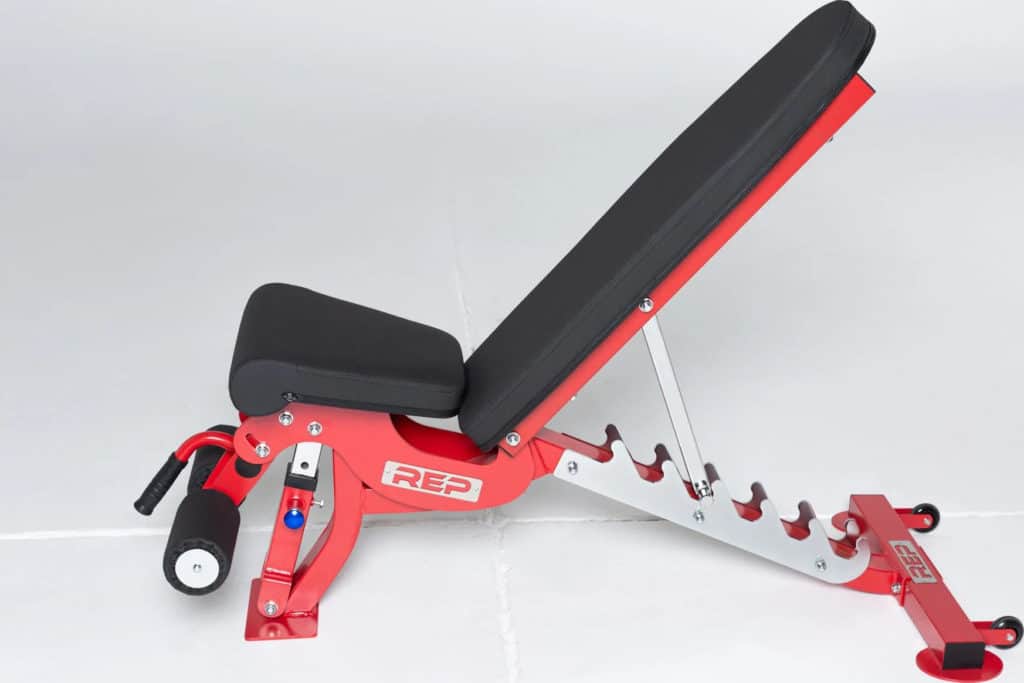 It is easy to swing up the leg attachment to secure your ankles for a safe and steady decline position. The thick pad was designed to make the best bench experience possible and the vinyl cushion is textured and grippy, so you won't slide out of position. The AB-3000 is heavy duty with a weight capacity of 1,000lbs. At only 95lbs with back wheels, it is easy to move around your home gym.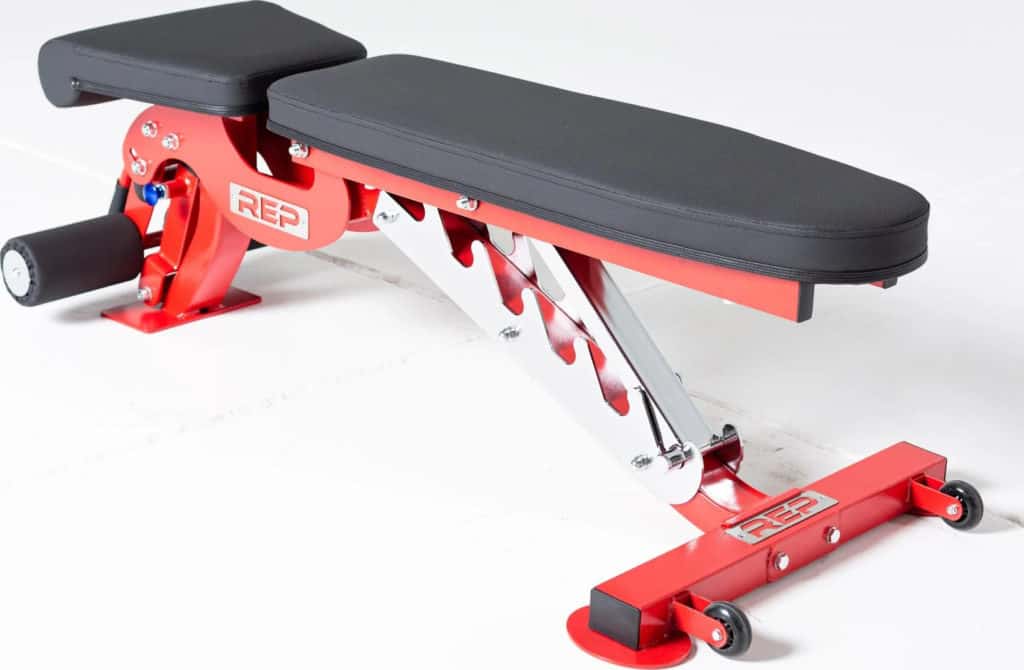 AB-5000 Zero Gap Adjustable Bench
The AB-5000 Zero Gap Adjustable Bench is heavy-duty, with 11-gauge steel, wheel guards, thick vinyl, laser-cut numbers, and a 1,000lbs capacity. This bench can do seven back angles (from flat to 90 degrees) and five-seat angles (-15 to 45 degrees). Sliding the seat forward and backward can eliminate the gap between the seat and back pad in all positions.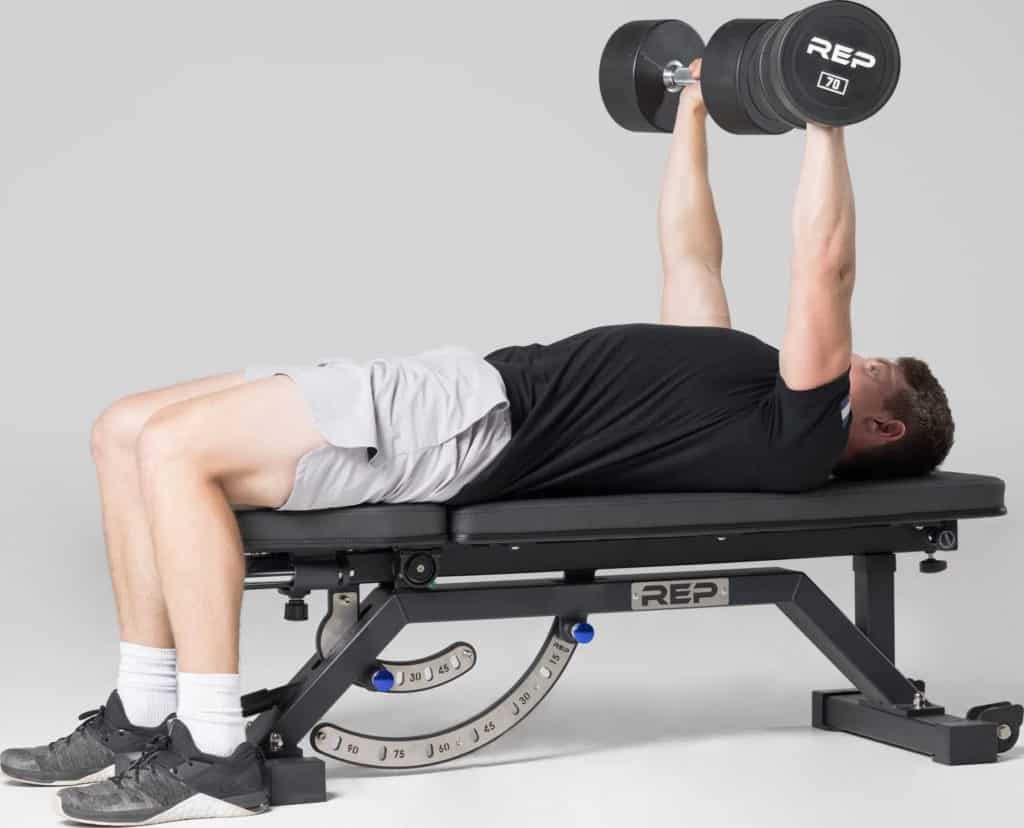 By adding the optional leg roller attachment, you can get decline options to -75 degrees. The REP AB-5000 Zero Gap is a robust, adjustable bench featuring REP's patented zero-gap feature. It is maneuverable with a urethane grip handle and built-on wheels protected by wheel guards to lessen stumbling hazards.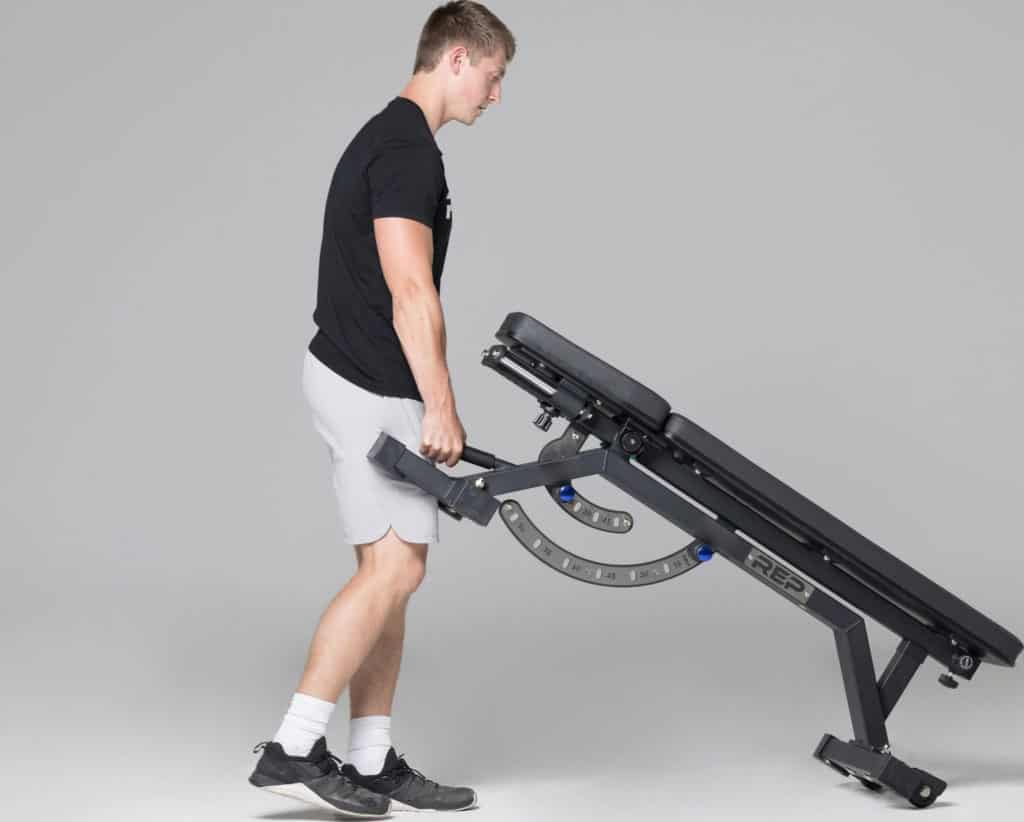 AB-5200 Adjustable Weight Bench
The AB-5200 was designed in Denver, CO, and is protected by one or more issued patents. It includes a built-in upright storage post developed for cramped vertical storage, only taking up 2.5SQFT of space. This bench has seven back pad angles( 0, 15, 30, 45, 60, 75, 85 degrees) and three seat pad adjustments (0, 15, 30 degrees).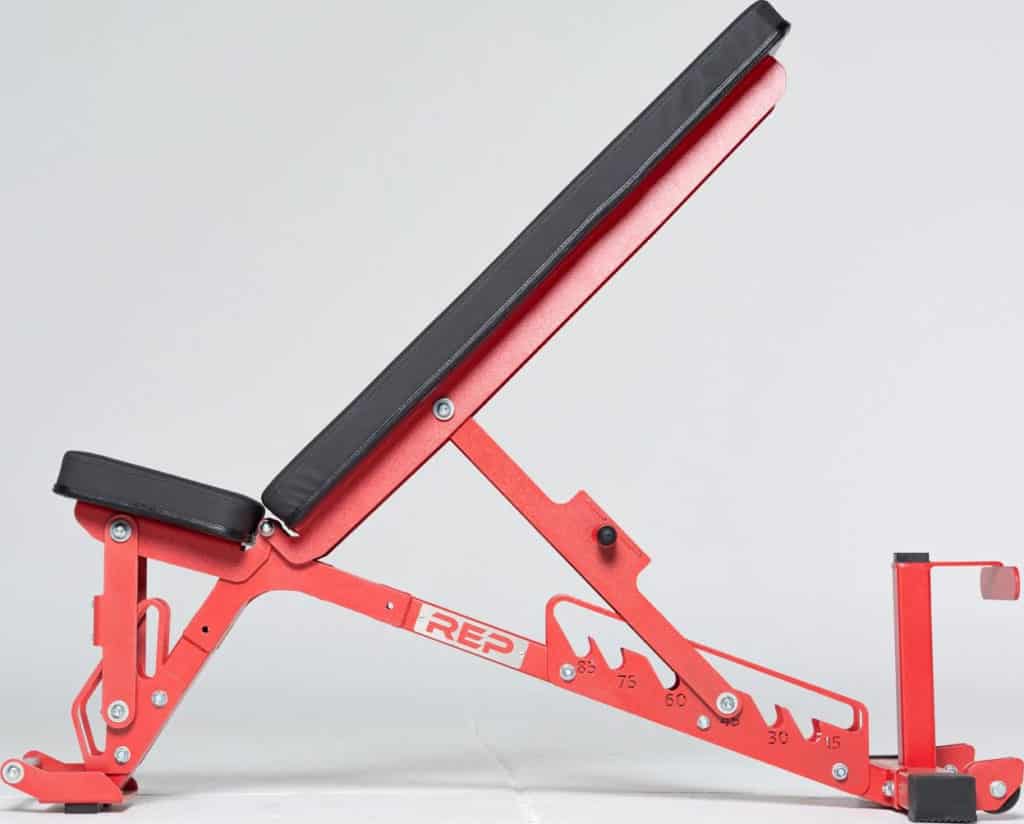 It weighs 125lbs with heavy-duty bolts, 7- and 11-gauge steel, and a weight capacity of half a ton. The AB-5200's pad is incredibly grippy to avoid slipping, and the gap between the seat and back is minimal (2″ when flat) to keep the hinge nicely below pad level for utmost comfort while lifting. The AB-5200 is also compatible with an optional spotter platform attachment.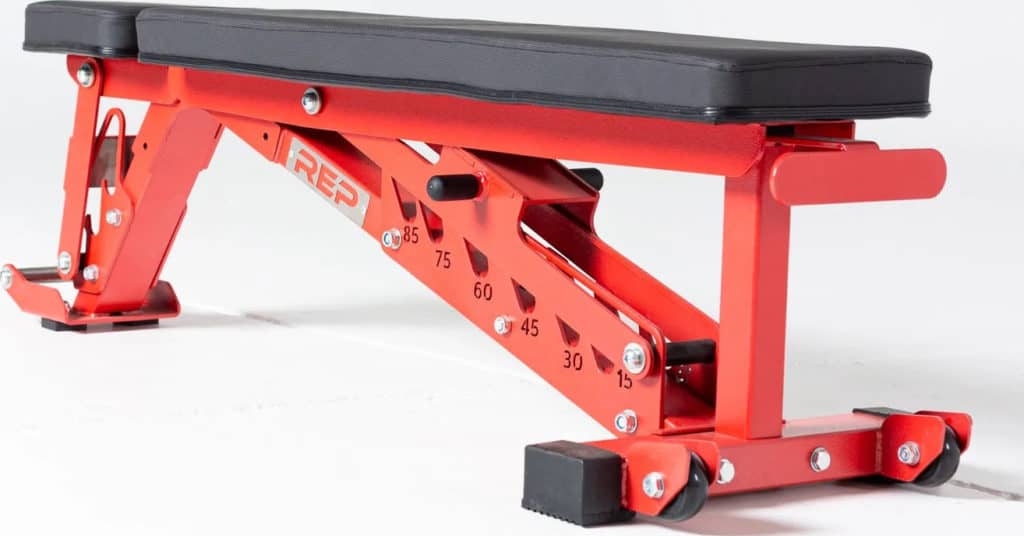 FT-5000 Functional Trainer
The FT-5000 Functional Trainer is a versatile trainer that features 16 cable positions with dual weight stacks that top out at 220lbs each, for a total of 440lbs at a 2:1 ratio (moving 100lbs feels like 50lbs). The 11-gauge steel frame is well-built for pull-ups from the included rubber-coated pull-up grips.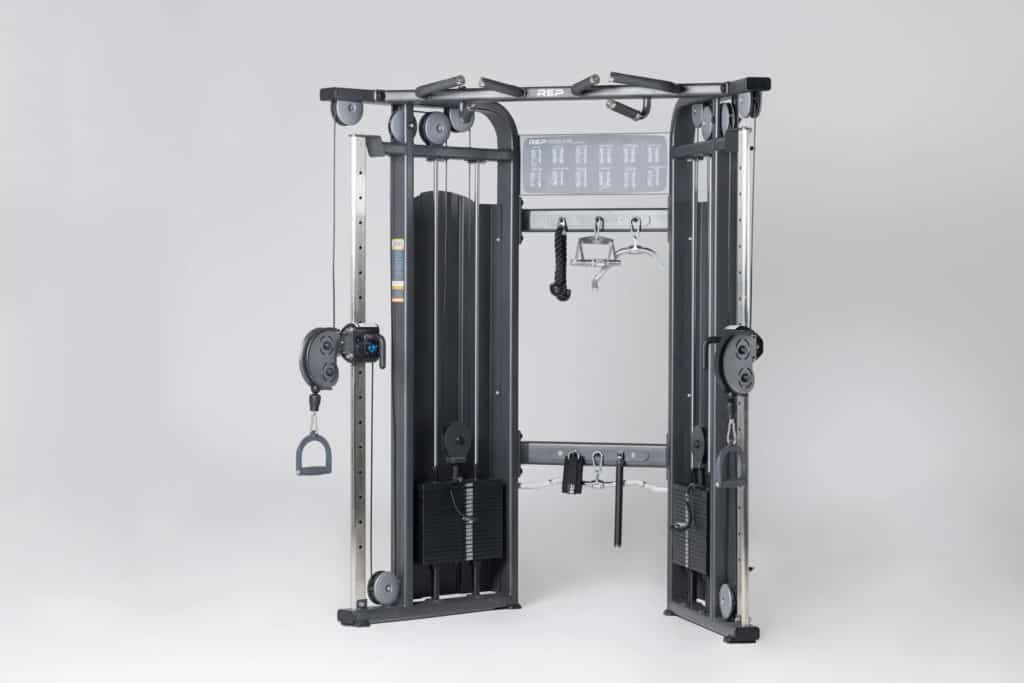 It is double-coated with a chip-resistant, electrostatic powder coating and topped with a black metallic finish. The magnetic-tipped weight selector pin delivers a secure adjustment, and column handle height adjusts on wheels for smooth, one-handed changes.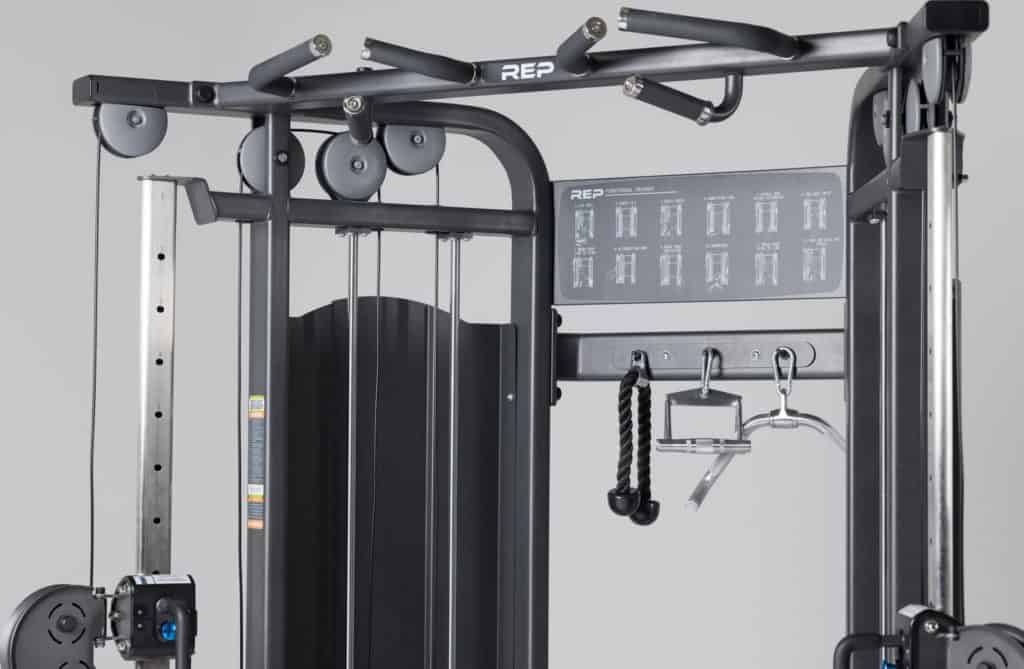 FT-3000 Compact Functional Trainer
The FT-3000 Compact Functional Trainer won't take up much space in your home gym with full commercial-grade capabilities. It features 15 cable positions with dual weight stacks that top out at 180lbs with a 2:1 ratio (moving 100lbs feels like 50lbs). This cable trainer is high quality, with a chip-resistant, double-layered powder coating and a black metallic finish.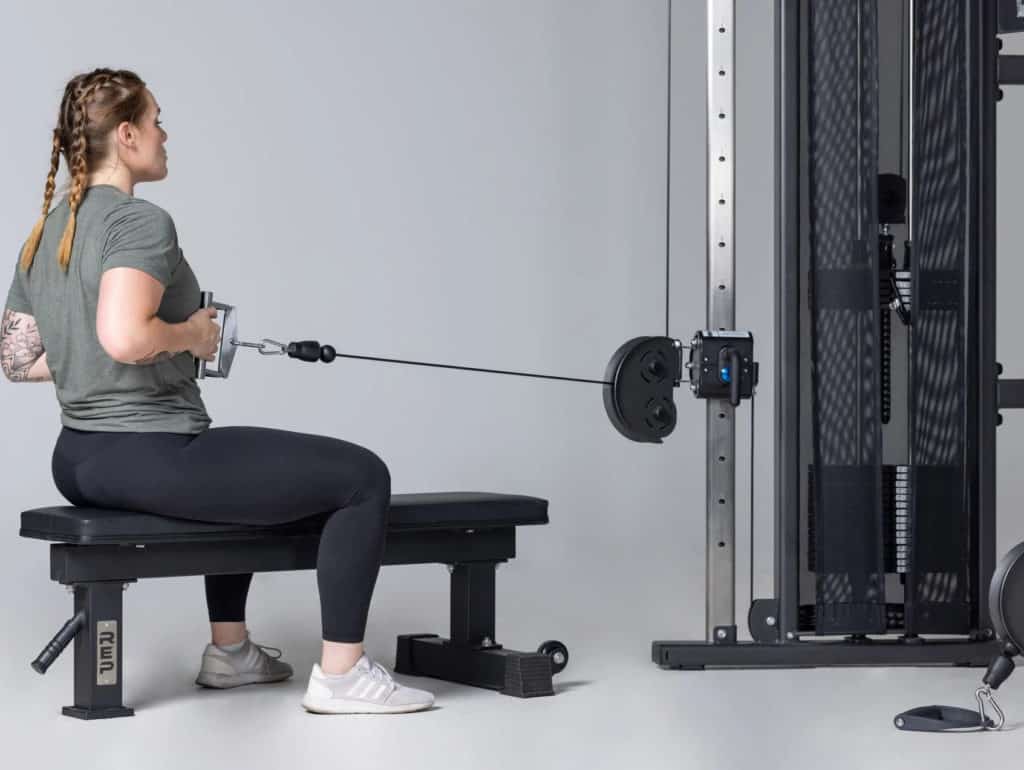 It has a magnetic-tipped pin to choose the weight and a column handle on wheels that moves up and down smoothly with just one hand. The trainer comes with two urethane handles, storage pegs for the attachments, and a placard displaying different movements on the machine.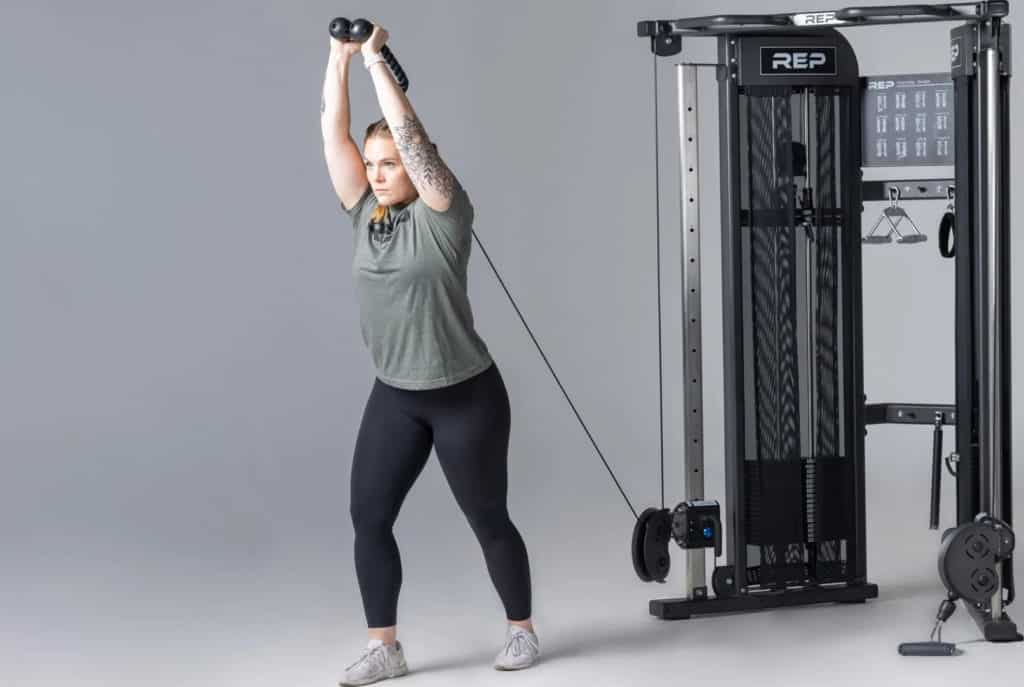 Sabre Barbell
The Sabre Barbell features dual knurl markings that provide visuals for even hand placement on the barbell, making the barbell suitable for Olympic weightlifting, powerlifting, and cross-training/HIIT-style workouts. The barbell has a static rating of 1,000lbs and has medium-depth knurling for good grip without hurting your hands.

The Sabre comes in options of 15kg (33lbs) and 20kg (44.1lbs). The 15kg bar has a thinner diameter and a shorter plate-loading sleeve. The 20kg bar is thicker, with a longer plate-loading sleeve and comes in zinc or black zinc. It comes in a zinc finish with no center knurling.

Animal Print Bumper Plates
Animal Print Bumper Plates bring nature to your home garage, and they are exceptionally durable and high-quality, with a hooked steel insert. Rep Fitness offers unique bumper plates with animal prints like zebra, snake, giraffe, tiger, and leopard. The 10lb plates are thicker than typical 10s to boost durability and lessen warping.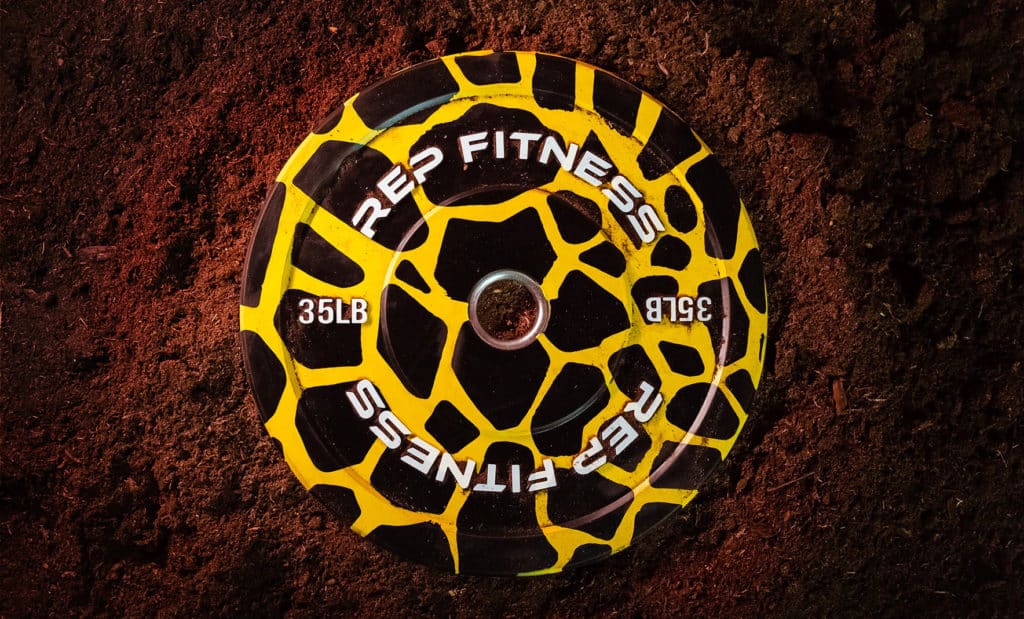 These bumpers have low bounce with a thinner profile, giving you more control over the barbell when it hits the ground. They are covered by a thick, solid rubber coating and are ideal for training that involves dropping the plates from overhead or shoulder height, such as Olympic weightlifting, cross-training, and HIIT workouts. All plates have a 1% tolerance for total accuracy.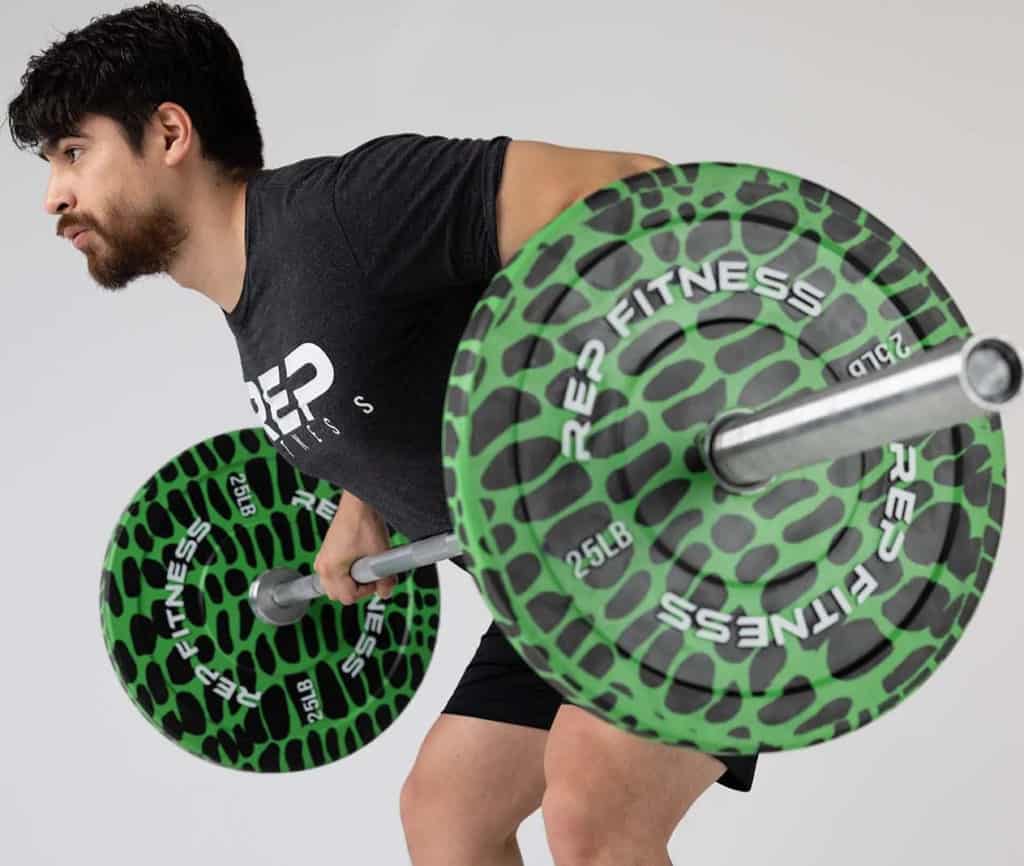 Rep Fitness Labor Day Sale 2022 – In Summary
That's our close-up look at the Rep Fitness Labor Day Sale 2022.
Labor Day honors you as you work hard in your workplace and garage gym with the Rep Fitness Labor Day Sale 2022. Pieces of equipment like weighted benches, functional trainers, plates, and barbells are on sale for up to 35%. Grab this opportunity of adding new equipment to your garage gym at a lower price.
Looking for more options? Check out these other great products:
Rep has all kinds of great gear for your garage gym including the Safety Squat Bar from Rep Fitness and the AB-4100 Adjustable Weight Bench from Rep Fitness.
More products from Rep Fitness.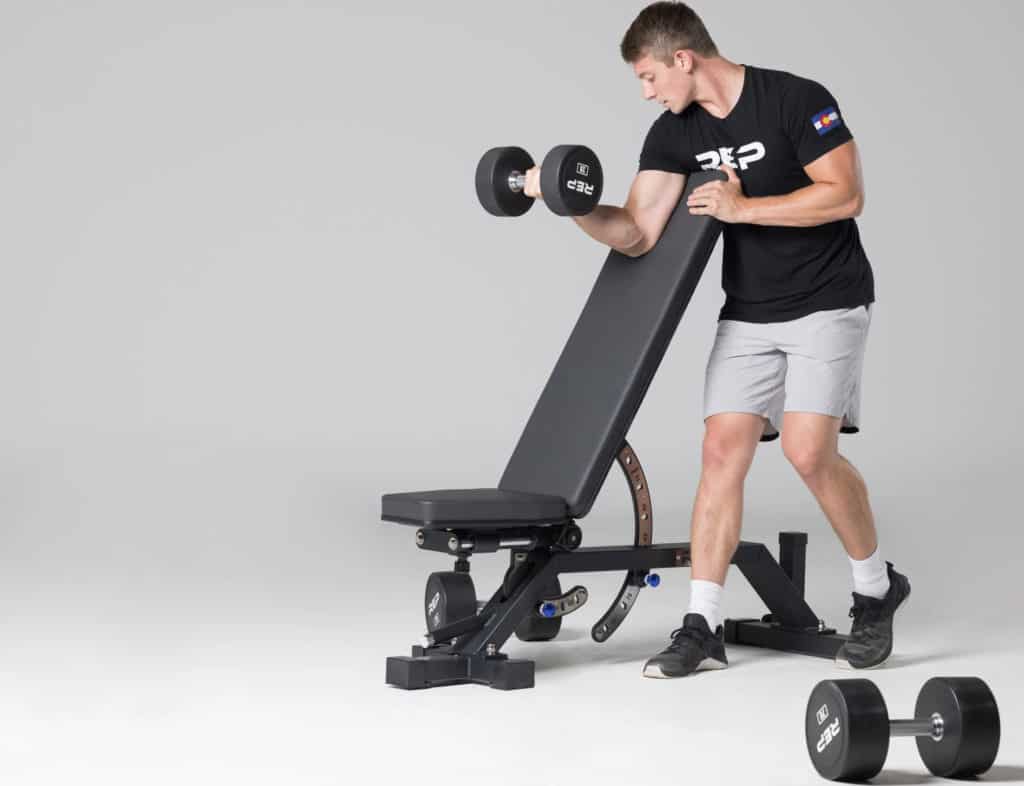 Photo Credits
Product photos on this page are property of Rep Fitness.
This website is not affiliated or associated with CrossFit, Inc. CrossFit is a registered trademark of CrossFit, Inc.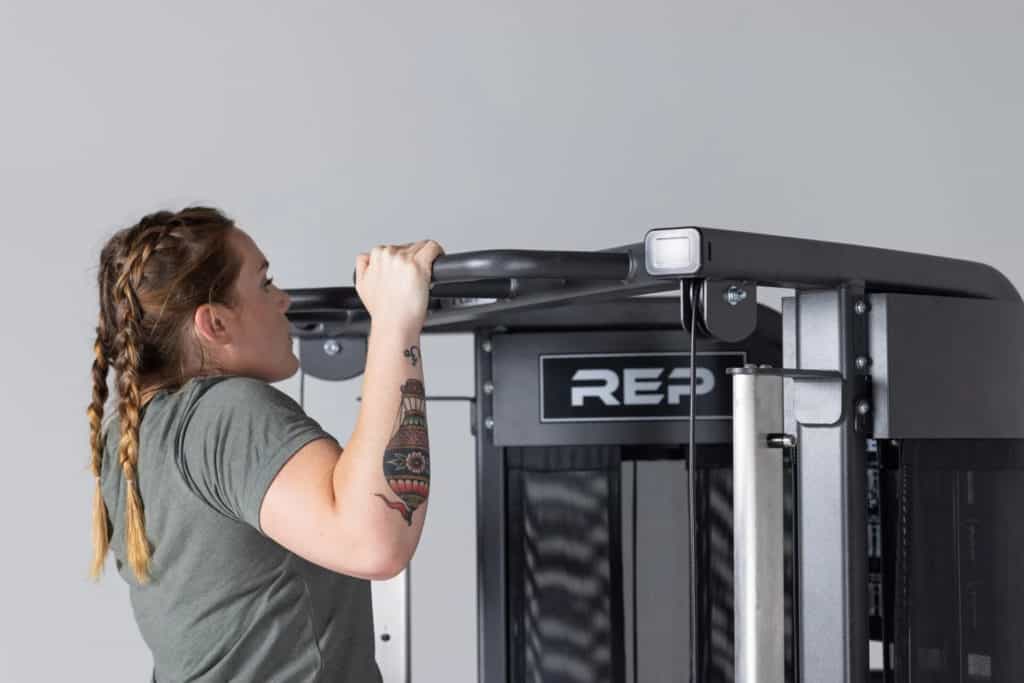 Affiliate Disclaimer
We are an affiliate of Rep Fitness and others that sell this training gear. If you buy clothing or other training gear after clicking the links in this article, we receive a small commission at no extra cost to you. This helps us to bring you in-depth information and content on these great training products.
Tim is the founder of FitAtMidlife.com – an avid gym rat for 30+ years, he's a reviewer of many, many shoes – and founder of the Speed Bag Gathering – the world's only gathering of speed bag punching enthusiasts.  See more gym reviews at Tim's YouTube channel.