NEW FOR 2022! Check out black friday gym equipment for sale.
Let's take a look at Vulcan Strength Black Friday Sale 2021.
If you are planning to start and be serious with your fitness journey, you have come to the right place at the right time. Vulcan Strength offers pieces of fitness equipment at a lower price for the Black Friday Sale. Vulcan Strength continues to develop new and innovative products to meet today's strength training needs.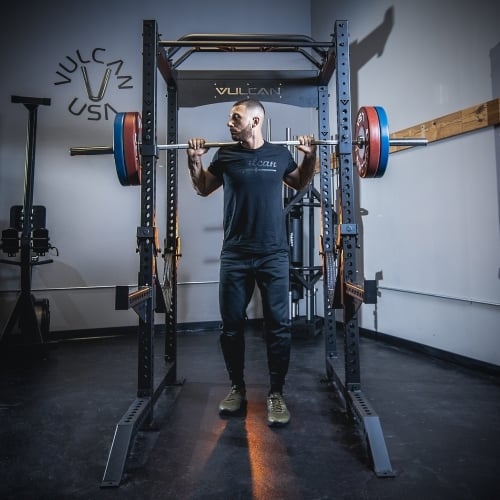 Here are some of the styles we are going to look at:
Vulcan Strength Black Friday 2021 Sale – Overview
This year, Vulcan Strength Black Friday Sale offers two kinds of discounts — the "locked-in" discounts and "tiered discounts". For the locked-in discounts, there will be 10%, 12%, and 15% locked discounts for specific items. For the tiered discount, the percentage discount employed is decided by the total dollar amount in your shopping cart. The greater the dollar amount in the shopping cart, the greater the discount applied to those designated items. Every item in your shopping cart adds to the total dollar amount.
Tiered Pricing Ranges
– 5% discount for every $0 to $1000 purchase
– 7% discount for every $1001 to $5000 purchase
– 10% discount for every $5001 to $10,000 purchase
– 15% discount for every $10,001 and up purchase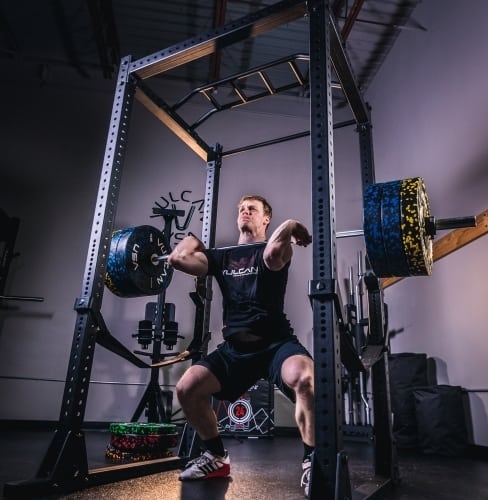 Everything that Vulcan Strength is offering for Black Friday can be found in In-Stock products and Pre-Order products. In-Stock products are supposed to dispatch within 1 to 7 business days, while Pre-order products will have their expected dates listed in the specific product details. The order will not ship until all products are in stock and available to ship if Pre-Order and In-Stock items are combined on the same order.
Looking for something else? Check out the black friday deals from other home gym manufacturers.
Build Your Own Power Rack
In building your own power rack, you can choose to add Open Box Items. These are Vulcan pieces of equipment that did not pass quality inspection. They are working well and don't have any mechanical problems, so they are added to the clearance inventory in no particular order. Characteristics may vary, but they may have some discoloration, spots, uneven finish, scratches, and tool marks.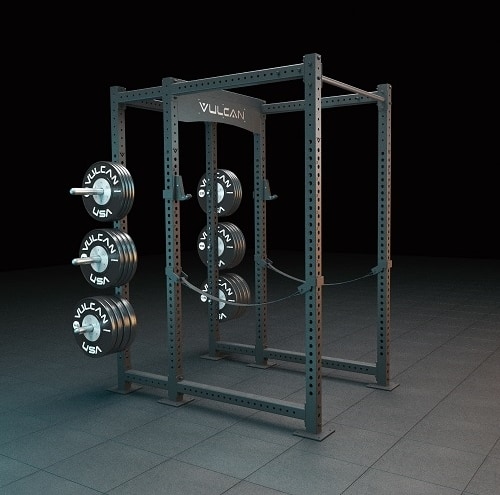 These issues are not noticeable and offer a performance warranty from bending or breaking during regular use. To build your own rack, you can choose to add plate storage, safety rods 1″ solid steel, conversion feet band pegs, cross-member band pegs, dip horn, a pair of J-hooks, safety straps, safety spotters, rope pull attachment, rack section, and many more.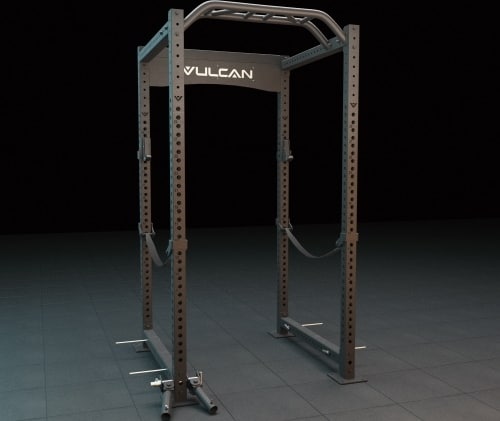 Alpha Bumper Plate Sets
Vulcan Alpha™ Bumper Plates are not manufactured from recycled rubber. Instead, they are formed from a rare rubber compound not found in any other bumper plate. Unlike recycled rubber plates that can bounce dangerously high, these weight plates offer a low bounce on any surface and make nearly 25% less noise when dropped from a height of 9 ft, based on testing with a decibel meter. The Alpha rubber compound has higher durability than standard bumper plates and can be dropped outdoors without fear of harming the rubber.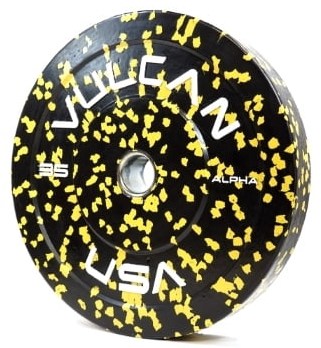 The secured steel insert will not loosen and pull out quickly, as do bumper plates with standard pressed-in inserts. Color flecks are part of the rubber compound, and the fit is tighter than crumb rubber or recycled rubber bumper plates with less vibration and wobbling. The plates are color-coded with large flecks of rubber for quick identification from a distance.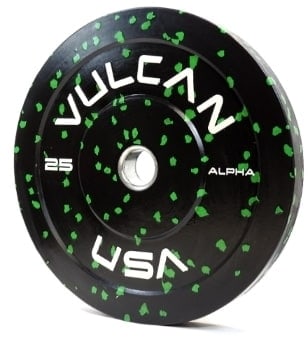 Vulcan Scull Rower
Used in any training environment, the Vulcan Scull Rower is a top-of-the-line competition ergometer rowing boat intended for a single person who drives the boat with two oars, one in each hand. It is 94″ in length and 25″ in width with black plastic, steel, and aluminum construction. The seat measures 15″ (height), 12″ (width), 10″ (length), and has a shipping weight of 101 lbs.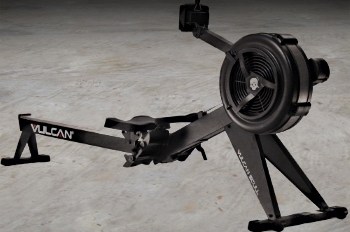 Vulcan Scull Rower tracks your stroke rate, distance, calories, pulse, paddle width, cycle, and watts at each rowing session. It has a heart rate chest monitor and a console monitor that has eight programs such as quick start, time, distance, calories, game, and interval programs of 20/10, 10/20, and 10/10.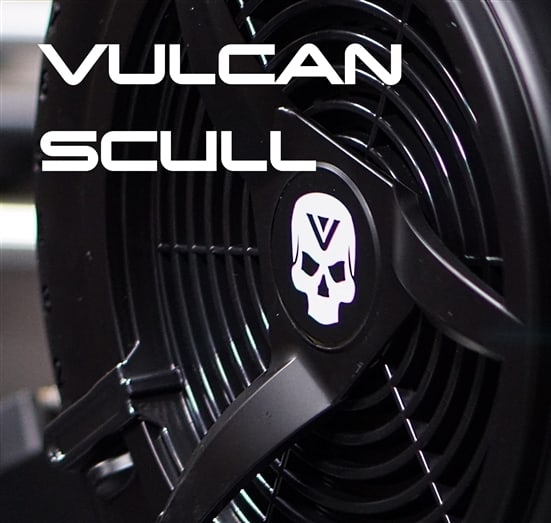 Vulcan Prime Adjustable Bench
The Vulcan Prime Adjustable Bench is made from heavy-gauge steel, making it overly built with minimal moving parts. It can be used in any training environment, so you can be sure of its durability. This bench has unlimited adjustability featuring twelve positions for the upper bench pad and three-seat pad positions.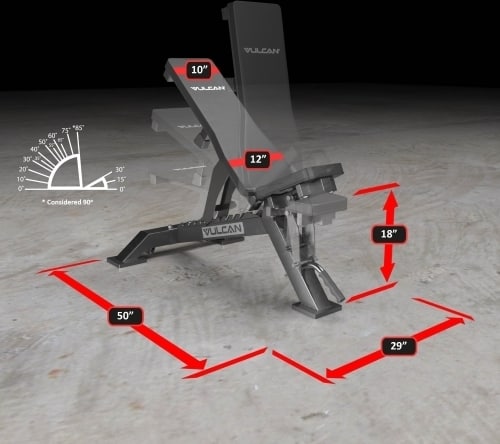 The Vulcan Prime Adjustable Bench highlights a tapered pad wider at the bottom than at the top. This helps secure the trunk and hips when benching and helps prevent twisting of the spine. The Vulcan Prime utilizes a grippy and breathable textile that is solid yet will allow you the movement needed to retract the scapula and "lock" into the bench. It has a lifetime warranty on frame and steel parts and one month warranty on upholstery.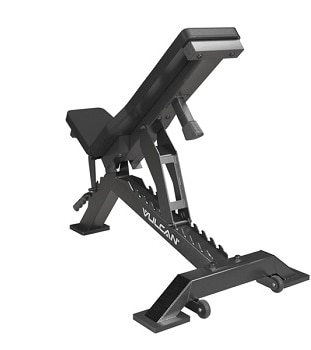 Vulcan Absolute Training Bumper Plates
Vulcan Absolute Competition Bumper Plates are spot tested and mechanically drop tested 10,000 times — a more comprehensive test than any competitors. They combine the best of both "worlds" to form a unique and high-performing bumper plate. All Vulcan Bumper plates are built following the IWF specifications. Weights of the plates are confirmed to be within 10 grams of the stated weight. This makes them a thinner profile than most competition bumper plates and allows more plates on the bar.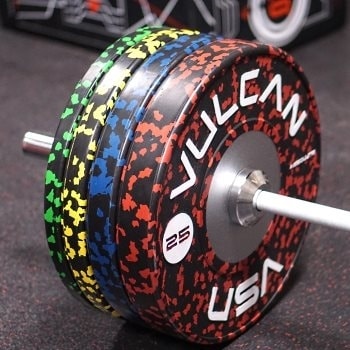 The laser-etched rubber produces an exceptional tactile surface for gripping these plates and reduces the appearance of scuffs and marks that come with everyday use and handling over time. The steel discs of the Vulcan Absolute Bumper Plate are assured not to depart from the plate or spin within the plate for the warranty duration. The rubber lies roughly 1.25 mm above the disc to guarantee a super secure fit and minimal metal-to-metal contact between bumper plates.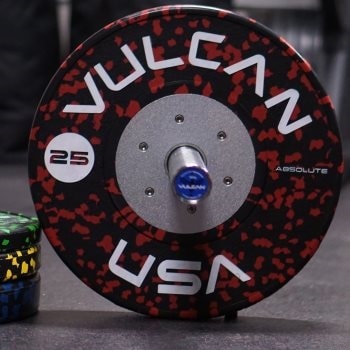 Power Rack – Flat Base
The Power Rack – Flat Base weighs 305 lbs and is made from high-quality steel, welds, and construction with a black powder coat finish. It has a footprint of 48.5″ L x 49″ W x 91.5″ H with an inner depth of 30″. It includes UHMW Plastic lined Standard J-Hooks, a 5/8″ black oxide Hardware, and a standard 1.25″ Pull-Up Bar. You can also add Open Box Items with your Power Rack – Flat Base.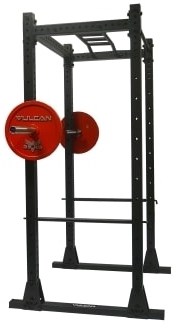 The Open Box – Clearance items are Vulcan equipment items that have no mechanical problems but did not pass quality inspection. They have spots, scratches, tool marks, discoloration, and an uneven finish but these cosmetic issues are not notable. All Vulcan Open Box Bars still carry a performance warranty from bending or breaking during regular use.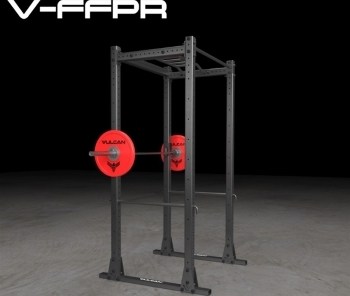 Vulcan Strength Black Friday 2021 Sale – In Summary
That's our close-up look at Vulcan Strength Black Friday 2021 Sale.
Want more? Check out :
Vulcan Strength is a leading supplier of Olympic weightlifting equipment, Equipment for CrossFit, Home Gym Equipment, and Commercial Gym Fitness Equipment. This Black Friday Sale, they are offering up to 15% off on their fitness equipment, and if you spend more, you'll be able to save more on these items.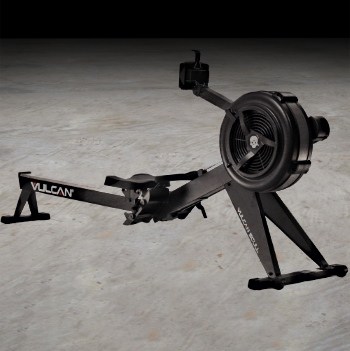 Photo Credits
Product photos on this page are property of Vulcan.
This website is not affiliated or associated with CrossFit, Inc. CrossFit is a registered trademark of CrossFit, Inc.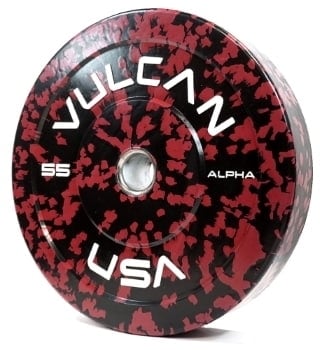 Affiliate Disclaimer
We are an affiliate of Vulcan and others that sell this training gear. If you buy clothing or other training gear after clicking the links in this article, we receive a small commission at no extra cost to you. This helps us to bring you in-depth information and content on these great training products.
Tim is the founder of FitAtMidlife.com – an avid gym rat for 30+ years, he's a reviewer of many, many shoes – and founder of the Speed Bag Gathering – the world's only gathering of speed bag punching enthusiasts.  See more gym reviews at Tim's YouTube channel.